By Melbourne Celebrant Meriki Comito
So you've decided to write your own wedding vows? Fantastic! Now, where to start?
A quick search on Google will provide you with a million and one tips and examples on how to write your own wedding vows. For most couples however, trying to decide on what to say to your future wife or husband, in front of all of your family and friends, can be quite overwhelming!
But it doesn't have to be.
I always ask my couples if they would like to write their own vows, and responses often vary between a confident "yes, absolutely!", and a rather meek, "yeahhh, maybe, I haven't really thought about it yet."
The most common answer though, is "we would like to, but don't know where to start."
And that really IS the hardest part about writing your own wedding vows – getting started.

Here are my Top 5 tips to writing your own wedding vows;
1. Start as soon as possible
Don't wait until a few days before the wedding to make a start!
This doesn't mean picking up a piece of paper and writing down perfect wedding vows straight away.
For example, you could simply create a notes page on your phone, to jot down moments/ideas as they happen, which you can return to for later reference.
Examples could be:
– How beautifully your partner gets along with your family/friends.
– How they laugh at all your dad jokes.
– How they display amazing parenting skills in caring for your newly adopted puppy.
– How they always seem to know when you need a cup of tea and time alone.
– How they know which movie will cheer you up after a hard day.
You could also note down your favourite lyrics from a song you both love, your go-to "in joke", or movie quote, or even a funny short limerick you wrote in a Valentine's card once.
These notes will all come in handy when it comes to actually sitting down and compiling a well organised and personal first draft of your wedding vows, which can include all, or just some, of the ideas you have collected.
From there, you can begin to join the dot points together, and continue to tweak your draft until you have created a vow you are happy with.
2. Discuss your wedding vows with your partner
Many couples are choosing to keep their wedding vows a secret from each other until the moment of reveal before all their guests on the big day.
This can be a great idea for some couples, as it adds an element of surprise to a day you have been planning together over a long period of time!
If you decide to go with this option however, I would highly recommend the following.
a) decide on a word count, so that your vows are similar in length
b) discuss some basic content guidelines, like whether you would prefer them to be funny, romantic or a combination of both
This will ensure that you are both on the same page, so your wedding vows will appear balanced 🙂
For many other couples though, the writing of wedding vows is something they would prefer to do together. Whether that means agreeing to recite the exact same words, or deciding on a "sentence starter", like the legal declaration of intent, and then adding on some personal words.
**See an example of a same sentence-starter vow
Some couples even "share" one vow, where they take turns reciting a line.
**See an example of a shared vow
But if you are the kind of couple who are fiercely private, or terribly shy and shudder at the thought of public speaking, I have your back too.
Vows can be incorporated into ceremony as "I do" questions – as long as the compulsory legal requirement is included elsewhere.
In this case, I can ask you a series of personalised questions, that you have chosen, where you simply answer "I do" (or I don't!) to!
**See an example of an "I Do/I Don't" wedding vow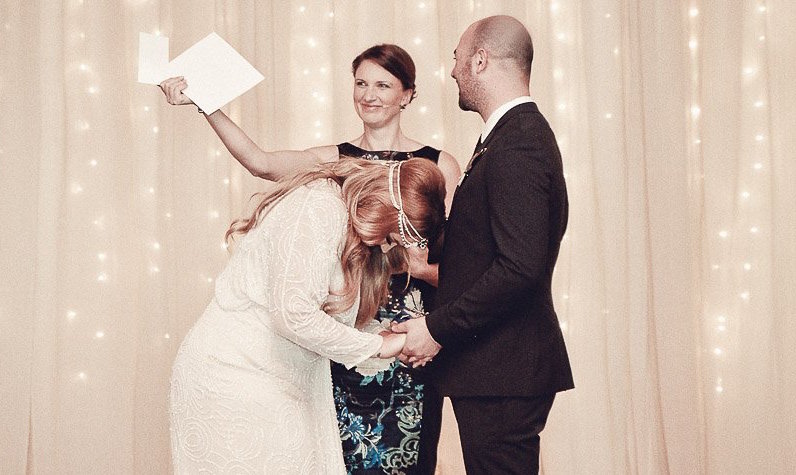 3. What should I be saying in my wedding vows?
Whatever you want!
Your vows can be whatever you would like to say to your partner on your wedding day.
Just remember that everyone you know will be listening, so the only rule here is to make sure they're appropriate!
Rule 1. If there is something you'd like to say to your partner that you wouldn't want your parents or grandma to hear, then don't say it!
Rule 2. If there is something funny you'd love to call your partner out on, but think it might embarrass them, don't say it!
Remember, it's still a wedding.
You might be having the biggest party of your life since your 21st birthday, but if you're having family present, you may need to keep it classy – at least until the after AFTER party!
Generally, wedding vows work best when you personalise them, and it's not as hard as you may think!
You could try starting off with the following ideas;
*What is the single greatest thing about the person you are going to marry?
*What is your most favourite memory of your partner?
*When/why/how did you know that this person was the one you wanted to marry?
*What do you think will be the best thing about being married?
*How do they/will they add value to your life/future? And how will you add value to theirs?
*When you were younger, did you imagine your wedding day or your future spouse? How does that vision match up with your partner?
But if you need a little inspiration to get started, you can try filling in the blanks in the wedding vow sample I have created for you!
**See "fill in the blanks" wedding vow sample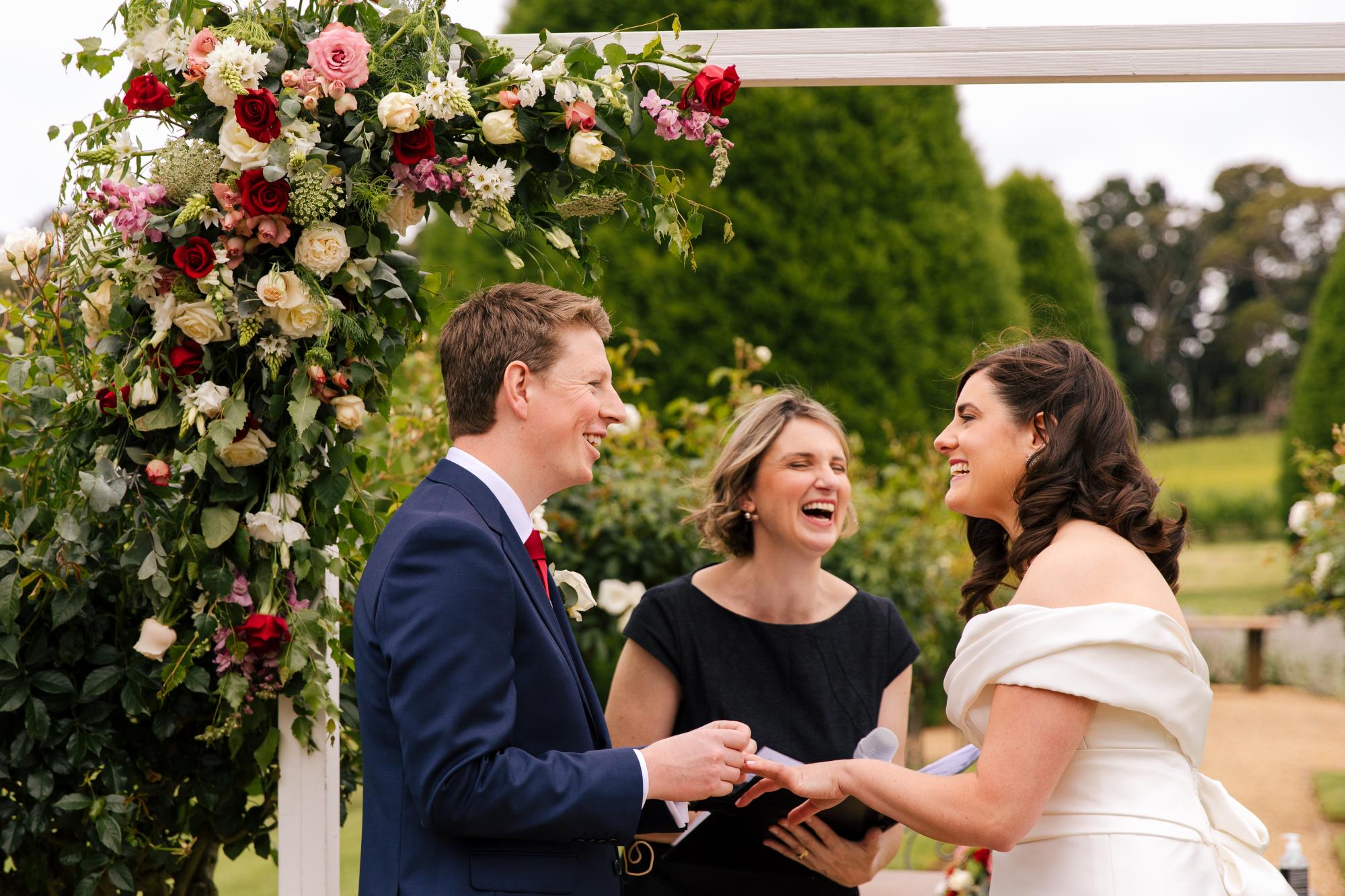 4. Practice your wedding vows out loud
Once you have completed your vows, the most important step is to practice saying them, out loud – a lot. Especially if you are the emotional kind.
The more you recite your vows out loud, the easier it will be on the day.
It would be great if you could recite them to each other, but if you're keeping them a secret, then record yourself on your phone! Listening to yourself can sometimes help you to understand how your vows might sound to others and it can really help you to make the right adjustments if it doesn't feel right.
Reciting them to a trusted friend or family member is also great, as long as they are the type to give positive feedback and not leave you second guessing yourself. Which brings me to my final point.
5. Don't overthink your vows
Once you have written your vows, have had a go at reading them out loud and feel good about them. Don't keep going back to them and changing them every day leading up to the wedding!
You will just end up doubting yourself and will run the risk of ending up with vows that may not sound sincere, or natural.
Think about how you might say something to your partner, if you knew no-one else was listening.
Trust your instincts and go with it.
In the end, wedding vows are always received well when they sound like you.
Your partner, your family and your friends will always know whether you mean the words you say, so as long as you just write from your heart, they will be perfect.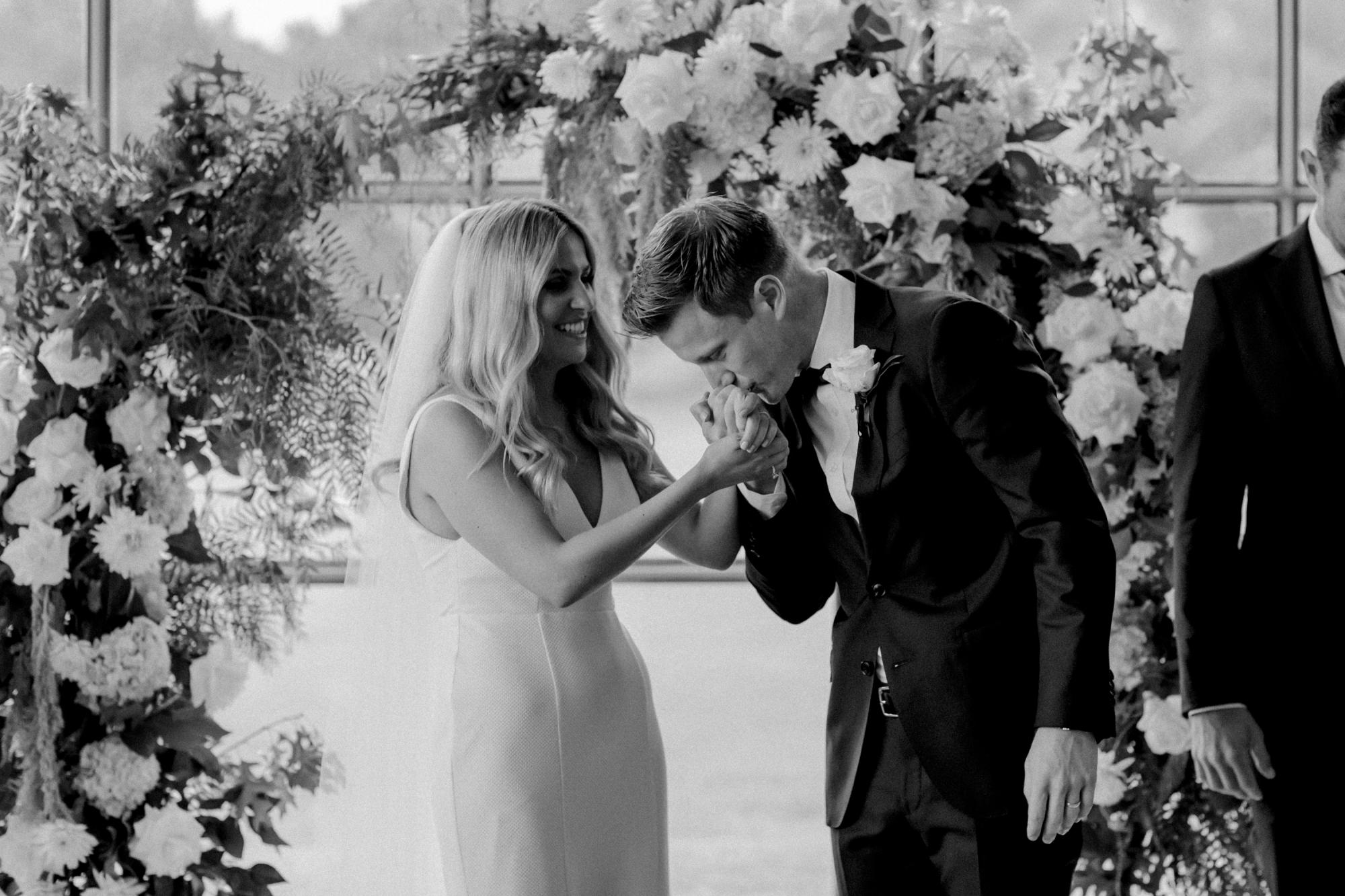 Read "Wedding Readings" →
Read "Ceremony Entrances – know your options" →
_____________________________________________________________________________
Sample Vows
Same sentence-starter wedding vows
"Before the witnesses present, I (full name), take you, (full name), to be lawfully wedded husband/wife. (legal requirement)
a) "I love you so much and am so excited to be married to you. You have brought so much joy into my life and I can not wait to see what the future holds for us.
b) "You are my favourite human in the entire universe. I promise to always bring you KFC when you're hungover and to always give you more attention than our fur babies. Coming home to you is the best part of my day and I will love and respect you always.
Back ↑
Personalised wedding vows
"Name, I love your perfect smile, gentle touch, caring nature, and the way you've taught me just how powerful, beautiful and real love can be.
I want to spend forever in your arms.
I want to start a family and grow old with you.
I promise to love you more each day than I did the last.
And I promise to stand by you through anything and everything that comes our way.
You give me strength when I'm at my weakest, and you give me hope when I'm at my lowest.
You've shown me what it is to be loved and truly happy.
I love you. I always have and I always will."
Shared wedding Vows
Party 1: Today is the best day of my life.
Party 2: Today I get to marry you, the most amazing person in the world.
Party 1: From the moment I met you I knew that I wanted to marry you.
Party 2: Whilst this may have initially involved some Facebook stalking and persuasion, I very quickly won you over and we have undoubtedly been in-love ever since.
Party 1: I choose you. To stand by your side and sleep in your arms.
Party 2: I choose you. To be joy to your heart and food for your soul.
Party 1: To learn with you and grow with you, even as time and life change us both.
Party 2: To laugh with you in good times and stand alongside you in tough times.
Party 1: I vow to fight by your side in the zombie apocalypse. And should you turn into one, I promise to let you bite me so I can be one too.
Party 2: I vow to love you even when you're 55 and still playing computer games.
Party 1: I promise to love you more than I love my bicycles (but pray that we can all live indoors together in harmony).
Party 2: I promise to love you more than coffee or wine (but please don't make me prove it).
Party 1: I promise to respect you and cherish you as an individual, a partner, and an equal, knowing that we do not complete, but complement each other. 
Party 2: I promise to work with you to foster and cherish a relationship of equality knowing that together we will build a life far better than either of us could imagine alone.
Party 1: I love you so much today.
Party 2: And I will continue to love you for all the days of our lives.
↑ Back
I do/I don't wedding Vows
Meriki: (Party 1), do you come here freely and without reservation to give yourself in marriage?
Party 1: I do.
Meriki: (Party 2), do you come here freely and without reservation to give yourself in marriage?
Party 2: I do.
Meriki: (Party 2), do you promise to watch all and every reality TV dating show and display the appropriate amount of enthusiasm expected from a devoted partner from this moment on?
Party 2: I do not.
Meriki: OK, (Party 1), do you promise fulfil (Party 2's) expectations of ironing all his shirts with the utmost of dedication and precision, and present to him each ironed shirt as an offering of love and devotion?
Party 1: I do not
Meriki: (Party 2), do you commit to faithfully squeegeeing the shower screen after every use, no matter how tired you may feel, no matter how disinterested you may be?
Party 2: I do not.
Meriki: (Party 1), do you pledge to give (Party 2) the chance to participate in your conversations, to give Michael the chance to respond and express his ideas and thoughts, to pause long enough while talking to allow Michael an opportunity say…something?
Party 1: I do not
Meriki: OK, well (Party 2), do you promise to cherish (Party 1's) company and to laugh with her, to enjoy life together and to do all in your power to encourage this partnership to stay strong and grow as the days and years pass?
Party 2: I do.
Meriki: And (Party 1), do you promise to cherish (Party 2's) company and to laugh with him, to enjoy life together and to do all in your power to encourage this partnership to stay strong and grow as the days and years pass?
↑ Back
Fill in the blanks wedding vows
"(Name), you are my (best friend/one true love/the person I want to spend the rest of my life with/the most amazing human I have ever known/the person I have chosen to annoy for all eternity).
Today, I take you to be my (wife/husband, partner in crime) and promise that I will always (be loving + faithful/be worthy of your love/make your favourite Sunday night dinner/ protect you during the next Zombie apocalypse).
I love how you (always seem to read my thoughts/give the best hugs/care for our fur baby/fall asleep during the first 5 minutes of a movie so I can watch the sport) and vow to (honor you, cherish you, love you, respect you, laugh with you, cry with you/support you in your goals, always be your shoulder to cry on/ always bring home Pizza + chocolate on a Friday night).
I love you so much, and can not wait to (see what the future holds for us/ start the rest of our tomorrows together/ grow old with you/ create a family of our own/ spend every moment of the future by your side)."
↑ Back