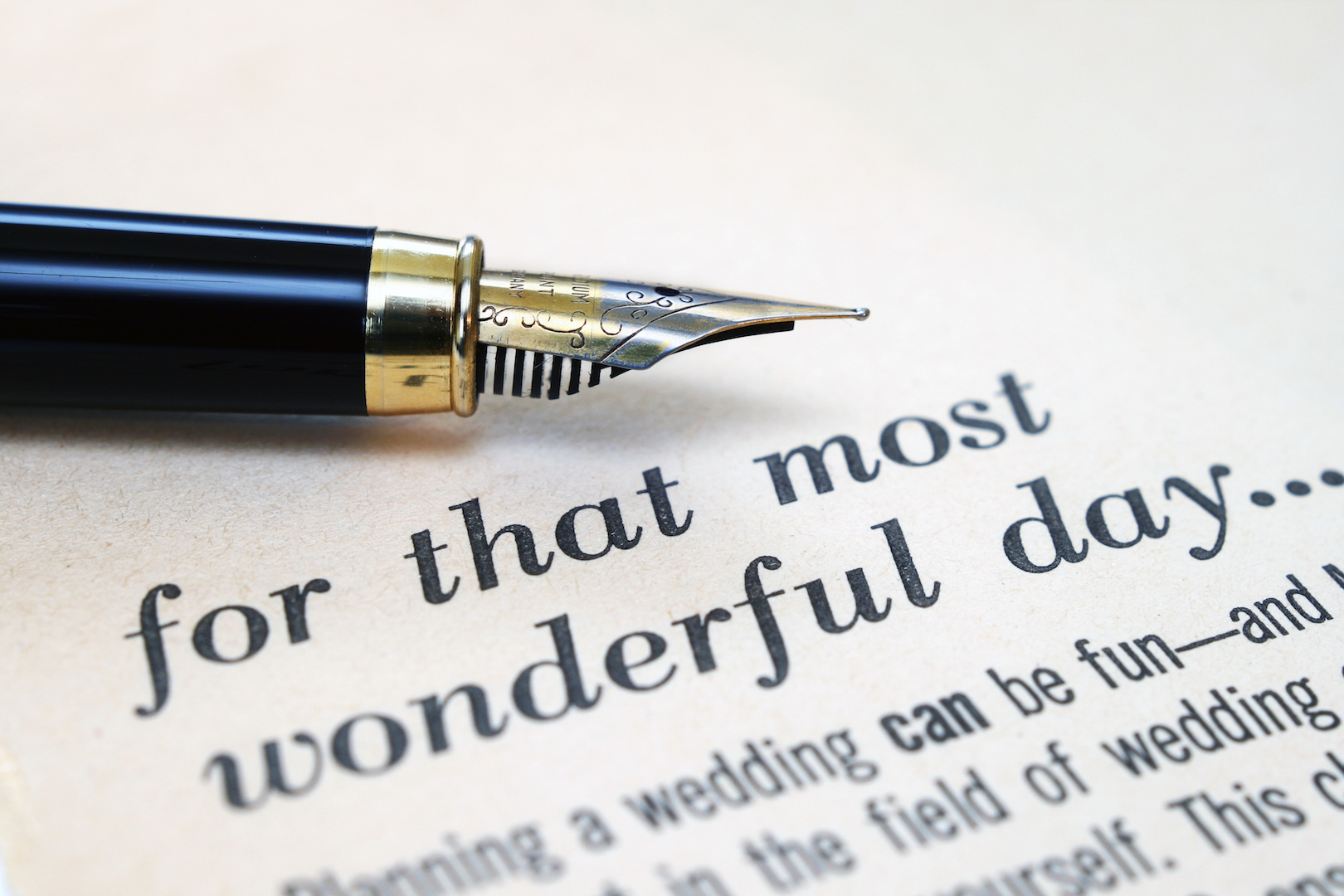 By Marriage Celebrant Meriki Comito
This getting married guide has been developed to assist couples with the ceremony preparation process and to provide some helpful suggestions to tick off some boxes along the way!
The first thing you should know is that making decisions will be the most difficult task you will face, but if you give yourself enough time and do your homework, it will be a lot of fun and really rewarding!
Let's get started!
Step 1: Lock in a Date + Time
Before you even consider contacting vendors, lock in a date and time and find a venue!
You can view some of my favourite venues HERE
Locking in your venue will make it much easier to lock in all your additional suppliers if they can confirm their availability for the same date and time!
Step 2: Secure your Marriage Celebrant
An authorised and experienced Marriage Celebrant is key to ensuring your ceremony is legally compliant and the perfect start to your celebration.
As your Celebrant, I will take you through all the steps with warmth and professionalism to ensure your ceremony is perfectly matched to your lifestyle, beliefs and expectations.
My priority is to guide you through the getting married process and ensure that you are completely comfortable every step of the way.
You will have unlimited options regarding ceremony planning elements, and full control over ceremony content, so there's no surprises on the day, unless you choose to include some!
Step 3: Legal Obligations
As a registered marriage celebrant, it is my responsibility to ensure all your legal obligations are fulfilled and submitted on time and with the relevant authorities. I have created a list of obligations below, to give you an idea of what is required, but I promise to make this part of the process really easy for you!
Click here for all the Legal Requirements →
Step 4: Ceremony Planning
I have outlined all the major elements of a civil marriage ceremony below, to give you an idea of the general standard inclusions, but apart from the obligatory legal requirements, any details can be changed, or adapted, to suit your needs or preferences.
Processional
The point of entrance for the wedding party.
*See my Blog post "Ceremony Entrances – Know your options"
Welcome
I will welcome your guests and touch on the meaning of marriage.
A traditional Welcome to Country can also be incorporated at this time, if desired.
Introduction
I generally like to speak about the couple's relationship, the journey they have shared together so far and what their goals and dreams are for the future.
Giving Away/ Family Acknowledgement
This is the part where a parent, or parents are traditionally asked to give their child away to be married. This section, however, has evolved into a public acknowledgement of a couple's parents, as well as an expression of gratitude for their family's love and support throughout the years. Many couples prefer to ask their parents for their blessing rather than their permission, indicating a vow of support for the future.
Readings

Couples may like to include a reading that will add meaning to their ceremony. This could be a passage from the bible, a favourite poem or piece of scripture, a Dr Seuss or AA Milne story, a movie quote or even lyrics from a favourite song!
*See my Readings Guide HERE.
Monitum
Marriage celebrants must recite the following words when officiating a legal marriage.

"Before you are joined in marriage in my presence and in the presence of these witnesses, I am to remind you of the solemn and binding nature of the relationship into which you are now about to enter.
Marriage, according to the law in Australia, is the union of two people to the exclusion of all others, voluntarily entered into for life."
Declaration of intent to marry
This is the legal requirement whereby the couple formally, and publicly, declare their intent to marry one another.
"I Do's", though not compulsory, are also often included at this time. Some couples are even throwing in a few "I Don't's" or "maybe's" just for fun!
Vows
The promises made between the couple.
*See my Vows Guide HERE
Exchange of wedding rings or gifts
It is not a legal requirement to exchange rings. You are welcome to exchange gifts instead, or alternatively omit this element altogether.
Wedding Traditions & Customs
Wedding traditions and customs differ in every part of the world. No matter what your nationality, race or life choice, in almost all cultures, there is a tradition, custom, or symbol that you, as an individual can relate to.
Click HERE for some of the great options, or if you simply wish to understand the origins of some of the most traditional wedding customs.
Declaration of Marriage
I declare the couple married, in whichever way they choose, and invite the them to share a kiss to celebrate.
Signing of the Register
The couple, their two official witnesses and the Celebrant, all sign the marriage register.
Presentation of the Bride & Groom
The couple are introduced to guests as a married couple for the first time.
Recessional
Where the newlyweds exit the ceremony, usually to music.
Step 5: Relationship Education Services
Marriage guidance and relationship education is extremely valuable in strengthening and enhancing an existing relationship.
If you are both in love, you'll want to ensure that your commitment is life long, and pre-marriage workshops are designed to simply build on and enhance your relationship skills, to help set the foundation for long and happy marriage 🙂

Step 6: Ceremony Checklist
One thing I always like to advise couples on, is to keep a checklist of all the important things they may need/want to remember on their wedding day.
Please feel free to use the list I have created below, and add your own personal items as required!
One week before the Wedding Day
1. Wedding Rehearsal OR Final Meeting with Celebrant.
2. Complete and Sign a Statutory Declaration with Celebrant (this can also be done on the day of the wedding before the ceremony commences).
3. Create/ organise copies of any readings.
I can provide these for you if required.
4. Decide who will collect the Wedding Certificate at the conclusion of the Ceremony.
This could be a trusted family member of friend, or your venues' wedding coordinator.
5. Confirm location, date, time with all suppliers
6. Organise and collate any supplies required for Unity Ceremonies/ Symbolic rituals, Cultural inclusions
7. Contact Bureau of Meteorology to check for weather conditions on day of wedding and advise guests of any Plan B ceremony locations, or requirements.
*See my Blog post "Rain on your wedding day – Do you have a Plan B?"
1. Ensure wedding rings, or any other gifts to be exchanged during the ceremony have been given to any Ring, or Gift Bearers.
2. Pack Spare Copies of any Readings, or ask Celebrant to provide them.
3. Pack emergency kit (bandaids, lip balm, safety pins, tissues, wet wipes, sunscreen, insect repellant, hair pins etc).
4. Pack, or pass on the device you are using for any recorded ceremony music.
Music files which are saved OFF LINE (no youtube links!) will ensure that music can be played whilst device is in 'Do not disturb' mode, blocking any calls that may come through.
5. Contact VicRoads to check for traffic conditions, or delays, and update guests on travel times and parking availabilities, if required.
6. Pack any supplies for Unity Ceremonies/ Symbolic rituals, Cultural inclusions.
Alternatively, these items can be left with your venue manager in the days prior.
7. Check the Bureau of Meteorology for any changes in weather and advise all suppliers if a change to the ceremony location is required.
8. Enjoy every second of the getting ready process!
Wedding Vendor Suggestions
*If you're still searching for wedding vendors, check out THIS LIST of my personal favourites!
1. Ceremony Location (and Plan B location in the event of inclement weather)
See the best outdoor wedding locations HERE
2. Reception Venue
See my favourite wedding venues HERE
3. Celebrant
4. Photographer
5. Videographer
6. Bridal Gown(s)
7. Ceremony/Reception Styling
8. Flowers
9. Catering
10. Wedding Cake
11. Invitations/ Save the Dates/ Thank you cards
12. Grooms Attire
13. Bridesmaids Attire
14. Groomsmen Attire
14. Flowergirl/ Page Boy/ Ring Bearer Attire
15. Hair & Makeup
16. Reception + Ceremony Music
17. Master of Ceremonies (MC)
18. Cars/ Transport
19. Jewellery/ Shoes/ Bags
20. Bonbonniere/ Favours/ Gifts for guests
21. Photo Booth
22. Wedding Night Accommodation
23. Honeymoon
I hope this getting married guide has been useful and has provided you with some clarity on how to move forward. I am always open for any further questions though, so please feel free to get in touch if you need some extra direction 🙂
Top 10 Questions I get asked as a Celebrant →