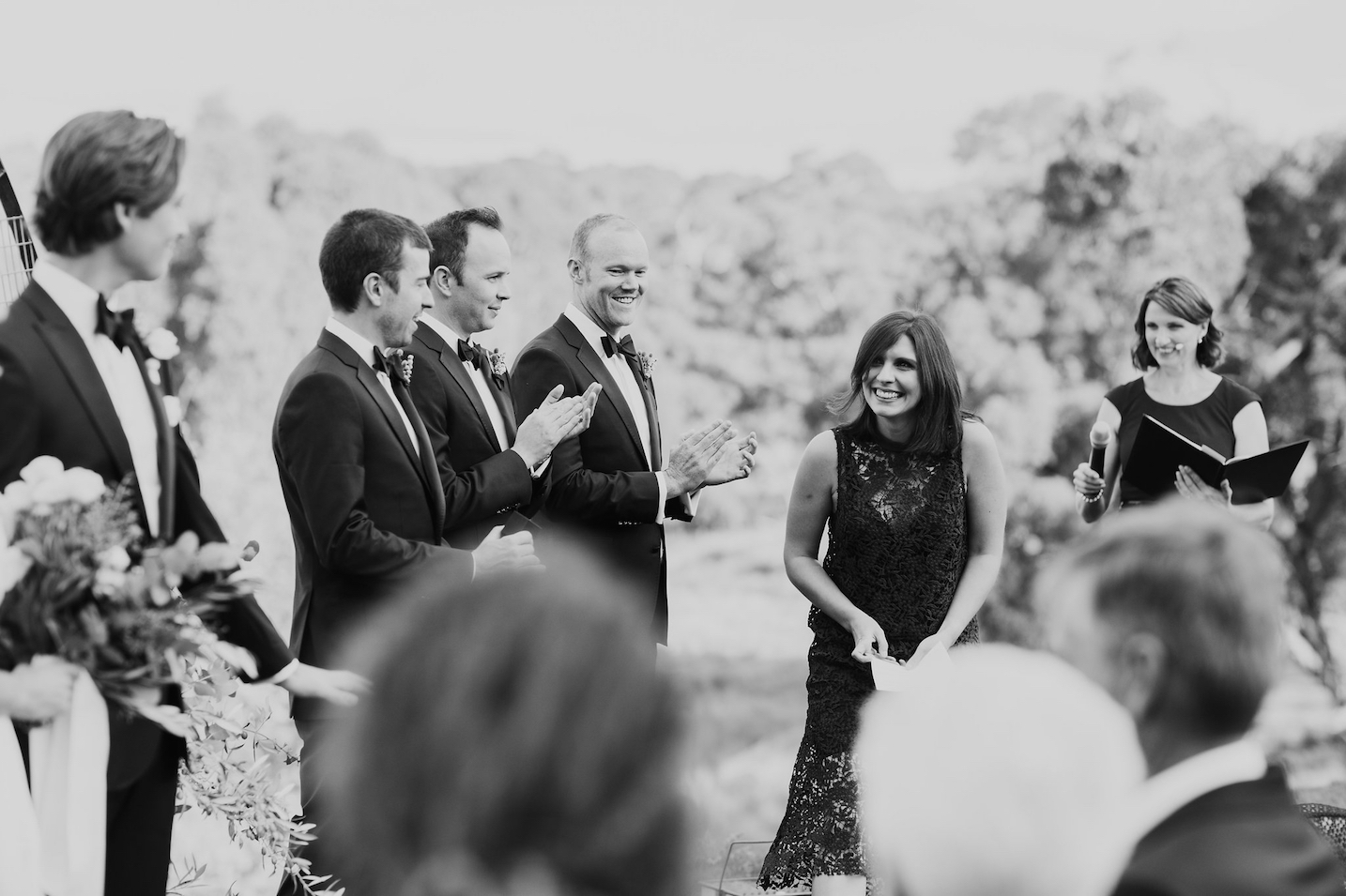 Wedding readings are a great way to personalise your marriage ceremony.
The right one can add extra meaning, a fun vibe, or a really touching moment during the service.
Wedding readings are also a great way to involve family members or friends who aren't already involved in some other way.
Things to remember when including a wedding reading;
1. Only include a reading if it is meaningful to you and your partner.
If it's not going to add value to your ceremony, or make you feel something, you don't need it.
2. You don't have to add readings to "pad out" your ceremony.
I will always work with you to ensure you ceremony is still personalised and running for an adequate amount of time without the need to fill it with meaningless content.
Don't worry, I will always find plenty to say 😉
3. If you can't decide on a wedding reading, but would really like to honour a friend or family member by asking them to deliver one, you can always ask them to choose one themselves.
NB. This may not be a great option if you're not down for surprises during your ceremony, but you could always ask someone to choose from a short-list of favourites you have already created!
 4. Make sure, that whoever you invite to deliver a reading, is confident, or comfortable in doing so!
There is nothing more awkward than a friend or family member looking down and mumbling/stumbling through a reading. Guests who have been are asked to perform a reading can sometimes feel obliged to do so, even when it makes them uncomfortable. Delivering a successful wedding reading requires confidence with public speaking, as it can be quite nerve wracking for those who have never spoken before a crowd! Family or friends who are teachers, trainers, lecturers, influencers, or just really great story-tellers are your best bet.
5. If you're searching for wedding readings online, use keywords!
For example, if you are a massive dog lover, search for "wedding readings about dogs".
If you're both big fans of exploring the great outdoors, search for "wedding readings about being outdoors". This will narrow down your search results significantly!
Wedding Reading Samples
I have listed a few of my favourite wedding readings below to get you started, but Google together with a few smart keywords, will always be your best bet if you want to explore further.
"Marriage is love" by Gloria Matthew
If two are caring, as they're sharing life's hopes and fears,
If the music of laughter outweighs the sadness of tears,
Marriage is togetherness.
If both derive pleasure from mere presence of each other,
Yet no jealousies restrict, worry, or smother,
Marriage is freedom.
If achievements mean more when they benefit two,
And consideration is shown with each point of view,
Marriage is respect.
And if togetherness, freedom and respect are combined,
With a joy that words can never fully define,
Then marriage is love.
"Once in a Lifetime"
Once in a lifetime you find someone who touches not only your heart, but also your soul.
Once in a lifetime, you discover someone who stands by you, not over you.
Once in a lifetime you find someone who loves you for who you are, not for who you can't be.
Once in a lifetime, if you are lucky, you find someone, as I have found you.
"The Key to Love"
The key to love is understanding…
The ability to comprehend not only the spoken word, but those unspoken gestures,
the little things that say so much by themselves.
The key to love is forgiveness…
To accept each others faults and pardon mistakes, without forgetting,
but with remembering what you learn from them.
The key to love is sharing…
Facing your good fortunes as well as the bad, together; both conquering problems,
forever searching for ways to intensify your happiness.
The key to love is giving…
Without thought of return,
but with the hope of just a simple smile, and by giving in but never giving up.
The key to love is respect…
Realising that you are two separate people, with different ideas;
that you don't belong to each other, but share a mutual bond.
The key to love is inside us all…
It takes time and patience to unlock all the ingredients that will take you to its threshold;
it is a continual learning process that demands a lot of work…
but the rewards are more than worth the effort..
That is the key to love.
"A Wedding Prayer"
Today is the beginning.
In the years that lie ahead
May you always share the love you have
This day as you are wed.
I pray you'll each be one on whom
The other can depend,
And may you share not only love,
But be each other's friend.
Some hopes may not be realised,
Some dreams may not come true,
But many of them will, I know,
To bless the two of you.
Within the home that you will have,
I pray you'll always find
Contentment, joy, security,
Good health and peace of mind.
"The Depth of Love"
Had I not known the depth of love
Life would have been the poorer
But with the happiness it brings
Nothing could be surer
For love is – just relaxing
And trusting and believing
Just the very simple process
Of giving and receiving
"Love" by Rod McKuen
Love puts the music in laughter, the beauty in song,
The warmth in a shoulder, the gentle in strong.
Love puts the magic in memories, the sunshine in skies,
The gladness in giving, the starlight in eyes.
Love puts the fun in together, the sad in apart,
The hope in tomorrow, the joy in the heart.
"To Love is Not to Possess" by James Kavanaugh
To love is not to possess,
To own or imprison,
Nor to lose one's self in another.
Love is to join and separate,
To walk alone and together,
To find a laughing freedom
That lonely isolation does not permit.
It is finally to be able
To be who we really are
No longer clinging in childish dependency
Nor docilely living separate lives in silence,
It is to be perfectly one's self
And perfectly joined in permanent commitment to one another – and to one's inner self.
Love only endures when it moves like waves,
Receding and returning gently or passionately,
Or moving lovingly like the tide in the moon's own predictable harmony,
Because finally, despite a child's scars
Or an adult's deepest wounds,
They are openly free to be
Who they really are – and always secretly were,
In the very core of their being where true and lasting love can alone abide.
"These I Can Promise"
I cannot promise you a life of sunshine;
I cannot promise riches, wealth, or gold;
I cannot promise you an easy pathway
That leads away from change or growing old.
But I can promise all my heart's devotion;
A smile to chase away your tears of sorrow;
A love that's ever true and ever growing;
A hand to hold in yours through each tomorrow.
"I Carry It In My Heart" by E E Cummings
I carry your heart with me
(I carry it in my heart)
I am never without it
(anywhere I go you go, my dear; and whatever is done by only me is your doing, my darling)
I fear no fate
(for you are my fate, my sweet)
I want no world
(for beautiful you are my world, my true)
and it's you are whatever a moon has always meant
and whatever a sun will always sing is you
Here is the deepest secret nobody knows
(here is the root of the root and the bud of the bud
and the sky of the sky of a tree called life;
which grows higher than soul can hope or mind can hide)
and this is the wonder that's keeping the stars apart
I carry your heart
(I carry it in my heart)
"A Marriage Made for Two"
A successful marriage can learn a lot from bicycle riding.
You should promise each other that you will not be fair weather riders,
but venture out together in the wind and the rain.
Only by braving the storms as a team will you reap the rewards when the sunshine arrives.
Look after each other.
A well oiled bike will run smoothly and change gear easily.
Marriage is like a tandem…keep pedalling or the one at the front shouts at you!
You should promise each other to not only enjoy new adventures and explorations,
but appreciate the same old routes you know and love.
Marriage is a promise to each other to endure the climbs,
so that you may chase the swoops and swerves of perfect singletrack.
The journey may be long and may have hills ahead,
but if you climb together with love and passion,
you will be able to achieve everything you both desire!
Wishing you all the best from the start line of the greatest endurance event of your lives.
Good luck and may each lap be a great adventure.
"Apache Wedding Prayer"
Now you will feel no rain,
for each of you will be shelter to the other.
Now you will feel no cold,
for each of you will be warmth to the other.
Now there is no more loneliness,
for each of you will be companion to the other.
Now you are two persons,
But there is only one life before you.
Go now to your dwelling place
To enter into the days of your togetherness
And may your days be good and long upon the earth.
The one I love with every fibre of my soul.
We used to feel vaguely incomplete.
Now, together, we are whole.
"Learn how to Love" by Walter Rinder
Every day you live, Learn how to love.
Take time with each other,
Restore each other's soul with loving words.
Receive love with as much understanding as you give it.
Find that which is within yourselves,
Then you can share it with each other.
Do not fear this love,
And do not fear this marriage,
But keep open hearts and sincere minds.
Be sincerely interested in each other's happiness,
Be too, constant and consistent in your love,
And in your actions.
From this, as you know, comes security and strength.
All that we love deeply becomes a part of us,
So, even though you retain your individuality,
Today in a real sense, you also become one in a true unity.
"Falling in love is like owning Dog" by Taylor Mali
Falling in love is like owning a dog.
First of all, it's a big responsibility, so think long and hard before deciding on love.
On the other hand, love gives you a sense of security:
When you're walking down the street late at night and you have a leash on love,
ain't no-one going to mess with you.
Because crooks and muggers think love is unpredictable.
Who knows what love could do in its own defense?
On cold winter nights, love is warm.
It lies between you and lives and breathes and makes funny noises.
Love wakes you up all hours of the night with its needs.
It needs to be fed so it will grow and stay healthy.
Love doesn't like being left alone for long.
But come home and love is always happy to see you.
It may break a few things accidentally in its passion for life,
but you can never be mad at love for long.
Is love good all the time? No!
Love can be bad.
Bad, love, bad! Very bad love.
Love makes messes.
Love leaves you little surprises here and there.
Love needs lots of cleaning up after.
Sometimes you just want to get love fixed.
Sometimes you want to roll up a piece of newspaper and swat love on the nose,
Not so much to cause pain, just to let love know 'Don't you ever do that again!'
Sometimes love just wants to go for a nice long walk, because love loves exercise.
It runs you around the block and leaves you panting.
It pulls you in several different directions at once,
Or winds around and around you, until you're all wound up and can't move.
But love makes you meet people wherever you go.
People who have nothing in common but love, stop and talk to each other on the street.
Throw things away and love will bring them back, again, and again, and again.
But most of all, love needs love, lots of it.
And in return, love loves you and never stops.
"How do I Love Thee" by Elizabeth Barrett Browning
How do I love thee? Let me count the ways.
I love thee to the depth and breadth and height
My soul can reach, when feeling out of sight
For the ends of being and ideal grace.I love thee to the level of every day's most quiet need,
by sun and candle-light.
I love thee freely, as men strive for right.
I love thee purely, as they turn from praise.I love thee with the passion put to use
In my old griefs, and with my childhood's faith.
I love thee with a love I seemed to lose
With my lost saints.I love thee with the breath,
Smiles, tears, of all my life; and, if God choose,
I shall but love thee better after death.
"So Come With Me" from Peter Pan
So come with me
Where dreams are born,
And time is never planned
Just think of happy things
And your heart will fly on wings
Forever, in Never Never Land
"The Master Speed" by Robert Frost
No speed of wind or water rushing by
but you have speed far greater.
You can climb back up a stream of radiance to the sky,
and back through history up the stream of time.
And you were given this swiftness, not for haste nor chiefly that you may go where you will,
but in the rush of everything to waste,
that you may have the power of standing still
off any still or moving thing you say.
Two such as you with such a master speed
From one another once you are agreed that life is only life forevermore
together wing to wing and oar to oar.
"Shakespeares Sonnet #116"
Let me not to the marriage of true minds admit impediments.
Love is not love which alters when it alteration finds,
Or bends with the remover to remove
Oh no, it is an ever fixed mark
That looks on tempests and is never shaken;
It is the star to every wand'ring barque,
Whose worth's unknown although his height be taken.
Love's not time's fool, though rosy lips and cheeks
Within his bending sickle's compass come;
Love alters not with his brief hours and weeks,
But bears it out even to the edge of doom.
If this be error and upon me proved,
I never writ, not no man ever loved
"One With Each Other" by George Eliot
What greater thing is there for two human souls, than to feel they are joined for life
To strengthen each other in all labour, to rest on each other in all sorrow,
To minister to each other in all pain,
And to be one with each other in silent unspeakable memories.
"Sharing"
There is no greater happiness than that of sharing life
With all its joys and all it's cares, of a loving husband and wife
For love gives life new meaning and has a special way
Of growing stronger and deeper, with every passing day
Yes, life is so much happier and brighter when you're sharing
The very special joys that come, with loving and giving and caring.
"My Friend"
I love you
Not only for what you are,
But for what I am when I am with you.
I love you
Not only for what you have made of yourself,
But for what you are making of me.
I love you
Because you have done more than any creed could have done to make me good,
And more than any fate could have done to make me happy.
You have done it without a touch,
Without a word, without a sign.
You have done it By being yourself.
"All I ever really needed to know I learned in Kindergarten" by Robert Fulgham
All of what I really need to know about how to live, and what to do, and how to be,
I learned in Kindergarten.
Wisdom was not at the top of the graduate school mountain,
but there in the sandbox at nursery school.
These are the things I learned…
Share everything.
Play fair.
Don't hit people
Put things back where you found them.
Clean up your own mess.
Don't take things that aren't yours.
Say sorry when you hurt somebody.
Wash your hands before you eat
Warm cookies and cold milk are good for you.
Give them to someone who feels sad.
Live a balanced life.
Learn some and think some and draw and paint and sing and dance and play and work every day.
Take a nap every afternoon.
Be aware of wonder.
Remember the little seed in the plastic cup?
The roots go down and the plant goes up and nobody really knows how or why,
but we are all like that.
Take any of those items and extrapolate it into sophisticated adult terms
and apply it to your family life, or your work or your government,
or your world and it holds true and clear and firm.
Everything you need to know is in there somewhere.
And it is still true, no matter how old you are,
when you go out into the world, it is best to hold hands and stick together.
"You Can Give Without Loving"
You can give without loving, but you can never love without giving.
The great acts of love are done by those who are habitually performing small acts of kindness.
We pardon to the extent that we love.
Love is knowing that even when you are alone, you will never be lonely again.
And great happiness of life is the conviction that we are loved.
Loved for ourselves.
And even loved in spite of ourselves.
An excerpt from 'Captain Corelli's Mandolin'
Love is a temporary madness, it erupts like volcanoes and then subsides.
And when it subsides you have to make a decision.
You have to work out whether your root was so entwined together
that it is inconceivable that you should ever part.
Because this is what love is.
Love is not breathlessness, it is not excitement,
it is not the promulgation of promises of eternal passion,
That is just being in love, which any fool can do.
Love itself is what is left over when being in love has burned away,
and this is both an art and a fortunate accident.
Those that truly love have roots that grow towards each other underground,
and when all the pretty blossoms have fallen from their branches,
they find that they are one tree and not two.
"Dove" By Simon Benni
Two doves Meeting in the sky
Two loves hand in hand eye to eye
Two parts of a loving whole
Two hearts and a single soul
Two stars shining big and bright
Two fires bringing warmth and light
Two songs played in perfect tune
Two flowers growing into bloom
Two doves gliding in the air
Two loves free without a care
Two parts of a loving whole
Two hearts and a single soul
"The Bridge Across Forever "by Richard Bach
A soulmate is someone who has locks that fit our keys, and keys to fit our locks.
When we feel safe enough to open the locks,
our truest selves step out and we can be completely and honestly who we are;
we can be loved for who we are and not for who we're pretending to be.
Each unveils the best part of the other.
No matter what else goes wrong around us, with that one person we're safe in our own paradise.
Our soulmate is someone who shares our deepest longings, our sense of direction.
When we're two balloons, and together our direction is up,
chances are we've found the right person.
Our soulmate is the one who makes life come to life.
"The Prophet" by Khalil Gibran
When you find someone you can love and who can love you, then love one another.
And, as you love one another, remember this:
Make your love a joyous, freedom-loving adventure.
Let your love be a moving sea between the shores of your souls.
Sing, dance, and be joyous together, and yet, let each of you have moments alone.
Let there be spaces in your togetherness so that the winds of the heavens dance between you.
Remember, the strings of the lute are together, yet alone as they quiver with the same music.
As the pillars of the temple stand apart, they serve a common goal.
Fill each other's cup, and yet, allow each to drink at their own choosing.
Give one another of you bread, while allowing each to season it to their own taste.
Give your hearts to each other, while providing space for each other's heart to be free,
for there is much in life to be loved.
Let your lover's heart be free to answer the call of life.
Stand together, yet not too near each other, for in the garden of life,
the oak tree & the cypress each have air to breathe and a little earth to call their own,
where the sun can reach down & touch them bringing forth the hidden beauty that lies within each one.
Yes, be together, and be yourself.
Be free, and always be together.
"That Still and Settled Place" by Edward Monkton
 In that still and settled place
There's nobody but you
You're where I breath my oxygen
You're where I see my view
And when the world feels full of noise
My heart knows what to do
It finds that still and settled place
And dances there with you
"I Love you for what you are" by Carl Sandburg
I love you for what you are, but I love you yet more for what you are going to be.
I love you not so much for your realities as for your ideals.
I pray for your desires that they may be great, rather than for your satisfactions,
which may be so hazardously little.
A satisfied flower is one whose petals are about to fall.
The most beautiful rose is one hardly more than a bud wherein the pangs and ecstasies of
desire are working for a larger and finer growth.
Not always shall you be what you are now.
You are going forward toward something great.
I am on the way with you and therefore I love you.
"The Velveteen Rabbit" by Margery Williams
'What is REAL?' asked the Rabbit one day, when they were lying side by side near the nursery fender, before Nana came to tidy the room. 'Does it mean having things that buzz inside you and a stick-out handle?'
'Real isn't how you are made,' said the Skin Horse. 'It's a thing that happens to you.
When someone loves you for a long, long time, not just to play with, but REALLY loves you,
then you become Real.'
'Does it hurt?' asked the Rabbit.
'Sometimes,' said the Skin Horse, for he was always truthful.
'When you are Real you don't mind being hurt.'
'Does it happen all at once, like being wound up,' he asked, 'or bit by bit?'
'It doesn't happen all at once,' said the Skin Horse.
'You become. It takes a long time.
That's why it doesn't happen often to people who break easily,
or have sharp edges, or who have to be carefully kept.
Generally, by the time you are Real, most of your hair has been loved off,
and your eyes drop out and you get loose in your joints and very shabby.
But these things don't matter at all, because once you are Real you can't be ugly,
except to people who don't understand.'
'I suppose you are real?' said the Rabbit.
And then he wished he had not said it, for he thought the Skin Horse only smiled.
'Someone made me Real,' he said.
'That was a great many years ago;
but once you are Real you can't become unreal again.
It lasts for always.'
"The One"
When the one who's hand you're holding
Is the one who holds your heart,
When the one whose eyes you gaze into
Gives your hopes and dreams their start.
When the one you think of first and last
Is the one who holds you tight.
And the things you plan together
Make the whole world seem just right.
When the one whom you believe in
Puts their face and trust in you,
You've found the one and only love
You'll share your whole life through
"Wild Awake" by Hilary T. Smith
People are like cities:
We all have alleys and gardens and secret rooftops
and places where daisies sprout between the sidewalk cracks,
but most of the time all we let each other see is a postcard glimpse of a skyline or a polished square.
Love lets you find those hidden places in another person,
even the ones they didn't know were there,
even the ones they wouldn't have thought to call beautiful themselves.
"Love Monkey" by Edward Monkton
It was once custom that every monkey would carve for himself a wooden heart.
And the heart that love monkey carved was the most beautiful of all.
Its contours were soft and rounded, like an ancient pebble sculpted by the oceans.
Its surface was smooth and shiny like liquid silk, and it shone as bright as a ruby in the desert sun.
"Take your hearts with you wherever you go," said their teacher.
"Nurture them as a mother nurtures her new-born baby.
For when you want to give of yourself fully, your heart is the only true gift you will have."
That night, Love Monkey had a dream.
He dreamt of a monkey whose smile lit up his sole like sunshine.
He held out his heart to her, so radiant, so splendid and so new.
She took him in her arms and he felt truly, perfectly, at peace.
When Love Monkey awoke he resolved that, from that day forward, he would search for his Dream Monkey until he could stand before her and give to her his perfect heart.
He travelled through deserts…and climbed over mountains.
He trekked across forests…and sailed many oceans.
Love Monkey looked after his heart as best he could,
but the storms that he endured on his travels chipped away at its surface
and each new adventure reshaped it.
By the time he arrived on the last distant shore,
his heart was so changed by the patina of time that it barely resembled his old heart at all.
And then, he saw her.
Standing before him, as radiant and as beautiful as the sunshine, was his Dream Monkey.
At first the cold not speak. But then, from somewhere deep inside himself, he found a voice.
"I have travelled the world over to find you, and to give you my heart," he said.
"But now that I am finally with you, I see how foolish I have been.
You are so beautiful, so perfect. And my heart that was once smooth, so bright and so new is now not something that I could even bring myself to show you," and he turned to go.
"Let me see it," said Dream Monkey. She took his heart and held it up to the light.
"Nothing to me is more beautiful. Every fissure tells a story. Every blemish makes you more real.
All my life I have been waiting for a heart like this; a heart that speaks the truth."
"Come here," she said. "I have something for you too."
In her hand was a tiny golden heart. It was as worn and as scratched as Love Monkey's own…
and it was the most precious thing that he had ever seen.
Love Monkey put his arms around her and they held each other for a long, long time.
"I shall treasure this heart for as long as I live," said Dream Monkey,
running her fingers over its ridged and dimpled surface.
Then they looked into each other's eyes
and feeling the joy of truth in their souls for the first time, they began to laugh.
And often they sit together still, holding each other's hearts in their warm hands,
lifting them to the light…and laughing. Always laughing.
"The House At Pooh Corner" by A.A. Milne
"Pooh, promise you won't forget about me, ever. Not even when I'm a hundred."
Pooh thought for a little.
"How old shall I be then?"
"Ninety-nine."
Pooh nodded. "I promise," he said.
Still with his eyes on the world, Christopher Robin put out a hand and felt for Pooh's paw.
"Pooh," said Christopher Robin earnestly, "if I – if I'm not quite…" he stopped and tried again
"Pooh, whatever happens, you will understand, won't you?
"Understand what?"
"Oh, nothing." He laughed and jumped to his feet. "Come on!"
"Where?" said Pooh.
"Anywhere," said Christopher Robin.
"Always Remember I Love You" by Mikki Shuler
Always remember I love you,
More than words could ever show,
And that I think about you always,
Much more then you could ever know.
And now until forever, remember this too,
There is no-one I could love, more then I love you.
"The Little Yellow Leaf" by Carin Berger
And then, high up on an icy branch, a scarlet flash.
One more leaf holding tight.
"You're here?" called the Little Yellow Leaf.
"I am," said the Little Scarlet Leaf.
"Like me!" said the Little Yellow Leaf.
Neither spoke.
Finally… "Will you?" asked the Little Scarlett Leaf.
"I will!" said the Little Yellow Leaf.
And one, two, three, they let go and soared.
"Oh, the places you'll go" by Dr Seuss
Congratulations! Today is your day.
You're off to Great Places! You're off and away!
You have brains in your head. You have feet in your shoes.
You can steer yourself any direction you choose.
You're on your own. And you know what you know.
And YOU are the guys who'll decide where to go.
You'll look up and down streets. Look 'em over with care.
About some you will say, "I don't choose to go there."
With your head full of brains and your shoes full of feet,
you're too smart to go down any not-so-good street.
And you may not find any you'll want to go down.
In that case, of course, you'll head straight out of town.
It's opener there in the wide open air.
Out there things can happen, and frequently do,
to people as brainy and footsy as you.
And when things start to happen don't worry. Don't stew.
Just go right along. You'll start happening too.
From 'Jane Eyre' by Charlotte Bronte
I have for the first time found what I can truly love – I have found you.
You are my sympathy – my better self—my good angel
I am bound to you with a strong attachment.
I think you good, gifted, lovely:
a fervent, a solemn passion is conceived in my heart;
it leans to you, draws you to my center and spring of life,
wraps my existence about you—
and, kindling in pure, powerful flame, fuses you and me in one.
"I Will Be Here" by Steven Curtis Chapman
If in the morning when you wake,
If the sun does not appear, I will be here.
If in the dark we lose sight of love,
Hold my hand and have no fear, I will be here.
I will be here,
When you feel like being quiet,
When you need to speak your mind I will listen.
Through the winning, losing, and trying we'll be together,
And I will be here.
If in the morning when you wake,
If the future is unclear, I will be here.
As sure as seasons were made for change,
Our lifetimes were made for years,
I will be here.
I will be here,
And you can cry on my shoulder,
When the mirror tells us we're older.
I will hold you, to watch you grow in beauty,
And tell you all the things you are to me.
We'll be together and I will be here.
I will be true to the promises I've made,
To you and to the one who gave you to me.
I will be here.
"Love" by Roy Croft
I love you, not only for what you are, but for what I am when I am with you.
I love you, not only for what you have made of yourself, but for what you are making of me.
I love you, for the part of me that you bring out;
I love you, for putting your hand into my heaped-up heart and passing over all the foolish,
weak things that you can't help dimly seeing there;
And for drawing out, into the light,
all the beautiful belongings that no one else had looked quite far enough to find.
I love you, because you are helping me to make of the lumber of my life,
not a tavern, but a temple,
Out of the works of my every day, not a reproach, but a song.
I love you, because you have done more than any creed could have done to make me good.
And more than any fate could have done to make me happy.
You have done it without a touch, without a word, without a sign.
You have done it by being yourself.
Perhaps that is what being a friend means, after all.
"Love One Another"
If you can love each other through the sunshine and the storm
And keep the flame of true devotion glowing bright and warm
If you can give each other room to grow and change and learn
Yet still hold one another close in mutual concern
If you can be both lovers and the very best of friends
And face together hand in hand the challenges life sends
If you can offer patience, comfort and real understanding
Encourage one another's efforts, yet be understanding
If you can show true love and faith in everything you do
Then married life will surely hold much joy for both of you.
"I am Love"
Some say I can fly on the wind, yet I haven't any wings.
Some have found me floating on the open sea, yet I cannot swim.
Some have felt my warmth on cold nights, yet I have no flame.
And though you cannot see me, I lay between two lovers at the hearth of fireplaces.
I am the twinkle in your child's eyes.
I am hidden in the lines of your mother's face.
I am your father's shield as he guards your home.
And yet… Some say I am stronger than steel, yet I am as fragile as a tear.
Some have never searched for me, yet I am around them always.
Some say I die with loss, yet I am endless.
And though you cannot hear me, I dance on the laughter of children.
I am woven into the whispers of passion.
I am in the blessings of Grandmothers.
I embrace the cries of newborn babies.
And yet… Some say I am a flower, yet I am also the seed.
Some have little faith in me, yet I will always believe in them.
Some say I cannot cure the ill, yet I nourish the soul.
And though you cannot touch me, I am the gentle hand of the kind.
I am the fingertips that caress your cheek at night.
I am the hug of a child. I am love.
"I Want" by Maggie Chretien
I want a marriage that is equal.
I want a marriage that is passionate beyond expression.
A marriage with fears and fights and all that is real in the world.
I want a love that does not define me, that does not hold me back,
that does not warrant a change to my innate character.
I want a love that is realised, that helps me accomplish my dreams
and that lets me be who I was born to be.
I want a partnership that exists through trials and tribulations,
a partnership that exists between two people who are already whole,
a partnership that offers laughter, guidance, hustle and growth.
I want a relationship that is not needed but wanted,
is not forced but worked on, is not taken for granted but cherished.
I want a soulmate who sees inside my skin, who never wants to change me,
but rather to challenge me, to affect me and to encourage me.
A soulmate who believes in me, who understands that I can fight my own battles,
who understands that I will blaze my own path and one that will unrelentingly do that for themselves.
I want my person to be my biggest fan and my hardest critic,
my coach and my teammate, my friend and my advisory.
I have found all this in you.
I choose you not from a place of need or fear,
but one of thought, passion and sense of peace.
My love, my partner, my soulmate.
"Friendship" by Judy Bielicki
It is often said that it is love that makes the world go round.
However, without doubt, it is friendship which keeps our spinning existence on an even keel.
True friendship provides so many of the essentials for a happy life-
it is the foundation on which to build an enduring relationship,
it is the mortar which bonds us together in harmony,
and it is the calm, warm protection we sometimes need
when the world outside seems cold and chaotic.
True friendship holds a mirror to our foibles and failings,
without destroying our sense of worthiness.
True friendship nurtures our hopes, supports us in our disappointments,
and encourages us to grow to our best potential.
(Bride) and (Groom) came together as friends.
Today, they pledge to each other not only their love,
but also the strength, warmth and, most importantly, the fun of true friendship.
"The Art of Marriage"
Happiness in marriage is not something that just happens.
A good marriage must be created.
In the art of marriage the little things are the big things…
It is never being too old to hold hands.
It is remembering to say "I love you" at least once a day.
It is never going to sleep angry.
It is at no time taking the other for granted;
the courtship should not end with the honeymoon,
it should continue through all the years.
It is having a mutual sense of values and common objectives.
It is standing together facing the world.
It is forming a circle of love that gathers in the whole family.
It is doing things for each other,
not in the attitude of duty or sacrifice, but in the spirit of joy.
It is speaking words of appreciation
and demonstrating gratitude in thoughtful ways.
It is not looking for perfection in each other.
It is cultivating flexibility, patience, understanding and a sense of humour.
It is having the capacity to forgive and forget.
It is giving each other an atmosphere in which each can grow.
It is finding room for the things of the spirit.
It is a common search for the good and the beautiful.
It is establishing a relationship in which the independence is equal,
dependence is mutual and the obligation is reciprocal.
It is not only marrying the right partner, it is being the right partner.
It is discovering what marriage can be, at its best.
"This Day I Married My Best Friend"
This day I married my best friend
The one I laugh with as we share life's wondrous zest,
as we find new enjoyments and experience all that's best.
The one I live for because the world seems brighter
as our happy times are better and our burdens feel much lighter.
"I'll Cover You" from the musical 'Rent' by Jonathan Larson
Live in my house, I'll be your shelter
Just pay me back with one thousand kisses
Be my lover and I'll cover you.
Open your door, I'll be your tenant
I don't have much baggage, to lay at your feet
But sweet kisses I've got to spare,
I'll be there and I'll cover you.
I think they meant it, when they said you can't buy love.
Now I know you can rent it, there is no lease, you are my love
One life, all my life.
"Love is a Friendship that has Caught Fire" by Ann Landers
Love is a friendship that has caught fire.
It is quiet understanding, mutual confidence, sharing and forgiving.
It is loyalty through good and bad.
It settles for less than perfection, and makes allowances for human weakness.
Love is content with the present.
It hopes for the future and it doesn't brood over the past.
It's the day-in and day-out chronicle of irritations, problems, compromises, small disappointments,
big victories, and working toward common goals.
If you have love in your life, it can make up for a great many things you lack.
If you don't have it, no matter what else there is, it is not enough,
so search for it, ask God for it, and share it!
"A Lovely Love Story " by Edward Monkton
The fierce Dinosaur was trapped inside his cage of ice.
Although it was cold he was happy in there.
It was, after all, his cage.
Then along came the Lovely Other Dinosaur.
The Lovely Other Dinosaur melted the Dinosaur's cage with kind words and loving thoughts.
I like this Dinosaur, thought the Lovely Other Dinosaur.
Although he is fierce he is also tender and he is funny.
He is also quite clever though I will not tell him this for now.
I like this Lovely Other Dinosaur, thought the Dinosaur.
She is beautiful and she is different and she smells so nice.
She is also a free spirit which is a quality I much admire in a dinosaur.
But he can be so distant and so peculiar at times, thought the Lovely Other Dinosaur.
He is also overly fond of things.
Are all Dinosaurs so overly fond of things?
But her mind skips from here to there so quickly thought the Dinosaur.
She is also uncommonly keen on shopping.
Are all Lovely Other Dinosaurs so uncommonly keen on shopping?
I will forgive his peculiarity and his concern for things, thought the Lovely Other Dinosaur.
For they are part of what makes him a richly charactered individual.
I will forgive her skipping mind and her fondness for shopping, thought the Dinosaur.
For she fills our life with beautiful thoughts and wonderful surprises.
Besides, I am not un-keen on shopping either.
Now the Dinosaur and the Lovely Other Dinosaur are old.
Look at them.
Together they stand on the hill telling each other stories
and feeling the warmth of the sun on their backs.
And that, my friends, is how it is with love.
Let us all be Dinosaurs and Lovely Other Dinosaurs together.
For the sun is warm. And the world is a beautiful place.
"The Invitation" by Oriah Mountain Dreamer
It doesn't interest me what you do for a living.
I want to know what you ache for,
and if you dare to dream of meeting your hearts longing.
It doesn't interest me how old you are.
I want to know if you will risk looking a fool for love,
for your dreams, for the adventure of being alive.
It doesn't interest me what planets are square in your moon.
I want to know if you have touched the center of your own sorrow,
if you have been opened by life's betrayals
or have become shriveled and closed down from fear of further pain.
I want to know if you can sit with pain, mine or your own,
without moving, to hide it, fade it, or fix it.
I want to know if you can be with joy, mine or your own;
if you can dance with wildness and let ecstasy fill you to the tips of your fingers and toes without cautioning us to be careful, be realistic, or to remember the limitations of being human.
It doesn't interest me if the story you are telling me is true.
I want to know if you can disappoint another to be true yourself;
if you can bear the accusation of betrayal and not betray your own soul.
I want to know if you can be faithful and therefore trustworthy.
I want to know if you can see beauty even when it is not pretty every day,
and if you can source your life on the edge of the lake
and shout to the silver of the moon in God's presence.
It doesn't interest me to know where you live or how much money you have.
I want to know if you can get up after a night of grief and despair,
weary and bruised to the bone, and do what needs to be done for the children.
It doesn't interest me who you know, or how you came here.
I want to know if you will stand in the center of the fire with me and not shrink back.
It doesn't interest me where or what or with whom you have studied.
I want to know what sustains you from the inside when all else falls away.
I want to know if you can be alone with yourself,
and if you truly like the company you keep in empty moments.
"From The Irrational Season" by Madeleine L'Engle
But ultimately there comes a moment when a decision must be made.
Ultimately two people who love each other must ask themselves how much they hope for as their love grows and deepens, and how much risk they are willing to take.
It is indeed a fearful gamble.
Because it is the nature of love to create, a marriage itself is something which has to be created, so that, together we become a new creature.
To marry is the biggest risk in human relations that a person can take.
If we commit ourselves to one person for life this is not, as many people think, a rejection of freedom; rather it demands the courage to move into all the risks of freedom, and the risk of love which is permanent; into that love which is not possession, but participation.
It takes a lifetime to learn another person.
When love is not possession, but participation, then it is part of that co- creation which is our human calling, and which implies such risk that it is often rejected.
"Privileged Lovers" by Rumi
The moon has become a dancer at this festival of love.
This dance of light, this sacred blessing, this divine love,
It beckons us to a world beyond only lovers can see with their eyes of fiery passion.
They are the chosen ones who have surrendered.
Once they were particles of light, now they are the radiant sun.
They have left behind the world of deceitful games.
They are the privileged lovers who create a new world with their eyes of fiery passion.
"On Your Wedding Day"
Today is a day you will always remember
The greatest in anyone's life
You'll start off the day just two people in love
And end it as husband and wife.
It's a brand new beginning, the start of a journey
With moments to cherish and treasure
And although they'll be times when you both disagree
These will surely be outweighed by pleasure
You'll have heard many words of advice in the past
When the secrets of marriage were spoken
But you know that the answers lie hidden inside
Where the bond of true love lies unbroken
So live happy forever as lovers and friends
It's the dawn of a new life for you
As you stand there together with love in your eyes
From the moment you whisper 'I do'
And with luck all your hopes and your dreams can be real
May success find its way to your hearts
Tomorrow can bring you the greatest of joys
But today is the day it all starts
"A Successful Marriage" by Paul Kurtz
A successful marriage is one where each partner discovers that it is better to give love than to receive it.
To truly love another person is to wish that person to develop and flourish in his or her own terms.
In a long marriage there will be joy and laughter, but also sadness and sorrow, harmony and discord,
as you strive to overcome adversity and fulfil your dreams.
The key value of wedlock is that it allows for intimacy between a woman and a man,
who can enjoy each other's company, share ideals and expectations,
confess failures and admit defeats to each other,
and yet realise in union the qualities of the good life.
As you build your home, embark upon careers, and raise a family, your marriage can become a work of art in which both of you together give it line and form, colour and tone.
You will be challenged every day and in every way to make your marriage work.
If you do, it can become a thing of beauty, a joint creation of aesthetic
"To Know One Another" by Albert Schweitzer
We are each a secret to the other.
To know one another cannot mean to know everything about each other;
it means to feel mutual affection and confidence, and to believe in one another.
We must not try to force our way into the personality of another.
To analyse others is a rude commencement,
for there is a modesty of the soul which we must recognise just as we do that of the body.
No one has a right to say to another:
Because we belong to each other as we do, I have a right to know all your thoughts.
Not even a mother may treat her child in that way.
All demands of this sort are foolish and unwholesome.
In this matter giving is the only valuable process;
it is only giving that stimulates.
Impart as much as you can of your spiritual being to those who are on the road with you, and accept as something precious what comes back to you from them.
"My Love" by Linda Lee Elrod
When I met you, I had no idea how much my life was about to be changed…
but then, how could I have known?
A love like ours happens once in a lifetime.
You were a miracle to me,
the one who was everything I had ever dreamed of,
the one I thought existed only in my imagination.
And when you came into my life,
I realized that what I had always thought was happiness
couldn't compare to the joy loving you brought me.
You are a part of everything I think and do and feel,
and with you by my side, I believe that anything is possible.
(this day) gives me a chance to thank you for the miracle of you…
you are, and always will be, the love of my life.
"Definition of Marriage"
Love isn't love unless it is expressed;
caring isn't caring unless the other person knows,
sharing isn't sharing unless the other person is included;
Loving, caring, and sharing can make for a very happy marriage
"Born Together" by Kahil Gibran
You were born together, and together you shall be forevermore.
You shall be together when the white wings of death scatter your days.
Ay, you shall be together even in the silent memory of God.
But let there be spaces in your togetherness,
And let the winds of heavens dance between you.
Love one another, but make not a bond of love:
Let it rather be a moving sea between the shores of your souls.
Fill each other's cup but drink not from one cup.
Give one another of your bread but eat not from the same loaf.
Sing and dance together and be joyous, but let each one of you be alone,
Even as the strings of a lute are alone though they quiver with the same music.
Give your hearts, but not into each other's keeping.
For only the hand of Life can contain your hearts.
And stand together yet not too near together:
For the pillars of the temple stand apart,
And the oak tree and the cypress grow not in each other's shadow.
"On Love" by Thomas A Kempis
Love is a mighty power,
a great and complete good.
Love alone lightens every burden, and makes rough places smooth.
It bears every hardship as though it were nothing, and renders
all bitterness sweet and acceptable.
Nothing is sweeter than love,
Nothing stronger,
Nothing higher,
Nothing wider,
Nothing more pleasant,
Nothing fuller or better in heaven or earth; for love is born of God.
Love flies, runs and leaps for joy.
It is free and unrestrained.
Love knows no limits, but ardently transcends all bounds.
Love feels no burden, takes no account of toil,
attempts things beyond its strength.
Love sees nothing as impossible,
for it feels able to achieve all things.
It is strange and effective,
while those who lack love faint and fail.
Love is not fickle and sentimental,
nor is it intent on vanities.
Like a living flame and a burning torch,
it surges upward and surely surmounts every obstacle.
"The Greatest of these is Love" – Adapted from 1 Corinthians 13:4-8a
Love is always patient and kind, It is never jealous,
Love is never boastful or conceited. It is never rude or selfish,
It does not take offence,
And is not resentful.
Love takes no pleasure in other people's faults,
But delights in the truth.
It is always ready to excuse, to trust, to hope.
It is always ready to endure whatever comes.
Finally, true love does not come to an end.
"He's Not Perfect" by Bob Marley
He's not perfect.
You aren't either, and the two of you will never be perfect.
But if he can make you laugh at least once, causes you to think twice,
and if he admits to being human and making mistakes,
hold onto him and give him the most you can.
He isn't going to quote poetry,
he's not thinking about you every moment,
but he will give you a part of him that he knows you could break.
Don't hurt him, don't change him,
and don't expect for more than he can give.
Don't analyze.
Smile when he makes you happy,
yell when he makes you mad,
and miss him when he's not there.
Love hard when there is love to be had.
Because perfect guys don't exist,
but there's always one guy that is perfect for you.
"An Uncommon Love" by Terah Cox
May you have the love only two can know
May you go where only two as one can go
May the sun rise and set in your bonded hearts
And the moon never find you too long apart
May you cherish each other's dreams as your own
And turn stumbling blocks into stepping stones
May you brave life's mountains and miles together
May there be no storm your love cannot weather
May you be lovers and allies and friends
May your souls' conversations never end
May you capture on earth what's in heaven above
May your hearts know the rapture of an uncommon love.
"Destiny" by Unknown
Destiny is a mysterious thing.
No matter what you do or where you go, you cannot avoid it.
And, no matter how hard you try, even putting forth your greatest effort,
you can't force it to happen before it's time.
This occasion we witness today is the destiny of two souls.
There is not a force in the universe that could have kept you apart,
and there is nothing they could have done to come together sooner.
Each of you had to live your lives, lives that were stepping stones that have led to this moment in time,
this uniting of hearts and minds that shall be forever more.
This occasion we celebrate today is destiny of two souls.
Yes, destiny is a marvellous and mysterious thing.