Sarah + Tristan's Stones of The Yarra Valley Wedding
The Event
Sarah and Tristan chose to celebrate their 10 year relationship by saying 'I do' during a beautiful Stones of the Yarra Valley Summer wedding.
It was a true celebration of young love that had developed into a deeper connection over time and led two gorgeous souls to declare a lifetime of love and commitment to one another.
Sarah had her gorgeous sister as maid of honour by her side and it was heartwarmingly clear how close the two of them were as they shared such a special day together.
Sarah's spectacular entrance to the Stones chapel in a stunning off the shoulder, mermaid gown with cathedral length veil, was received with smiles, gasps of appreciation and tears of joy.
Their ceremony reflected on the 10 years they had already spent together, as well as their hopes and dreams for the future, before some beautiful vows and a first kiss as husband + wife gave us all the feels.
A famous Stones petal toss kicked off celebrations immediately after, before guests enjoyed drinks in the dairy whilst the newlyweds took some time to enjoy the just married vibe with a sunset portrait session.
The Meeting
First meeting just after high school at a house party, Sarah and Tristan were two of the last few people to leave and were involved in an intense game of Nintendo Wii.
Tristan thought Sarah was the most stunning woman he had ever seen, and Sarah was completely drawn towards Tristan's kind and gentle nature.
Being around one another was effortless right from the start, as though they had already known each other for years, and they felt an instant connection.
The Proposal
Tristan loved how loyal, caring and incredibly loving Sarah was, and that every moment spent with her made his day better, so deciding to celebrate 9 wonderful years together with a holiday in Fiji, Tristan secretly packed a beautiful ring in his carry bag before they left.
Sarah loved how unbelievably selfless Tristan was, always going out of his way to help those he cares about, and always putting her first, so when he bent to one knee during a day trip to a private island and asked her to marry him, she didn't hesitate.
The Vows
Sarah vowed to "always love and support you through whatever life may bring us…I give you my hand, my heart, and my love, from this day forward for as long as we both shall live."
Tristan promised to "share in your dreams and support you as you strive to achieve your goals….you are my best friend, my soul mate, and I will love and respect you always."
The Party
After some stunning sunset portraits within the grounds at Stones, Sarah and Tristan chose the celebrate their marriage in the Barn, styled to perfection by Table Art Event Hire, the team at Stones, and with the spectacular floral artistry of Sugar Bee Flowers.
Guests enjoyed music and entertainment supplied by Rutherford Entertainment and cake by Miss Ladybird Cakes, before a spectacular sparkler exit signaled the end of a perfect day.
The Photography + Videography Team
A huge thanks to the superstar team that is Theodore & Co and C2 Films for capturing every moment so beautifully and for allowing me to share their work. What an honour it is to work with these ladies + gentlemen!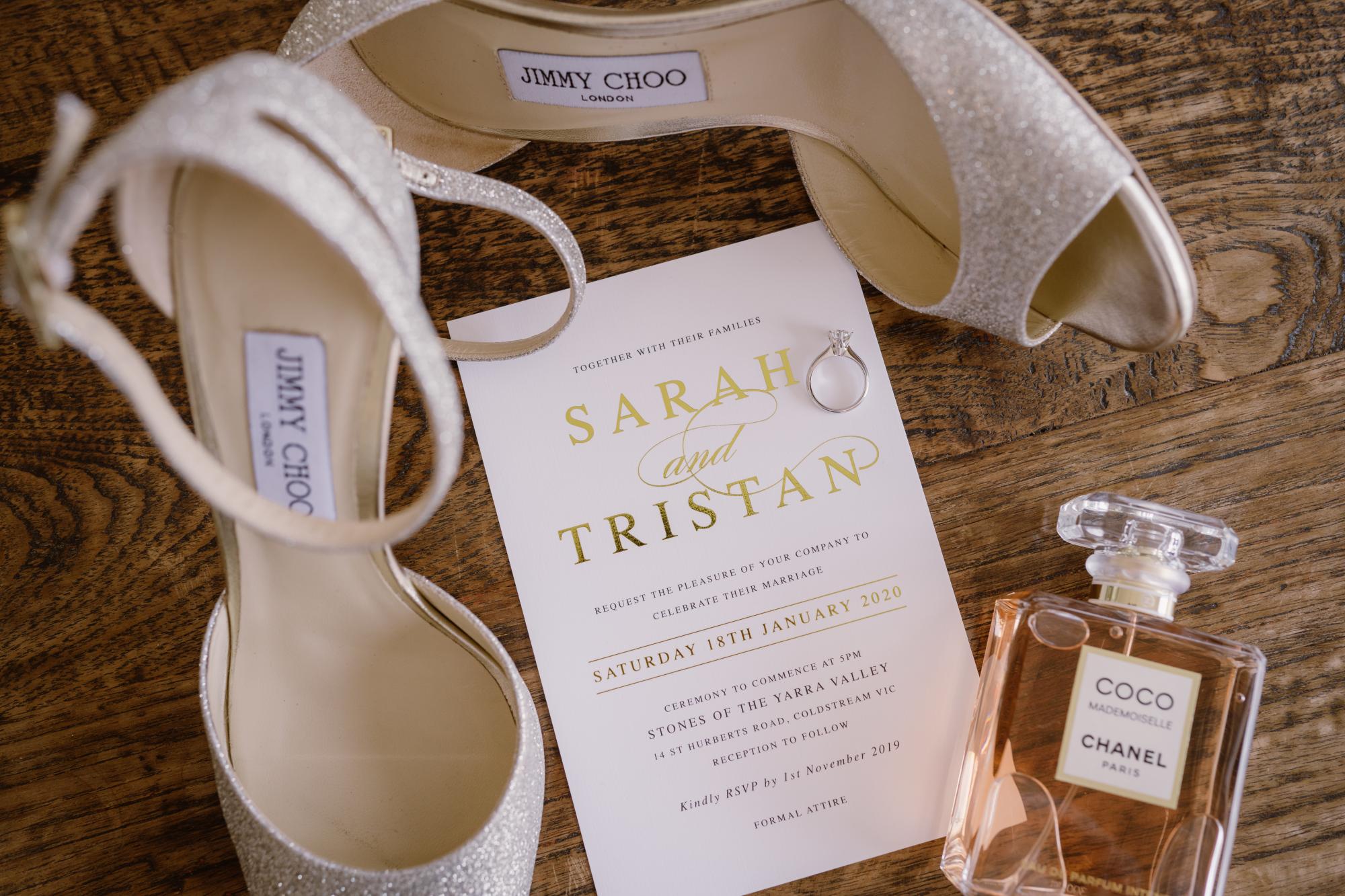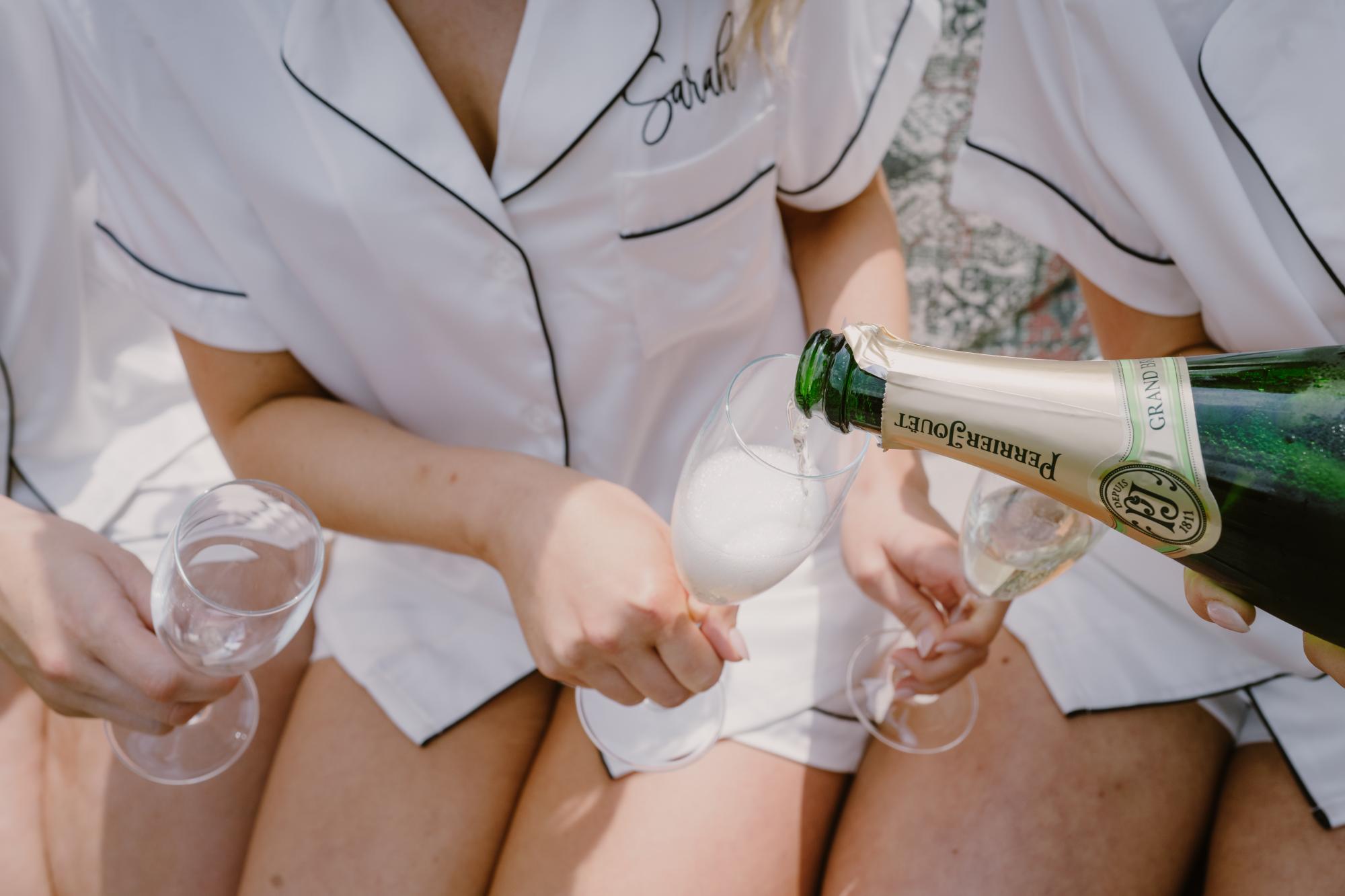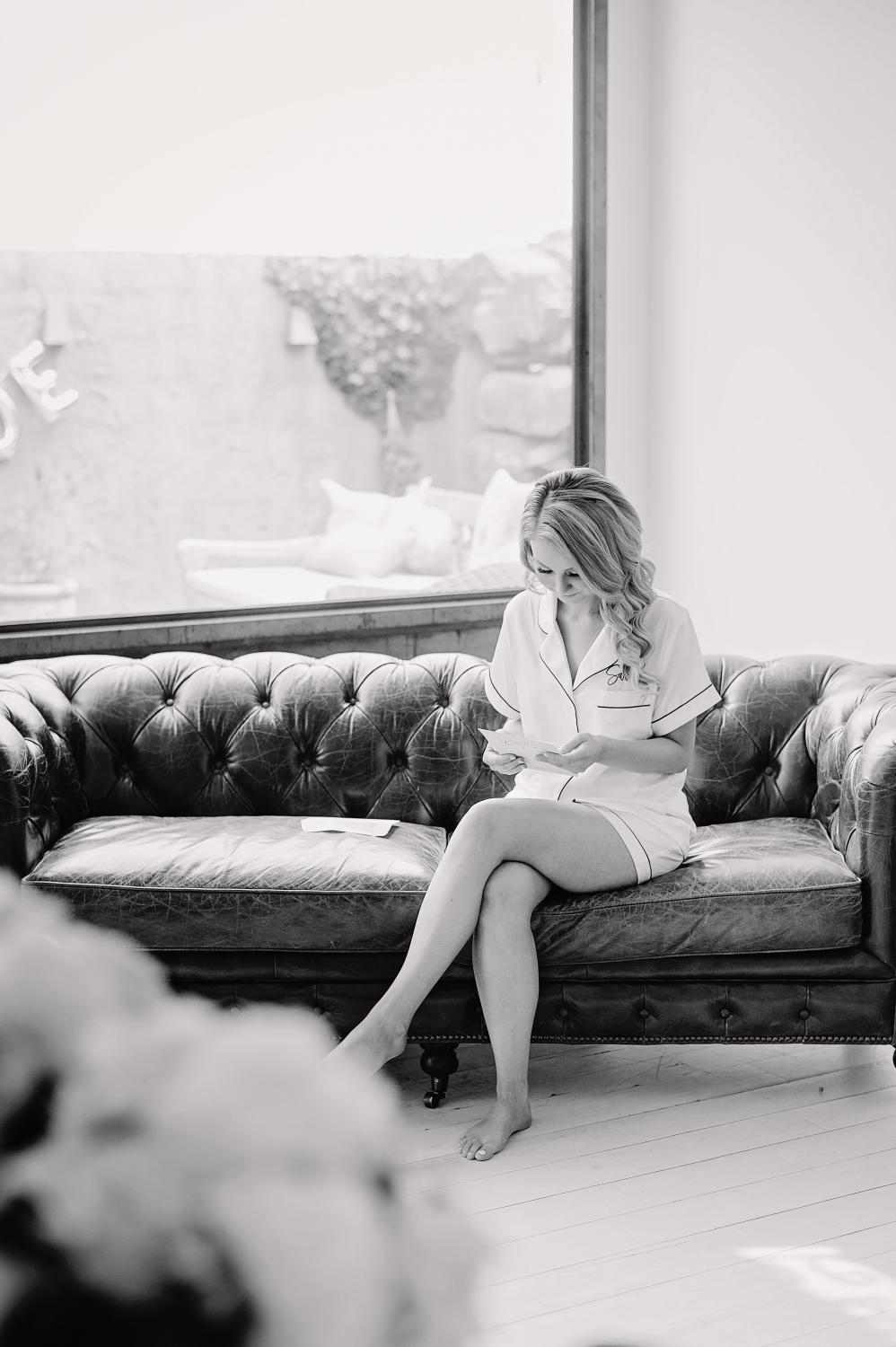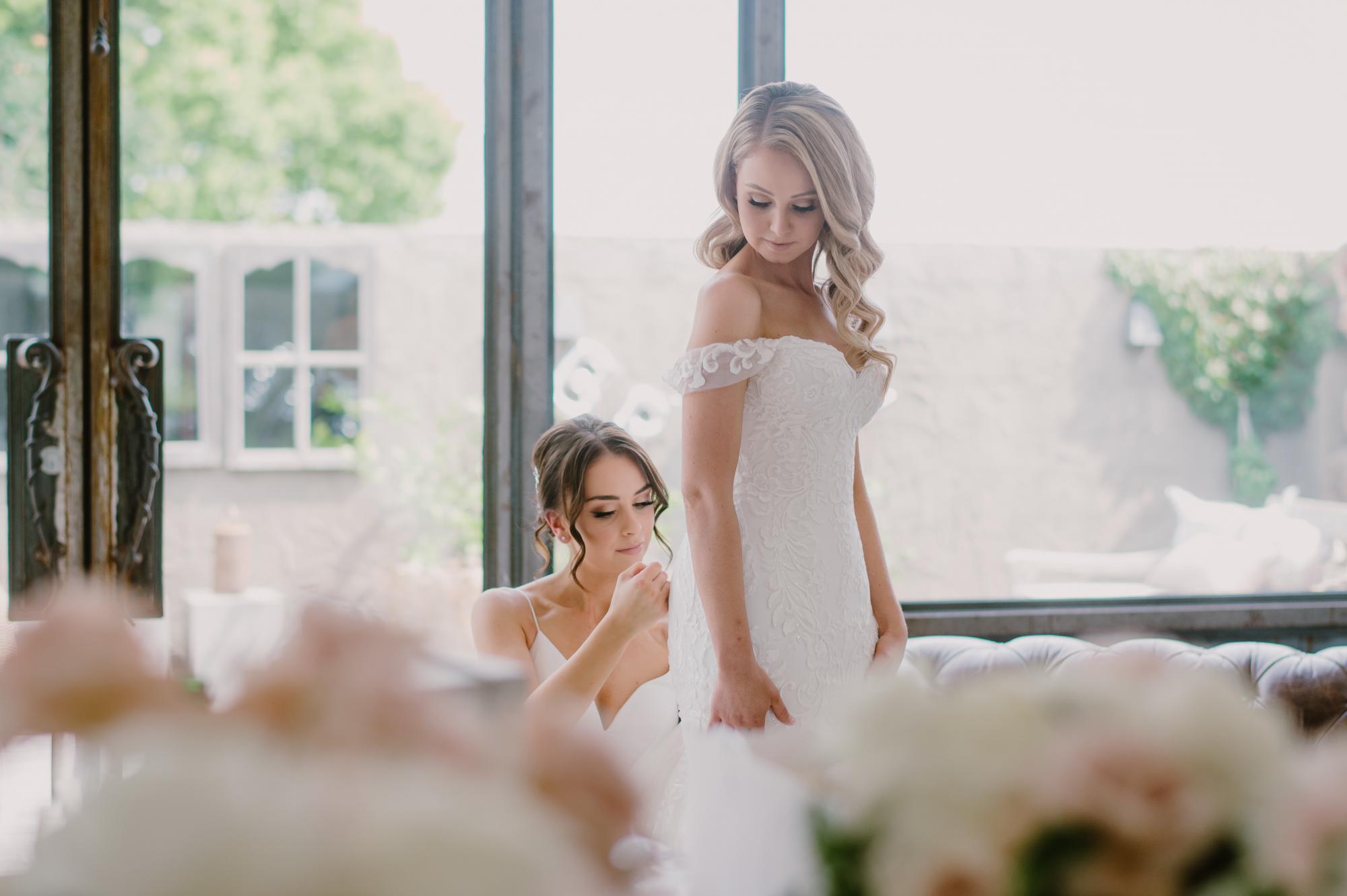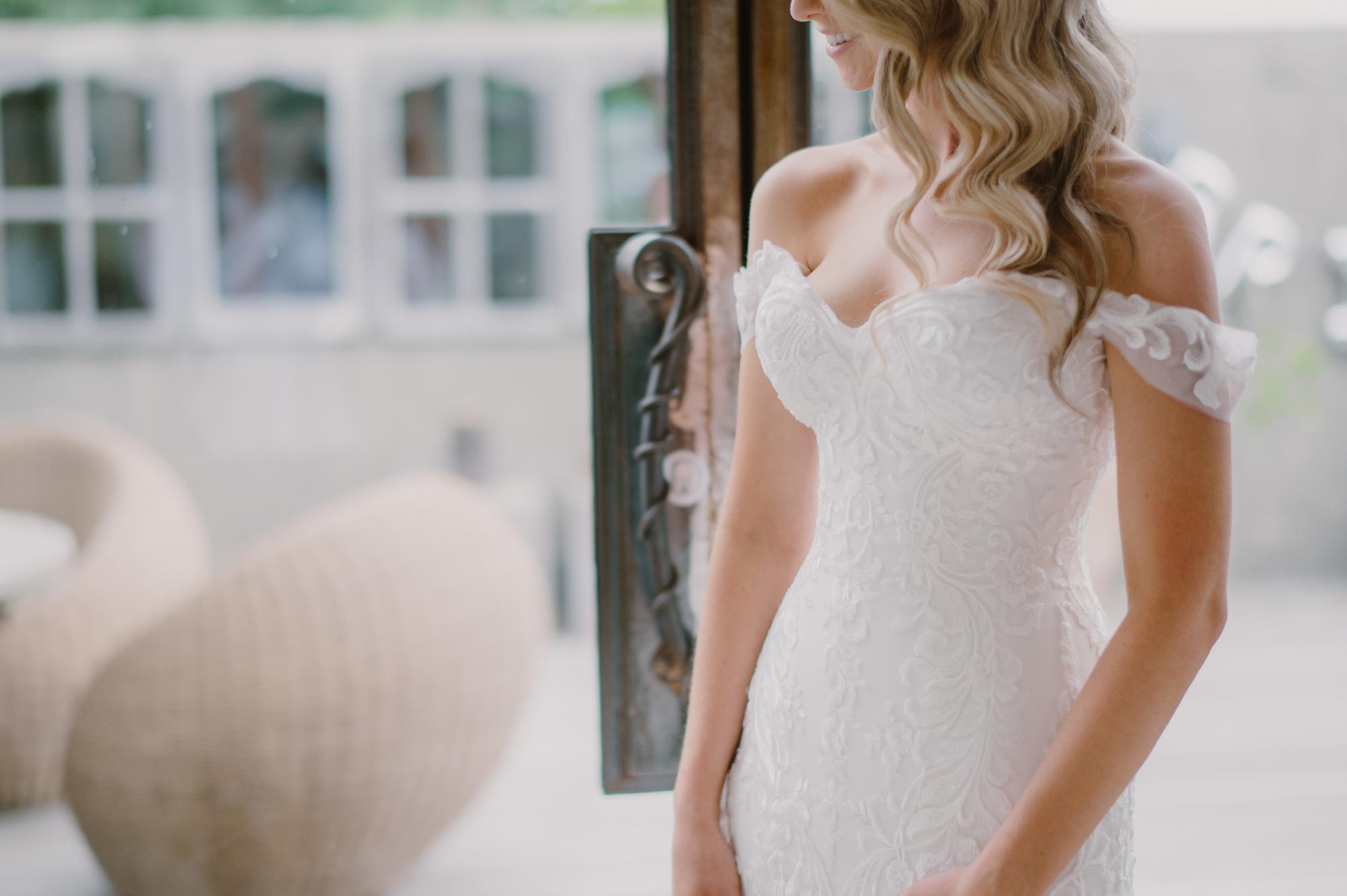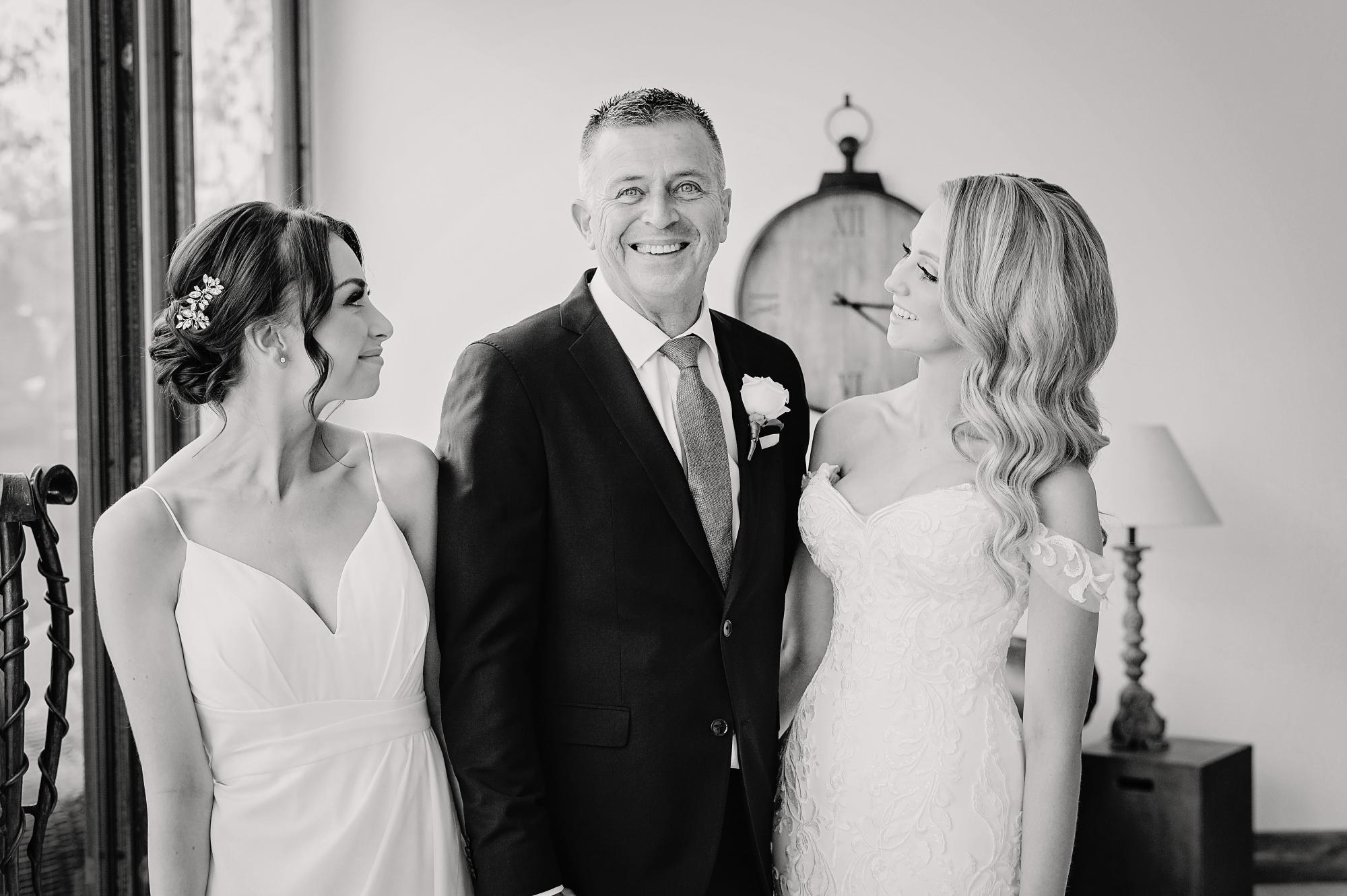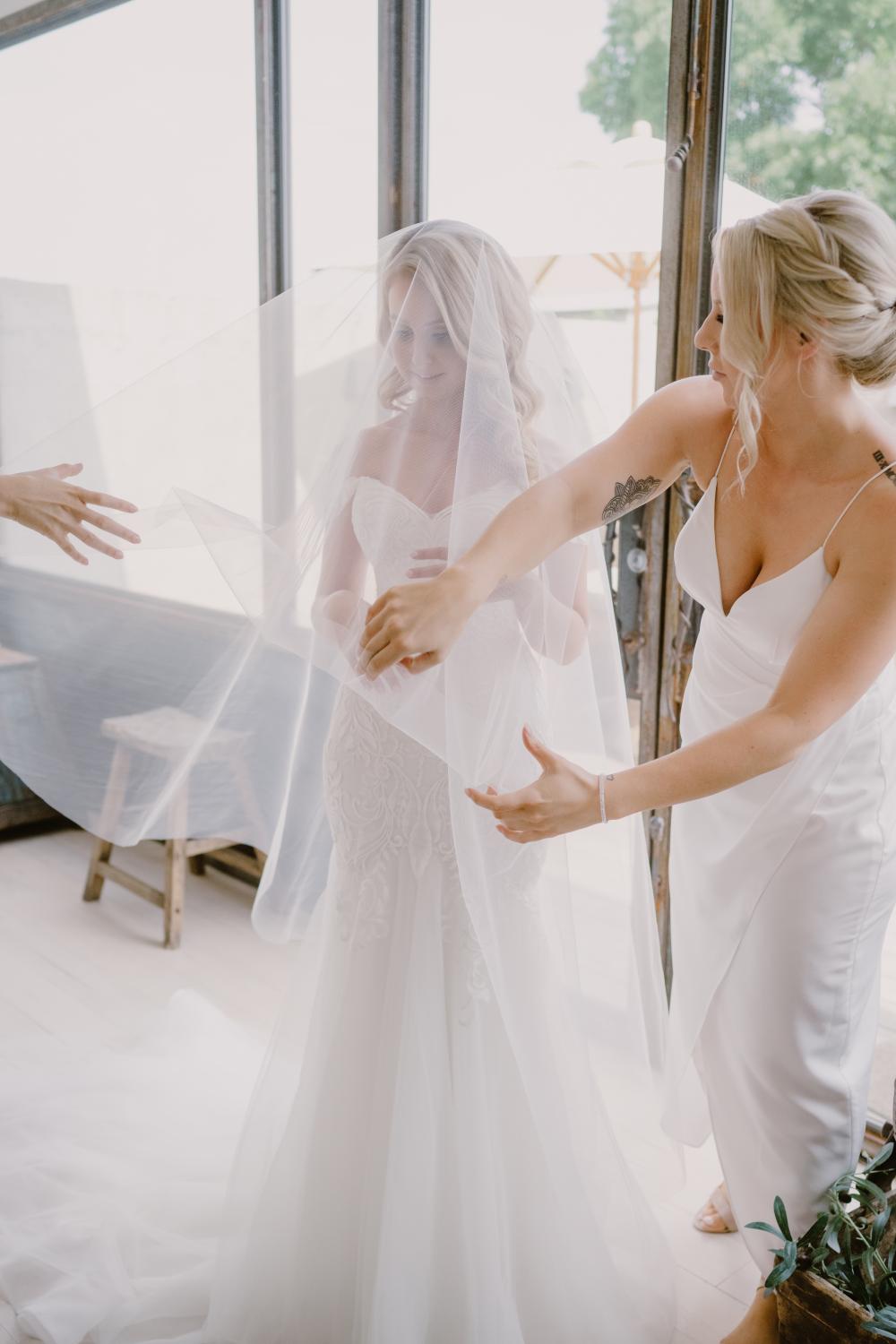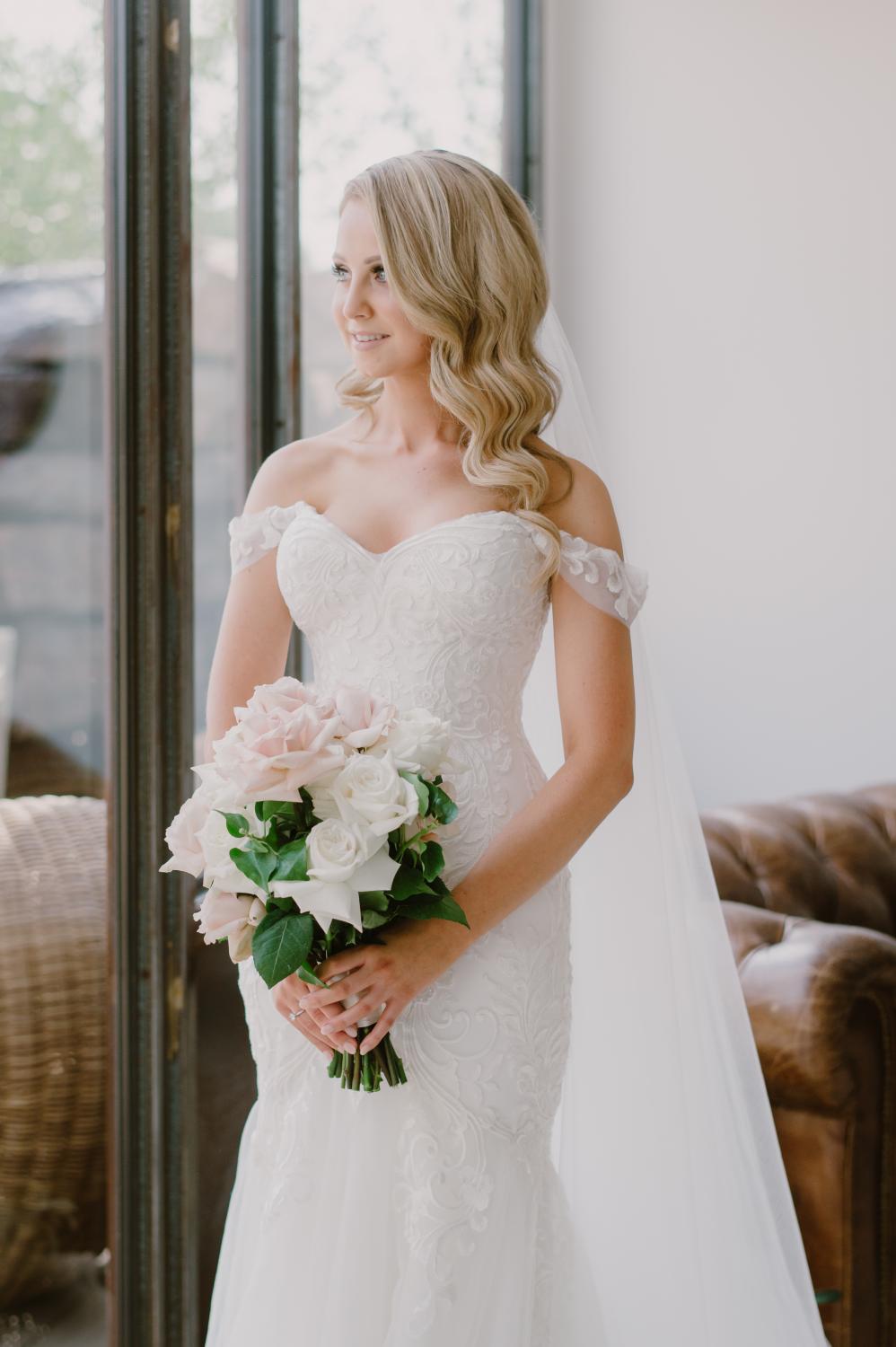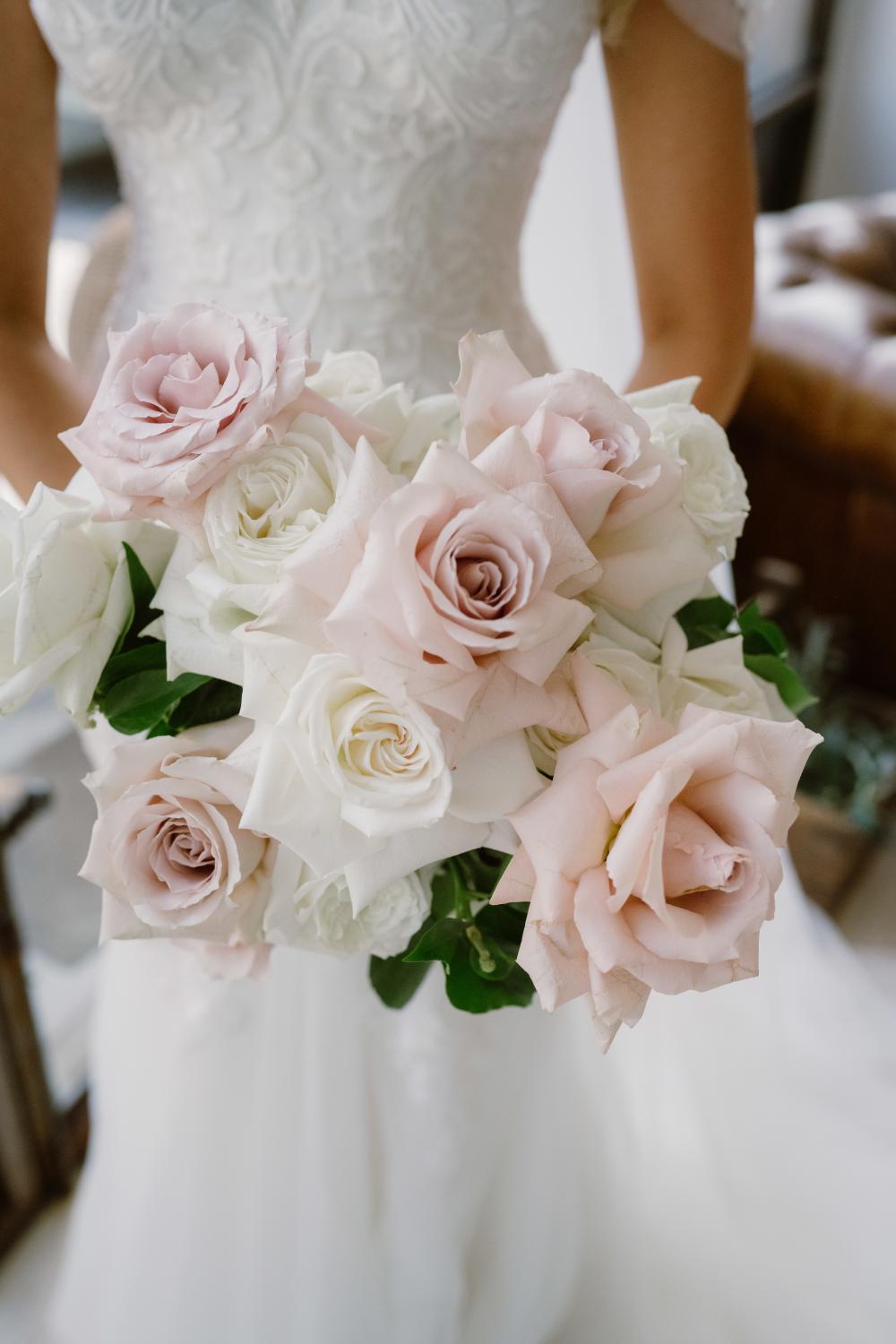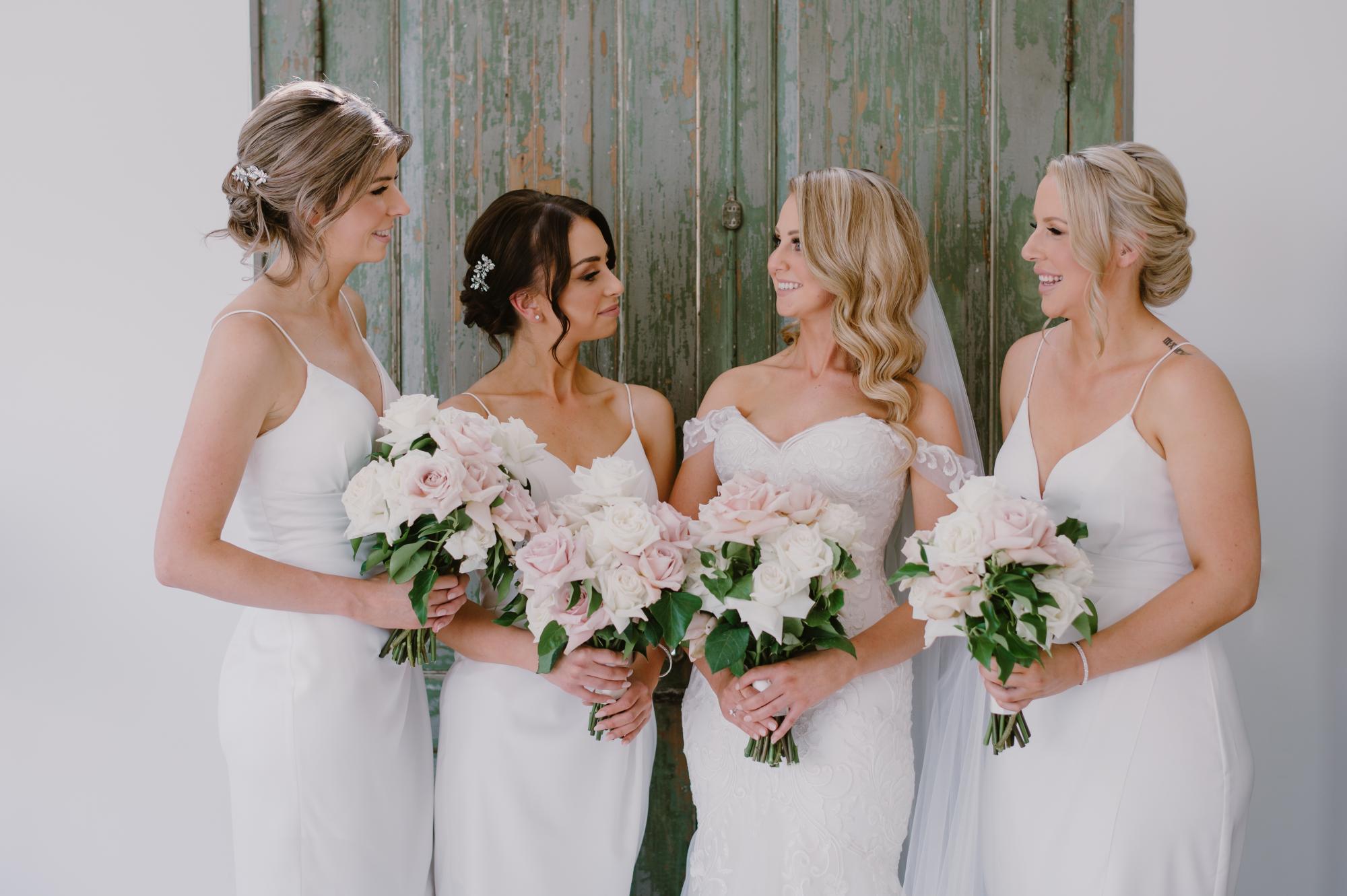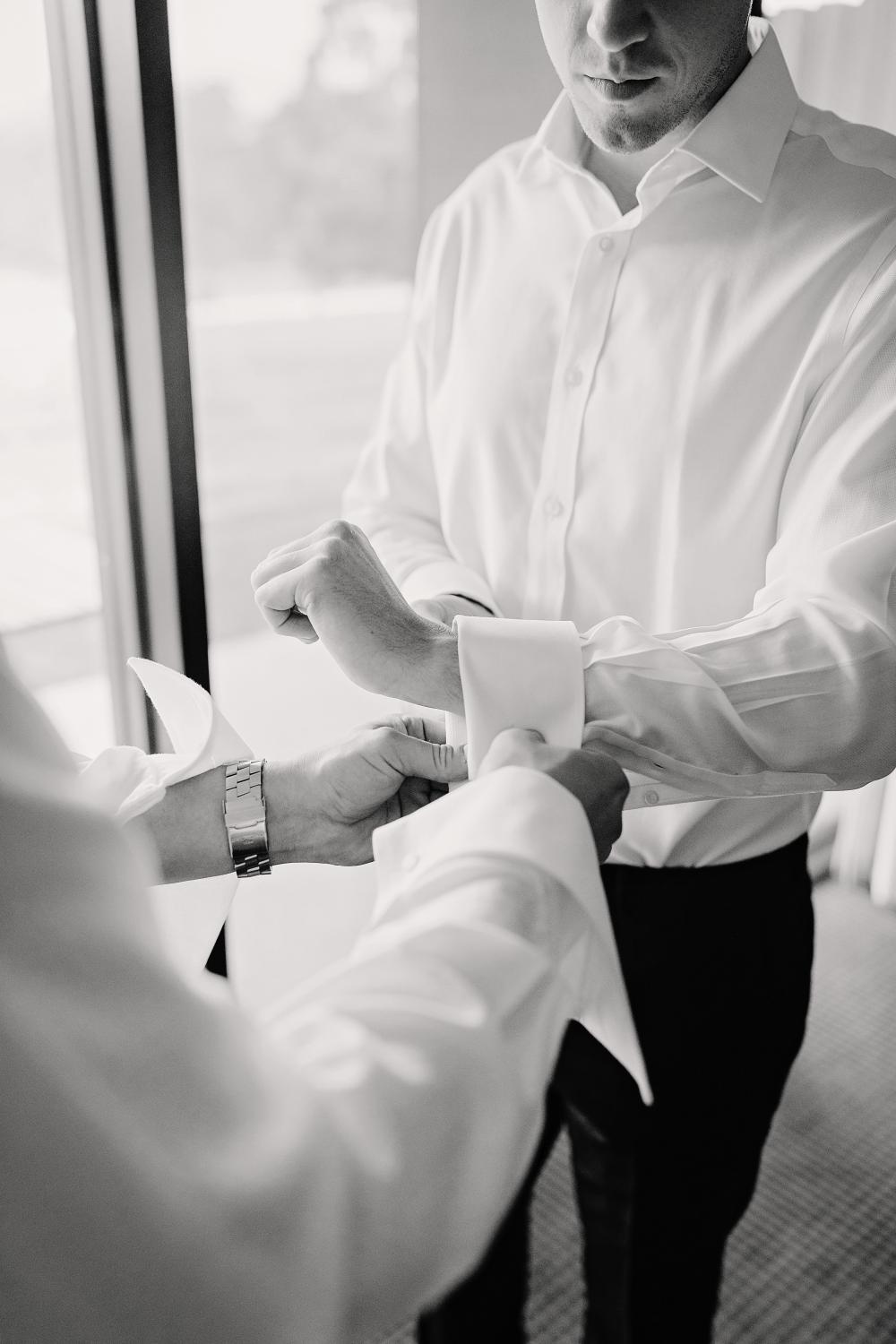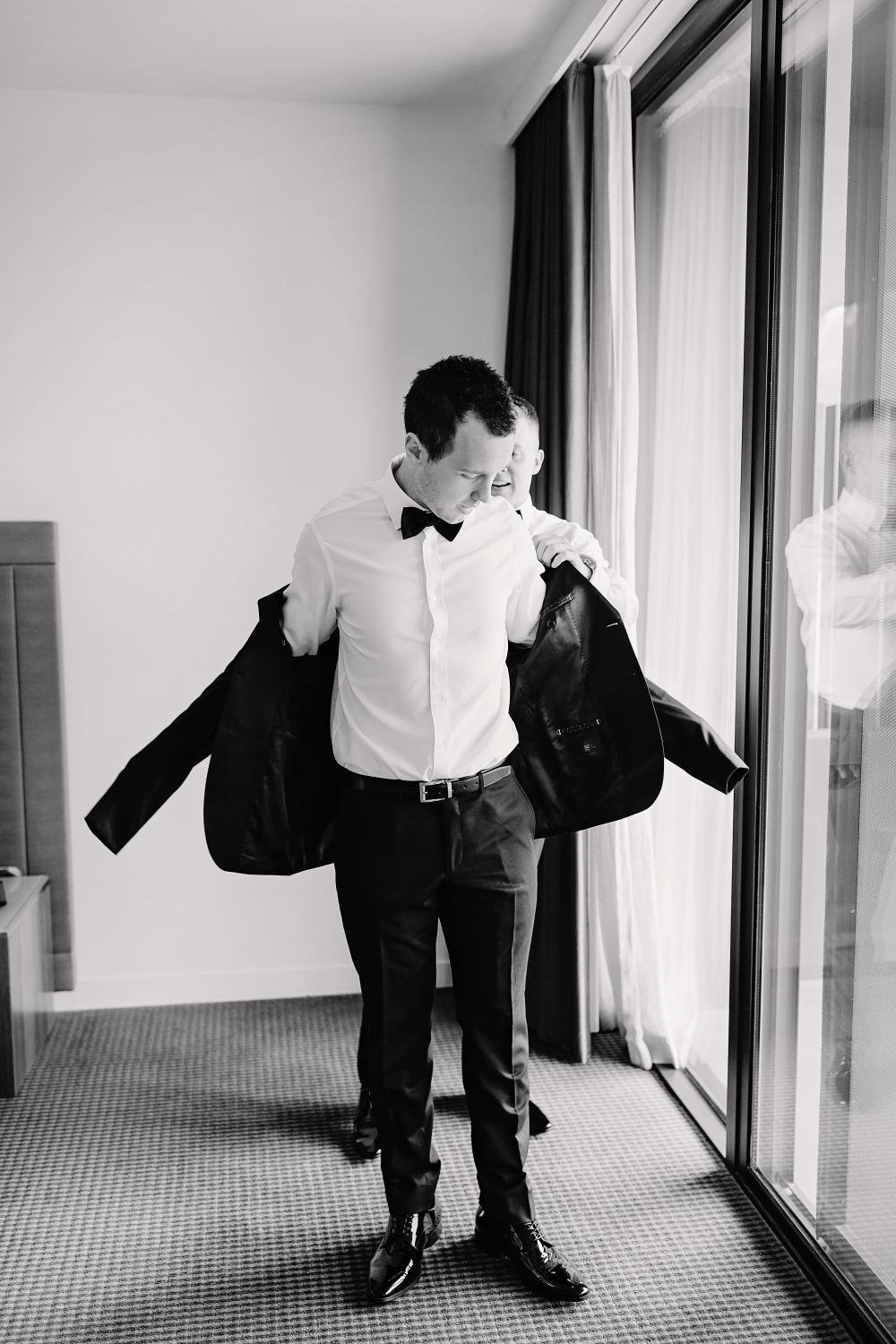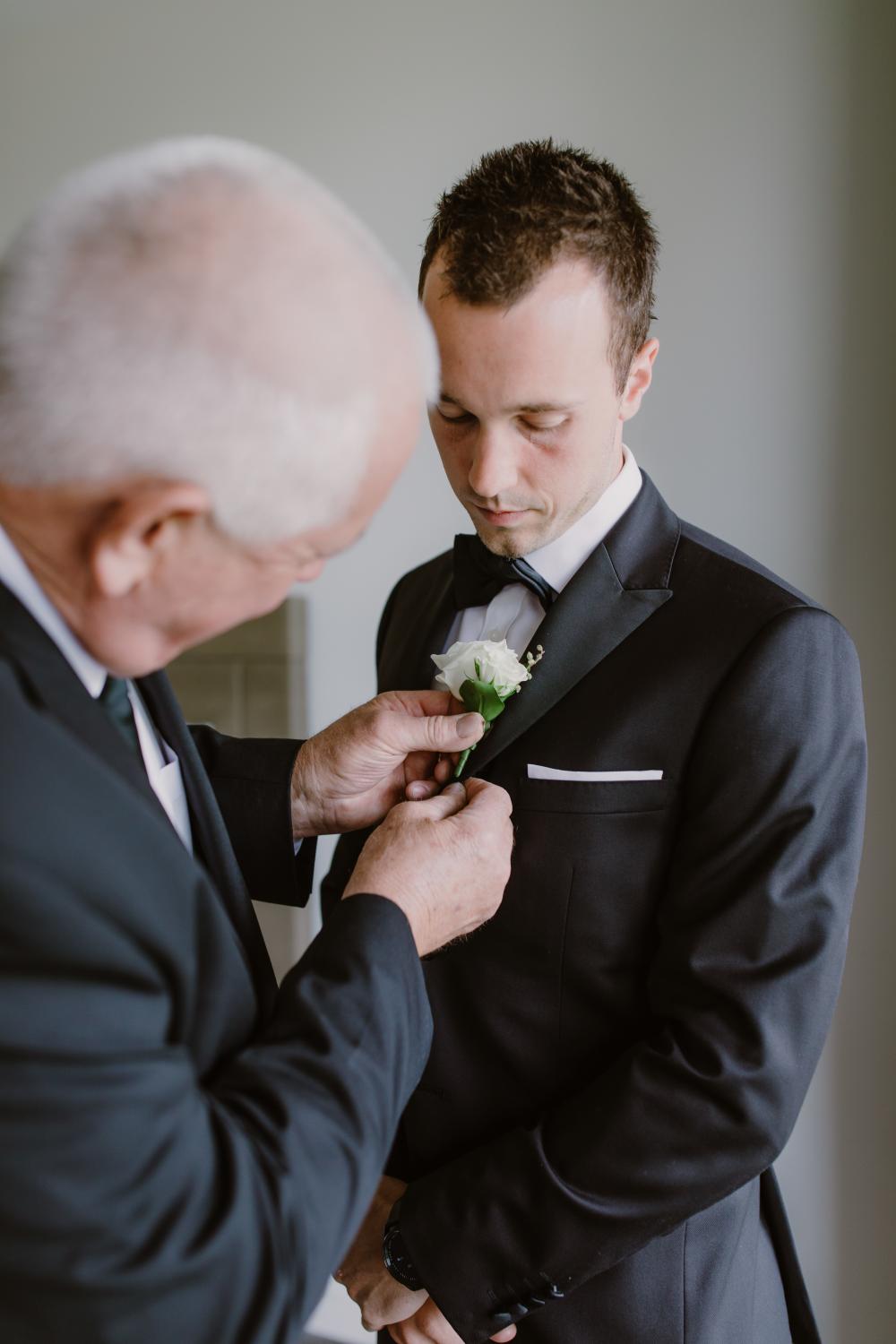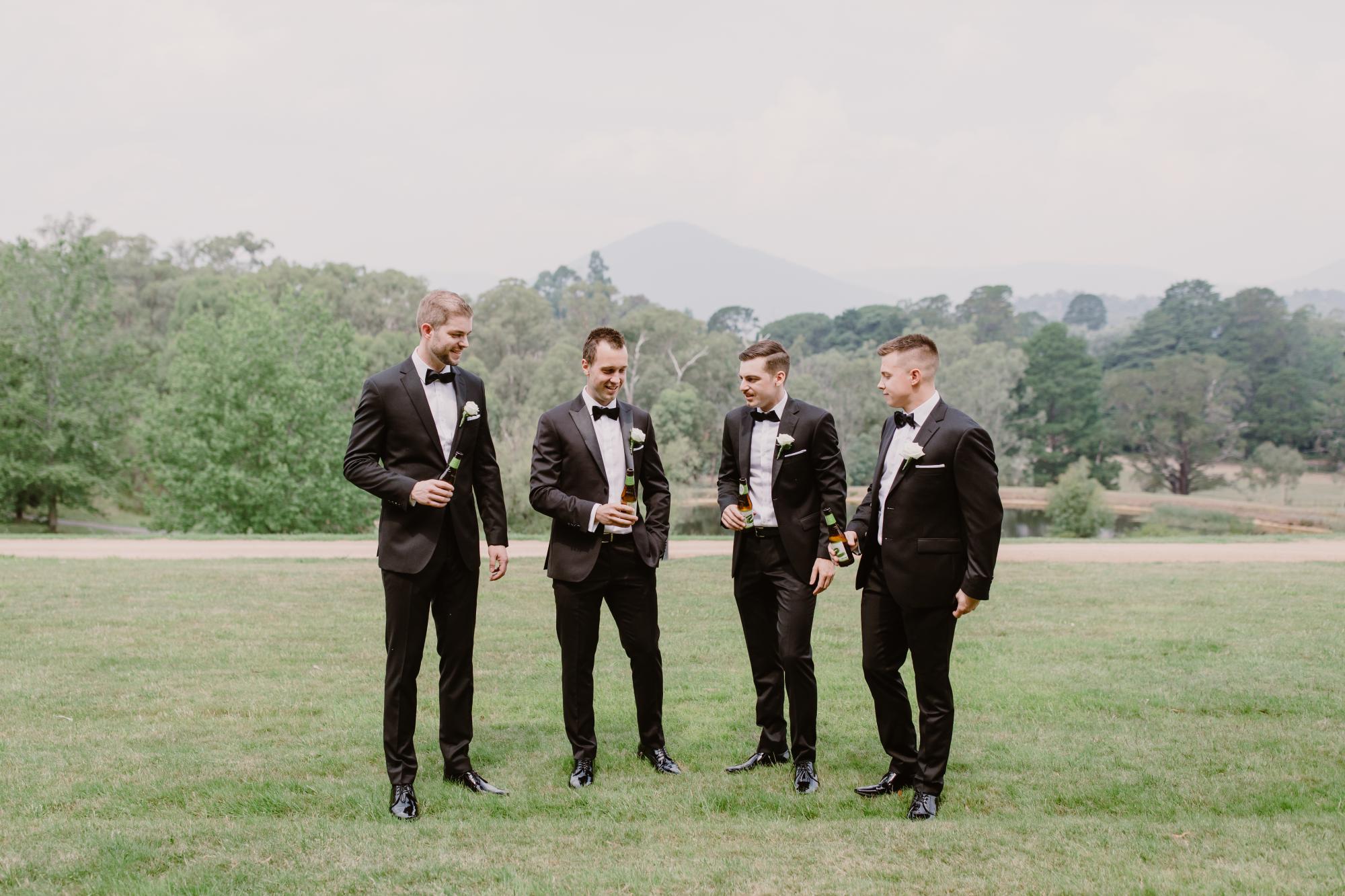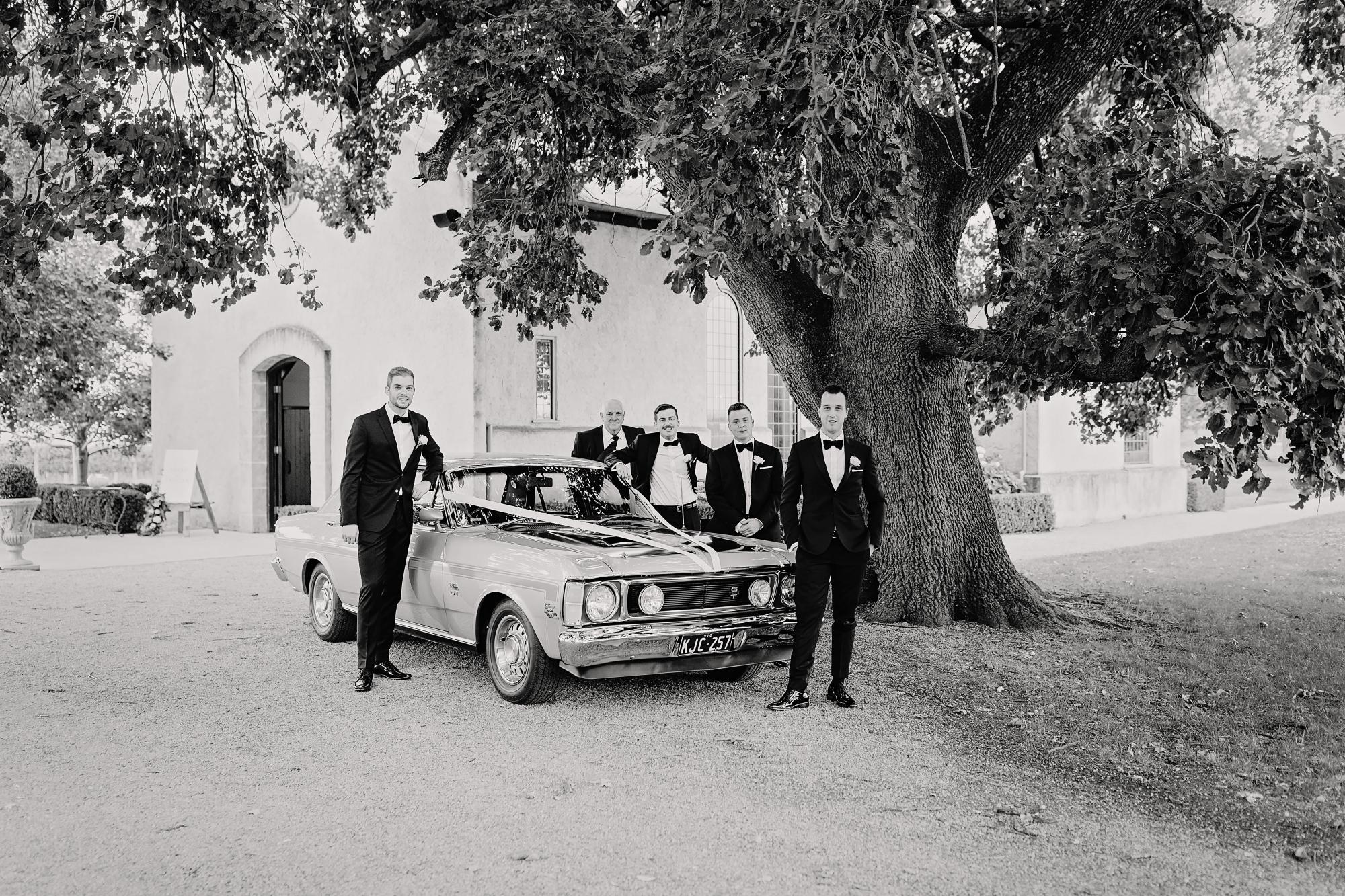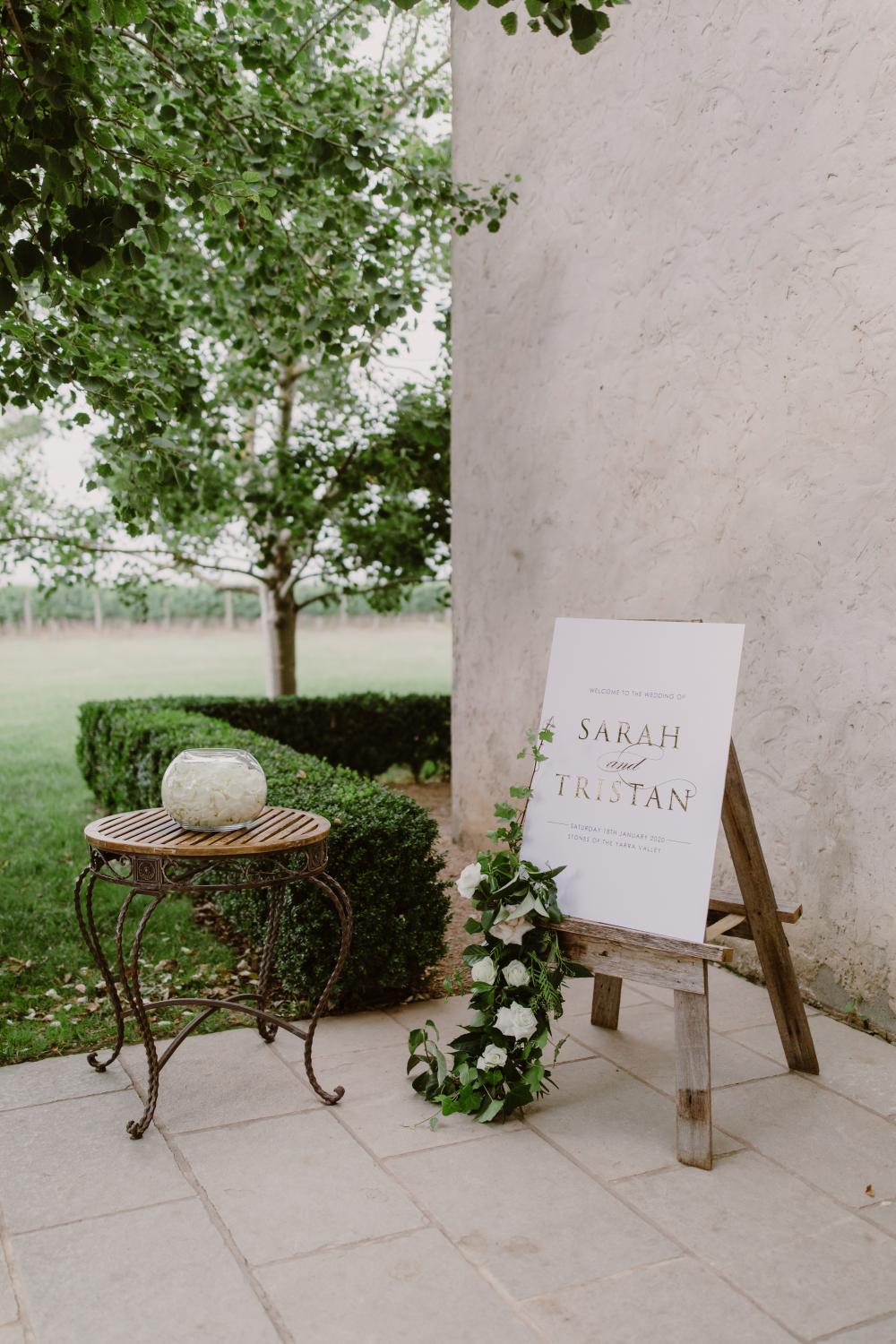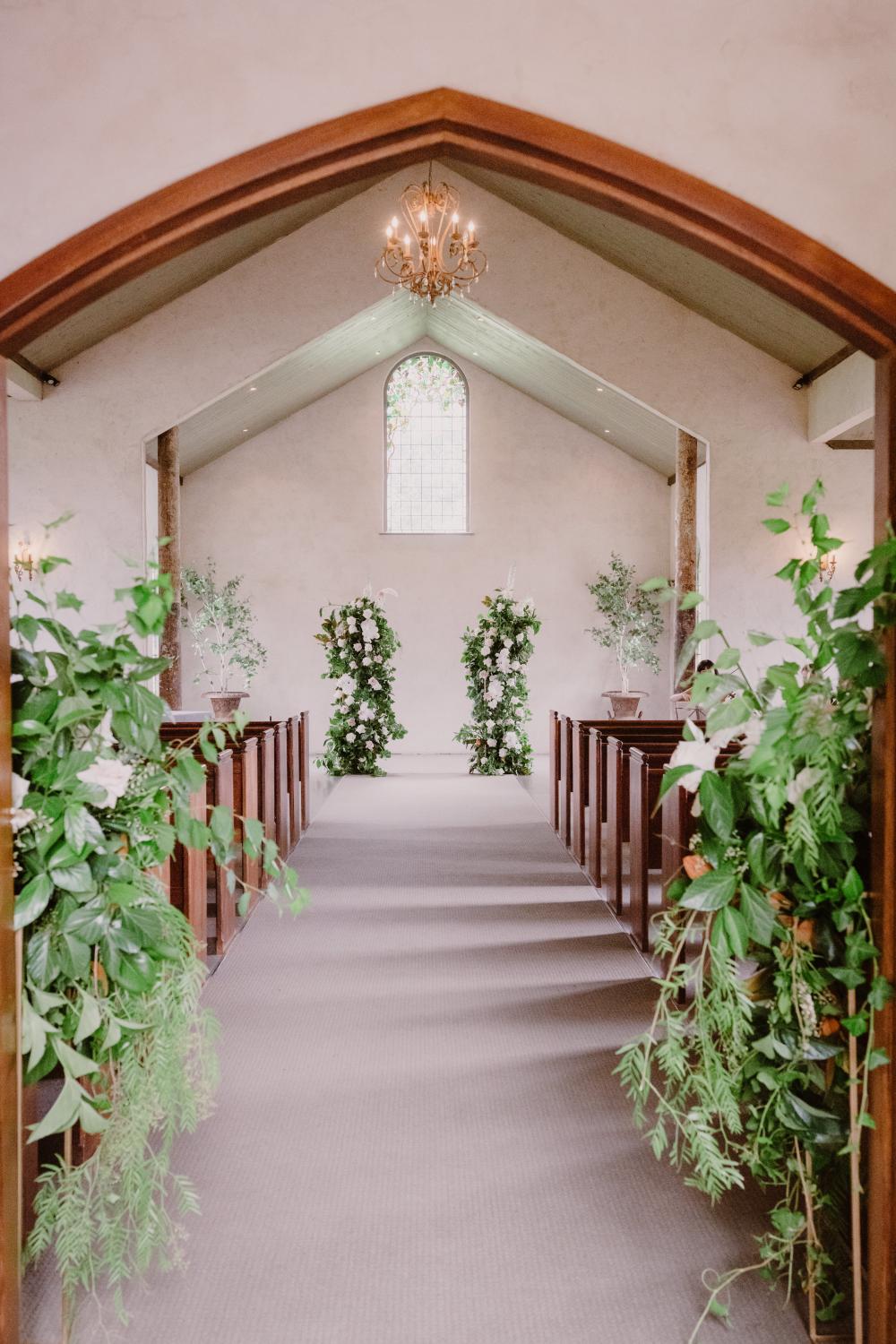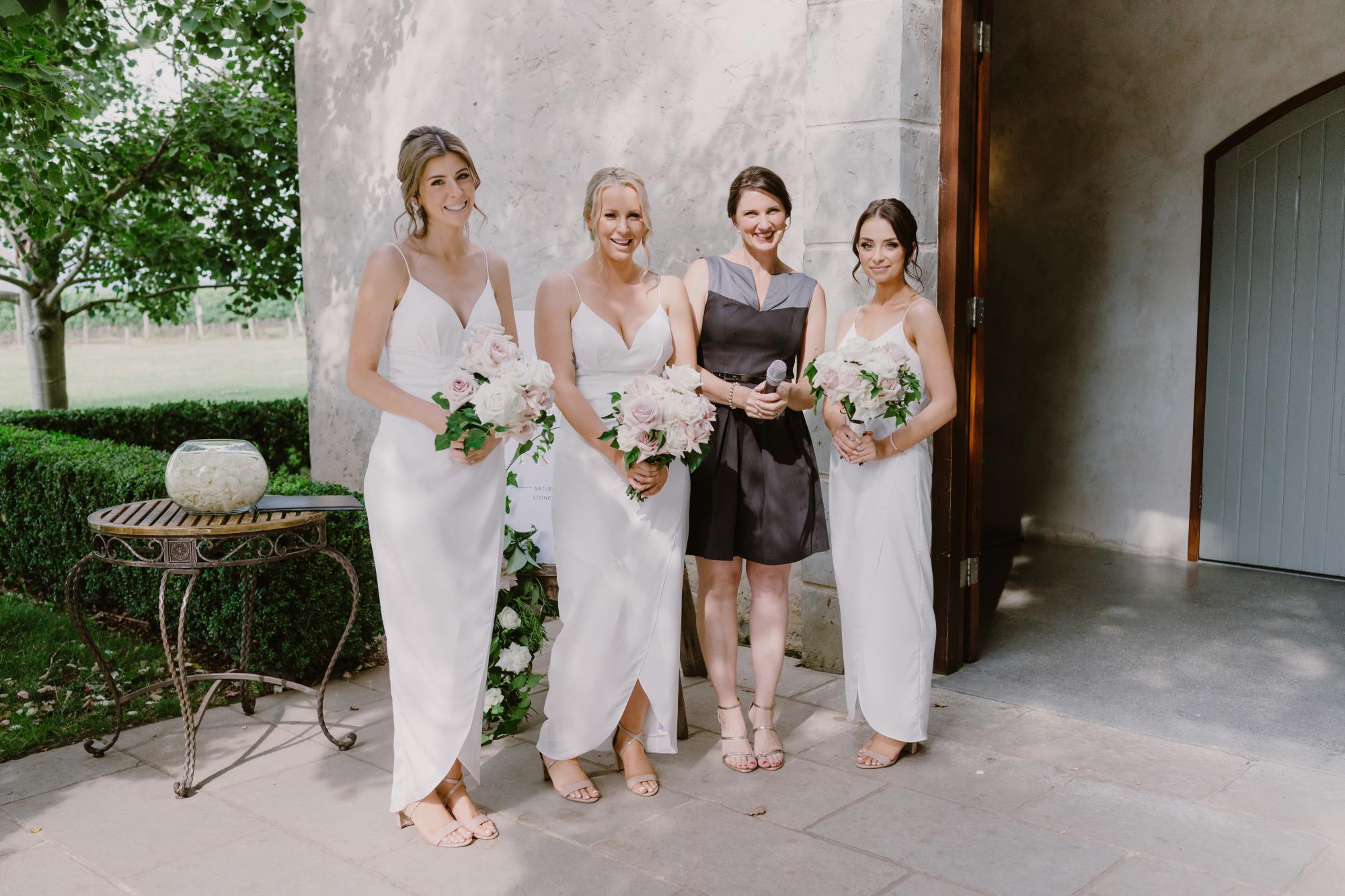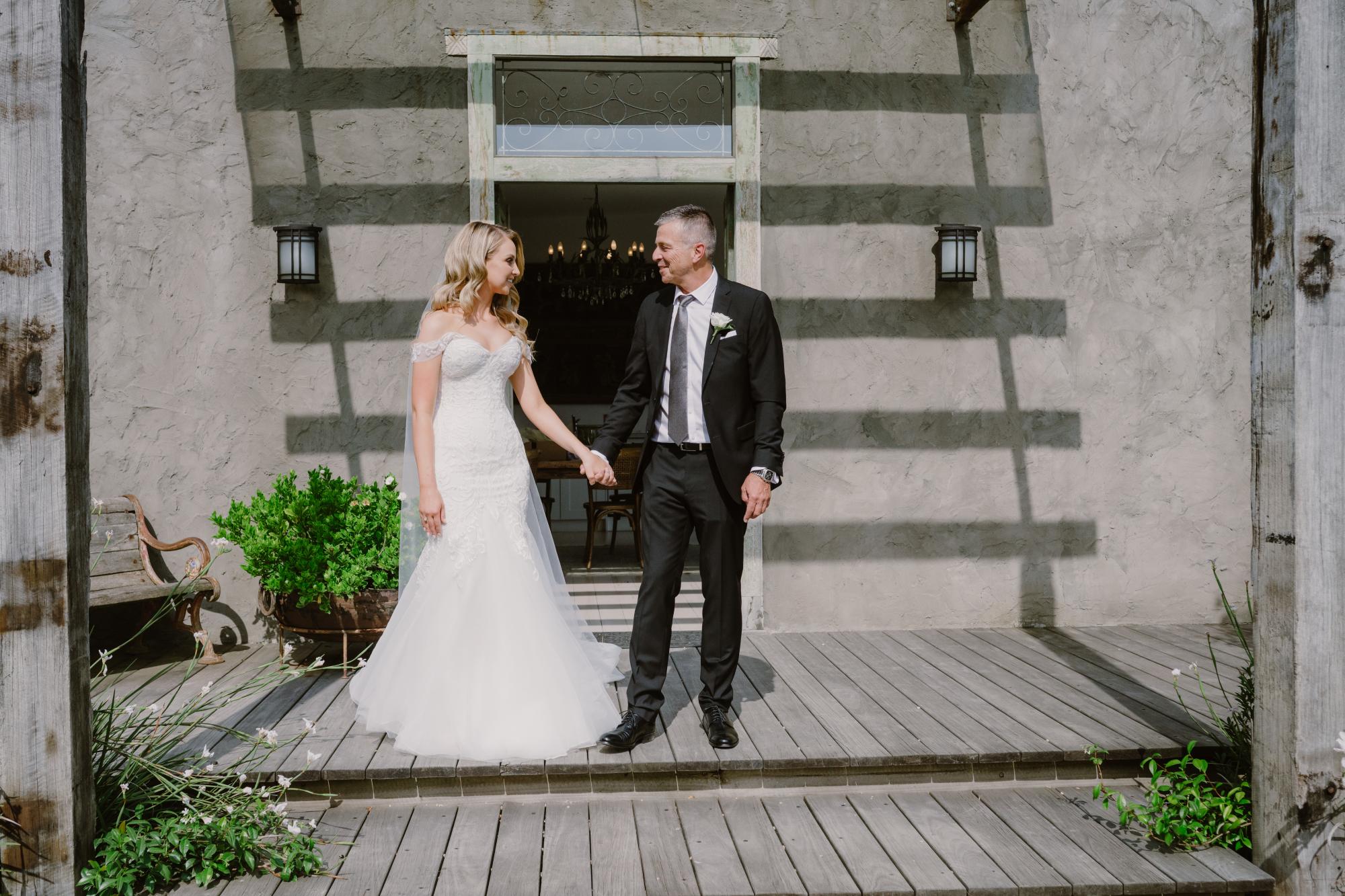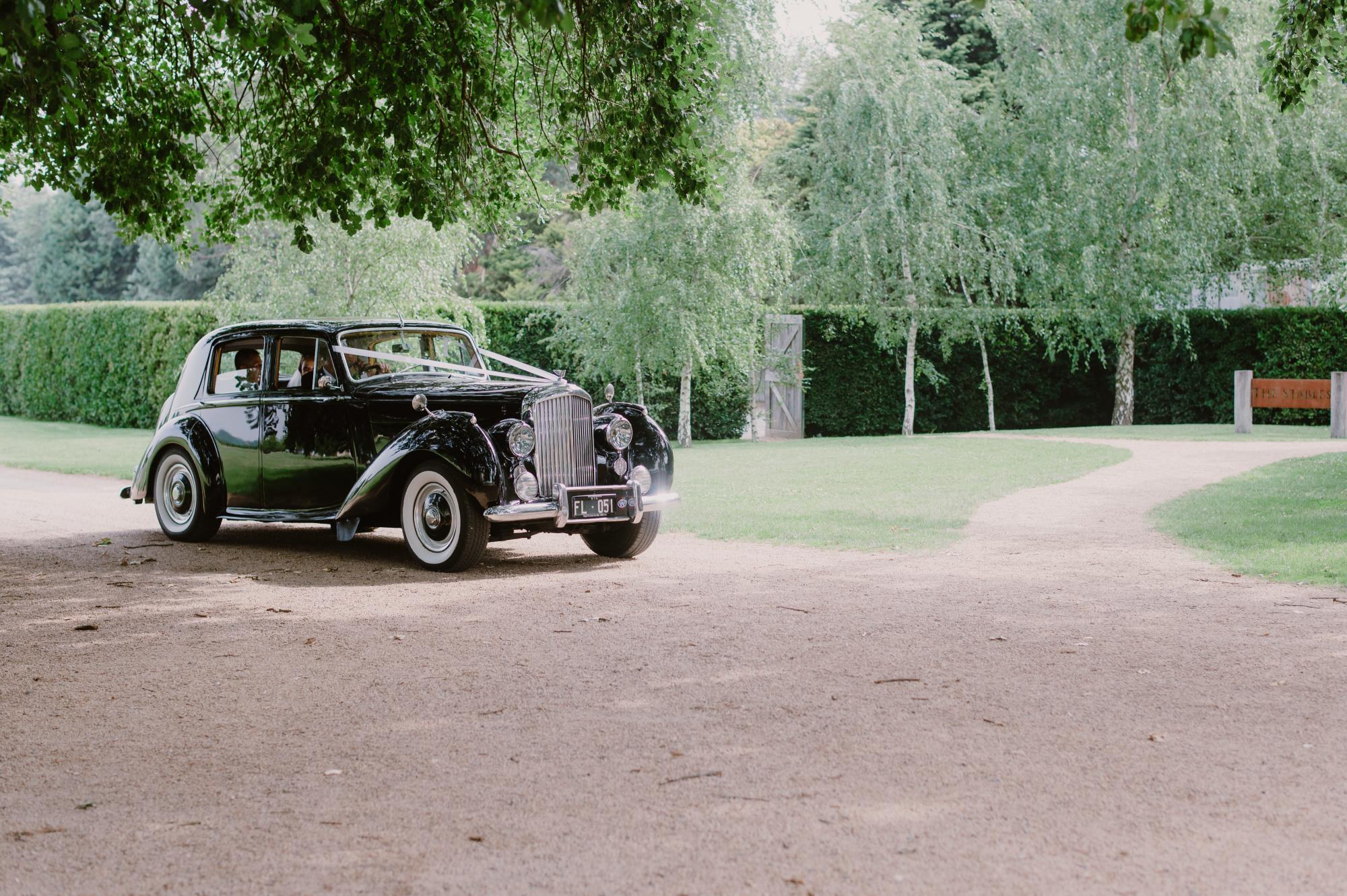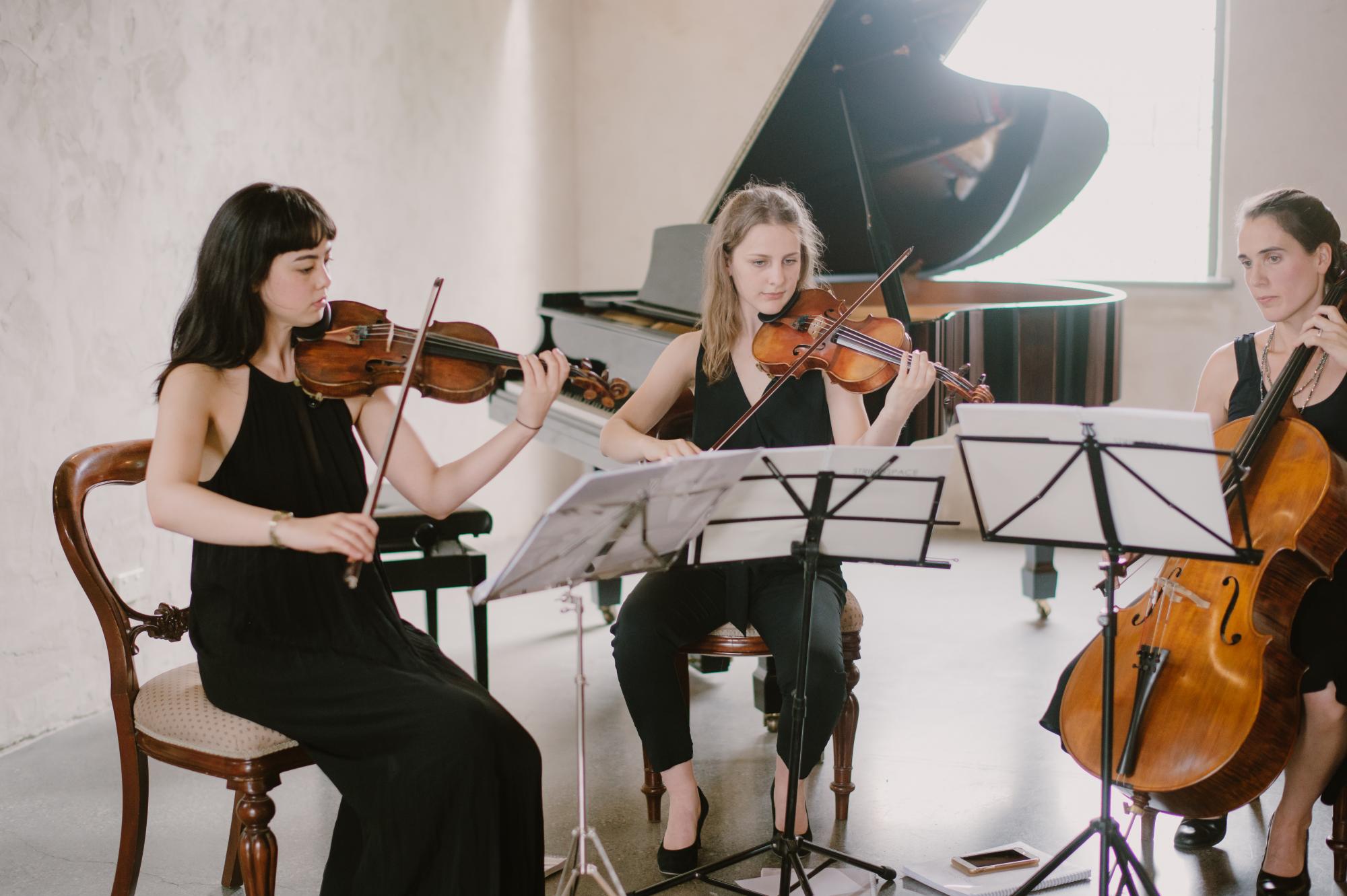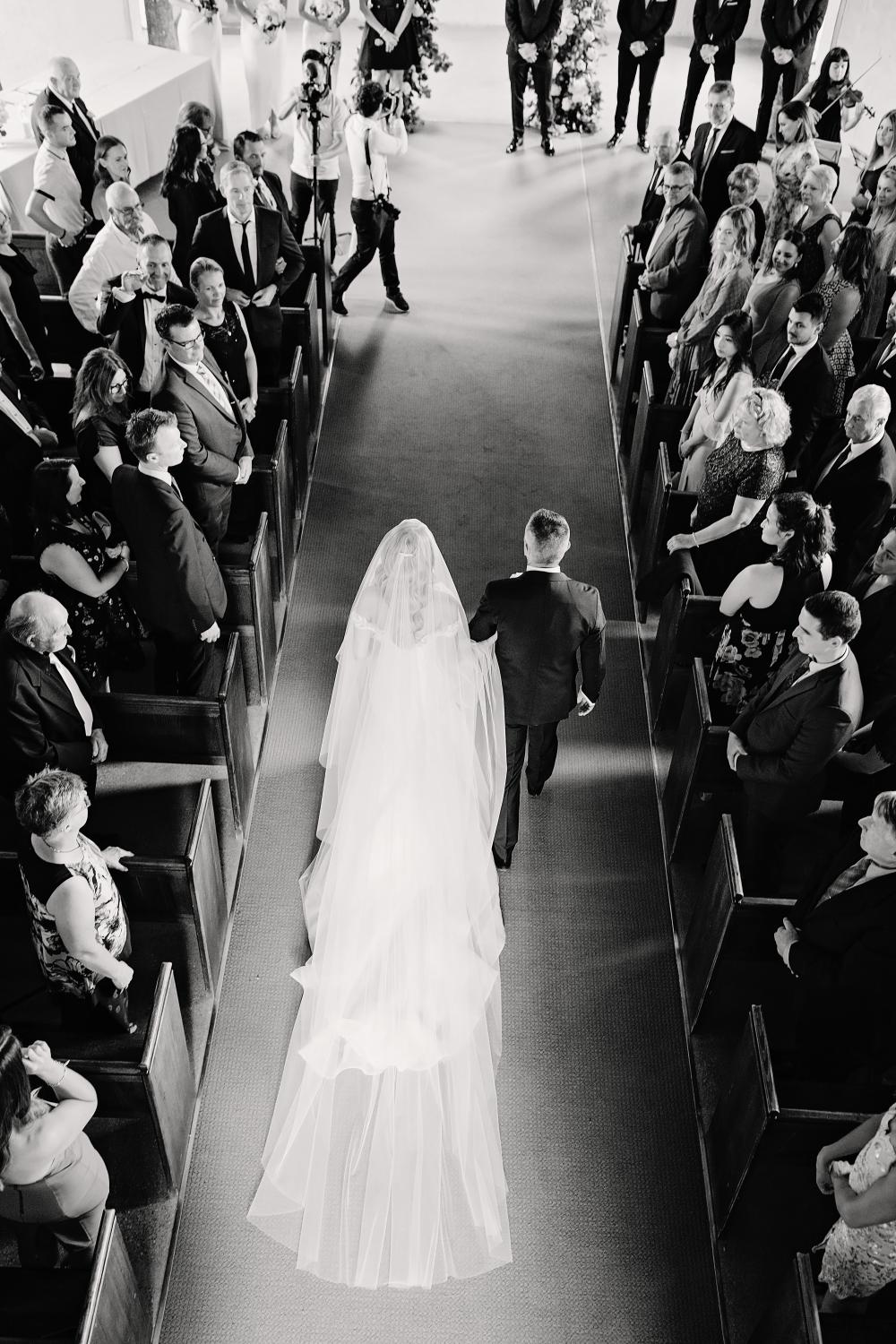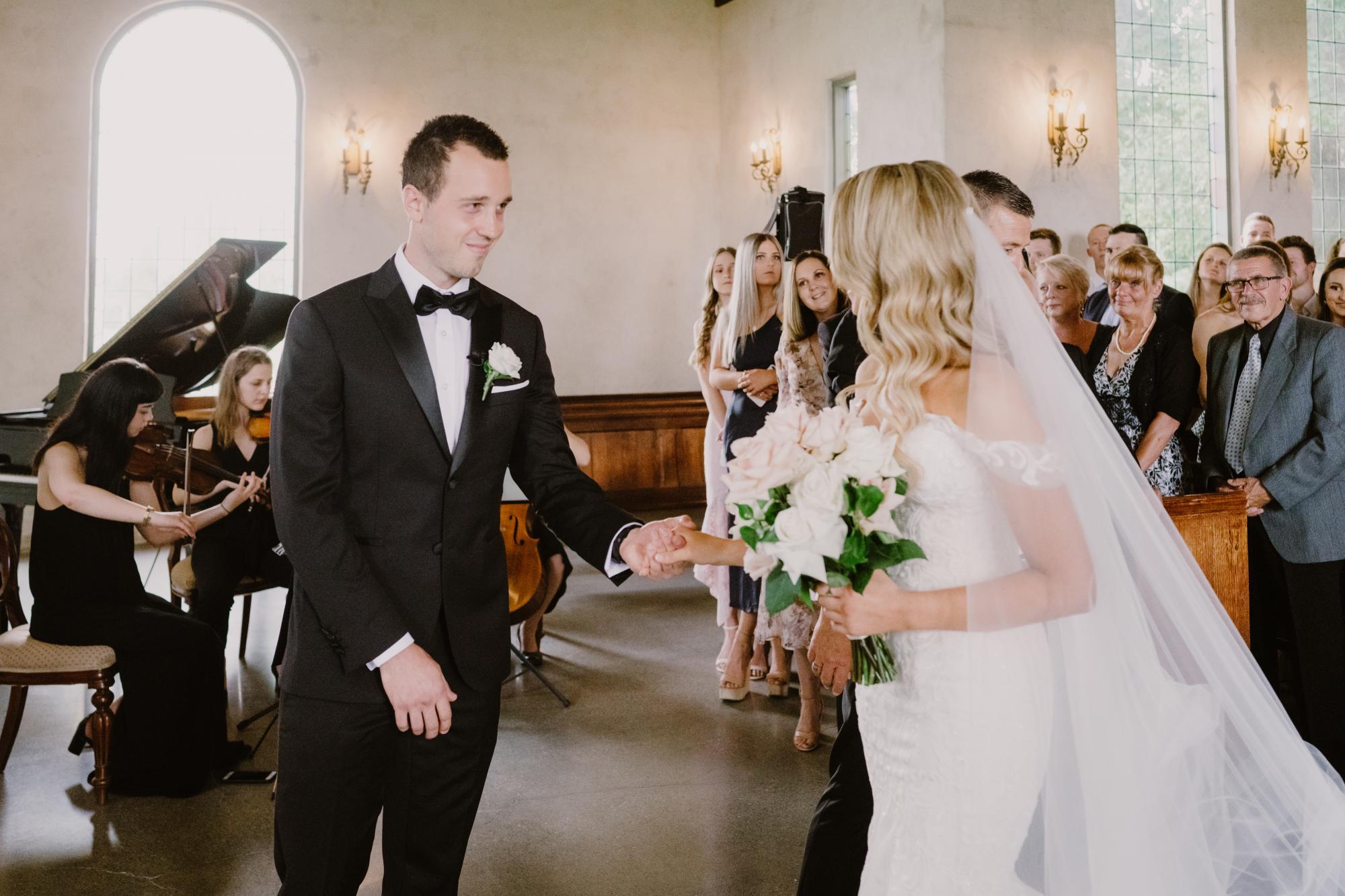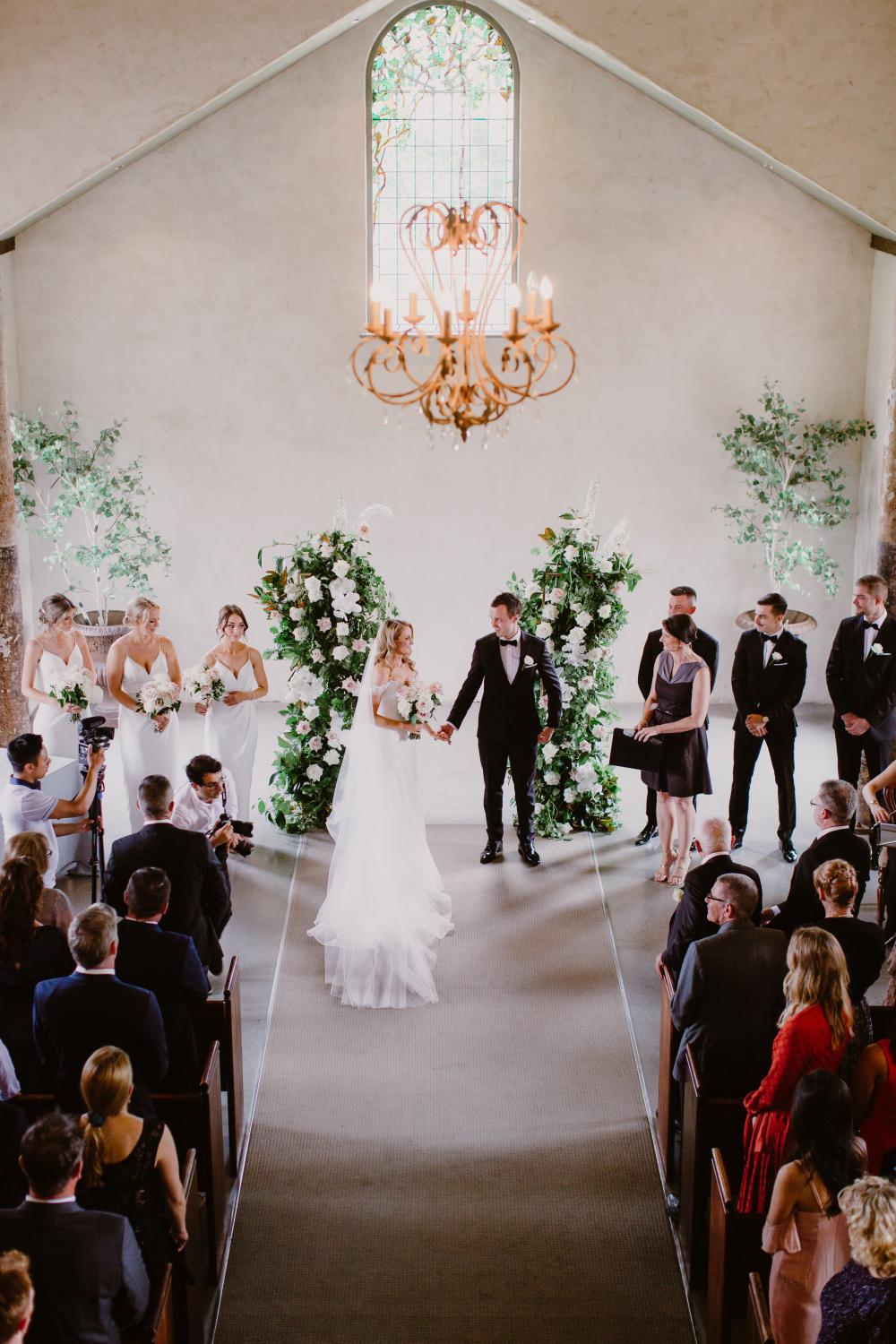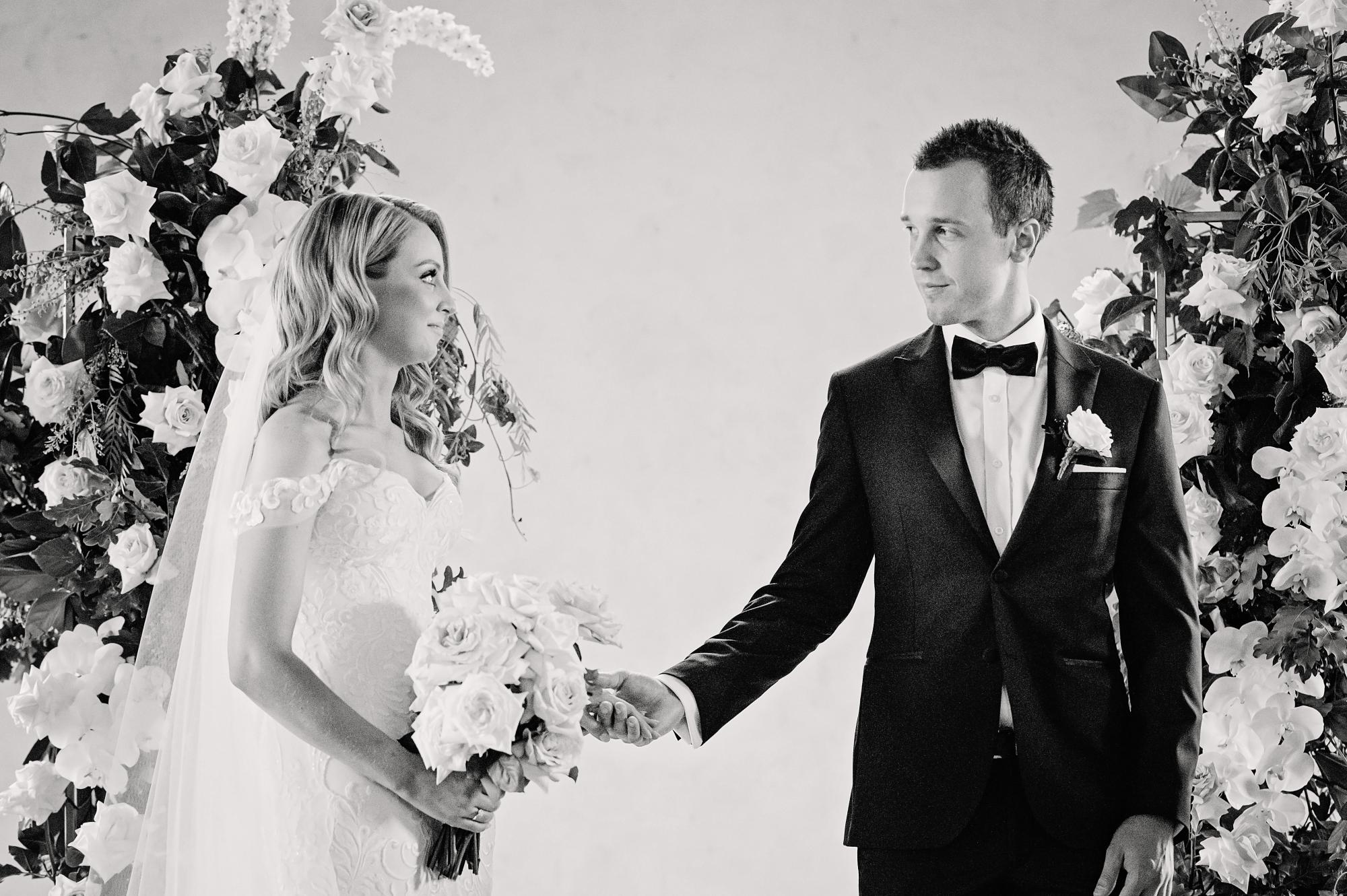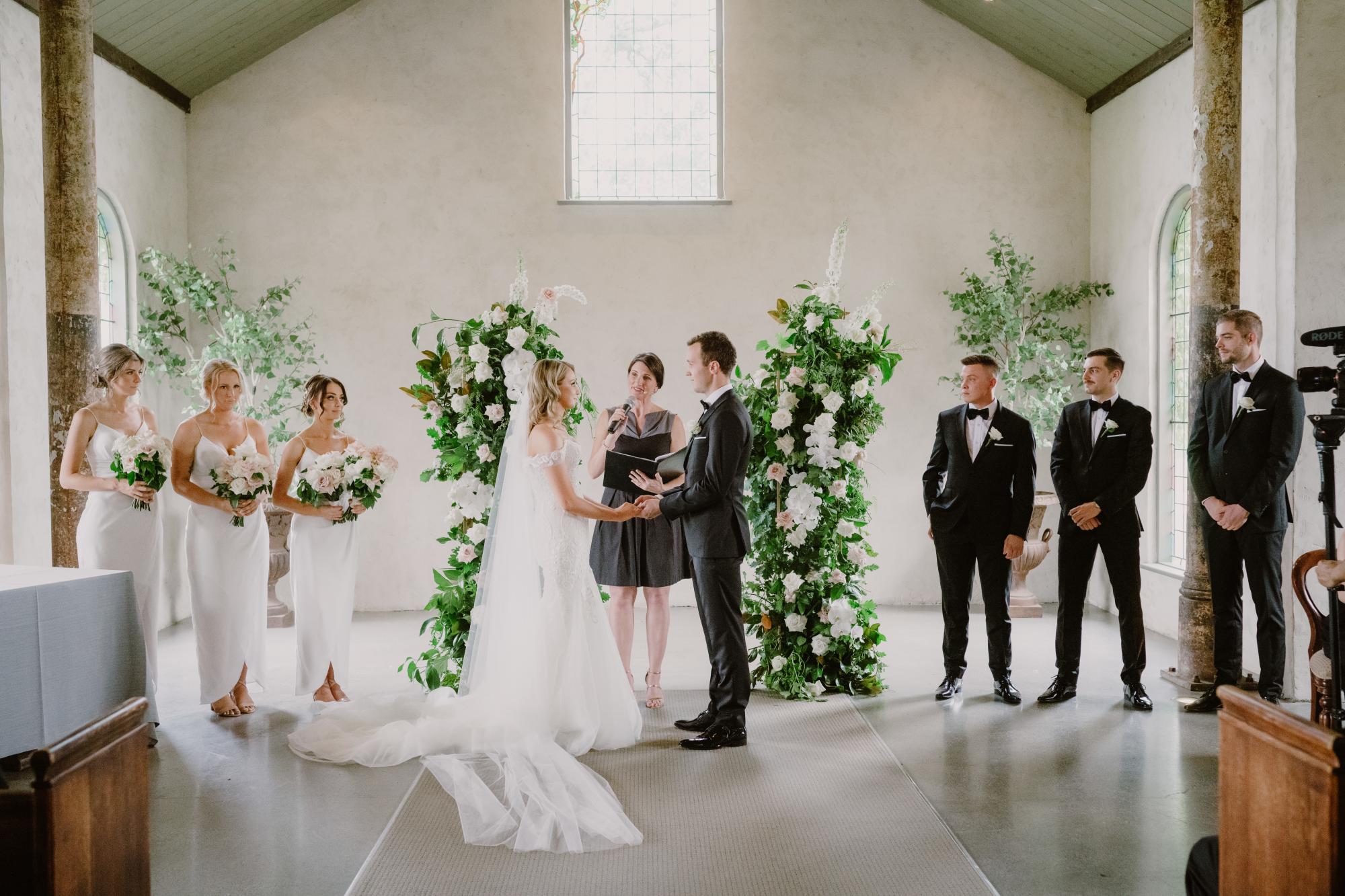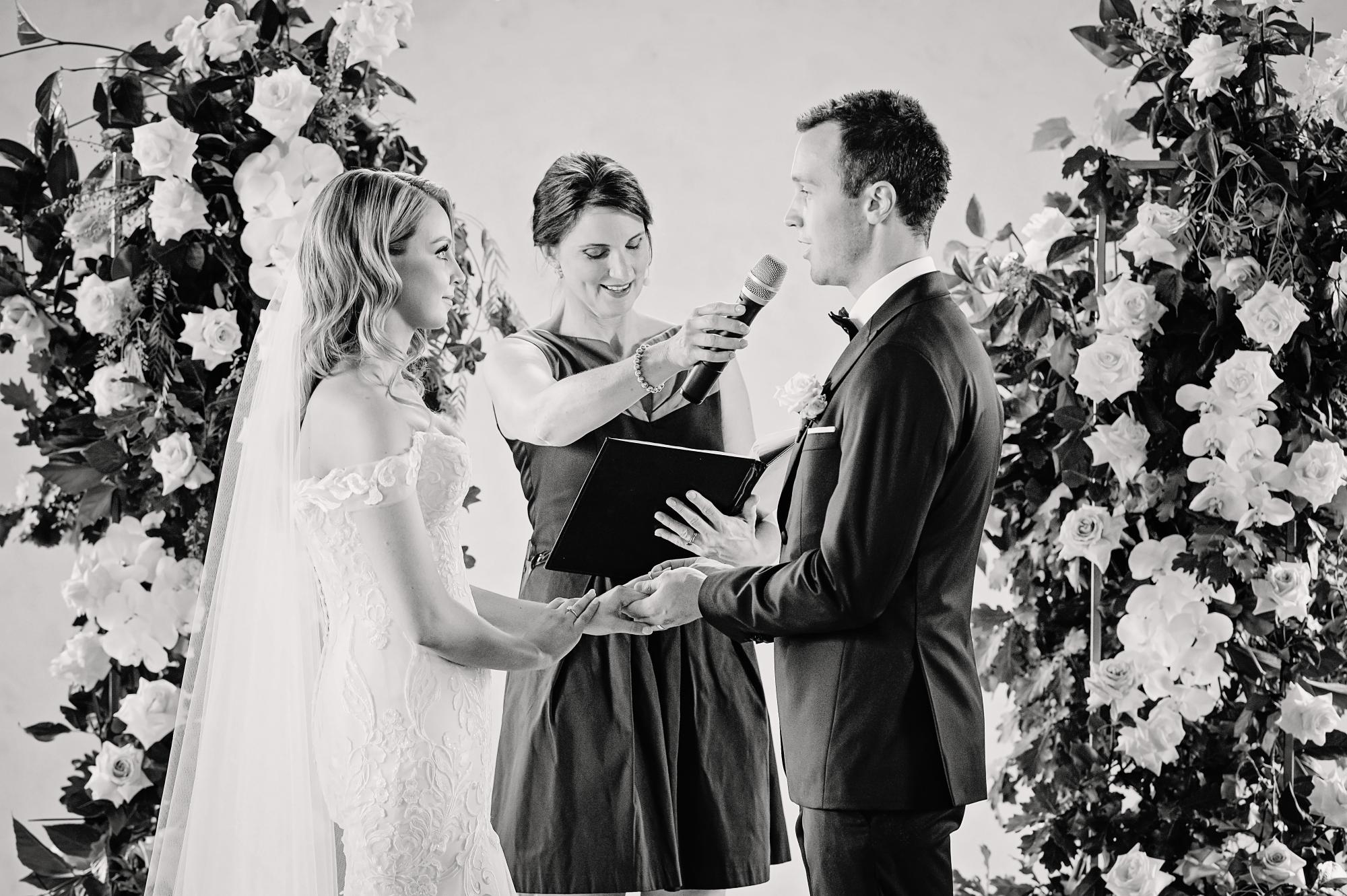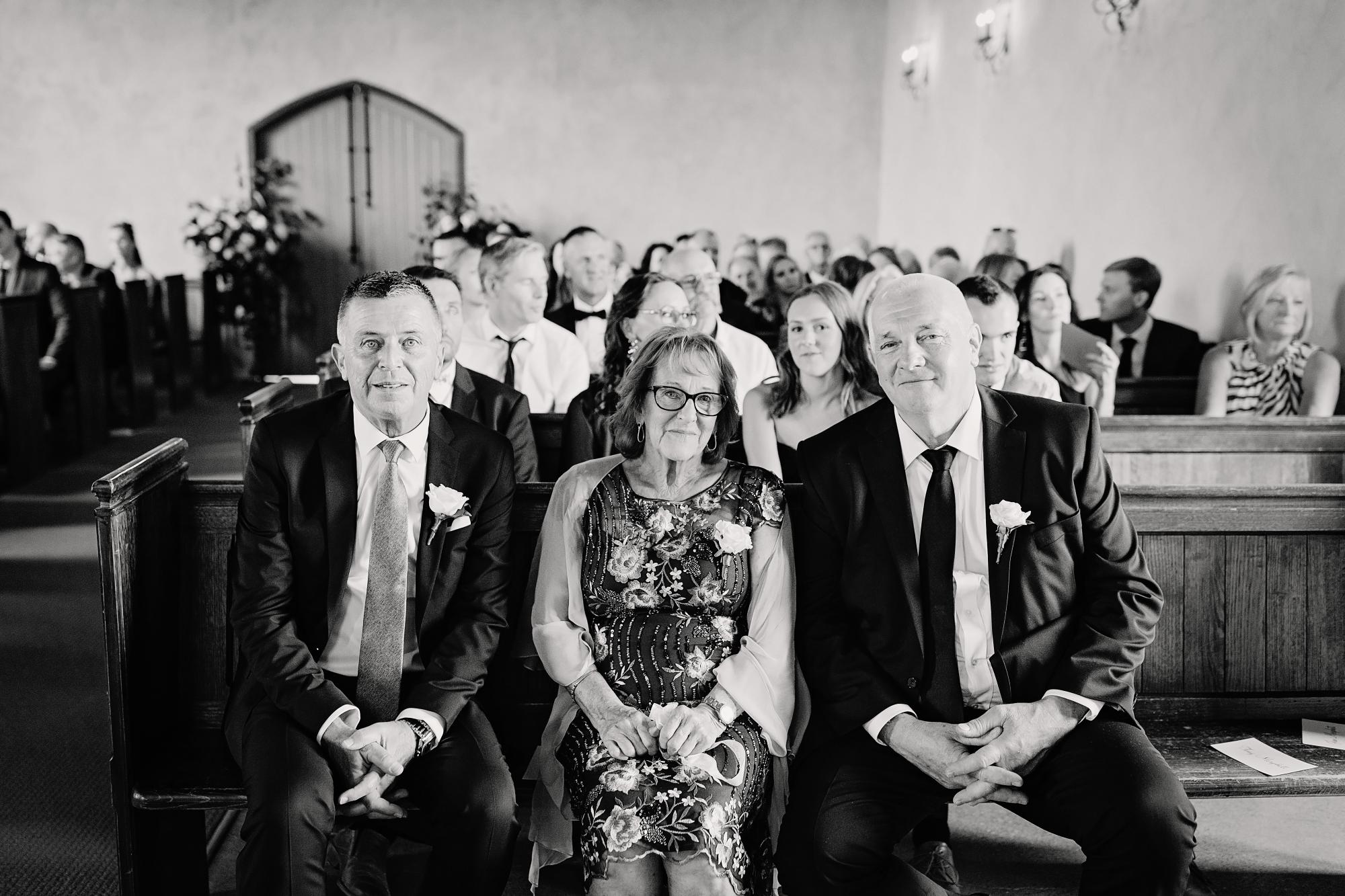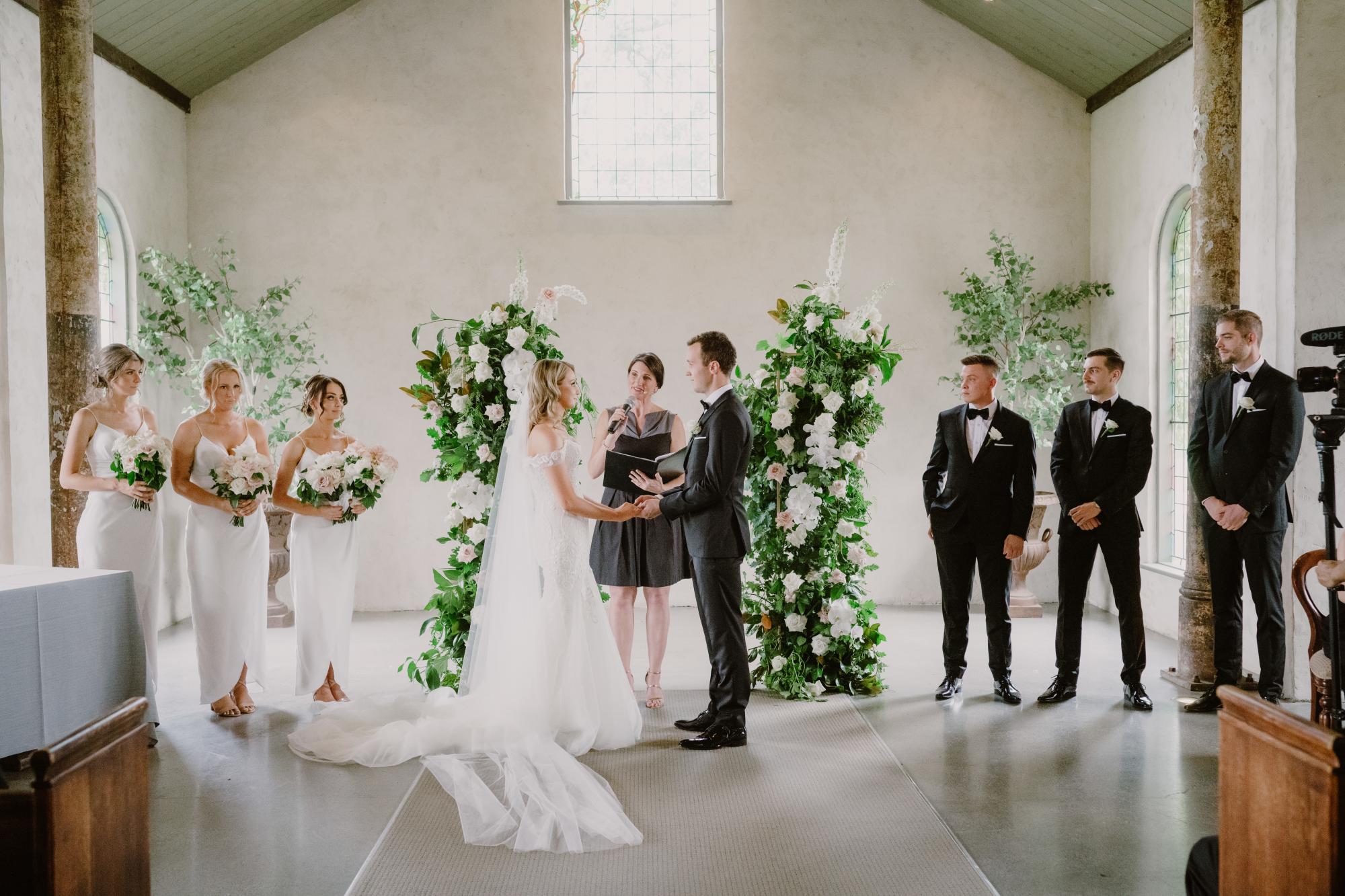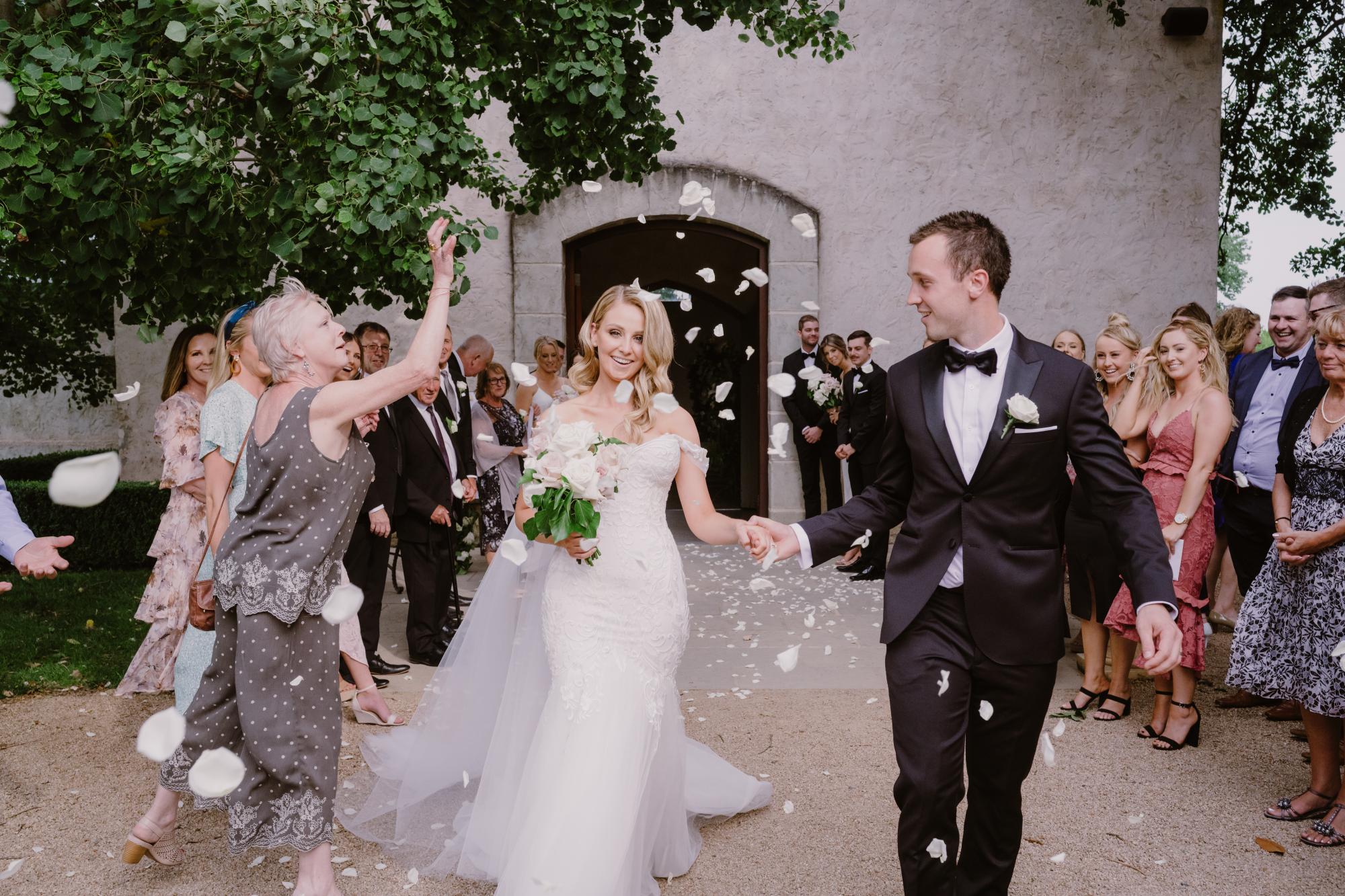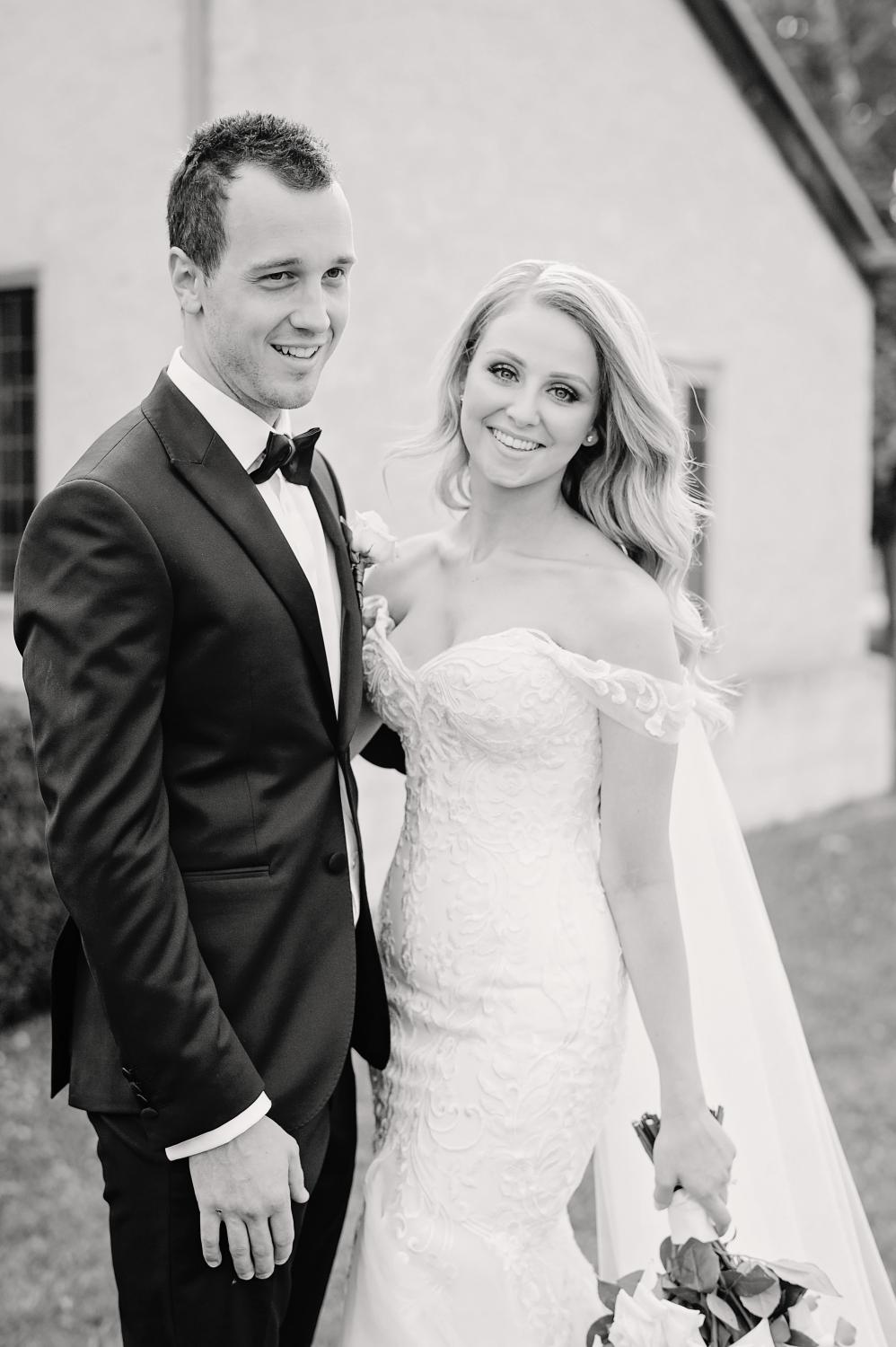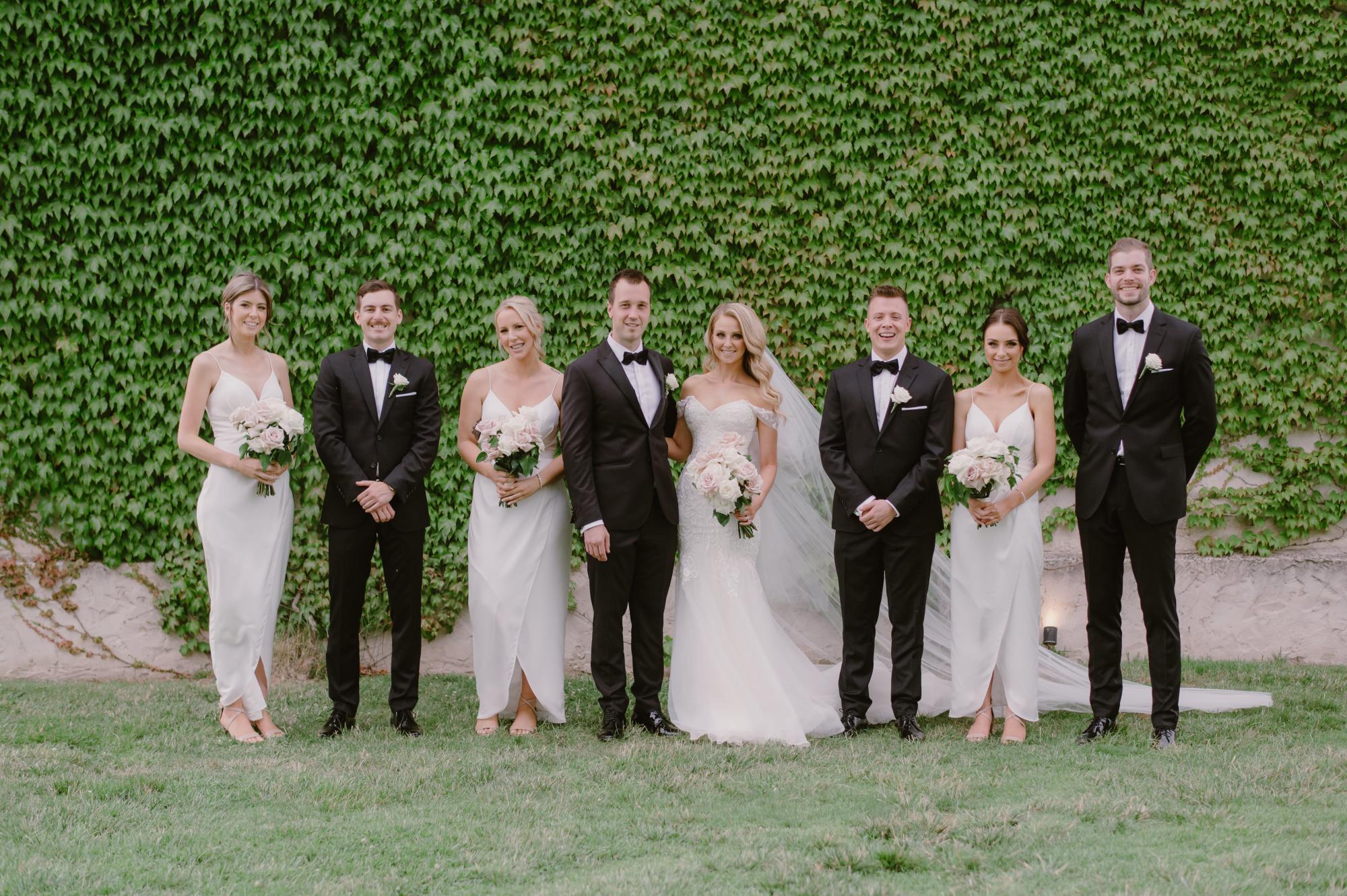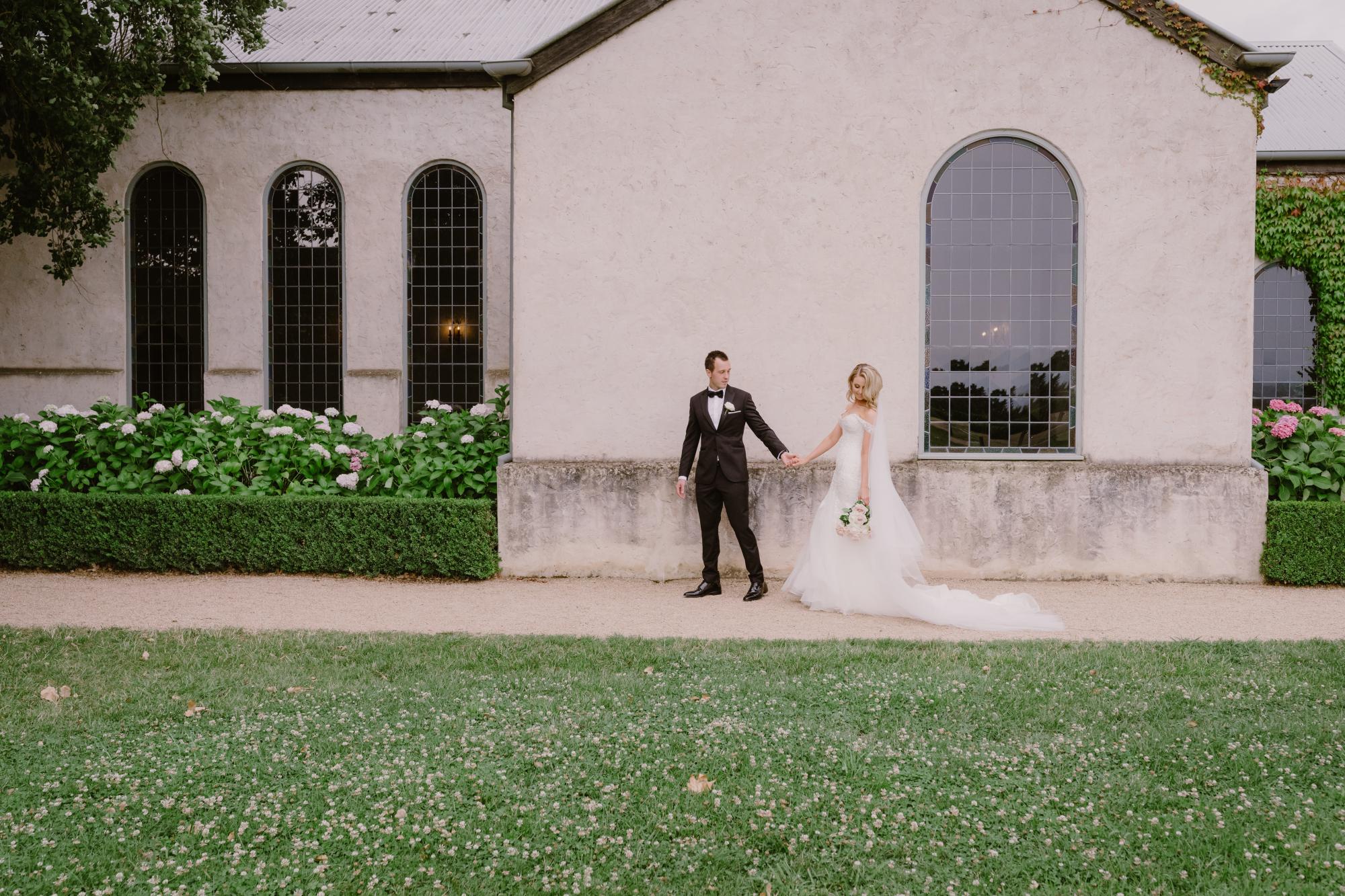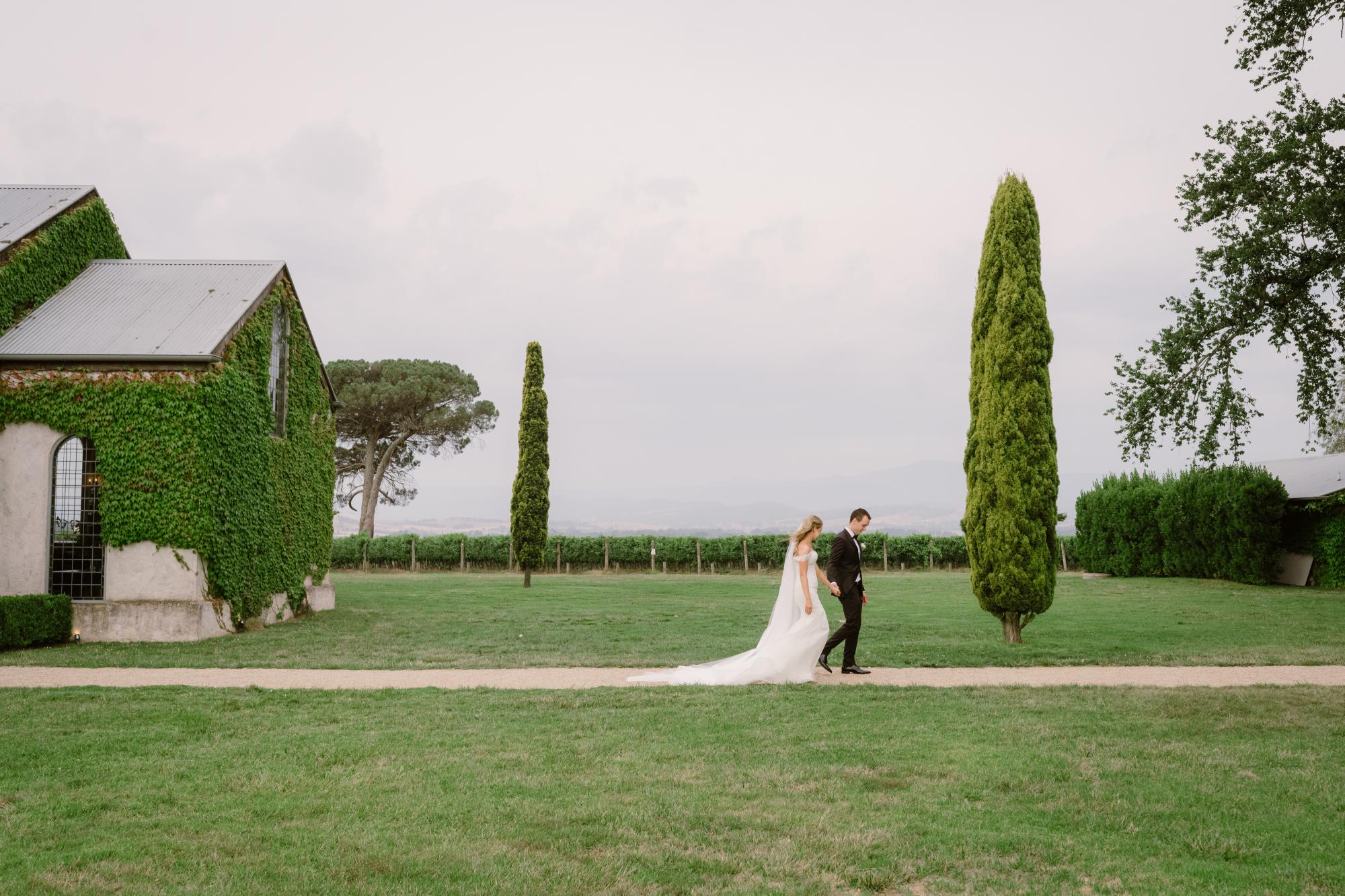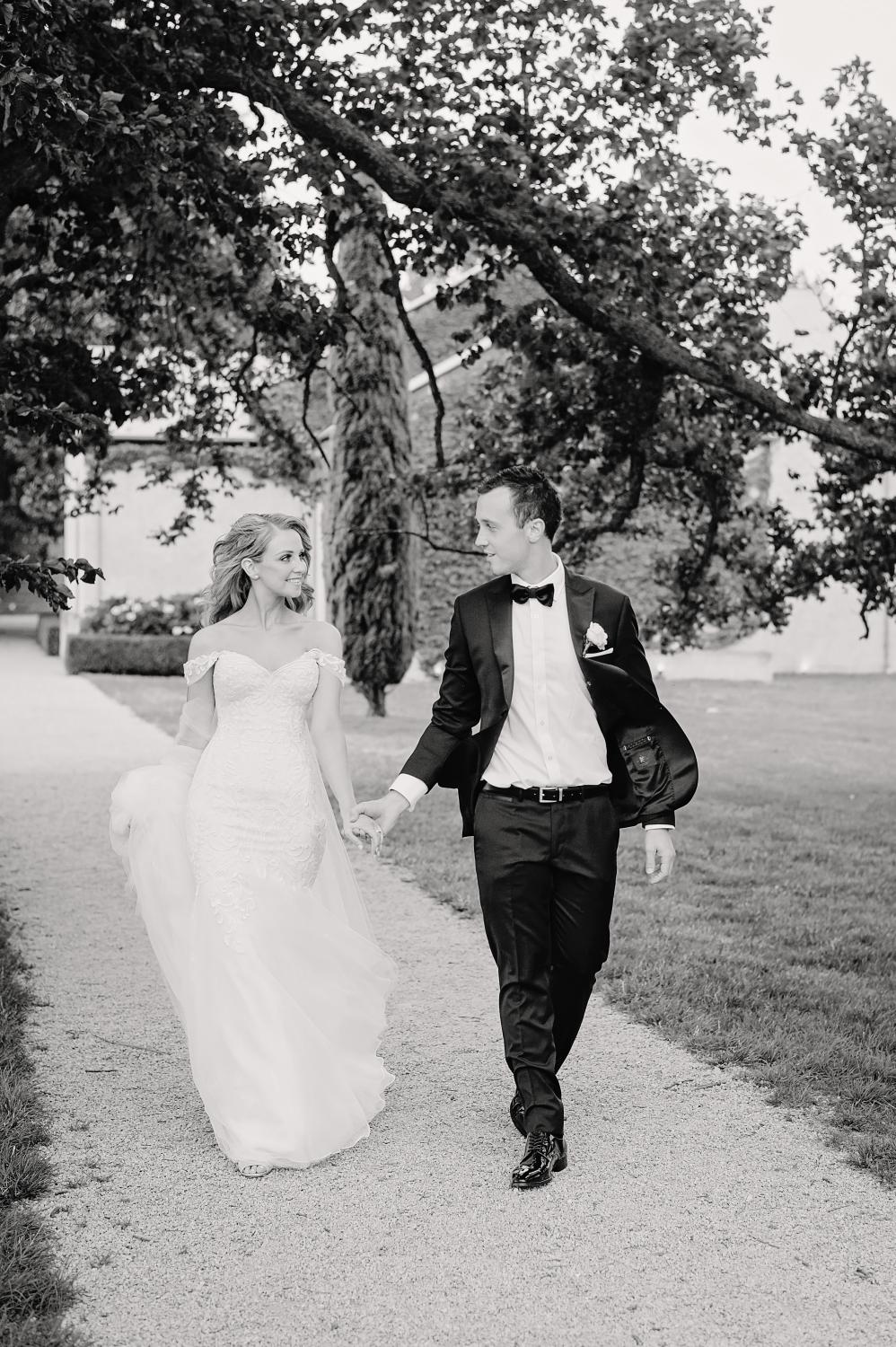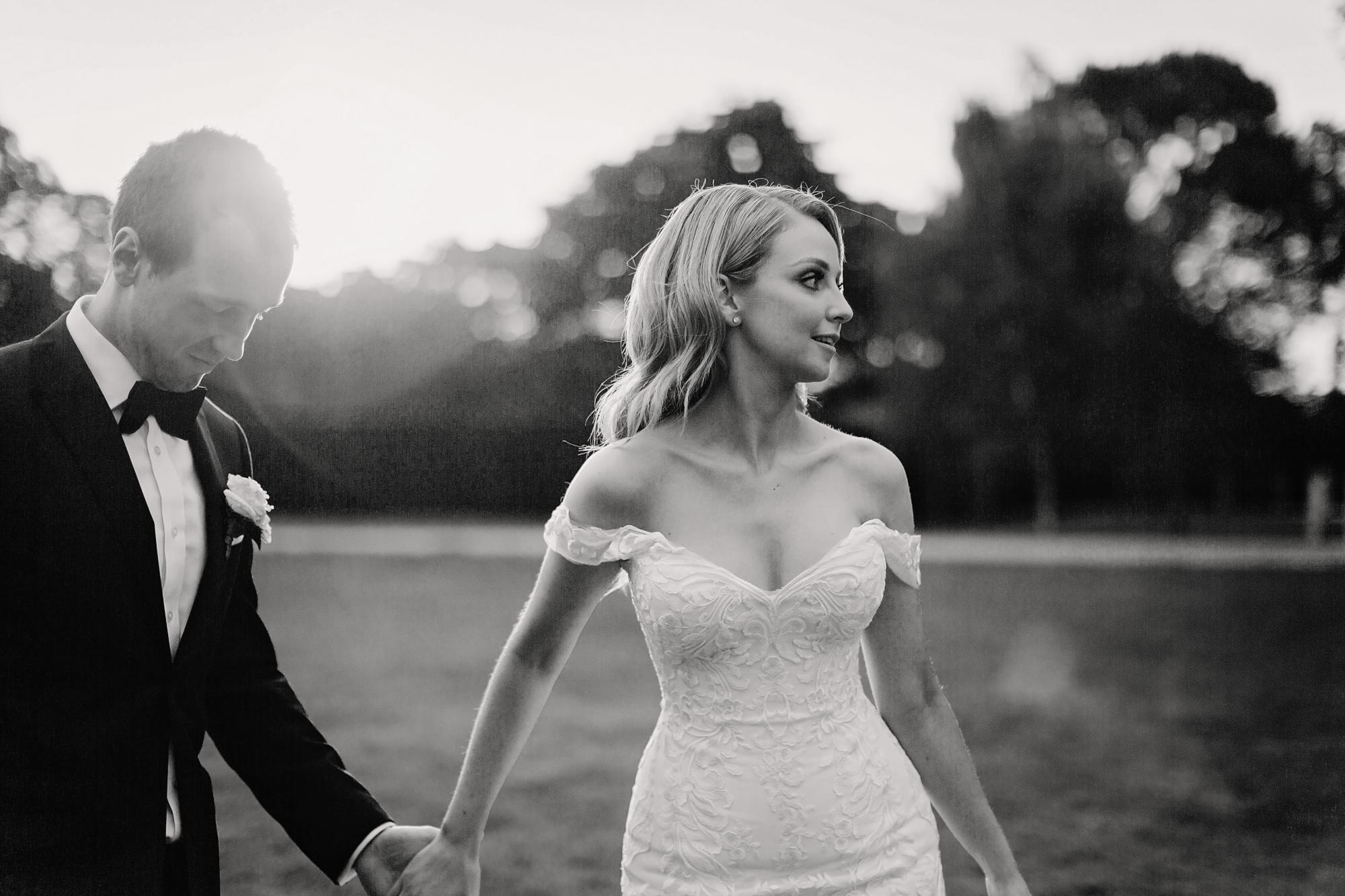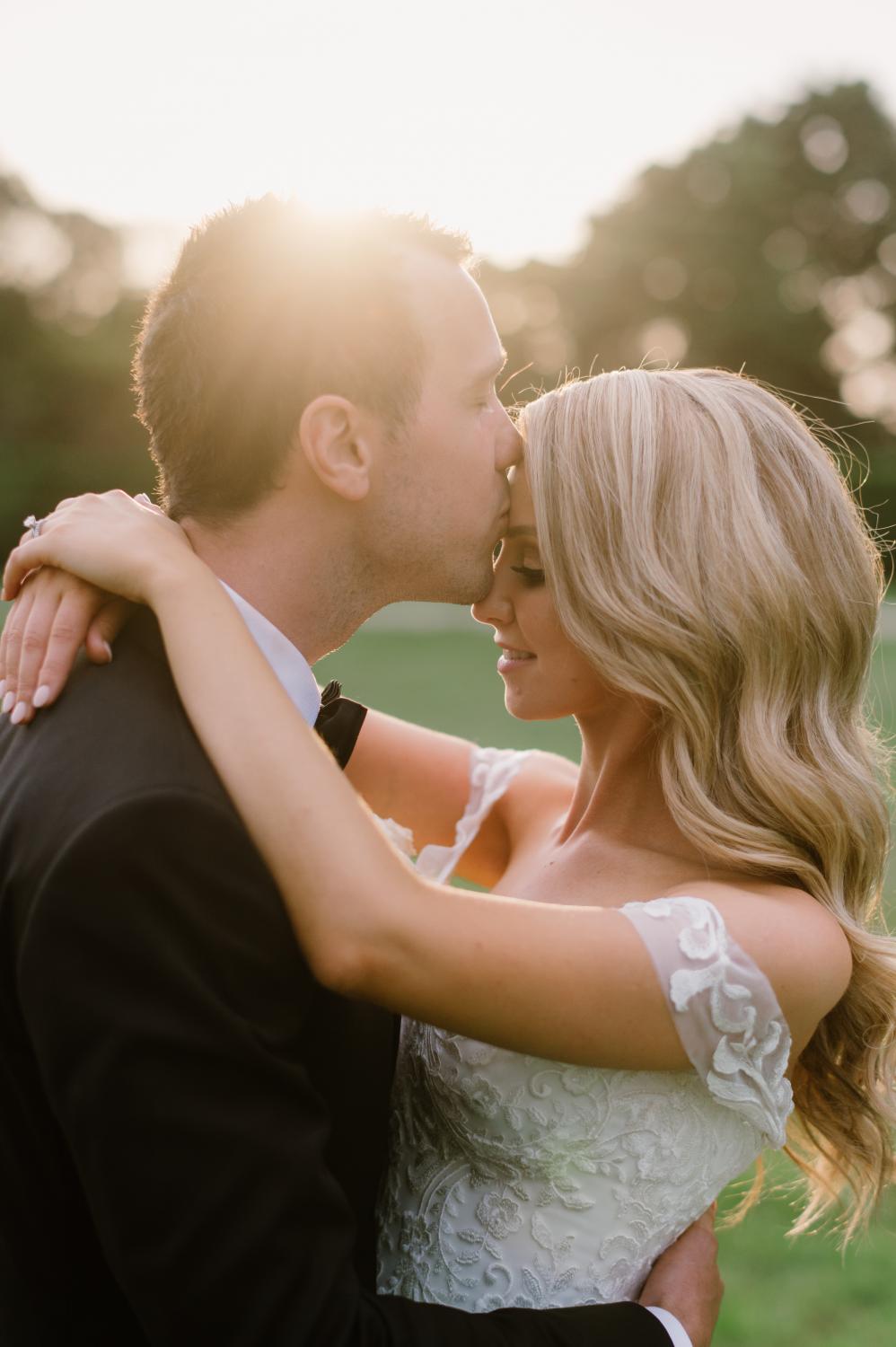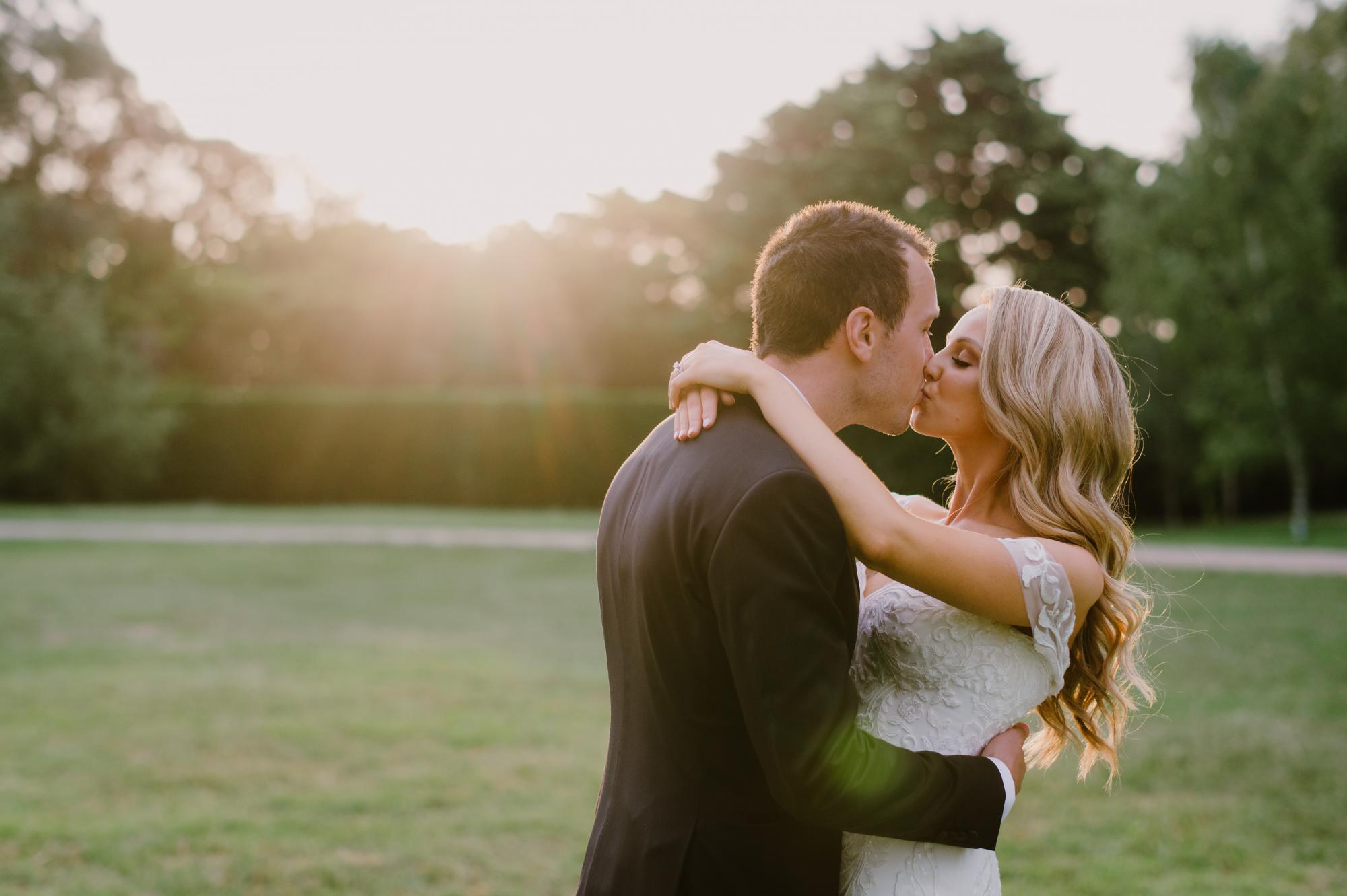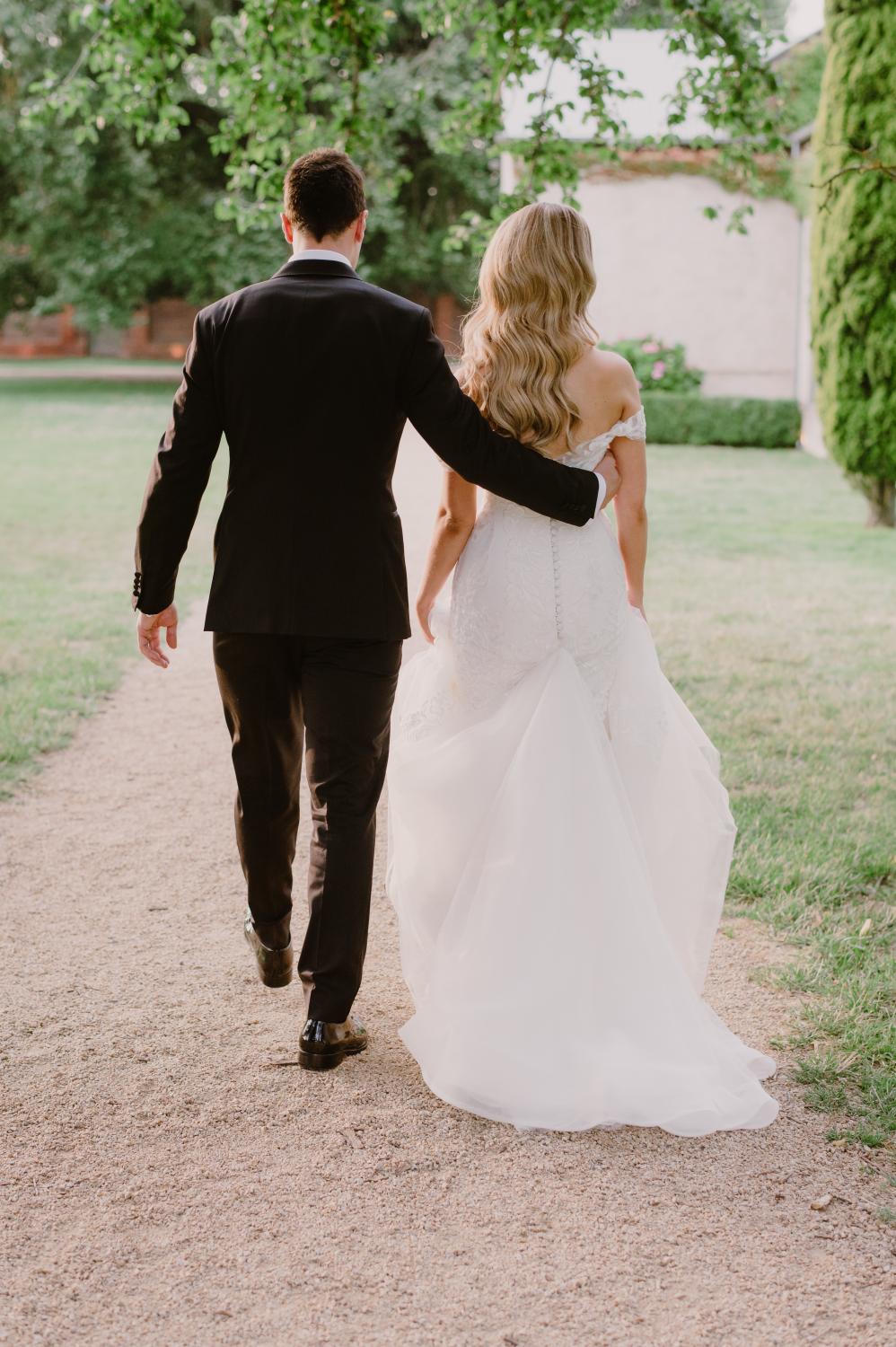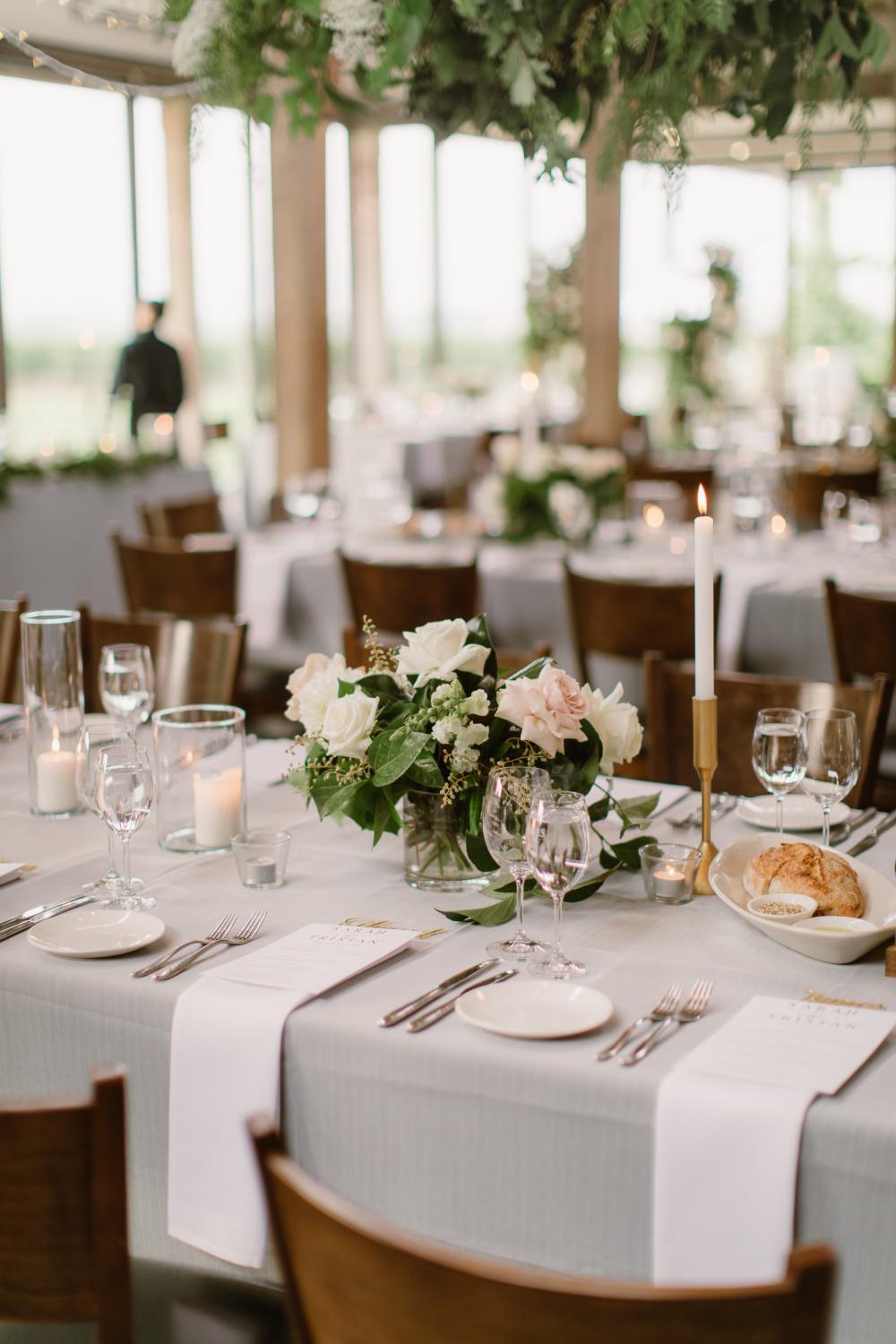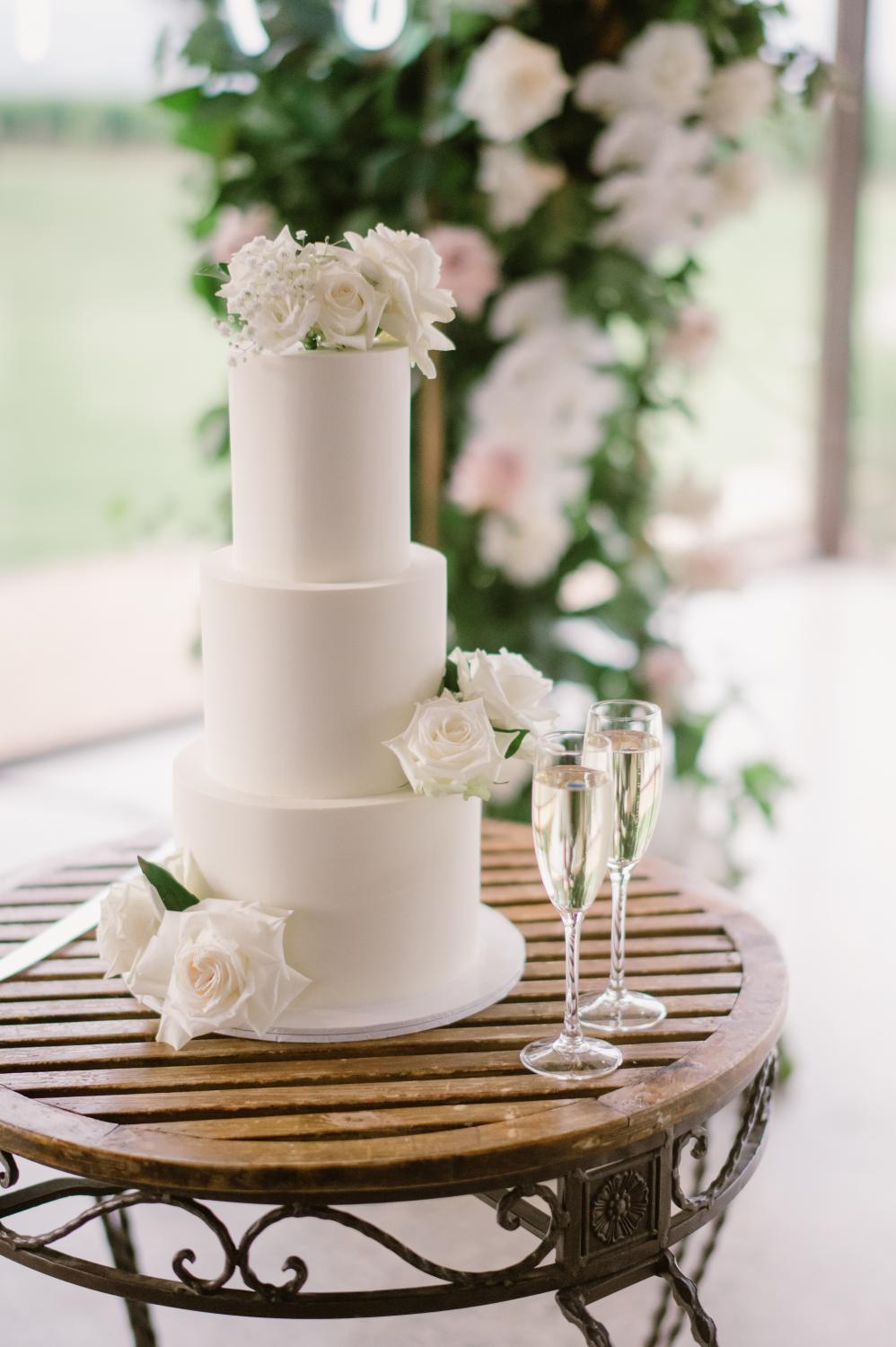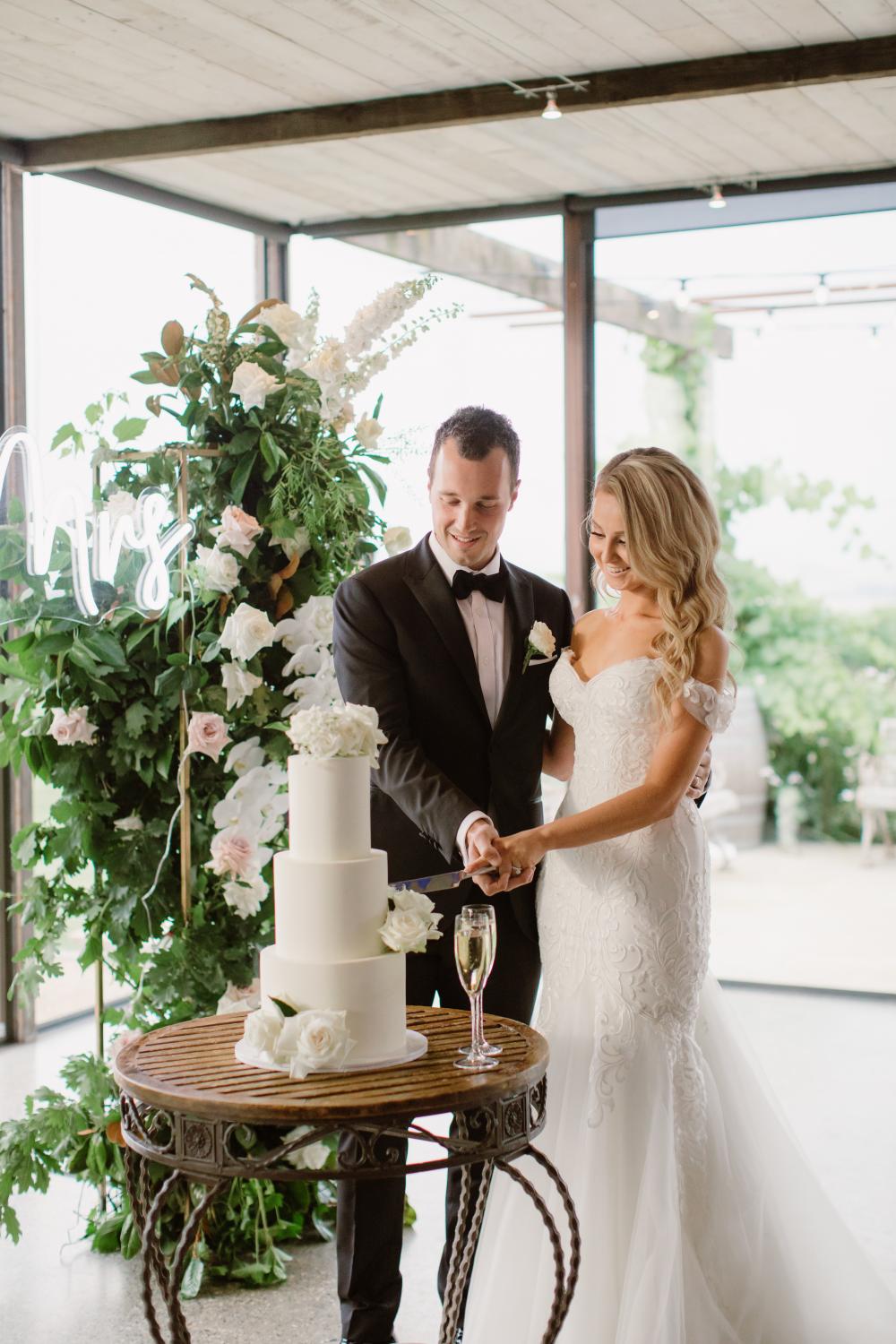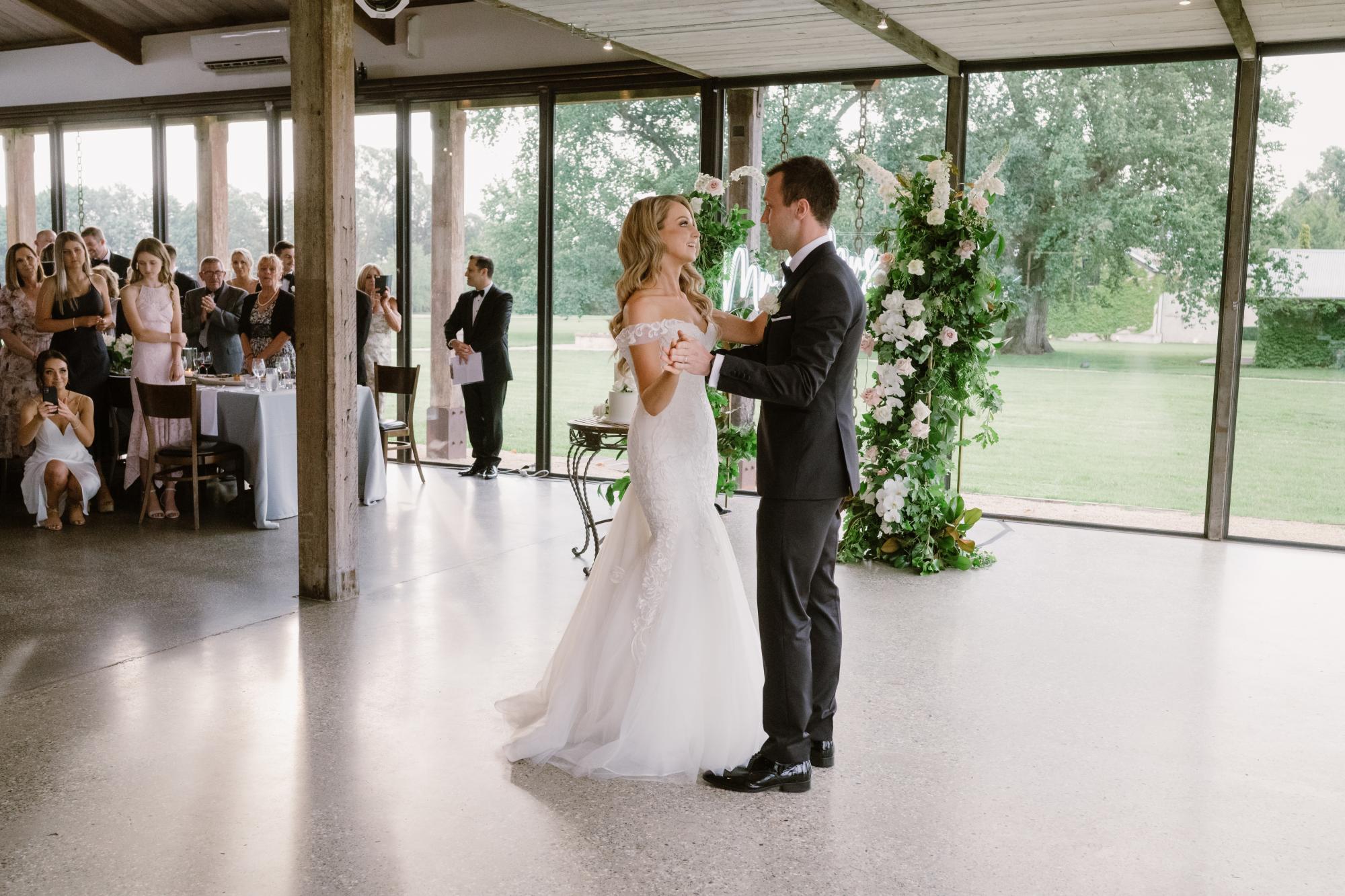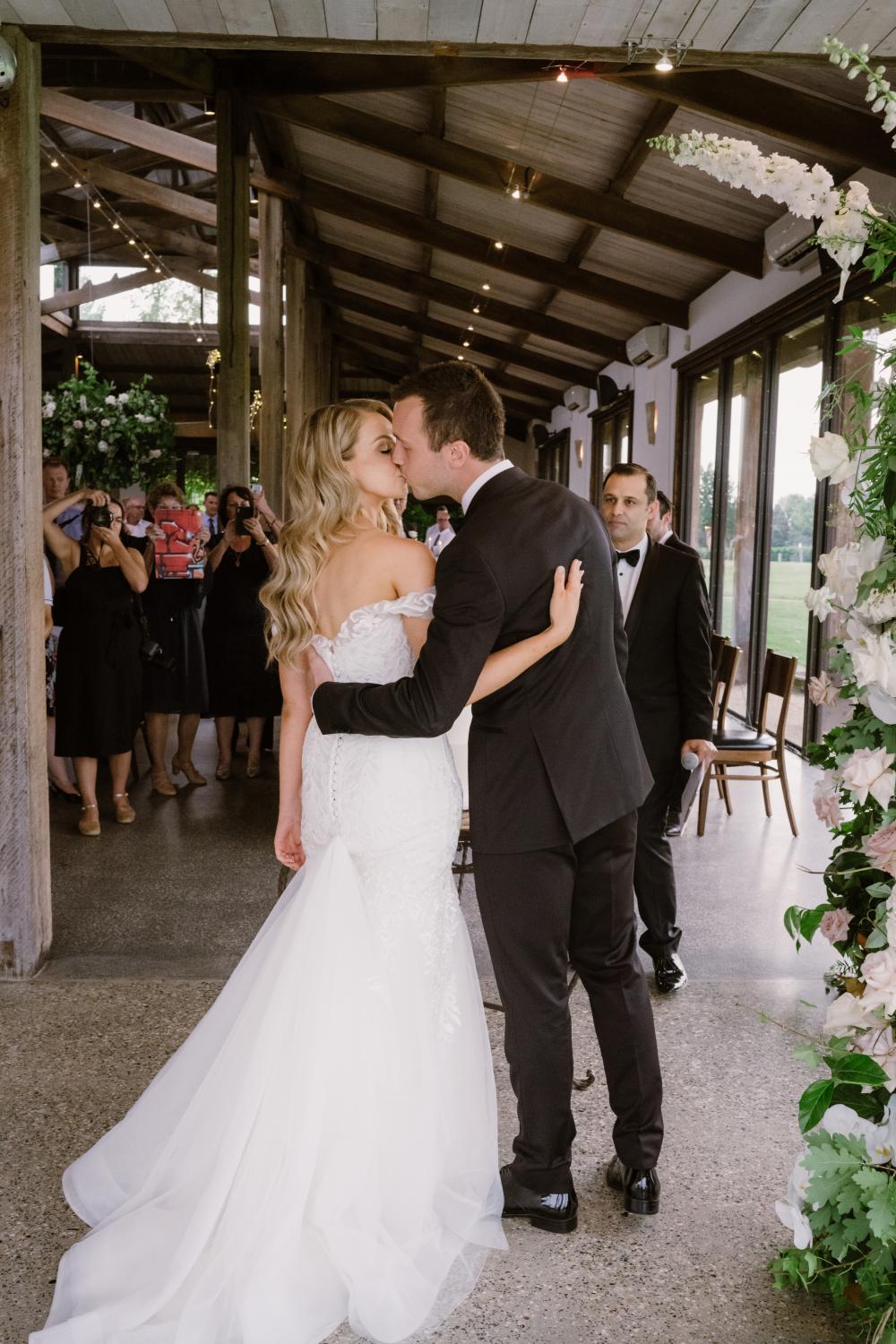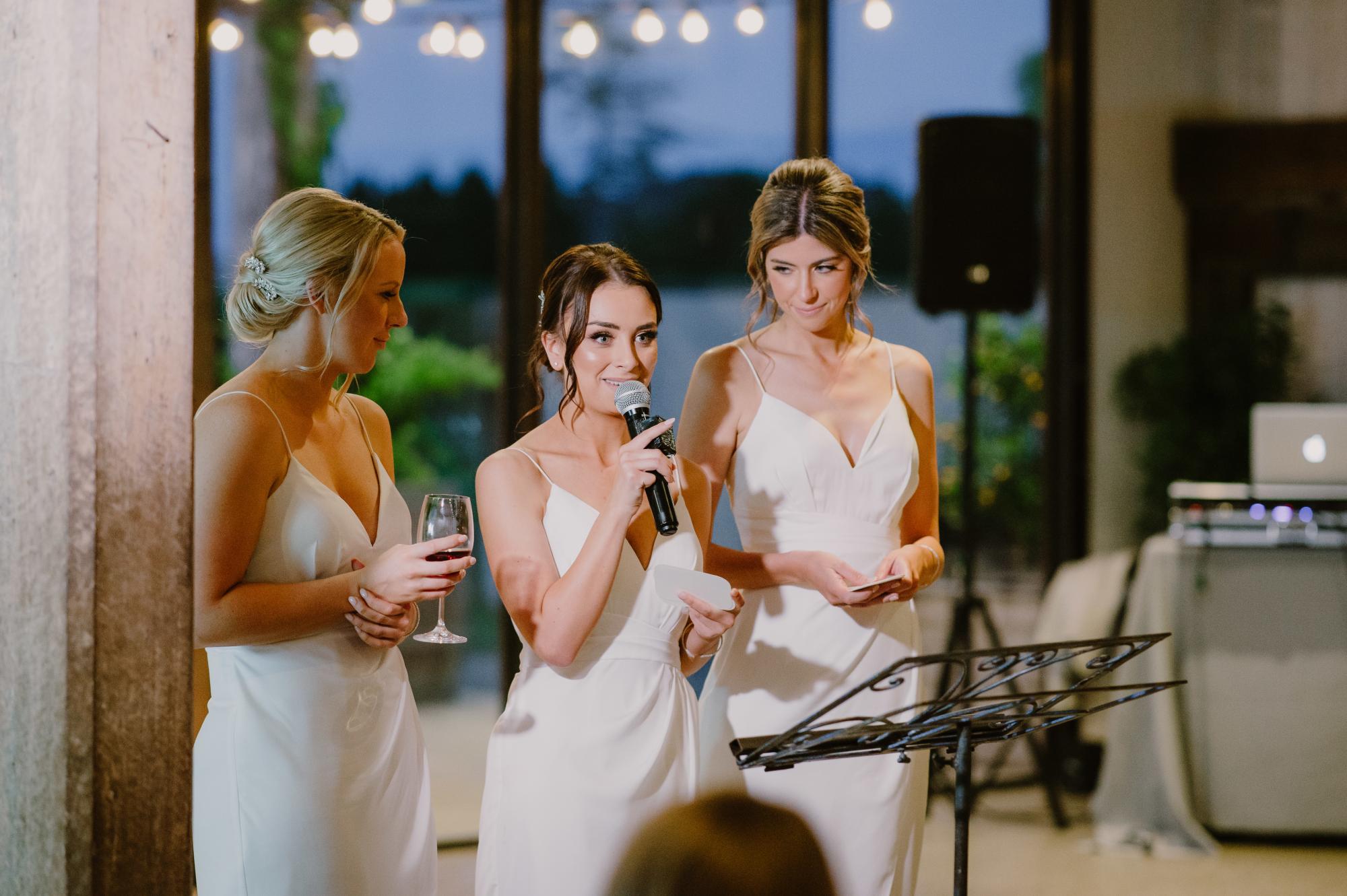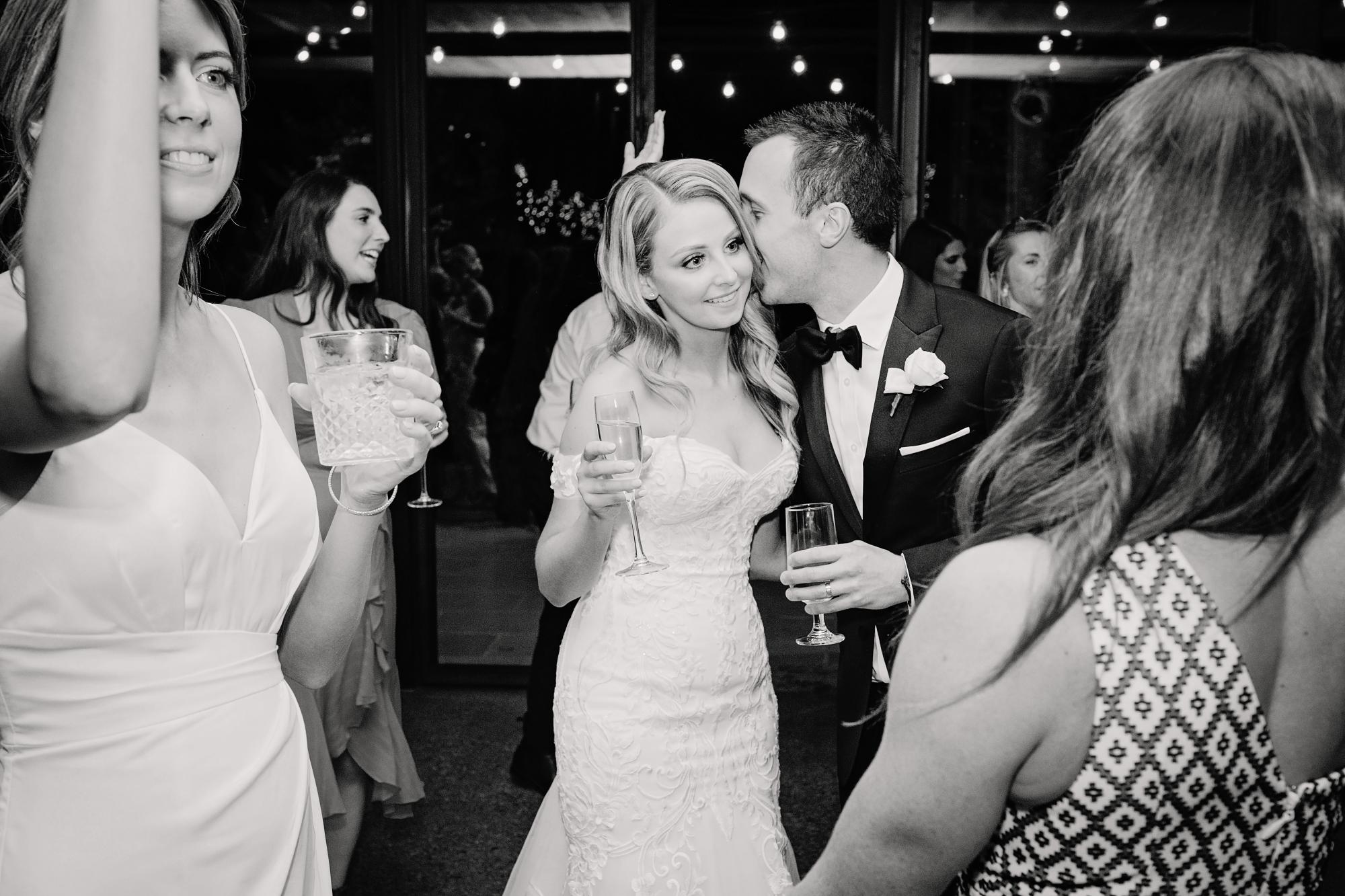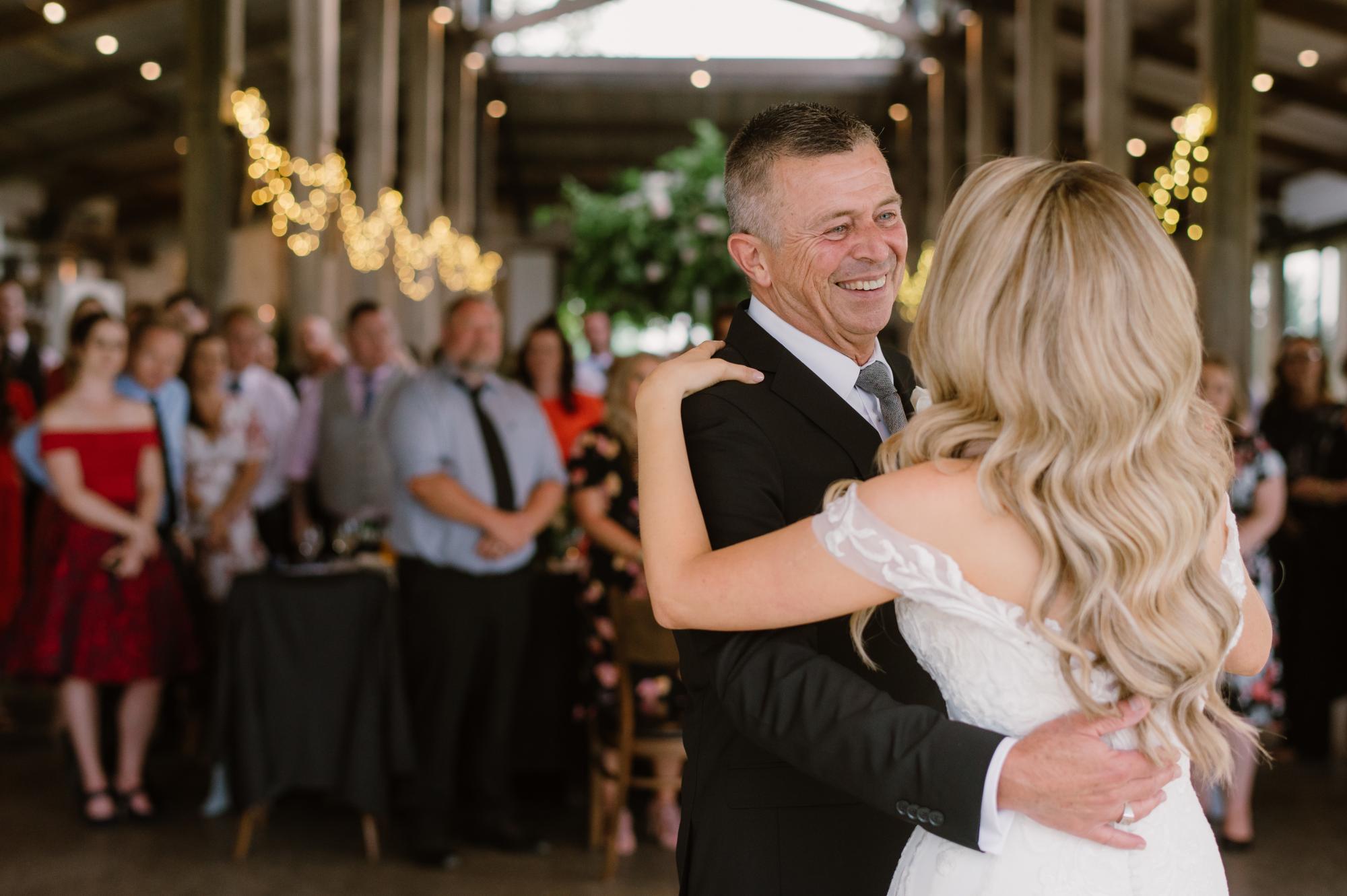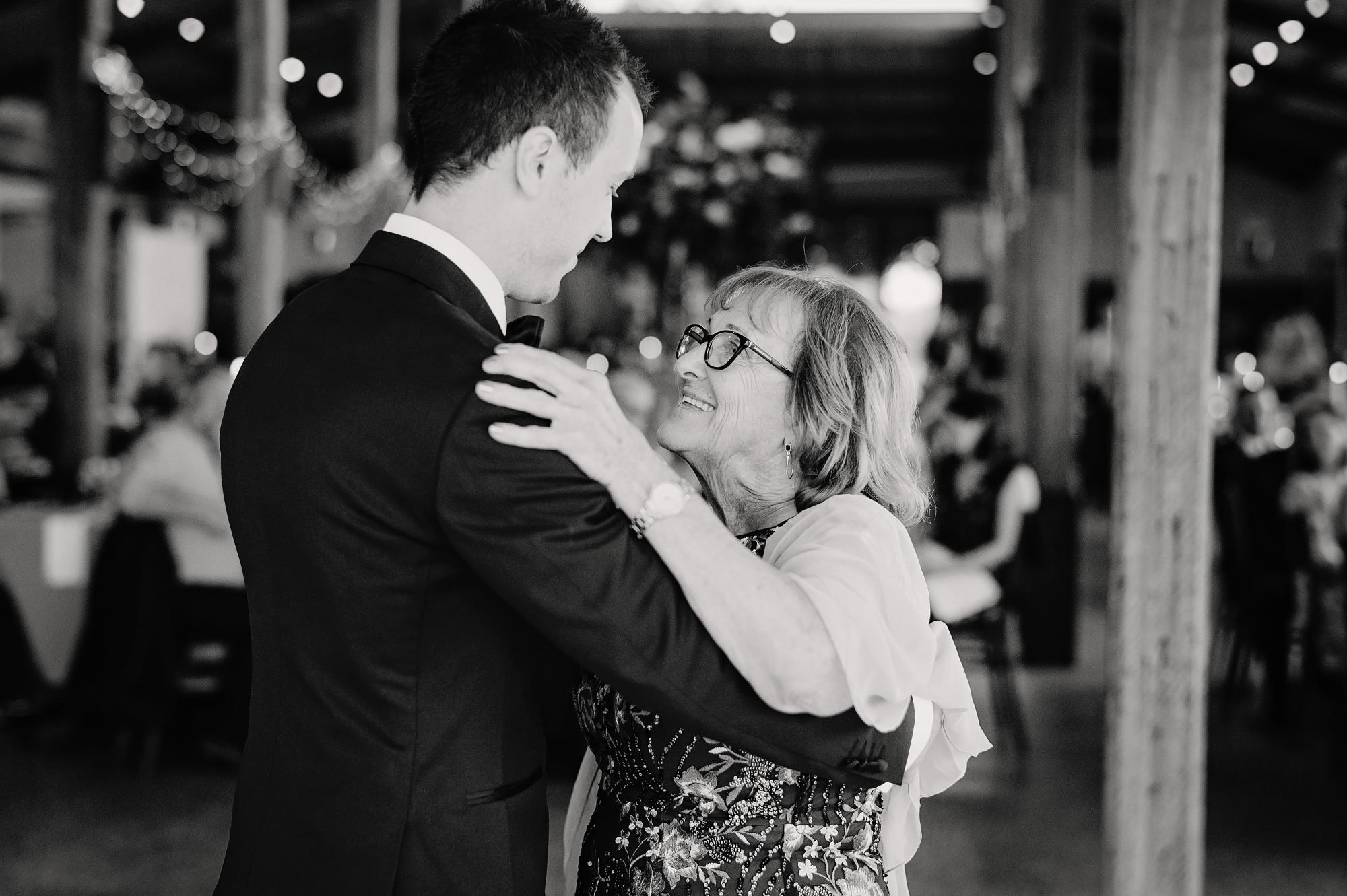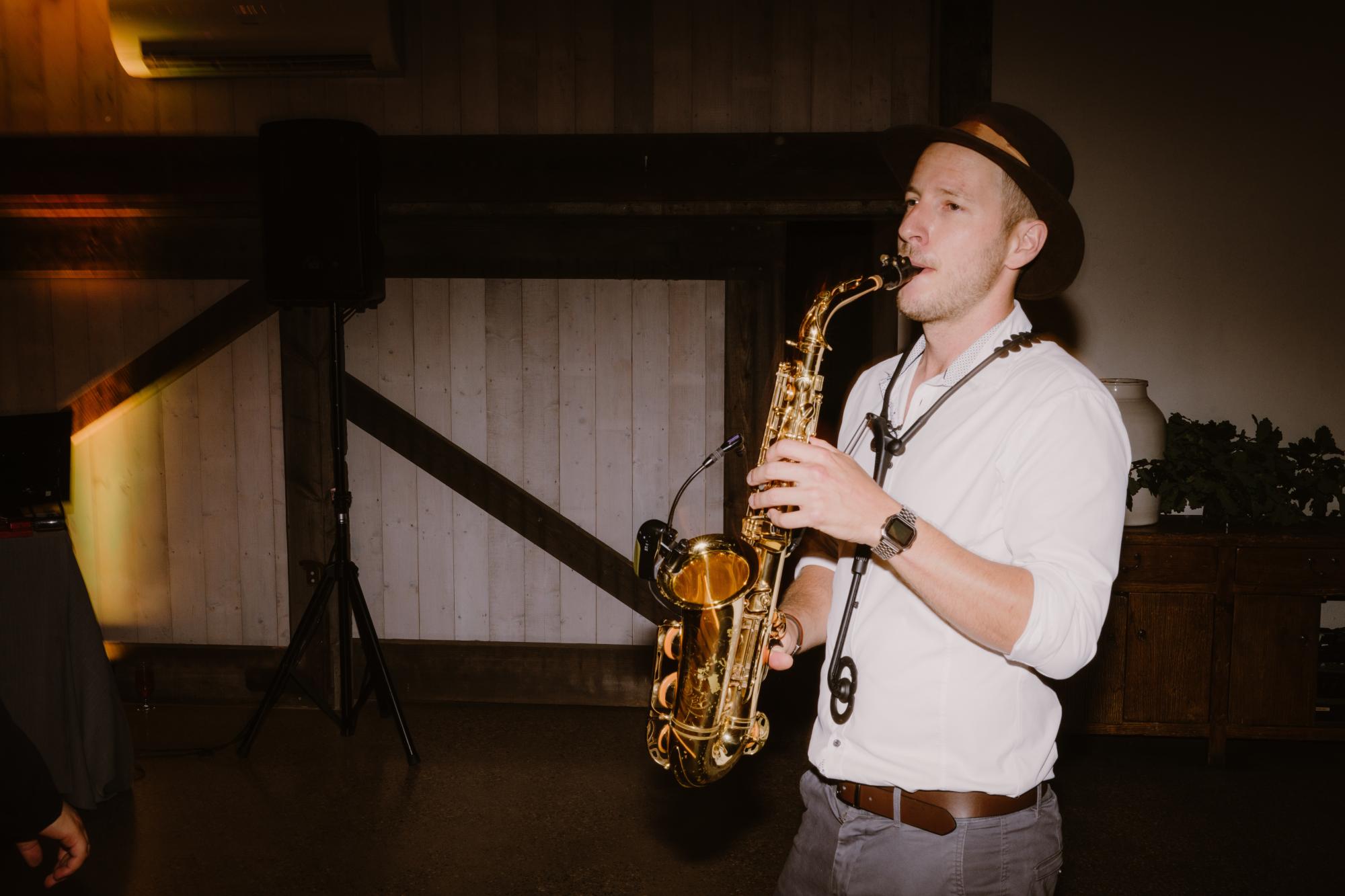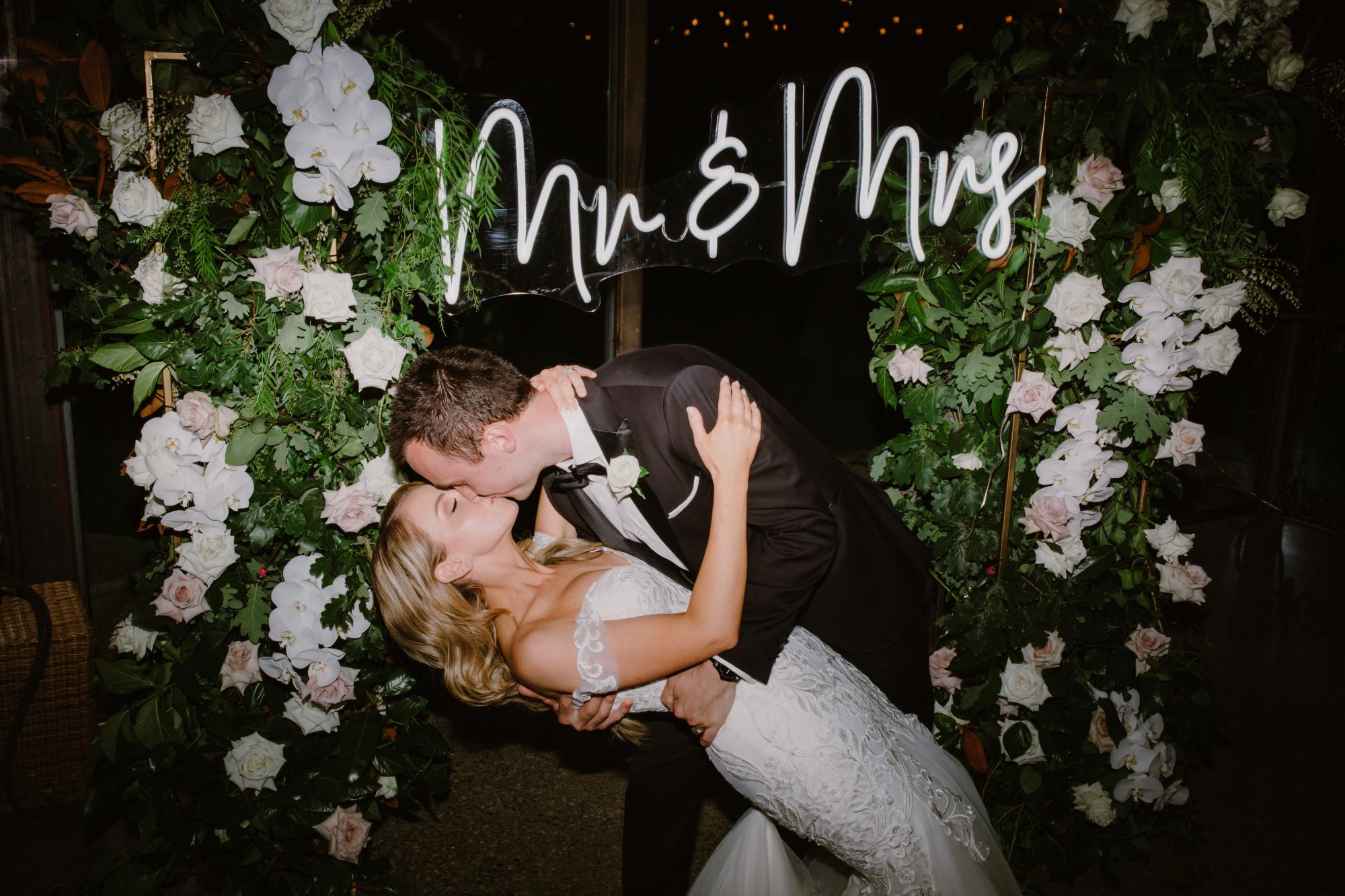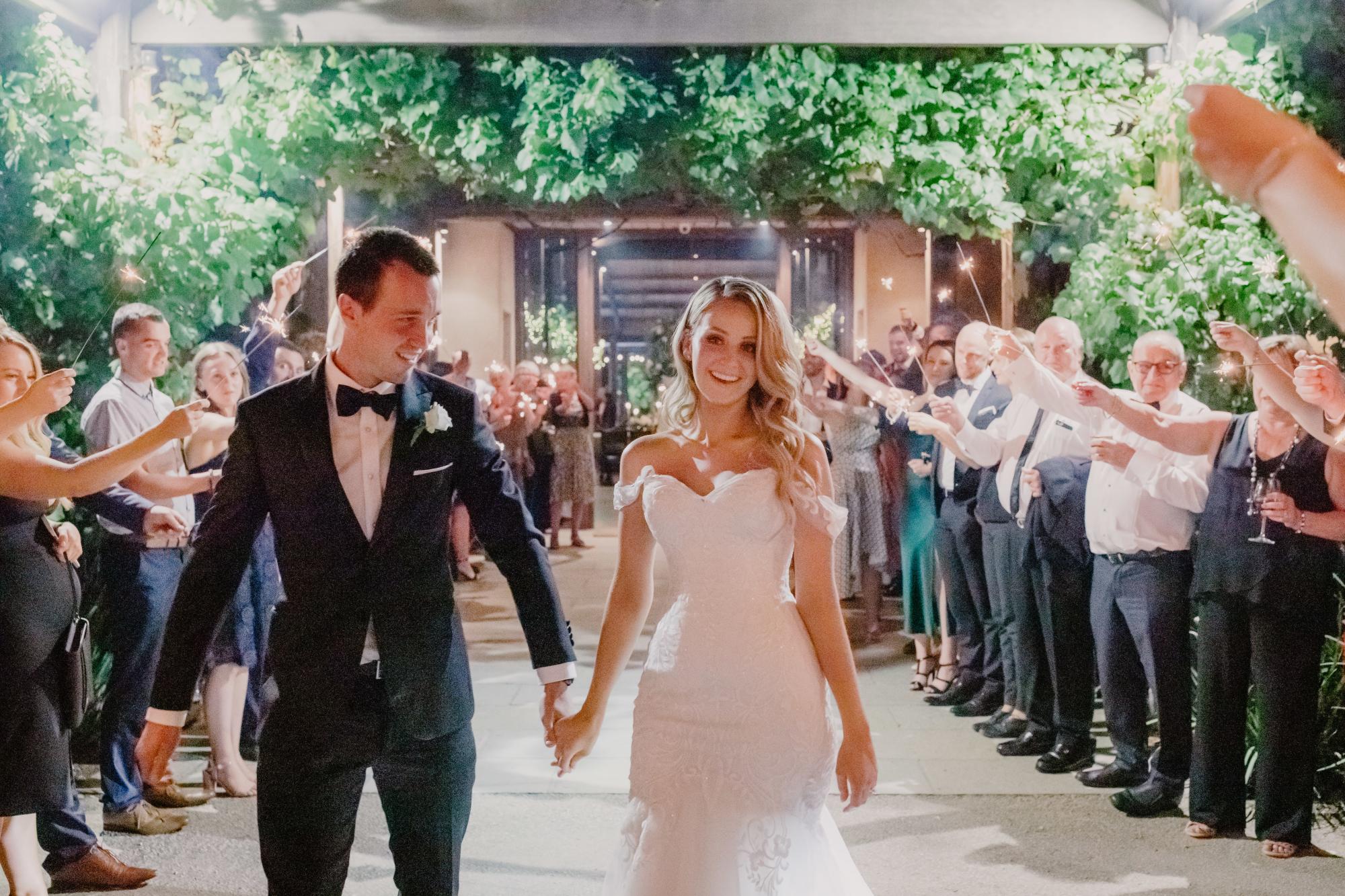 Sarah + Tristan | 18.01.2020
Venue: Stones of the Yarra Valley
Photography: Theodore & Co
Videography: C2 Films
Ceremony: Meriki Comito 
Florals: Sugar Bee Flowers
Bridal Gown: Annette of Melbourne
Brides Shoes: Jimmy Choo
Bridesmaids Dresses: Bariano Australia
Make Up: Katie Winkler Makeup
Hair: Pearly Hairstylist
Grooms Attire: Joe Black
Groomsmen Attire: Joe Black
Ceremony String Trio: Stringspace
Cars: Triple R Cars
Tableware: Table Art Event Hire
Cake: Miss Ladybird Cakes
MC: Sam Muscat
Reception Entertainment: Rutherford Entertainment
Ceremony Entrances – know your options →
←Wedding Vows – how to make them yours
Hamish + Sunny's Coombe Yarra Valley Wedding
The Event
Hamish + Sunny's beautiful Yarra Valley Wedding at Coombe Estate took place on a 44ºC Summer's' day, but the super chilled + considerate duo were quick to prioritise the comfort of their family + friends by making a last minute ceremony location change to ensure grateful guests were seated in the shade, before they moved inside to party with the air-con!
When I first met with Hamish + Sunny, they brought their gorgeous Maid of Honour, Jordie, along for the ride, and after a couple of wines and ton of laughter later, I knew the trio were definitely my kind of people and that this wedding would have a seriously fun + relaxed vibe.
It was all that and more. A fabulous bridal party, festive guests, romance, style + elegance galore, lots of laughs, all the feels, and an A-team list of vendors helping to make the day perfect.
Ceremony Details
Initially meeting through mutual friends at the gym, Hamish was confident that Sunny had fallen in love with him at first sight, but when Sunny saw him smashing it out on the cross-trainer in a hoodie in the middle of summer, she only thought him to be a big sweaty mess! But the brief conversation that followed ignited an undeniable spark and they soon bonded over a mutual love of food, travel and finding any opportunity to take a nap.
Popping the big question during a holiday in Bali, Hamish chose total romance by bending to one knee, as they walked along the beach at sunset.
After arriving, bathed in sunshine, on the arm of her prod father, Sunny stood before her smitten groom and promised to "always arrive at the airport 3 hours early so you can get the exit row, to nurse you back to health after your yearly ankle operations" and "to be worth it – worth the time, worth the energy, and most importantly, worthy of your love."
Hamish declared that he felt "blessed & lucky to be marrying the most beautiful, driven & caring person I know", before promising to "respect you and protect you with my life and to be by your side no matter what", before they shared their first kiss as married couple and celebrated on the lawn with cold drinks and hugs all around.
The Photography Team
Many thanks to the amazing team at Lost in Love Photography for allowing me to publish their gorgeous images, as well as superstar videographers Moon & Back Co for the fab film!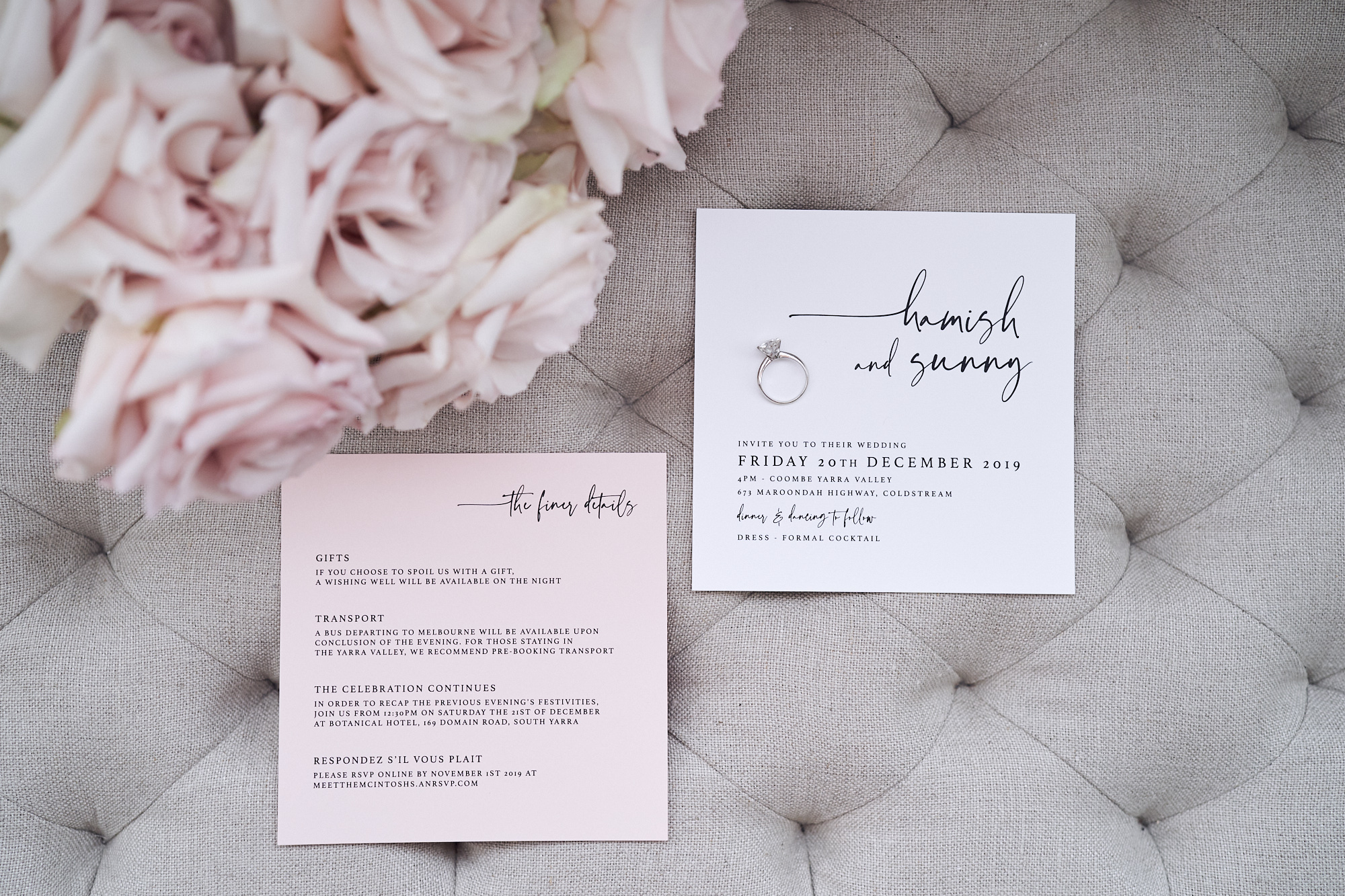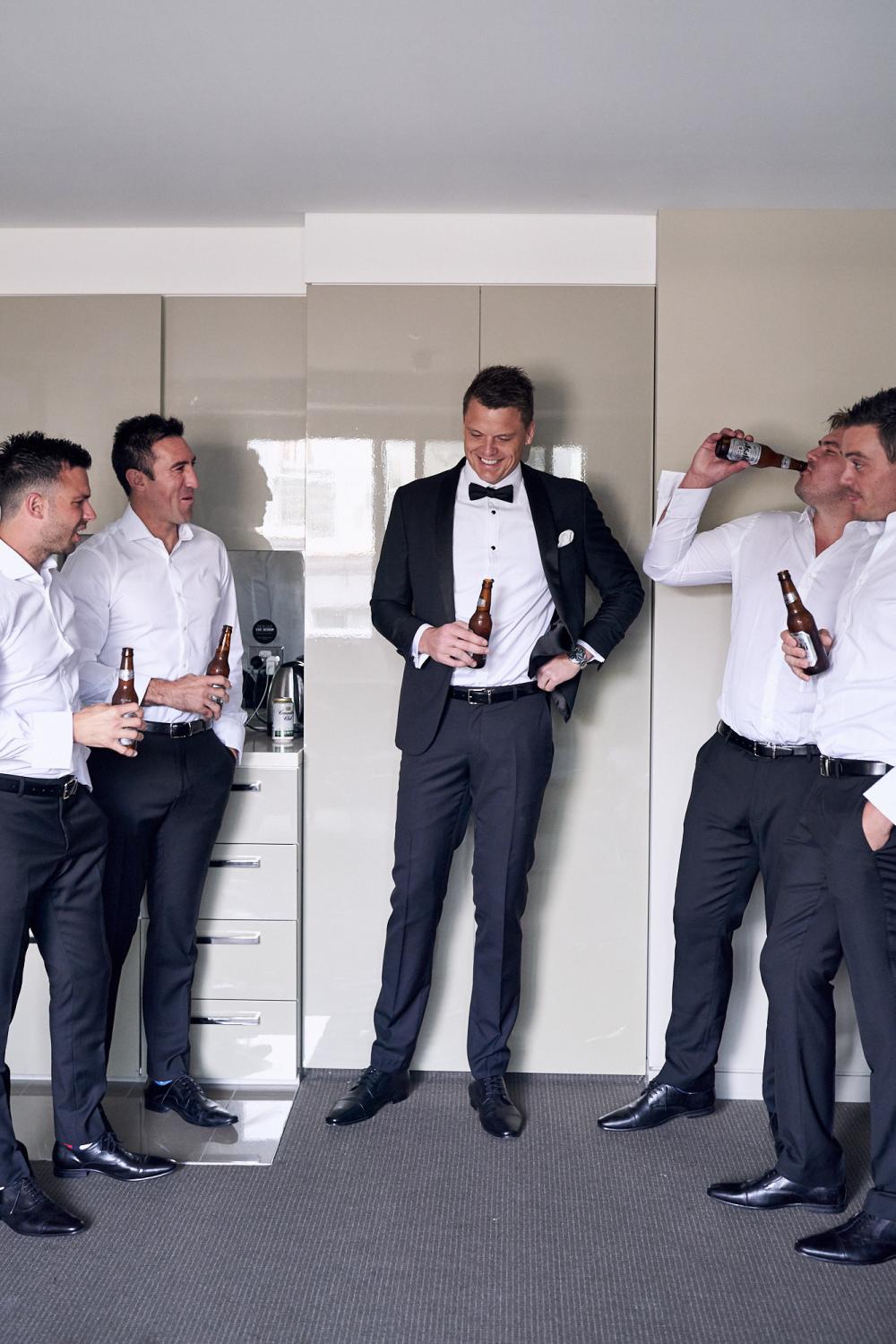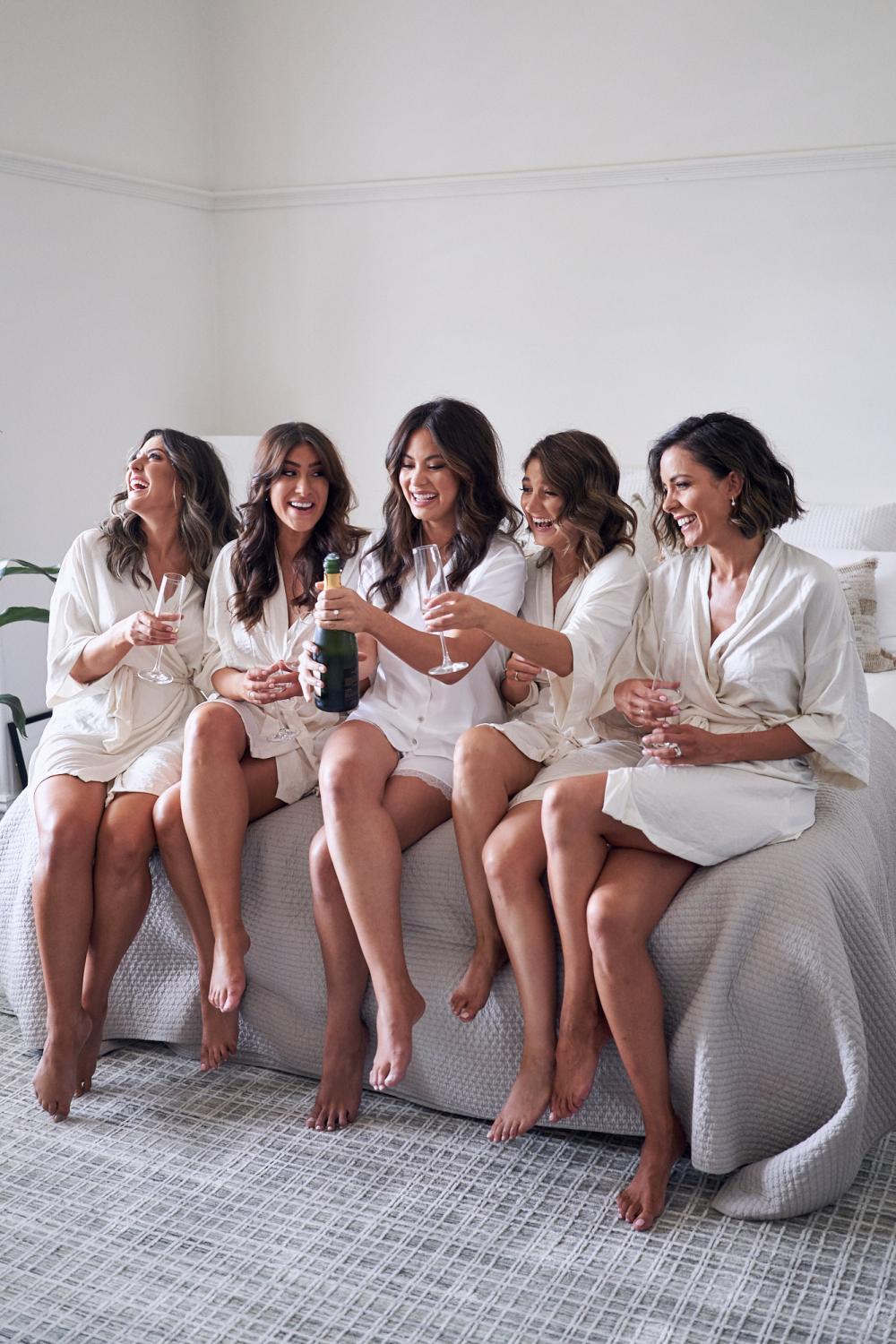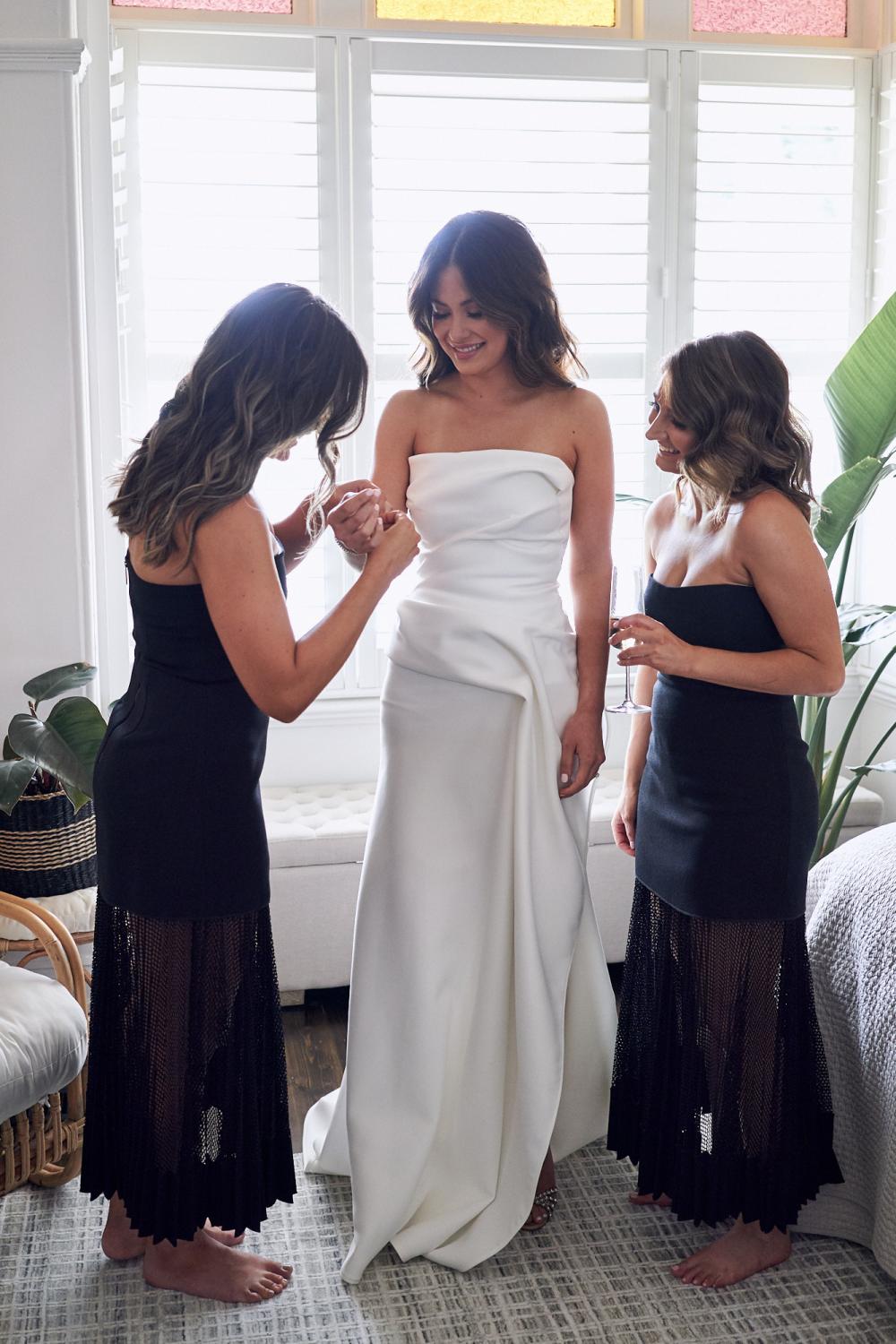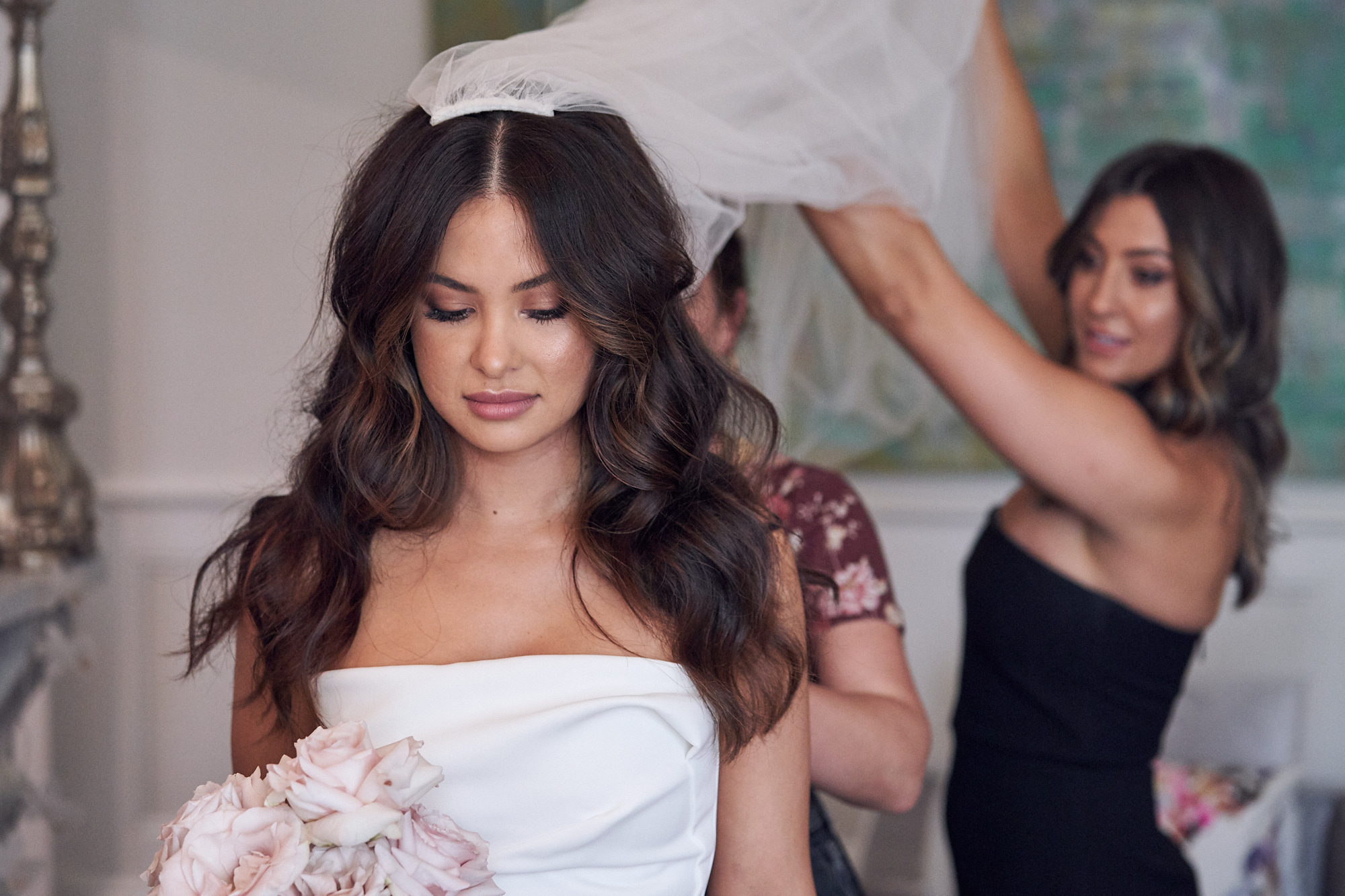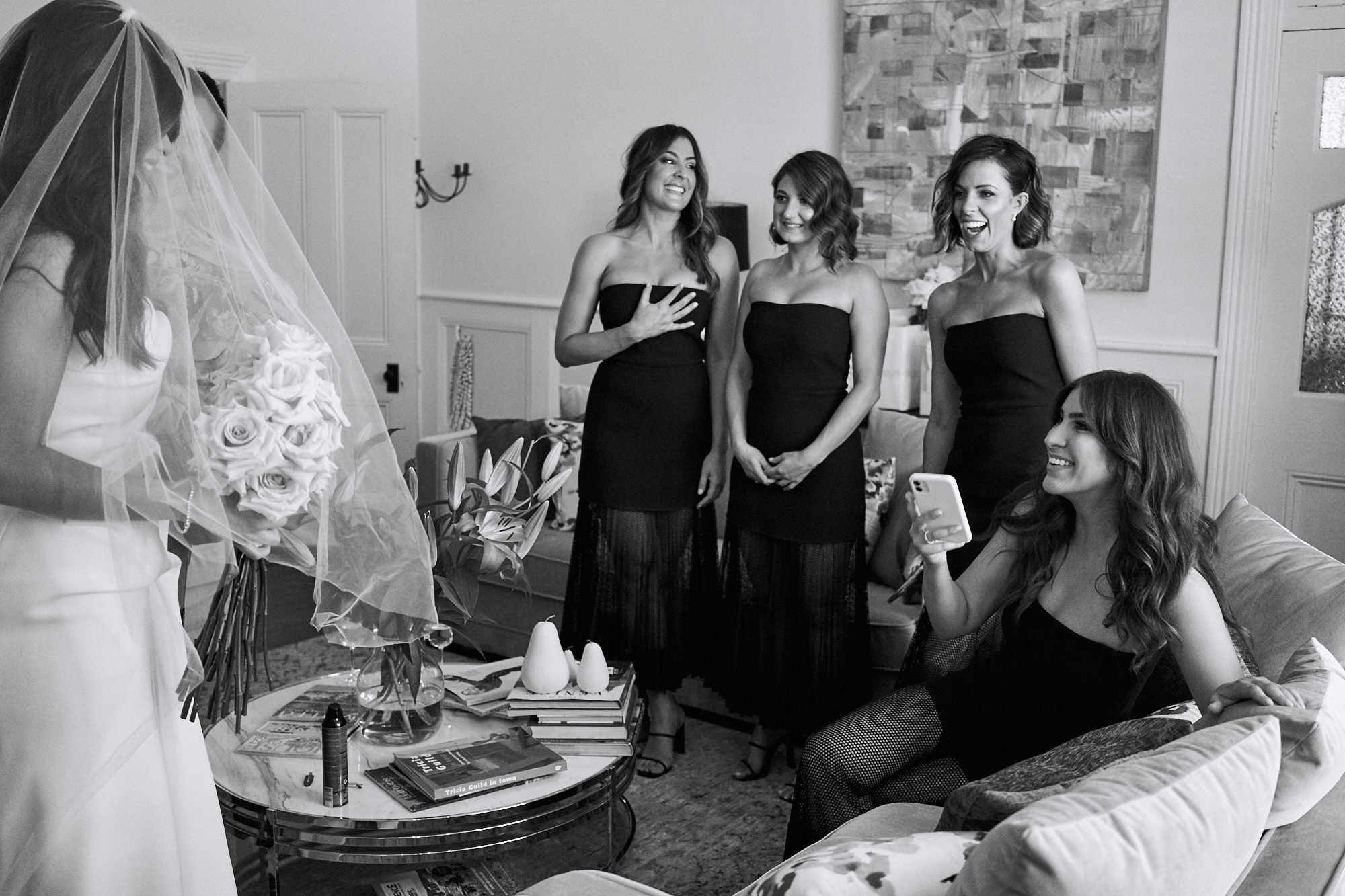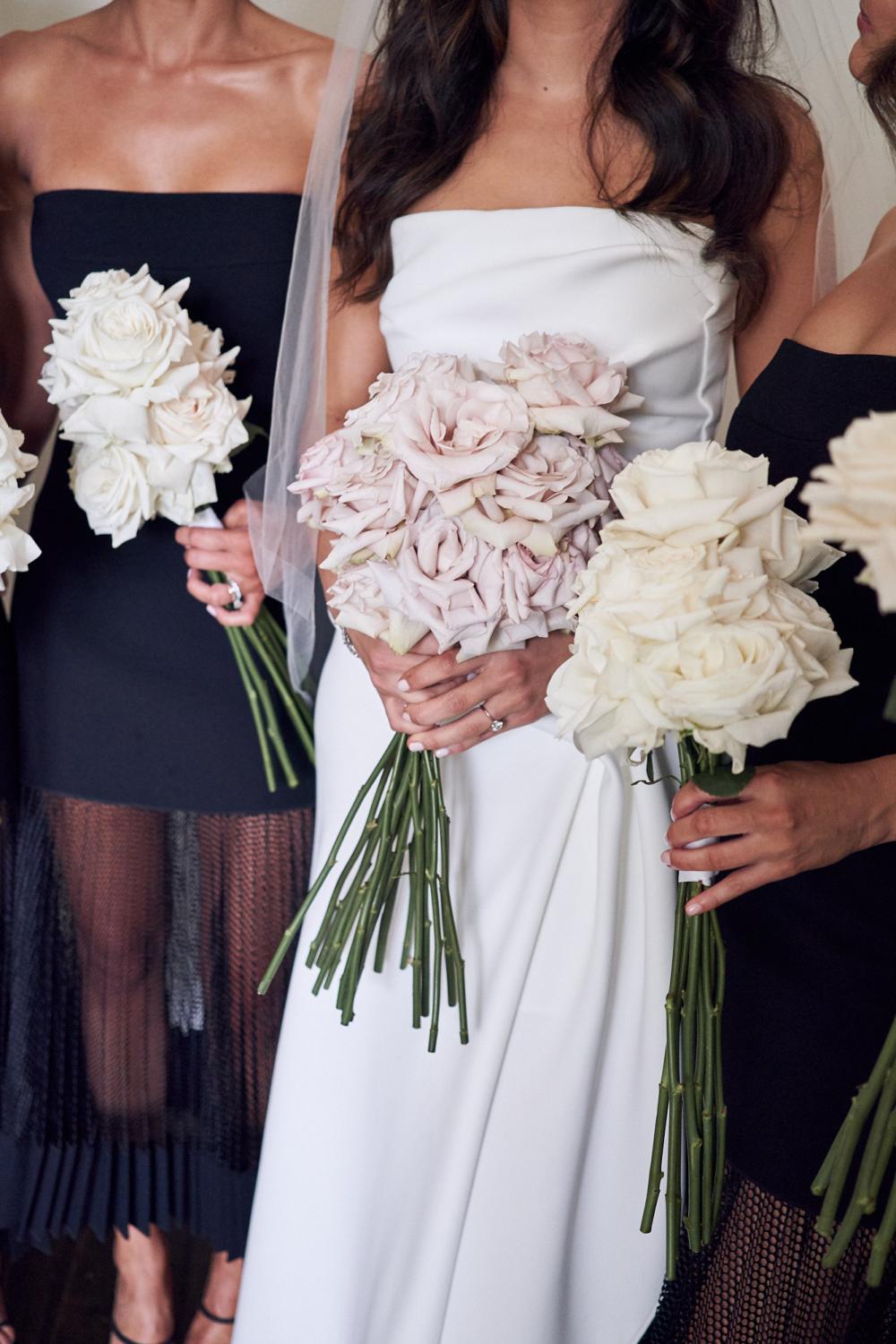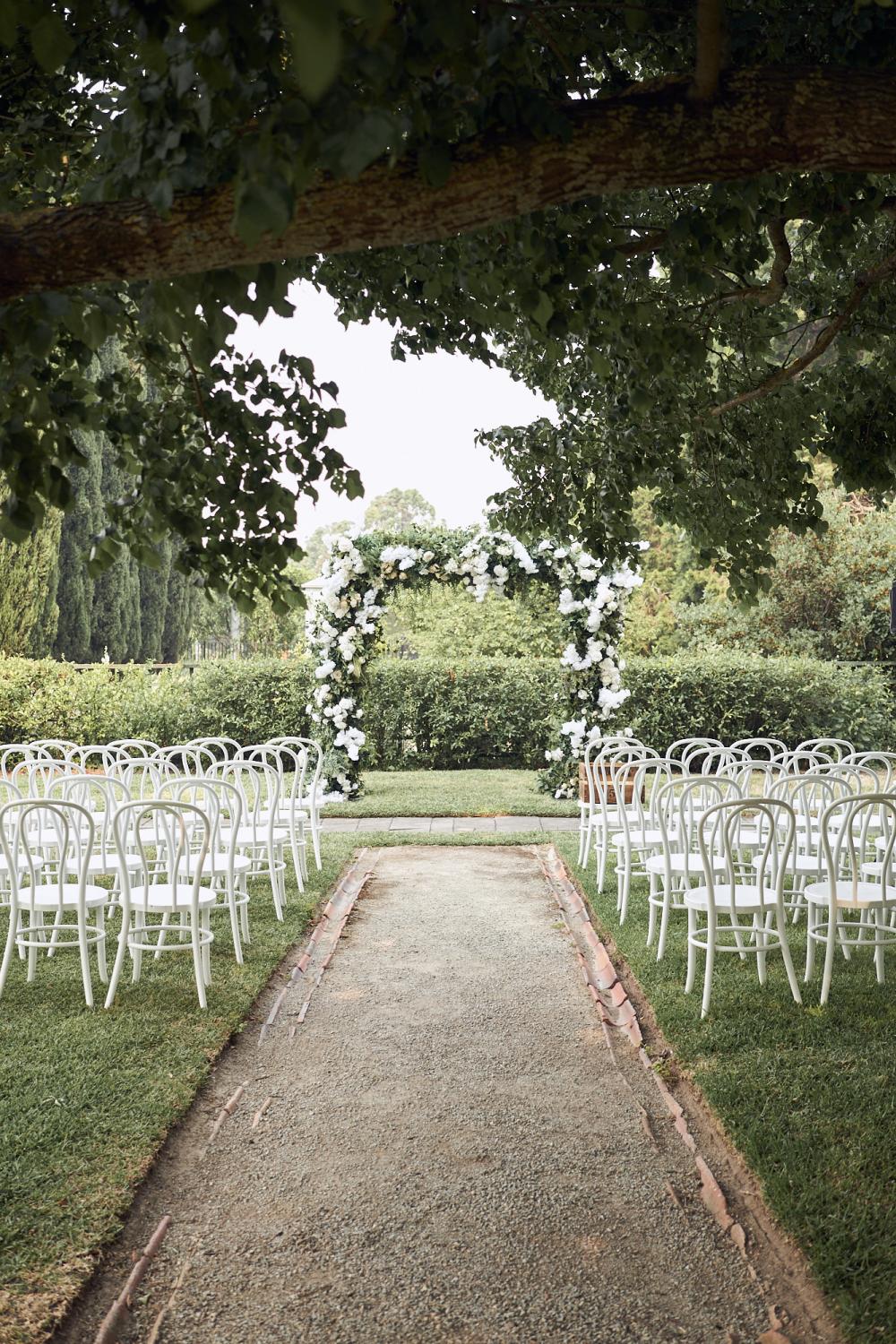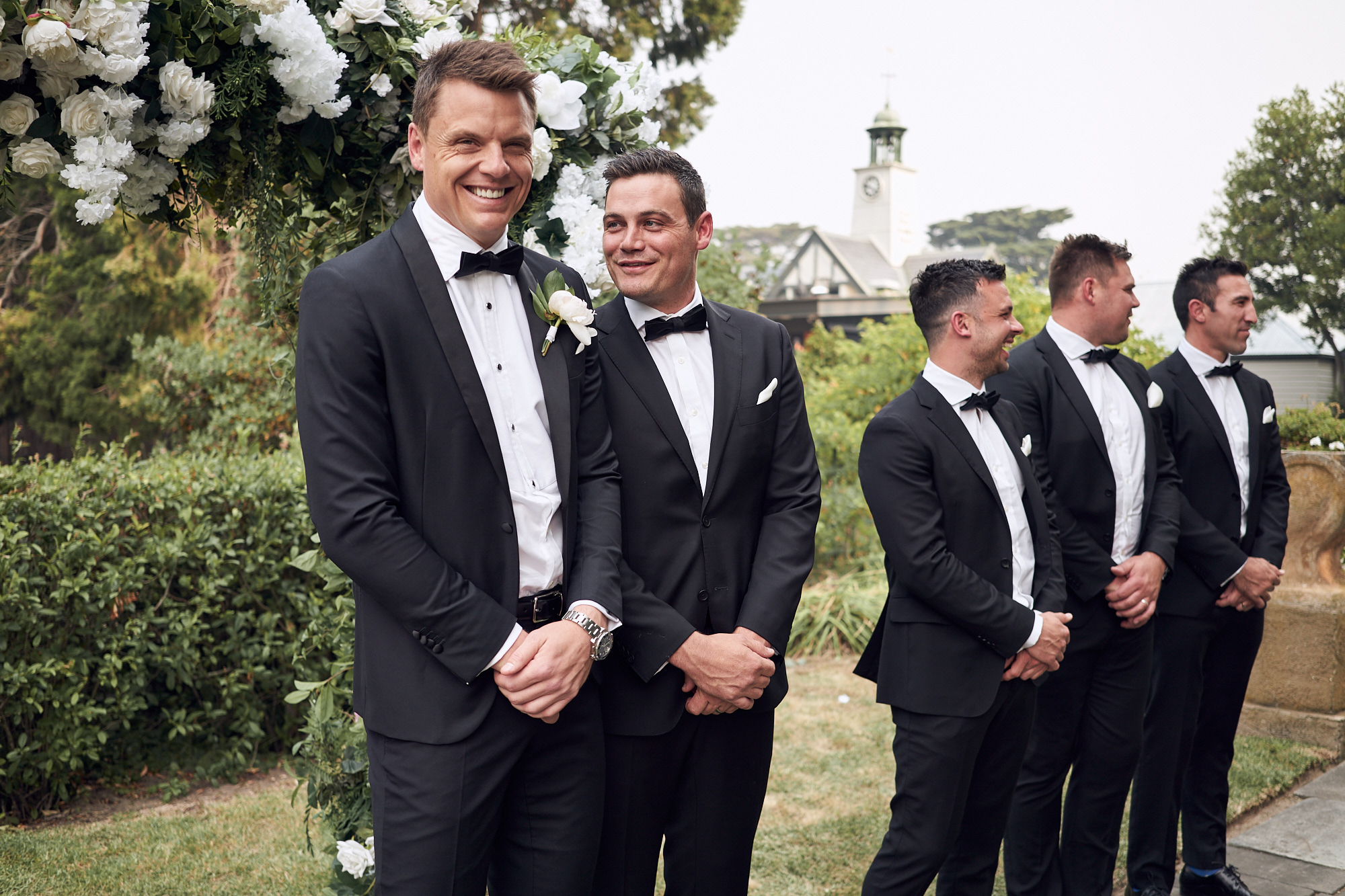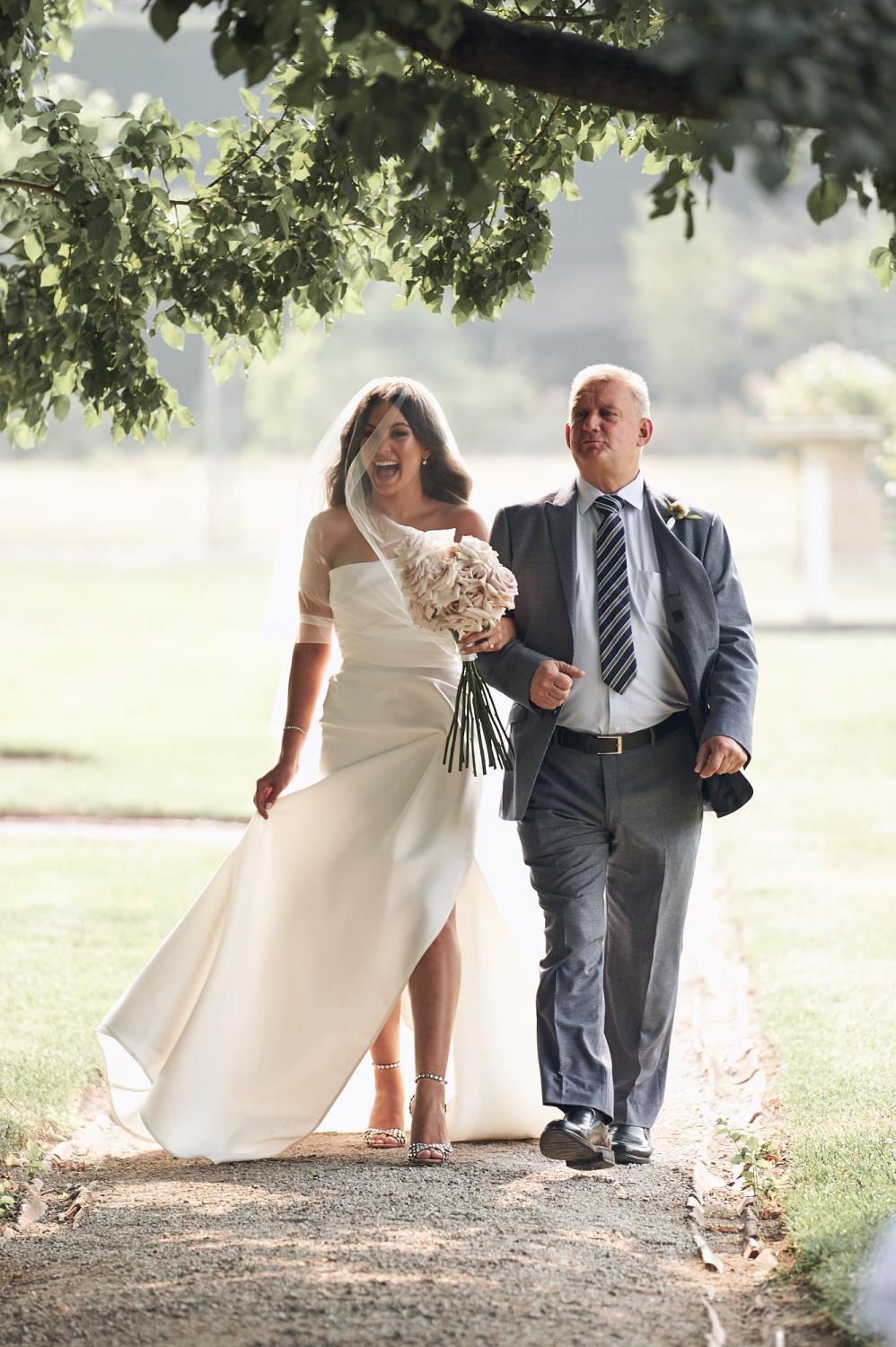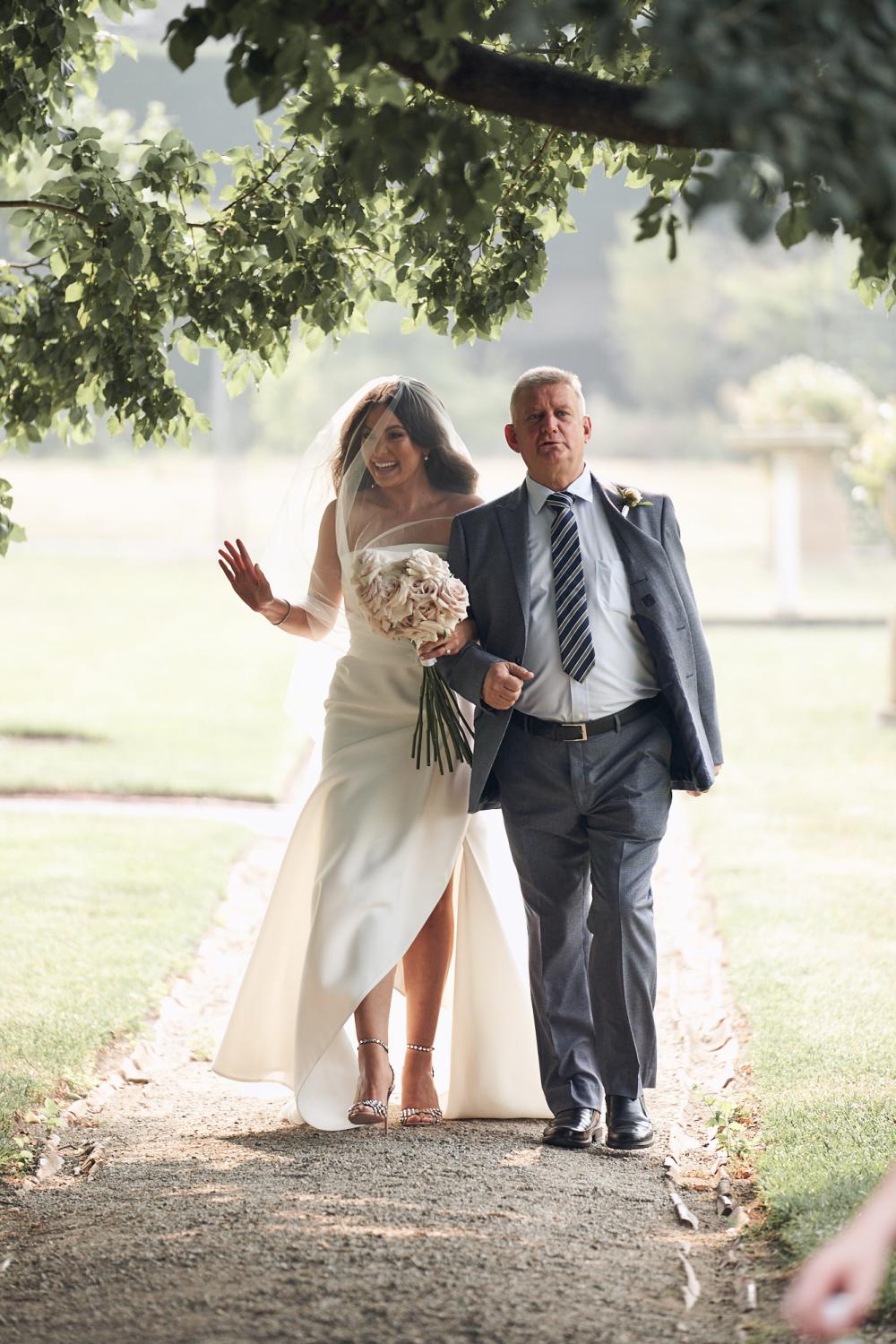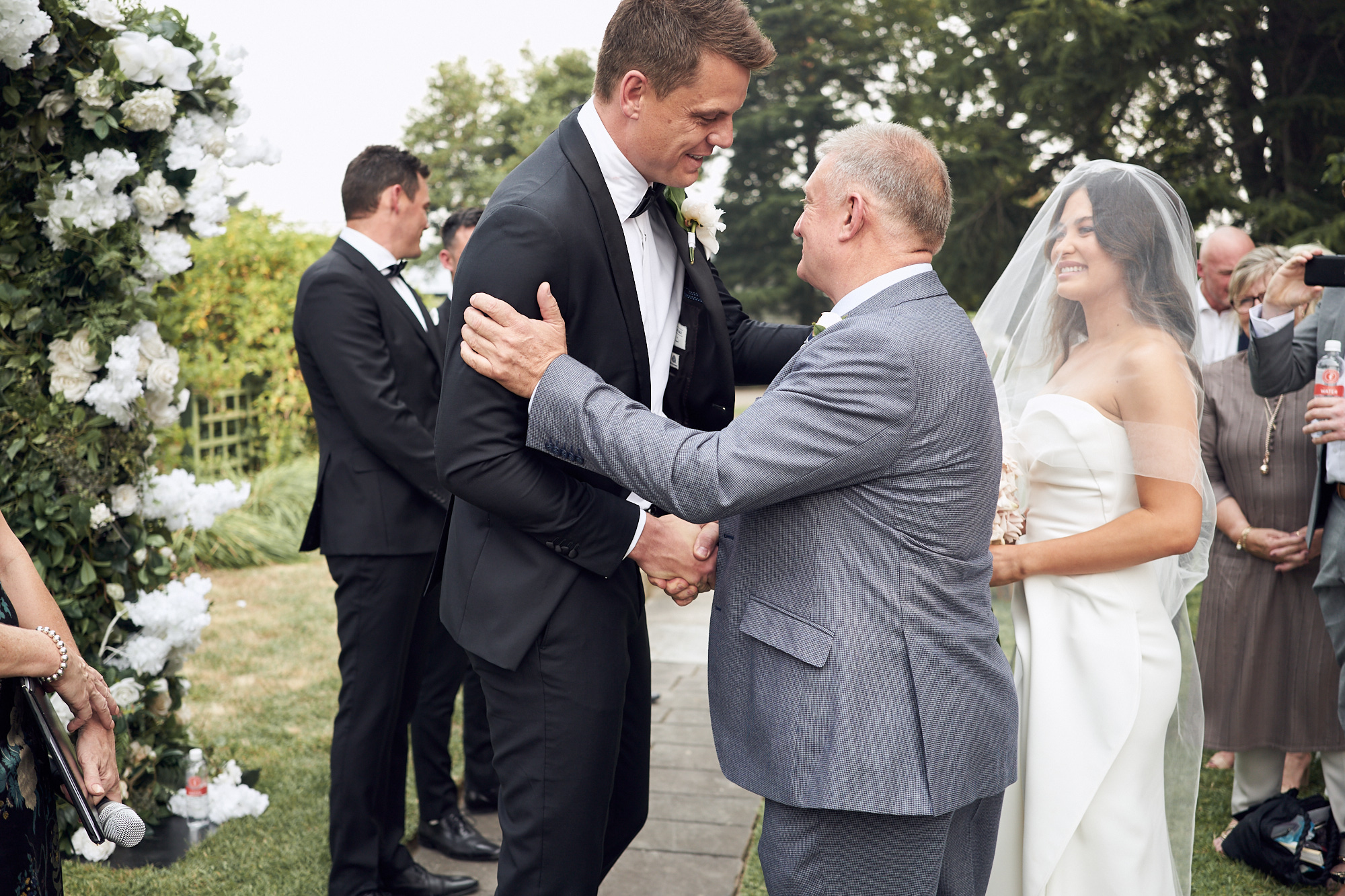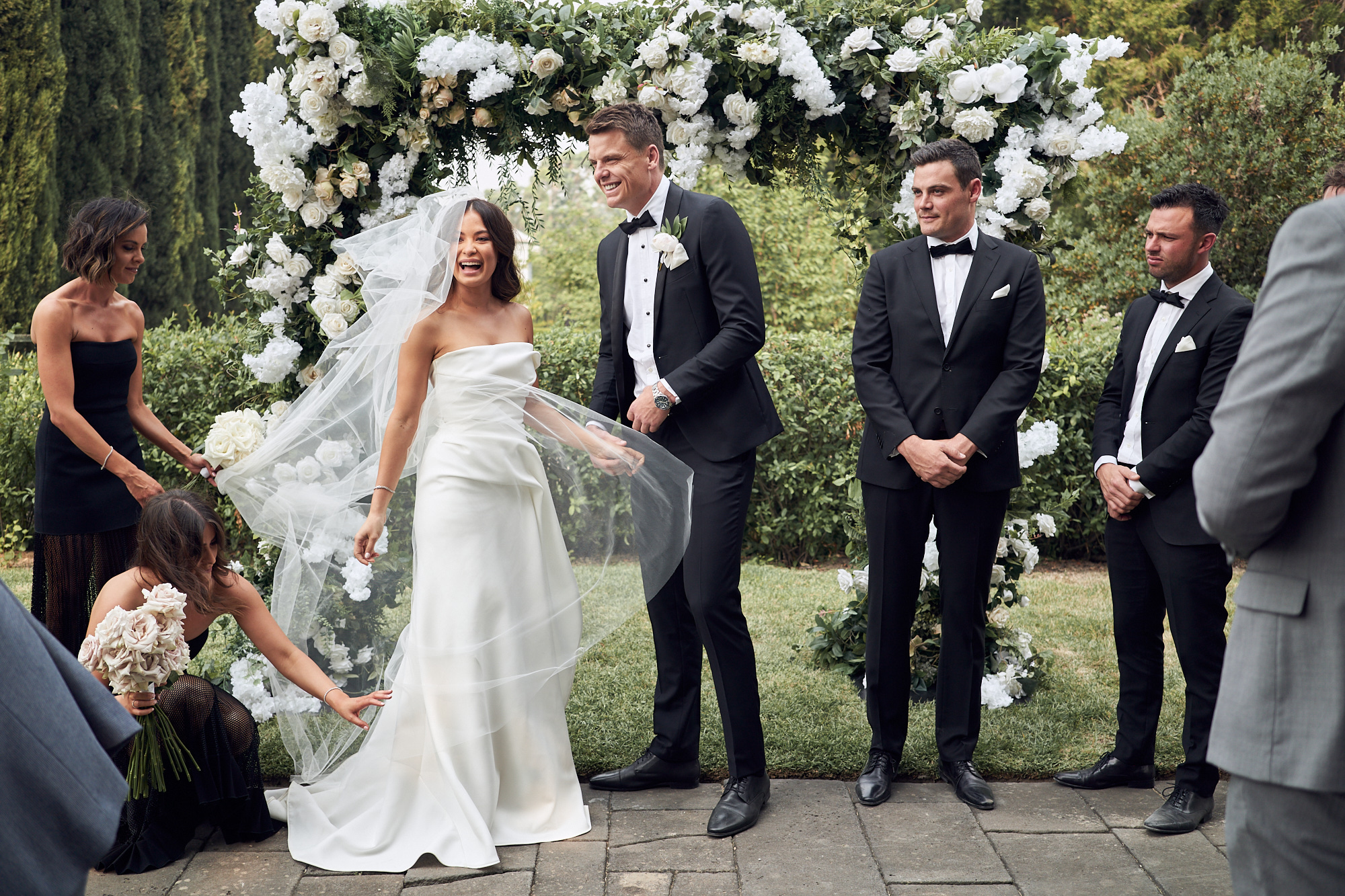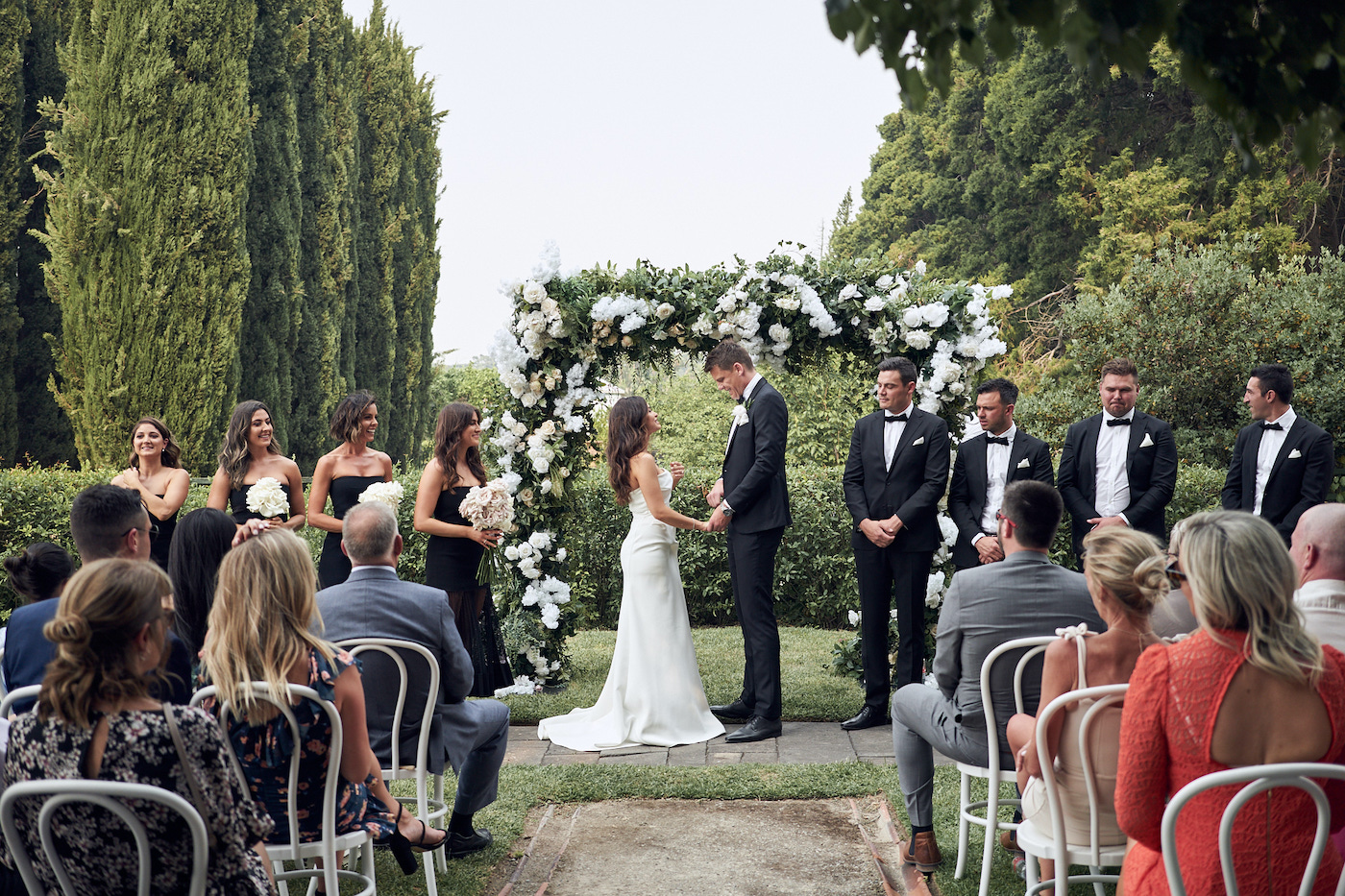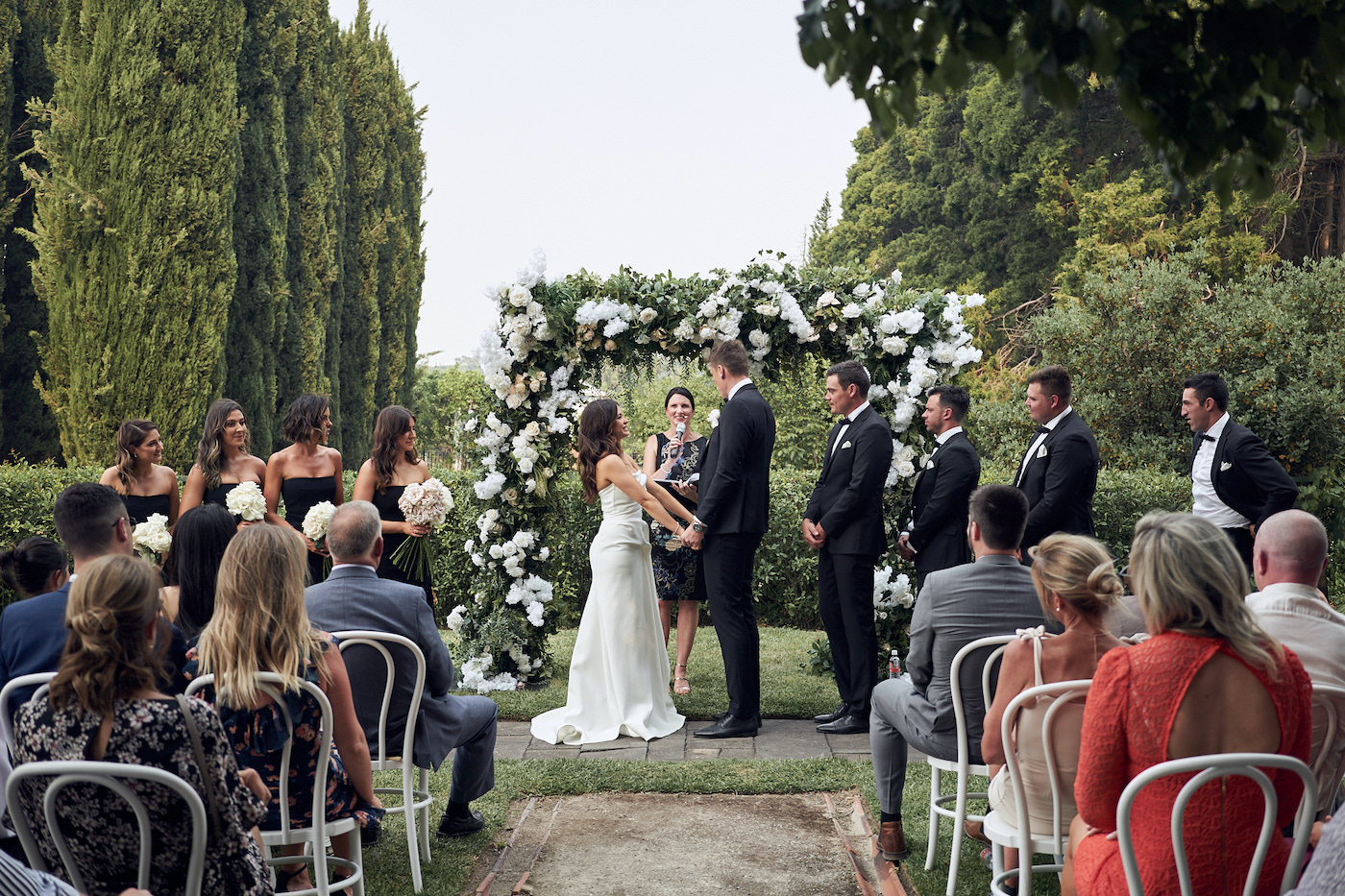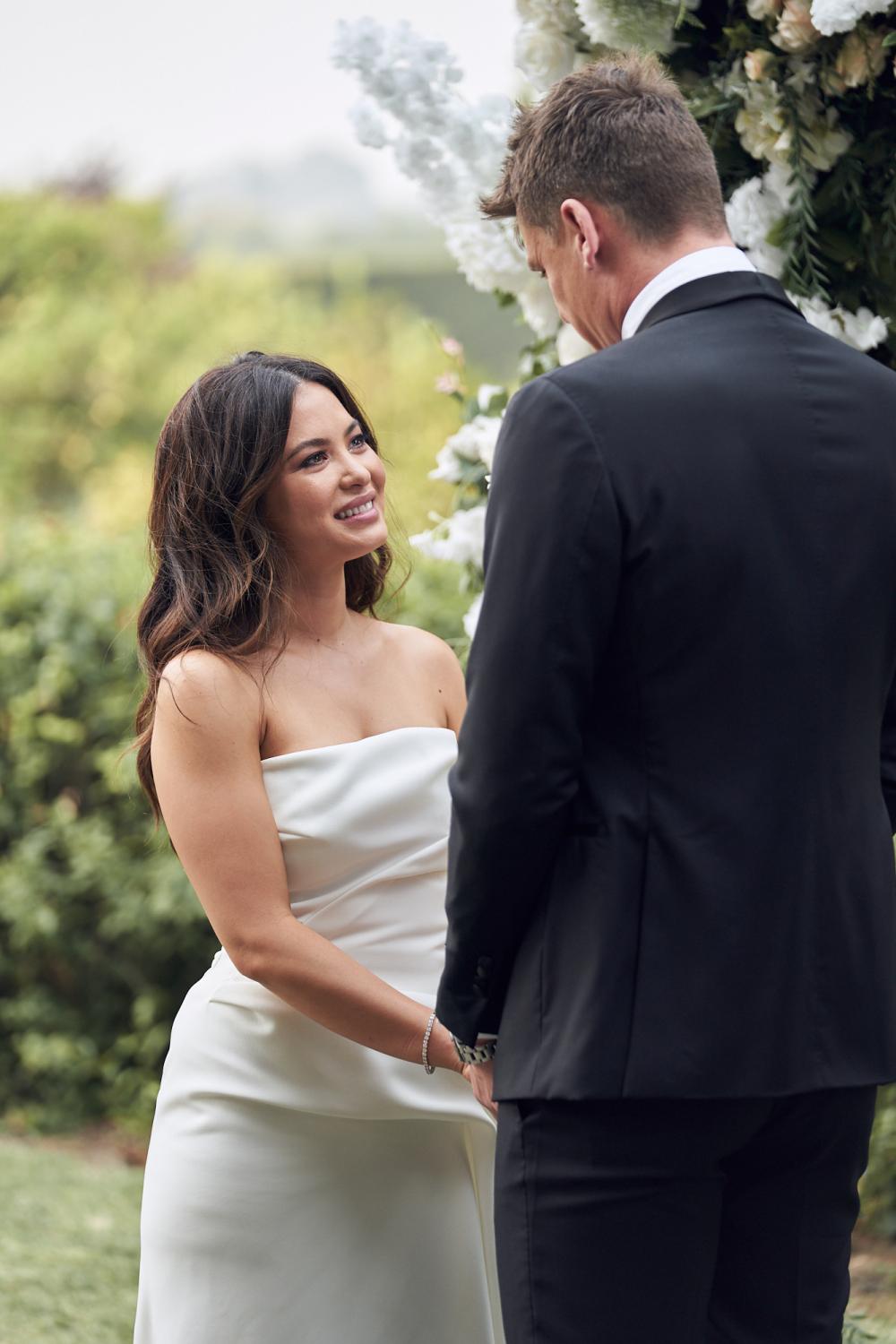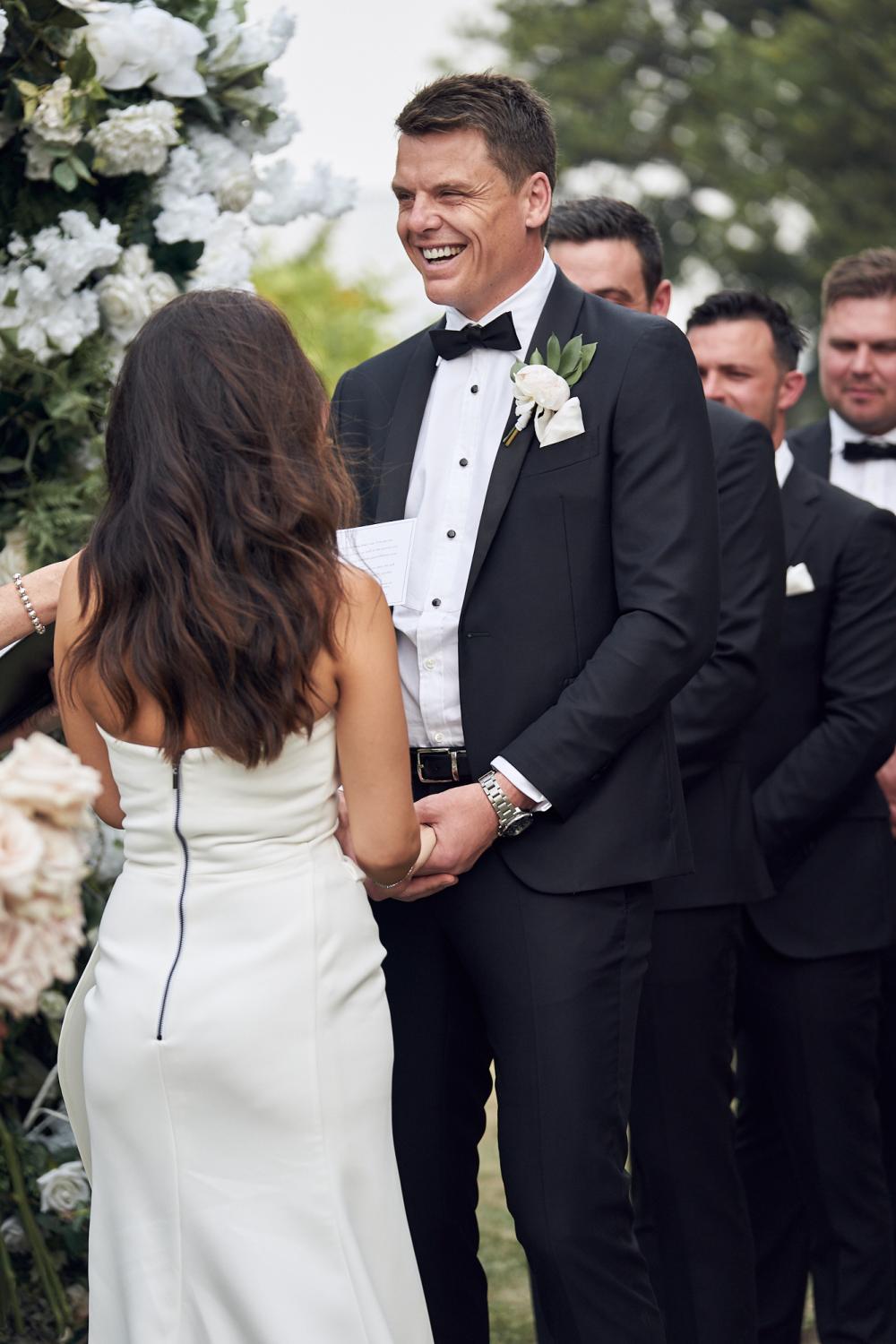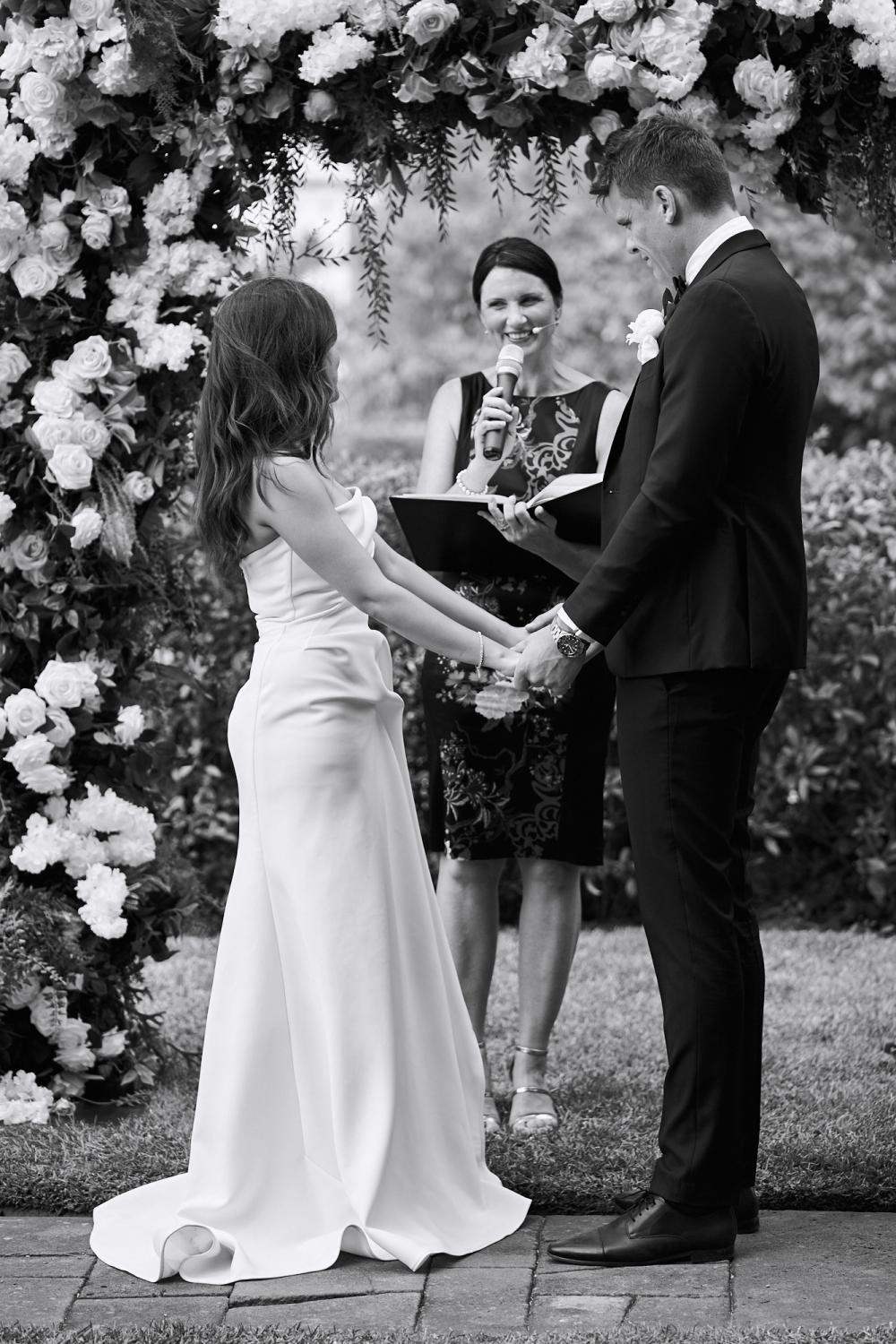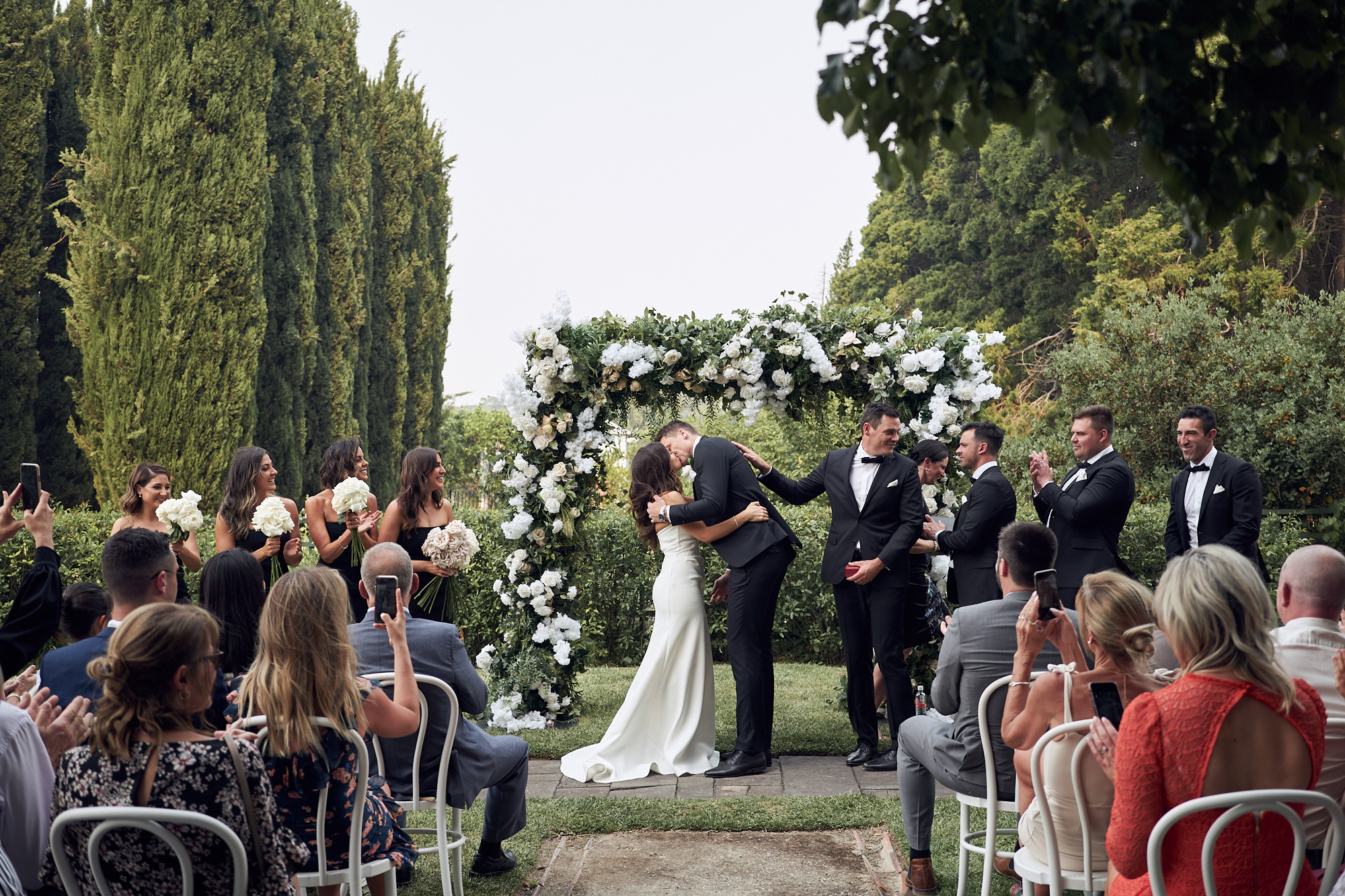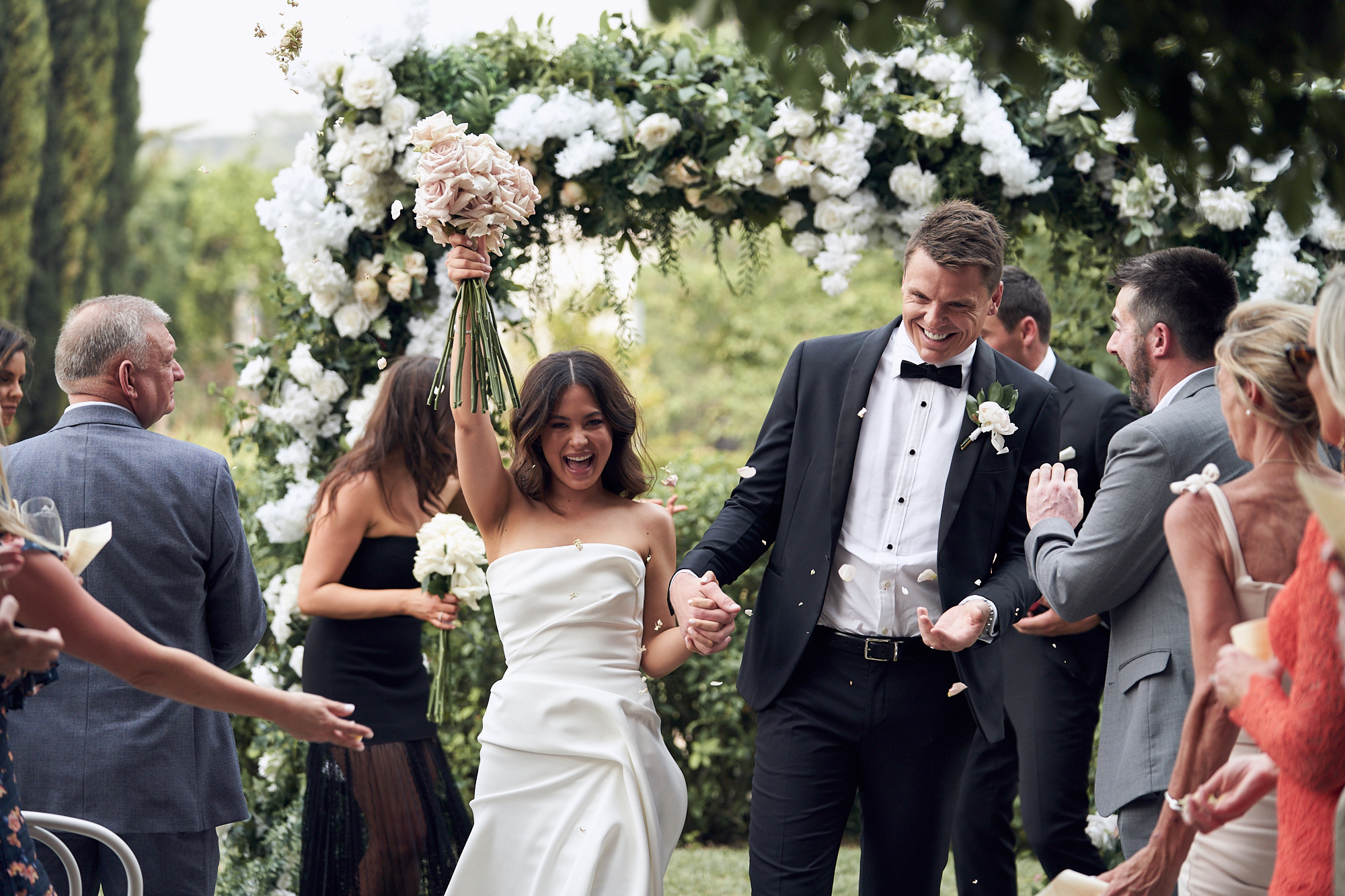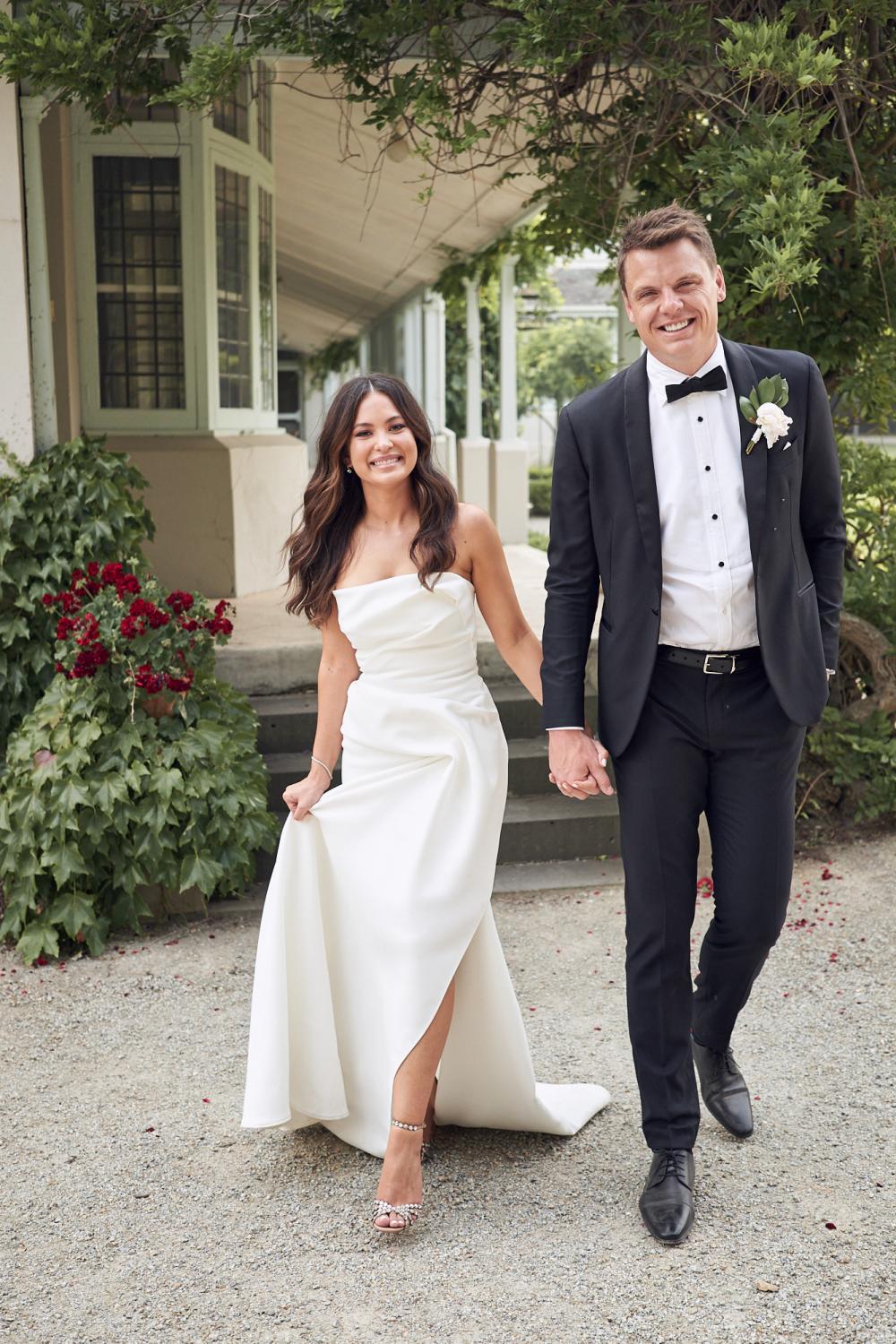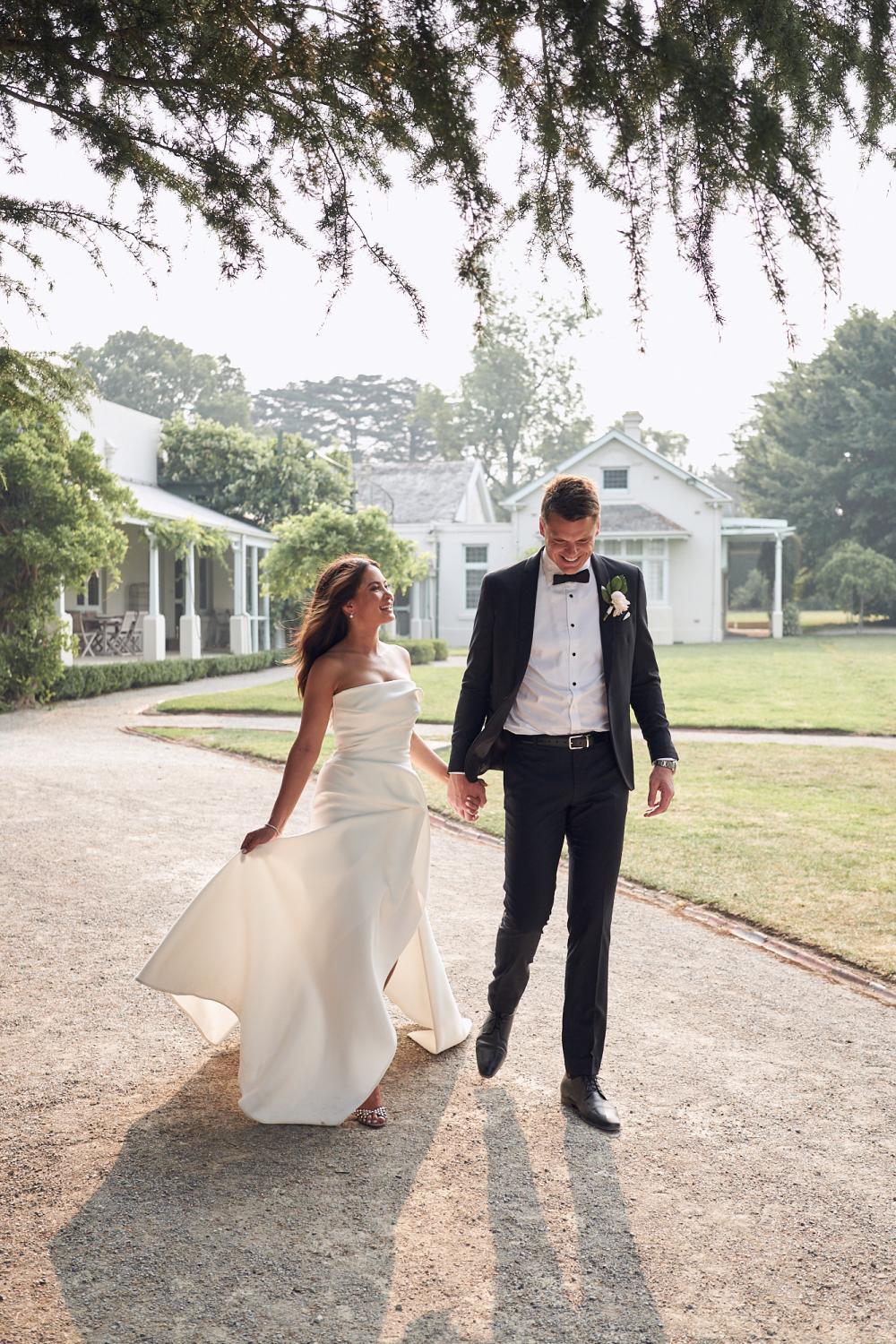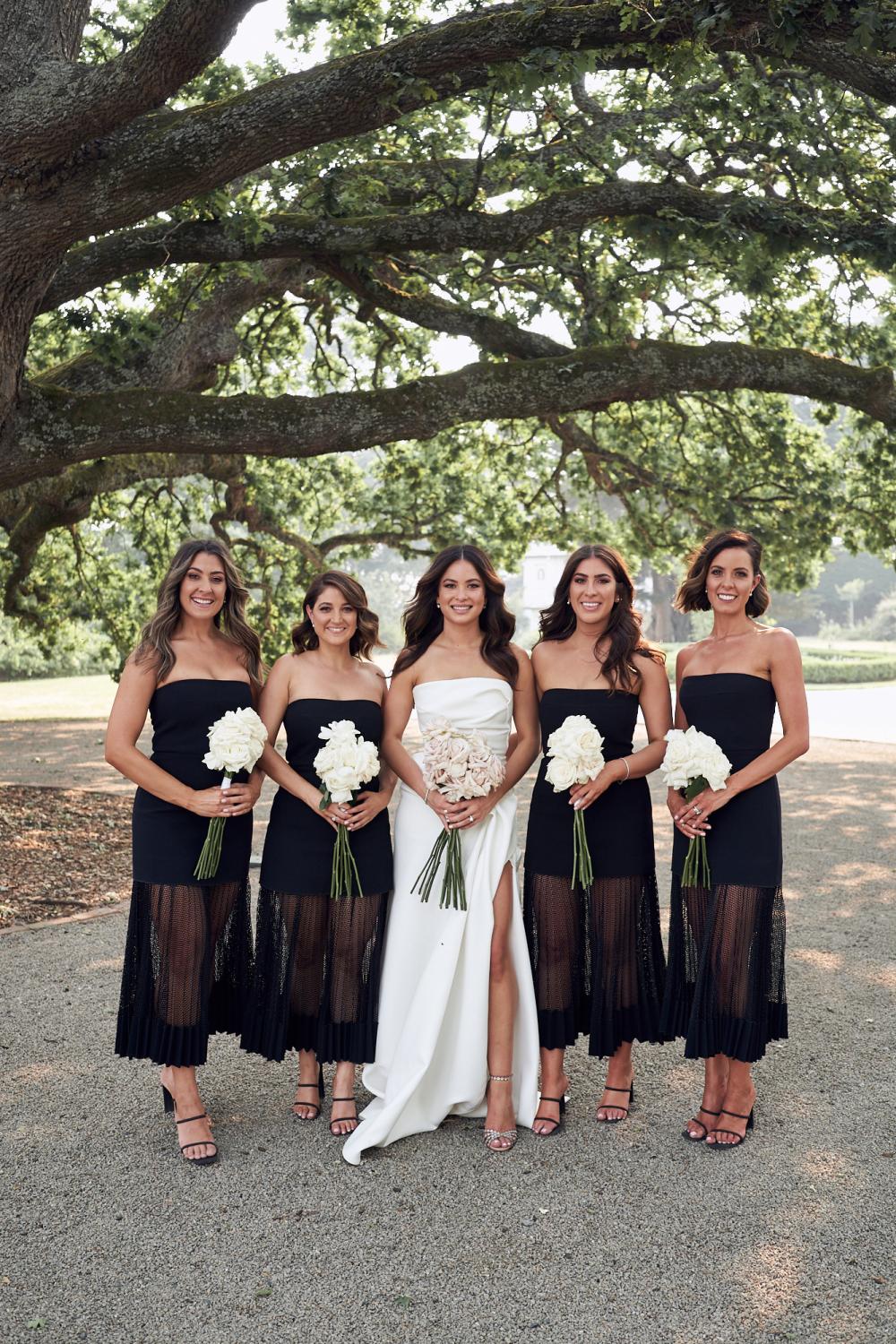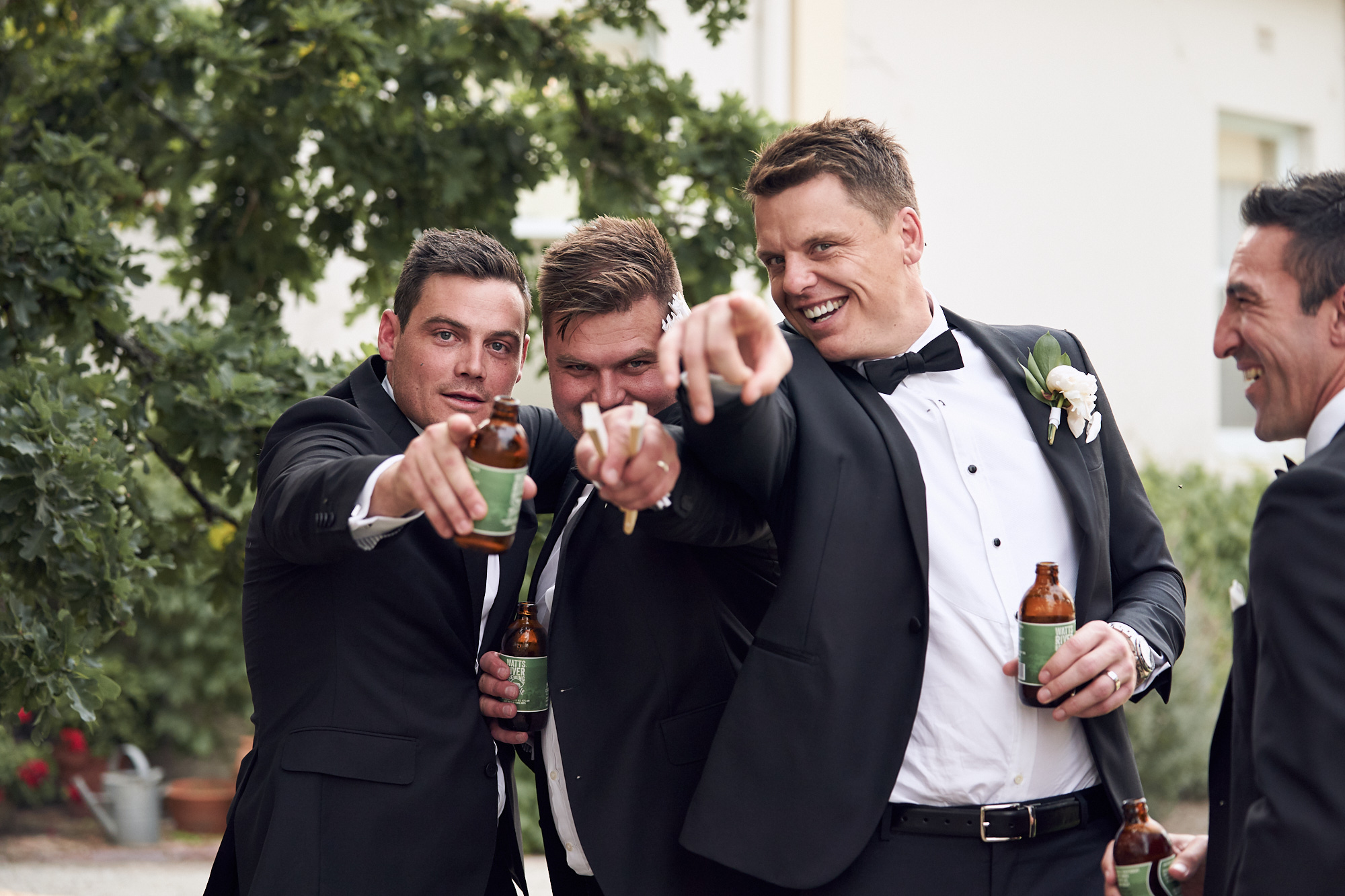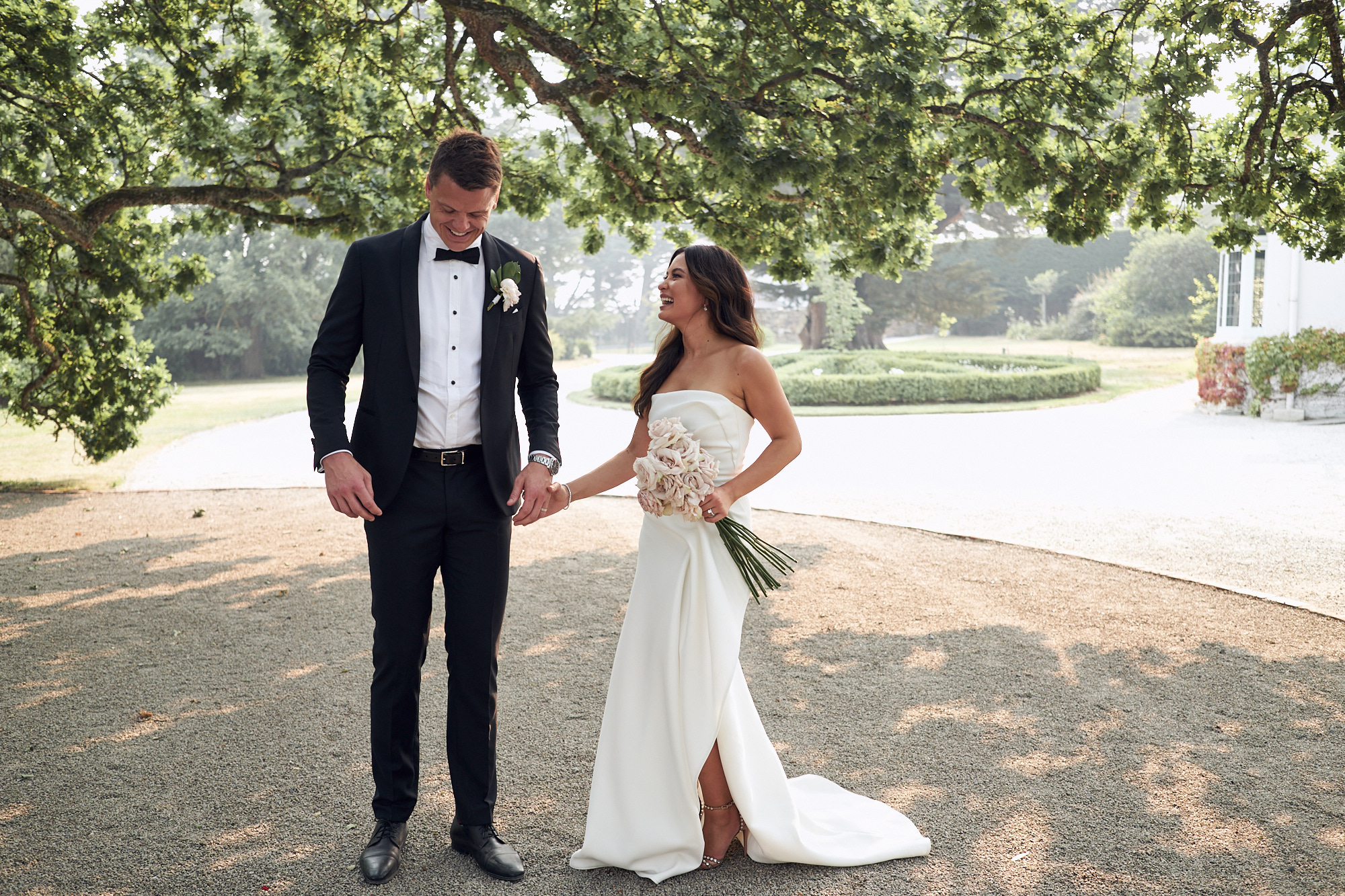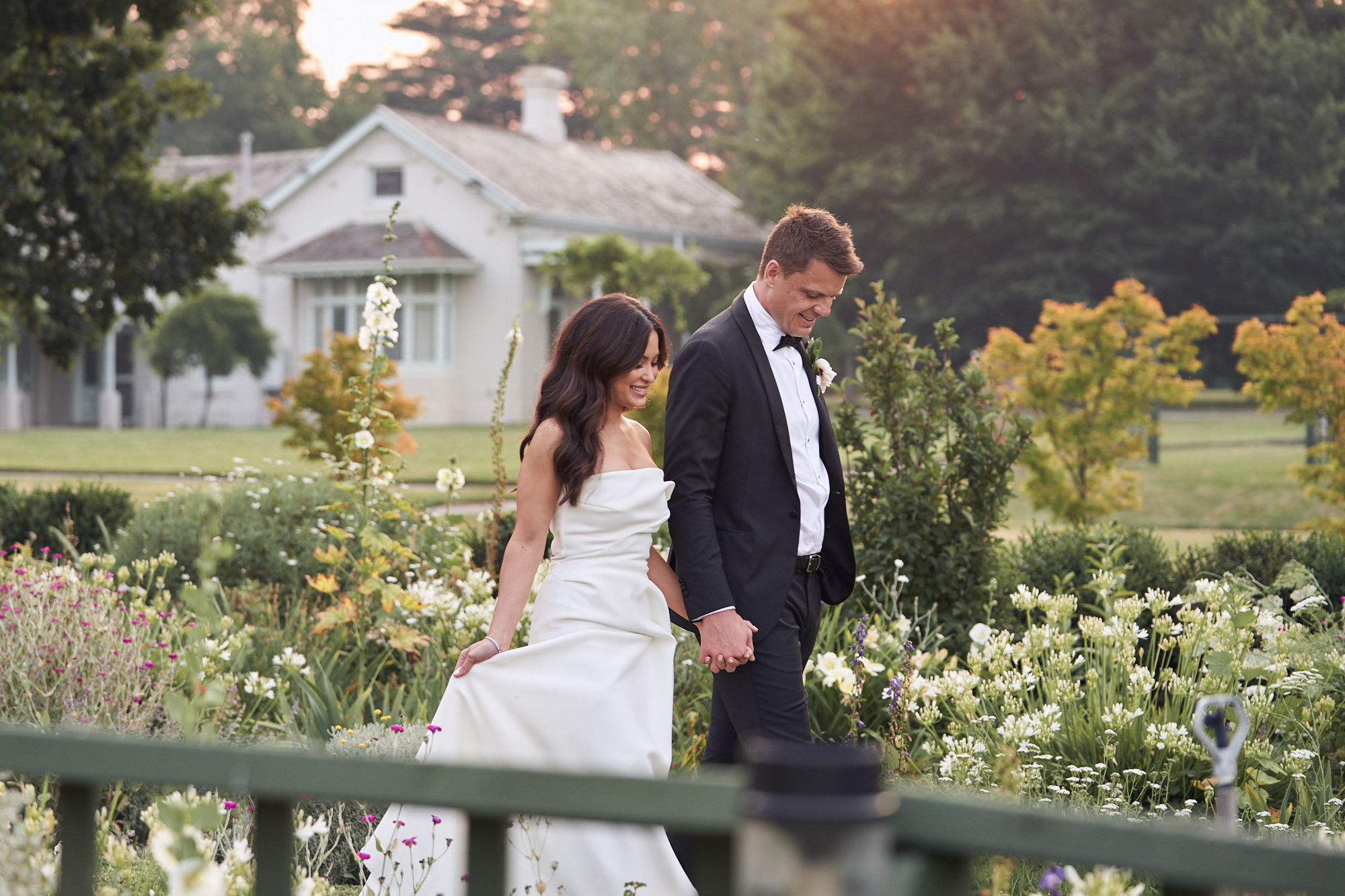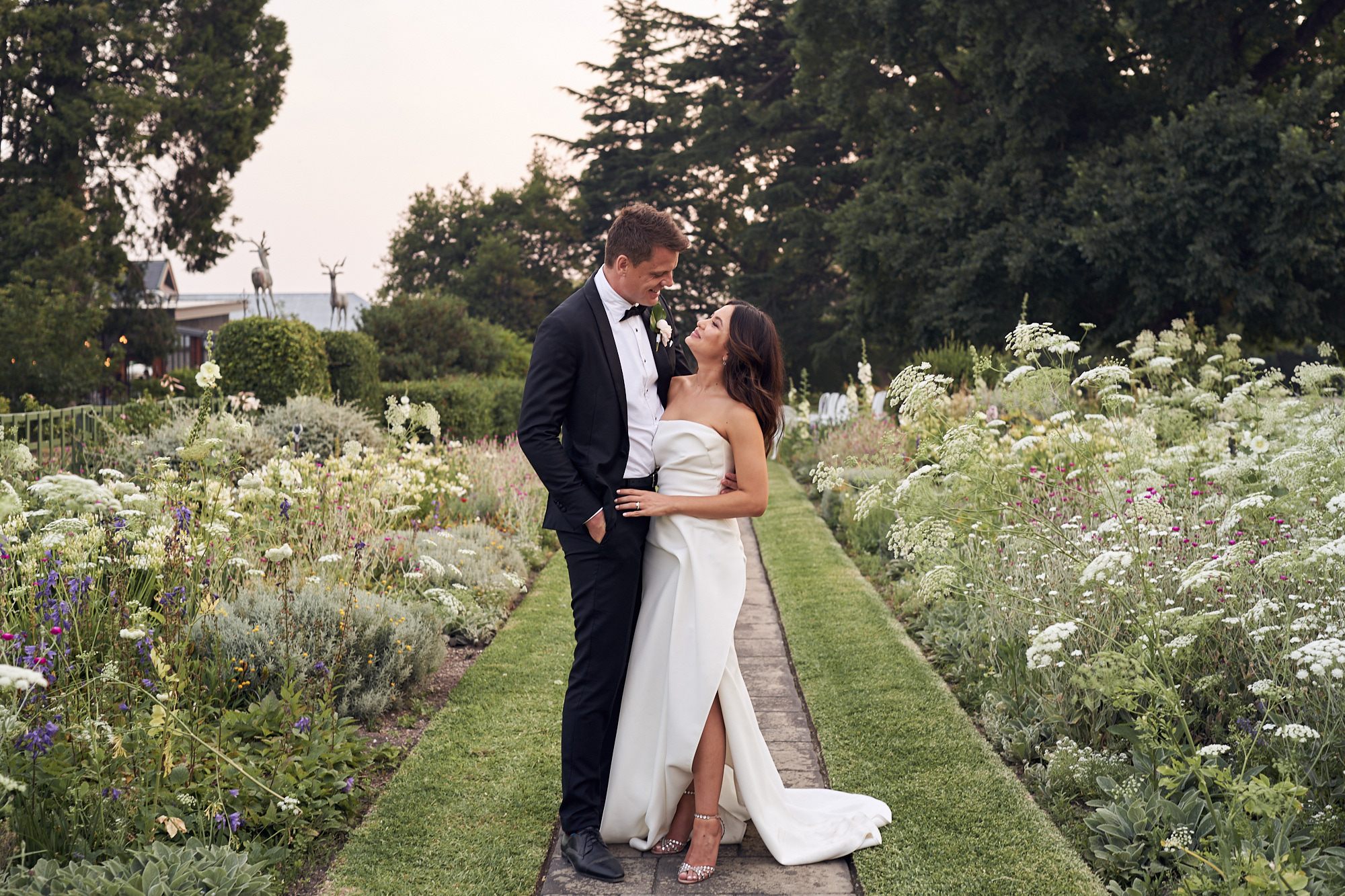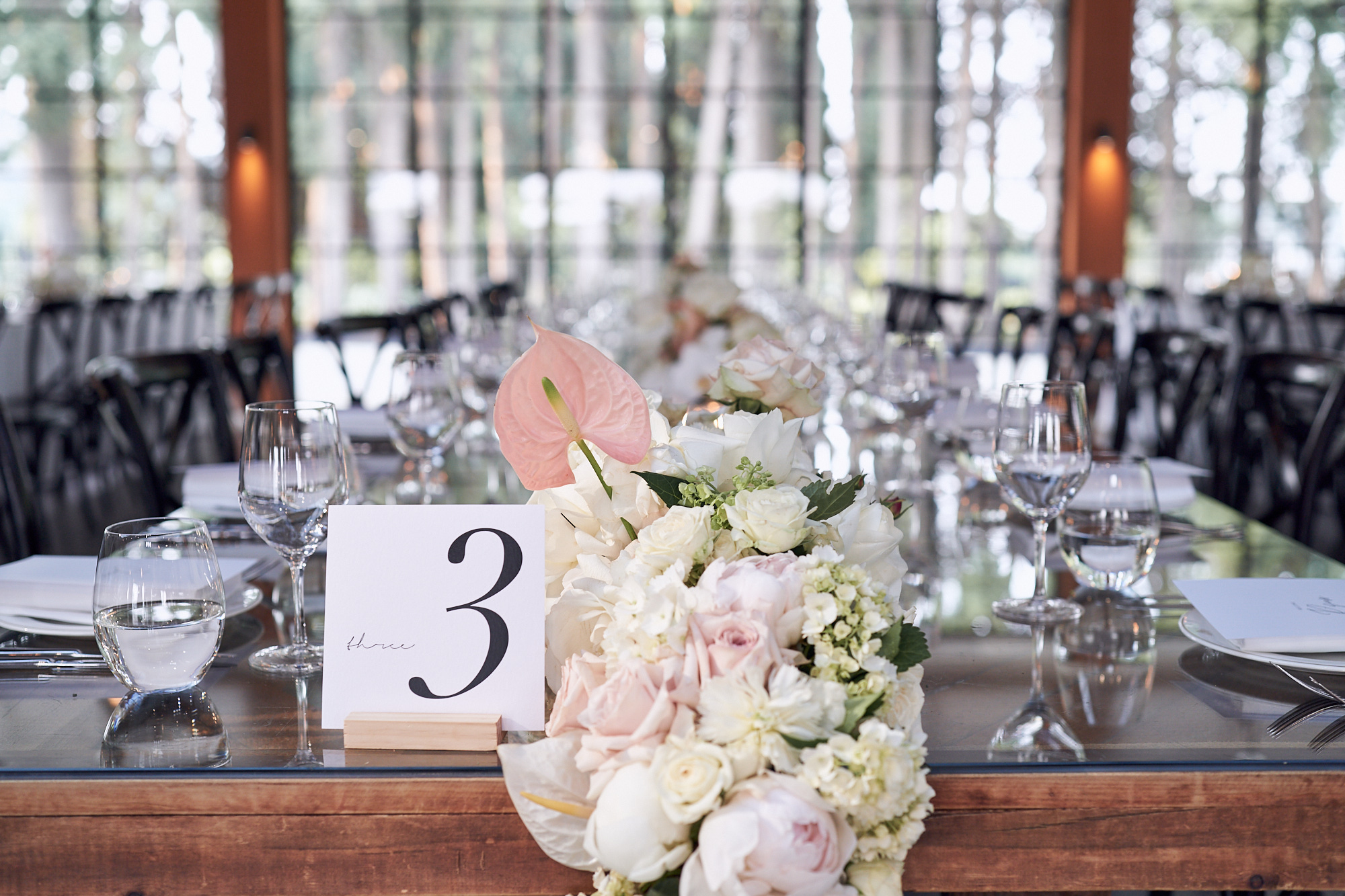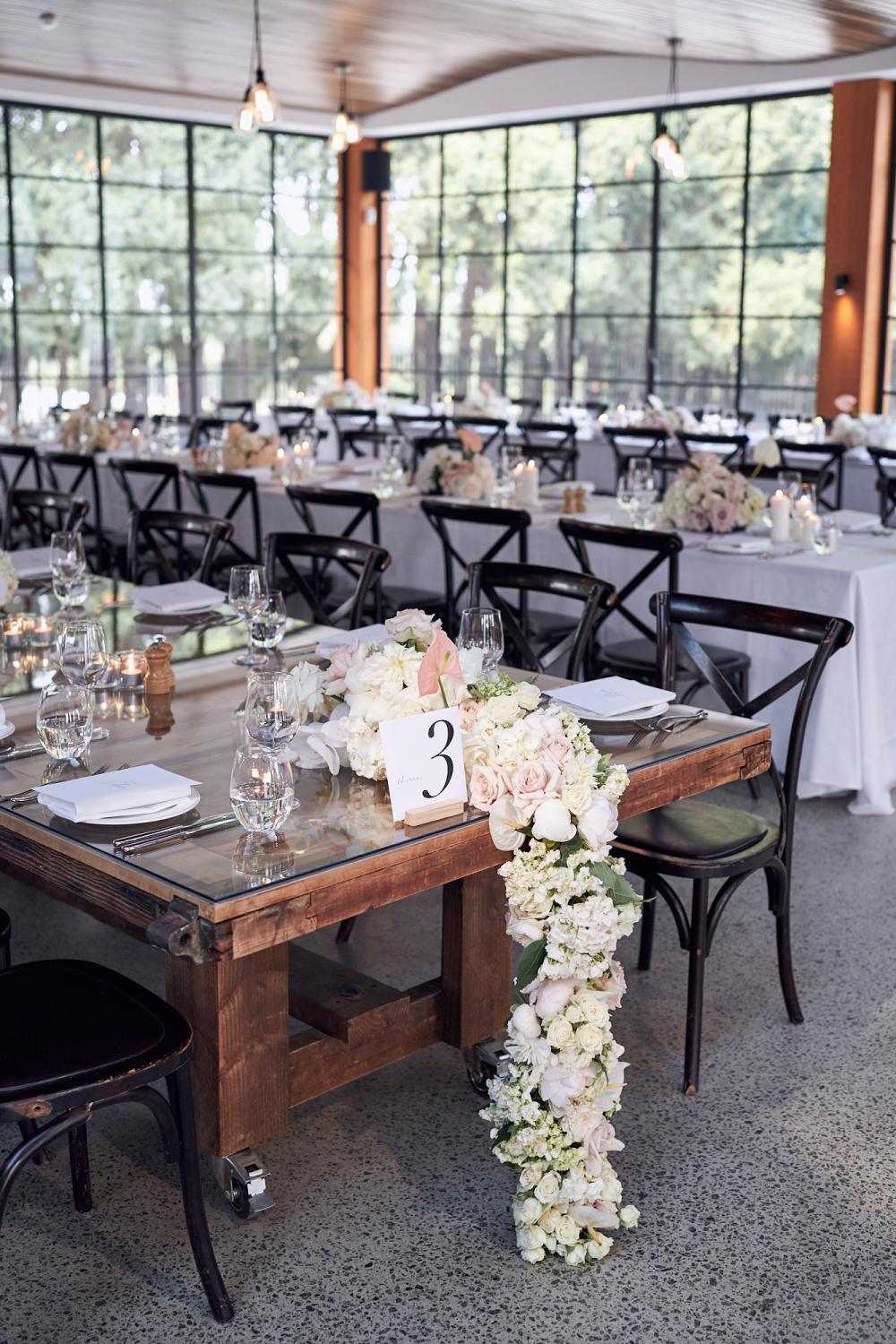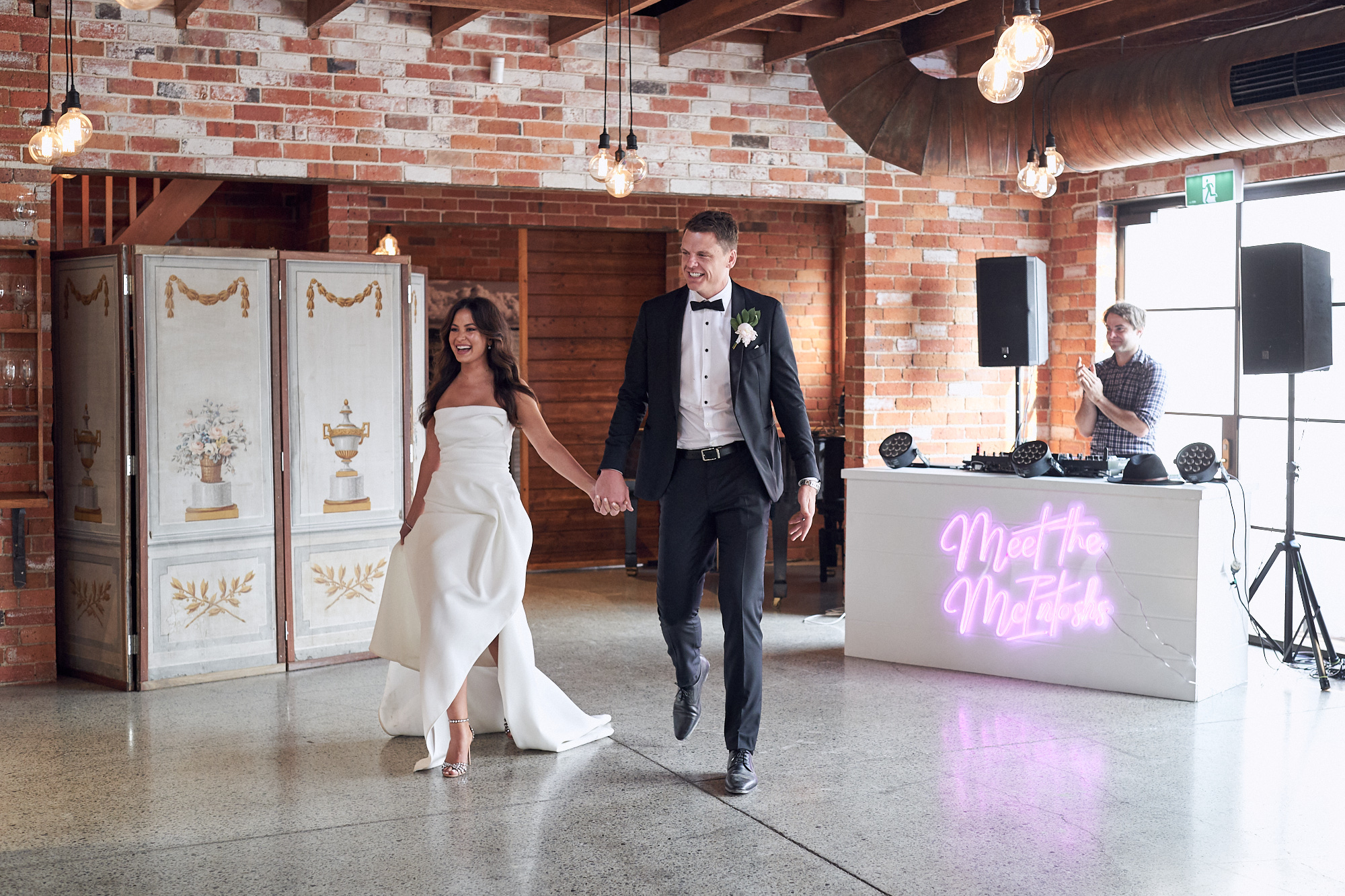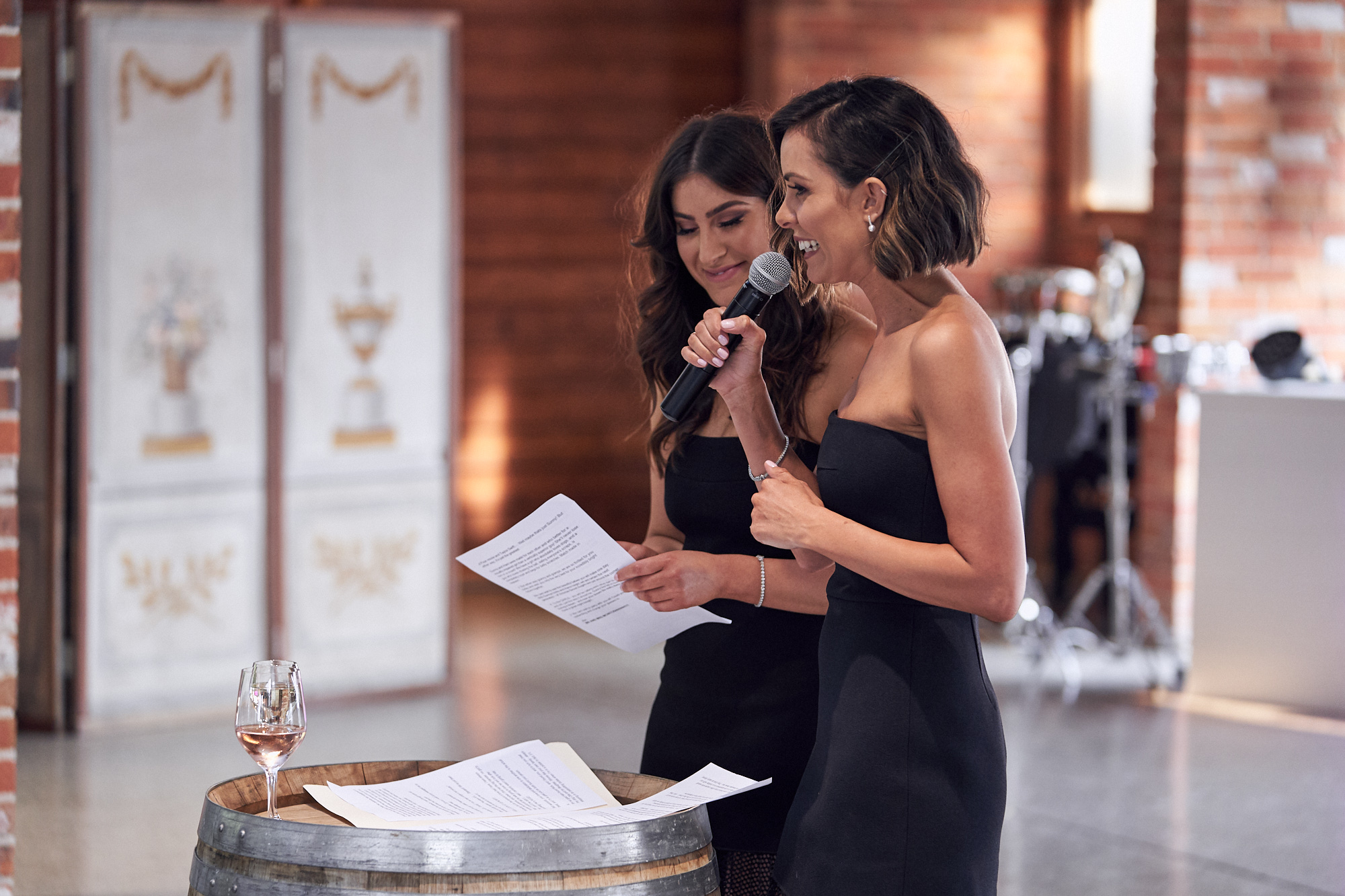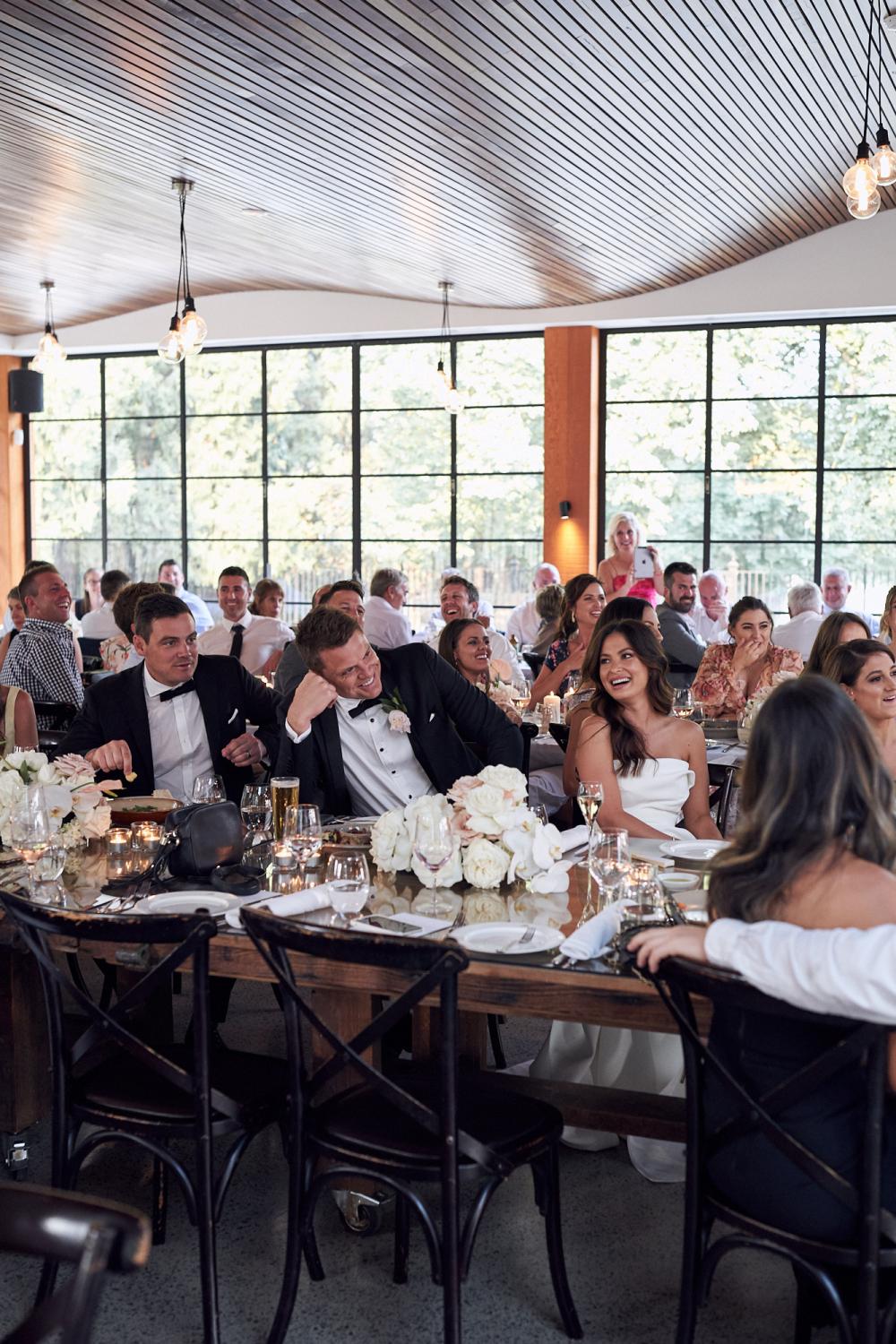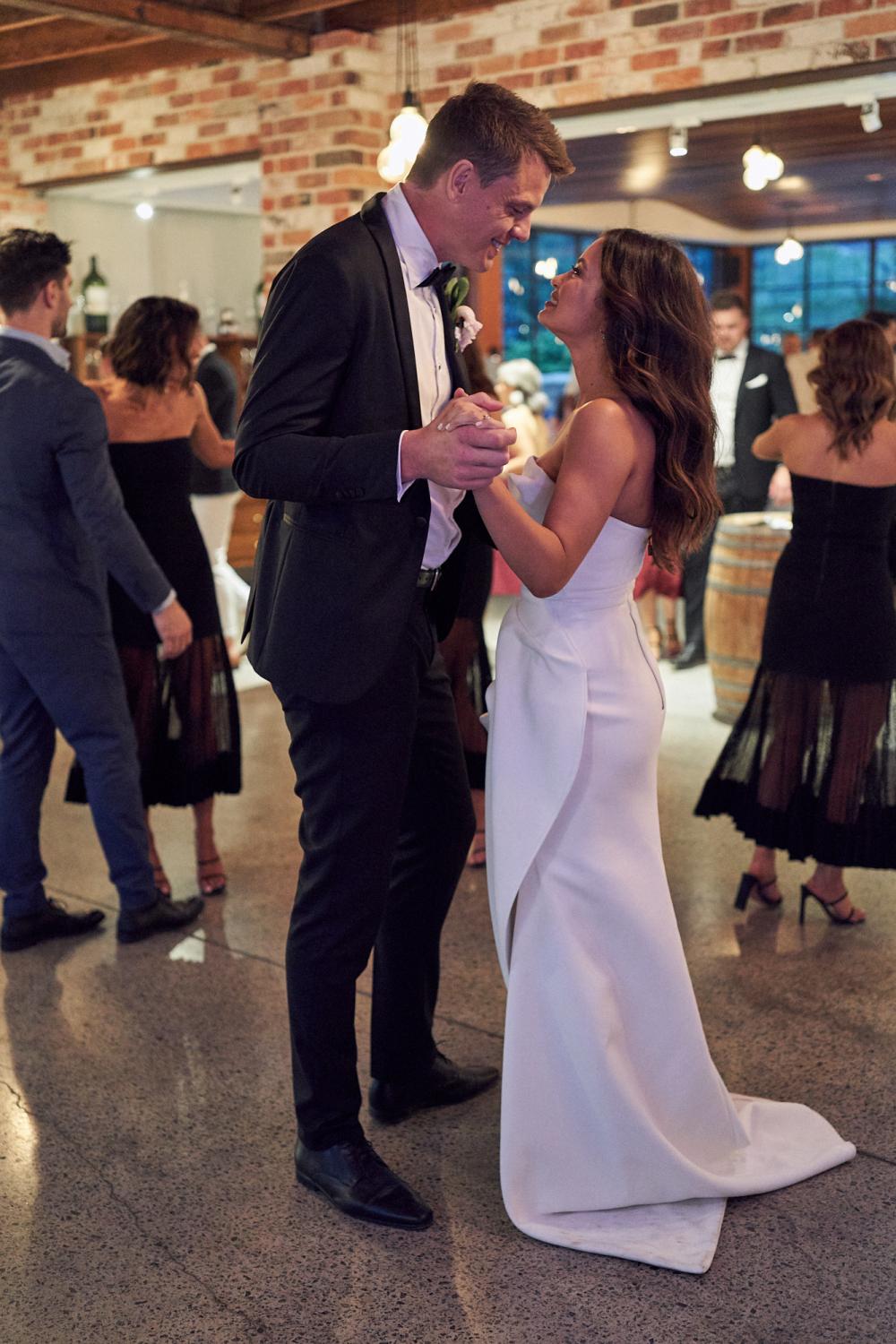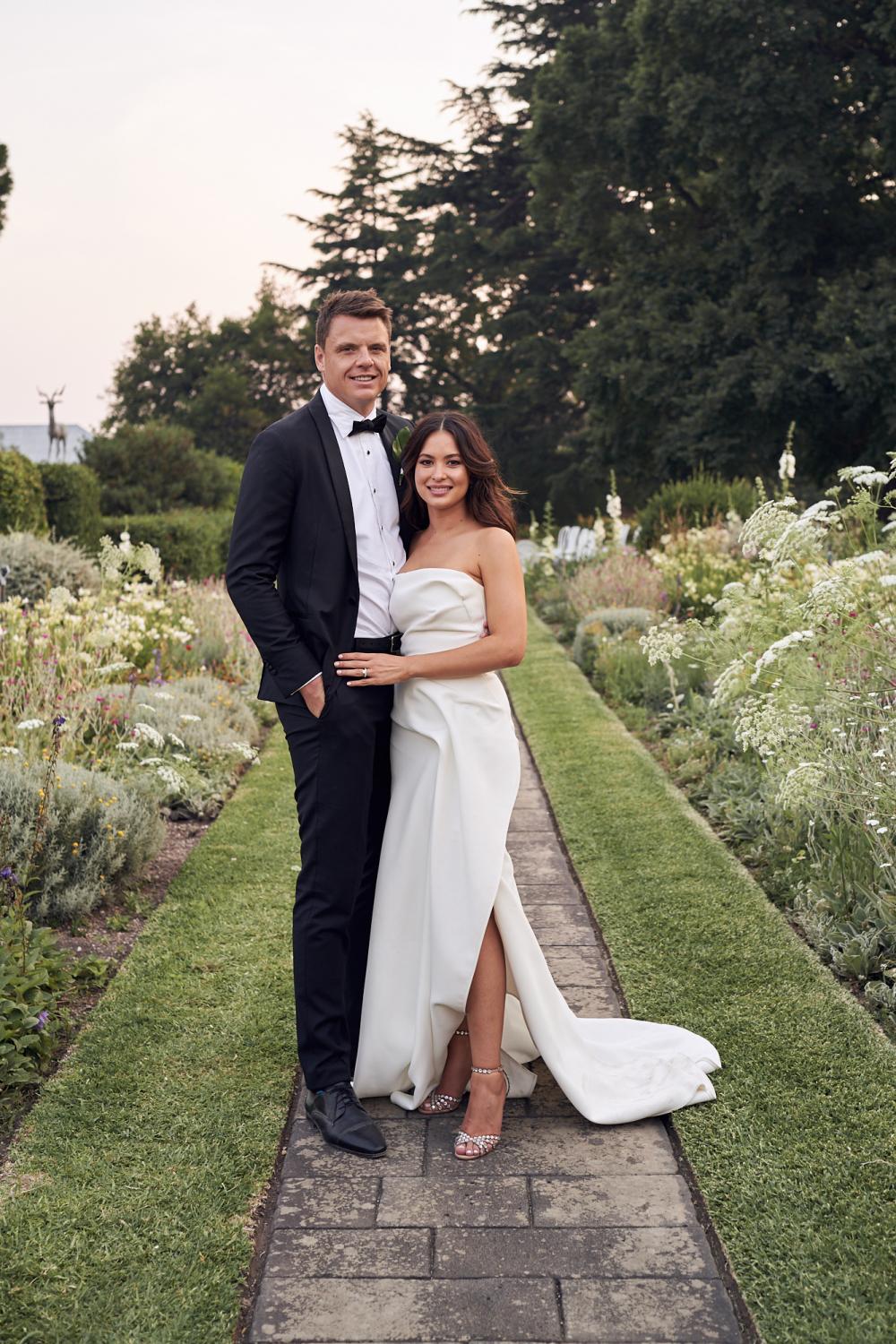 Head over to Lost In Love's Blog for more images of this gorgeous couple's big day!
Hamish + Sunny | 20.12.2019
Photography: Lost In Love
Location: Coombe Yarra Valley
Videography: Moon & Back Co
Marriage Celebrant: Meriki Comito 
Bridal Gown: Toni Maticevski
Florals: Vagari Creative
Ceremony Music: Four Seasons String Quartet
Best Outdoor Wedding Venues + Locations  →
← Rain on your Wedding Day – Do you have a Plan B? 
Ellen + Lachy's The Farm Yarra Valley Wedding
First Meeting
First meeting at 'Electric Lady Land' on Chapel Street, Lachy thought Ellen looked hot and seemed fun to talk to.
Ellen found Lachy to be kind of quiet, but she liked the way he ran his fingers through is hair, so after discovering a mutual appreciation of good food & wine, they bonded over the fact that they had both worked at wineries, both shared a love of animals, and both enjoyed each other's company immensely.
Ceremony Details
In a laughter filled ceremony at one of Yarra Valley's newer wedding venues, The Farm Yarra Valley, Ellen and Lachy became husband and wife.
Ellen was so on trend in a fabulous Amaline Vitale Bridal & Couture gown (with pockets – always a win in my mind!) as she stood hand in hand with her handsome groom before a giant steel + floral Ceremony Circle by Sassafras Flower Design.
After receiving the best wishes of each and every guest, we were treated to two awesome readings by close friends, before Ellen and Lachy exchanged vows declaring "It is your heart that moves me, your spirit that inspires me, your humour that delights me, and your hand I want to hold for all of our days"
Their first kiss brought thunderous cheers and applause before squeals of excitement when I announced that the newlyweds had organized an Easter Egg hunt immediately after!
So much fun!!
The Photographer
Beautiful images by Anitra Wells / Photographer who is always so fabulous work with!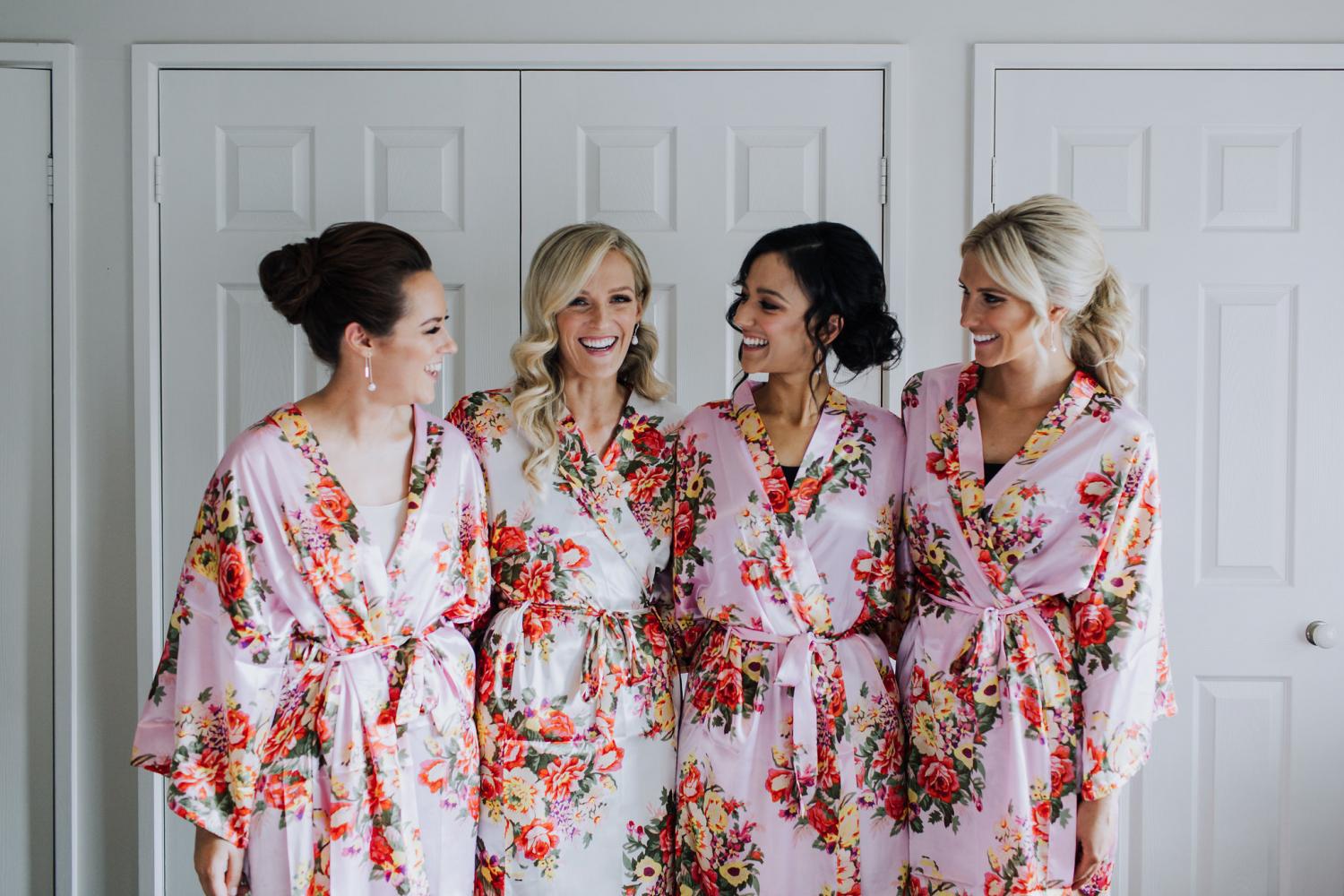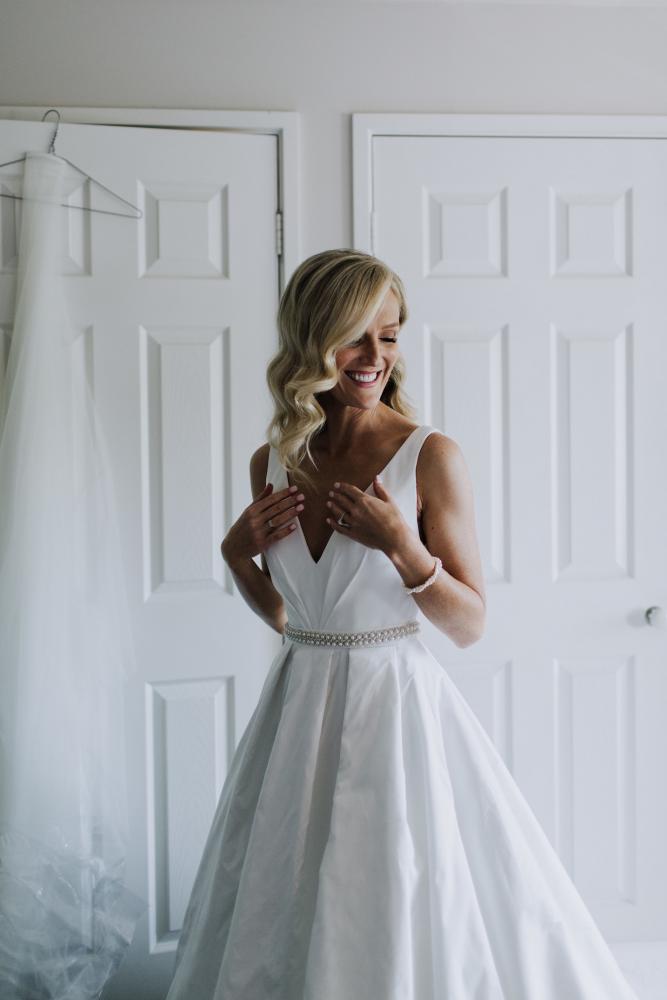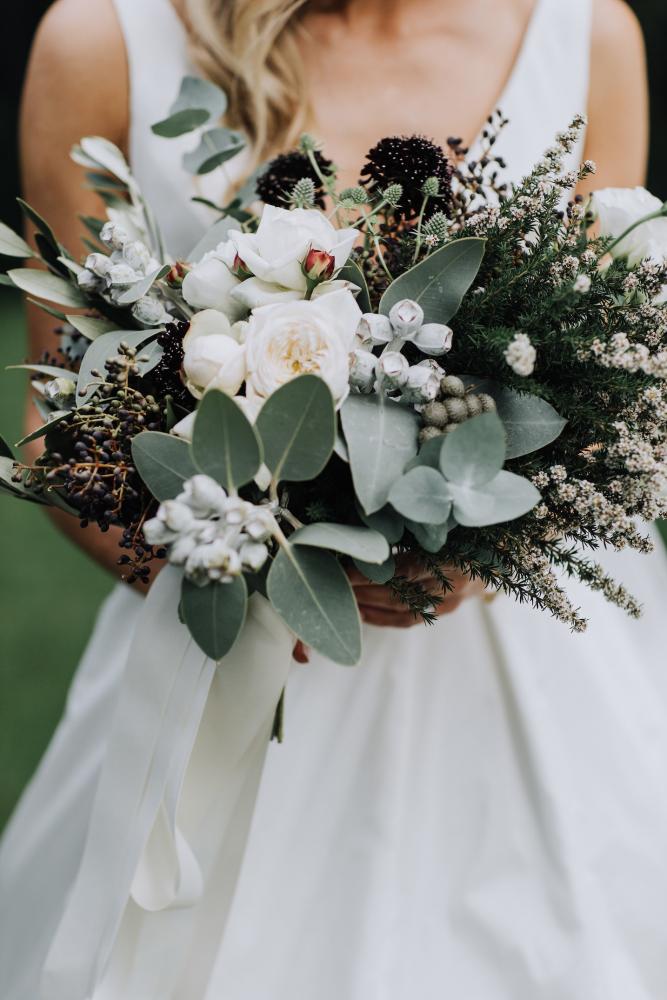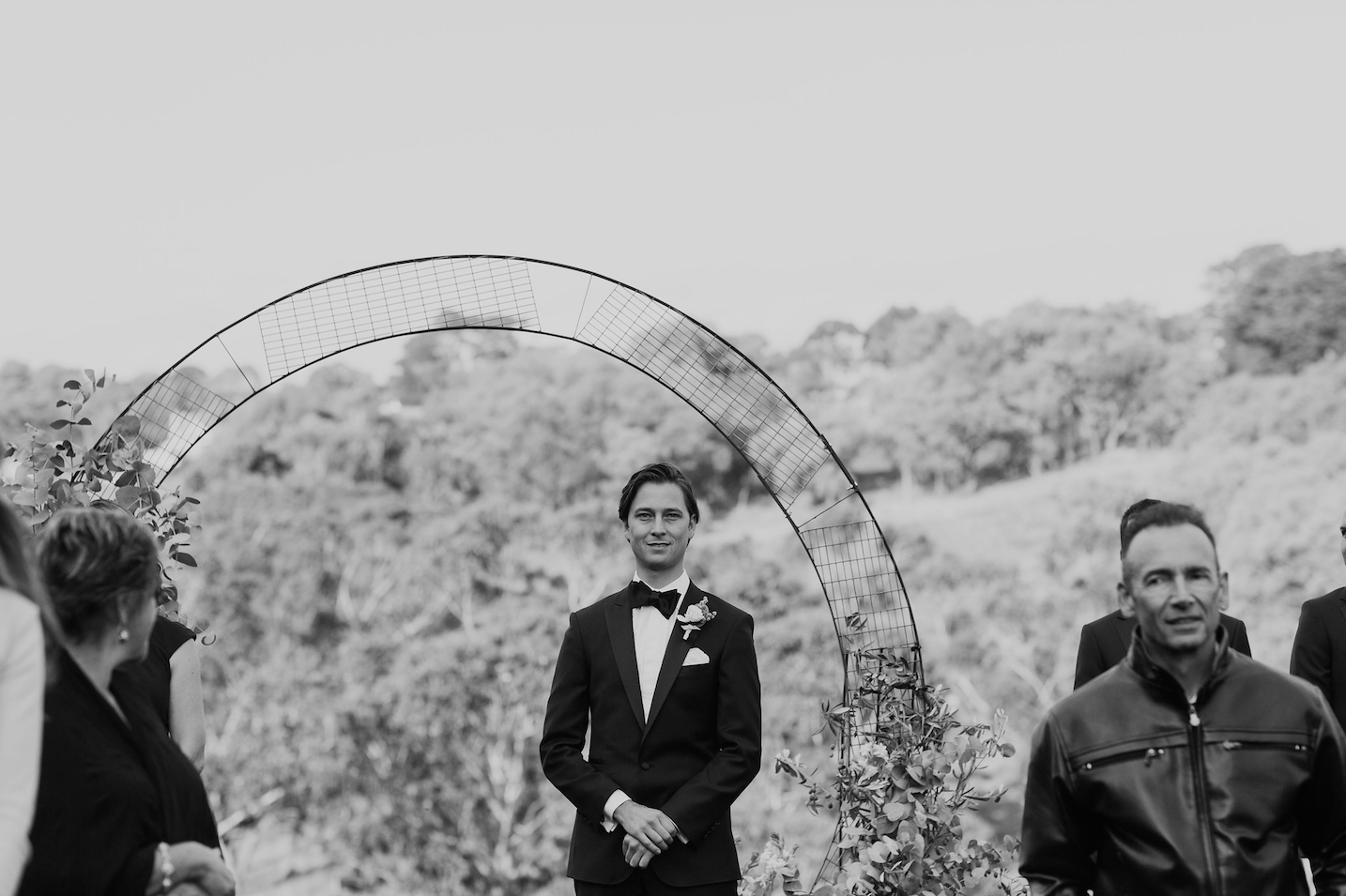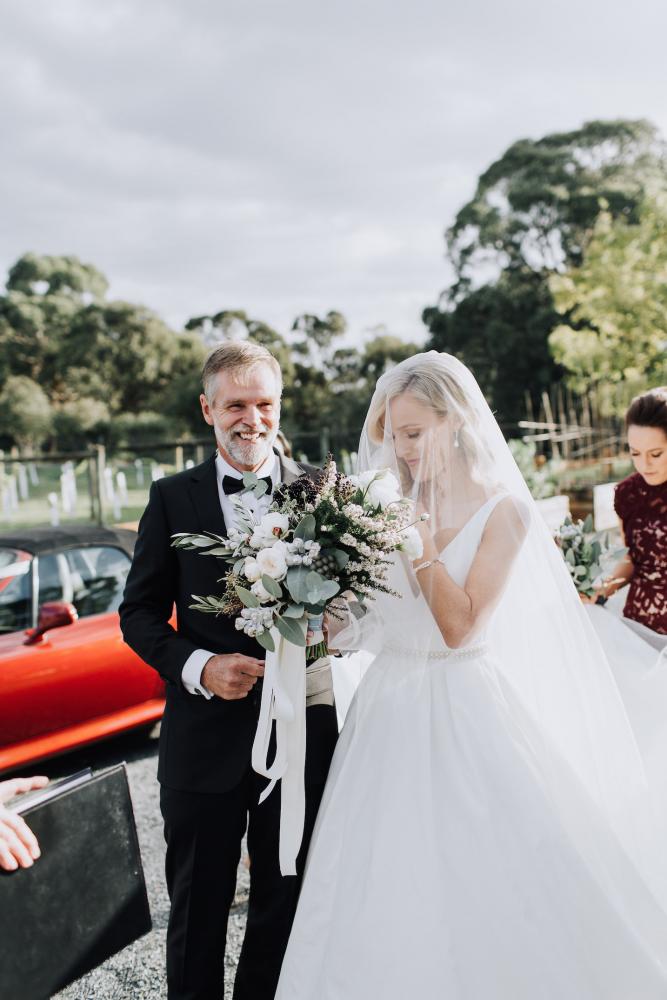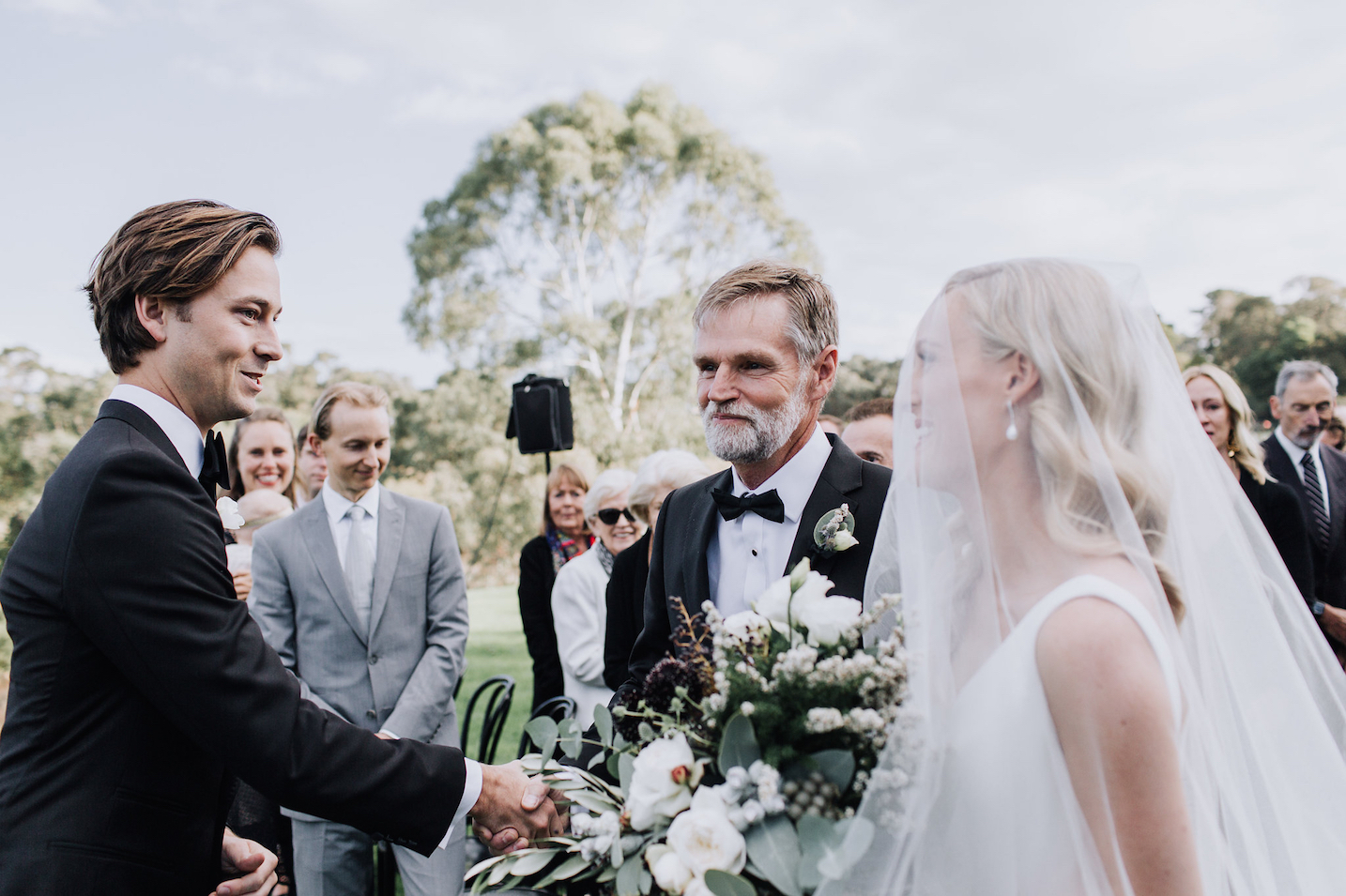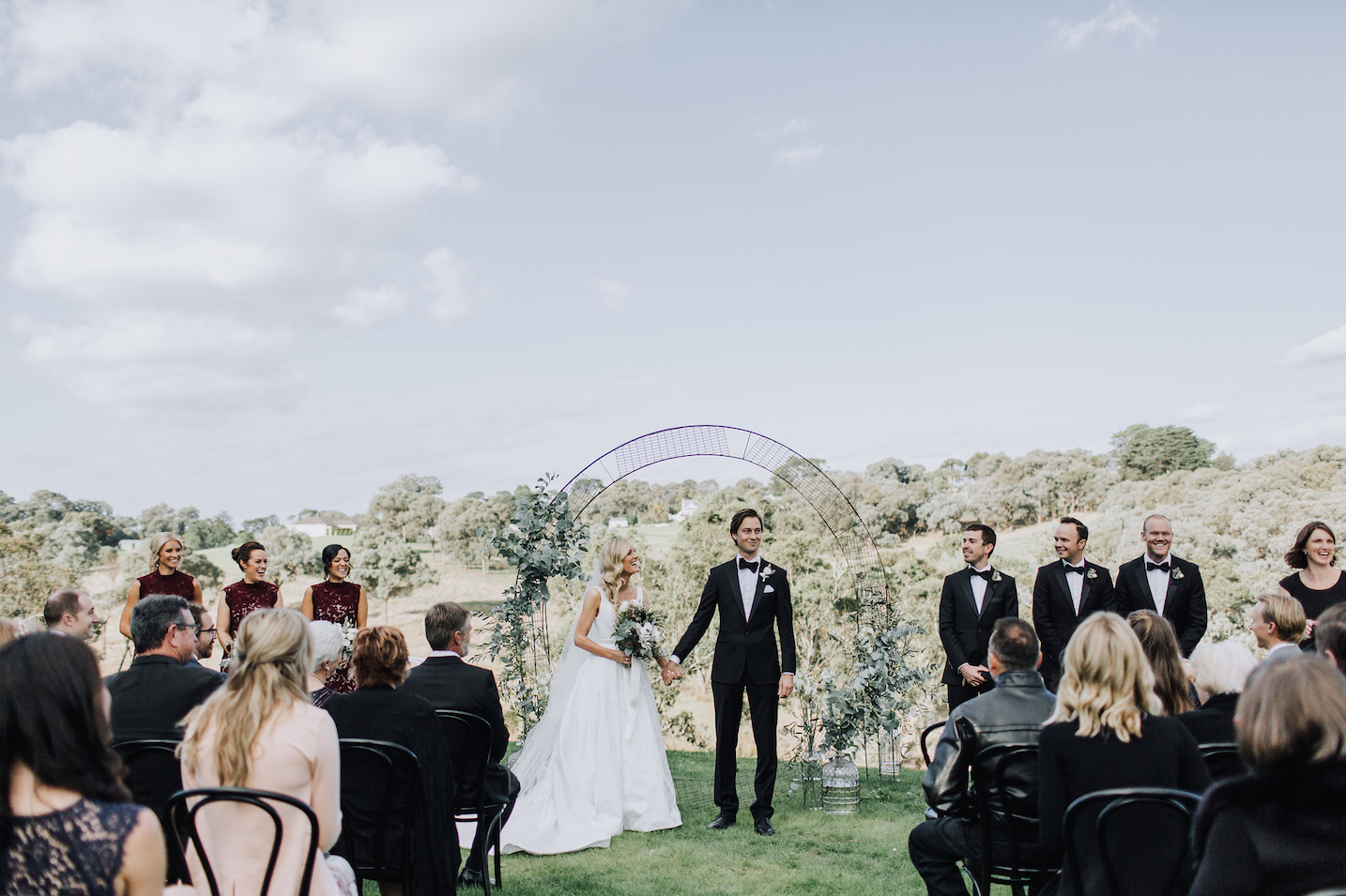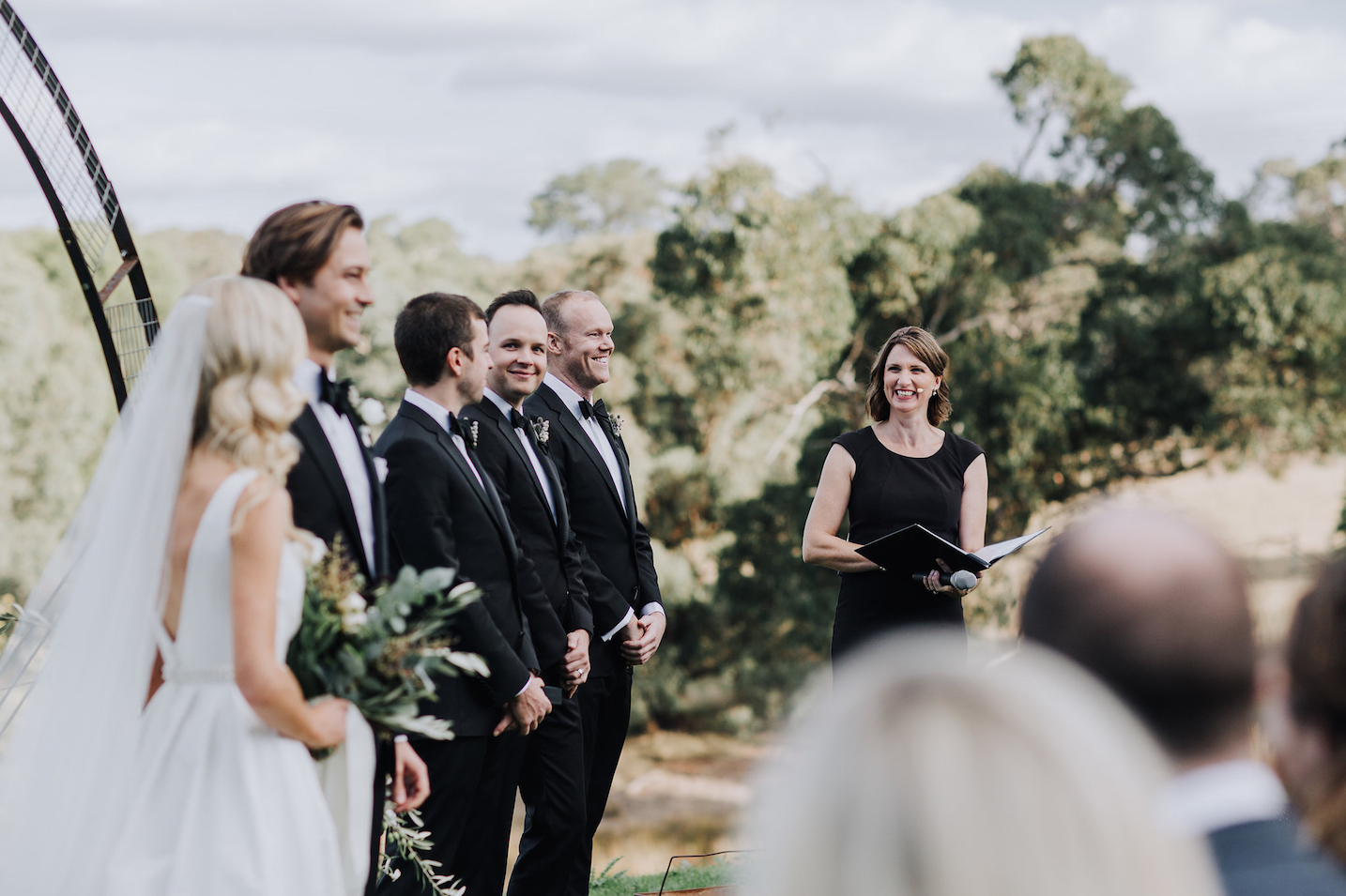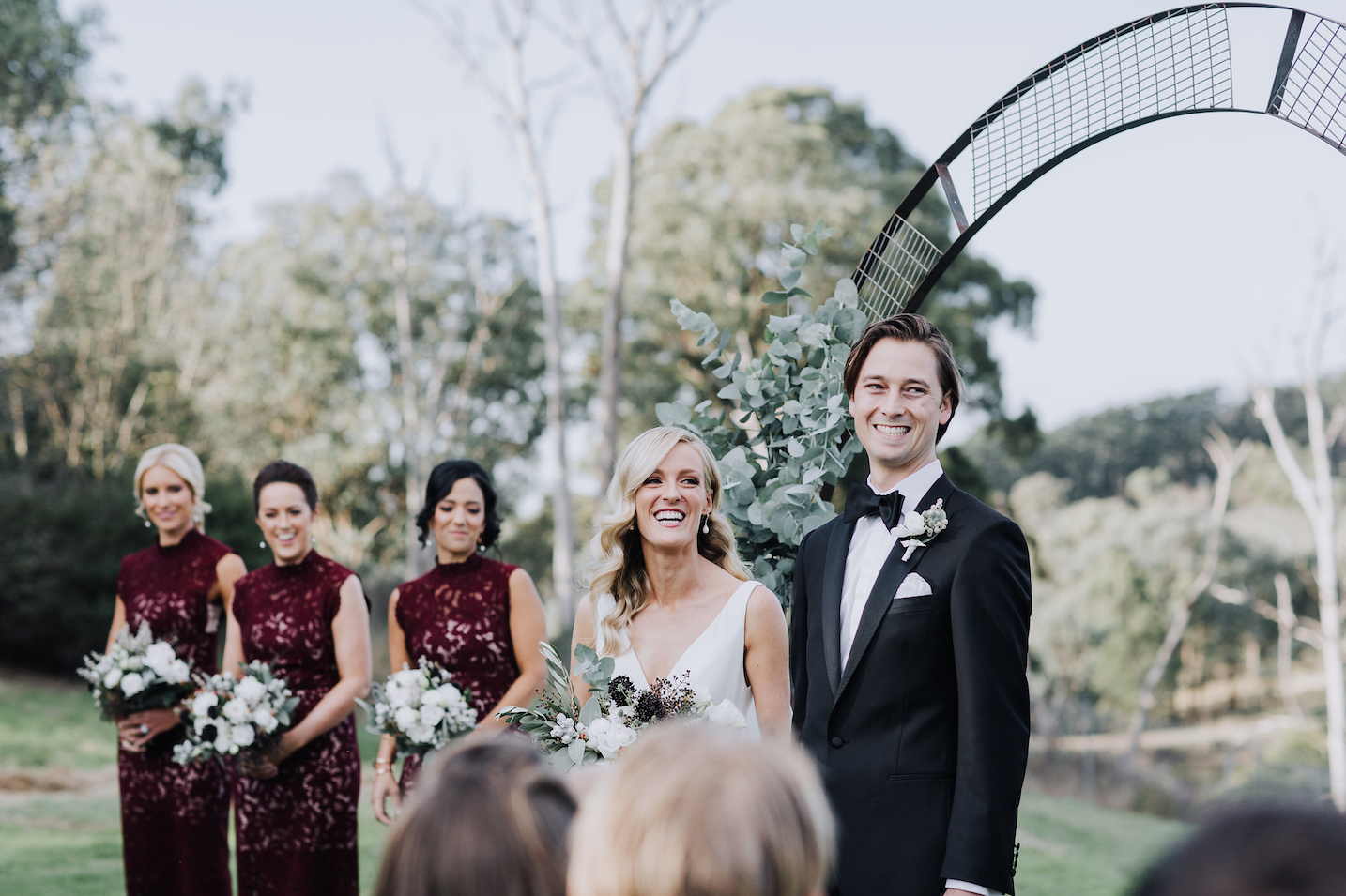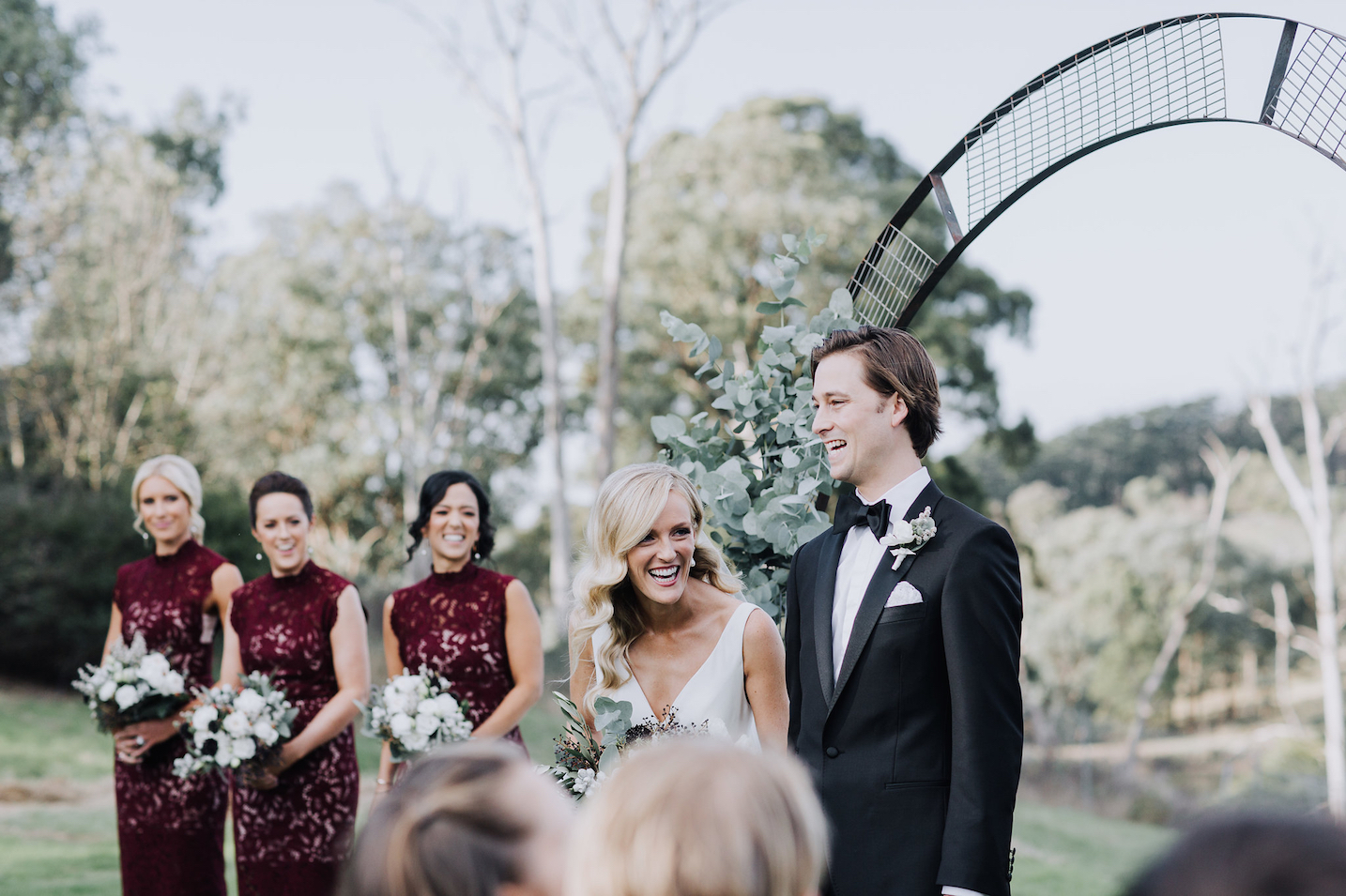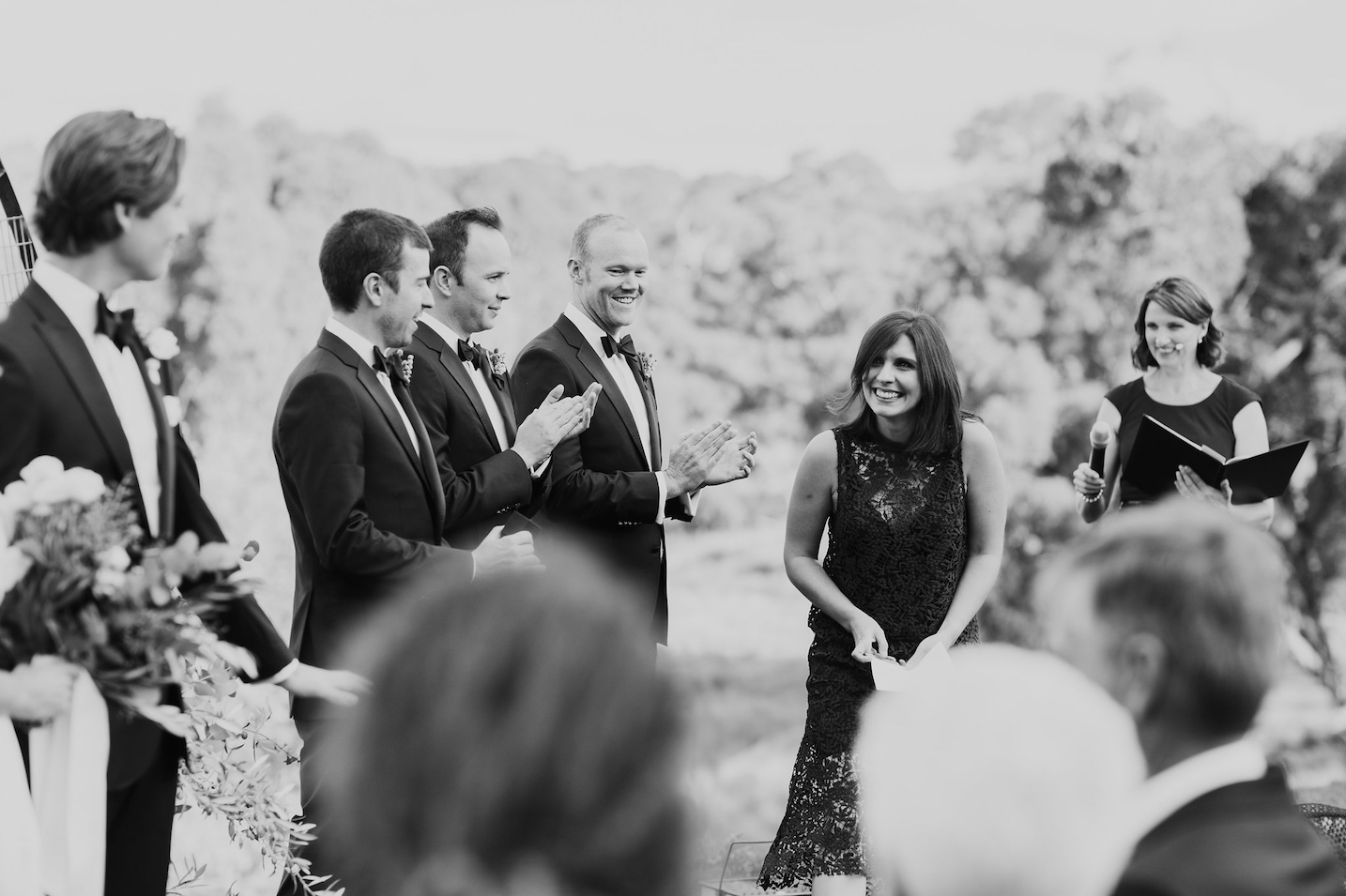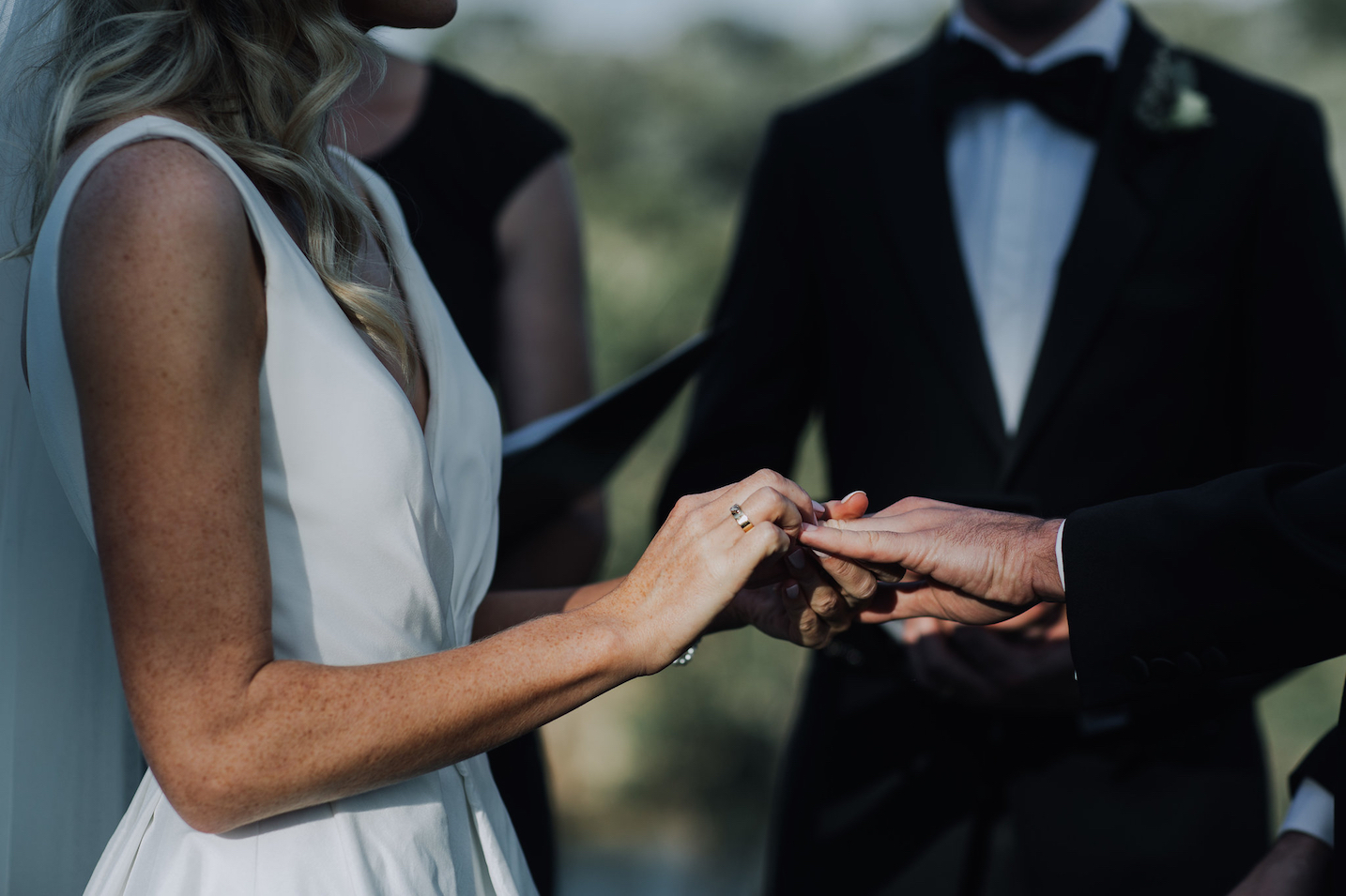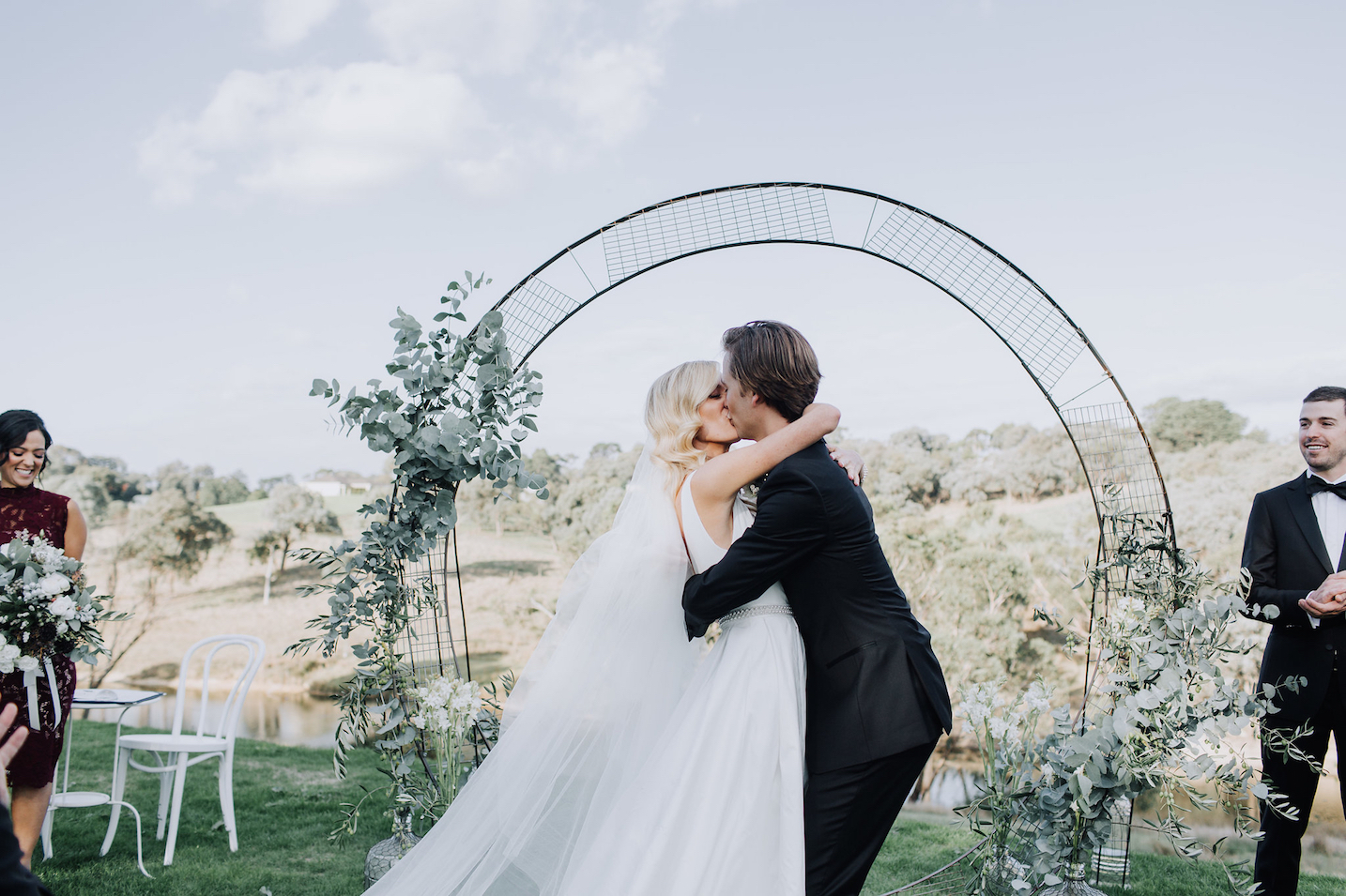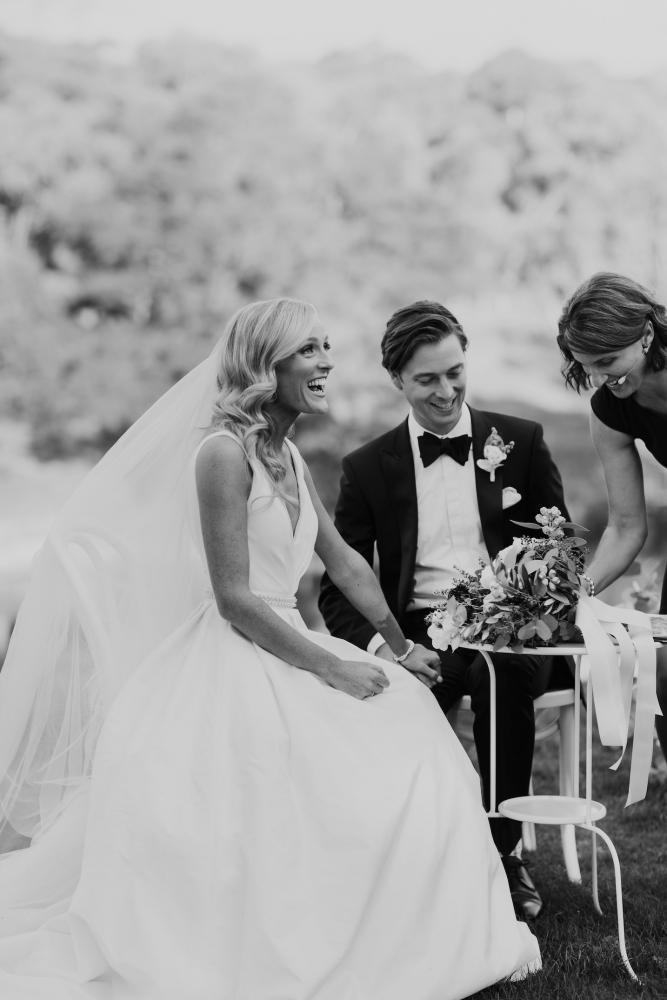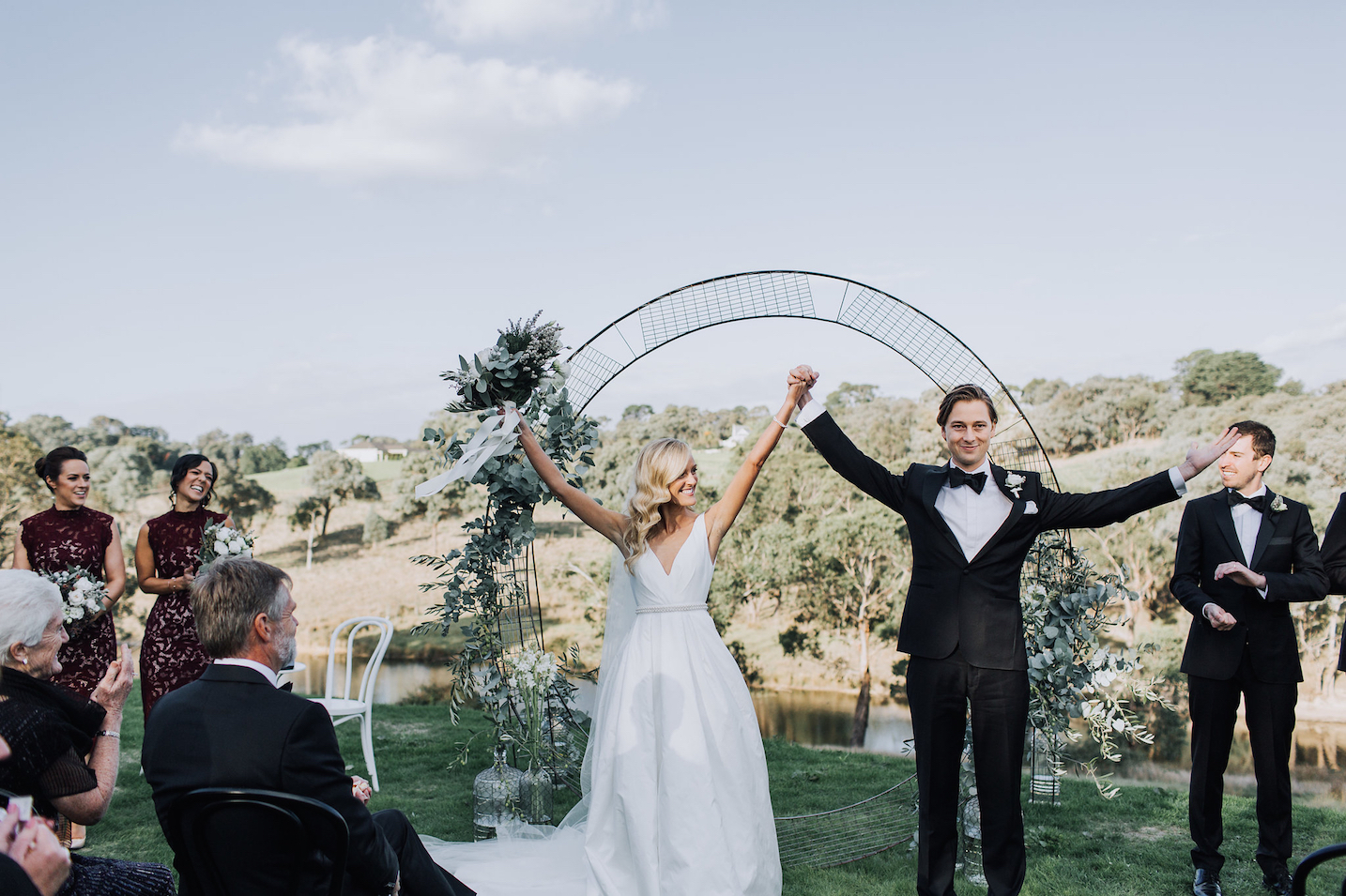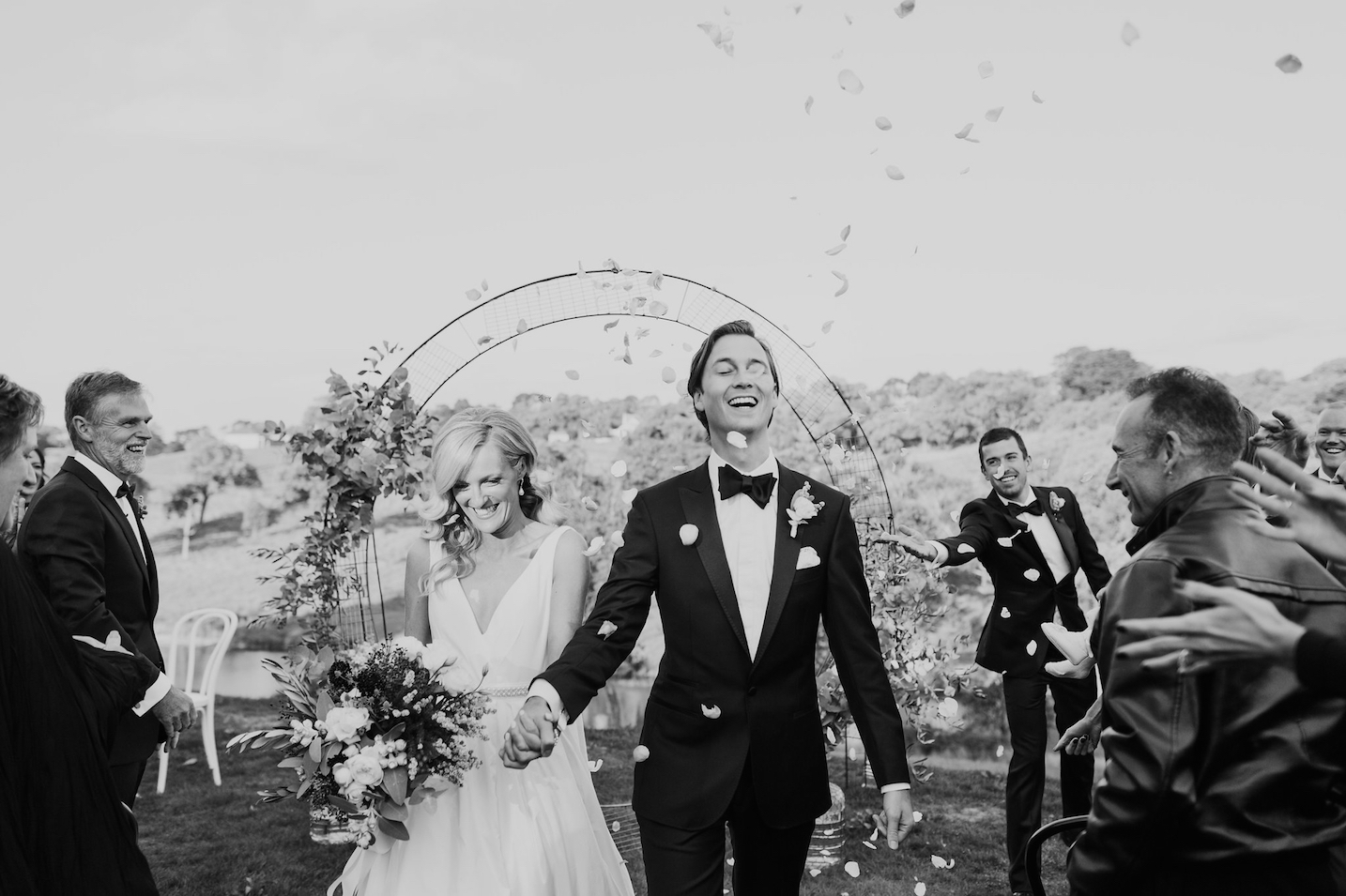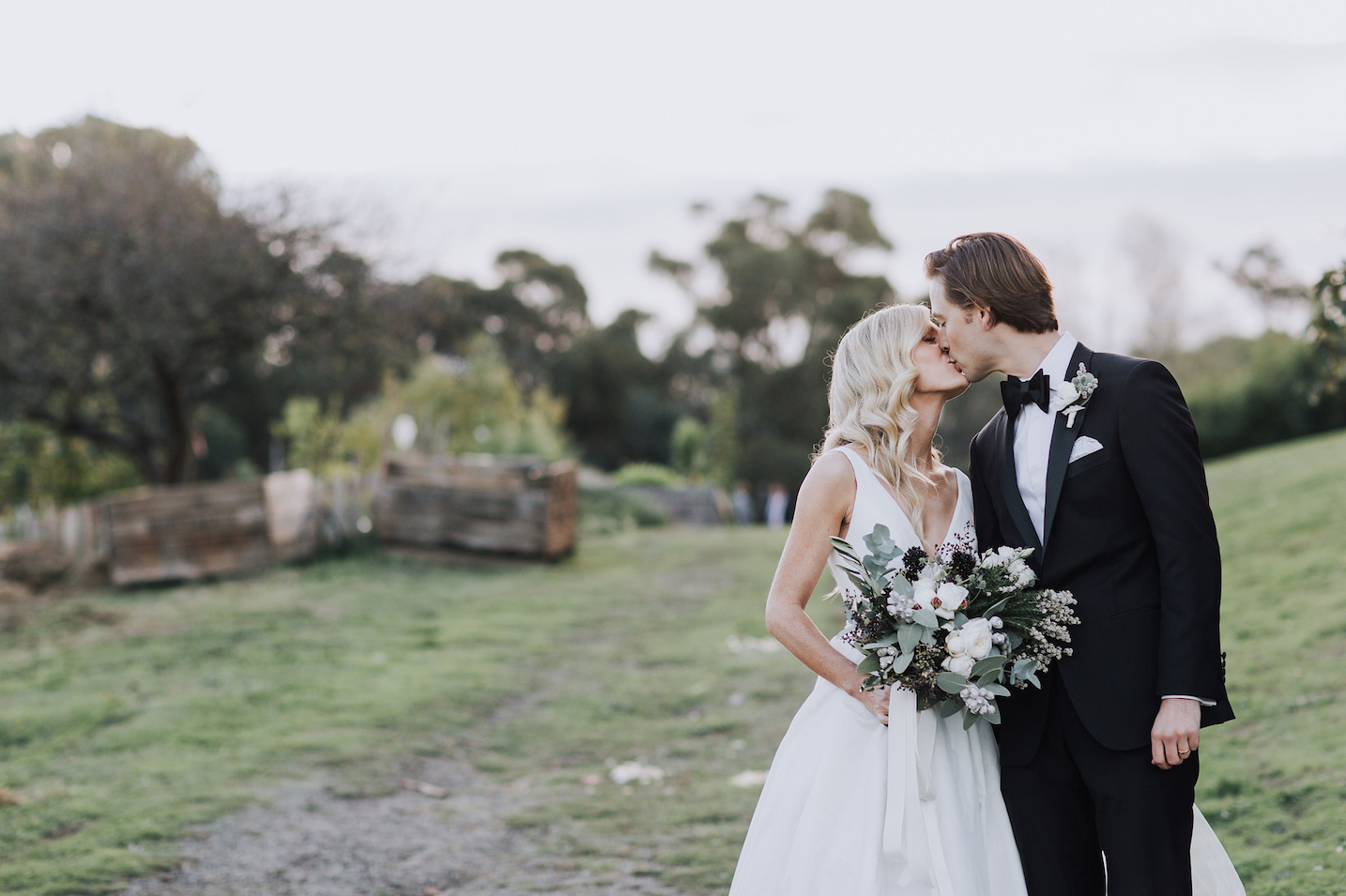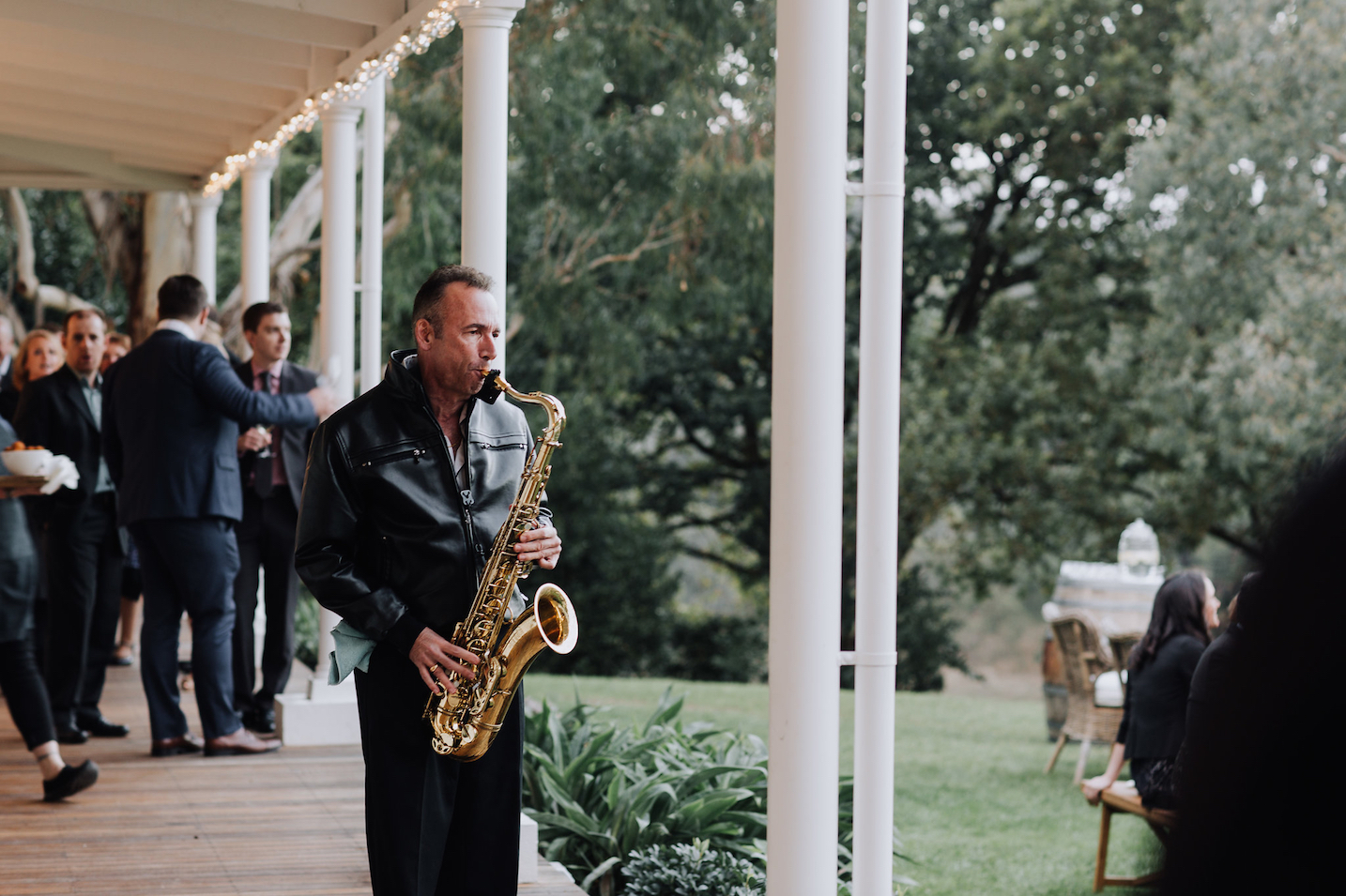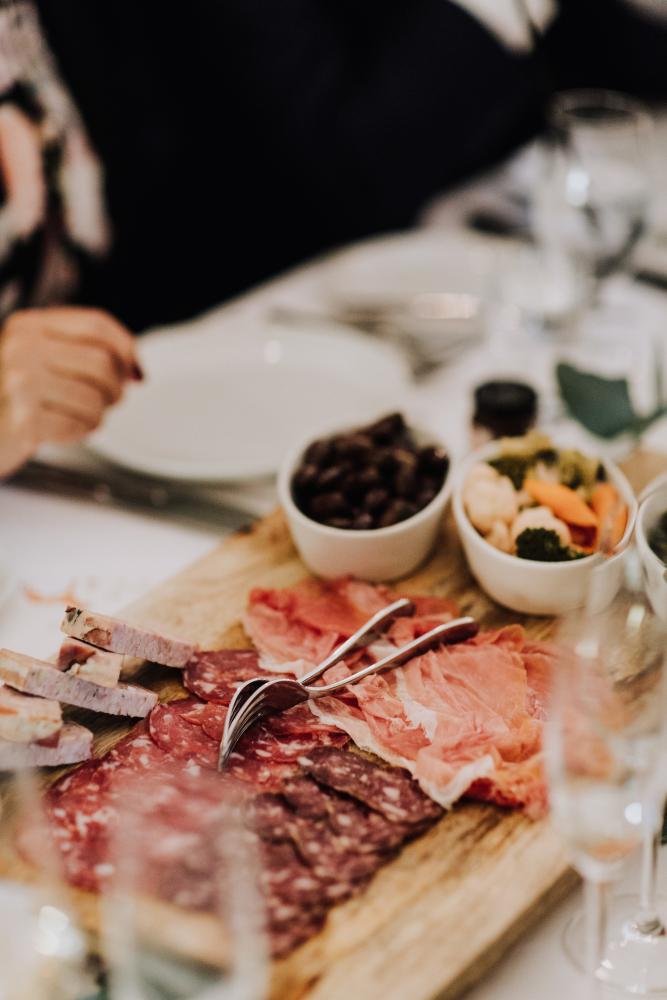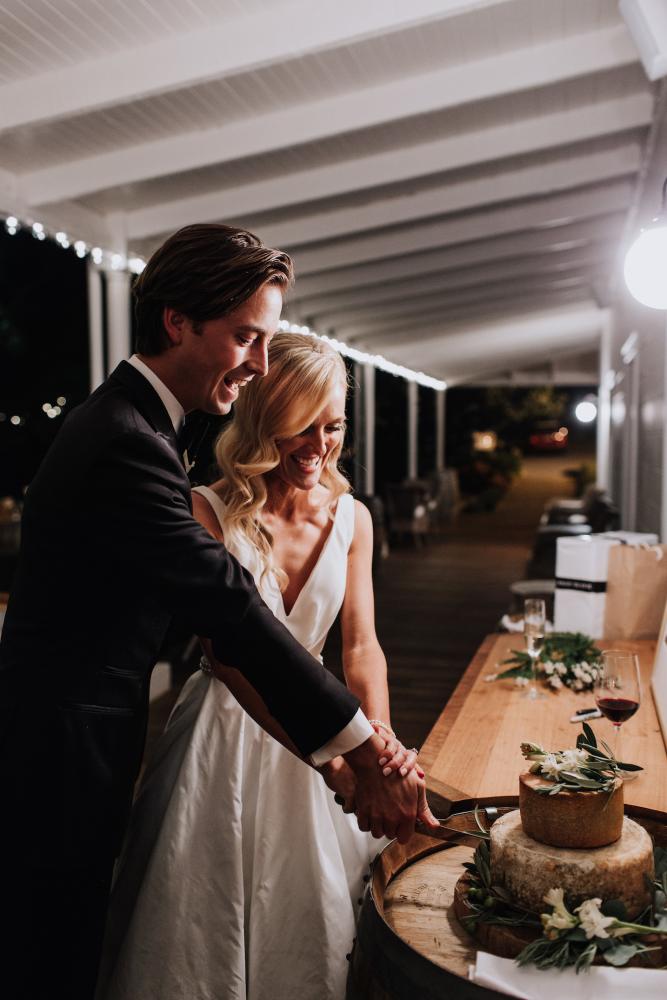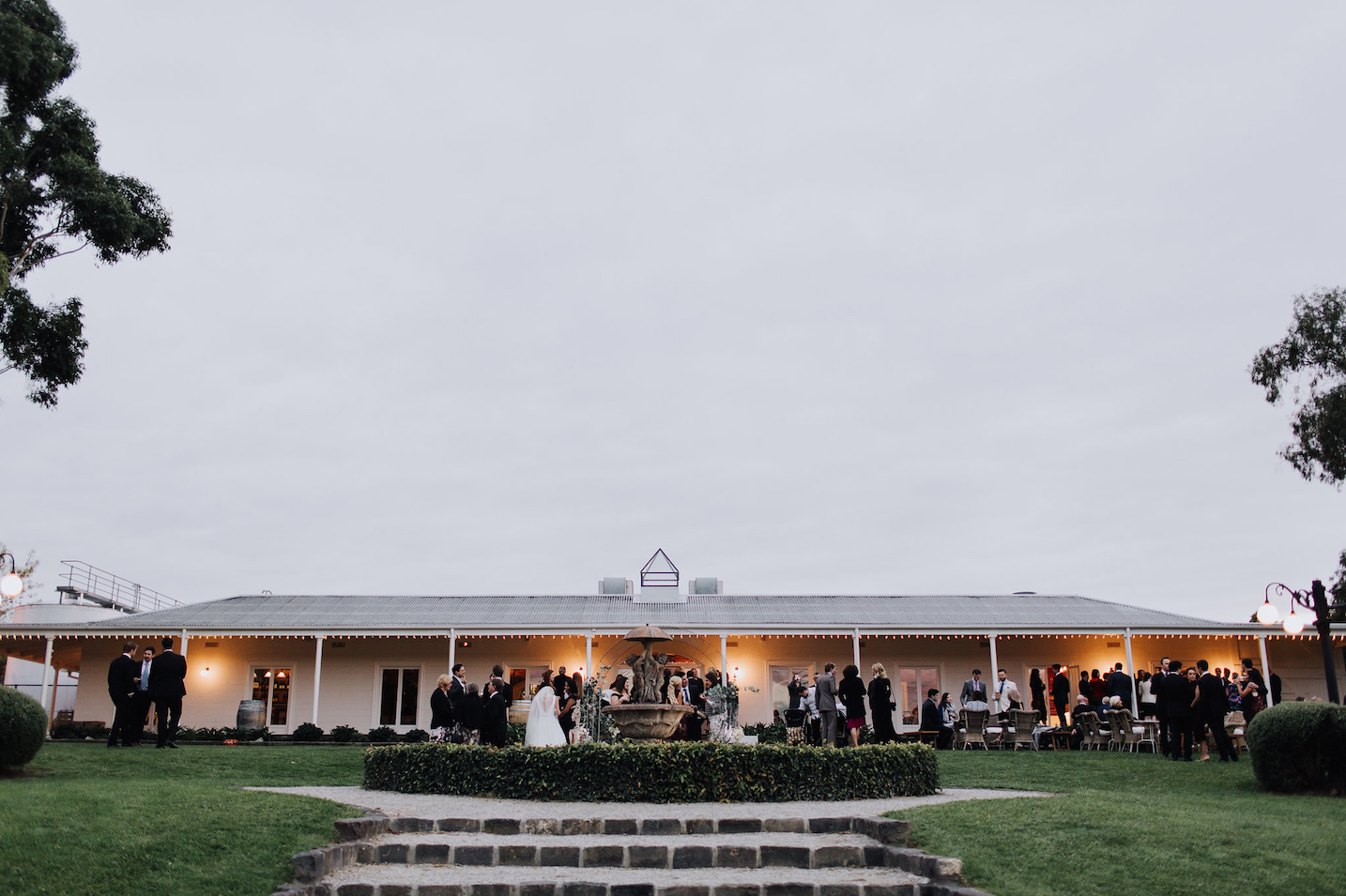 Ellen + Lachy | 15.04.2017
Photography: Anitra Wells
Ceremony & Reception Location: The Farm Yarra Valley
Celebrant: Meriki Comito 
Flowers + Ceremony Circle: Sassafras Flowers
Bridal Gown: Amaline Vitale
Cheese Wheel Cake: The Farm Yarra Valley
Best Outdoor Wedding Venues + Locations  →
← Rain on your Wedding Day – Do you have a Plan B? 
Stephen & Leigh's Colourful Manadala Wines Wedding
Stephen and Leigh chose the beautiful Mandala Wines in the Yarra Valley for the location of their colourful winery wedding, and added lots of bright flags, flowers and lego to make it distinctly theirs!
The Meeting
When Stephen first laid eyes on Leigh at a friend's BBQ about four years ago, he thought she was way out of his league, but went on to impress her with his polite nature and perfect manners, so the pair soon struck up a friendship, bonding over a mutual love of movies, cocktails, 'phat' beats and the great outdoors.
They both grew to love the unconditional love they both provided the other with, as well as the freedom of being able to be completely who they truly were. It was fun, and comfortable, and felt so right, that marriage had definitely become an option for the future.
The Proposal
It was during a two-week road trip through New Zealand that Stephen entertained the idea of a perfect proposal, but after waiting for that perfect moment to present itself, it became apparent that he was struggling to keep his big secret, and after three failed attempts to work up the courage, finally asked Leigh to marry him on the final night of their adventure.
It may have been a huge source of anxiety for Stephen, but according to Leigh, it was private, and personal, and absolutely perfect.
The Vows
In a stunning lace Marianna Hardwick gown, Leigh quietly declared to her handsome groom that "you love me even when I don't love myself" (before quoting Beyonce!), after which Stephen told Leigh "your beaming smile can brighten my darkest days, and your beautiful laugh brings me more happiness than anything."
It was an absolute pleasure to share this moment with Stephen & Leigh and I hope they achieve all their dreams of travelling the world together, starting a family of their own and enjoying all the adventures that life will bring x
The Photographer
A huge shout out to the super talented Zosia from Aparat Photography for these stunning images!!
Stephen & Leigh | 16.04.2016
Celebrant: Meriki Comito
Ceremony & Reception Location: Mandala Wines
Photography: Aparat Photography
Ceremony Arch & Bunting: Created by the clever Groom!
Bridal Gown: Marianna Hardwick
Bridesmaids Dresses: Rodeo Show
Flowergirl Dress: H&M
Groom's Attire: Joe Black
Bouquet's, Boutonniere's and Flower Crown: Debbie O'Neill
Cake & Bomboniere: The Bride's own creations
Jade & Josh's Zonzo Estate Wedding
The Meeting
When they were both only 16 years old, Josh would walk Jade to the train station after school every day, where Jade would miss the first train on purpose, just so they would have an extra 15 minutes together before the next one arrived.
Nearly 10 years later, in a beautiful Zonzo Estate wedding, the high school sweethearts finally became husband and wife.
The Event
There were tears of joy a plenty as Jade declared that "never have I experienced happiness like what I experience when I am with you", before Josh vowed to "always try as hard as I can for the rest of our lives to make you feel as special, as happy and as loved as you make me feel every single day".
After sharing their first kiss as husband & wife to rapturous cheers & applause, family members then placed letters they had written to Jade & Josh into a box with a bottle of wine for the couple to enjoy on their 5th wedding anniversary, before the newlyweds added their own special words to the time capsule before taking each other's hand and joining their guests in celebration as a married couple for the first time.
The Photography team
Jade & Josh's perfect day was captured by the lovely and extremely talented, Kim Cartmell at Hello Kimbo Photography and the superstar duo from Humdrum Films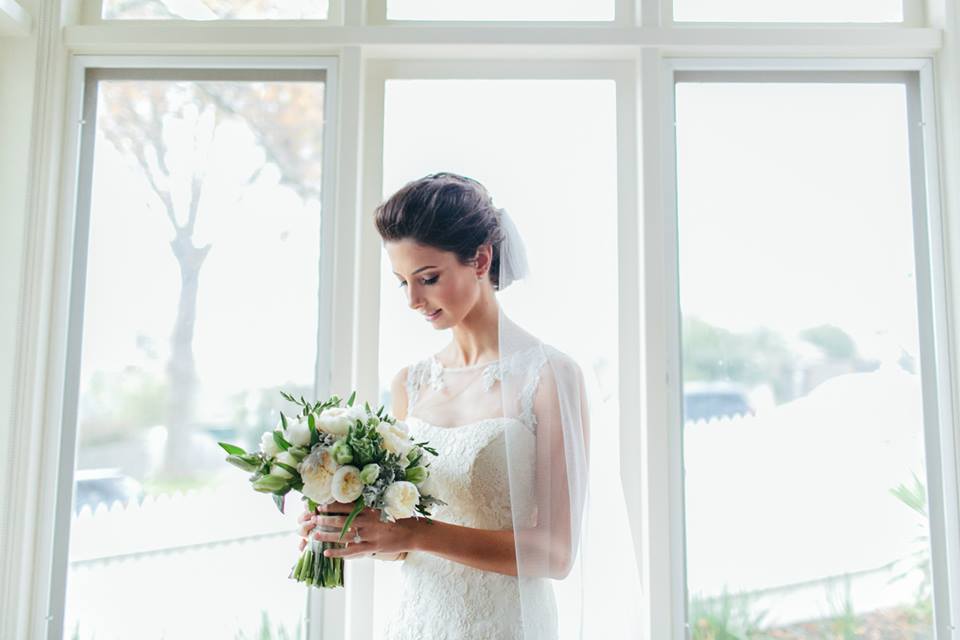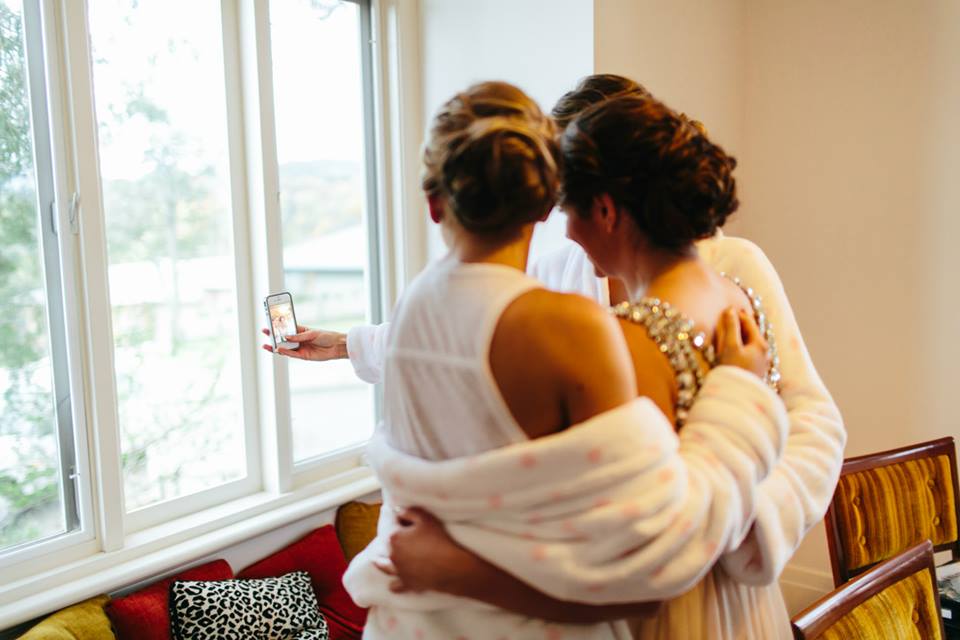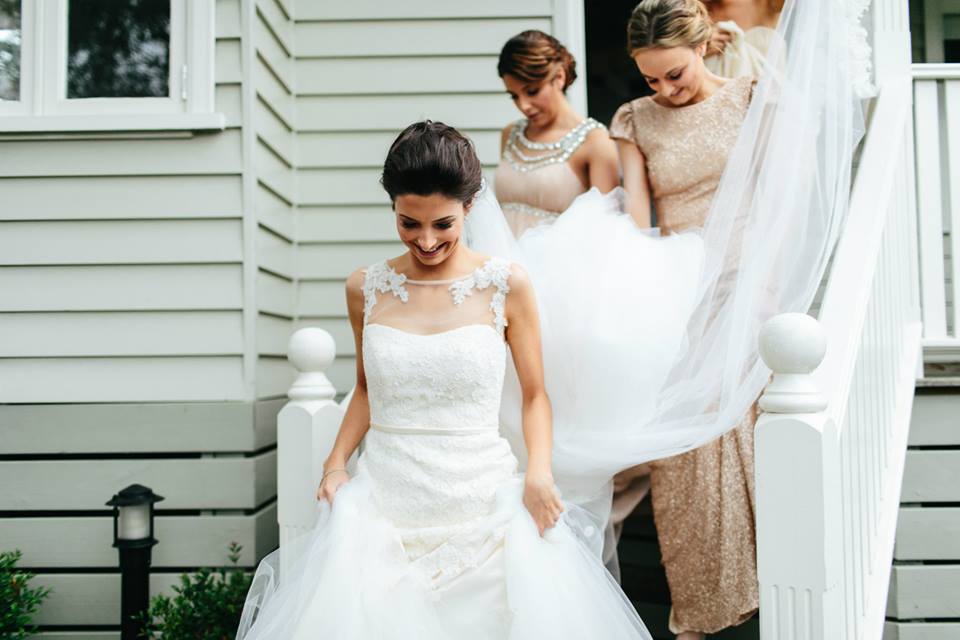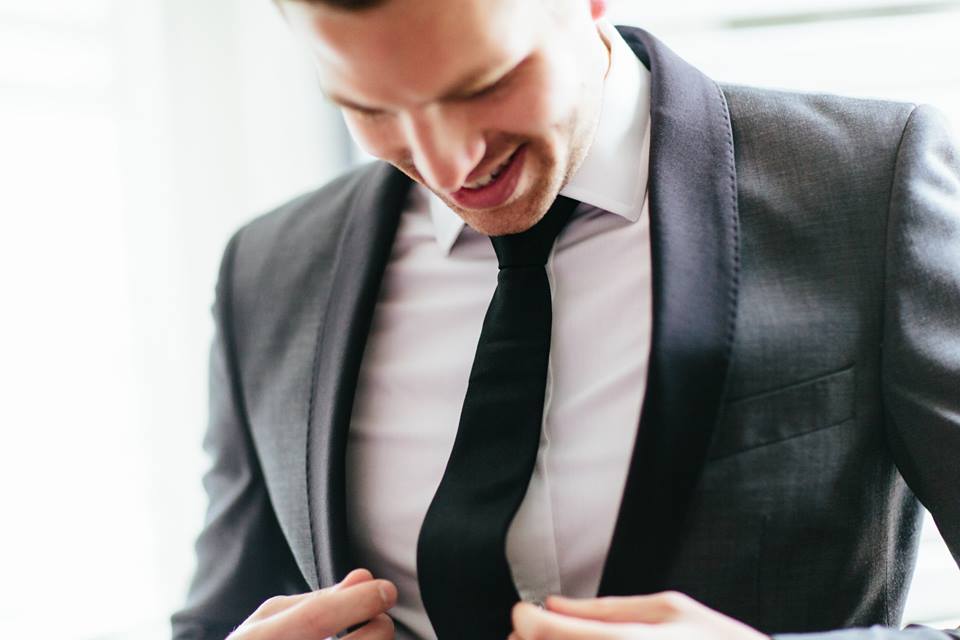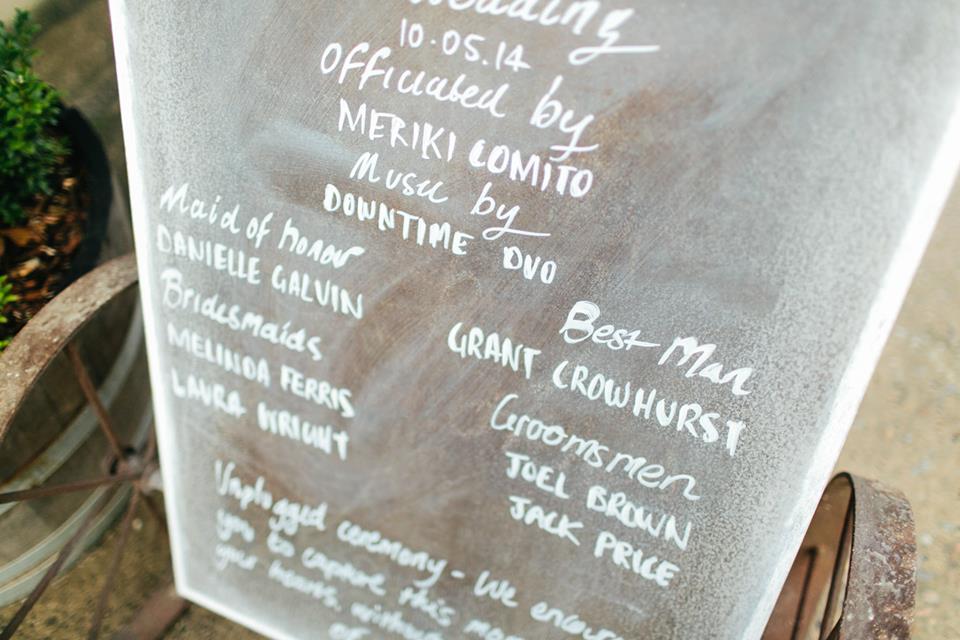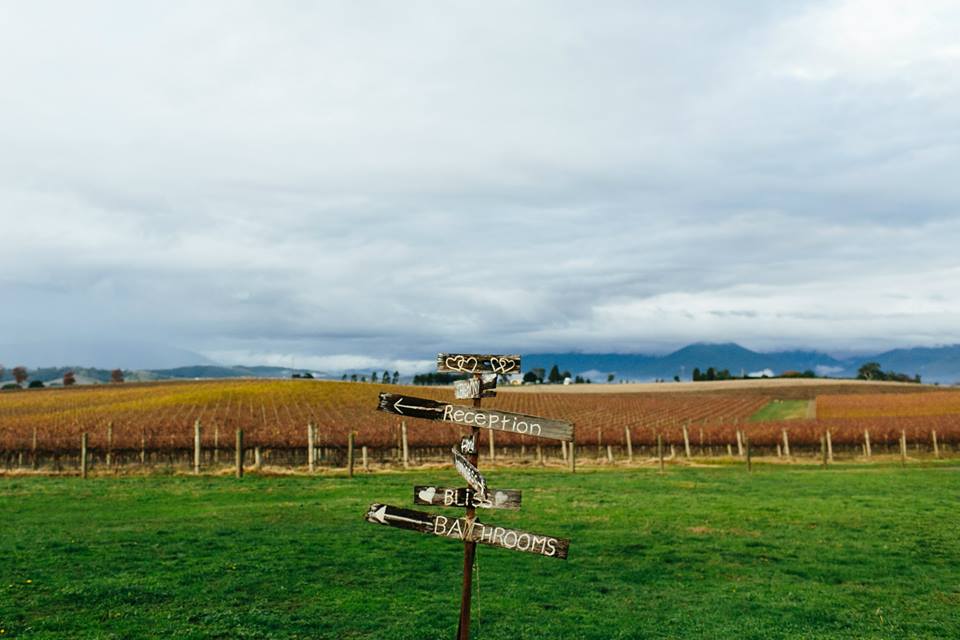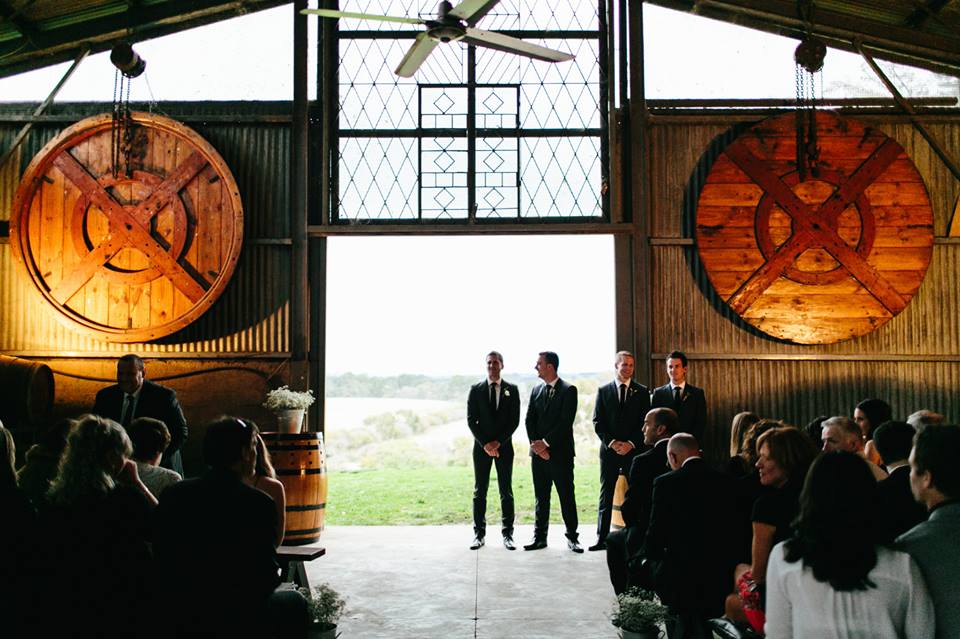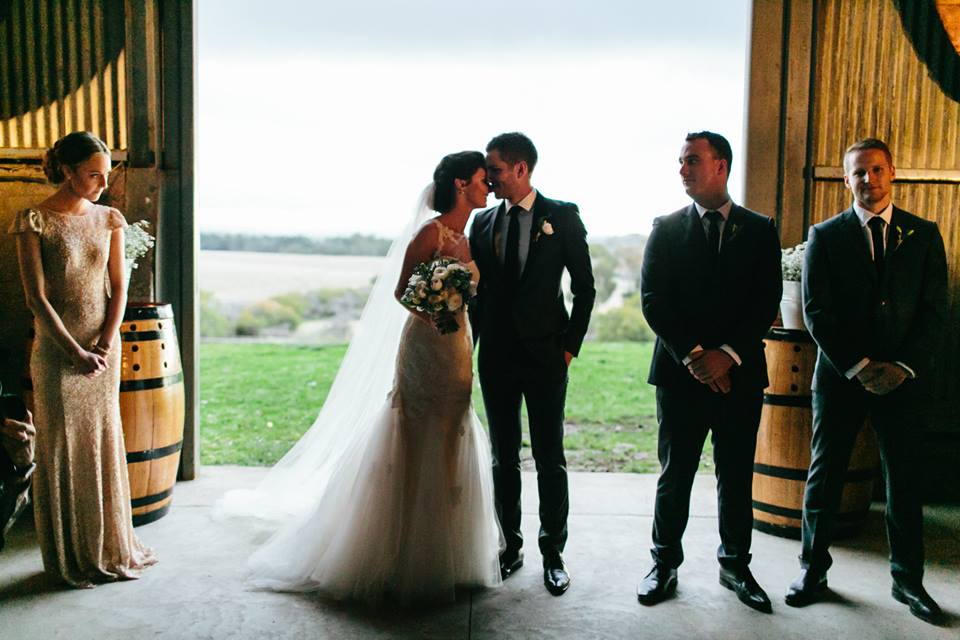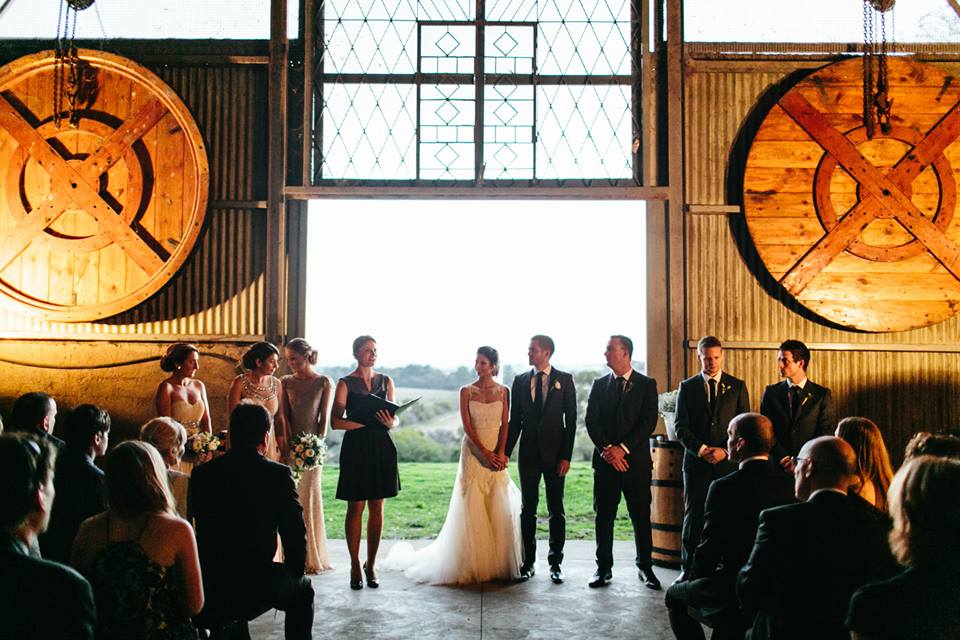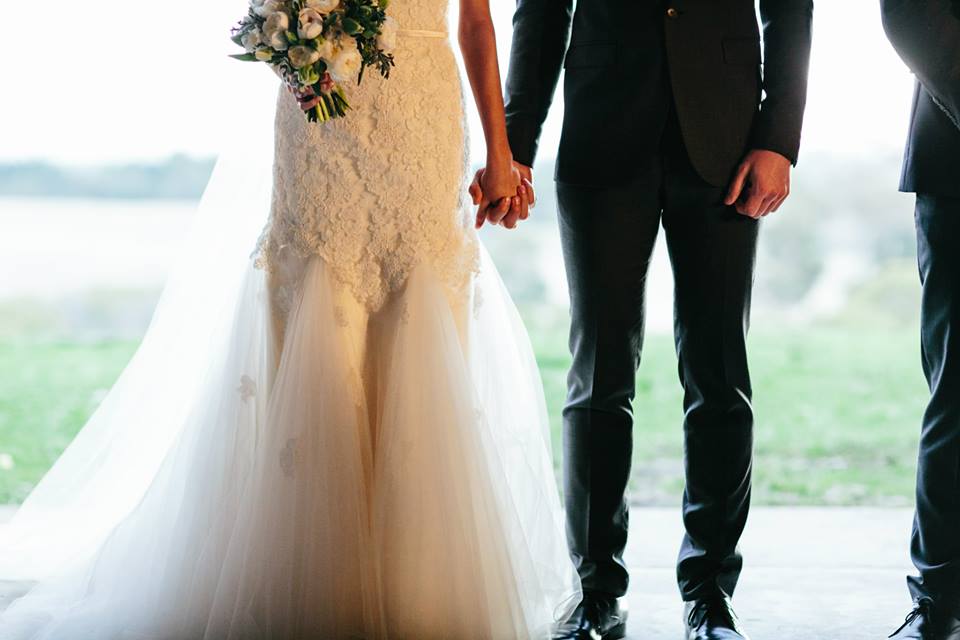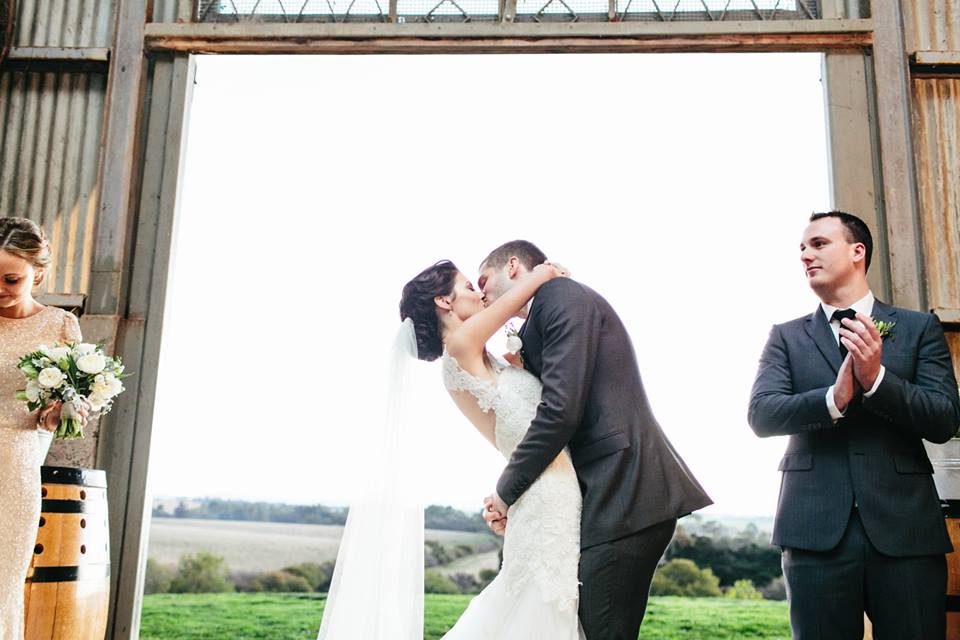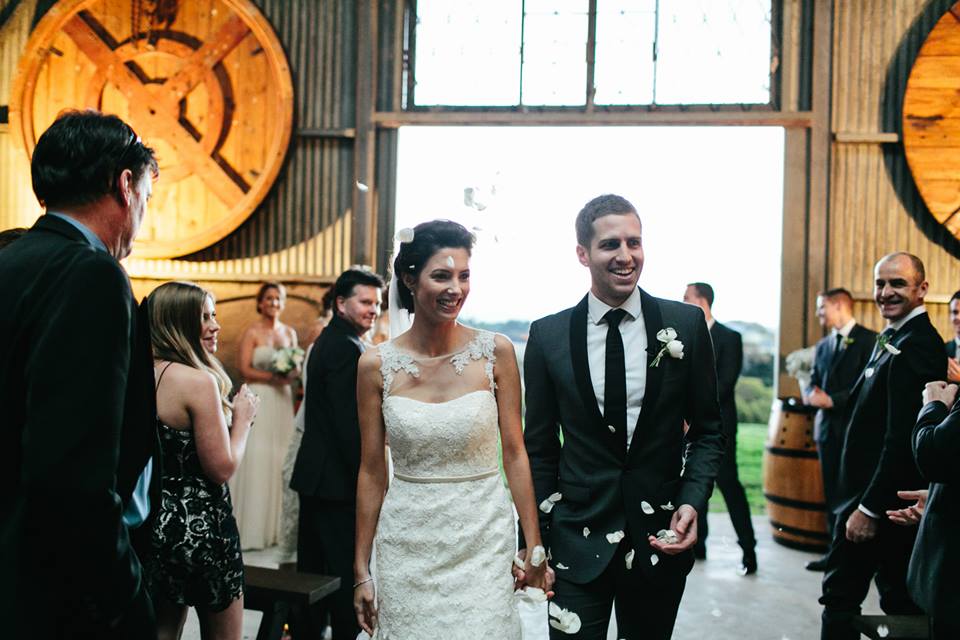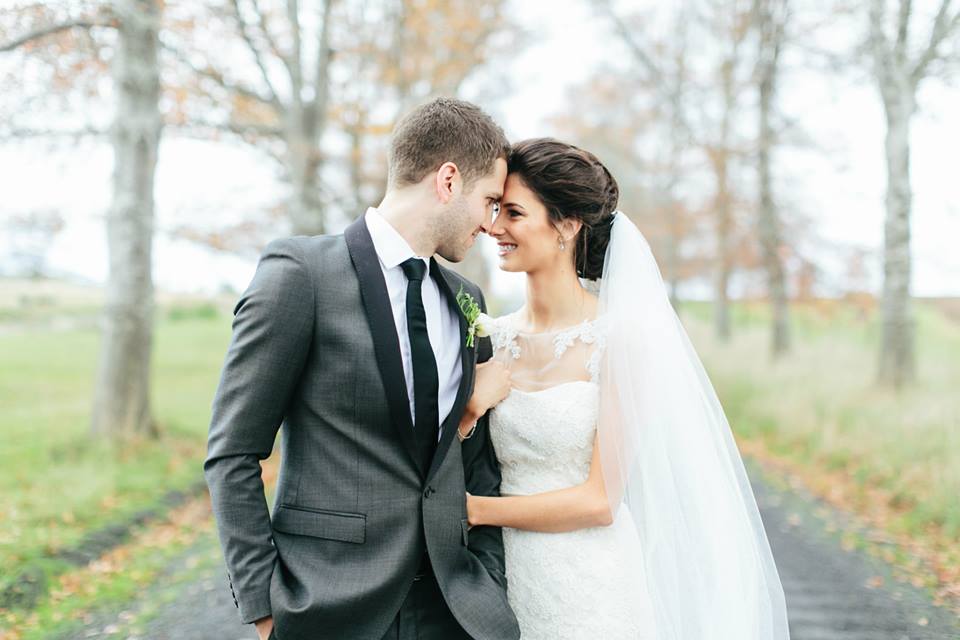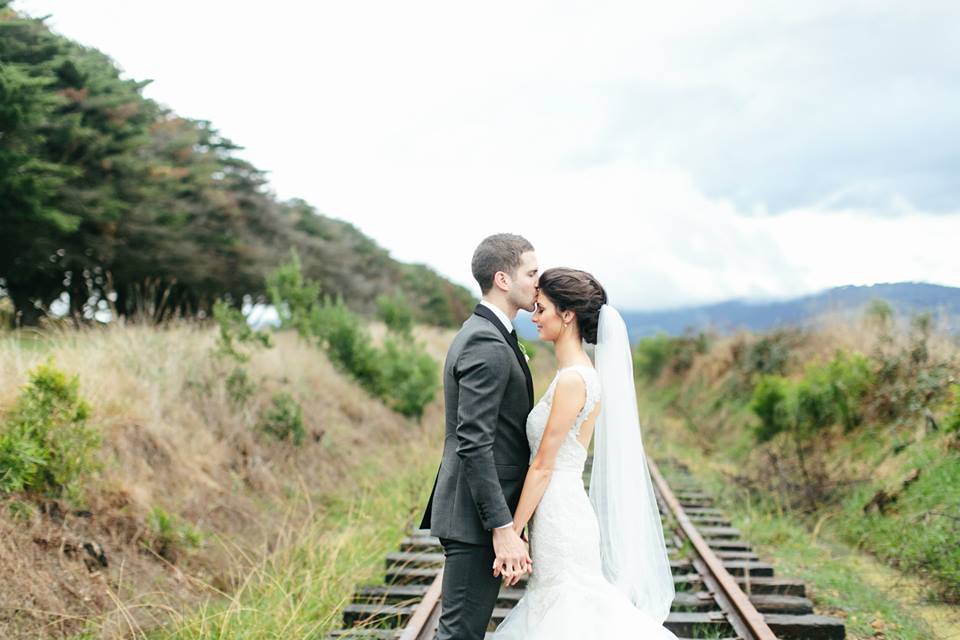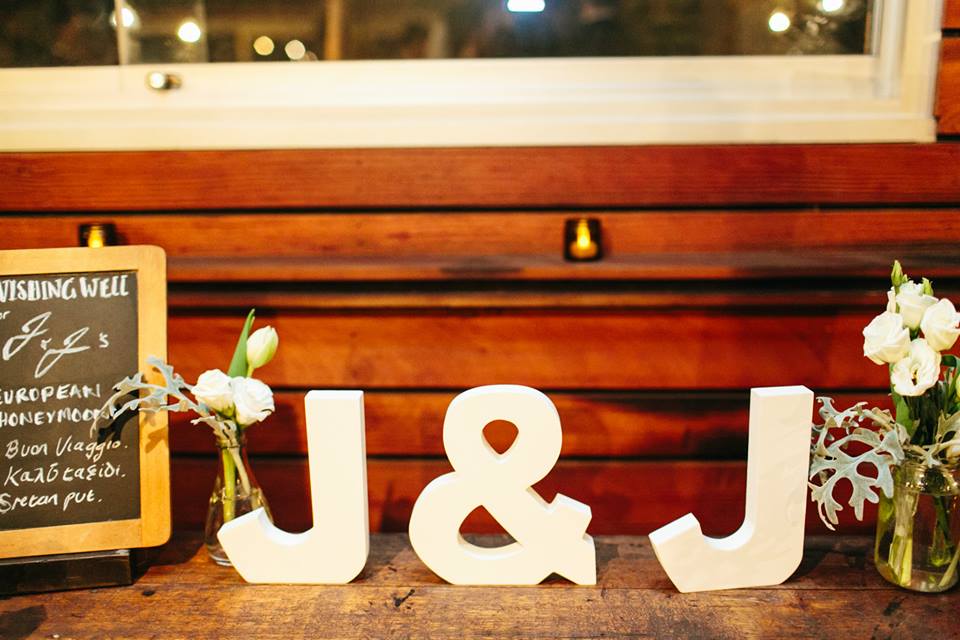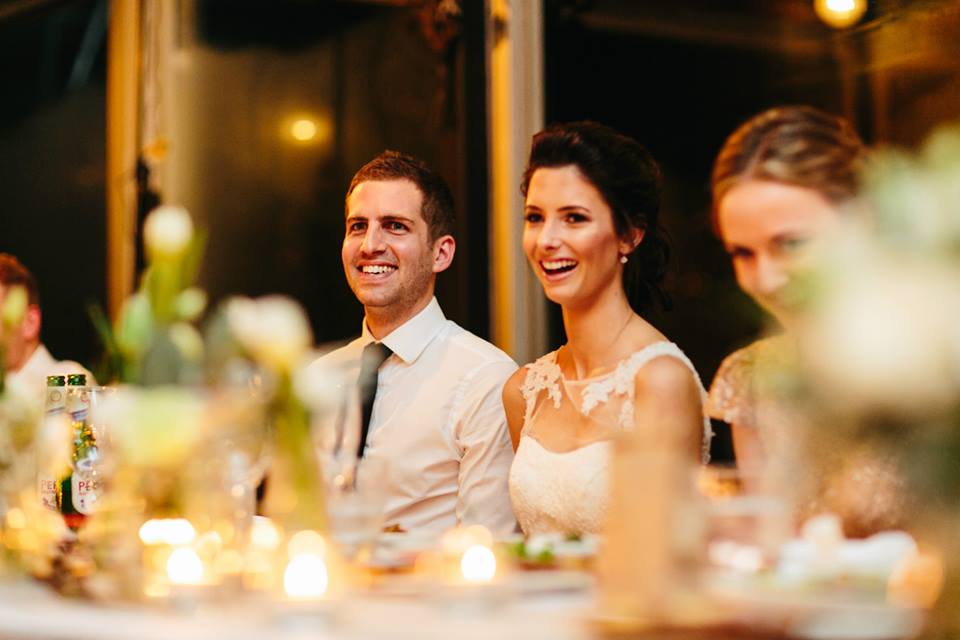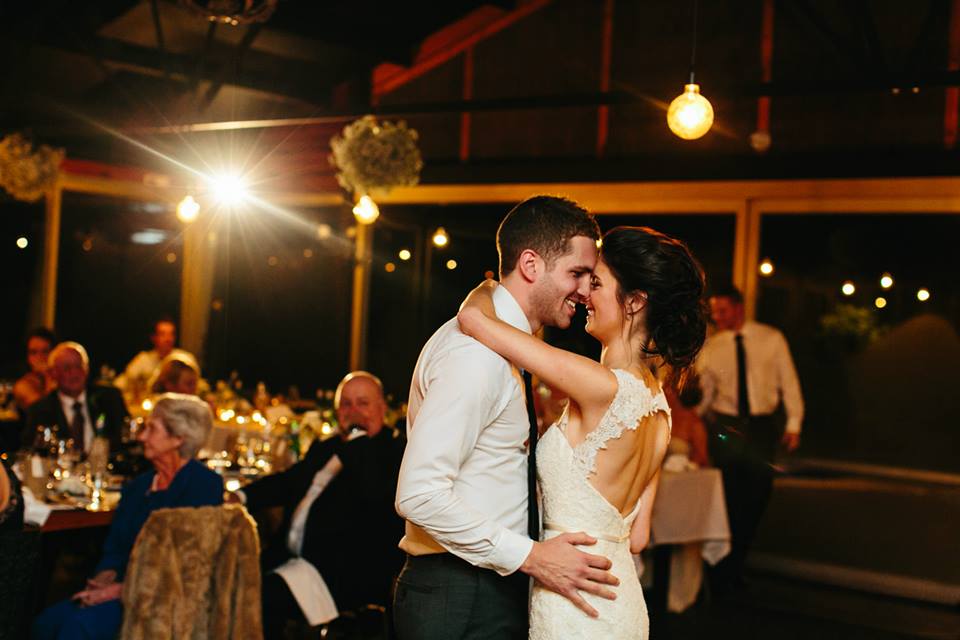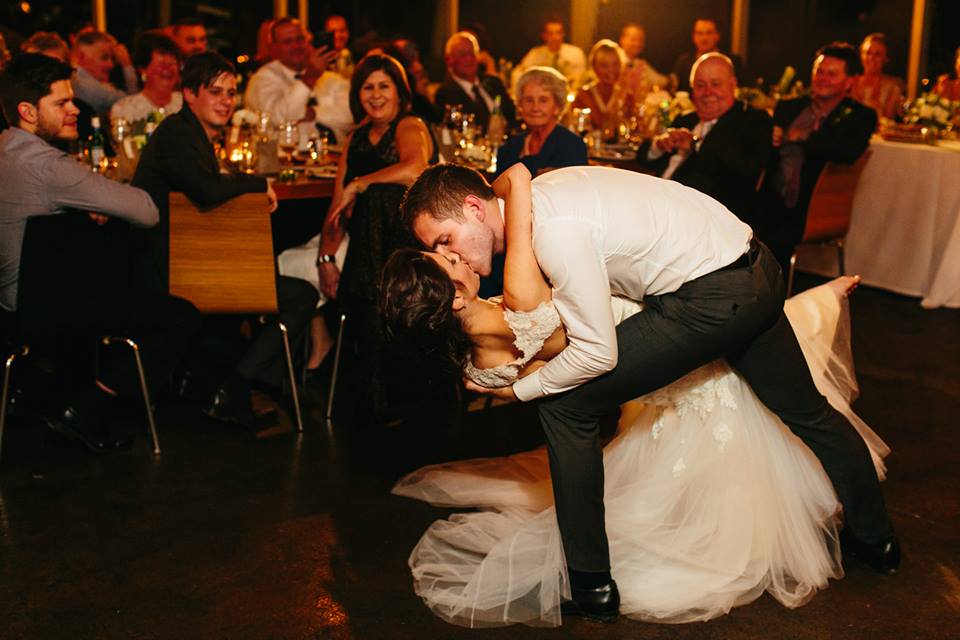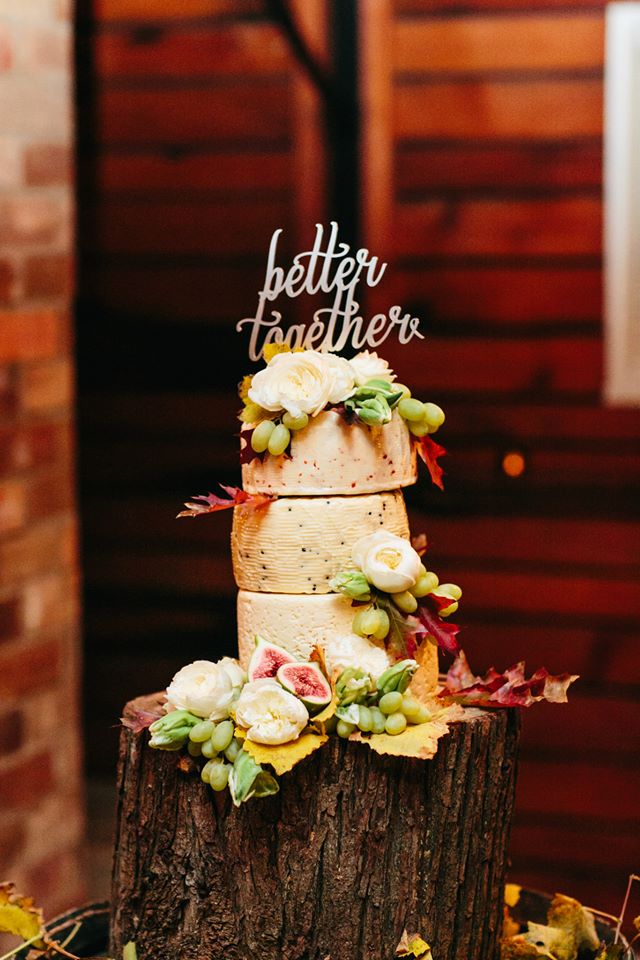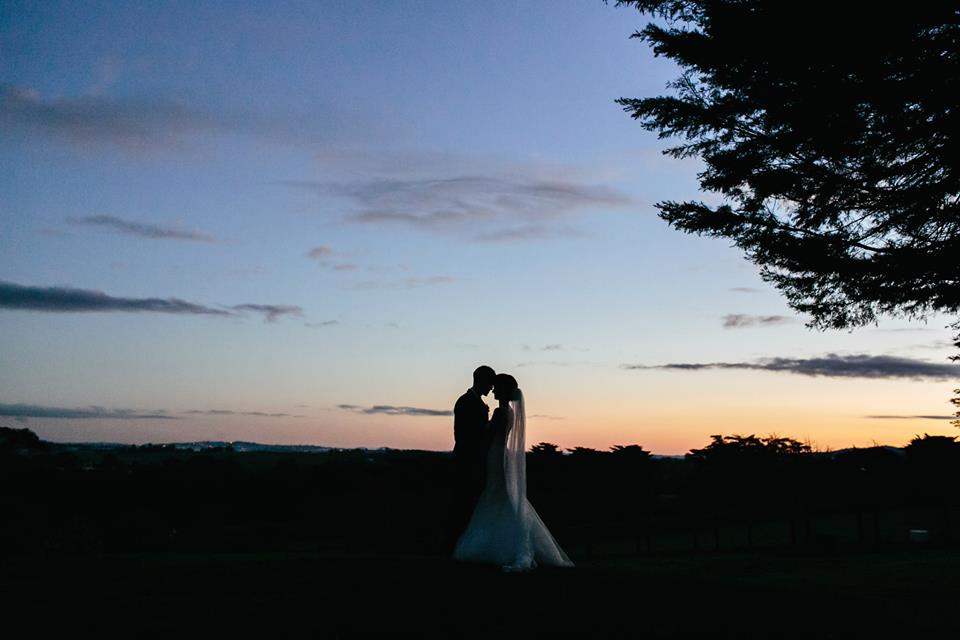 Check out the video by the talented team at Humdrum Films
Jade & Josh | 10th May 2014
Celebrant: Meriki Comito
Venue: Zonzo | Train Trak Wines
Photography: Kim Cartmell @ Hello Kimbo Photography
Videography: Humdrum Films
Ceremony Music: Downtime
Flowers: Flowers of Yarra Glen