Hamish + Sunny's Coombe Yarra Valley Wedding
The Event
Hamish + Sunny's beautiful Yarra Valley Wedding at Coombe Estate took place on a 44ºC Summer's' day, but the super chilled + considerate duo were quick to prioritise the comfort of their family + friends by making a last minute ceremony location change to ensure grateful guests were seated in the shade, before they moved inside to party with the air-con!
When I first met with Hamish + Sunny, they brought their gorgeous Maid of Honour, Jordie, along for the ride, and after a couple of wines and ton of laughter later, I knew the trio were definitely my kind of people and that this wedding would have a seriously fun + relaxed vibe.
It was all that and more. A fabulous bridal party, festive guests, romance, style + elegance galore, lots of laughs, all the feels, and an A-team list of vendors helping to make the day perfect.
Ceremony Details
Initially meeting through mutual friends at the gym, Hamish was confident that Sunny had fallen in love with him at first sight, but when Sunny saw him smashing it out on the cross-trainer in a hoodie in the middle of summer, she only thought him to be a big sweaty mess! But the brief conversation that followed ignited an undeniable spark and they soon bonded over a mutual love of food, travel and finding any opportunity to take a nap.
Popping the big question during a holiday in Bali, Hamish chose total romance by bending to one knee, as they walked along the beach at sunset.
After arriving, bathed in sunshine, on the arm of her prod father, Sunny stood before her smitten groom and promised to "always arrive at the airport 3 hours early so you can get the exit row, to nurse you back to health after your yearly ankle operations" and "to be worth it – worth the time, worth the energy, and most importantly, worthy of your love."
Hamish declared that he felt "blessed & lucky to be marrying the most beautiful, driven & caring person I know", before promising to "respect you and protect you with my life and to be by your side no matter what", before they shared their first kiss as married couple and celebrated on the lawn with cold drinks and hugs all around.
The Photography Team
Many thanks to the amazing team at Lost in Love Photography for allowing me to publish their gorgeous images, as well as superstar videographers Moon & Back Co for the fab film!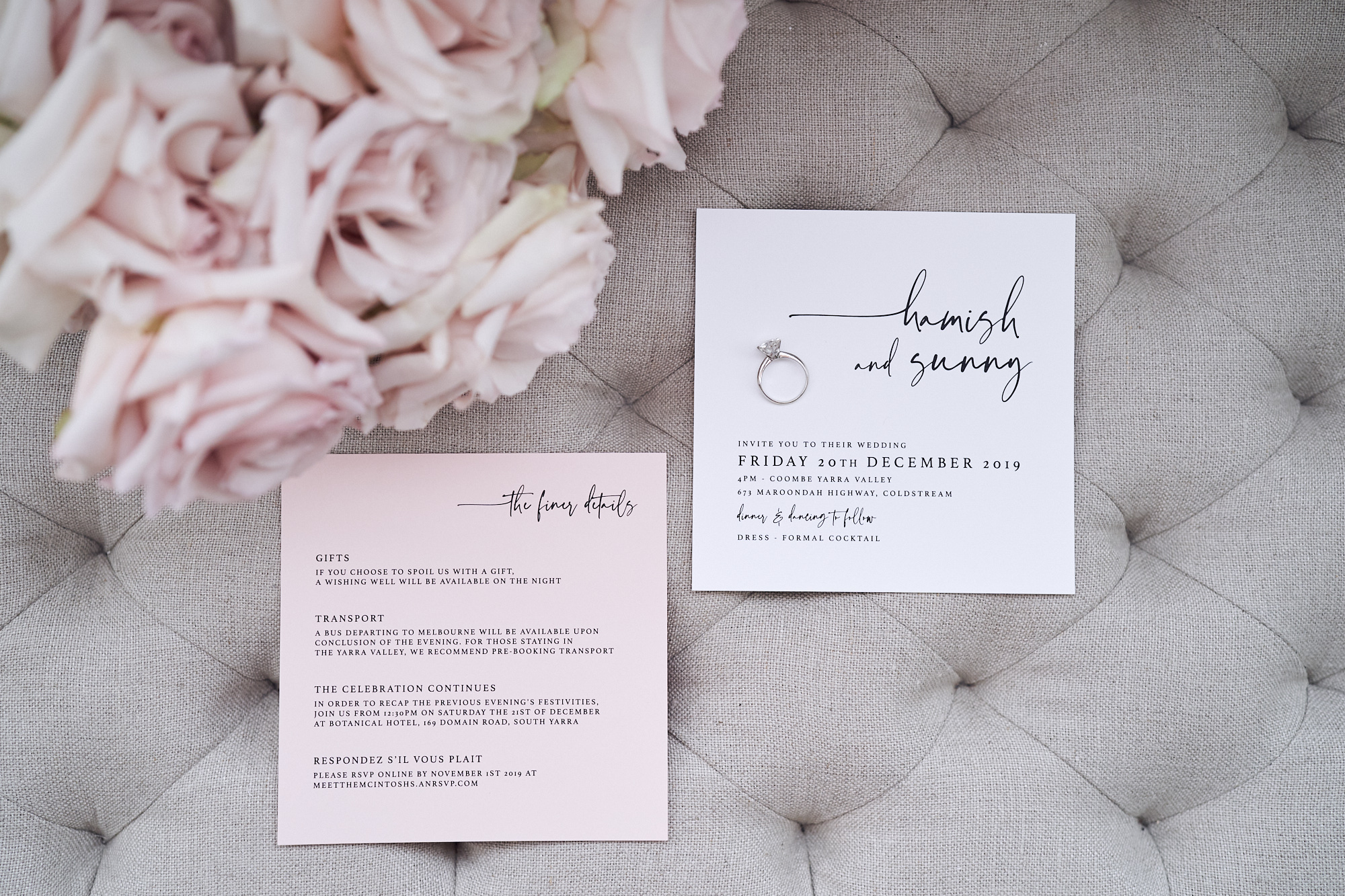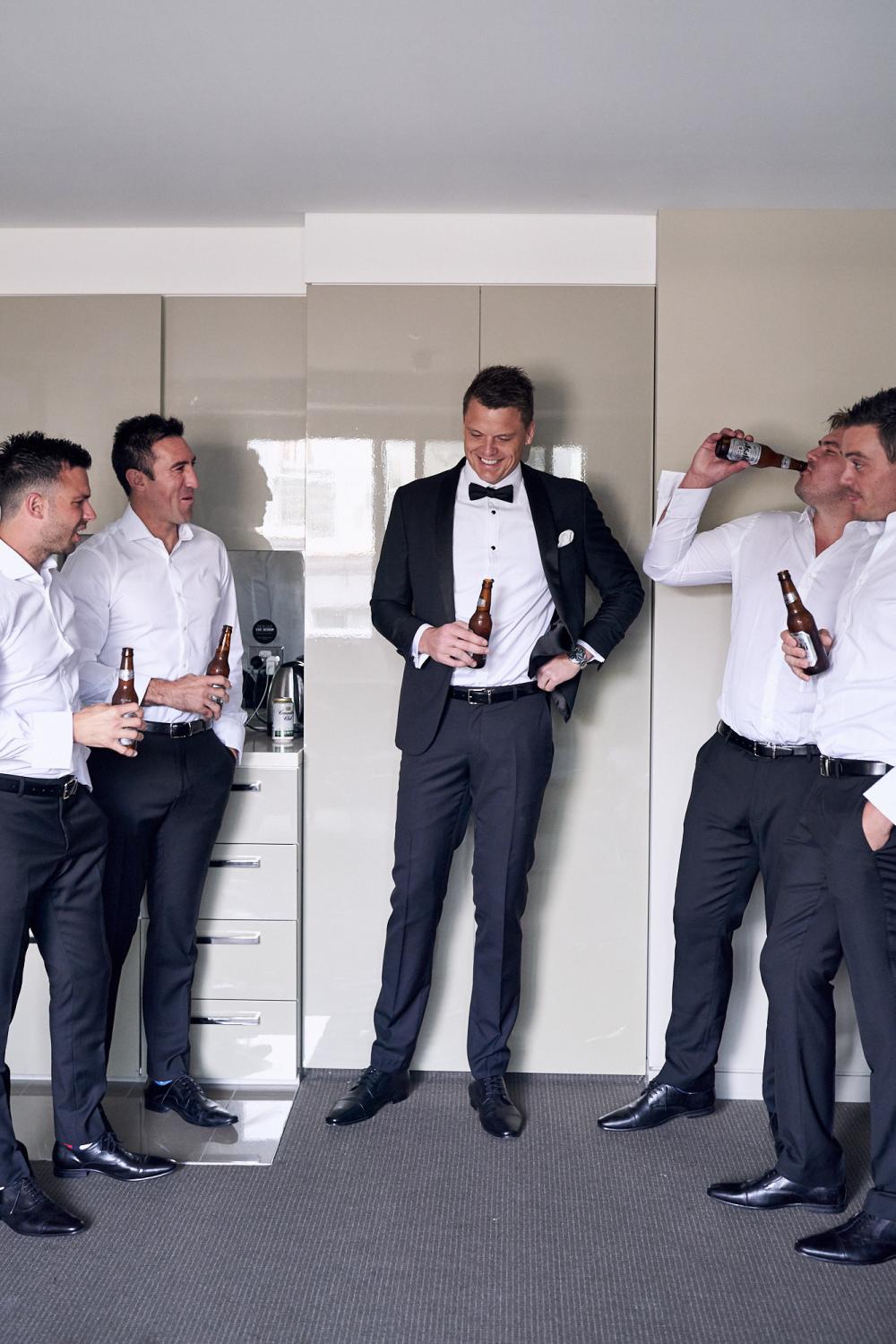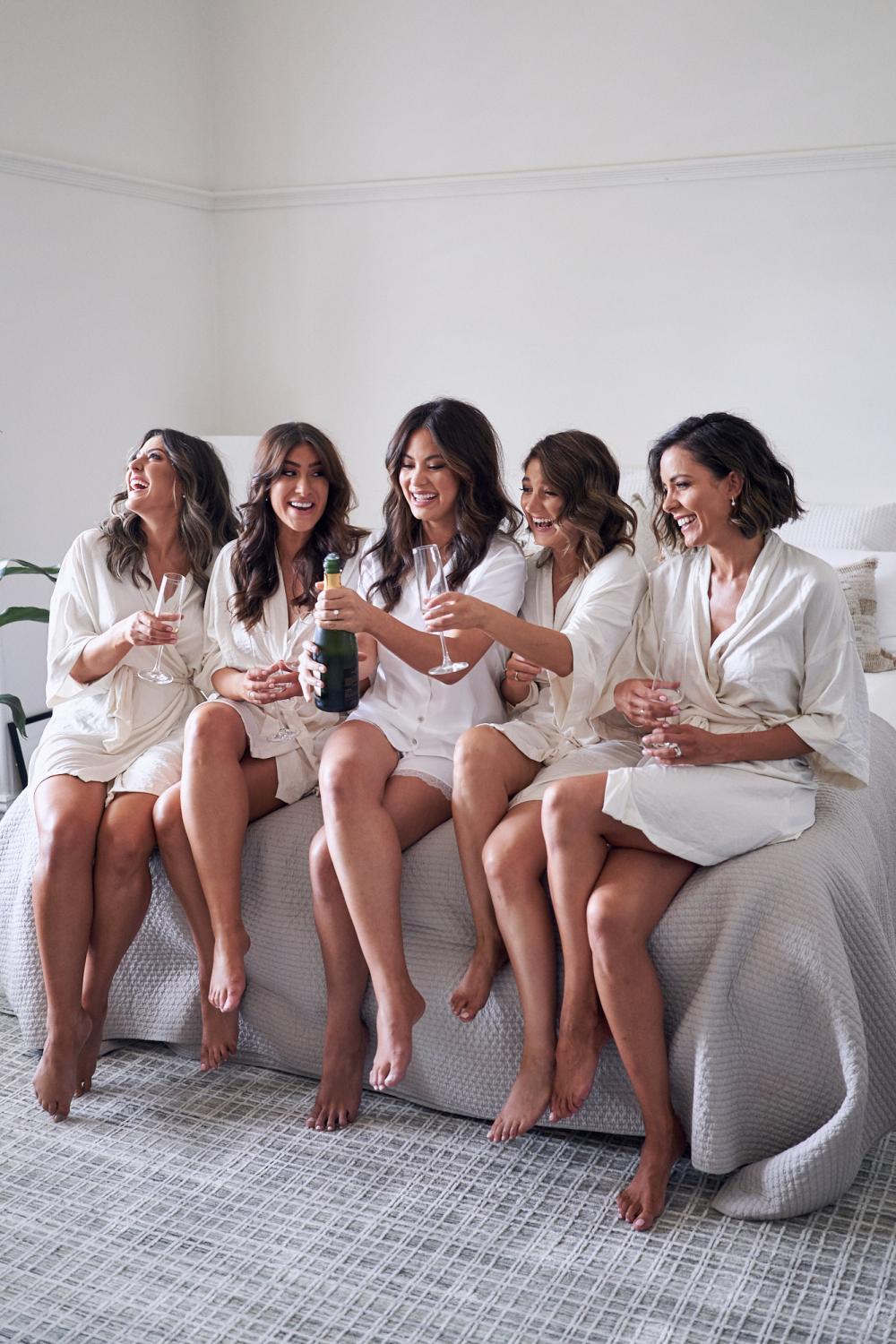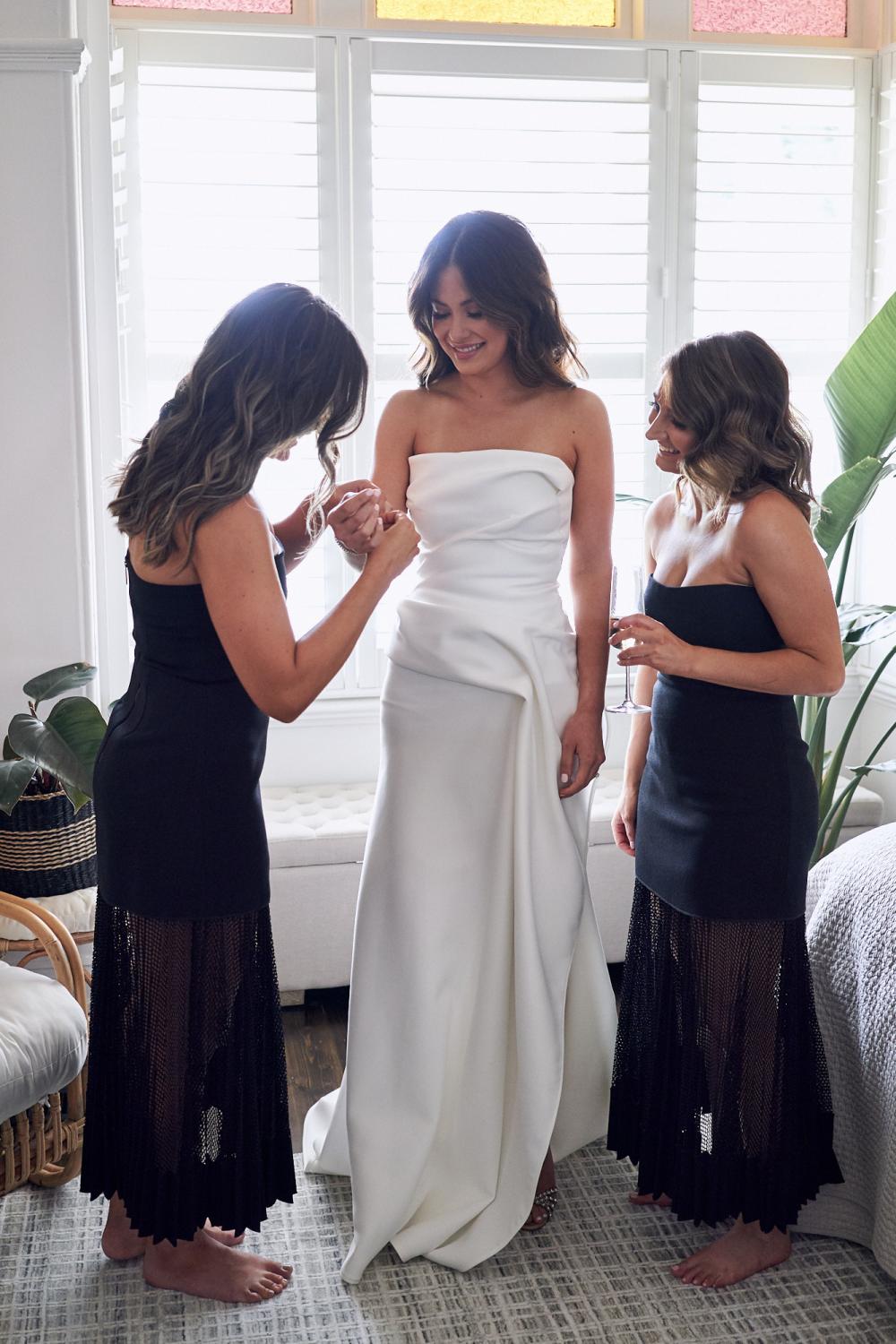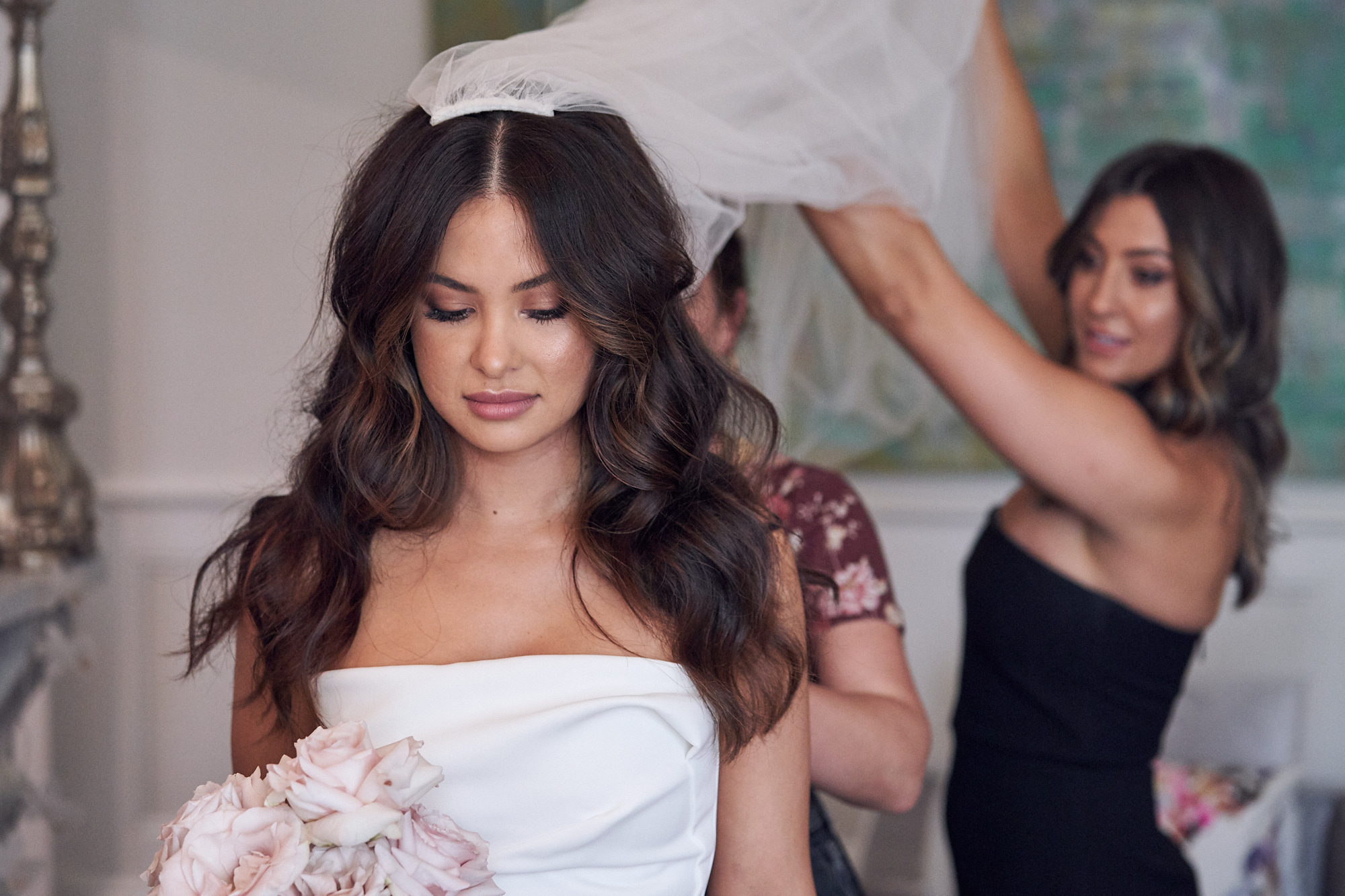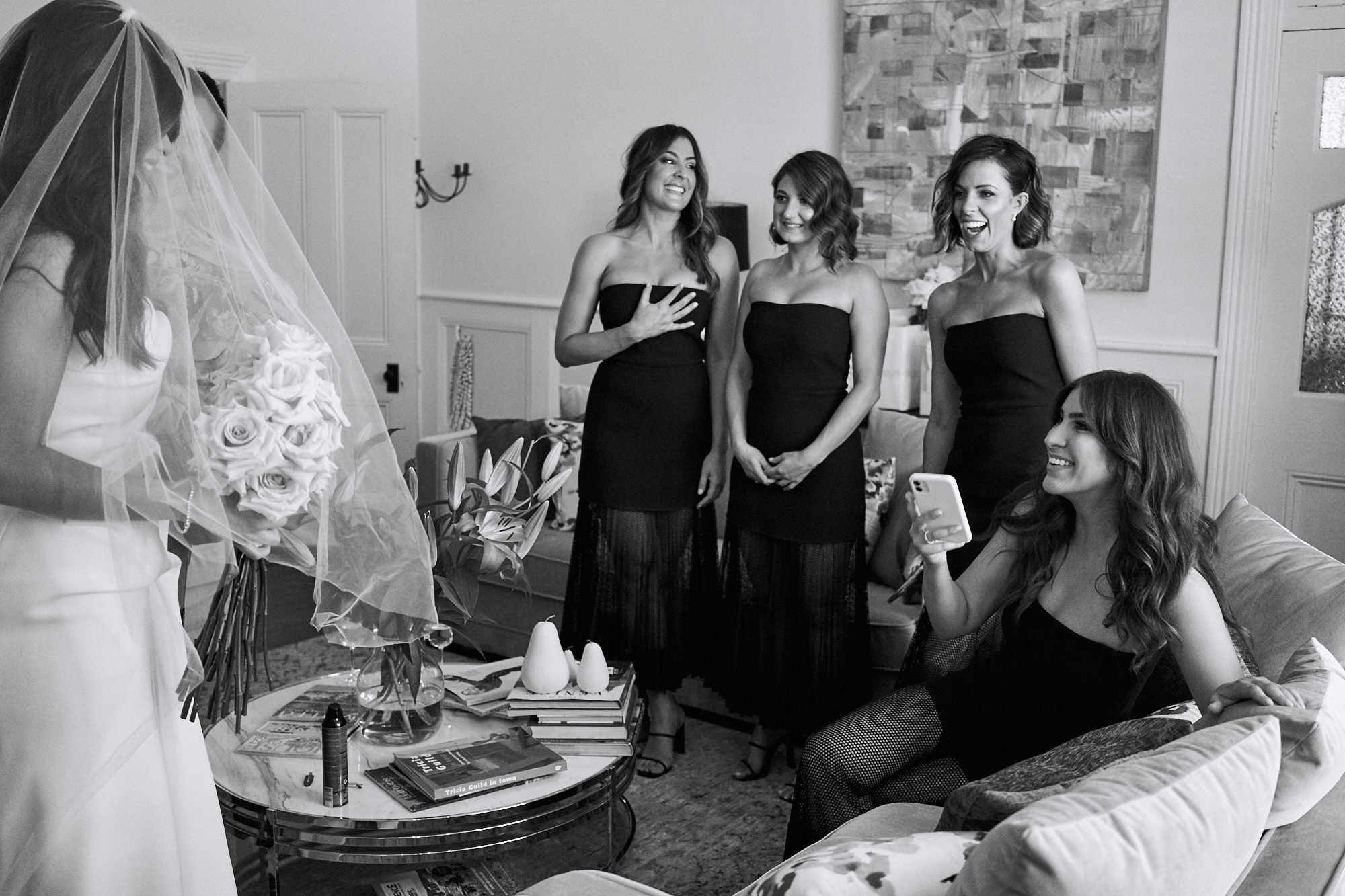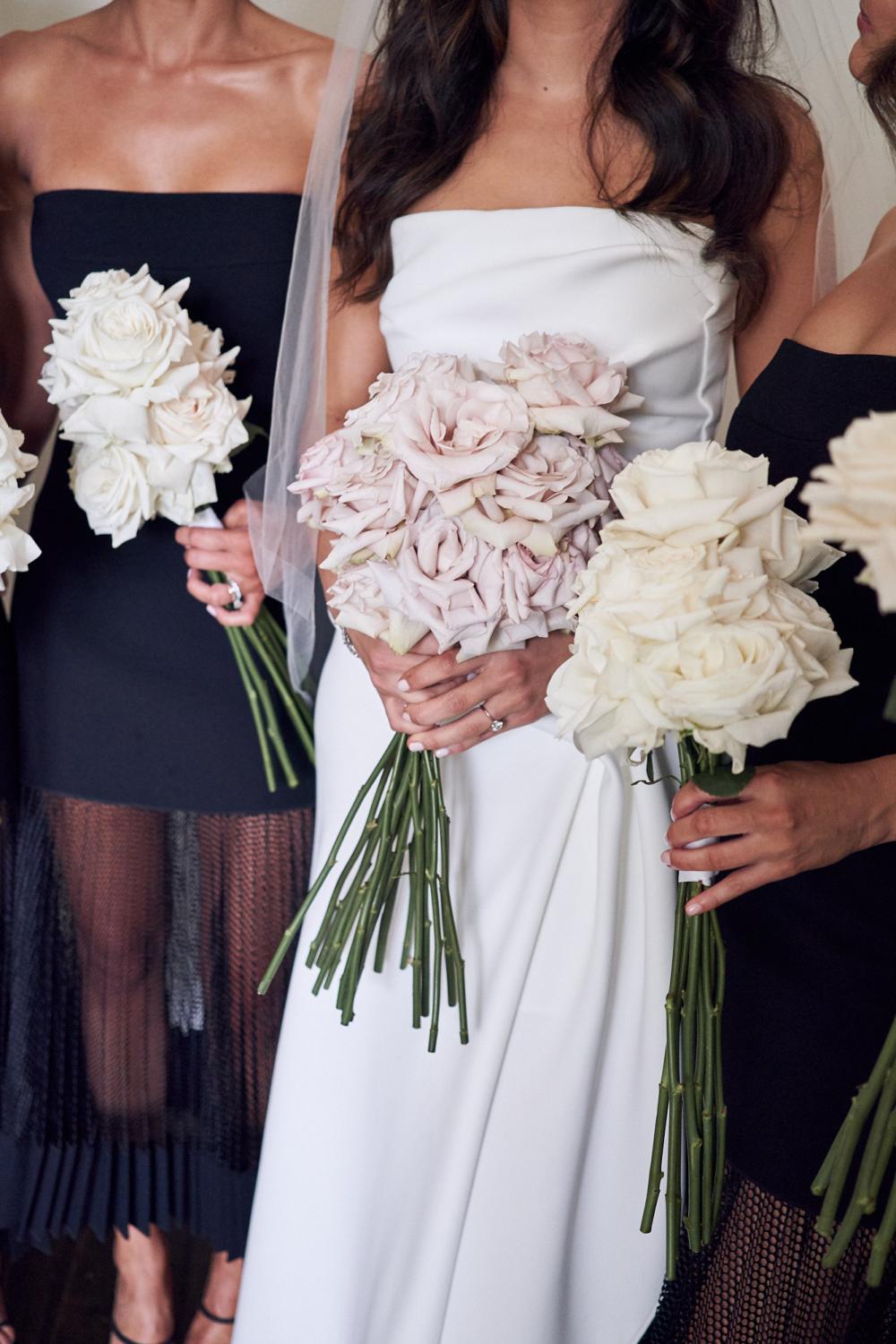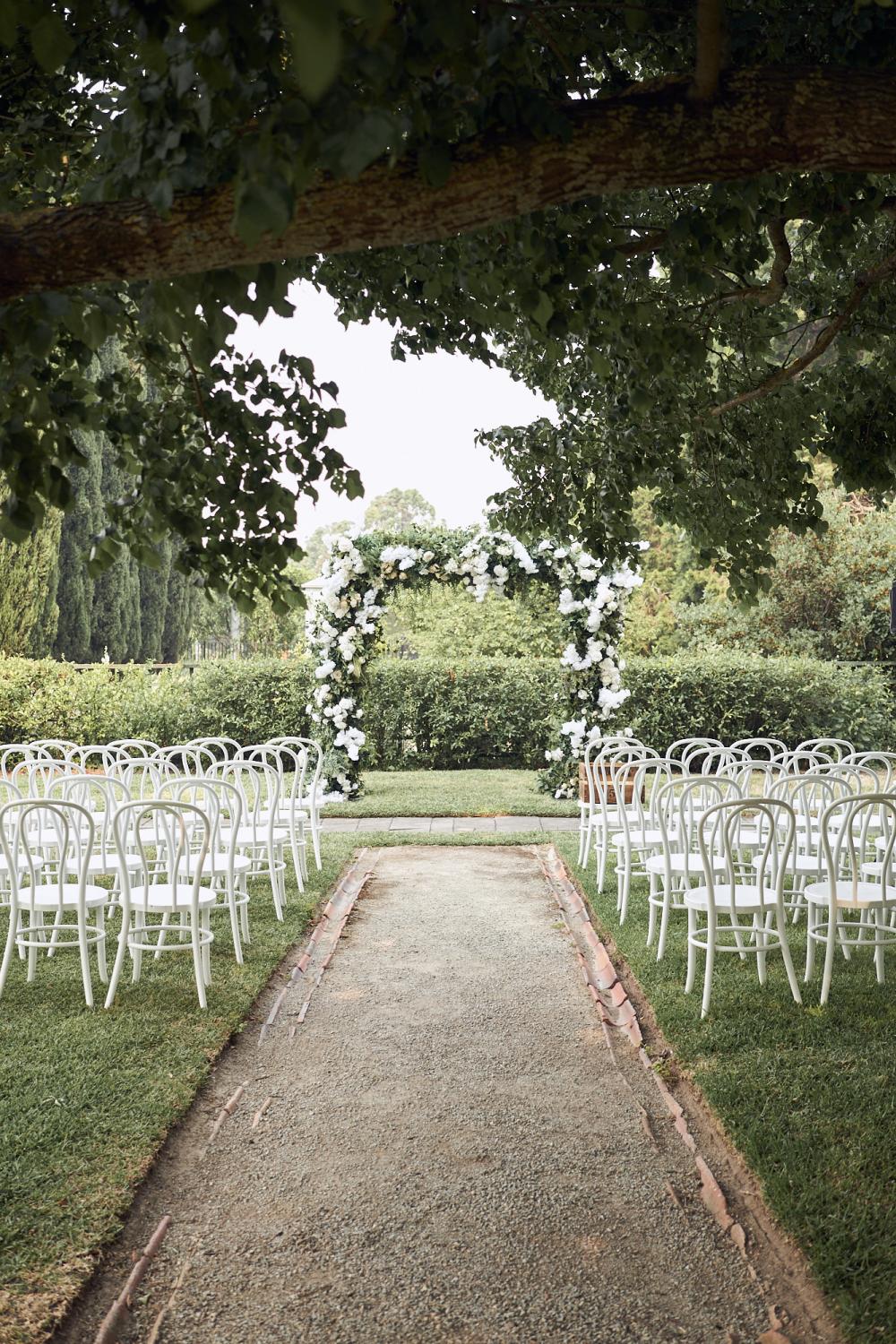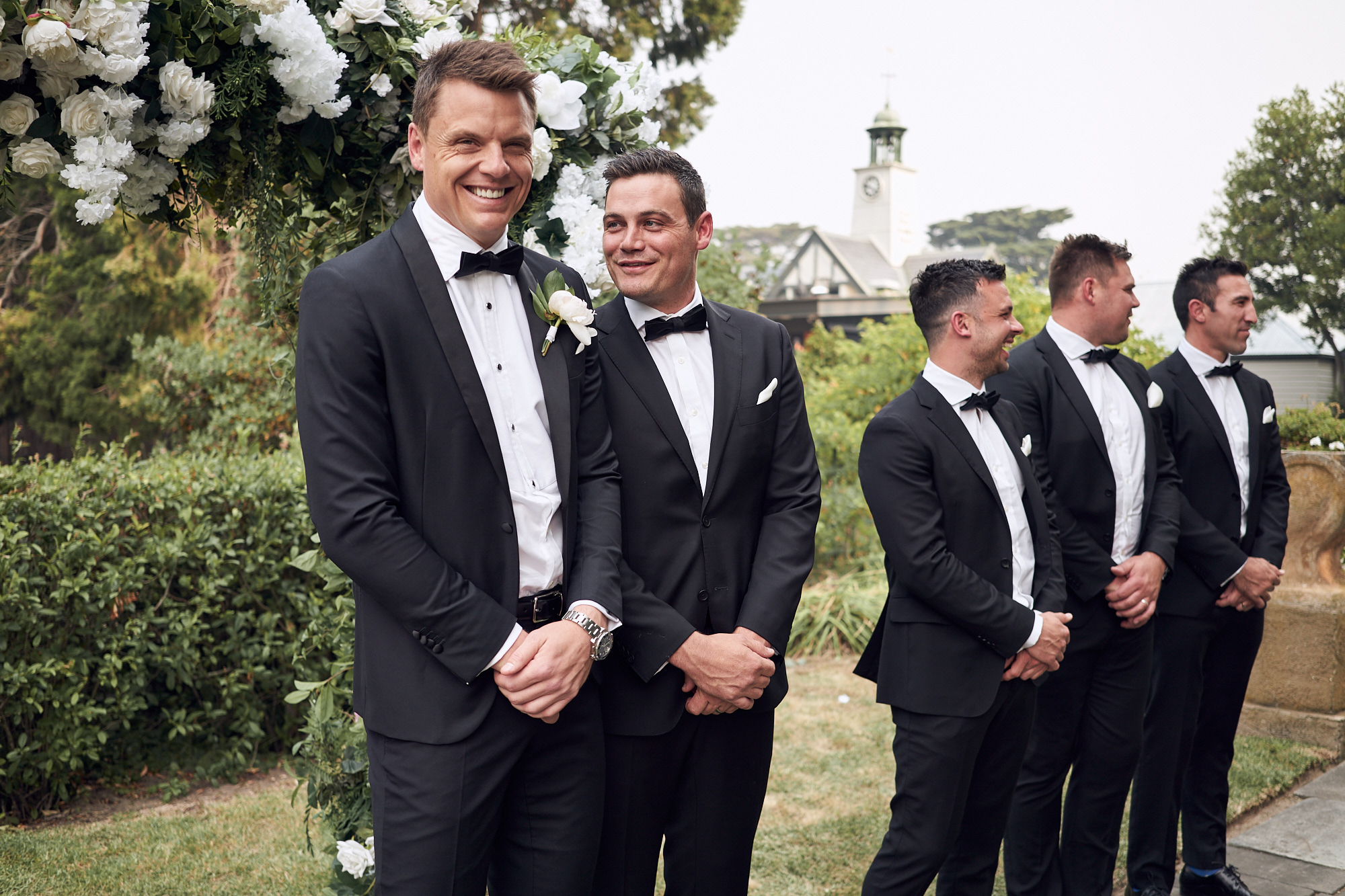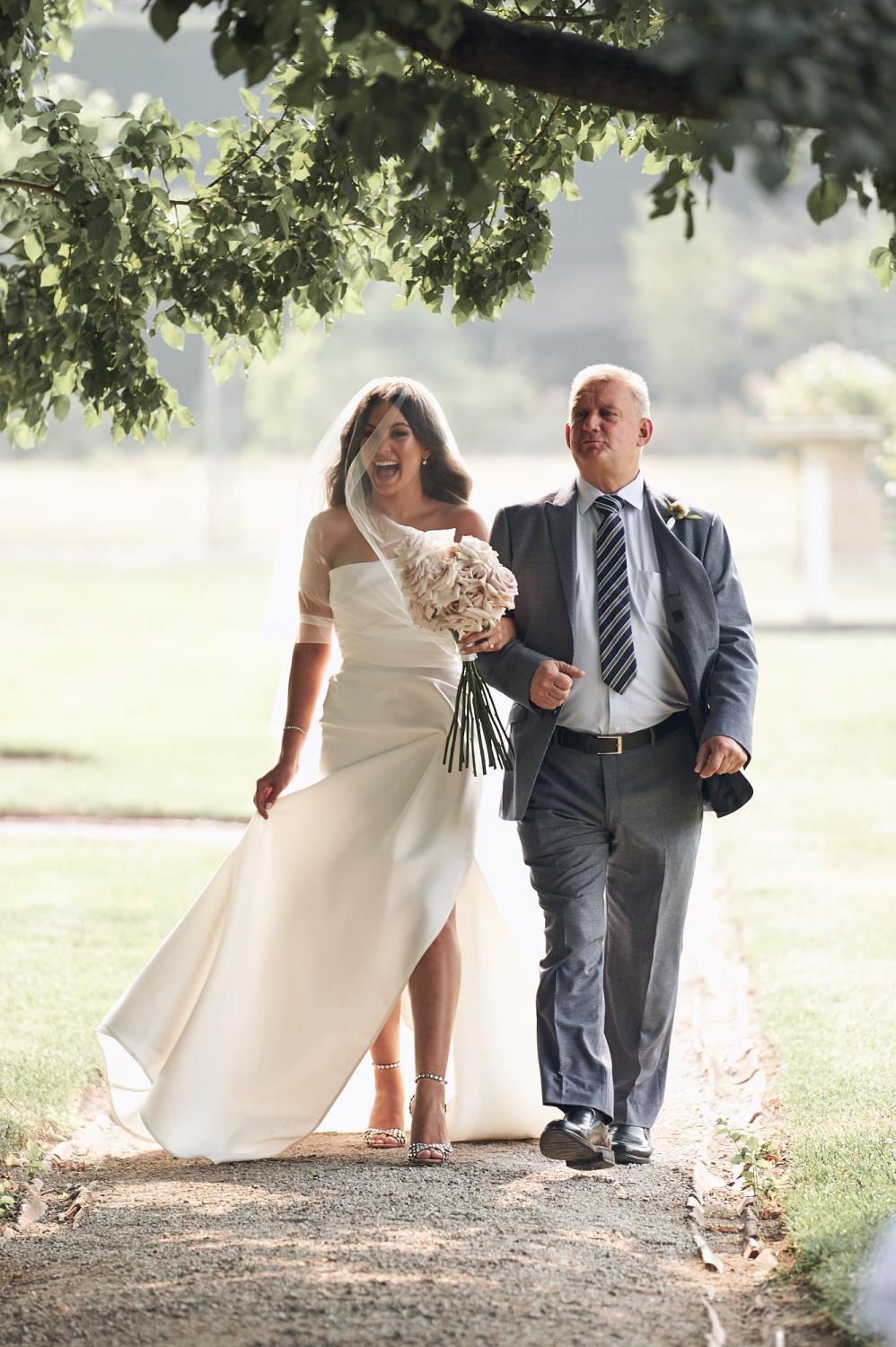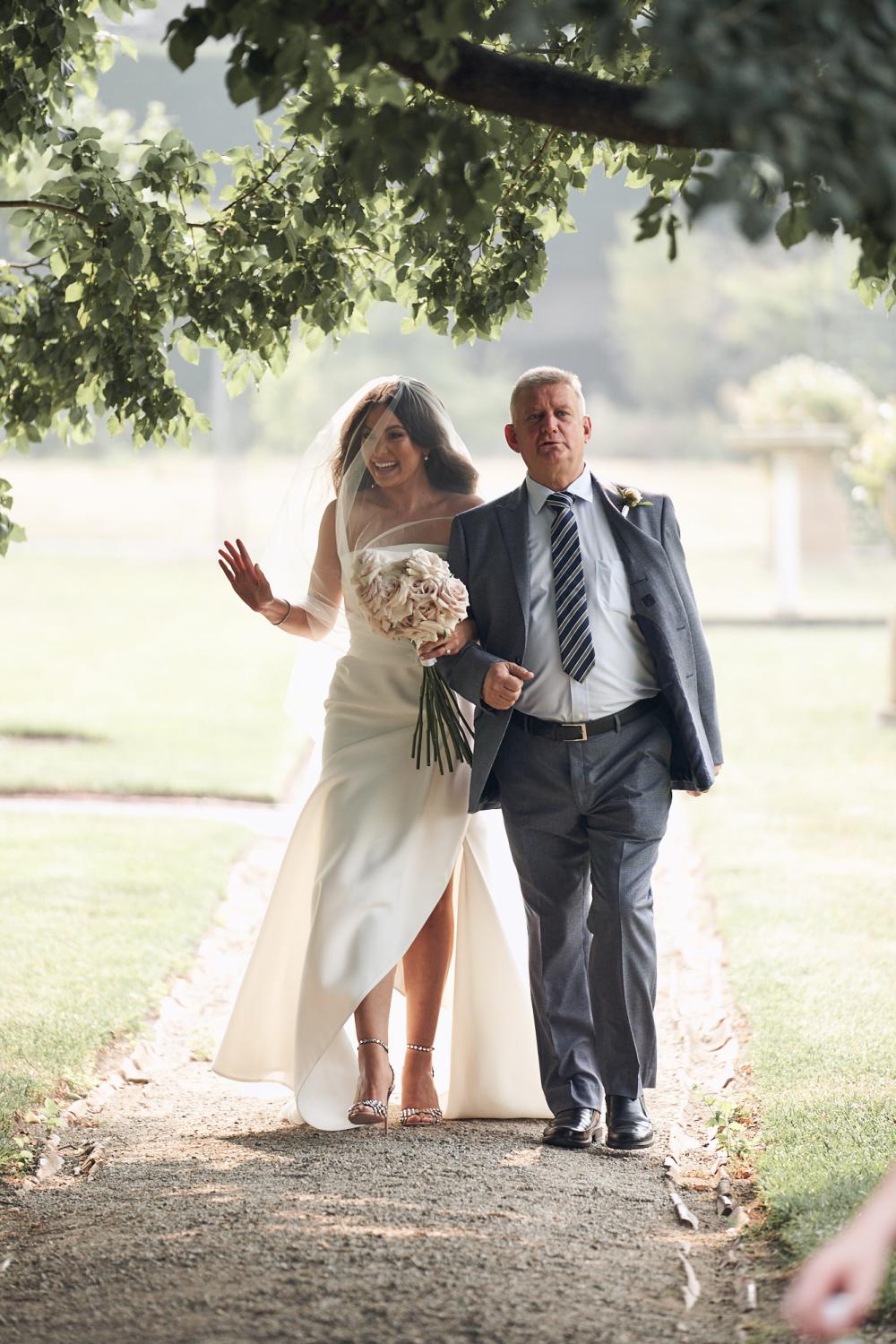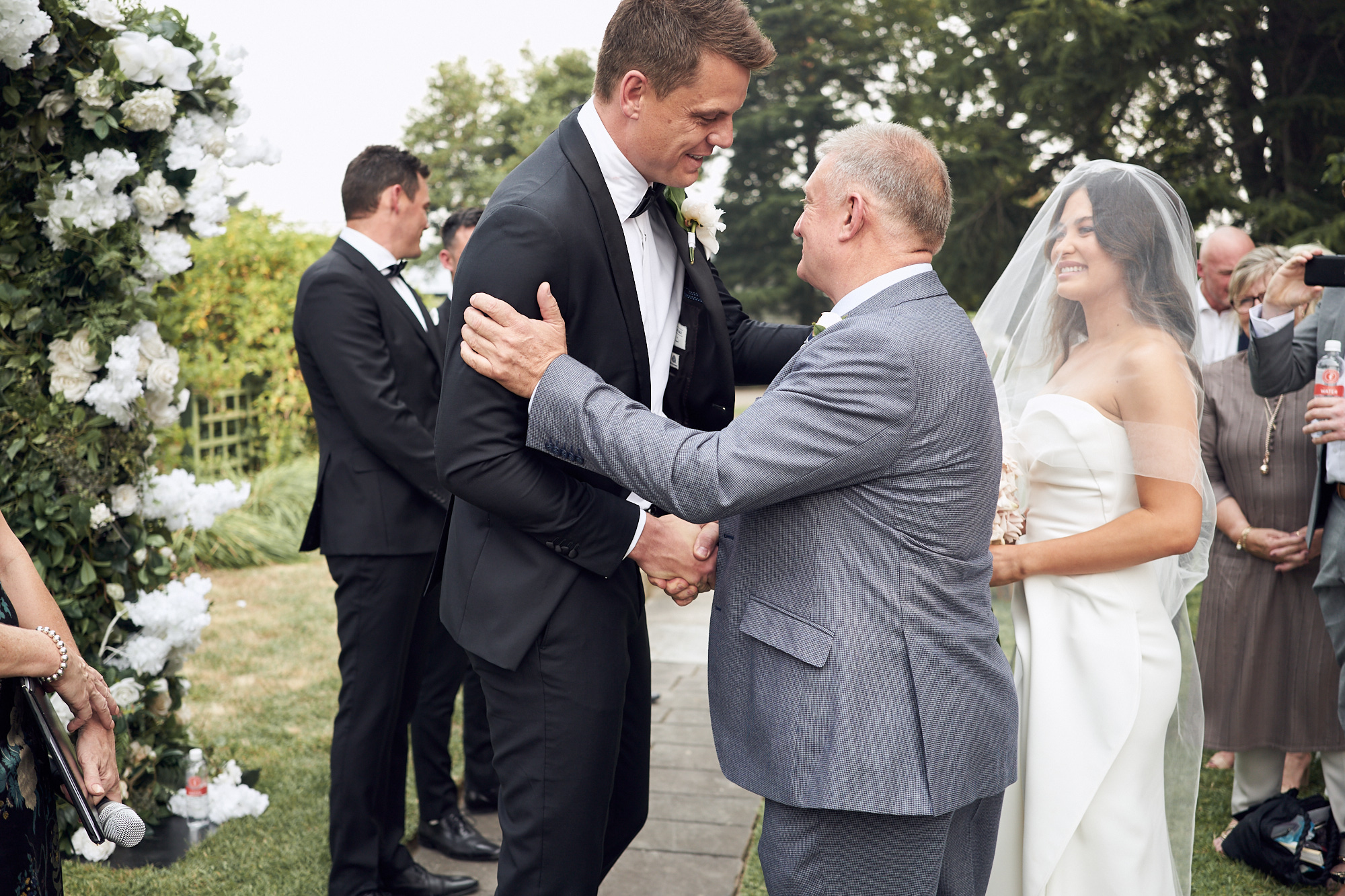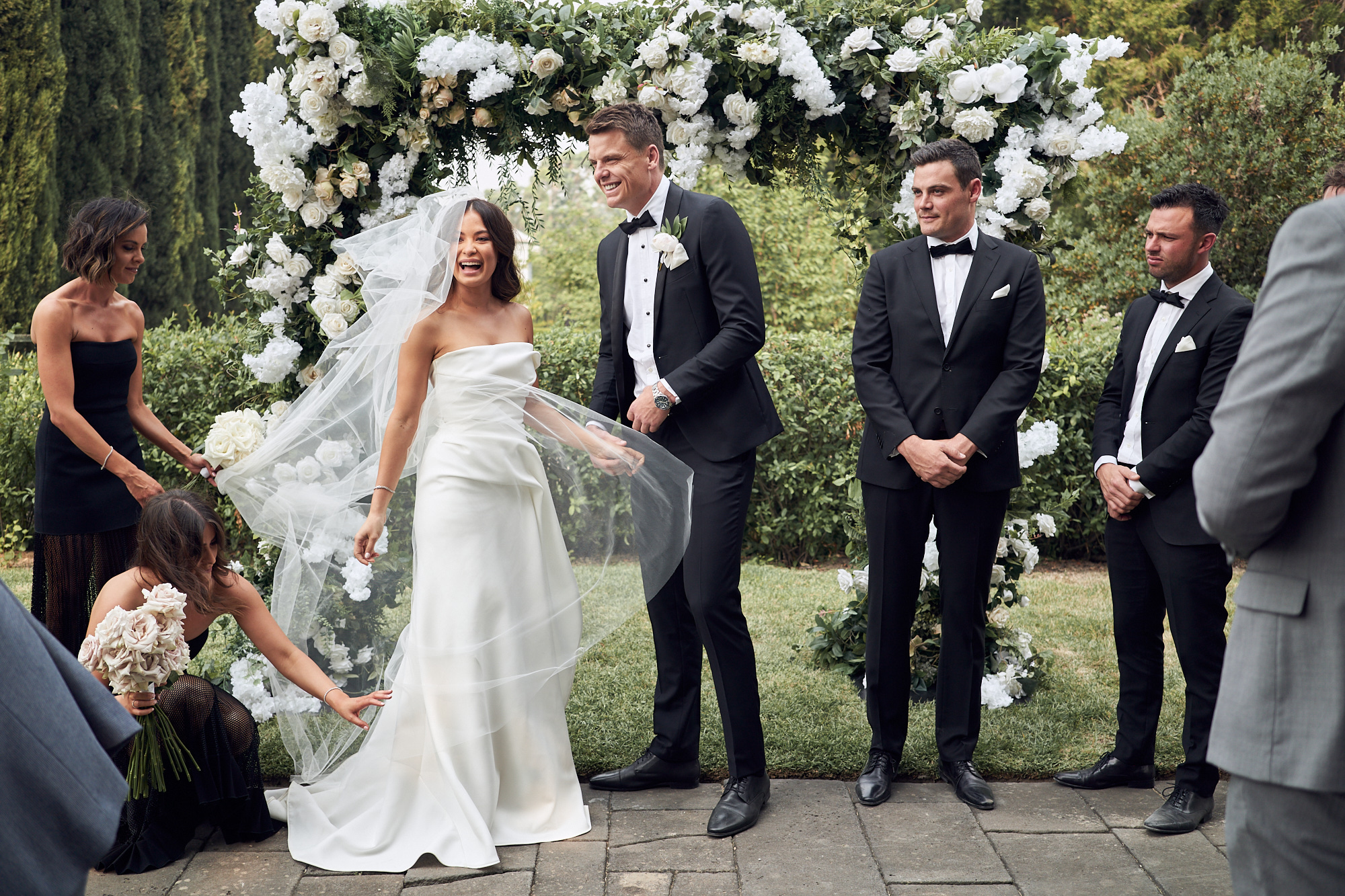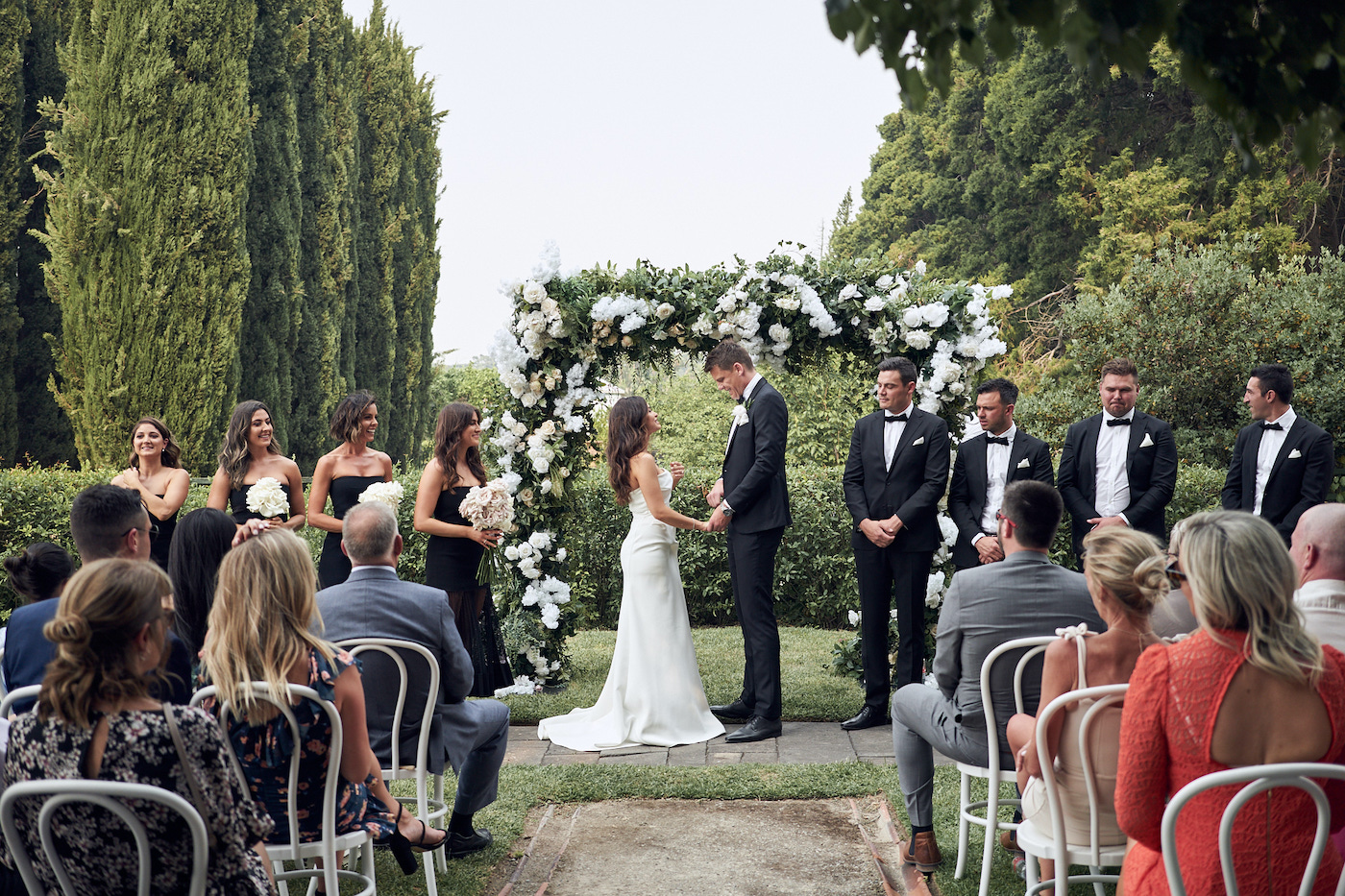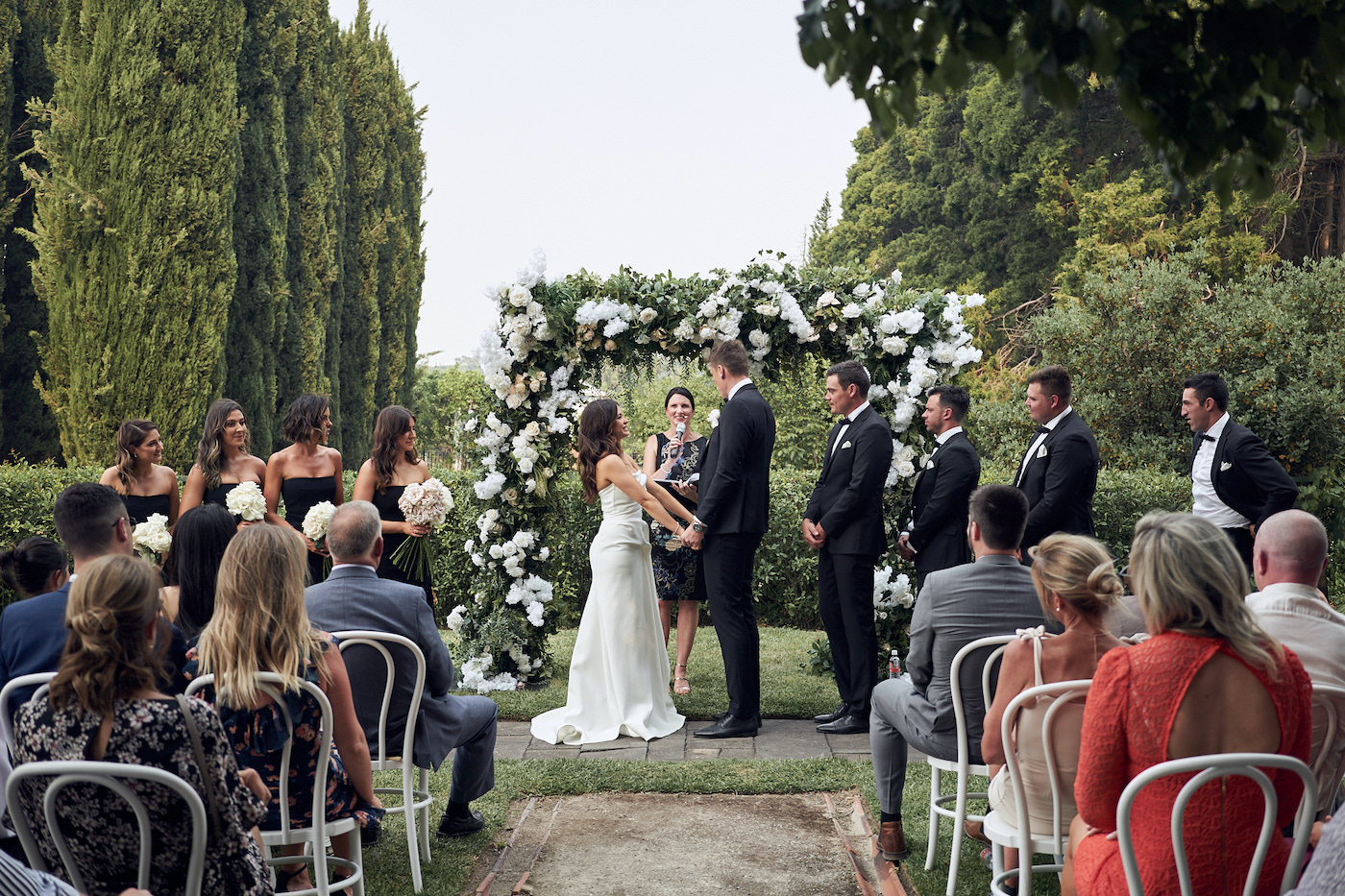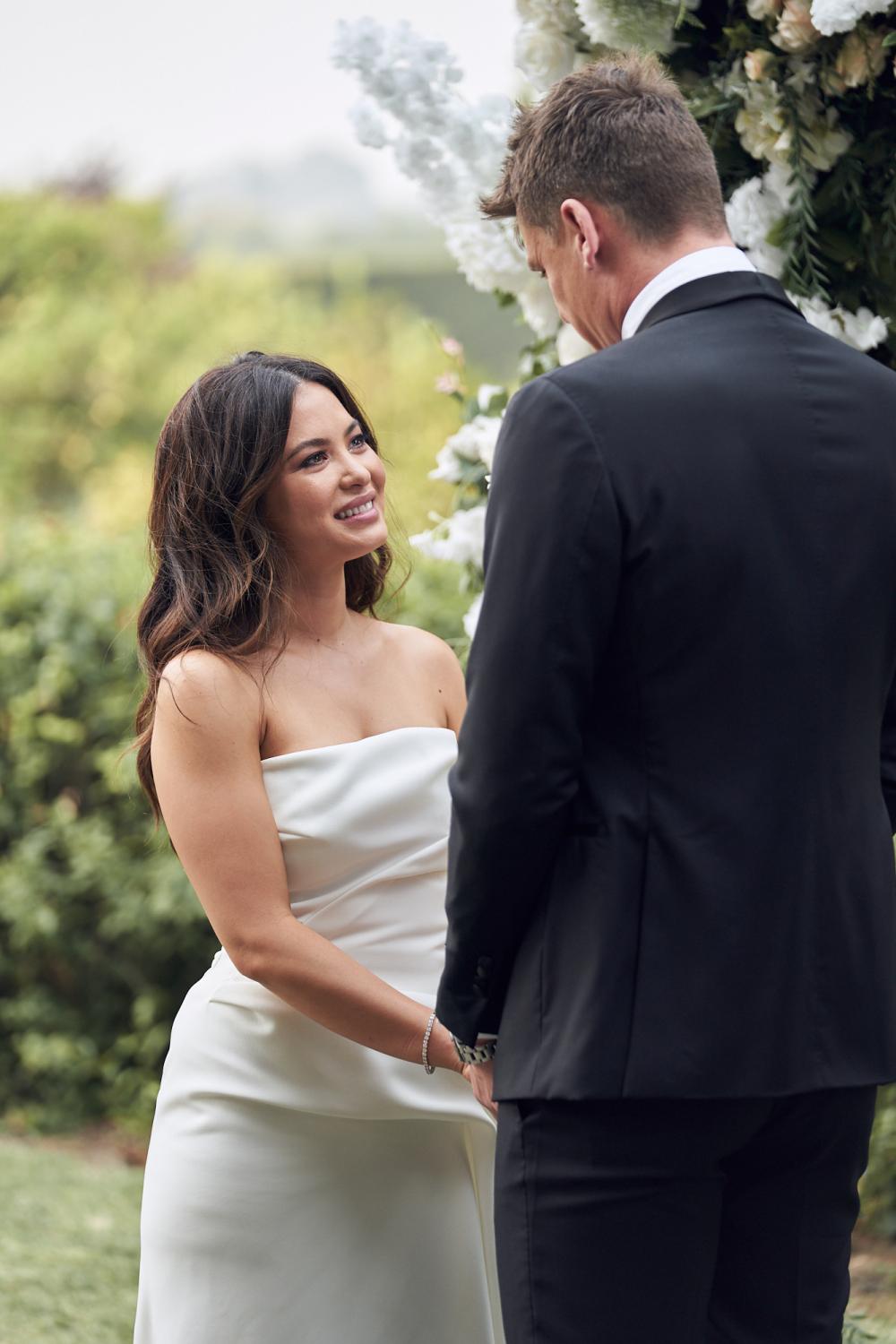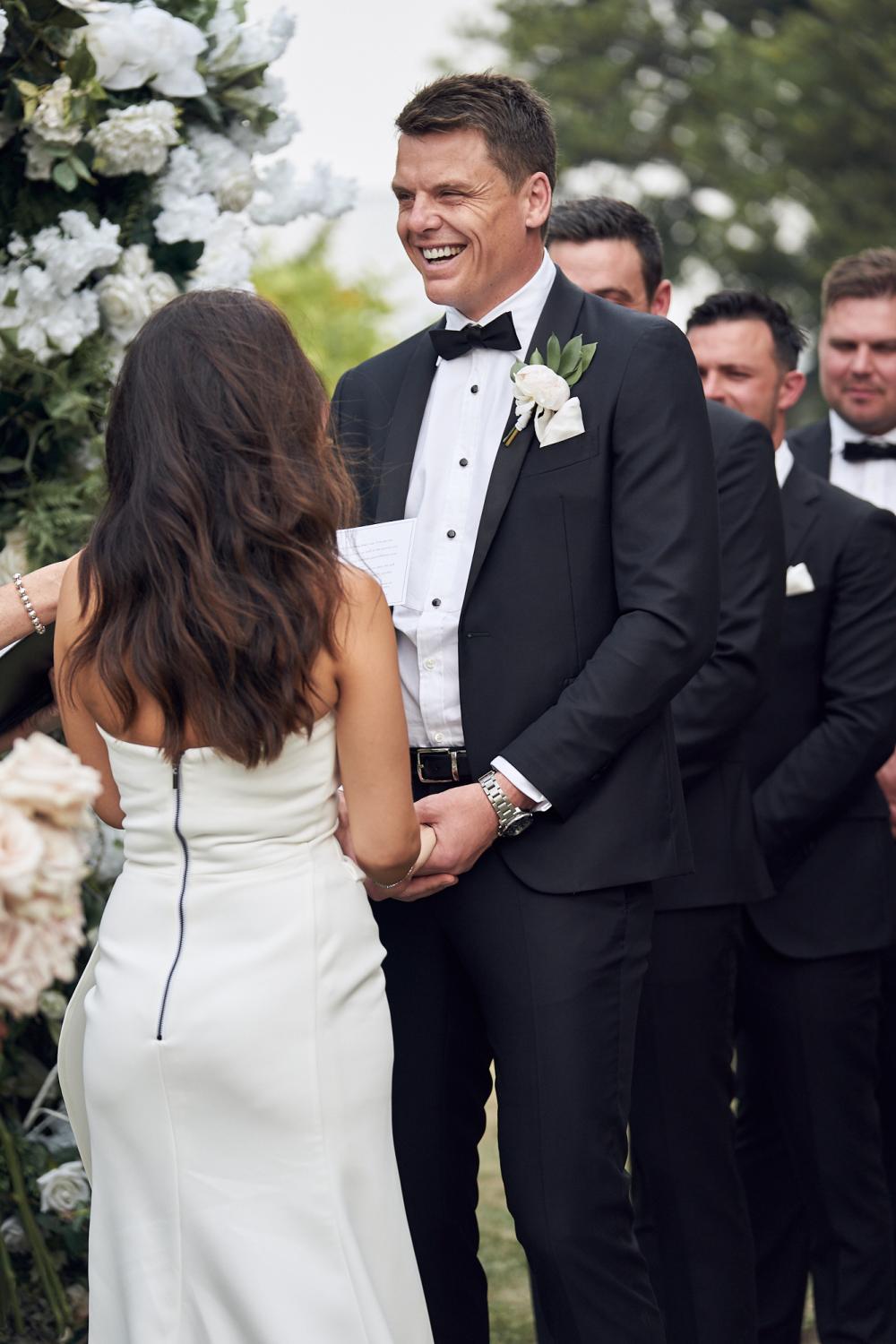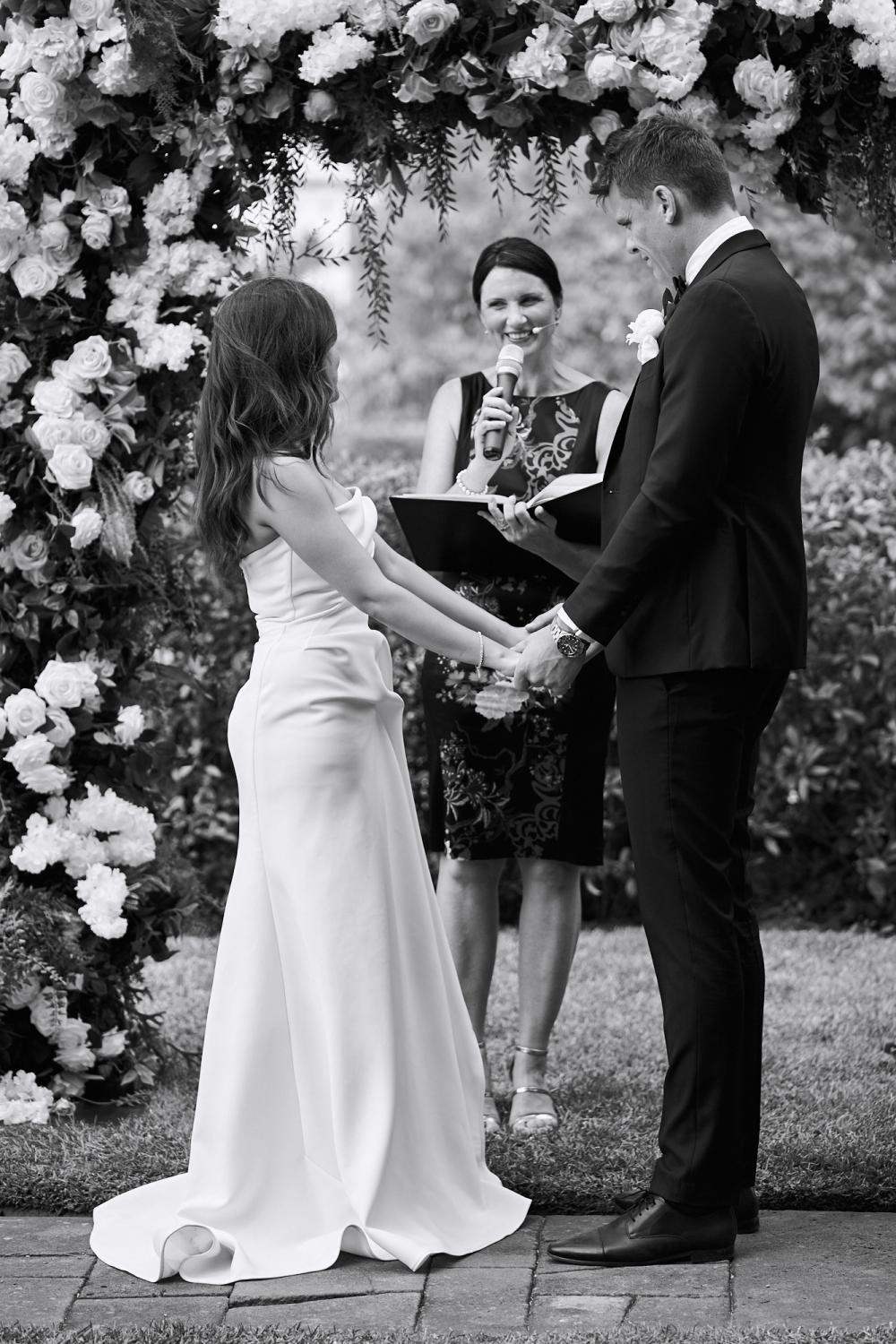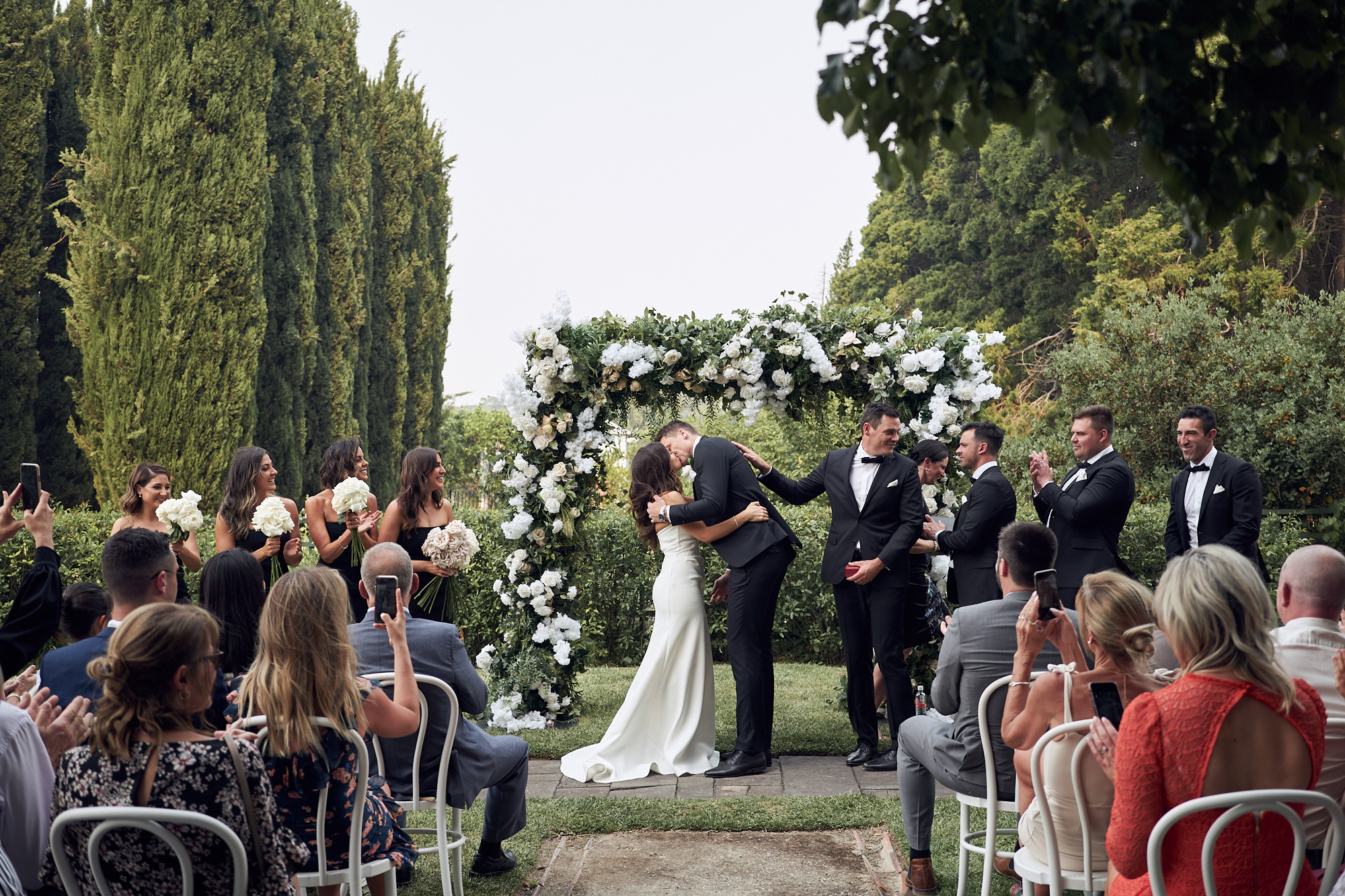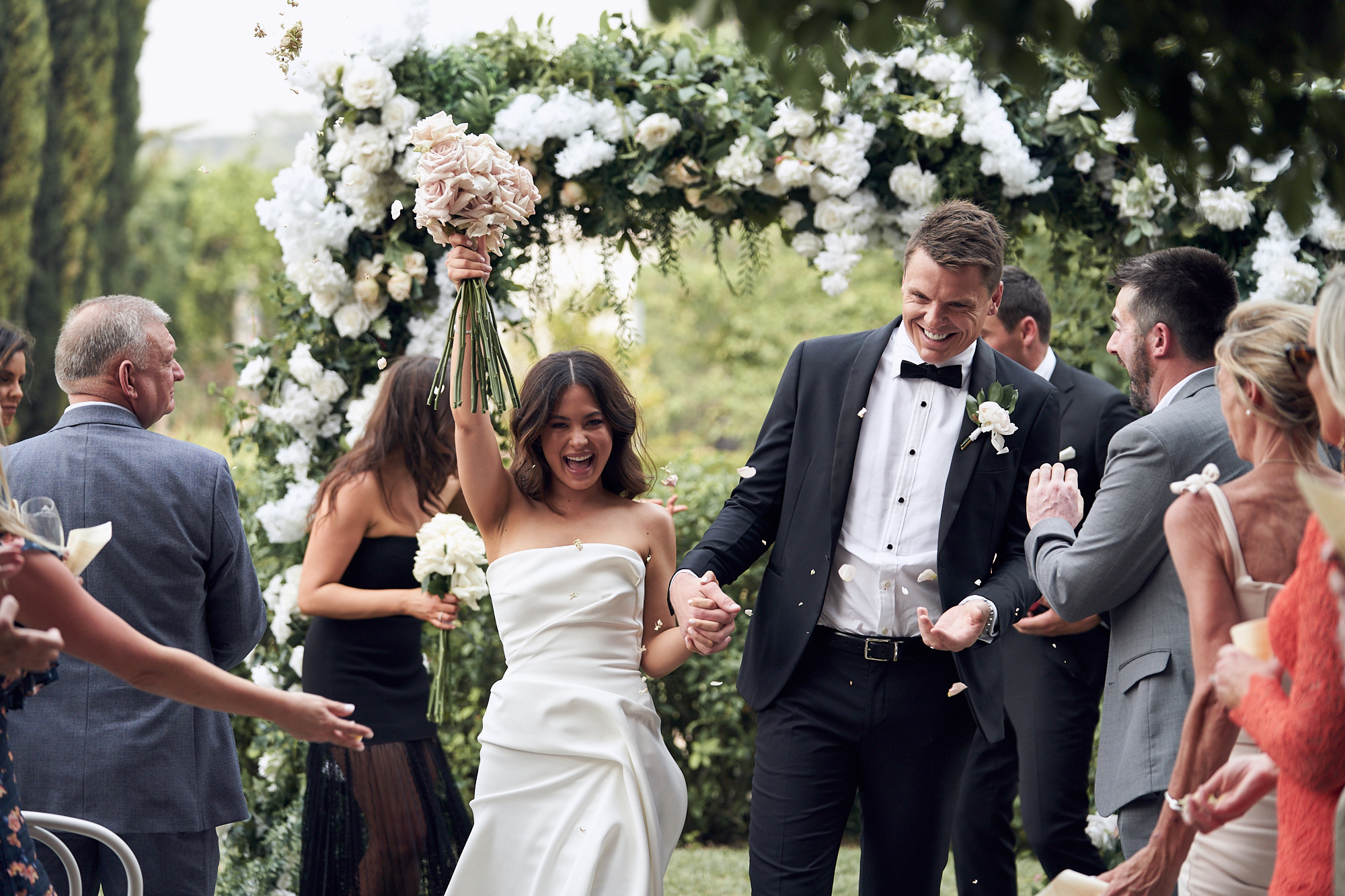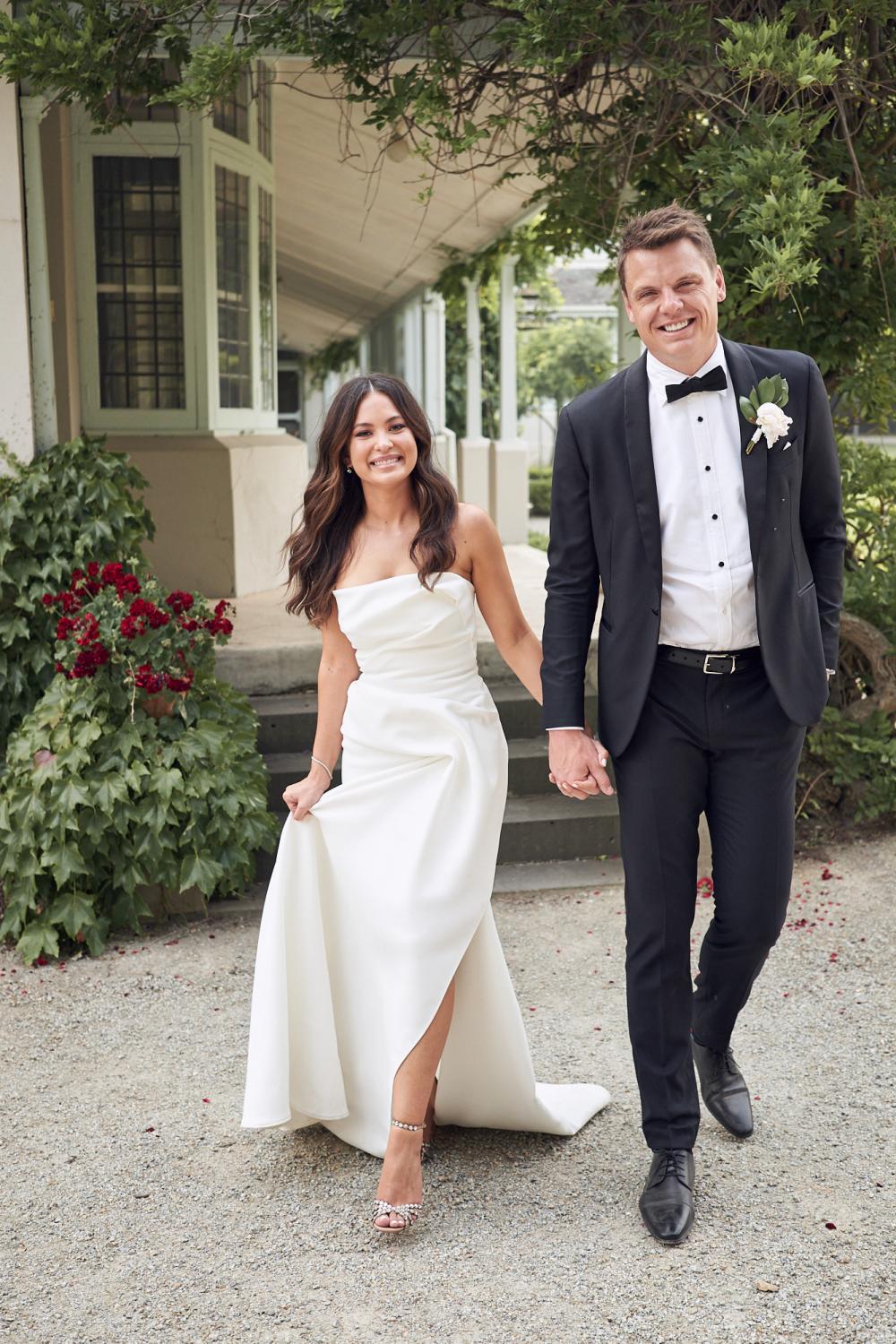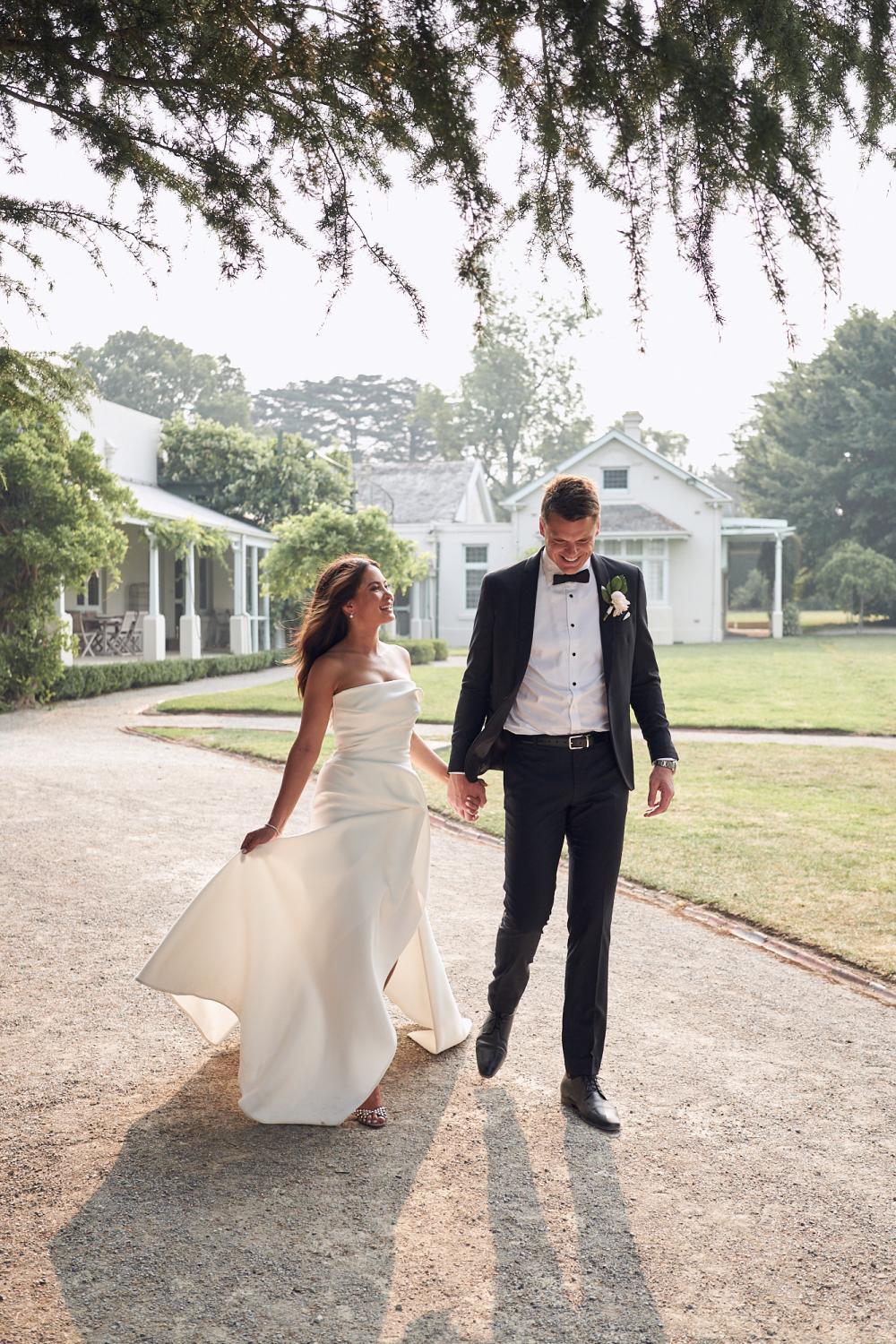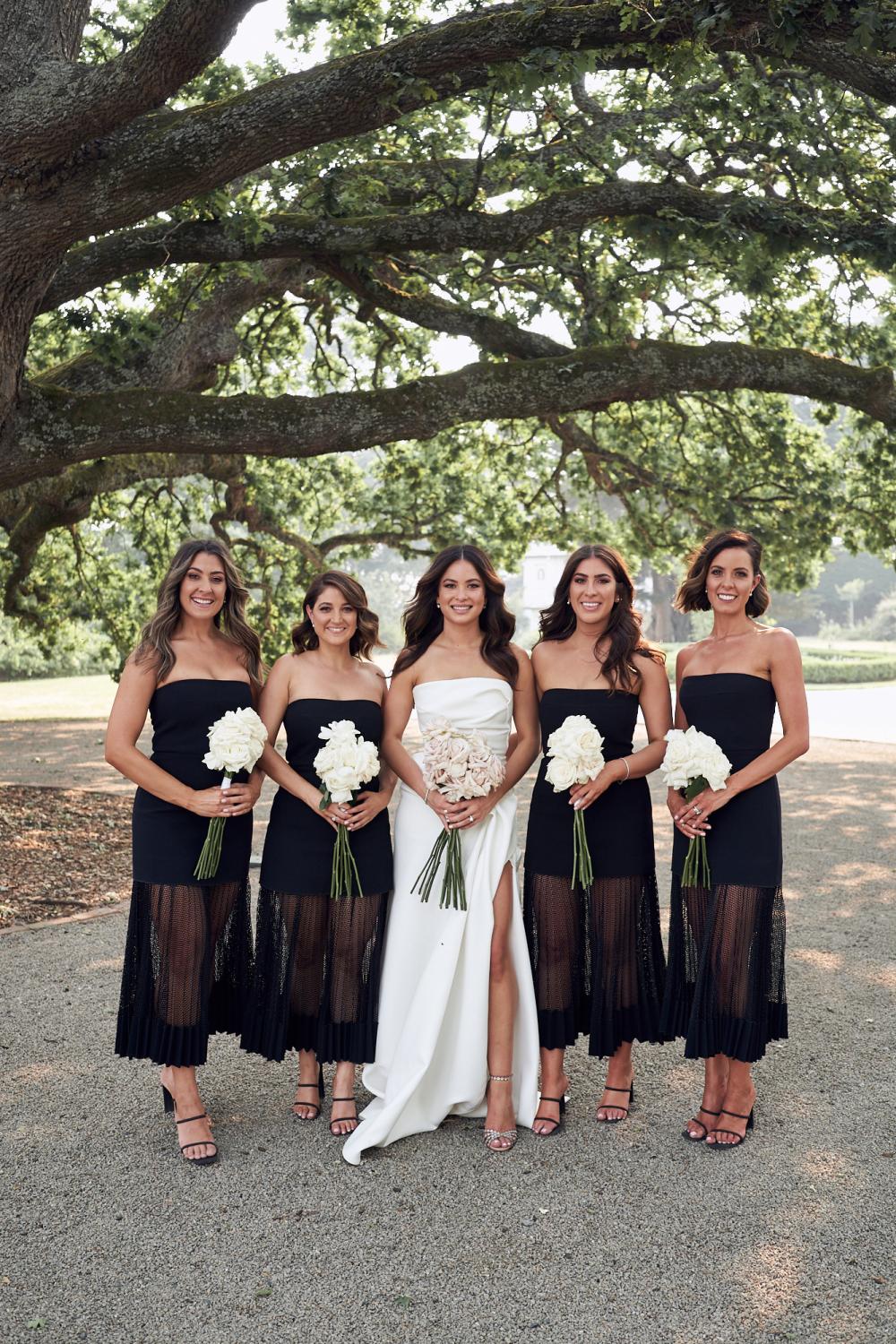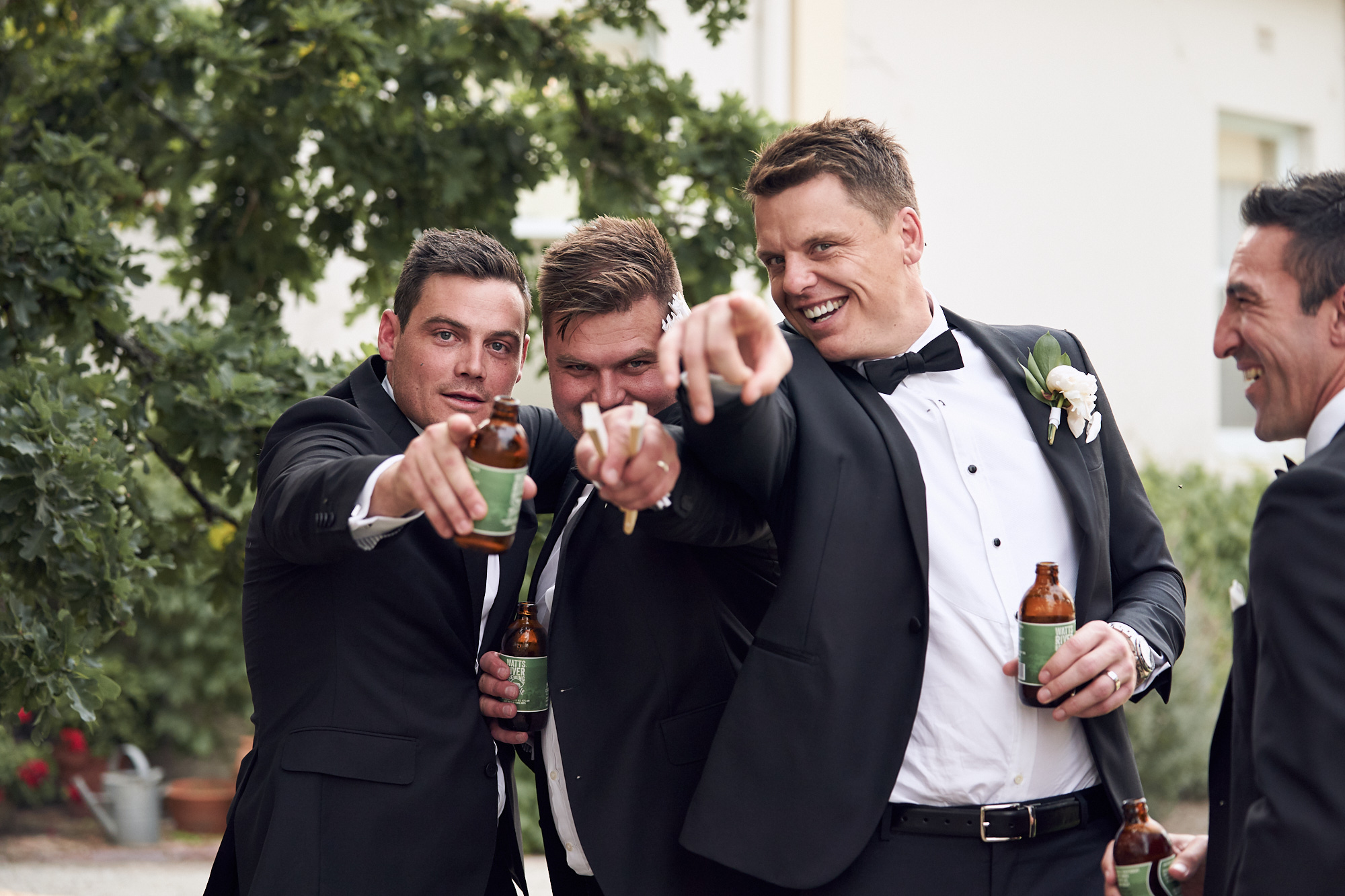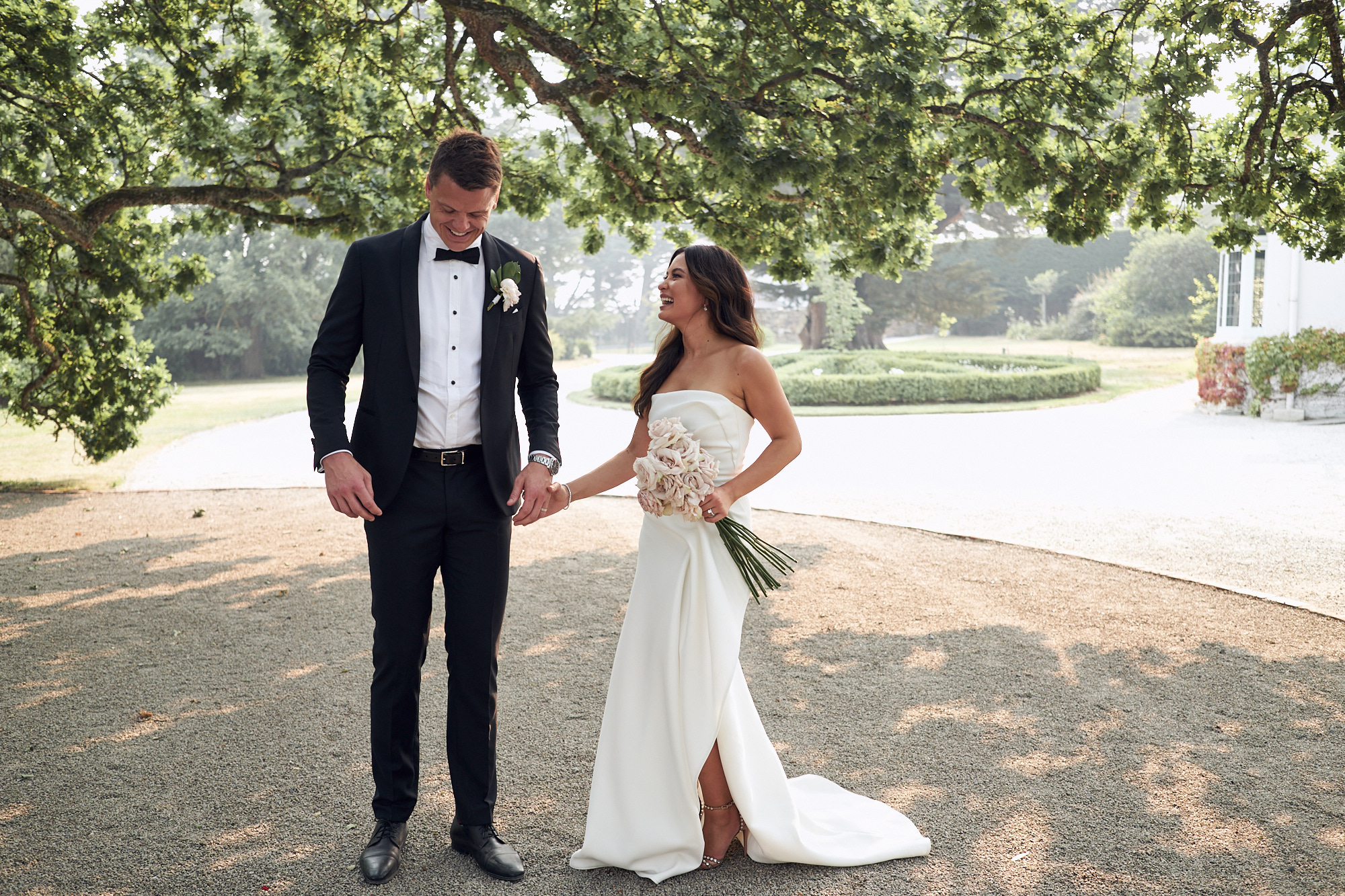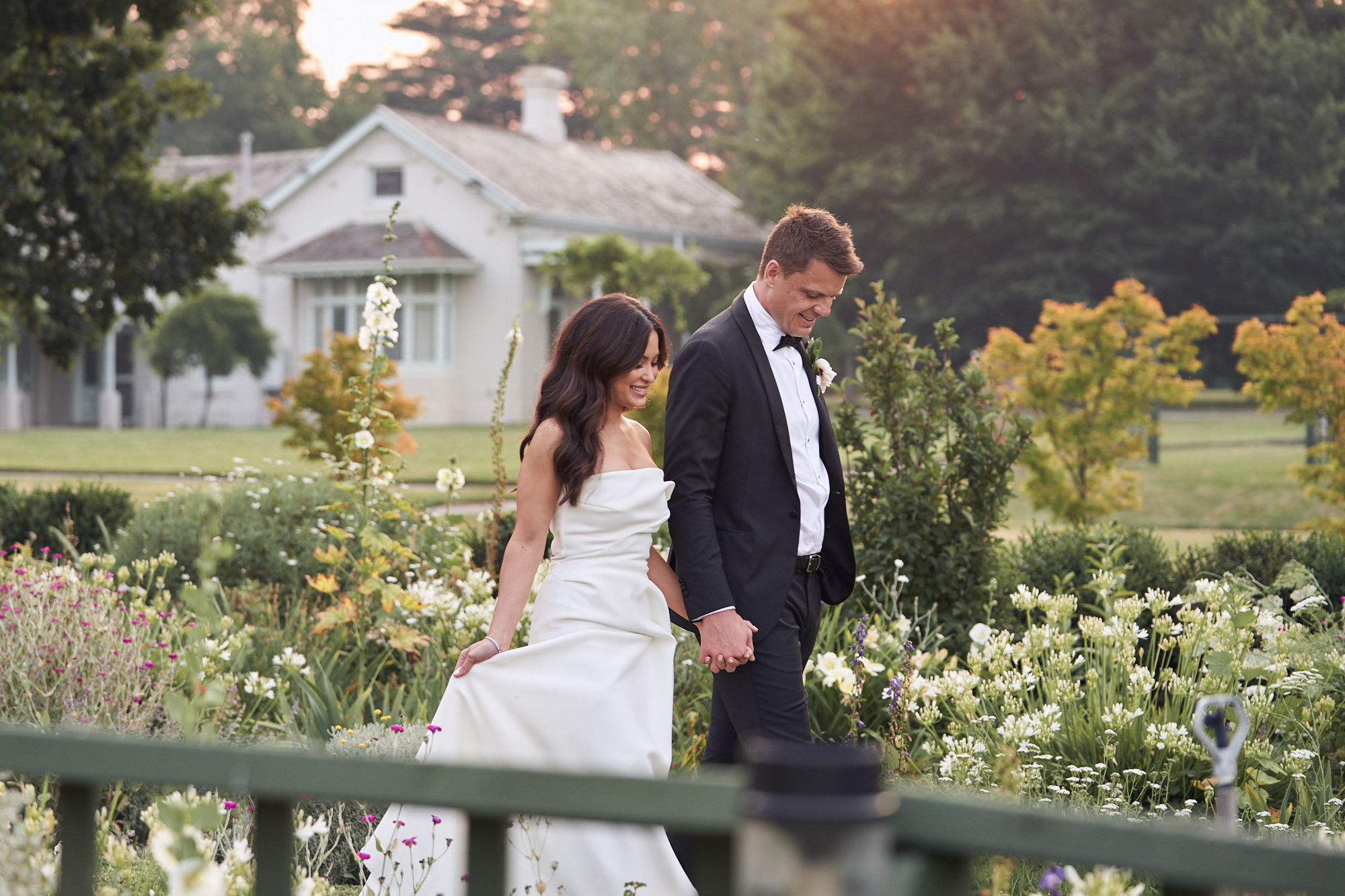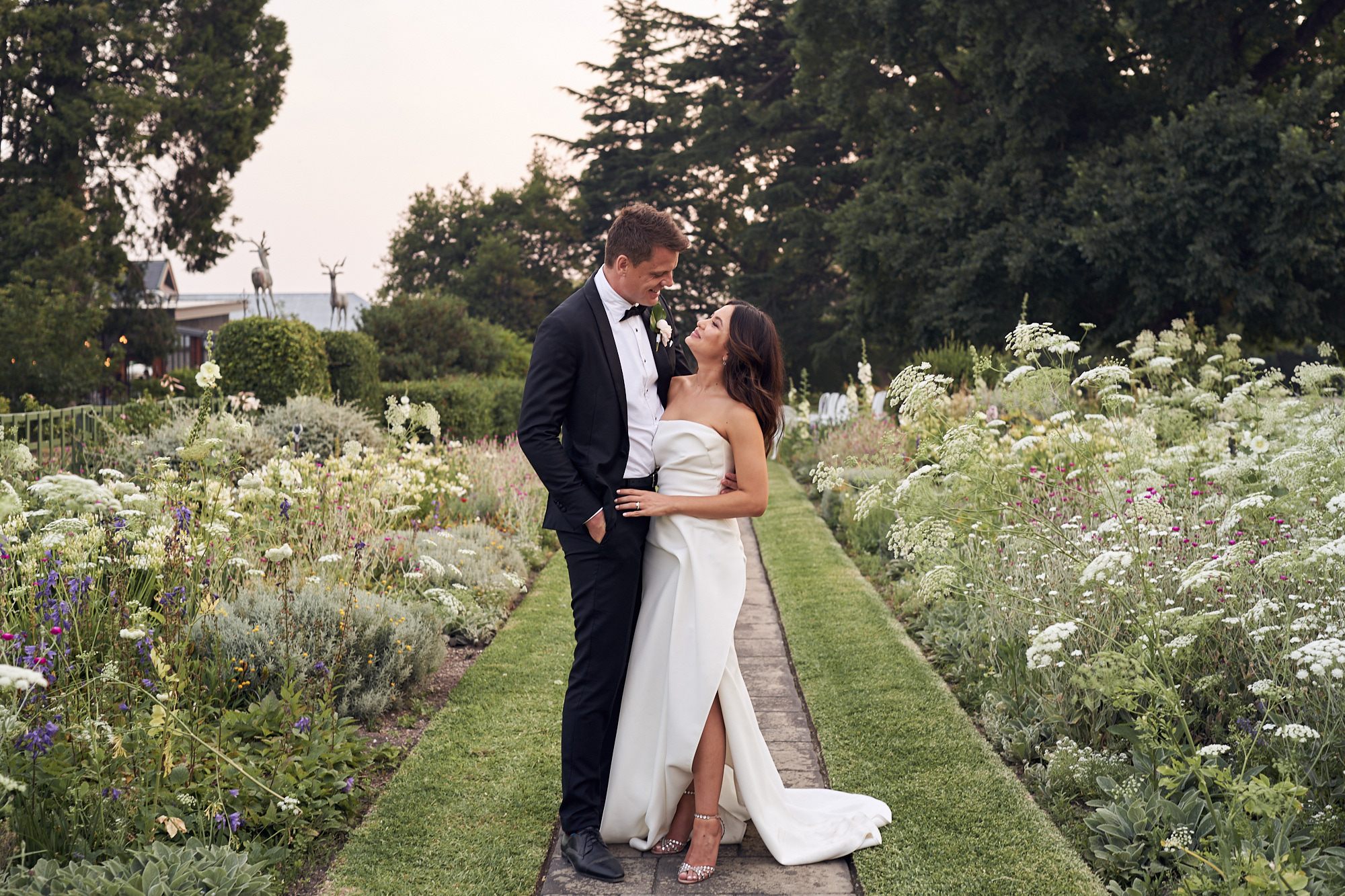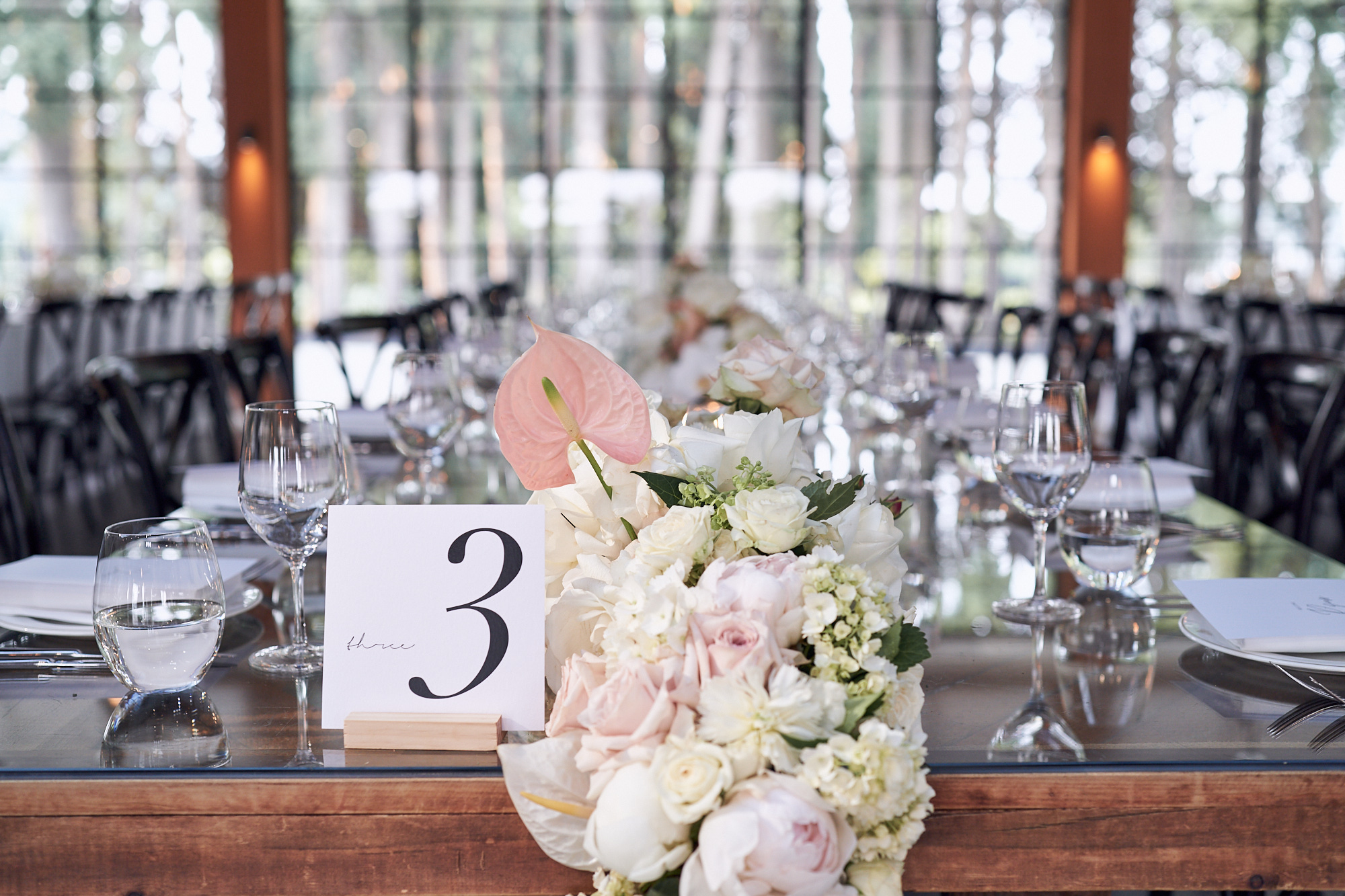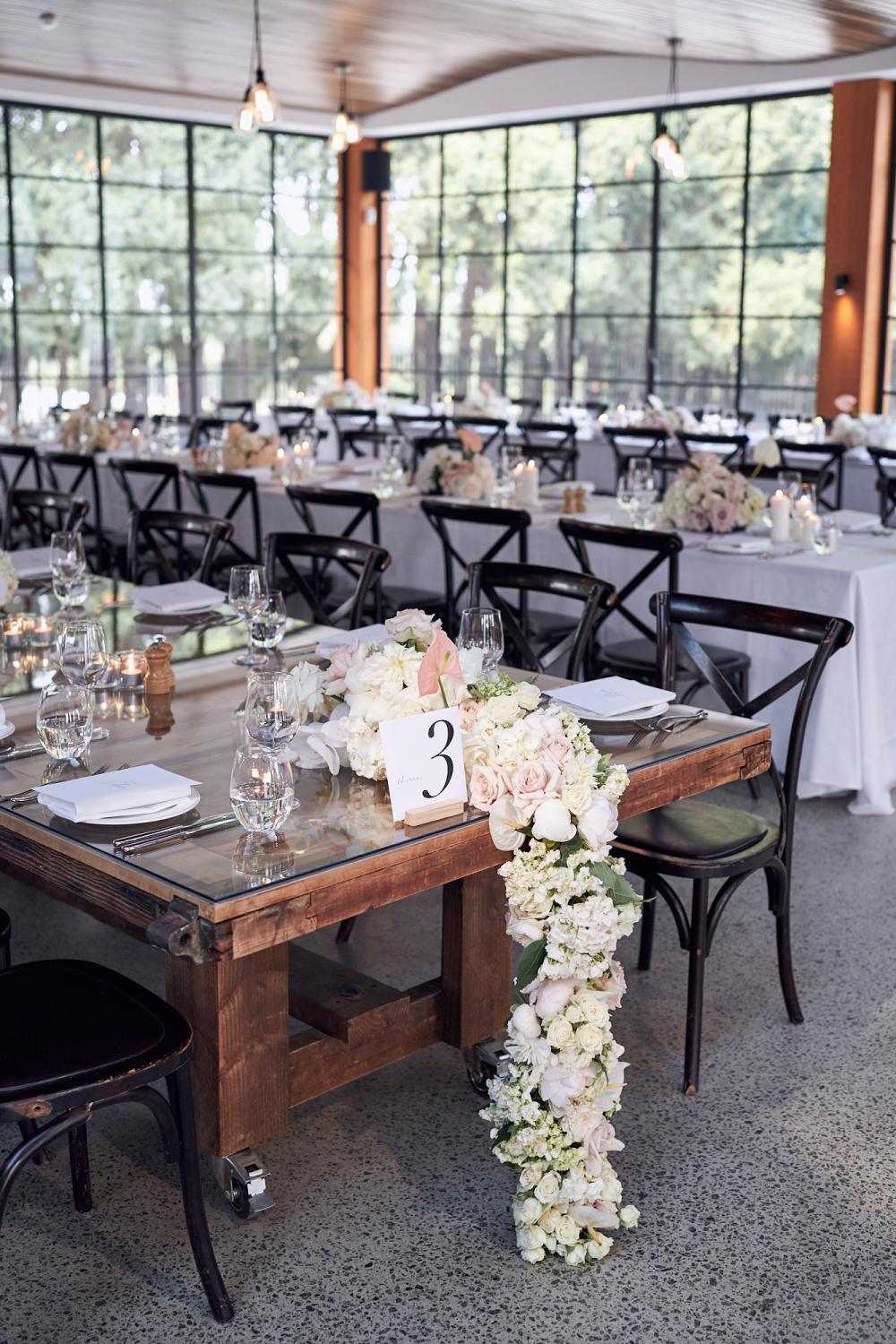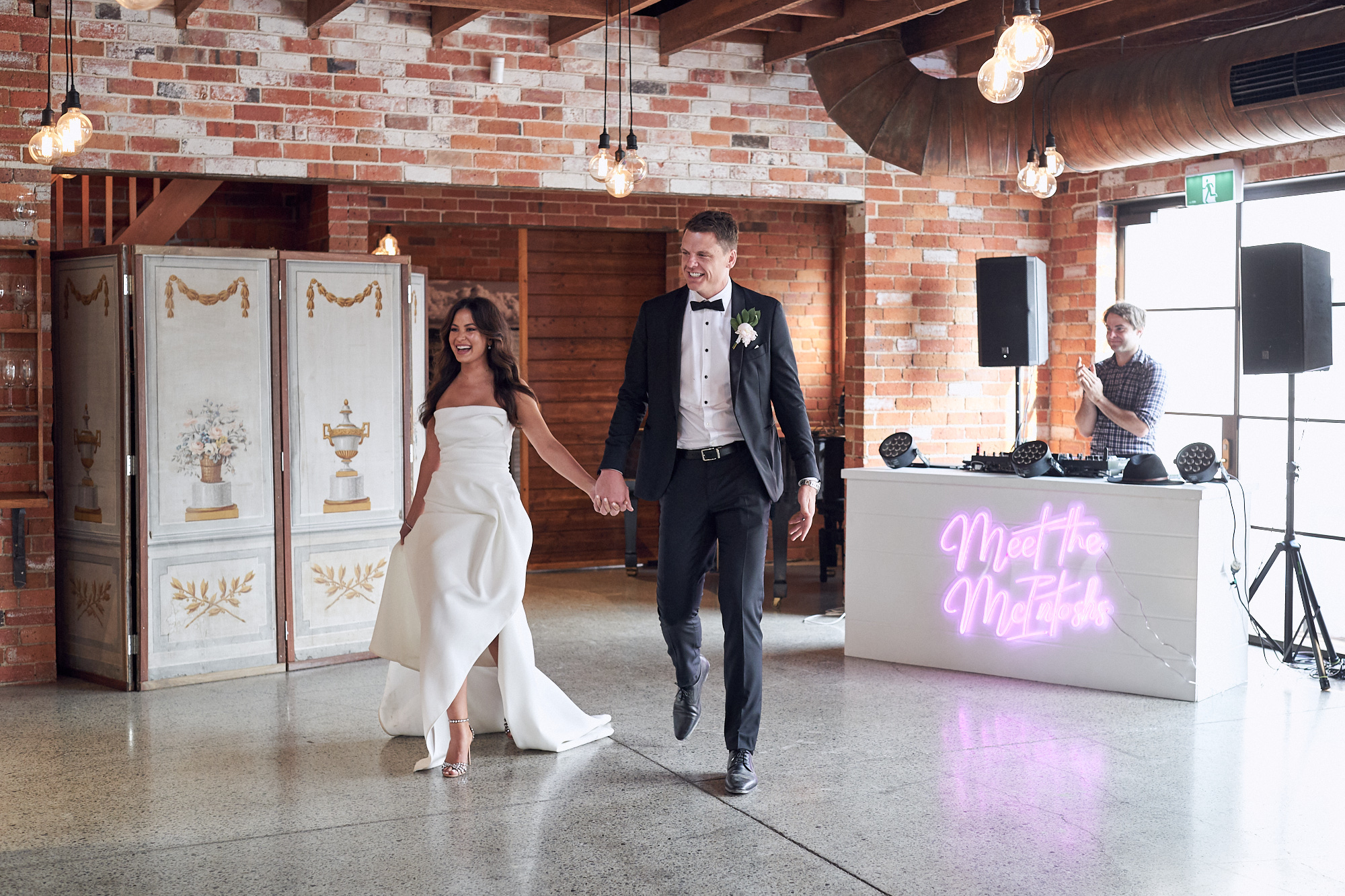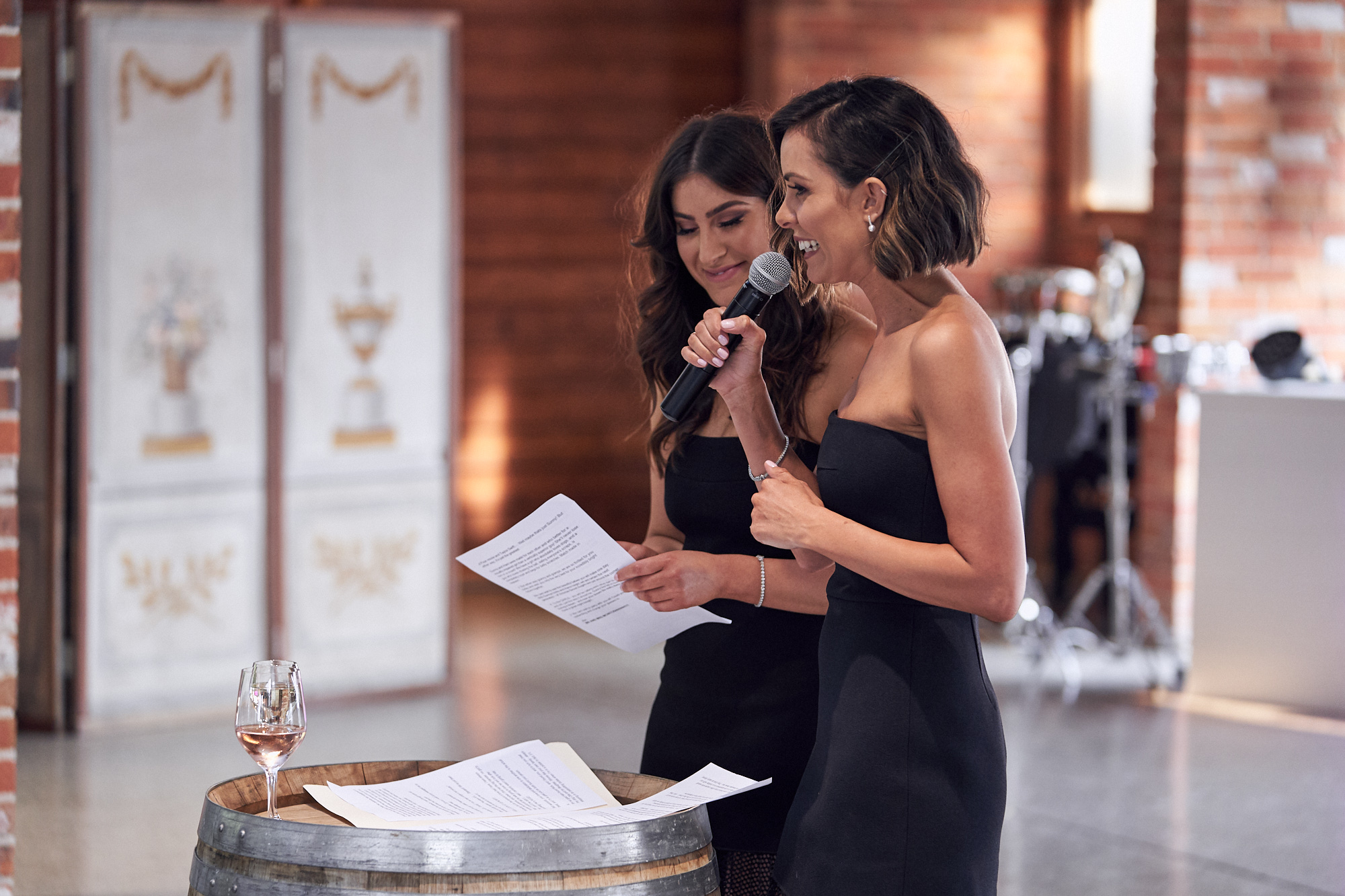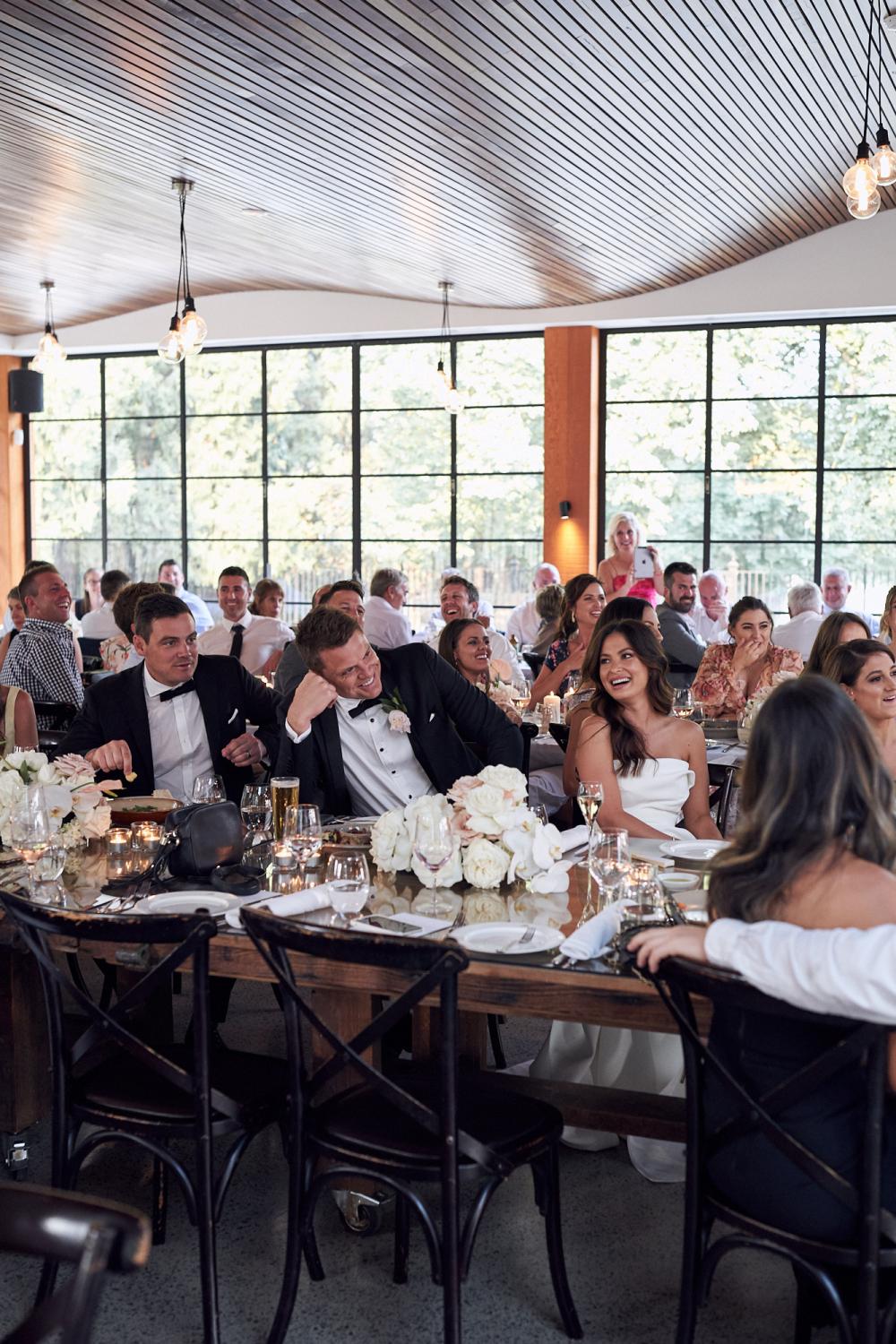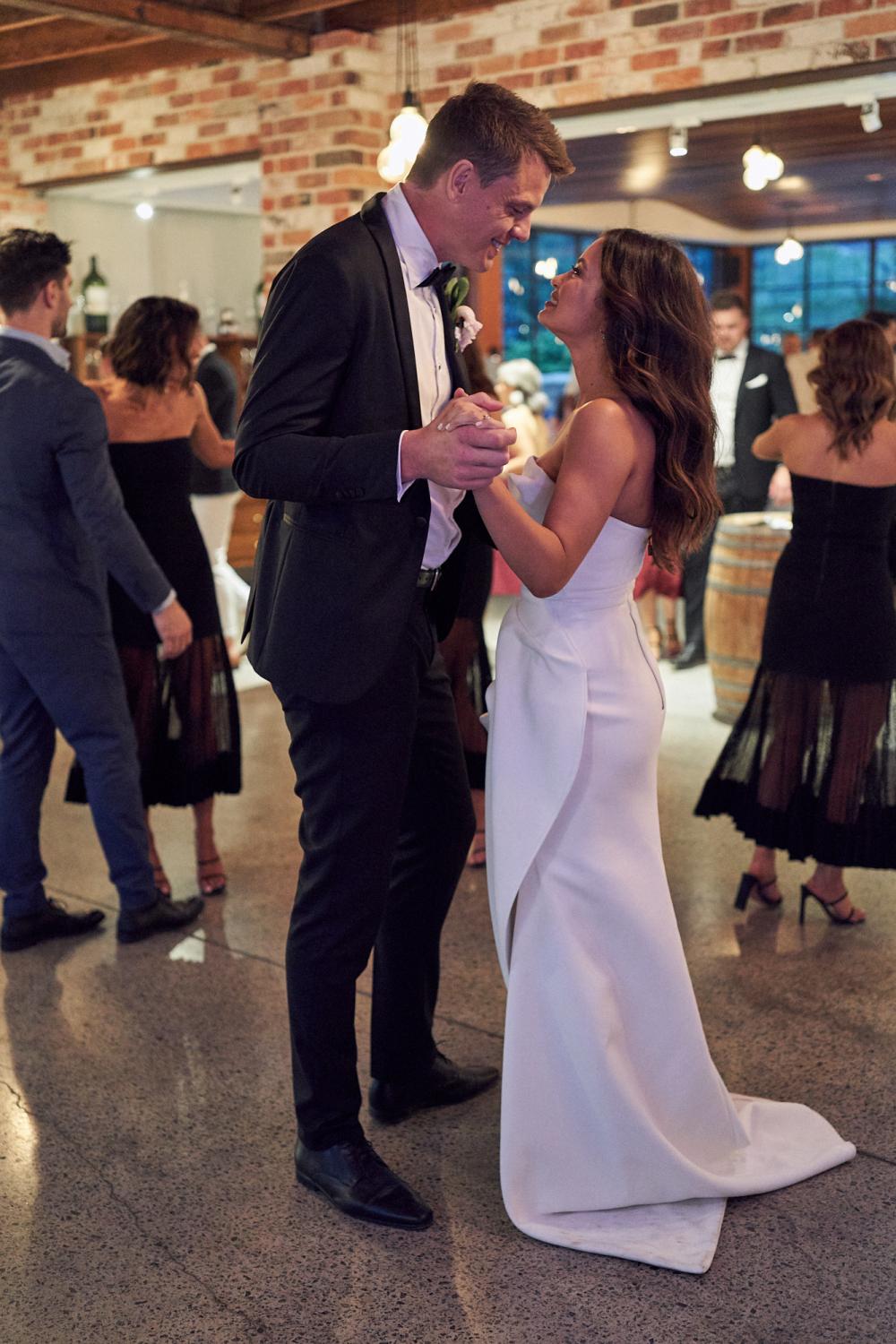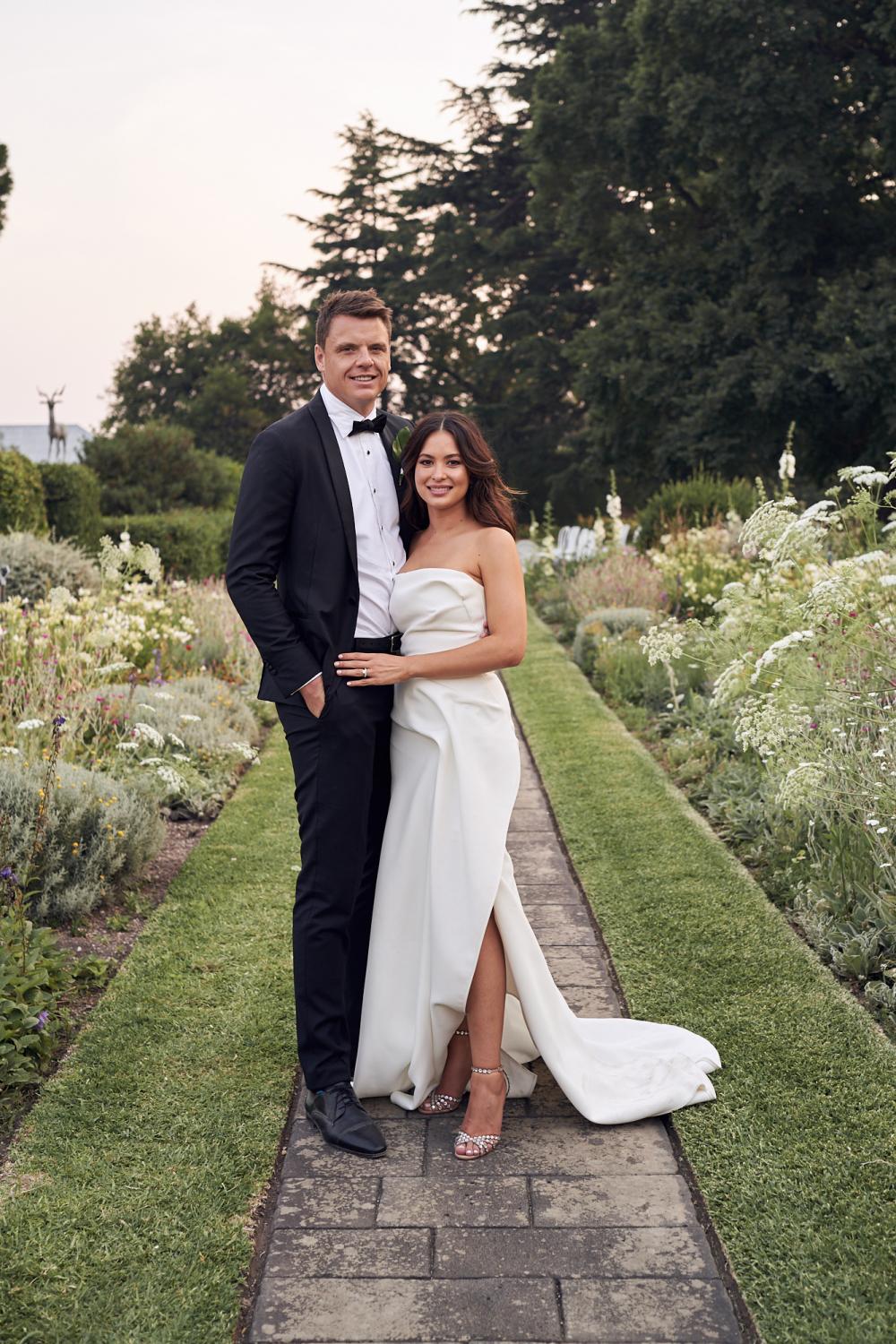 Head over to Lost In Love's Blog for more images of this gorgeous couple's big day!
Hamish + Sunny | 20.12.2019
Photography: Lost In Love
Location: Coombe Yarra Valley
Videography: Moon & Back Co
Marriage Celebrant: Meriki Comito 
Bridal Gown: Toni Maticevski
Florals: Vagari Creative
Ceremony Music: Four Seasons String Quartet
Best Outdoor Wedding Venues + Locations  →
← Rain on your Wedding Day – Do you have a Plan B? 
Patricia + Samuel's Werribee Mansion Wedding
Patricia and Sam began their day with a traditional Tea Ceremony at home. This allowed them to honour their families' Chinese/Malaysian heritage with traditional elements.
Their Werribee Mansion Wedding continued on with the same amount of elegance, grace, humour and fun that these two embodied.
This wedding had everything. Incredible styling, amazing florals, brilliant sunshine, and a perfect sparkler exit.
A truly beautiful, kind and fun-loving couple certainly deserved such magical day.
The Meeting
A marriage nine years in the making, it took the first two years of sitting next to each other in med school for Sam to muster up enough courage to ask Patricia out on a date.
Unfortunately for Sam, Patricia declined his first invite. His subsequent persistence paid off though and resulted in an official date soon after!
They supported each other through all the stressful study times that followed and bonded over a mutual love of Gelato. A love which consequently supported their decision to hire a gelato cart for the big day!
The Proposal
Sam decided to propose on Christmas Day. He thought it would be hilarious to throw Patricia off with a multi layered wrapped present containing romantic letters and cards, revealing an ugly Christmas jumper at the end. The prank backfired though as Patricia was overjoyed with the  jumper! So Samuel quickly bent to one knee and revealed the much more valuable and sparkly present from his pocket!
The Vows
Patricia vowed to cook Sam's favourite chicken rice more often than once every 3 years and promised to "choose you every day, a million times over, not because I have to, but because I want to."
Sam declared Patricia as the most "charming, beautiful, intelligent and graceful" woman he knew (we all agree!), promised to always bring her ice-cream, and ended with AA Milnes' "If you live to be a hundred, I want to live to be a hundred minus one day so I never have to live without you".
The Wedding Details
Patricia and Sam secured the services of wedding planner Sarah Wang, from Blooming Love Events to help create their special day alongside Bursaria the Refectory. Enlisting the services of Ivy & Eve, Dann Event Hire and a team of other fabulous suppliers, Sarah produced the most incredible setting for Patricia and Sam to say their I Do's!
The Photographer
Patricia and Sam chose the amazingly talented Jesse Hiscoe to capture all the details, and I thank him for allowing me to share his beautiful images with you! The smiles he captured say it all!
Contact Meriki to discuss your special day HERE!
Patricia + Samuel | 22.02.2020
Photography: Jesse Hiscoe 
Ceremony Location: Werribee Mansion
Reception: Bursaria The Refectory
Videography: Lovely Day Films
Marriage Celebrant: Meriki Comito 
Bridal Gown: Enzoani | Eternal Bridal
Planning/Styling: Blooming Love Events
Florals: Ivy & Eve
Ceremony seating: Dann Event Hire
Ceremony Music: Stringspace
Cake: Nobody Hates Cake
Stef & Todd's NGV Wedding
Stef & Todd married within the incredibly stylish Grollo Equiset gardens at the National Gallery of Victoria on a perfect Spring day.
We were off to a terrific start when, before Stef had even arrived, her mother handed out traditional Panama hats for all the guests to wear during the ceremony – a gift from a Colombian relative who was unable to attend. Everyone was more than happy to oblige and they certainly created a festive feel! I have to say it was a sight to behold from where Todd & I were standing – looking out into a see of smiling, happy faces, all wearing white hats!
All attention soon turned to the bride's brother as he guided the couple's adorable fur baby (and ring bearer), Sambucca, down the winding path, along with the equally adorable 2 year old flowergirl, who didn't even bat an eyelid when she lost one shoe along the way – a true professional!
Preceding the bride was cuteness #3, in the form of the 4 year old page boy with a sign reading "This is your last chance to run uncle Todd!"
When the stunning bride finally came into view, wearing a figure hugging Jane Hill Bridal gown, there was an immediate murmur of excitement amongst the guests. But no one was more appreciative of the bride's appearance than the handsome groom!
After a hilarious (yet seriously touching!) "giving away" by the bride's father, and a reading in Spanish by two of the couple's close friends, Stef promised to hold Todd close and make him laugh for as long as she lived, while Todd declared that Stef would "always be the best part of my day".
We concluded the ceremony with a sensational spoken rendition of Adam Sandler's "I Wanna Grow Old With You" from 'The Wedding Singer', before an extremely passionate first kiss as husband & wife, followed by an adorable high five from Sambucca!
With stunning flowers by Flowers Vasette and styling by the bride herself, along with Steph and her team at Peter Rowland Catering, everything about this wedding was stylish, elegant, fun and simply beautiful.
I hope you enjoy these sensational photos by the ridiculously talented Lauren at LJM Photography.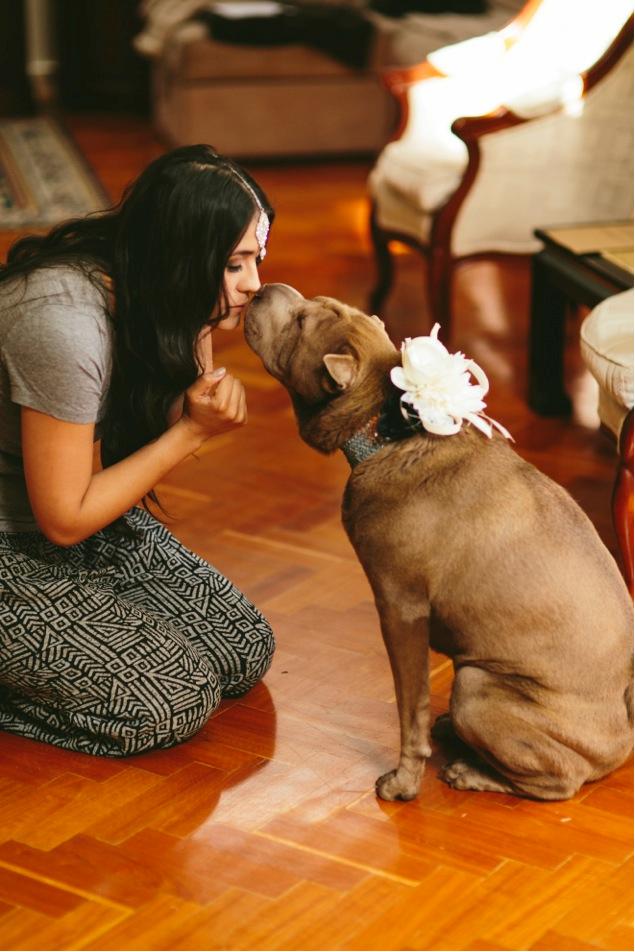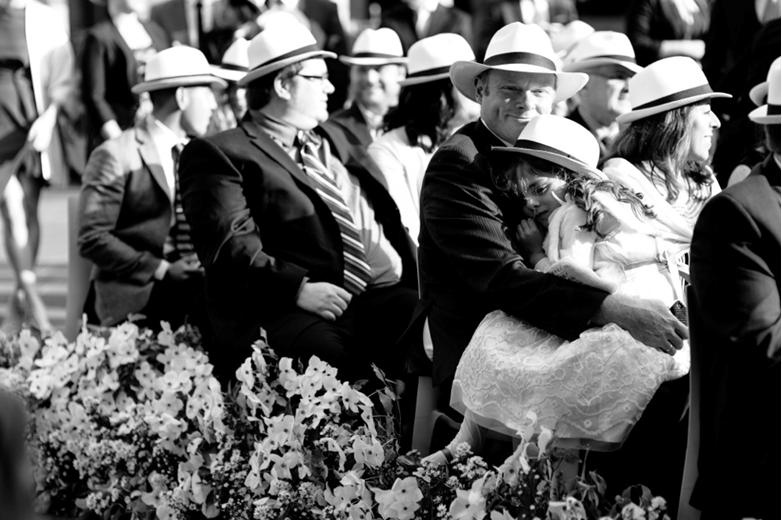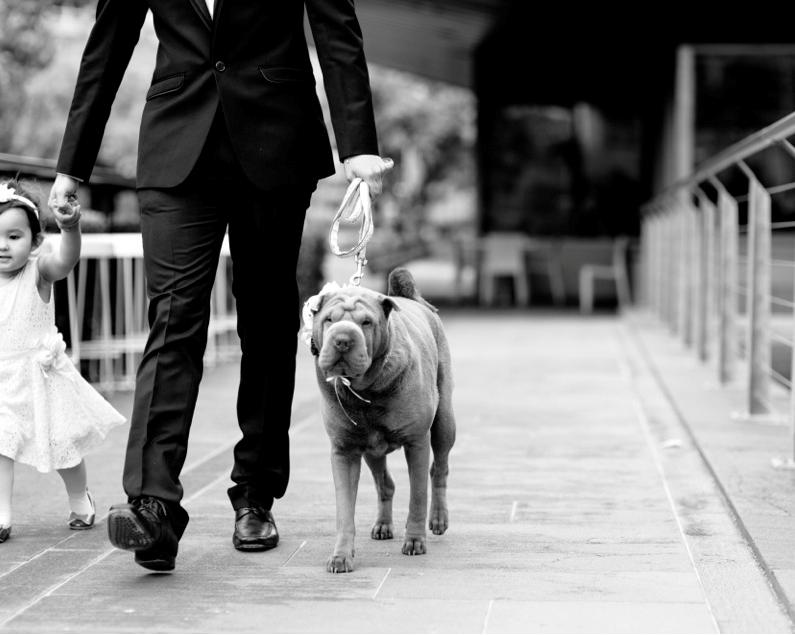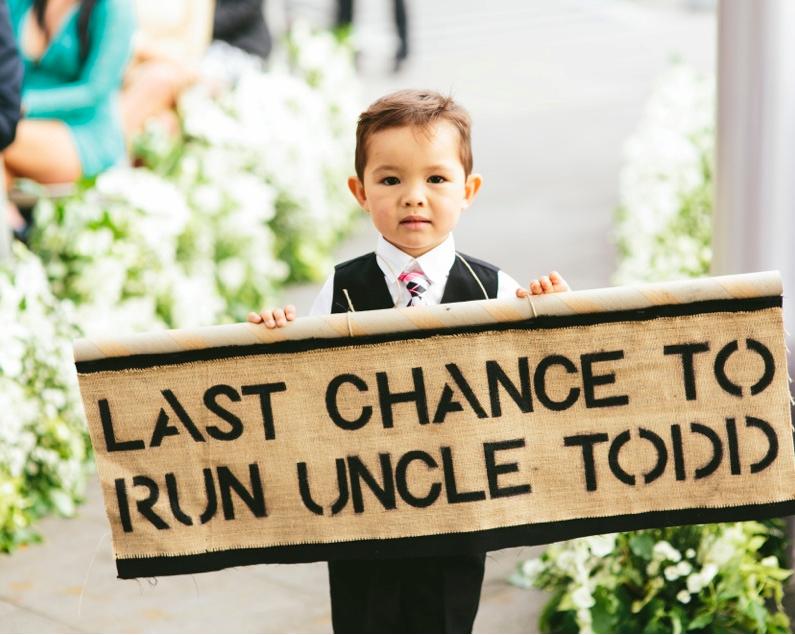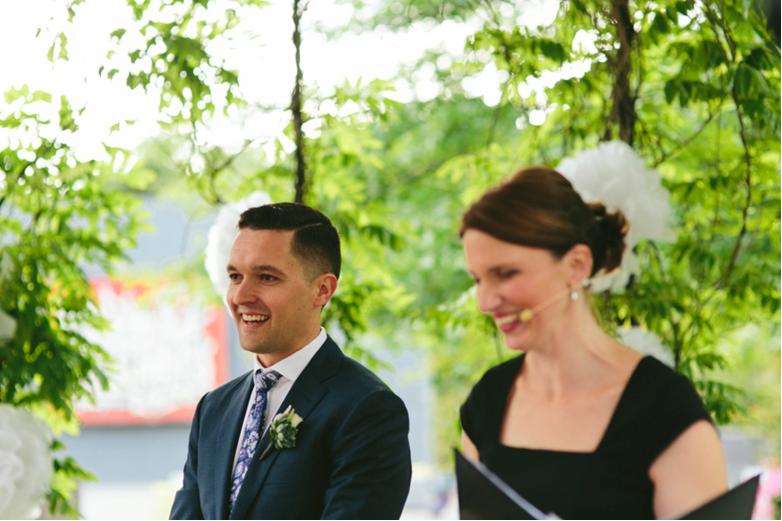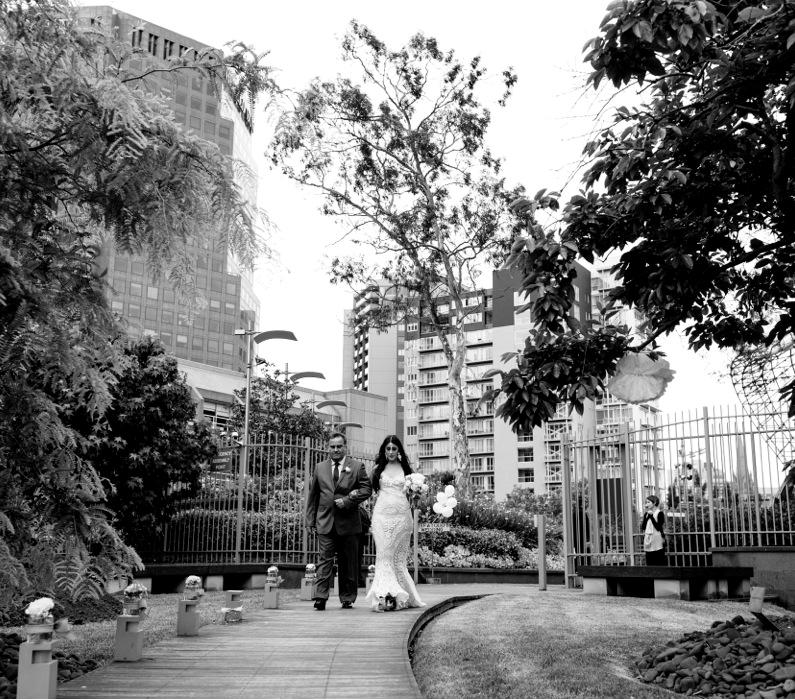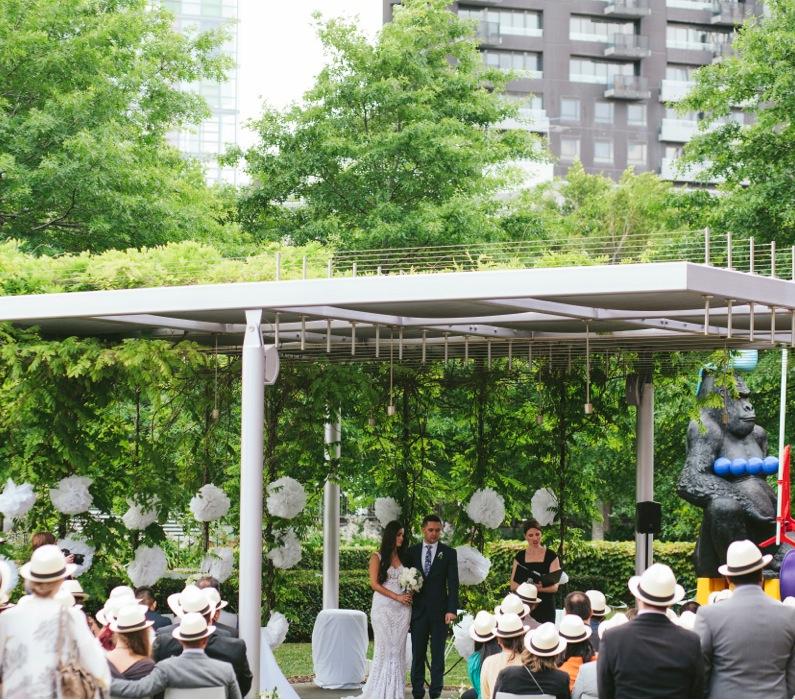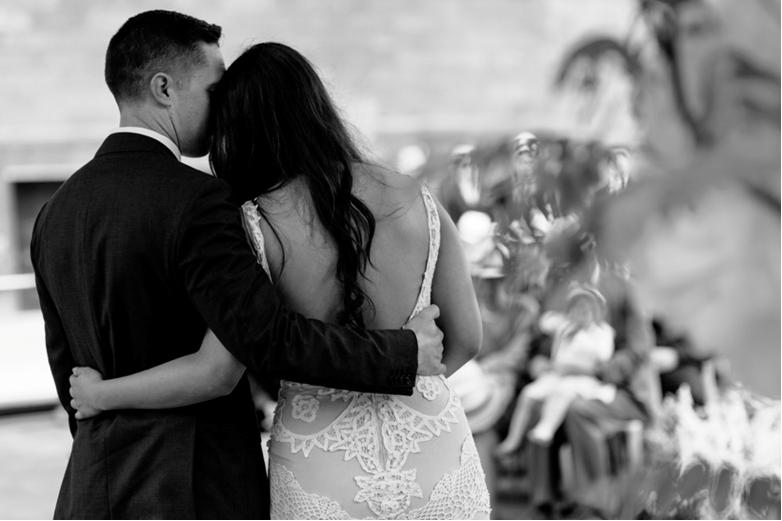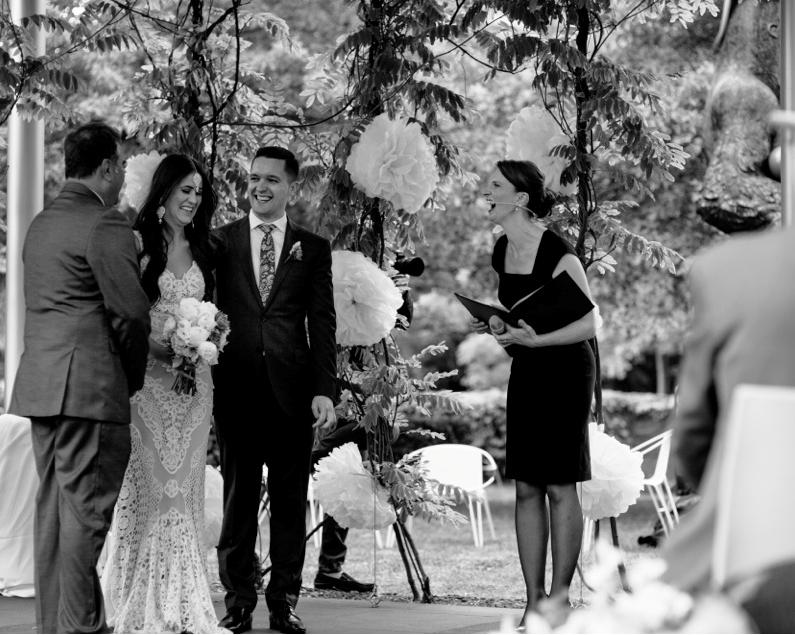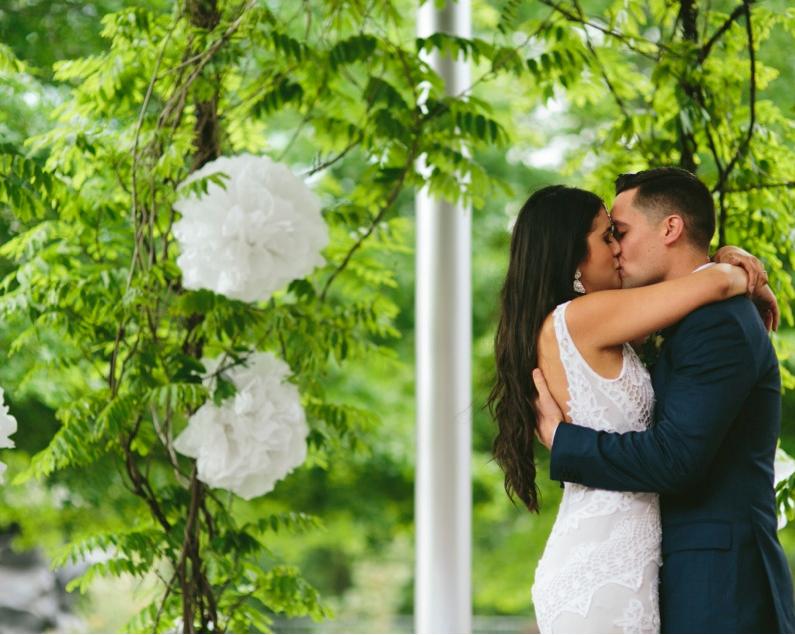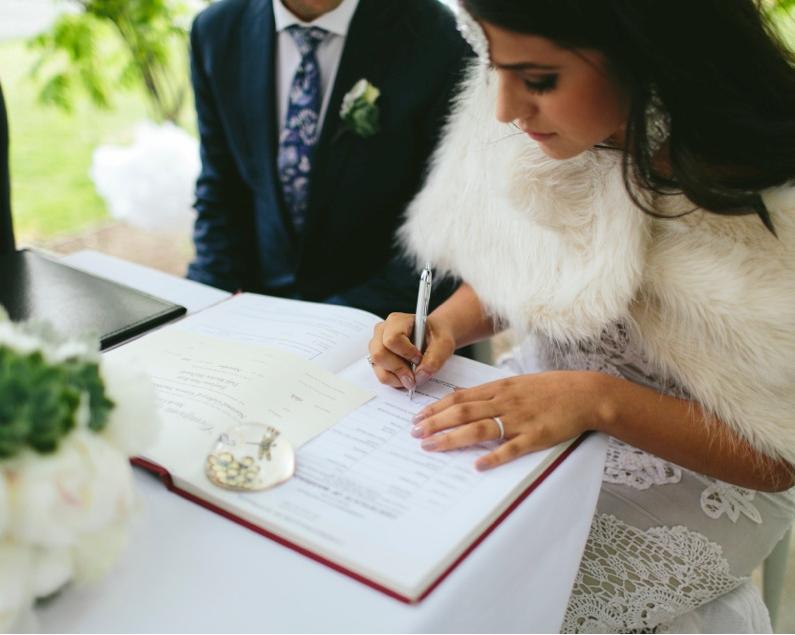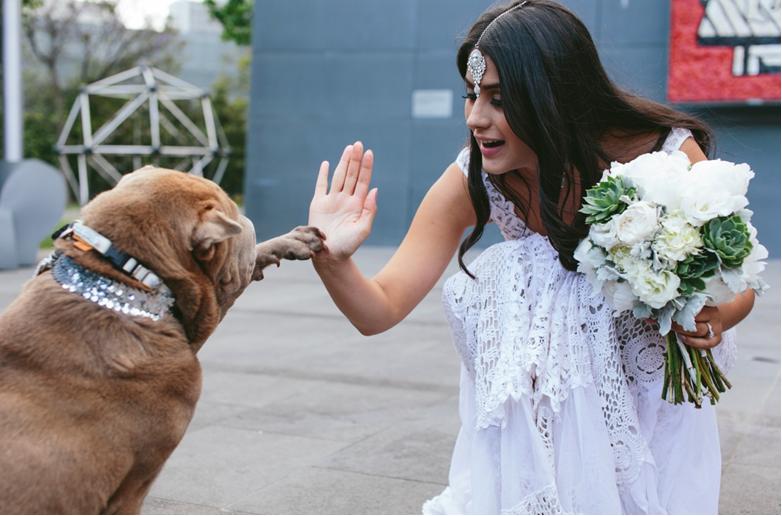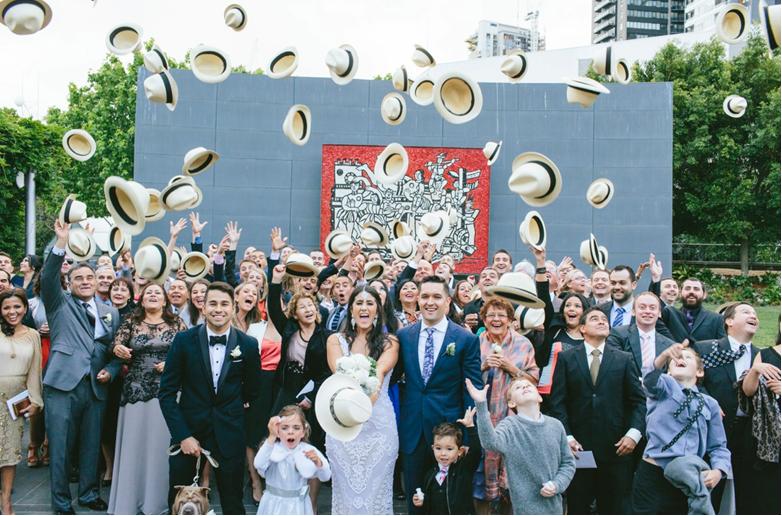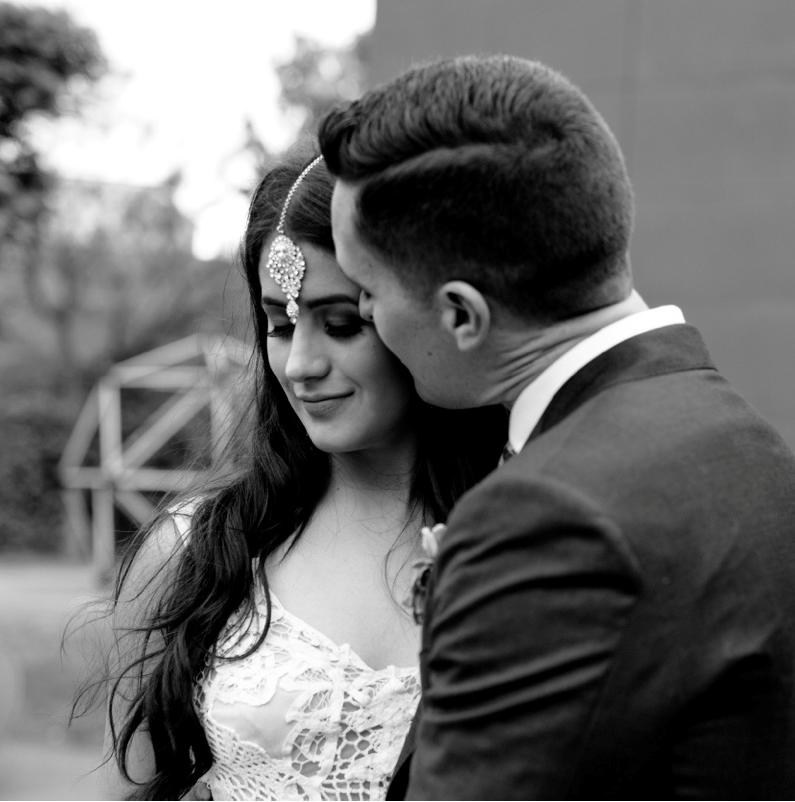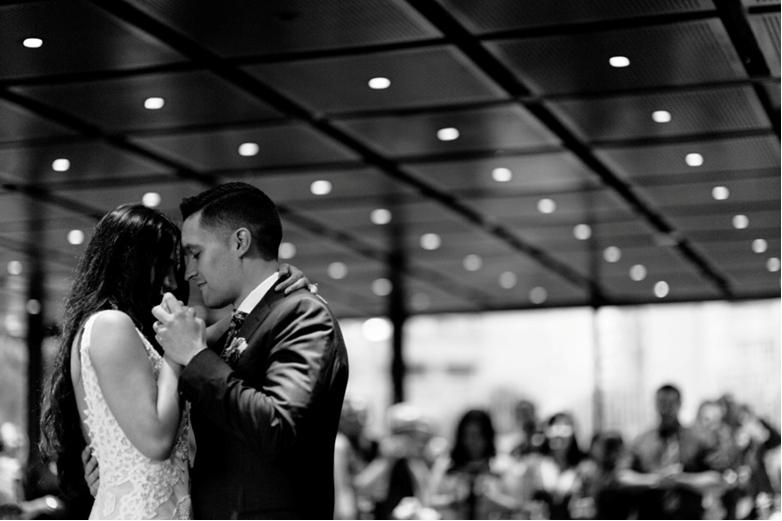 Stef & Todd | 16.11.2013
Celebrant: Meriki Comito
Venue: National Gallery of Victoria
Photography: LJM Photography
Bridal Gown: Jane Hill
Catering/Styling:Peter Rowland
Florals:Flowers Vasette
Belinda & Paul's Labassa Wedding
Belinda and Paul chose to have a beautiful 19th century, heritage listed mansion Labassa Wedding on a perfect sunny Winter's day,
In the presence of their nearest & dearest, Belinda revealed that Paul was the loveliest, most ridiculously loving person she had ever met, with Paul proclaiming that Belinda was just "amazing in every way".
With the newlyweds finally pronounced husband & wife, to the clear delight of every person present, one of the couple's close friends, Paul, came forward to present the final reading of the afternoon – the lyrics of Ben Fold's "The Luckiest".
After taking the mic however, Paul informed us that he hadn't been able to figure out how to perform the song as a reading and had decided to sing it instead! What resulted was an amazing, heartfelt A'Capella performance that touched the hearts of every person in the room. I believe that even the lovely ladies from the Four Seasons string trio were impressed!
A most romantic wedding for the most delightful couple, and then a big red double decker bus transported them all to Friends Of Mine to party the night away!
Belinda & Paul | 30.08.2014
Celebrant: Meriki Comito
Venue: Labassa
Photography: Duuet Wedding Photography
Ceremony Styling: Weddings of Distinction
Bridal Gown: Maggie Sottero
Florals: Botanics
Ceremony Music: Four Seasons Quartet
Bridal Car: Triple R Luxury Car Hire
Wedding Guest Transport: Dee Decker Tours
Reception Venue: Friends of Mine