The Signing of the Marriage Register usually takes place after a couple have exchanged their vows, have shared their first kiss as a married couple and can finally relax, take a deep breath and say "we did it!" before signing all the legal documents.
You can do this as soon as you have shared your first kiss as a married couple, or right at the very end of the ceremony before you walk out, or even in private after all of your guests have exited the ceremony space! As long as you have declared your legal declaration first, you are welcome to sign the register at any time you choose.
Sitting down to sign the register also gives the couple a moment to finally breathe normally again and get a high five from me for keeping it all together and doing a brilliant job in getting through all those nerves!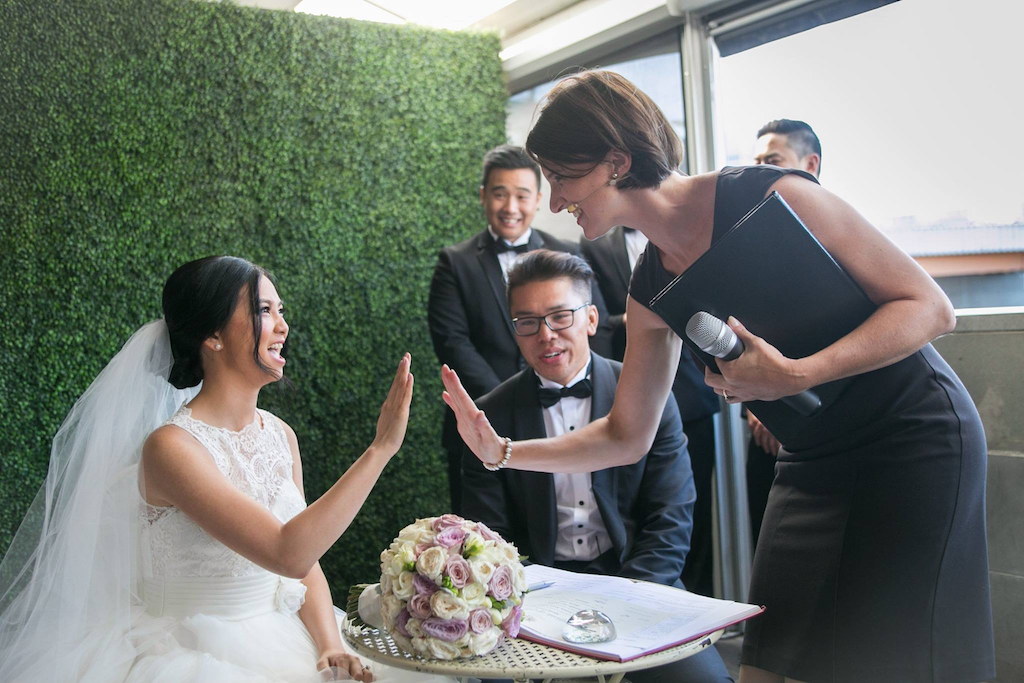 It's also a great time to debrief and discuss the sometimes funny unfolding of events of the ceremony, and where 99% of couples almost always say "that went so fast!".
Yes, after all the planning, waiting, and exciting lead up to the big day, it really does go incredibly fast, so my biggest piece of advice is to BE PRESENT.
Really take notice of every moment as it happens.
Don't think about someone you saw in the third row, don't think about whether the sky is changing, and don't think about that first glass of champagne you're really looking forward to.
Be present and ENJOY EVERY MOMENT.
Contribute spontaneously in any way that feels right, notice the tears, the emotion, the glint of mischief and love in your partner's eyes as you exchange vows, and enjoy that blissfully joyous first kiss to claps and cheers from your family + friends.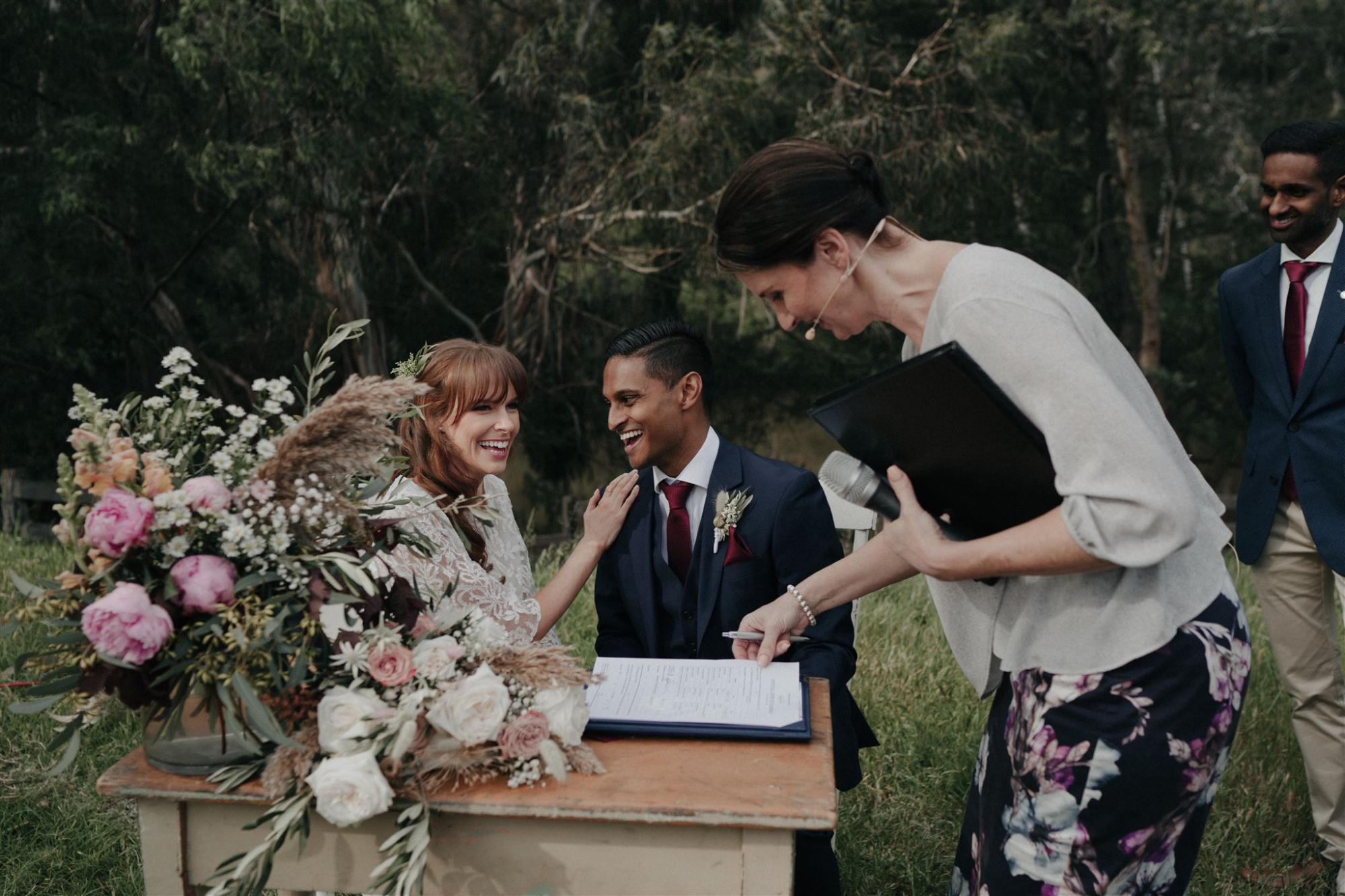 Sign the register, smile for photos and take a big breath as you step forward for the first time as a legally married couple! Then enjoy the memories you made forever. x
Oh, and to answer to the number one question I get asked by most couples "what name do I sign on the marriage certificate?" Your usual name that you have always gone by!
You have to actually sign the certificates before you can be considered legally married and eligible for a change of name!
You may wish to see some more of my Top 10 most asked questions HERE!
Happy wedding day x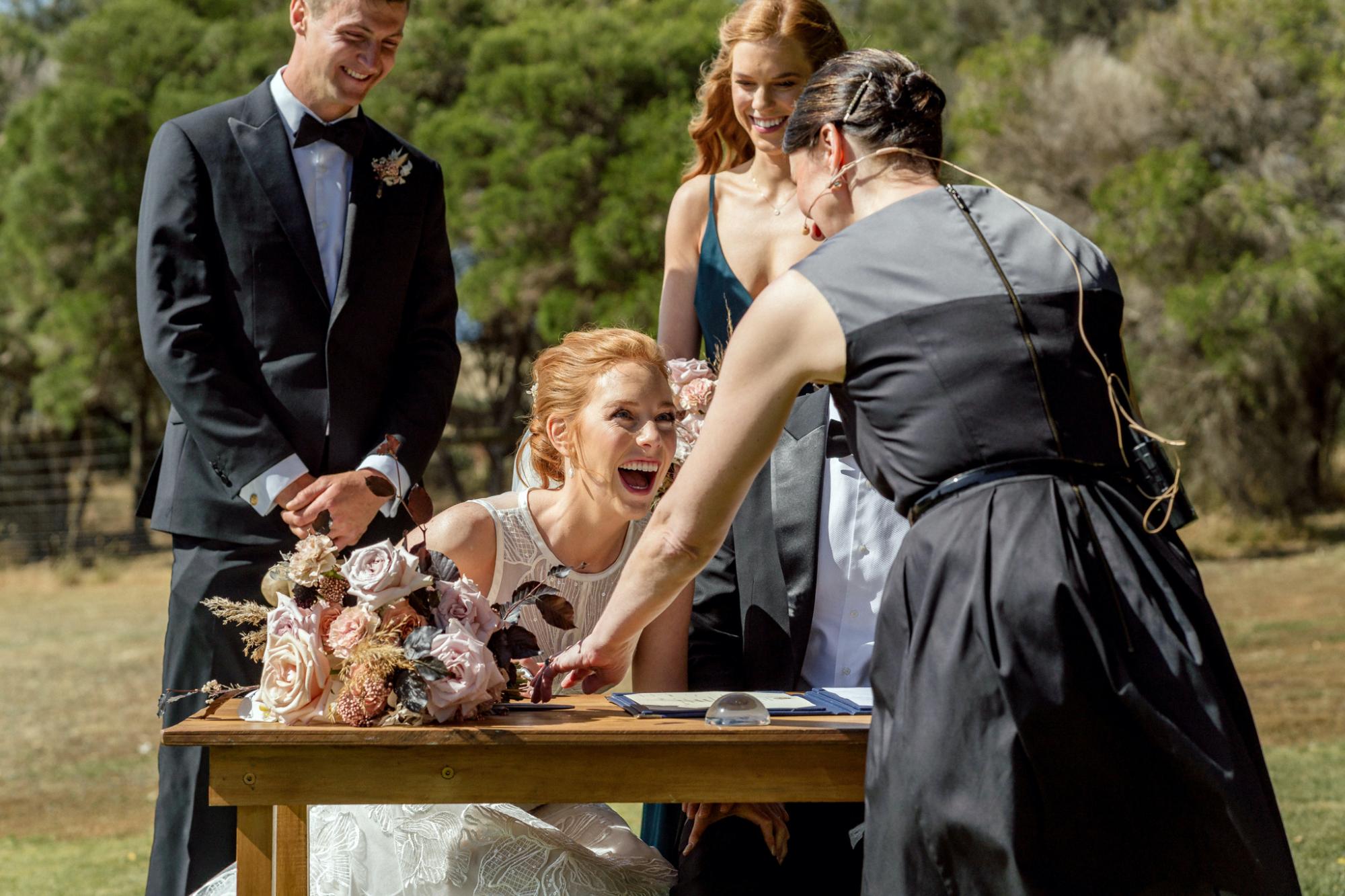 Stephen & Leigh's Colourful Manadala Wines Wedding
Stephen and Leigh chose the beautiful Mandala Wines in the Yarra Valley for the location of their colourful winery wedding, and added lots of bright flags, flowers and lego to make it distinctly theirs!
The Meeting
When Stephen first laid eyes on Leigh at a friend's BBQ about four years ago, he thought she was way out of his league, but went on to impress her with his polite nature and perfect manners, so the pair soon struck up a friendship, bonding over a mutual love of movies, cocktails, 'phat' beats and the great outdoors.
They both grew to love the unconditional love they both provided the other with, as well as the freedom of being able to be completely who they truly were. It was fun, and comfortable, and felt so right, that marriage had definitely become an option for the future.
The Proposal
It was during a two-week road trip through New Zealand that Stephen entertained the idea of a perfect proposal, but after waiting for that perfect moment to present itself, it became apparent that he was struggling to keep his big secret, and after three failed attempts to work up the courage, finally asked Leigh to marry him on the final night of their adventure.
It may have been a huge source of anxiety for Stephen, but according to Leigh, it was private, and personal, and absolutely perfect.
The Vows
In a stunning lace Marianna Hardwick gown, Leigh quietly declared to her handsome groom that "you love me even when I don't love myself" (before quoting Beyonce!), after which Stephen told Leigh "your beaming smile can brighten my darkest days, and your beautiful laugh brings me more happiness than anything."
It was an absolute pleasure to share this moment with Stephen & Leigh and I hope they achieve all their dreams of travelling the world together, starting a family of their own and enjoying all the adventures that life will bring x
The Photographer
A huge shout out to the super talented Zosia from Aparat Photography for these stunning images!!
Stephen & Leigh | 16.04.2016
Celebrant: Meriki Comito
Ceremony & Reception Location: Mandala Wines
Photography: Aparat Photography
Ceremony Arch & Bunting: Created by the clever Groom!
Bridal Gown: Marianna Hardwick
Bridesmaids Dresses: Rodeo Show
Flowergirl Dress: H&M
Groom's Attire: Joe Black
Bouquet's, Boutonniere's and Flower Crown: Debbie O'Neill
Cake & Bomboniere: The Bride's own creations