Sarah + Tristan's Stones of The Yarra Valley Wedding
The Event
Sarah and Tristan chose to celebrate their 10 year relationship by saying 'I do' during a beautiful Stones of the Yarra Valley Summer wedding.
It was a true celebration of young love that had developed into a deeper connection over time and led two gorgeous souls to declare a lifetime of love and commitment to one another.
Sarah had her gorgeous sister as maid of honour by her side and it was heartwarmingly clear how close the two of them were as they shared such a special day together.
Sarah's spectacular entrance to the Stones chapel in a stunning off the shoulder, mermaid gown with cathedral length veil, was received with smiles, gasps of appreciation and tears of joy.
Their ceremony reflected on the 10 years they had already spent together, as well as their hopes and dreams for the future, before some beautiful vows and a first kiss as husband + wife gave us all the feels.
A famous Stones petal toss kicked off celebrations immediately after, before guests enjoyed drinks in the dairy whilst the newlyweds took some time to enjoy the just married vibe with a sunset portrait session.
The Meeting
First meeting just after high school at a house party, Sarah and Tristan were two of the last few people to leave and were involved in an intense game of Nintendo Wii.
Tristan thought Sarah was the most stunning woman he had ever seen, and Sarah was completely drawn towards Tristan's kind and gentle nature.
Being around one another was effortless right from the start, as though they had already known each other for years, and they felt an instant connection.
The Proposal
Tristan loved how loyal, caring and incredibly loving Sarah was, and that every moment spent with her made his day better, so deciding to celebrate 9 wonderful years together with a holiday in Fiji, Tristan secretly packed a beautiful ring in his carry bag before they left.
Sarah loved how unbelievably selfless Tristan was, always going out of his way to help those he cares about, and always putting her first, so when he bent to one knee during a day trip to a private island and asked her to marry him, she didn't hesitate.
The Vows
Sarah vowed to "always love and support you through whatever life may bring us…I give you my hand, my heart, and my love, from this day forward for as long as we both shall live."
Tristan promised to "share in your dreams and support you as you strive to achieve your goals….you are my best friend, my soul mate, and I will love and respect you always."
The Party
After some stunning sunset portraits within the grounds at Stones, Sarah and Tristan chose the celebrate their marriage in the Barn, styled to perfection by Table Art Event Hire, the team at Stones, and with the spectacular floral artistry of Sugar Bee Flowers.
Guests enjoyed music and entertainment supplied by Rutherford Entertainment and cake by Miss Ladybird Cakes, before a spectacular sparkler exit signaled the end of a perfect day.
The Photography + Videography Team
A huge thanks to the superstar team that is Theodore & Co and C2 Films for capturing every moment so beautifully and for allowing me to share their work. What an honour it is to work with these ladies + gentlemen!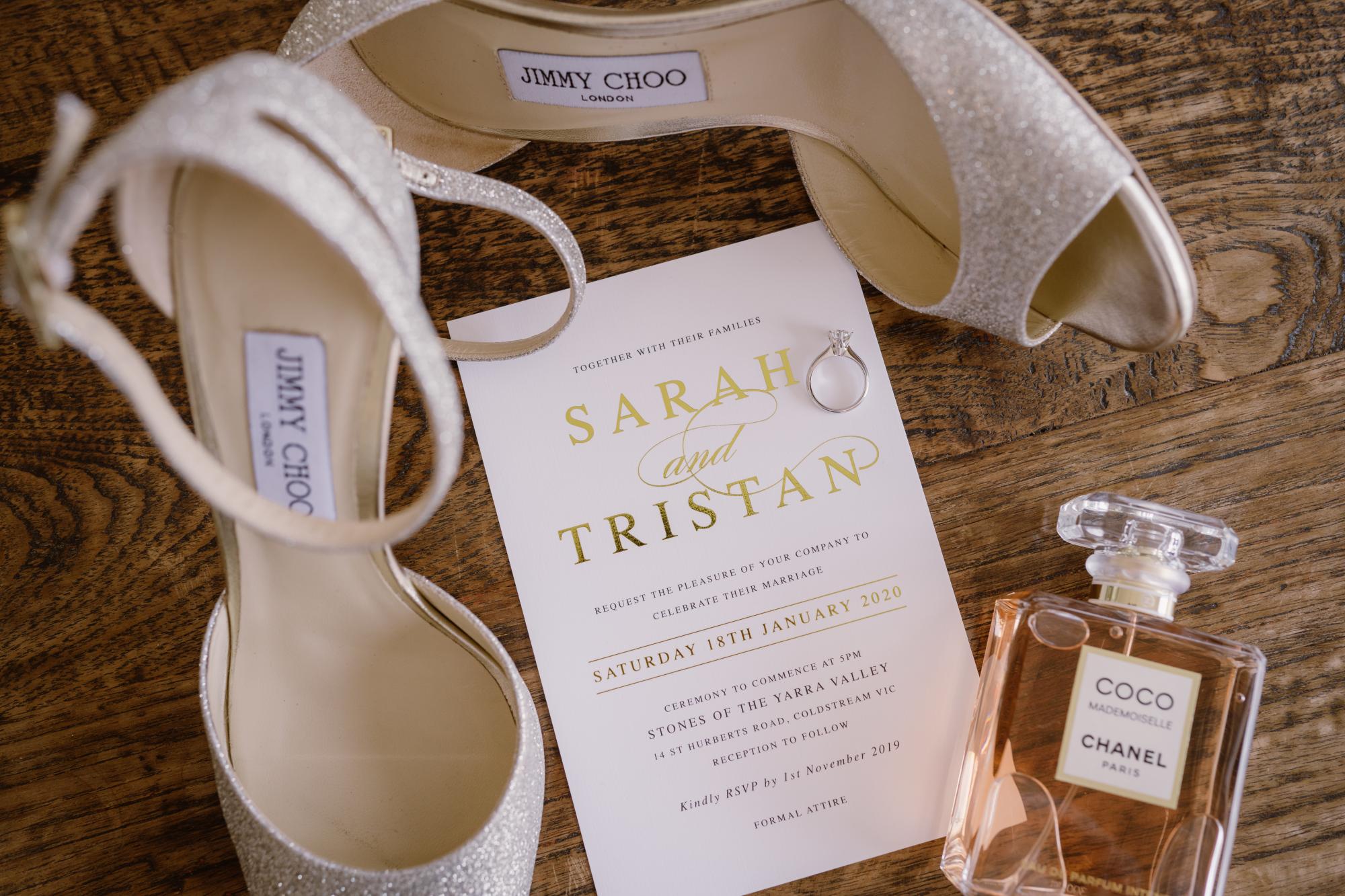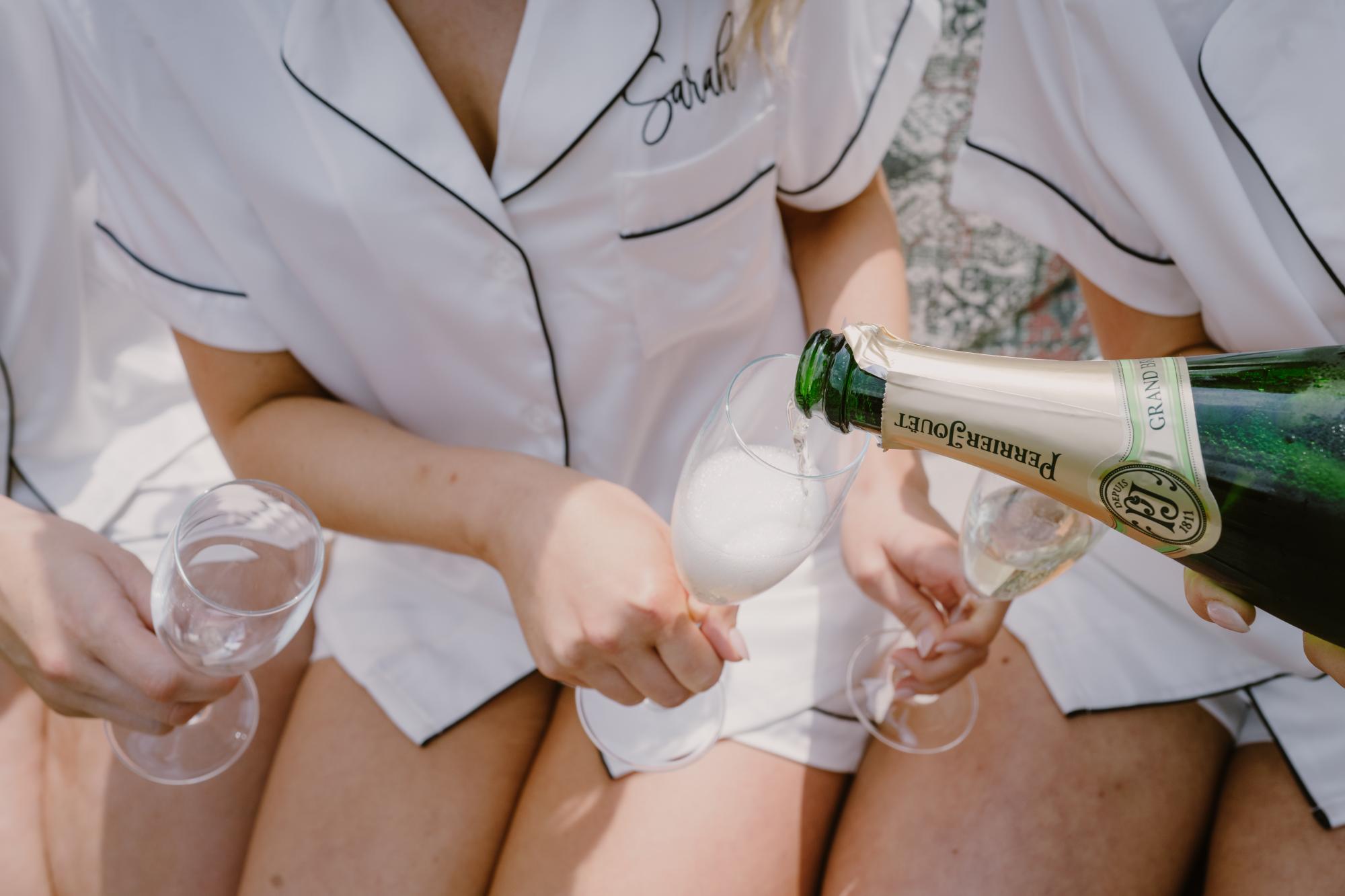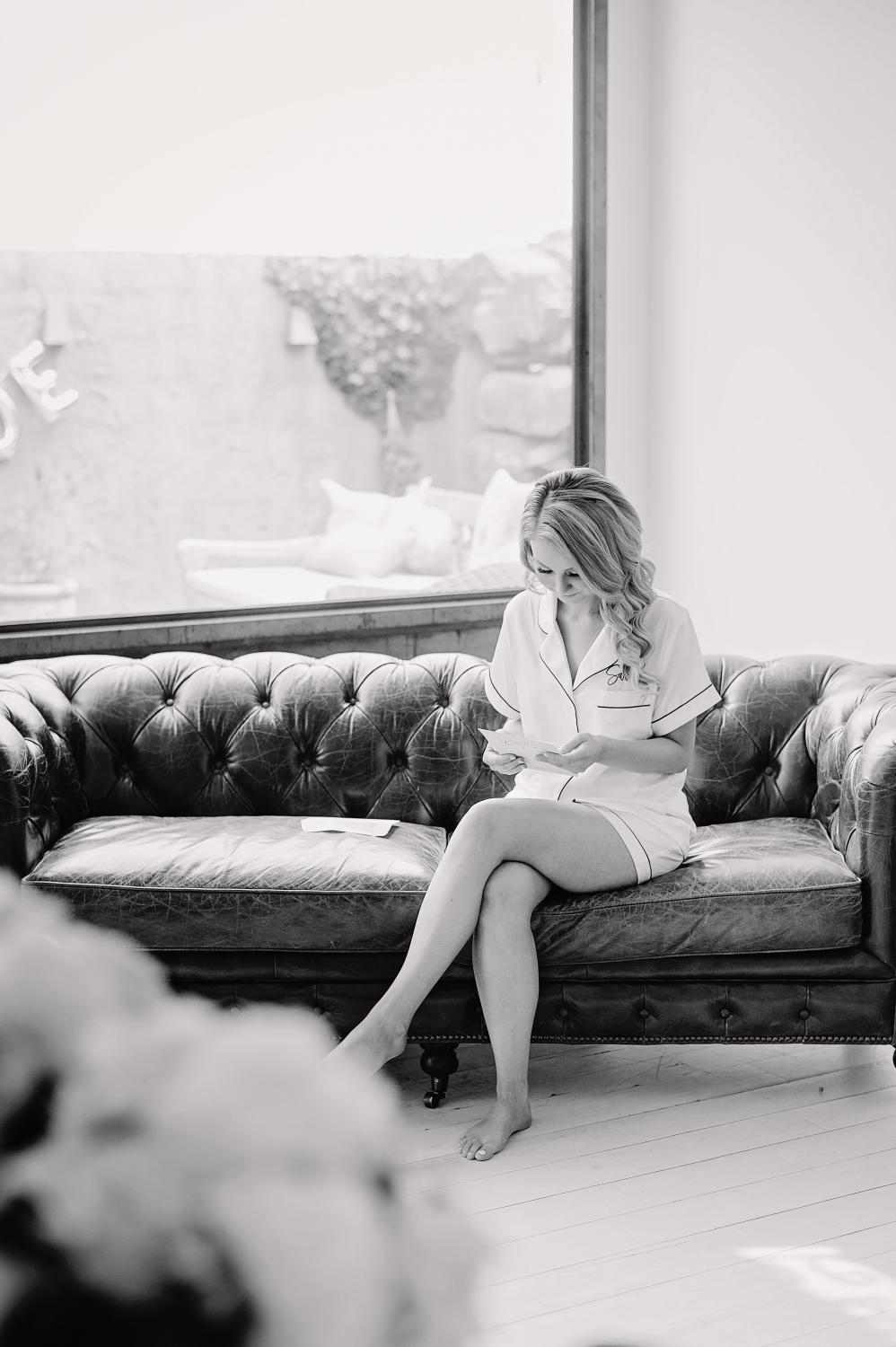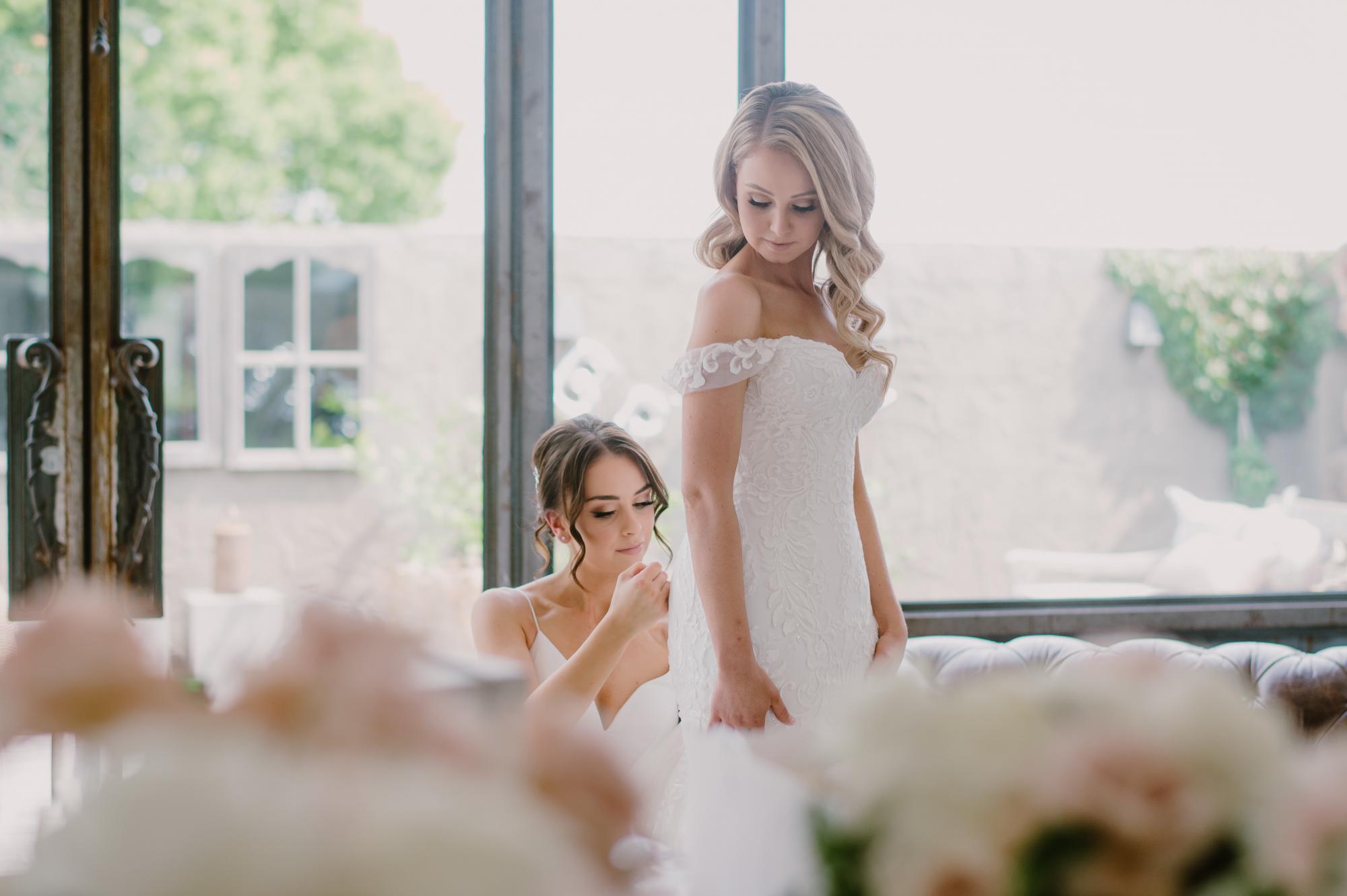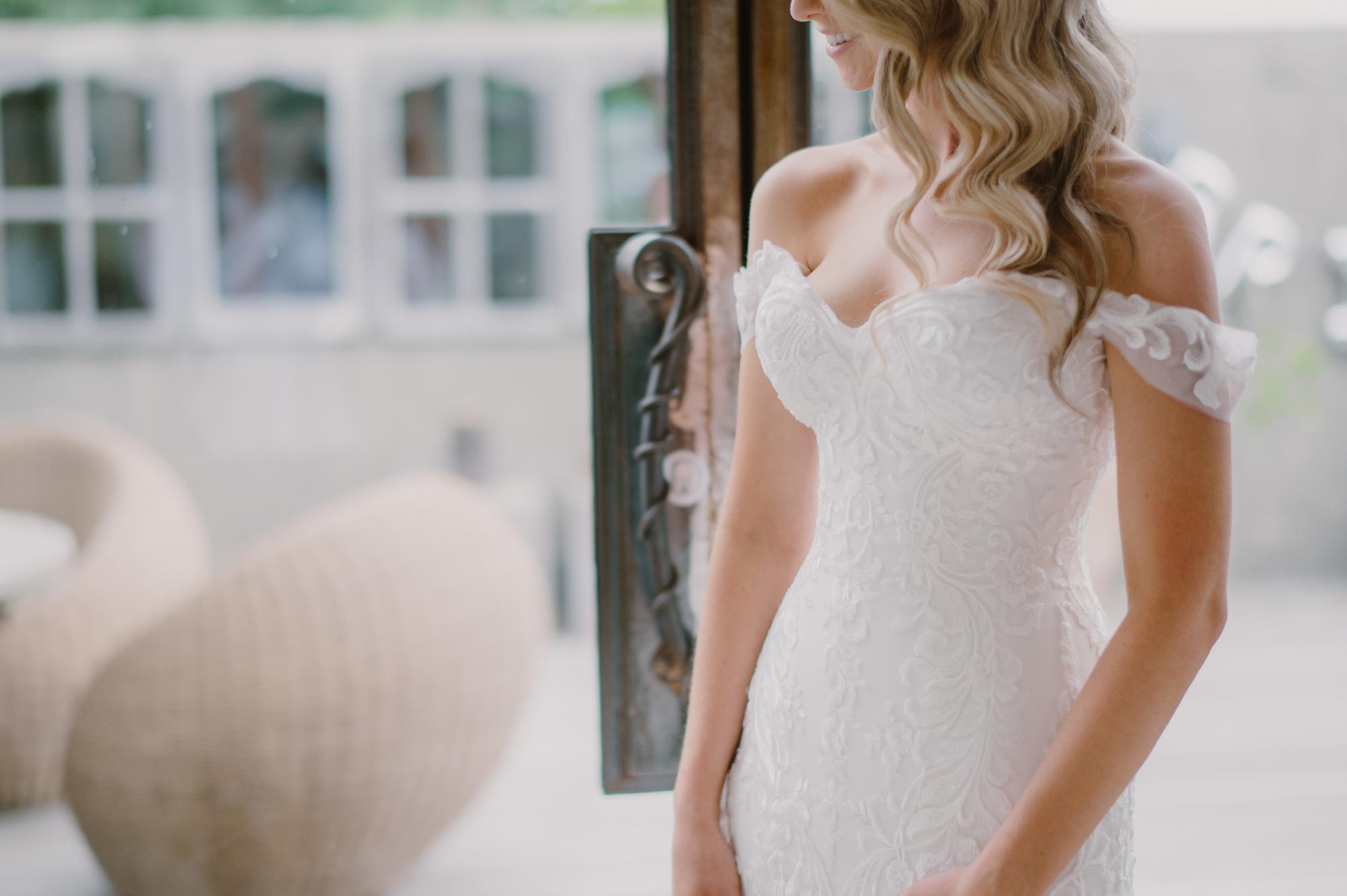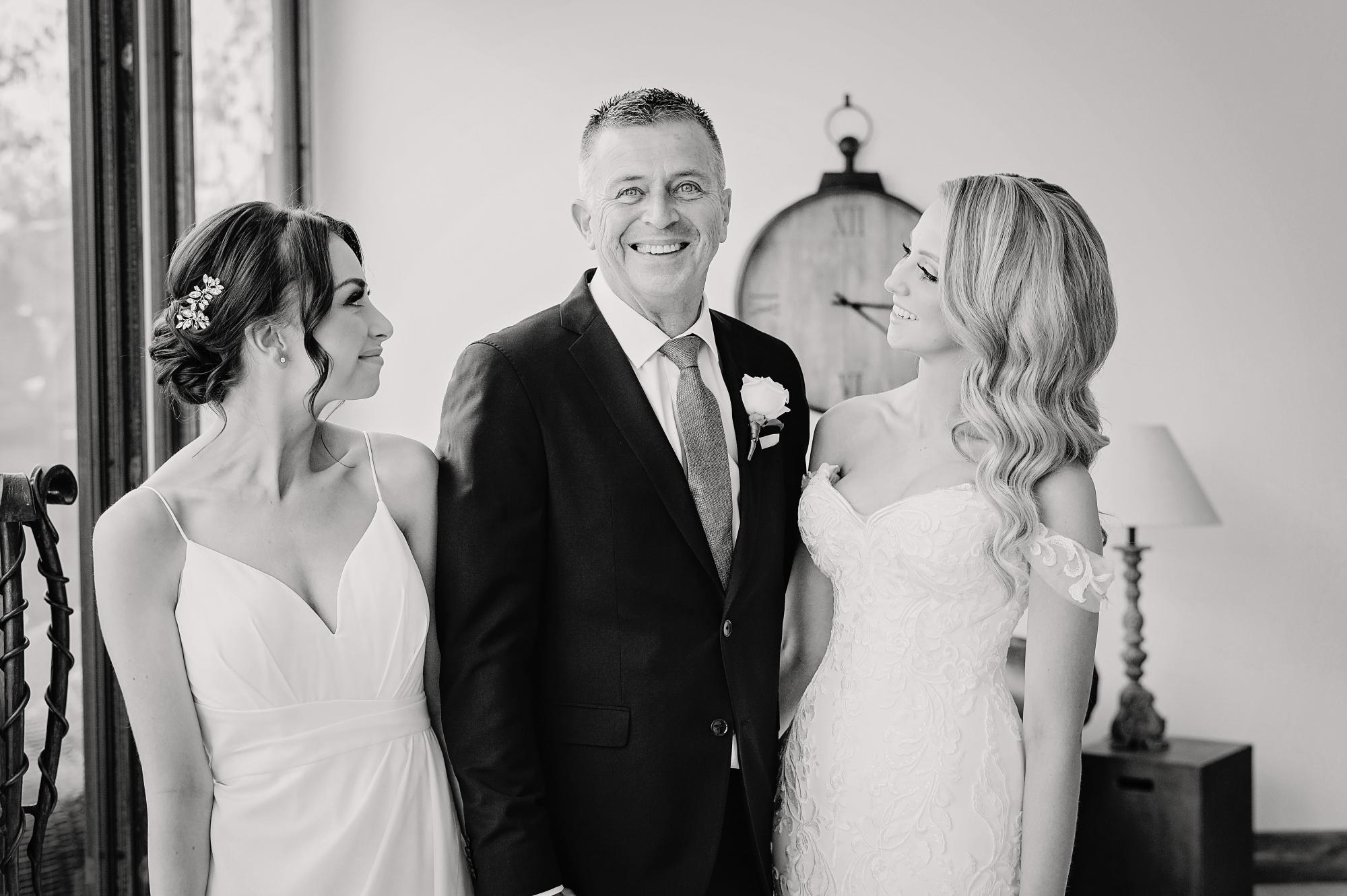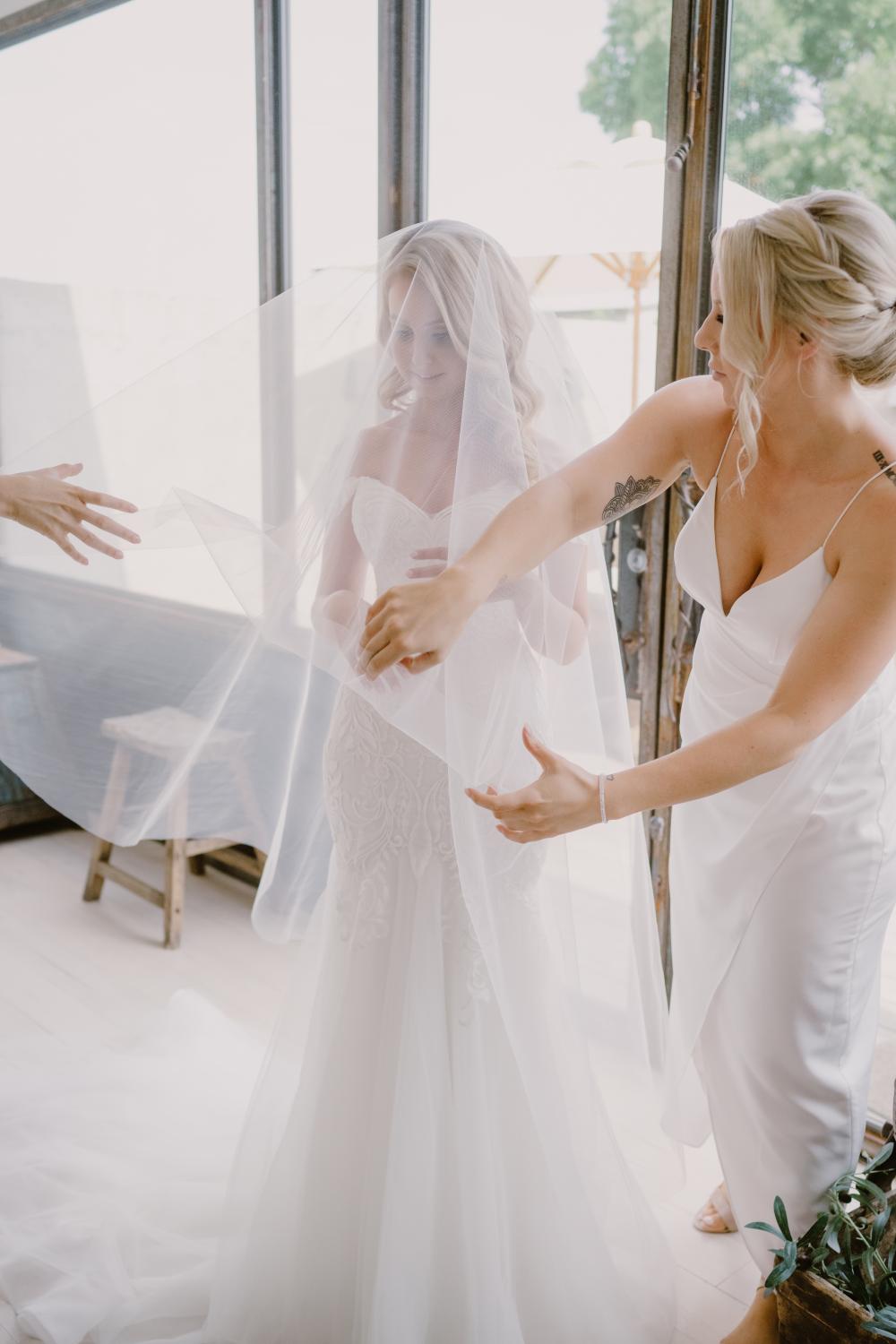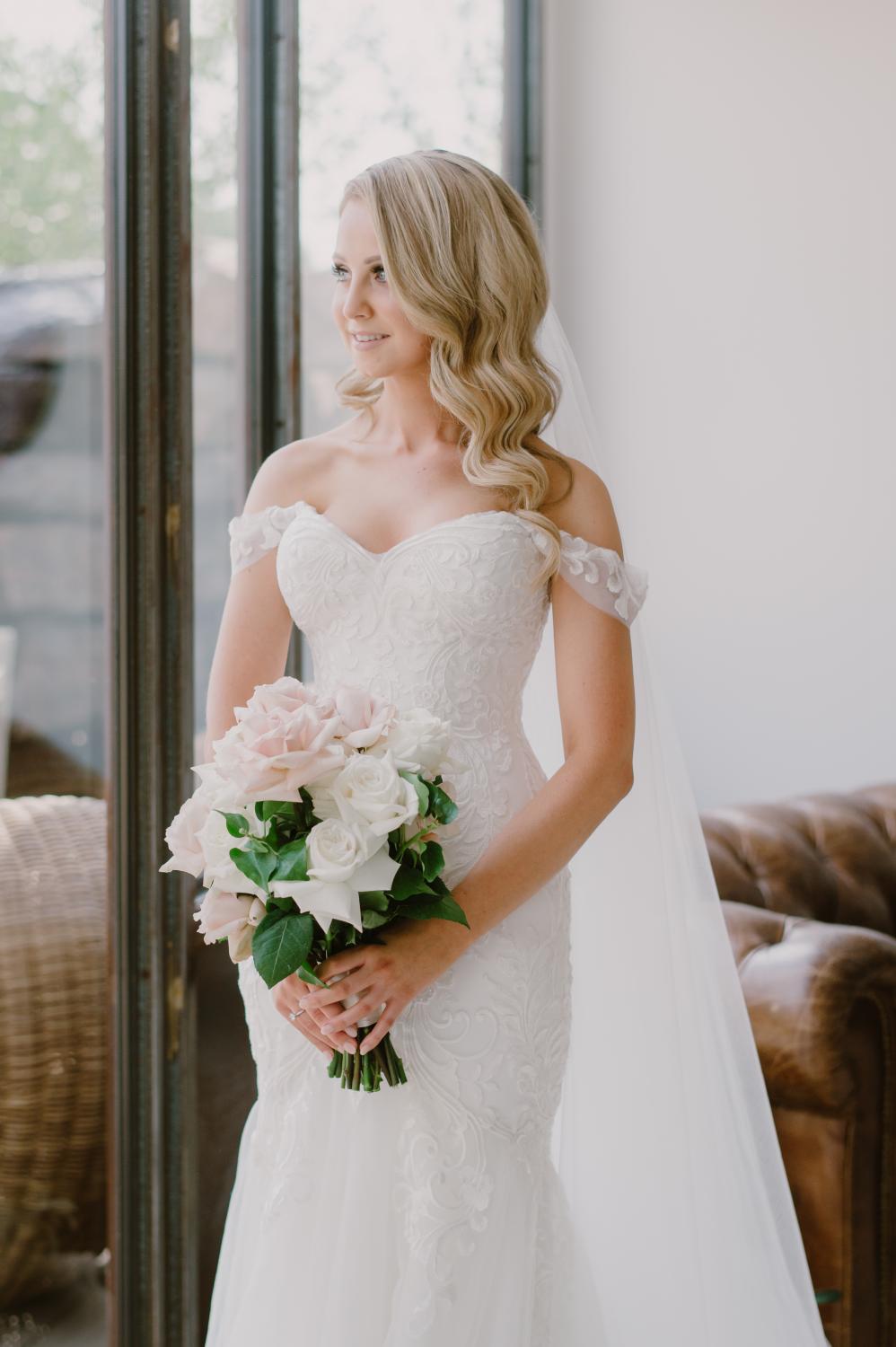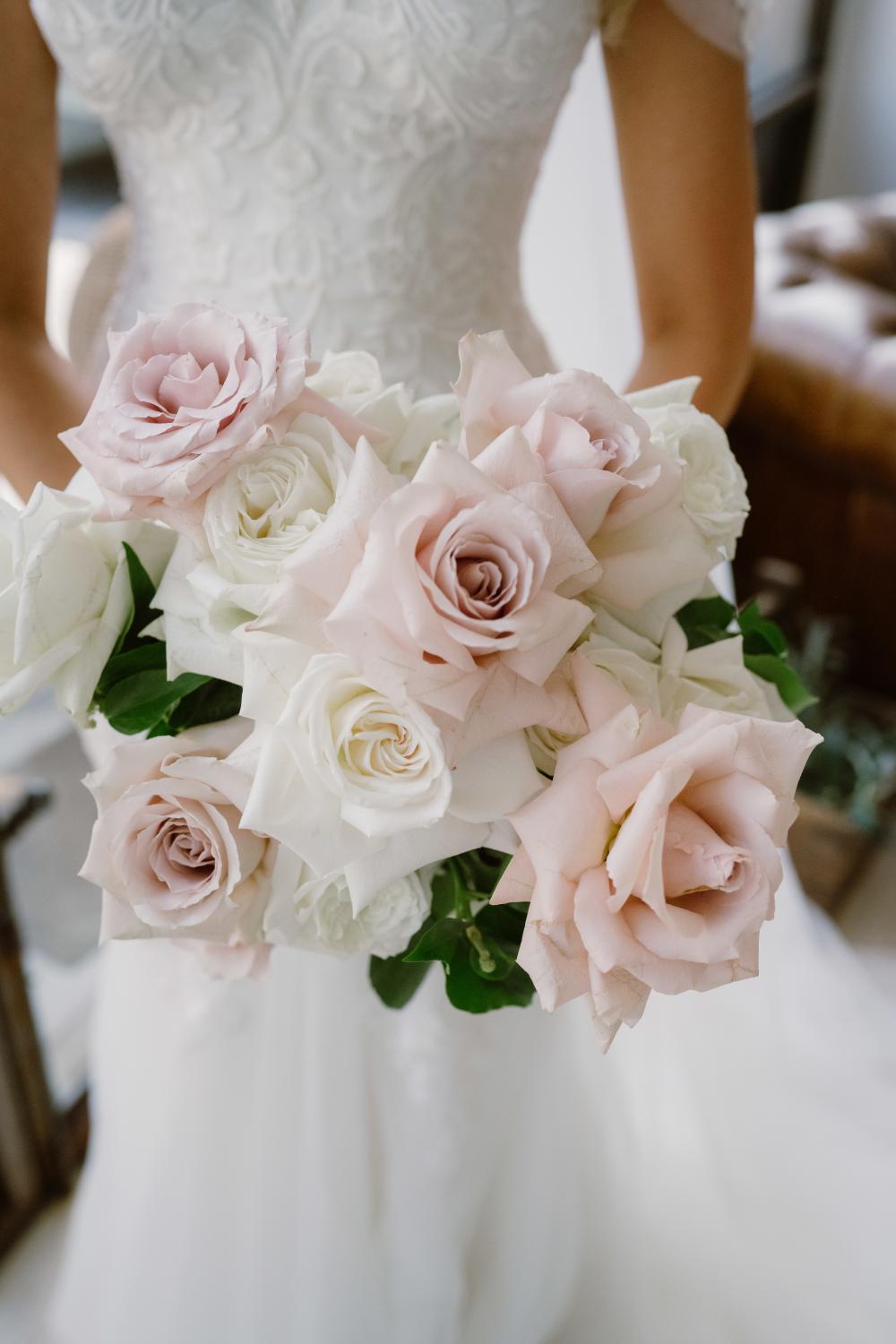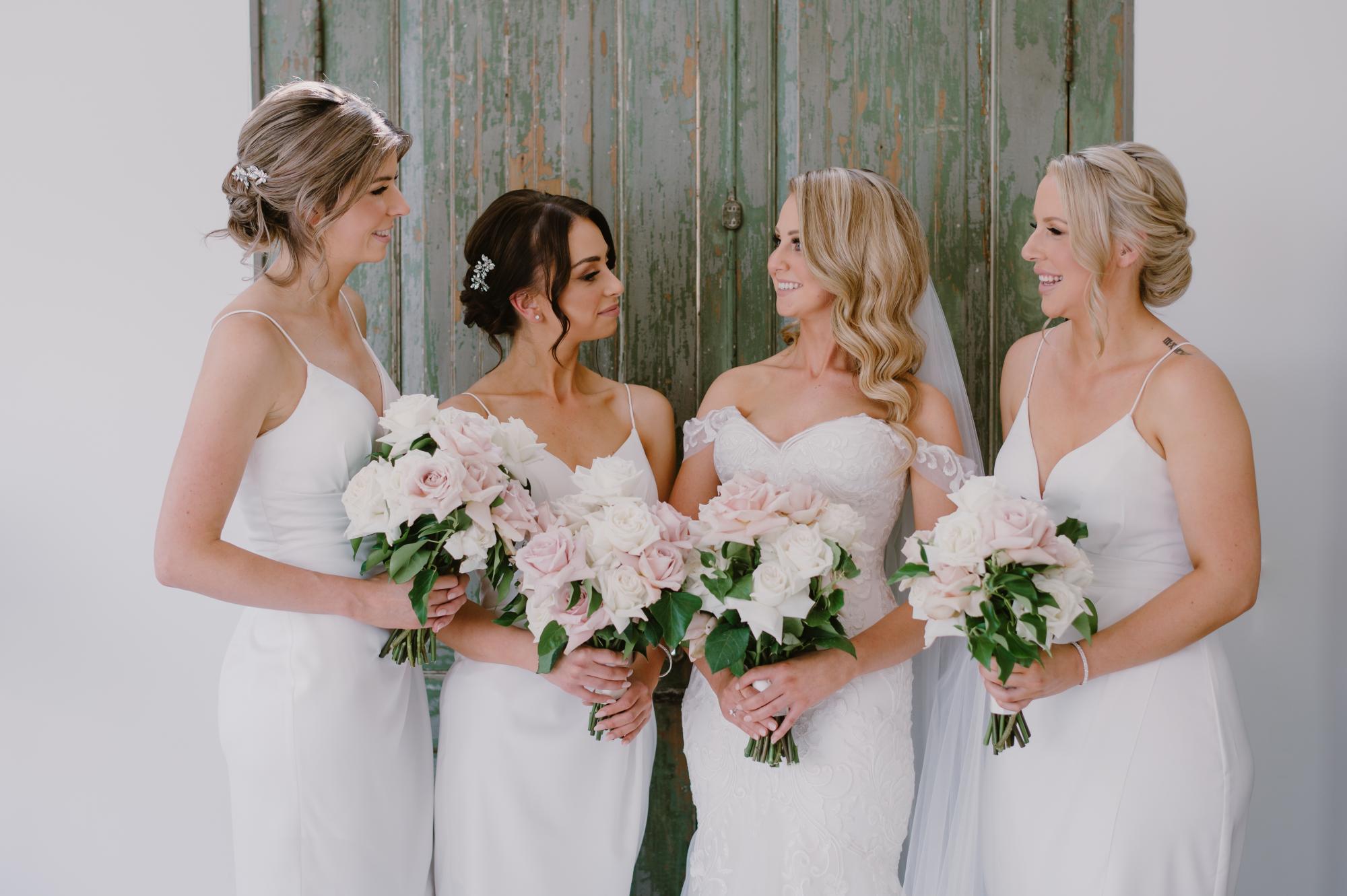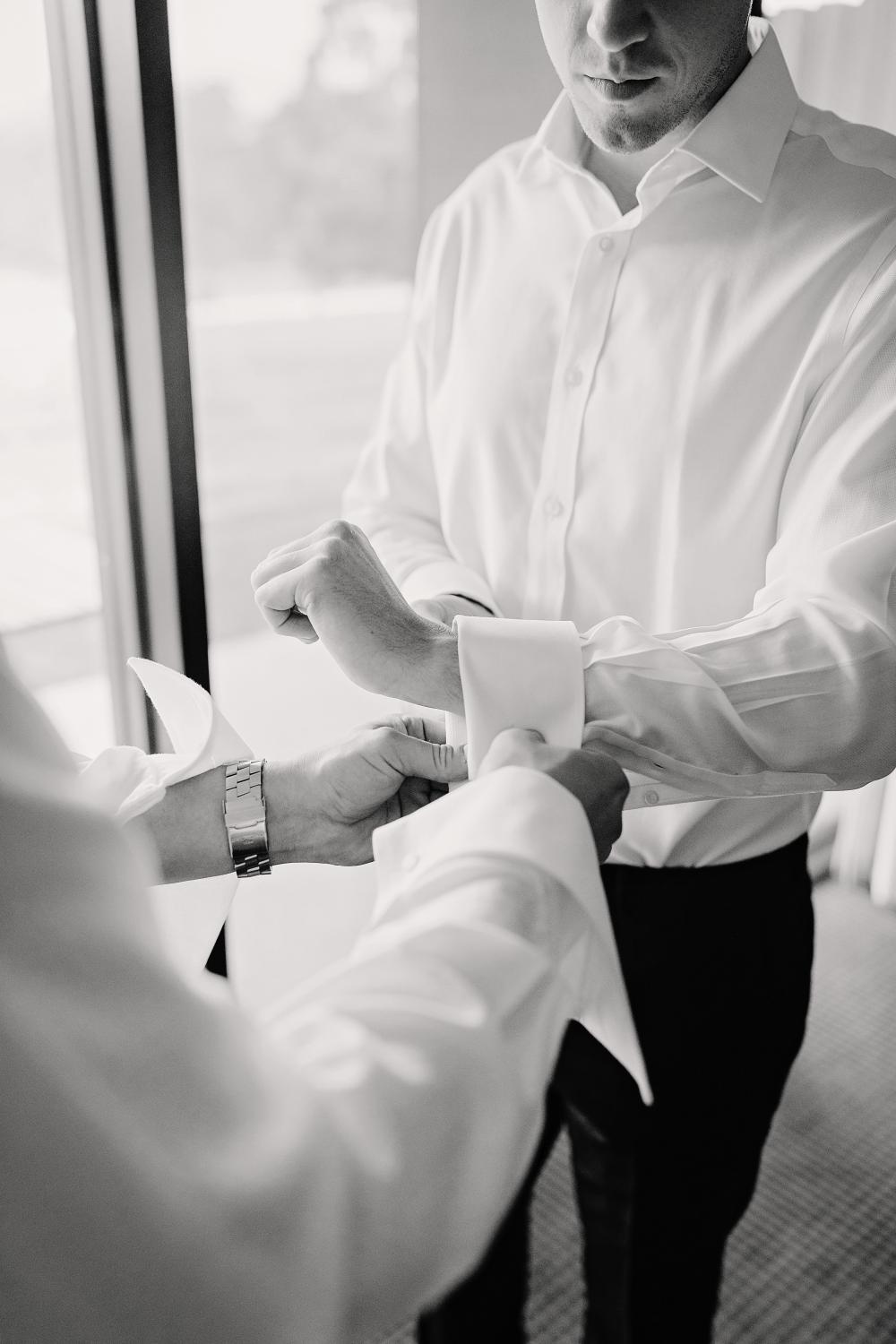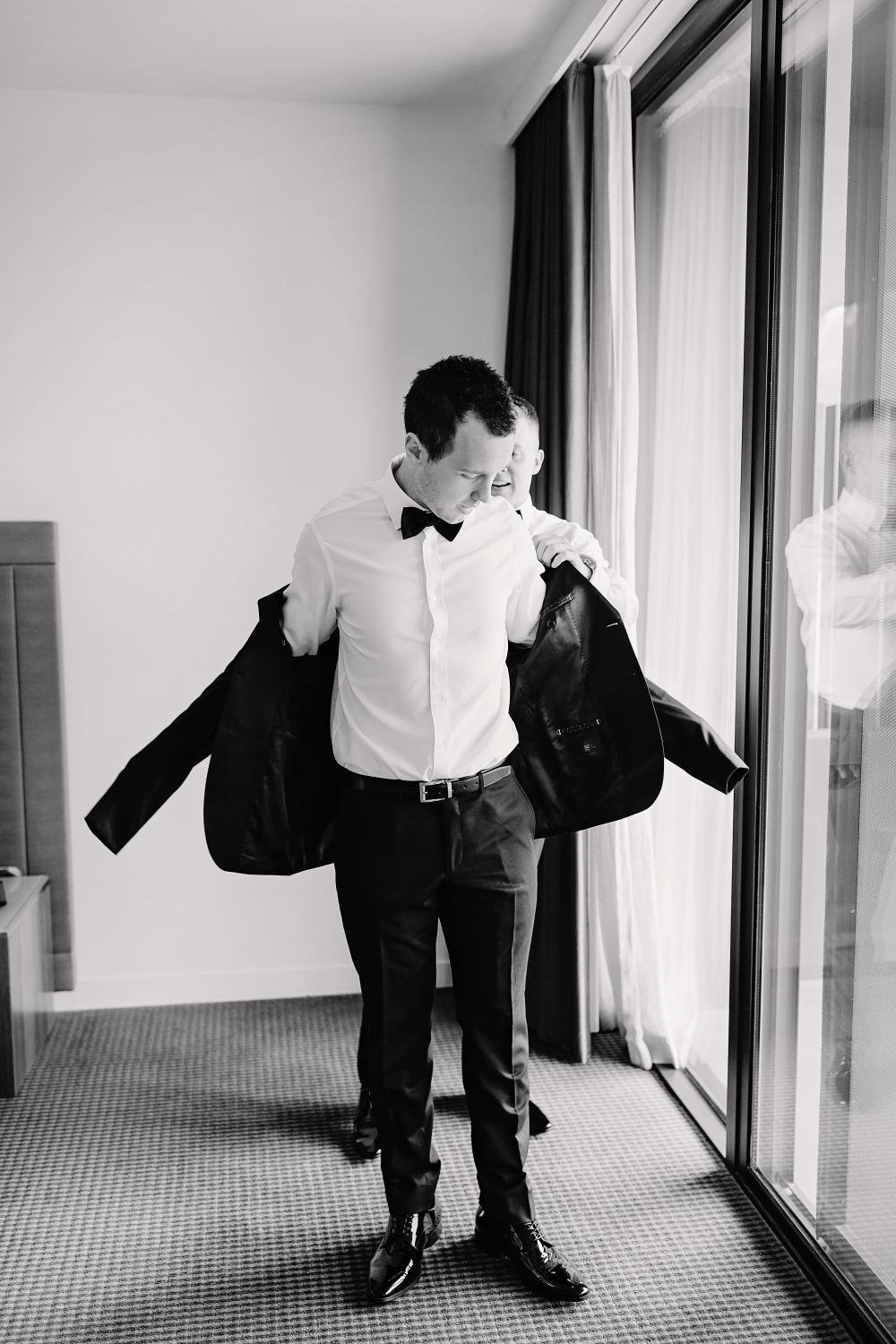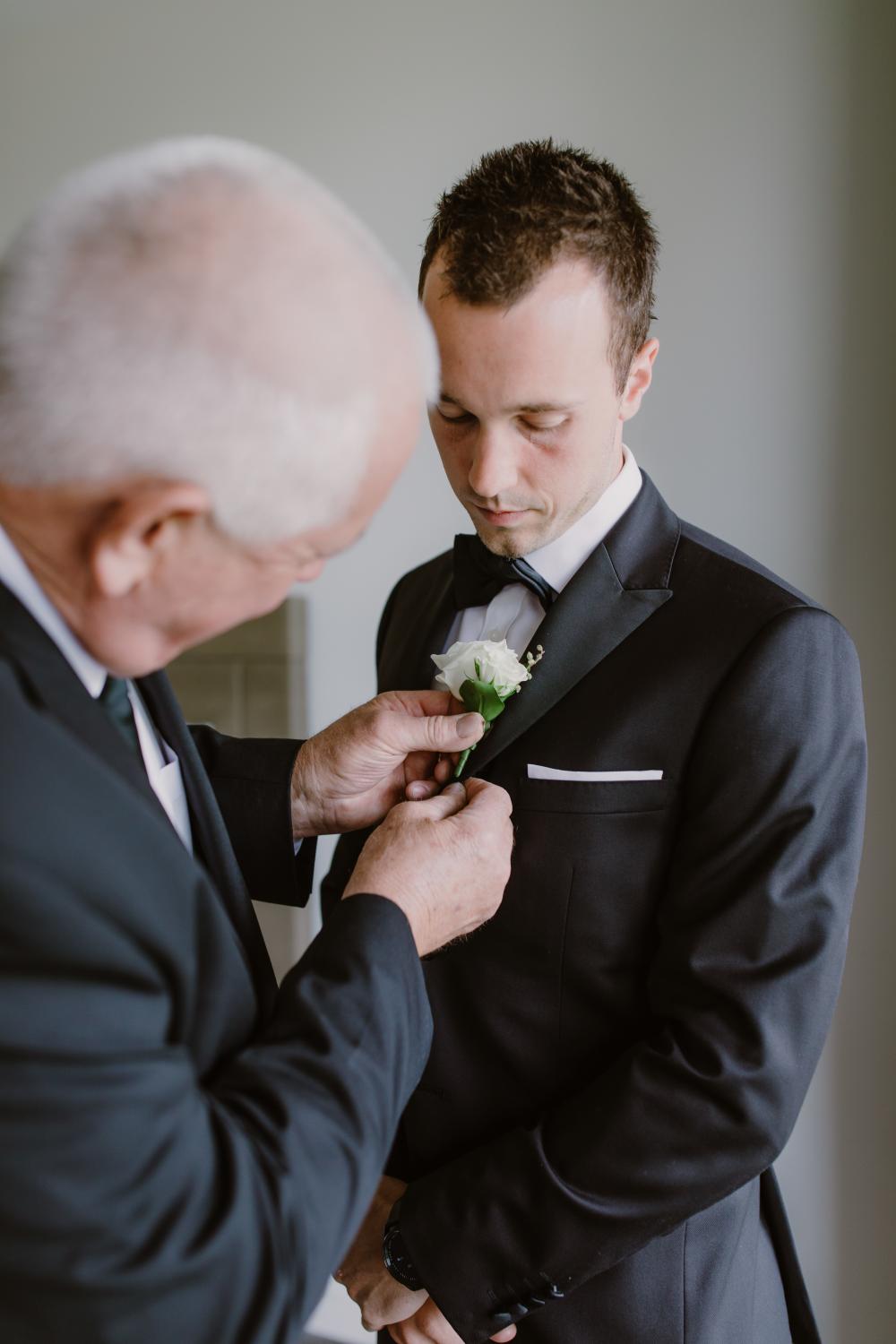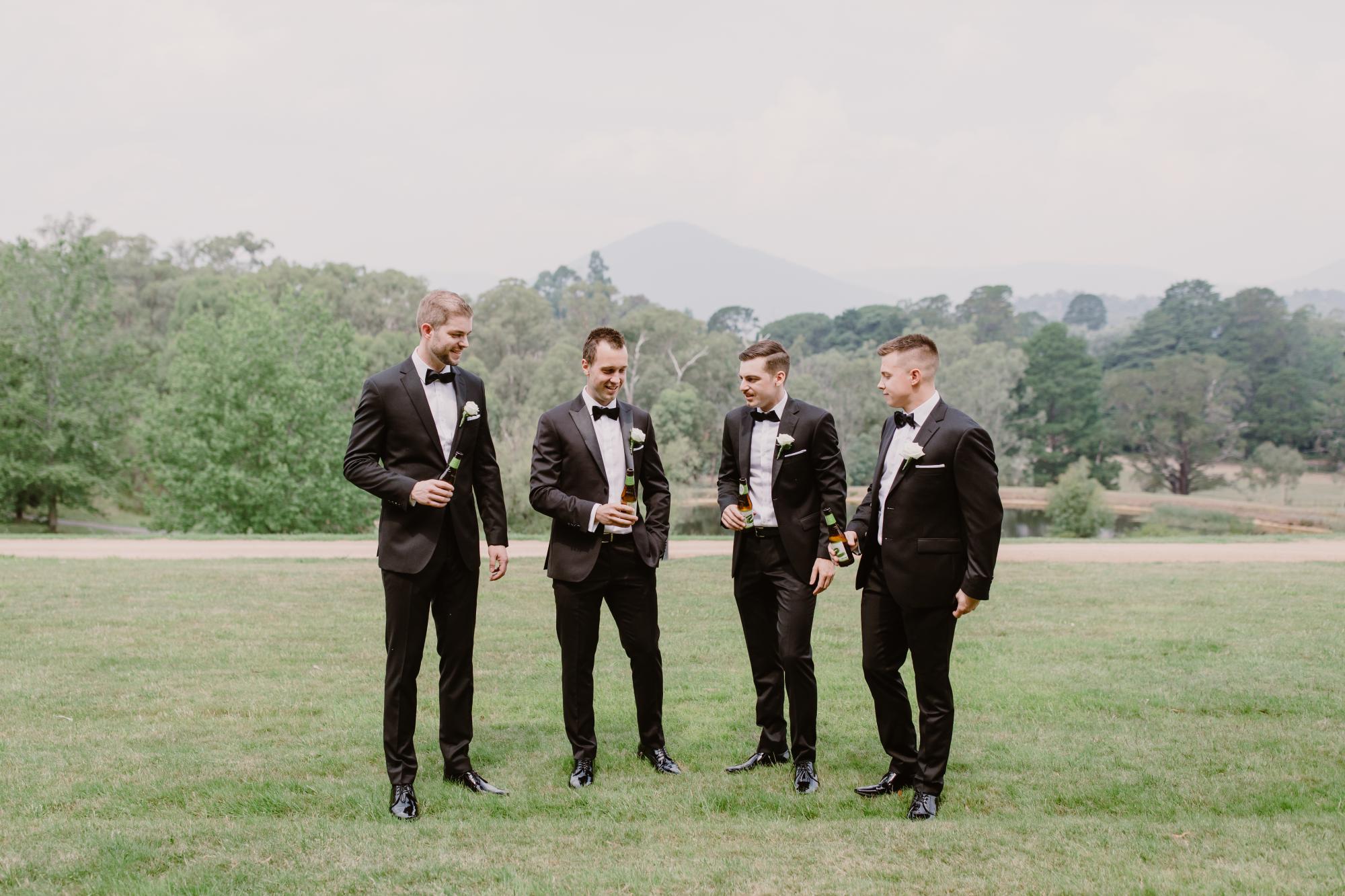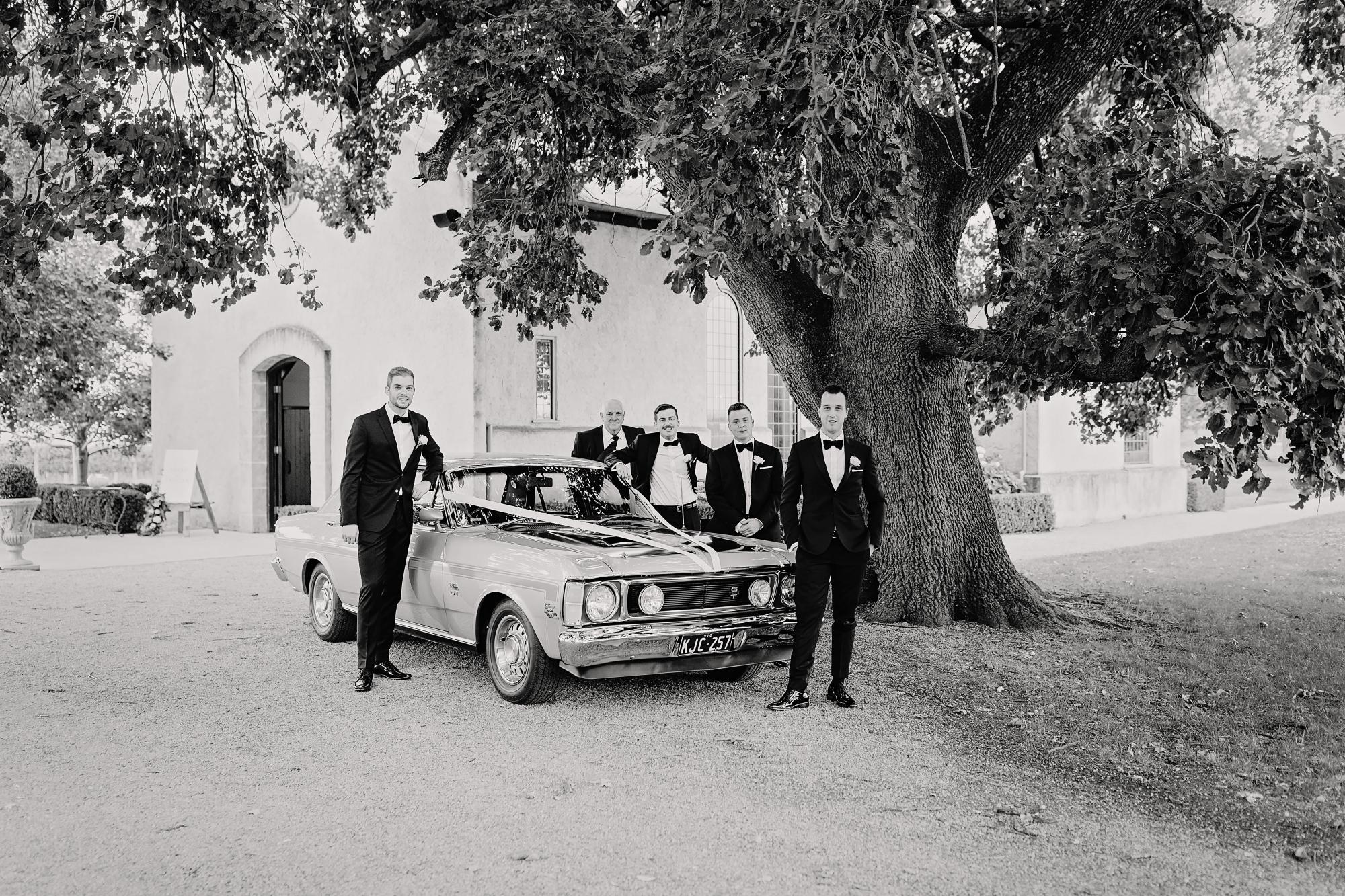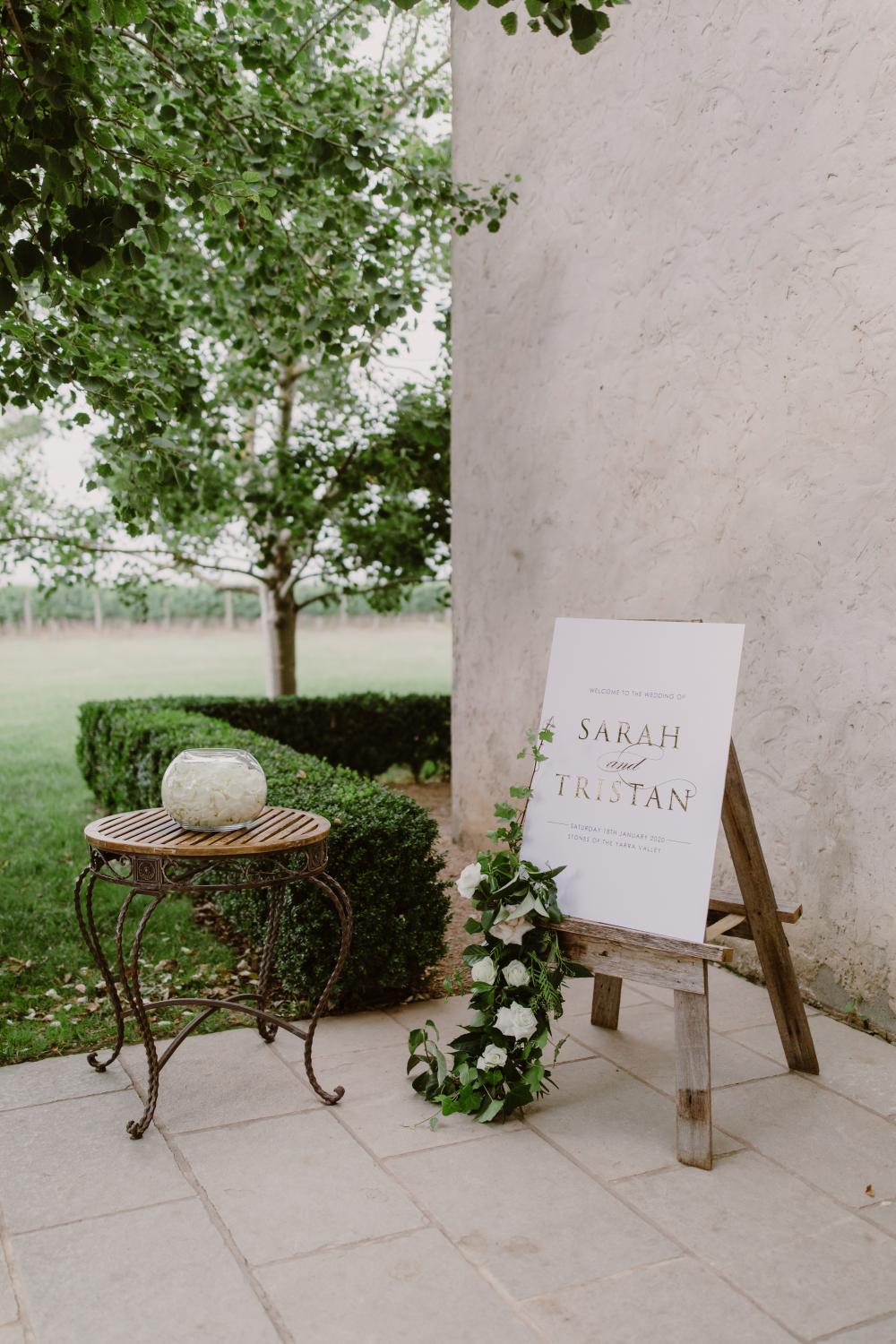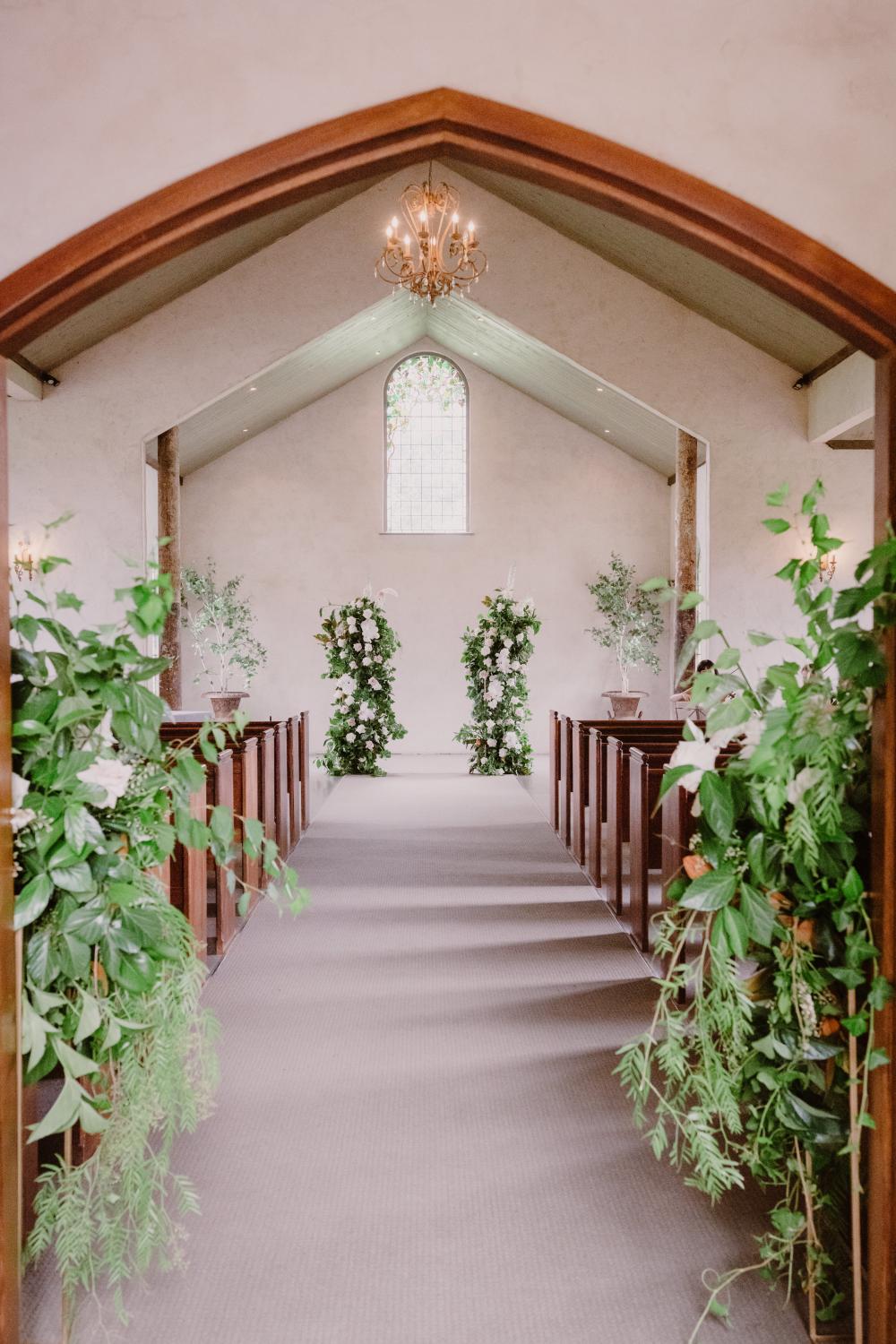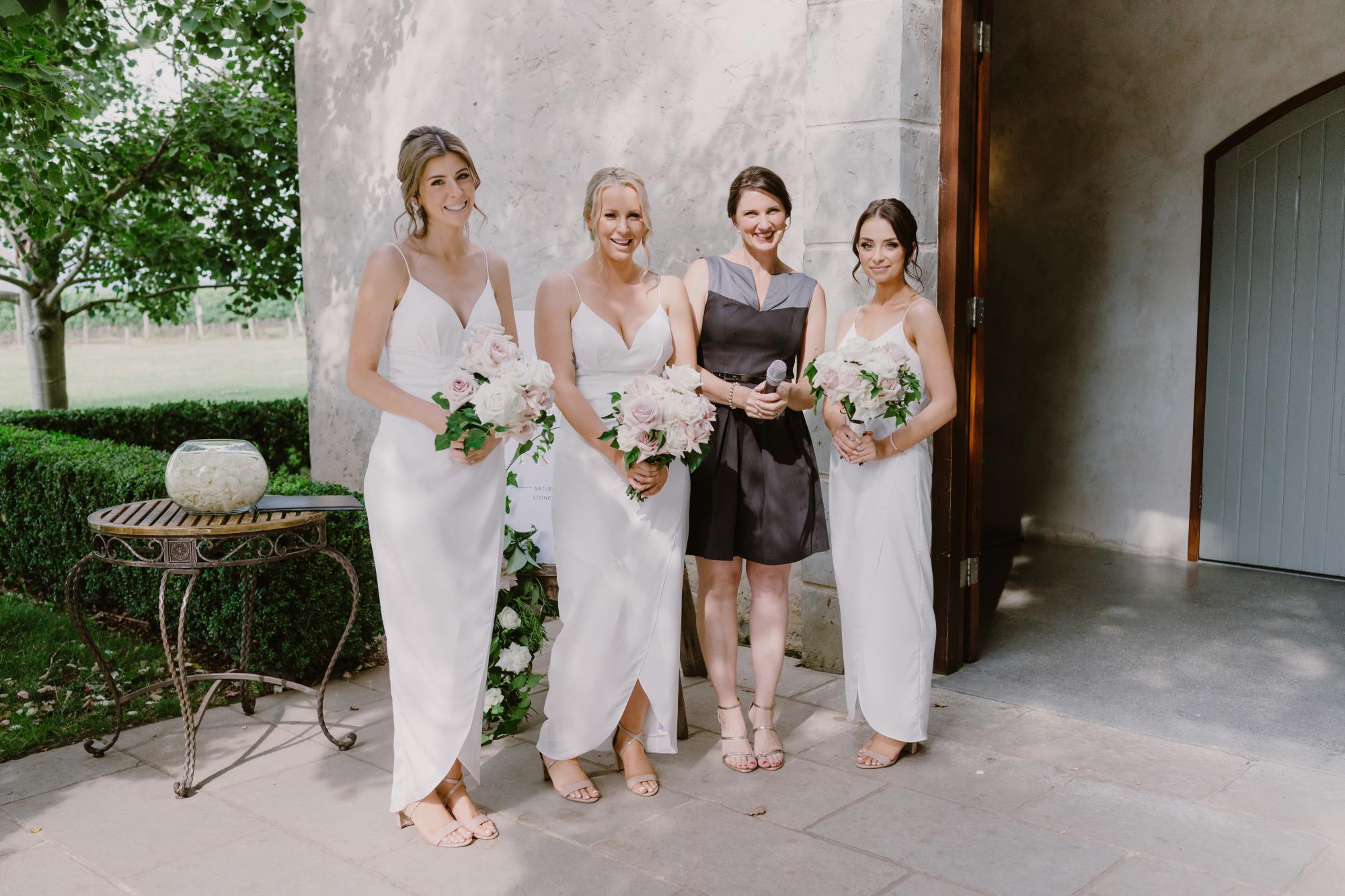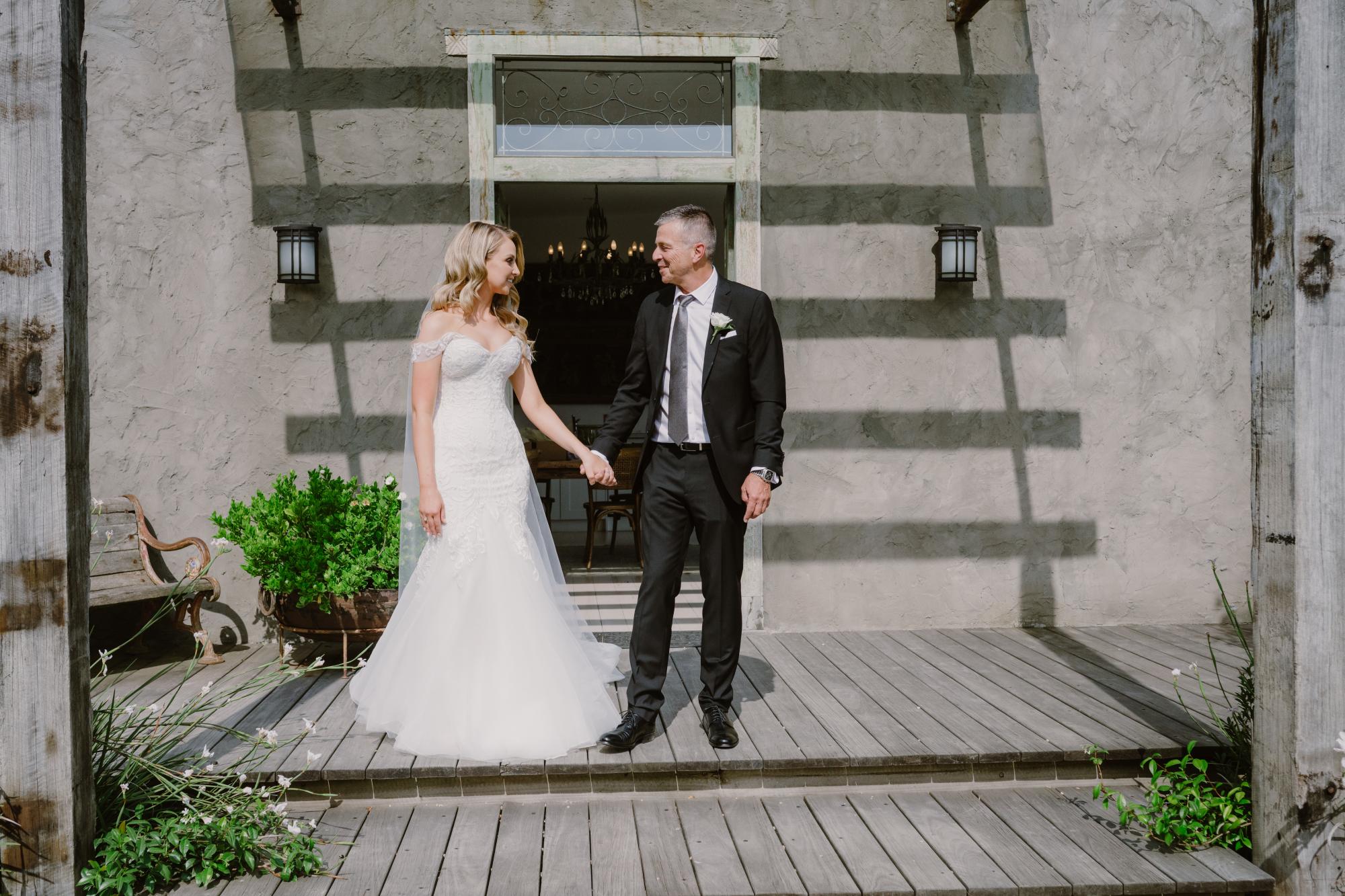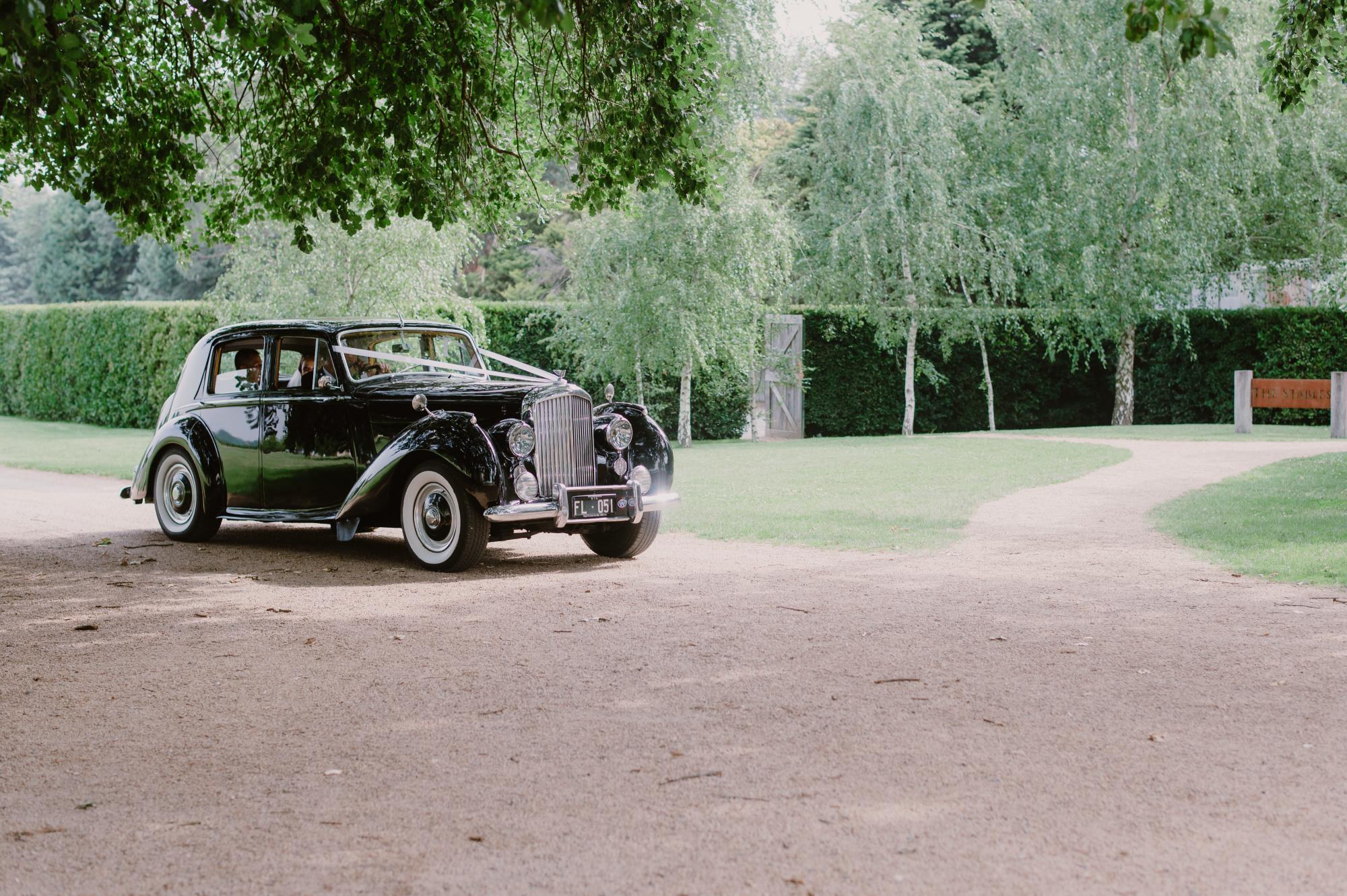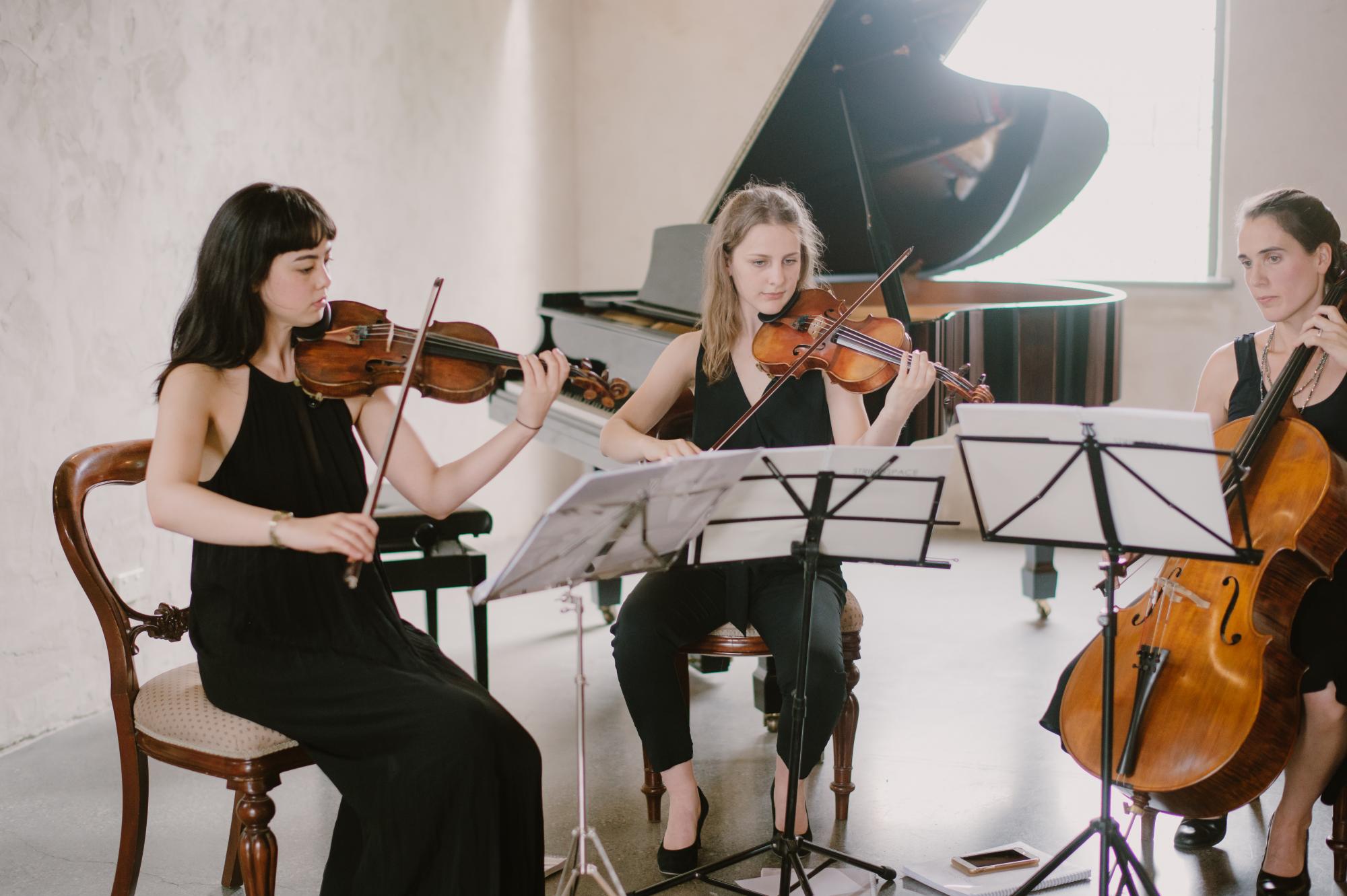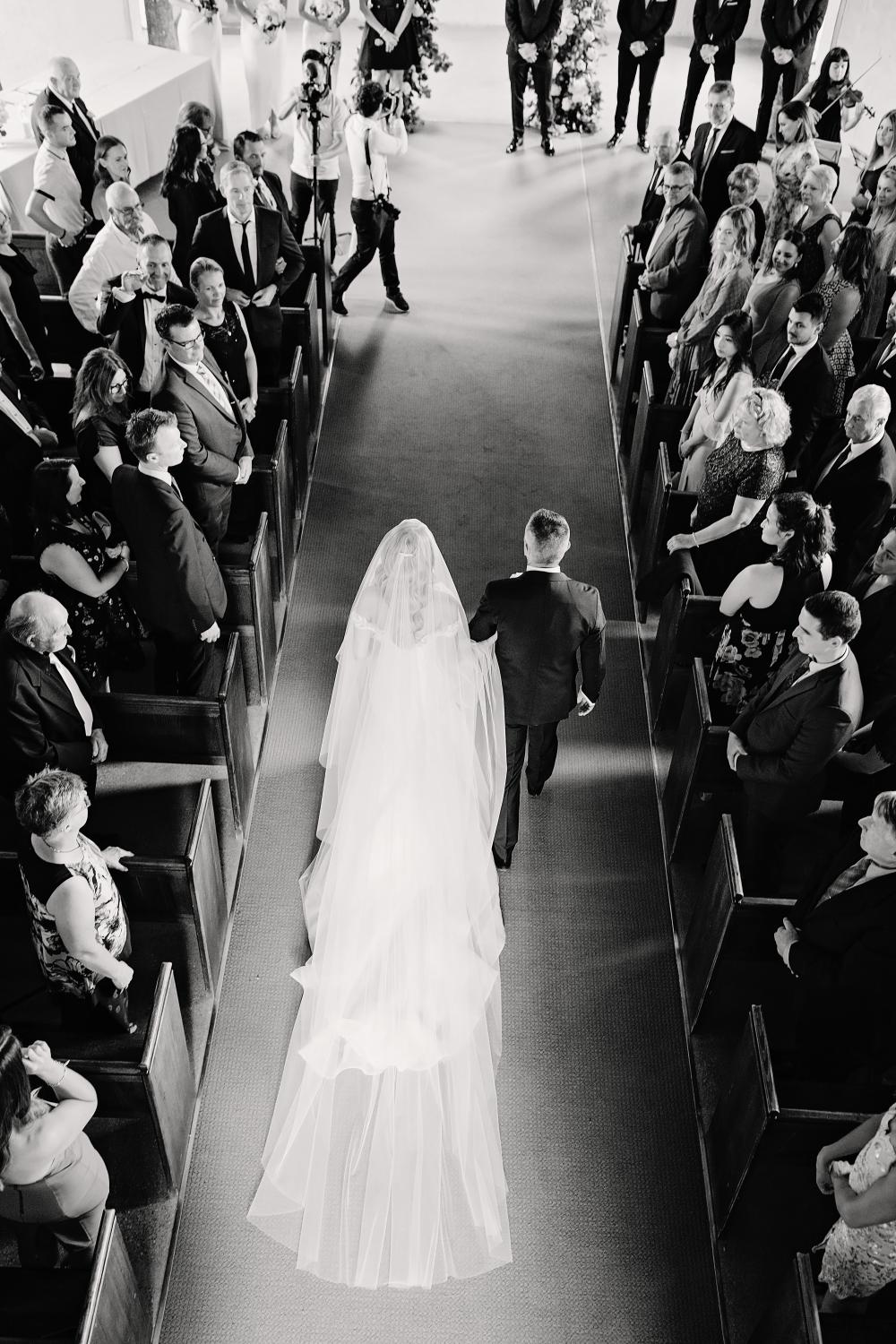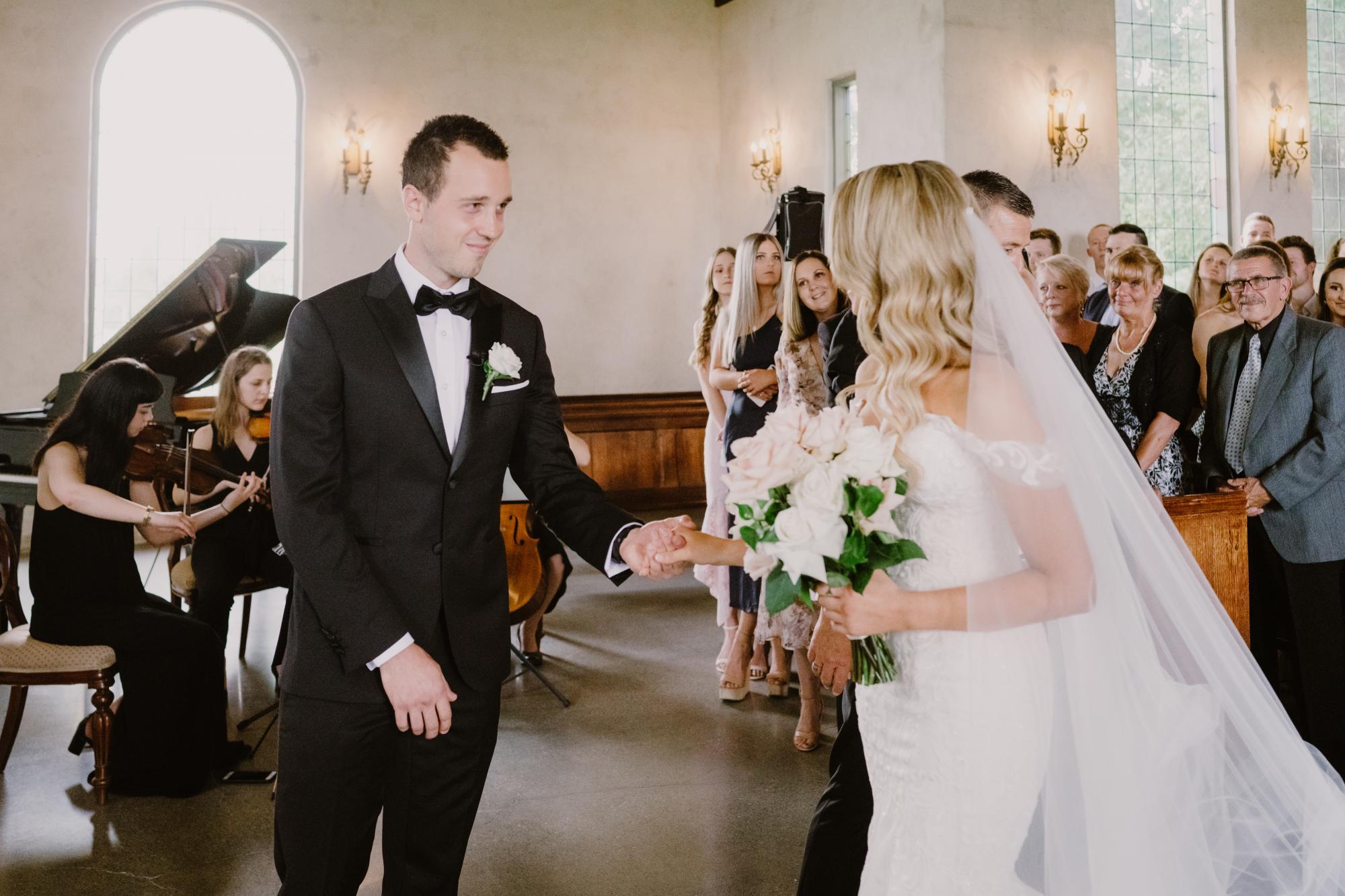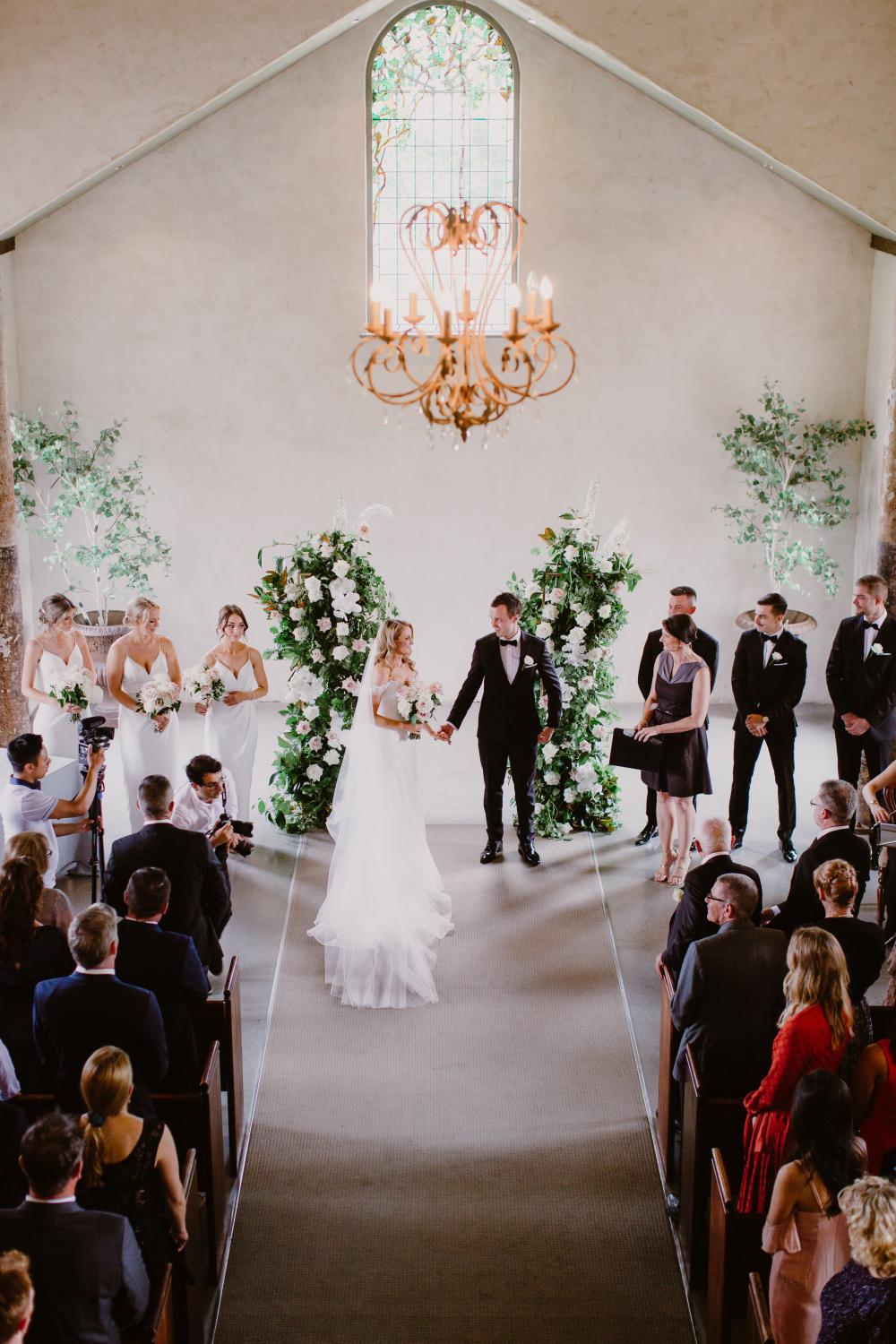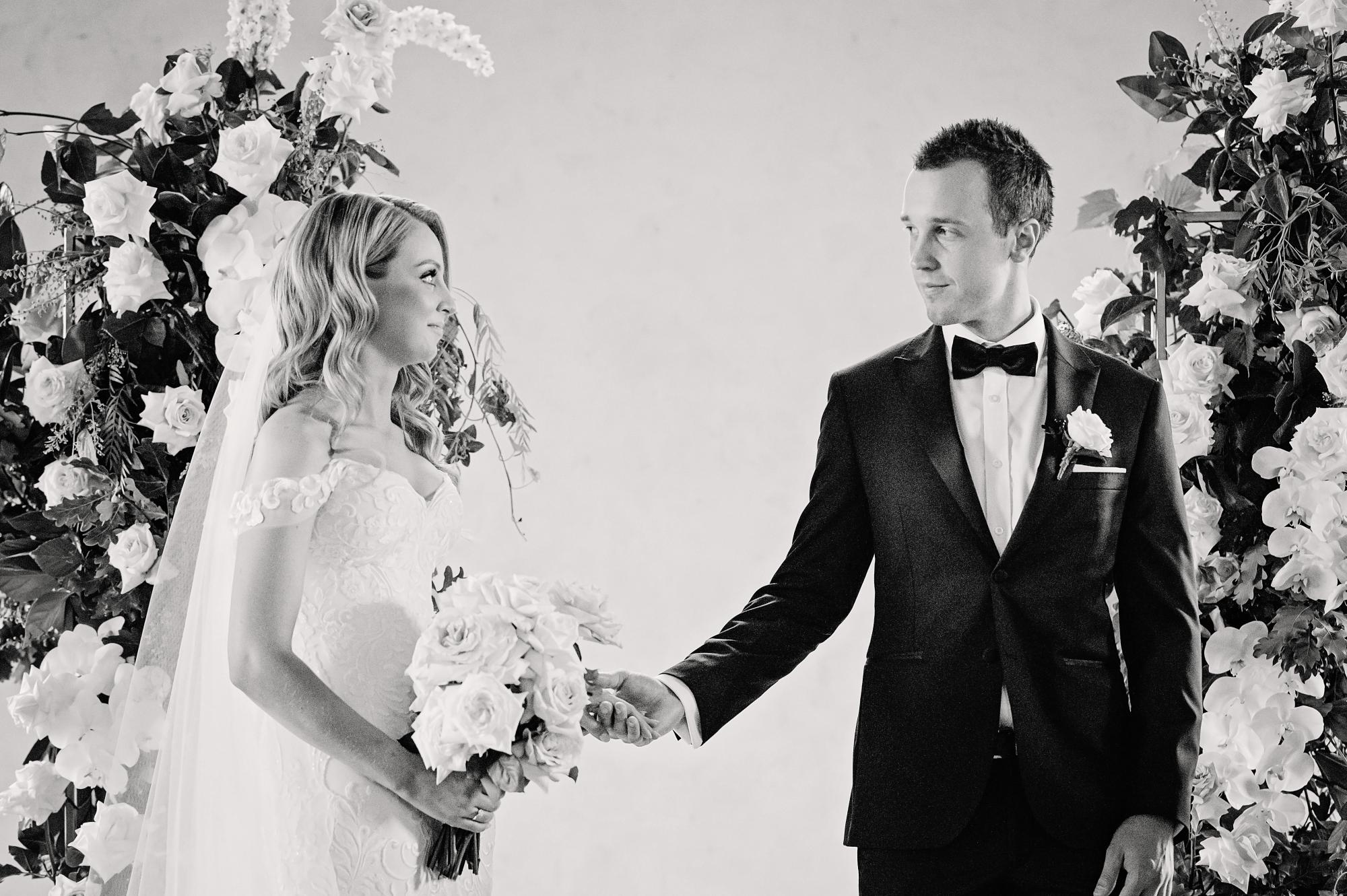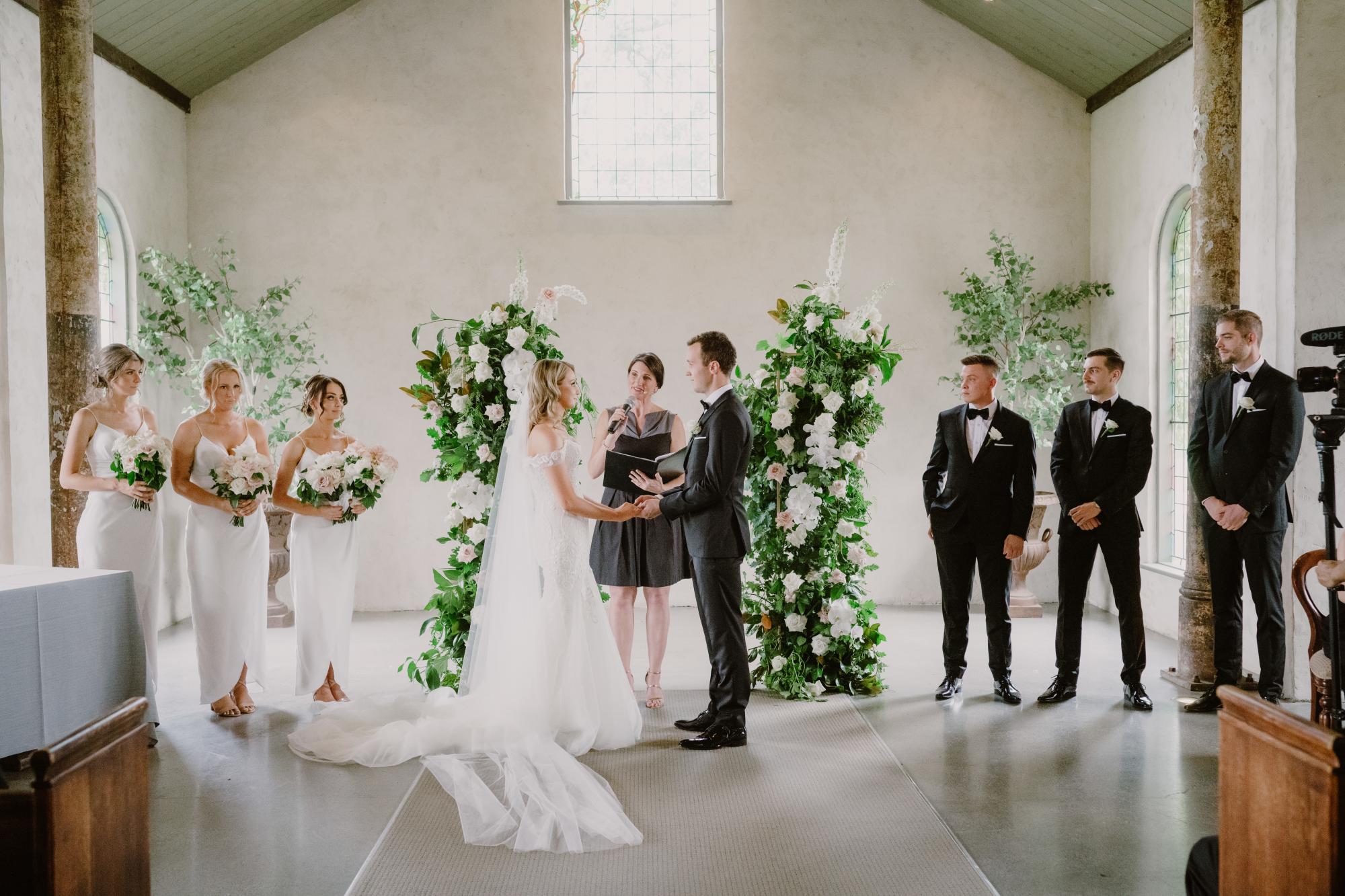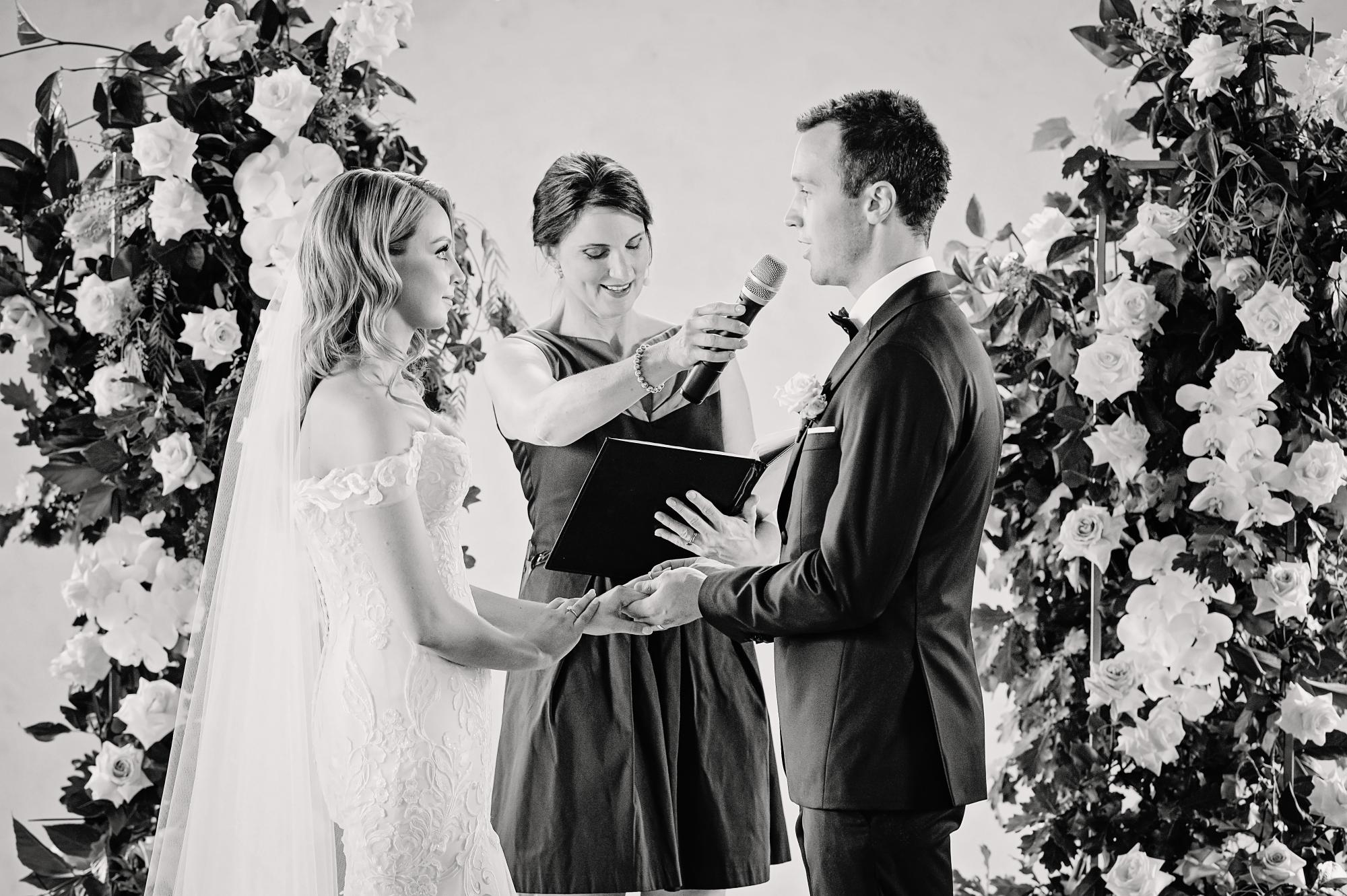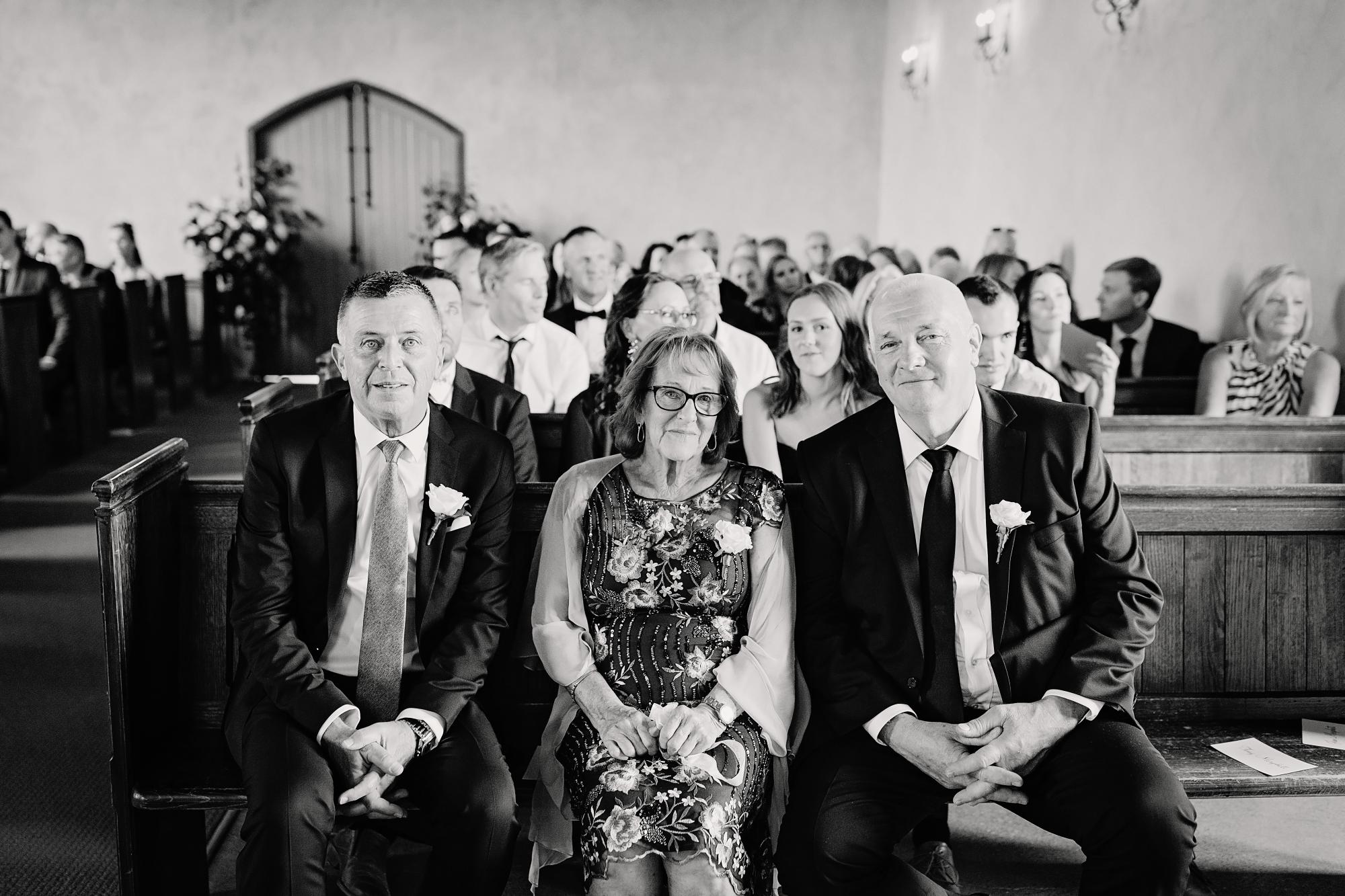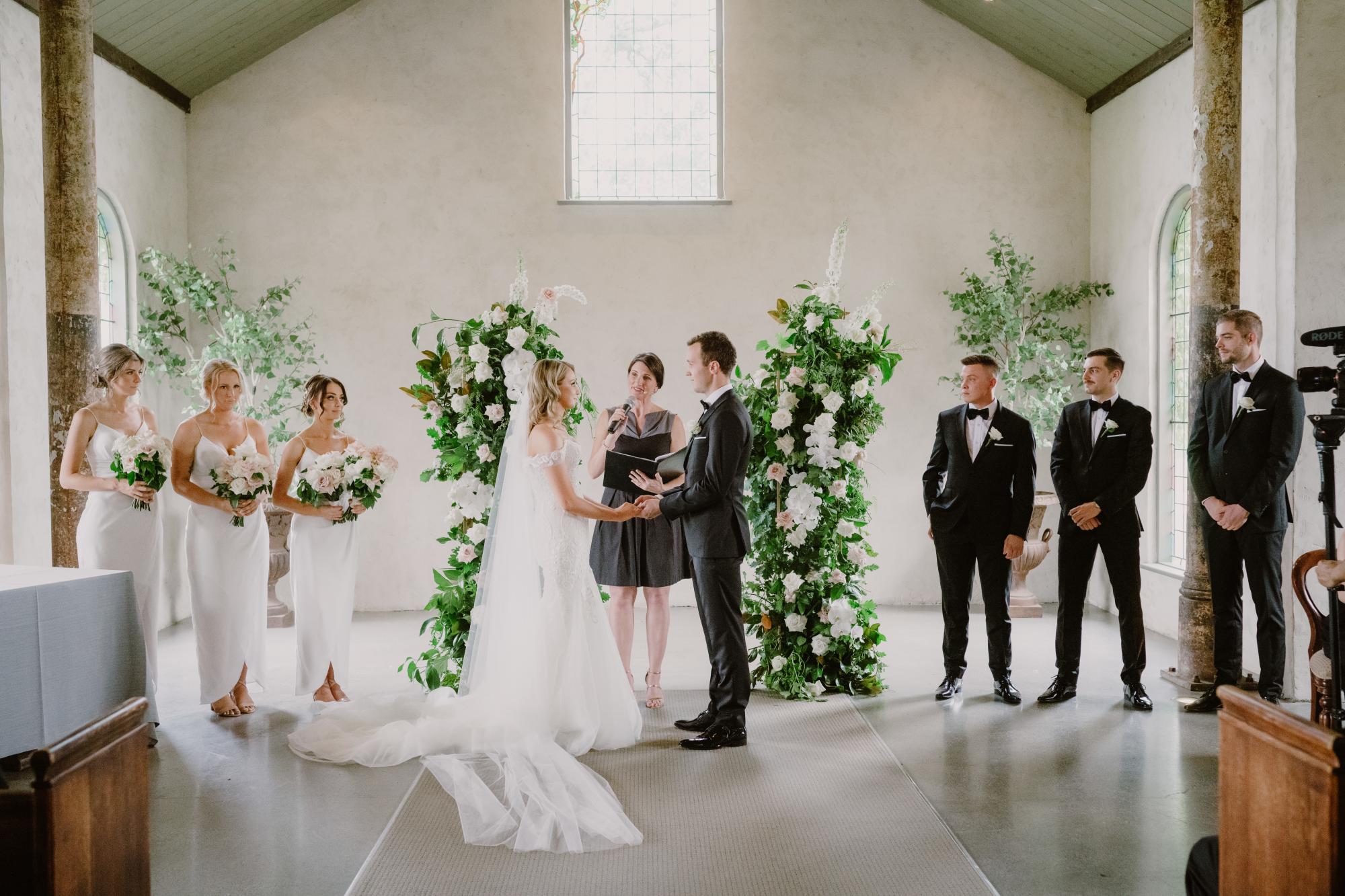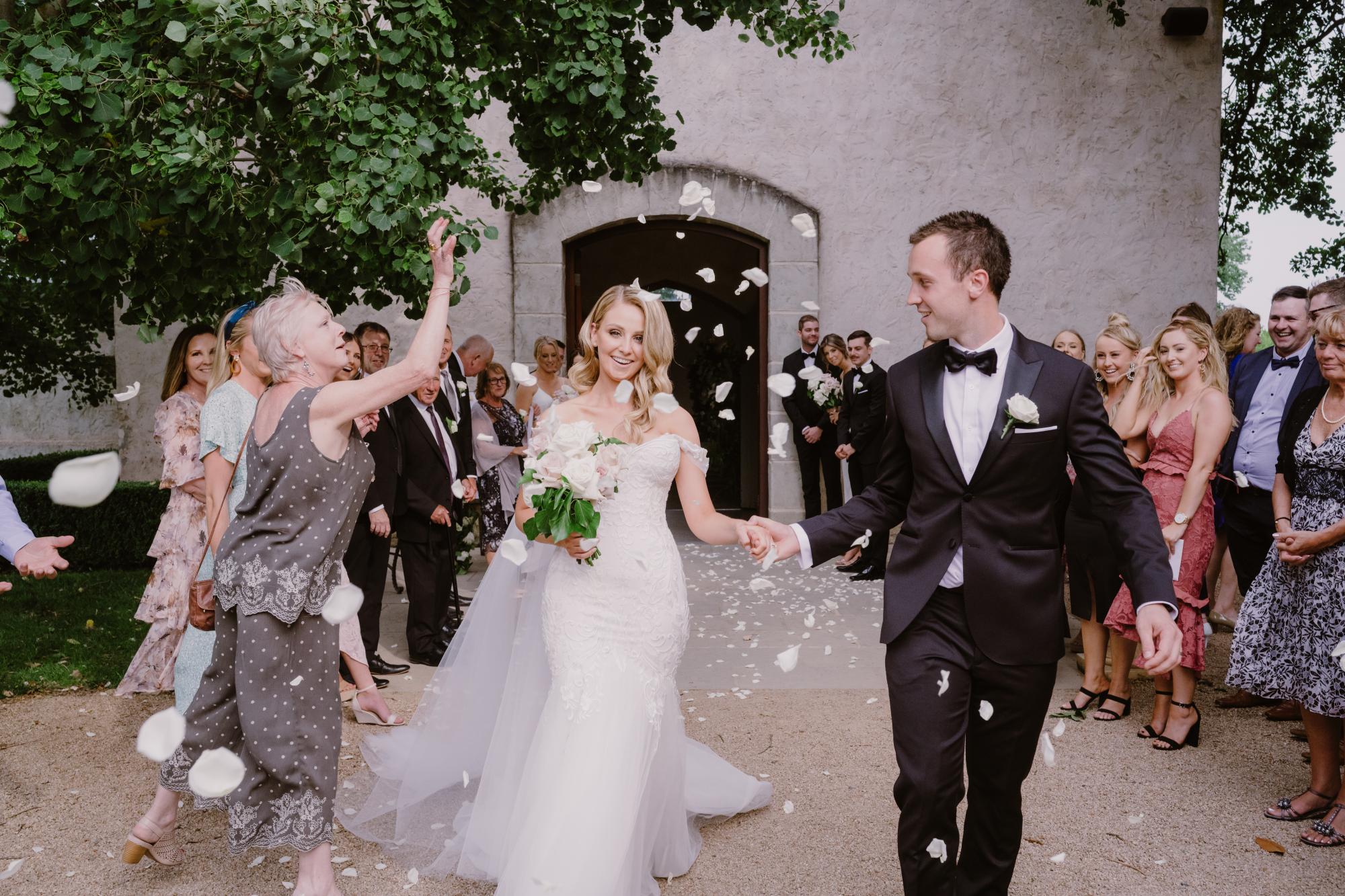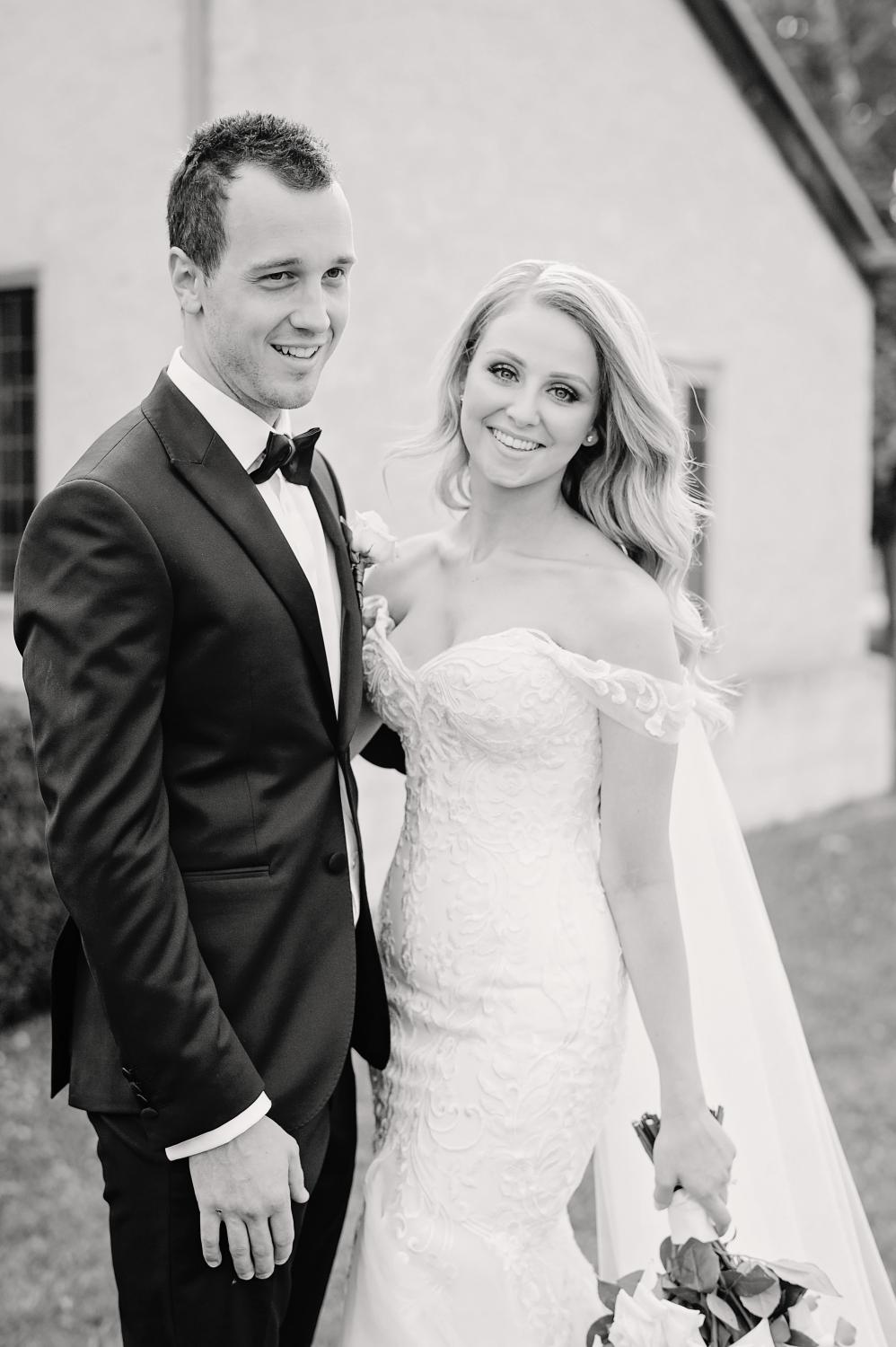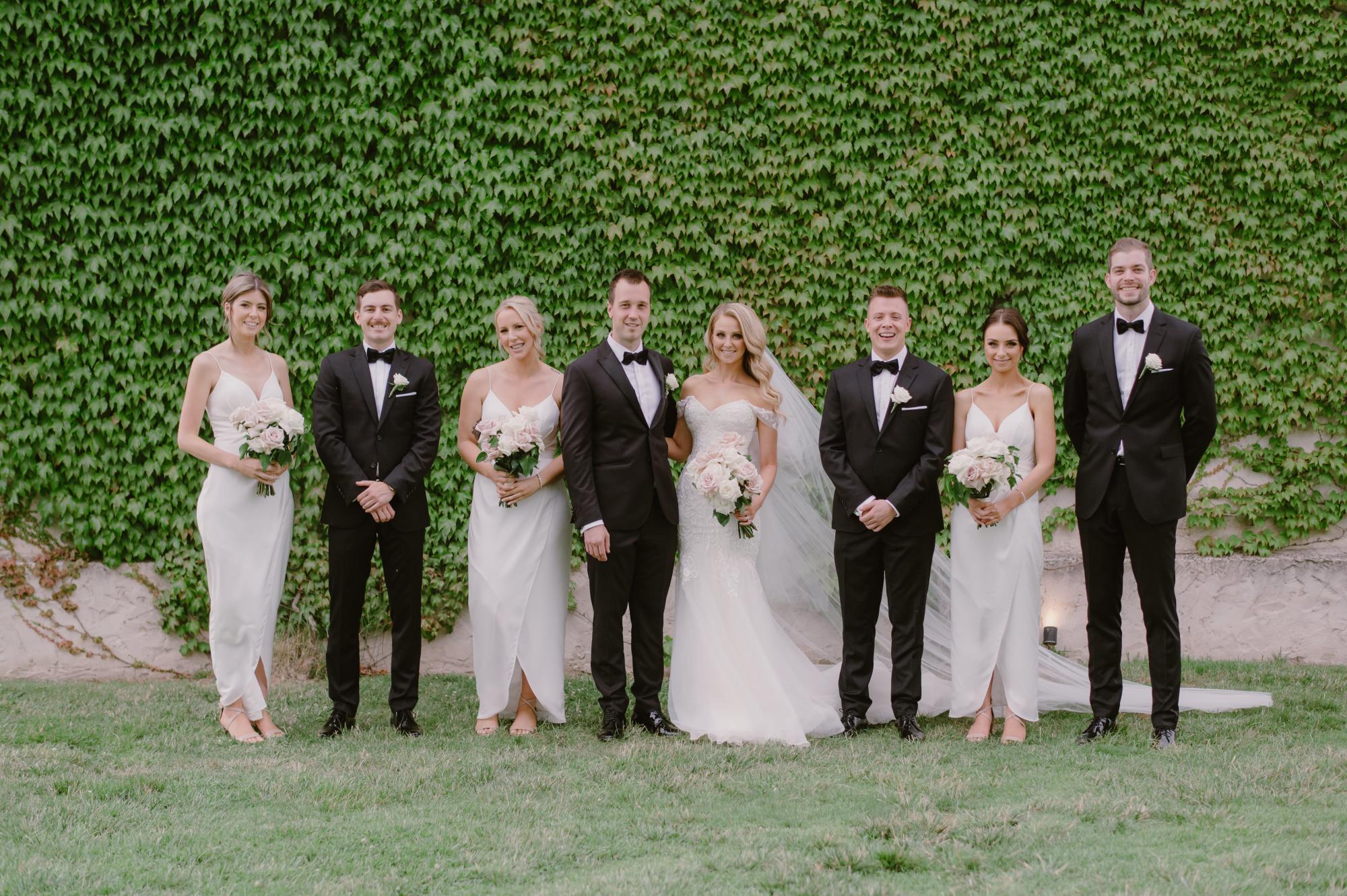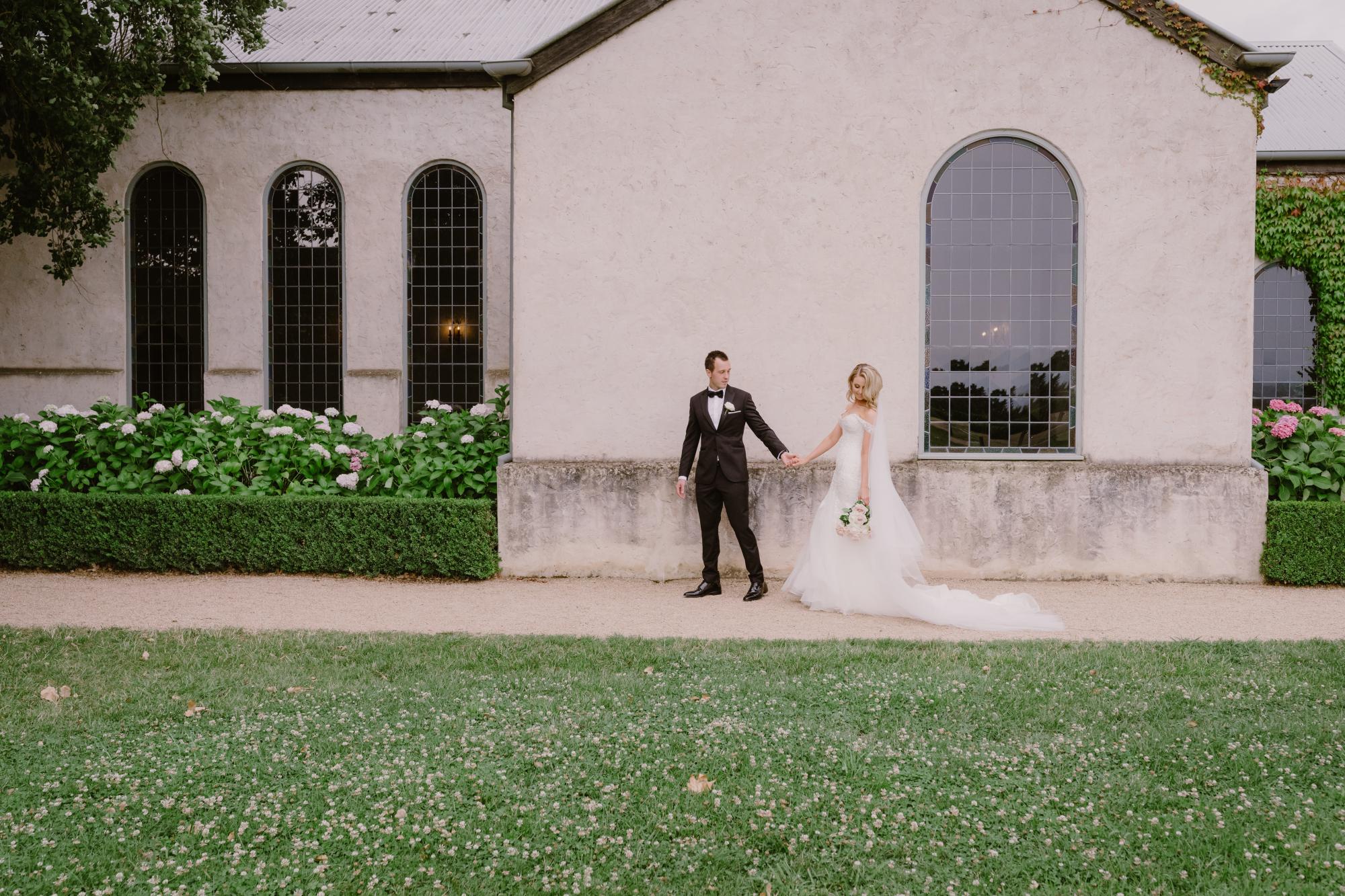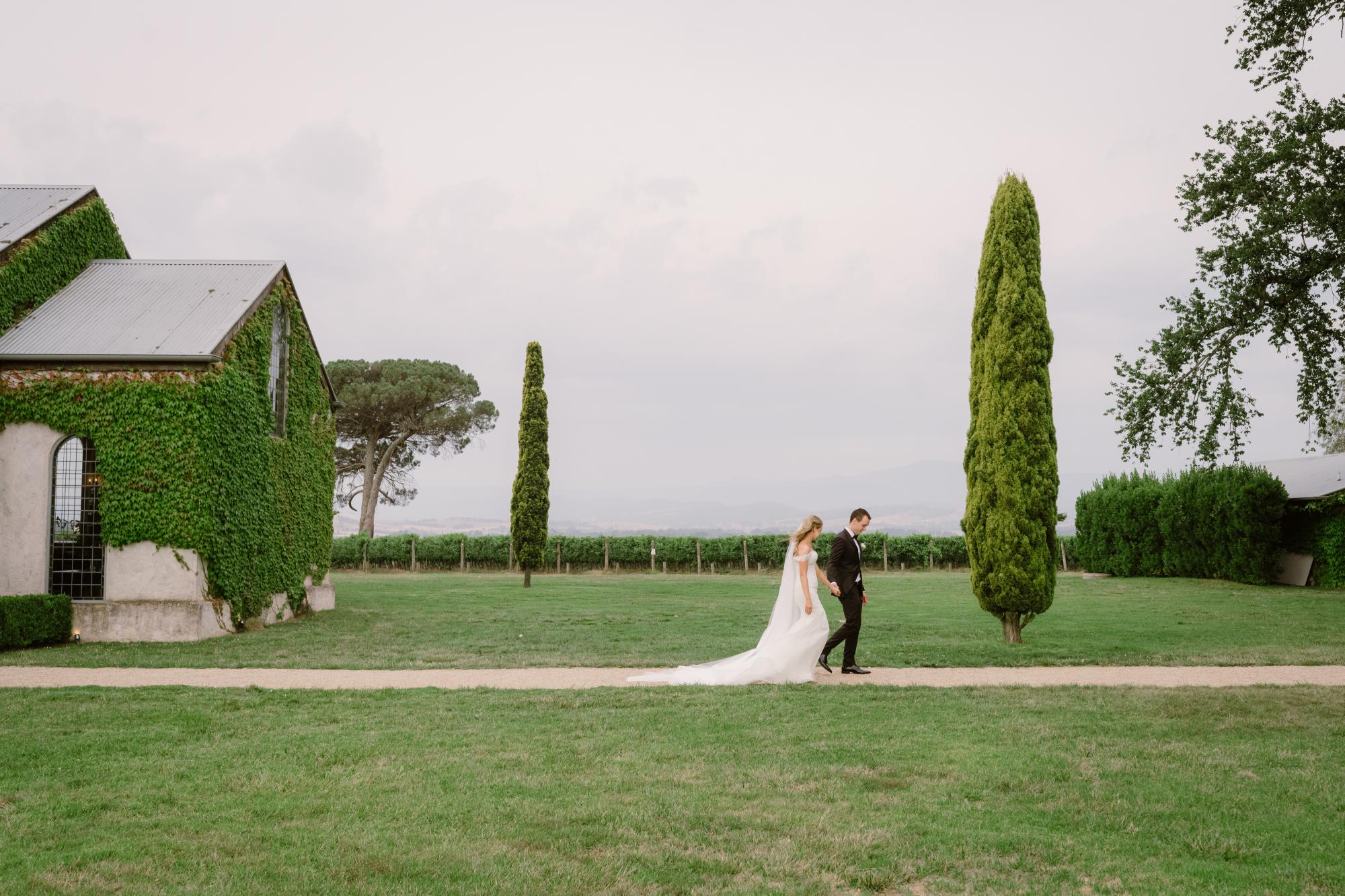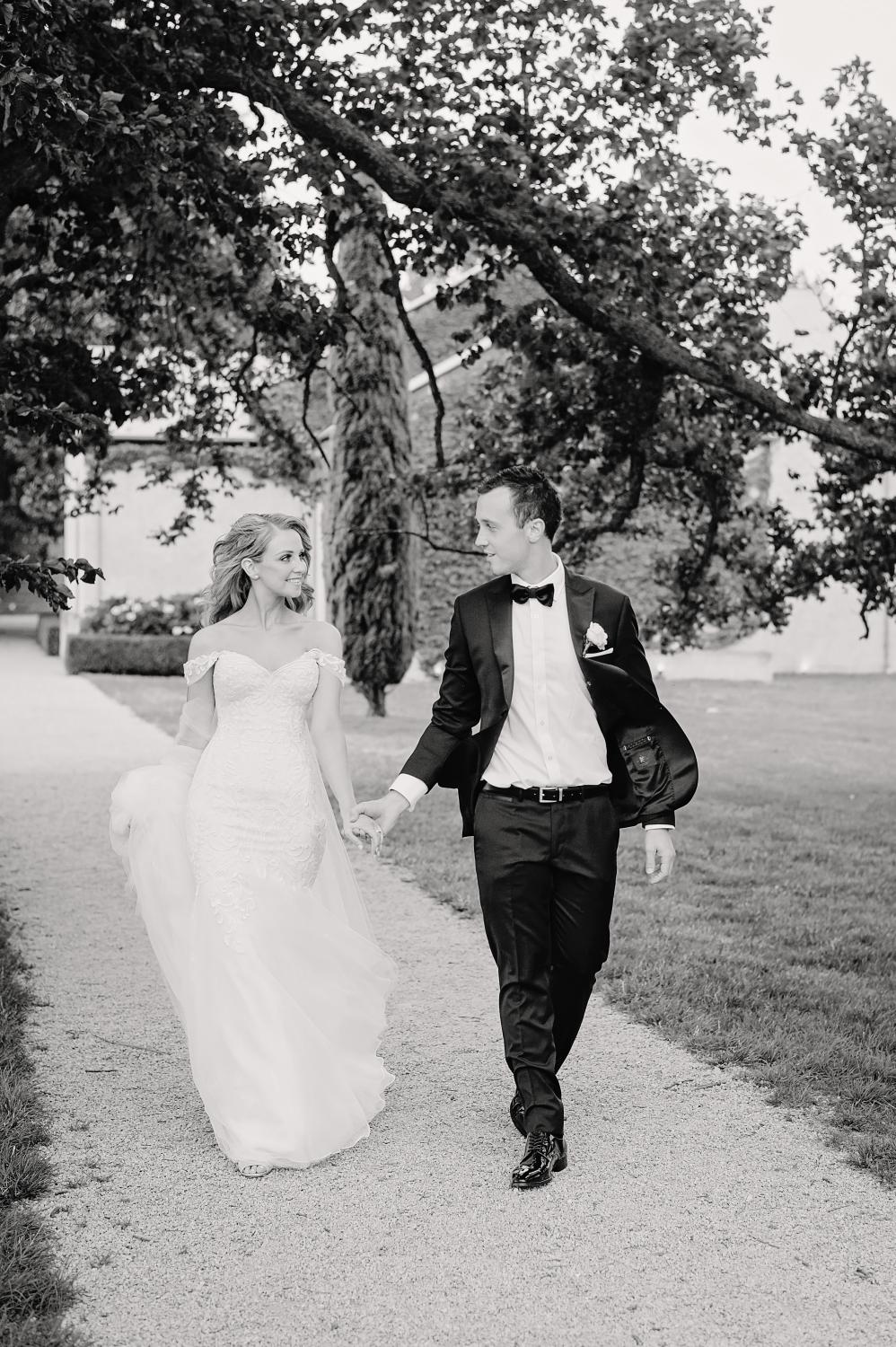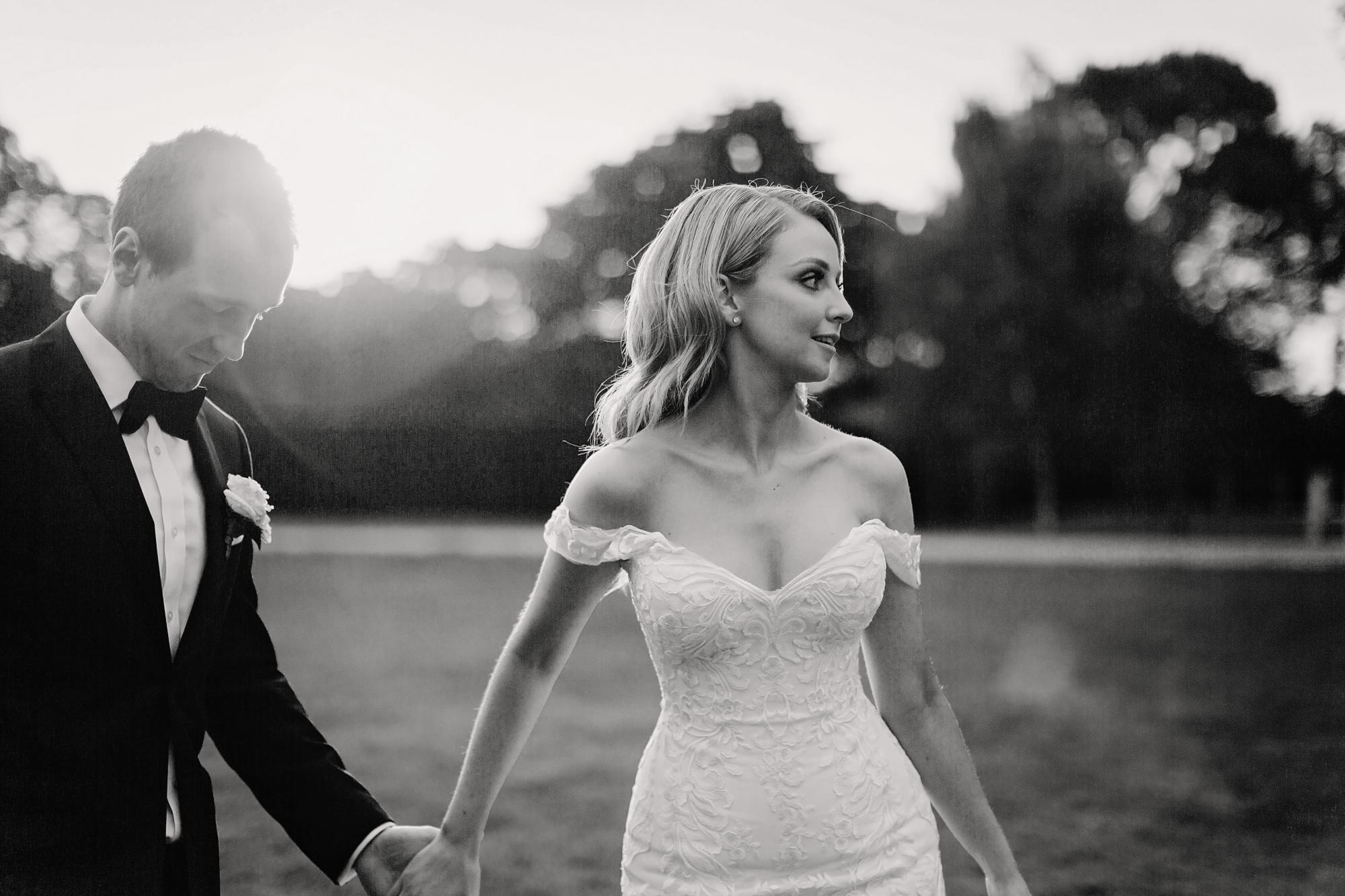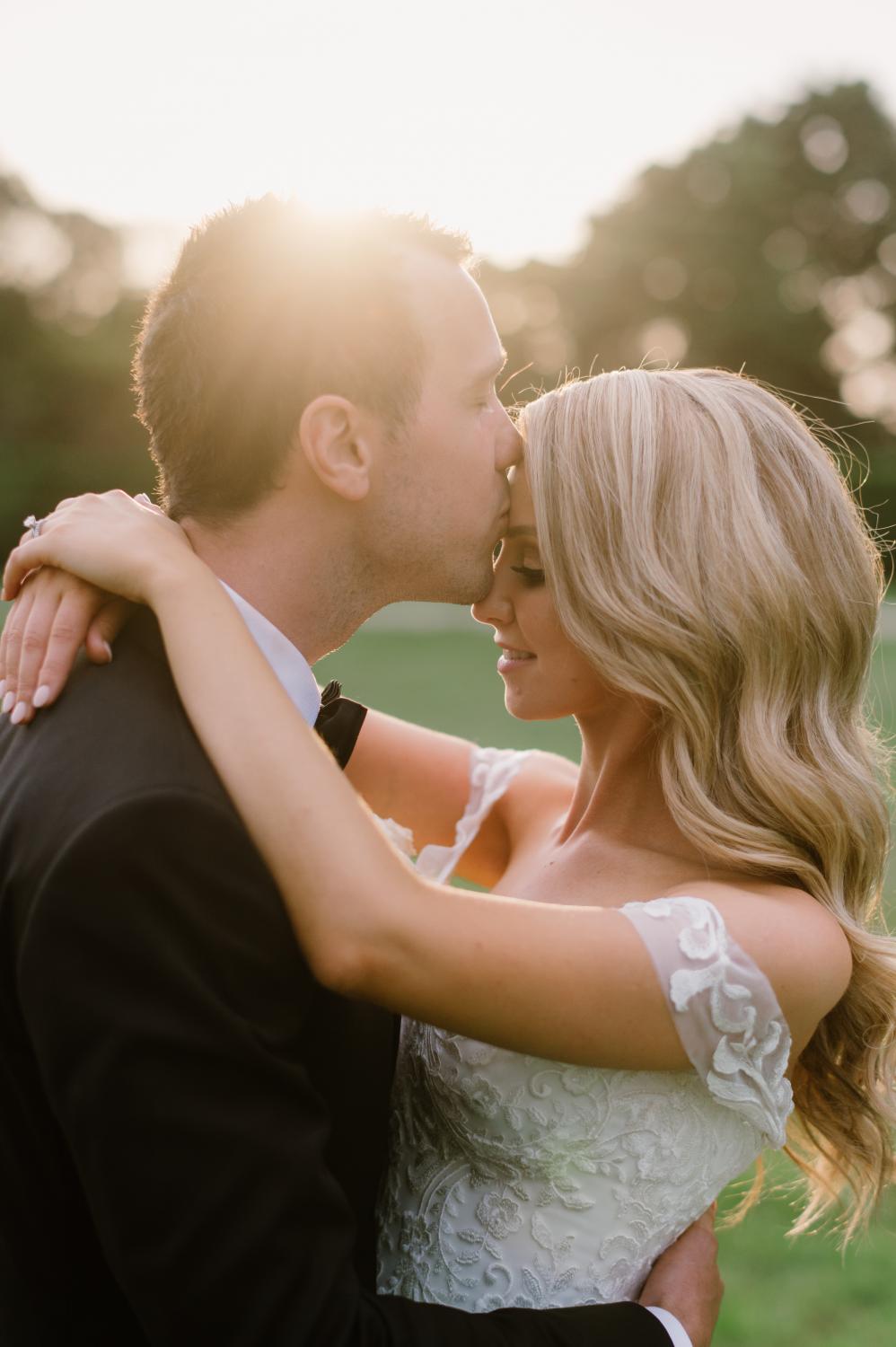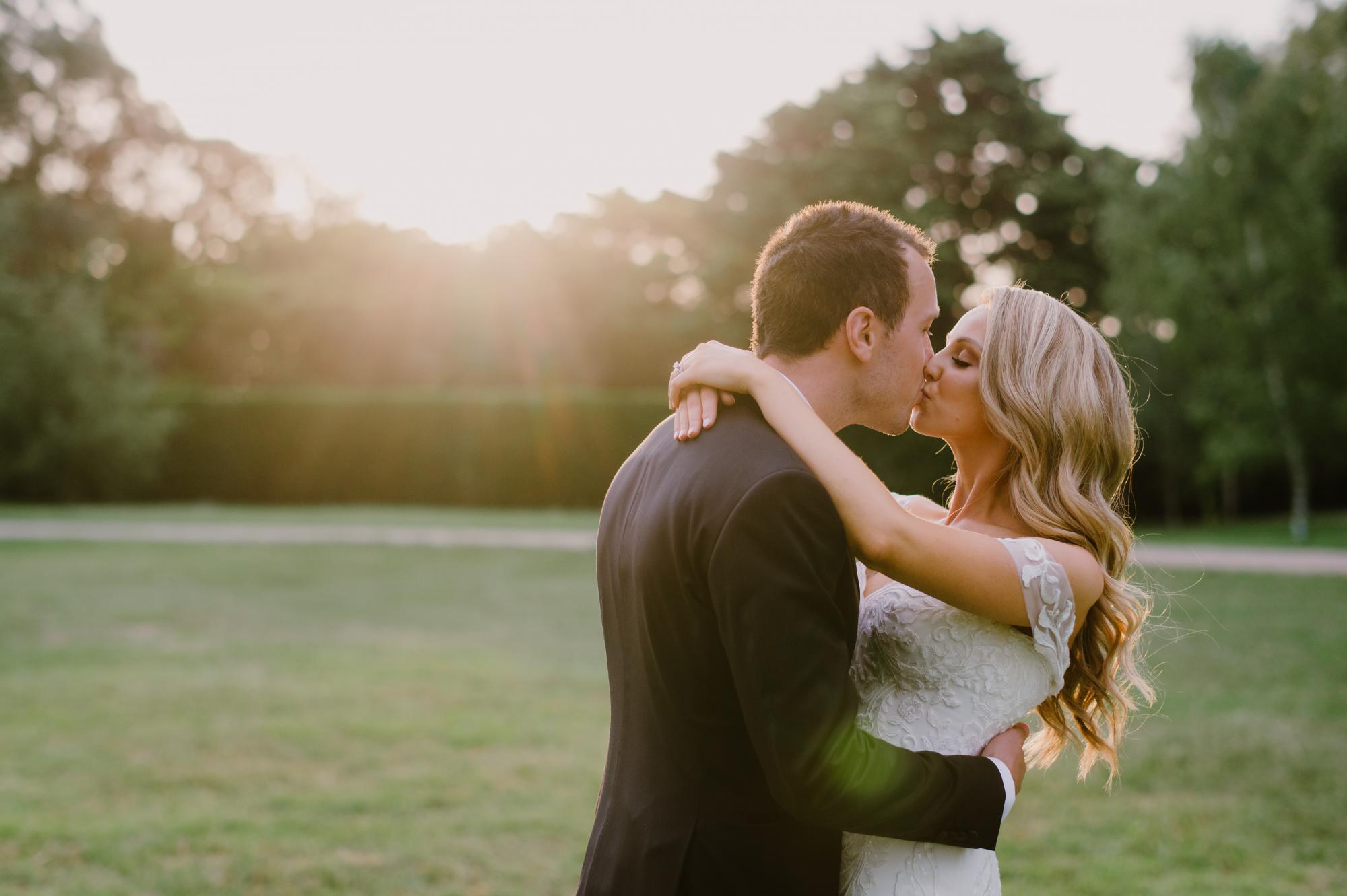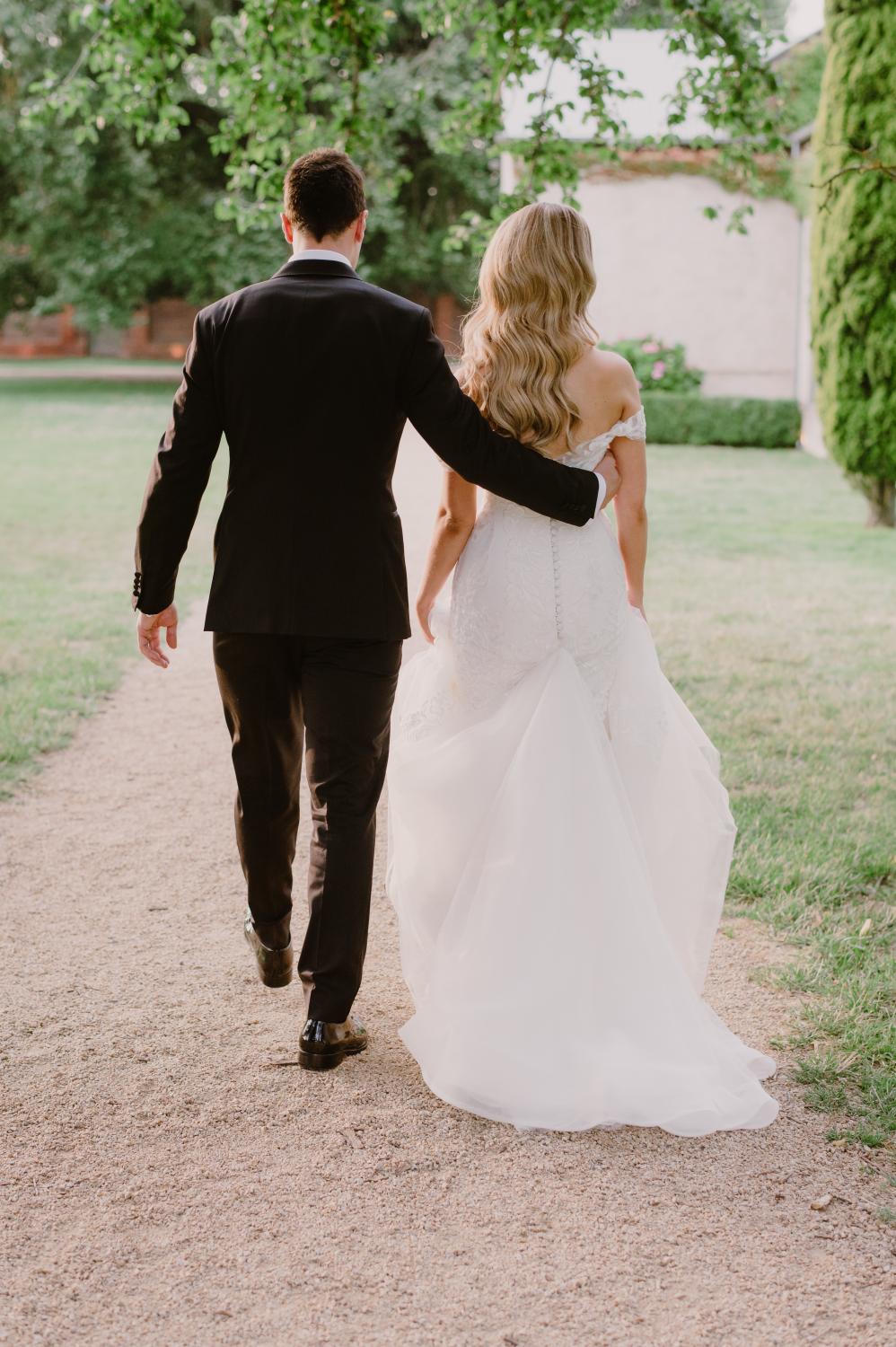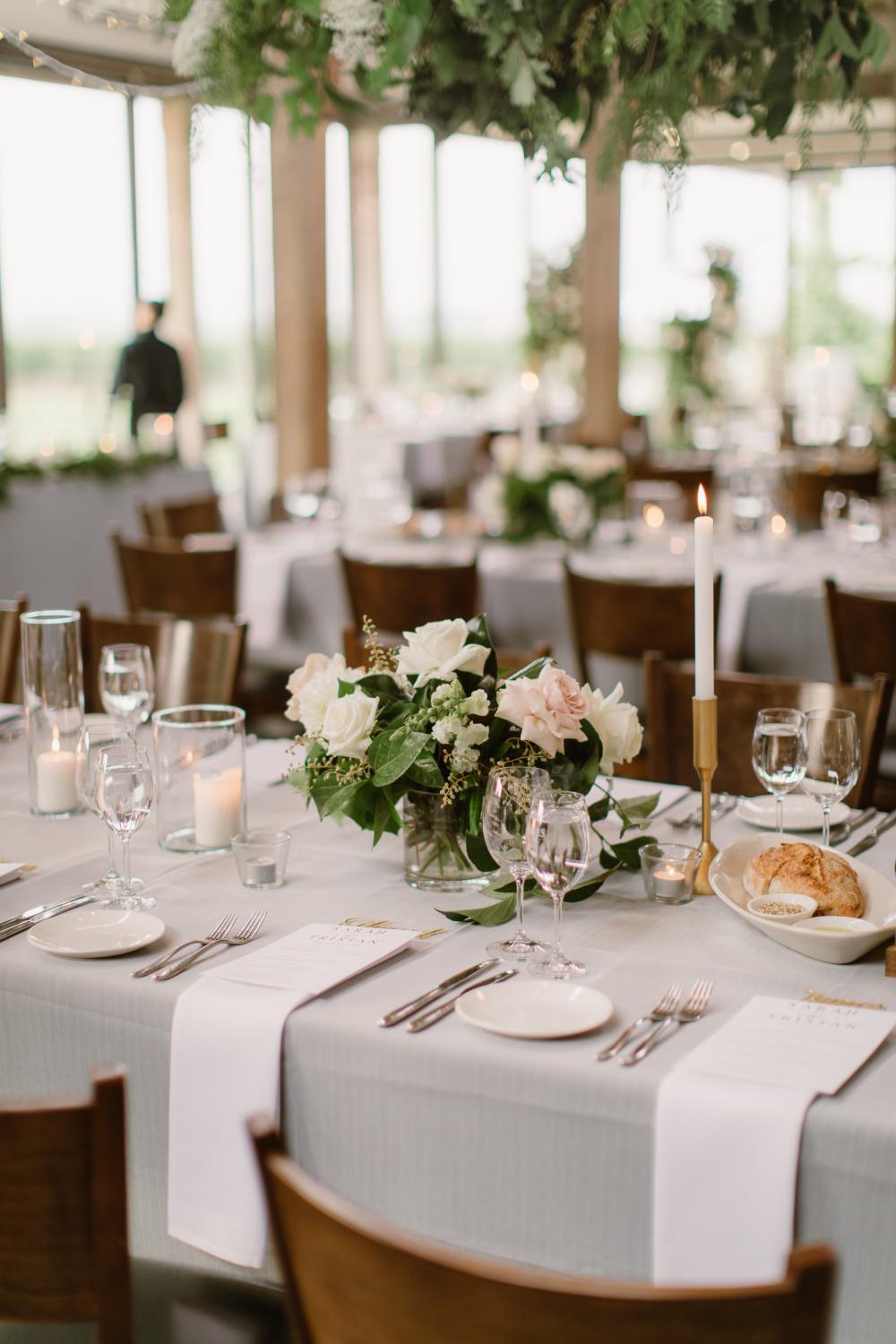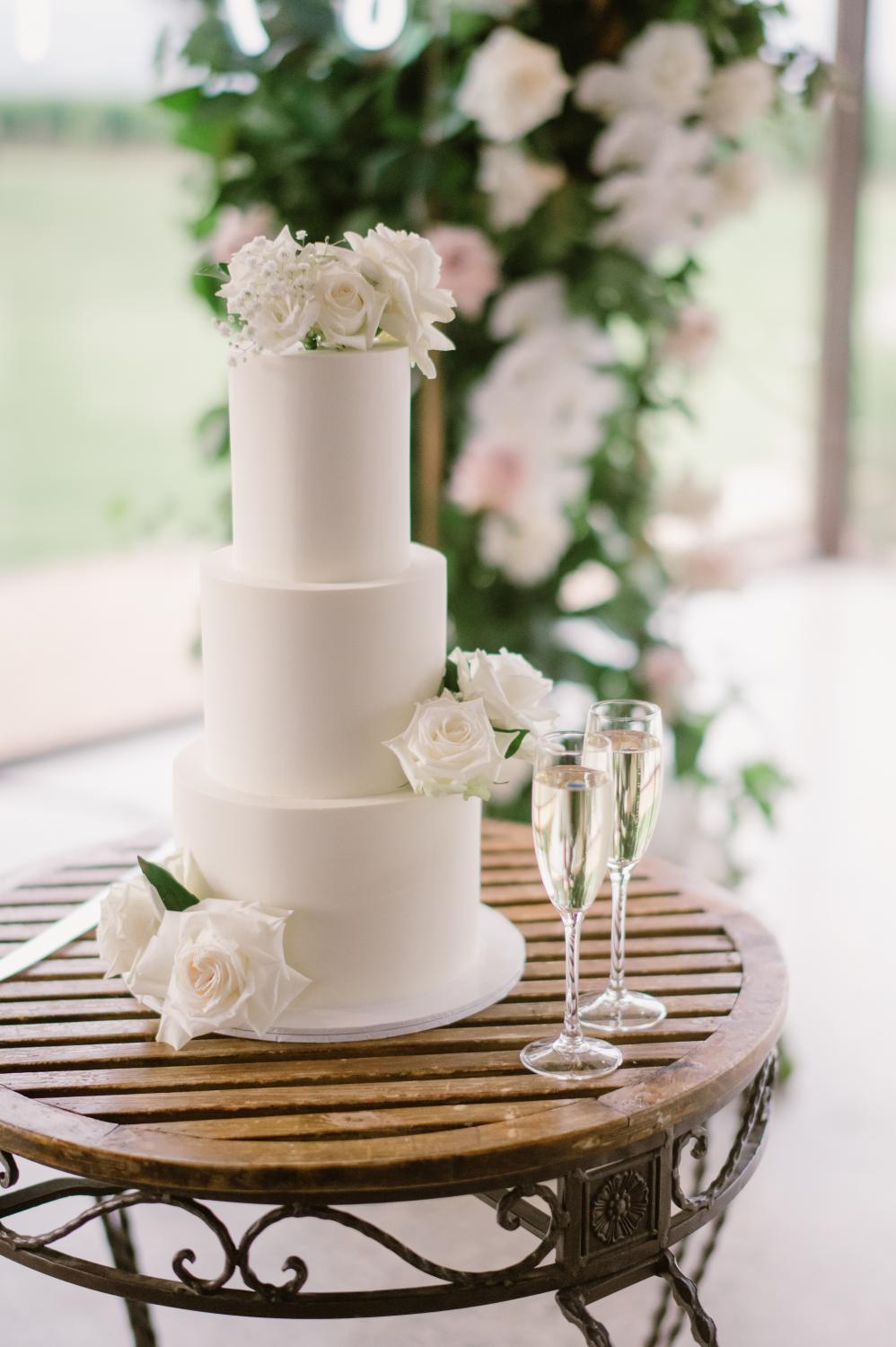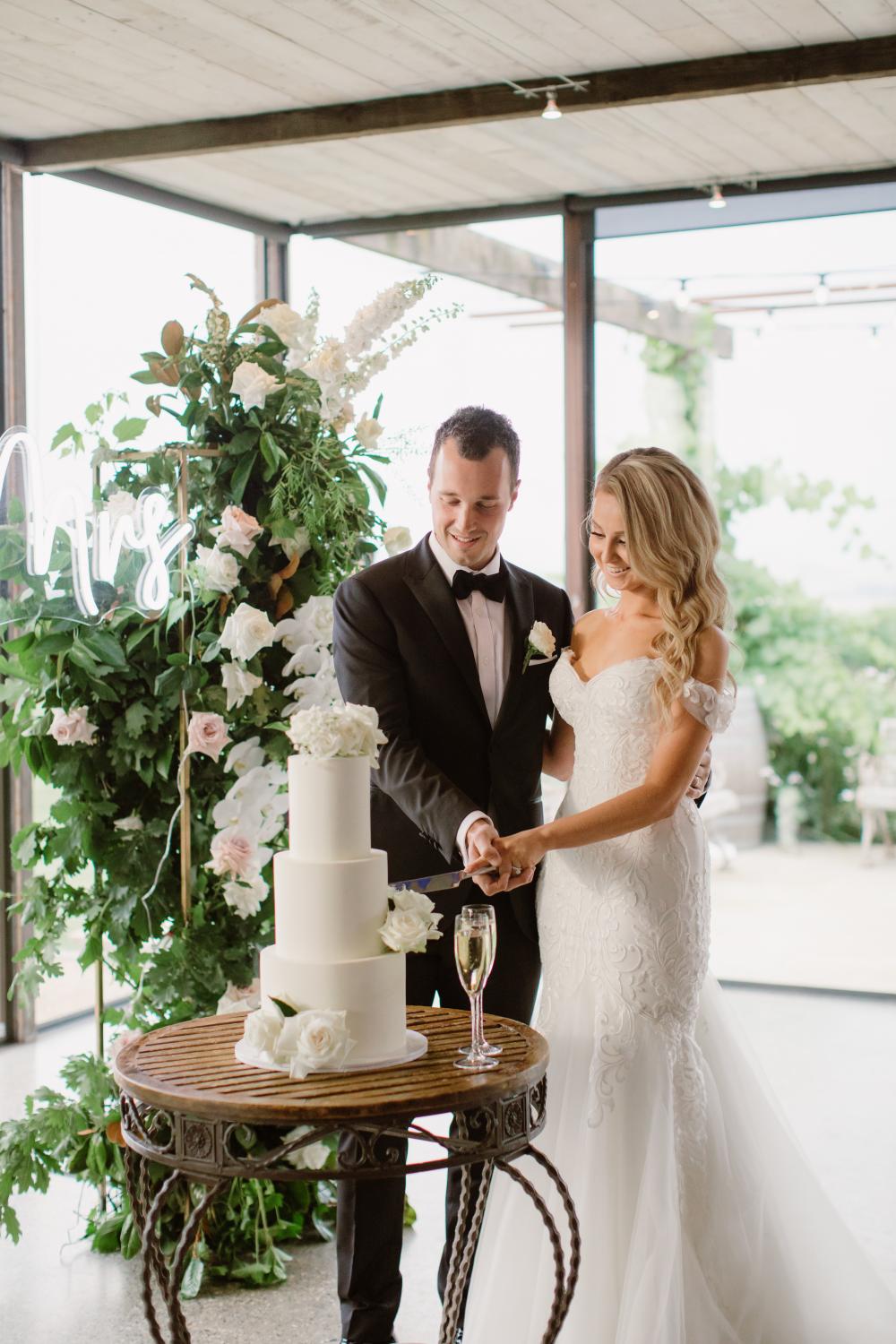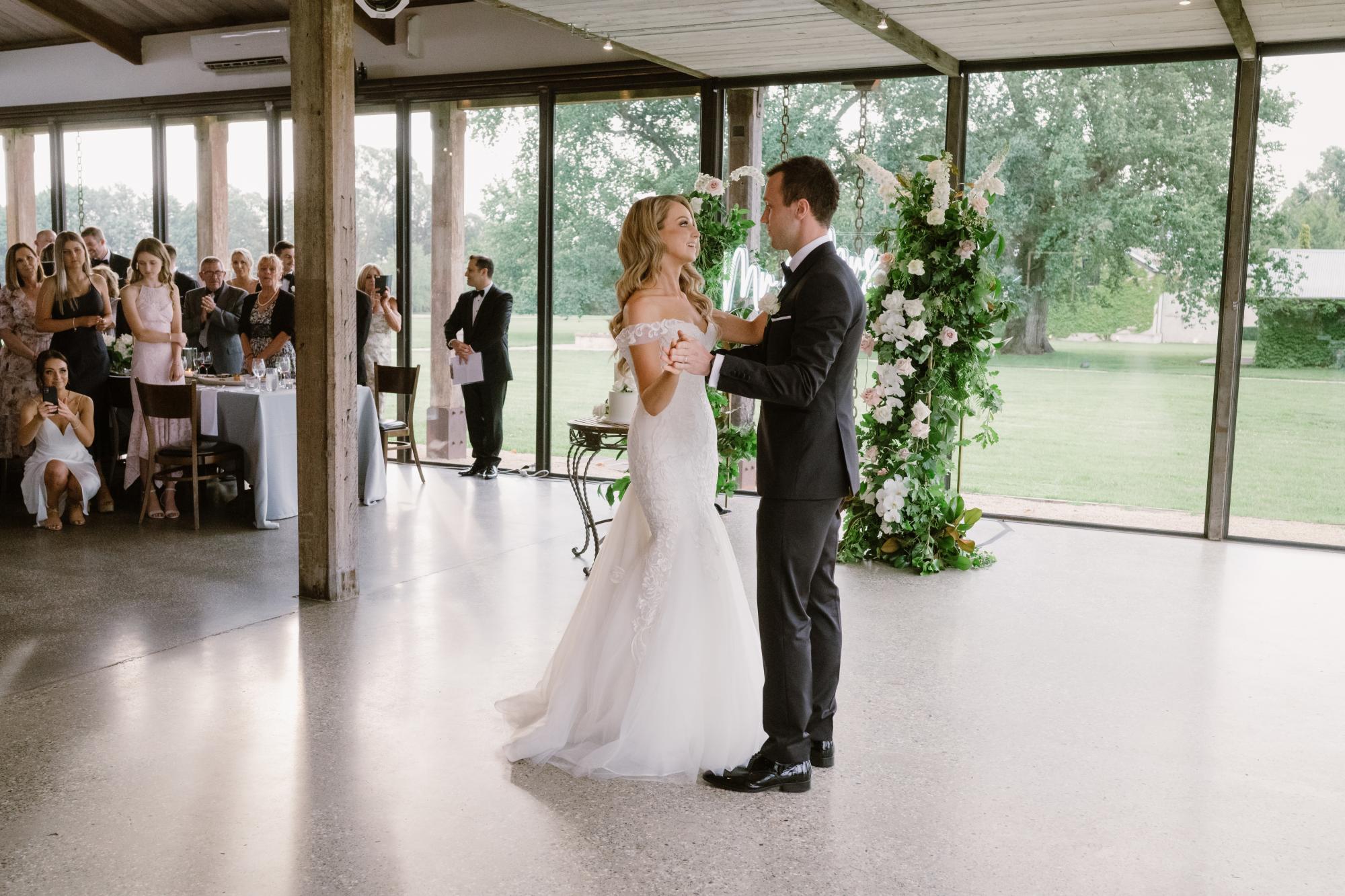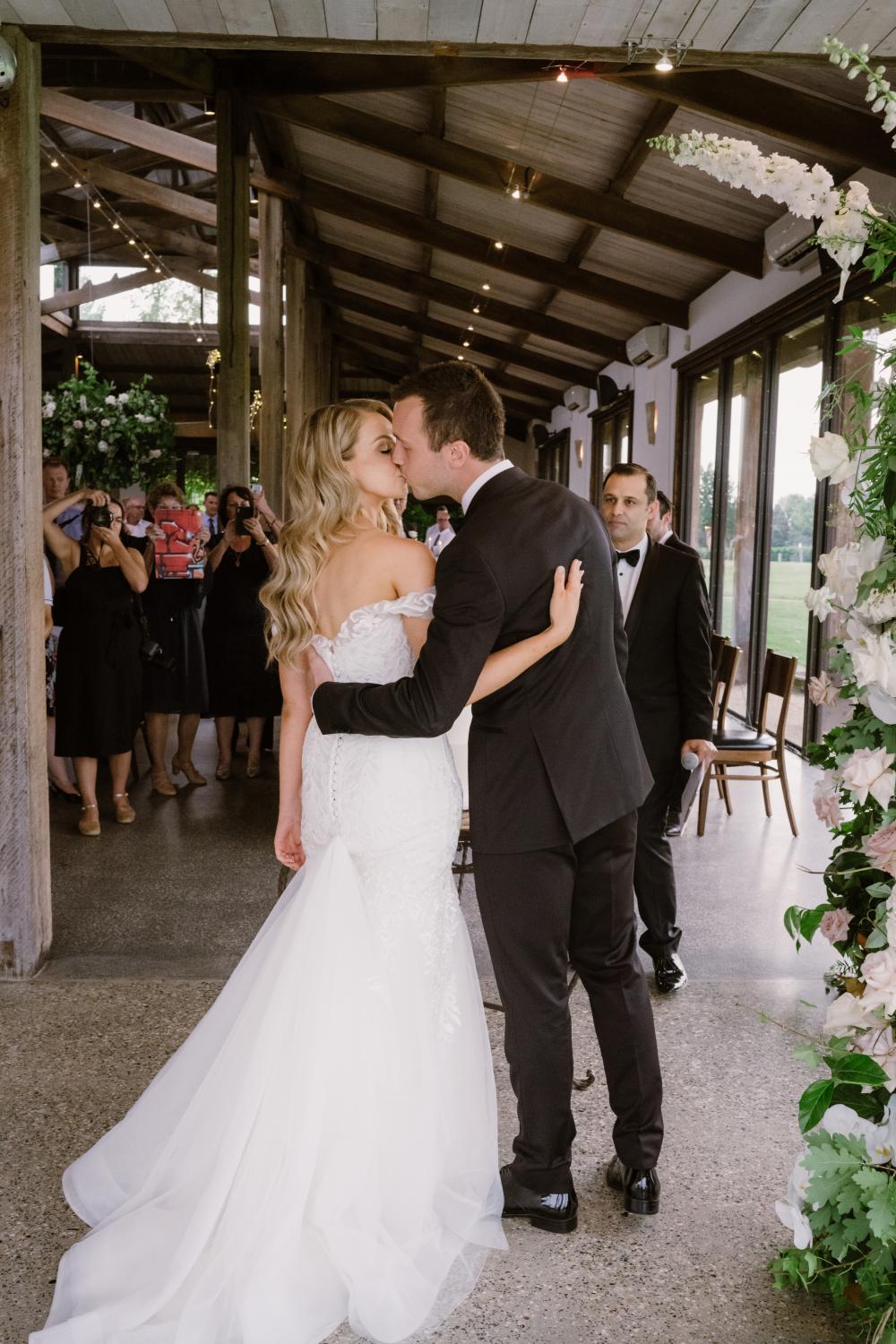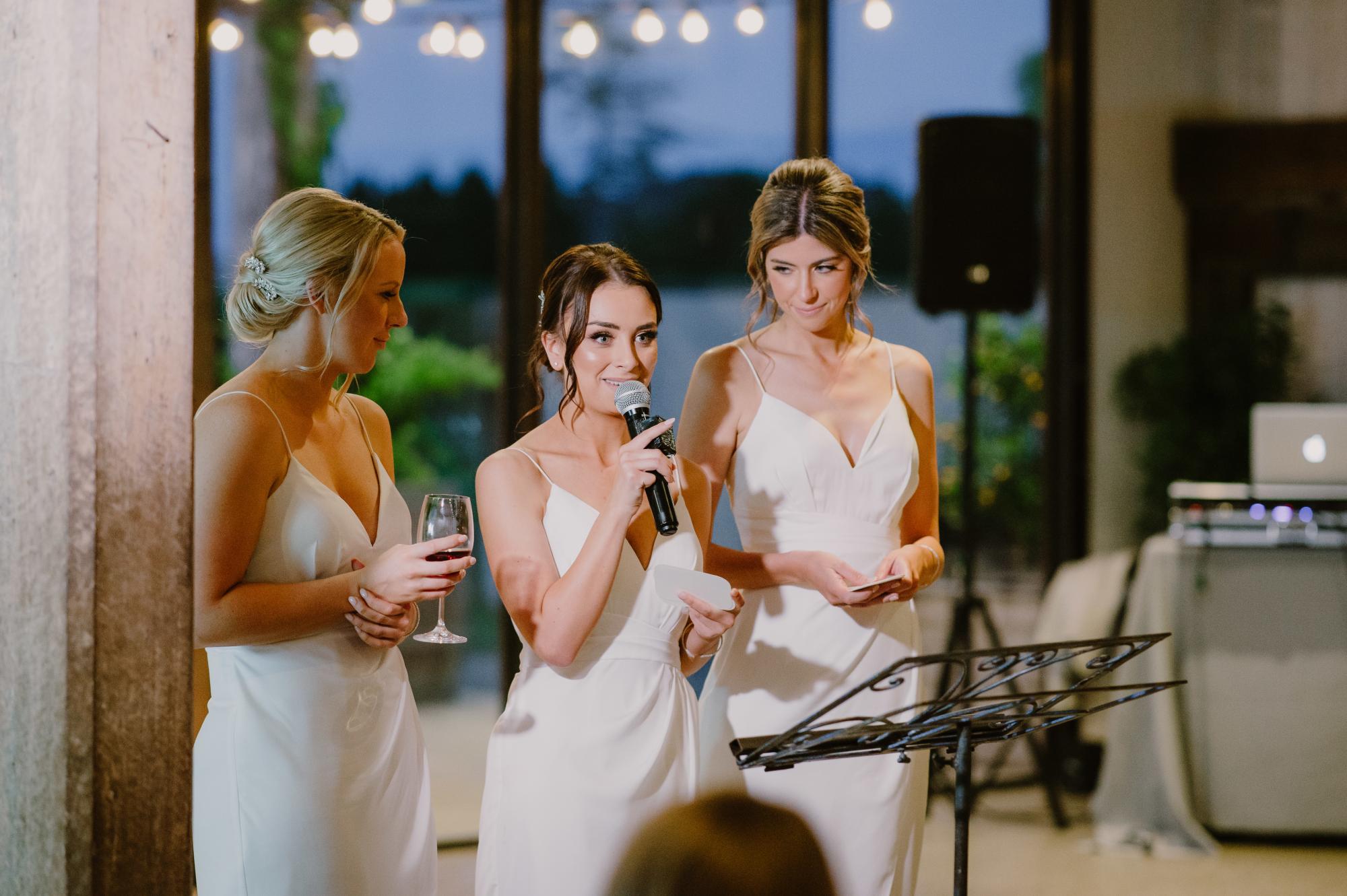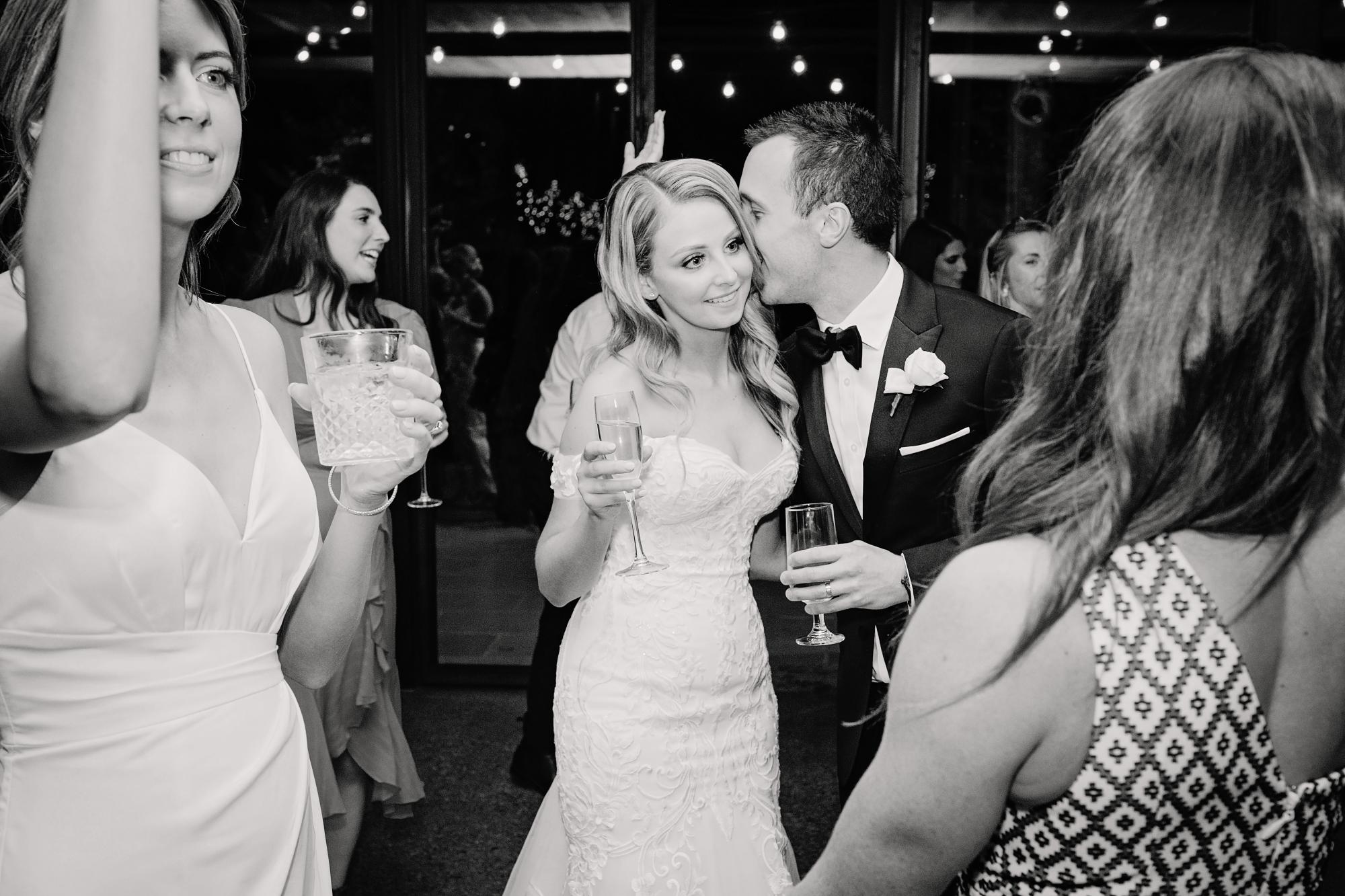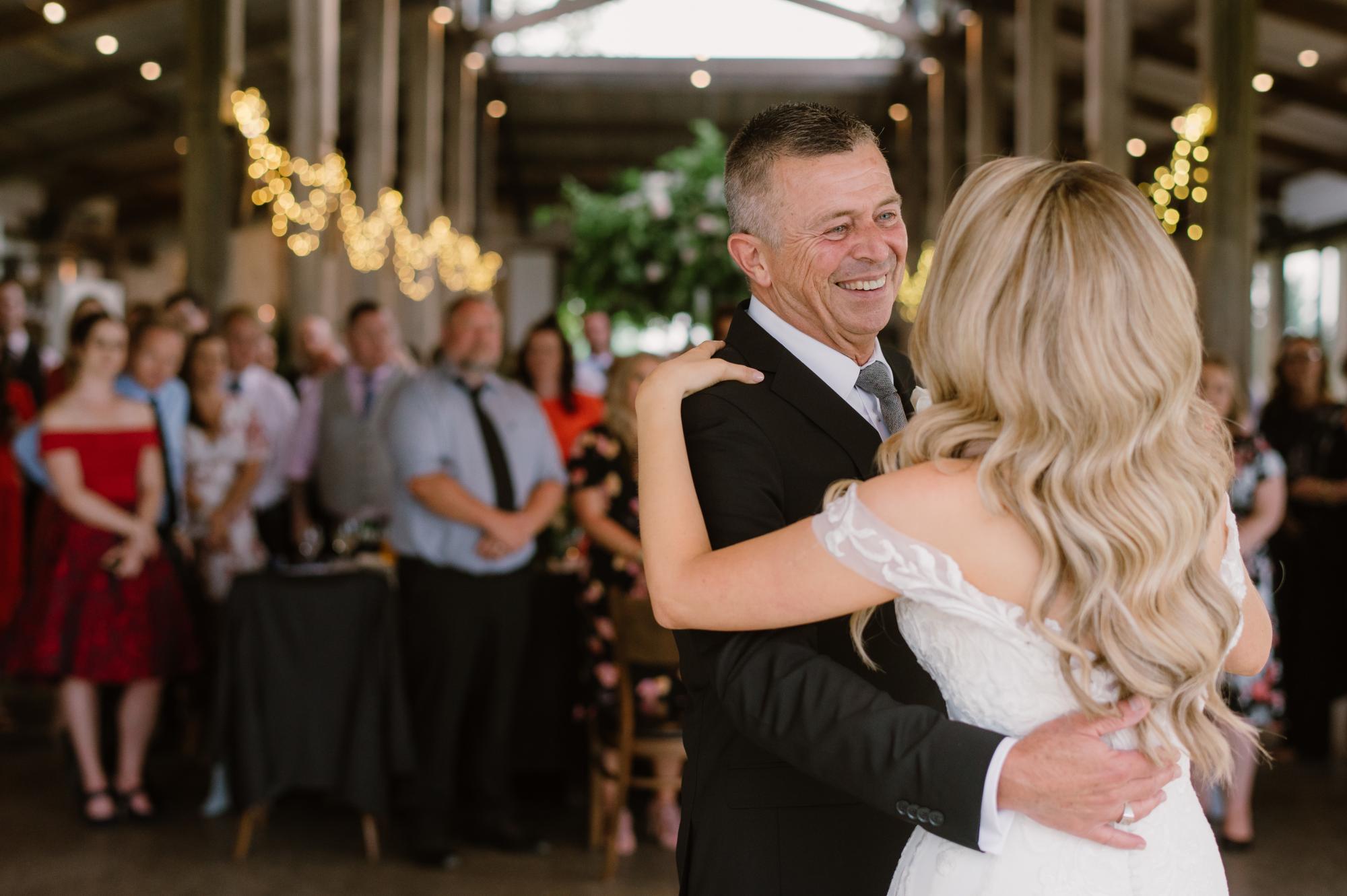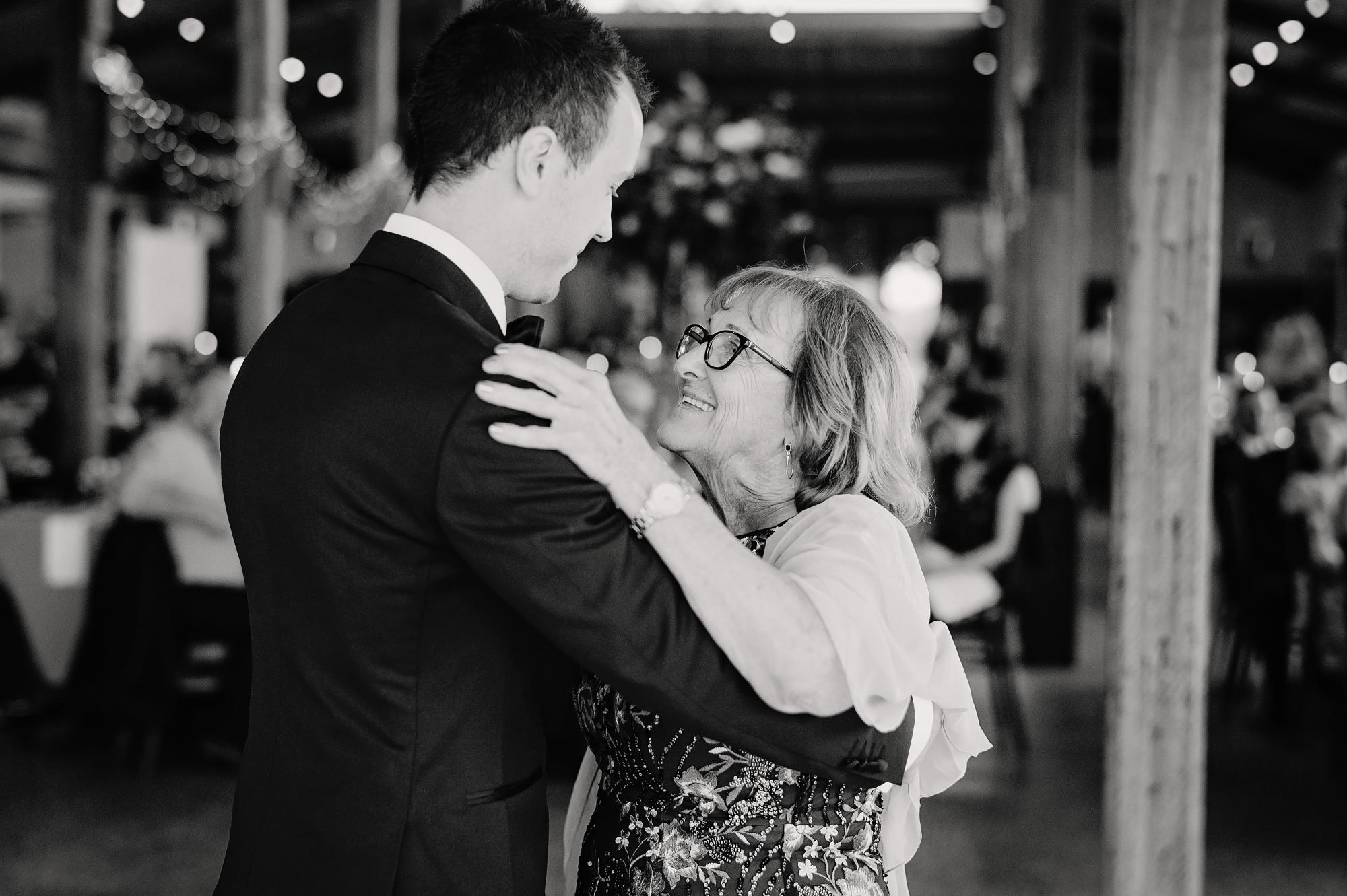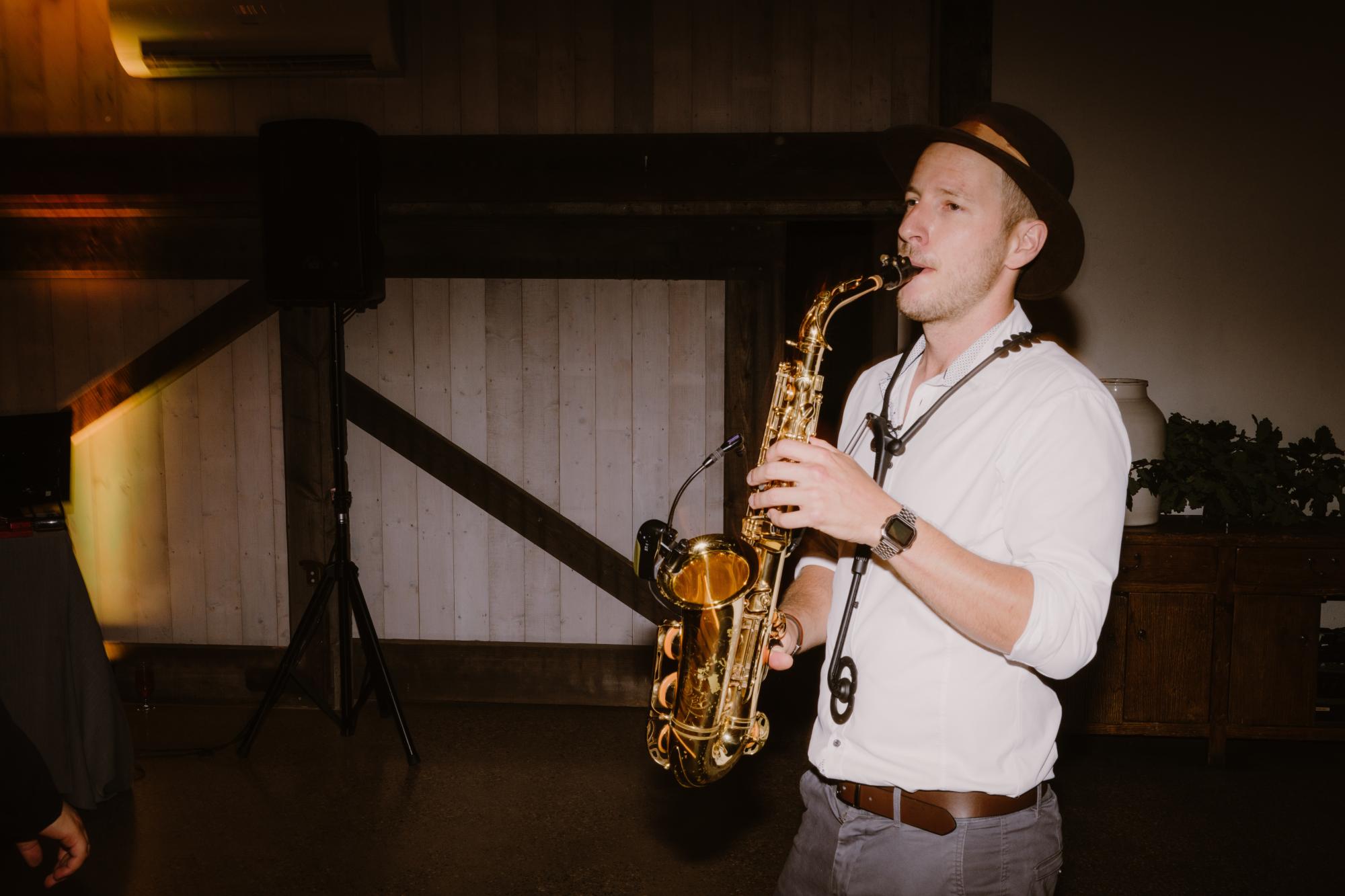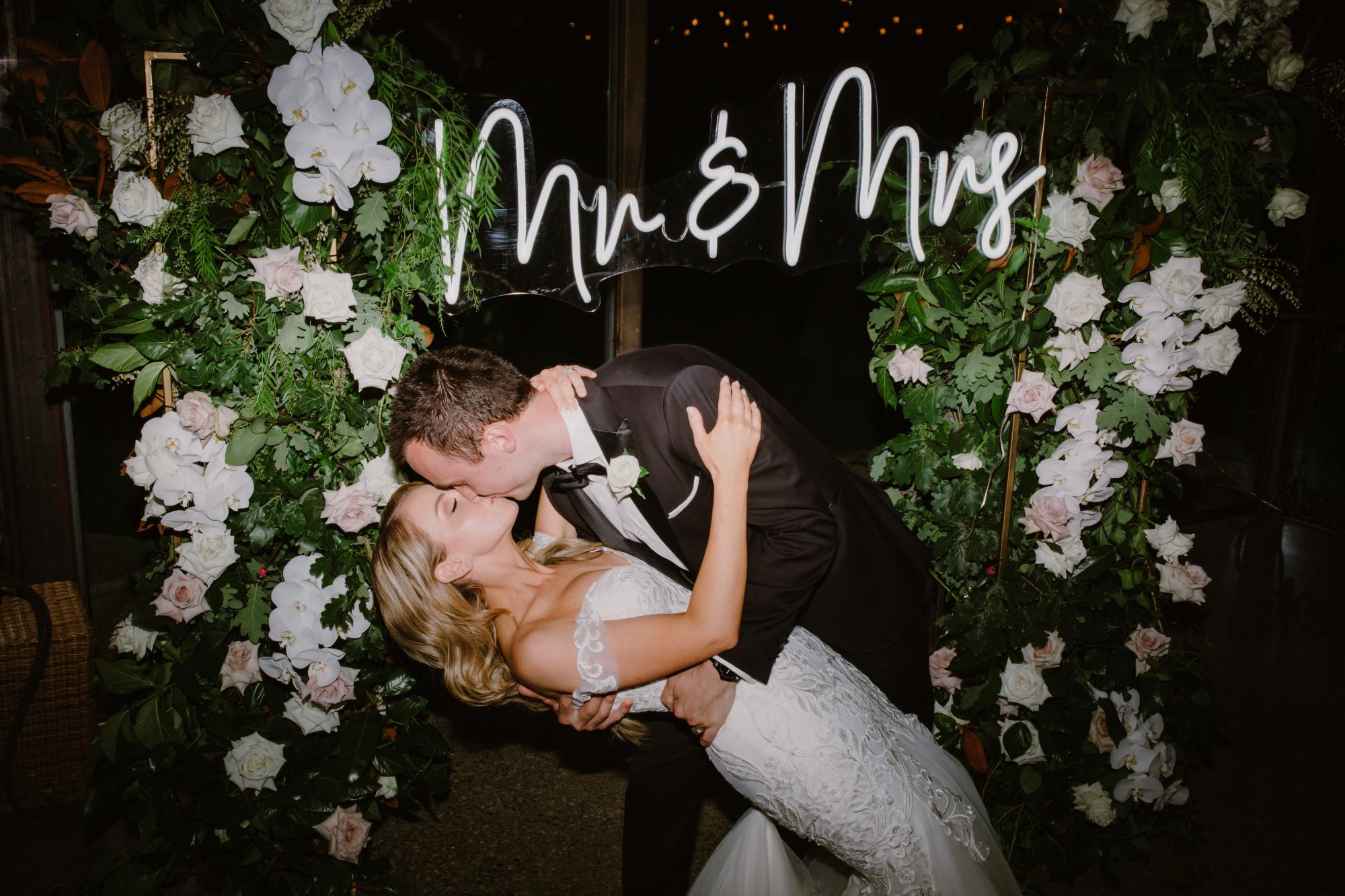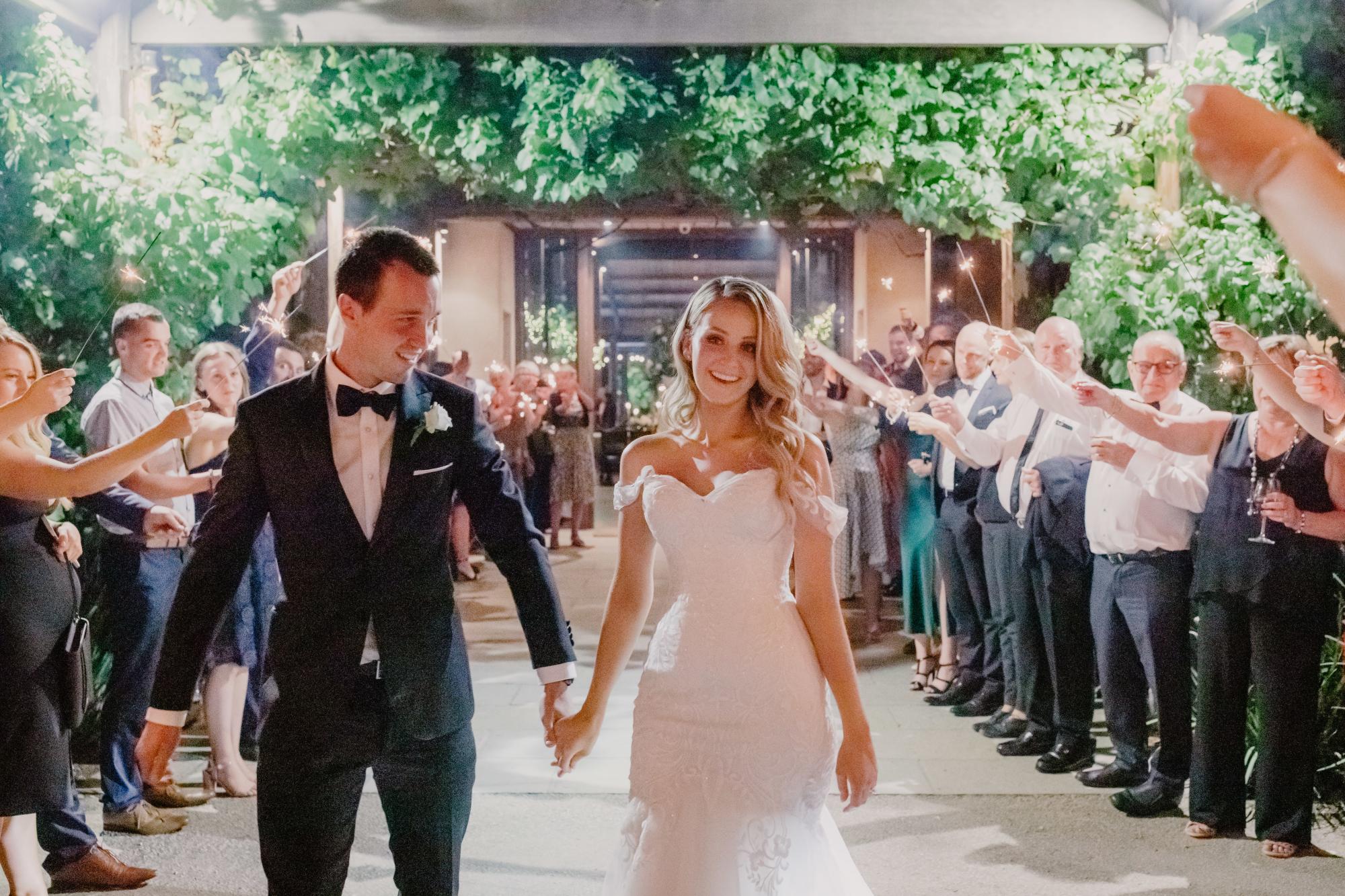 Sarah + Tristan | 18.01.2020
Venue: Stones of the Yarra Valley
Photography: Theodore & Co
Videography: C2 Films
Ceremony: Meriki Comito 
Florals: Sugar Bee Flowers
Bridal Gown: Annette of Melbourne
Brides Shoes: Jimmy Choo
Bridesmaids Dresses: Bariano Australia
Make Up: Katie Winkler Makeup
Hair: Pearly Hairstylist
Grooms Attire: Joe Black
Groomsmen Attire: Joe Black
Ceremony String Trio: Stringspace
Cars: Triple R Cars
Tableware: Table Art Event Hire
Cake: Miss Ladybird Cakes
MC: Sam Muscat
Reception Entertainment: Rutherford Entertainment
Ceremony Entrances – know your options →
←Wedding Vows – how to make them yours
Best Outdoor Wedding Venues + Locations in Melbourne
With the new Spring/Summer wedding season almost upon us, couples are once again searching for the perfect wedding venue, so I have created a list of some of the best outdoor wedding venues + locations in Melbourne, plus a few of my favourites a little further out!
There are so many stunning gardens and estates to choose from, so I have made the search a little easier by listing a HUGE selection of some of the best outside wedding locations (in alphabetical order), AS WELL AS some amazing wedding venues that have beautiful outdoor wedding spaces too!
If you are looking for a garden wedding option in one of Melbourne's beautiful public garden spaces, please visit my Public Garden Wedding Locations page, which also features some great rotundas + undercover options for wet weather contingencies 🙂
Please remember that although many outdoor wedding venues + locations in Melbourne are public spaces, you will still need to obtain a permit from local council in order to marry there. Private venues will of course welcome all enquiries for weddings that take place on their premises independently.
And, as always with outdoor wedding venues + locations in Melbourne, be sure to consider all possible weather predictions, providing shelter for both a 40ºC day, or a surprise downpour!
Your guests (and celebrant!) will appreciate it immensely.
To view the best outdoor wedding venues + locations in Melbourne and surrounds, you can either scroll ahead and view locations in alphabetical order, or visit locations by area using the following links.
By Melbourne Celebrant Meriki Comito
Feature Image: Lost In Love Photography
Best outdoor wedding venues + locations in Melbourne;
CBD + Inner Suburbs  |  Northern Suburbs 
Southern Suburbs  |  Eastern Suburbs    
Western Suburbs  |  Bayside  |  Bellarine Peninsula 
Daylesford  |  Yarra Valley  |  Public Garden Wedding Locations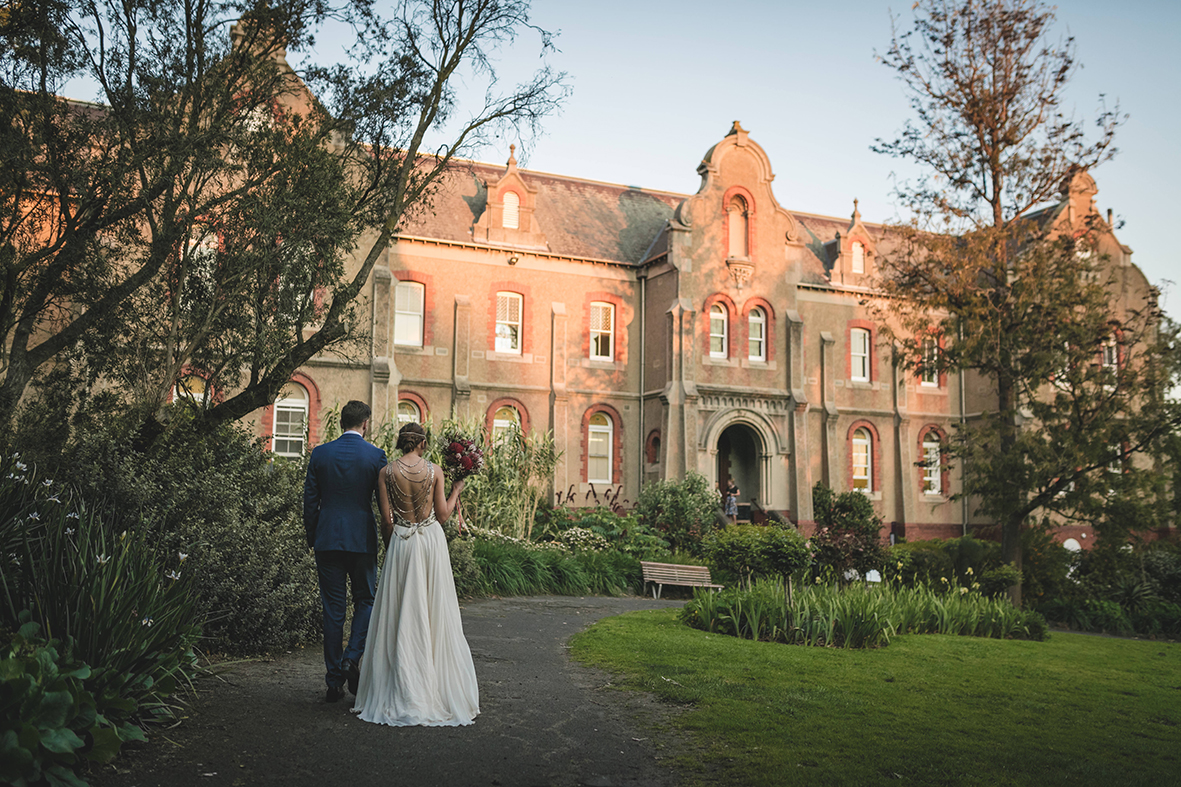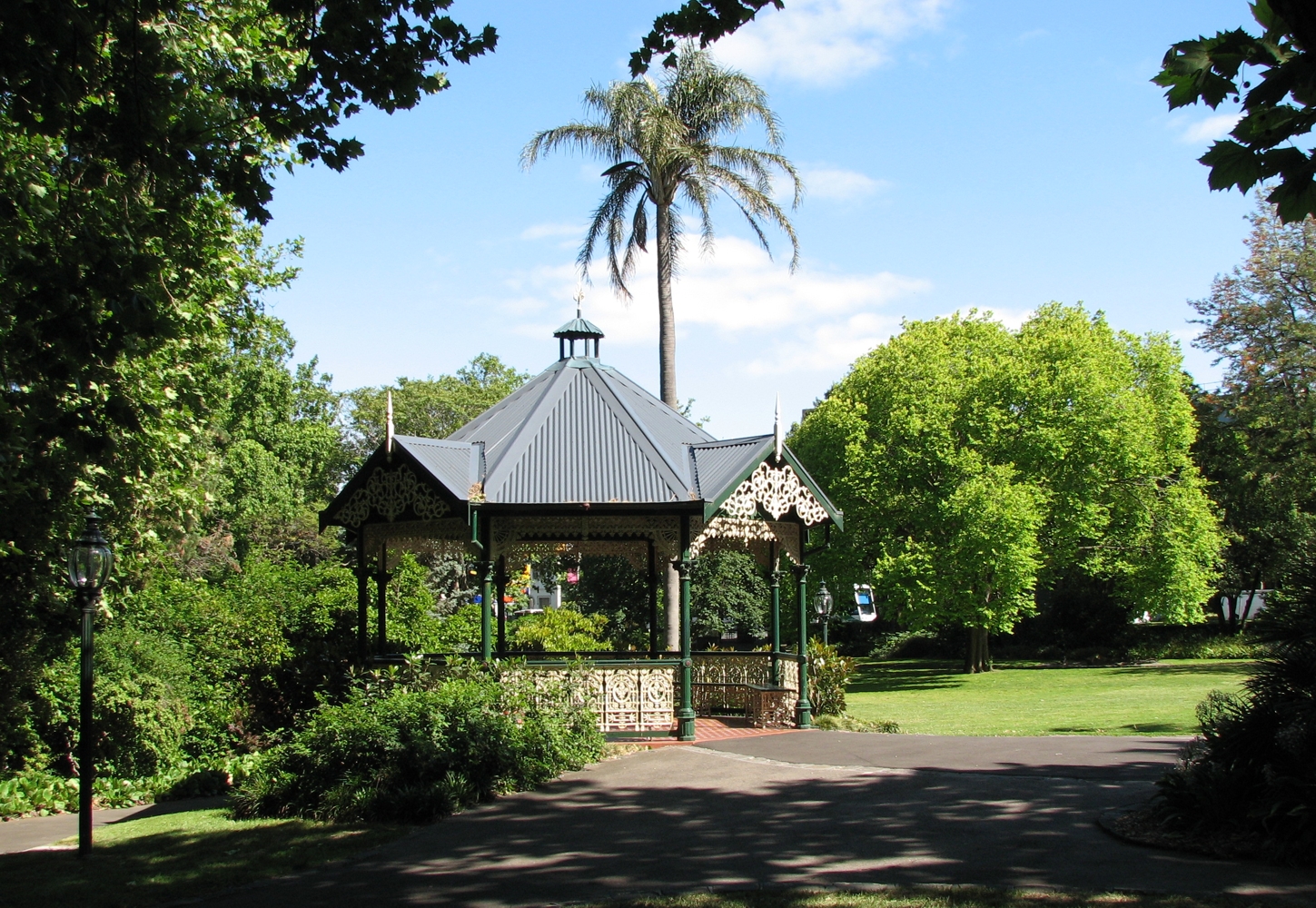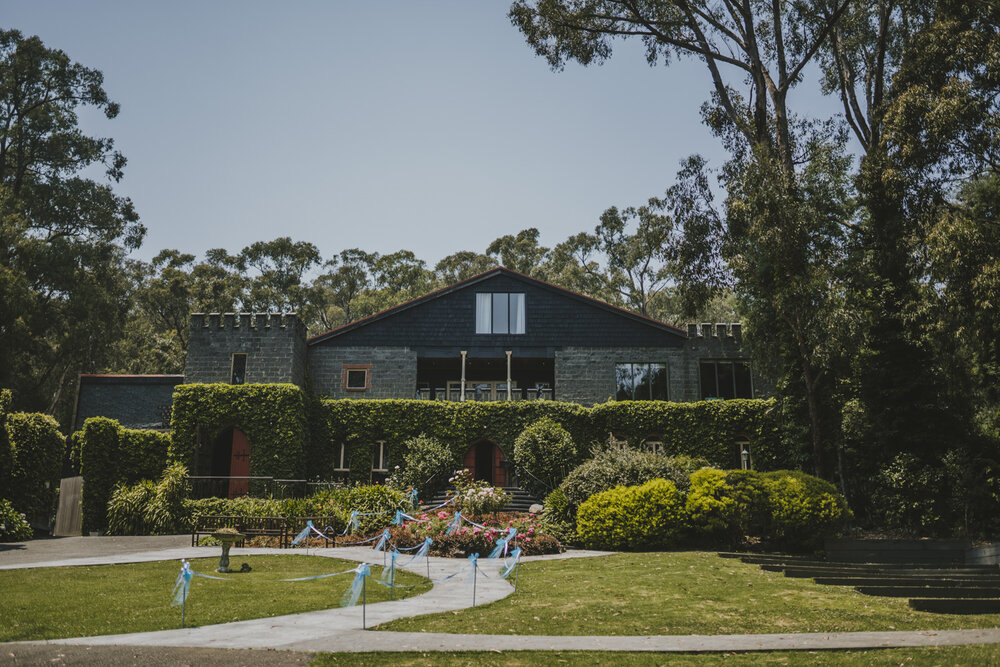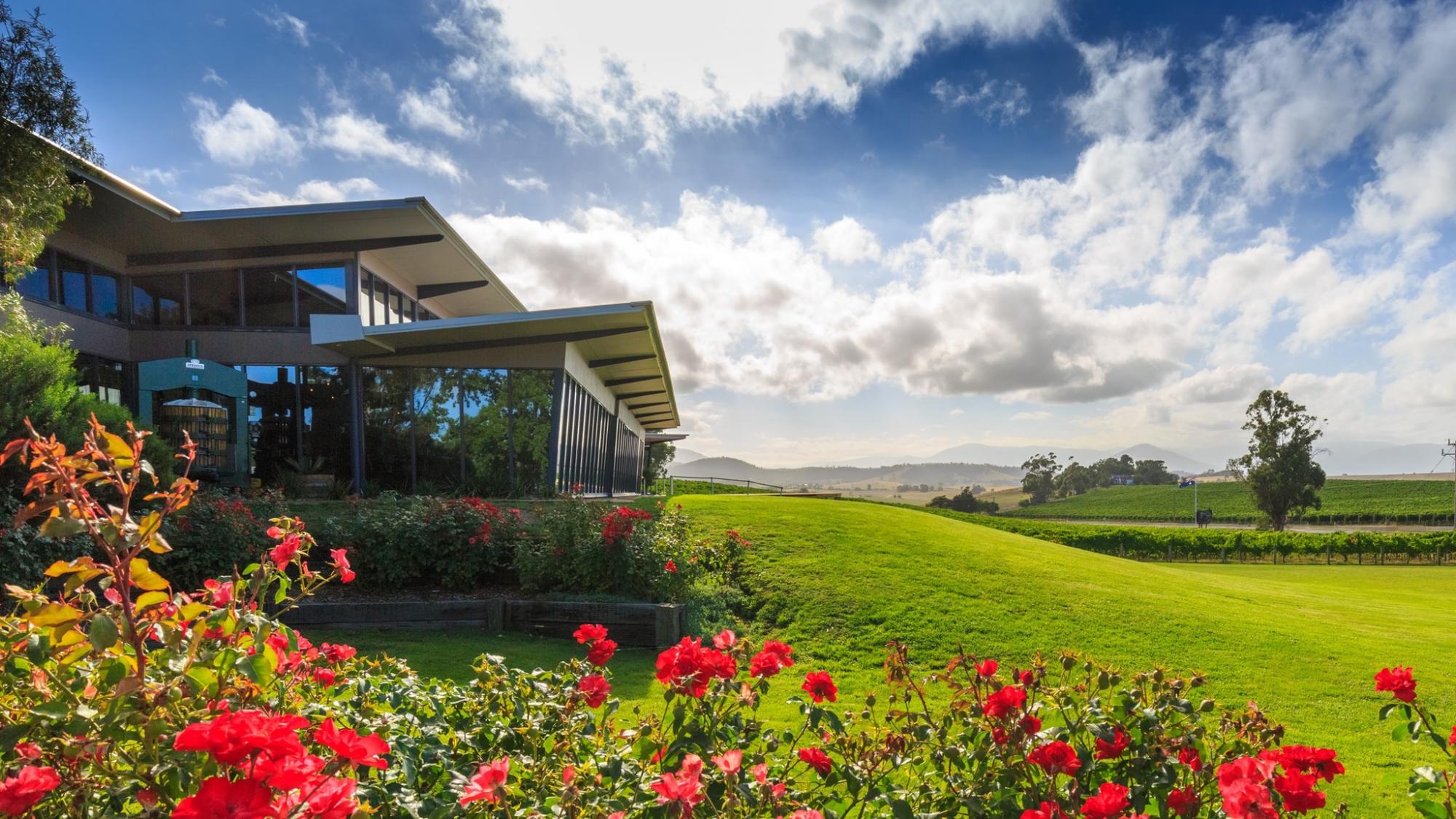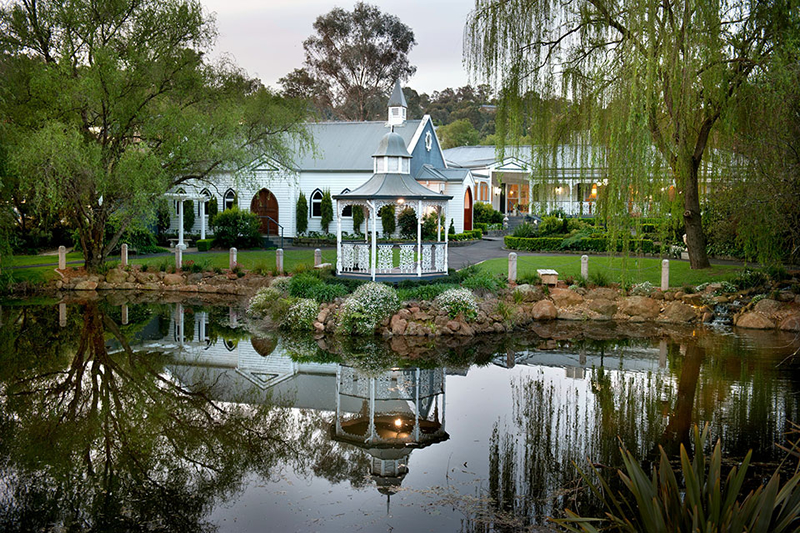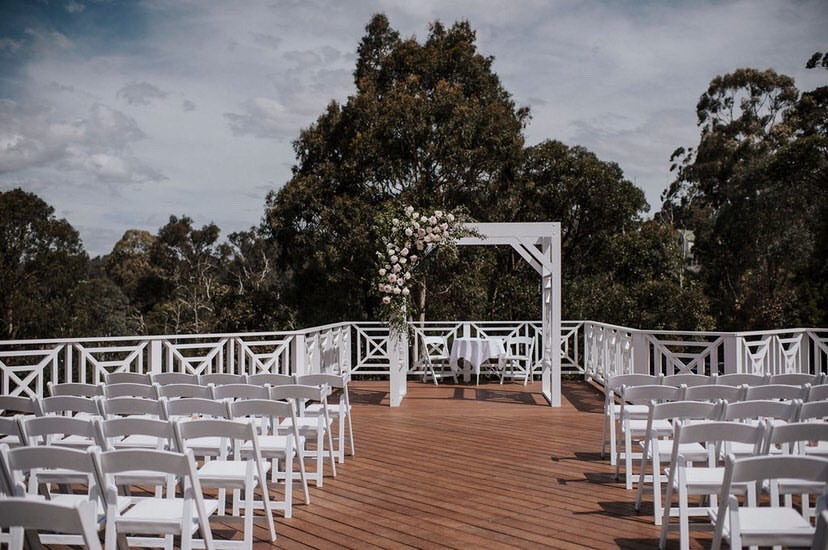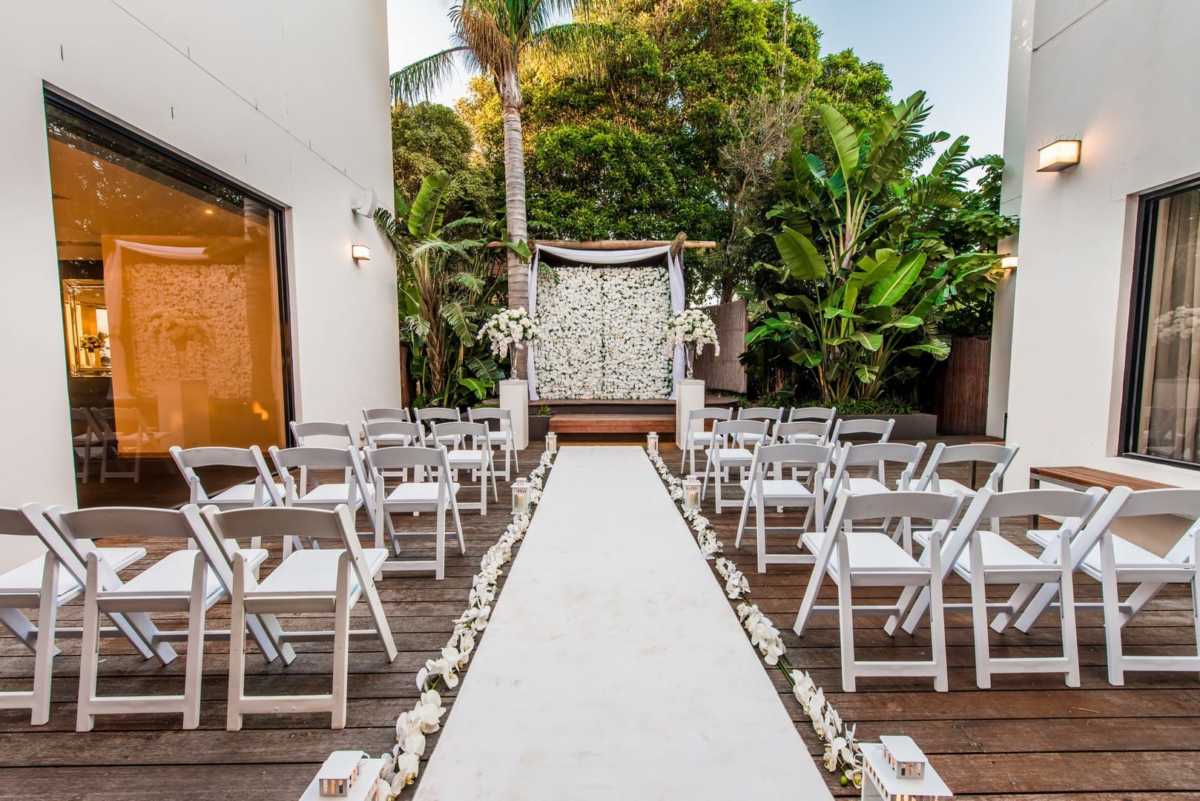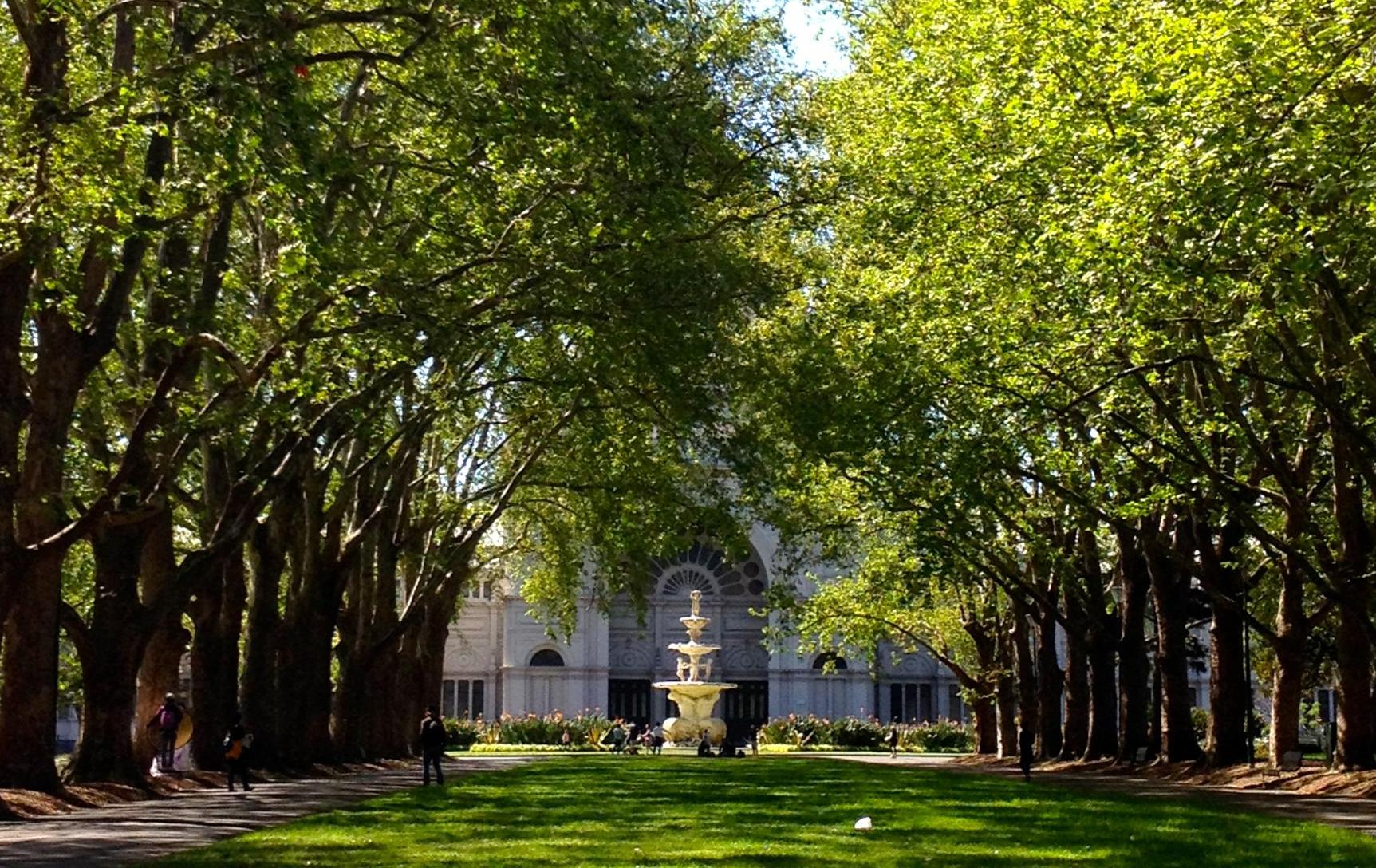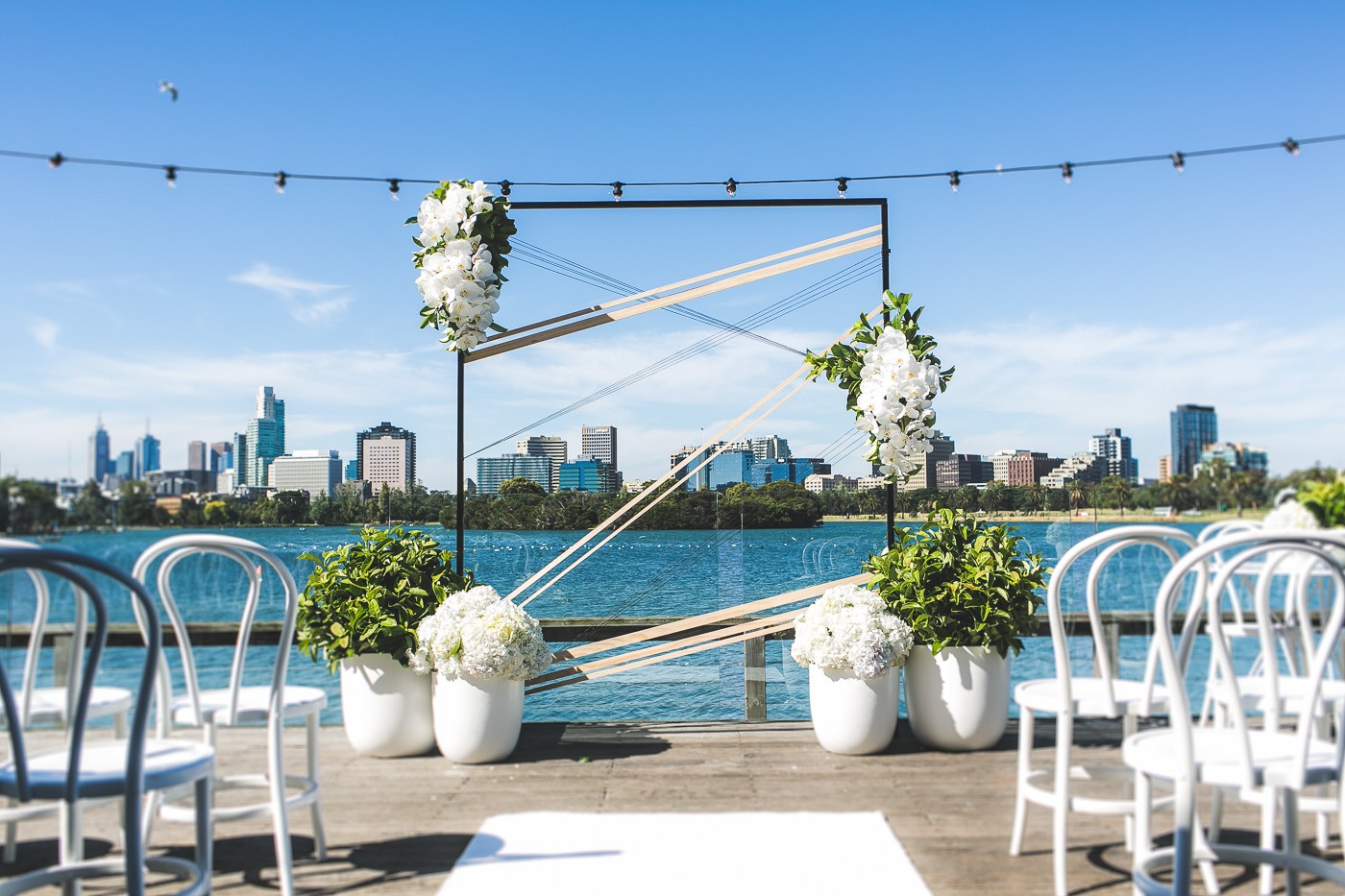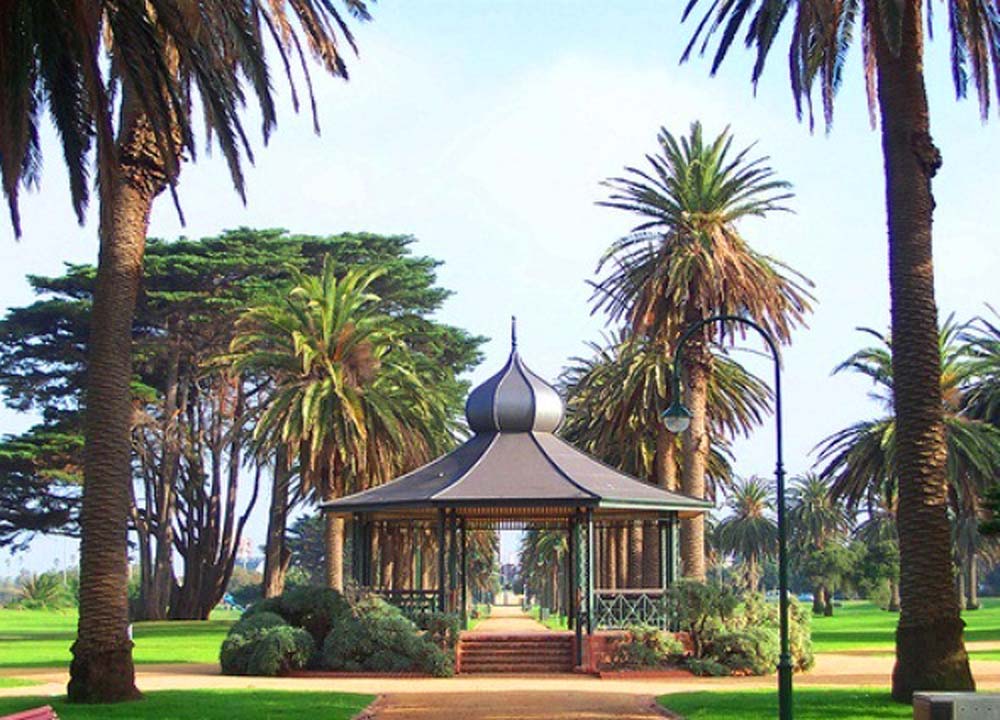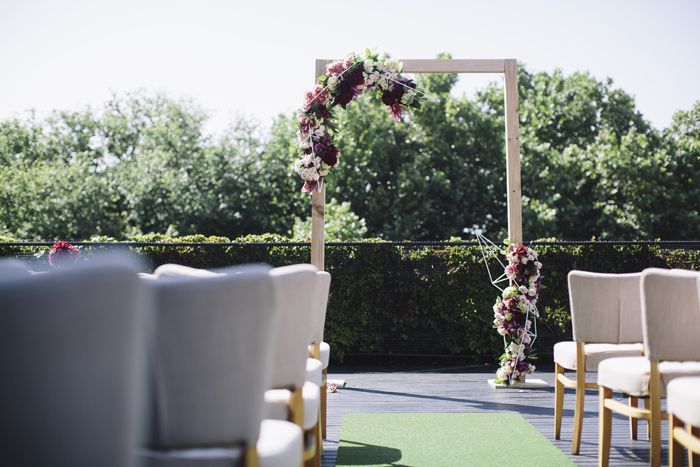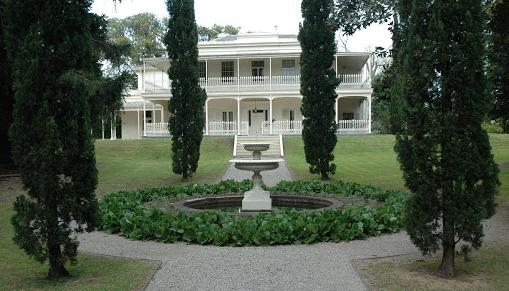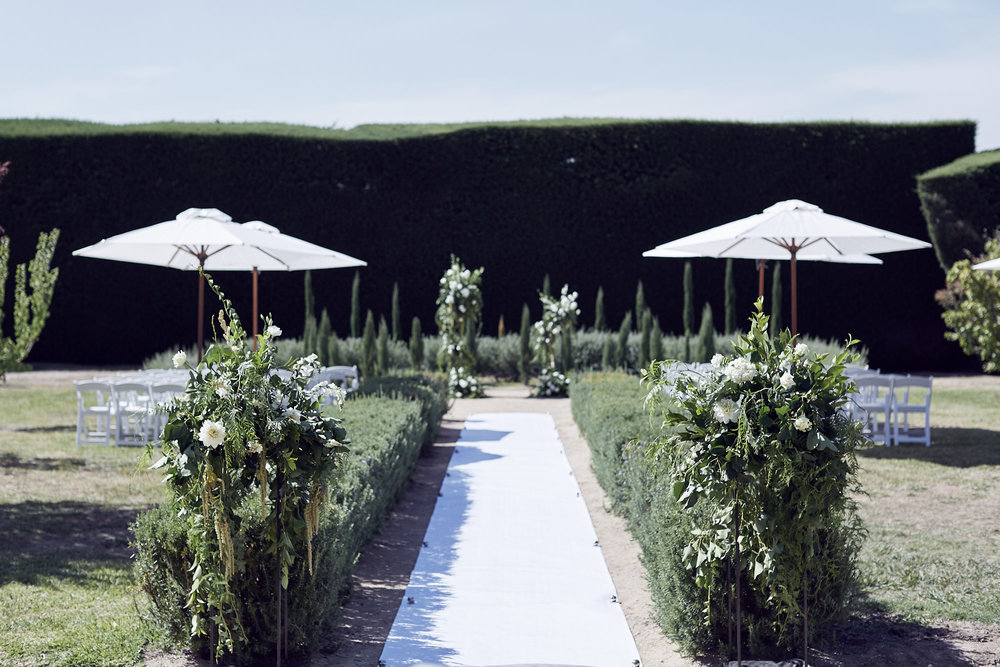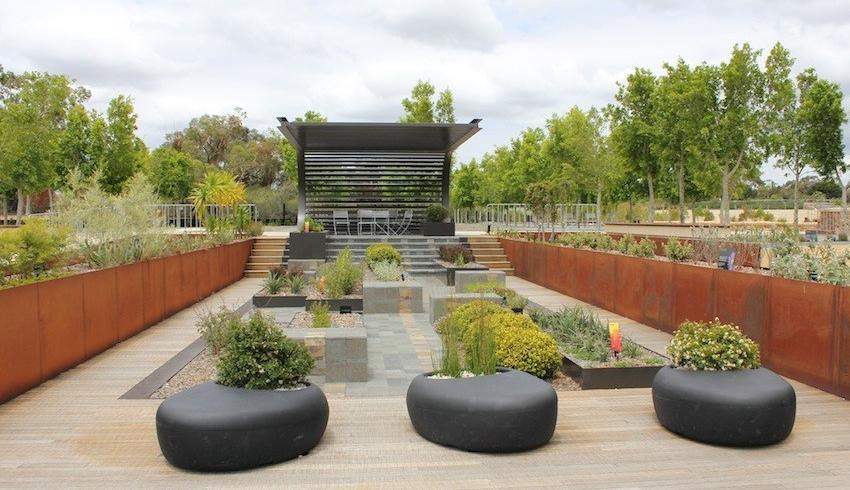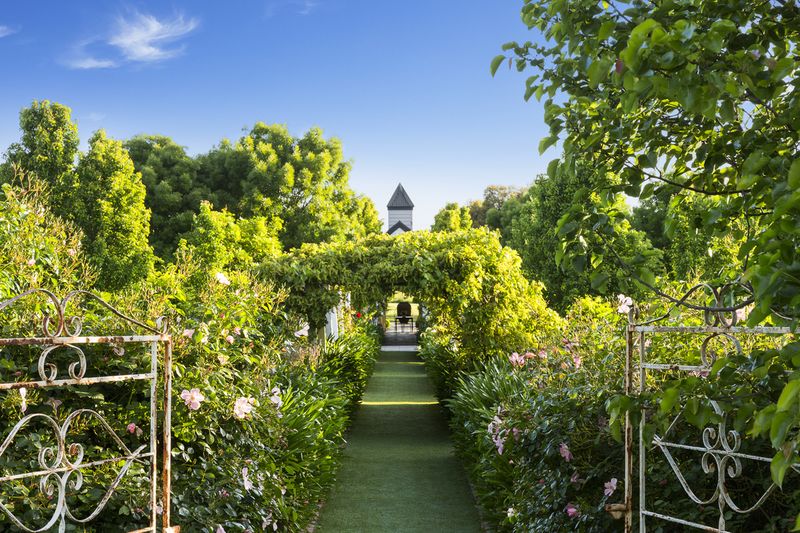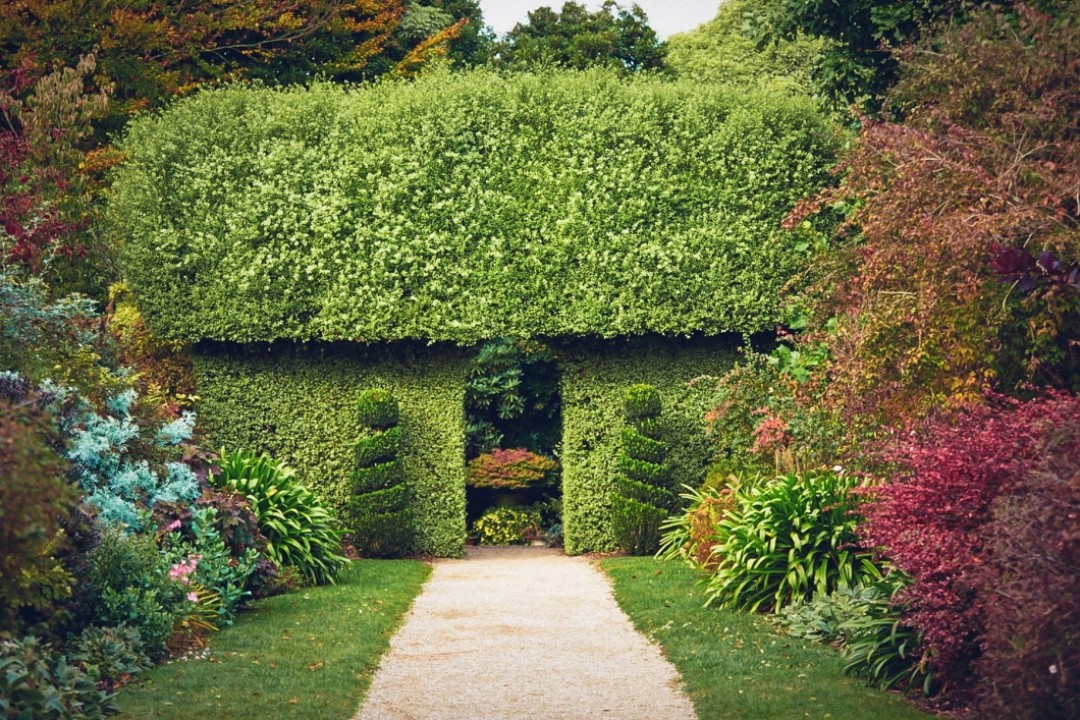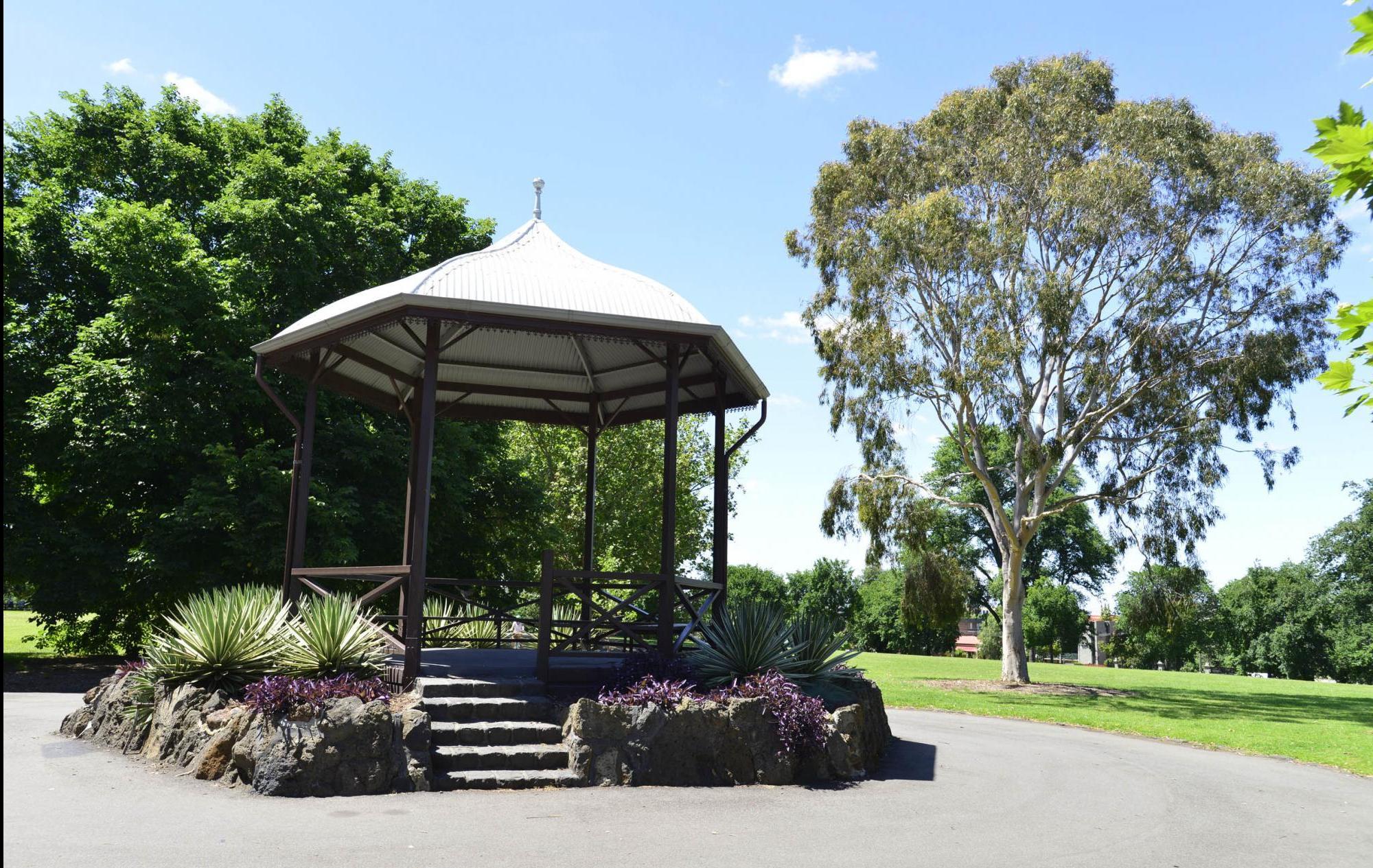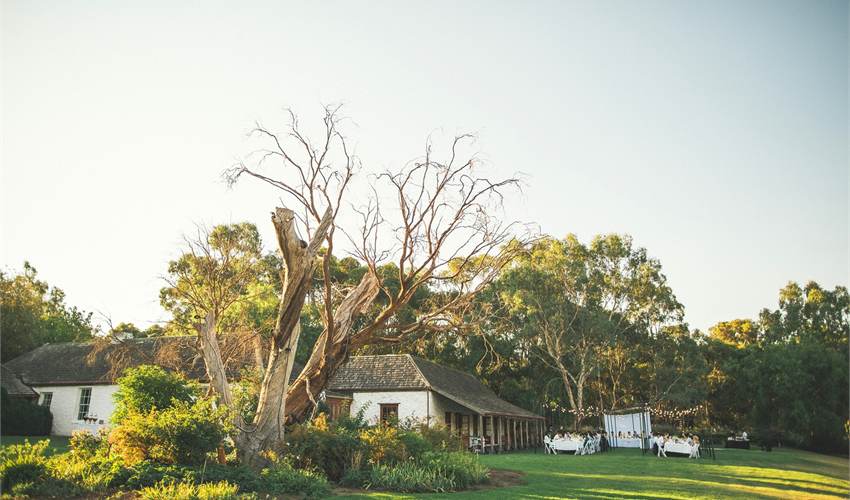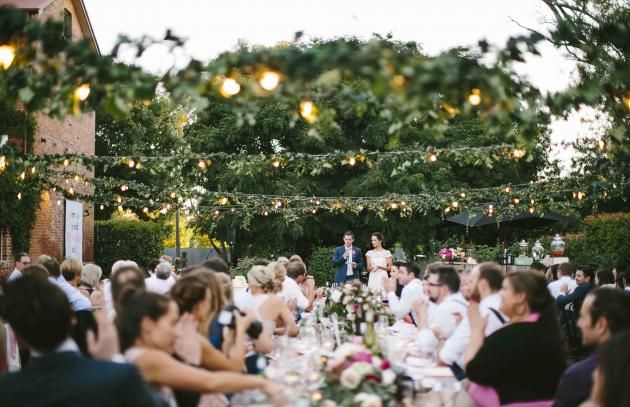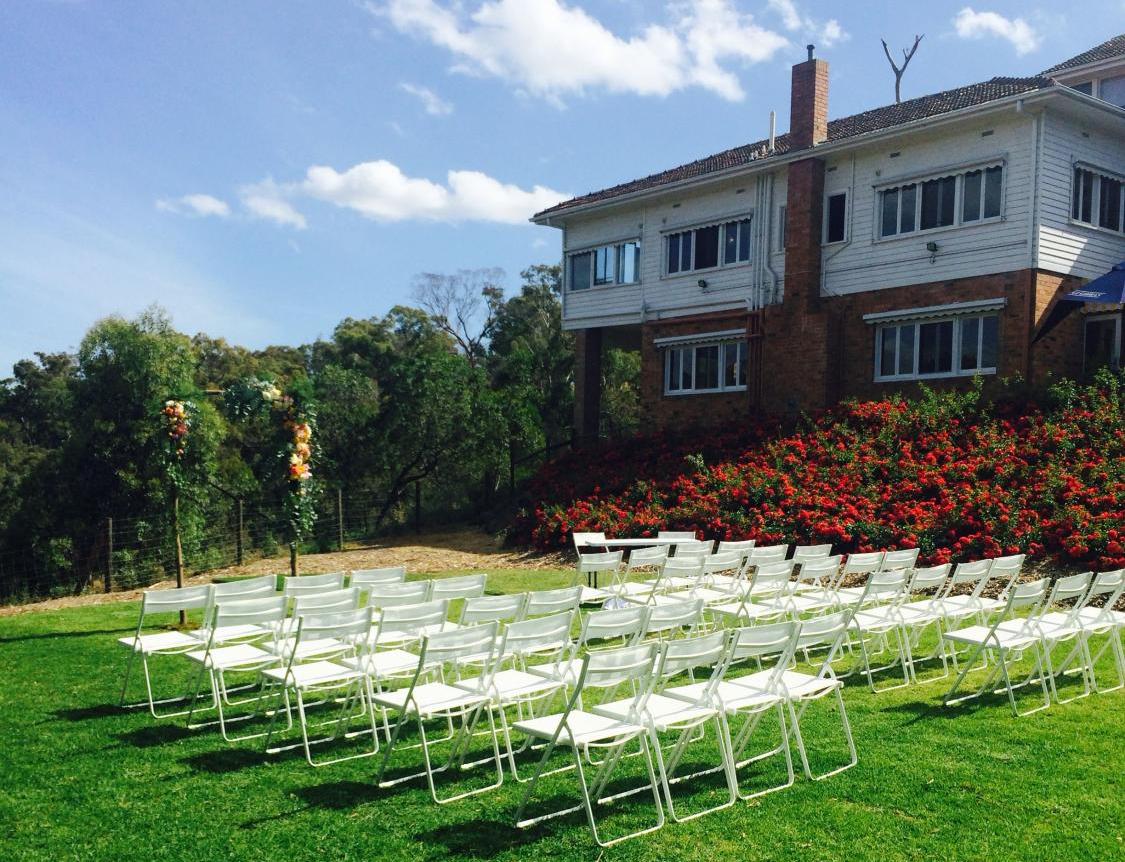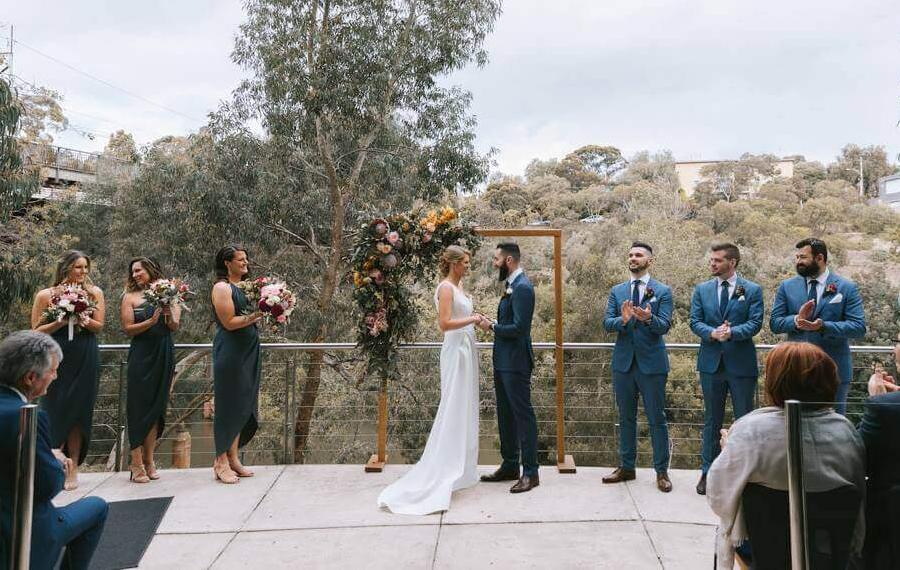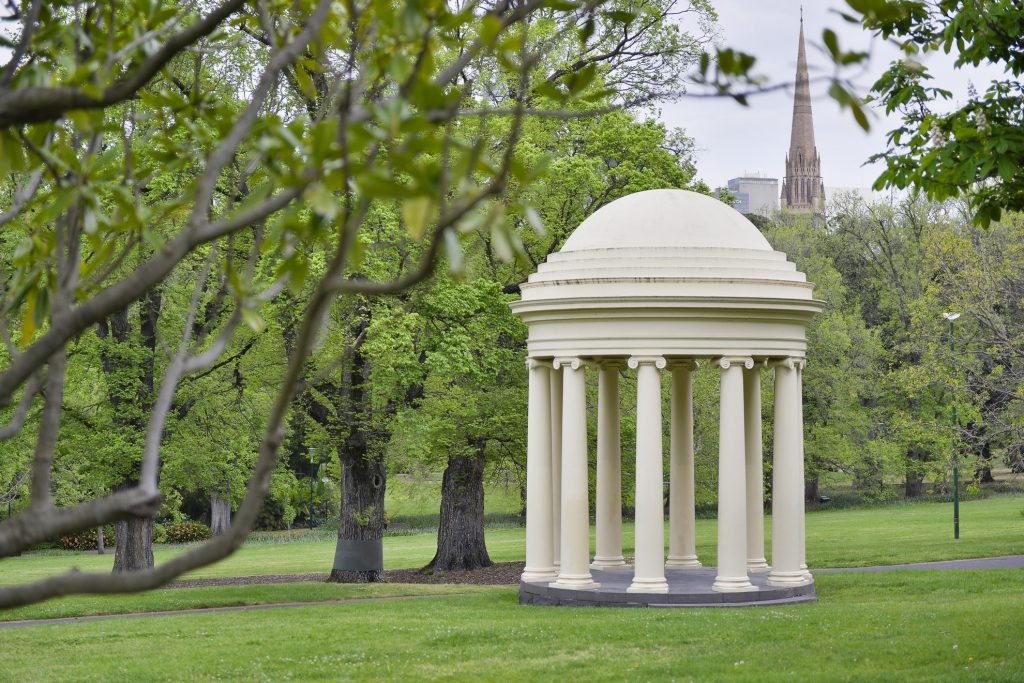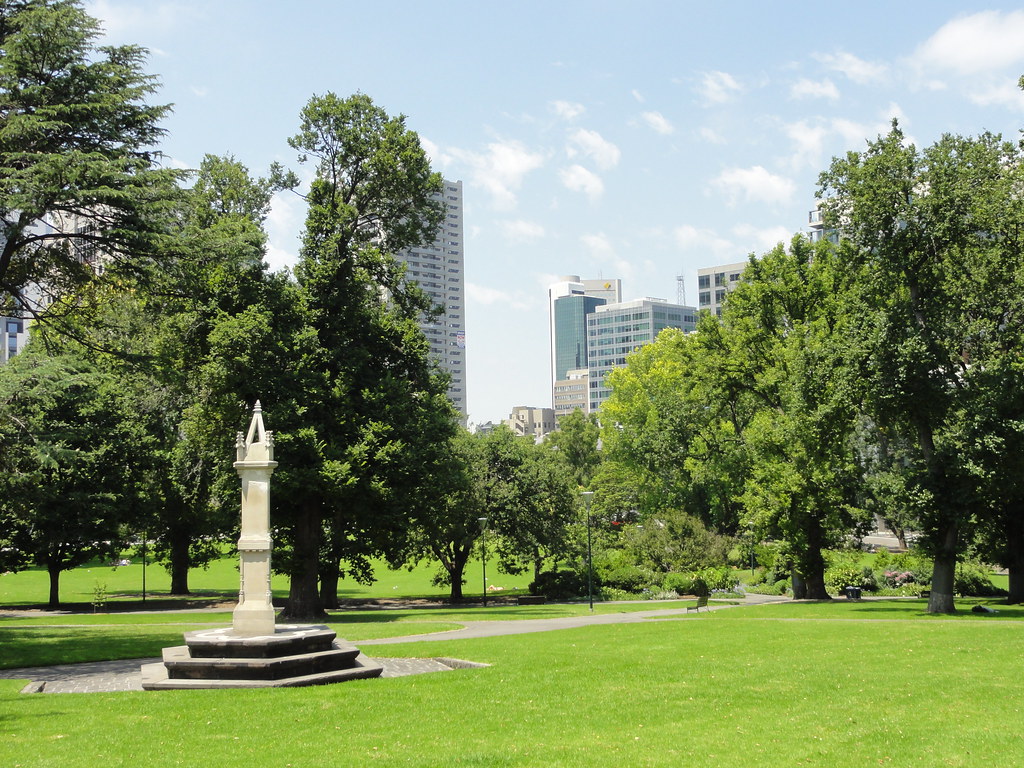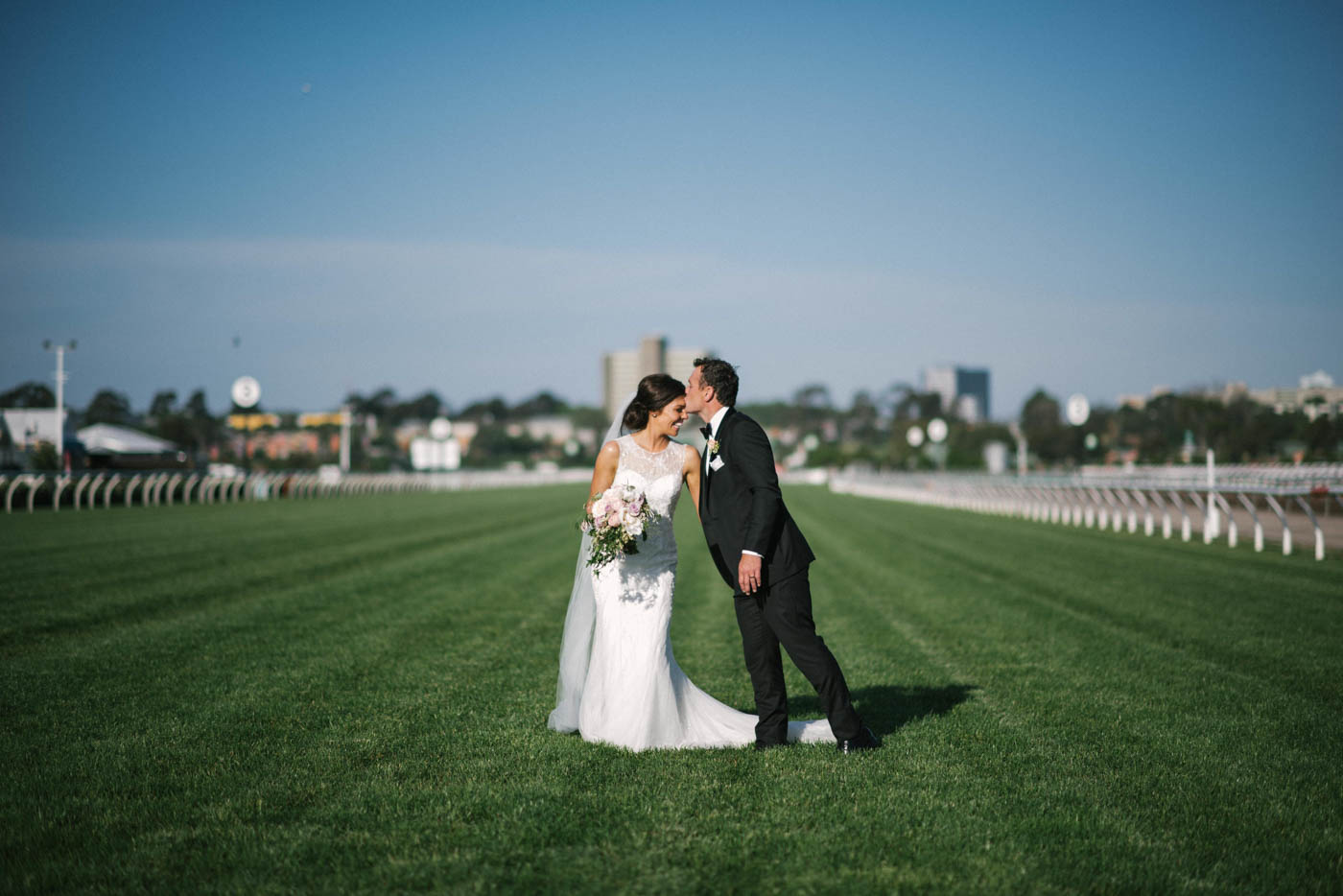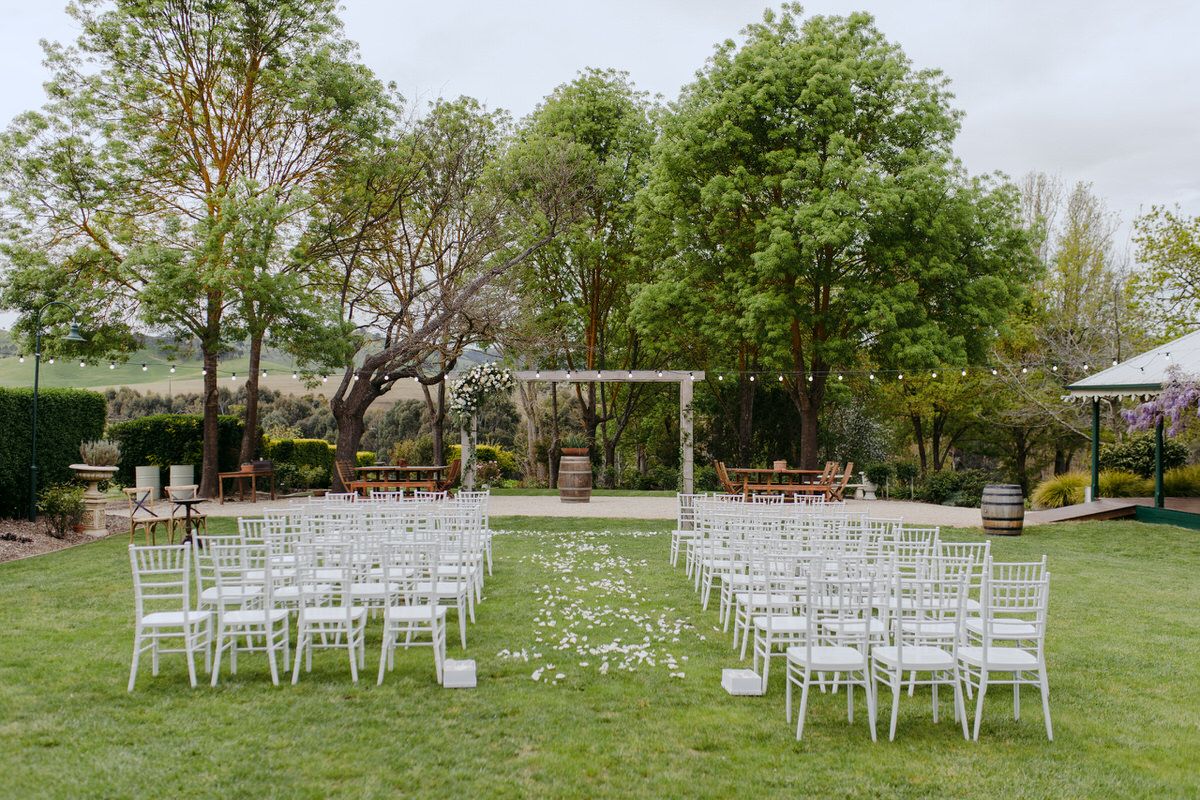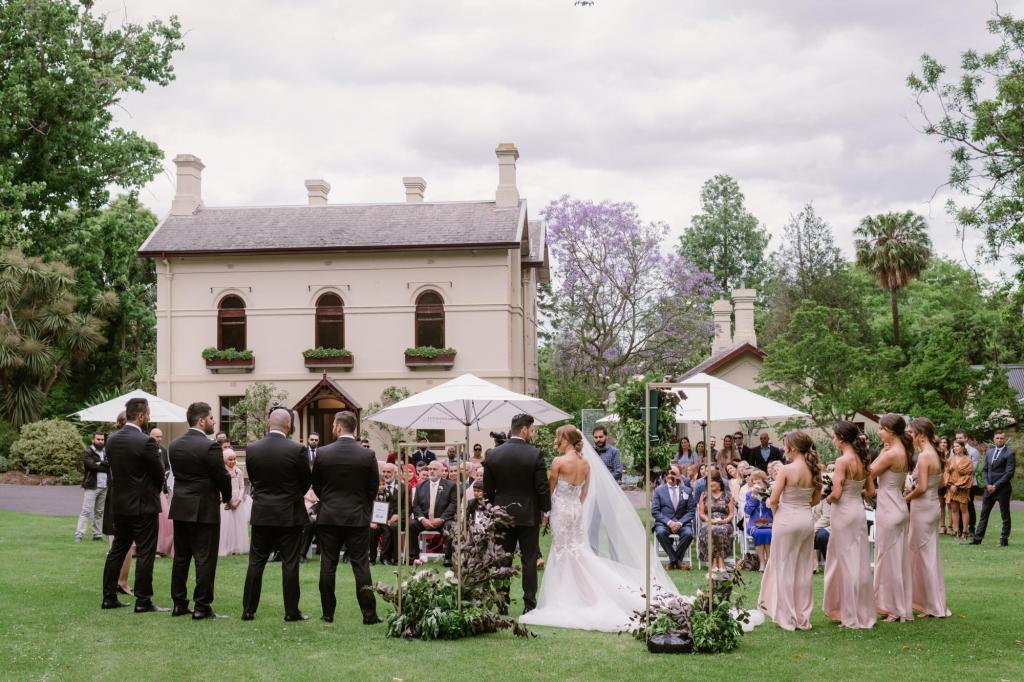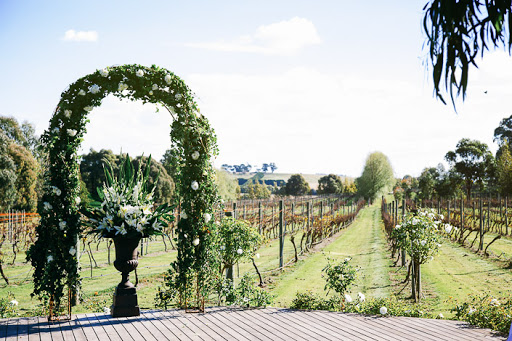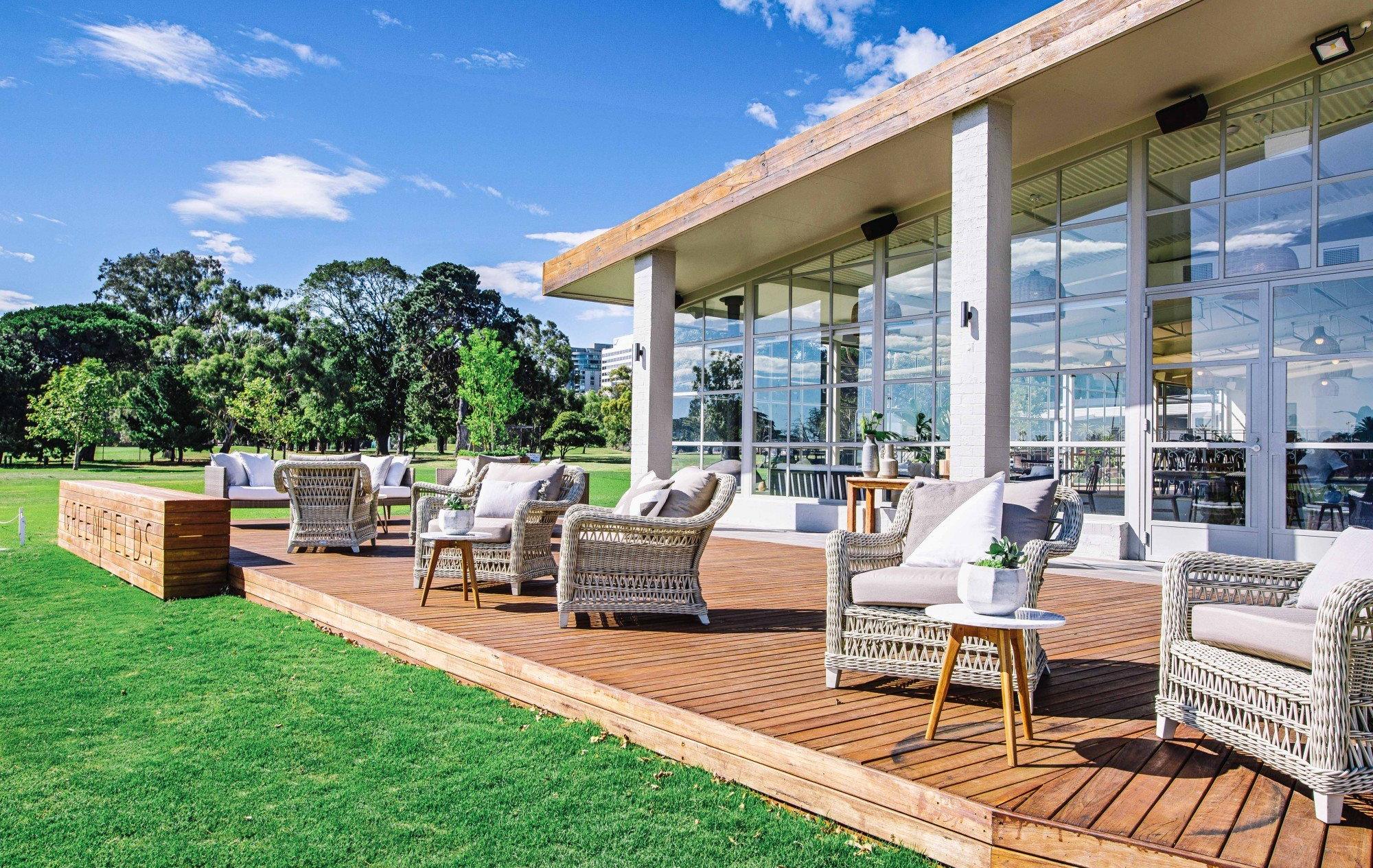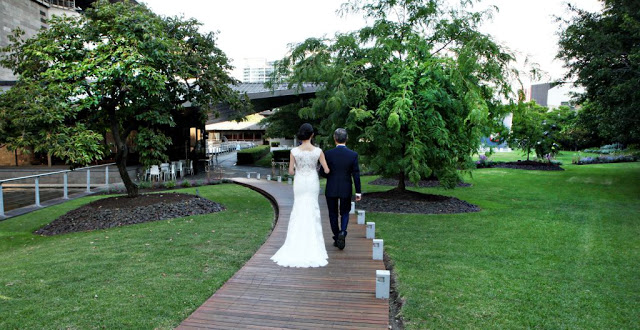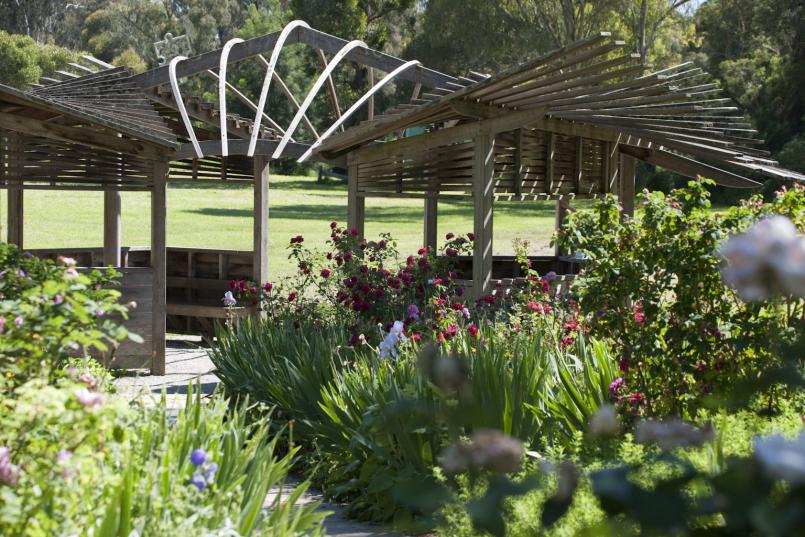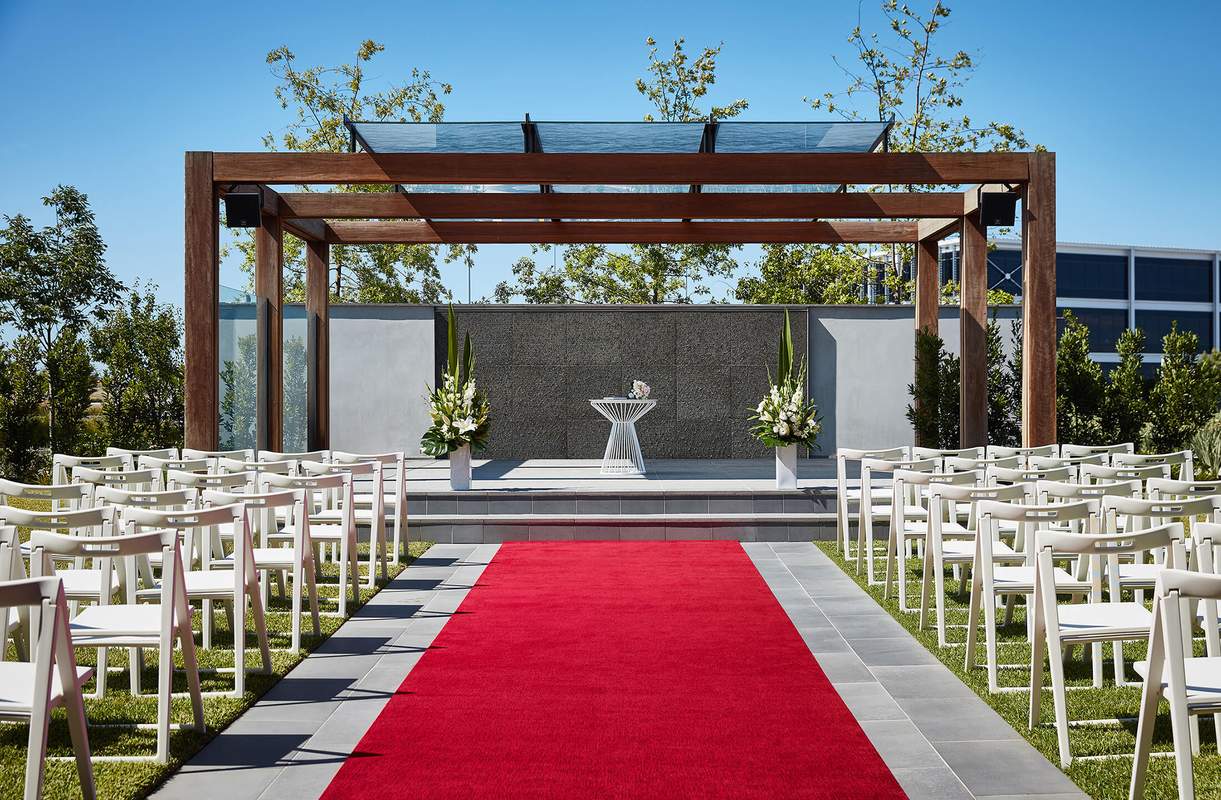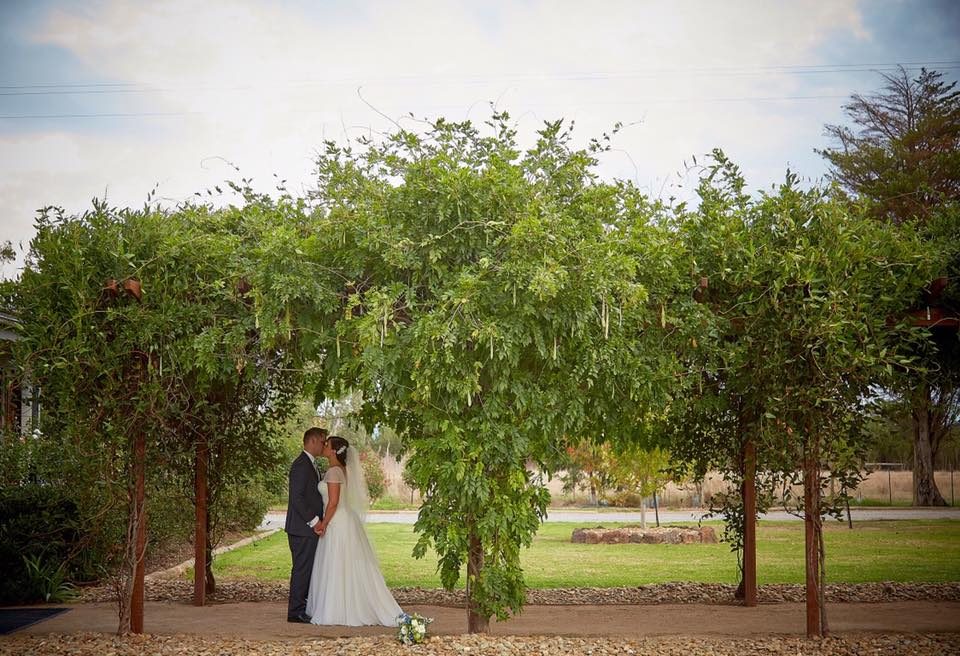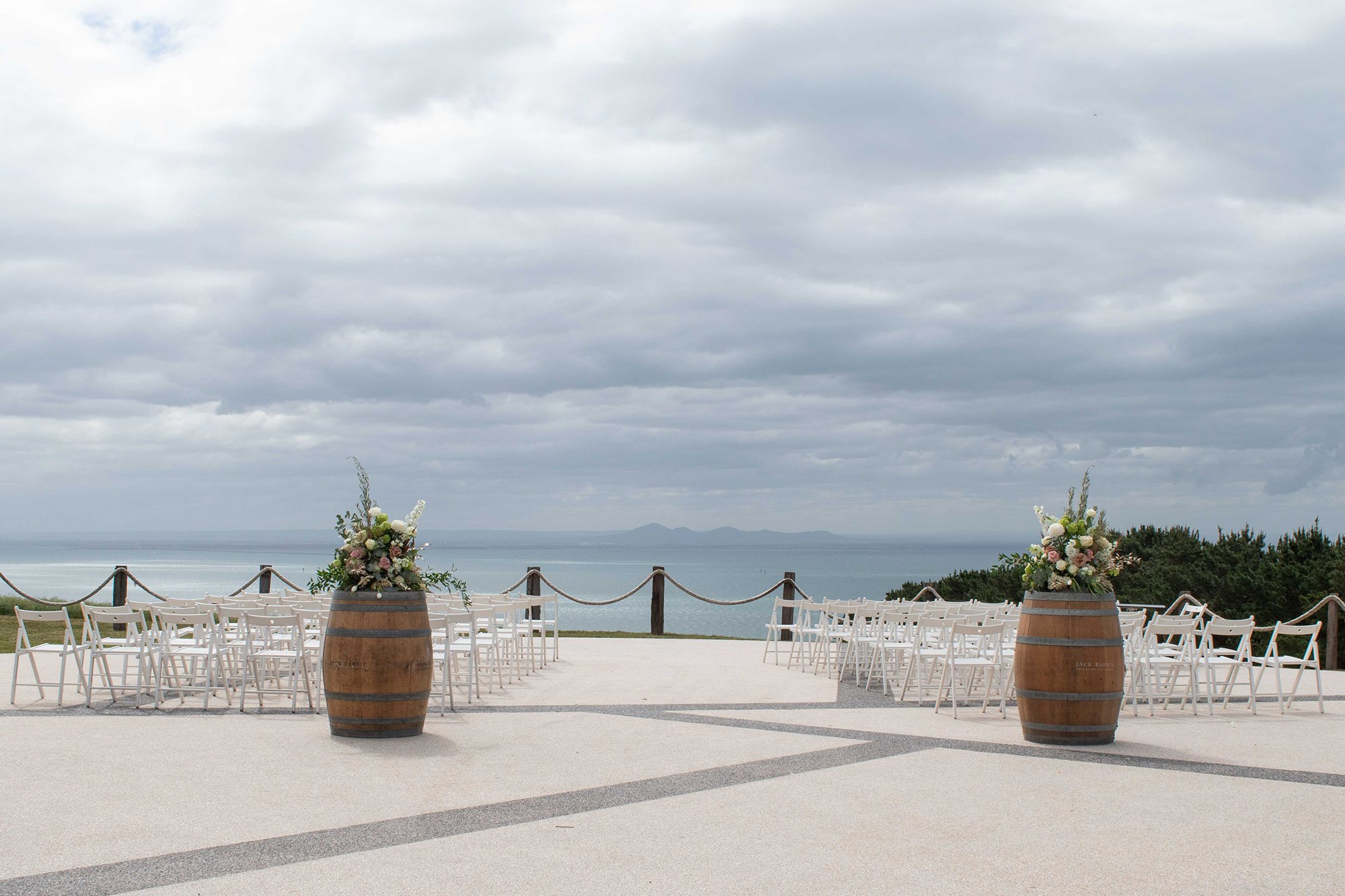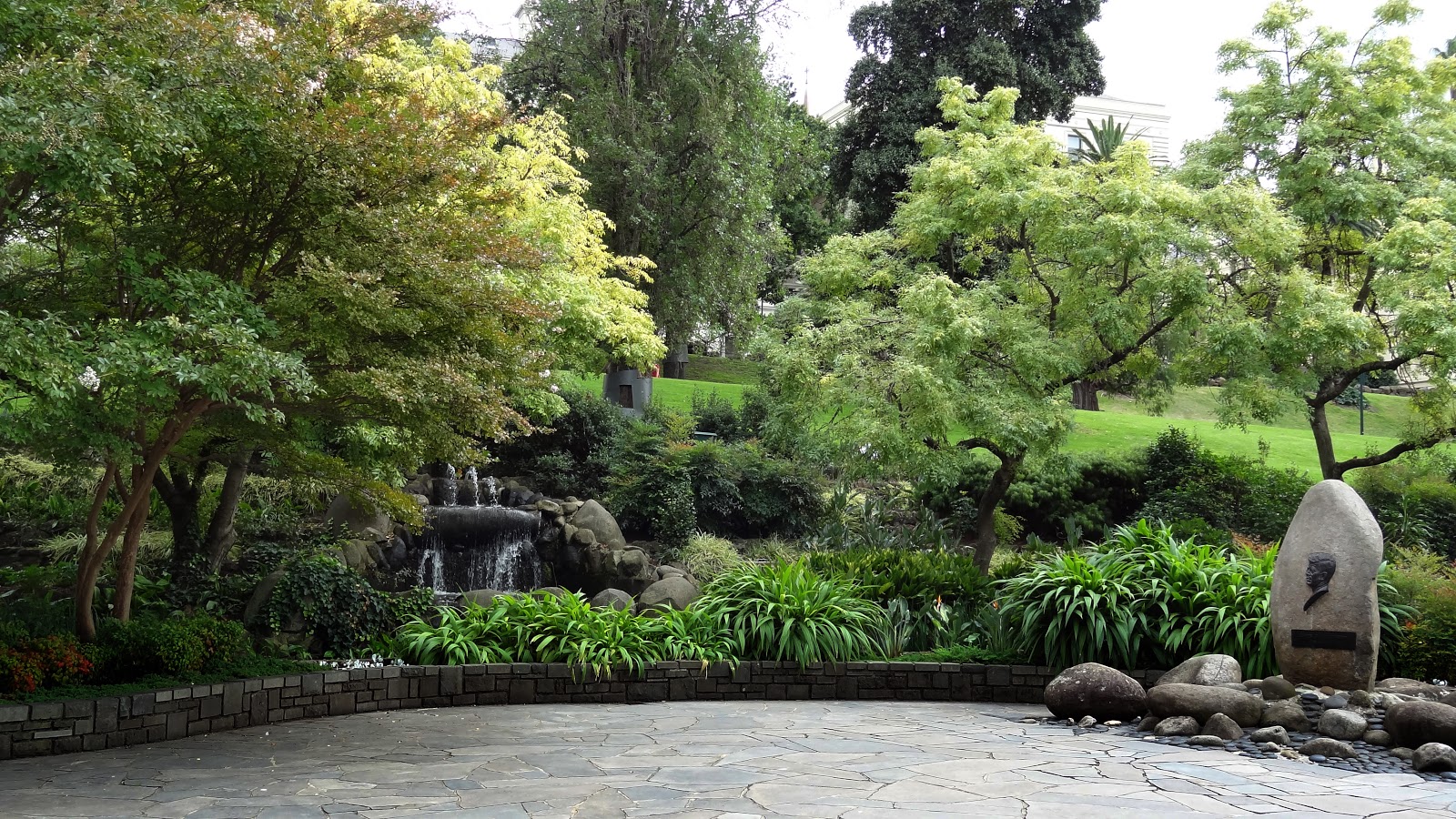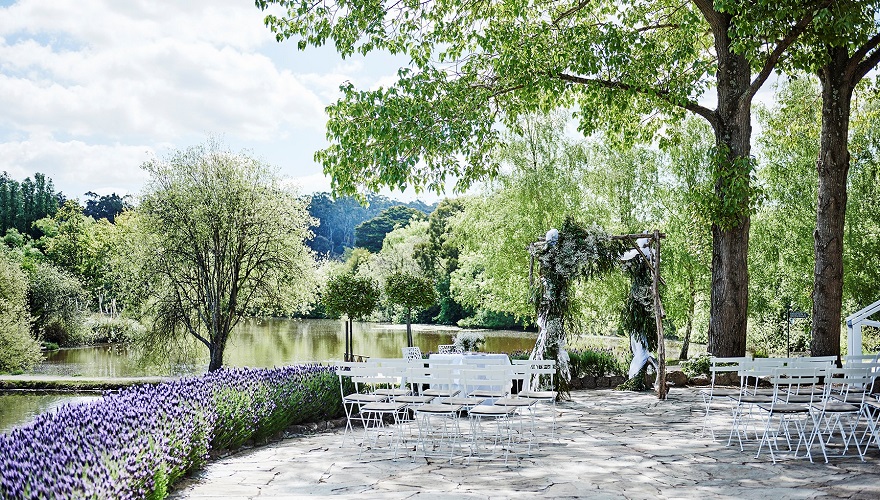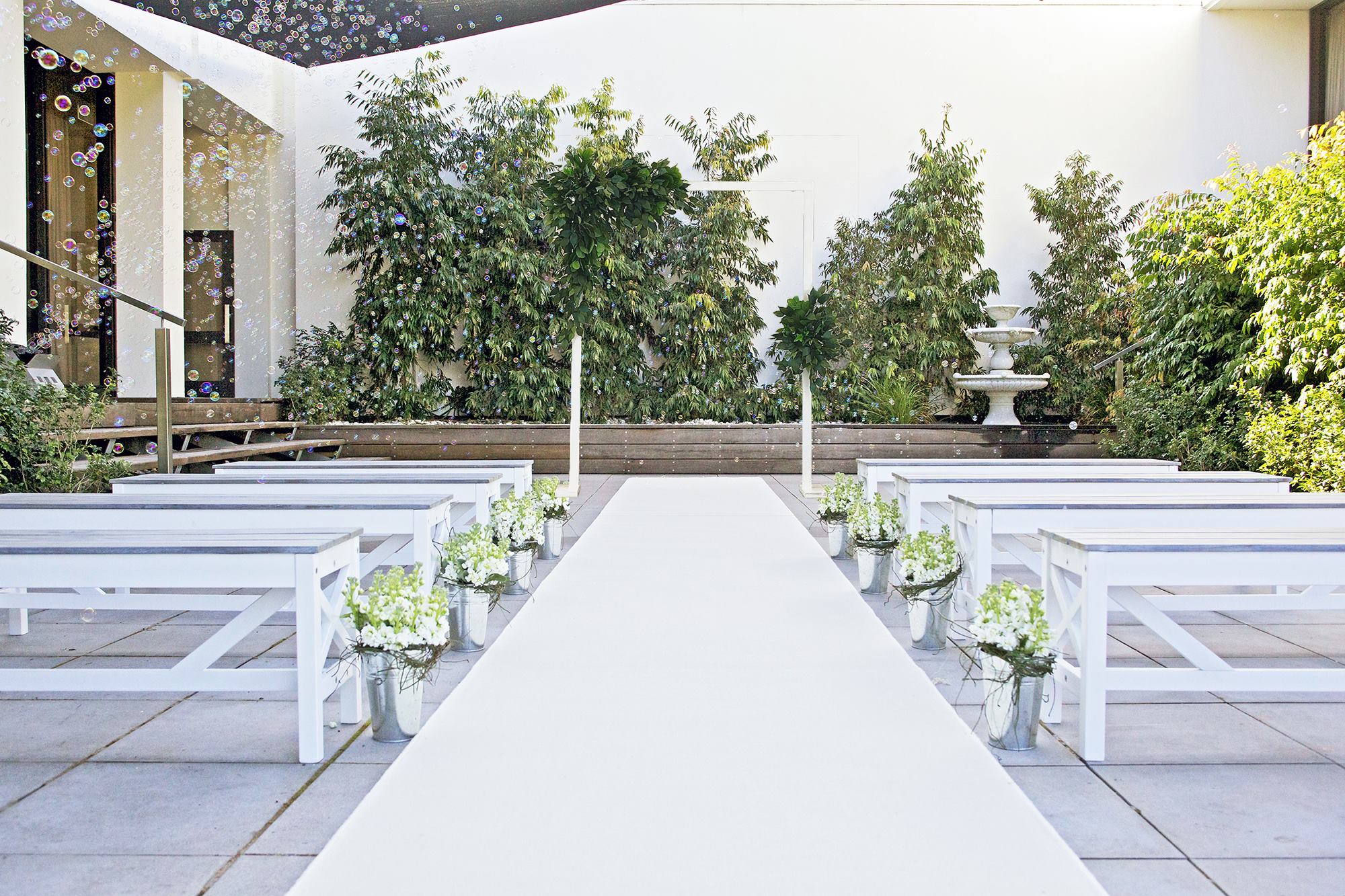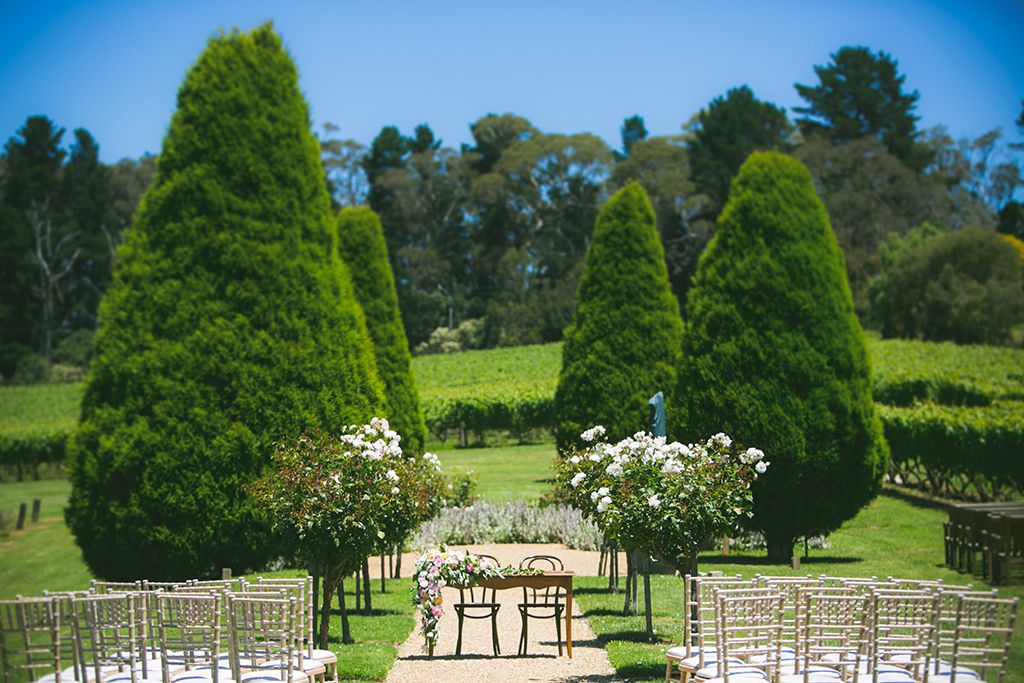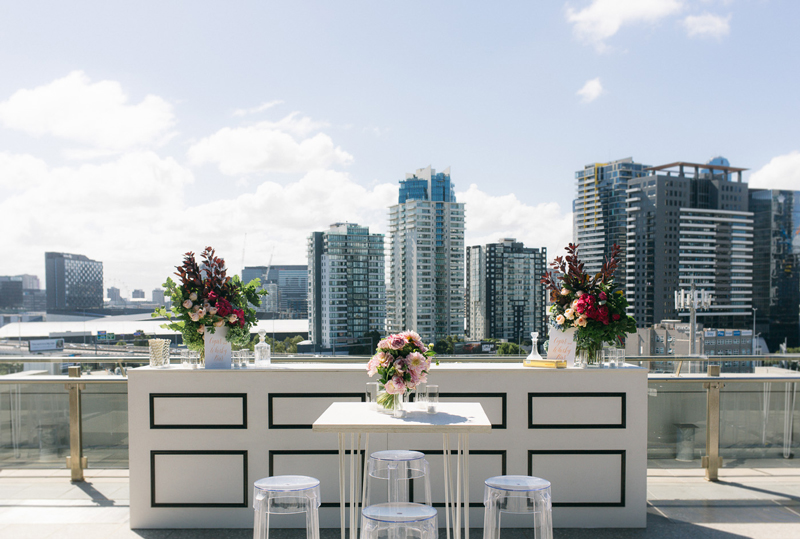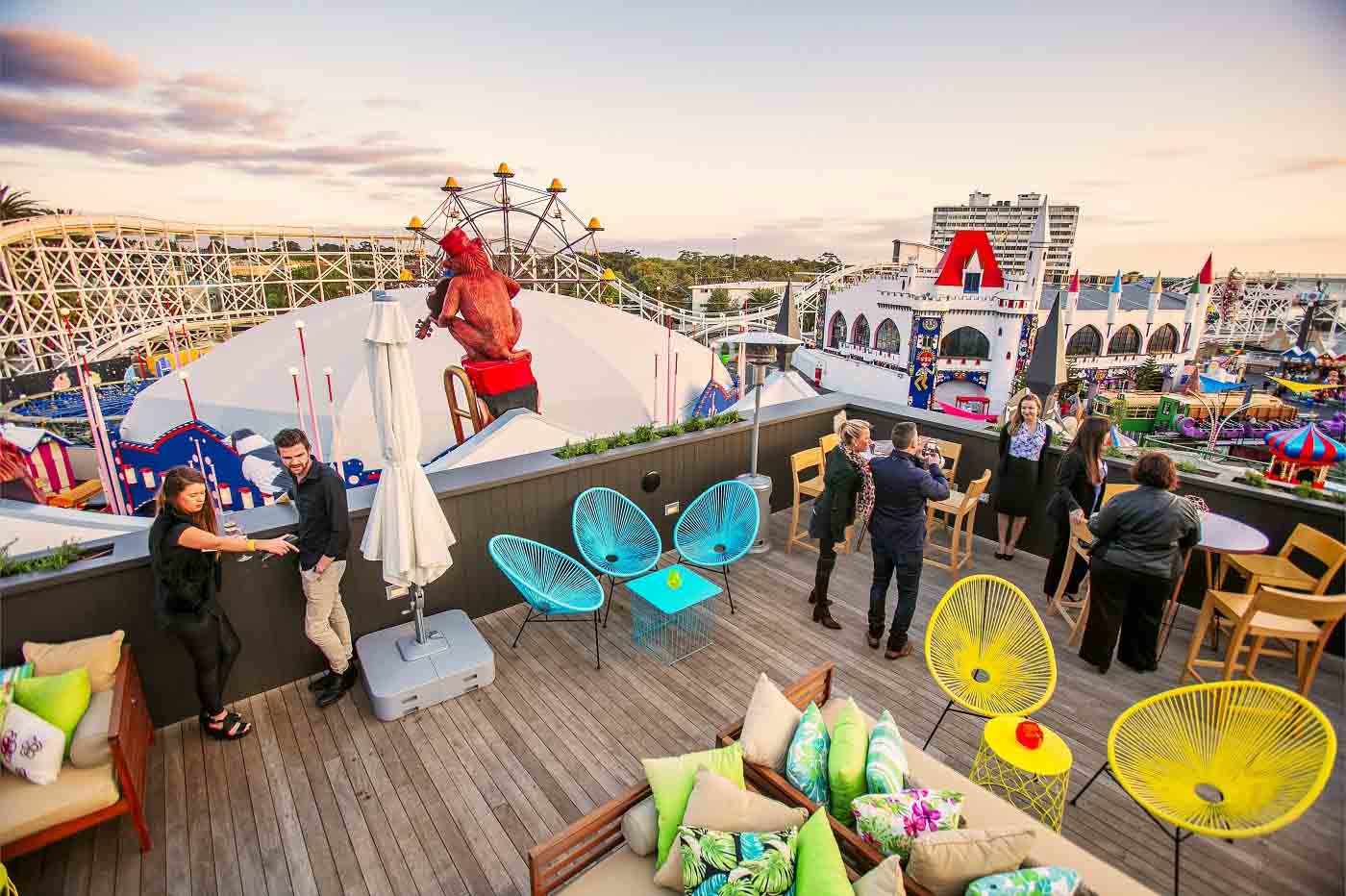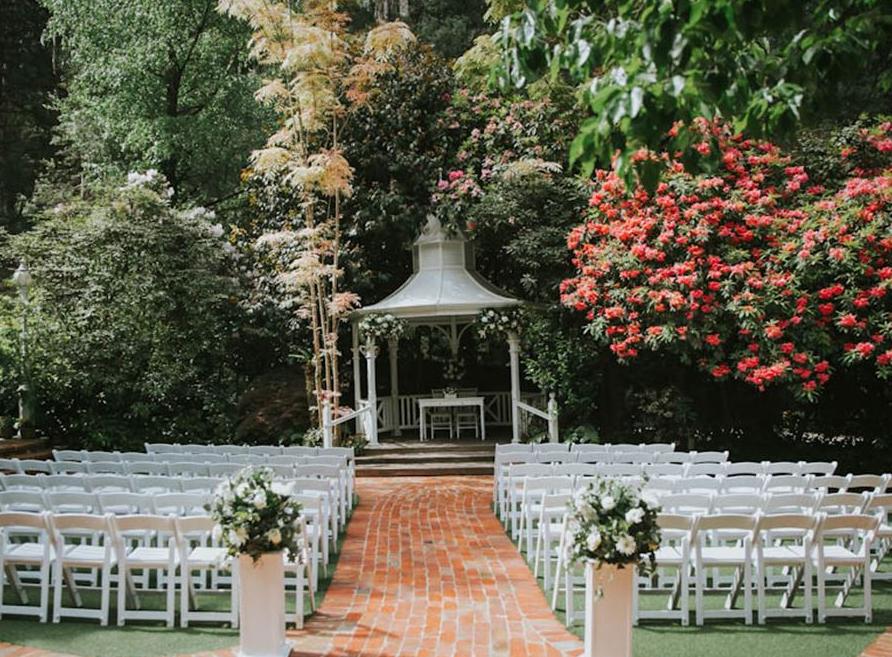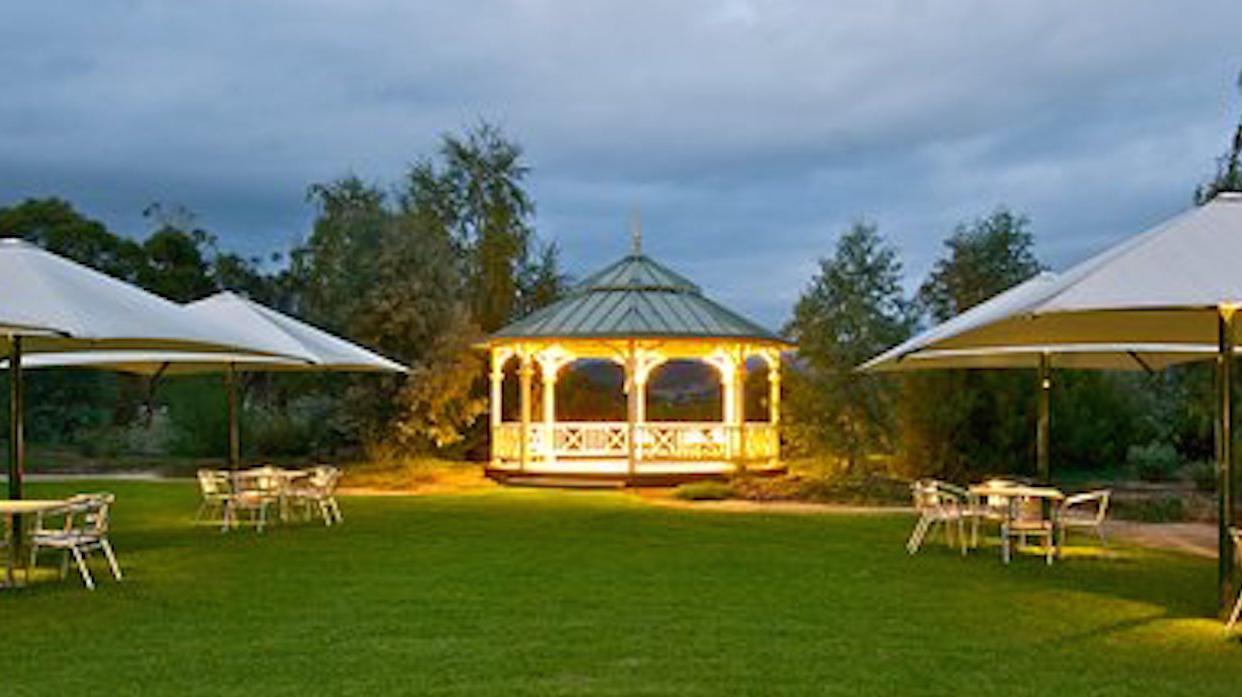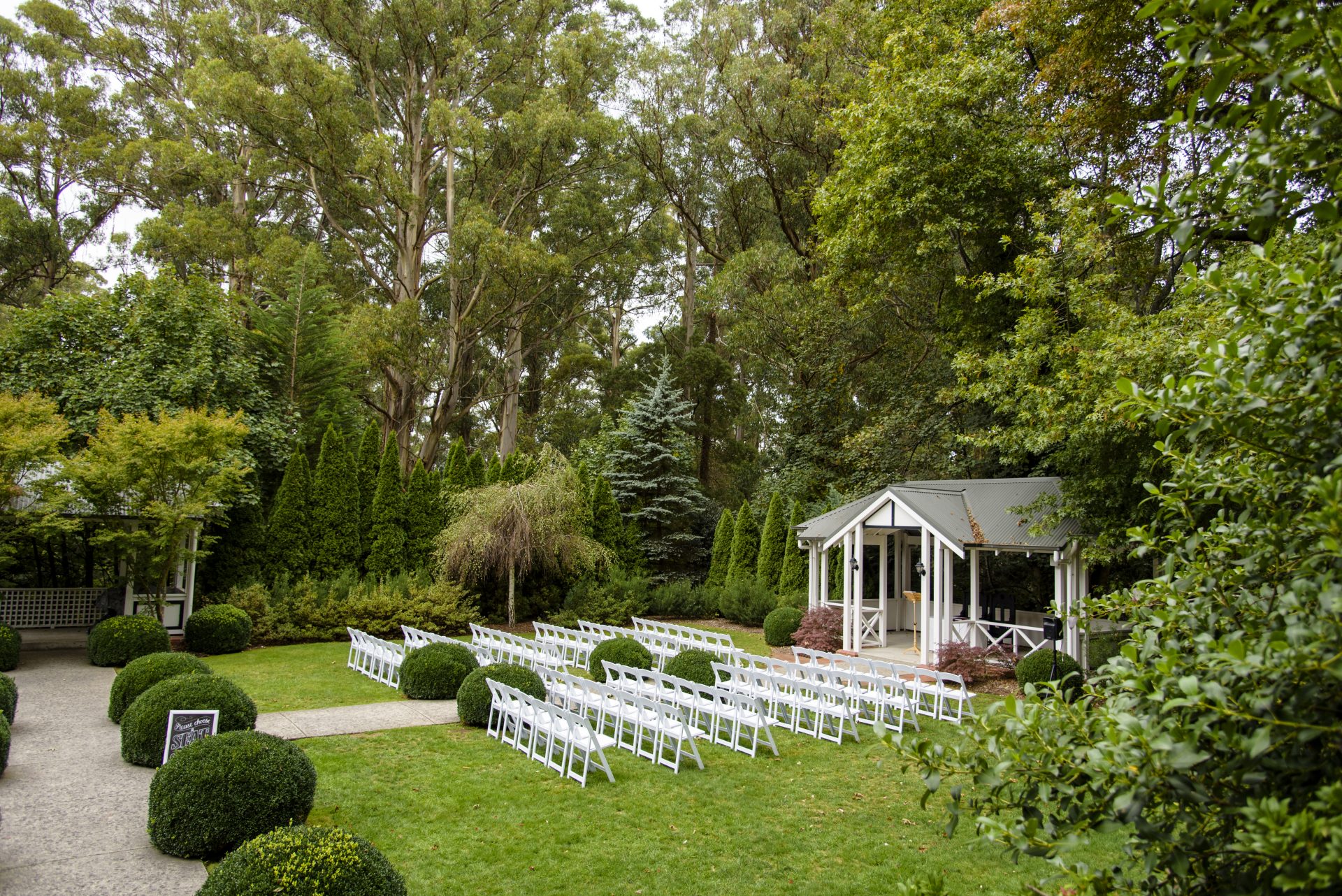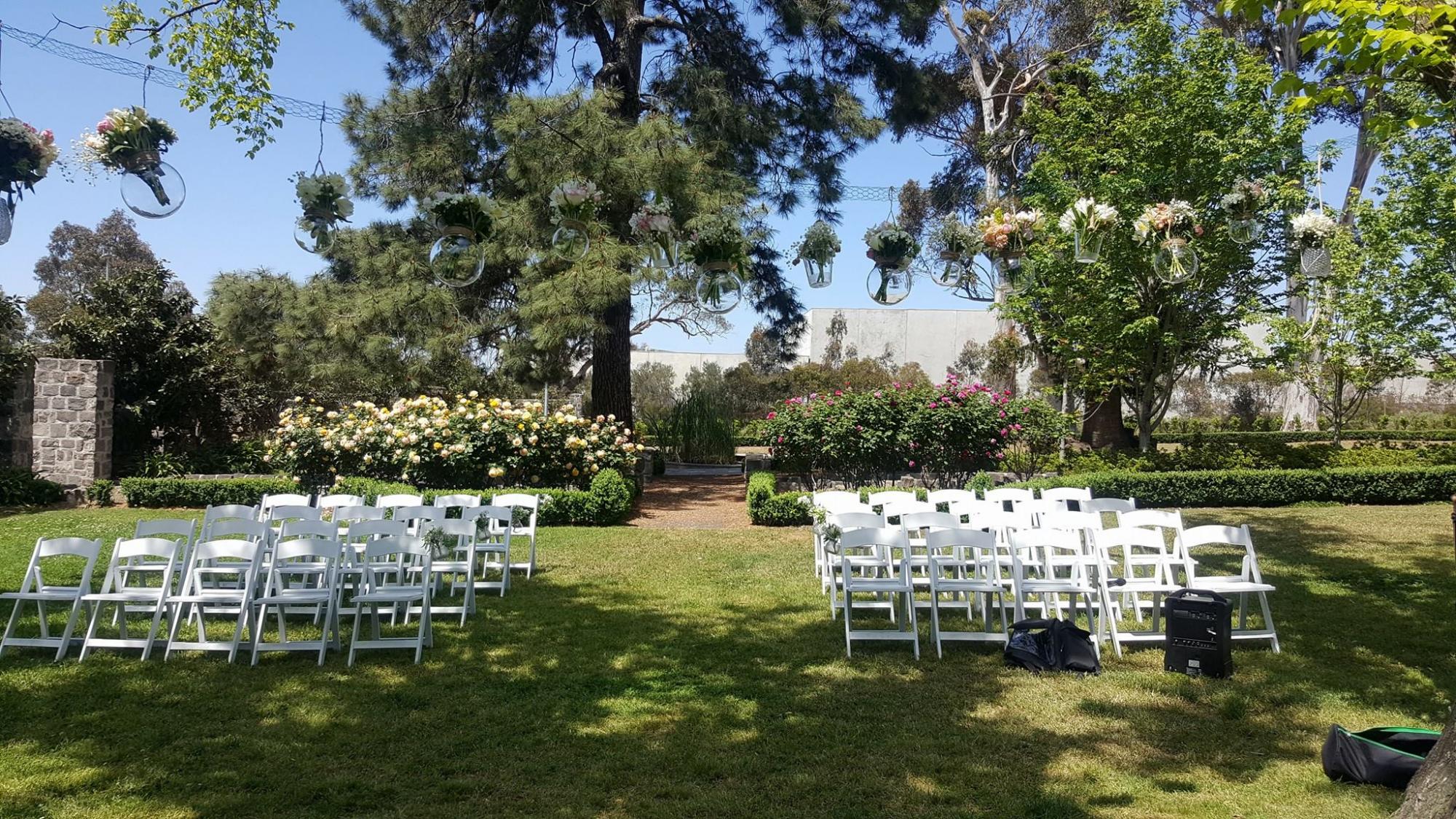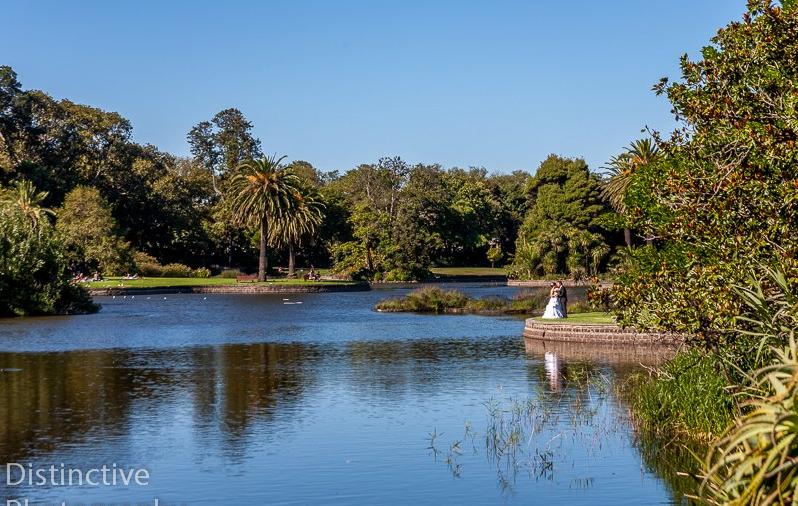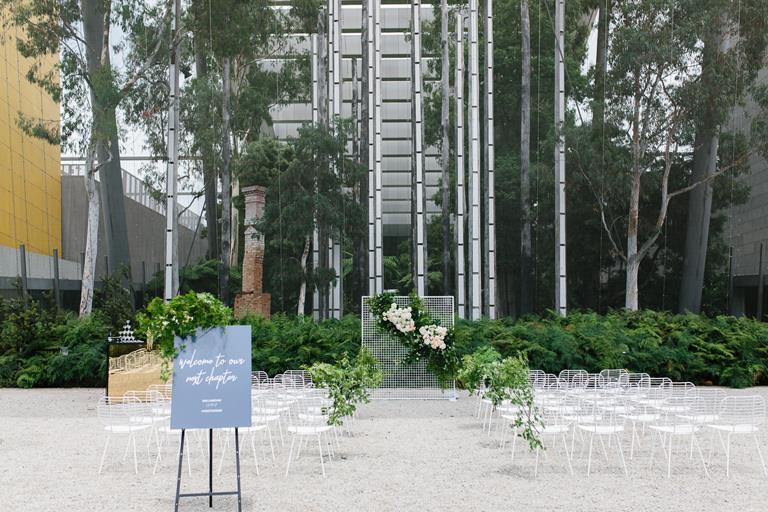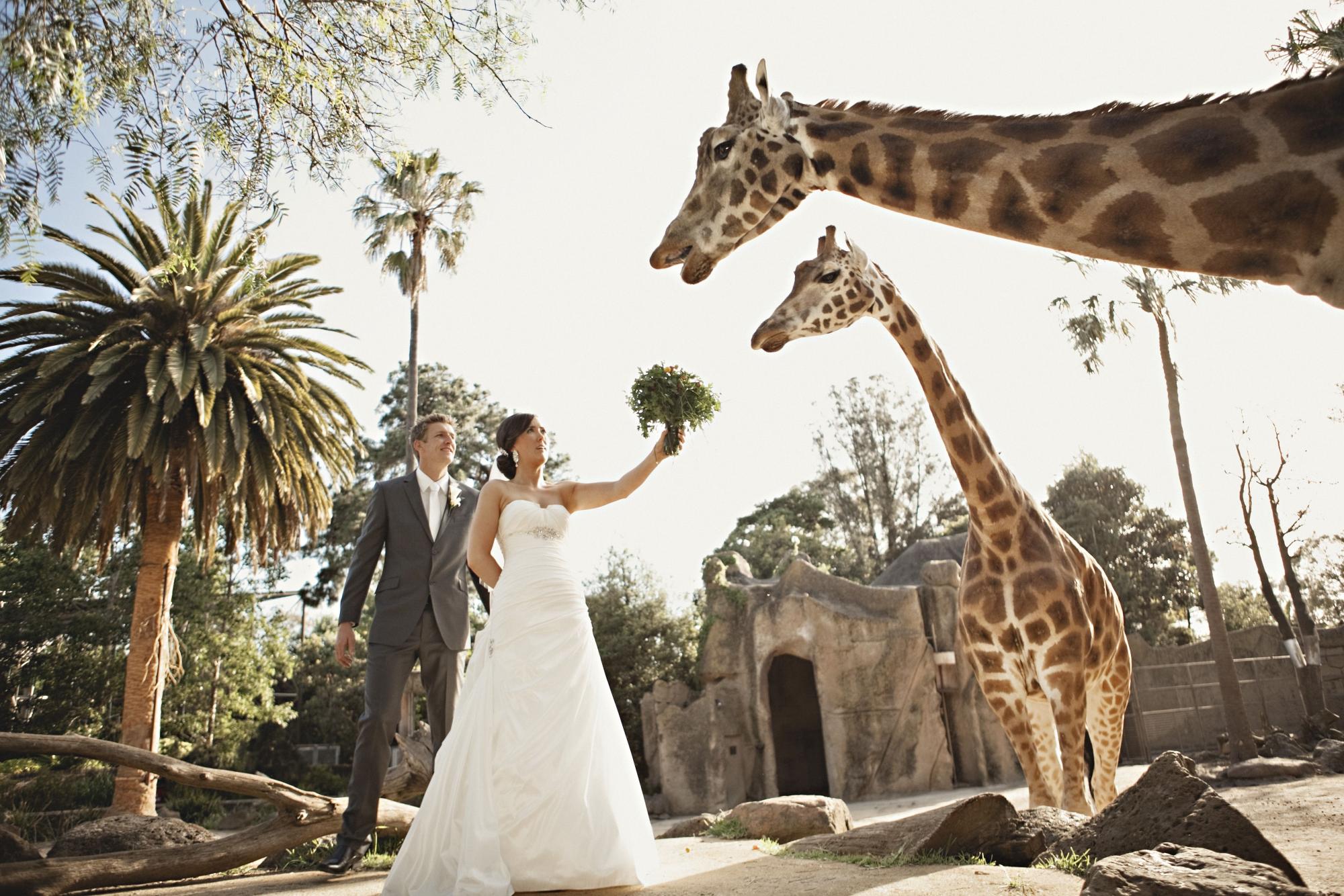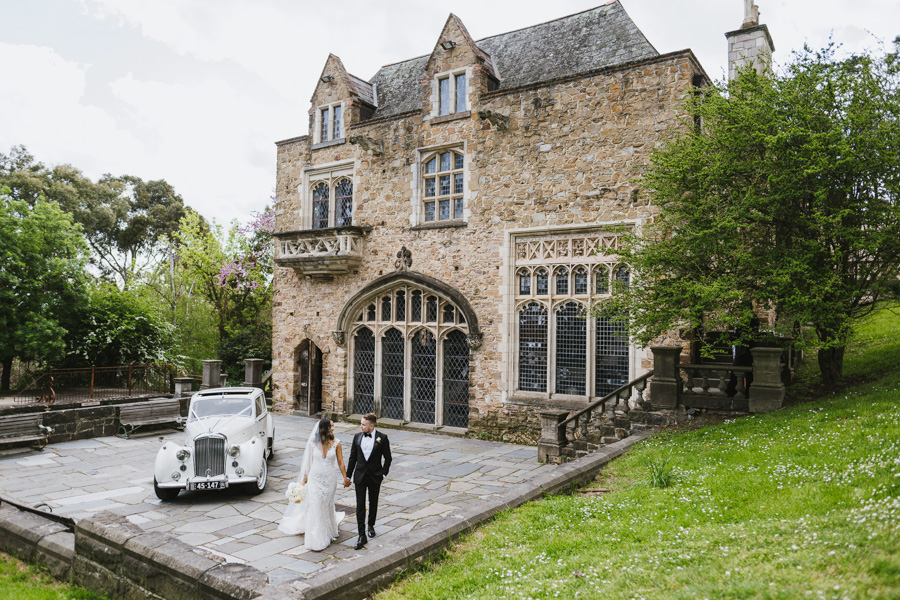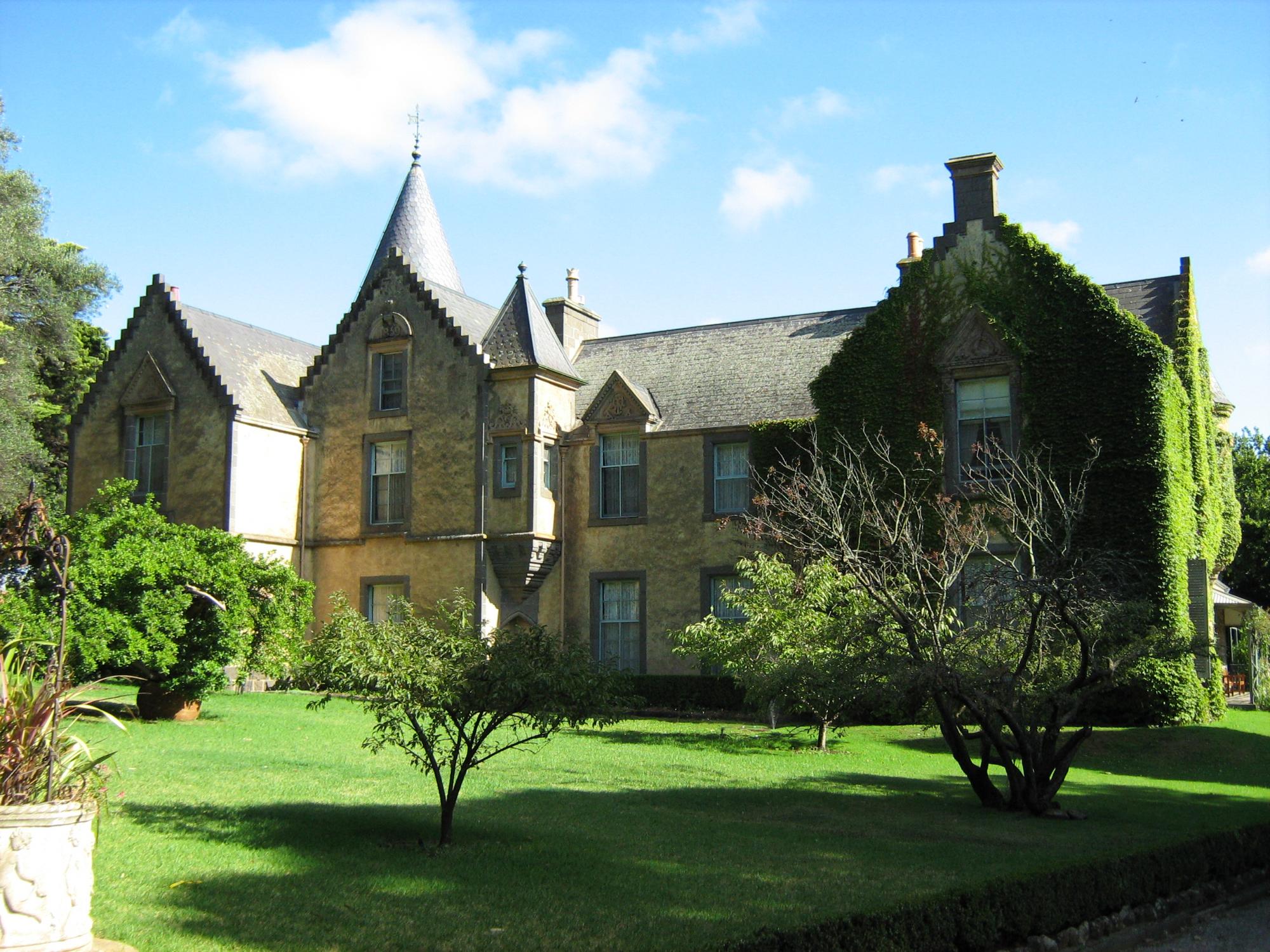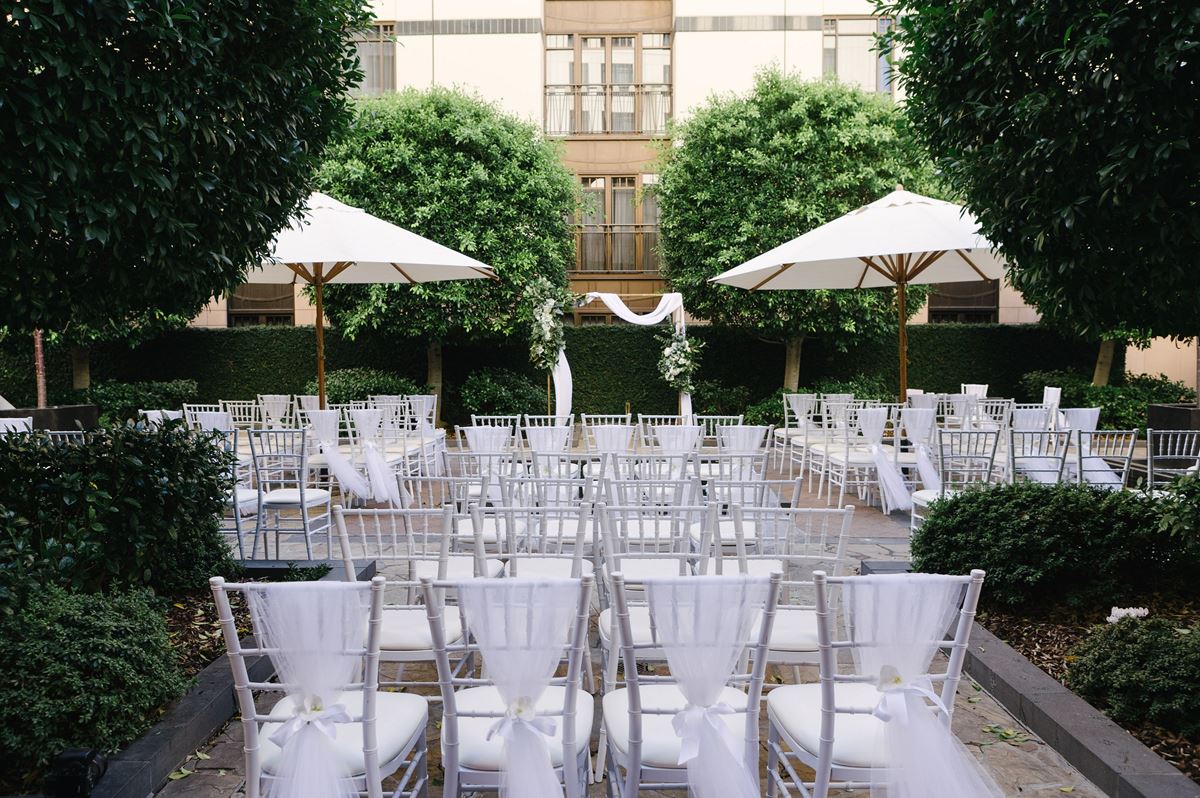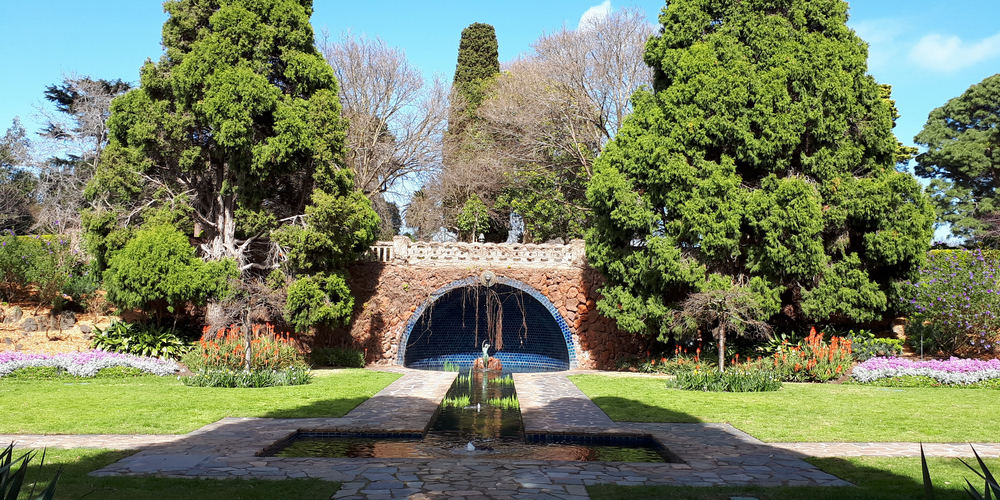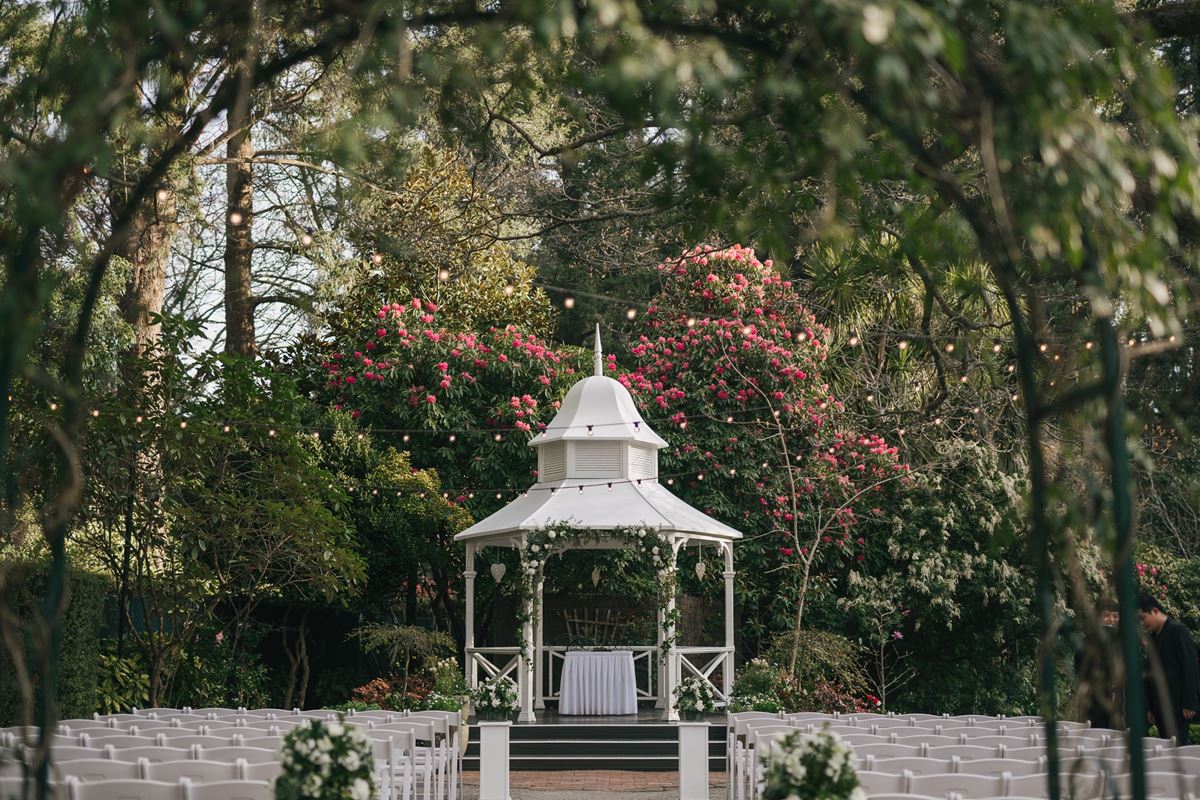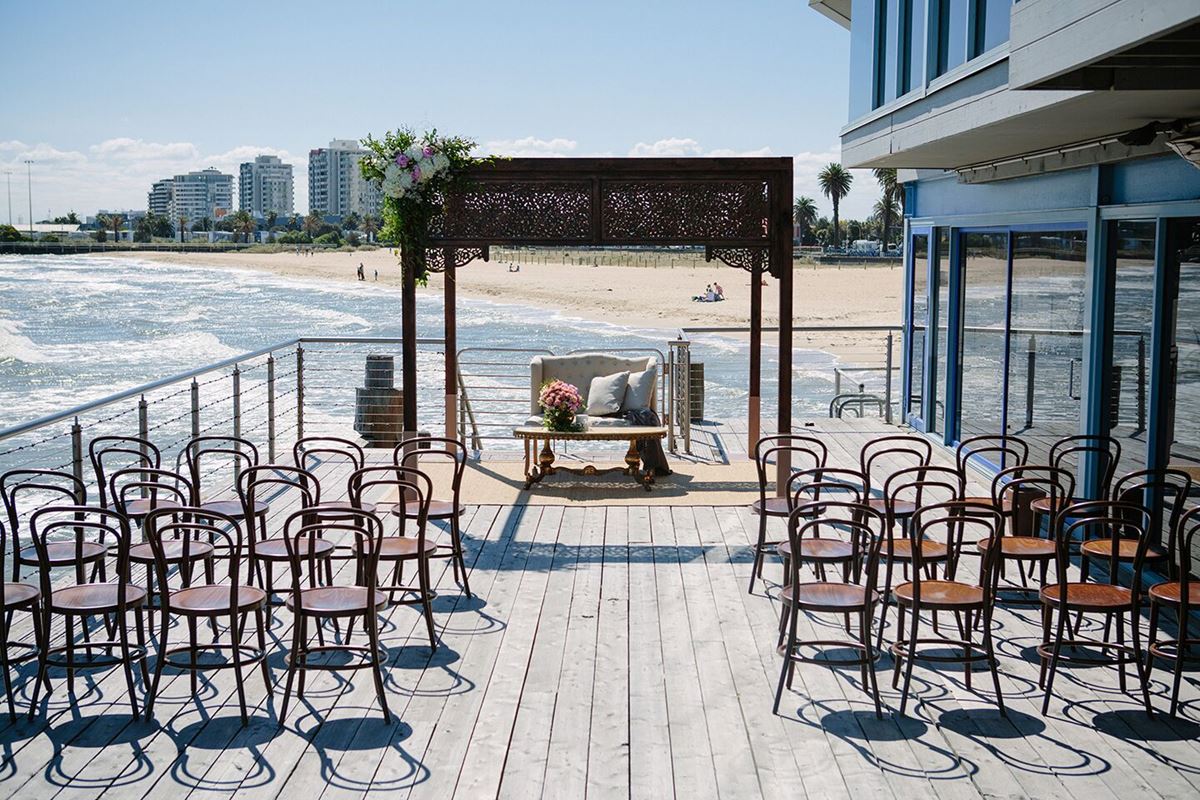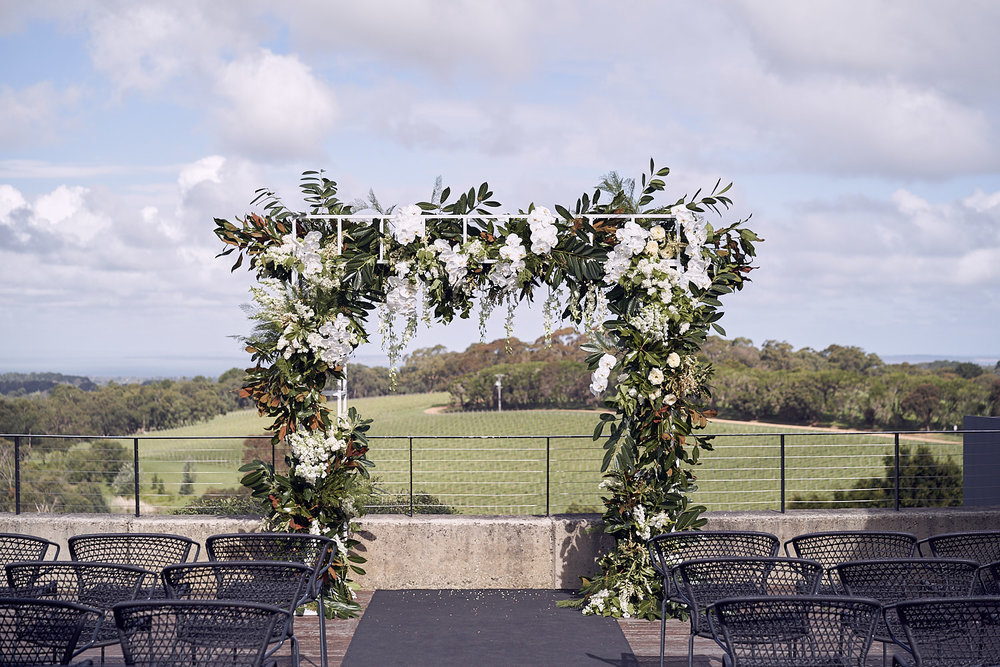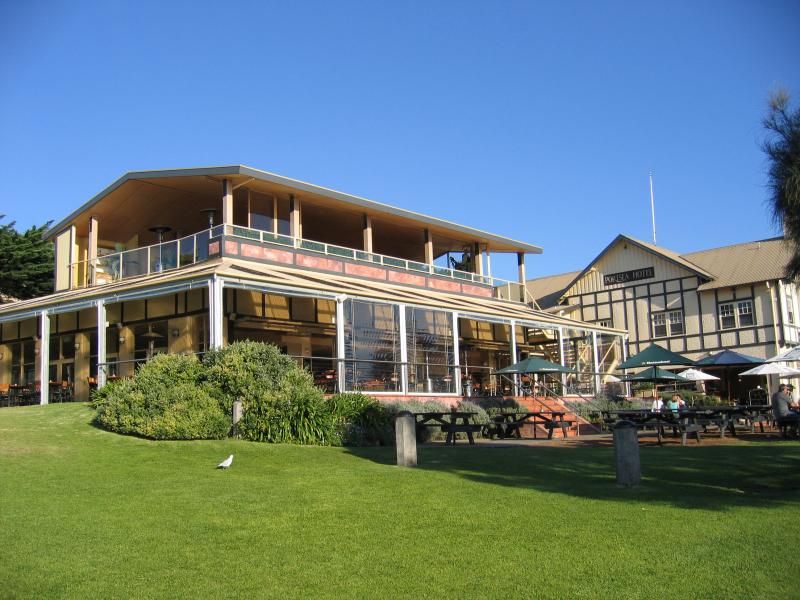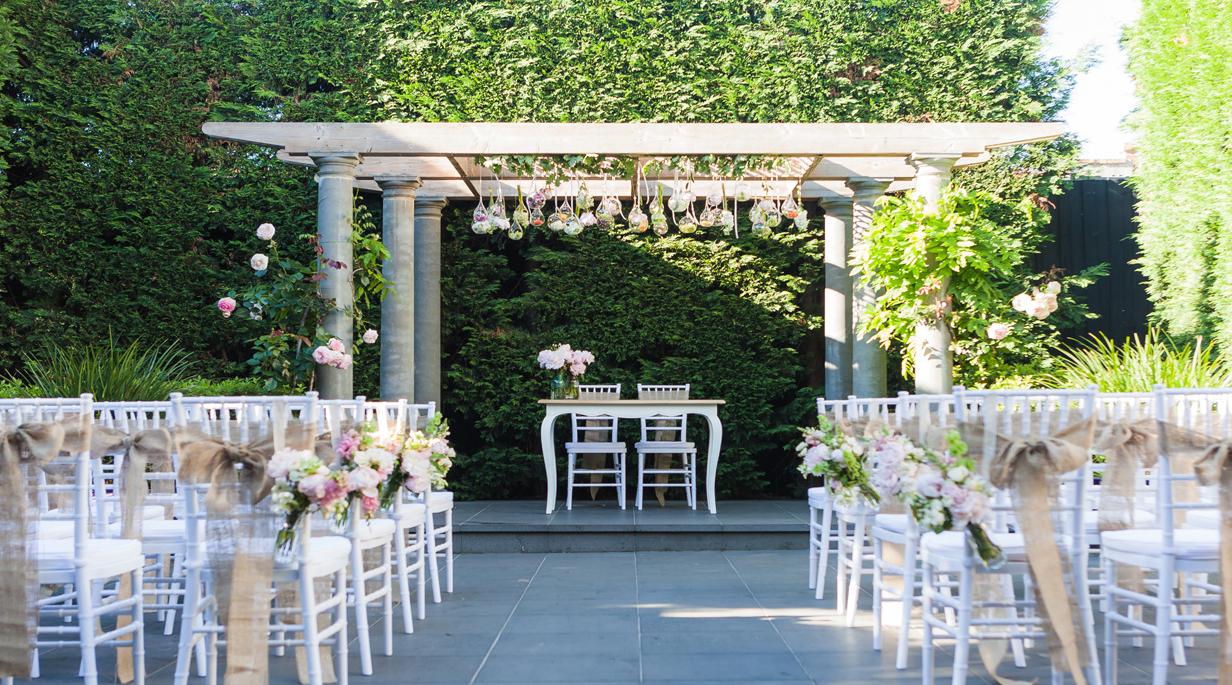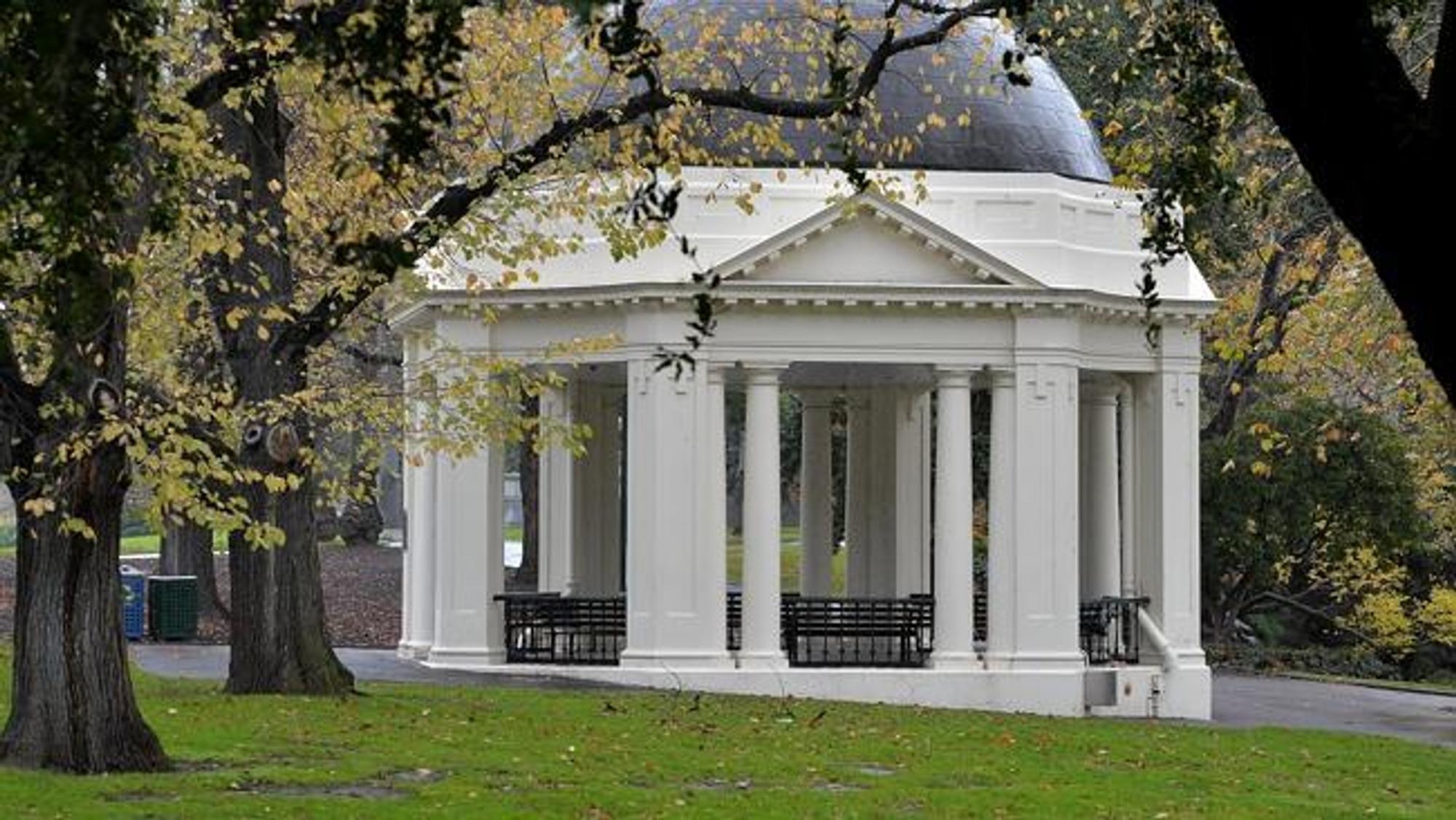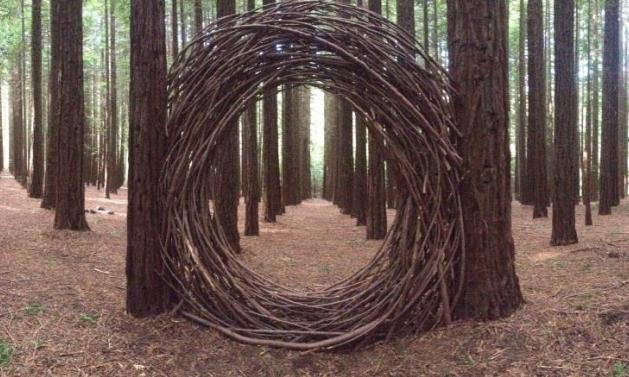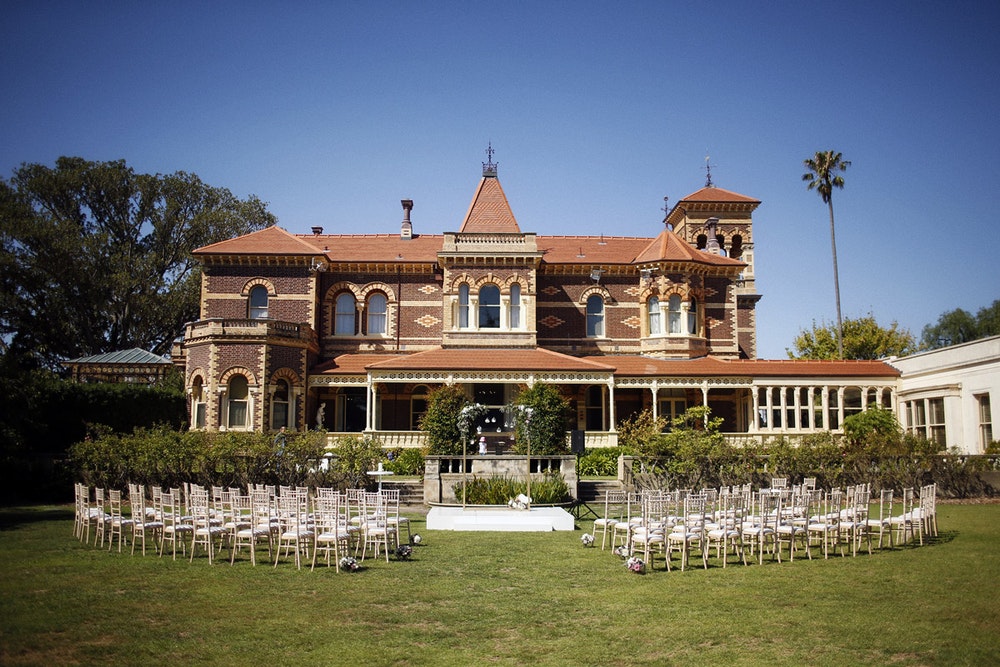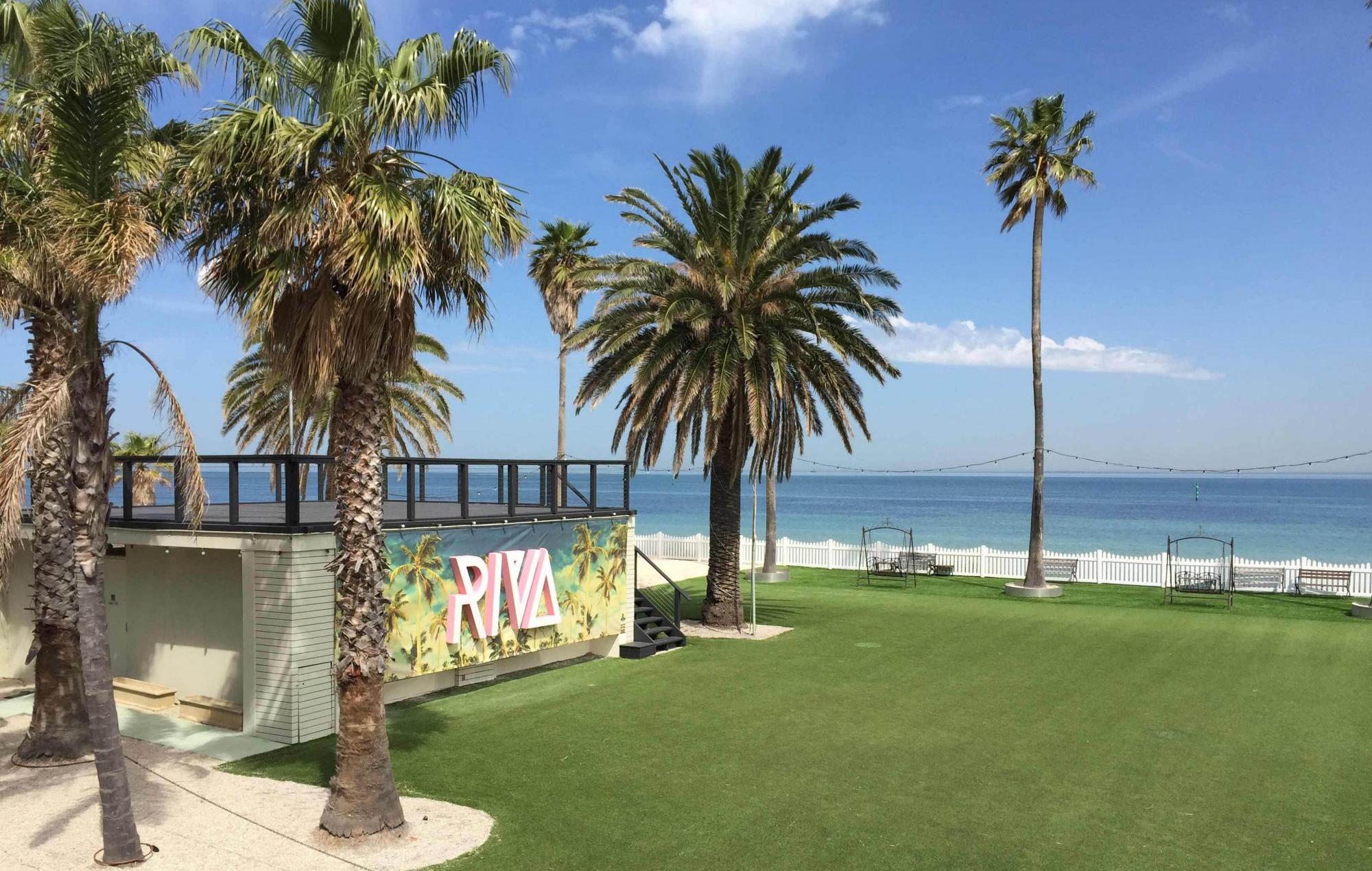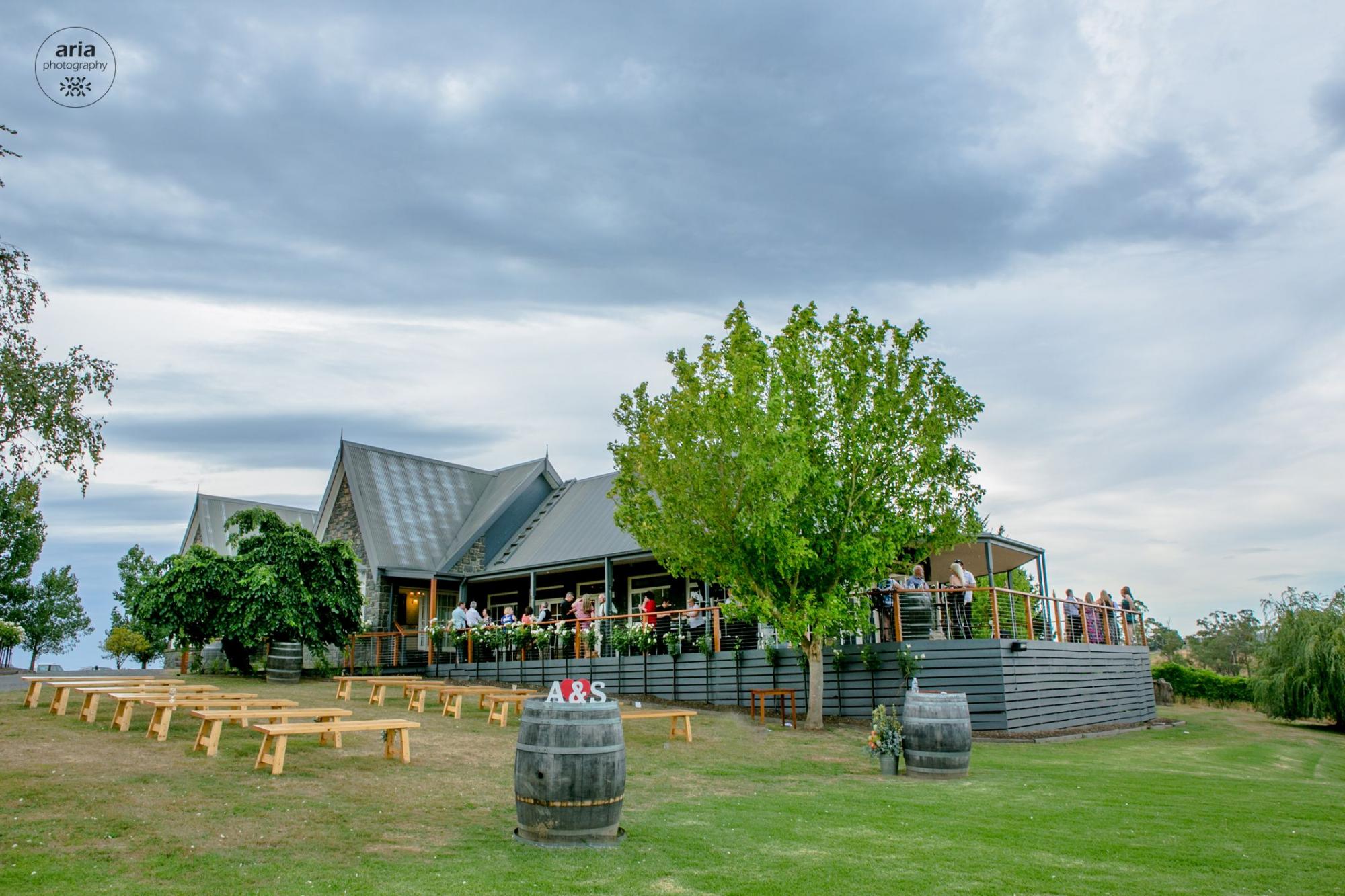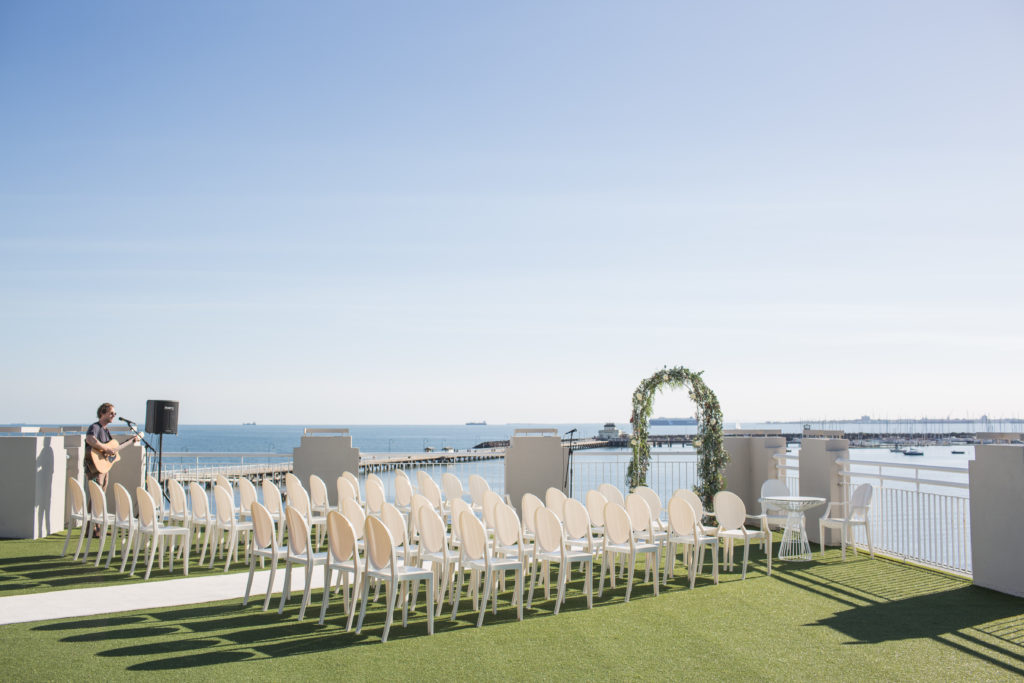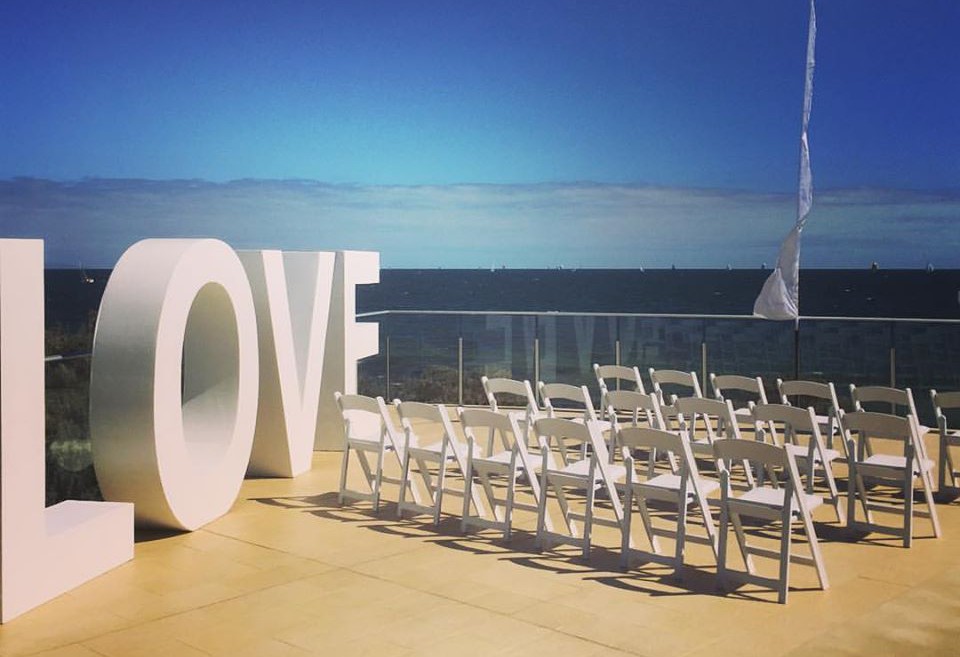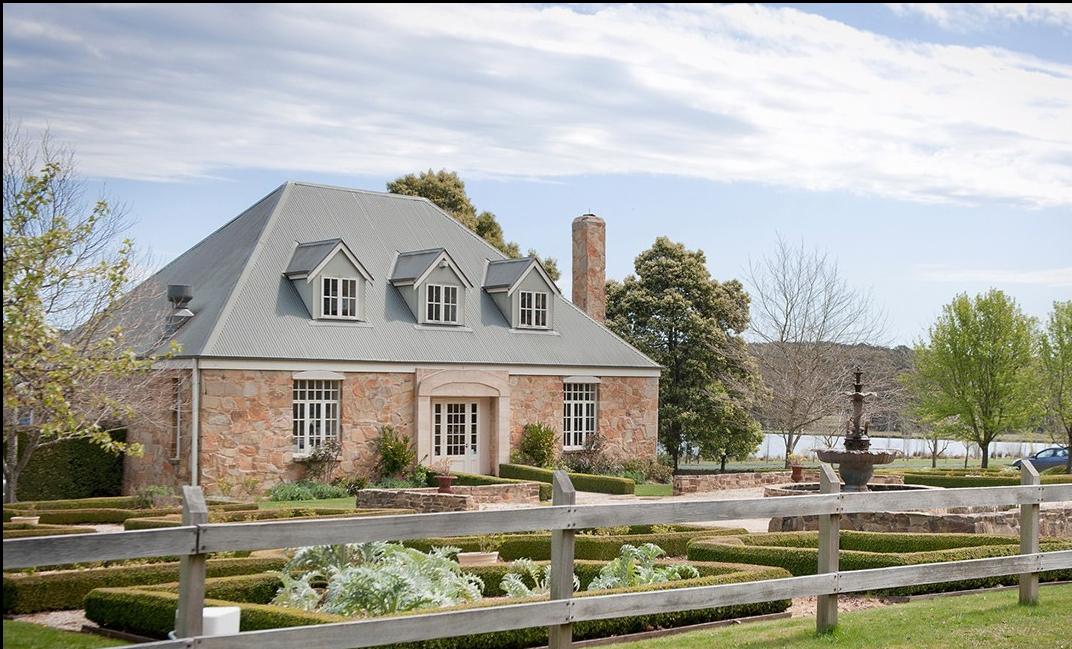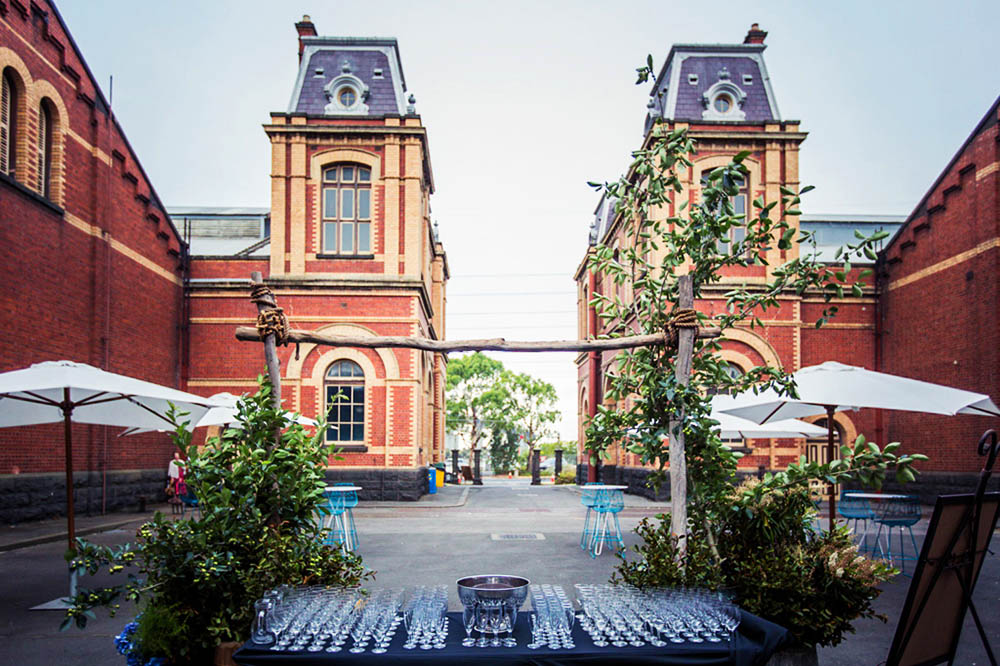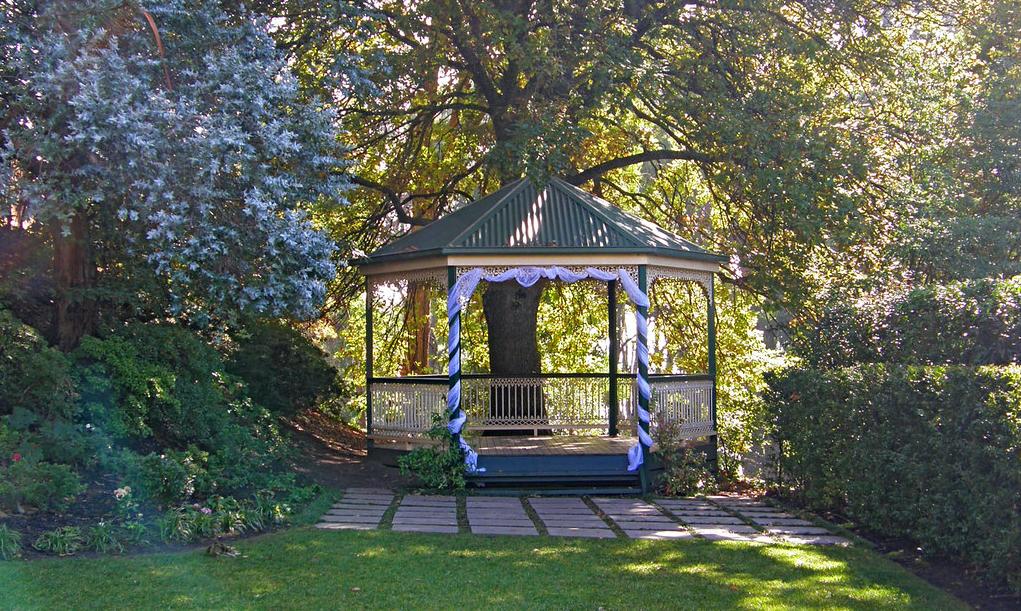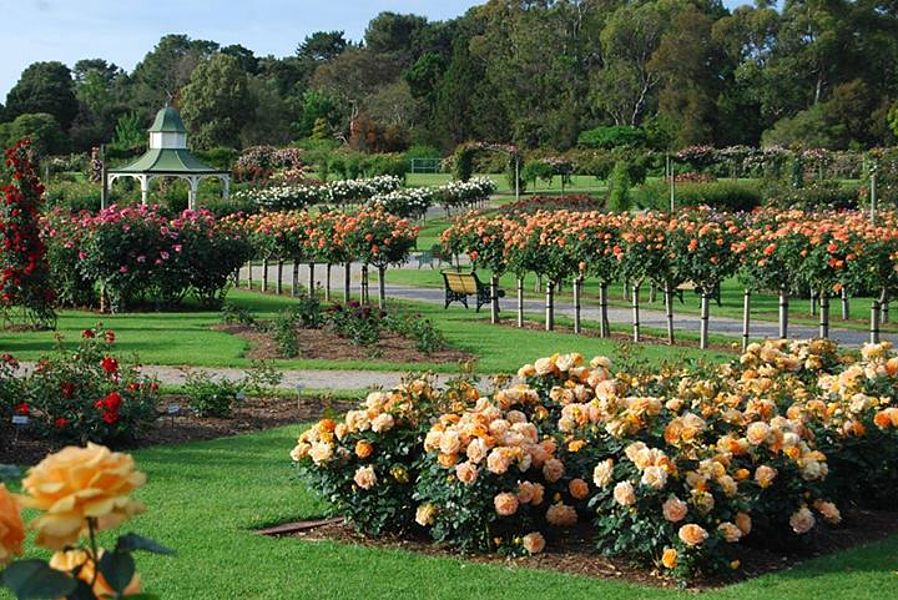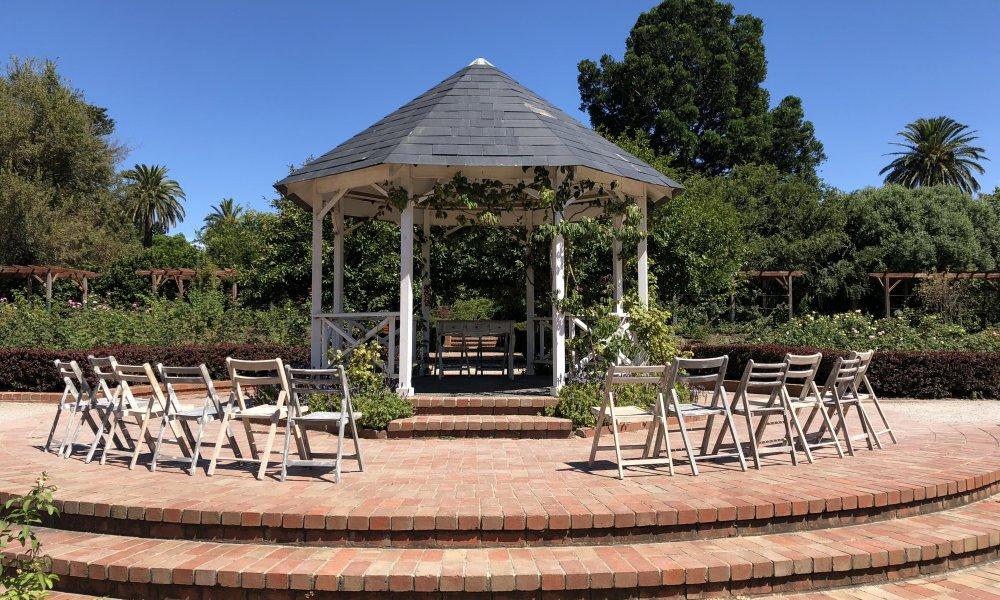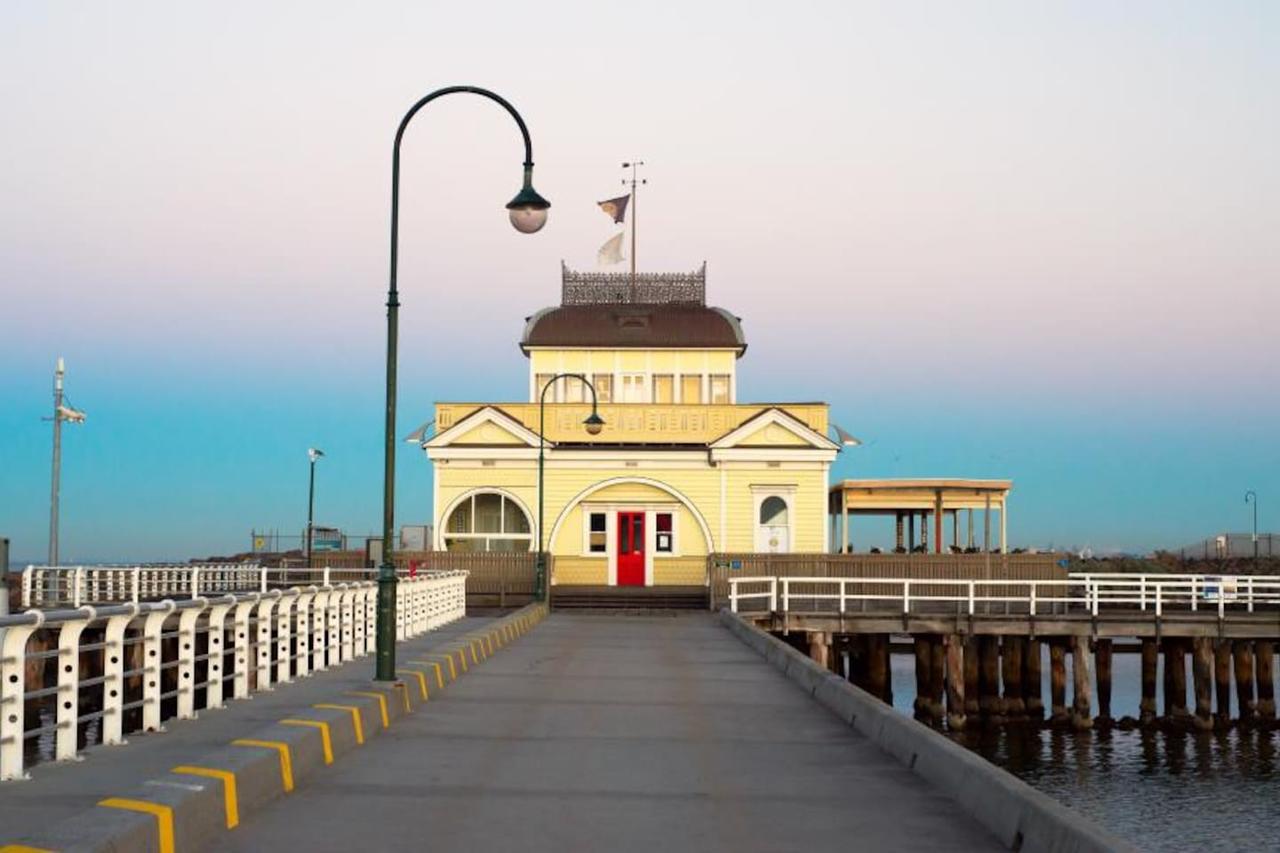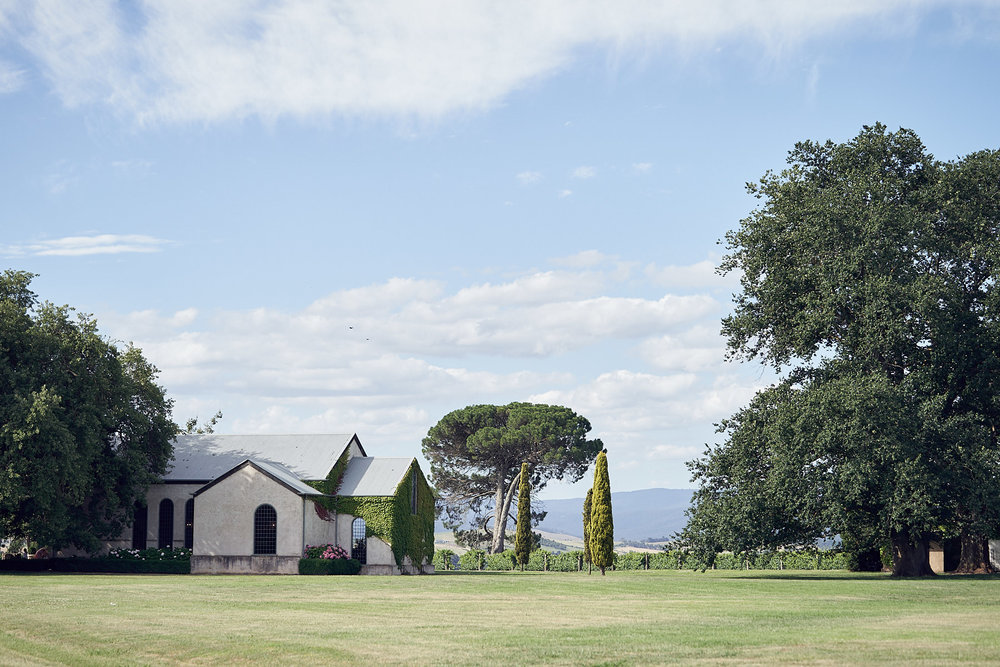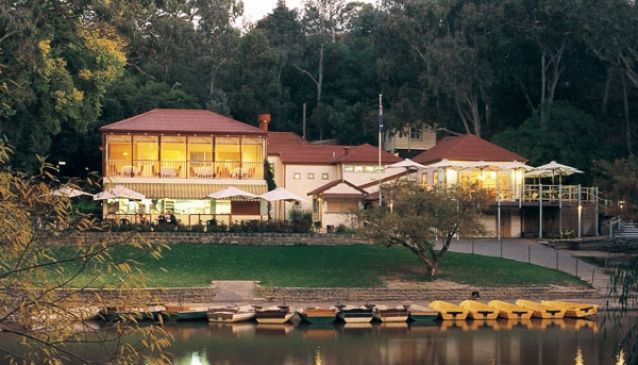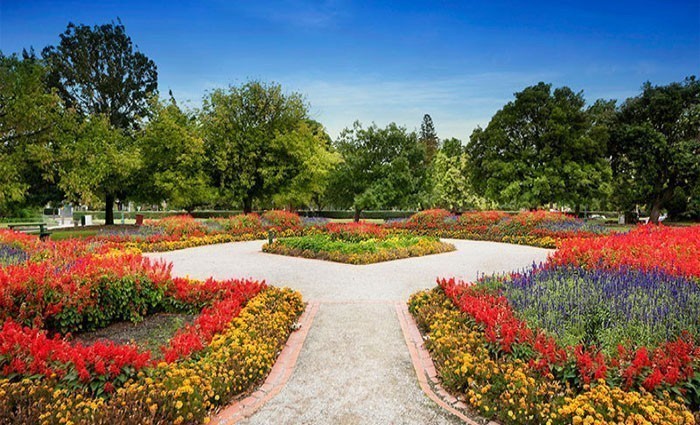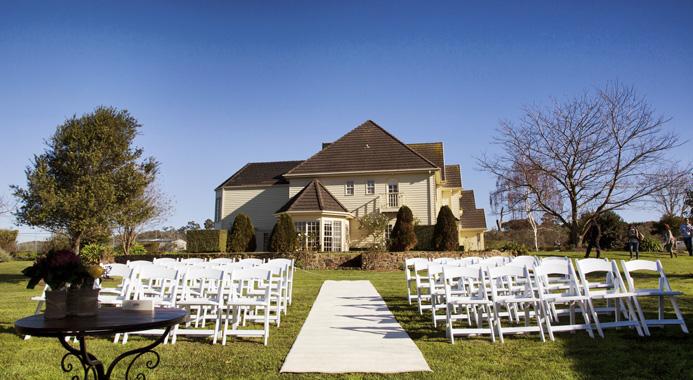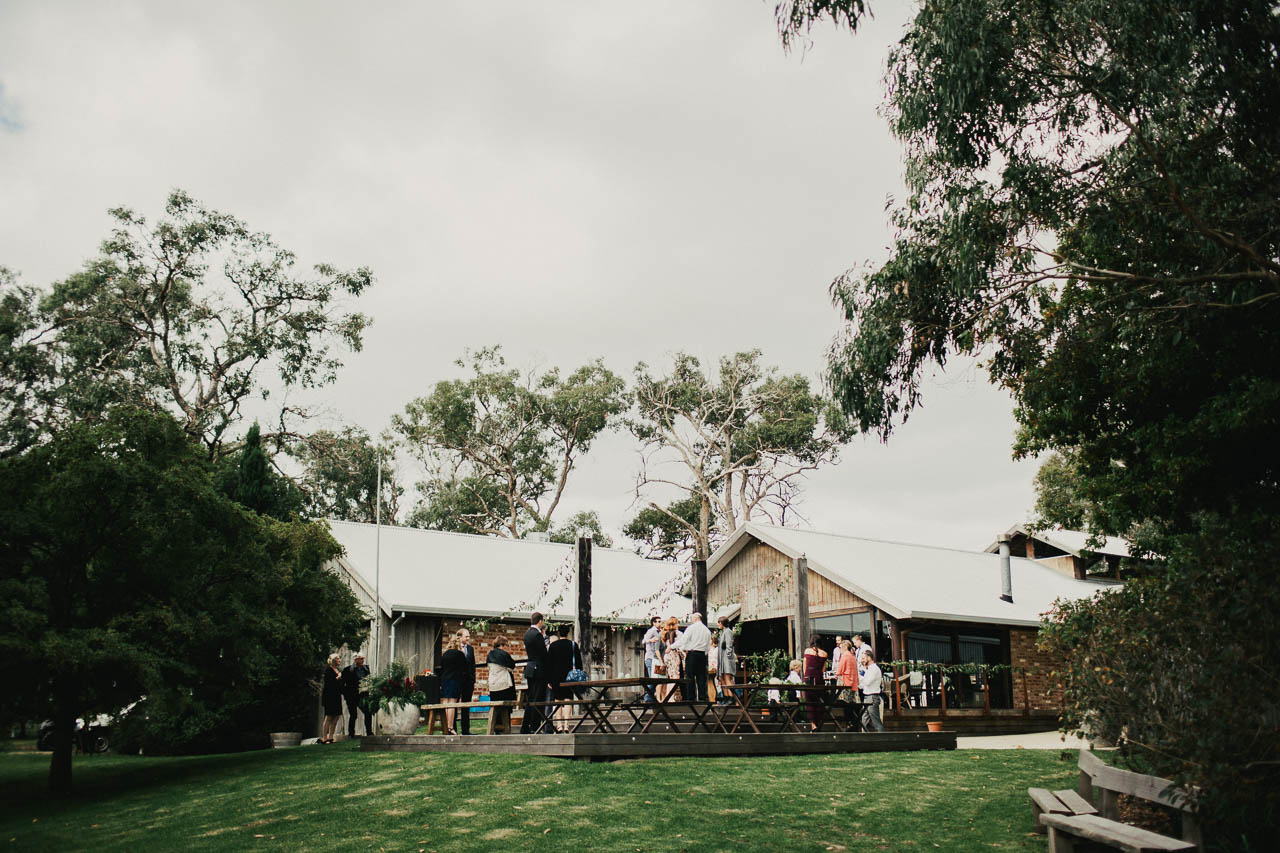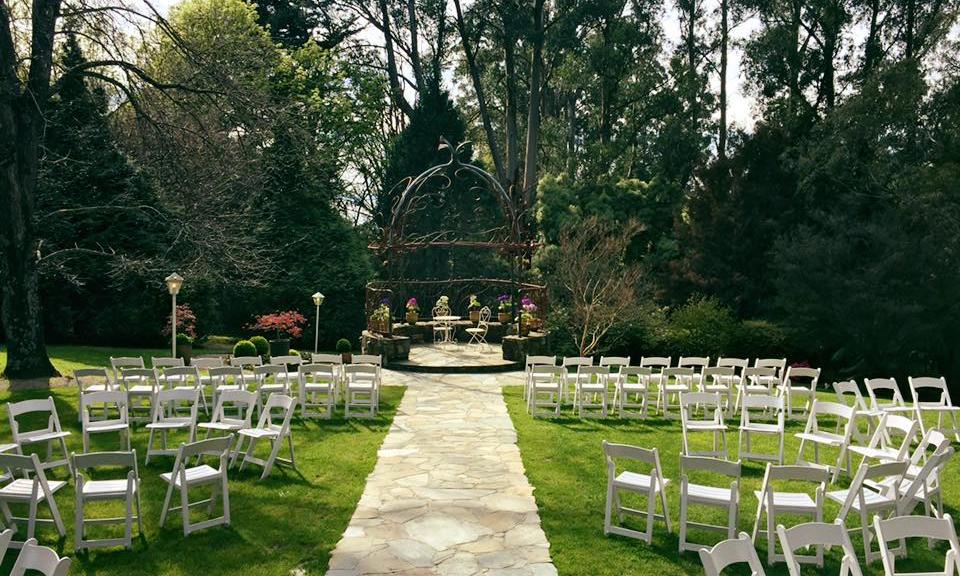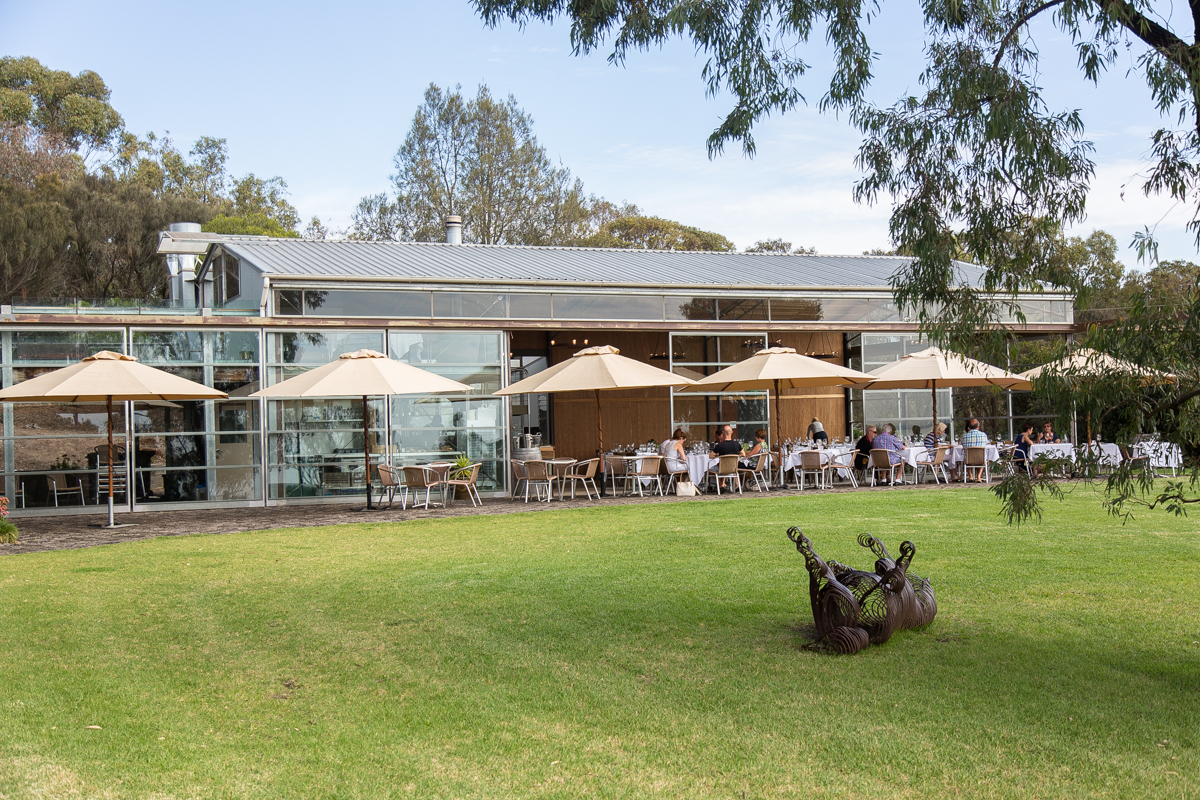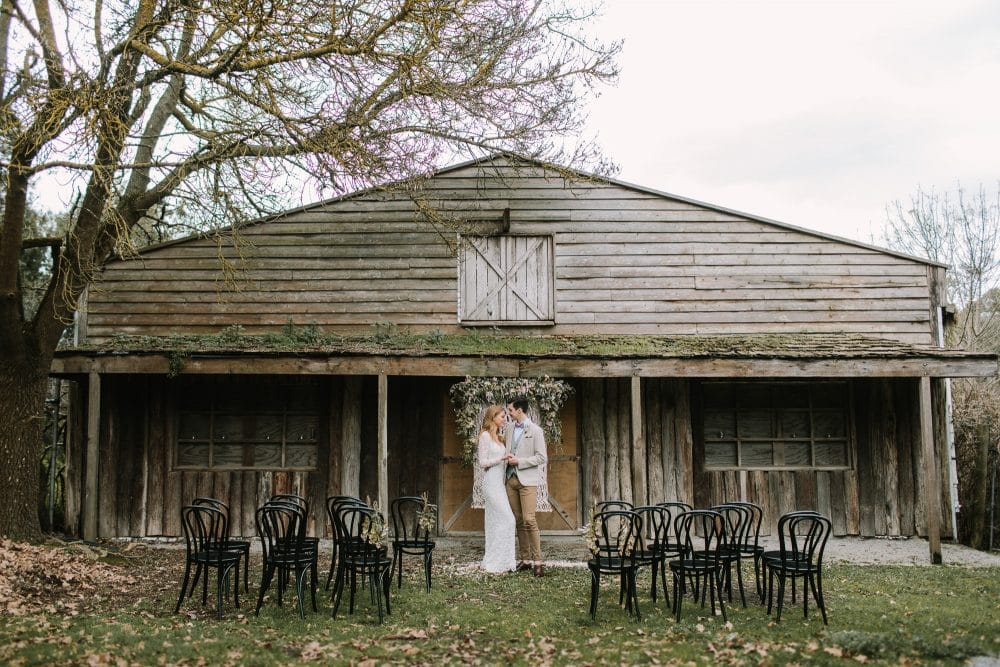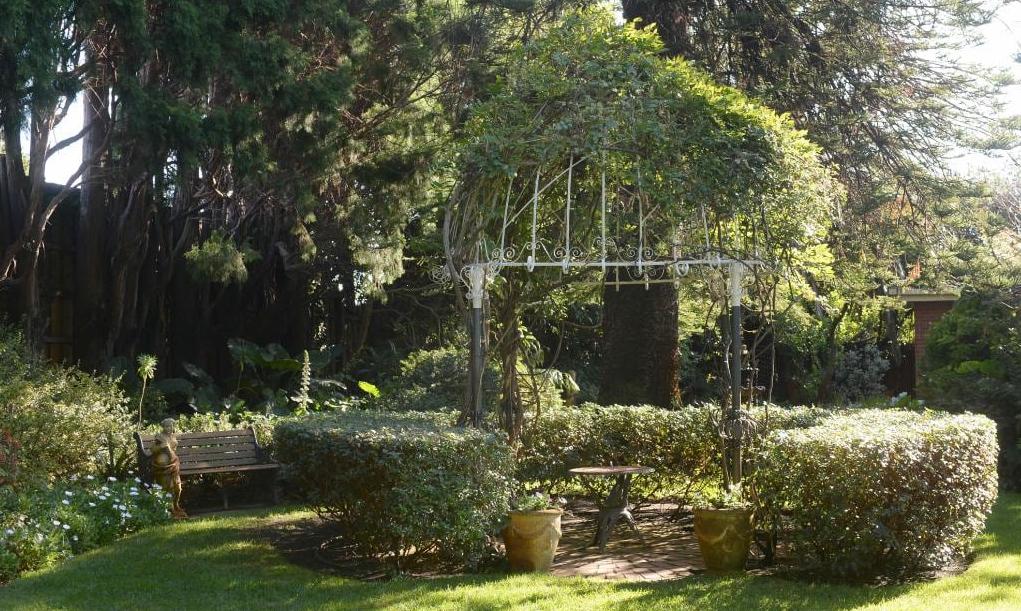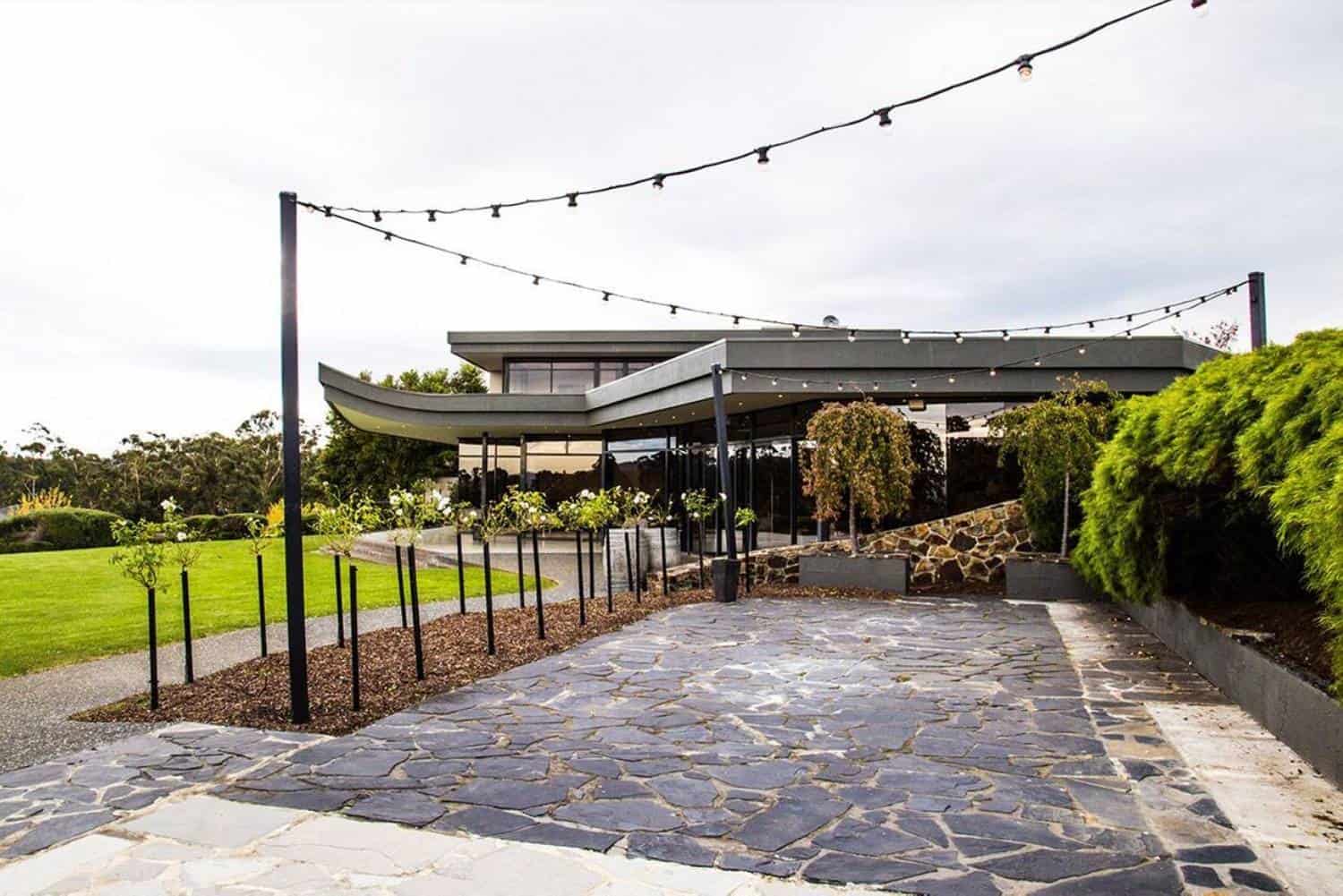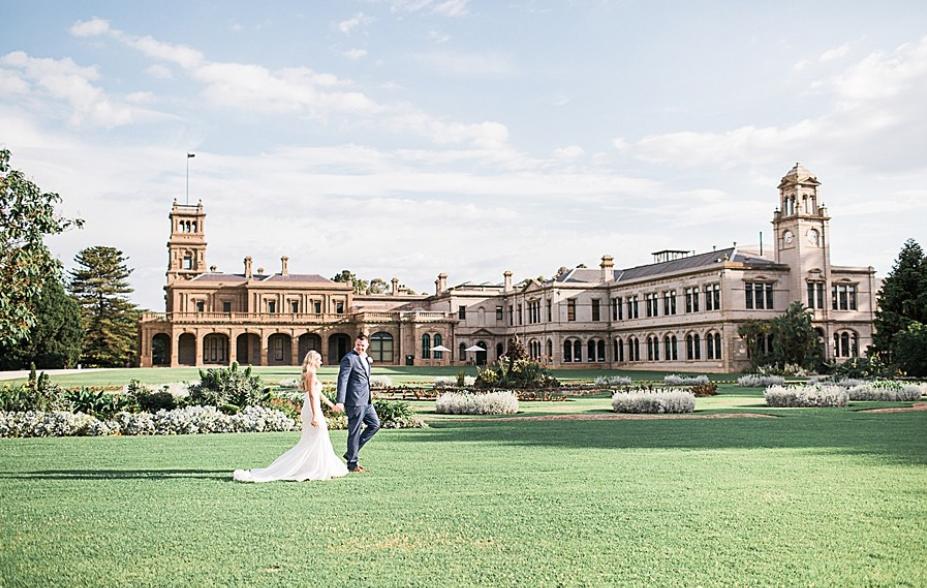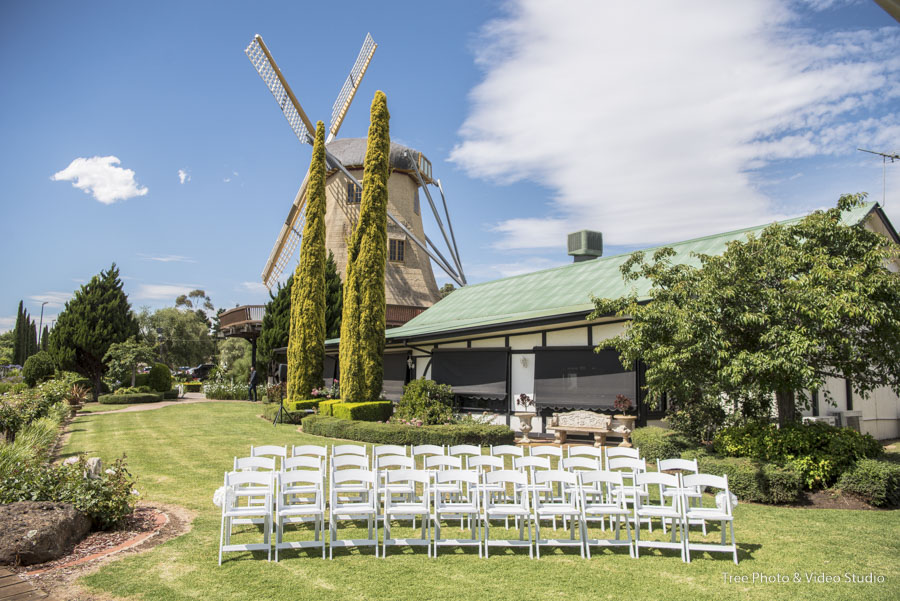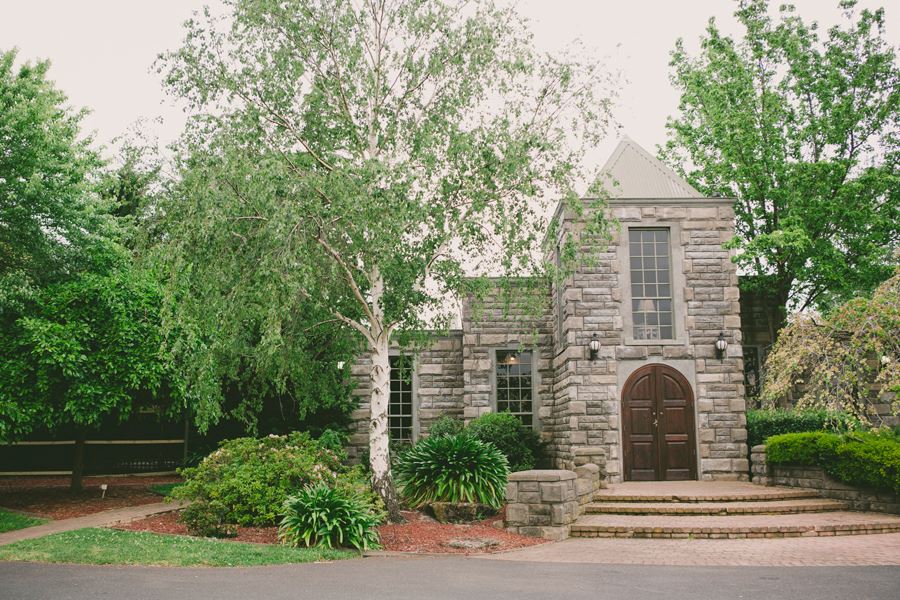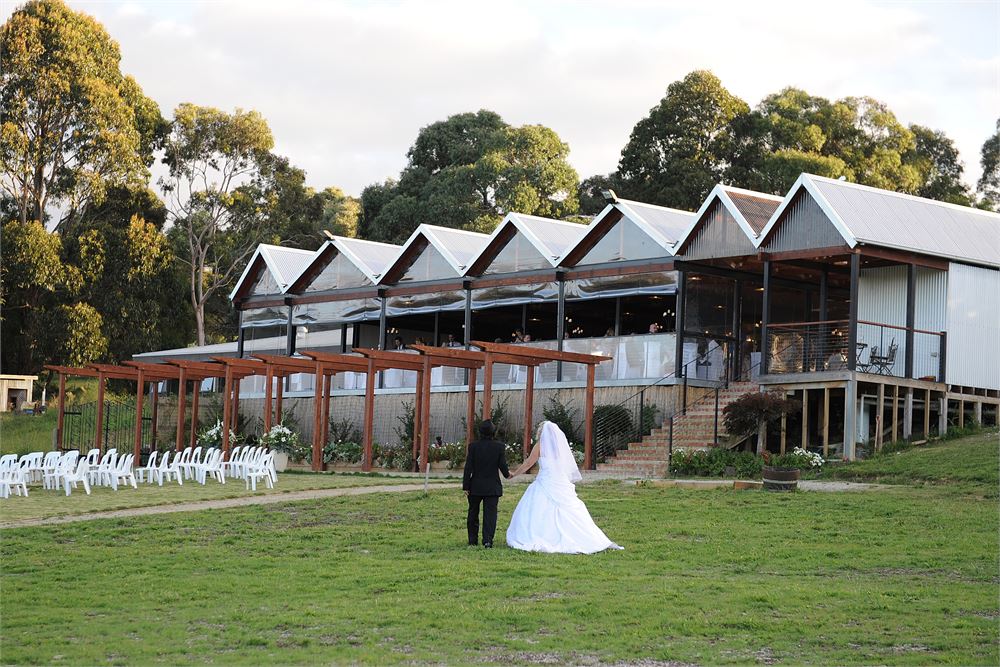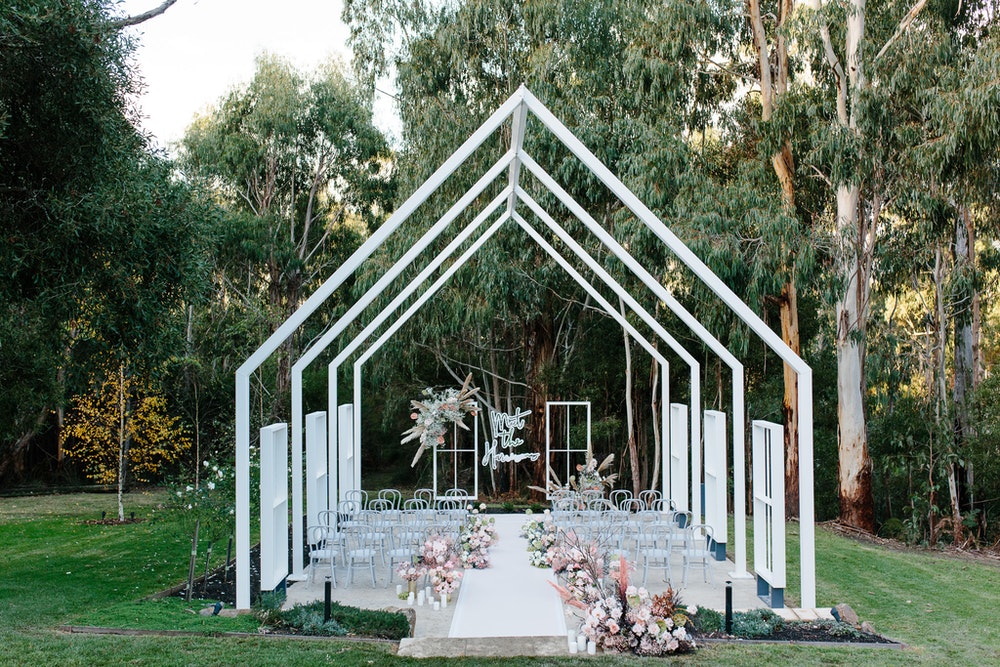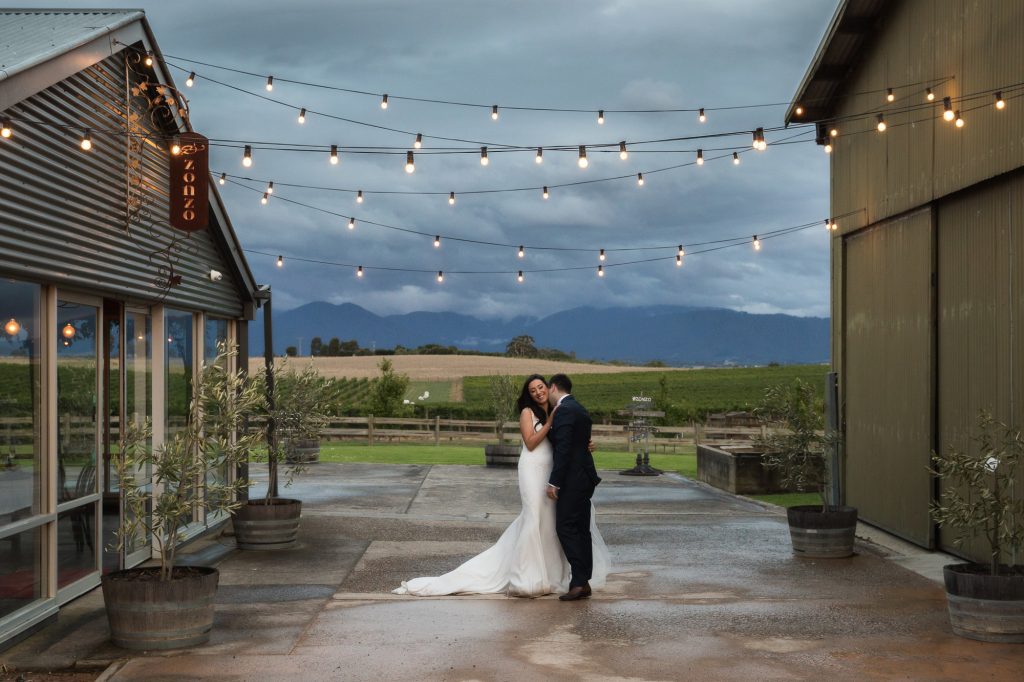 Rain on Your Wedding Day – Do you have a Plan B? →
Favourite Wedding Venues Melbourne →
Recommended Wedding Vendor Directory →
Patricia + Samuel's Werribee Mansion Wedding
Patricia and Sam began their day with a traditional Tea Ceremony at home. This allowed them to honour their families' Chinese/Malaysian heritage with traditional elements.
Their Werribee Mansion Wedding continued on with the same amount of elegance, grace, humour and fun that these two embodied.
This wedding had everything. Incredible styling, amazing florals, brilliant sunshine, and a perfect sparkler exit.
A truly beautiful, kind and fun-loving couple certainly deserved such magical day.
The Meeting
A marriage nine years in the making, it took the first two years of sitting next to each other in med school for Sam to muster up enough courage to ask Patricia out on a date.
Unfortunately for Sam, Patricia declined his first invite. His subsequent persistence paid off though and resulted in an official date soon after!
They supported each other through all the stressful study times that followed and bonded over a mutual love of Gelato. A love which consequently supported their decision to hire a gelato cart for the big day!
The Proposal
Sam decided to propose on Christmas Day. He thought it would be hilarious to throw Patricia off with a multi layered wrapped present containing romantic letters and cards, revealing an ugly Christmas jumper at the end. The prank backfired though as Patricia was overjoyed with the  jumper! So Samuel quickly bent to one knee and revealed the much more valuable and sparkly present from his pocket!
The Vows
Patricia vowed to cook Sam's favourite chicken rice more often than once every 3 years and promised to "choose you every day, a million times over, not because I have to, but because I want to."
Sam declared Patricia as the most "charming, beautiful, intelligent and graceful" woman he knew (we all agree!), promised to always bring her ice-cream, and ended with AA Milnes' "If you live to be a hundred, I want to live to be a hundred minus one day so I never have to live without you".
The Wedding Details
Patricia and Sam secured the services of wedding planner Sarah Wang, from Blooming Love Events to help create their special day alongside Bursaria the Refectory. Enlisting the services of Ivy & Eve, Dann Event Hire and a team of other fabulous suppliers, Sarah produced the most incredible setting for Patricia and Sam to say their I Do's!
The Photographer
Patricia and Sam chose the amazingly talented Jesse Hiscoe to capture all the details, and I thank him for allowing me to share his beautiful images with you! The smiles he captured say it all!
Contact Meriki to discuss your special day HERE!
Patricia + Samuel | 22.02.2020
Photography: Jesse Hiscoe 
Ceremony Location: Werribee Mansion
Reception: Bursaria The Refectory
Videography: Lovely Day Films
Marriage Celebrant: Meriki Comito 
Bridal Gown: Enzoani | Eternal Bridal
Planning/Styling: Blooming Love Events
Florals: Ivy & Eve
Ceremony seating: Dann Event Hire
Ceremony Music: Stringspace
Cake: Nobody Hates Cake
Larissa + Paul's Greenfields Albert Park Wedding
Initially planning to marry at an outdoor location, strong weather warnings led Larissa + Paul to make a very wise, last minute decision, to move their ceremony to the indoor sanctuary of their reception venue, and have a Greenfields Albert Park wedding.
The staff at Greenfields Albert Park, together with the amazing Tori Allen Events team, were absolute superstars in setting up a beautifully elegant ceremony area indoors, where guests and vendors alike gathered gratefully within the welcoming, warm and light filled space.
Acoustic artist, Emma, from Top Dog Entertainment provided the perfect start to proceedings, as Larissa made her way down the aisle, in a stunning Suzanne Harward creation, to stand beside her clearly smitten Paul.
The Meeting
Larissa and Paul told me they felt an instant attraction from the the first moment they laid eyes on each other, but once they started working together, the chemistry between them was undeniable and they bonded very quickly over their shared values, similar sense of humour, a deep love for family + friends, and passion for good food, great wine and a desire to travel the world.
The Vows
In her vows, Larissa told Paul that she knew from their first date that he was the one she wanted to spend her life with, and that he was the most amazing person she had ever known.
And Paul told Larissa that he had loved her from the first moment they met and that she made his life better in every way.
The Photographer
The lovely and talented Amanda Alessi and Suzie from Lovely Day Films were there to capture all the details of the day and I thank Amanda and the new Mr + Mrs A for allowing me to share their incredible images!
Contact Meriki to discuss your special day HERE!
Larissa + Paul | 15.02.2020
Photography: Amanda Alessi Photography
Ceremony Location: Greenfields Albert Park
Videography: Lovely Day Films
Celebrant: Meriki Comito 
Bridal Gown: Suzanne Harward
Styling: Tori Allen Events
Music: Top Dog Entertainment
Kylie + Duncan's stunning Luminare Wedding
Kylie + Duncan's Melbourne city wedding was not only about celebrating the love of a  super fun and incredibly kind couple at one of my favourite venues, Luminare, but was made next level amazing when their adorable fur babies joined them down the aisle too!
The Meeting
When Kylie and Duncan first met, Kylie knew Duncan was special when she noticed that he had just finished cooking and was cleaning up after himself in the kitchen!
Duncan saw Kylie as a cute + smart, dog loving, lawyer, who liked to play Xbox and had free VIP tickets to music festivals.
Kylie loved that Duncan shared her sense of humour and got as excited over dogs as she did.
Duncan loved the free music festival tickets.
Duncan gave Kylie a grape-flavoured 'ring pop' during one of their first trips away together (which she still has!), but realised that he wanted to marry her for real when he realised that Kylie could build pre-packaged Ikea furniture faster than he could.
The Proposal
The adoption of Holly, Charlie and Mac confirmed their commitment to one another and after a hilariously chaotic proposal that involved all three crazy fur babies, Kylie agreed to marry Duncan and their #kyliejoinsthejoiners Melbourne wedding was born!
The Wedding details
Apart from some heartfelt and hilarious Vows, there was a Donut Wall, a Gin Bar, a Fly-away Veil, a Champagne Tower, a Sparkler Exit and of course the three fur babies – thanks to superstar Melbourne wedding dog handlers Katie + Mark from Heads + Tails! What a celebration!
The Photographer
The fabulous Jenna Fahey White captured their amazing day, together with the brilliant team from
Film My Wedding, and I thank them and the new Mr + Mrs J for allowing me to share their amazing images + footage!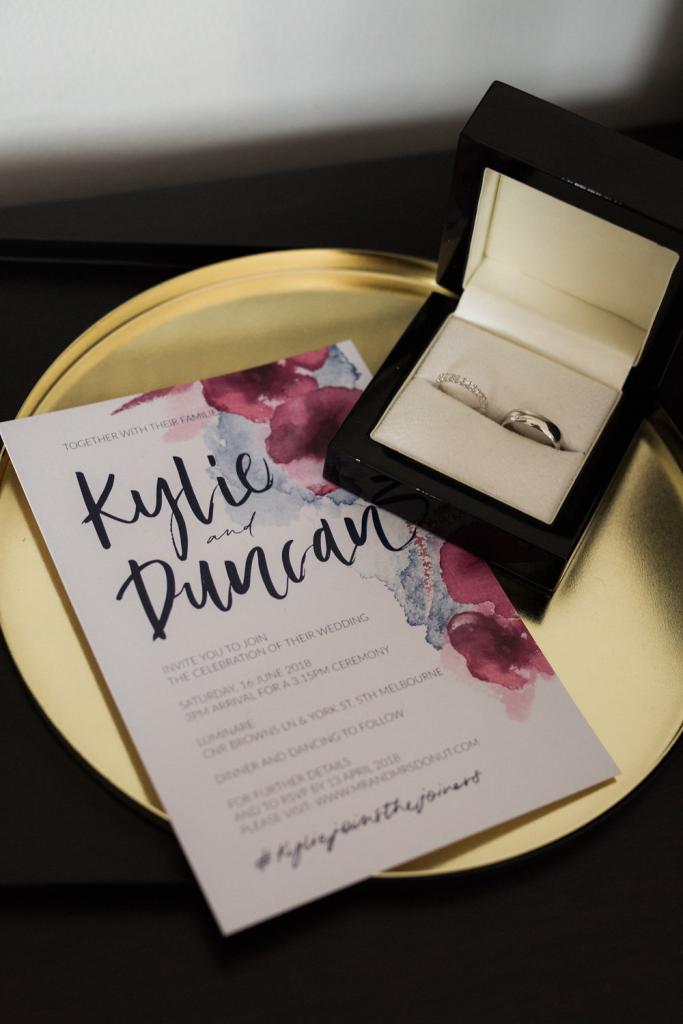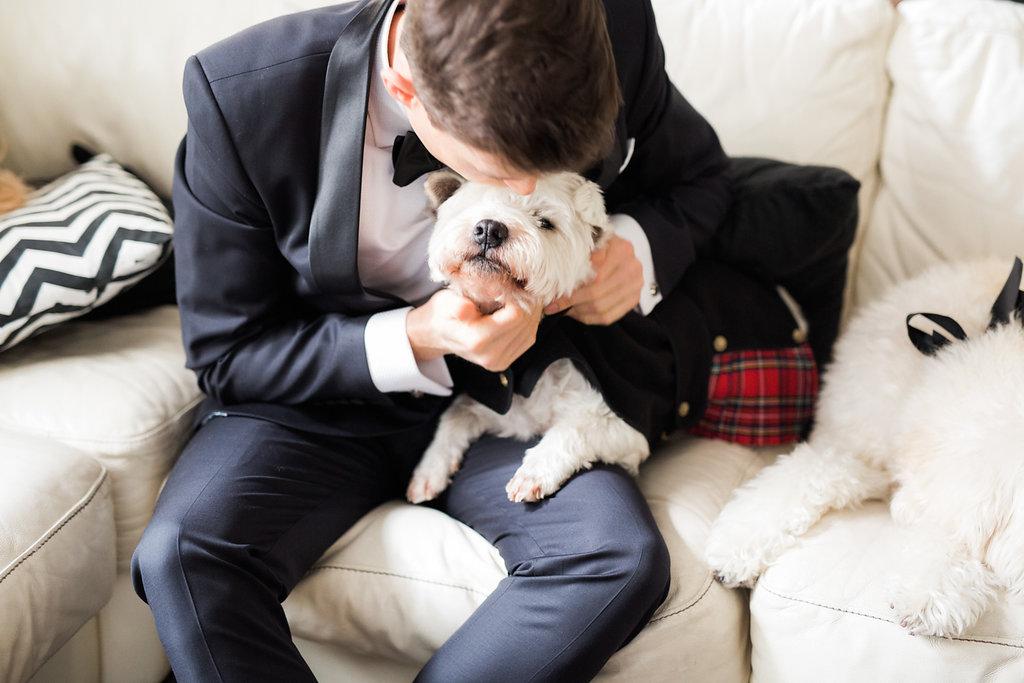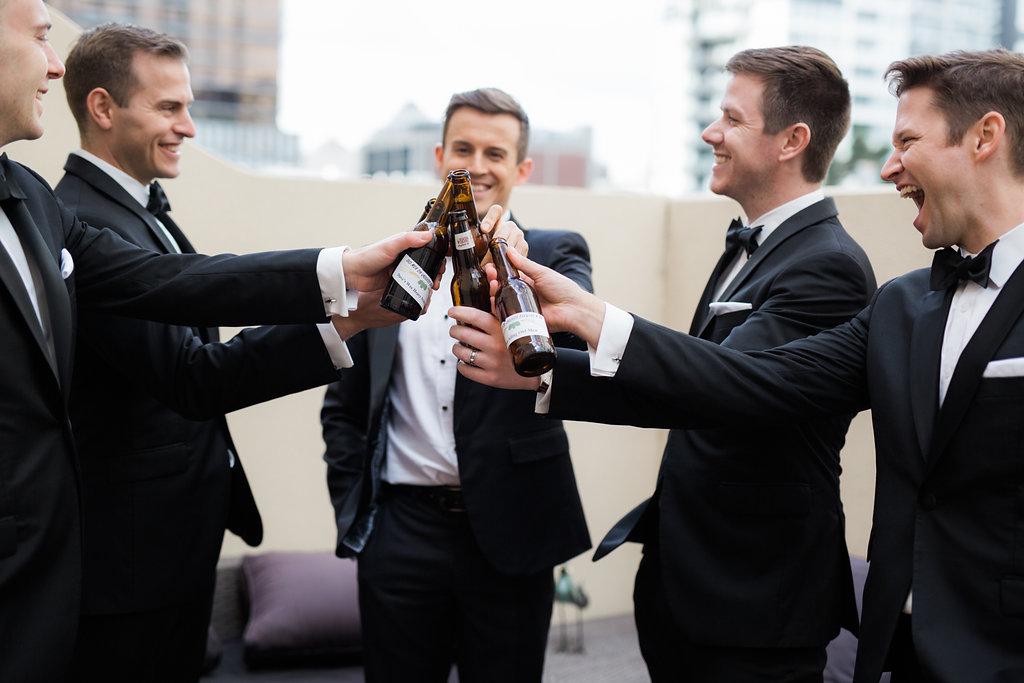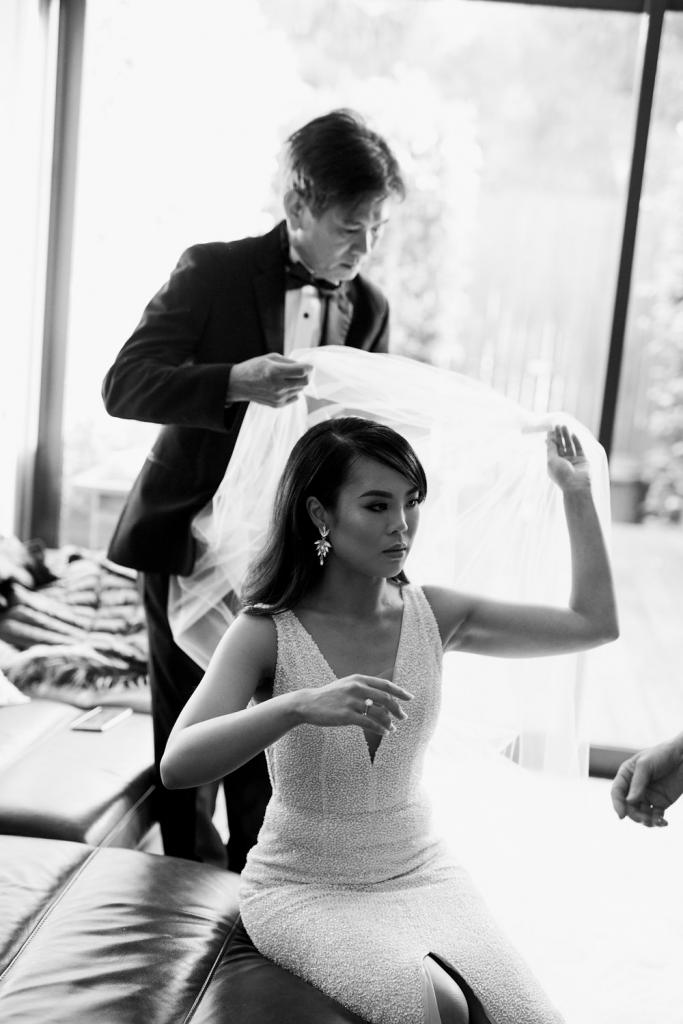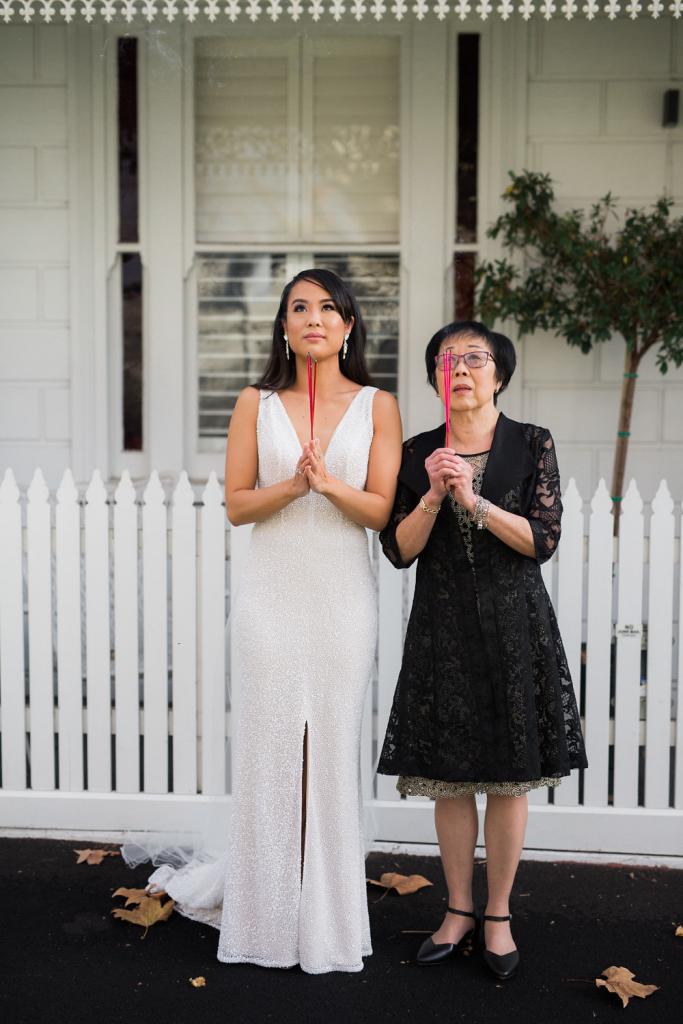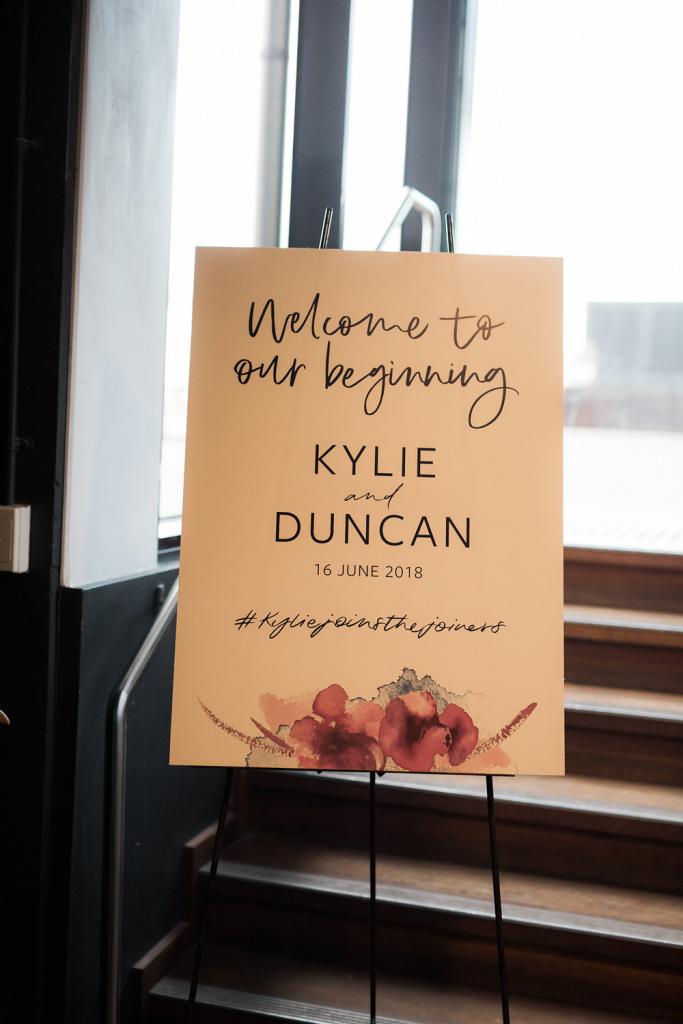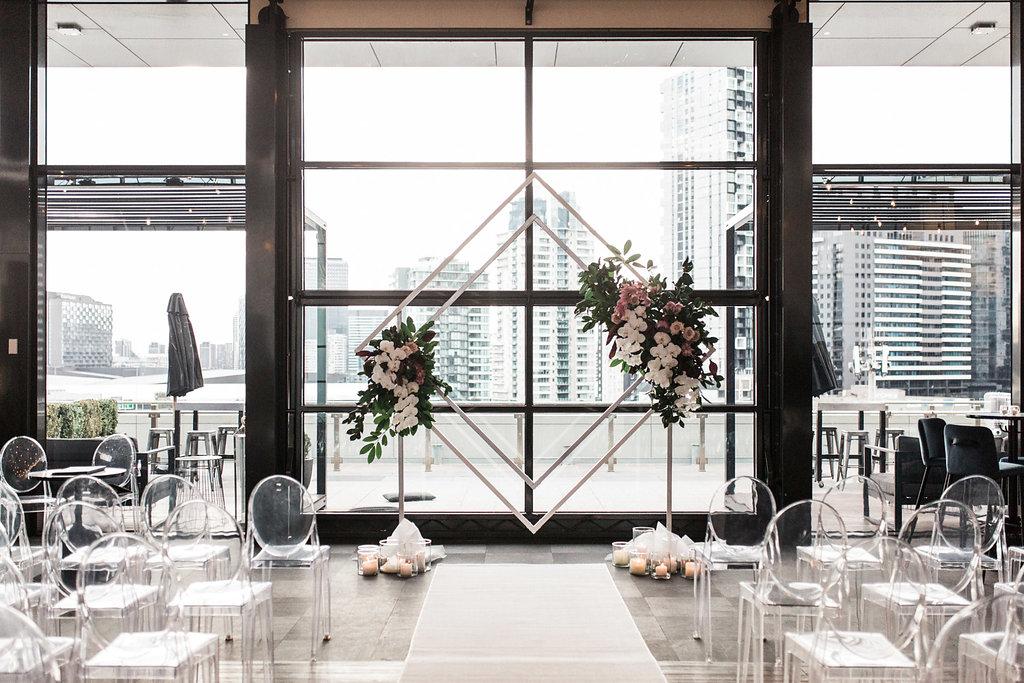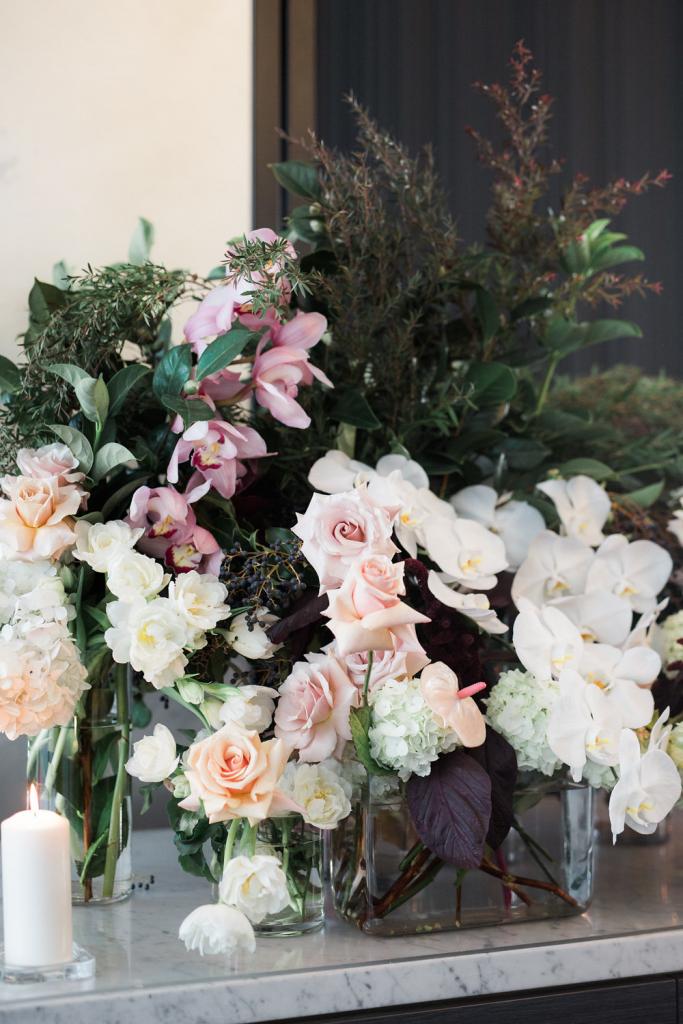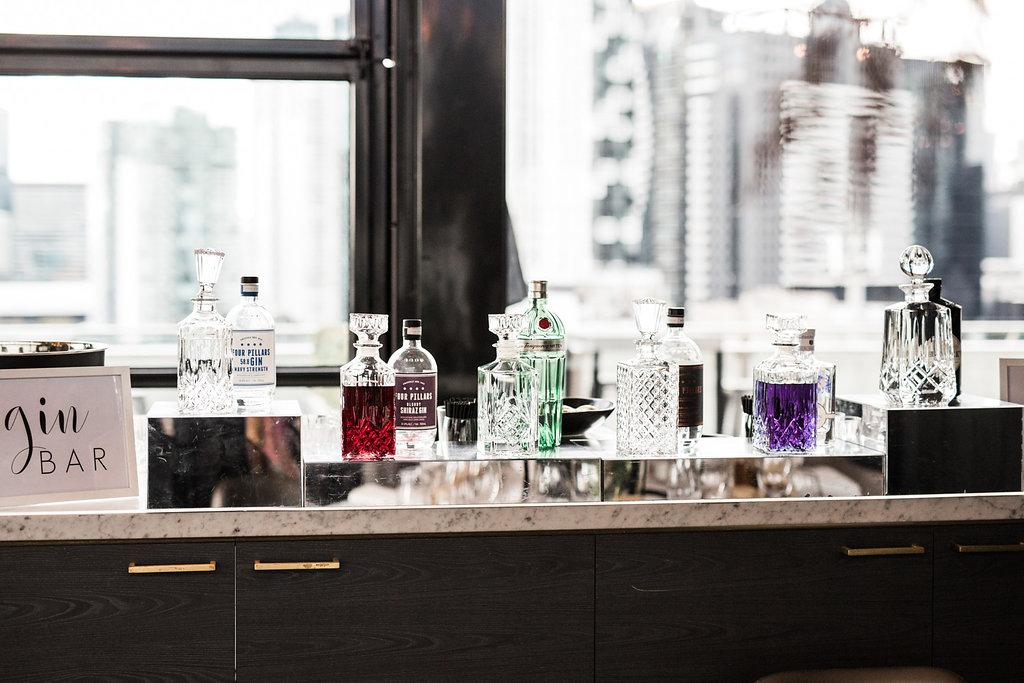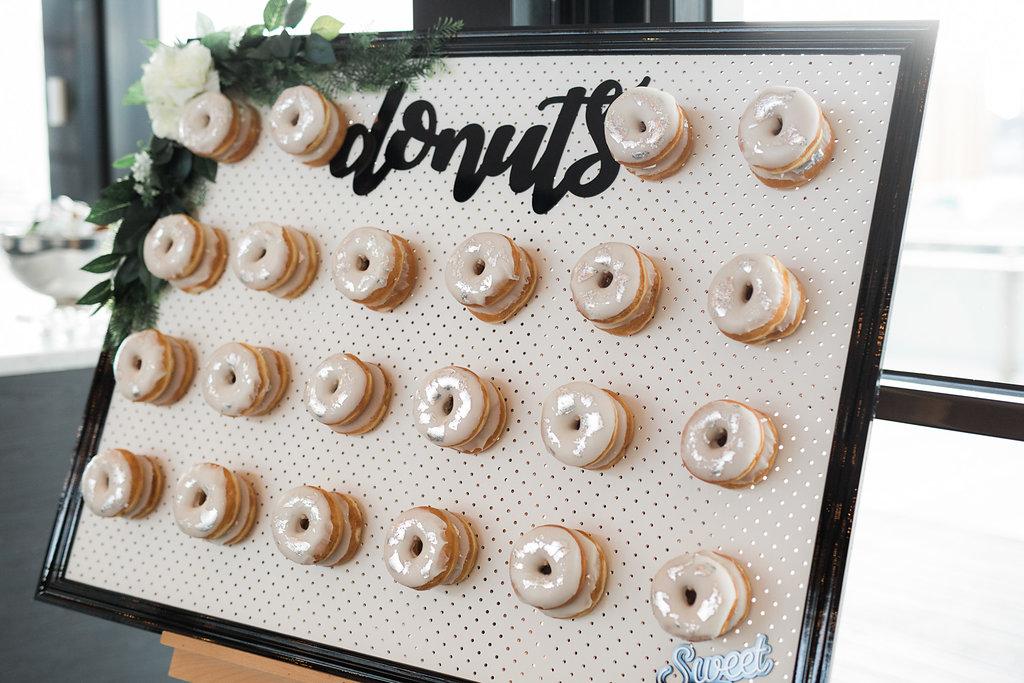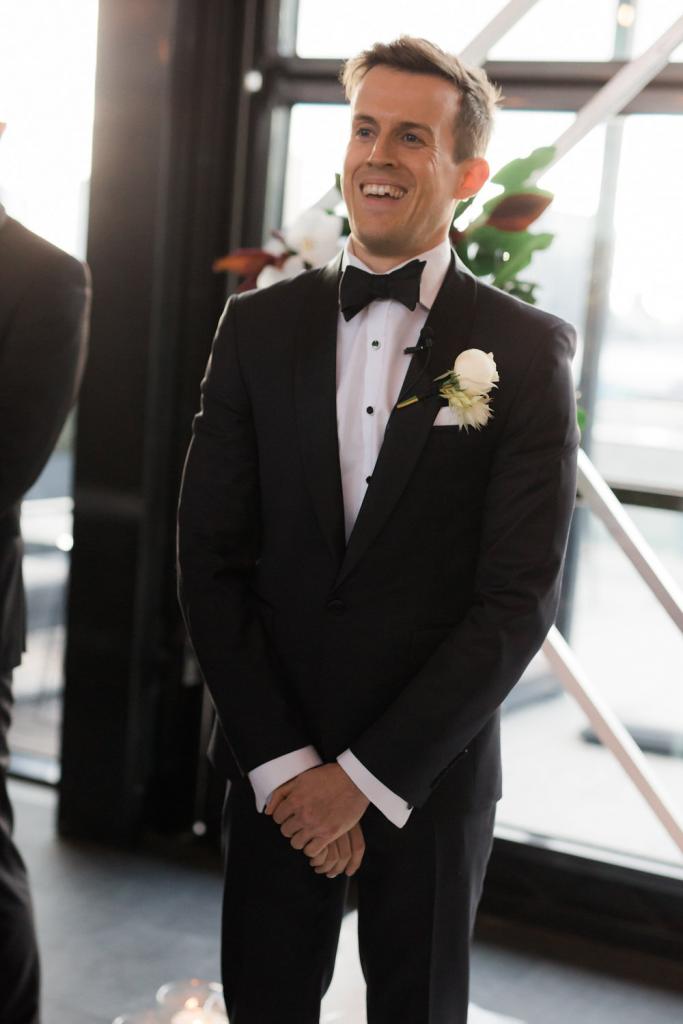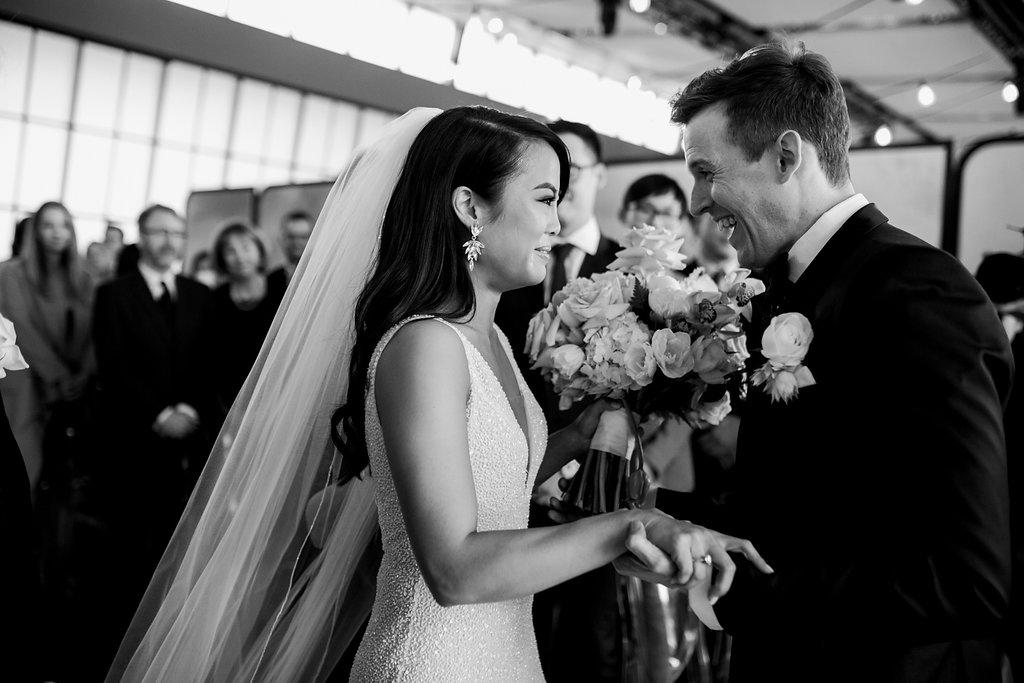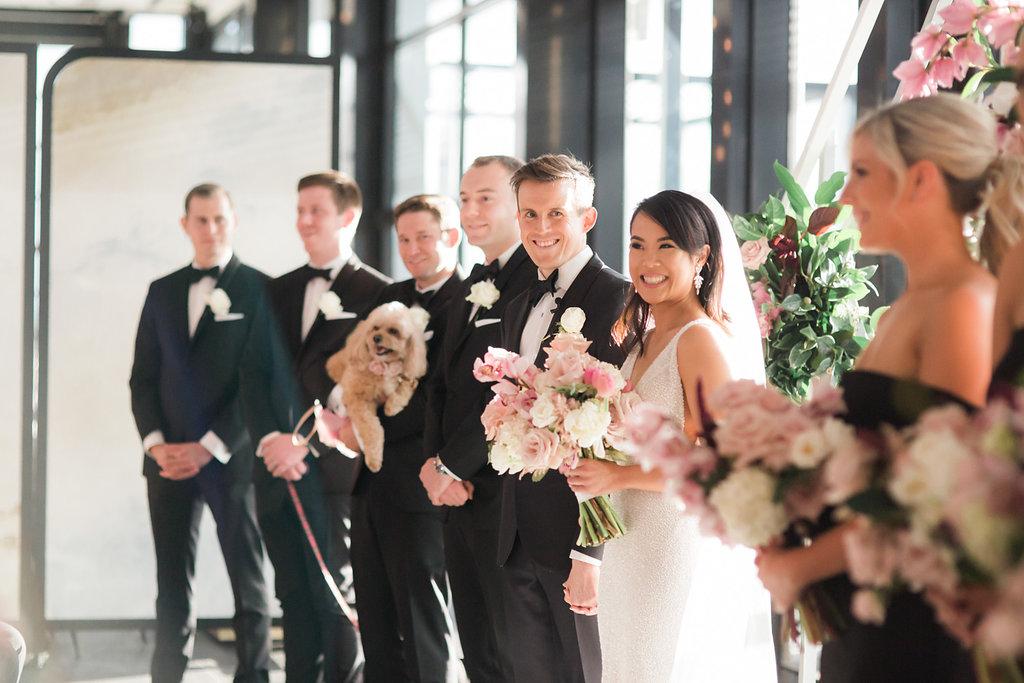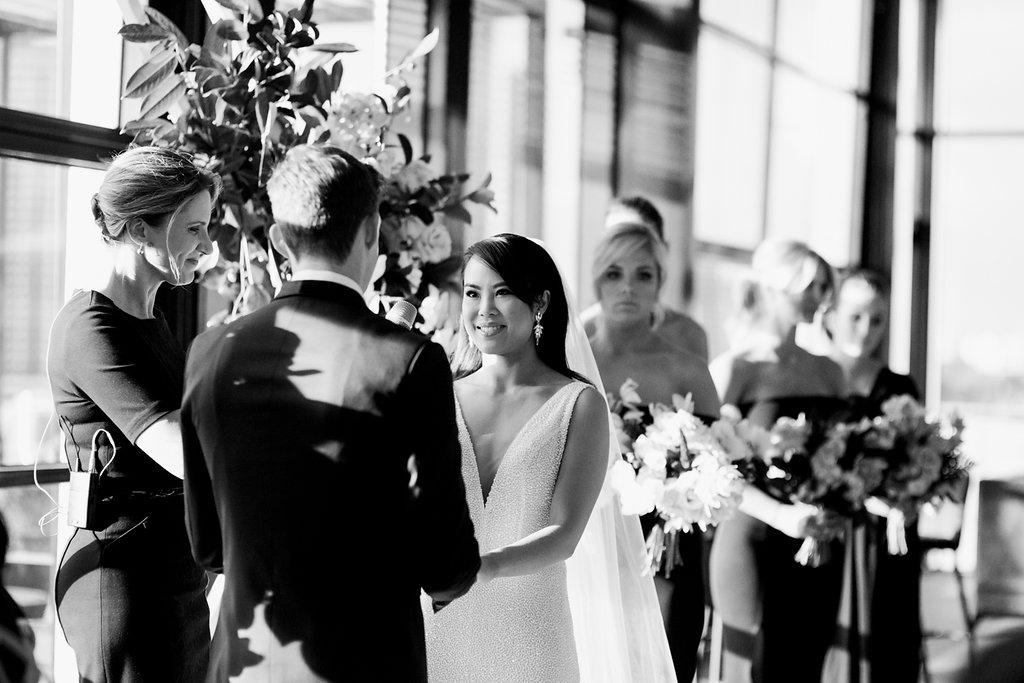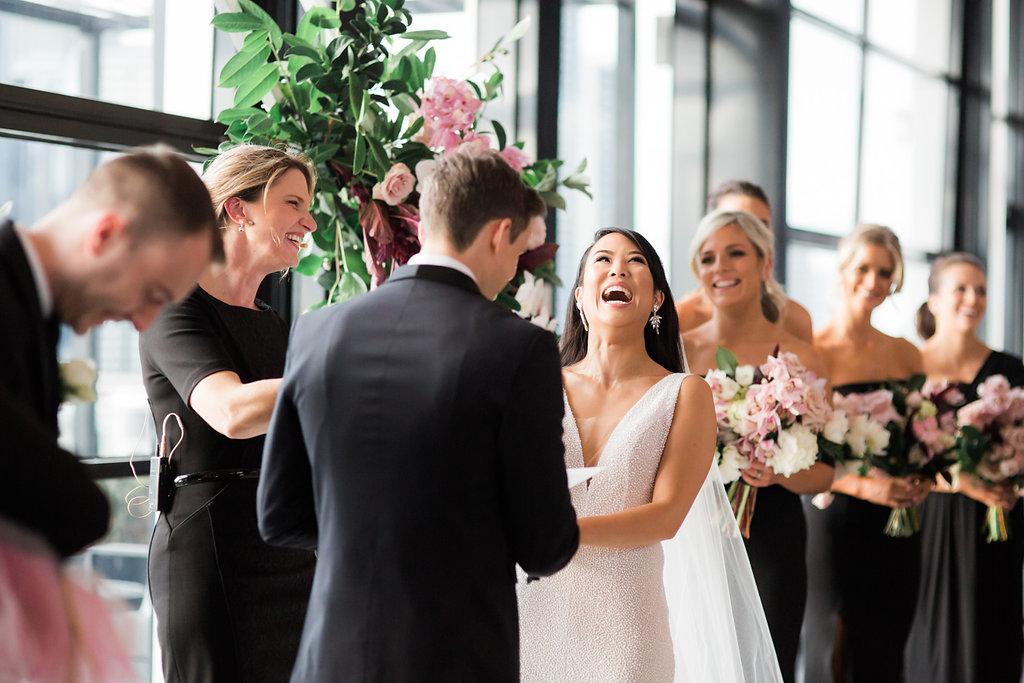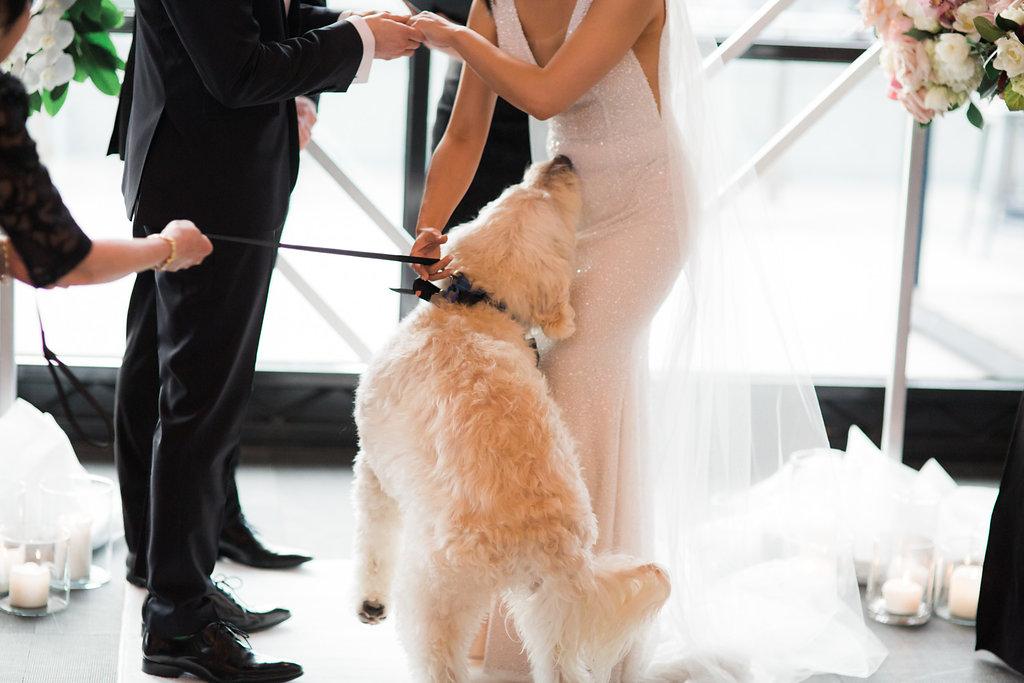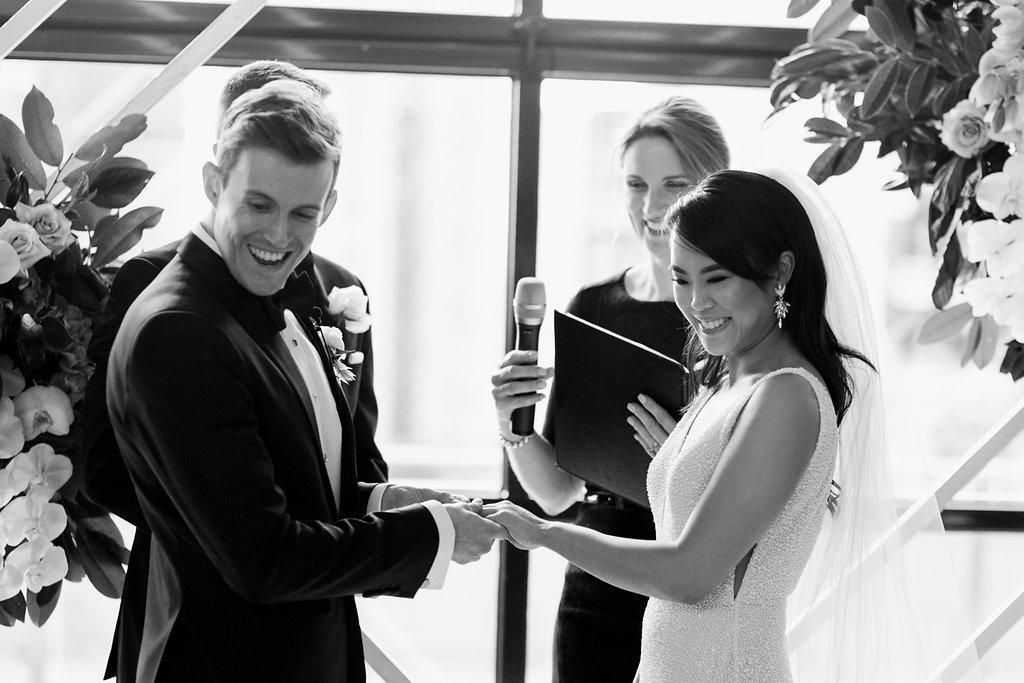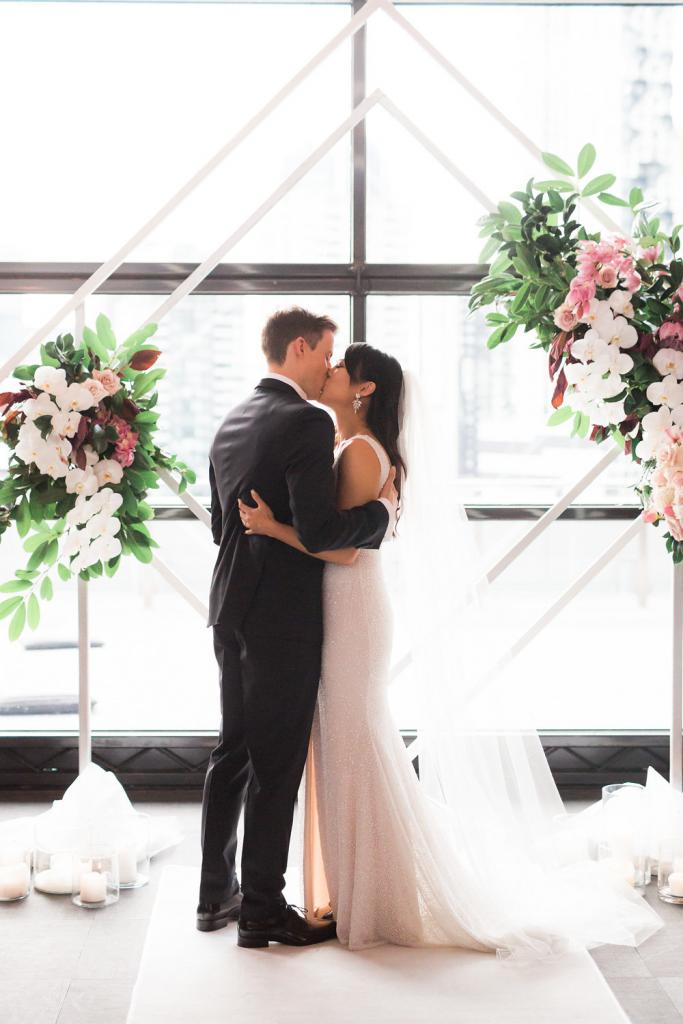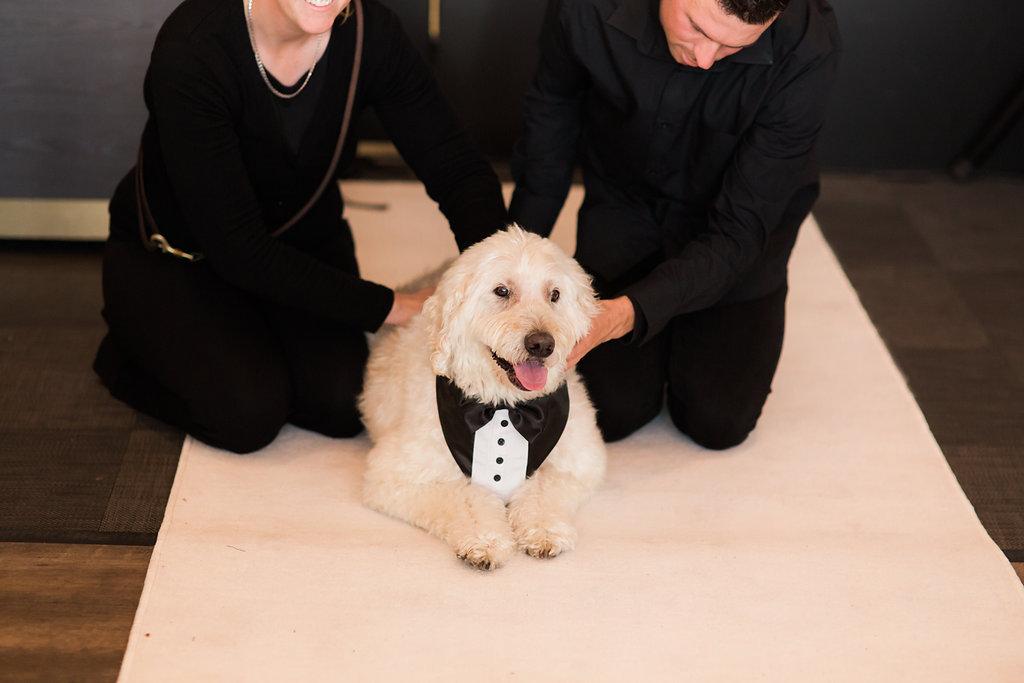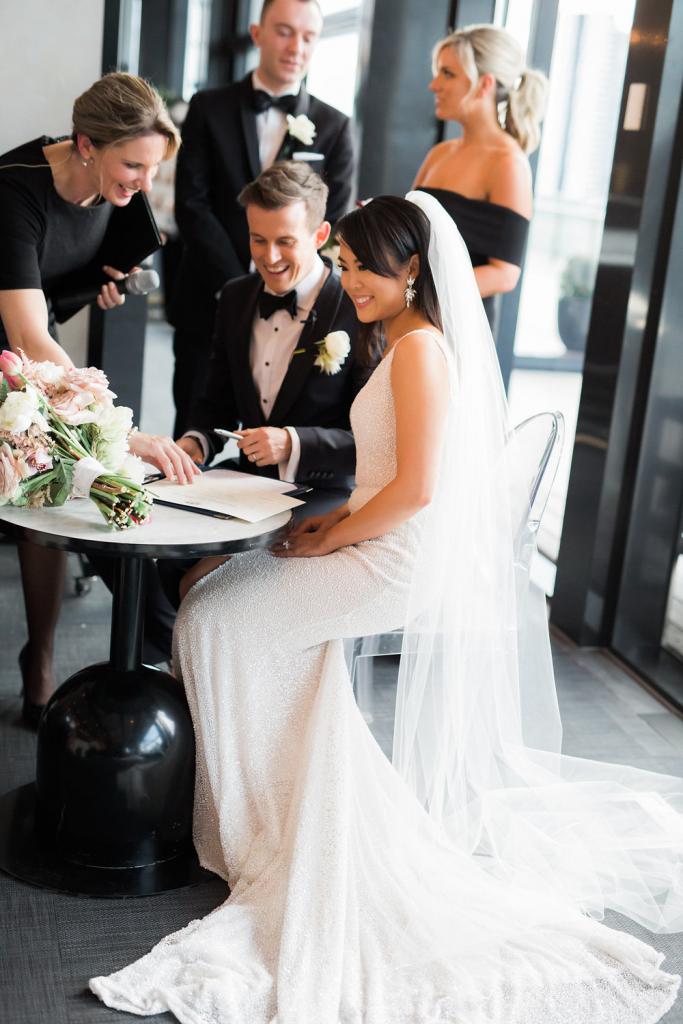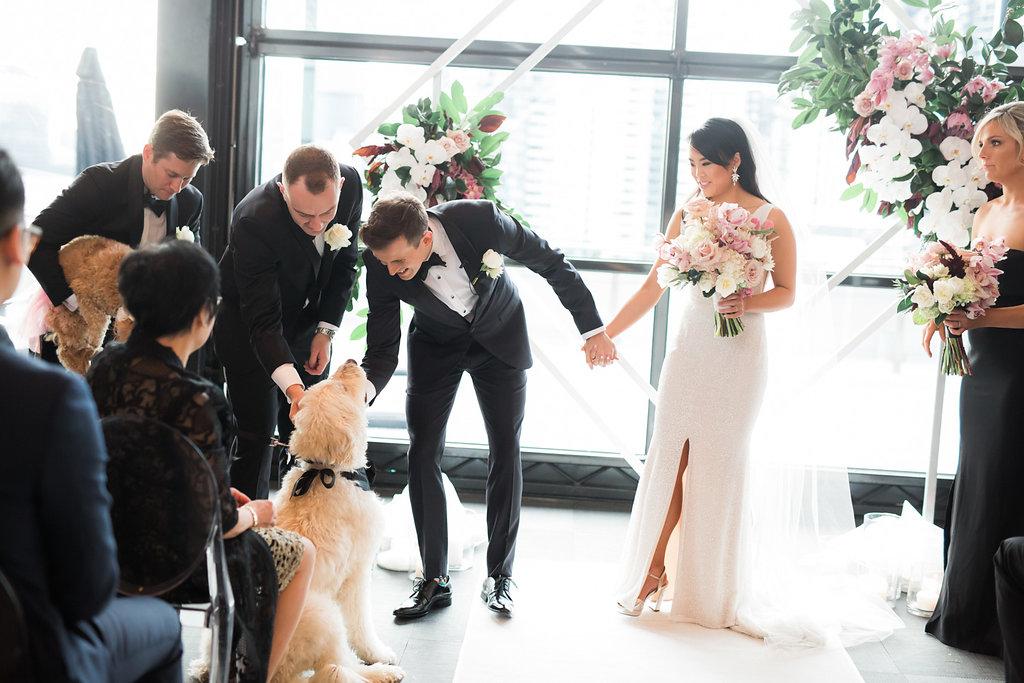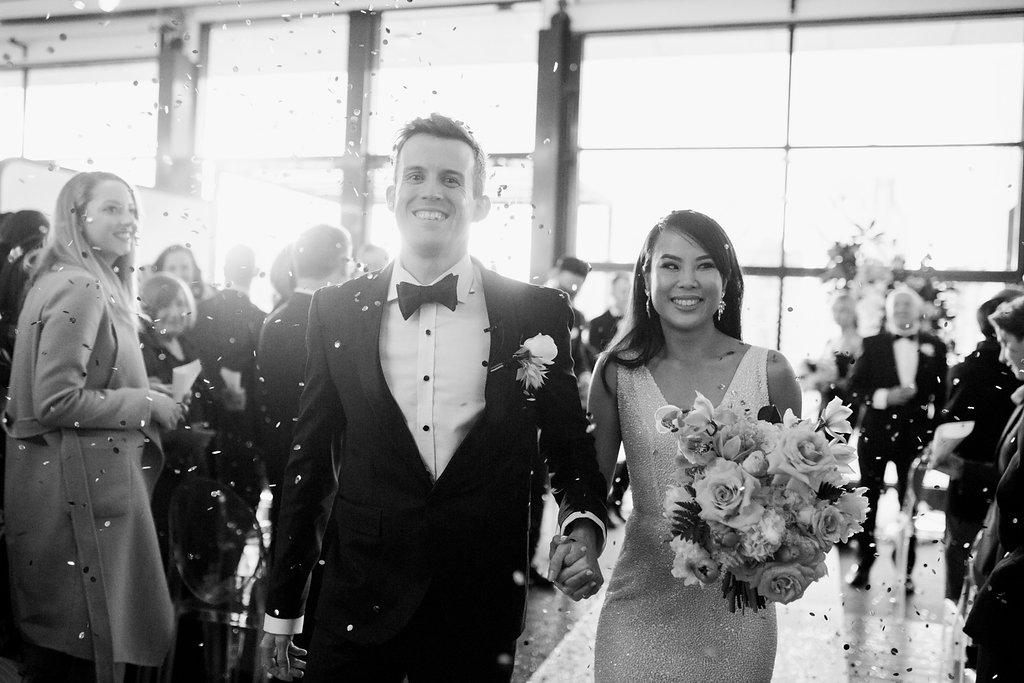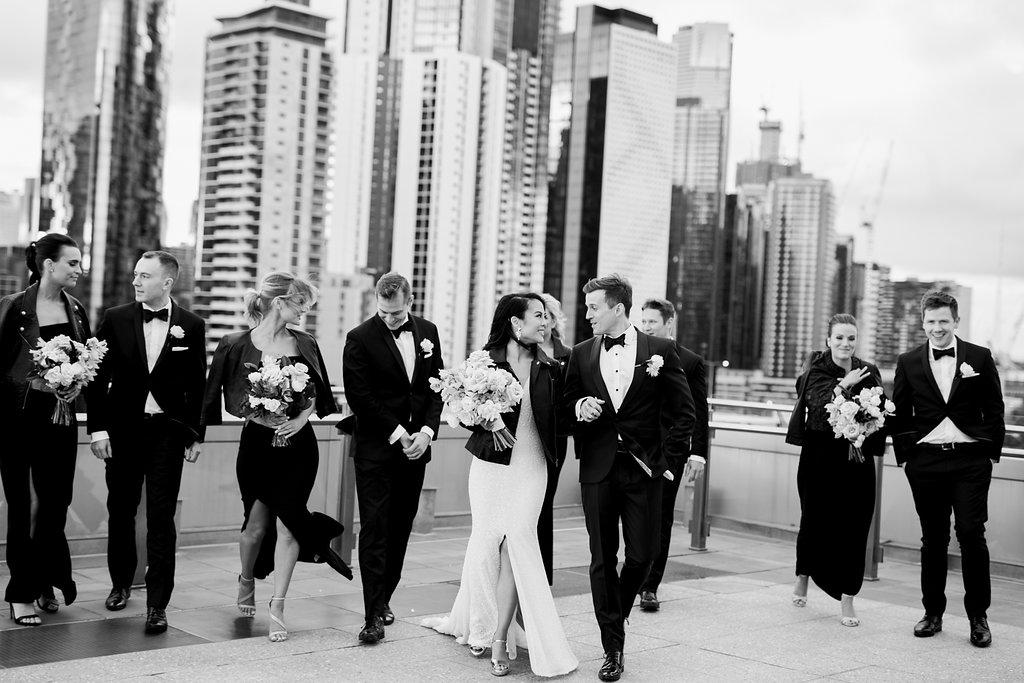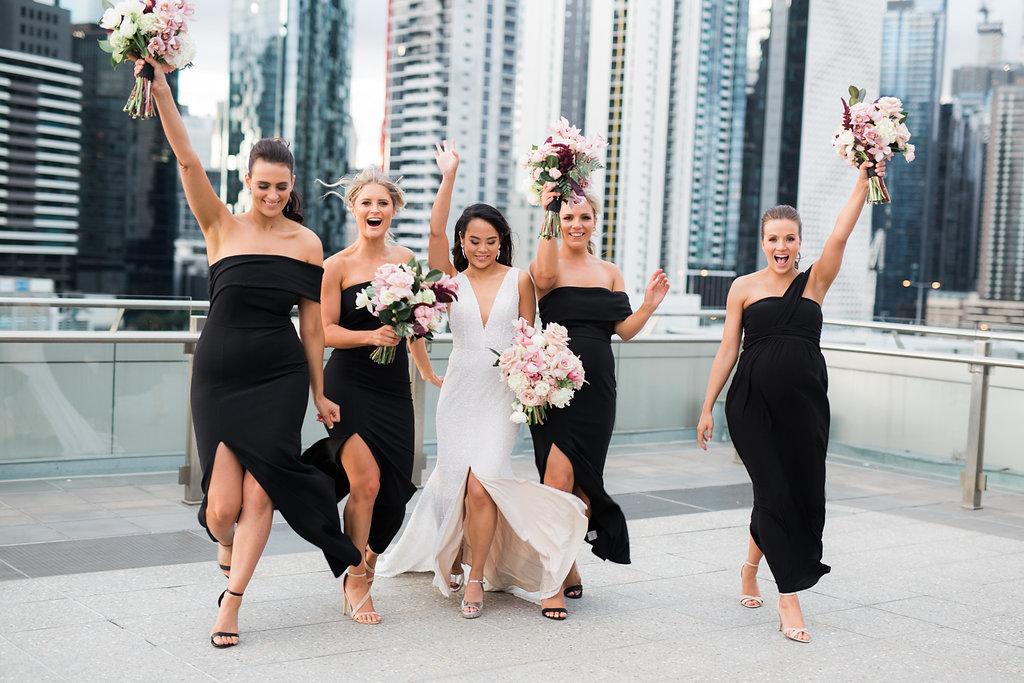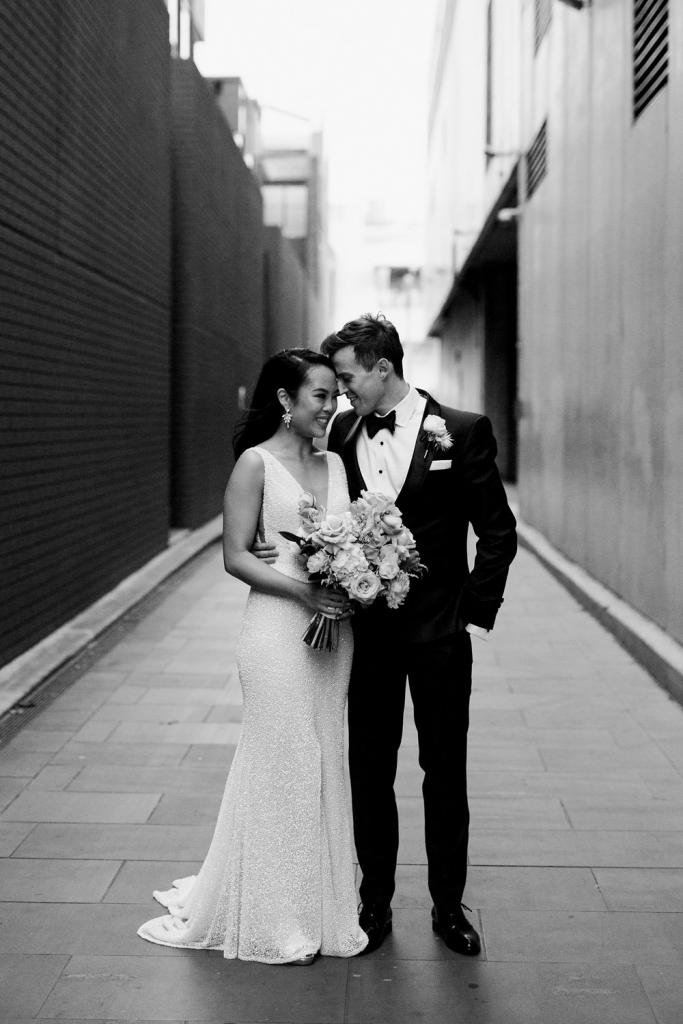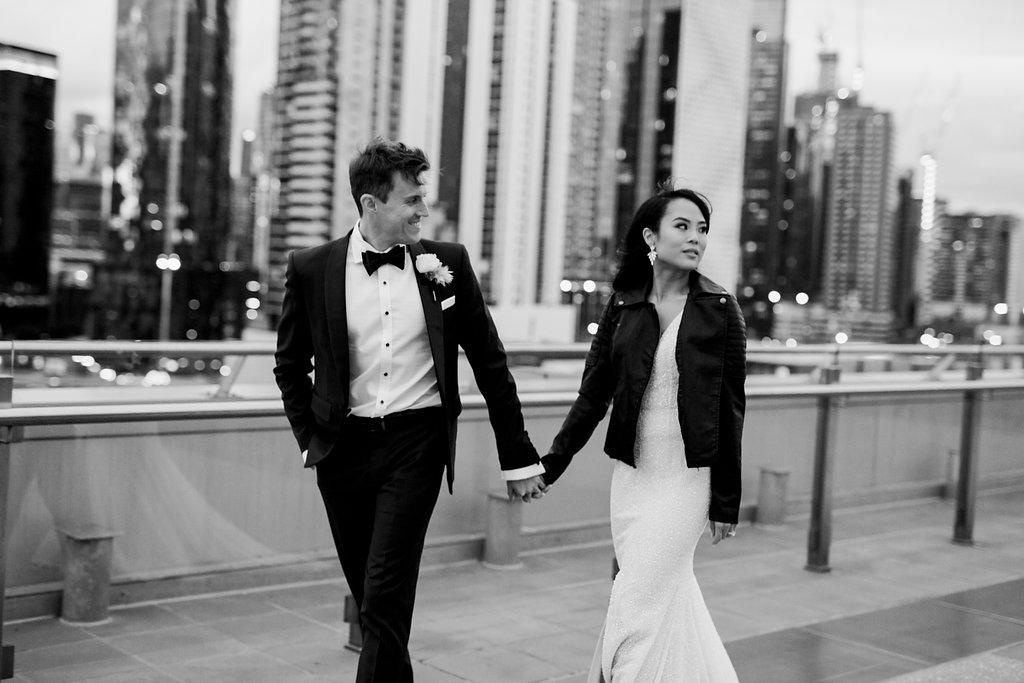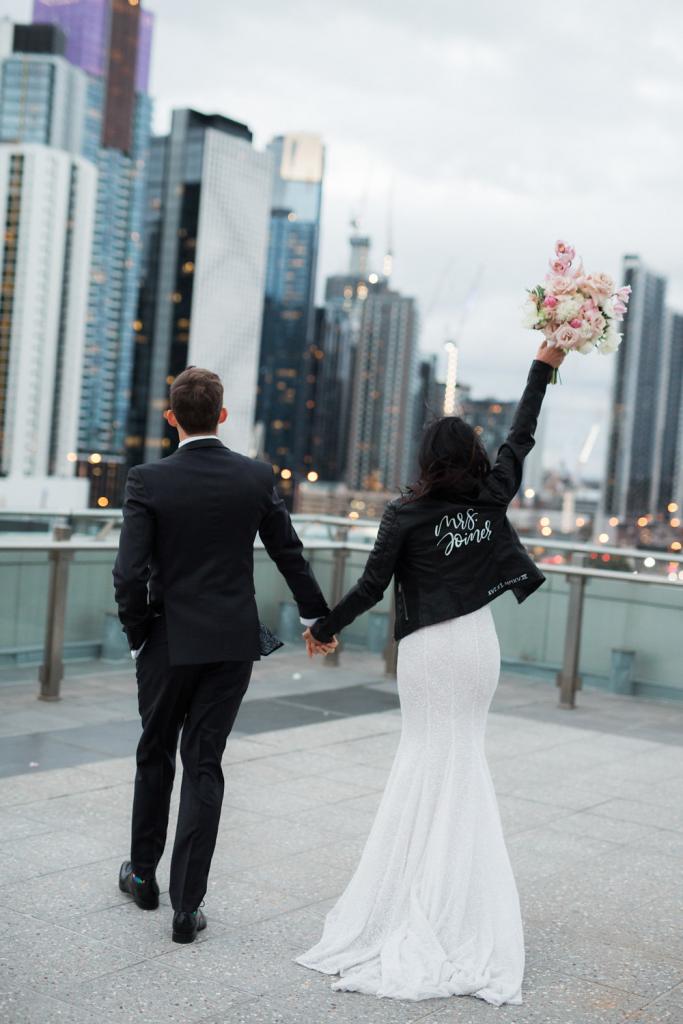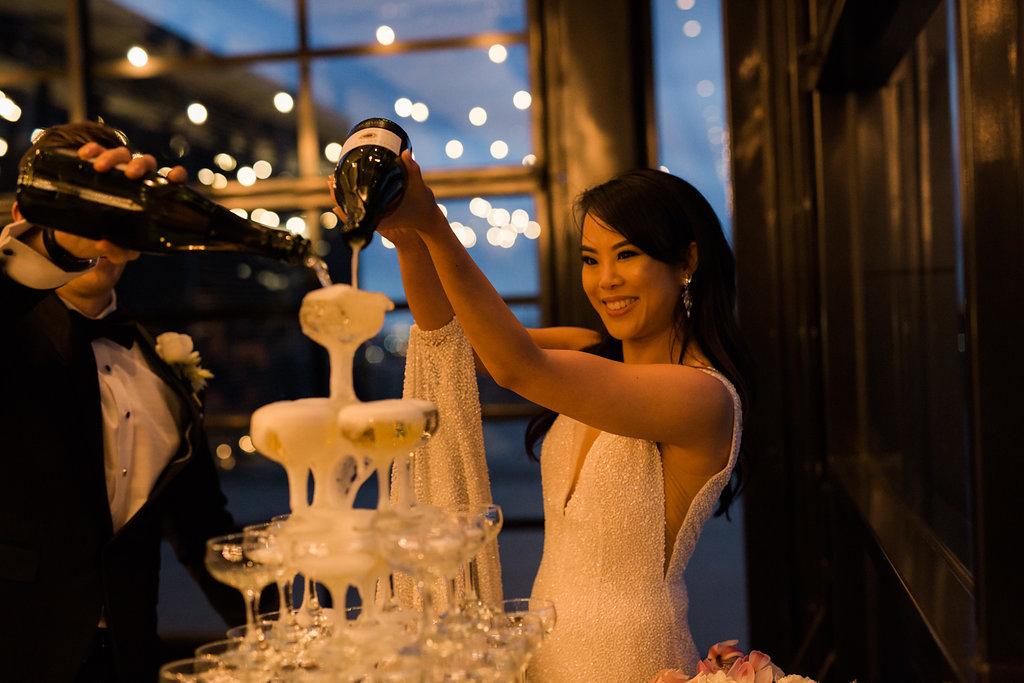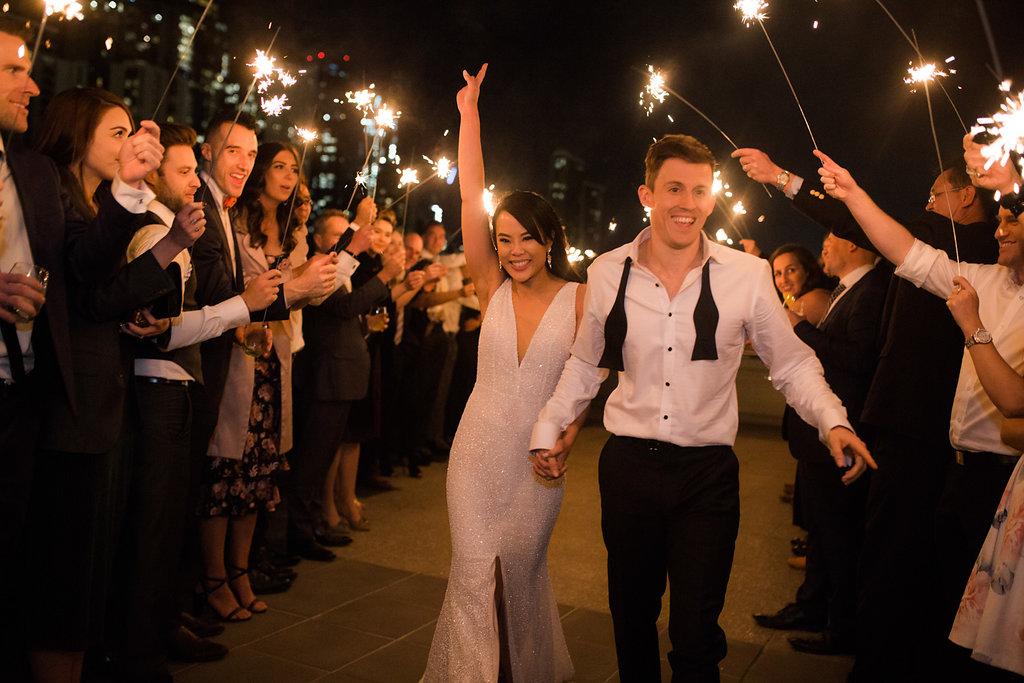 Check out the awesome highlights film by Film my Wedding
Kylie + Duncan | 16.06.2018
Photography: Jenna Fahey White
Ceremony Location: Luminare
Videography: Film My Wedding 
Celebrant: Meriki Comito 
Bridal Gown: Mariana Hardwick
Flowers : Lulu Bird
Dog Handlers: Heads + Tails
Chloe + Mahmoud's Gardens House Wedding
First meeting
At Phuket airport. Mahmoud tells me he was instantly mesmerised by Chloe's beauty.
He had just shared a laugh and a hug with one of his friends, before he turned to see Chloe standing there behind him in the customs line, so he promptly broke into a huge smile and asked her if she would like a hug too!
First impressions
They immediately discovered a very similar sense of humour, and bonded over a love of travel and immersing themselves into different cultures, but it was their strong family ties and a love for sports that brought them close together….well, by sports I mean mainly AFL….meaning mainly Carlton….ok so maybe that was just Mahmoud that was obsessed with sport, but either way, it didn't take long at all for their friendship to develop into the loving bond which led them to marry at the beautiful Gardens House in the Melbourne Botanical Gardens.
Vows
After lots of Lebanese family traditions starting the day off for Mahmoud, Chloe made her entrance at Gardens House as a breathtaking figure in custom Craig Braybrook Couture.
She named her handsome groom as "the most beautiful, smart, and generous person I have ever known". Mahmoud promised to love, cherish and commit his heart + soul to Chloe for as long as he lived.
Mahmoud's nephew stood up as the cute as button ring bearer, before a first kiss as husband + wife drew highly anticipated cheers and applause from a very festive group of guests!
Congratulations Mr + Mrs M and thank you for allowing me to share a part of your amazing day with you!
Photo credit
The incredibly talented Theo from Loco Photography for the beautiful images – what a superstar x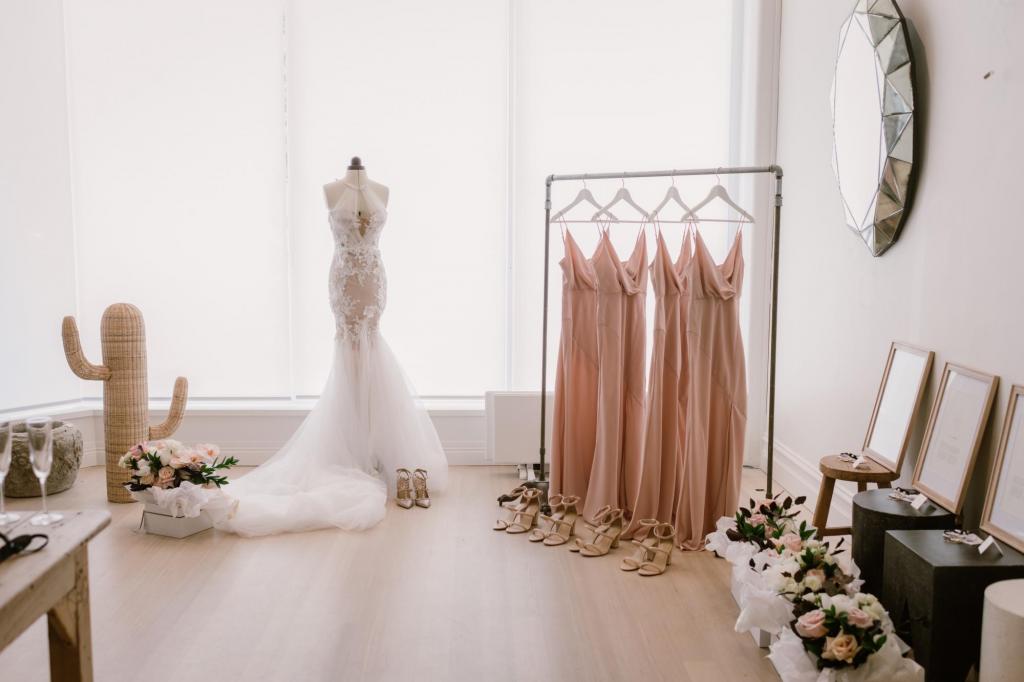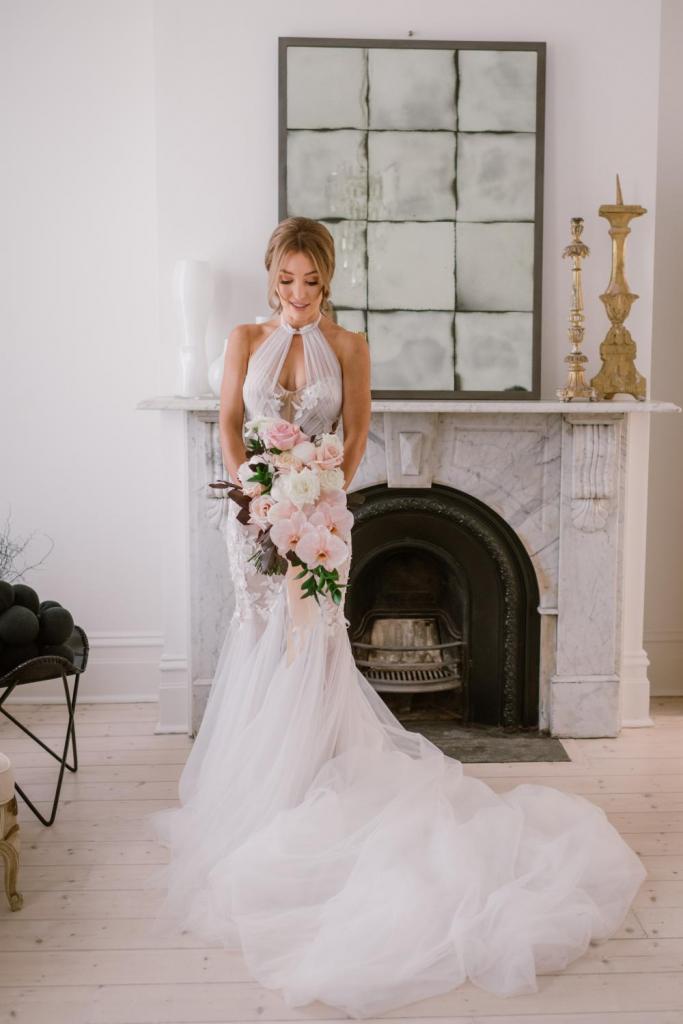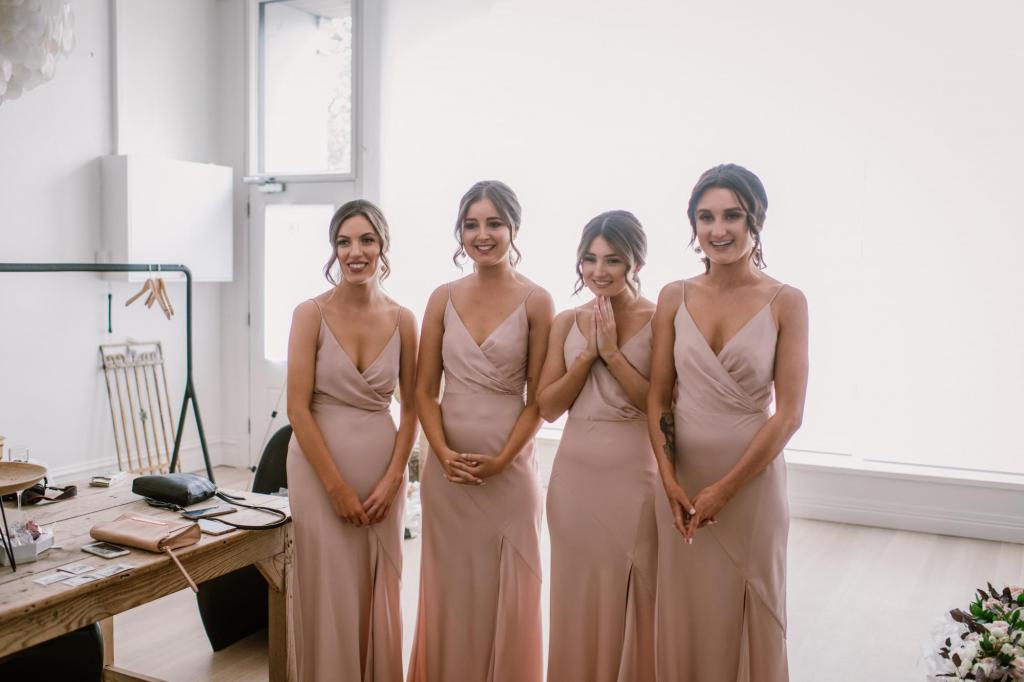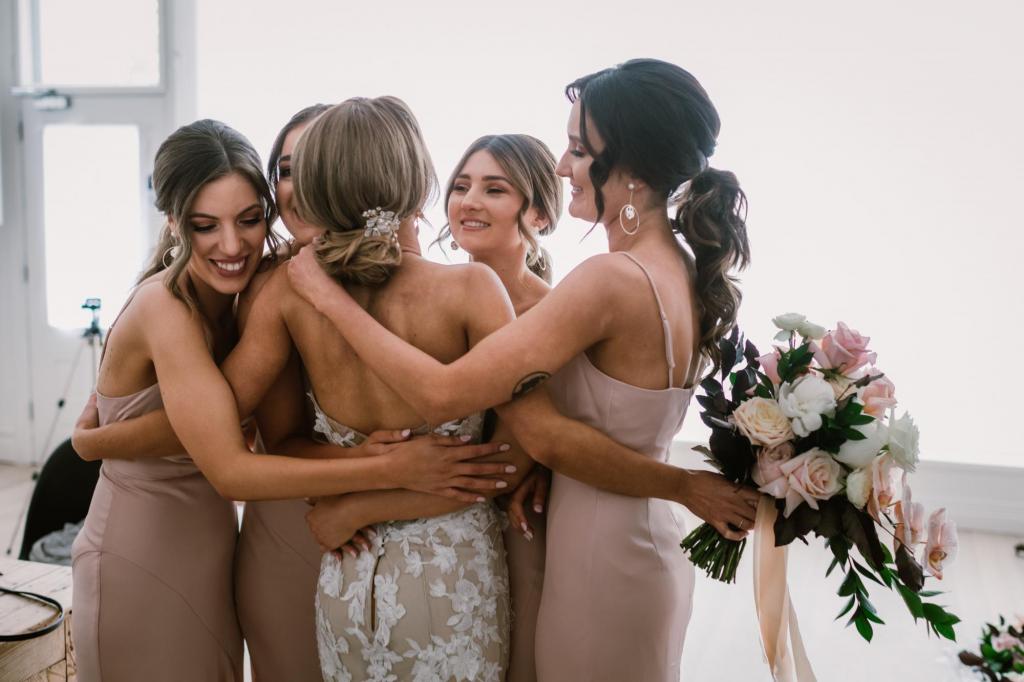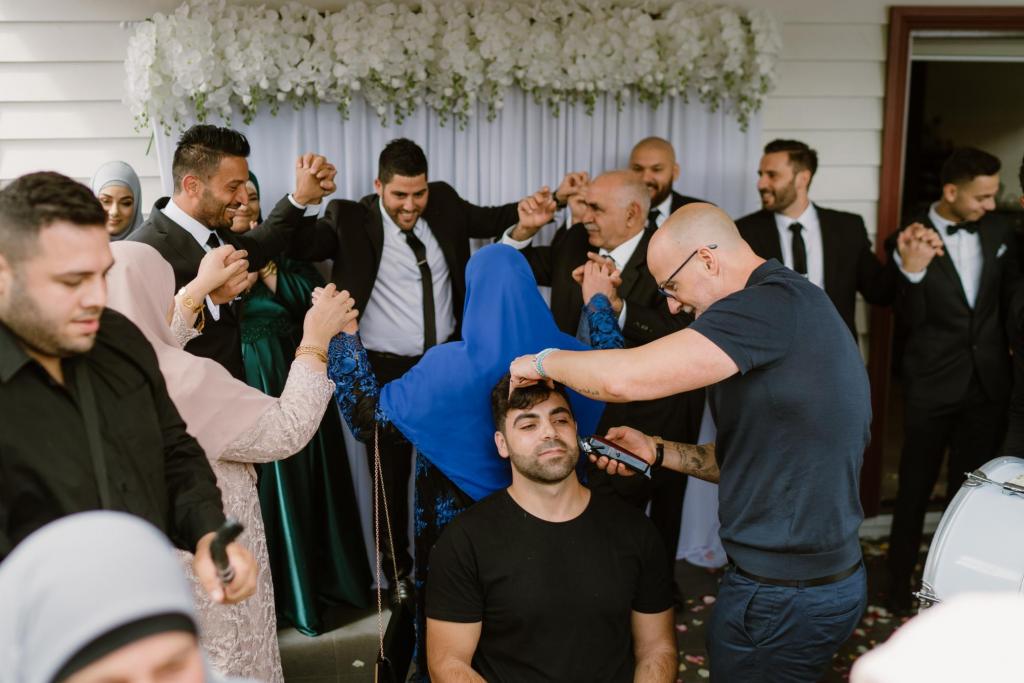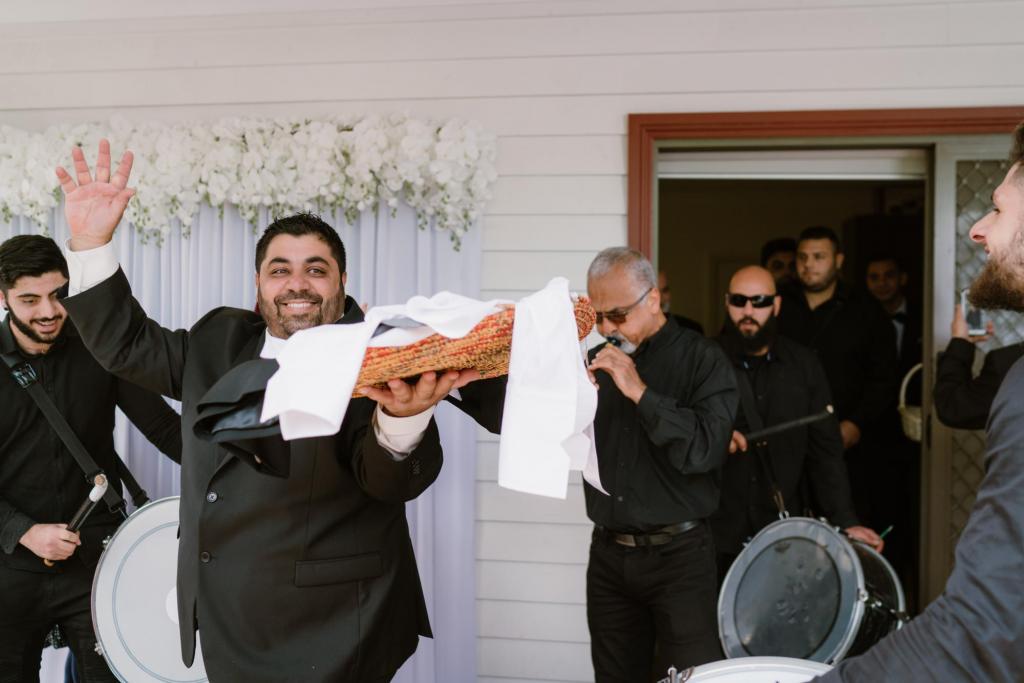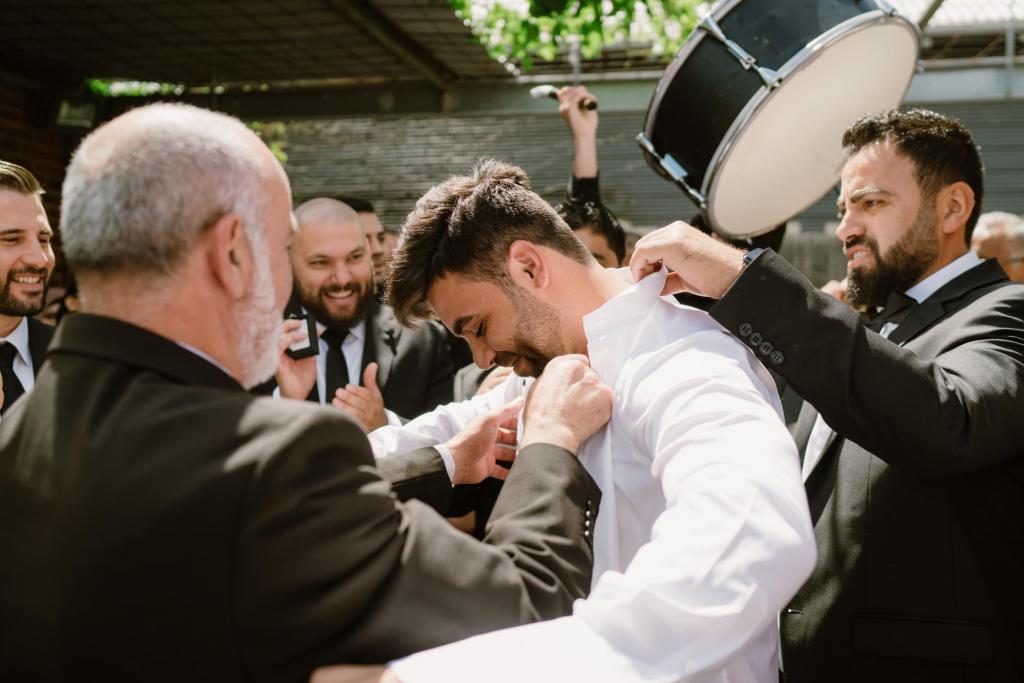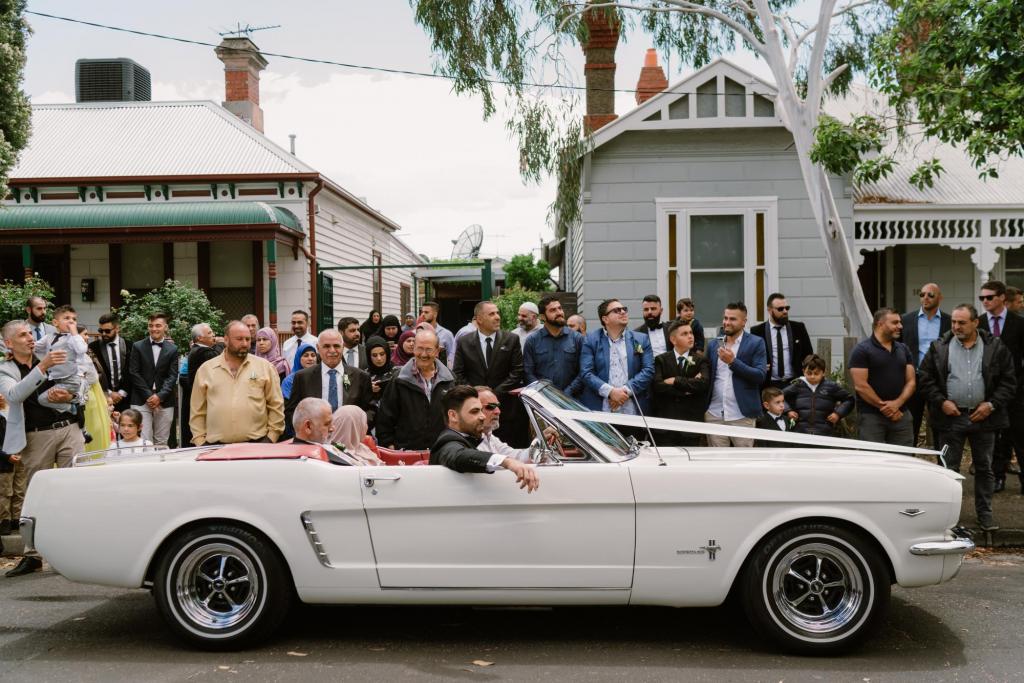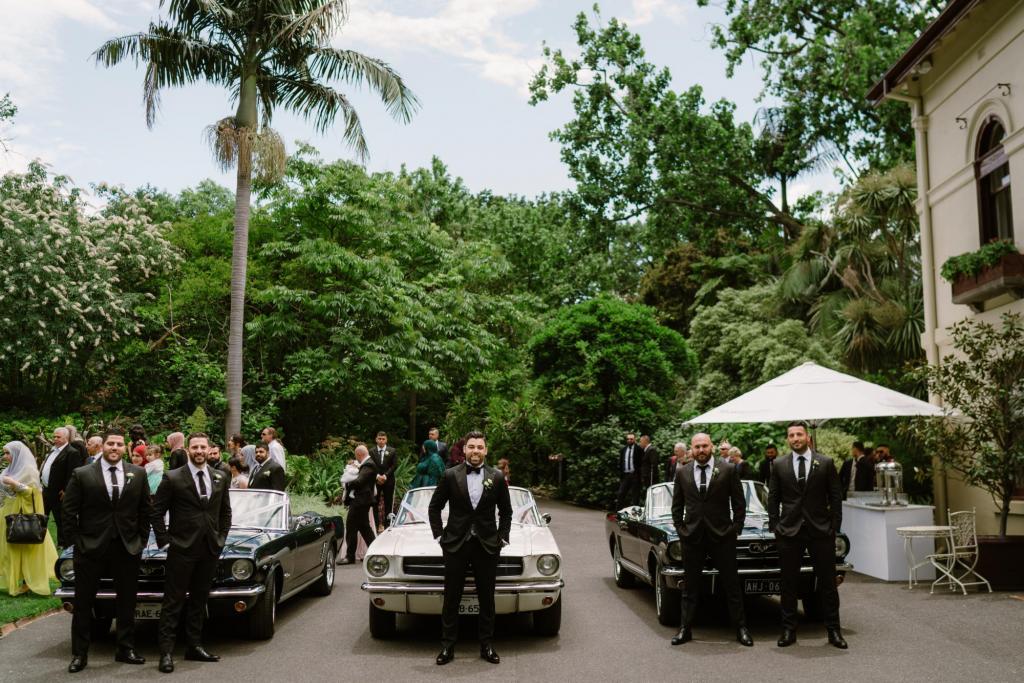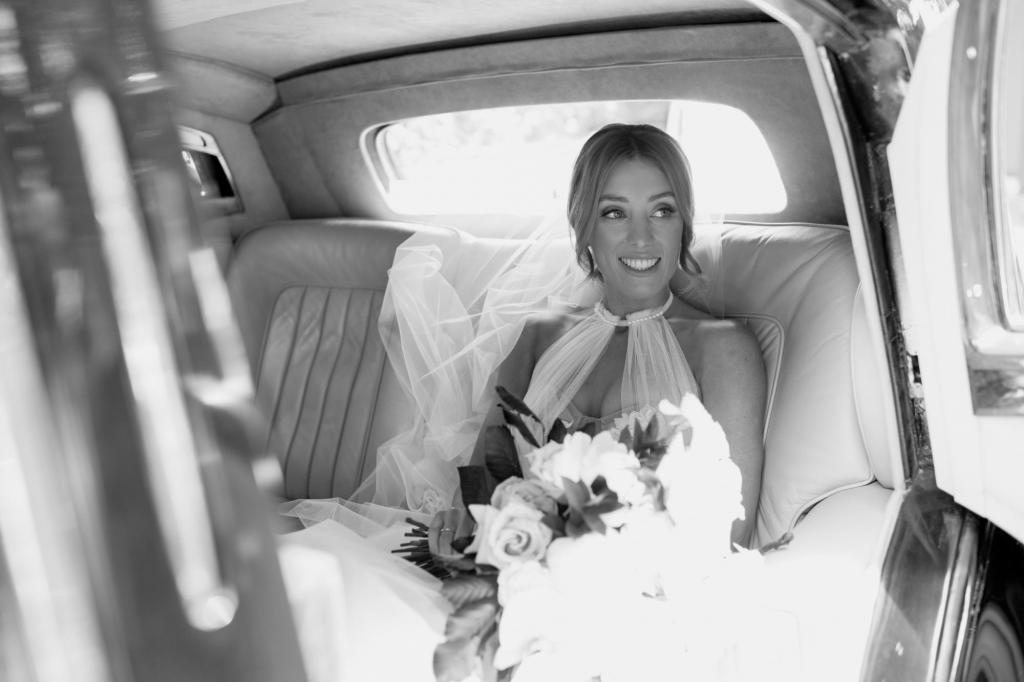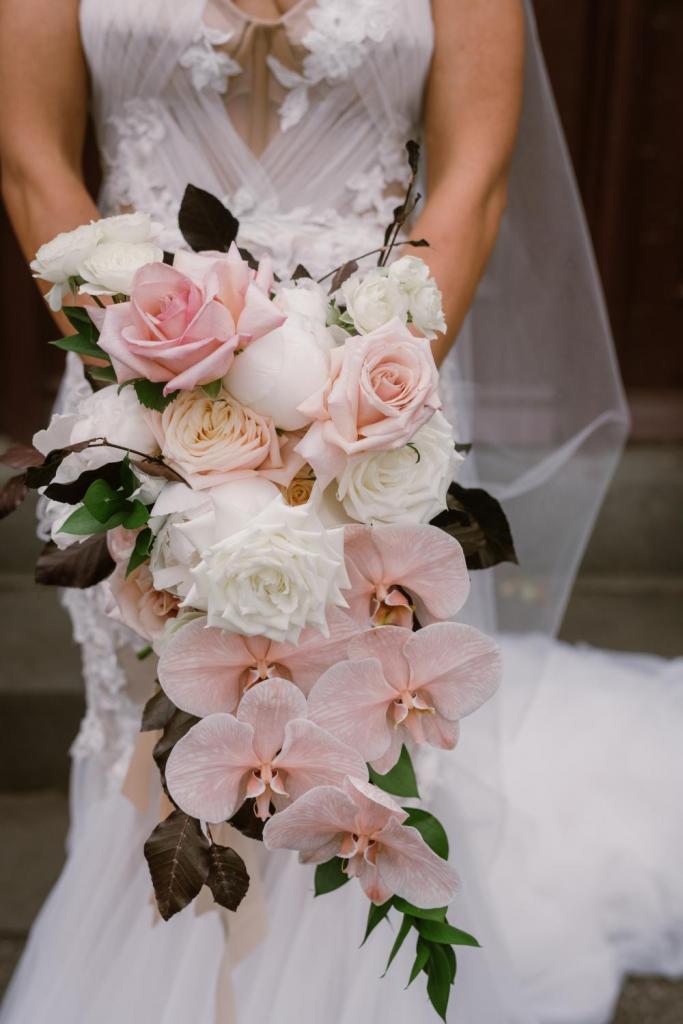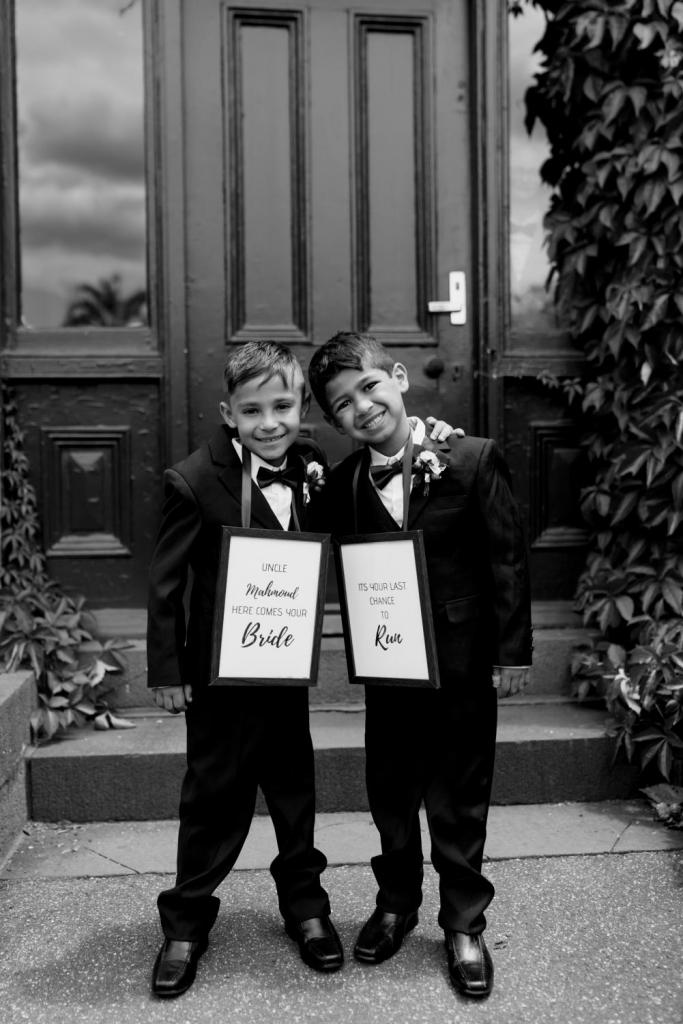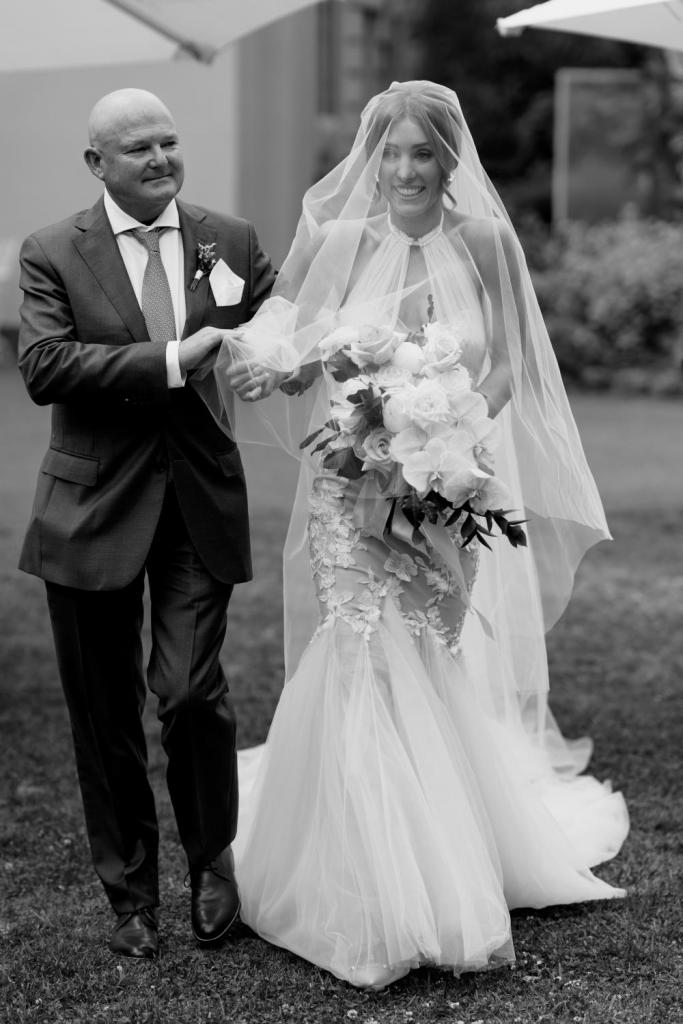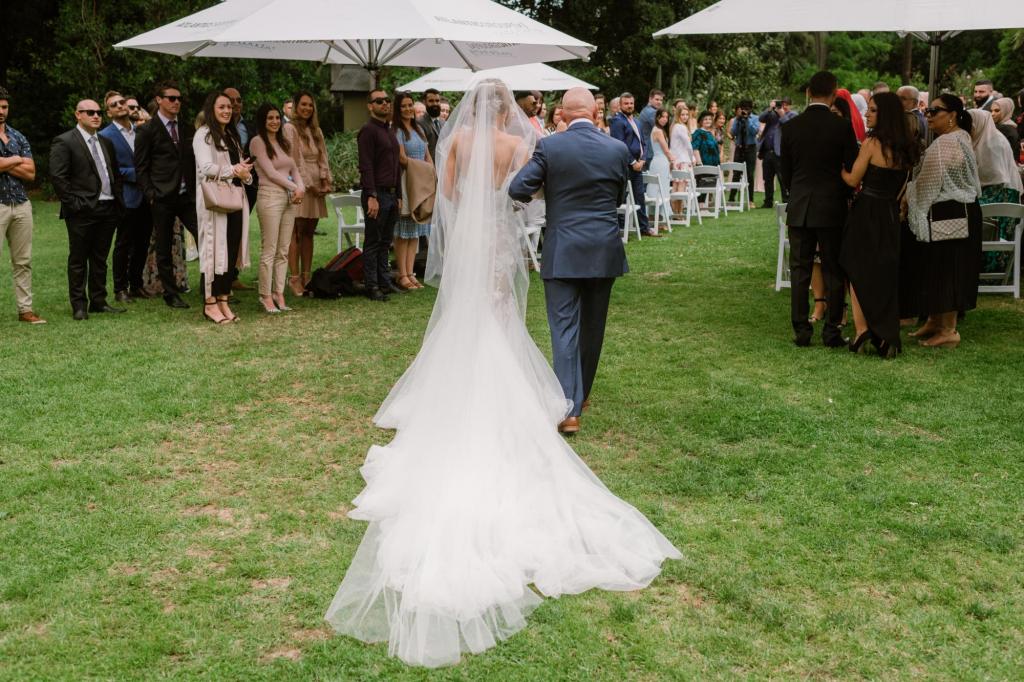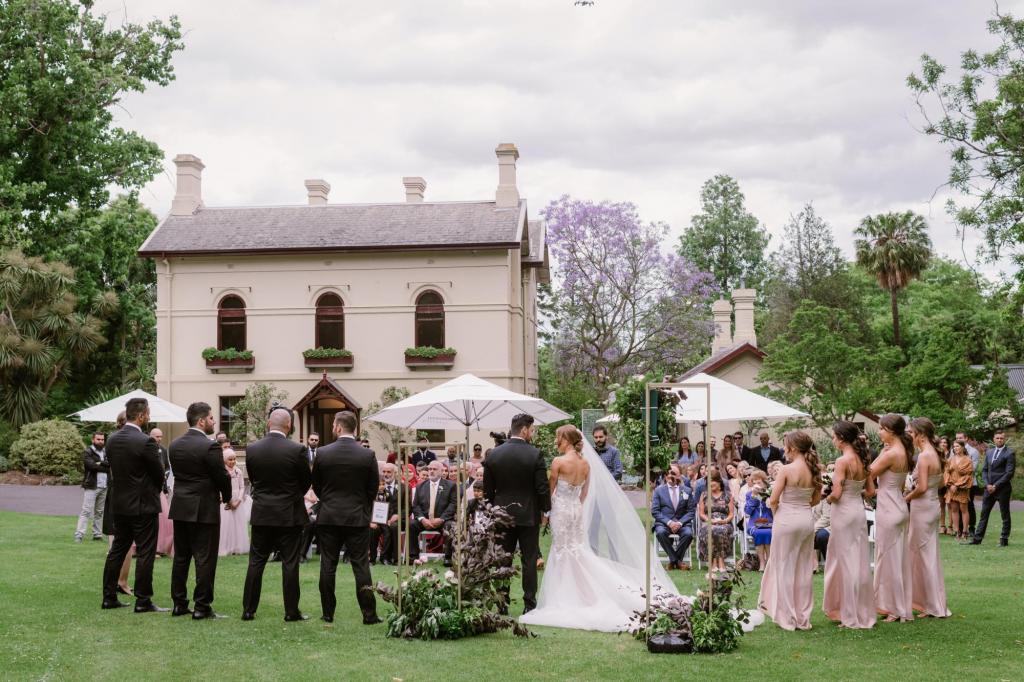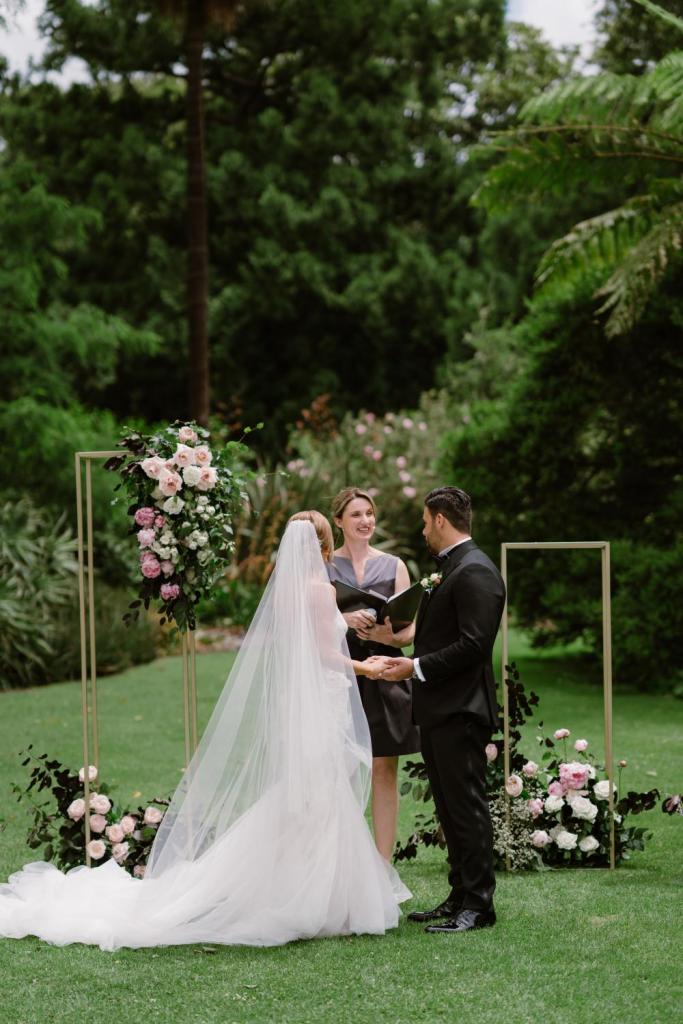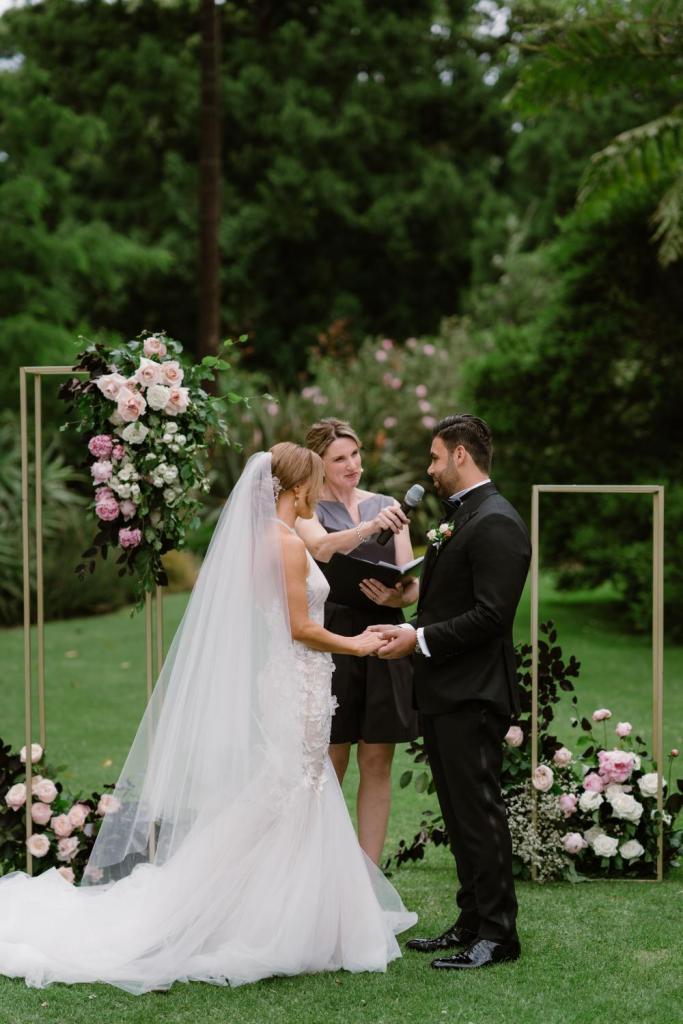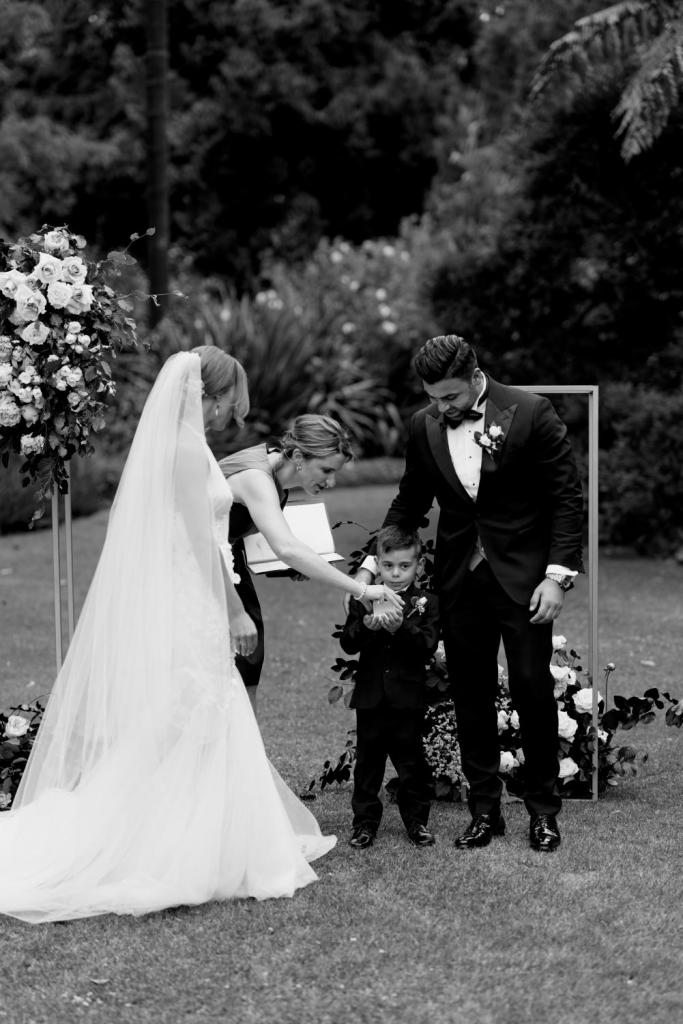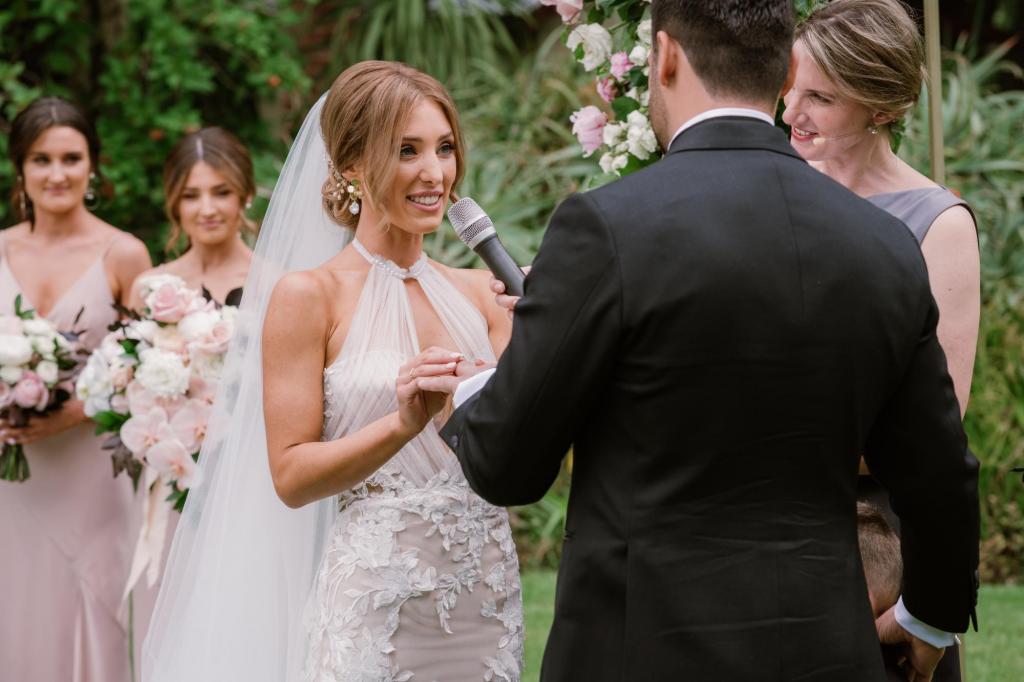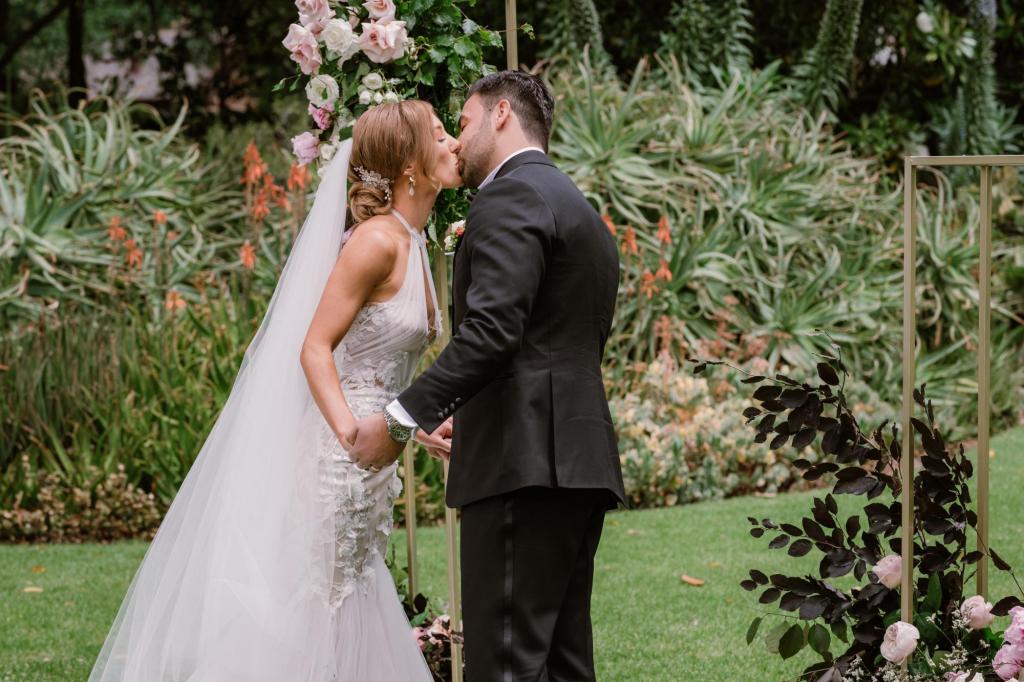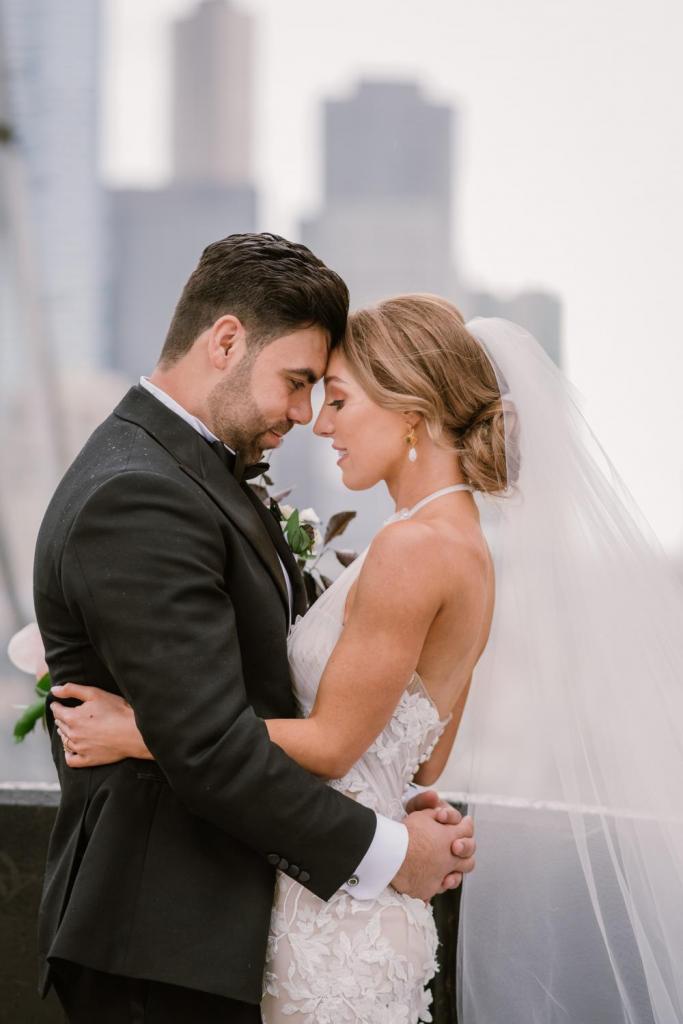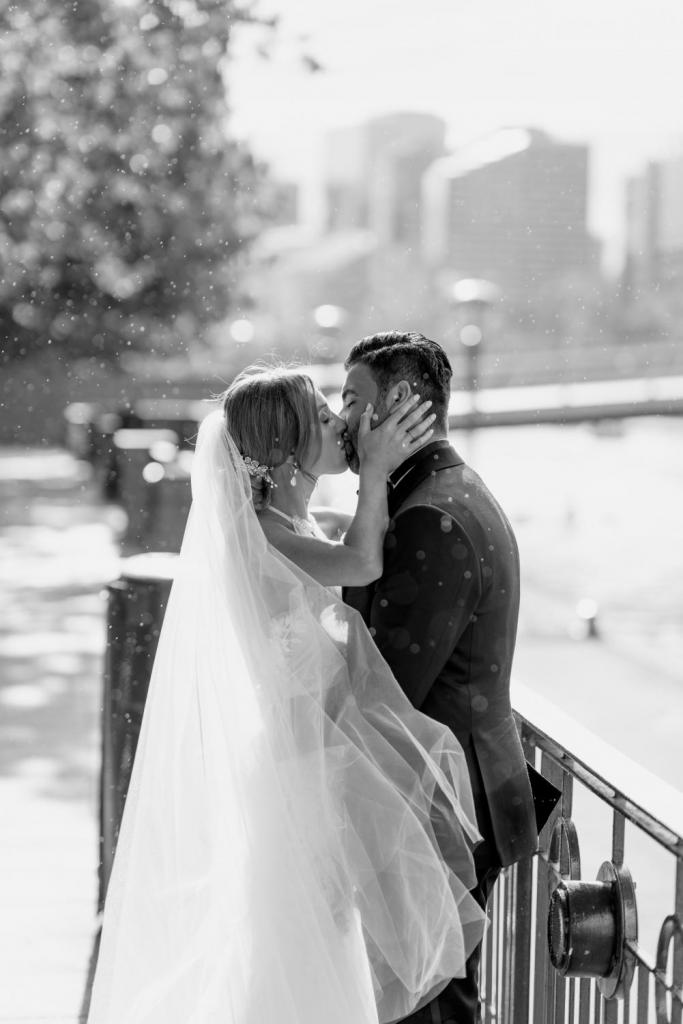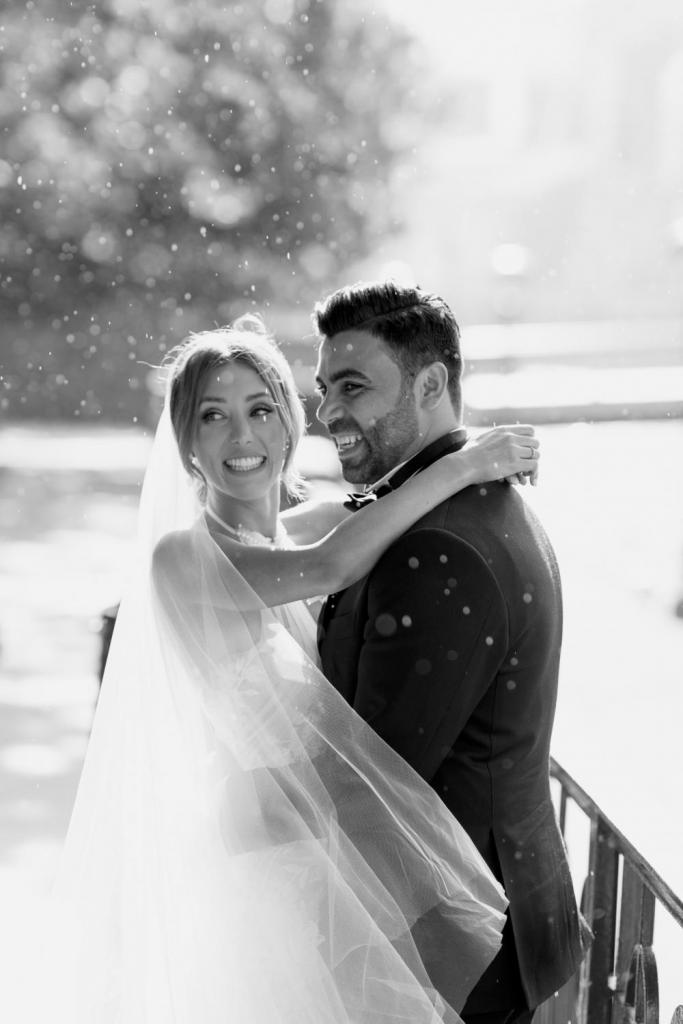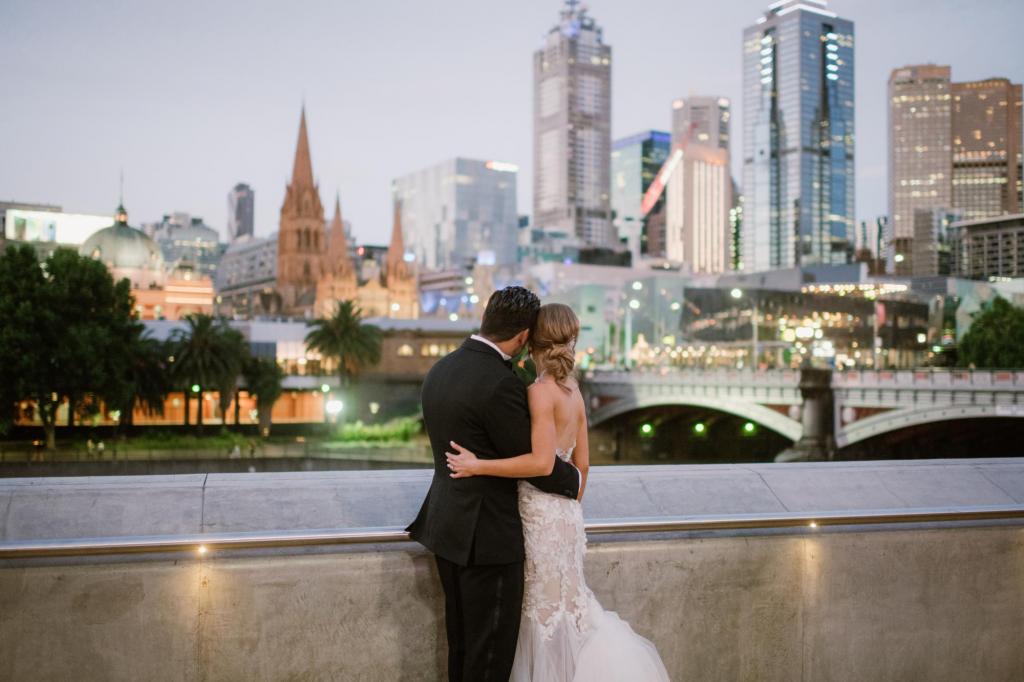 Chloe + Mahmoud | 02.11.2018
Photography: Loco Photography
Ceremony Location: Gardens House 
Celebrant: Meriki Comito 
Videography: IMedia Studios
Bridal Gown: Craig Braybrook Couture 
Bride's Shoes: Valentino
Flowers : Floretta By Grace
Groom's Cars: Pony Passion Cars
Bride's Cars: RR Classic Car Hire
Ceremony Music: Four Seasons String Quartet
Reception Location: Metropolis
Ellen + Lachy's The Farm Yarra Valley Wedding
First Meeting
First meeting at 'Electric Lady Land' on Chapel Street, Lachy thought Ellen looked hot and seemed fun to talk to.
Ellen found Lachy to be kind of quiet, but she liked the way he ran his fingers through is hair, so after discovering a mutual appreciation of good food & wine, they bonded over the fact that they had both worked at wineries, both shared a love of animals, and both enjoyed each other's company immensely.
Ceremony Details
In a laughter filled ceremony at one of Yarra Valley's newer wedding venues, The Farm Yarra Valley, Ellen and Lachy became husband and wife.
Ellen was so on trend in a fabulous Amaline Vitale Bridal & Couture gown (with pockets – always a win in my mind!) as she stood hand in hand with her handsome groom before a giant steel + floral Ceremony Circle by Sassafras Flower Design.
After receiving the best wishes of each and every guest, we were treated to two awesome readings by close friends, before Ellen and Lachy exchanged vows declaring "It is your heart that moves me, your spirit that inspires me, your humour that delights me, and your hand I want to hold for all of our days"
Their first kiss brought thunderous cheers and applause before squeals of excitement when I announced that the newlyweds had organized an Easter Egg hunt immediately after!
So much fun!!
The Photographer
Beautiful images by Anitra Wells / Photographer who is always so fabulous work with!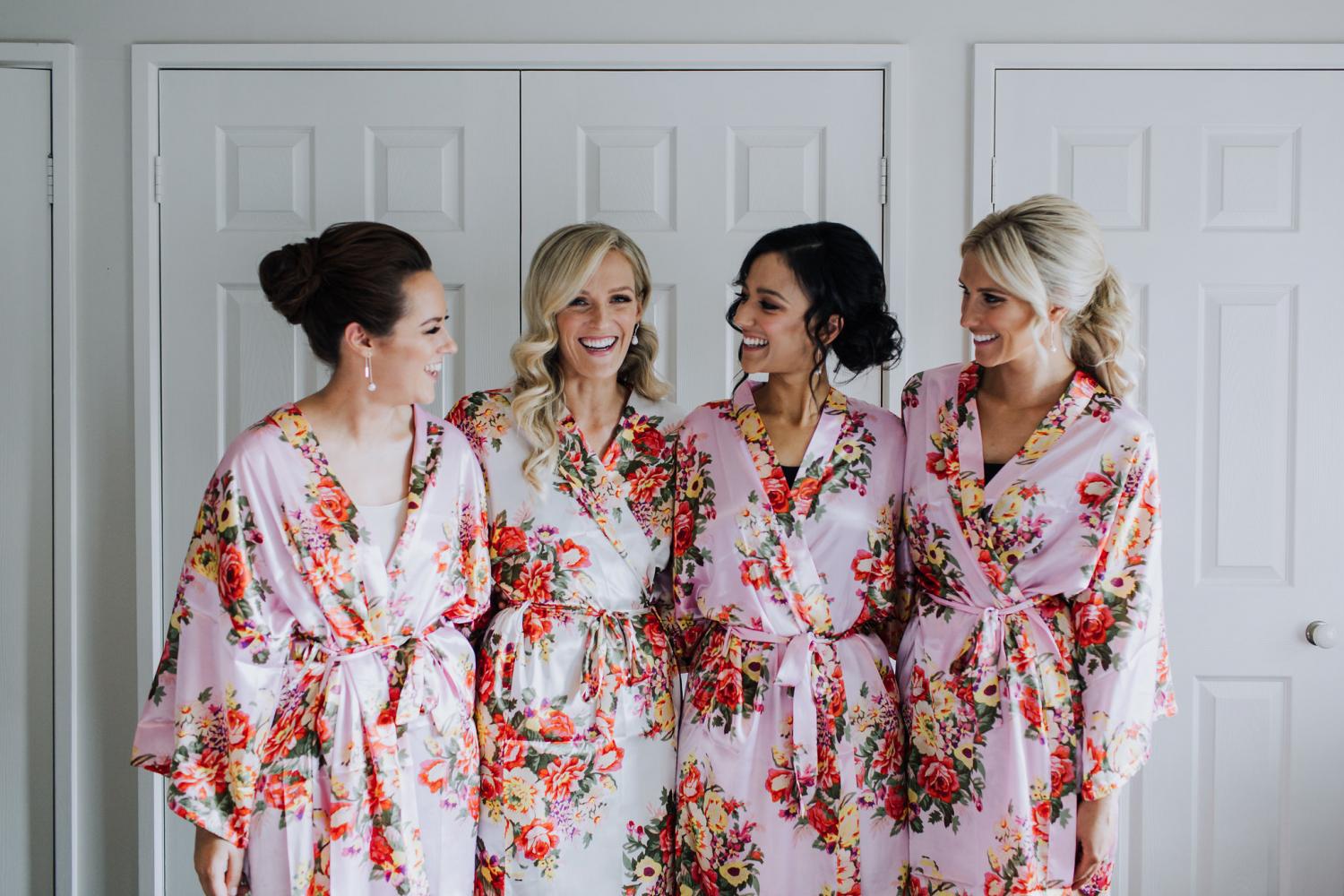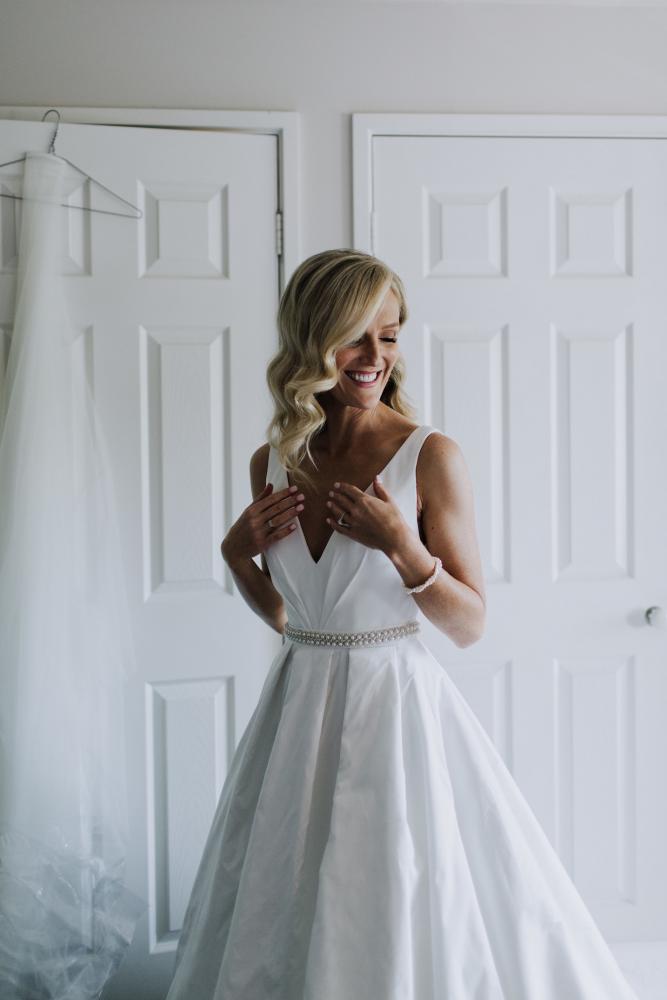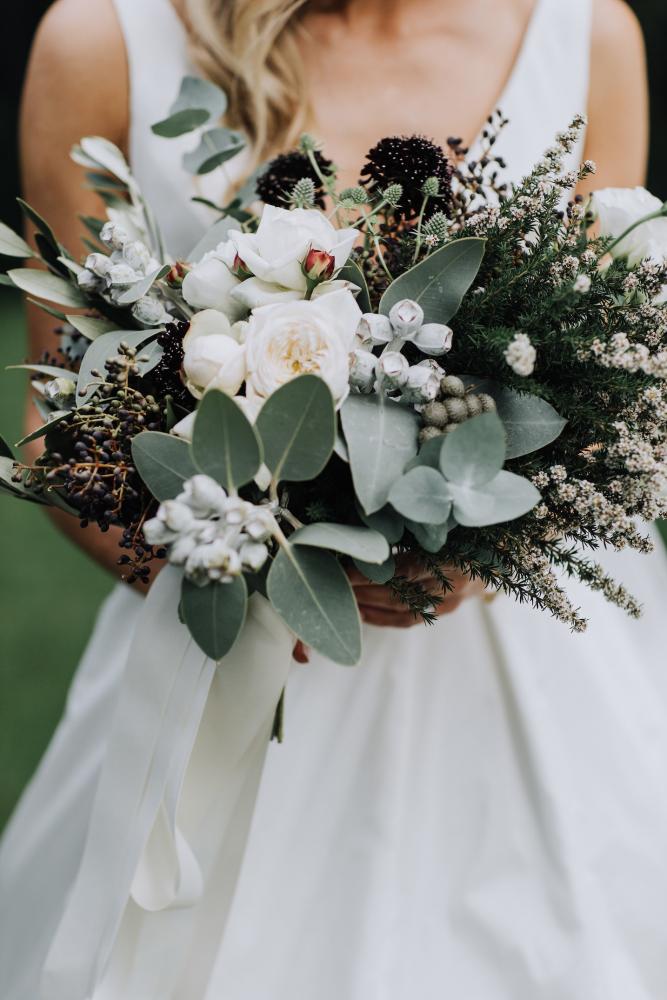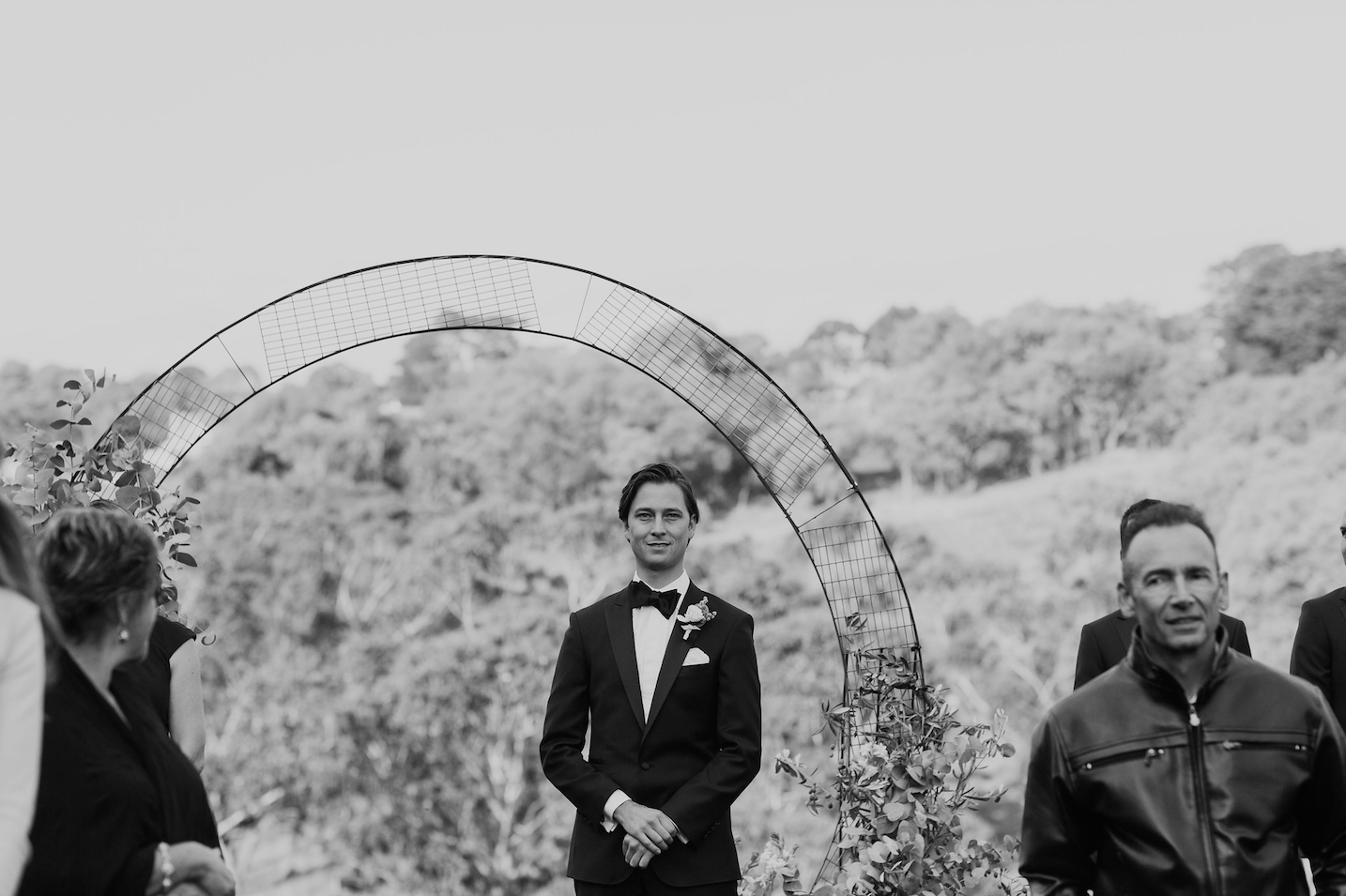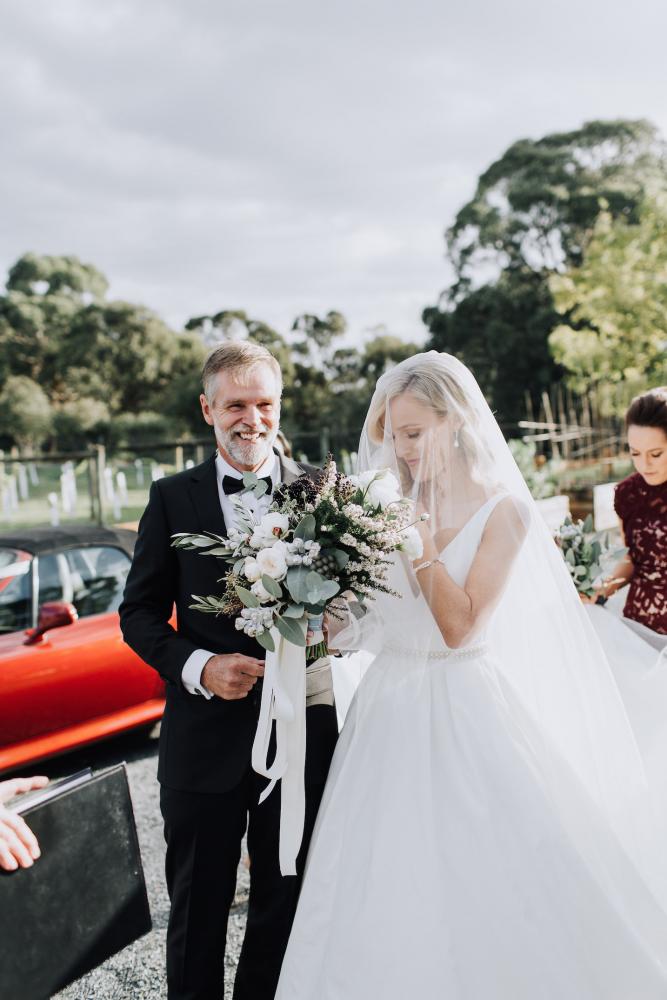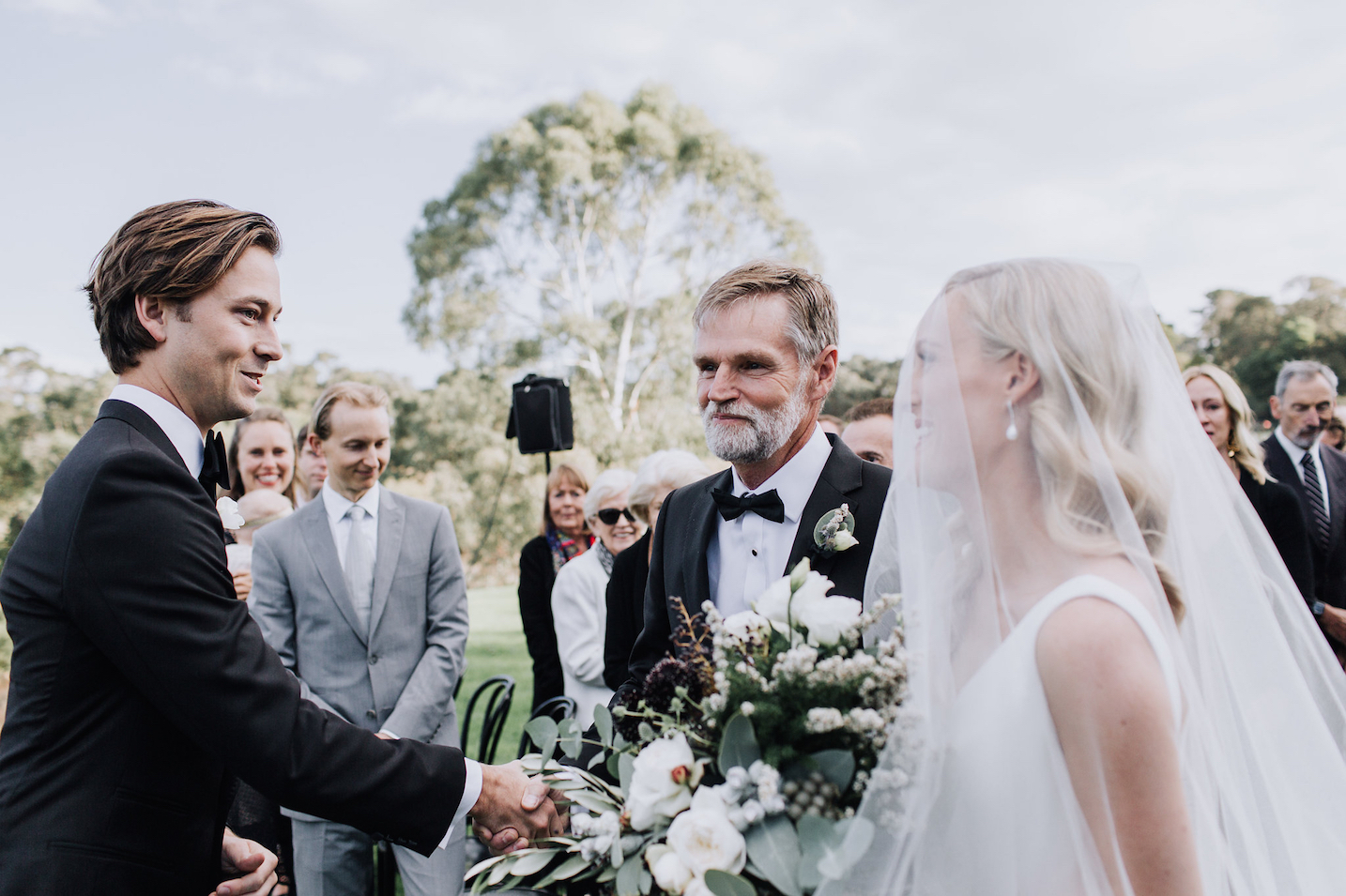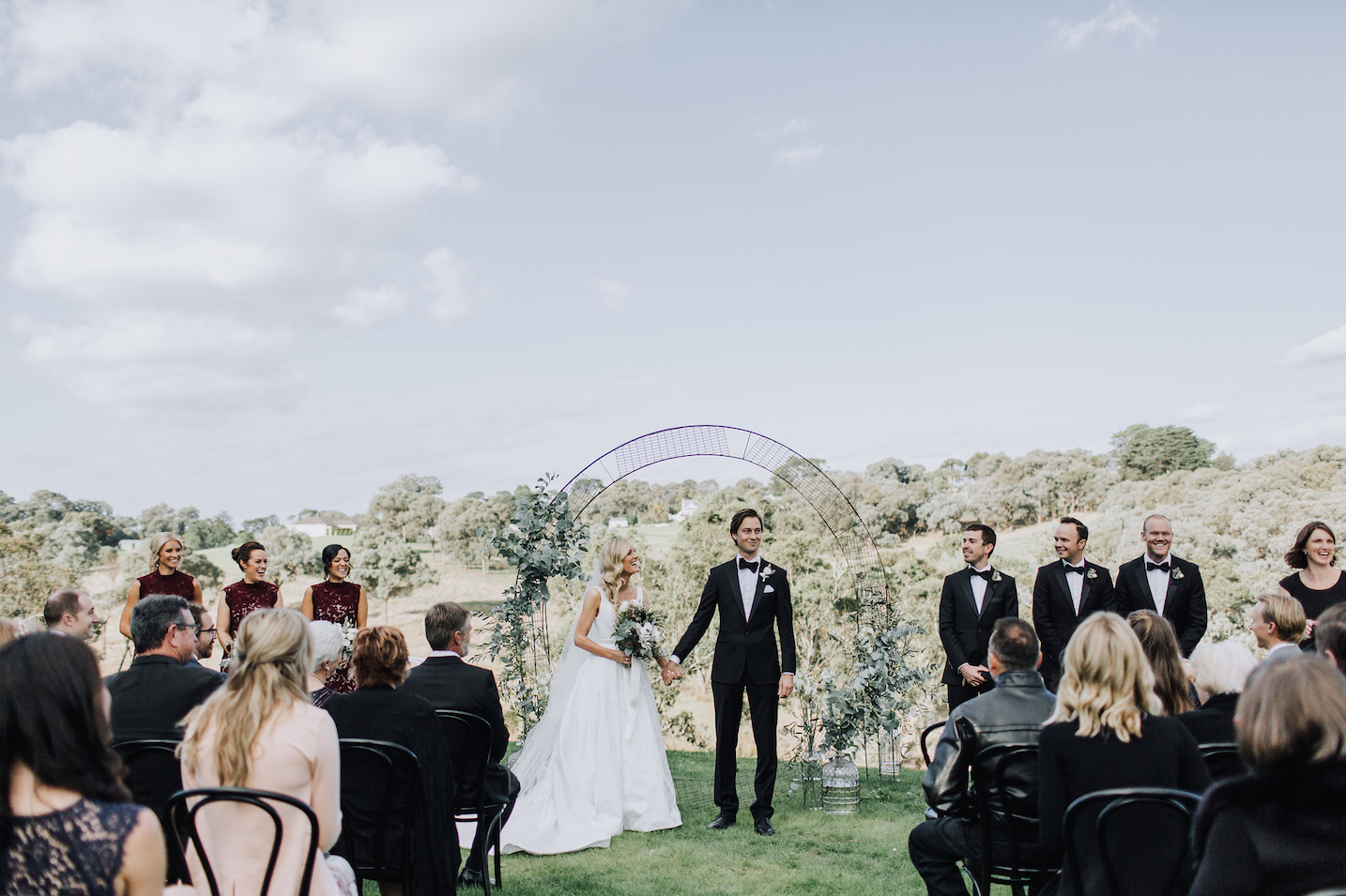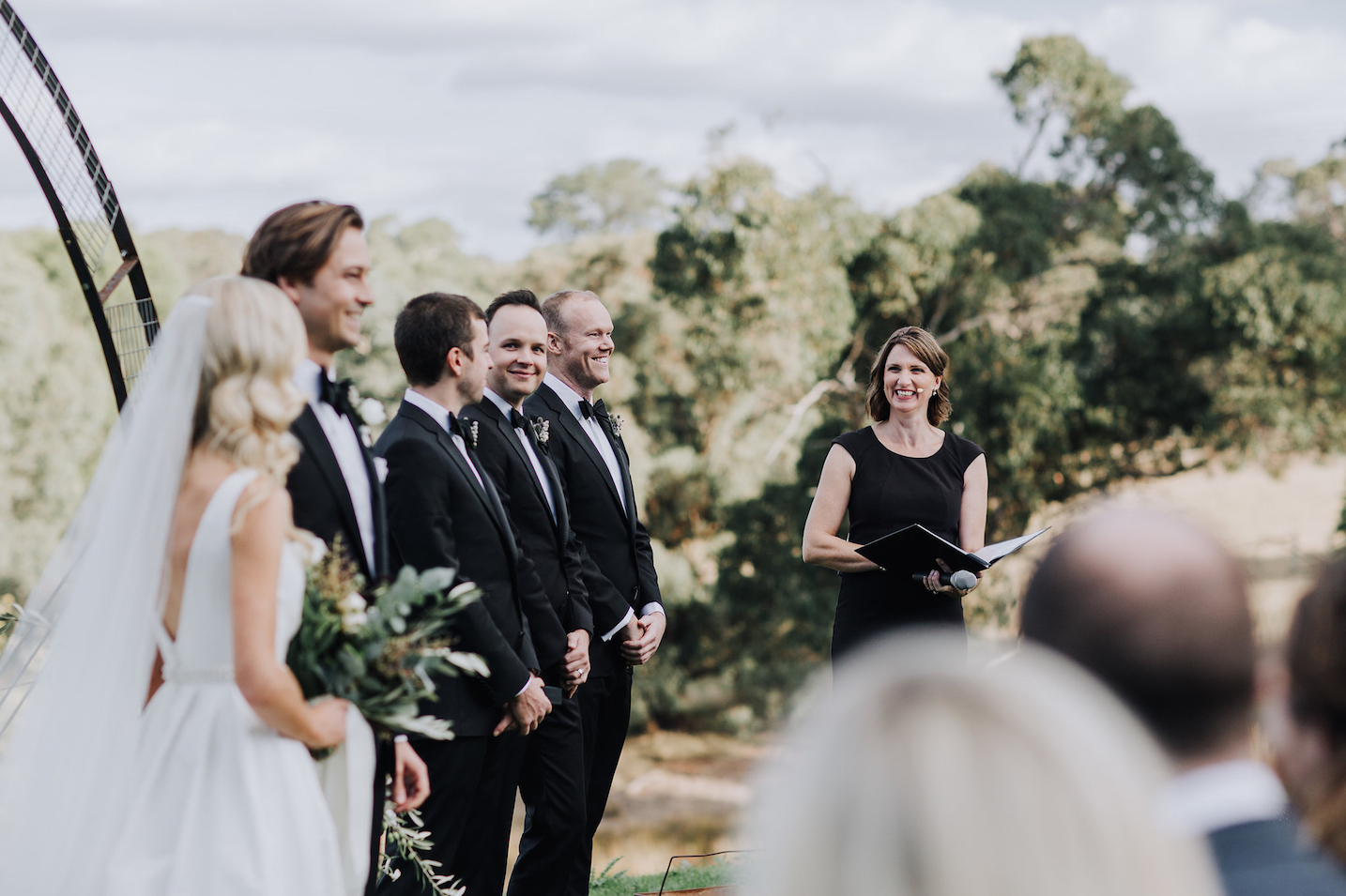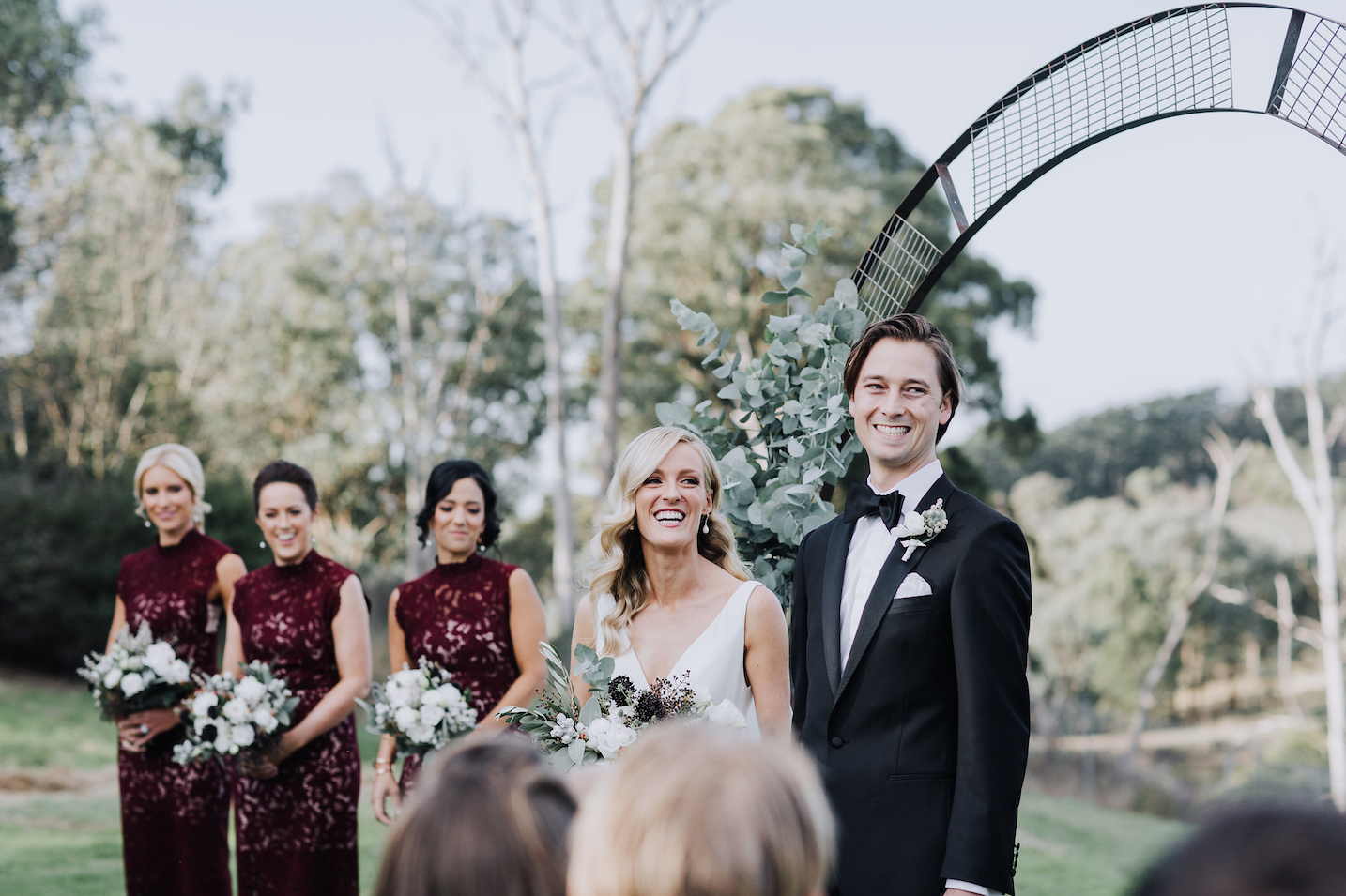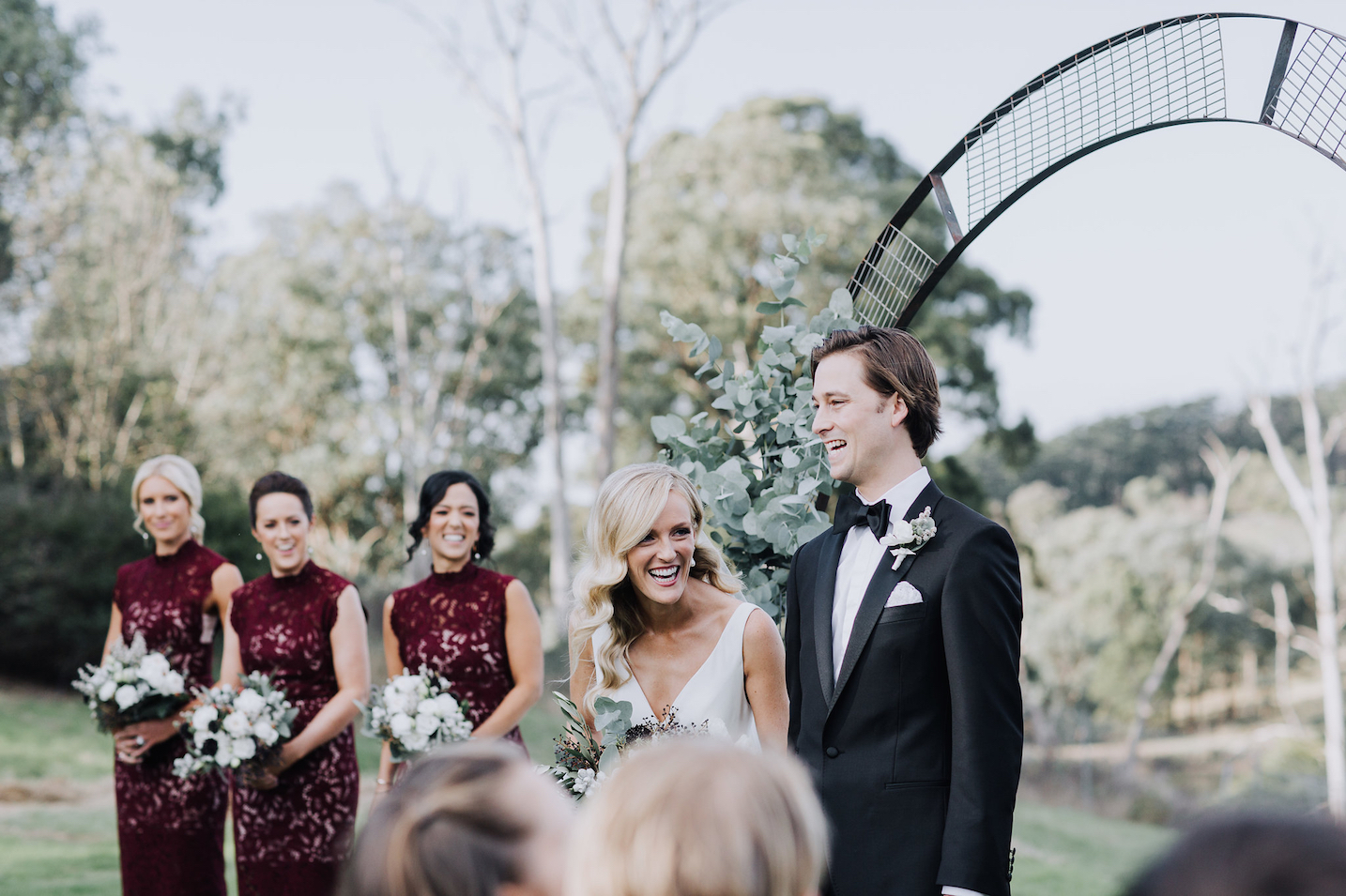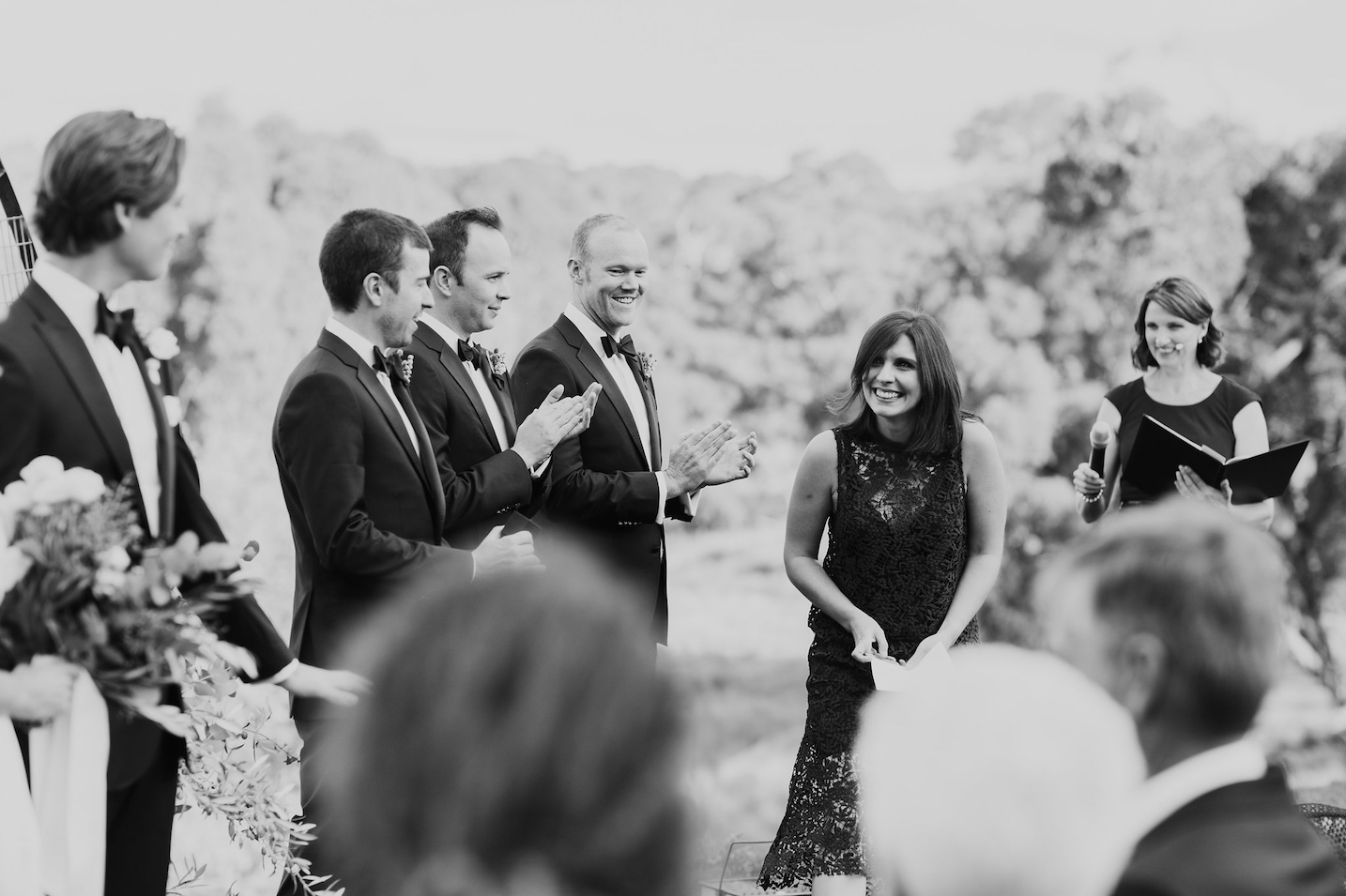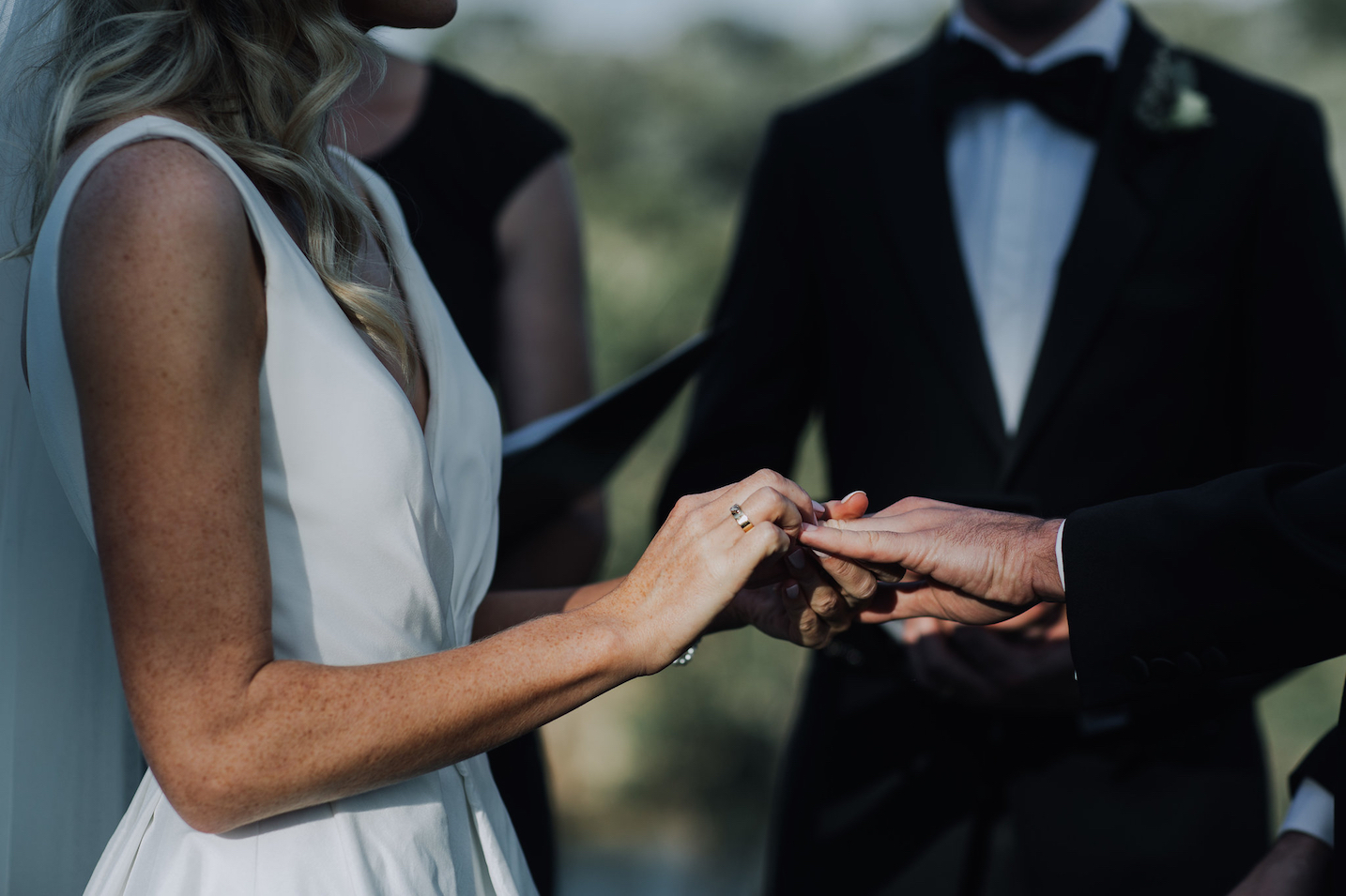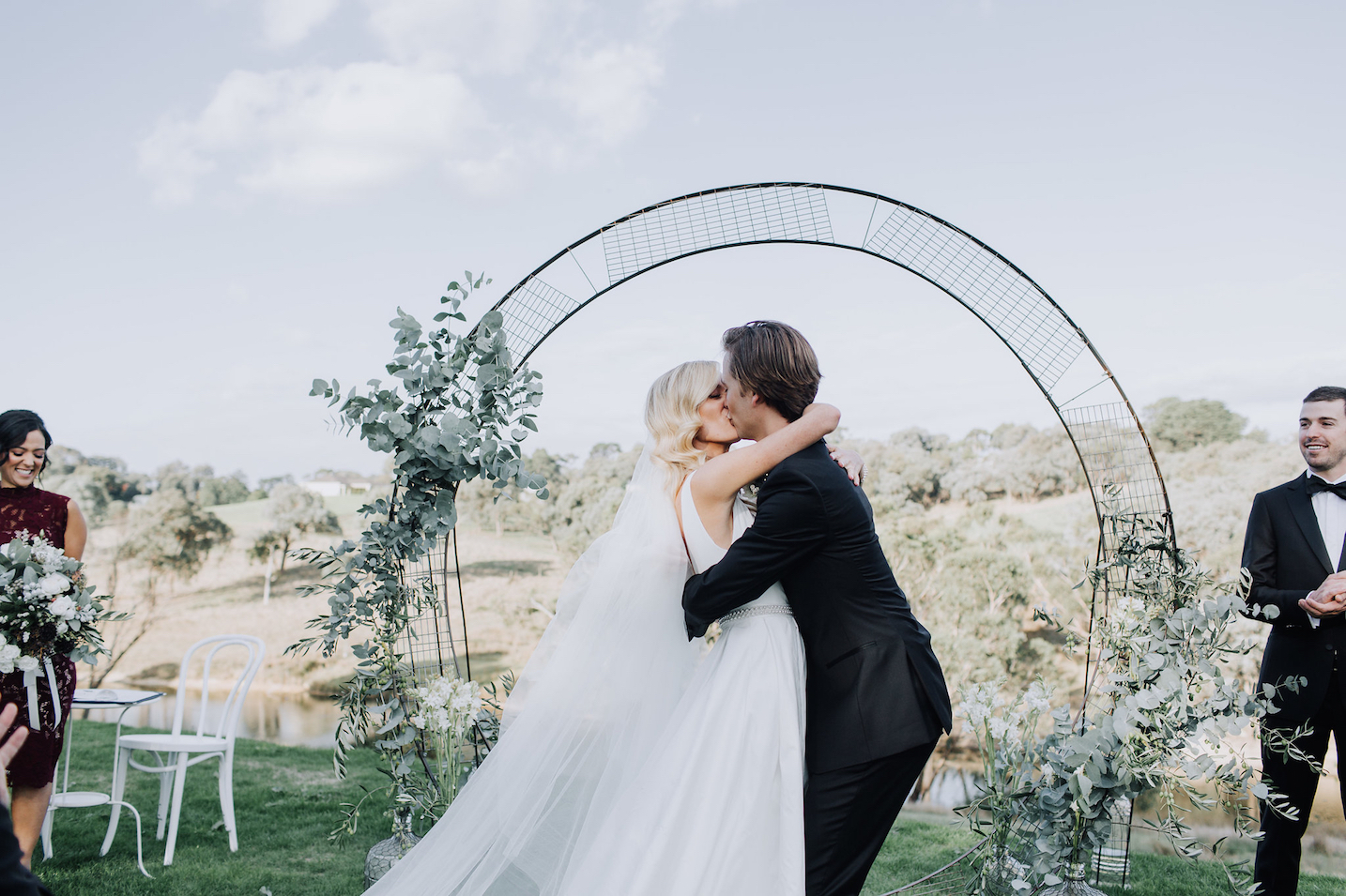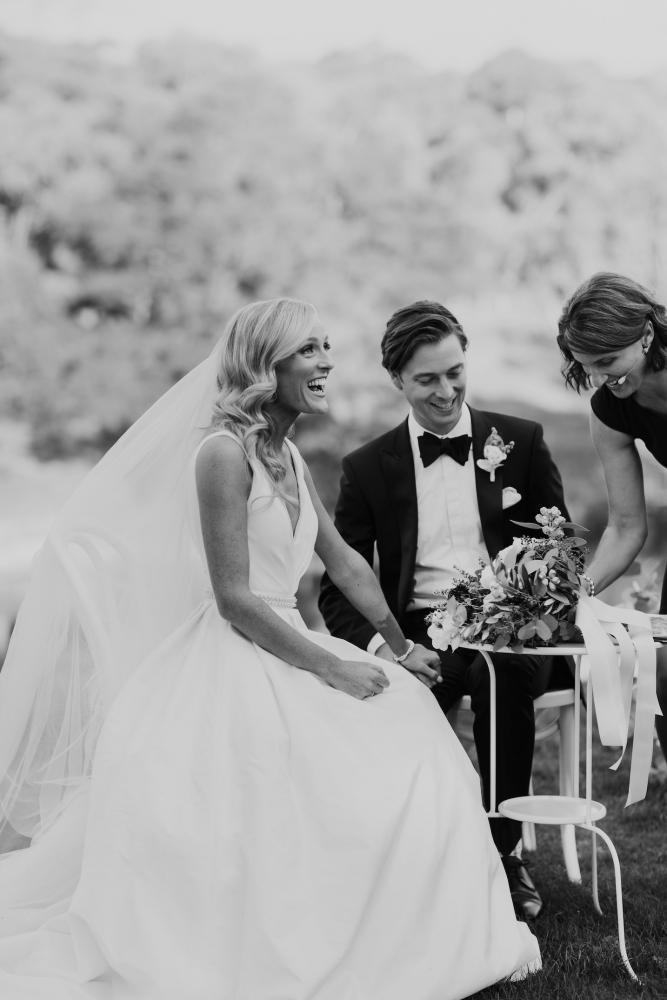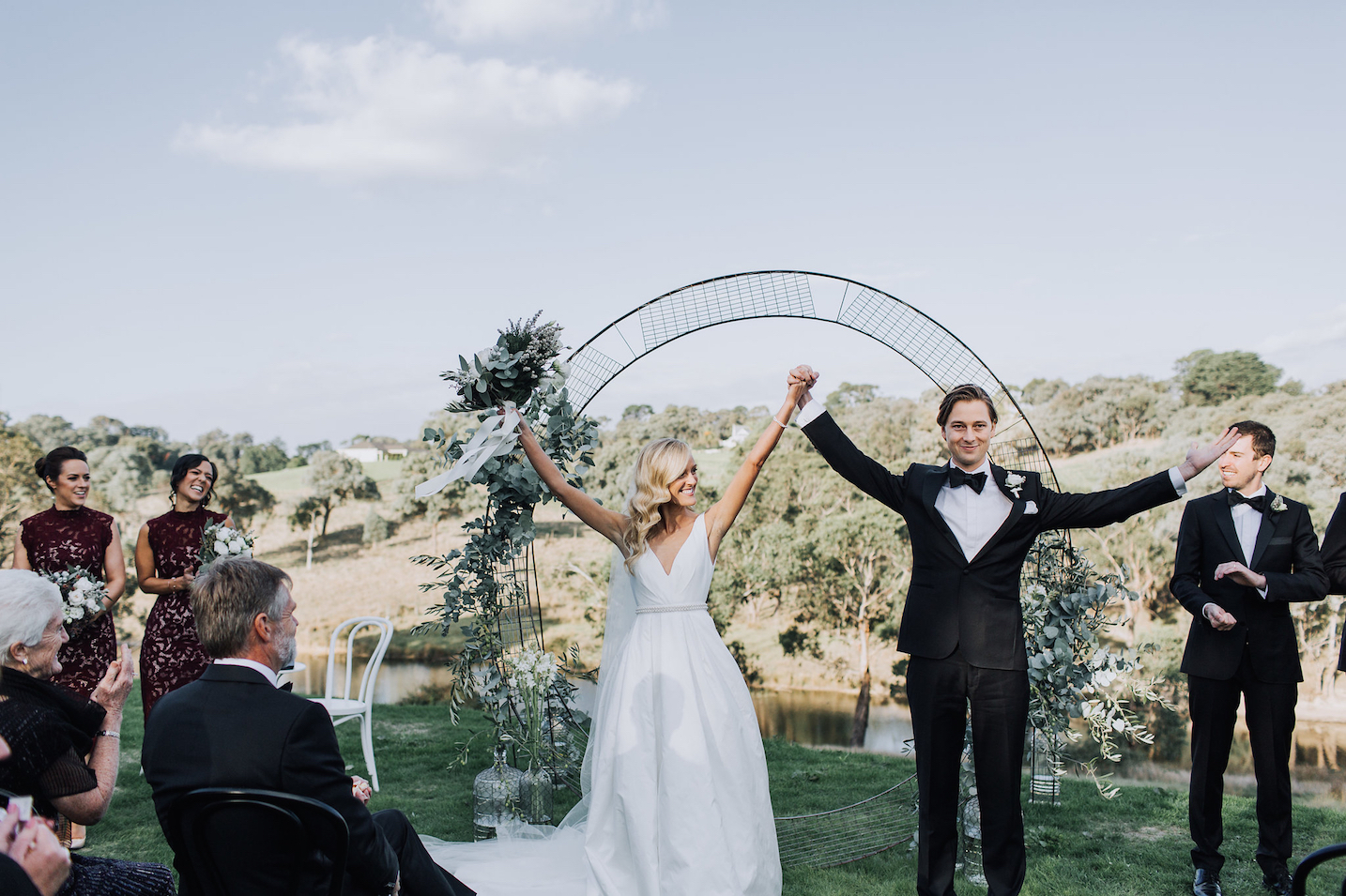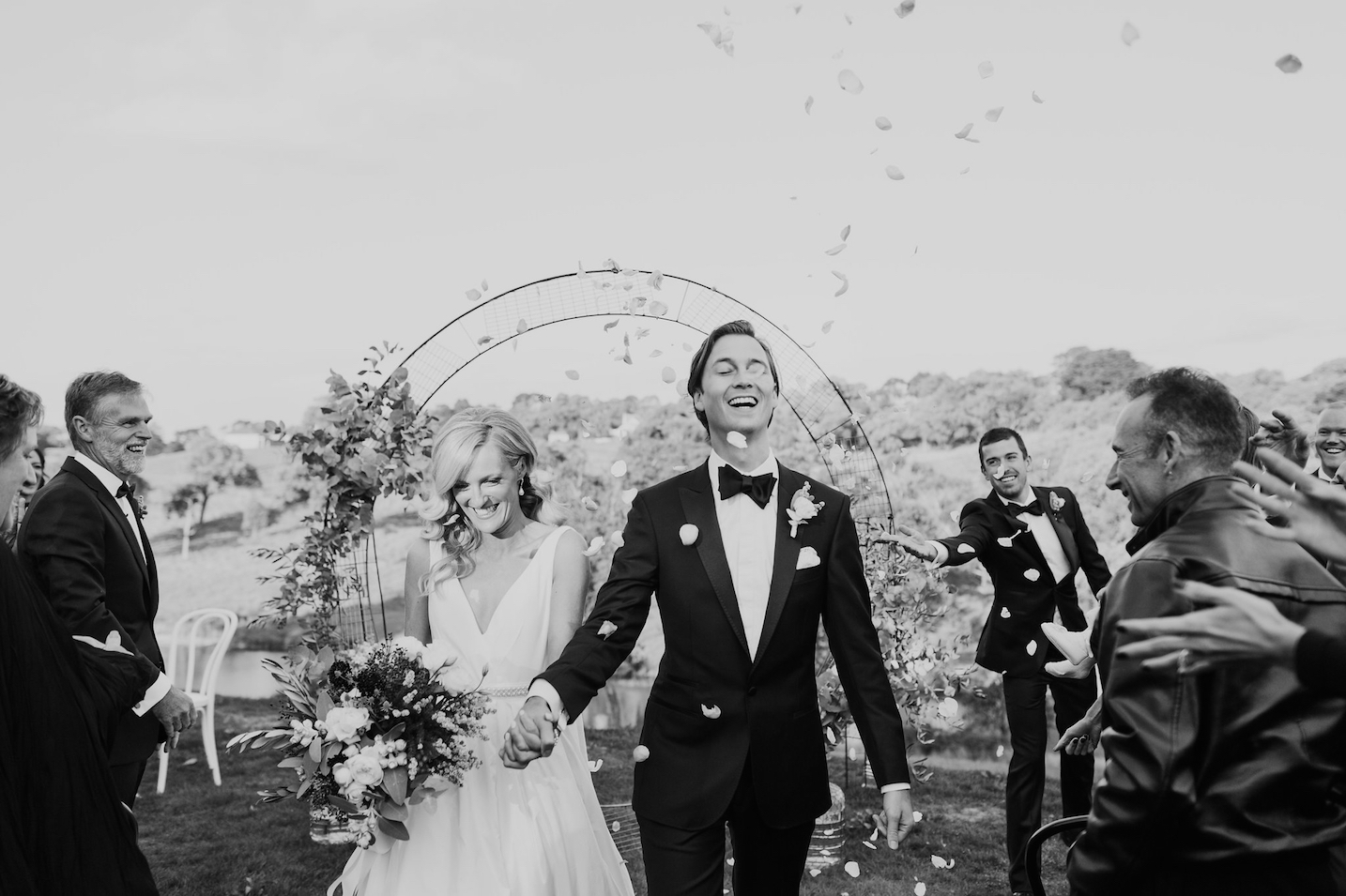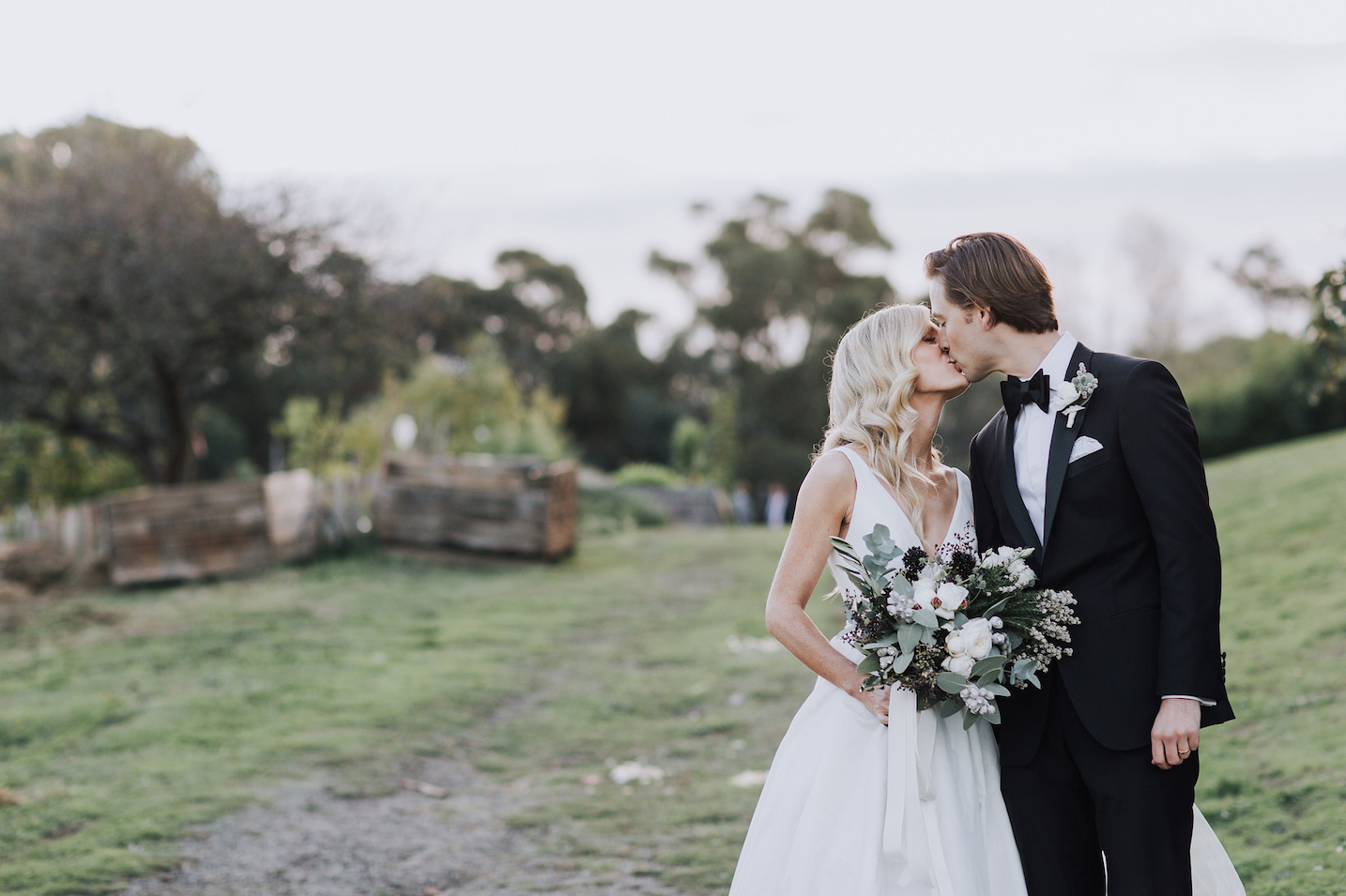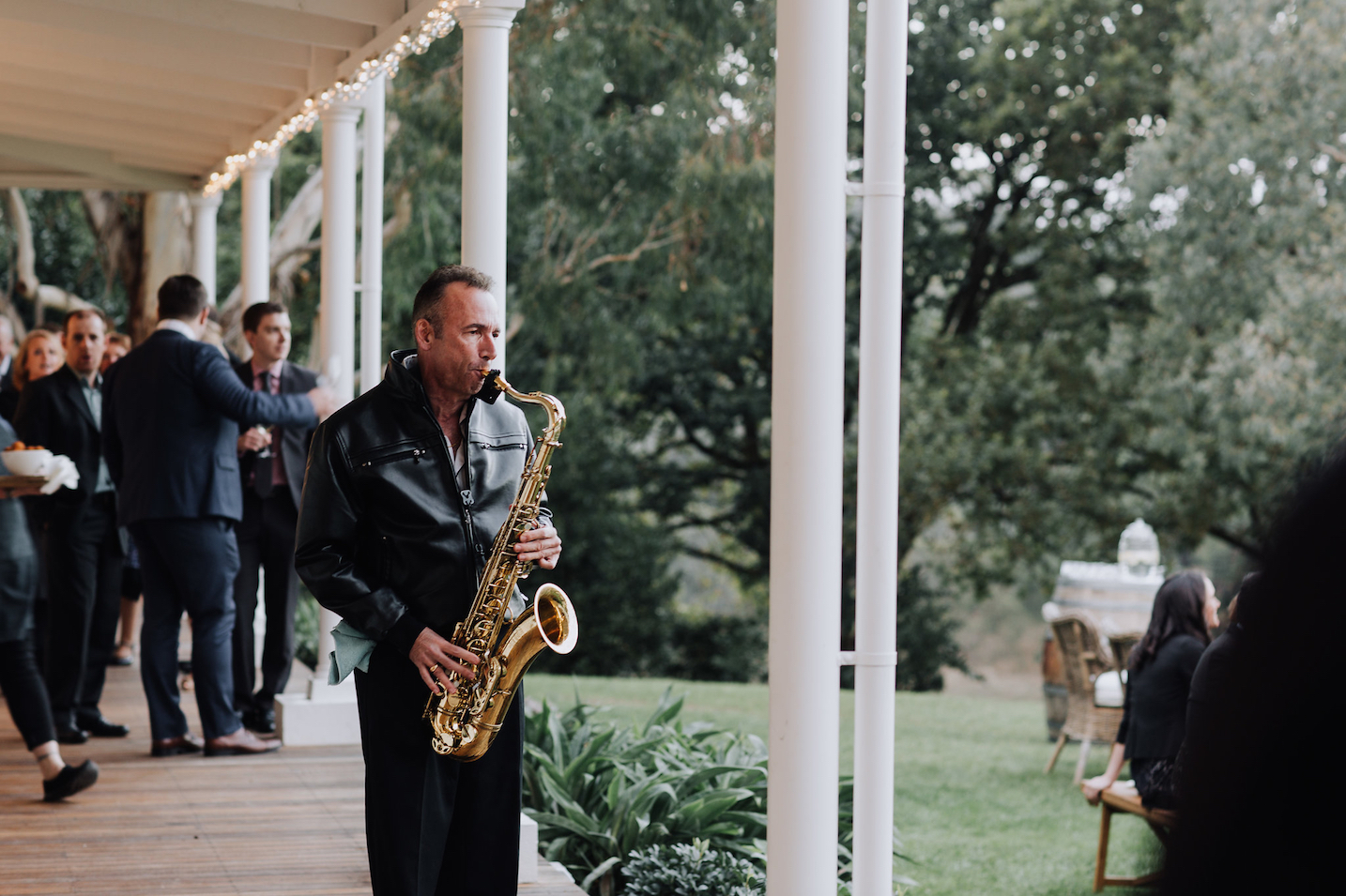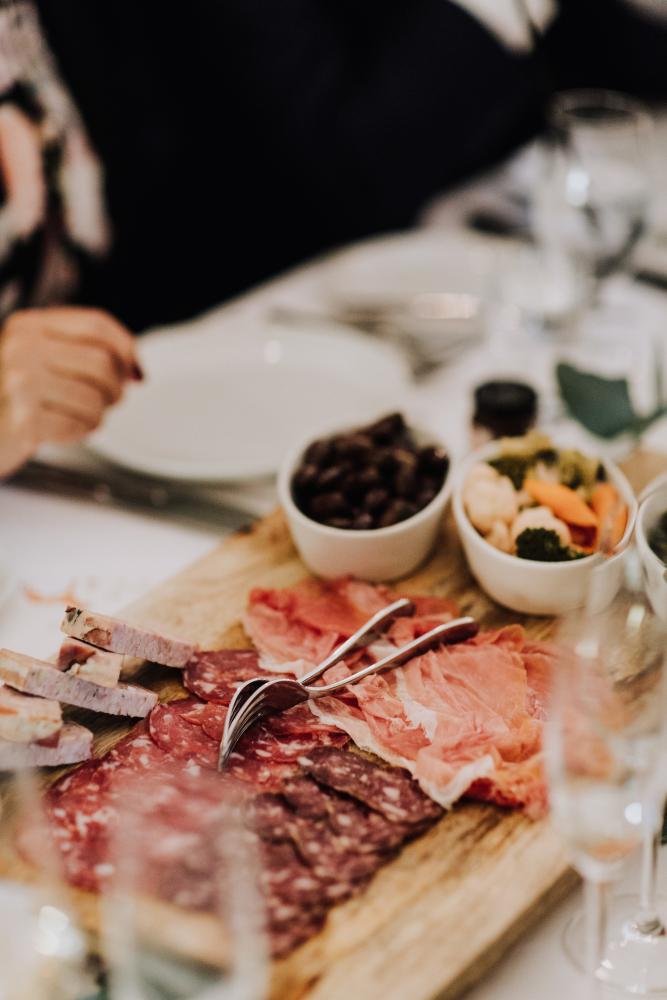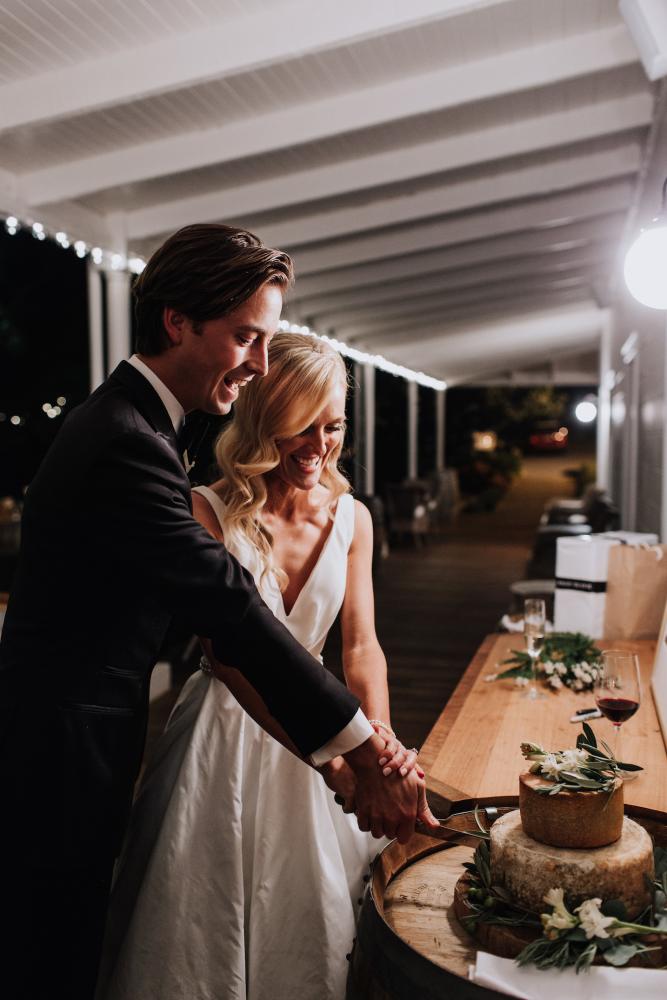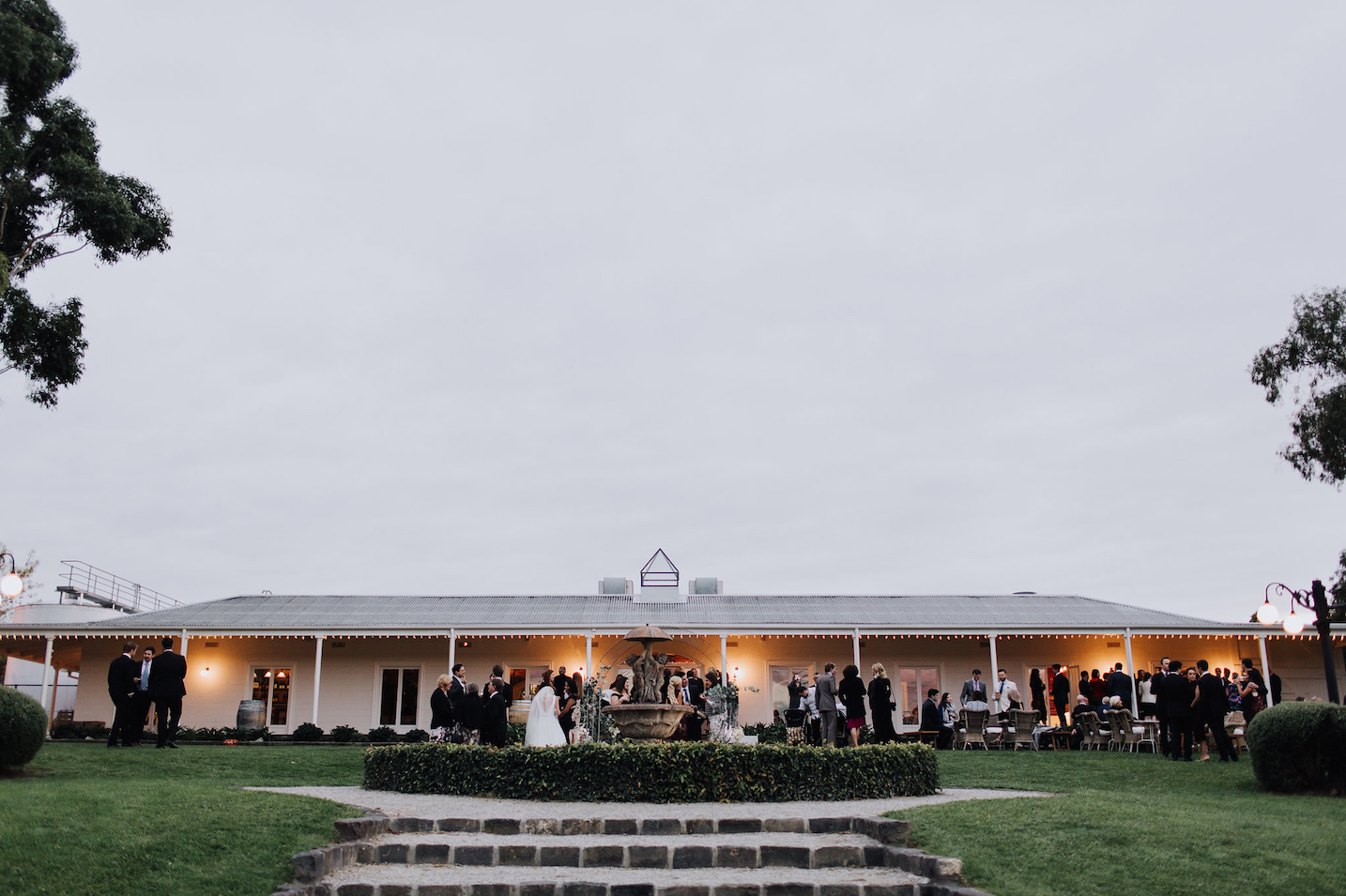 Ellen + Lachy | 15.04.2017
Photography: Anitra Wells
Ceremony & Reception Location: The Farm Yarra Valley
Celebrant: Meriki Comito 
Flowers + Ceremony Circle: Sassafras Flowers
Bridal Gown: Amaline Vitale
Cheese Wheel Cake: The Farm Yarra Valley
Best Outdoor Wedding Venues + Locations  →
← Rain on your Wedding Day – Do you have a Plan B? 
Kate + Lars' Chateau Doré Wedding
The Event
Kate + Lars decided on a peaceful french provincial inspired Chateau Doré Wedding to celebrate their love and their family.
As family & friends gathered from as far as Germany, Kate & Lars's ADORABLE baby boy Sebastian arrived dressed in the cutest traditional 'Lederhosen' to the absolute delight of person present!
Grateful for my mother's Austrian heritage, I was thrilled to be able to welcome Lars' family in their mother tongue as well as incorporate a few German phrases into the ceremony itself!
The Meeting
Kate and Lars' first meeting in Spain was one of those real 'sliding door' moments in life, when Kate stopped in Spain at the beginning of a 12 month world trip to join a Spanish language class, and met Lars a few days into her extended stay.
Kate thought Lars looked like a school boy swinging on the back of his chair in the Library, and Lars thought the same thing about Kate after spotting her strolling through the streets with her cute little backpack on! But when they were both invited to join a mutual friend for lunch, they hit it off immediately, and Kate cancelled her other travel plans to spend as much time in Spain with Lars as possible.
Six weeks later, Kate was obliged to continue on her world tour, but both she and Lars knew that their time together was so much more than just a summer romance, and Kate made arrangements to meet Lars on his home ground in Hamburg on December 12th 2009 – six years exactly before they married at the beautiful Chateau Doré in country Victoria.
The Vows
Kate said that she loved Lars's "genuine & pure love of life and that he sees the very best in every person he meets", and Lars said that Kate "makes everything you do, feel & experience together absolutely amazing".
After exchanging rings with a mixture of both German & English vows, Kate & Lars shared one of the most passionate first kisses that I have ever seen to the loudest of cheers!
The Photographer
One of my favourite industry pros, Alli Oughtred, was there to capture it all xx
Kate + Lars | 12.12.2015
Celebrant: Meriki Comito
Ceremony & Reception Location: Chateau Dore
Photography: Alli Oughtred Wedding Photography
Flowers: The Eternal Vase
Rain on your wedding day – Do you have a Plan B? →
← Ceremony Entrances – know your options! 
Stephen & Leigh's Colourful Manadala Wines Wedding
Stephen and Leigh chose the beautiful Mandala Wines in the Yarra Valley for the location of their colourful winery wedding, and added lots of bright flags, flowers and lego to make it distinctly theirs!
The Meeting
When Stephen first laid eyes on Leigh at a friend's BBQ about four years ago, he thought she was way out of his league, but went on to impress her with his polite nature and perfect manners, so the pair soon struck up a friendship, bonding over a mutual love of movies, cocktails, 'phat' beats and the great outdoors.
They both grew to love the unconditional love they both provided the other with, as well as the freedom of being able to be completely who they truly were. It was fun, and comfortable, and felt so right, that marriage had definitely become an option for the future.
The Proposal
It was during a two-week road trip through New Zealand that Stephen entertained the idea of a perfect proposal, but after waiting for that perfect moment to present itself, it became apparent that he was struggling to keep his big secret, and after three failed attempts to work up the courage, finally asked Leigh to marry him on the final night of their adventure.
It may have been a huge source of anxiety for Stephen, but according to Leigh, it was private, and personal, and absolutely perfect.
The Vows
In a stunning lace Marianna Hardwick gown, Leigh quietly declared to her handsome groom that "you love me even when I don't love myself" (before quoting Beyonce!), after which Stephen told Leigh "your beaming smile can brighten my darkest days, and your beautiful laugh brings me more happiness than anything."
It was an absolute pleasure to share this moment with Stephen & Leigh and I hope they achieve all their dreams of travelling the world together, starting a family of their own and enjoying all the adventures that life will bring x
The Photographer
A huge shout out to the super talented Zosia from Aparat Photography for these stunning images!!
Stephen & Leigh | 16.04.2016
Celebrant: Meriki Comito
Ceremony & Reception Location: Mandala Wines
Photography: Aparat Photography
Ceremony Arch & Bunting: Created by the clever Groom!
Bridal Gown: Marianna Hardwick
Bridesmaids Dresses: Rodeo Show
Flowergirl Dress: H&M
Groom's Attire: Joe Black
Bouquet's, Boutonniere's and Flower Crown: Debbie O'Neill
Cake & Bomboniere: The Bride's own creations
Sharmaine & David's Luminare Wedding
What does marriage mean to you?
When I asked David and Sharmaine what marriage meant to them, they recited a quote that struck a real chord with them. It read, "love is a friendship set on fire – a combination of everyday life and magic bundled into one. Love has the unique ability to transform the webs and pillars of everyday life into silk and gold. It is more than a feeling or emotion, concept or theory; it is a being."
After all the traditional Chinese customs in the morning, I was waiting with David on the rooftop deck at Luminare, when admitted that he was very much looking forward to seeing Sharmaine make her way down the aisle. I'm pretty certain that she most definitely exceeded his expectations as she stepped into the sunshine, absolutely exquisite in Anna Campbell.
First Meeting
David and Sharmaine first met at University about 8 years ago. David recalled his first impressions of Sharmaine as being that she was very small, but very pretty! Sharmaine admitted that she loves the fact that David is tall enough to reach all the things that she can't!
True love
All jokes aside, David & Sharmaine also share an incredible connection and found themselves wanting to share all the important moments in their lives quite early in their relationship, eventually leading to David's amazing mid-air proposal.
Sharmaine said that she loves how well she & David understand one another and that he is so open minded, with  the endearing quality of being both patient and impatient all at the same time.
David said that Sharmaine is caring and compassionate and absolutely beautiful, inside and out. He also loves that she supports him 100% in any decision he makes, always offering encouragement in any endeavour he decides to embark on.
Wedding Symbolism
Incorporating a hand fasting ritual to provide a visual representation of their commitment,  Sharmaine & David's hands were bound with silver & white ribbons to represent purity, peace, creativity & inspiration, before they shared their first kiss as husband & wife to the absolute joy of all their family & friends.
Photo credit
These exquisite images by Jonathan Ong captured every ounce of this couples' outer AND inner beauty and the absolute pure love they both radiated & elicited. What an absolute pleasure it was to declare them husband & wife! xx
Sharmaine & David | 27.12.2014
Celebrant: Meriki Comito
Ceremony & Reception Location: Luminare
Styling & Florals: Tori Allen Events
Bridal Gown: Anna Campbell
Photography: Jonathan Ong
Videography: The White Tree
Ceremony Music: The White Tree