Patricia + Samuel's Werribee Mansion Wedding
Patricia and Sam began their day with a traditional Tea Ceremony at home. This allowed them to honour their families' Chinese/Malaysian heritage with traditional elements.
Their Werribee Mansion Wedding continued on with the same amount of elegance, grace, humour and fun that these two embodied.
This wedding had everything. Incredible styling, amazing florals, brilliant sunshine, and a perfect sparkler exit.
A truly beautiful, kind and fun-loving couple certainly deserved such magical day.
The Meeting
A marriage nine years in the making, it took the first two years of sitting next to each other in med school for Sam to muster up enough courage to ask Patricia out on a date.
Unfortunately for Sam, Patricia declined his first invite. His subsequent persistence paid off though and resulted in an official date soon after!
They supported each other through all the stressful study times that followed and bonded over a mutual love of Gelato. A love which consequently supported their decision to hire a gelato cart for the big day!
The Proposal
Sam decided to propose on Christmas Day. He thought it would be hilarious to throw Patricia off with a multi layered wrapped present containing romantic letters and cards, revealing an ugly Christmas jumper at the end. The prank backfired though as Patricia was overjoyed with the  jumper! So Samuel quickly bent to one knee and revealed the much more valuable and sparkly present from his pocket!
The Vows
Patricia vowed to cook Sam's favourite chicken rice more often than once every 3 years and promised to "choose you every day, a million times over, not because I have to, but because I want to."
Sam declared Patricia as the most "charming, beautiful, intelligent and graceful" woman he knew (we all agree!), promised to always bring her ice-cream, and ended with AA Milnes' "If you live to be a hundred, I want to live to be a hundred minus one day so I never have to live without you".
The Wedding Details
Patricia and Sam secured the services of wedding planner Sarah Wang, from Blooming Love Events to help create their special day alongside Bursaria the Refectory. Enlisting the services of Ivy & Eve, Dann Event Hire and a team of other fabulous suppliers, Sarah produced the most incredible setting for Patricia and Sam to say their I Do's!
The Photographer
Patricia and Sam chose the amazingly talented Jesse Hiscoe to capture all the details, and I thank him for allowing me to share his beautiful images with you! The smiles he captured say it all!
Contact Meriki to discuss your special day HERE!
Patricia + Samuel | 22.02.2020
Photography: Jesse Hiscoe 
Ceremony Location: Werribee Mansion
Reception: Bursaria The Refectory
Videography: Lovely Day Films
Marriage Celebrant: Meriki Comito 
Bridal Gown: Enzoani | Eternal Bridal
Planning/Styling: Blooming Love Events
Florals: Ivy & Eve
Ceremony seating: Dann Event Hire
Ceremony Music: Stringspace
Cake: Nobody Hates Cake
Larissa + Paul's Greenfields Albert Park Wedding
Initially planning to marry at an outdoor location, strong weather warnings led Larissa + Paul to make a very wise, last minute decision, to move their ceremony to the indoor sanctuary of their reception venue, and have a Greenfields Albert Park wedding.
The staff at Greenfields Albert Park, together with the amazing Tori Allen Events team, were absolute superstars in setting up a beautifully elegant ceremony area indoors, where guests and vendors alike gathered gratefully within the welcoming, warm and light filled space.
Acoustic artist, Emma, from Top Dog Entertainment provided the perfect start to proceedings, as Larissa made her way down the aisle, in a stunning Suzanne Harward creation, to stand beside her clearly smitten Paul.
The Meeting
Larissa and Paul told me they felt an instant attraction from the the first moment they laid eyes on each other, but once they started working together, the chemistry between them was undeniable and they bonded very quickly over their shared values, similar sense of humour, a deep love for family + friends, and passion for good food, great wine and a desire to travel the world.
The Vows
In her vows, Larissa told Paul that she knew from their first date that he was the one she wanted to spend her life with, and that he was the most amazing person she had ever known.
And Paul told Larissa that he had loved her from the first moment they met and that she made his life better in every way.
The Photographer
The lovely and talented Amanda Alessi and Suzie from Lovely Day Films were there to capture all the details of the day and I thank Amanda and the new Mr + Mrs A for allowing me to share their incredible images!
Contact Meriki to discuss your special day HERE!
Larissa + Paul | 15.02.2020
Photography: Amanda Alessi Photography
Ceremony Location: Greenfields Albert Park
Videography: Lovely Day Films
Celebrant: Meriki Comito 
Bridal Gown: Suzanne Harward
Styling: Tori Allen Events
Music: Top Dog Entertainment
Ellen + Lachy's The Farm Yarra Valley Wedding
First Meeting
First meeting at 'Electric Lady Land' on Chapel Street, Lachy thought Ellen looked hot and seemed fun to talk to.
Ellen found Lachy to be kind of quiet, but she liked the way he ran his fingers through is hair, so after discovering a mutual appreciation of good food & wine, they bonded over the fact that they had both worked at wineries, both shared a love of animals, and both enjoyed each other's company immensely.
Ceremony Details
In a laughter filled ceremony at one of Yarra Valley's newer wedding venues, The Farm Yarra Valley, Ellen and Lachy became husband and wife.
Ellen was so on trend in a fabulous Amaline Vitale Bridal & Couture gown (with pockets – always a win in my mind!) as she stood hand in hand with her handsome groom before a giant steel + floral Ceremony Circle by Sassafras Flower Design.
After receiving the best wishes of each and every guest, we were treated to two awesome readings by close friends, before Ellen and Lachy exchanged vows declaring "It is your heart that moves me, your spirit that inspires me, your humour that delights me, and your hand I want to hold for all of our days"
Their first kiss brought thunderous cheers and applause before squeals of excitement when I announced that the newlyweds had organized an Easter Egg hunt immediately after!
So much fun!!
The Photographer
Beautiful images by Anitra Wells / Photographer who is always so fabulous work with!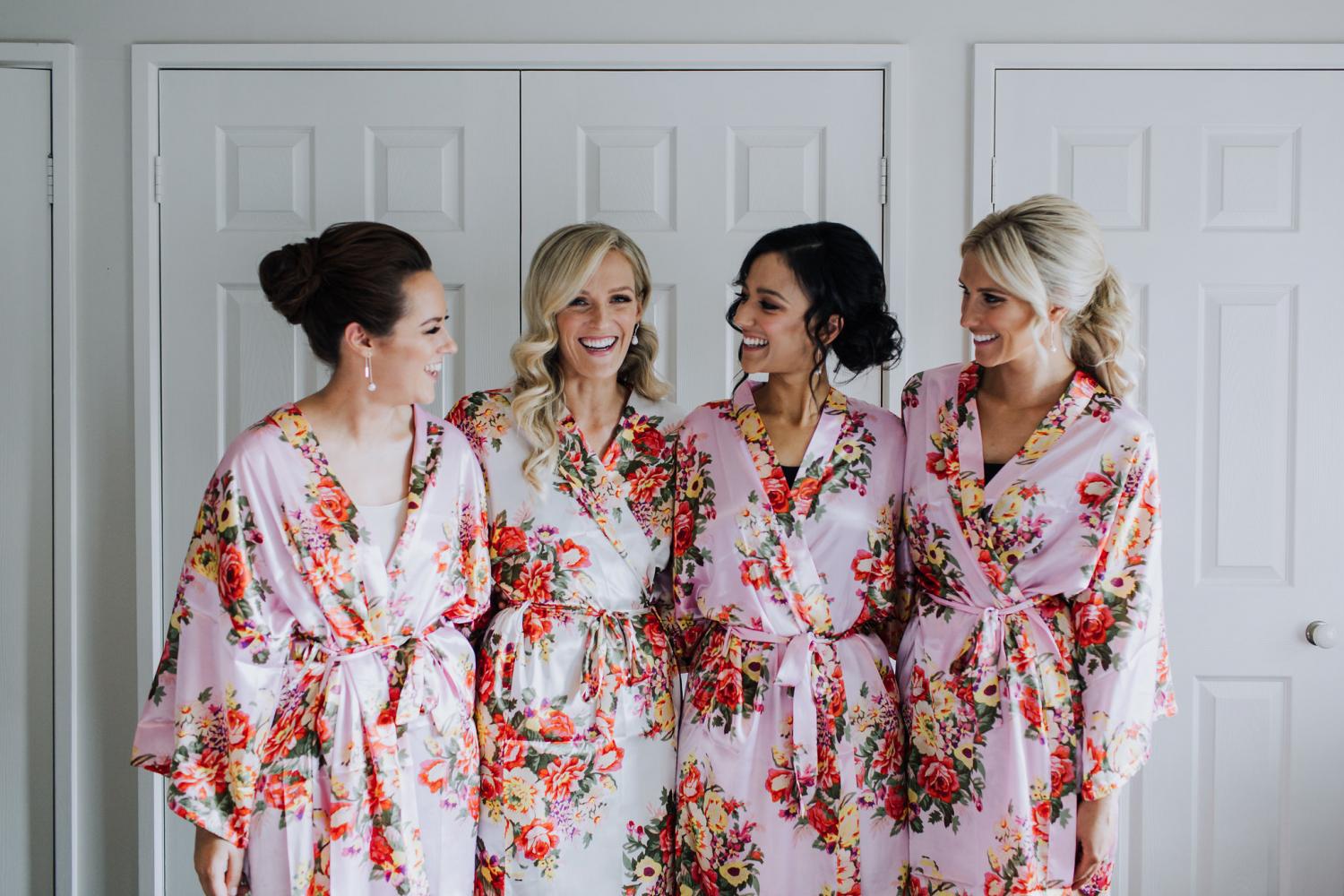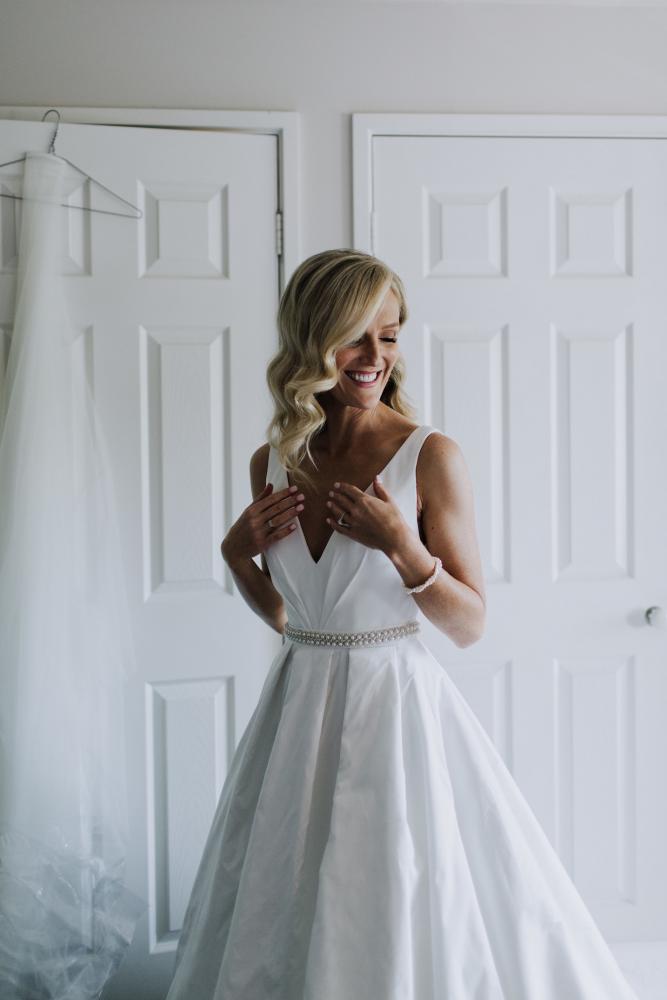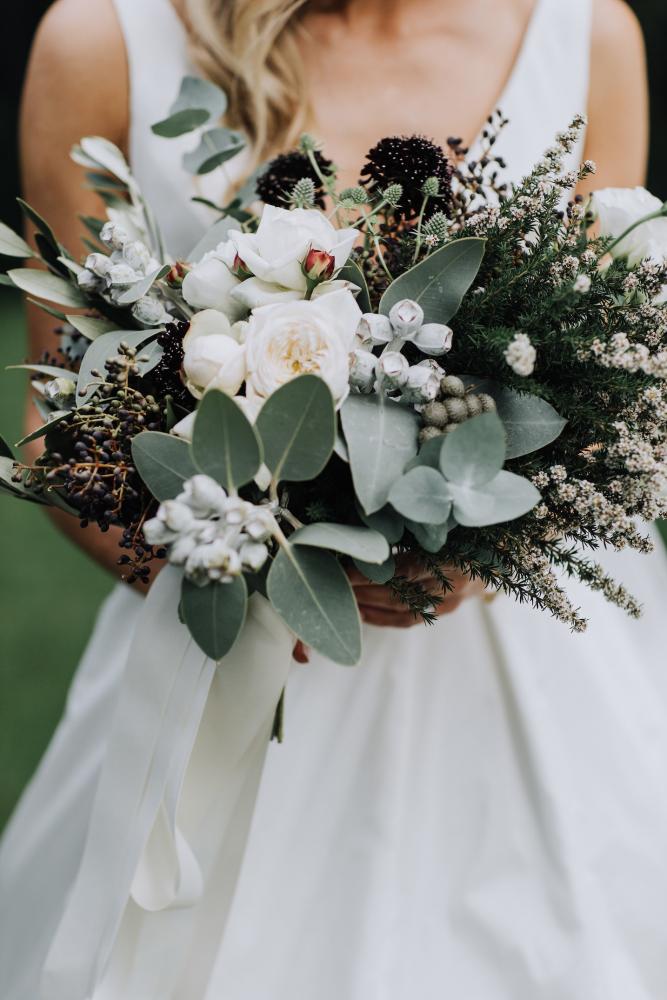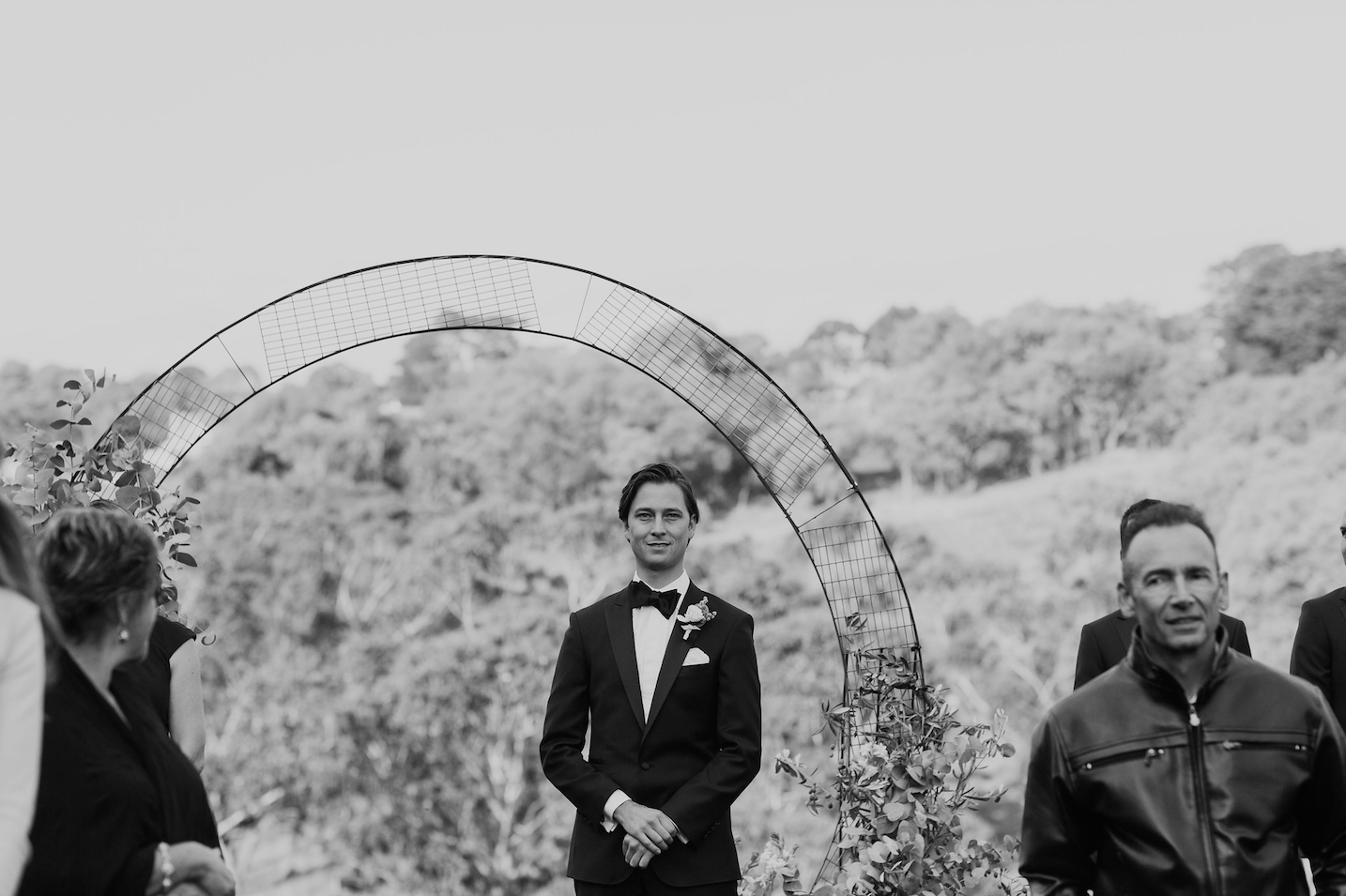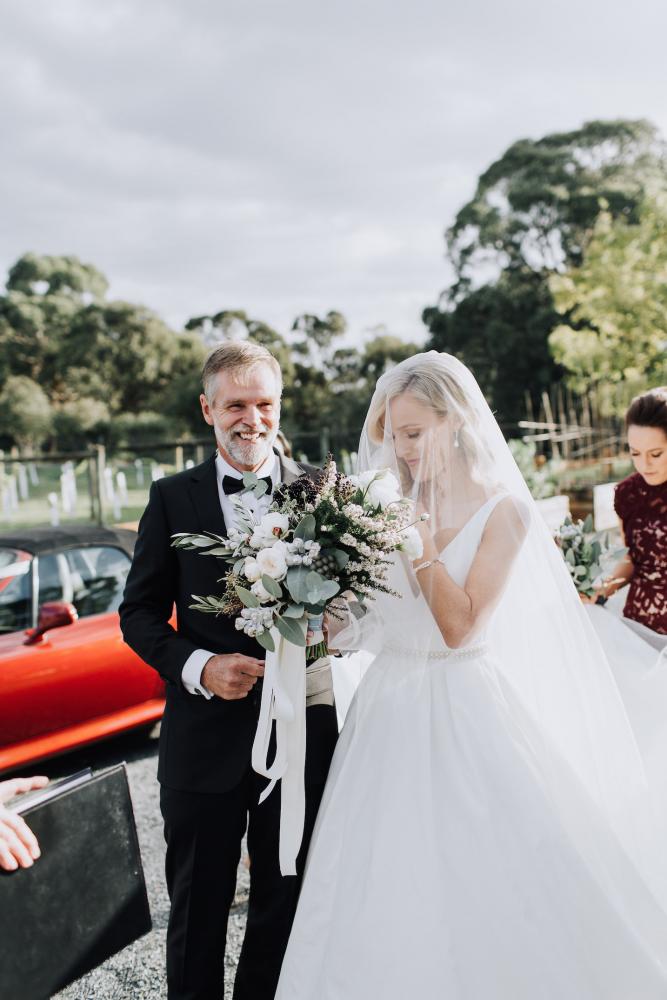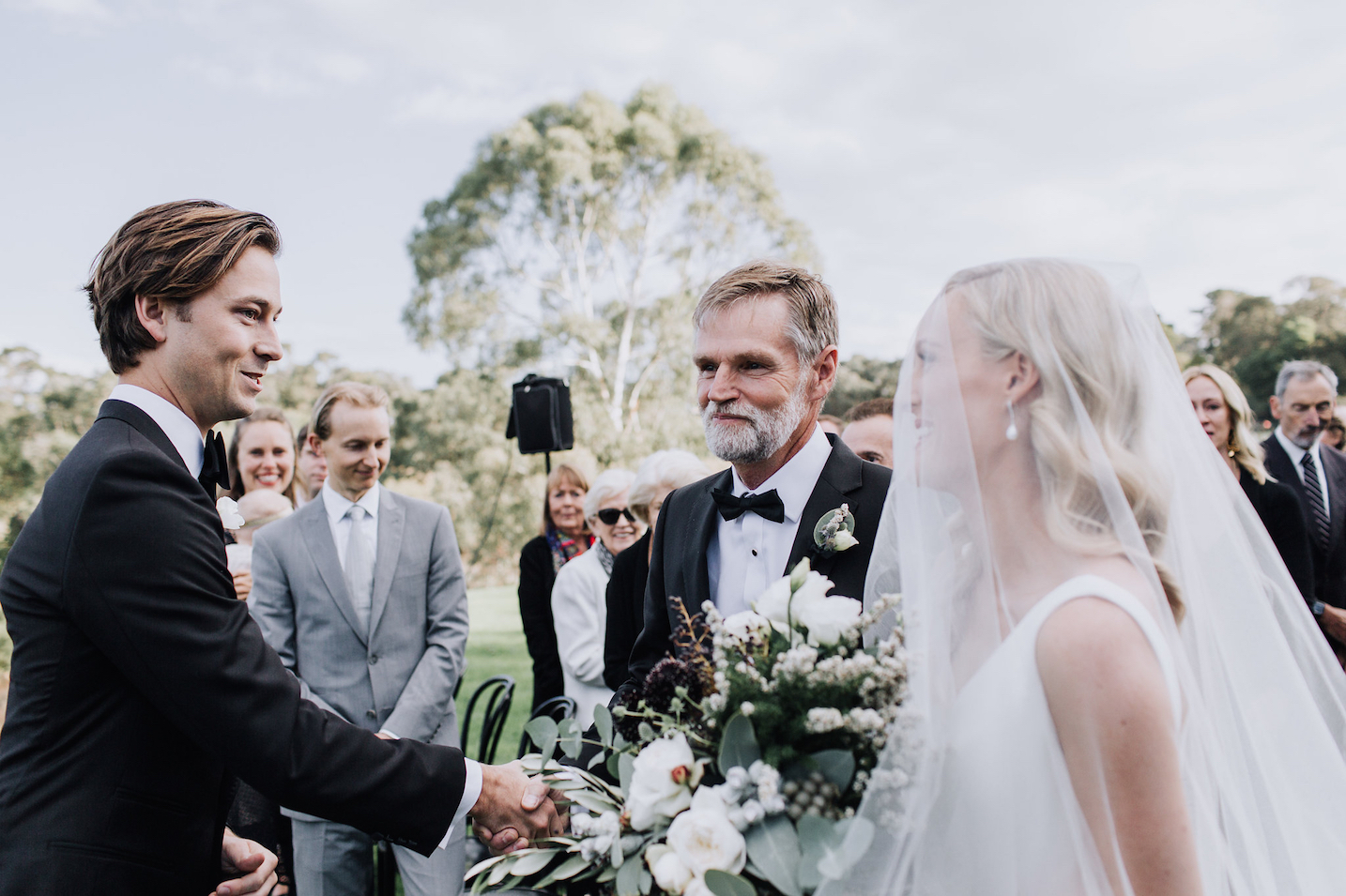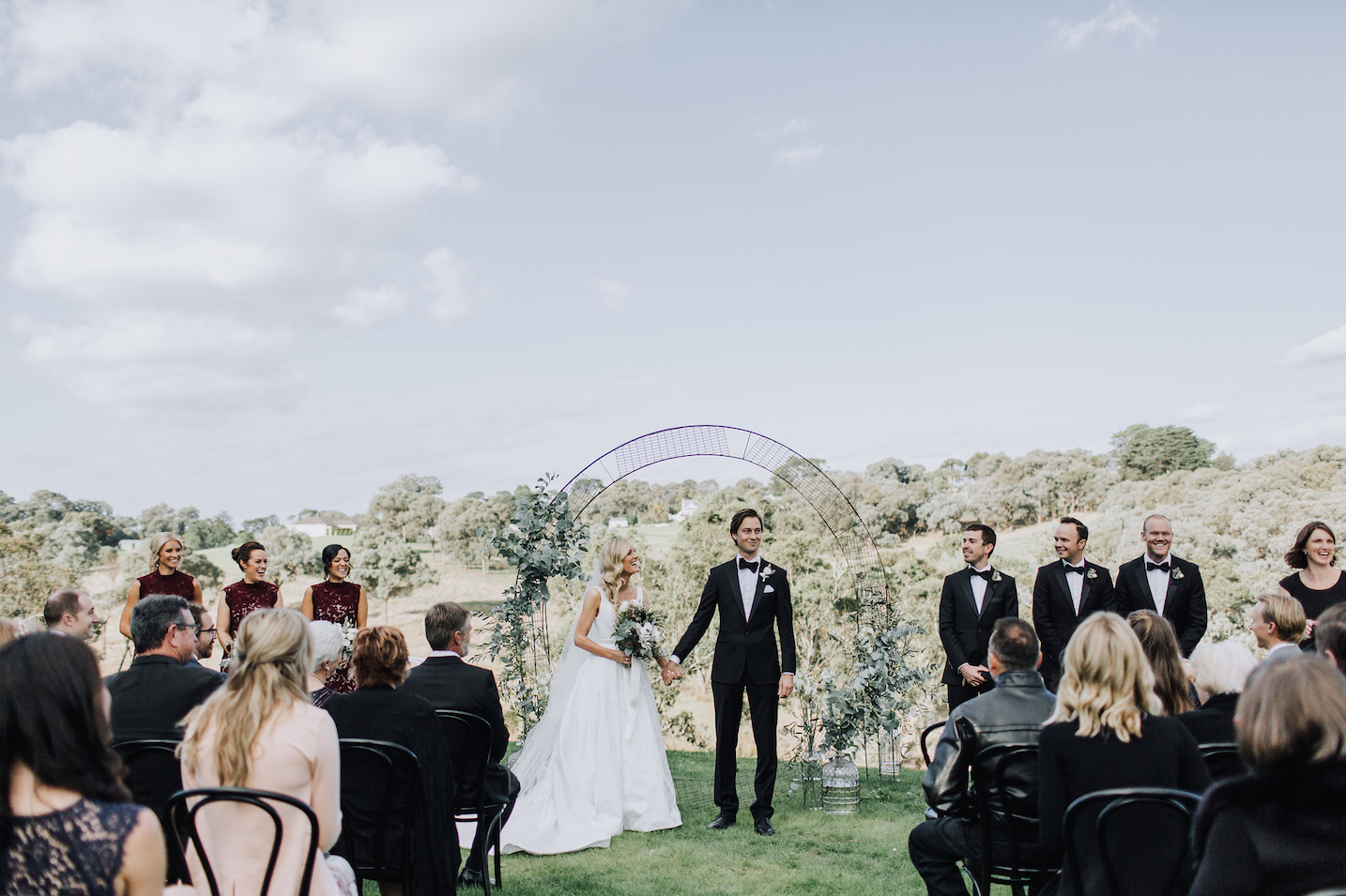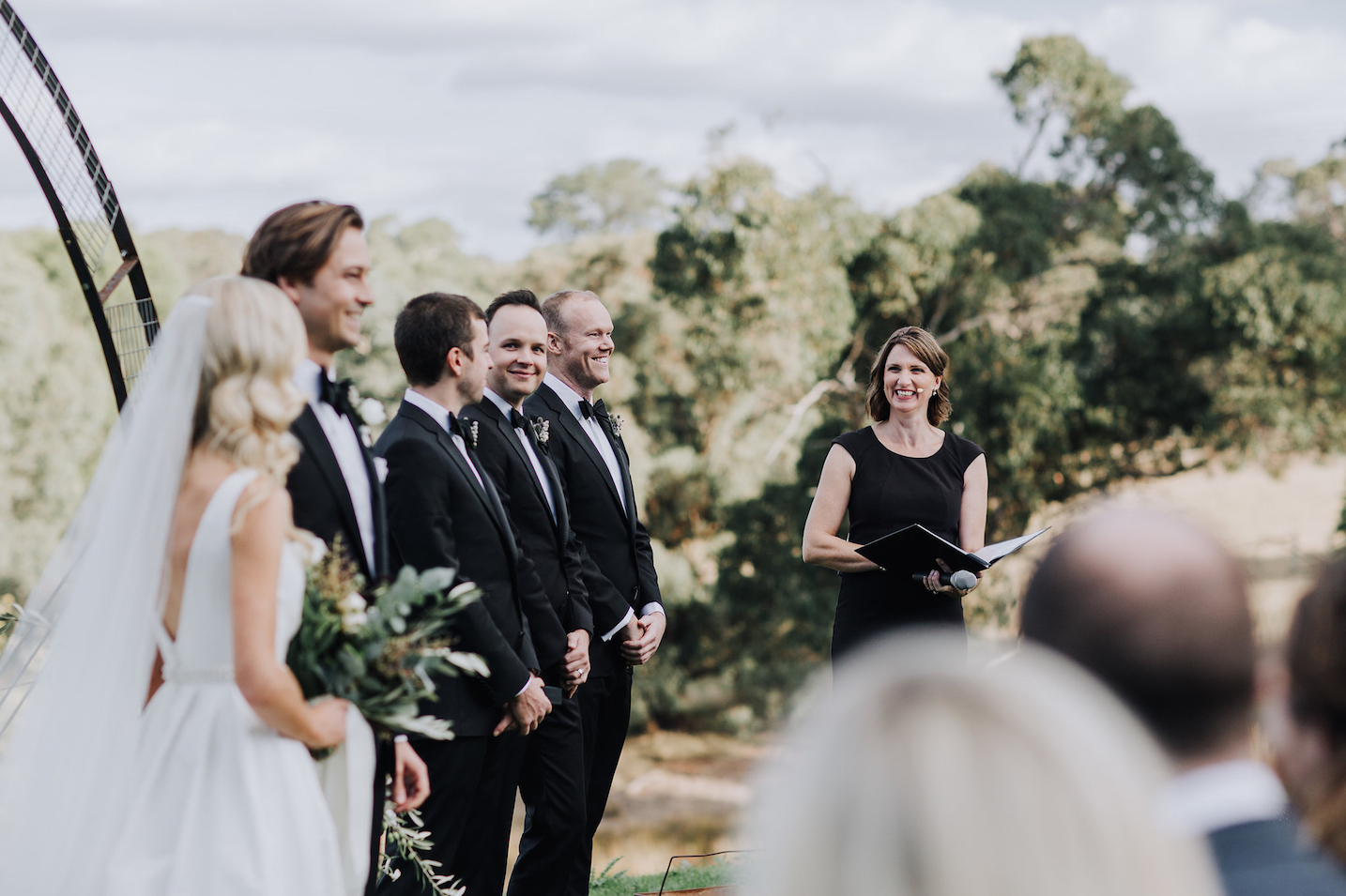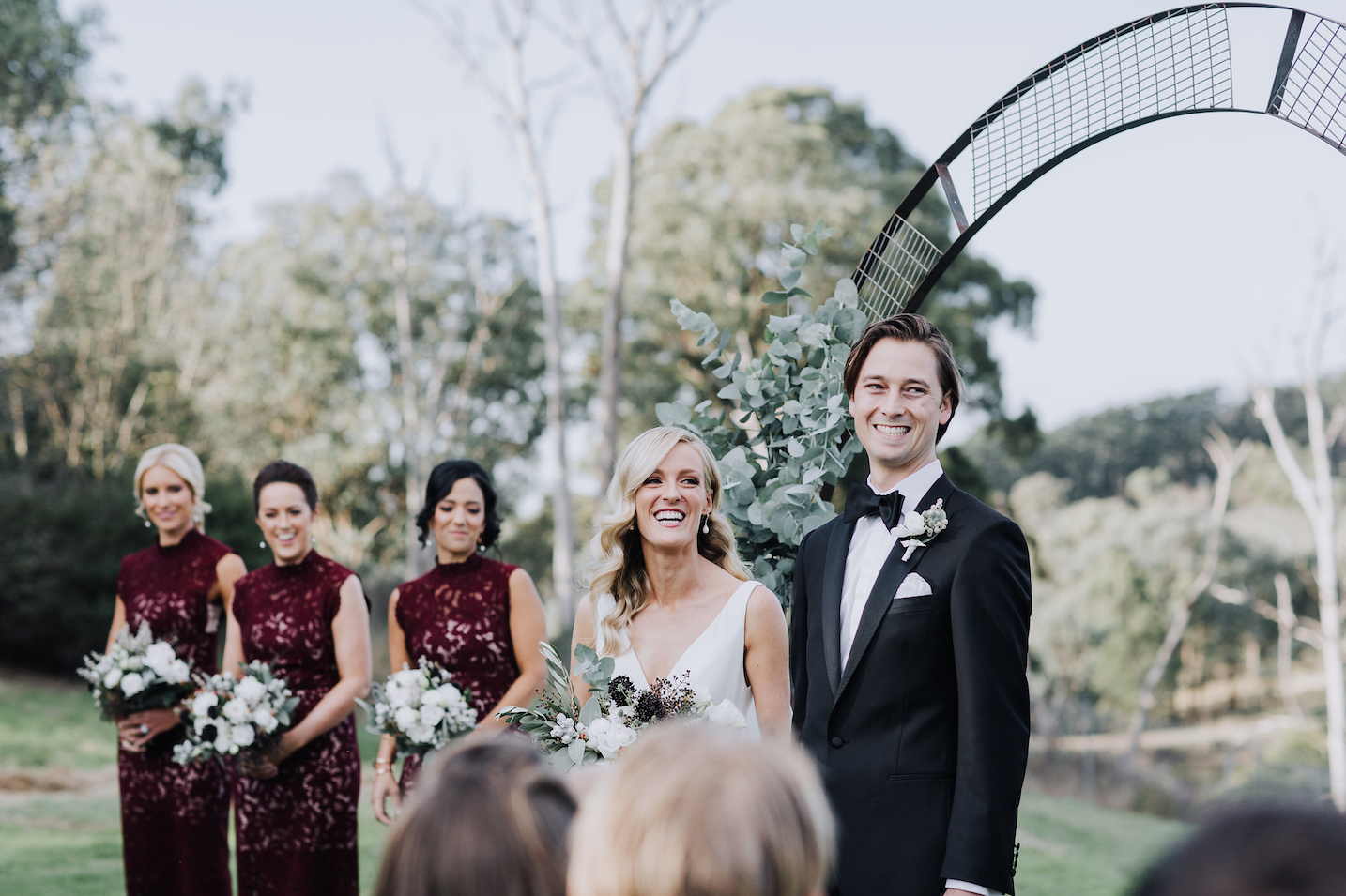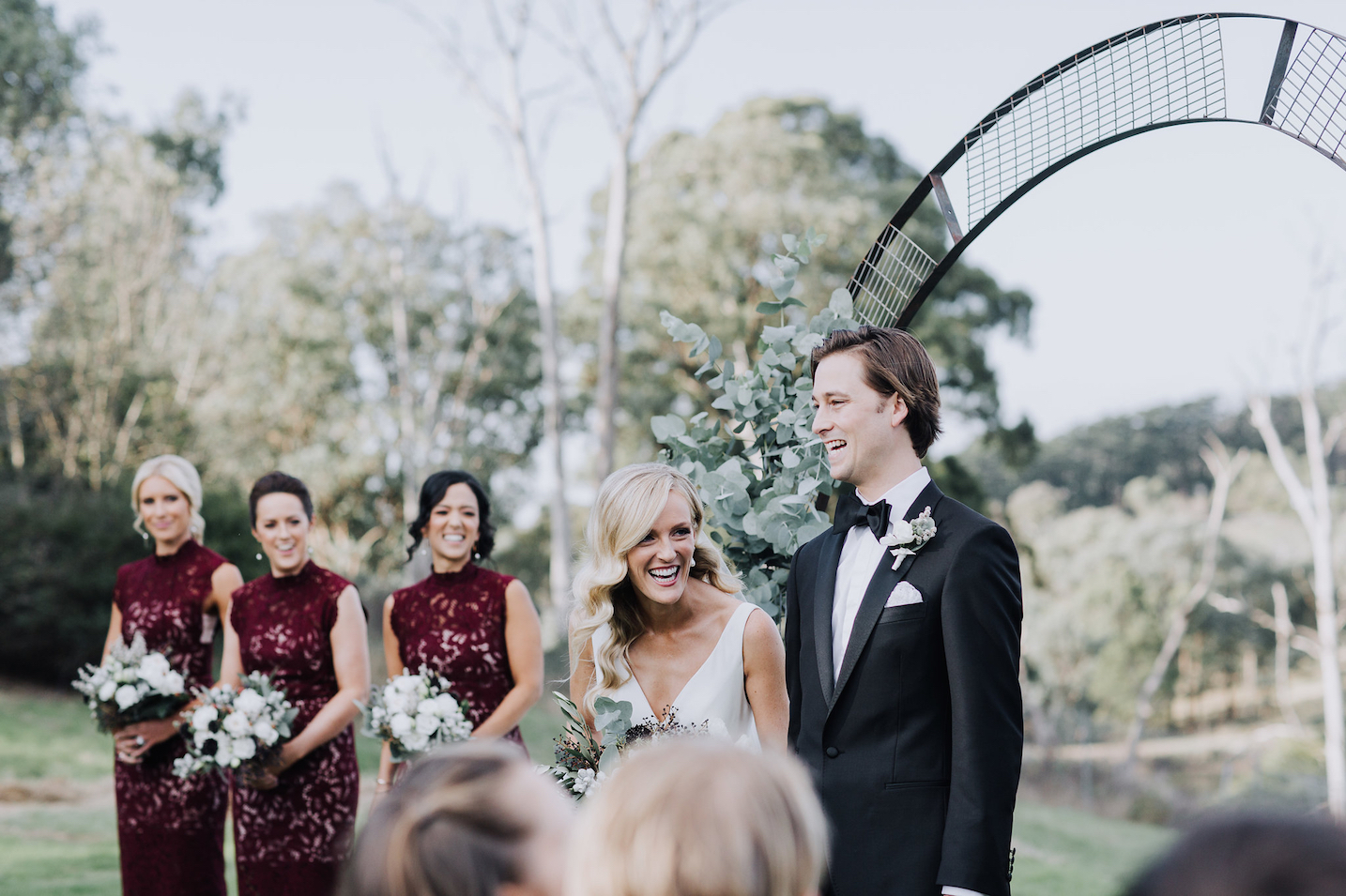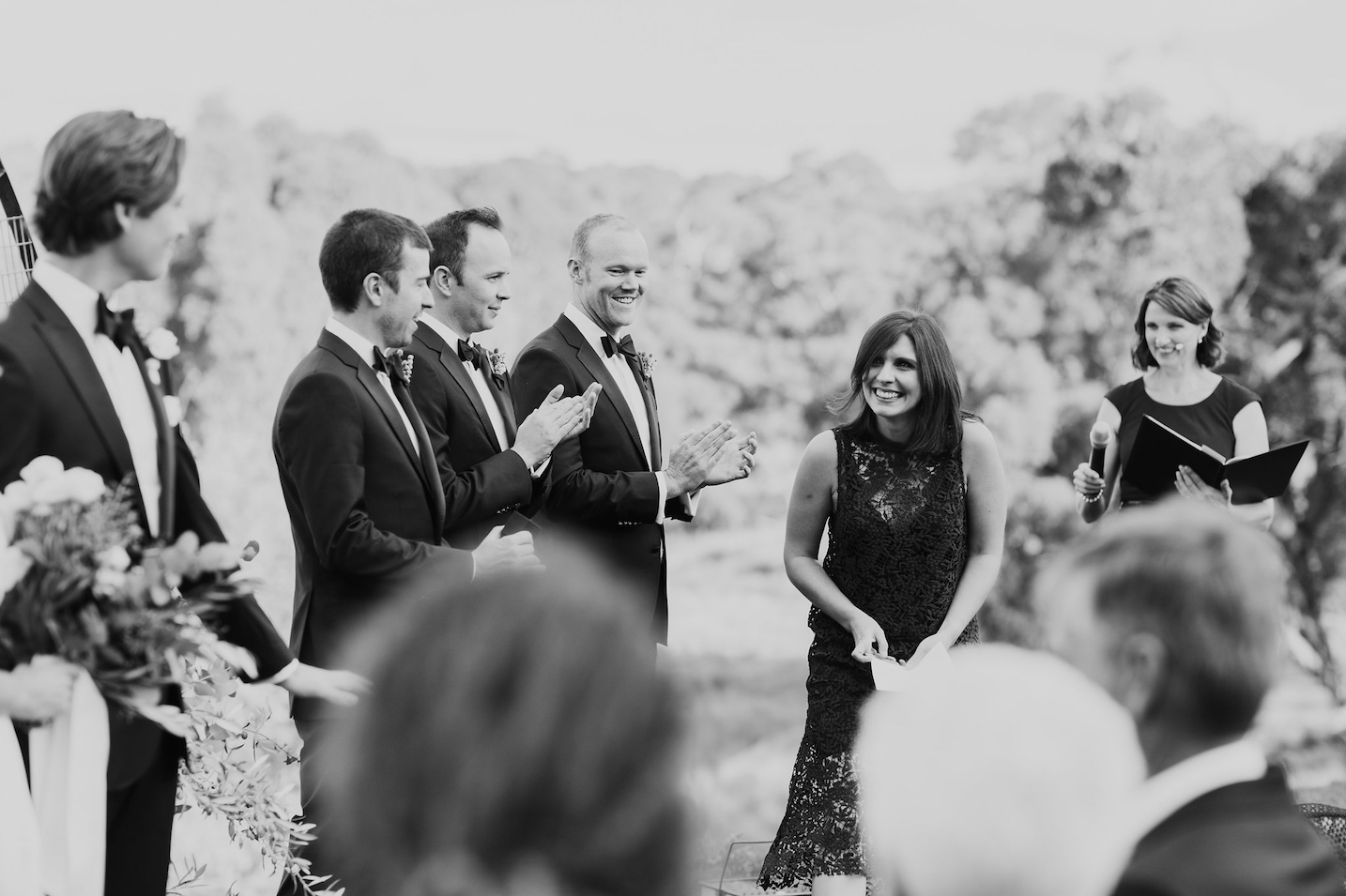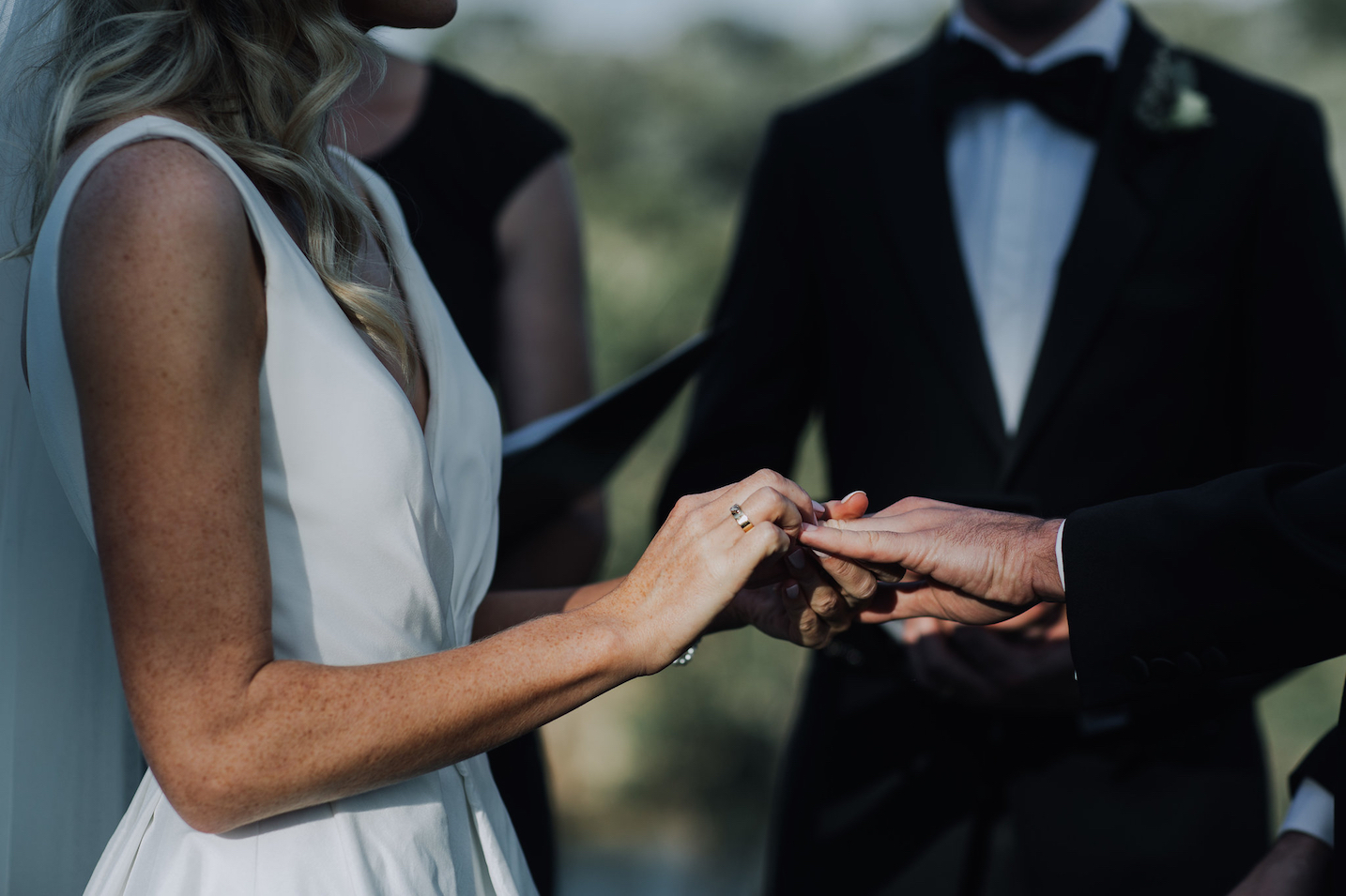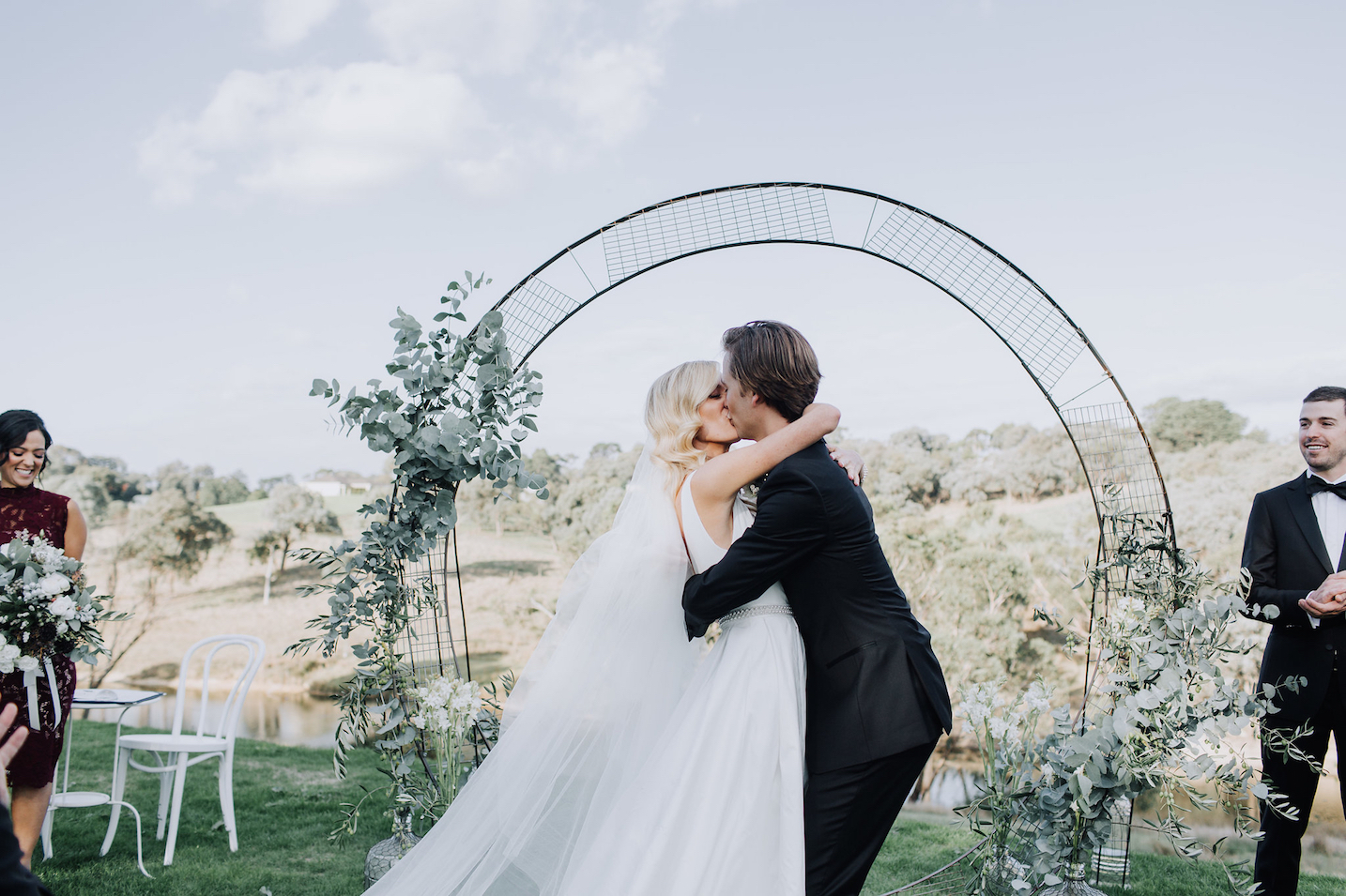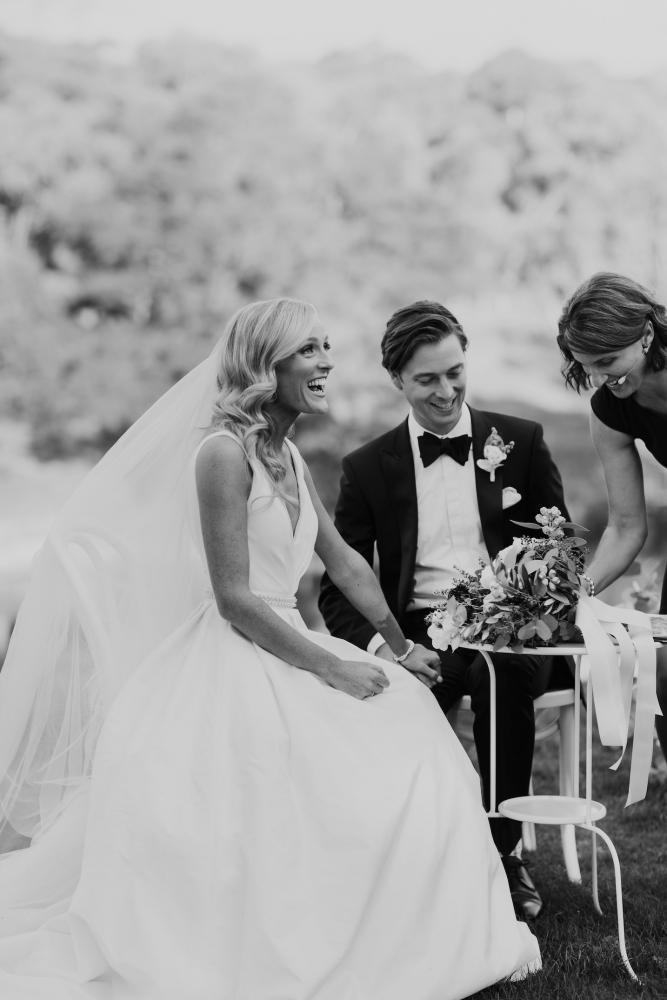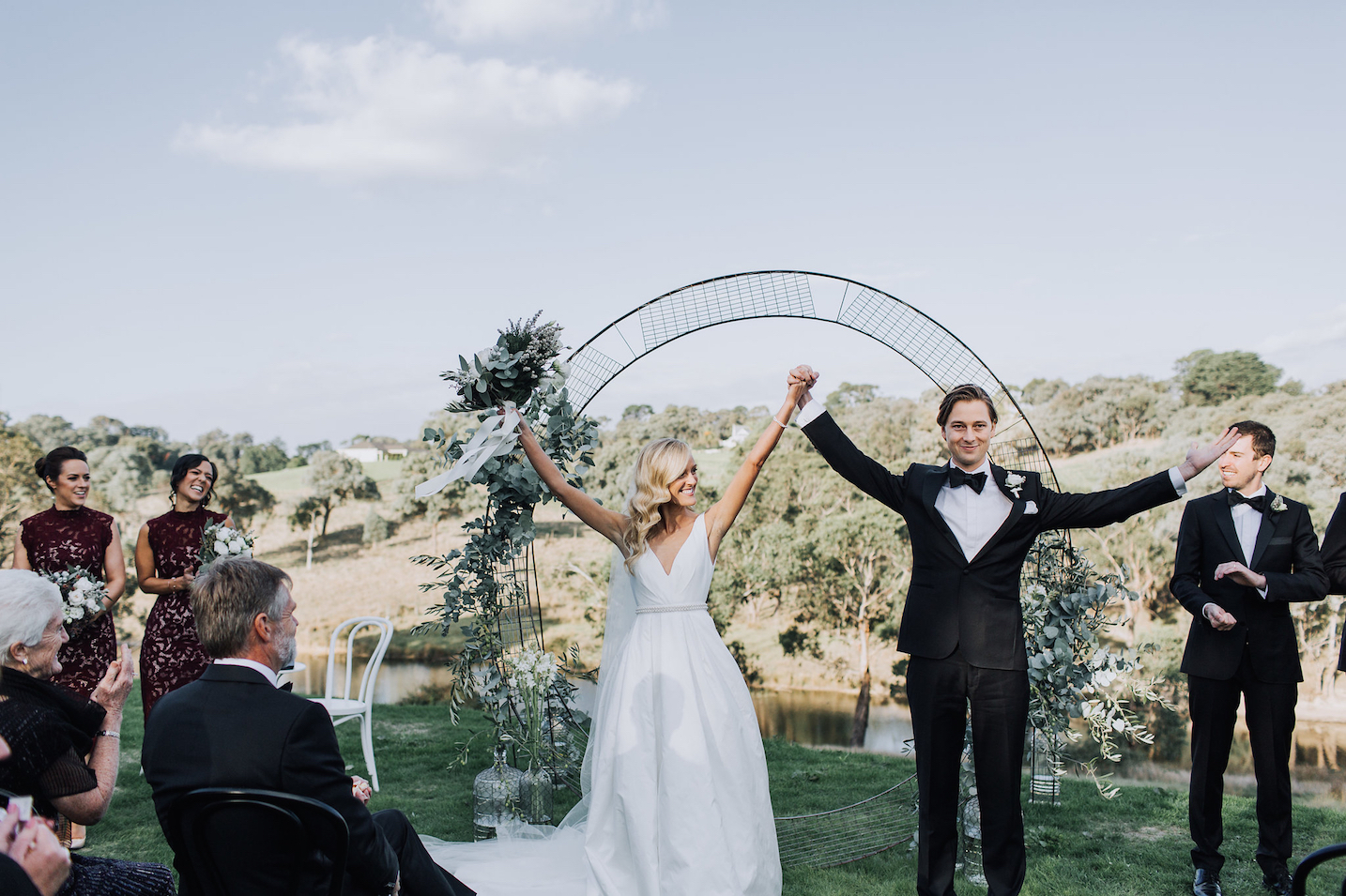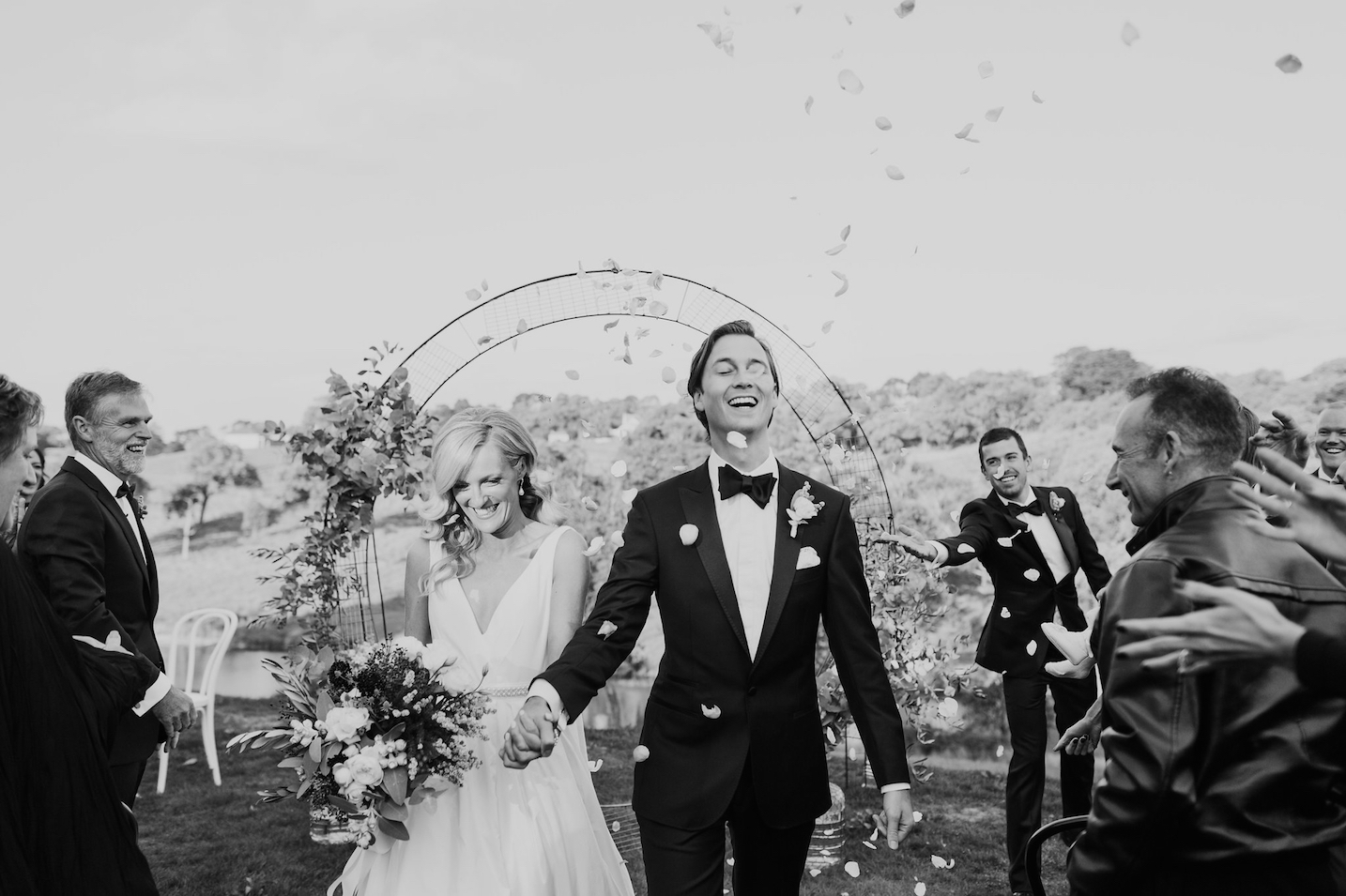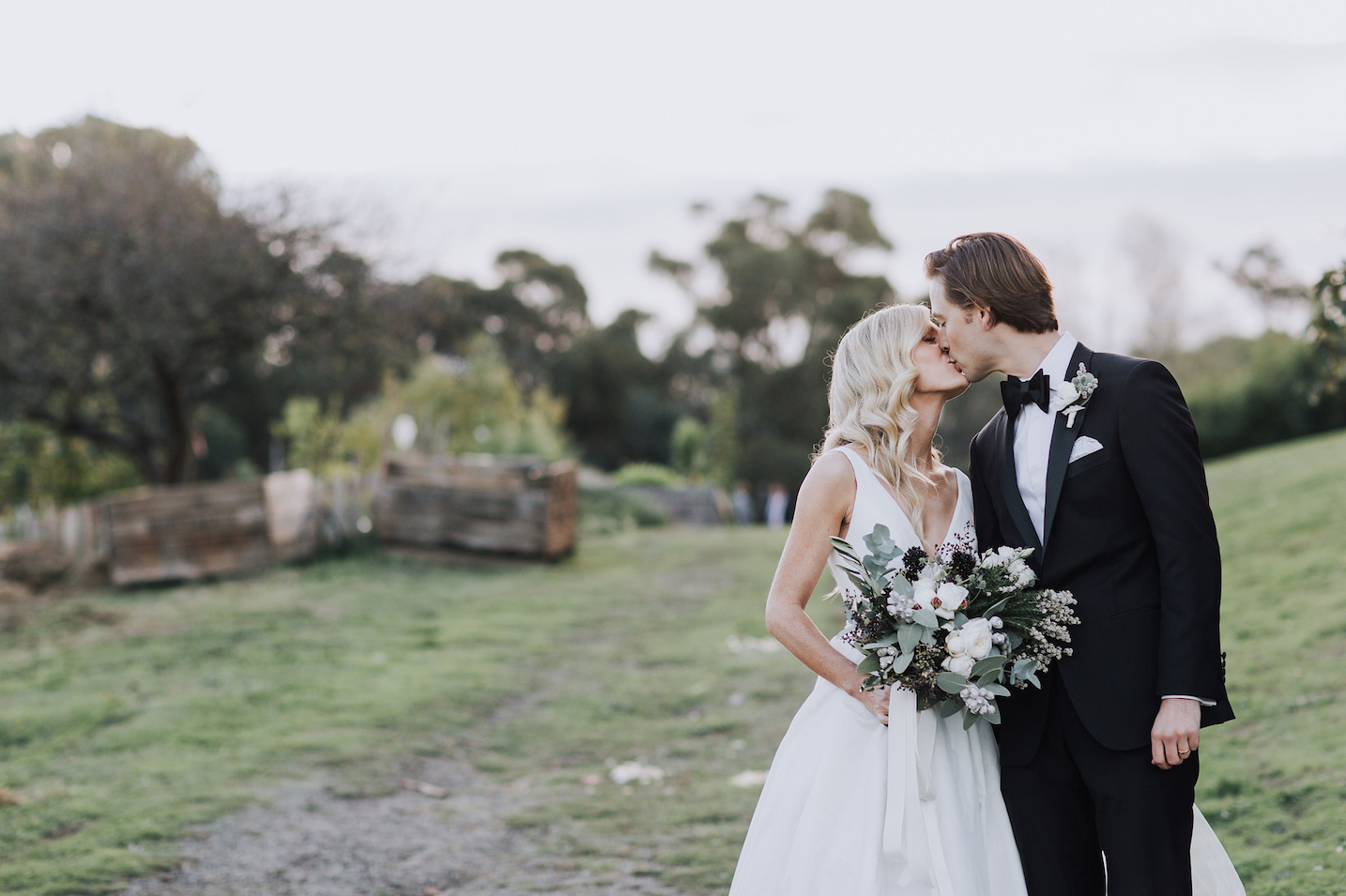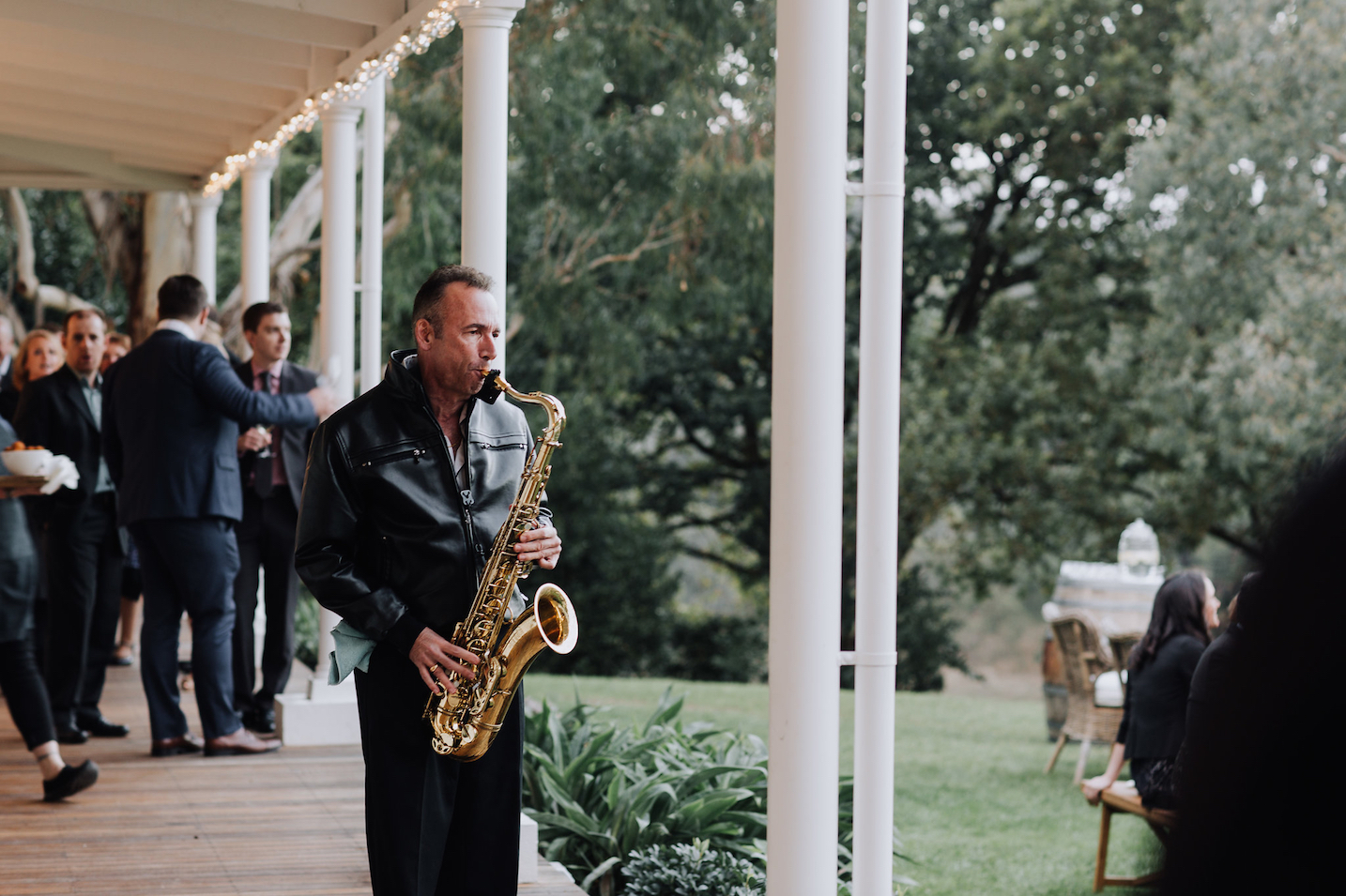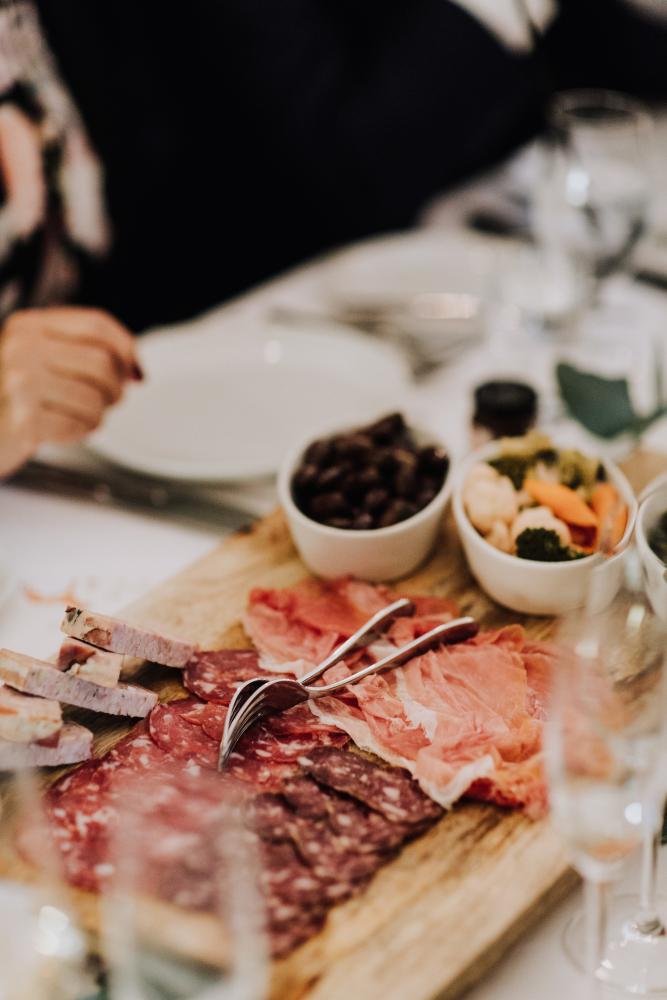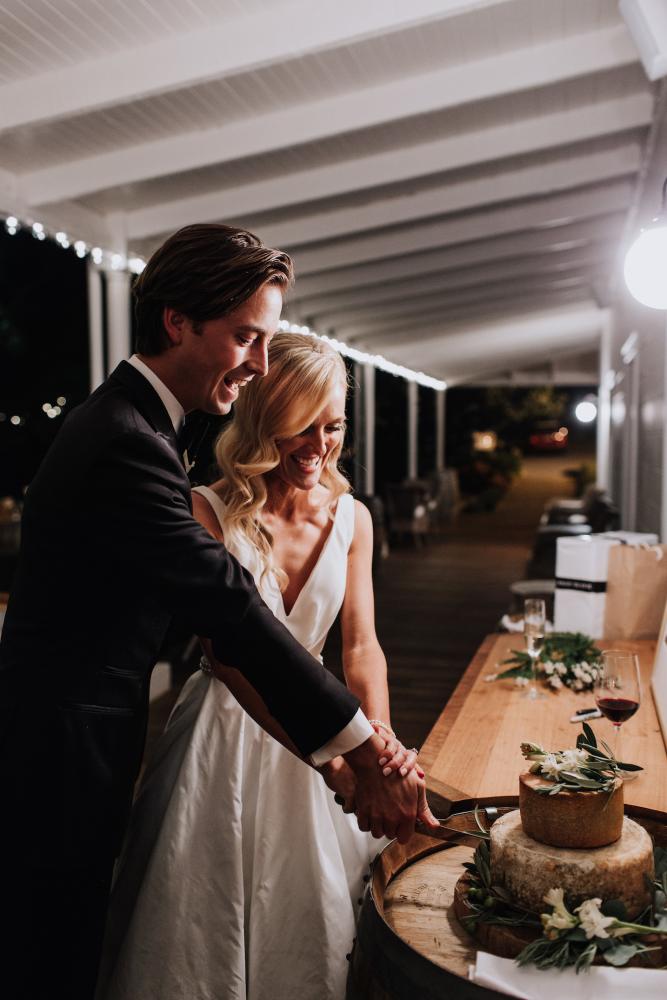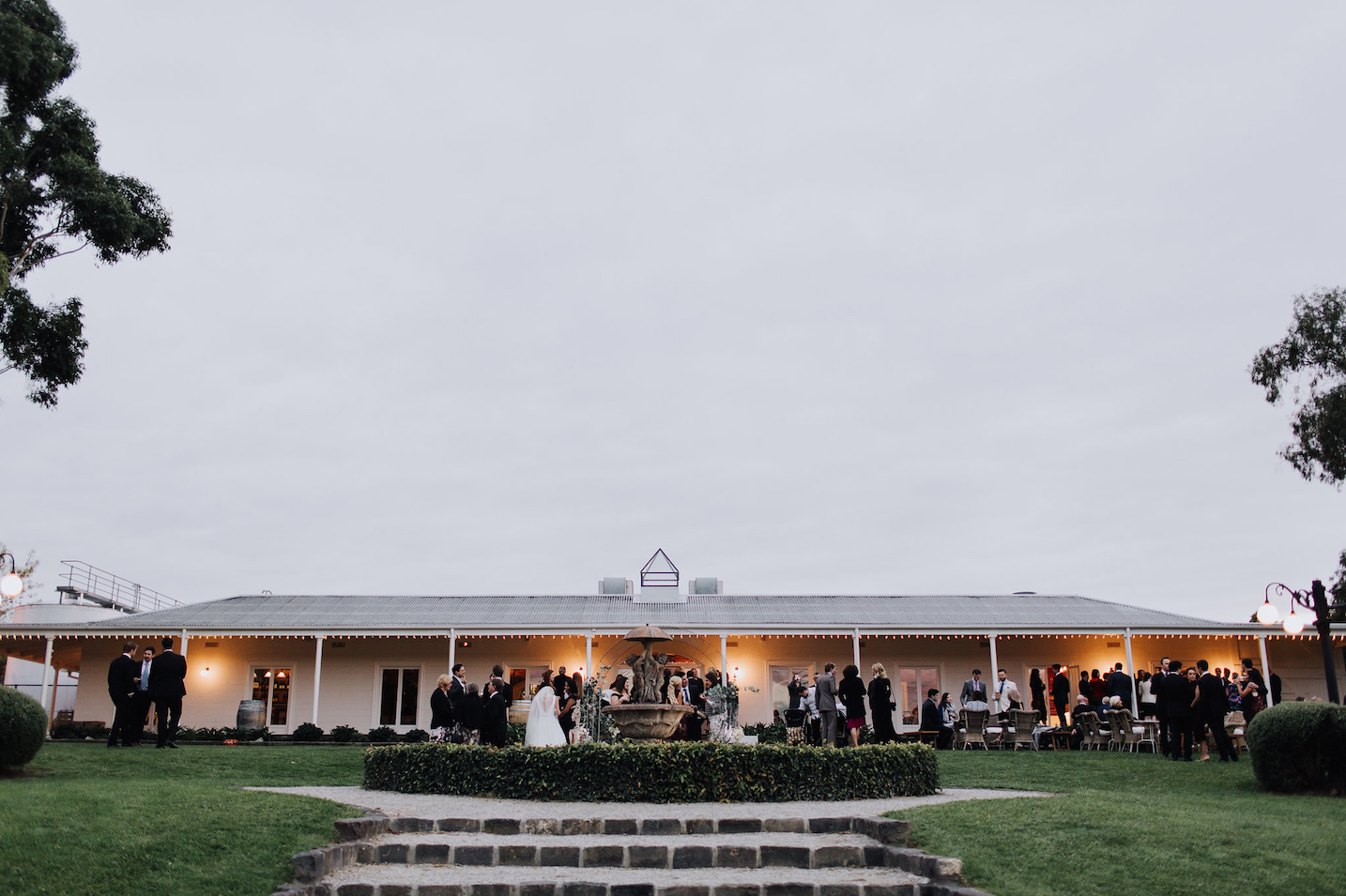 Ellen + Lachy | 15.04.2017
Photography: Anitra Wells
Ceremony & Reception Location: The Farm Yarra Valley
Celebrant: Meriki Comito 
Flowers + Ceremony Circle: Sassafras Flowers
Bridal Gown: Amaline Vitale
Cheese Wheel Cake: The Farm Yarra Valley
Best Outdoor Wedding Venues + Locations  →
← Rain on your Wedding Day – Do you have a Plan B? 
Kate + Lars' Chateau Doré Wedding
The Event
Kate + Lars decided on a peaceful french provincial inspired Chateau Doré Wedding to celebrate their love and their family.
As family & friends gathered from as far as Germany, Kate & Lars's ADORABLE baby boy Sebastian arrived dressed in the cutest traditional 'Lederhosen' to the absolute delight of person present!
Grateful for my mother's Austrian heritage, I was thrilled to be able to welcome Lars' family in their mother tongue as well as incorporate a few German phrases into the ceremony itself!
The Meeting
Kate and Lars' first meeting in Spain was one of those real 'sliding door' moments in life, when Kate stopped in Spain at the beginning of a 12 month world trip to join a Spanish language class, and met Lars a few days into her extended stay.
Kate thought Lars looked like a school boy swinging on the back of his chair in the Library, and Lars thought the same thing about Kate after spotting her strolling through the streets with her cute little backpack on! But when they were both invited to join a mutual friend for lunch, they hit it off immediately, and Kate cancelled her other travel plans to spend as much time in Spain with Lars as possible.
Six weeks later, Kate was obliged to continue on her world tour, but both she and Lars knew that their time together was so much more than just a summer romance, and Kate made arrangements to meet Lars on his home ground in Hamburg on December 12th 2009 – six years exactly before they married at the beautiful Chateau Doré in country Victoria.
The Vows
Kate said that she loved Lars's "genuine & pure love of life and that he sees the very best in every person he meets", and Lars said that Kate "makes everything you do, feel & experience together absolutely amazing".
After exchanging rings with a mixture of both German & English vows, Kate & Lars shared one of the most passionate first kisses that I have ever seen to the loudest of cheers!
The Photographer
One of my favourite industry pros, Alli Oughtred, was there to capture it all xx
Kate + Lars | 12.12.2015
Celebrant: Meriki Comito
Ceremony & Reception Location: Chateau Dore
Photography: Alli Oughtred Wedding Photography
Flowers: The Eternal Vase
Rain on your wedding day – Do you have a Plan B? →
← Ceremony Entrances – know your options! 
Julia & Craig's Pioneer Womens Memorial Wedding
Elegant, composed & simply beautiful, Julia waited at the top of the hill as I came to greet her before the start of her Pioneer Women's Memorial wedding. "Don't say anything nice to me or I'll start crying again!" she warned me, but as she made her way down the aisle to Regina Spektor's "Real Love", it was Craig's turn to shed a small silent tear as he saw his bride for the first time.
In the sun drenched courtyard of the Pioneer Womens Memorial gardens, Craig promised his "Boo" to share in her dreams and build a home filled with learning, laughter & light, after which Julia declared that she "will look with joy down the path of our tomorrows, knowing we will walk it together side by side, hand in hand and heart to heart."
A stylish drink station in a shady corner of the garden provided ample refreshment for guests as they celebrated with the happy newlyweds after the ceremony.
A big thank you to the fabulous Shaun Guest Photography for allowing me to share his images!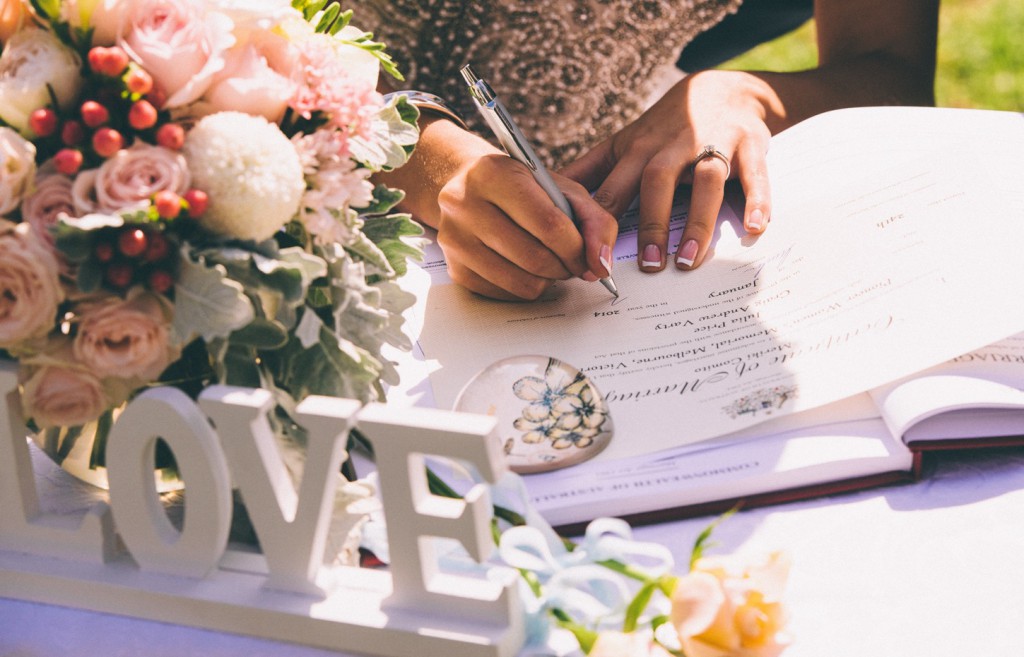 Julia & Craig | 24th January 2014
Celebrant: Meriki Comito
Venue: Pioneer Women's Memorial Garden
Photography: Shaun Guest Photography
Bridal Gown: Collette Dinnigan
Flowers: Zoe Webb