Wedding Vaccination Requirements
(Feature image of vaccine passport is a predicted sample only)
"Are you fully vaxxed?"
It's not a question you want to be asking family and friends when planning a wedding, but vaccination requirements are upon us and being vaccinated against COVID-19 will be essential for attendance on your big day.
Couples planning a larger scale wedding will need to take steps to ensure their guests and vendors are double vaccinated, otherwise they will not be able to hold their wedding indoors and their number of guests will have to be reduced to a maximum of 10, (plus celebrant and one photographer).
I am a fully vaccinated authorised worker and under government directives, will be obligated to request proof of vaccination to ensure that all marrying couples, their witnesses, and any attendees whether vendors or guests, are also fully vaccinated on the wedding day, unless a medical exemption applies.
See information regarding reasons for a valid medical exemption 
Information and advice relating to compliance obligations in Victoria have not been released at this time, so, as usual, we will need to wait for, and abide by Health Department advice at the time of the event.
However, it has been suggested that once the rules do come into effect, the responsibility for policing vaccination will be placed on individuals, as well as registered businesses.
Whilst official advice relating to compliance obligations in Victoria have not been released at this time, the Victorian Government have confirmed that a valid form of evidence of vaccination, or medical exemption, in the form of digital certification will be required to permit attendance to your wedding or event.
Please click here for information on how to obtain your COVID-19 digital certificate

I would highly recommend that you advise any guests/vendors with a medical exemption to ensure they follow the correct steps to obtain a valid exemption by an authorised official.
Please click here for information on how to obtain a valid exemption
Approaching the question of wedding vaccination requirements with your loved ones can be incredibly daunting as it's such a sensitive and politically charged topic right now, but it's better to have the conversation before everyone turns up on the day of your event, to avoid any arguments.
Wedding etiquette experts even suggest including an extra box to tick on your RSVP cards to assist with confirming vaccination statuses along with attendances and dietary requirements!
If you're struggling to find the right words on how to approach the topic, this article might help!
How to ask Family + Friends if they're Vaccinated
For more information regarding mandatory vaccinations, please visit the following link.
COVID-19 Mandatory Vaccination Directions
You might also like to view my Covid Safe Weddings page for information on how I implement COVID safe wedding practices on your wedding day.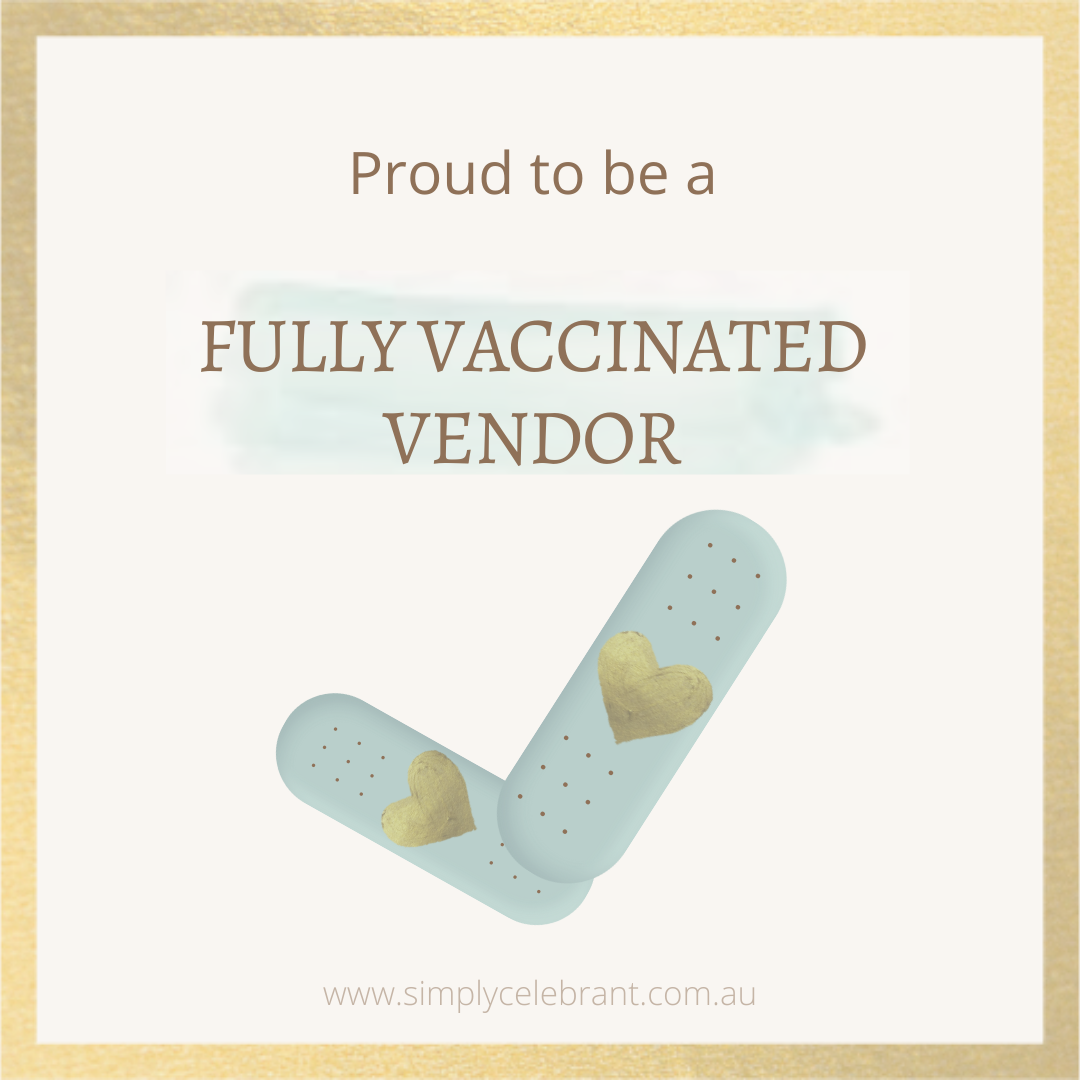 Sarah + Tristan's Stones of The Yarra Valley Wedding
The Event
Sarah and Tristan chose to celebrate their 10 year relationship by saying 'I do' during a beautiful Stones of the Yarra Valley Summer wedding.
It was a true celebration of young love that had developed into a deeper connection over time and led two gorgeous souls to declare a lifetime of love and commitment to one another.
Sarah had her gorgeous sister as maid of honour by her side and it was heartwarmingly clear how close the two of them were as they shared such a special day together.
Sarah's spectacular entrance to the Stones chapel in a stunning off the shoulder, mermaid gown with cathedral length veil, was received with smiles, gasps of appreciation and tears of joy.
Their ceremony reflected on the 10 years they had already spent together, as well as their hopes and dreams for the future, before some beautiful vows and a first kiss as husband + wife gave us all the feels.
A famous Stones petal toss kicked off celebrations immediately after, before guests enjoyed drinks in the dairy whilst the newlyweds took some time to enjoy the just married vibe with a sunset portrait session.
The Meeting
First meeting just after high school at a house party, Sarah and Tristan were two of the last few people to leave and were involved in an intense game of Nintendo Wii.
Tristan thought Sarah was the most stunning woman he had ever seen, and Sarah was completely drawn towards Tristan's kind and gentle nature.
Being around one another was effortless right from the start, as though they had already known each other for years, and they felt an instant connection.
The Proposal
Tristan loved how loyal, caring and incredibly loving Sarah was, and that every moment spent with her made his day better, so deciding to celebrate 9 wonderful years together with a holiday in Fiji, Tristan secretly packed a beautiful ring in his carry bag before they left.
Sarah loved how unbelievably selfless Tristan was, always going out of his way to help those he cares about, and always putting her first, so when he bent to one knee during a day trip to a private island and asked her to marry him, she didn't hesitate.
The Vows
Sarah vowed to "always love and support you through whatever life may bring us…I give you my hand, my heart, and my love, from this day forward for as long as we both shall live."
Tristan promised to "share in your dreams and support you as you strive to achieve your goals….you are my best friend, my soul mate, and I will love and respect you always."
The Party
After some stunning sunset portraits within the grounds at Stones, Sarah and Tristan chose the celebrate their marriage in the Barn, styled to perfection by Table Art Event Hire, the team at Stones, and with the spectacular floral artistry of Sugar Bee Flowers.
Guests enjoyed music and entertainment supplied by Rutherford Entertainment and cake by Miss Ladybird Cakes, before a spectacular sparkler exit signaled the end of a perfect day.
The Photography + Videography Team
A huge thanks to the superstar team that is Theodore & Co and C2 Films for capturing every moment so beautifully and for allowing me to share their work. What an honour it is to work with these ladies + gentlemen!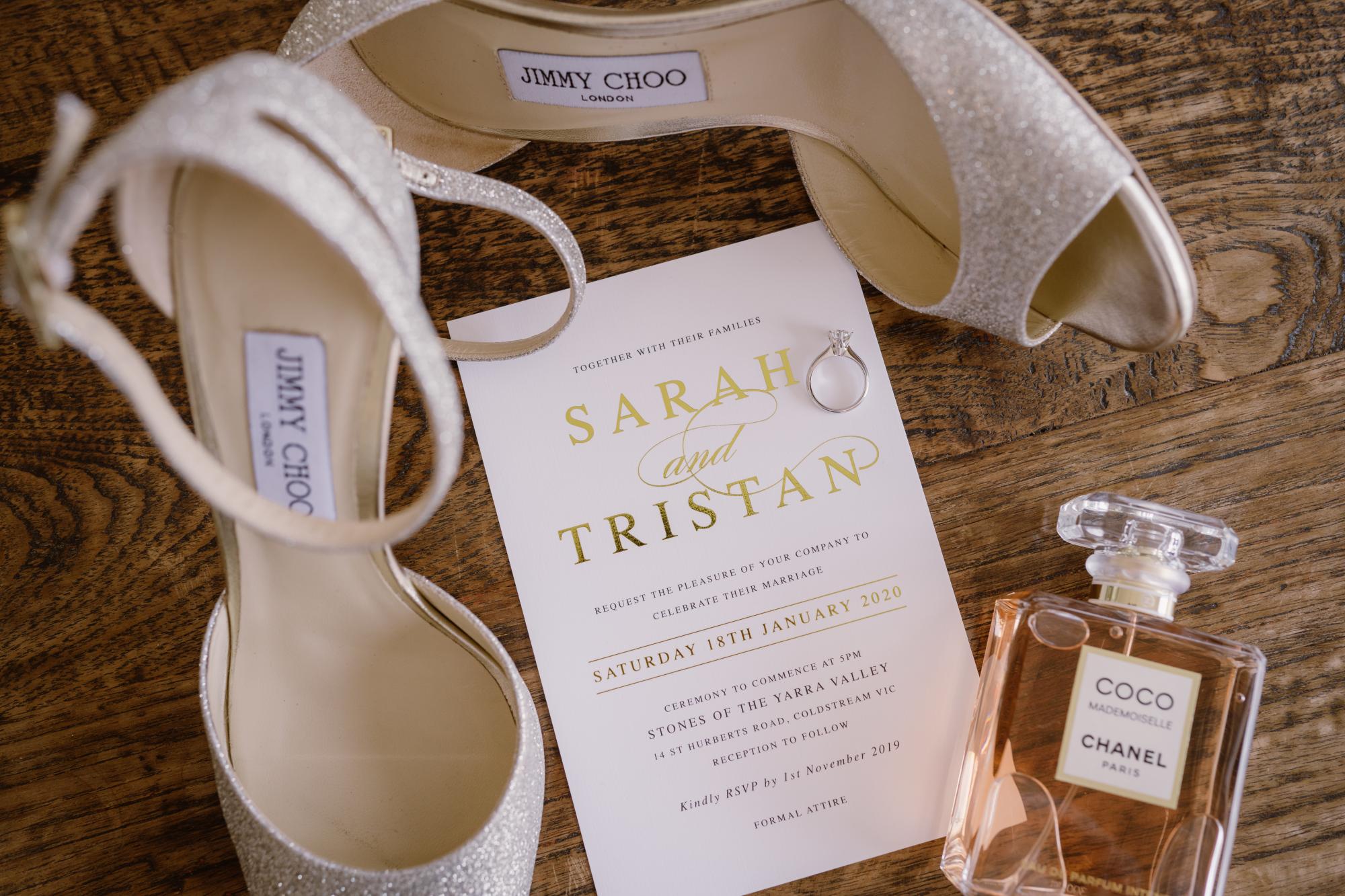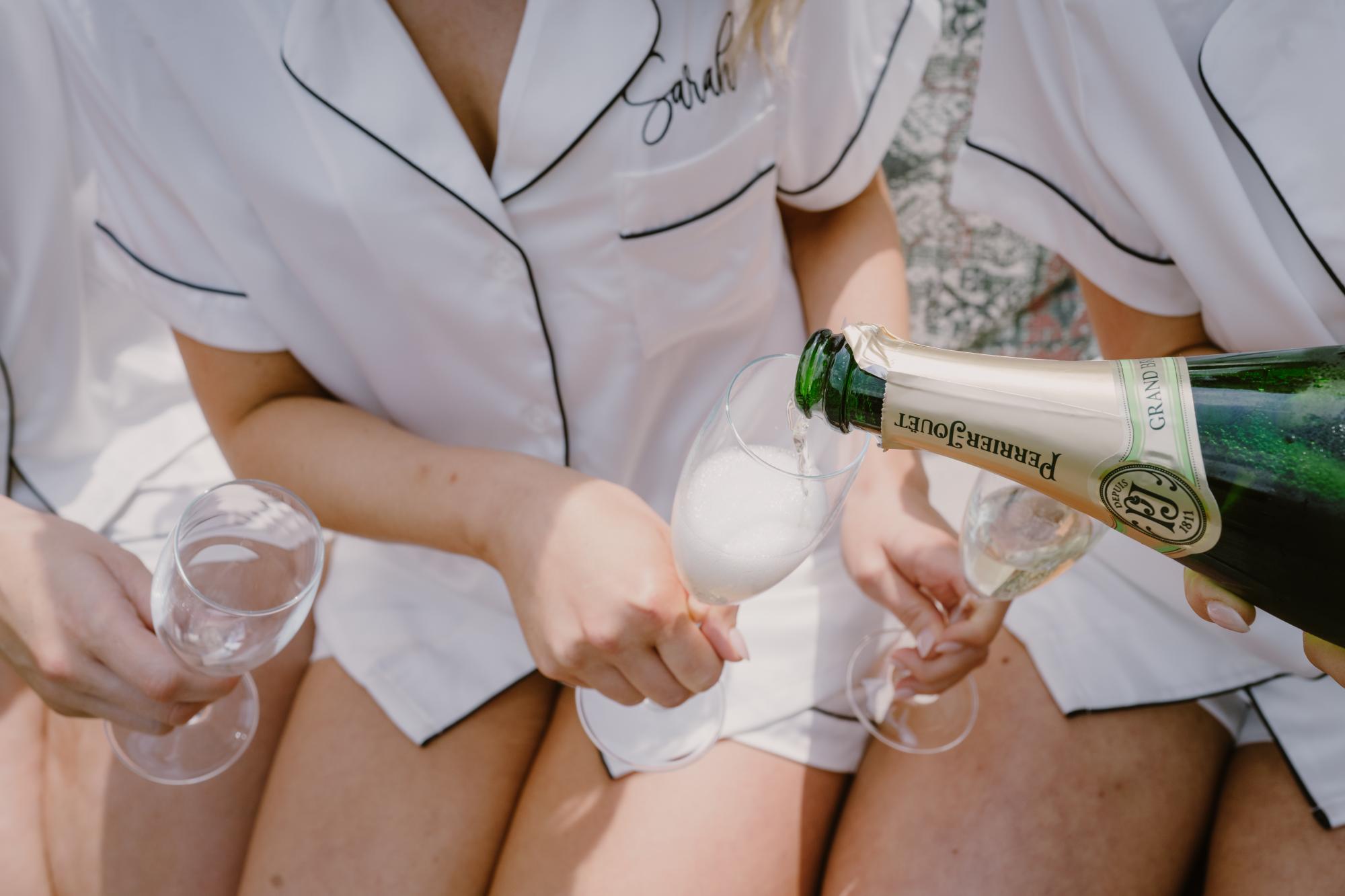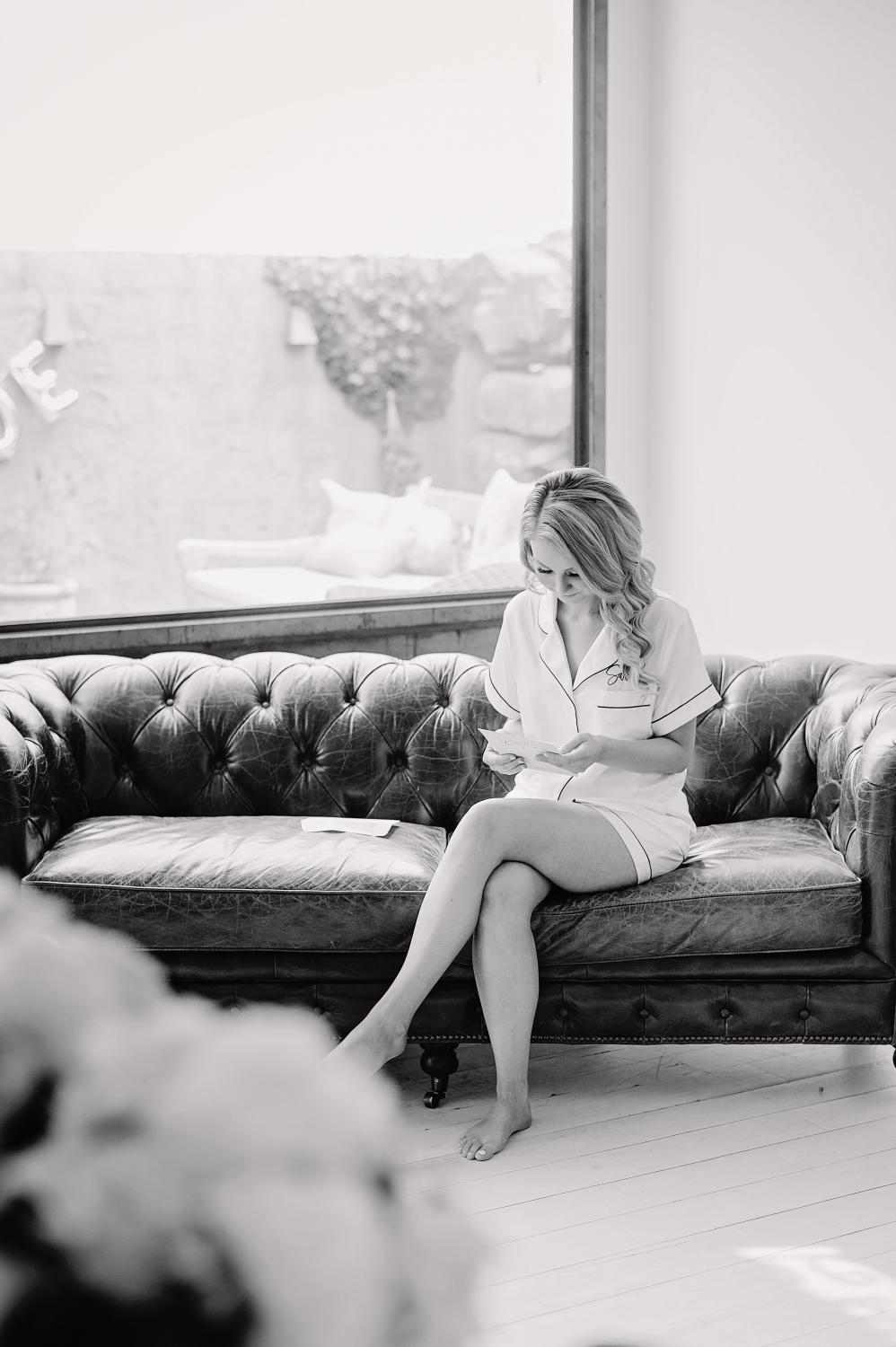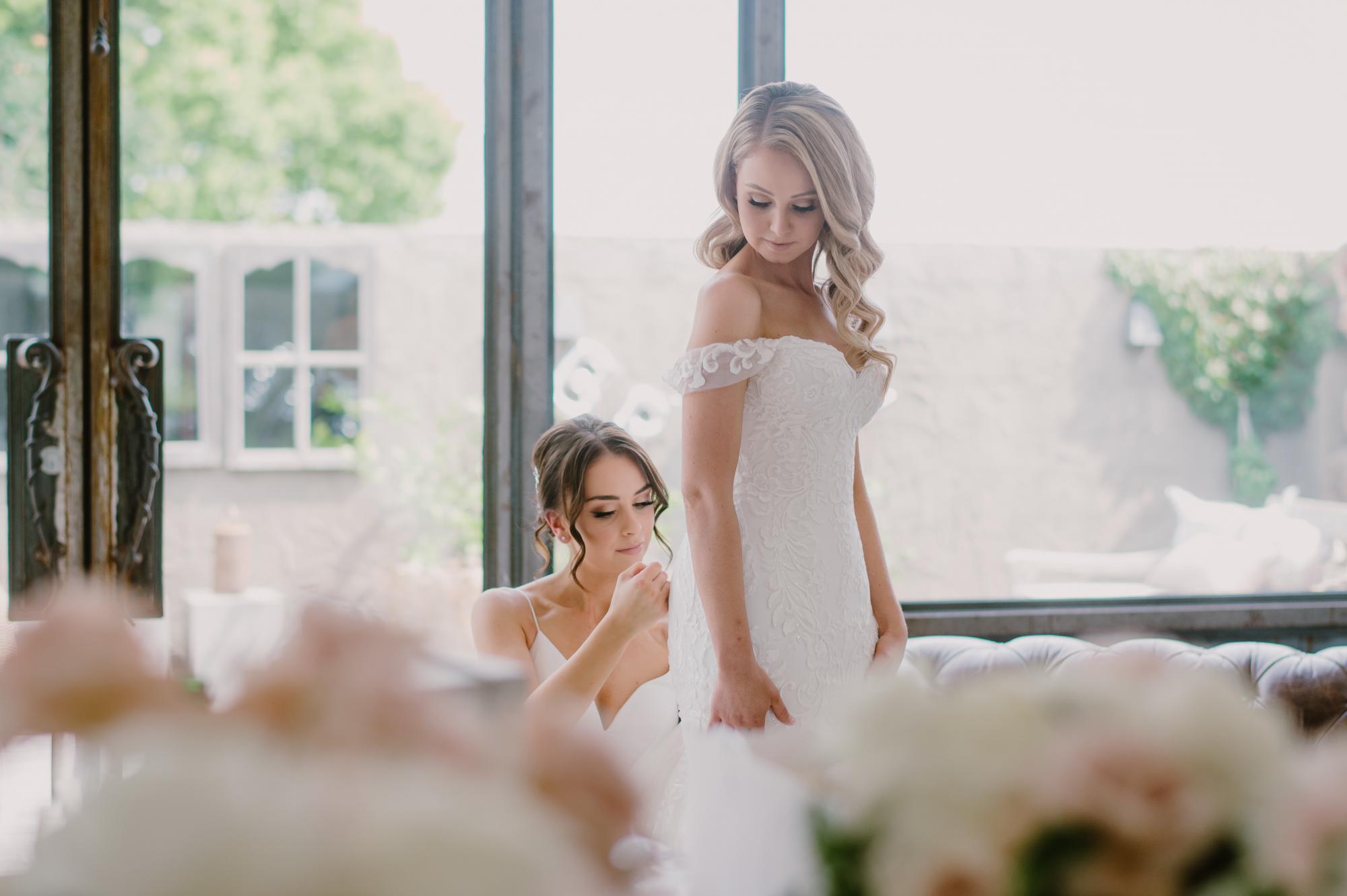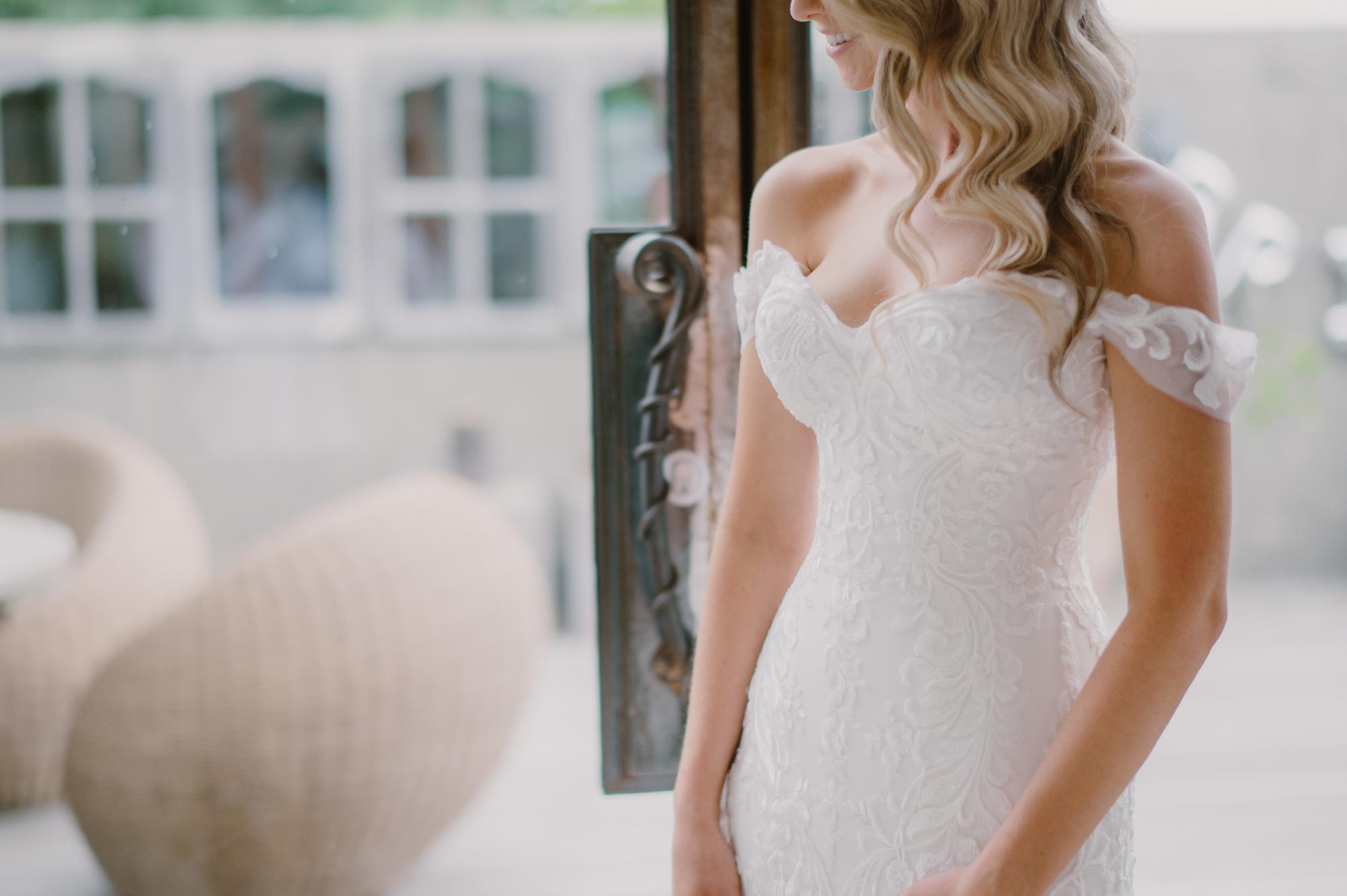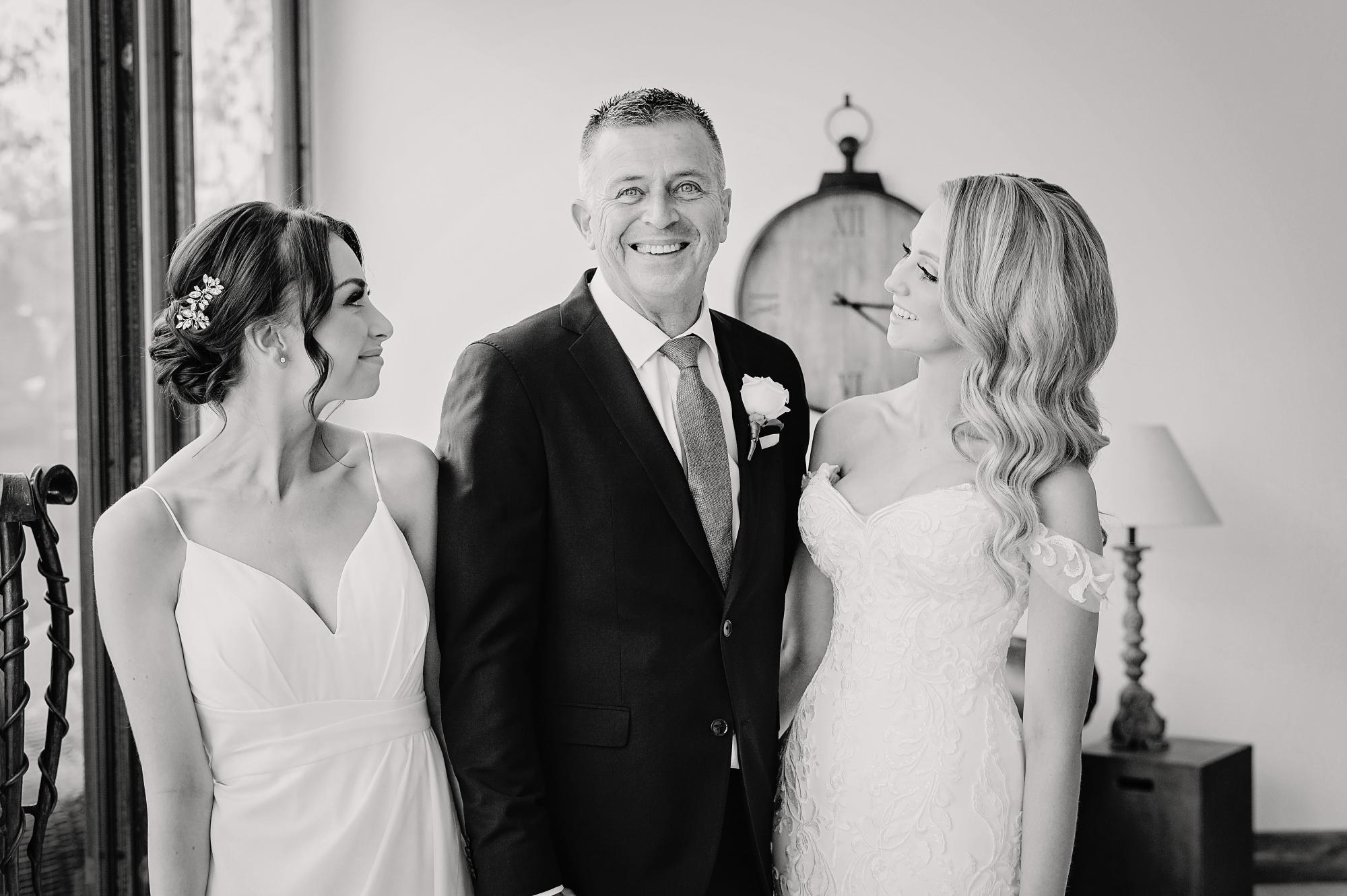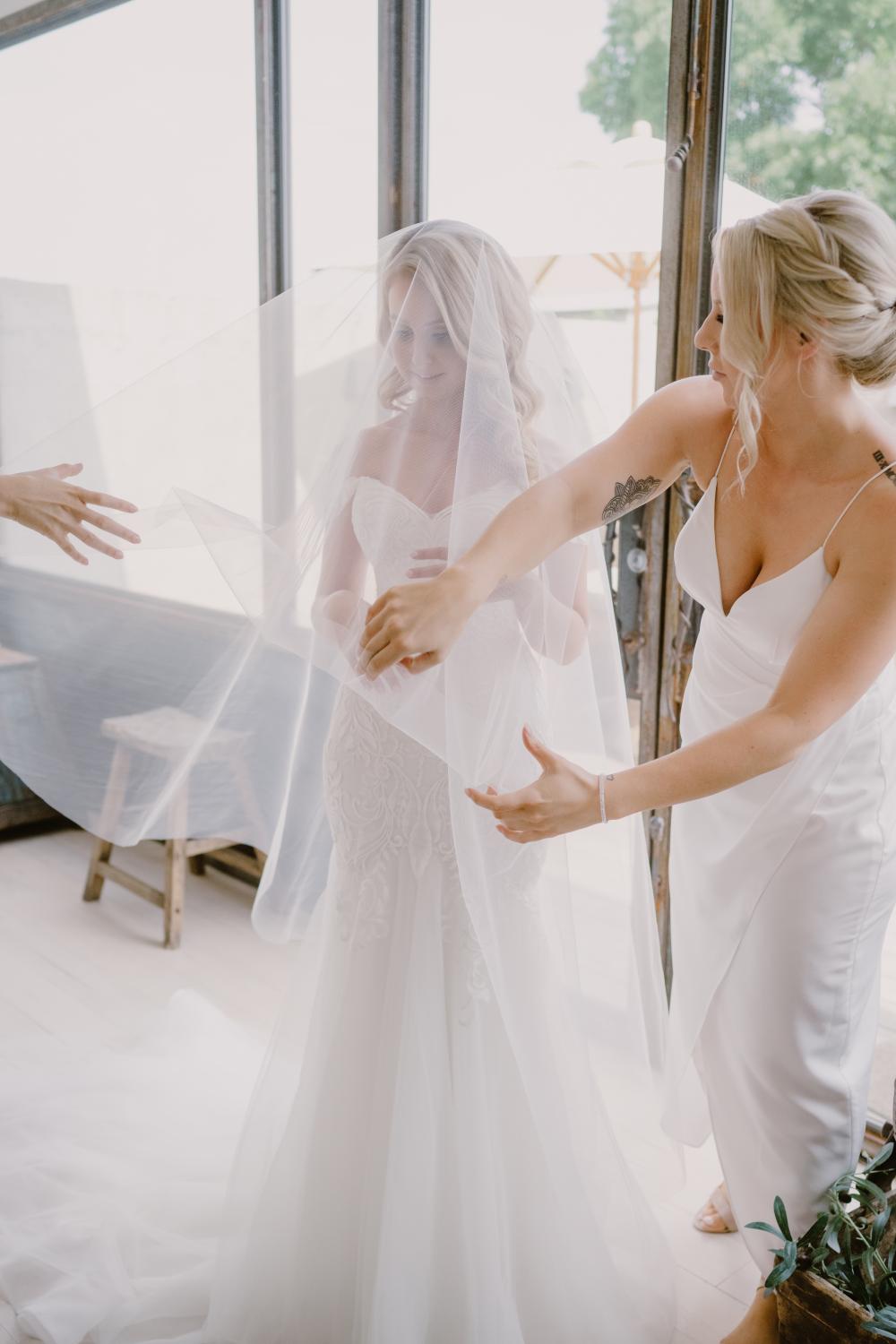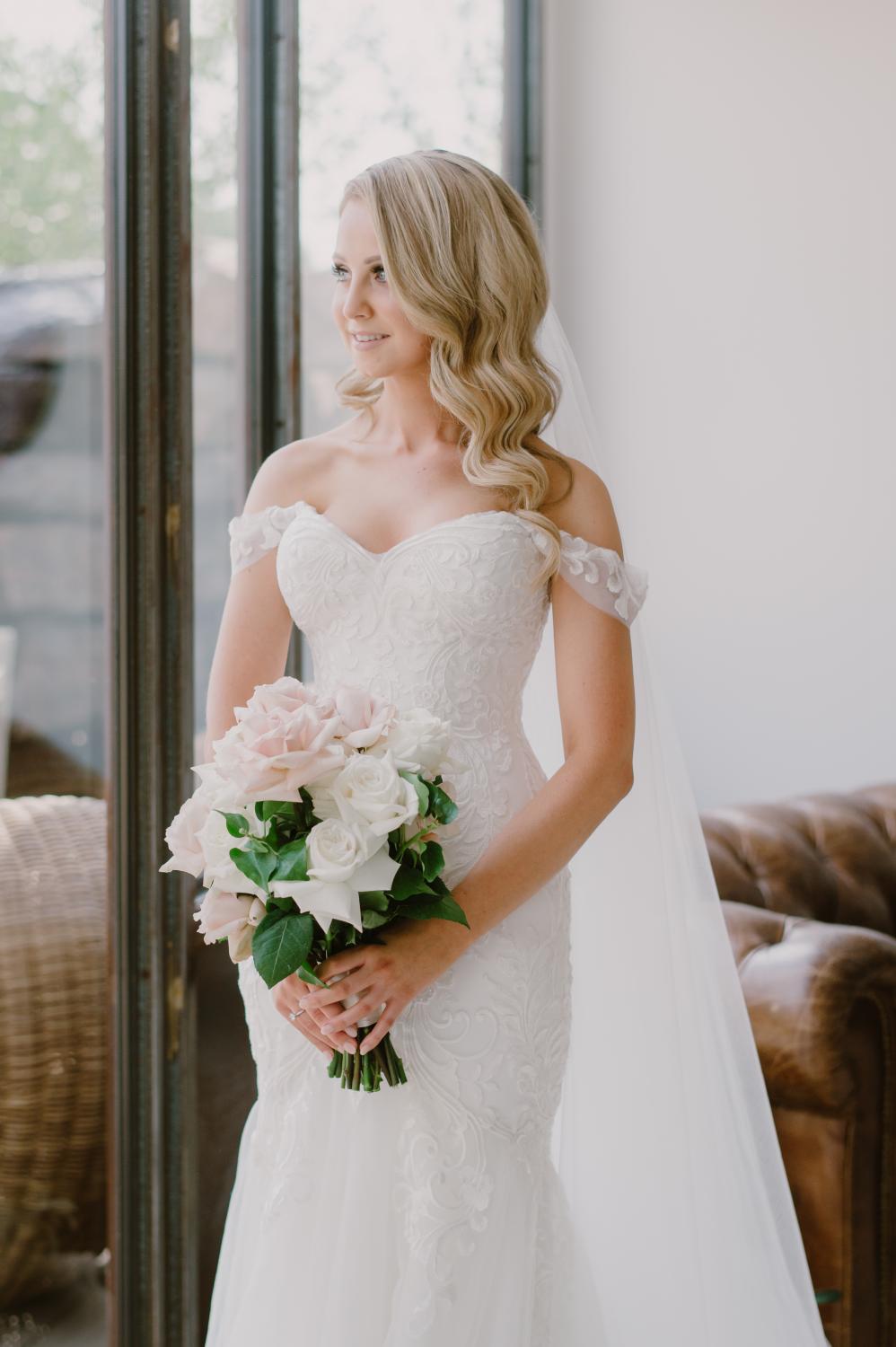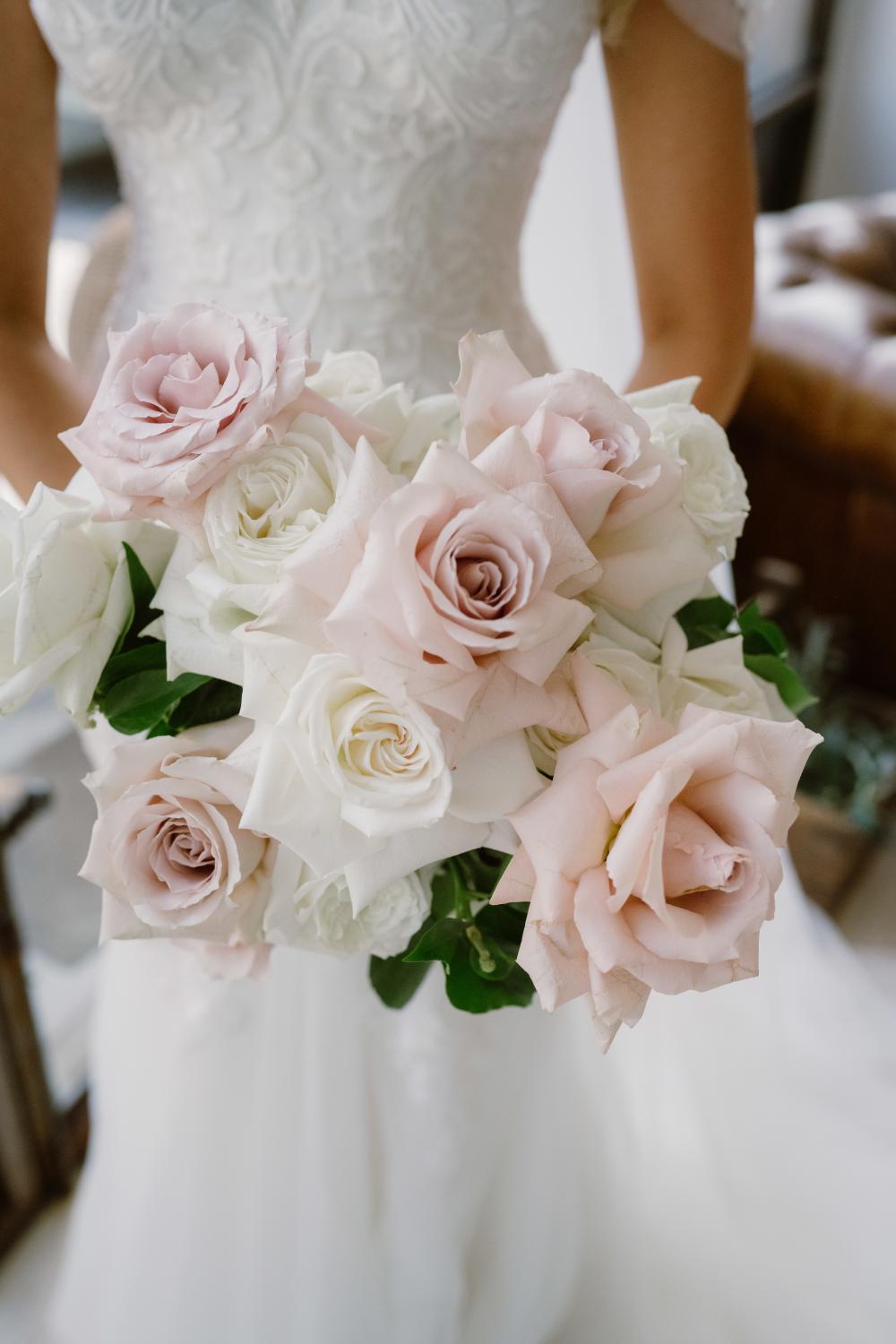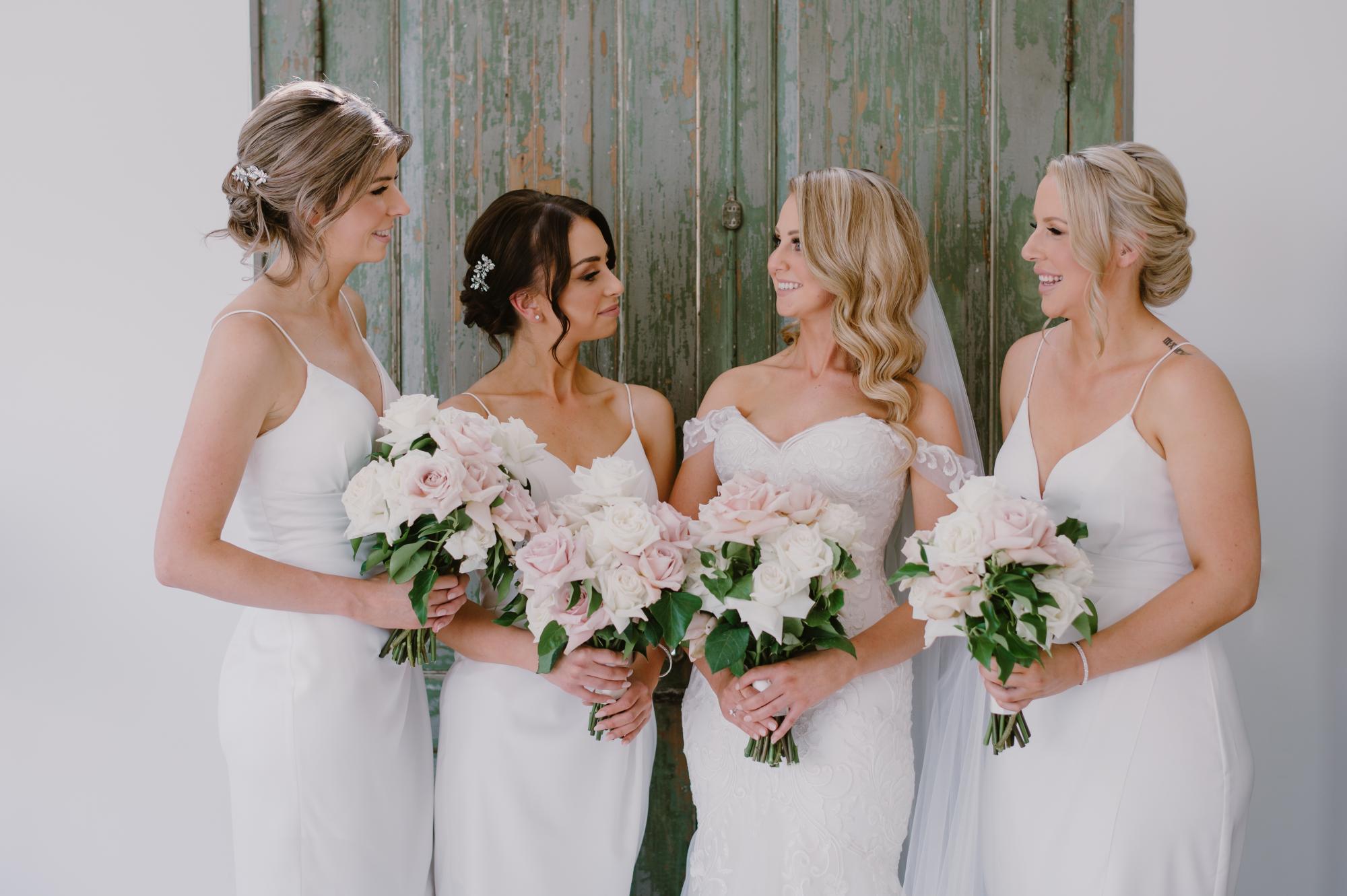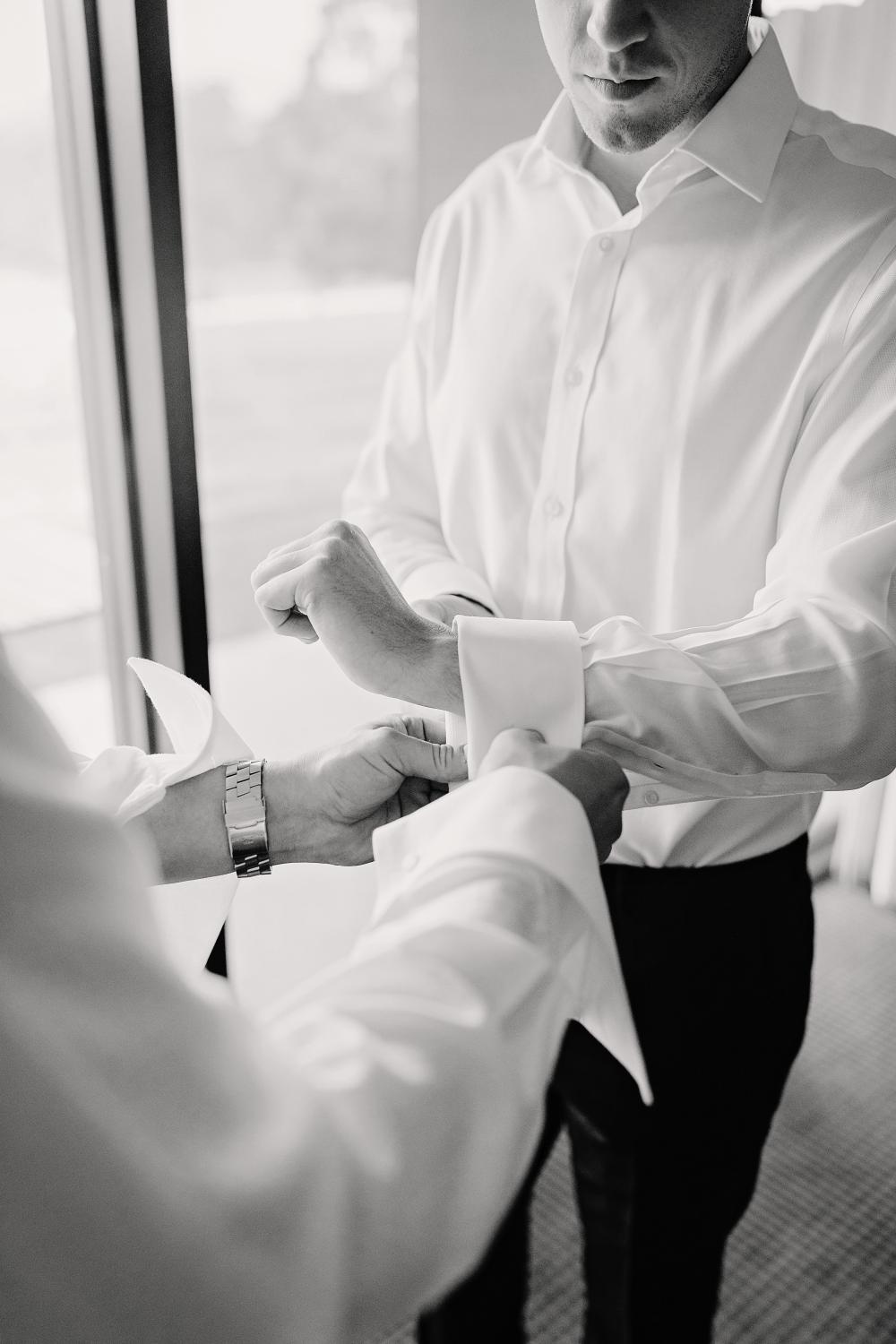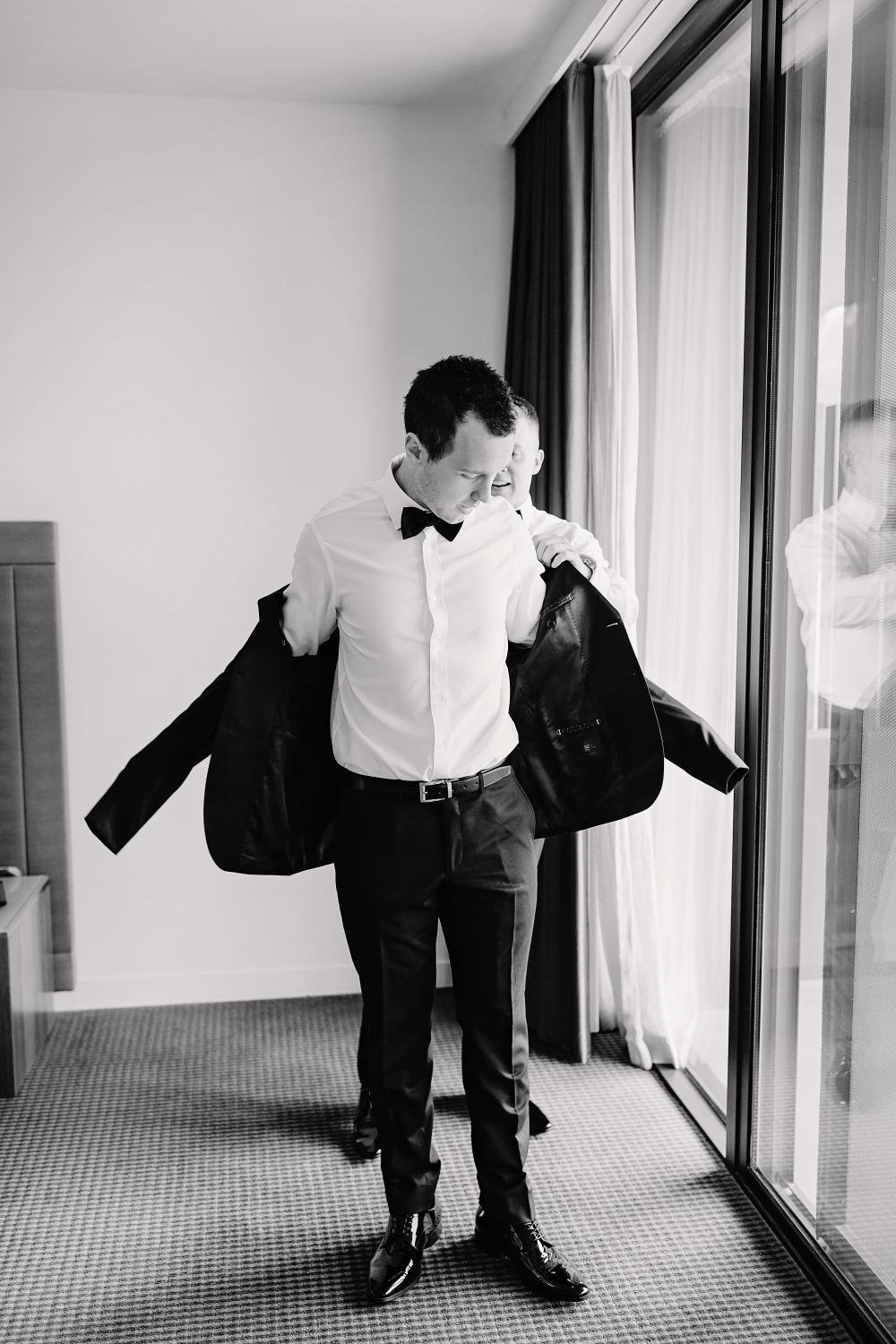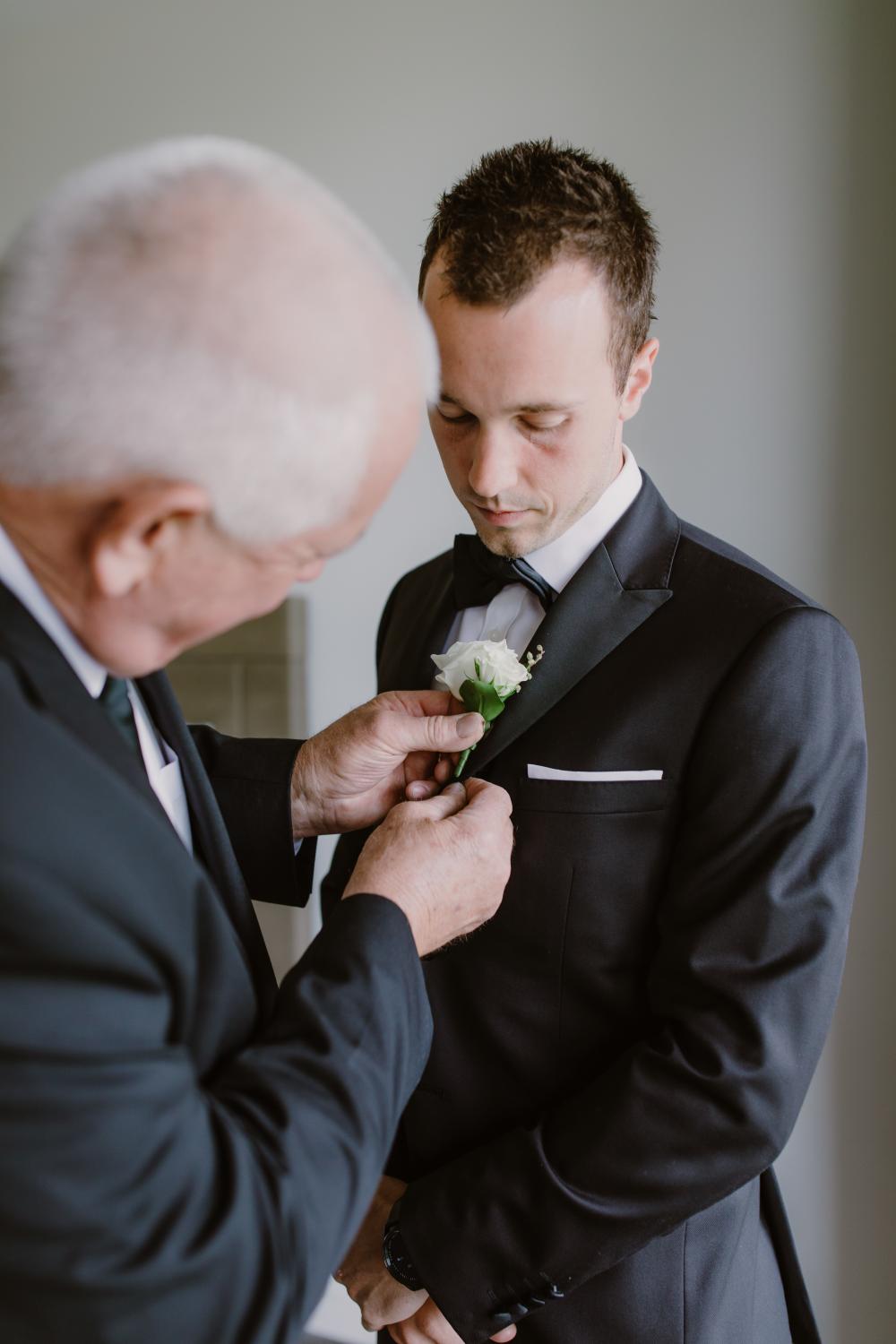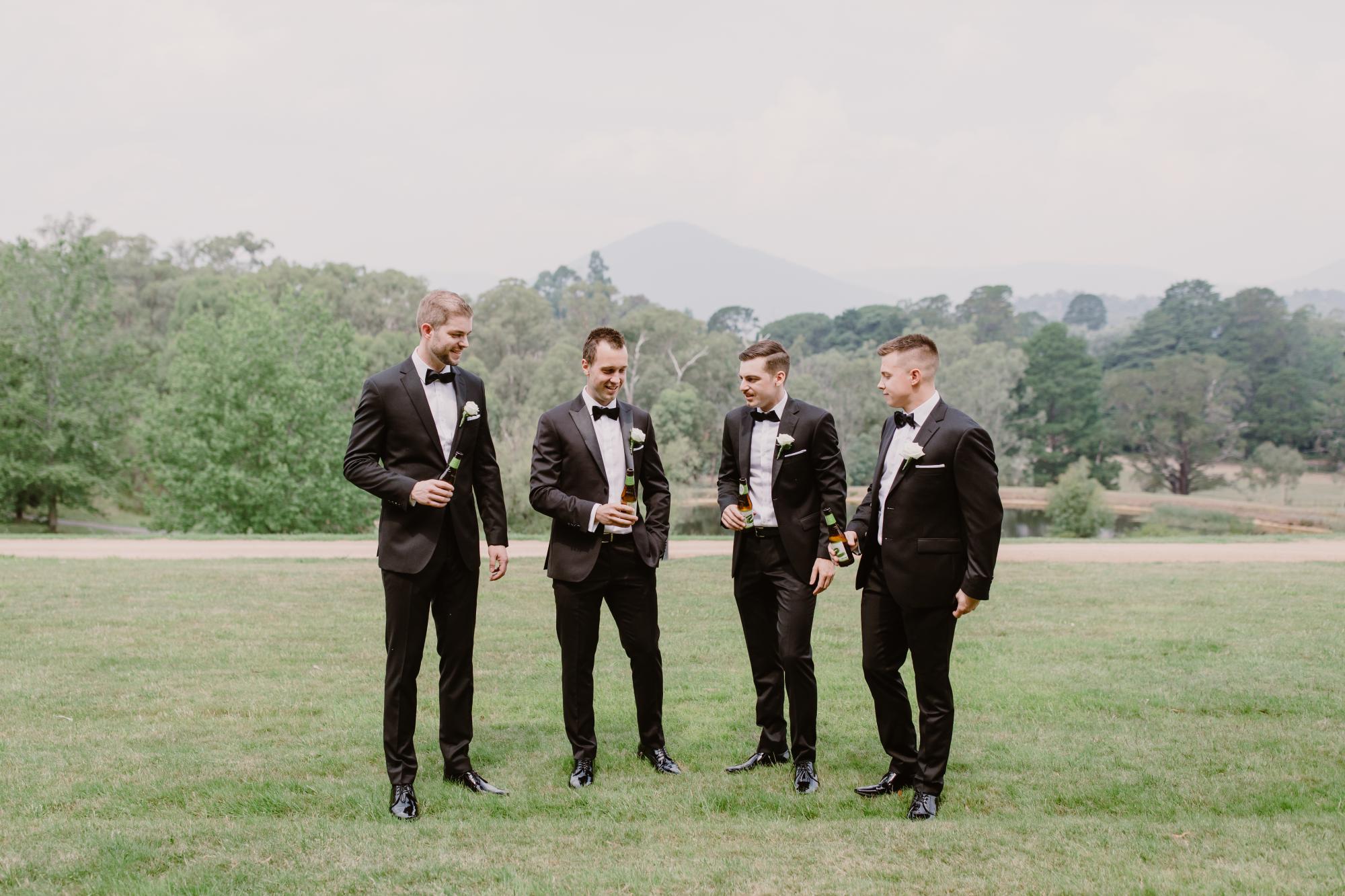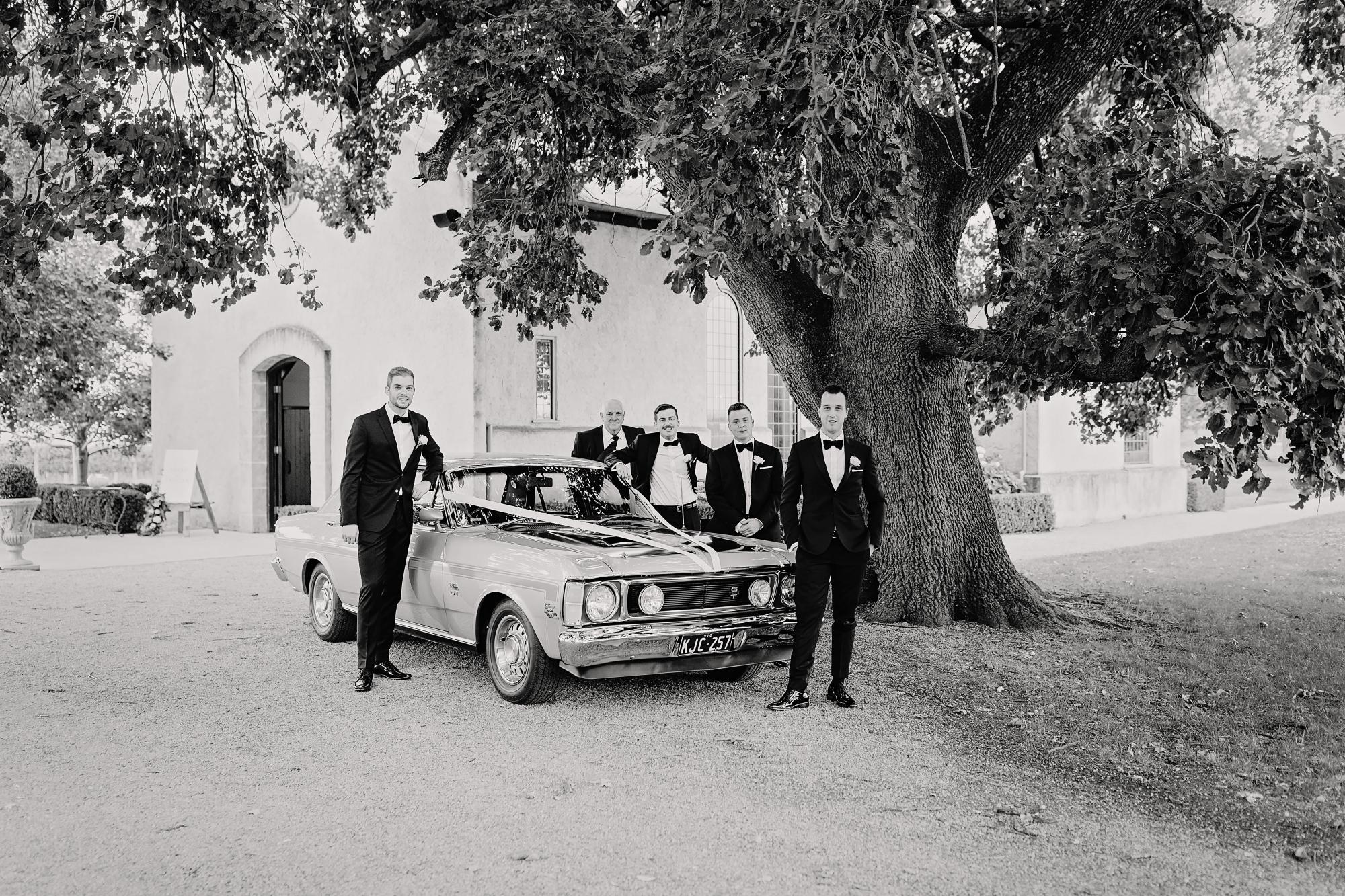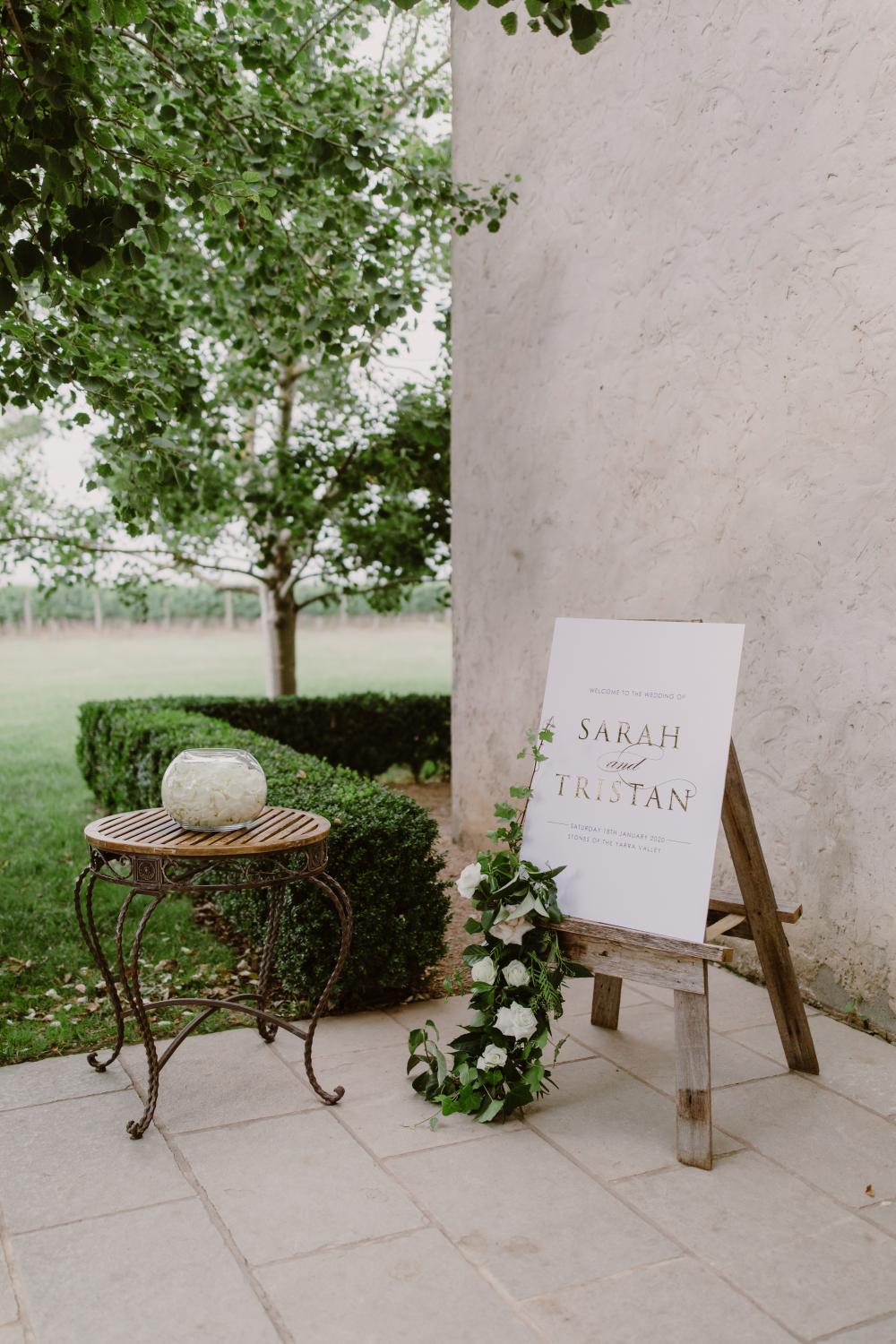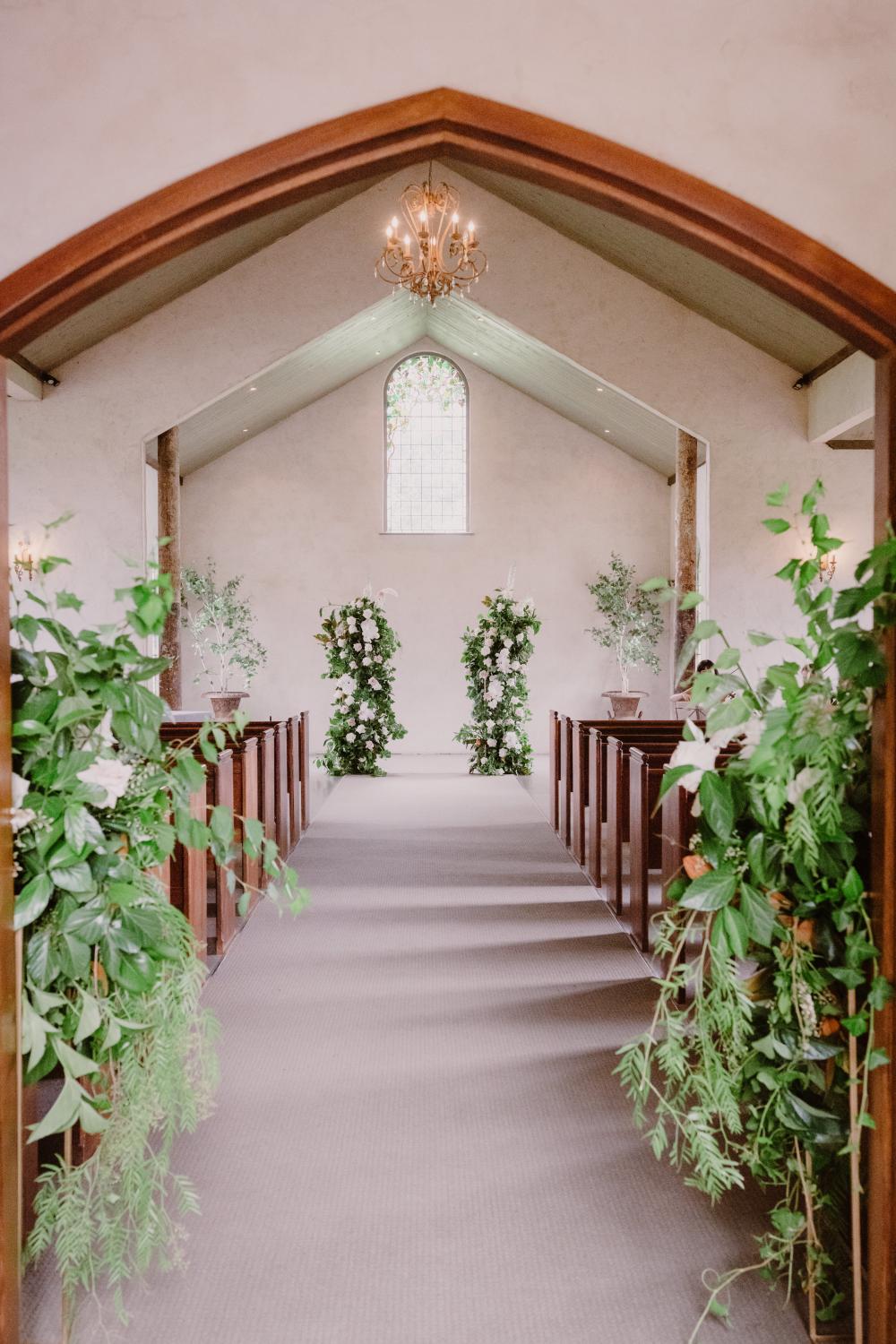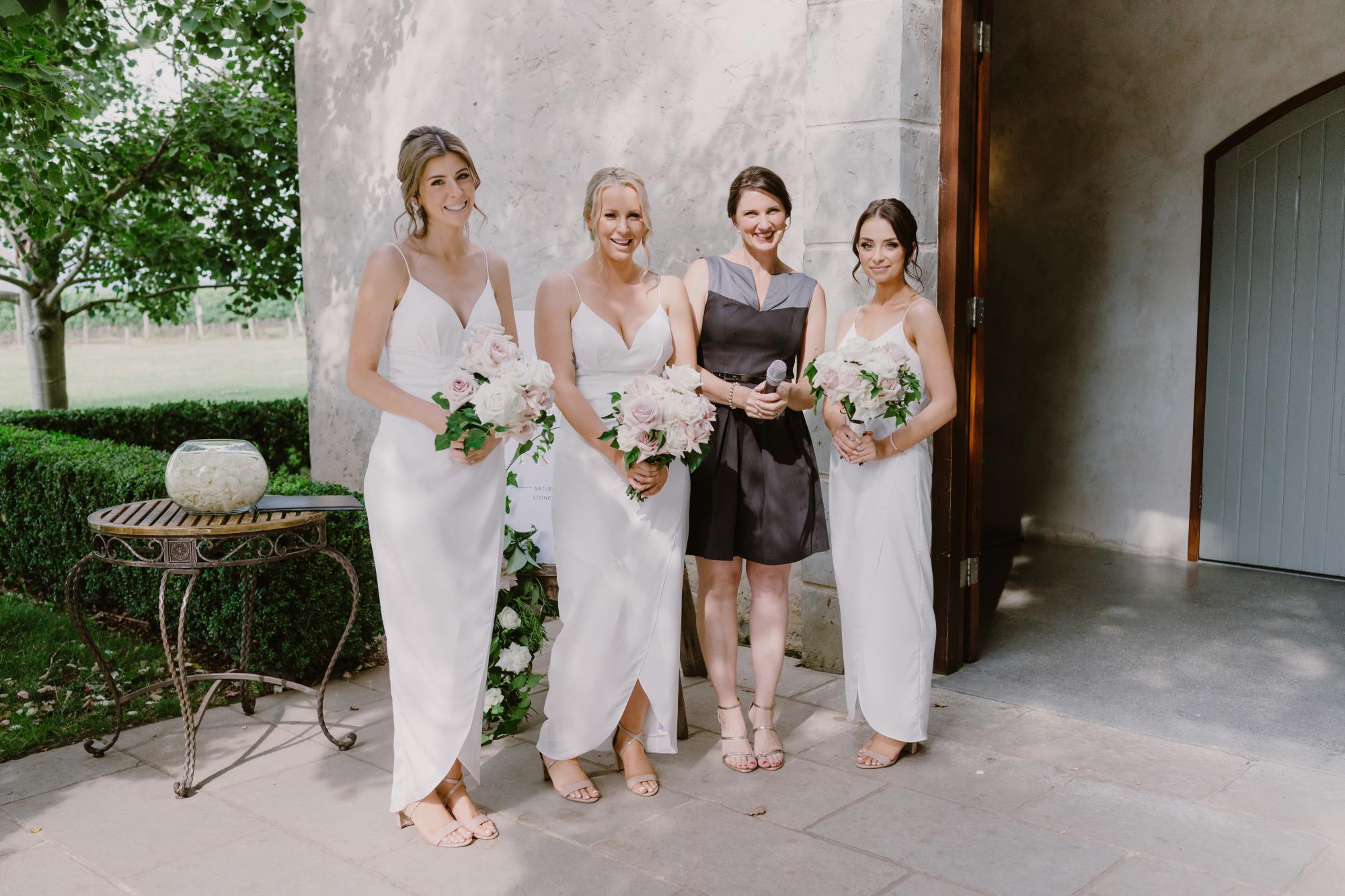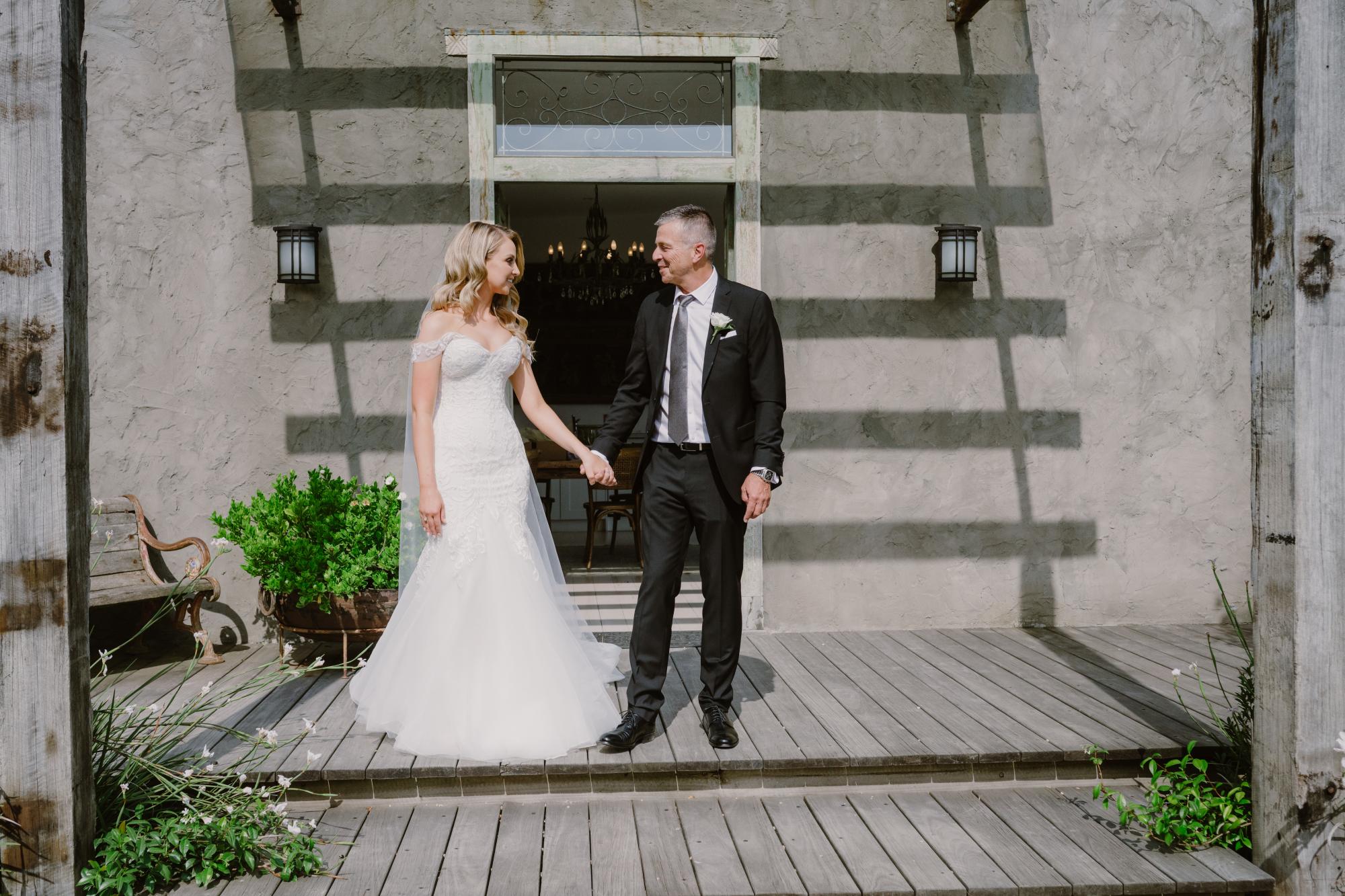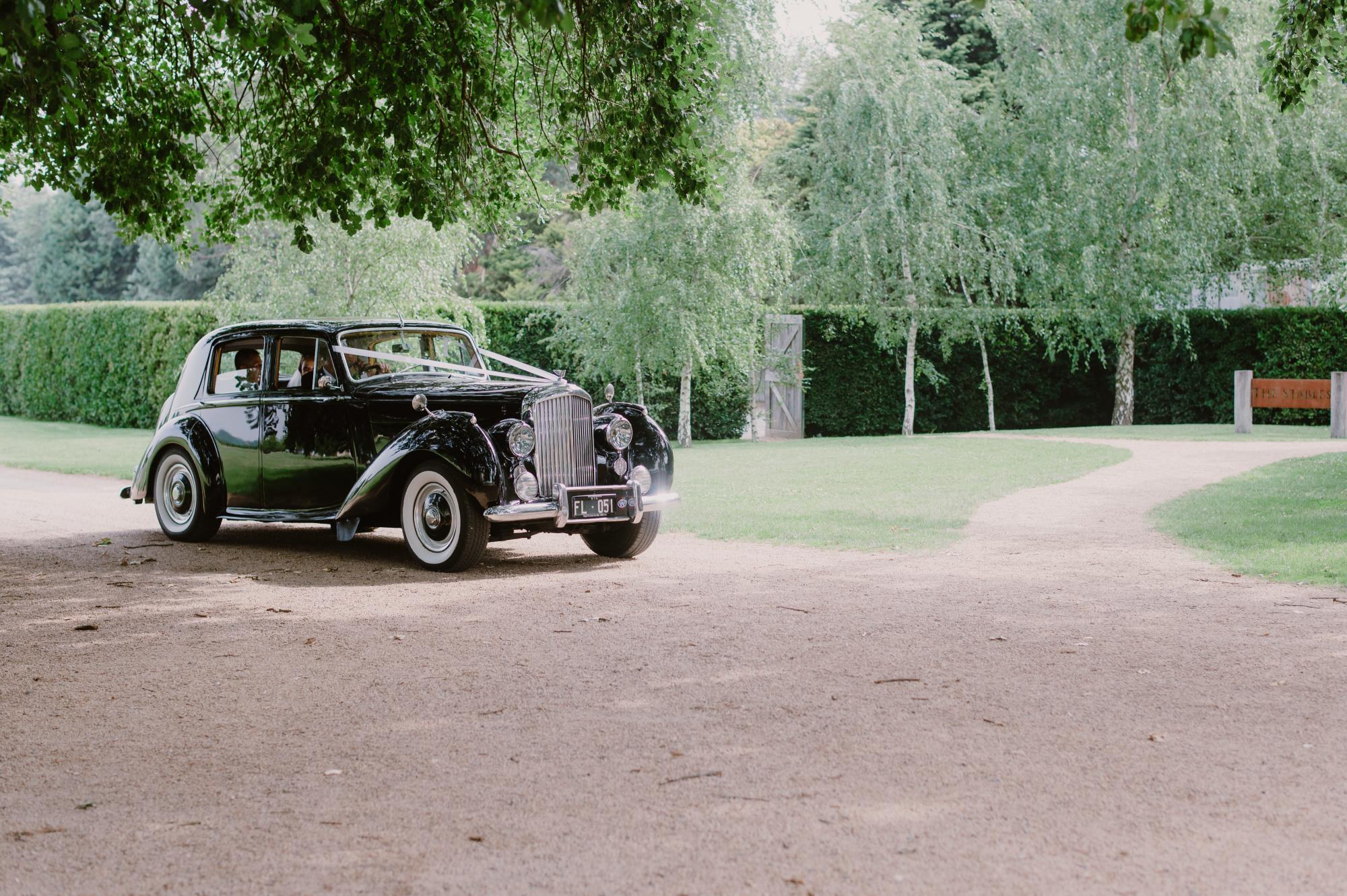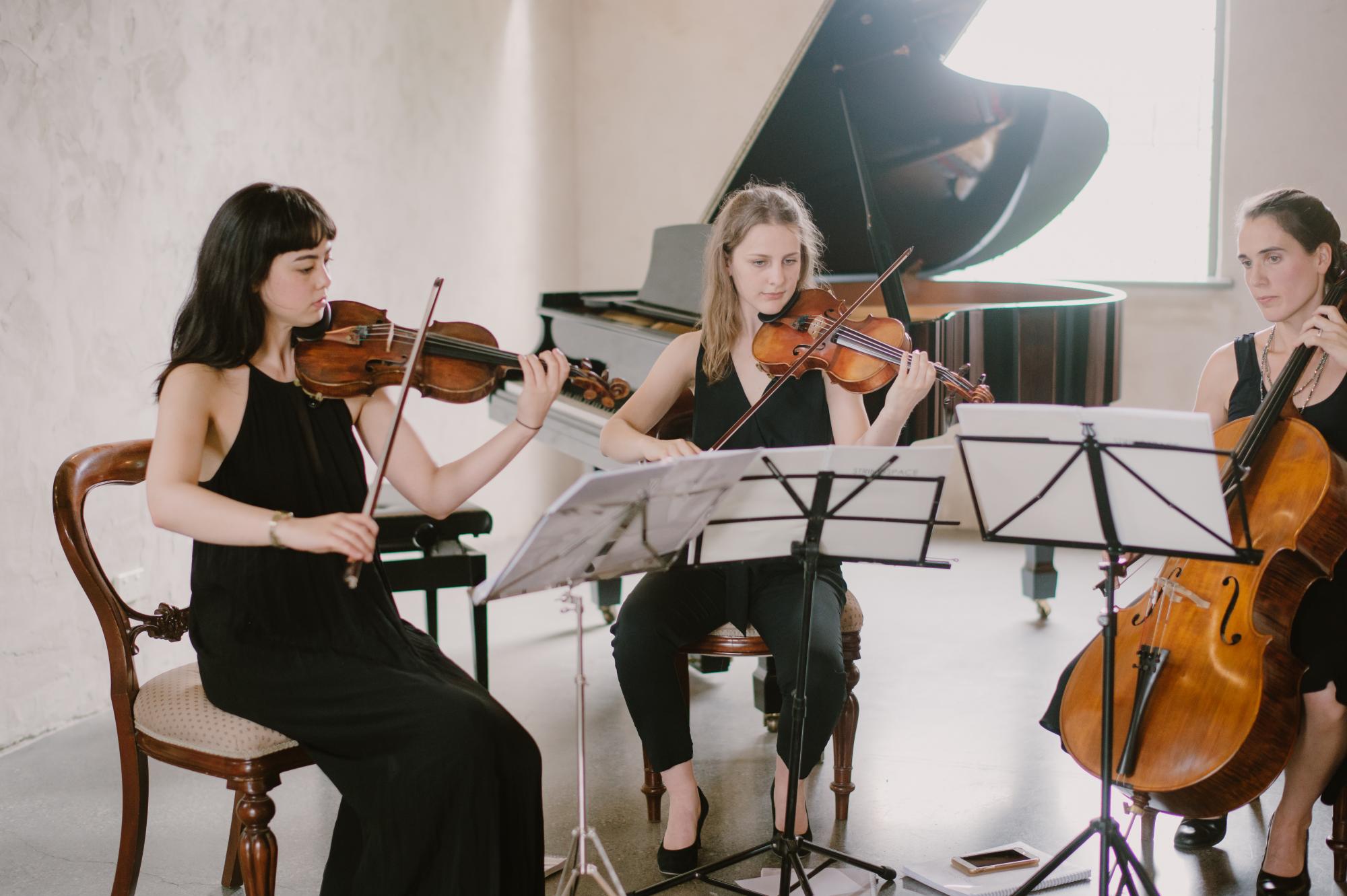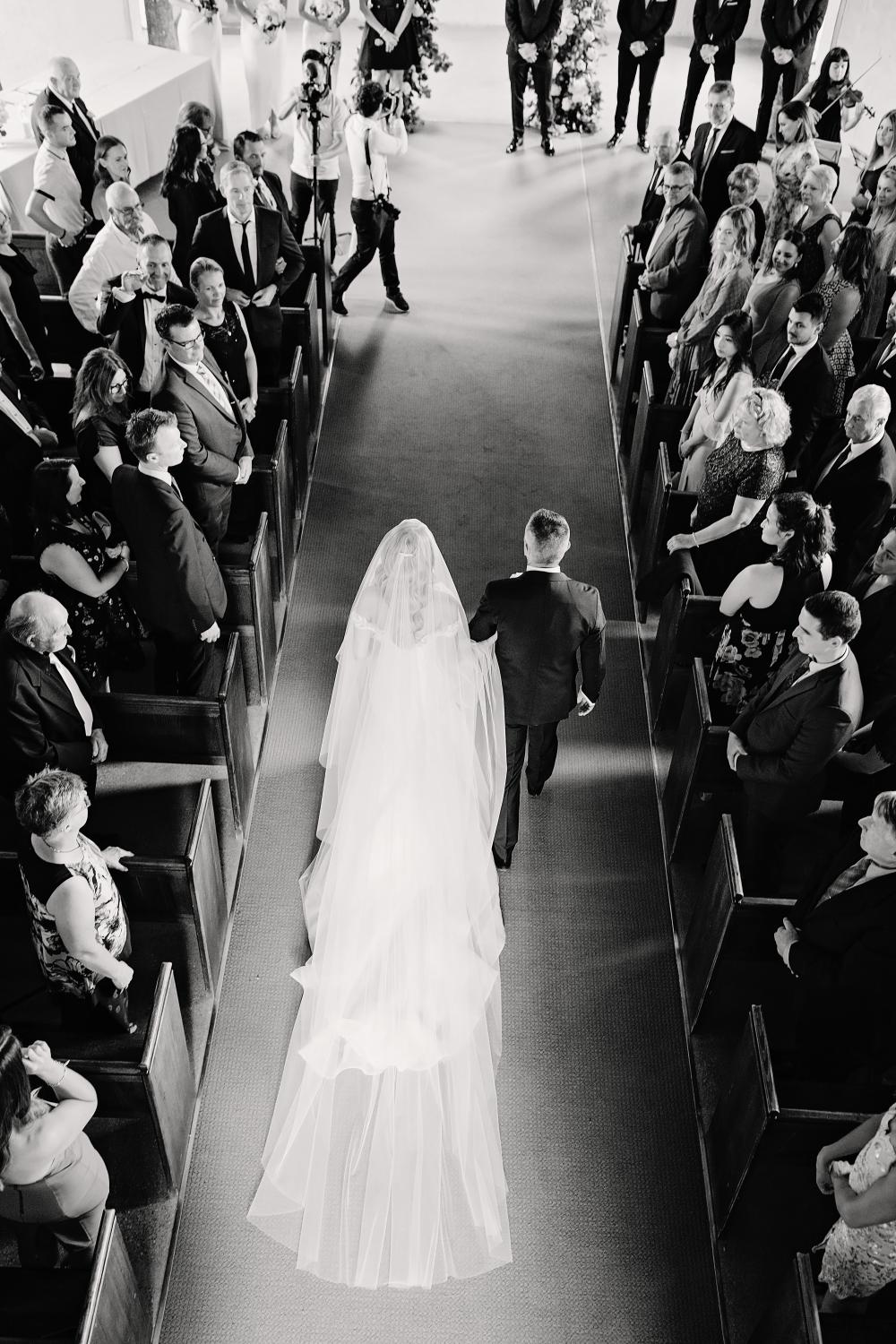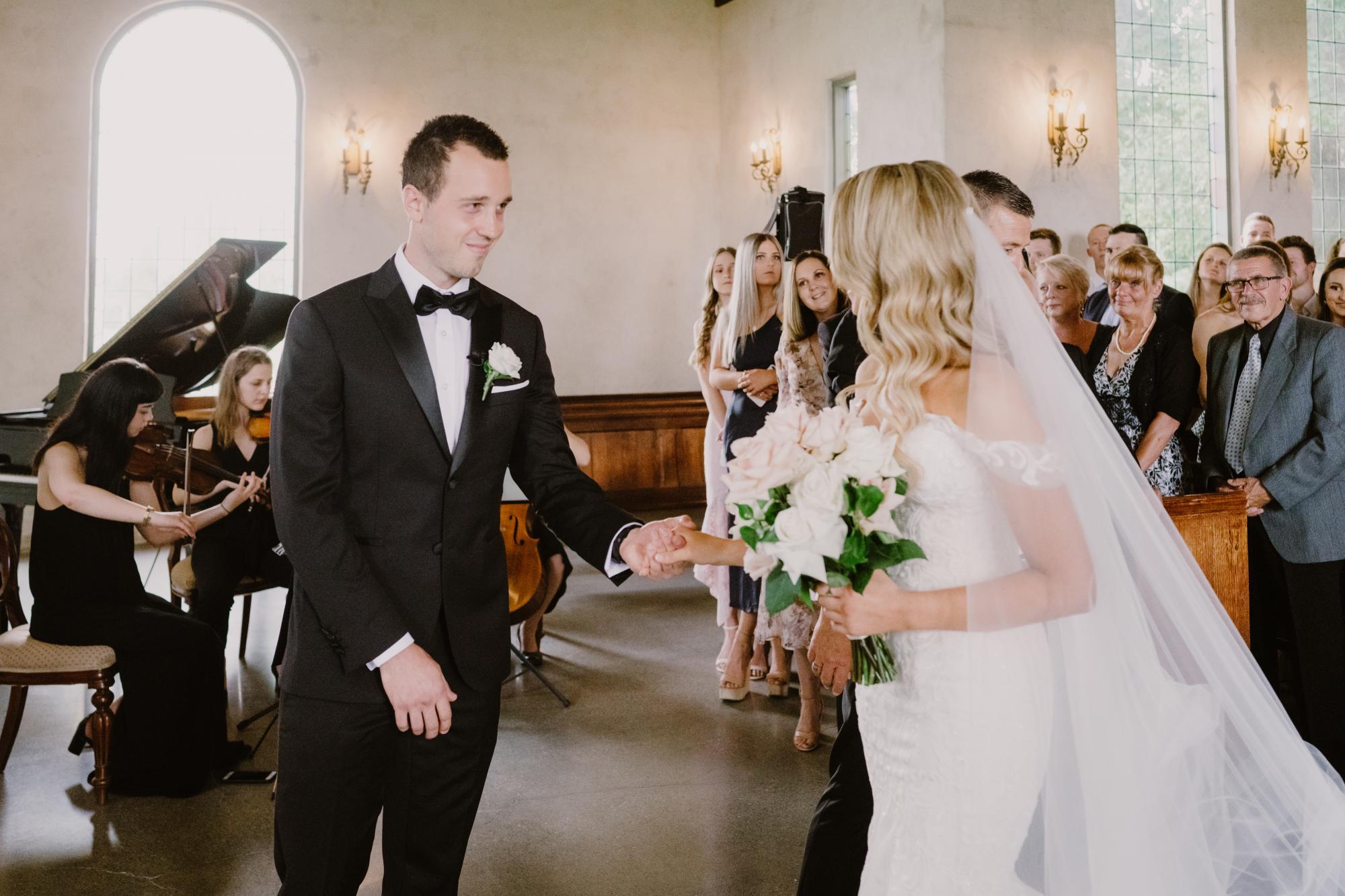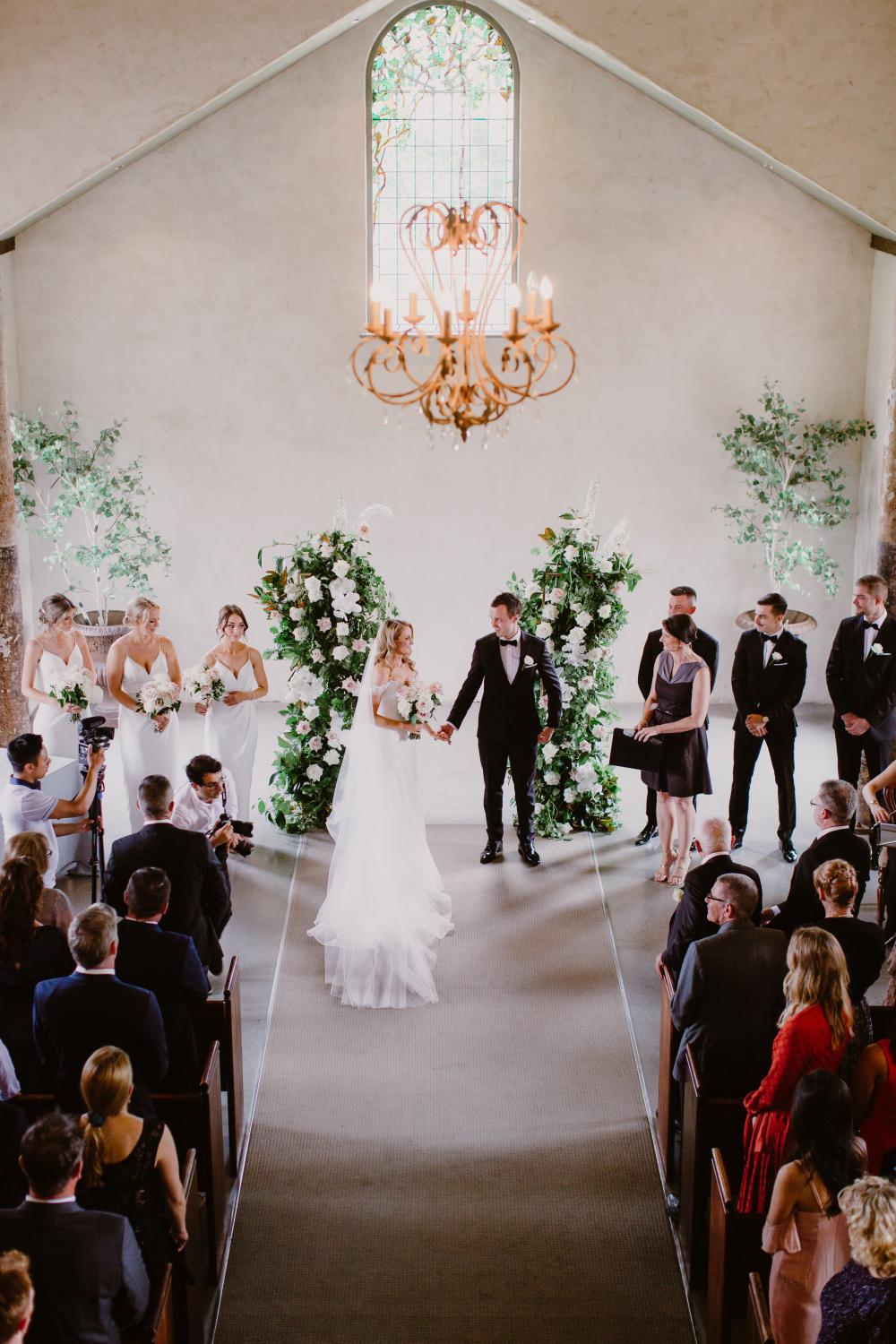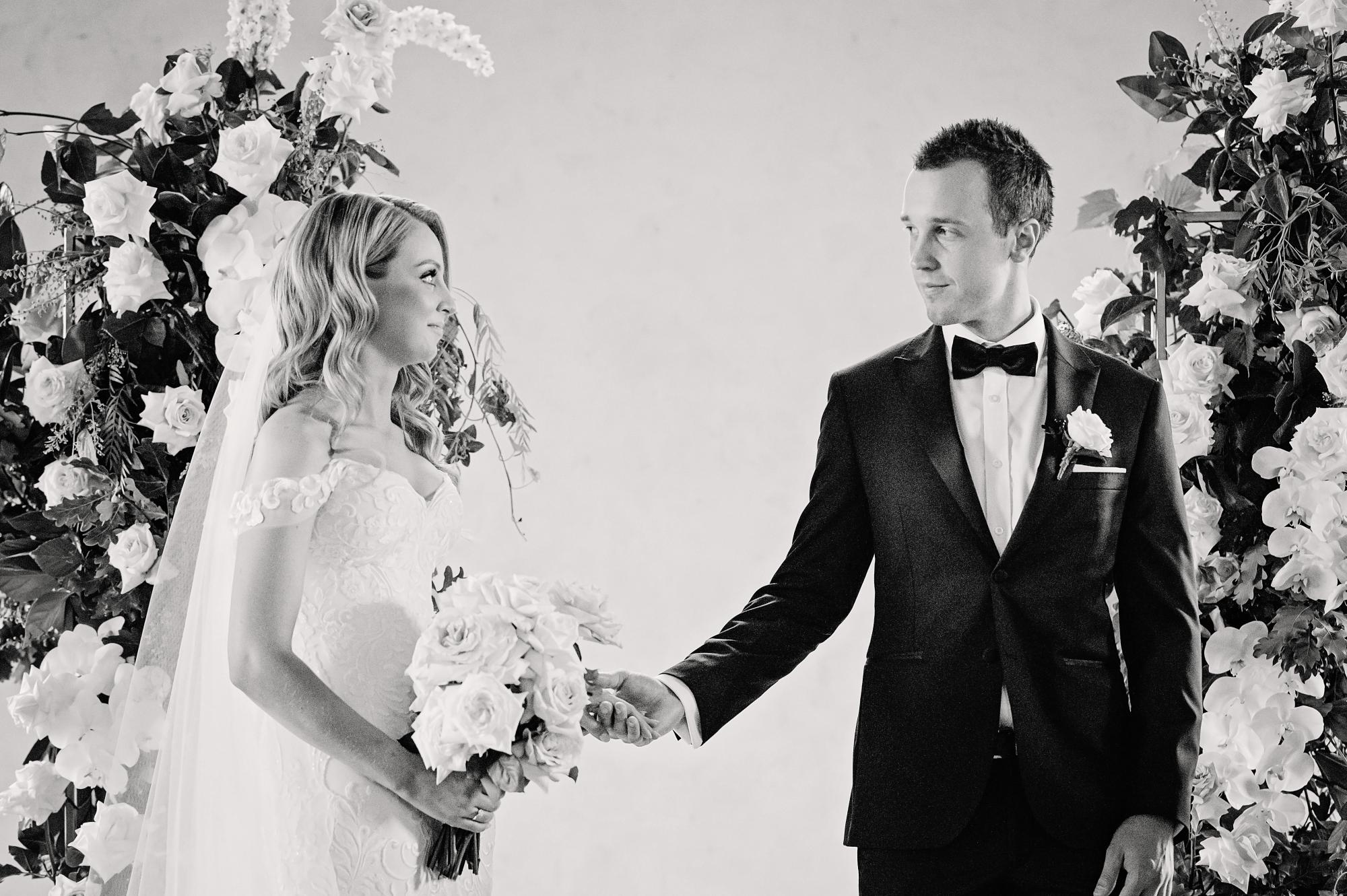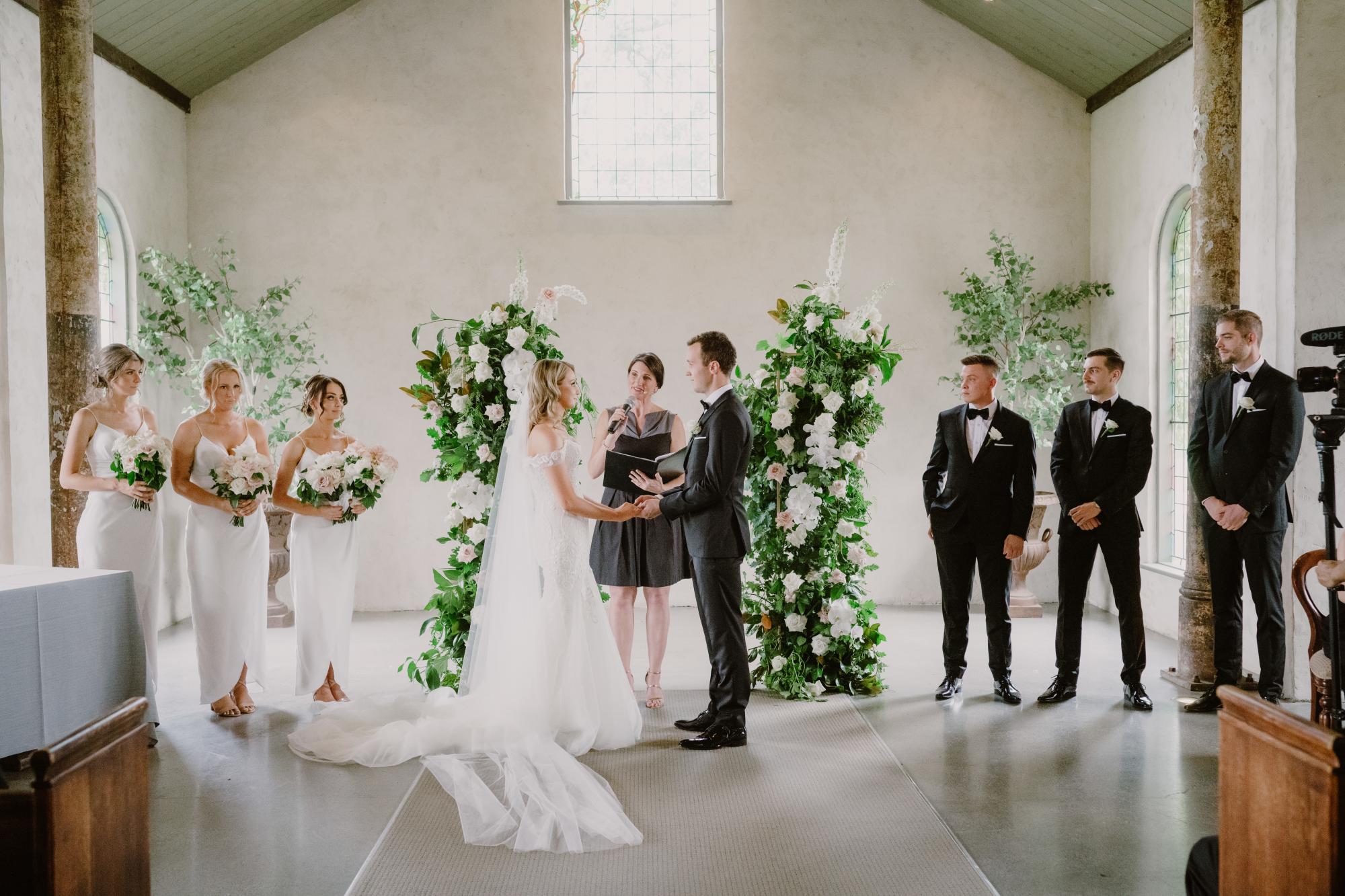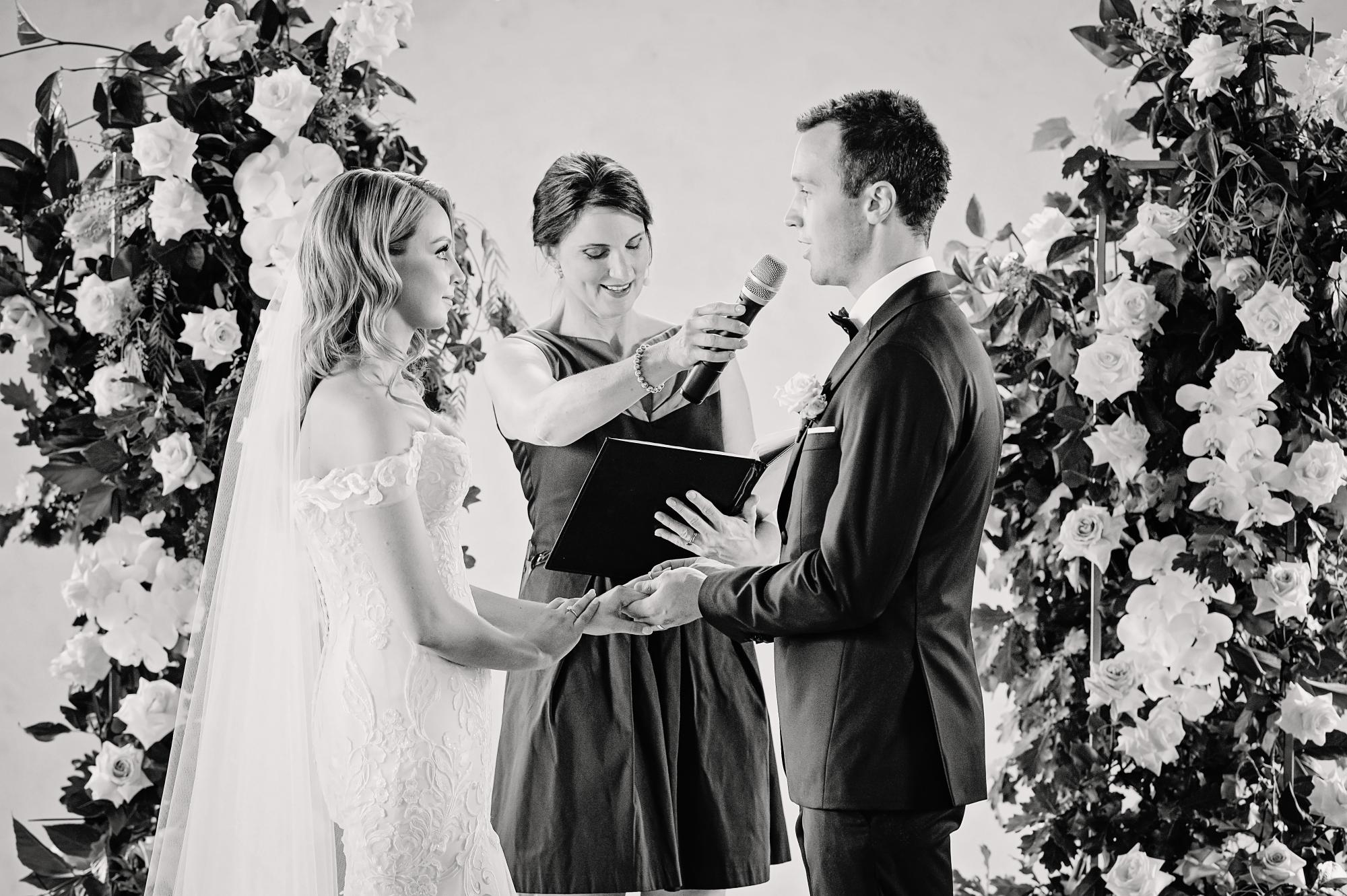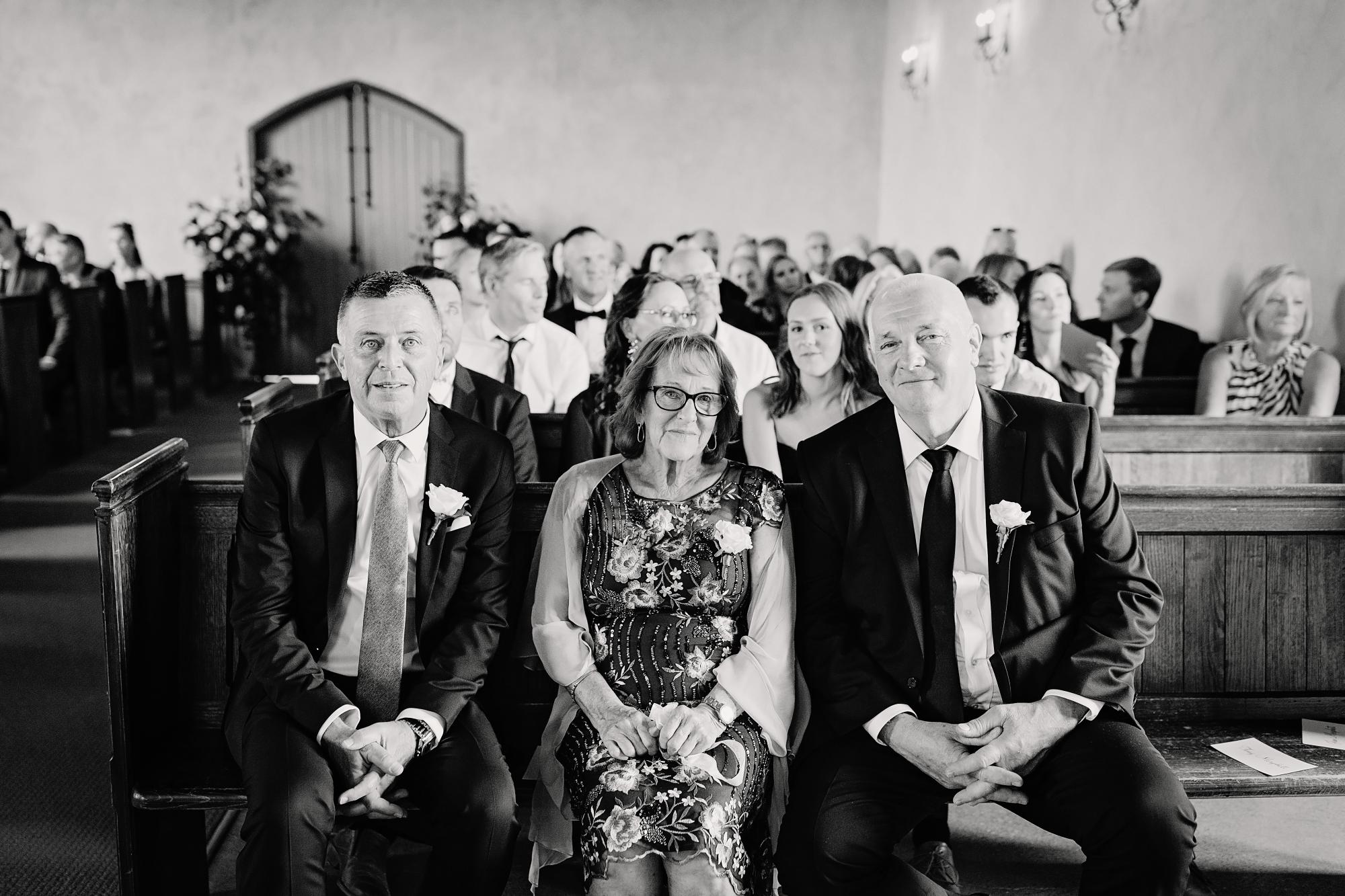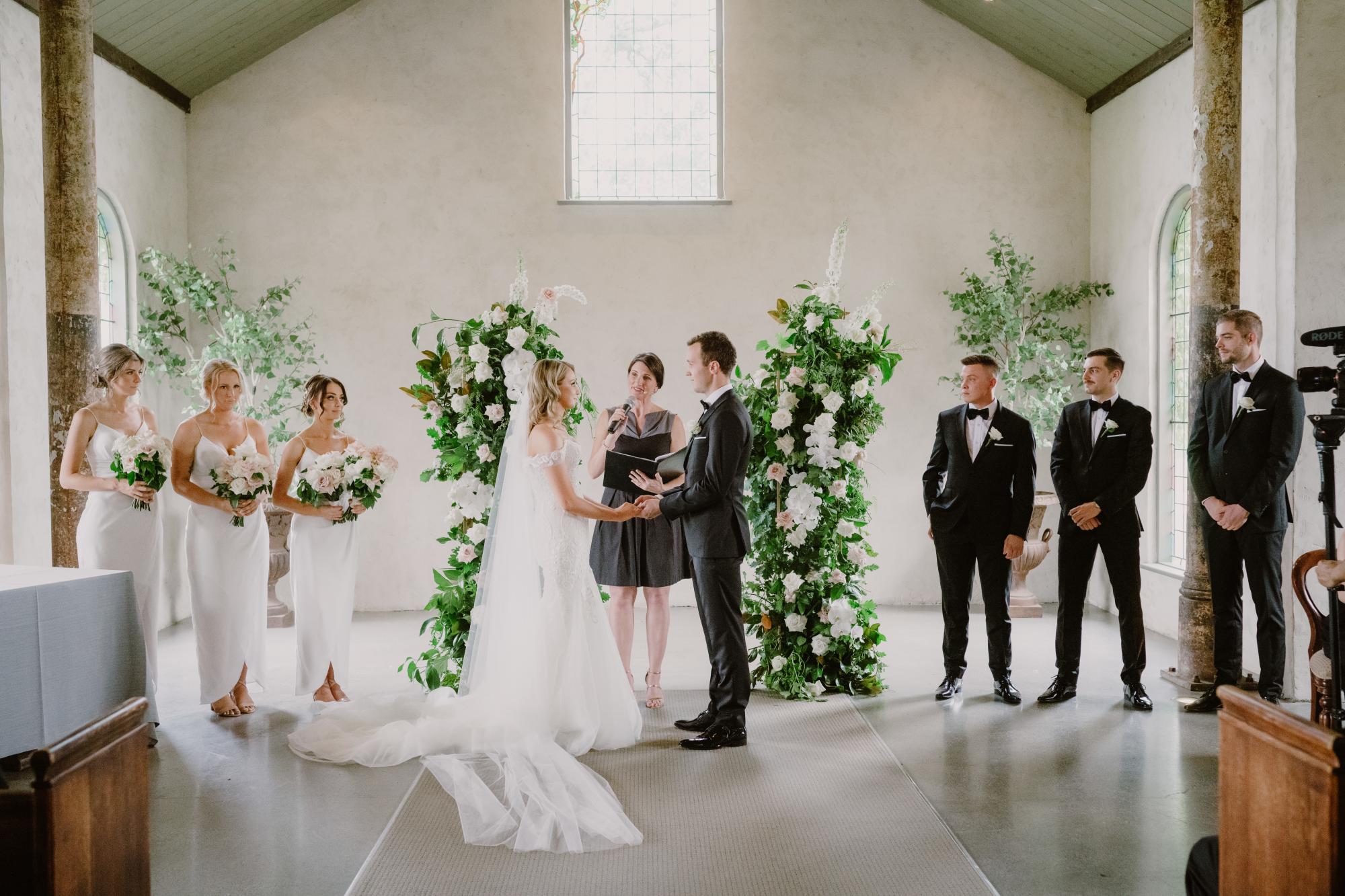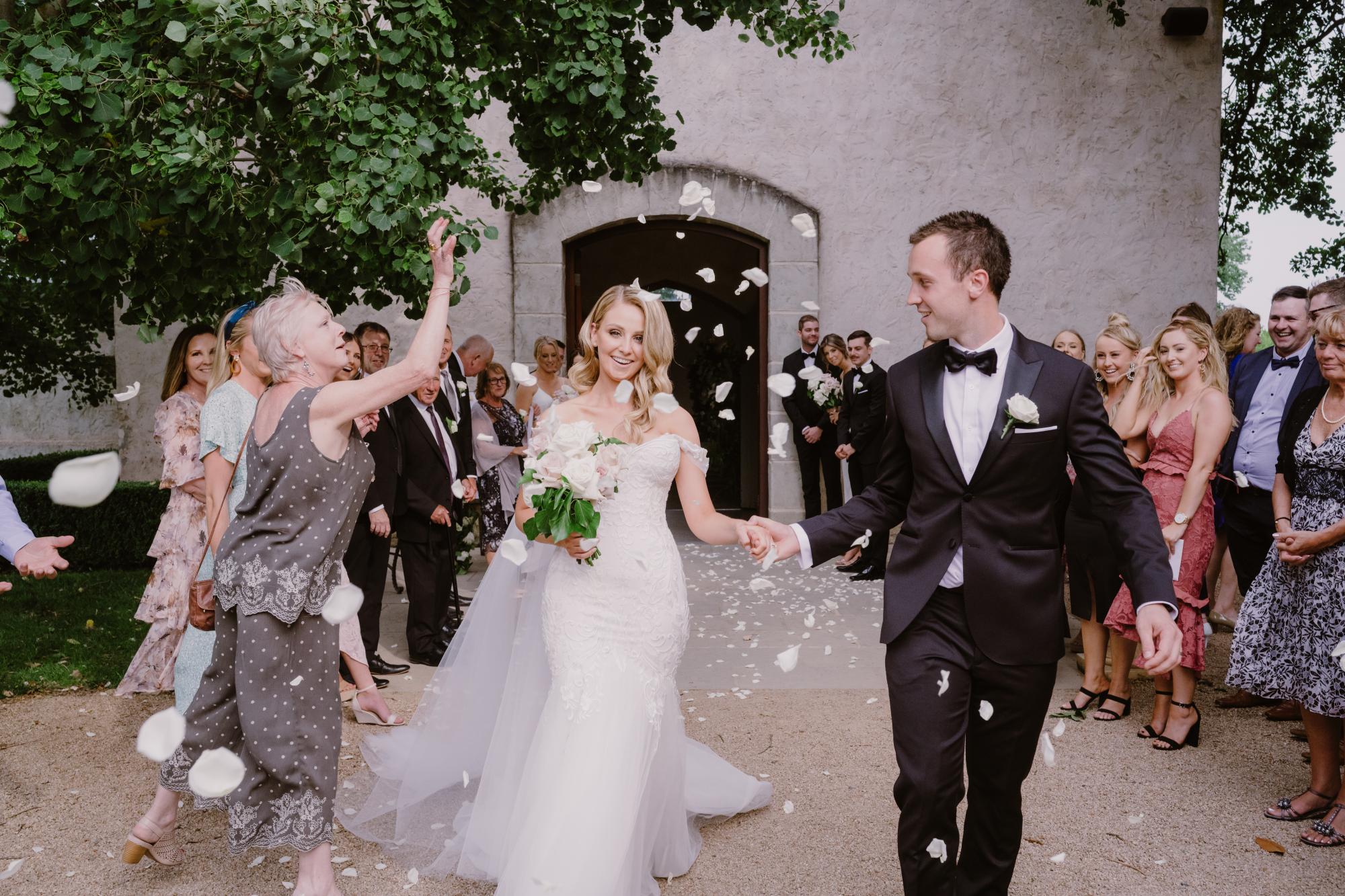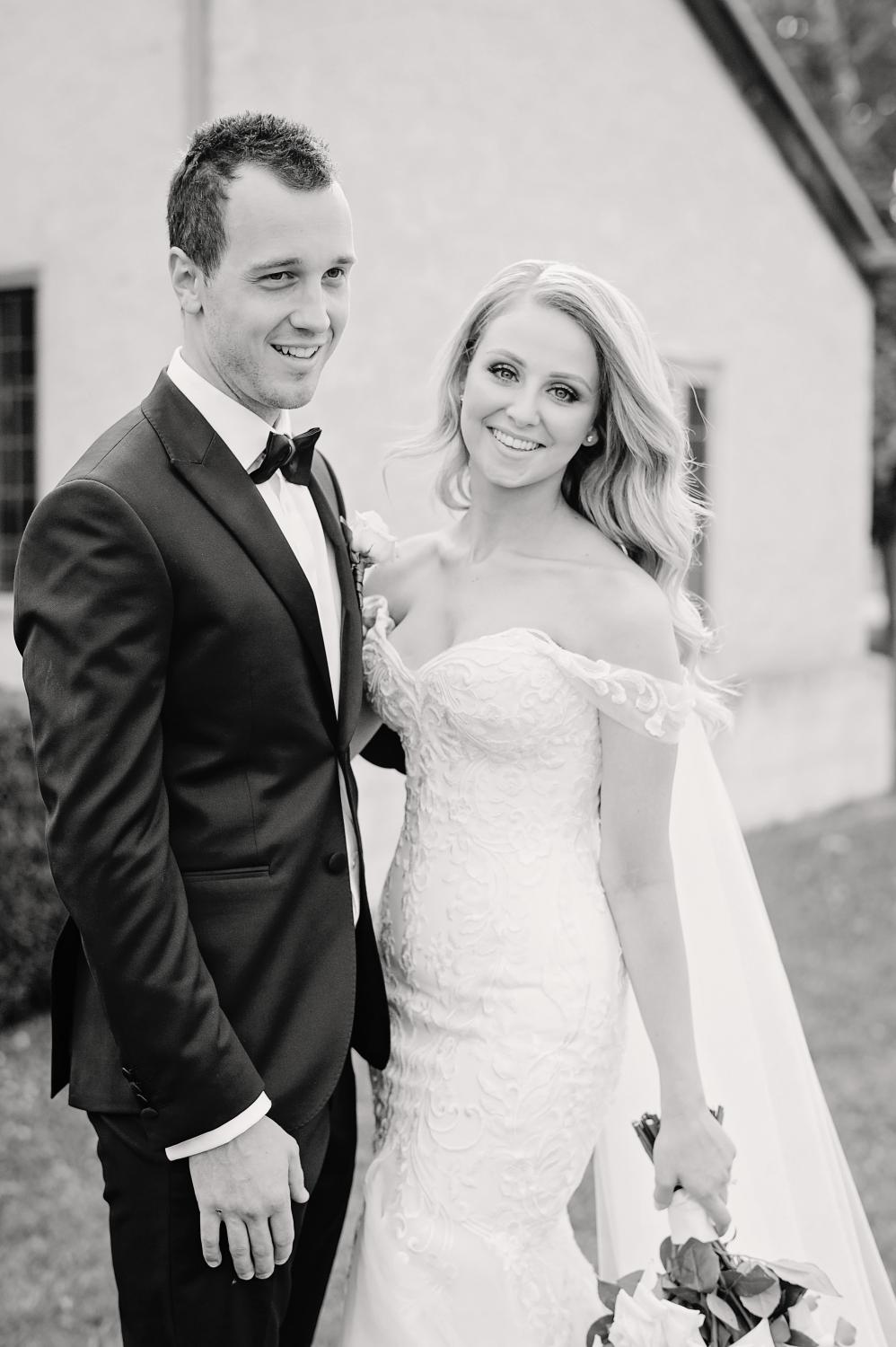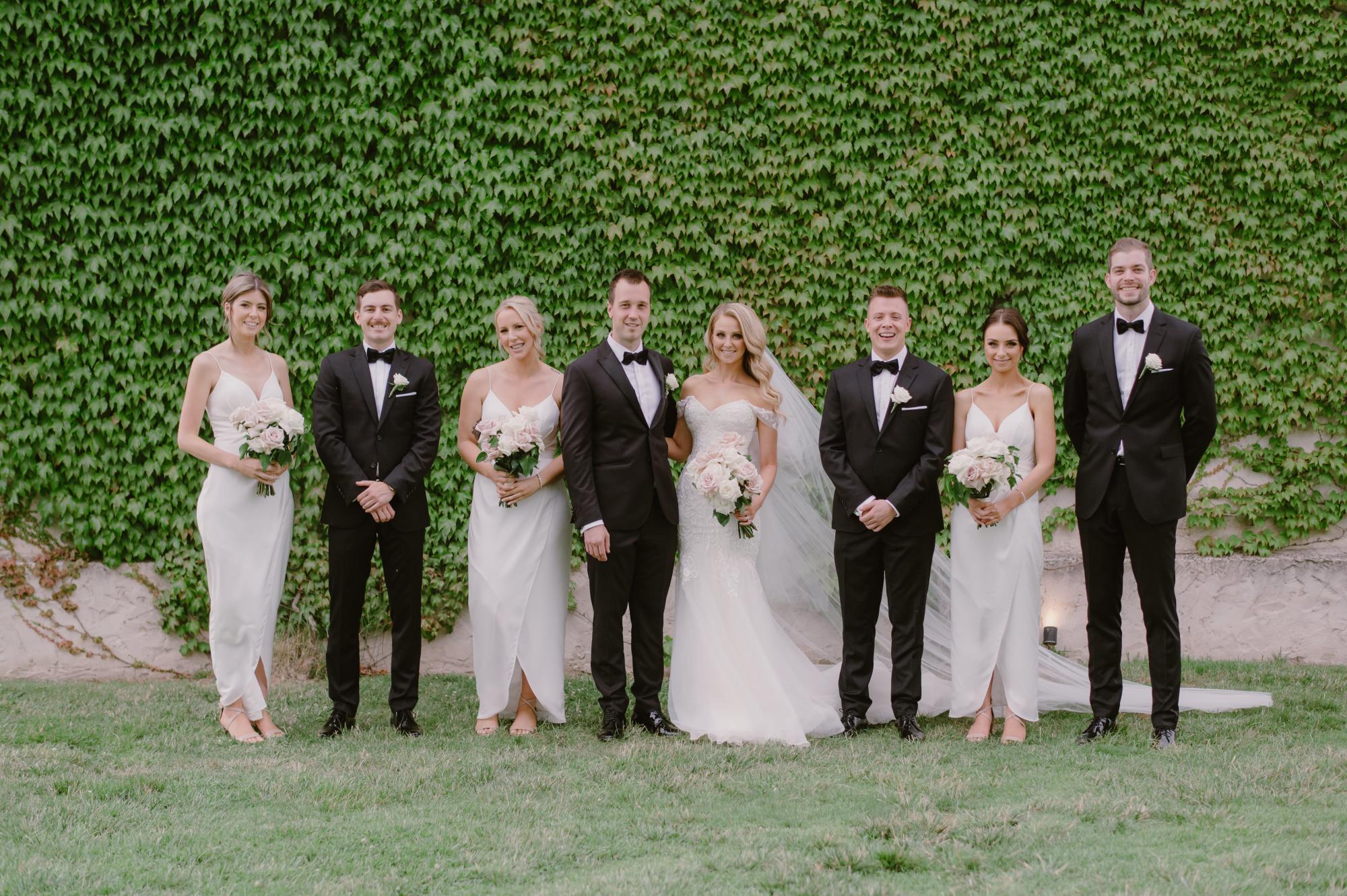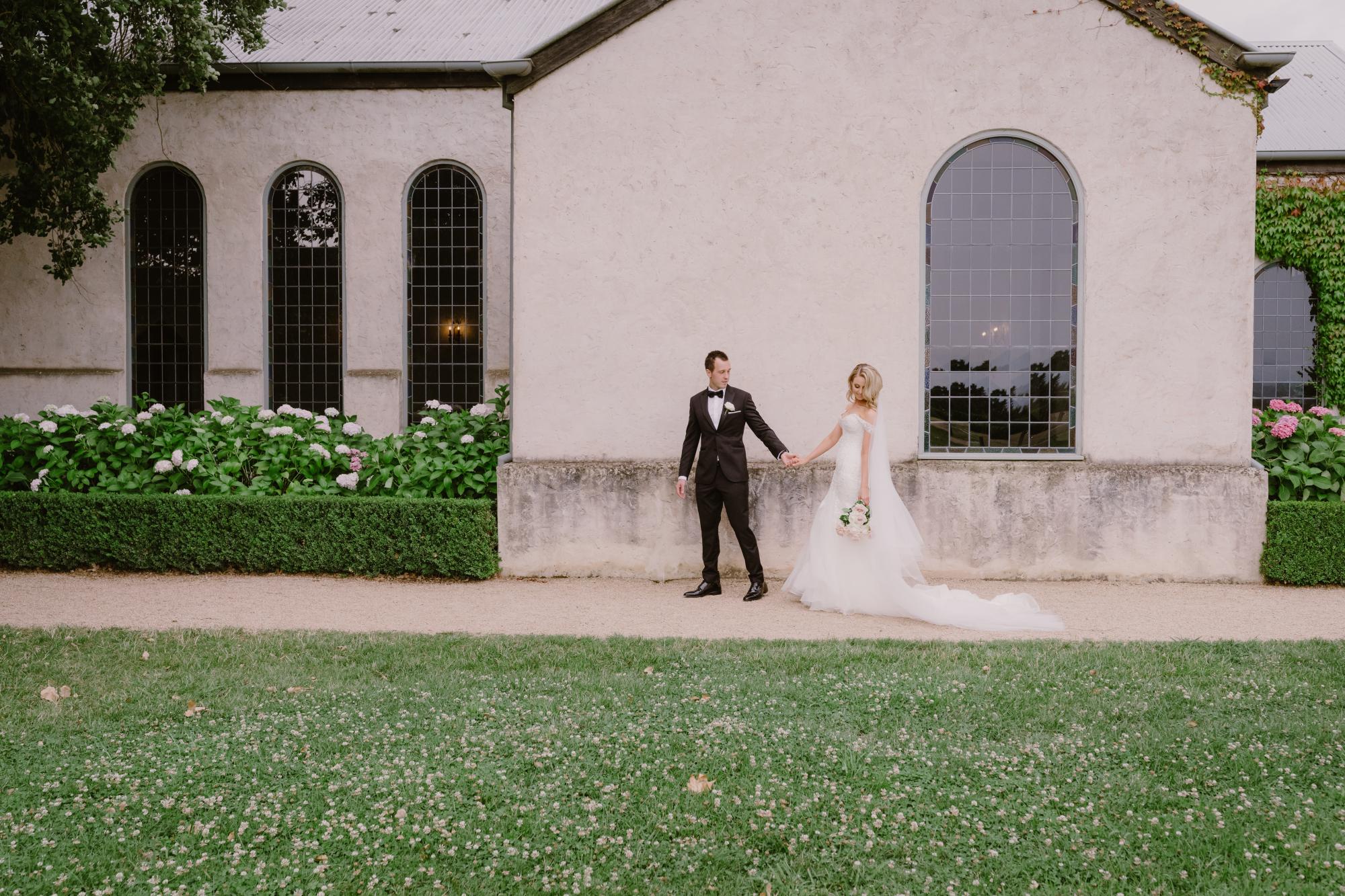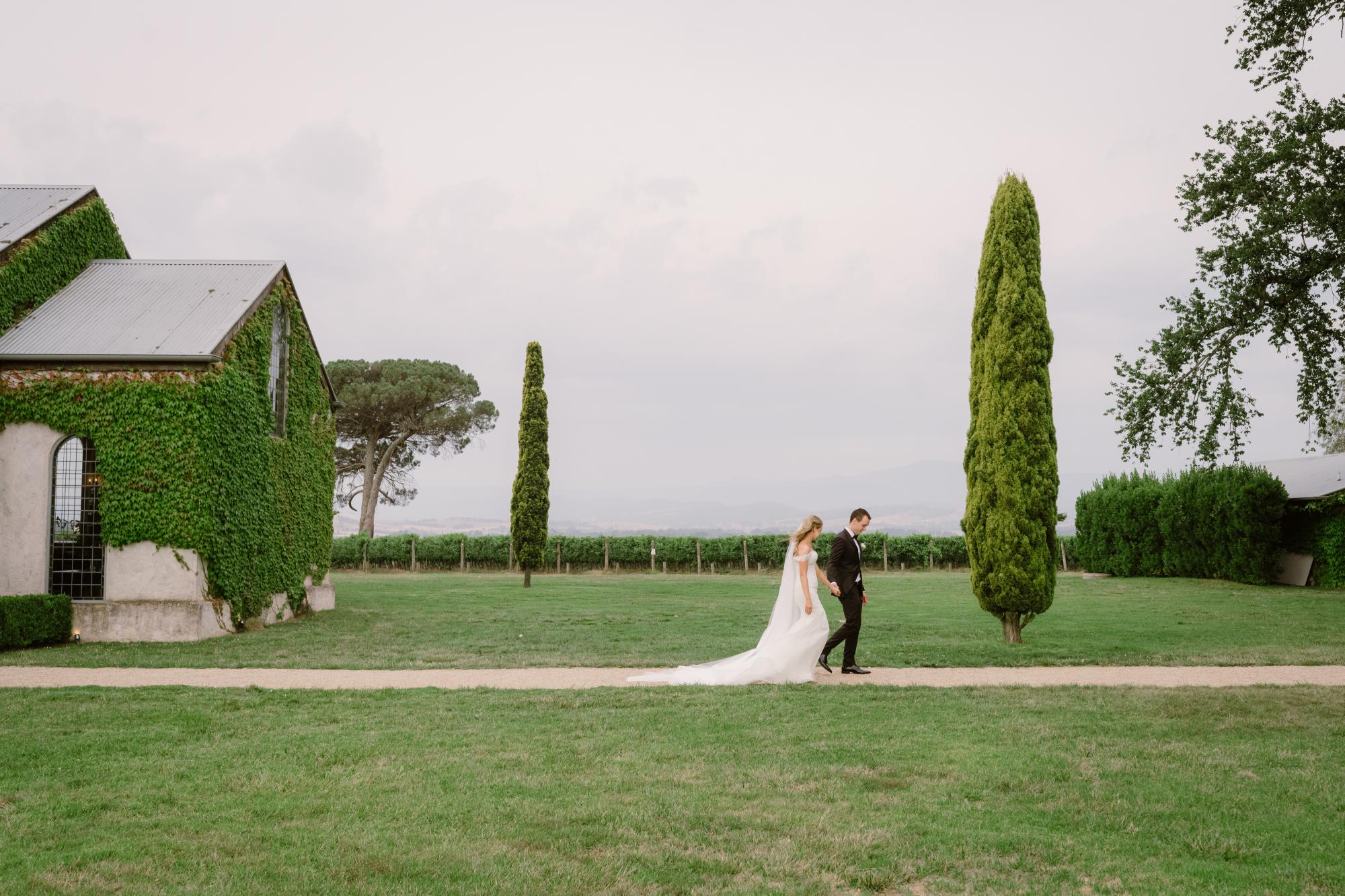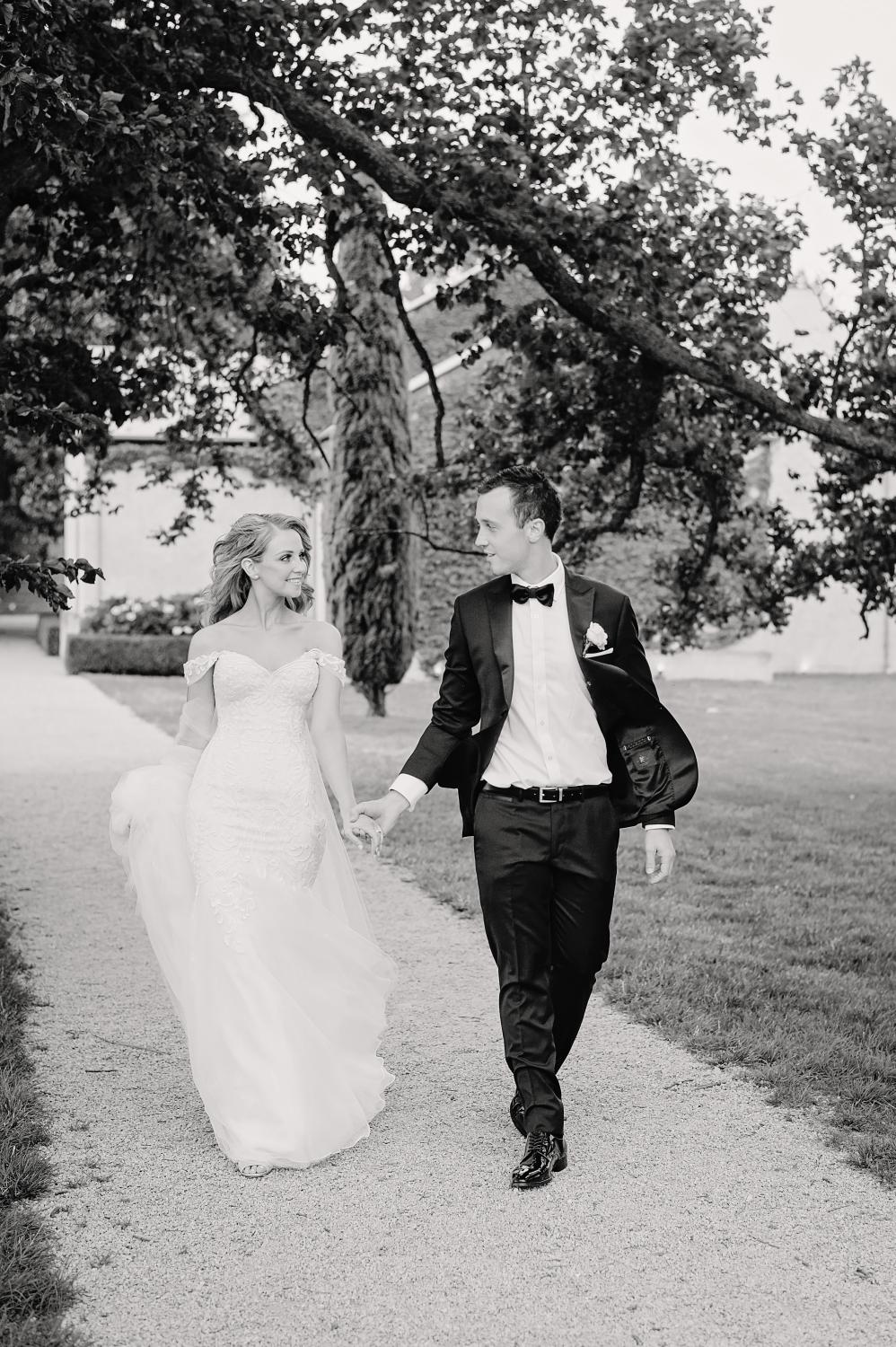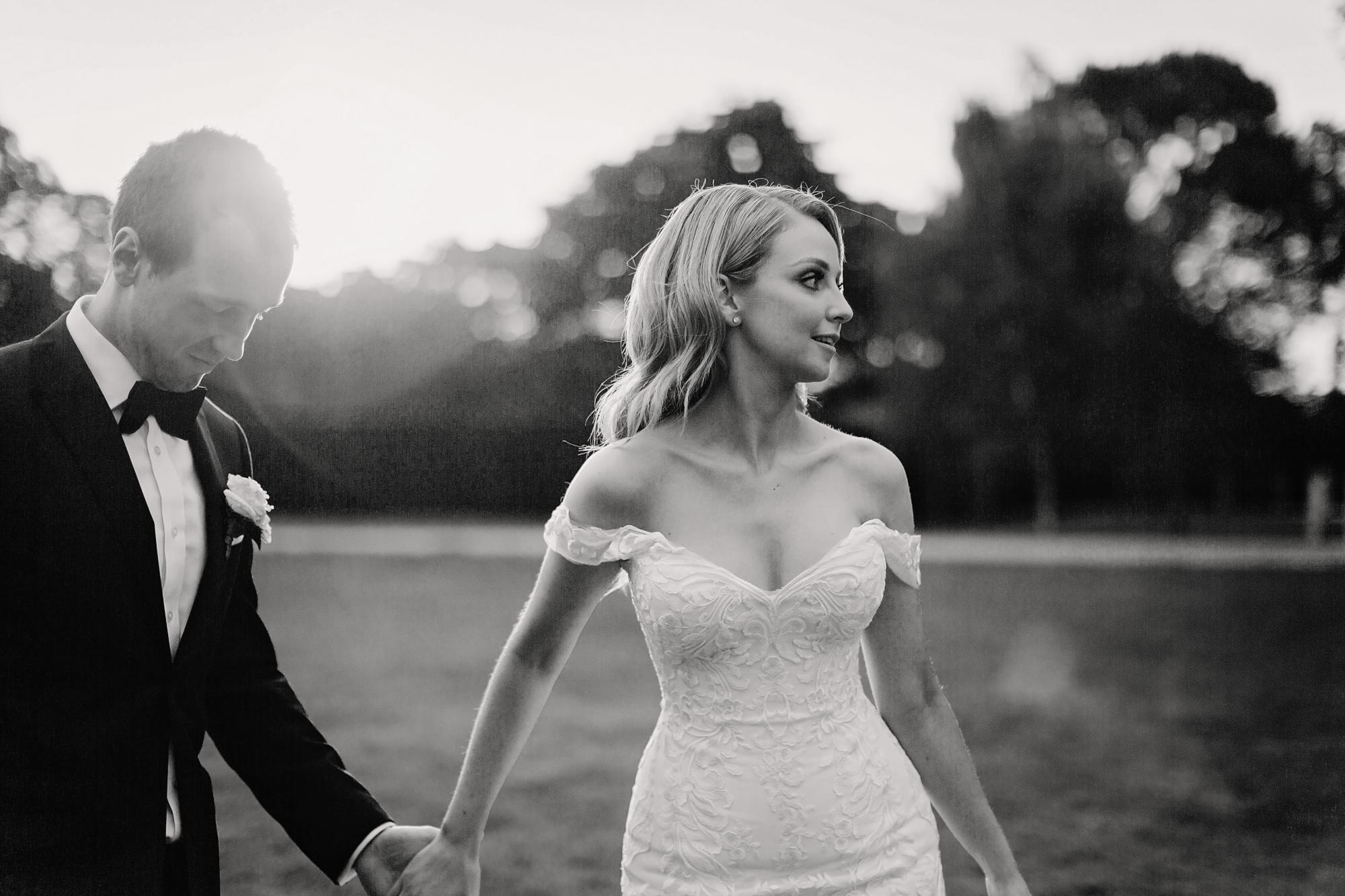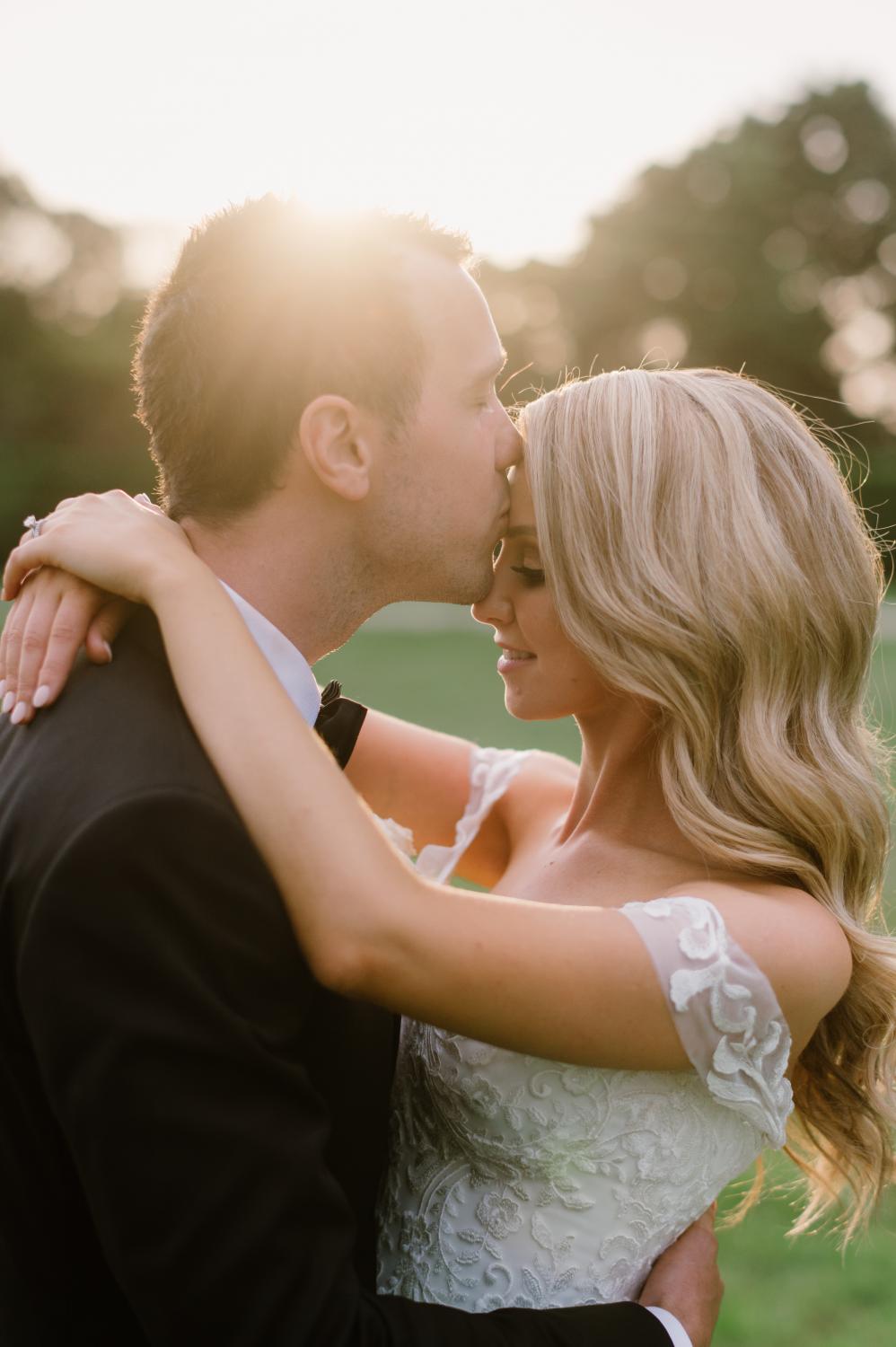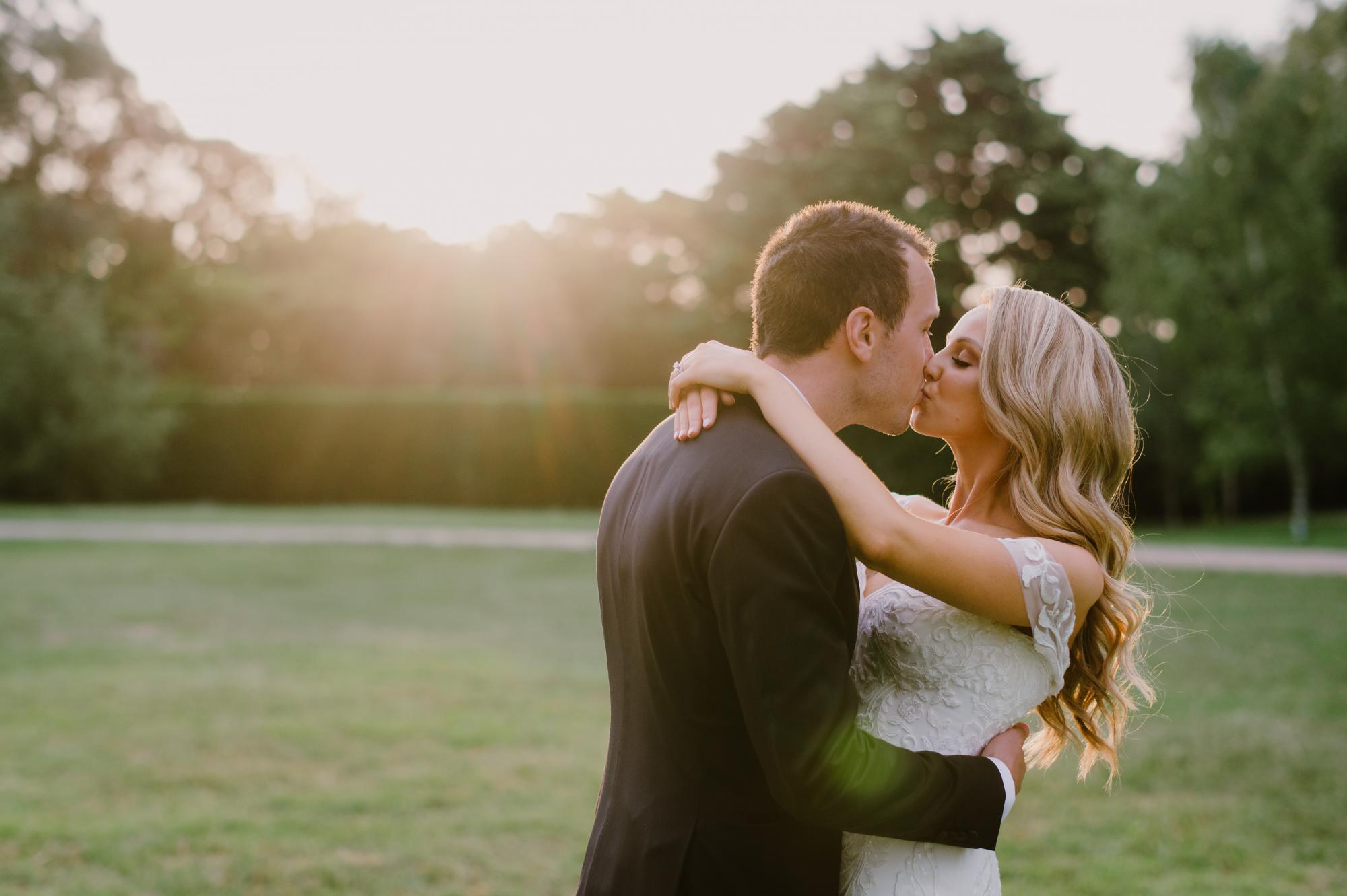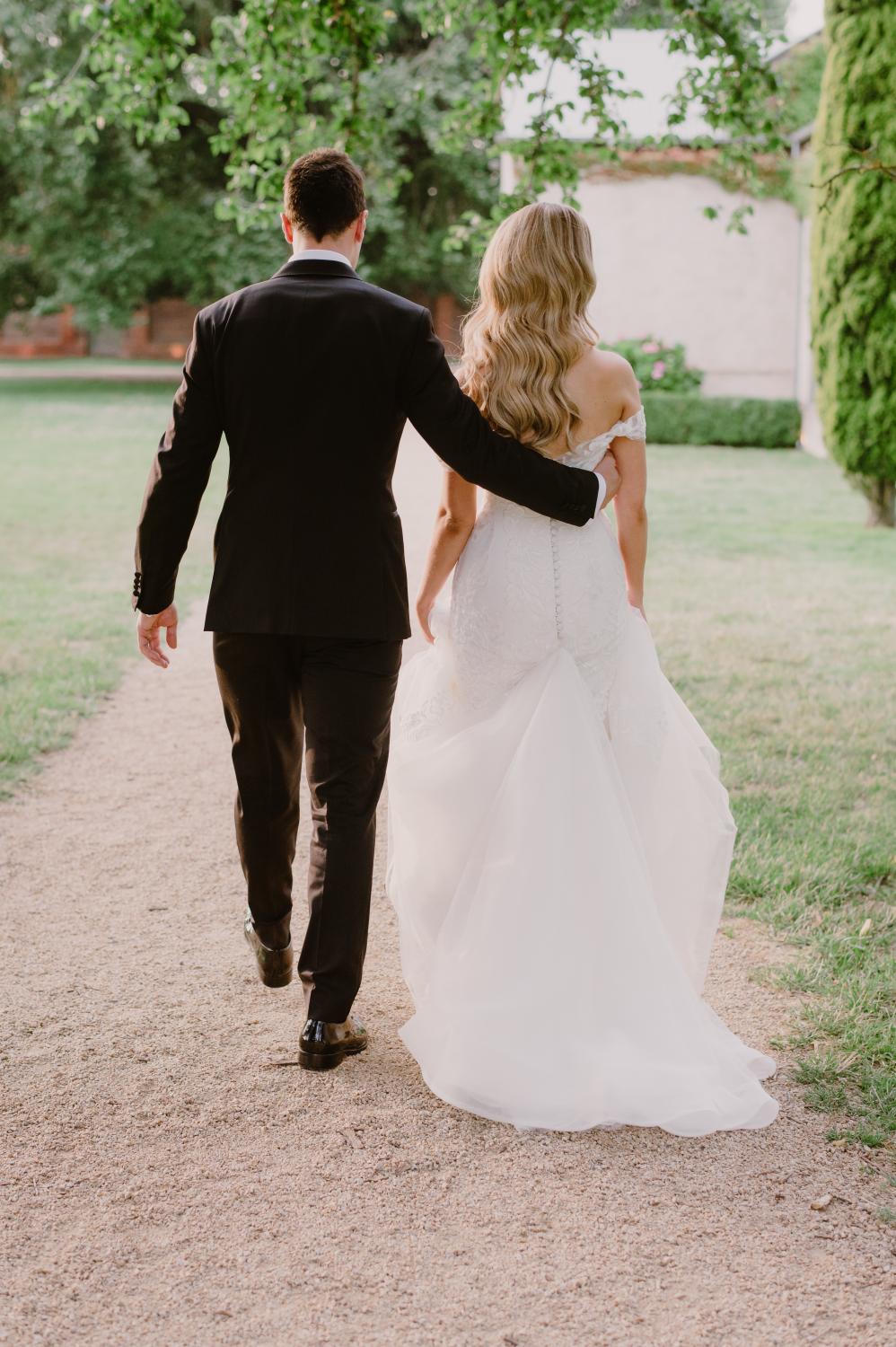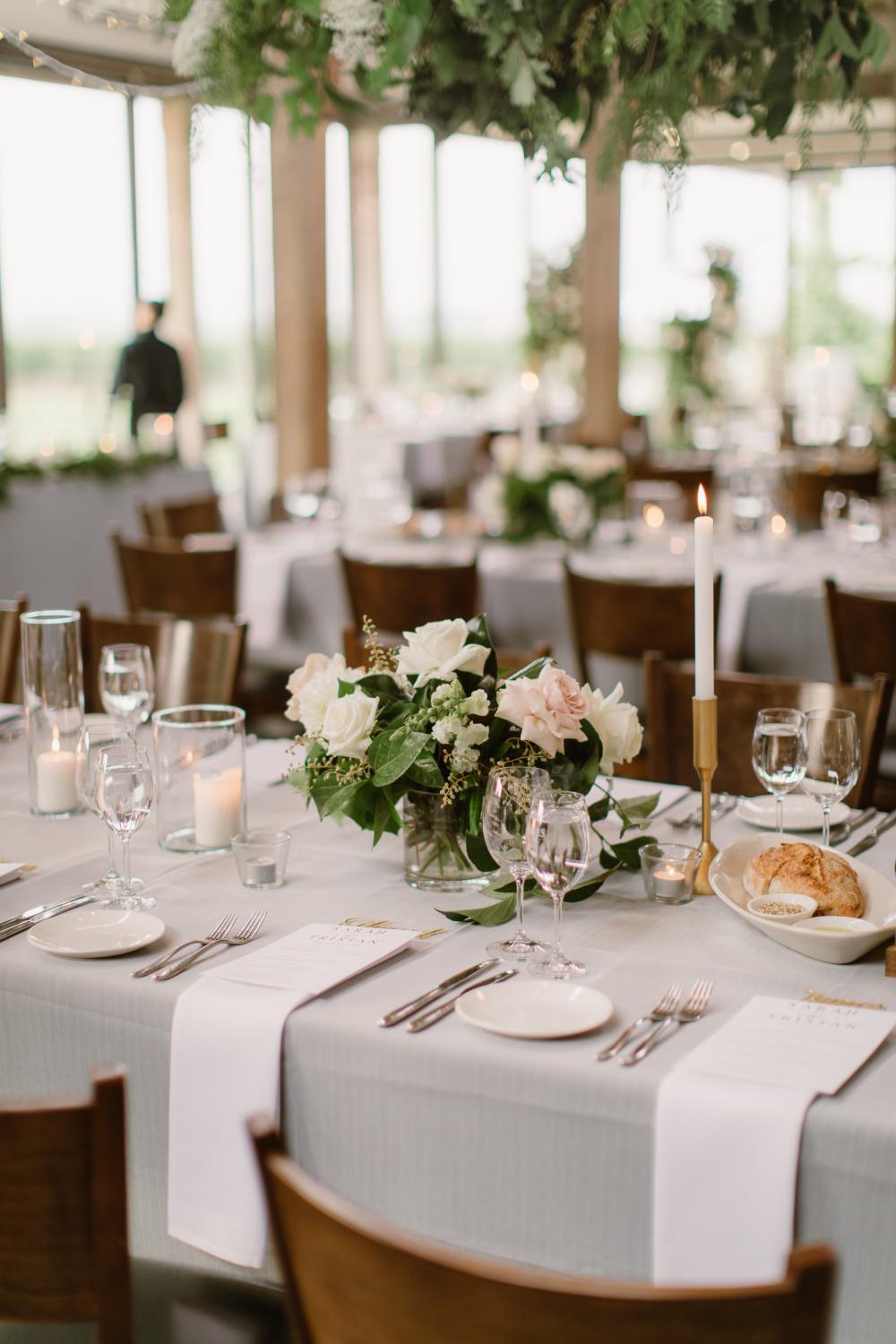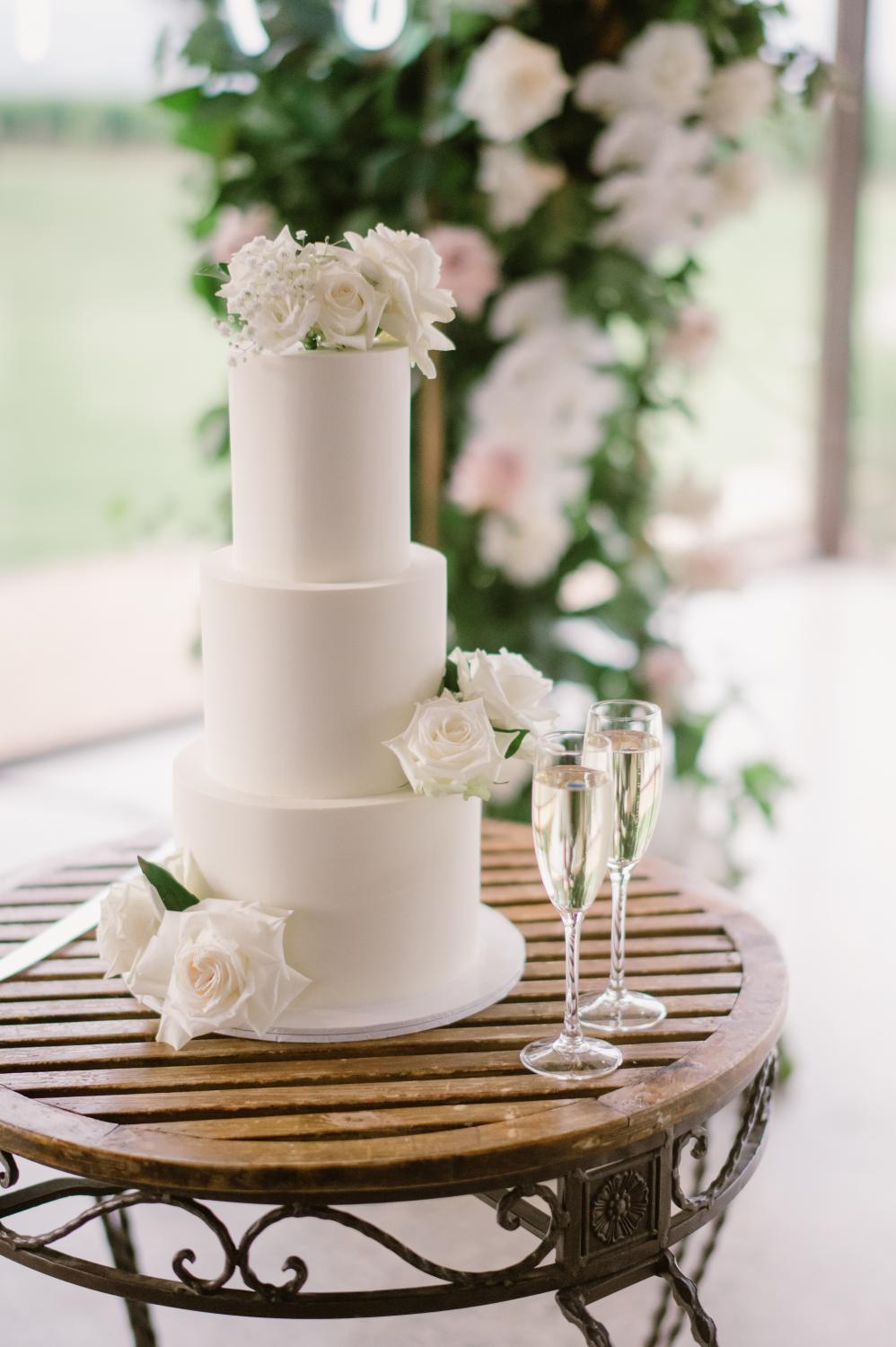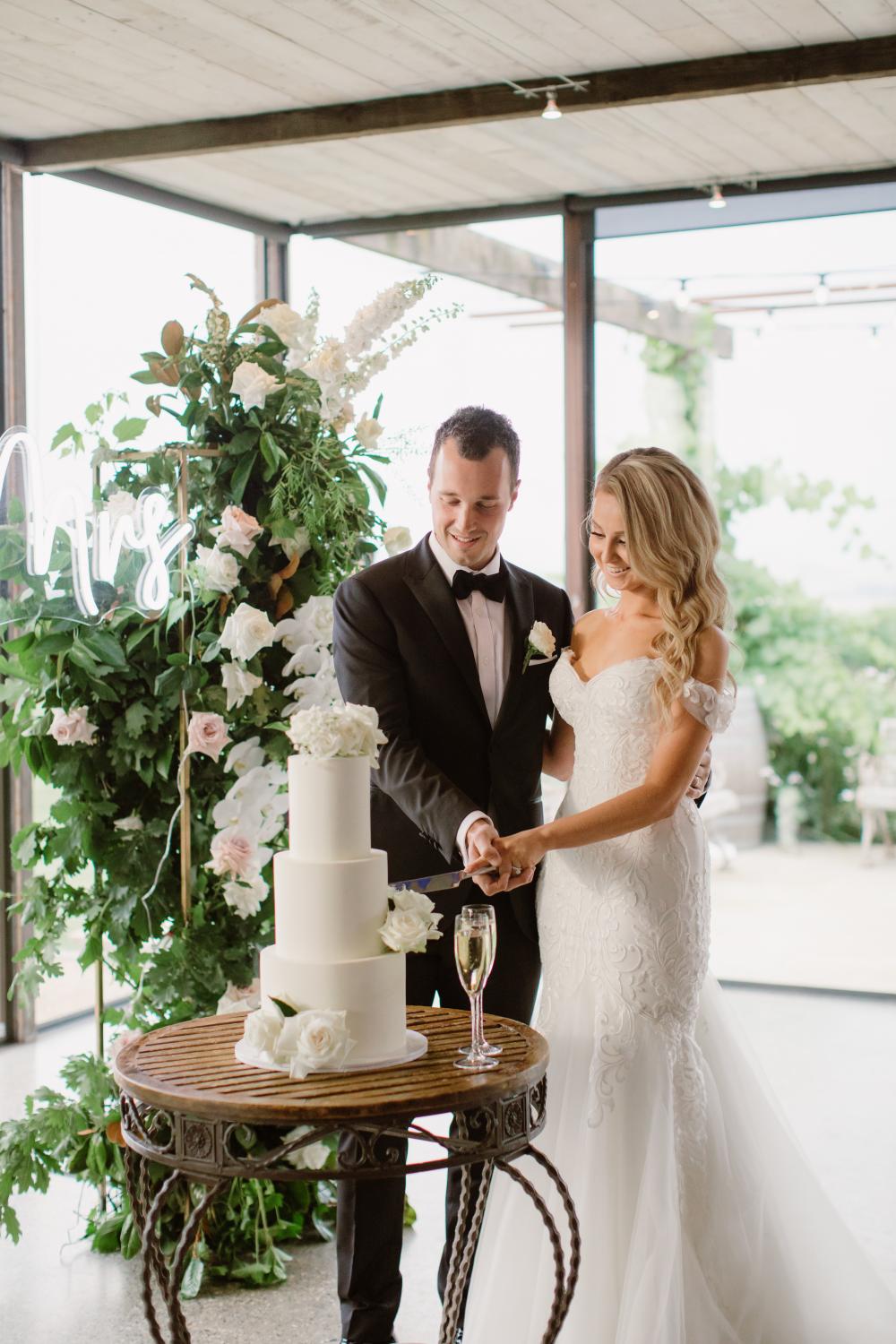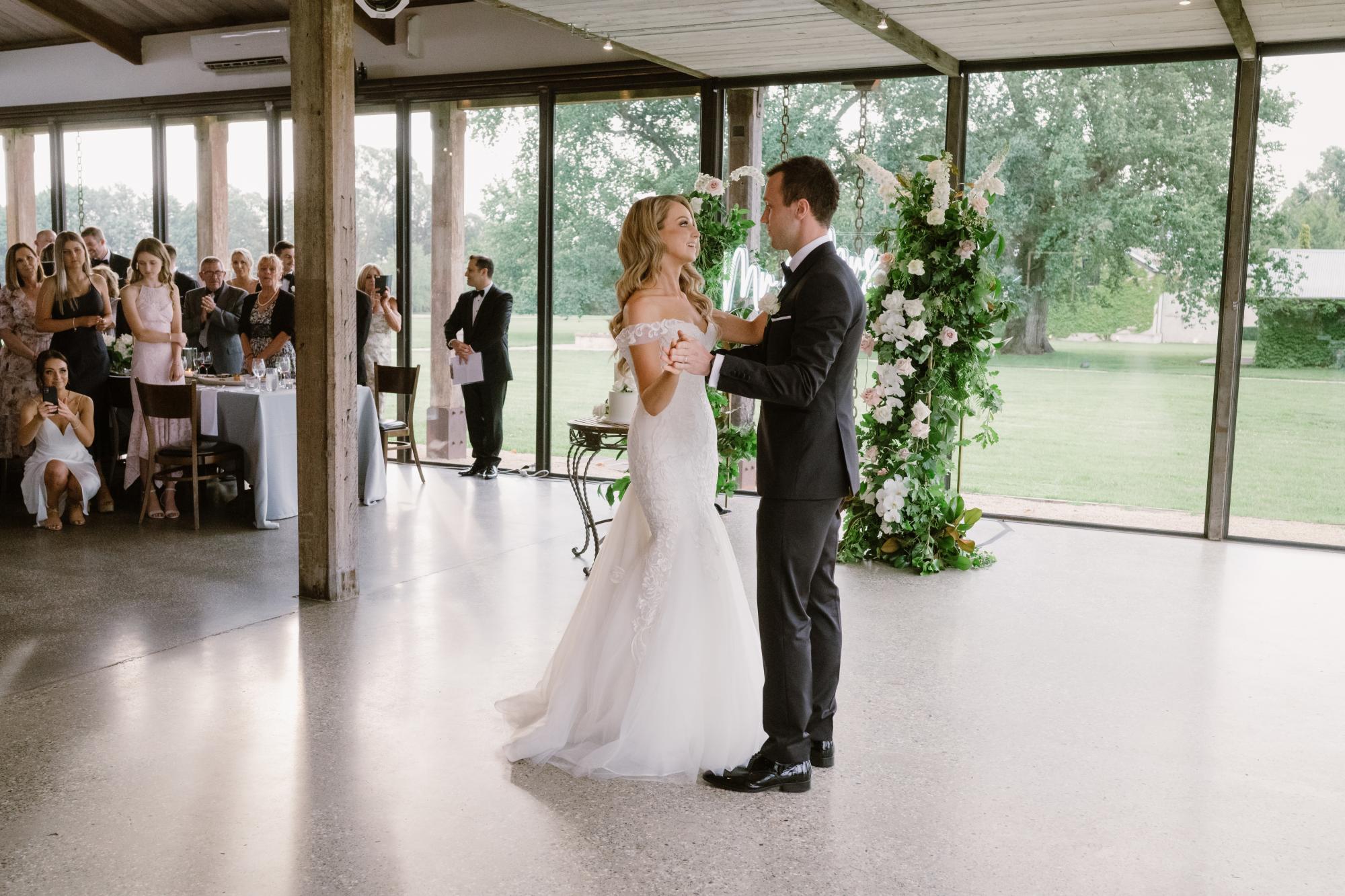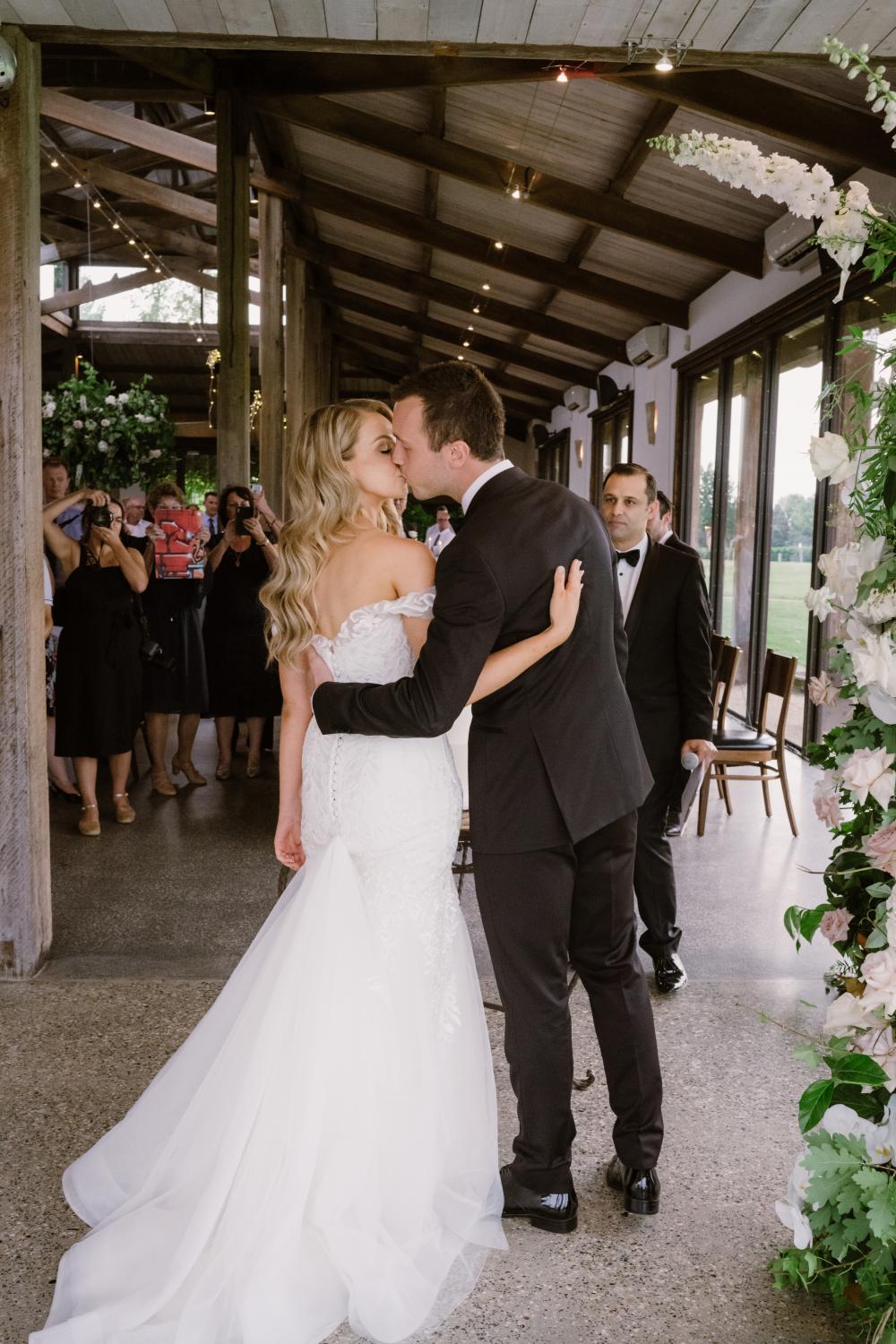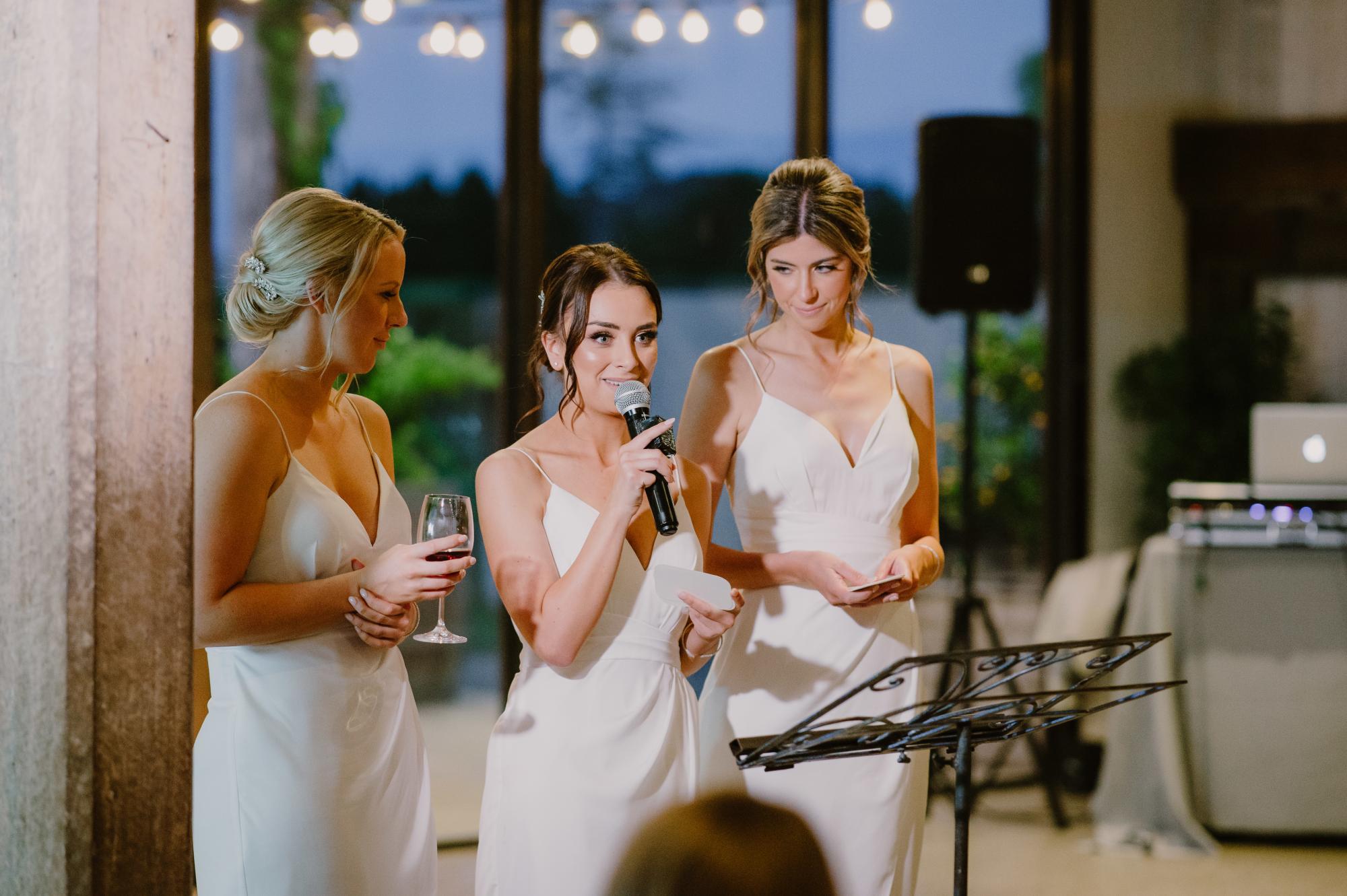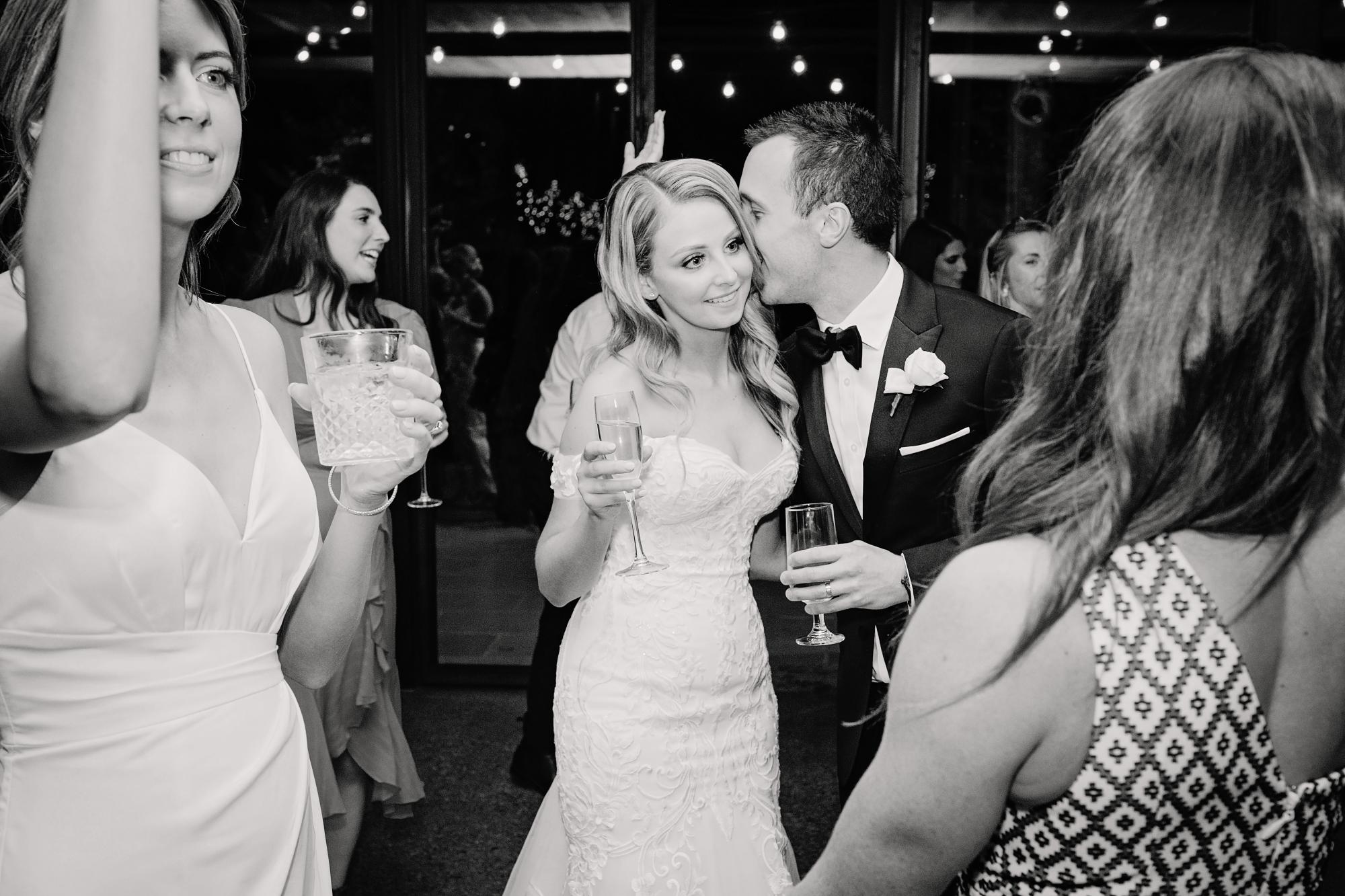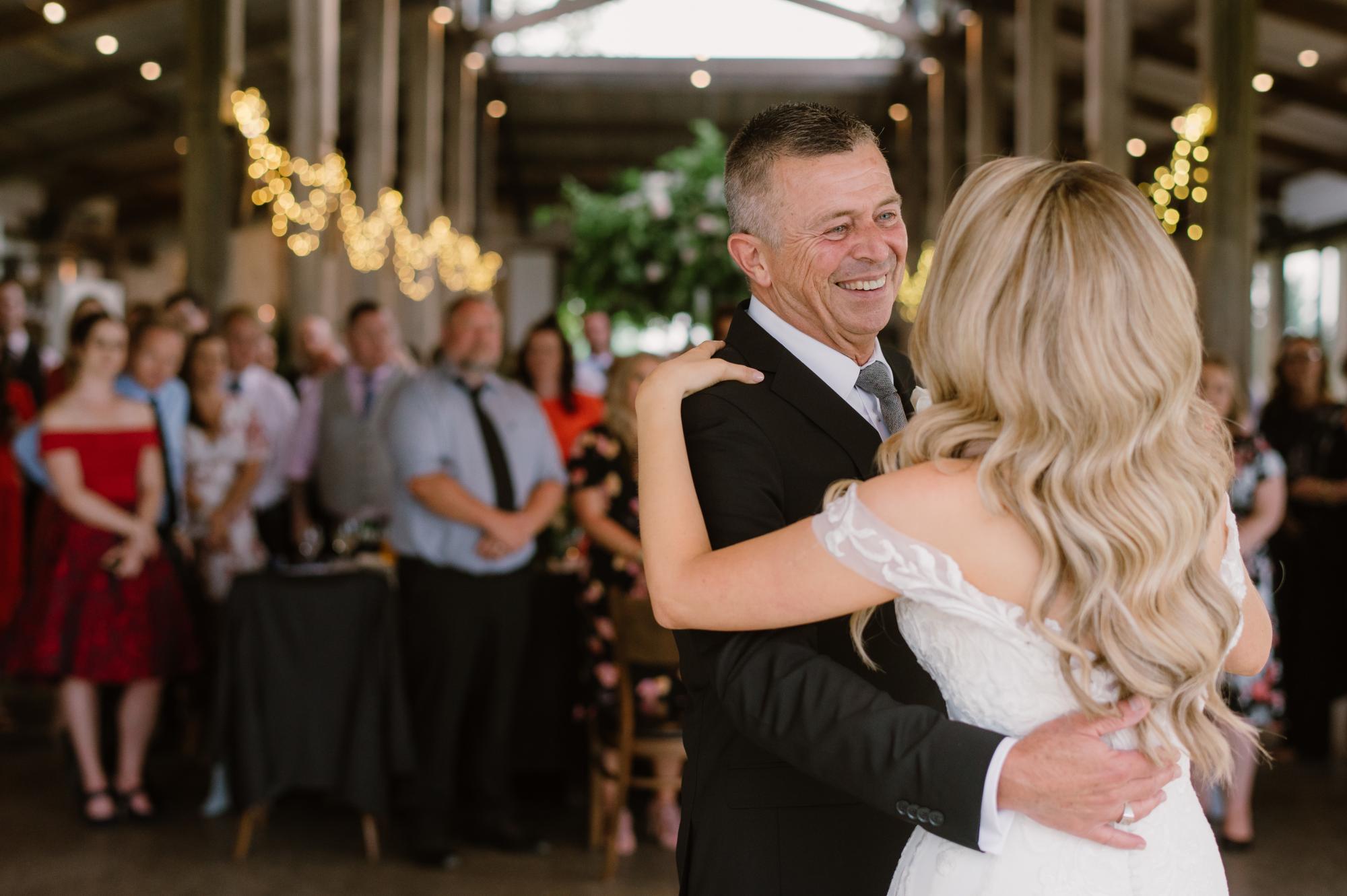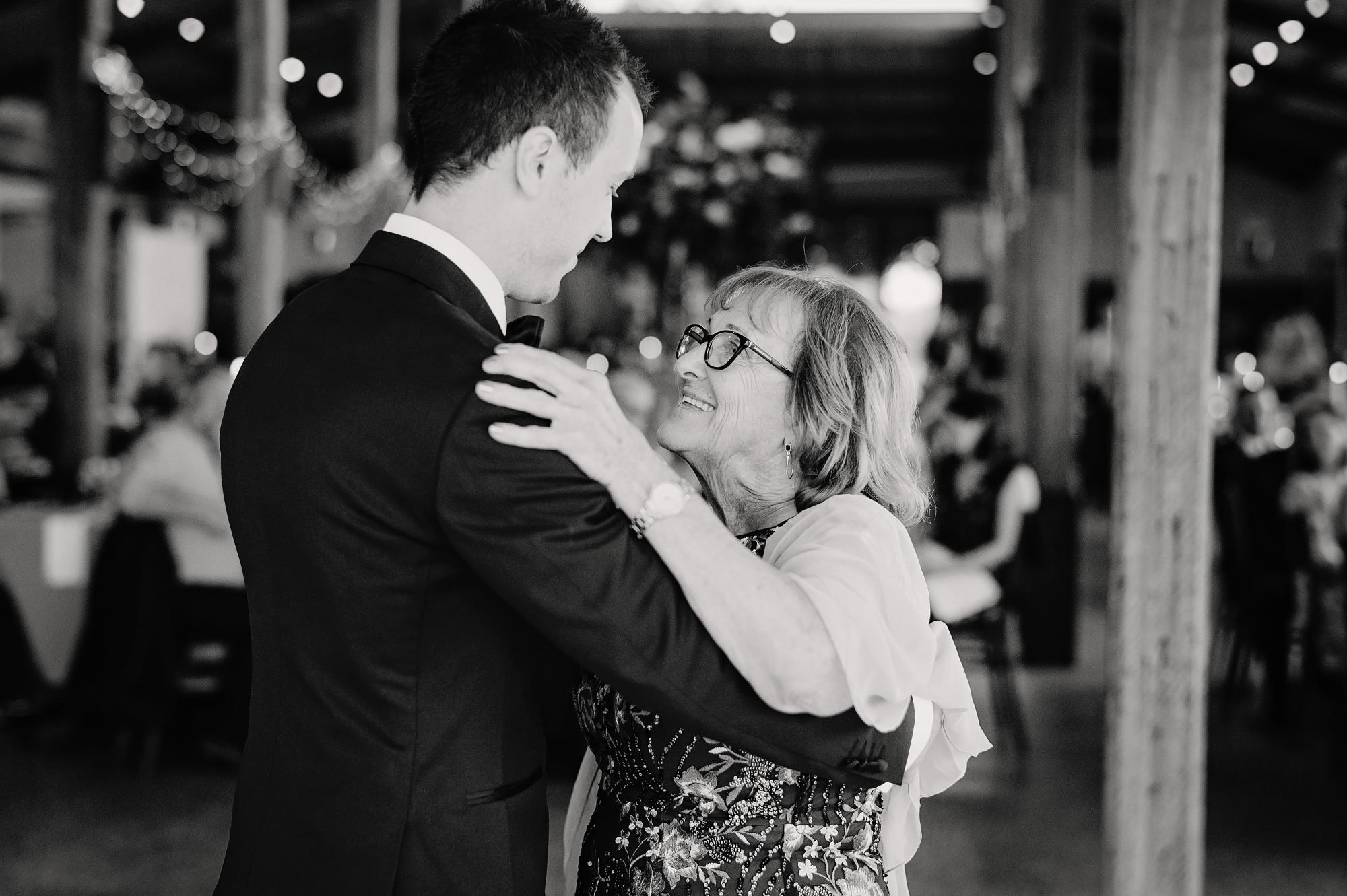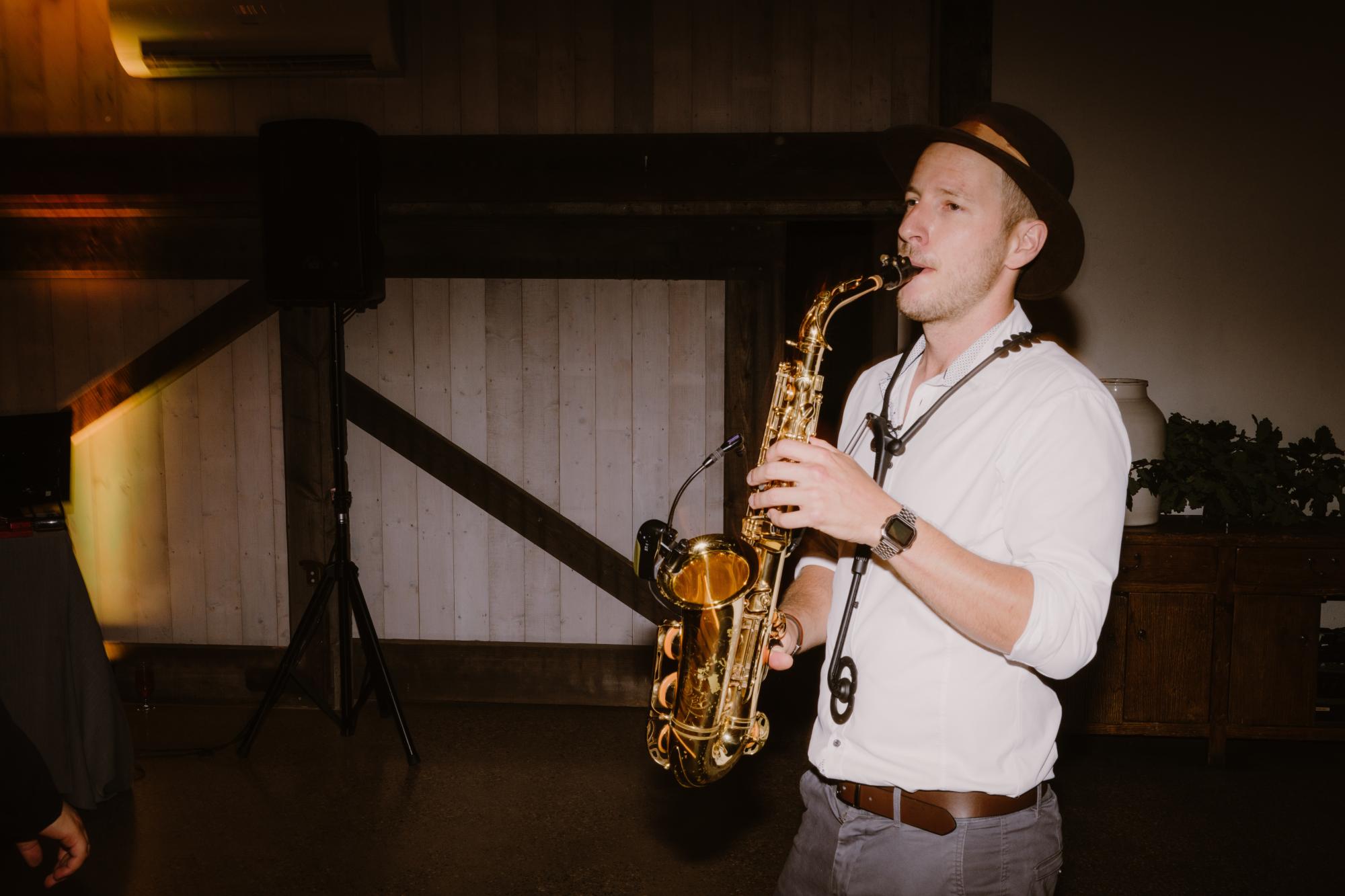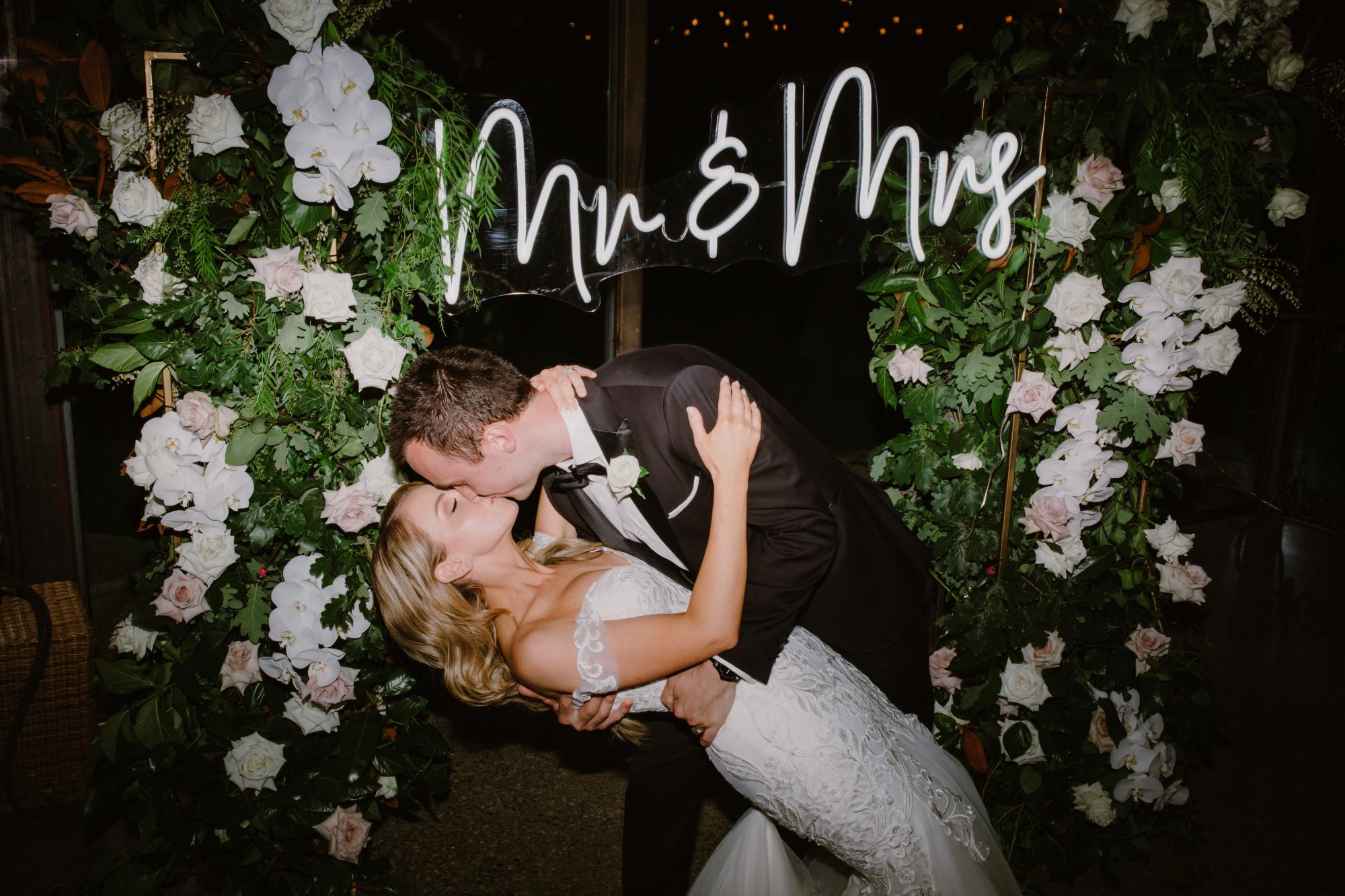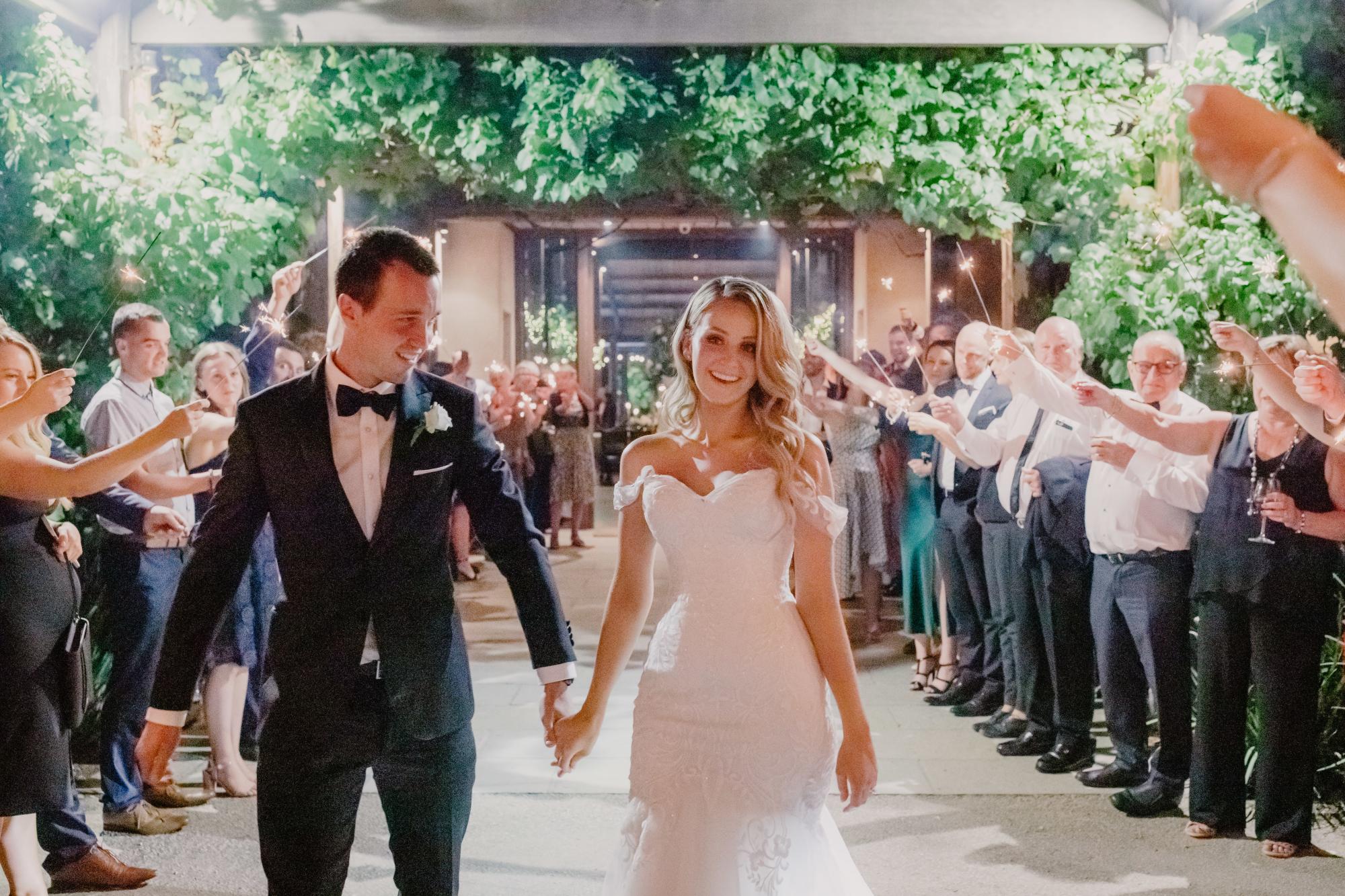 Sarah + Tristan | 18.01.2020
Venue: Stones of the Yarra Valley
Photography: Theodore & Co
Videography: C2 Films
Ceremony: Meriki Comito 
Florals: Sugar Bee Flowers
Bridal Gown: Annette of Melbourne
Brides Shoes: Jimmy Choo
Bridesmaids Dresses: Bariano Australia
Make Up: Katie Winkler Makeup
Hair: Pearly Hairstylist
Grooms Attire: Joe Black
Groomsmen Attire: Joe Black
Ceremony String Trio: Stringspace
Cars: Triple R Cars
Tableware: Table Art Event Hire
Cake: Miss Ladybird Cakes
MC: Sam Muscat
Reception Entertainment: Rutherford Entertainment
Ceremony Entrances – know your options →
←Wedding Vows – how to make them yours
Hamish + Sunny's Coombe Yarra Valley Wedding
The Event
Hamish + Sunny's beautiful Yarra Valley Wedding at Coombe Estate took place on a 44ºC Summer's' day, but the super chilled + considerate duo were quick to prioritise the comfort of their family + friends by making a last minute ceremony location change to ensure grateful guests were seated in the shade, before they moved inside to party with the air-con!
When I first met with Hamish + Sunny, they brought their gorgeous Maid of Honour, Jordie, along for the ride, and after a couple of wines and ton of laughter later, I knew the trio were definitely my kind of people and that this wedding would have a seriously fun + relaxed vibe.
It was all that and more. A fabulous bridal party, festive guests, romance, style + elegance galore, lots of laughs, all the feels, and an A-team list of vendors helping to make the day perfect.
Ceremony Details
Initially meeting through mutual friends at the gym, Hamish was confident that Sunny had fallen in love with him at first sight, but when Sunny saw him smashing it out on the cross-trainer in a hoodie in the middle of summer, she only thought him to be a big sweaty mess! But the brief conversation that followed ignited an undeniable spark and they soon bonded over a mutual love of food, travel and finding any opportunity to take a nap.
Popping the big question during a holiday in Bali, Hamish chose total romance by bending to one knee, as they walked along the beach at sunset.
After arriving, bathed in sunshine, on the arm of her prod father, Sunny stood before her smitten groom and promised to "always arrive at the airport 3 hours early so you can get the exit row, to nurse you back to health after your yearly ankle operations" and "to be worth it – worth the time, worth the energy, and most importantly, worthy of your love."
Hamish declared that he felt "blessed & lucky to be marrying the most beautiful, driven & caring person I know", before promising to "respect you and protect you with my life and to be by your side no matter what", before they shared their first kiss as married couple and celebrated on the lawn with cold drinks and hugs all around.
The Photography Team
Many thanks to the amazing team at Lost in Love Photography for allowing me to publish their gorgeous images, as well as superstar videographers Moon & Back Co for the fab film!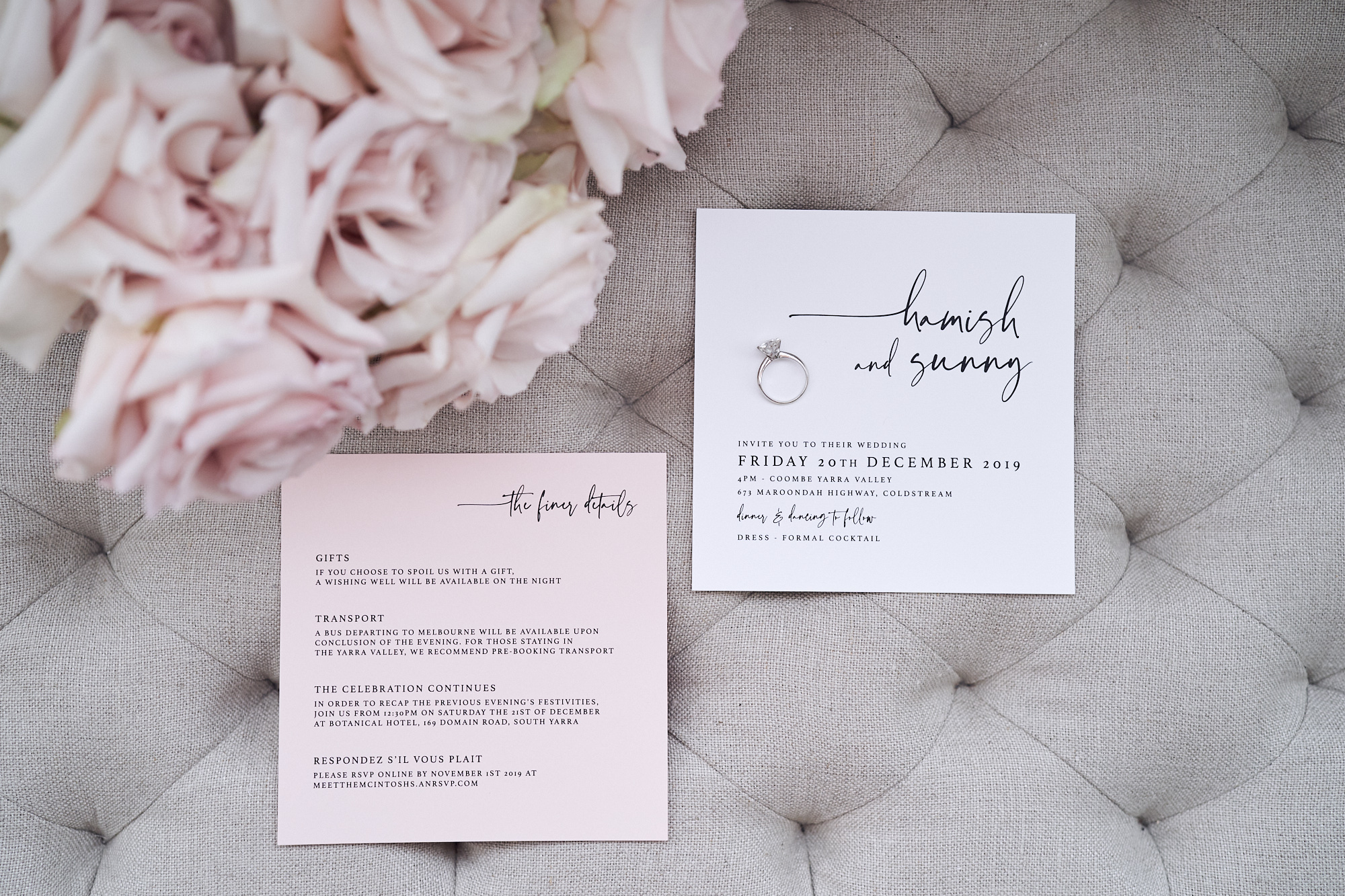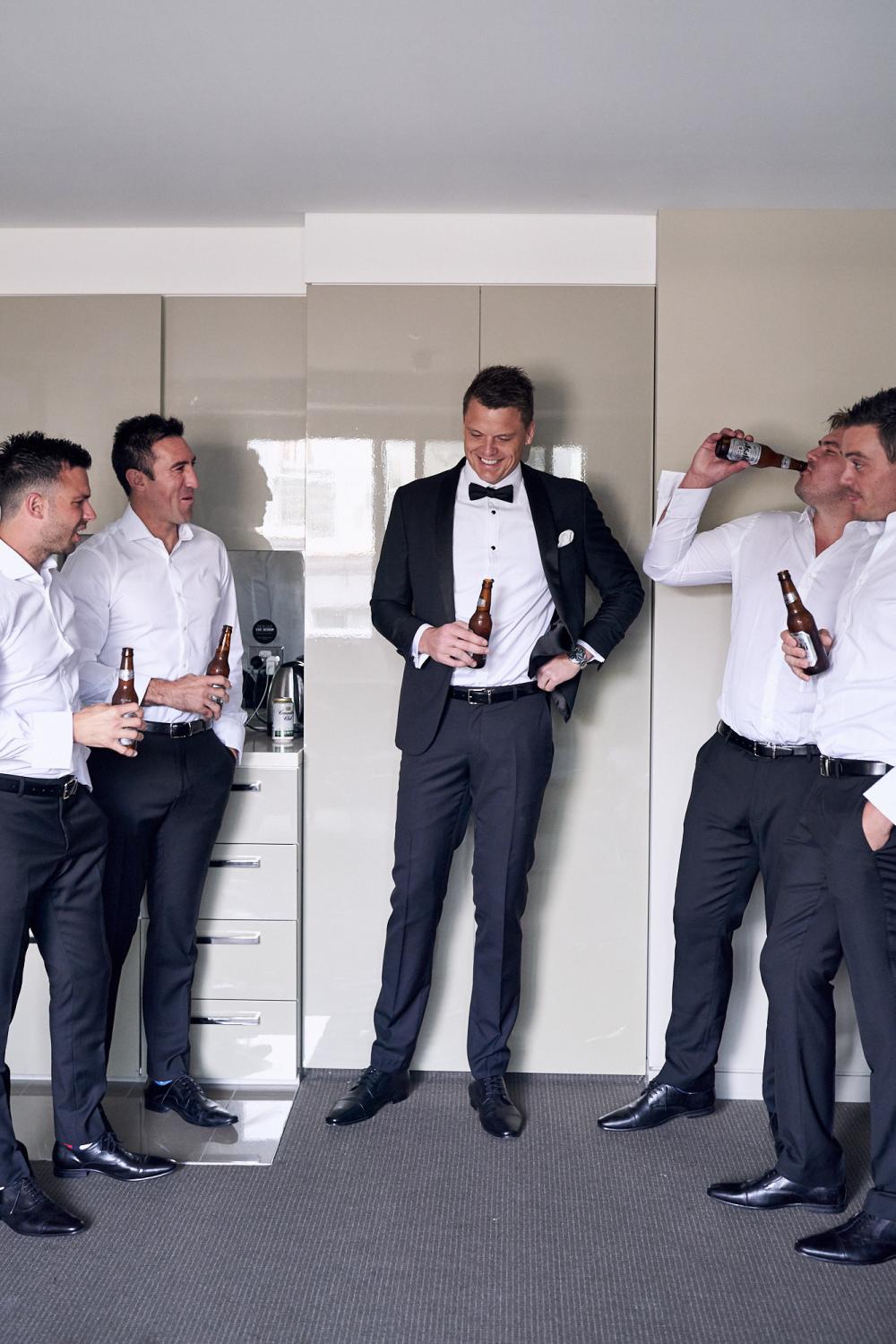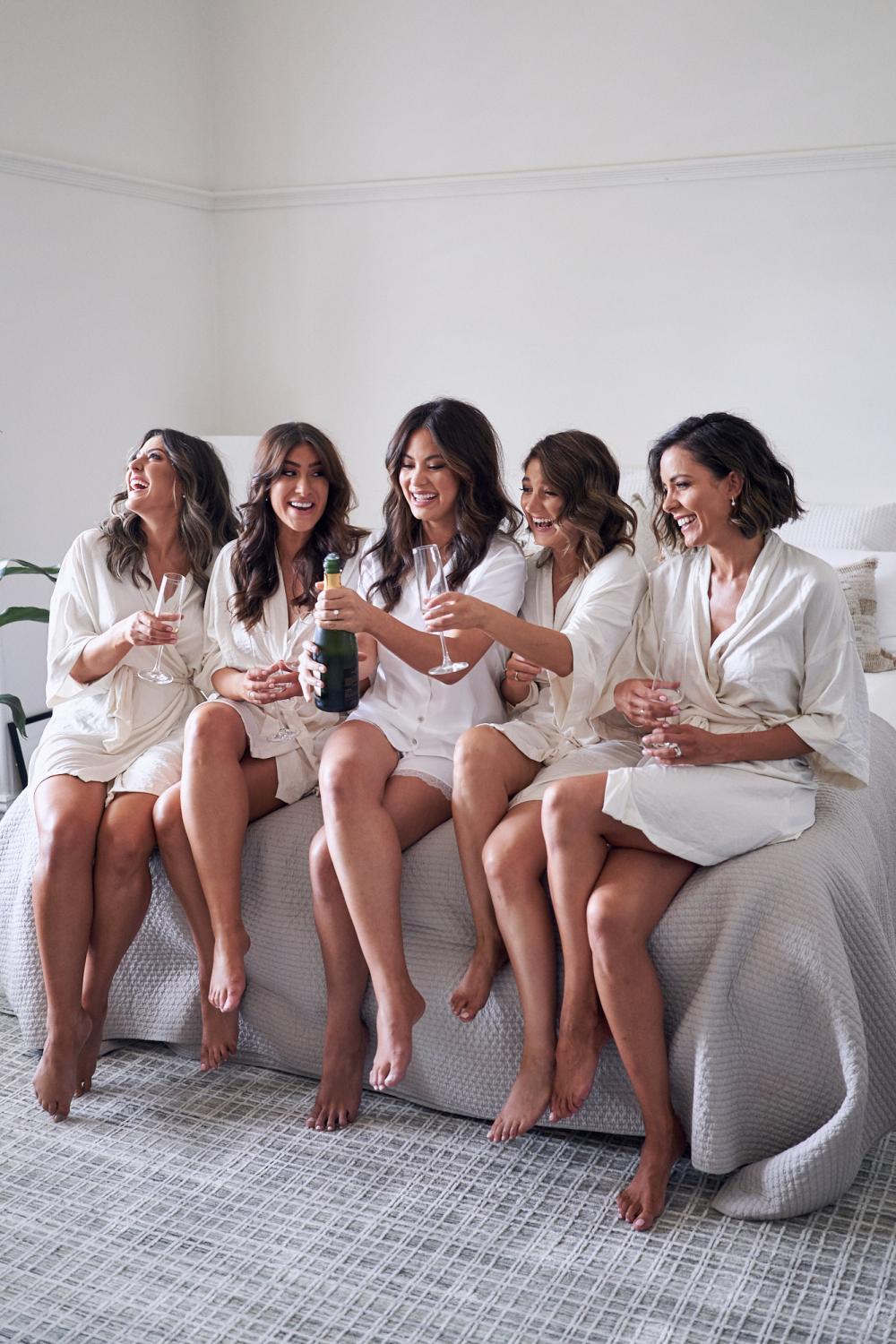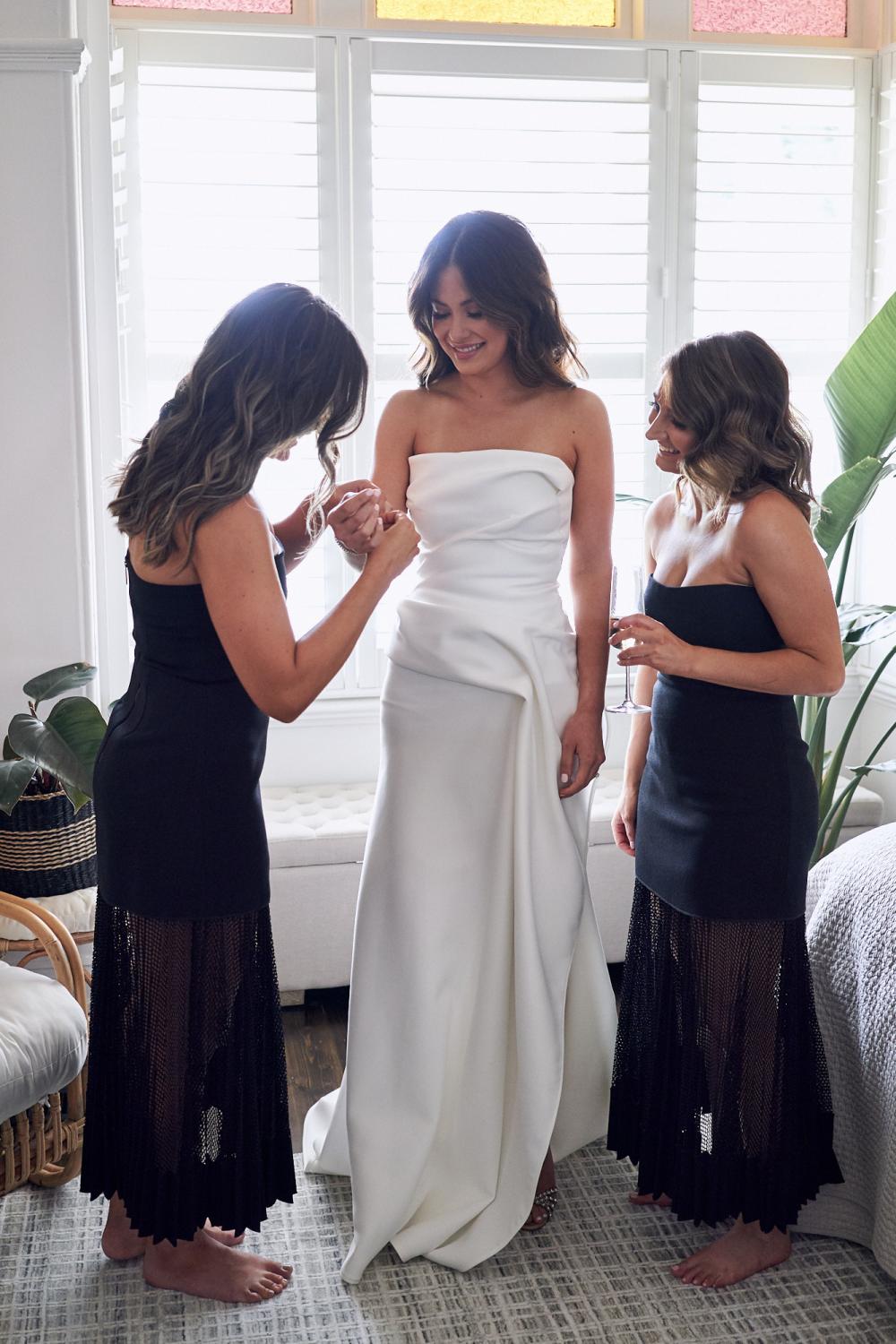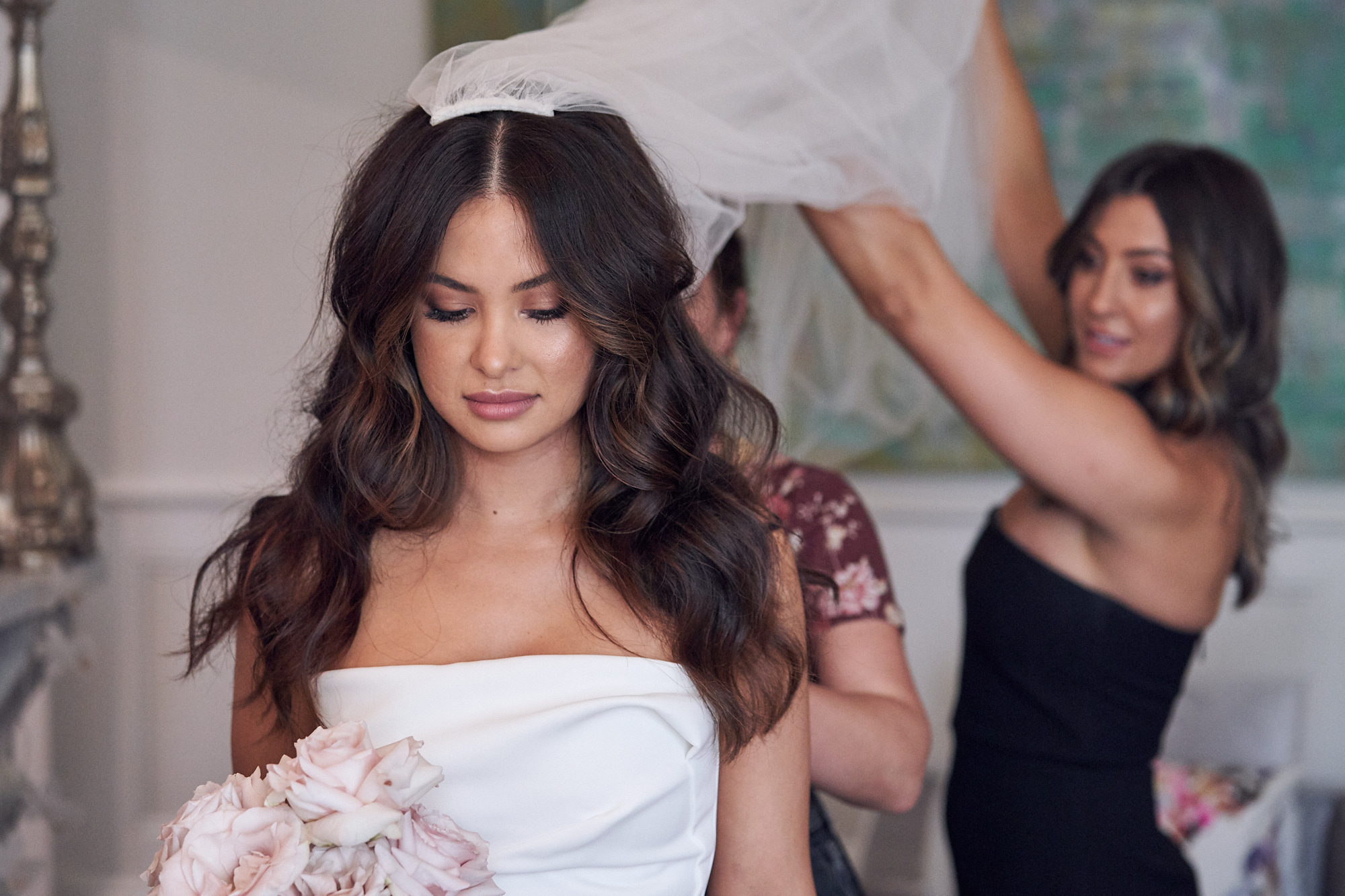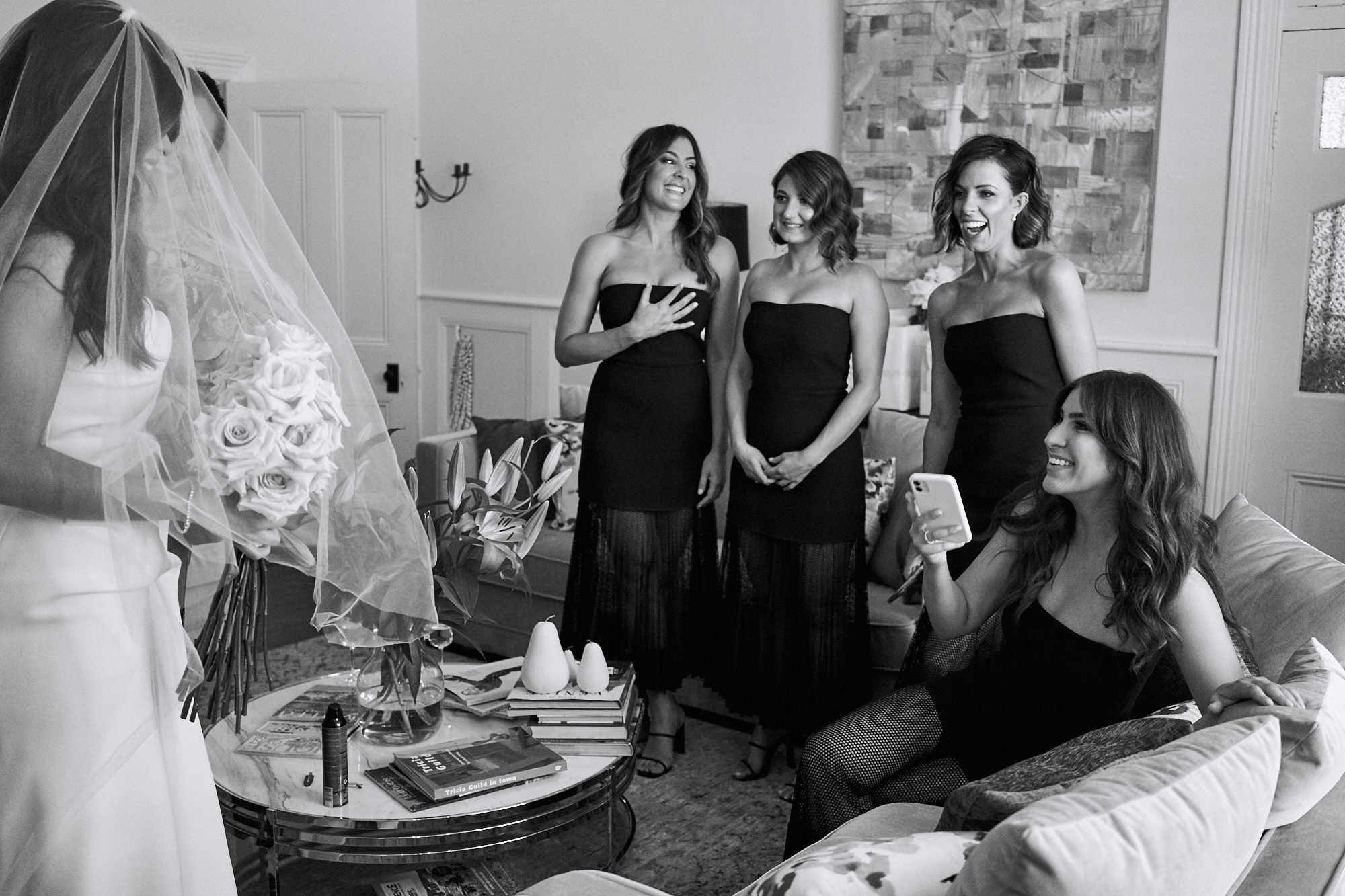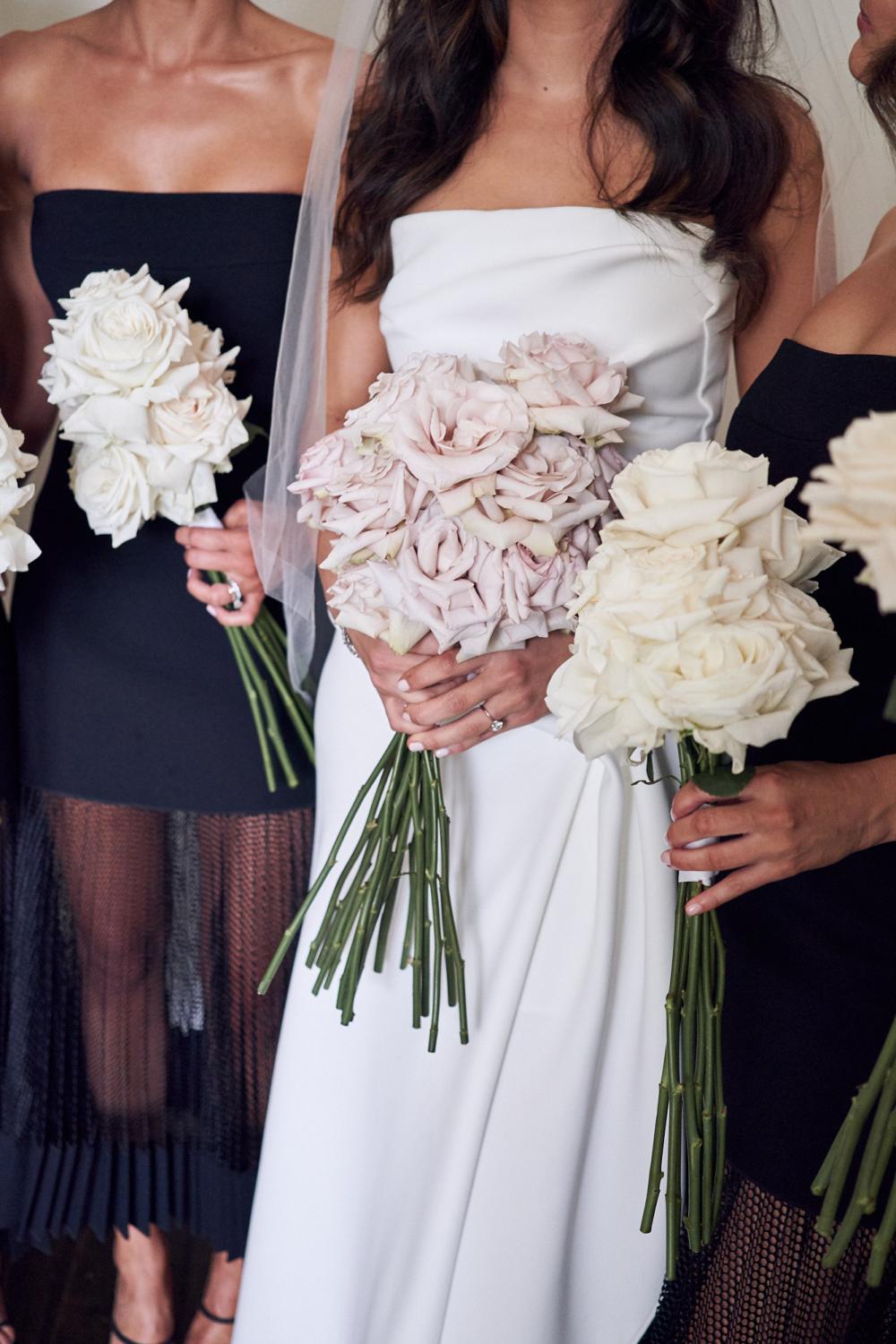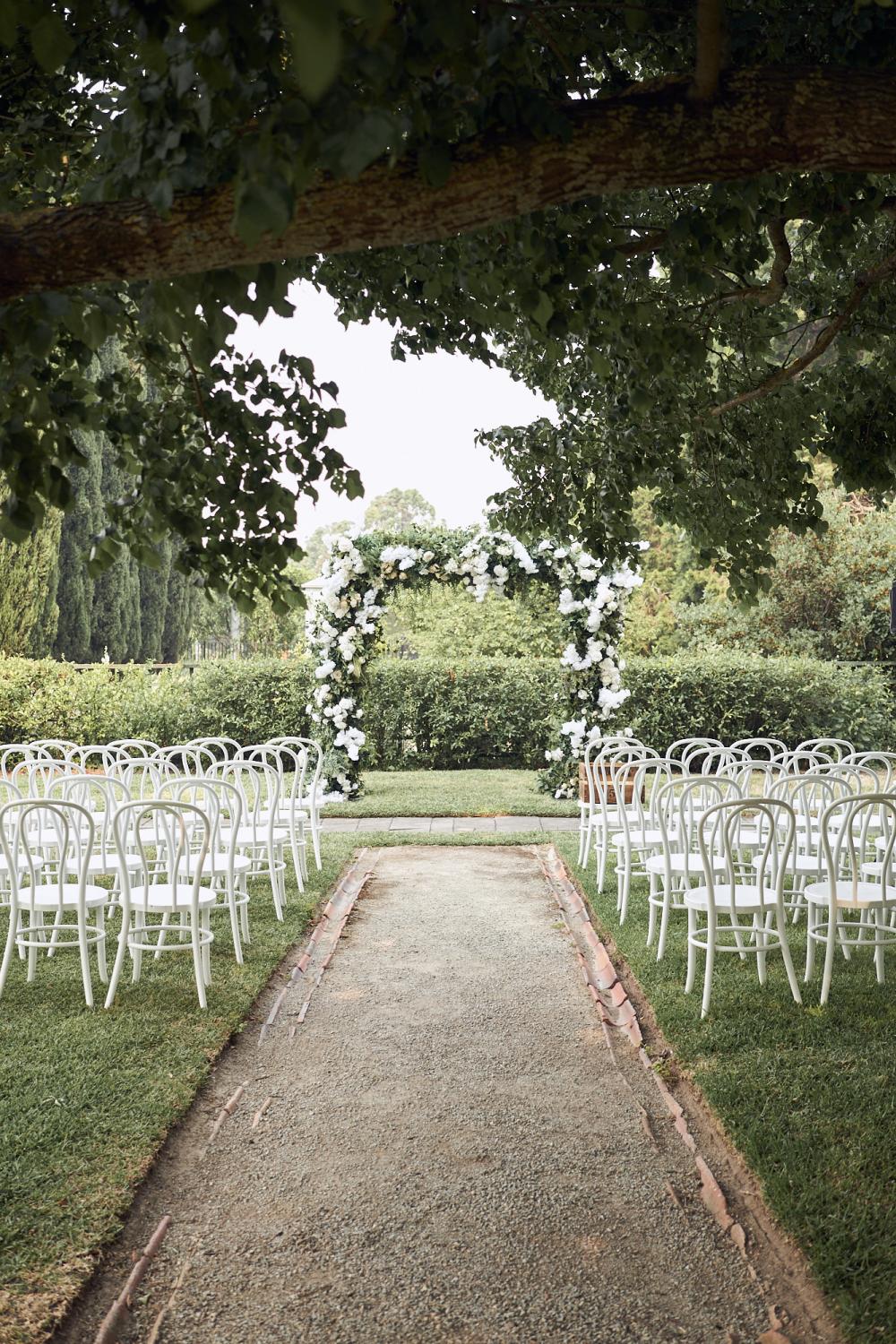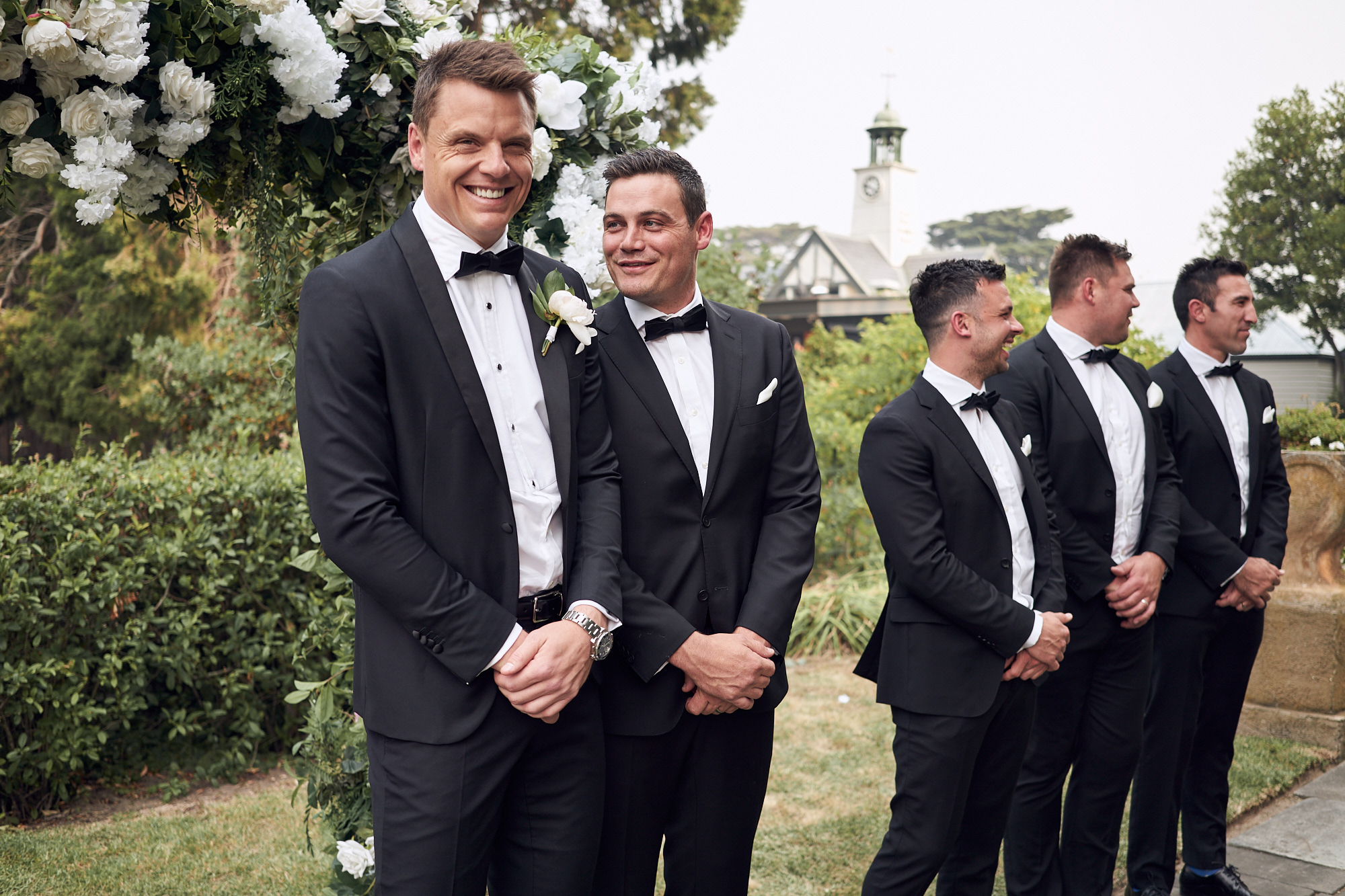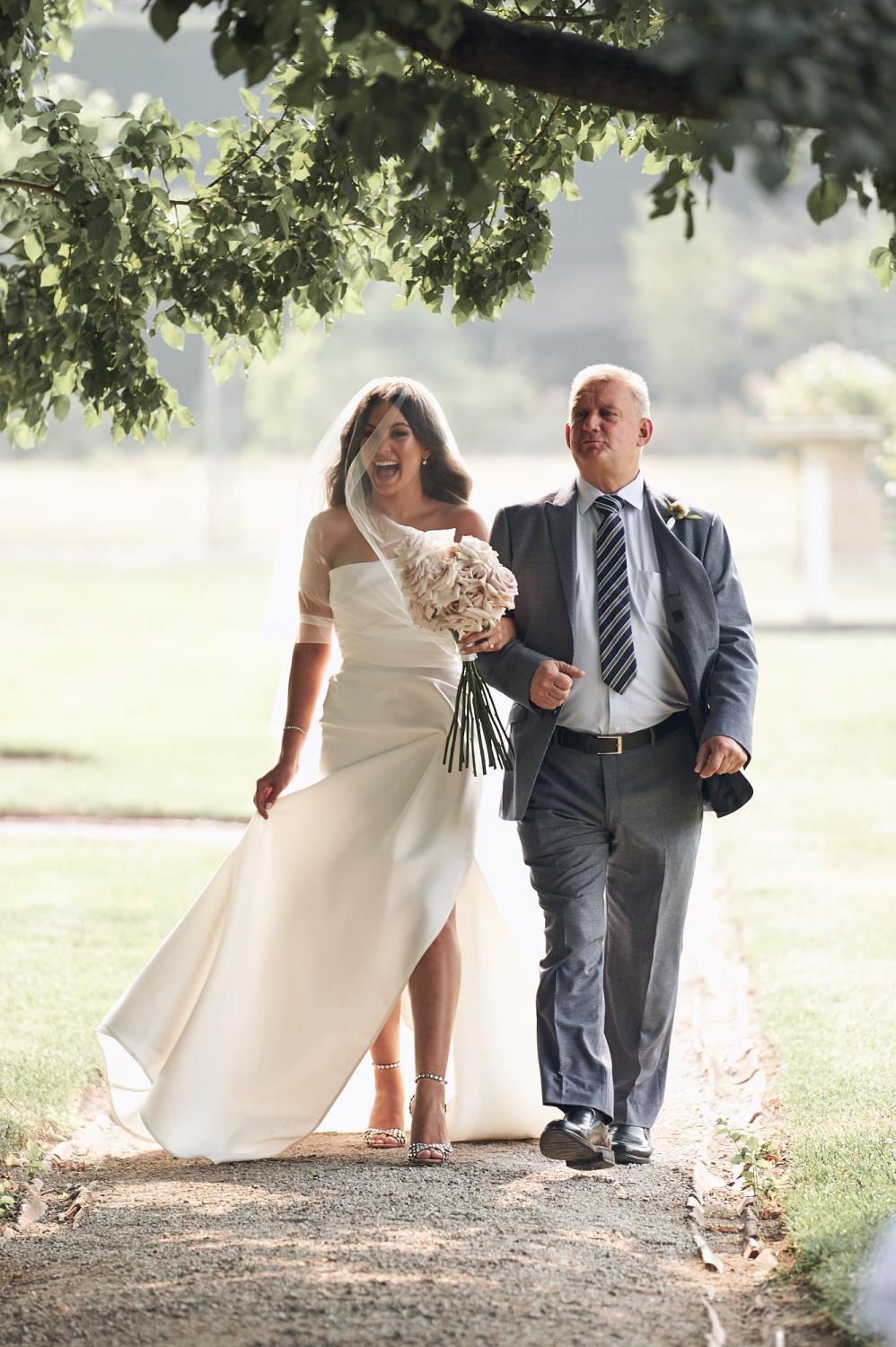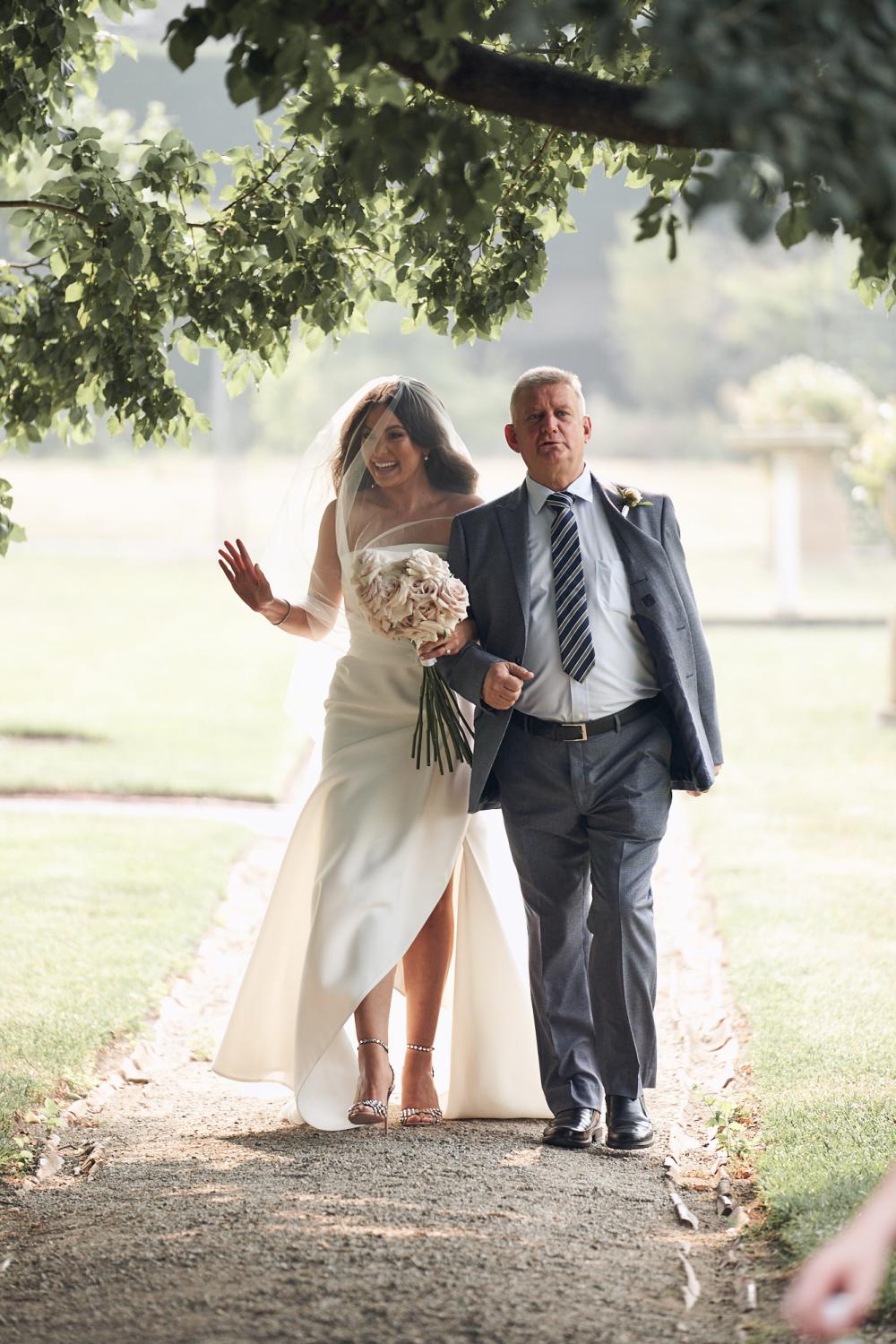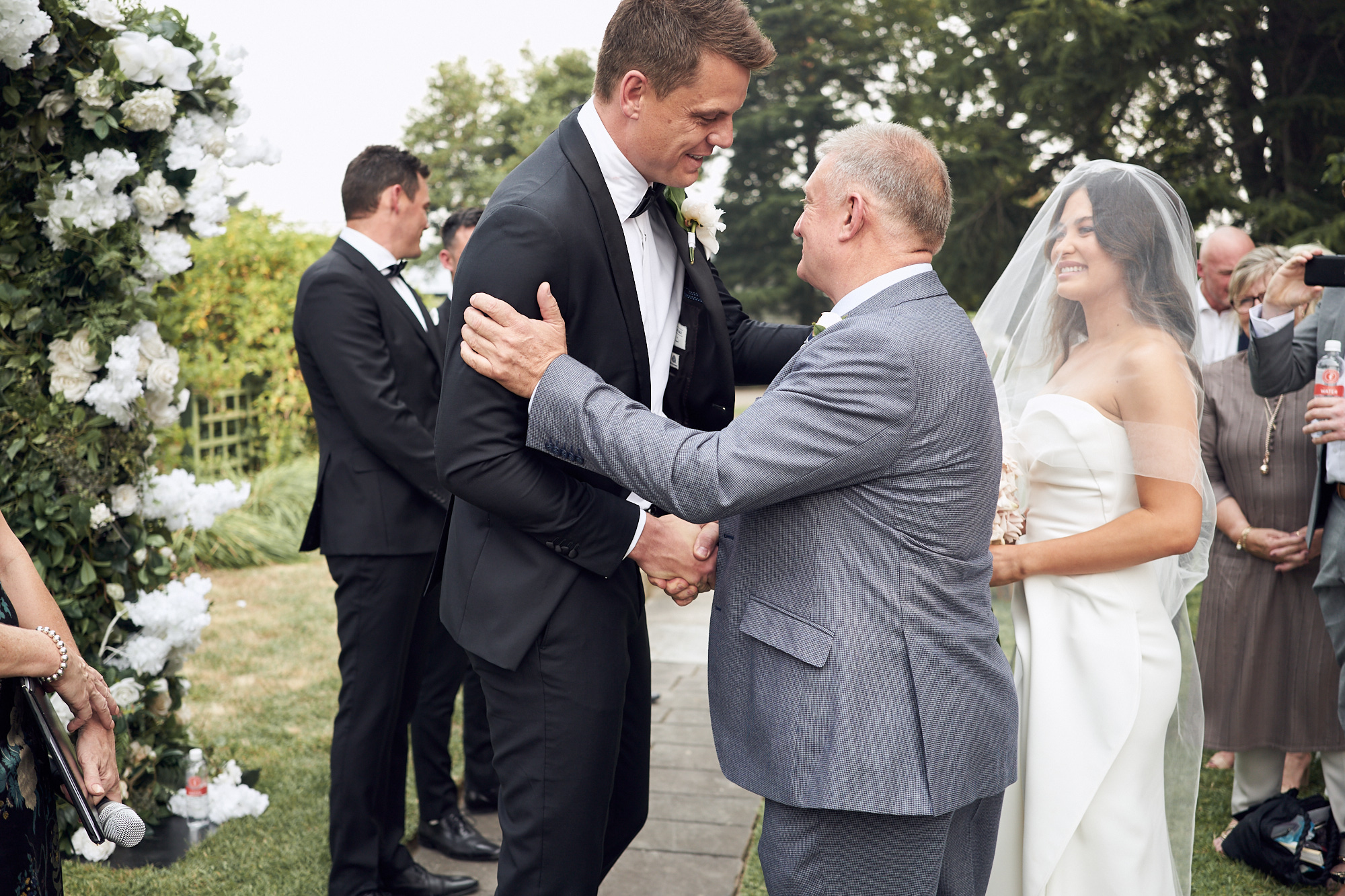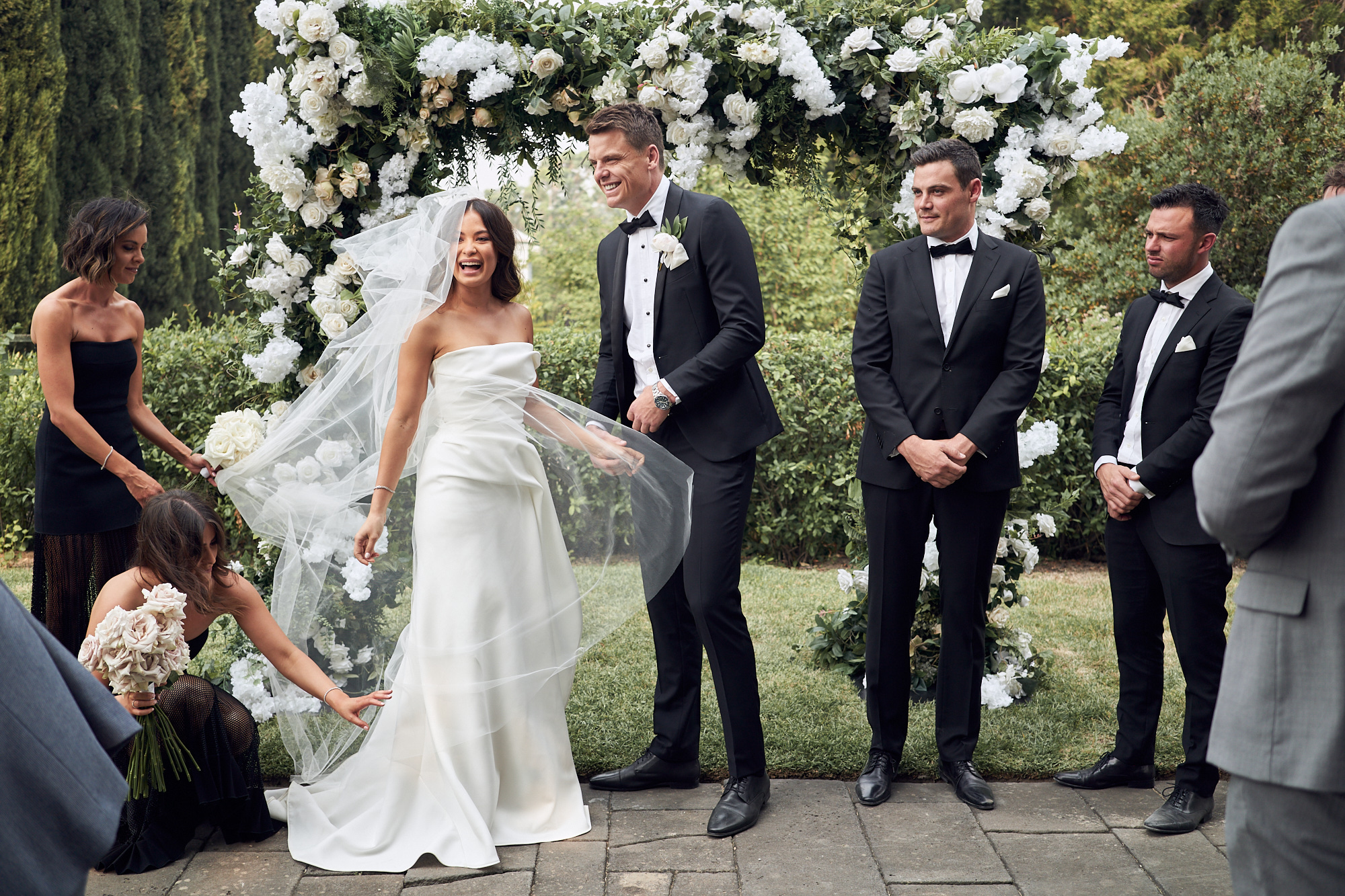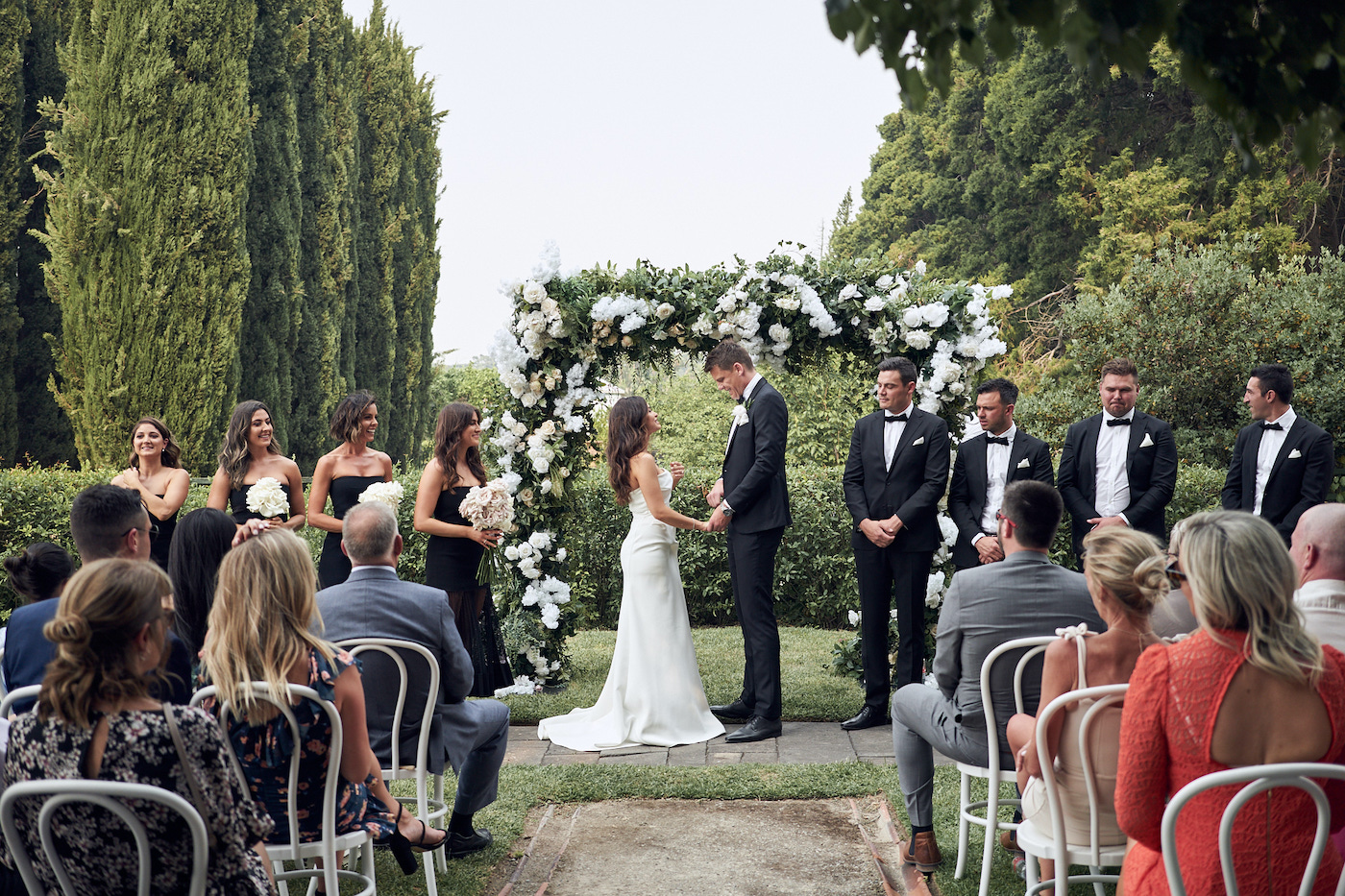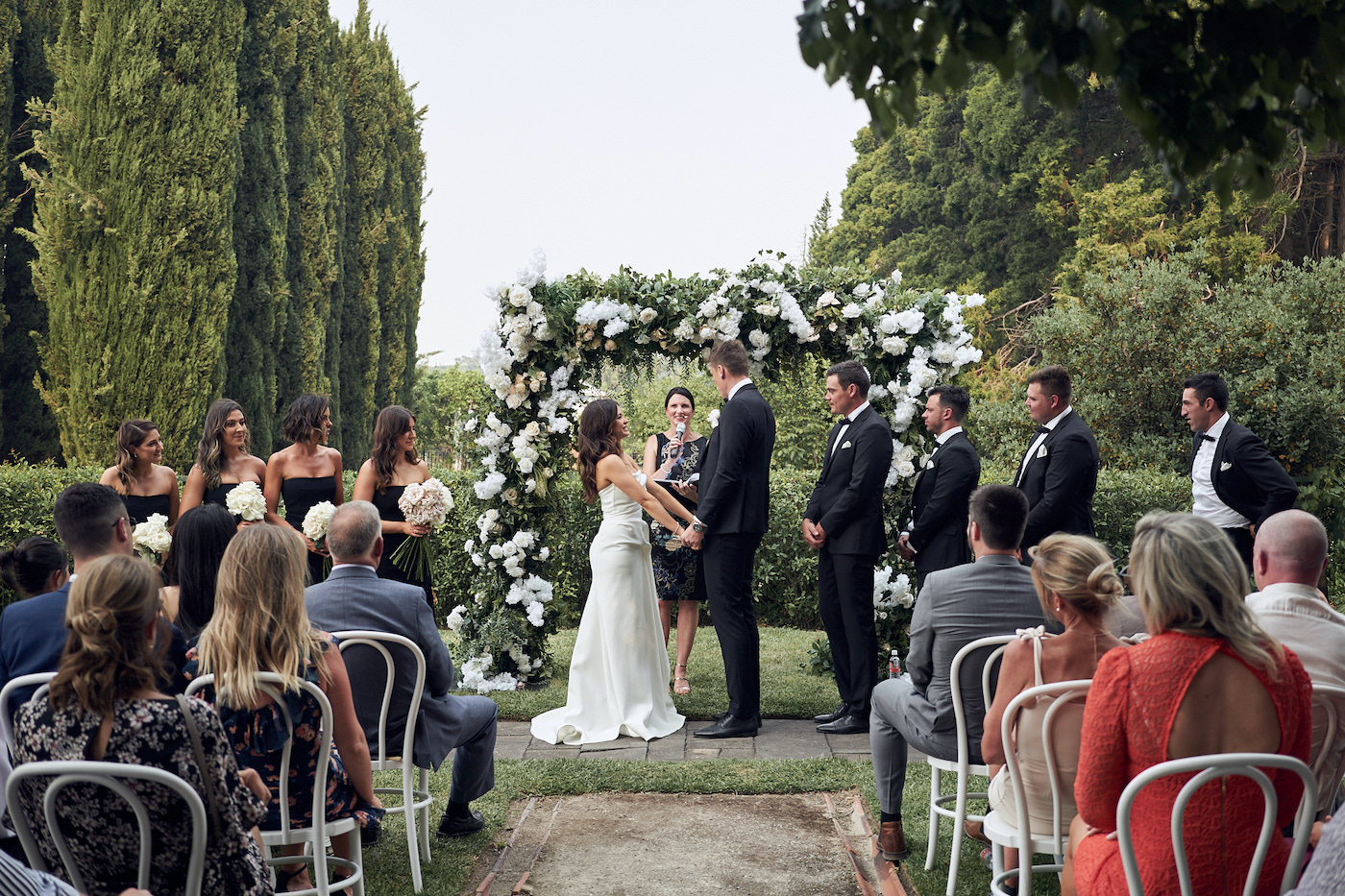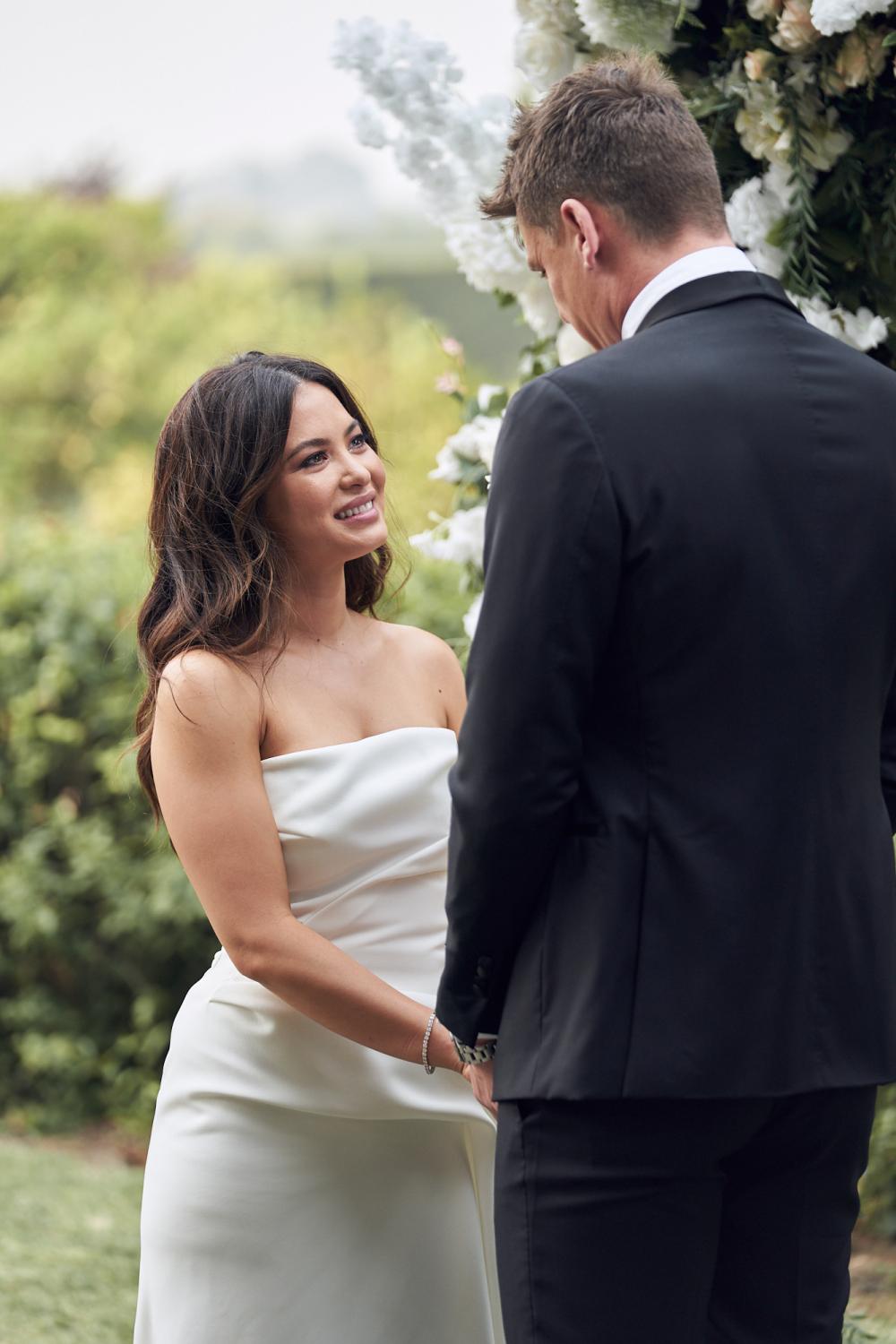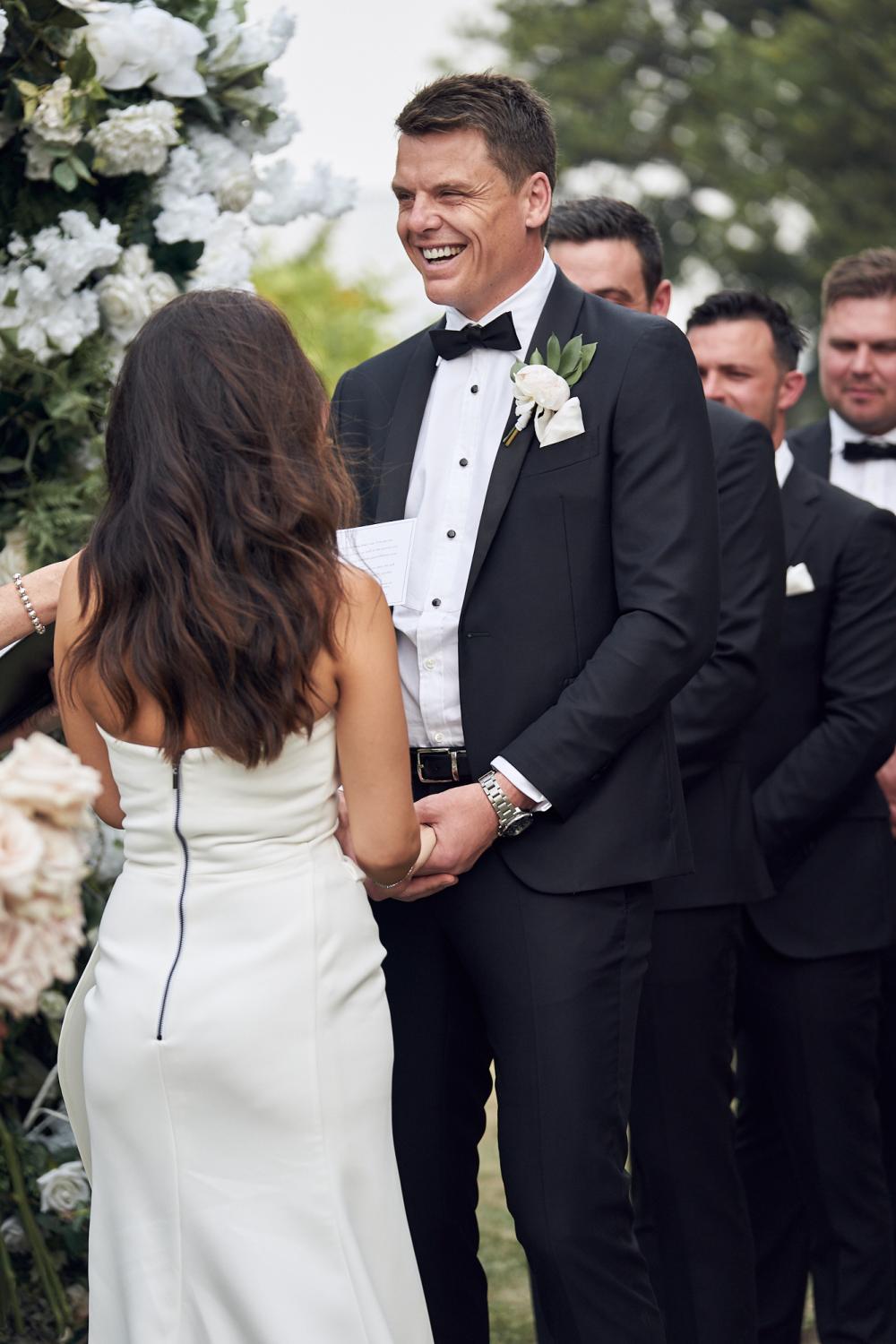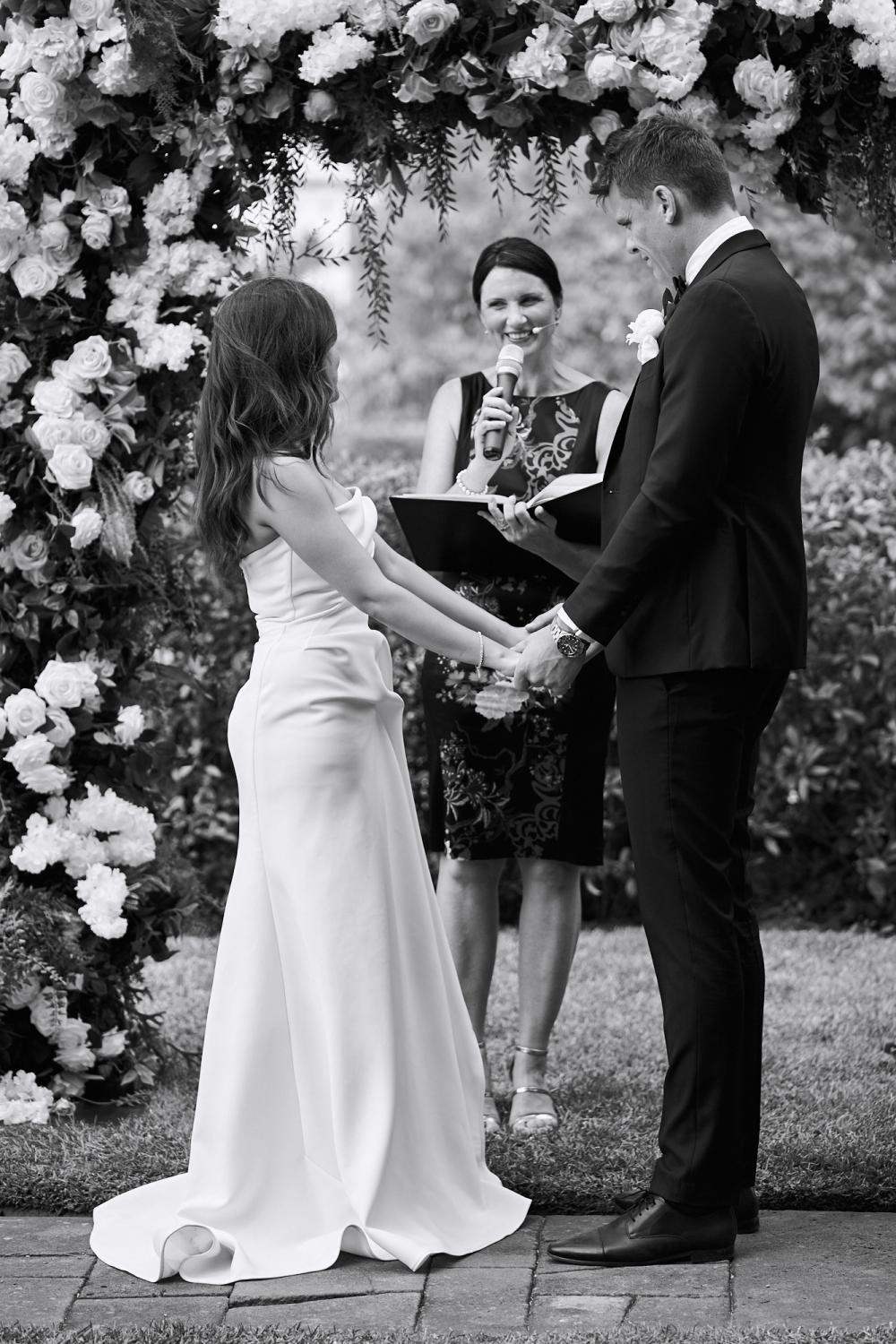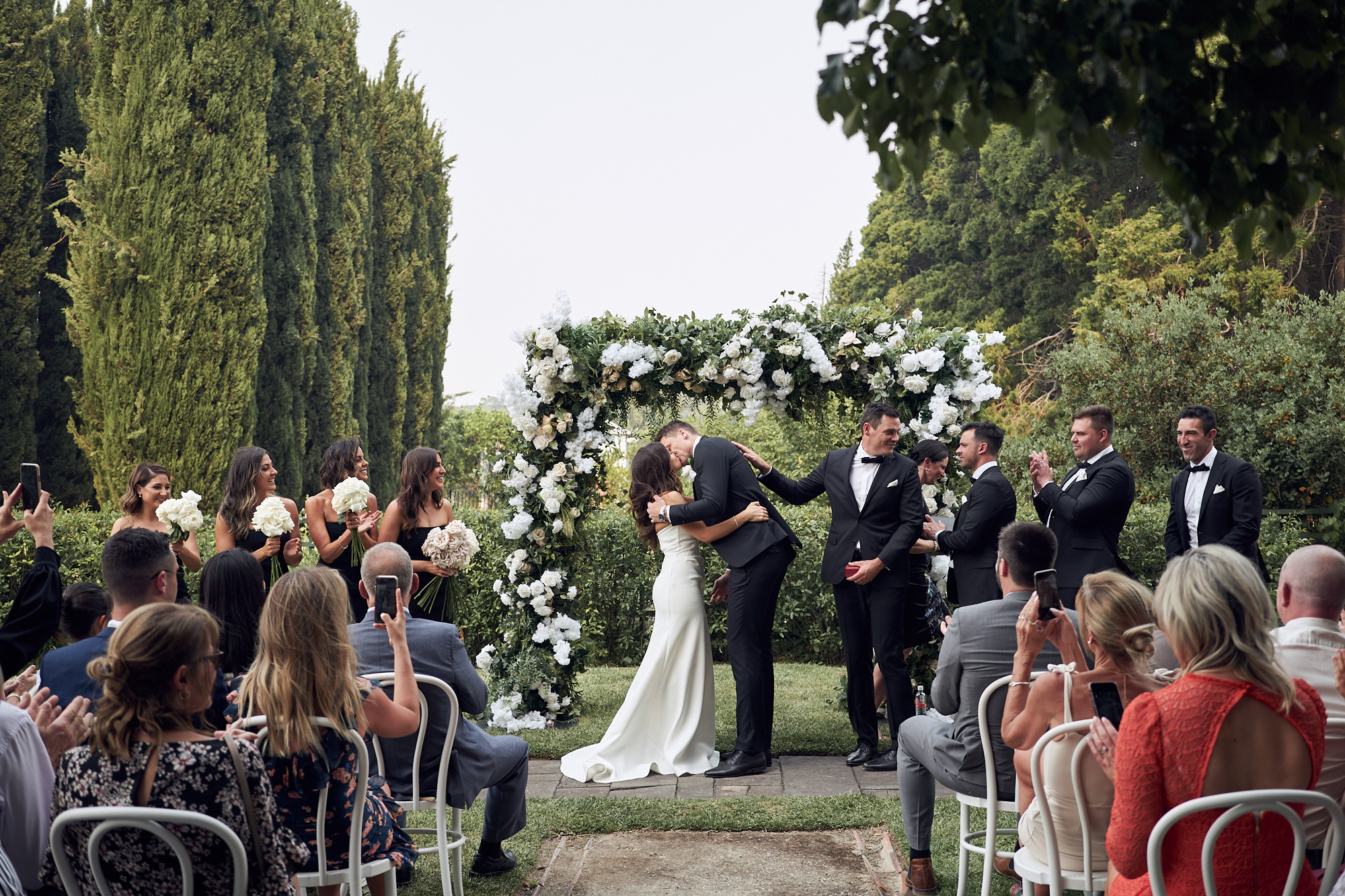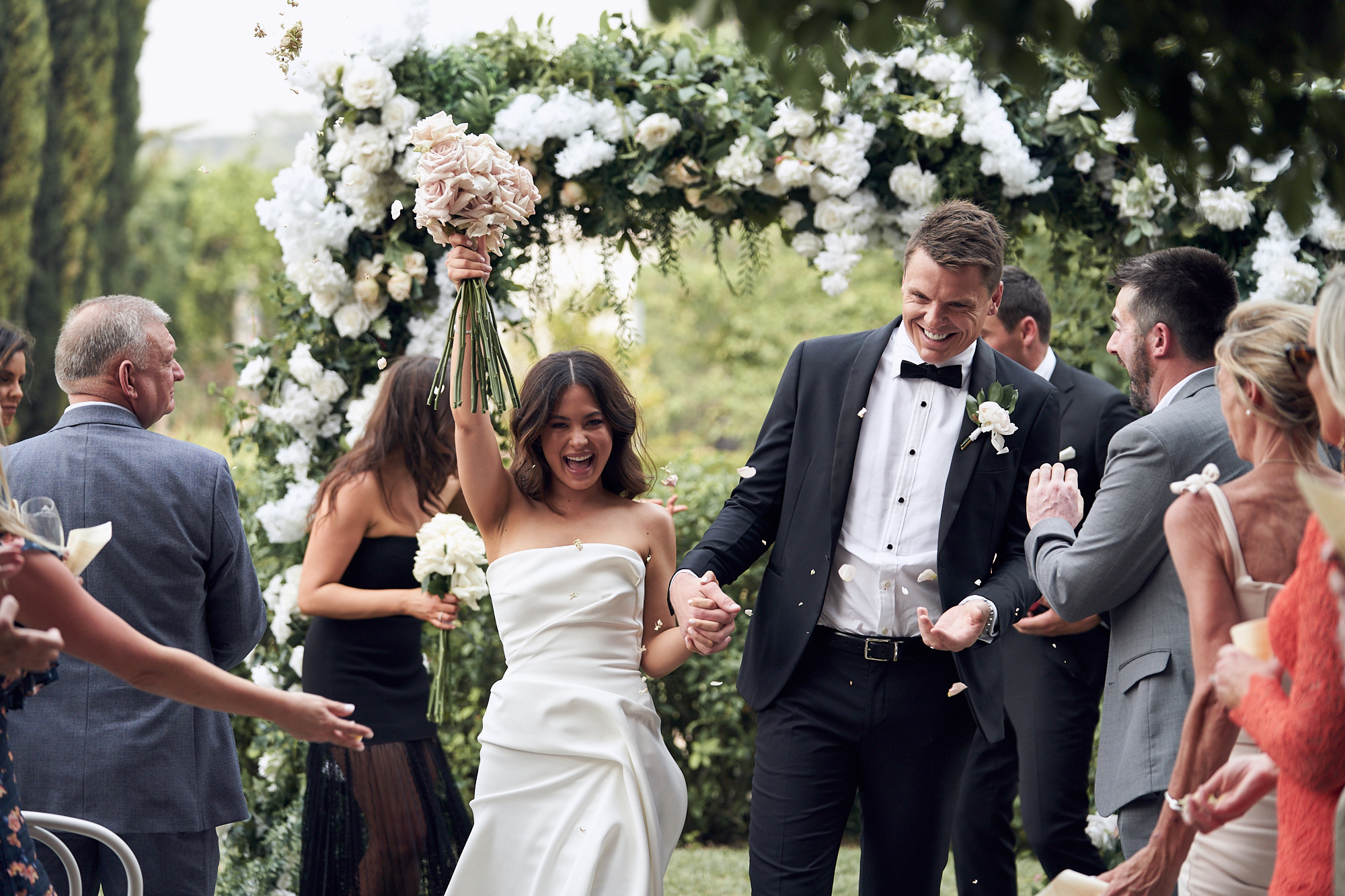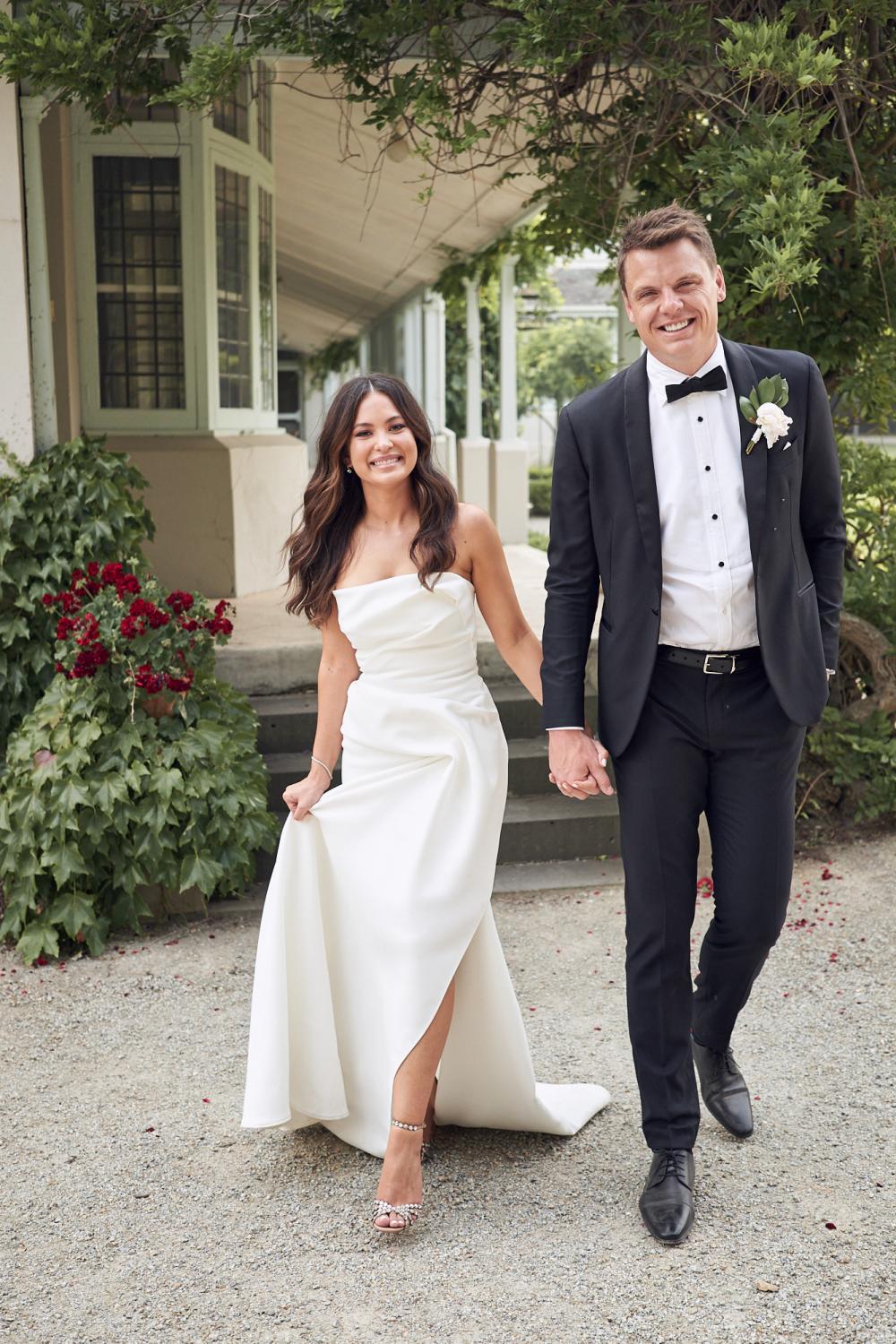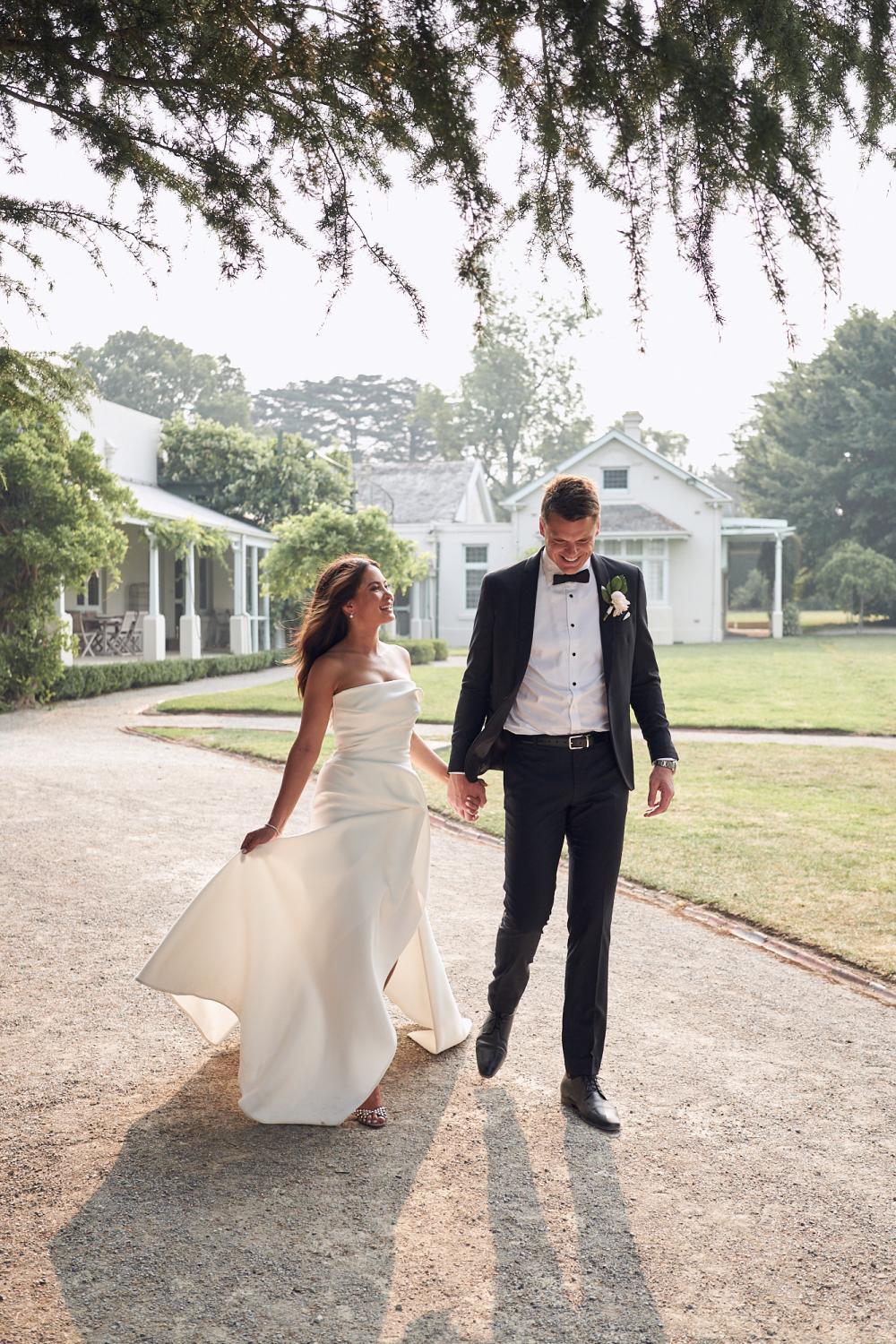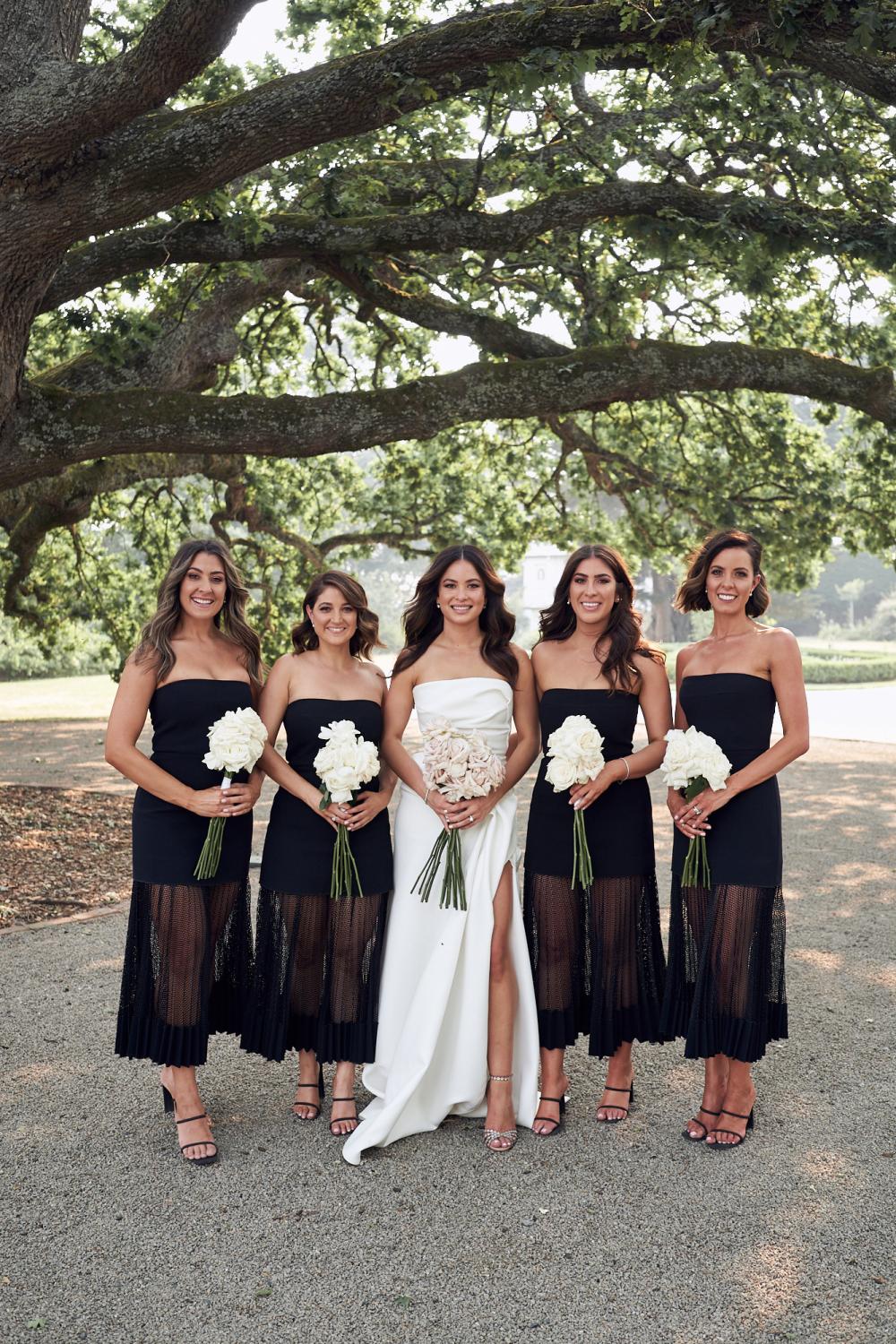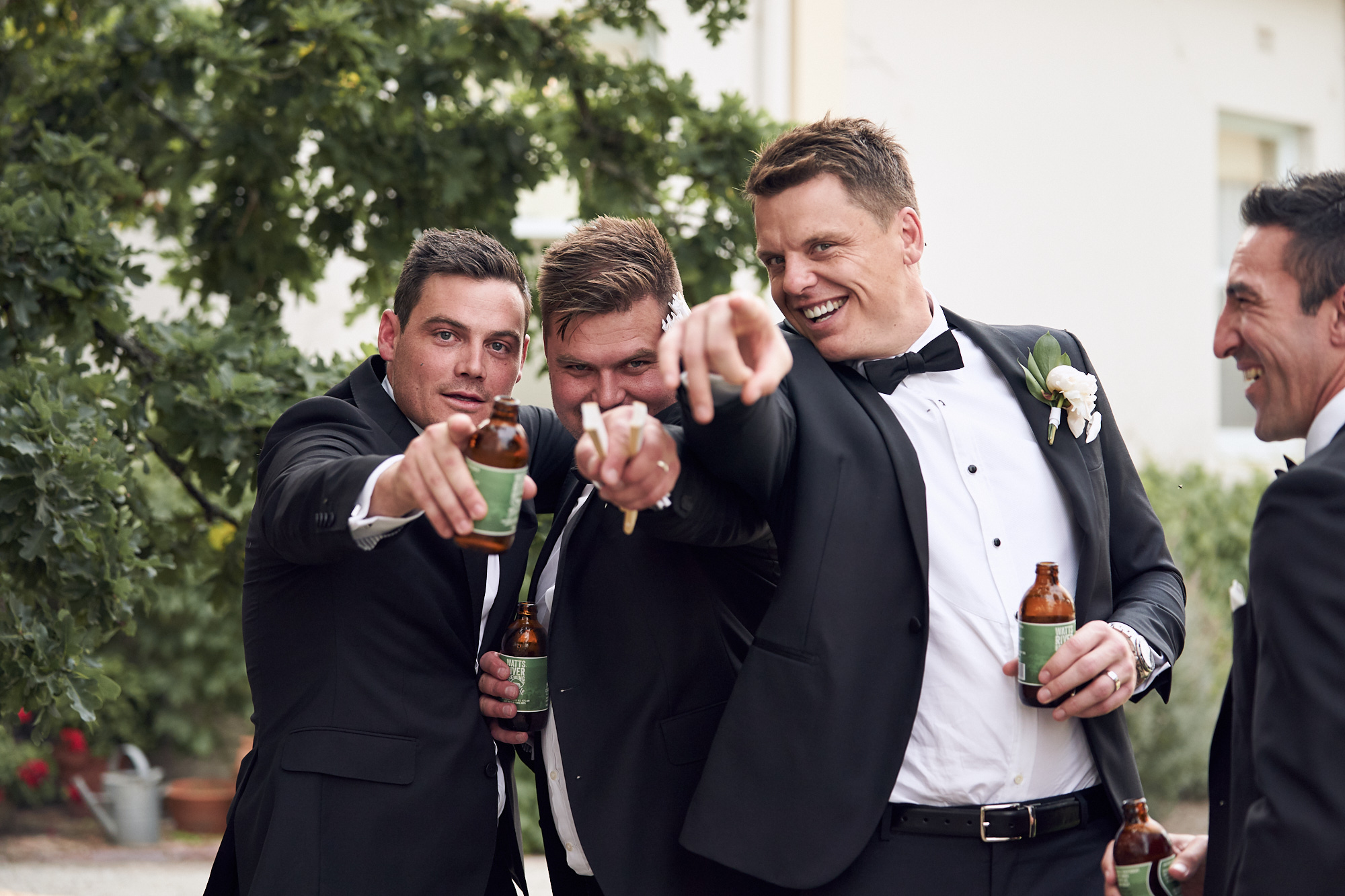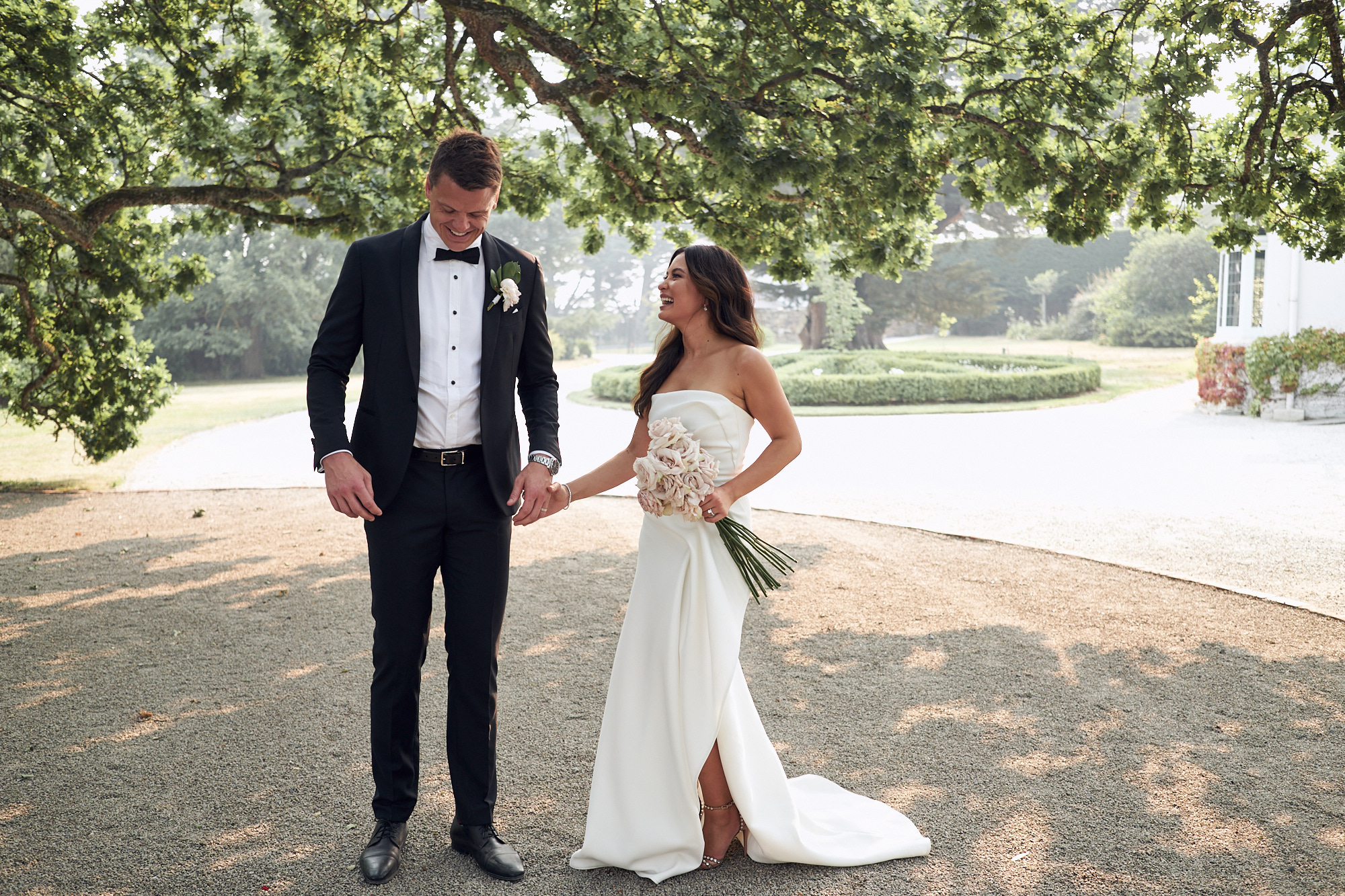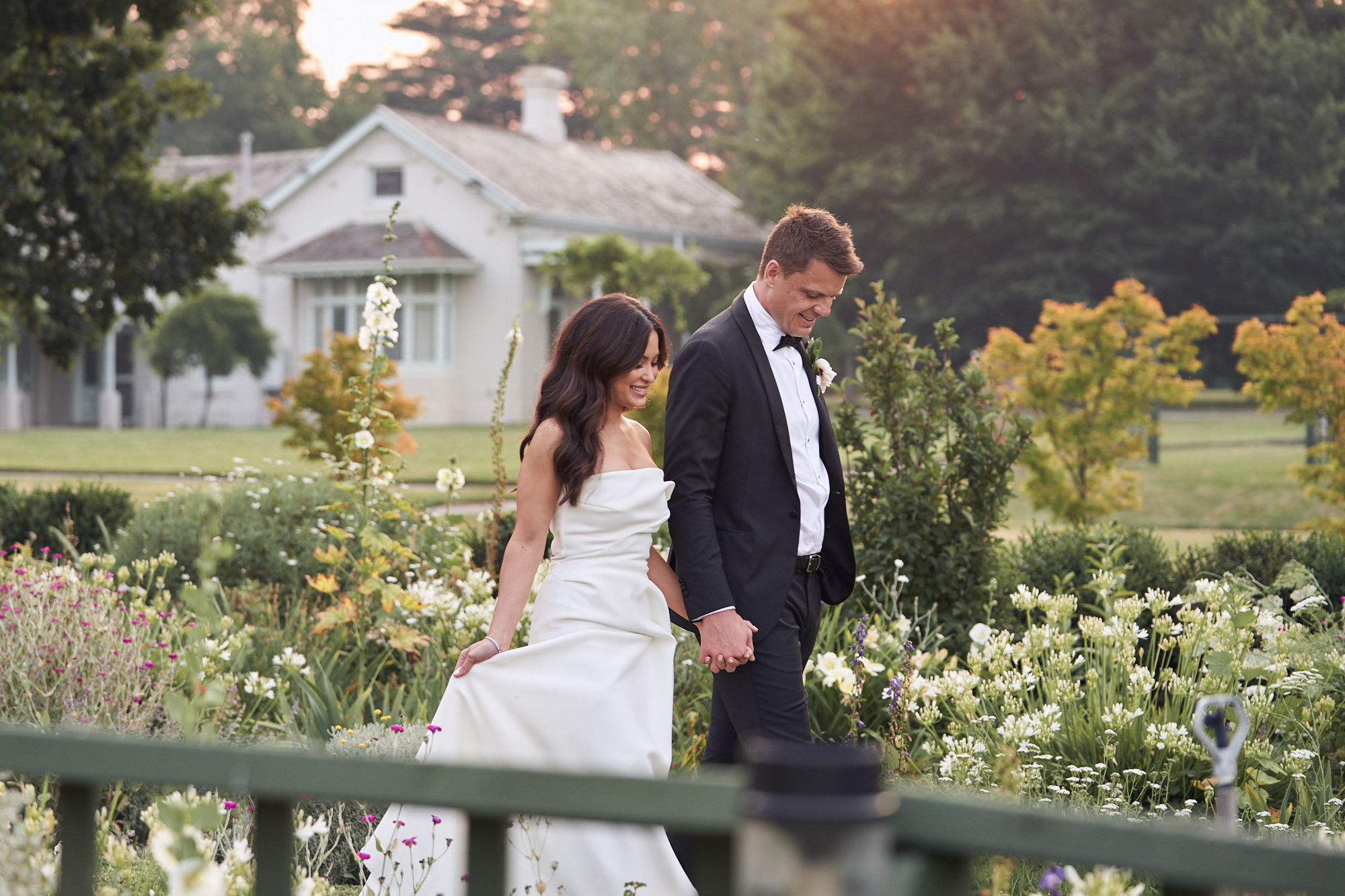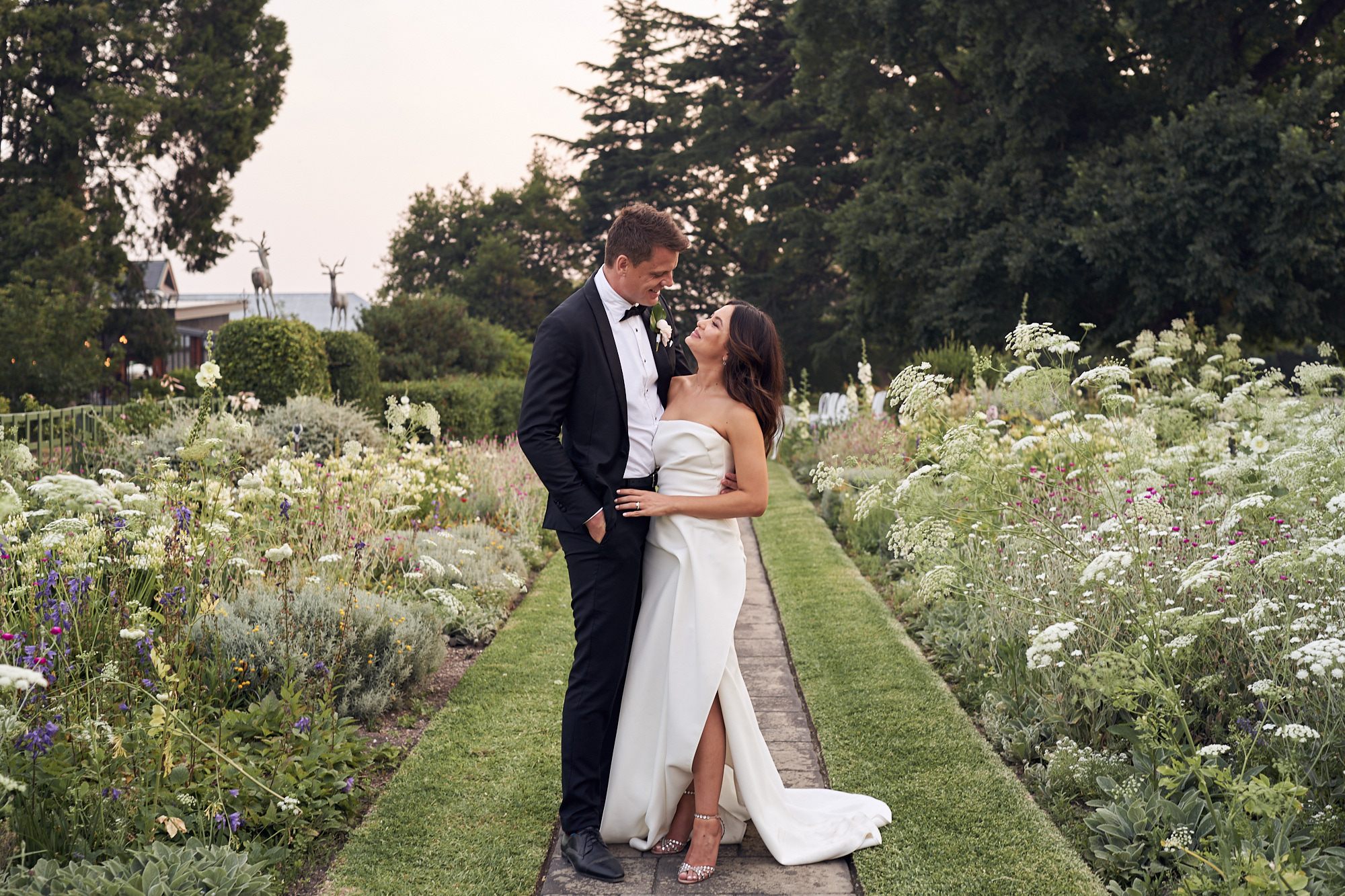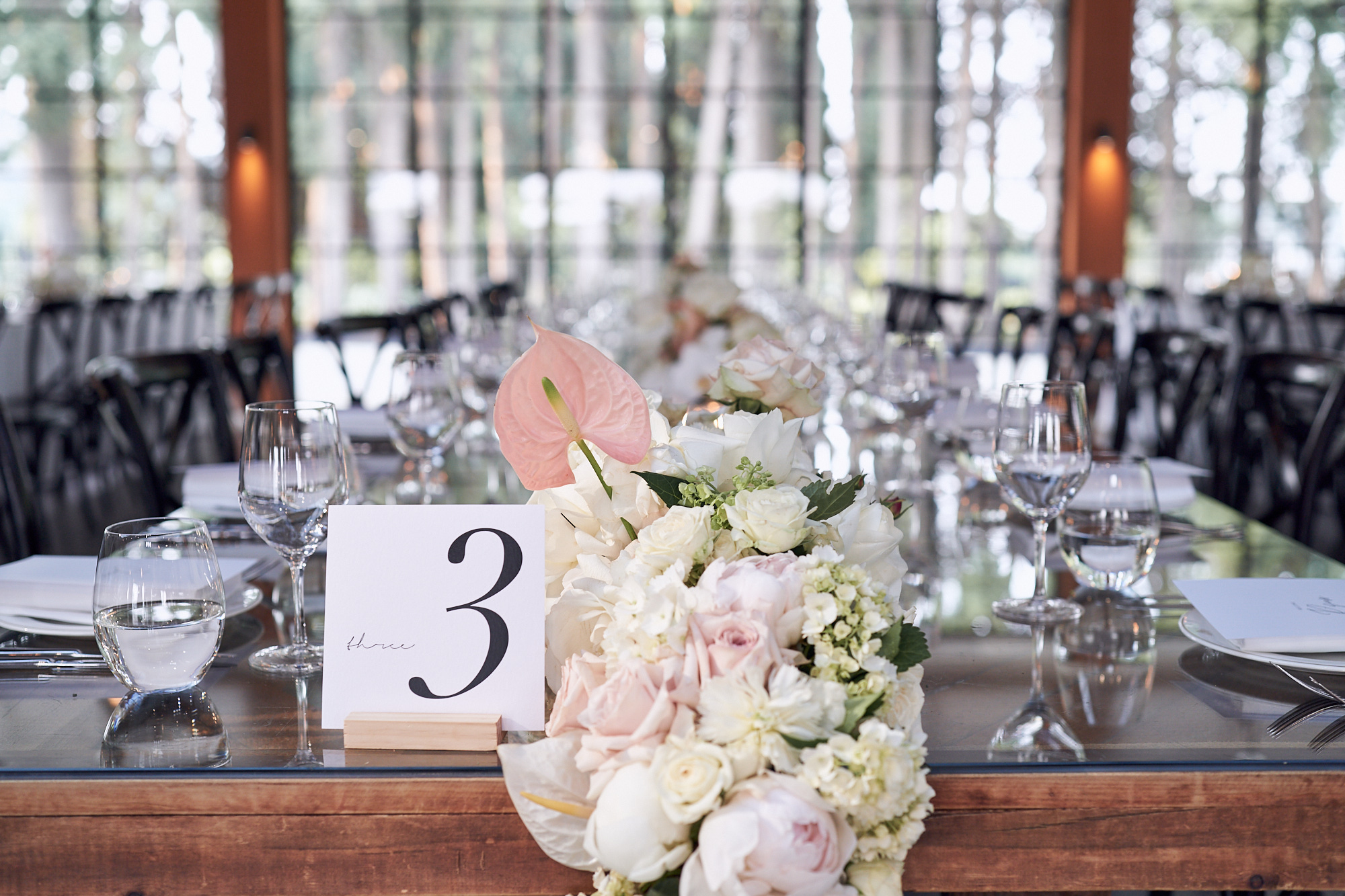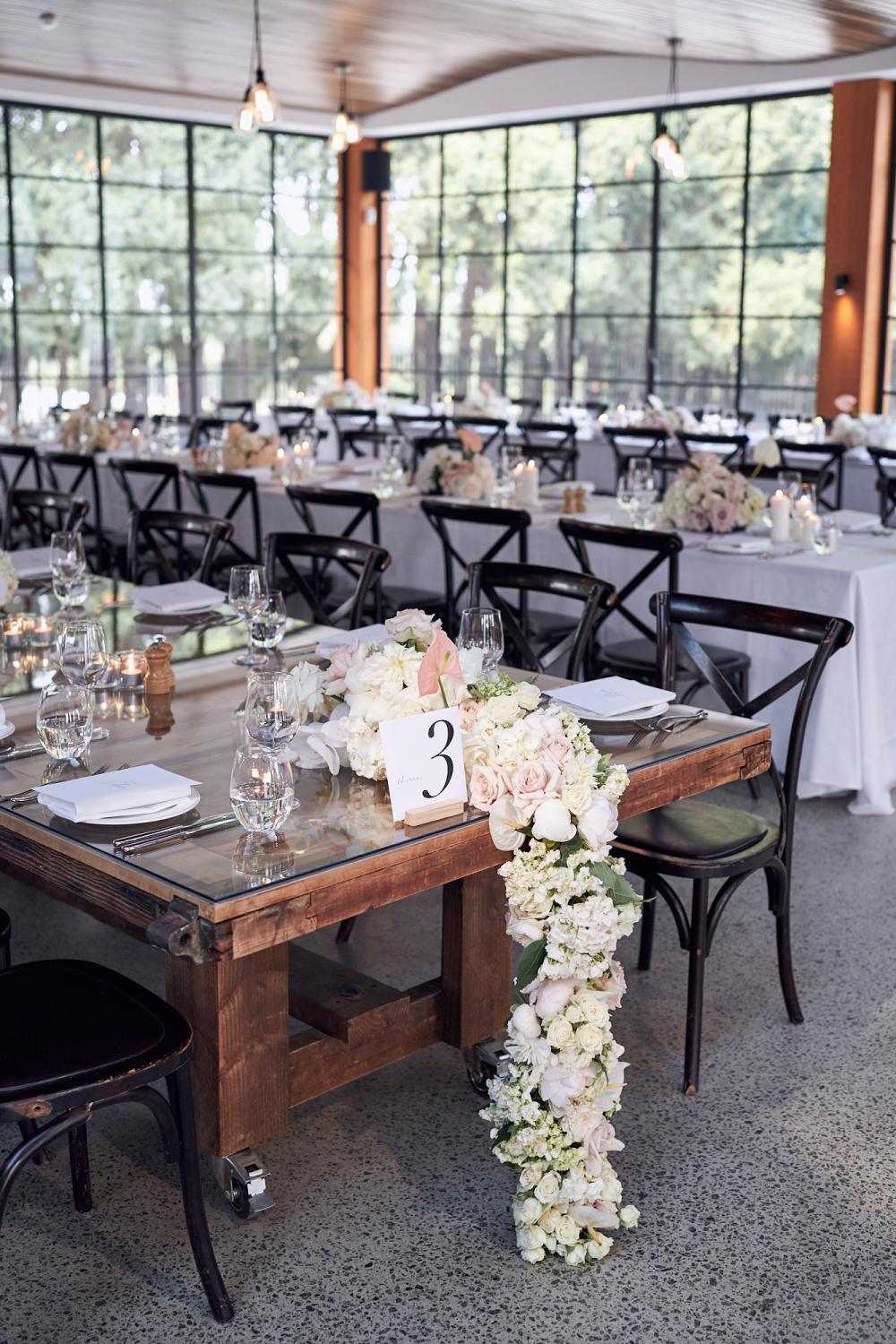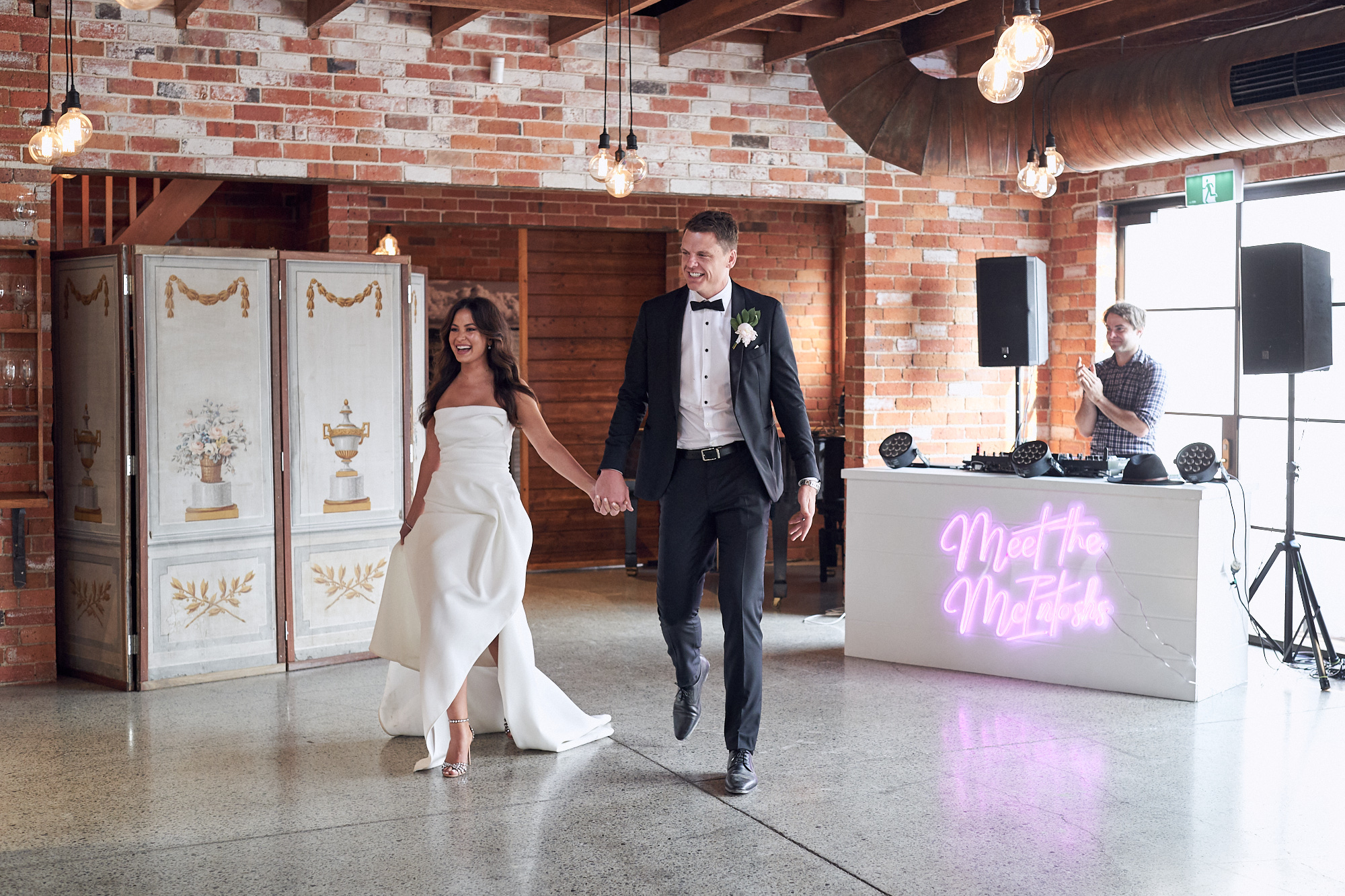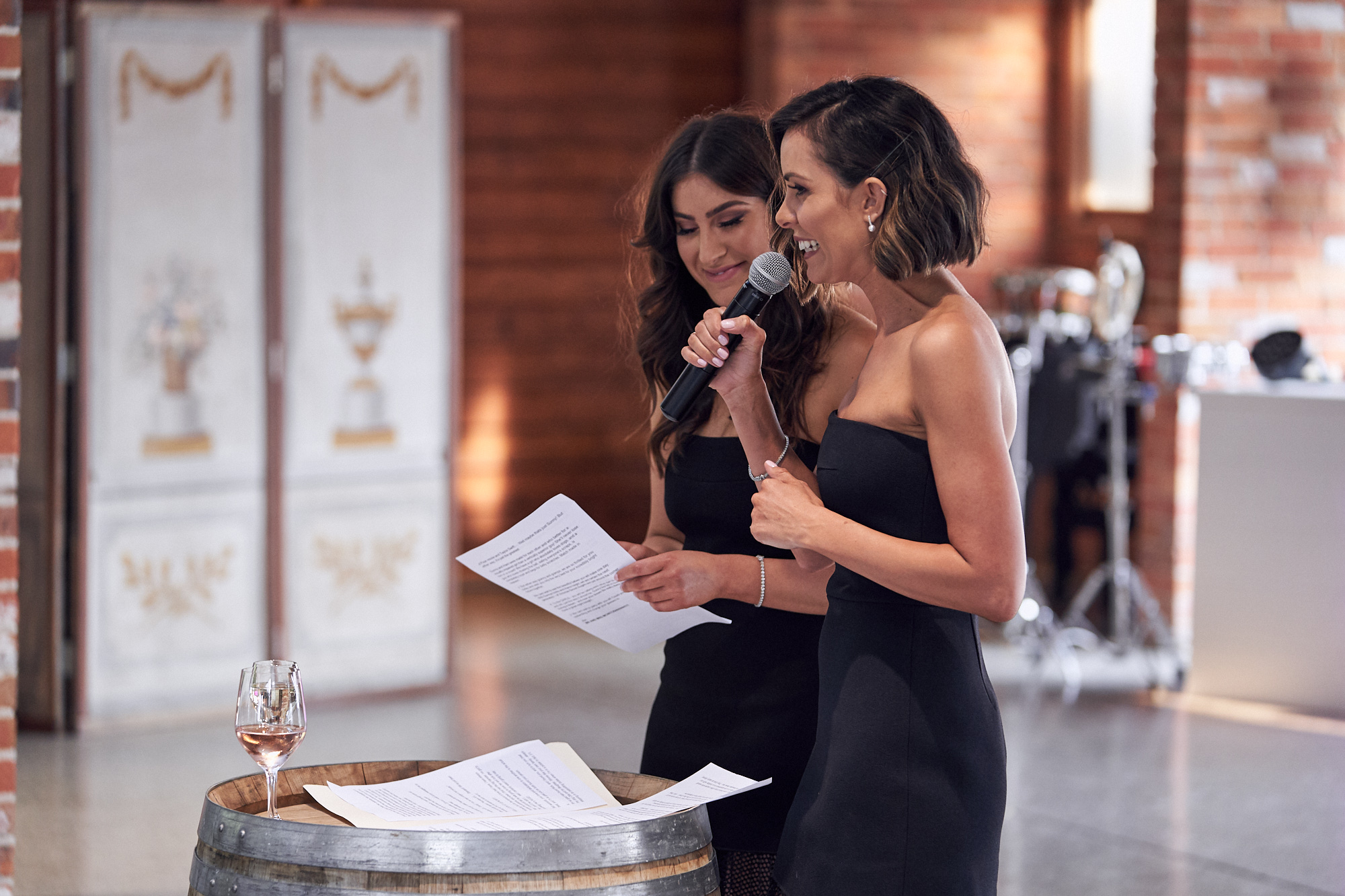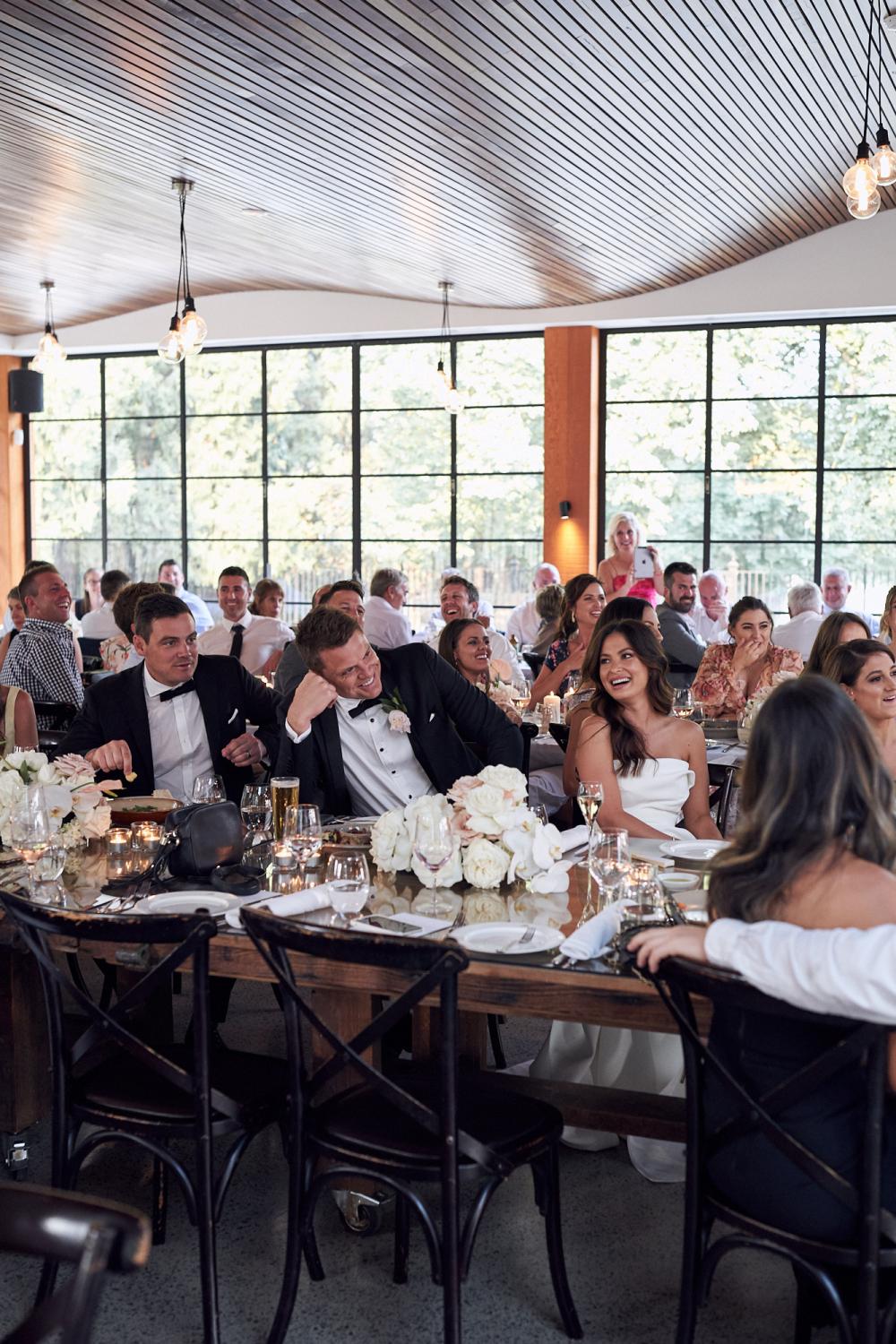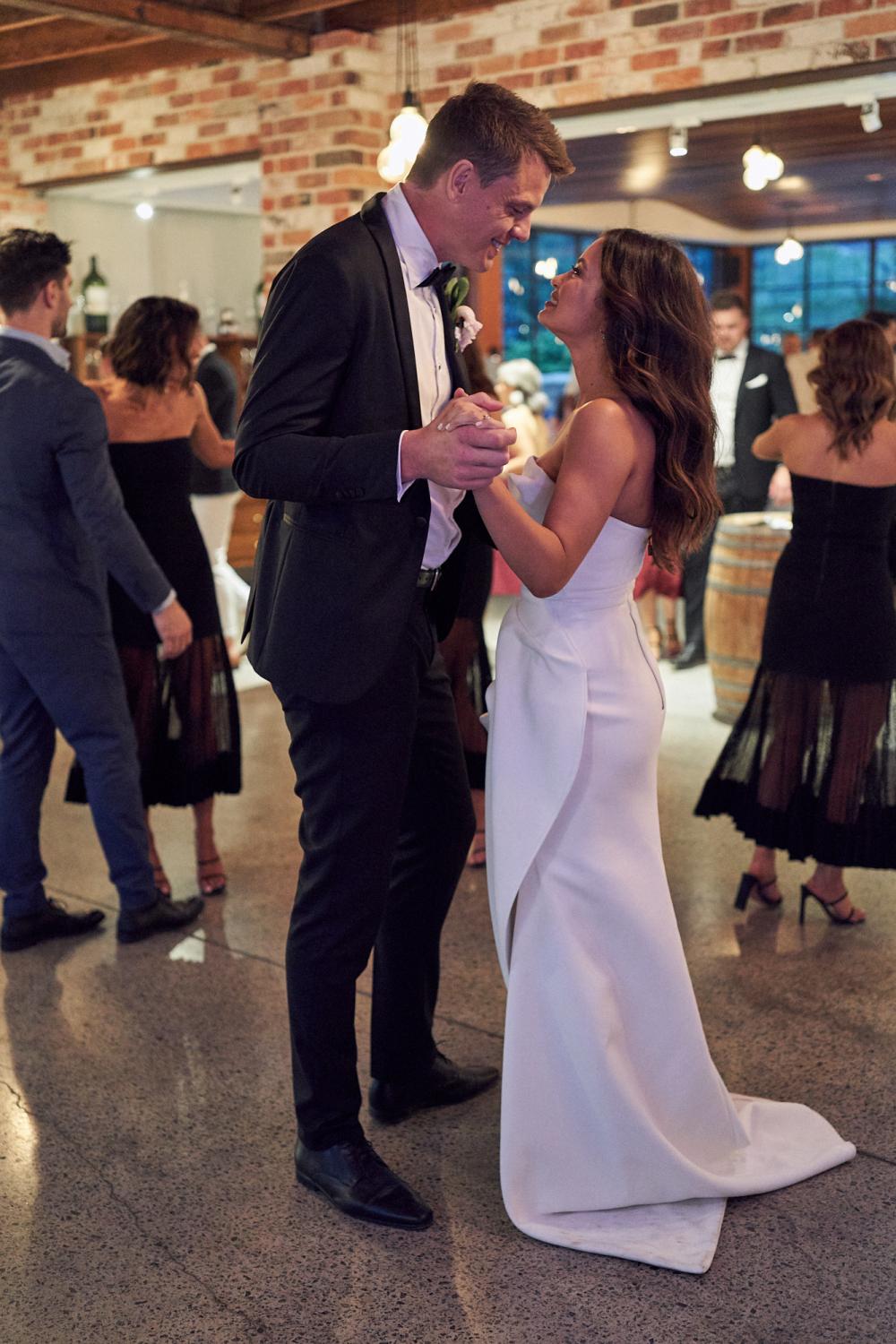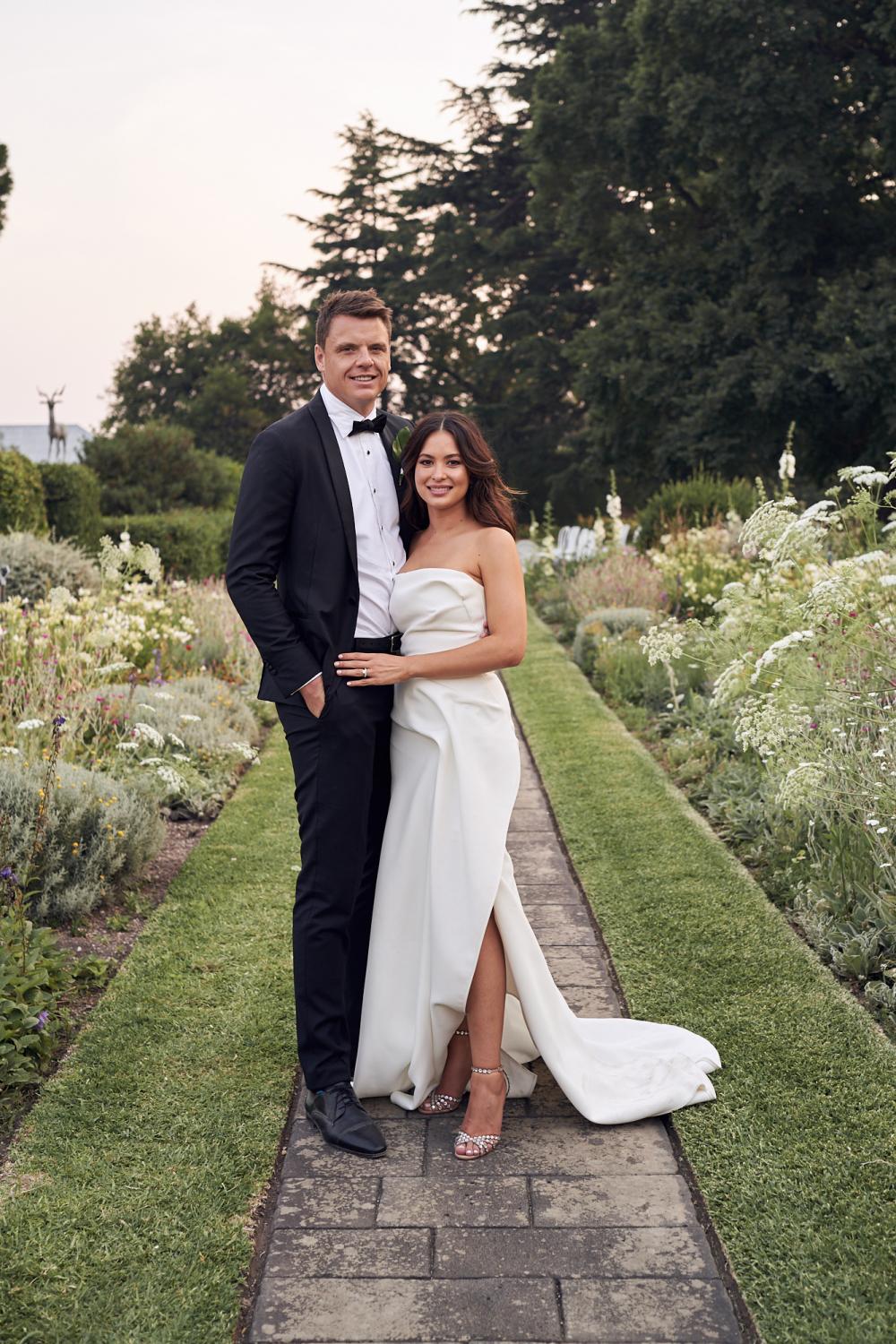 Head over to Lost In Love's Blog for more images of this gorgeous couple's big day!
Hamish + Sunny | 20.12.2019
Photography: Lost In Love
Location: Coombe Yarra Valley
Videography: Moon & Back Co
Marriage Celebrant: Meriki Comito 
Bridal Gown: Toni Maticevski
Florals: Vagari Creative
Ceremony Music: Four Seasons String Quartet
Best Outdoor Wedding Venues + Locations  →
← Rain on your Wedding Day – Do you have a Plan B? 
Patricia + Samuel's Werribee Mansion Wedding
Patricia and Sam began their day with a traditional Tea Ceremony at home. This allowed them to honour their families' Chinese/Malaysian heritage with traditional elements.
Their Werribee Mansion Wedding continued on with the same amount of elegance, grace, humour and fun that these two embodied.
This wedding had everything. Incredible styling, amazing florals, brilliant sunshine, and a perfect sparkler exit.
A truly beautiful, kind and fun-loving couple certainly deserved such magical day.
The Meeting
A marriage nine years in the making, it took the first two years of sitting next to each other in med school for Sam to muster up enough courage to ask Patricia out on a date.
Unfortunately for Sam, Patricia declined his first invite. His subsequent persistence paid off though and resulted in an official date soon after!
They supported each other through all the stressful study times that followed and bonded over a mutual love of Gelato. A love which consequently supported their decision to hire a gelato cart for the big day!
The Proposal
Sam decided to propose on Christmas Day. He thought it would be hilarious to throw Patricia off with a multi layered wrapped present containing romantic letters and cards, revealing an ugly Christmas jumper at the end. The prank backfired though as Patricia was overjoyed with the  jumper! So Samuel quickly bent to one knee and revealed the much more valuable and sparkly present from his pocket!
The Vows
Patricia vowed to cook Sam's favourite chicken rice more often than once every 3 years and promised to "choose you every day, a million times over, not because I have to, but because I want to."
Sam declared Patricia as the most "charming, beautiful, intelligent and graceful" woman he knew (we all agree!), promised to always bring her ice-cream, and ended with AA Milnes' "If you live to be a hundred, I want to live to be a hundred minus one day so I never have to live without you".
The Wedding Details
Patricia and Sam secured the services of wedding planner Sarah Wang, from Blooming Love Events to help create their special day alongside Bursaria the Refectory. Enlisting the services of Ivy & Eve, Dann Event Hire and a team of other fabulous suppliers, Sarah produced the most incredible setting for Patricia and Sam to say their I Do's!
The Photographer
Patricia and Sam chose the amazingly talented Jesse Hiscoe to capture all the details, and I thank him for allowing me to share his beautiful images with you! The smiles he captured say it all!
Contact Meriki to discuss your special day HERE!
Patricia + Samuel | 22.02.2020
Photography: Jesse Hiscoe 
Ceremony Location: Werribee Mansion
Reception: Bursaria The Refectory
Videography: Lovely Day Films
Marriage Celebrant: Meriki Comito 
Bridal Gown: Enzoani | Eternal Bridal
Planning/Styling: Blooming Love Events
Florals: Ivy & Eve
Ceremony seating: Dann Event Hire
Ceremony Music: Stringspace
Cake: Nobody Hates Cake
Larissa + Paul's Greenfields Albert Park Wedding
Initially planning to marry at an outdoor location, strong weather warnings led Larissa + Paul to make a very wise, last minute decision, to move their ceremony to the indoor sanctuary of their reception venue, and have a Greenfields Albert Park wedding.
The staff at Greenfields Albert Park, together with the amazing Tori Allen Events team, were absolute superstars in setting up a beautifully elegant ceremony area indoors, where guests and vendors alike gathered gratefully within the welcoming, warm and light filled space.
Acoustic artist, Emma, from Top Dog Entertainment provided the perfect start to proceedings, as Larissa made her way down the aisle, in a stunning Suzanne Harward creation, to stand beside her clearly smitten Paul.
The Meeting
Larissa and Paul told me they felt an instant attraction from the the first moment they laid eyes on each other, but once they started working together, the chemistry between them was undeniable and they bonded very quickly over their shared values, similar sense of humour, a deep love for family + friends, and passion for good food, great wine and a desire to travel the world.
The Vows
In her vows, Larissa told Paul that she knew from their first date that he was the one she wanted to spend her life with, and that he was the most amazing person she had ever known.
And Paul told Larissa that he had loved her from the first moment they met and that she made his life better in every way.
The Photographer
The lovely and talented Amanda Alessi and Suzie from Lovely Day Films were there to capture all the details of the day and I thank Amanda and the new Mr + Mrs A for allowing me to share their incredible images!
Contact Meriki to discuss your special day HERE!
Larissa + Paul | 15.02.2020
Photography: Amanda Alessi Photography
Ceremony Location: Greenfields Albert Park
Videography: Lovely Day Films
Celebrant: Meriki Comito 
Bridal Gown: Suzanne Harward
Styling: Tori Allen Events
Music: Top Dog Entertainment
Ceremony Entrances – Know your options!
Feature photo by Ben Swinnerton
Ceremony entrances, most commonly referred to as the processional, are one of the most highly anticipated moments of every wedding, and these days, you have more choices than ever!
Whether you're a traditional couple, or an unconventional one, there's a ceremony entrance to suit your style, and I have listed my Top 10 processional options here!
1. The Traditional Couple
One person waits at the front whilst the other makes their way down the aisle on the arm of their father.
Alternative A: You can also walk down the aisle with your mother, or both parents, step parents, a sibling, uncle, aunt, grandparent, children, dog, best friend or anyone else for that matter!

Alternative B: BOTH parties can walk down the aisle separately, each to their own song (think of the options!) They can also both be accompanied by their mum, dad, sibling, grandparent, child, pet, etc.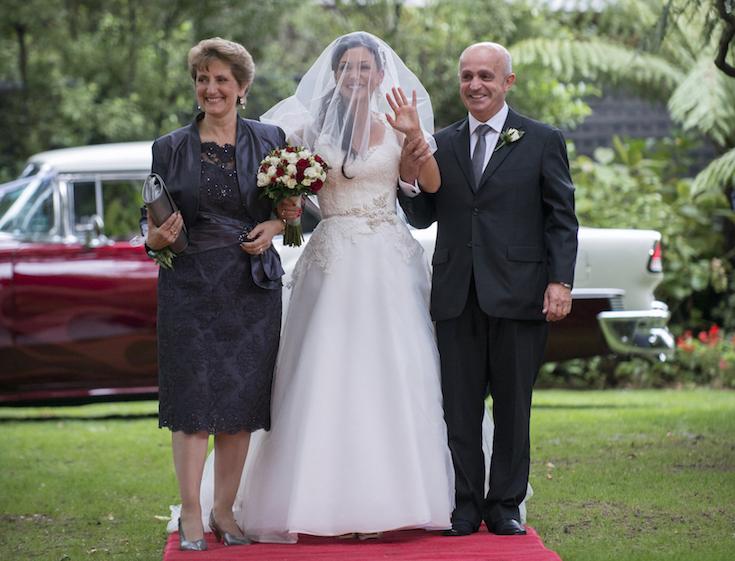 Photo by Memory Box Studio
2. The Independent Couple
One person waits at the front and the other enters solo – and totally OWNS that entrance!
Alternative A: Same as above, but then the couple can meet half way to walk hand in hand together to the front.
Alternative B: The couple can each walk in solo one after the other. They can even scrap the aisle idea completely and instead walk down opposite sides of their guests to meet at the front.
Photo courtesy ABC News
3. The Blended Family Couple
One person waits at the front and the other walks down the aisle with their father AND step father on each arm!
Alternative: The bride/groom enters the ceremony space with their step father, then changes over to their birth father half way (say at the end of the seating) to approach the front together. Or Vise Versa f course!
4. The Inclusive Couple
The couple include their guests in the processional
Option A: Guests are provided with single flowers upon arrival, so that as one, or both parties make their way down the aisle, the flowers are collected to form the wedding bouquet(s). 
Option B: One, or both parties would like guests to sing, cheer + clap, or high five them as they walk down the aisle.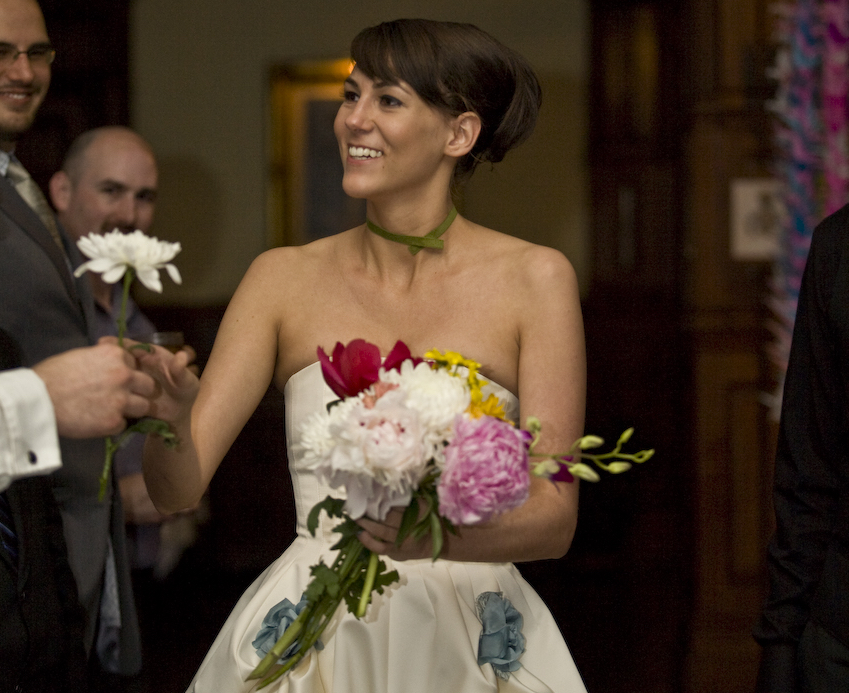 Photo courtesy of Levinine
5. The Sharing-is-Caring Couple
The couple enters the ceremony space hand in hand, enjoying the moment together.
Alternative: No alternative for the couple really, but they might like to have their wedding party attendants walk in two by two as well, if they're having any!
6. The Party Couple
A great alternative for cocktail style weddings, where the guests arrive early for drinks before the ceremony starts! The couple don't want to miss a single opportunity to party with their guests, so they choose to arrive at the same time to kick off celebrations with a drink before official proceedings commence.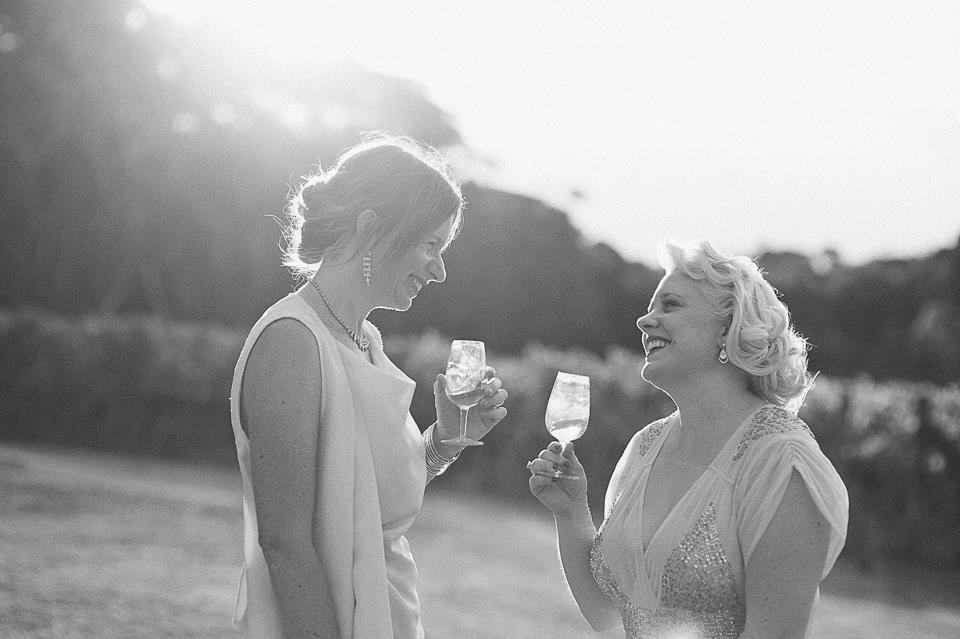 Photo by It's Beautiful Here
7. The Surprise Couple
Family and friends are invited to an engagement party, where one or both parties slip away for a quick costume change, if required, before a big surprise wedding is announced!
8. The Boss Couple
The couple enter the ceremony space together first, with guests following behind them.
Option: The couple can be lead by a musician, say a bagpiper, drummer or violinist.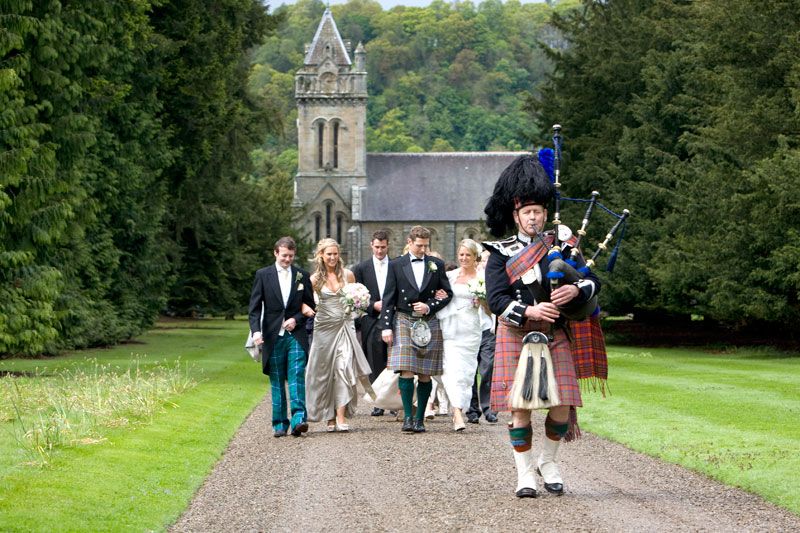 Photo by Christophe Viseux
9. The Entertaining Couple
The couple enter the ceremony in a semi choreographed dance routine with all their wedding attendants.
Option: Guests join in too….and the celebrant as well if they want. Just saying.
10. The Free-Spirited Couple
The couple chooses an entrance that's totally their own style just for fun, because they can. They may want clapping and cheering, bells rung, whistles blown, drums played, flags waved, or songs sung. They may even want to arrive via parachute, on a Harley Davidson, a horse or a camel! And to any style of music that makes them happy.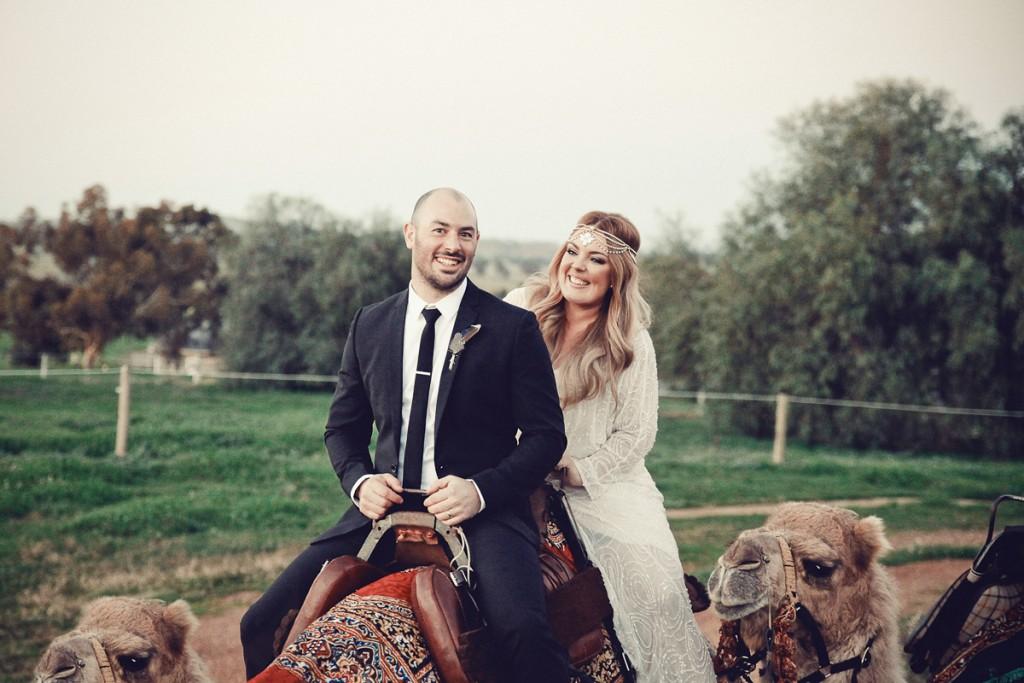 Photo by Candid Captures Photography
As I tell every couple I meet, you can arrive at your wedding ceremony anyway you choose.
It's your day, so go for it.
Choose your own entrance, be excited about it, and start your celebration off exactly how you want the rest of the day to go!
**If you liked this post, you may also like "Rain on your wedding day – Do you have a Plan B?
Rainy Day Weddings – Do you have a plan B?
Feature Image by Ben Swinnerton 
Is it going to rain on my wedding day?
Nothing sets off the fear in many a brides heart more than the thought of rain on their wedding day.
Weather is the one element you have no control over, but as long as you have a perfect "Plan B", you can still have a perfect rainy day wedding!
Have the conversation
One of the first points of discussion at all my planning meetings with couples who have chosen to marry outdoors, is what they plan to do if it pours with rain.
Most brides will have an alternative location already in place, which is amazing, but for those of you who are either crossing your fingers that it won't rain, or attempting to use the power of prayer, voodoo, positive thinking or threats on someone's life to prevent it from raining, I can tell you now with absolute certainty, that Melbourne weather is ridiculously unpredictable. It doesn't care how desperately you want that beautiful sunny garden wedding and can totally ruin every one of those HOURS you have spent planning and preparing for that one big day.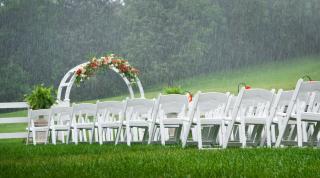 Your guests should remember your wedding for the RIGHT reasons..
No bride or groom ever dreams of arriving at the ceremony looking spectacular, only to get out of the car and get completely soaked whilst they sink into the soggy ground down the aisle. And let's not forget about your guests and husband to be, who have been waiting that 15-30 minutes prior to your arrival, miserably clutching an umbrella, or huddling under the nearest tree. In my experience, guests will often refuse to come and take a seat in the rain, preferring to shelter under a tree rather than sit on a wet chair and be close enough to hear the beautiful vows you have spent weeks perfecting.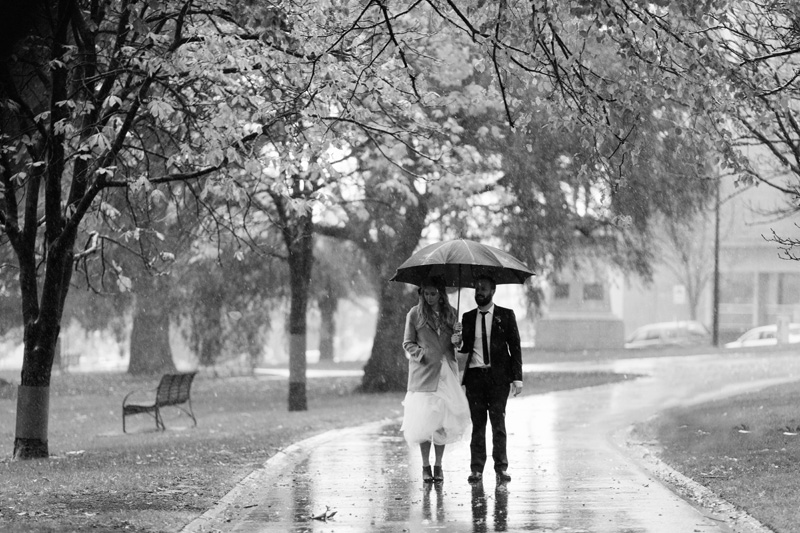 On a personal note
Oh, and just from my perspective as a celebrant, outdoor rainy day weddings do not provide an ideal situation for us either. It's rather difficult to stand in the rain holding an umbrella, and balancing a ceremony script folder, or device, and microphone all at the same time. Even in the cases of a light shower, our sound systems and legal documents don't tend to do very well when they get wet, so you may find yourself without sound, or a soggy marriage certificate as a keepsake!
An easy, budget friendly plan sometimes isn't enough
Some couples will arrange for shelter in the form of market umbrellas or gazebos in the event of a rainy day wedding. These are perfect for the days when there's just some light rain or drizzle, but you will still need to be prepared for the case of heavier rain, as those options will not make any difference when the rain is coming in sideways!
Many brides are totally against a plan B, as they are determined to have their outdoor wedding rain, hail or shine, but trust me when I say that unless dancing in the rain is your thing (and rainy day wedding photos can of course be absolutely magical!),  getting completely soaked during the legal parts and having grumpy, wet guests arriving at your reception afterwards is by no way going to contribute to your idea of a perfect day.
Talk to your reception venue
A lot of venues have some beautiful rainy day wedding options, and if you're lucky enough to book a venue that provides exclusivity, you can normally select which option you would prefer to go with, only a few hours in advance!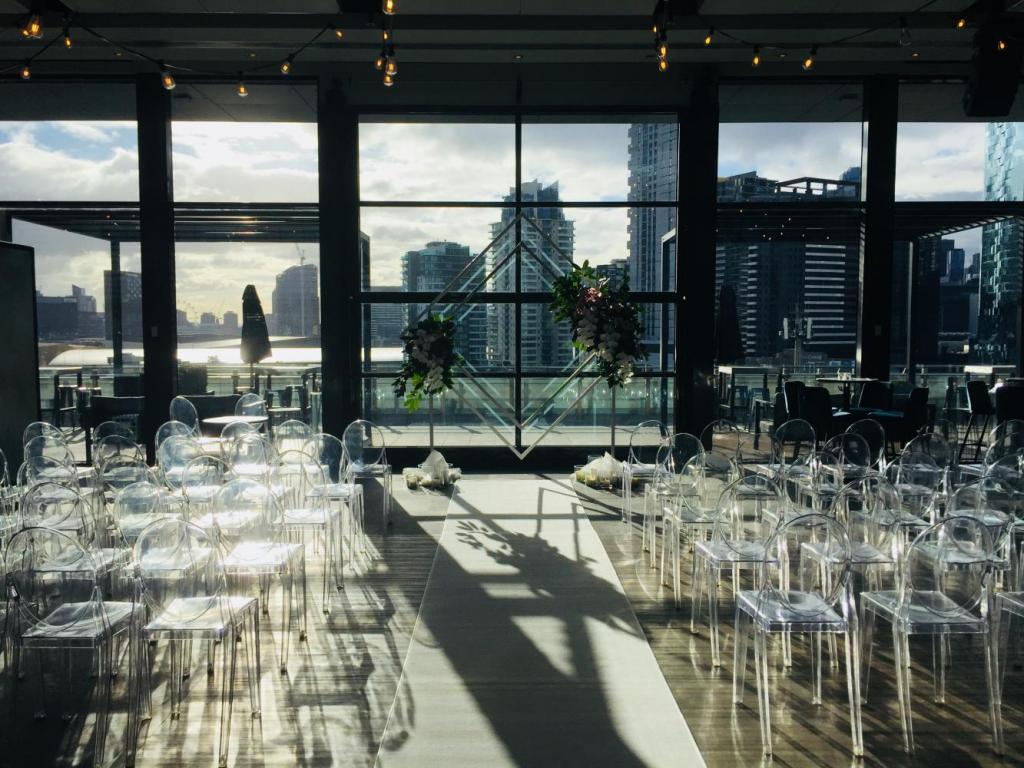 In other cases, if your venue is not able to provide an alternative rainy day option, they will most likely allow you to move your ceremony into the space you have booked for your reception.
In short, putting a solid wet weather contingency in place, will provide you with absolute peace of mind that no matter what the weather, you will be guaranteed a truly beautiful Plan B that can actually leave your guests thinking it was the Plan A all along! All it needs is a little organising in advance, so that every one of your suppliers can make sure it happens!
In the end
But the most important point to remember is that at the end of the day, regardless of the fact that you have no control over the weather, you will be married to the person you have chosen to spend the rest of your life with, and that's something the weather will make no difference to!
So if you're planning an outside ceremony, and you don't have a wet weather contingency, the following fabulous suppliers can help you to lock in your dream Plan B!
Otherwise just ask your humble celebrant. I'm pretty certain they'll be able to send you in the right direction. Just for peace of mind x
Dann Event Hire
Harry The Hirer
The Style Co
Weddings of Distinction
For more Wedding Day planning tips + ideas, have a look at "Do I need a Wedding Videographer?
Ellen + Lachy's The Farm Yarra Valley Wedding
First Meeting
First meeting at 'Electric Lady Land' on Chapel Street, Lachy thought Ellen looked hot and seemed fun to talk to.
Ellen found Lachy to be kind of quiet, but she liked the way he ran his fingers through is hair, so after discovering a mutual appreciation of good food & wine, they bonded over the fact that they had both worked at wineries, both shared a love of animals, and both enjoyed each other's company immensely.
Ceremony Details
In a laughter filled ceremony at one of Yarra Valley's newer wedding venues, The Farm Yarra Valley, Ellen and Lachy became husband and wife.
Ellen was so on trend in a fabulous Amaline Vitale Bridal & Couture gown (with pockets – always a win in my mind!) as she stood hand in hand with her handsome groom before a giant steel + floral Ceremony Circle by Sassafras Flower Design.
After receiving the best wishes of each and every guest, we were treated to two awesome readings by close friends, before Ellen and Lachy exchanged vows declaring "It is your heart that moves me, your spirit that inspires me, your humour that delights me, and your hand I want to hold for all of our days"
Their first kiss brought thunderous cheers and applause before squeals of excitement when I announced that the newlyweds had organized an Easter Egg hunt immediately after!
So much fun!!
The Photographer
Beautiful images by Anitra Wells / Photographer who is always so fabulous work with!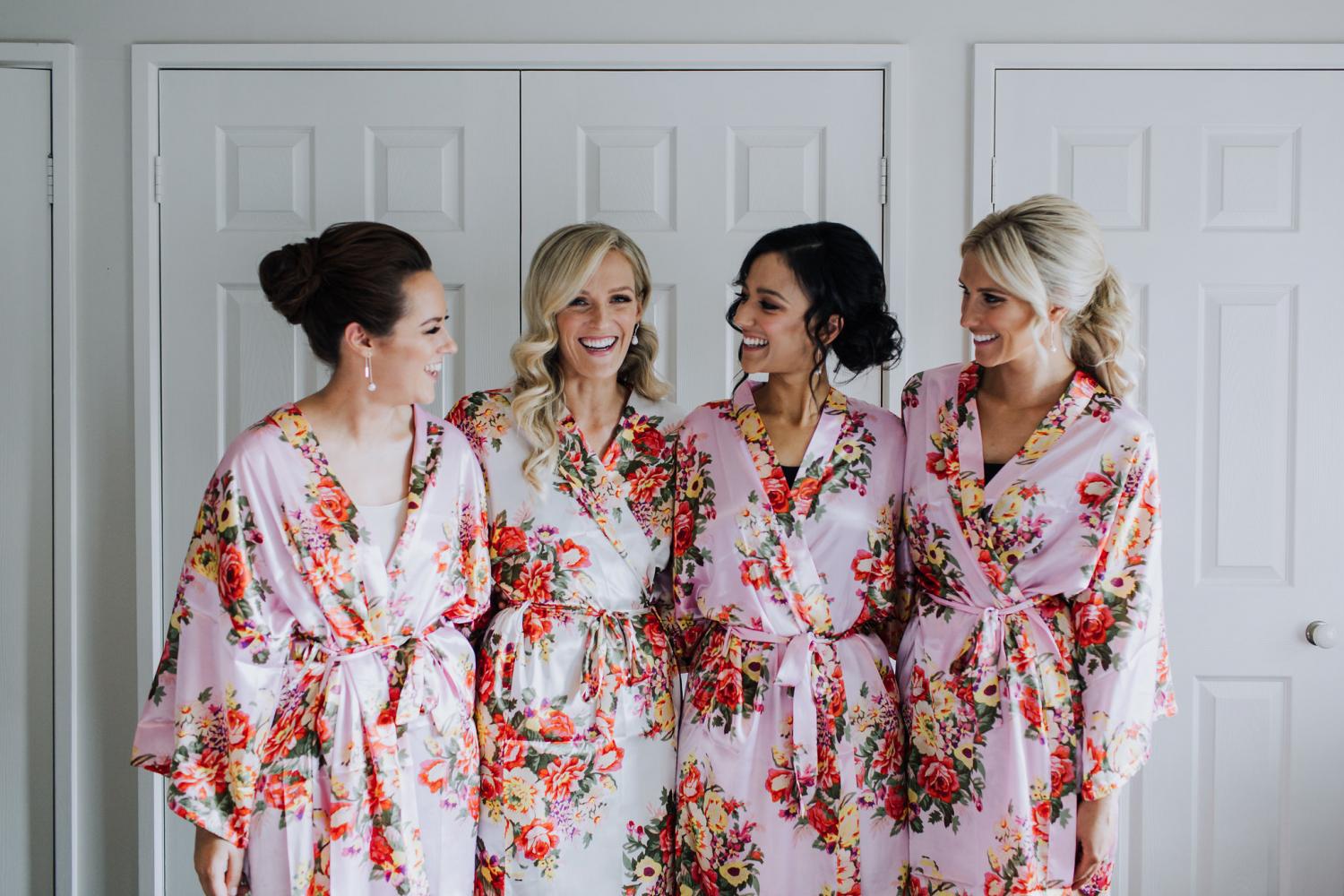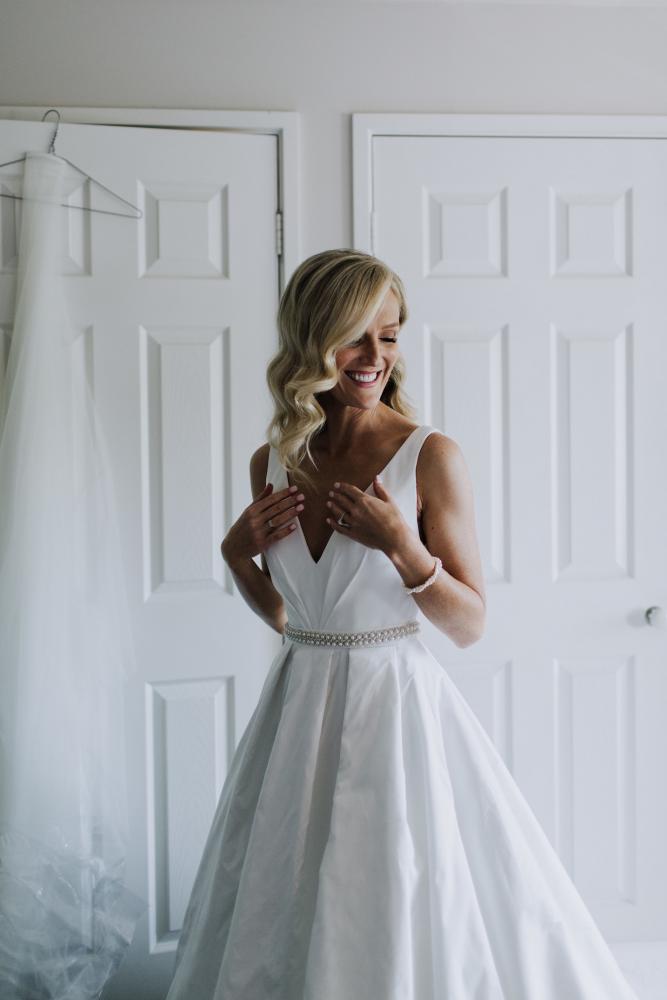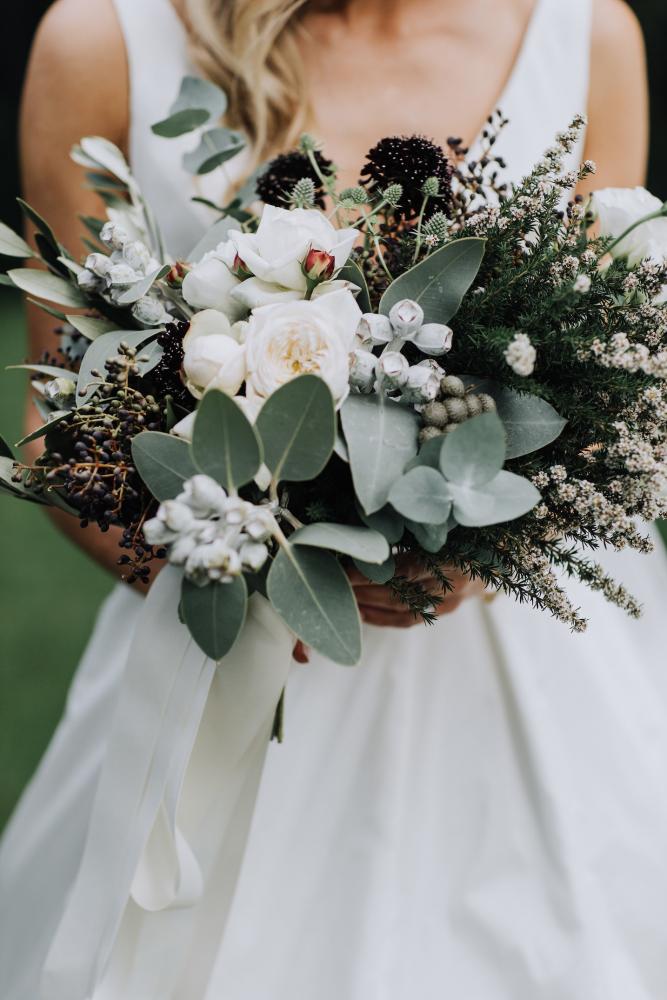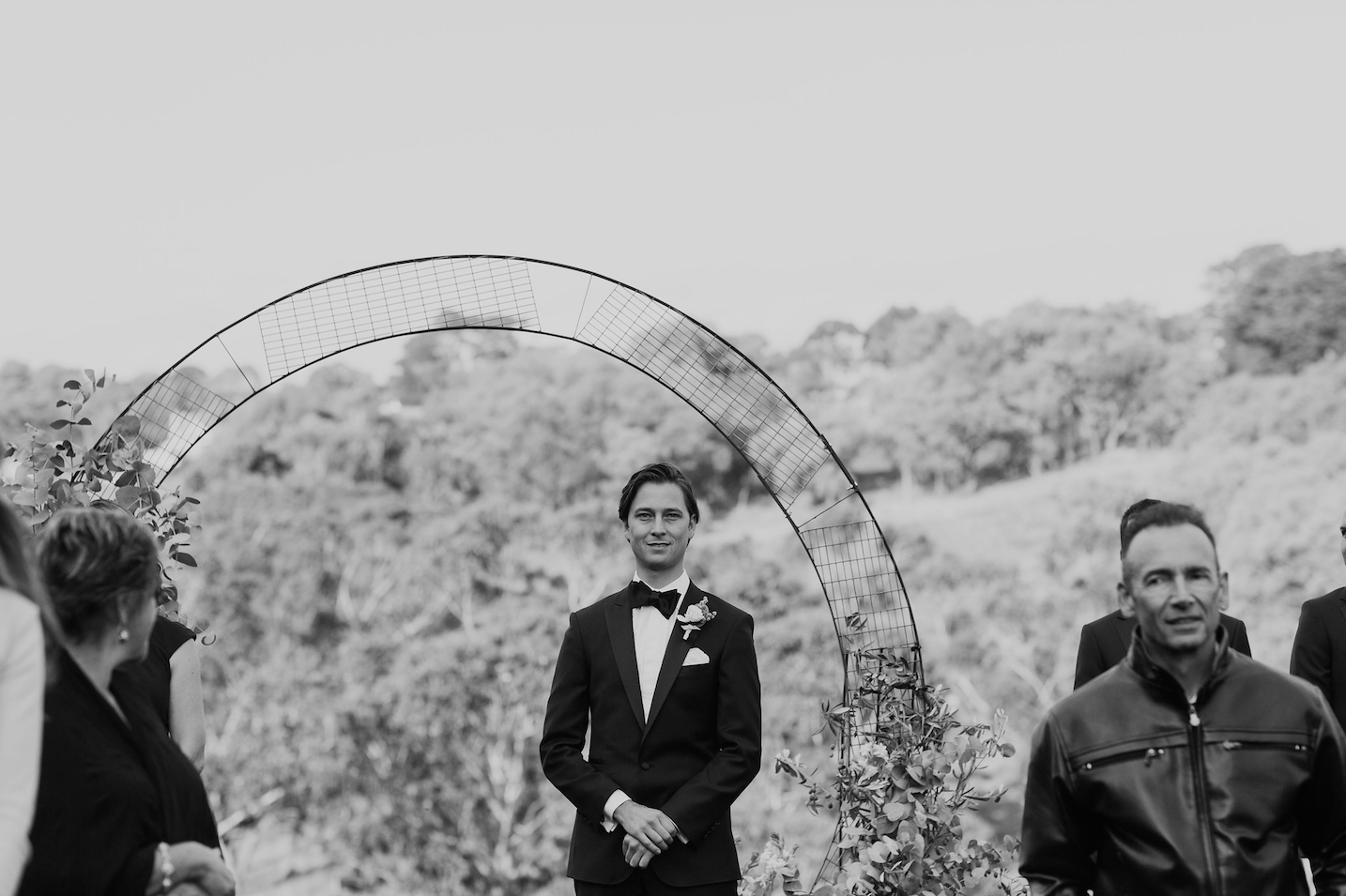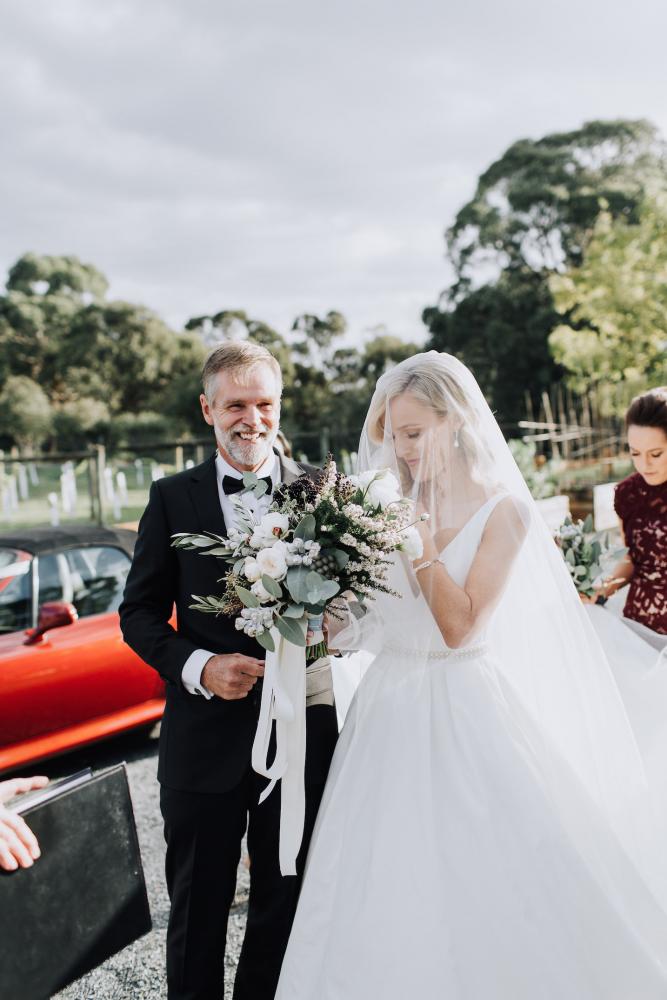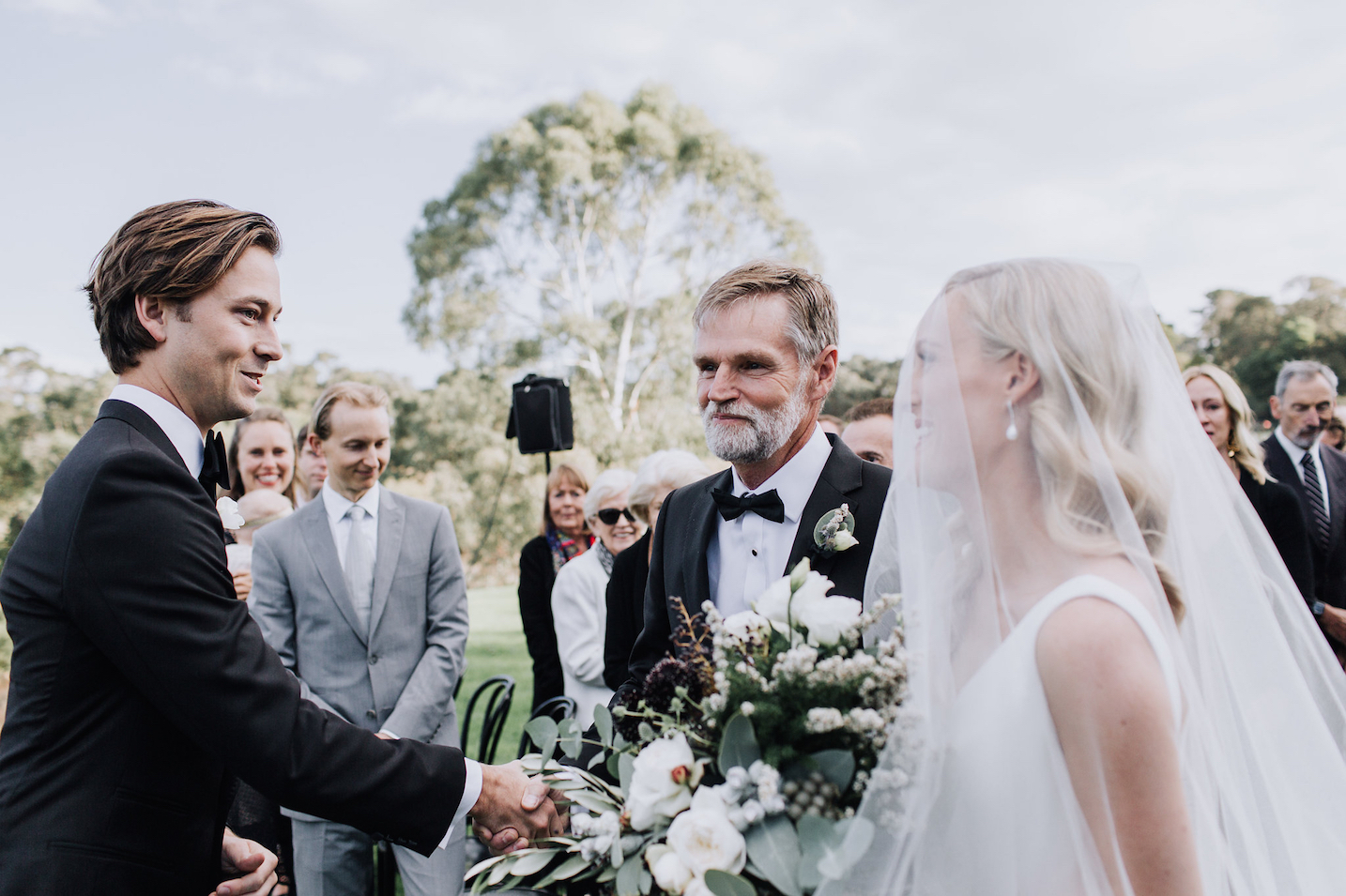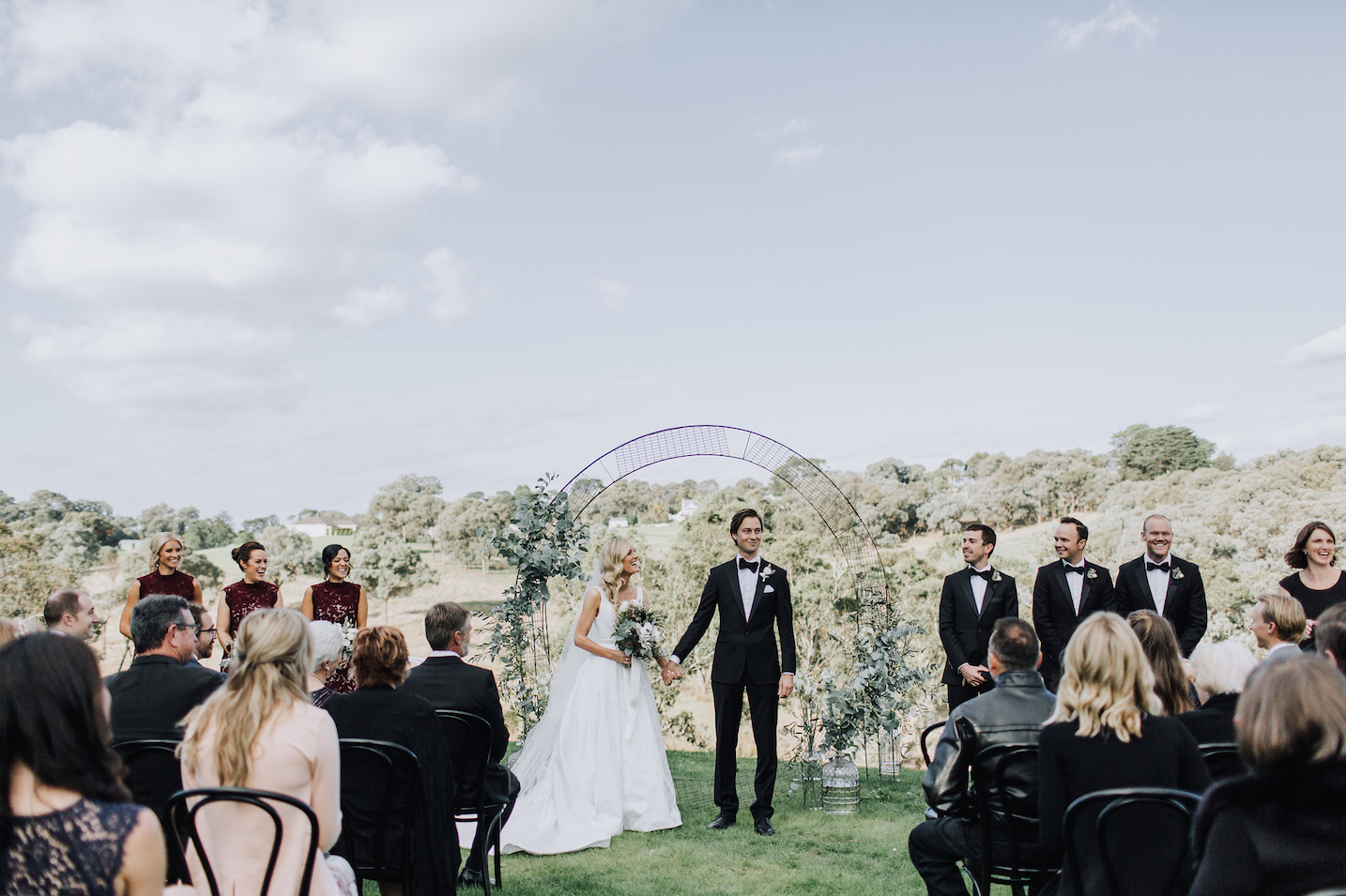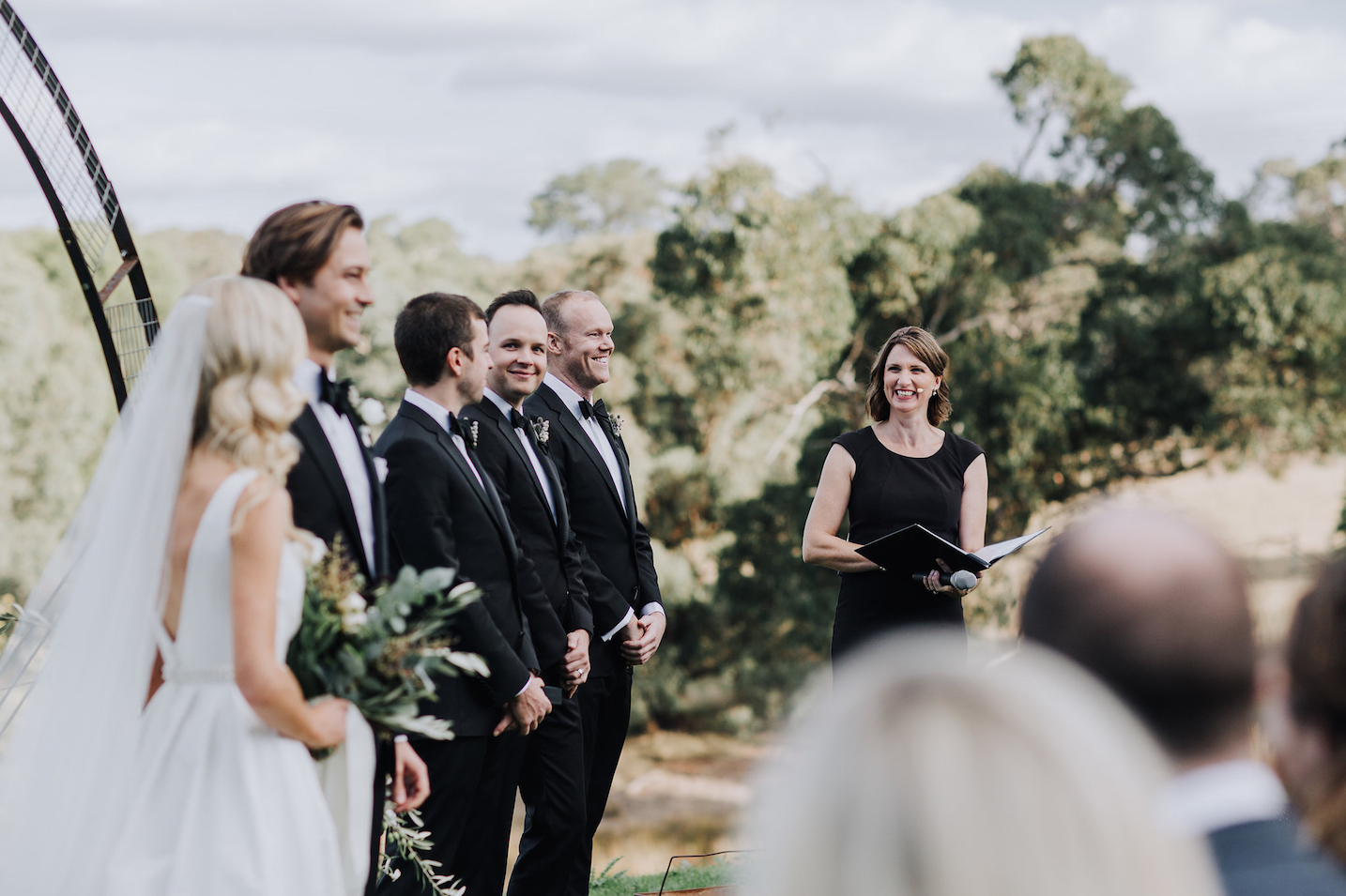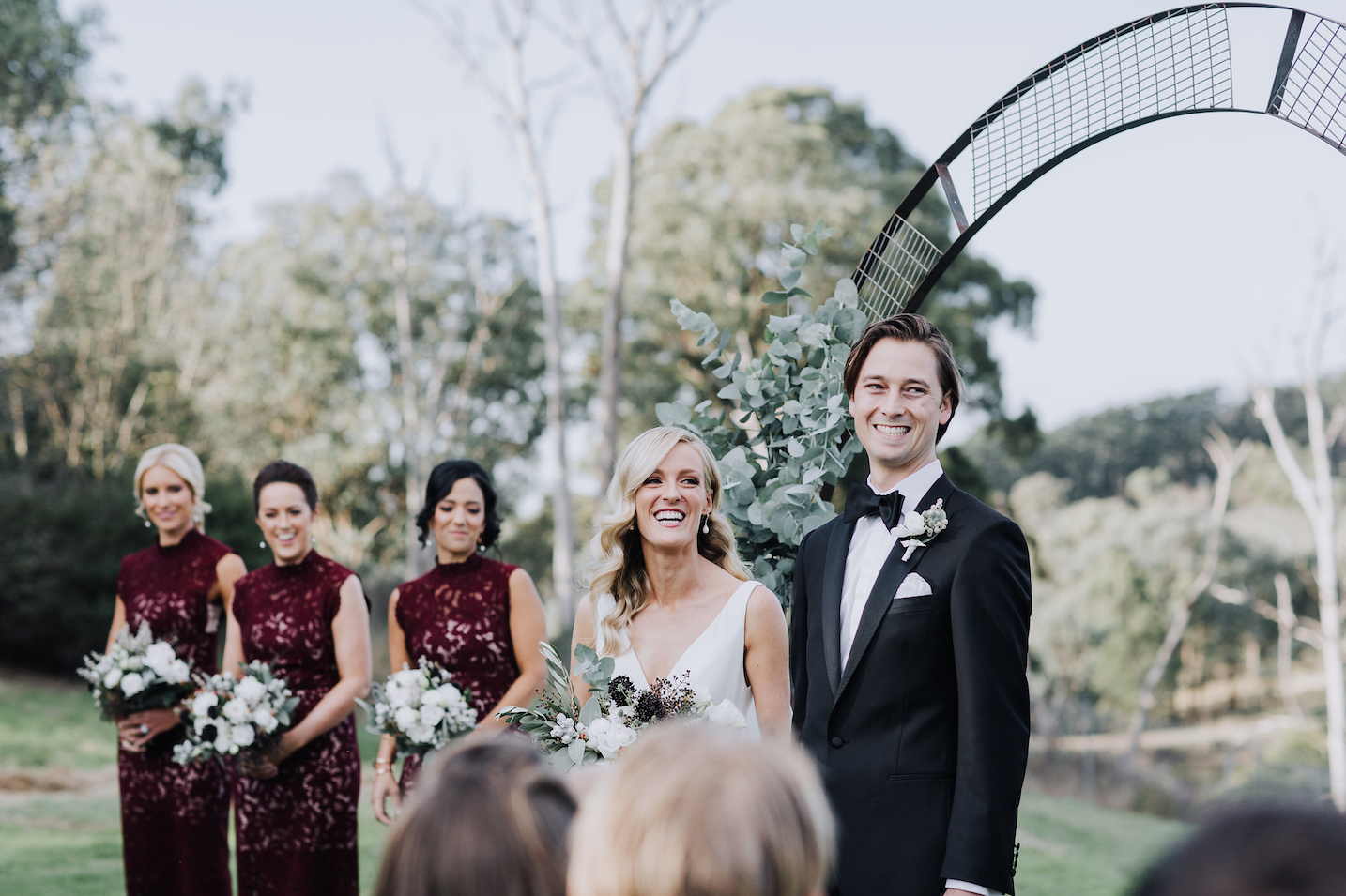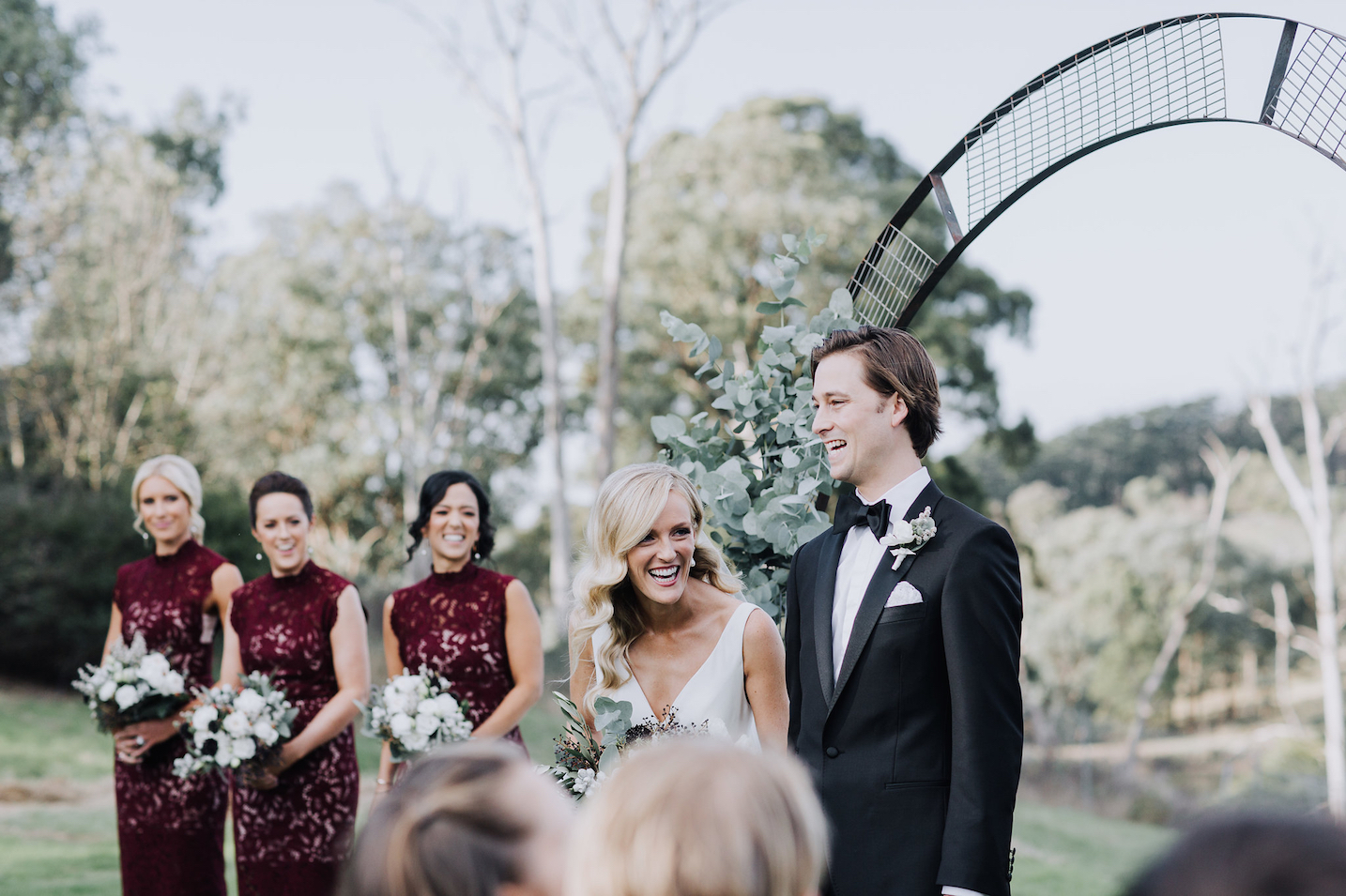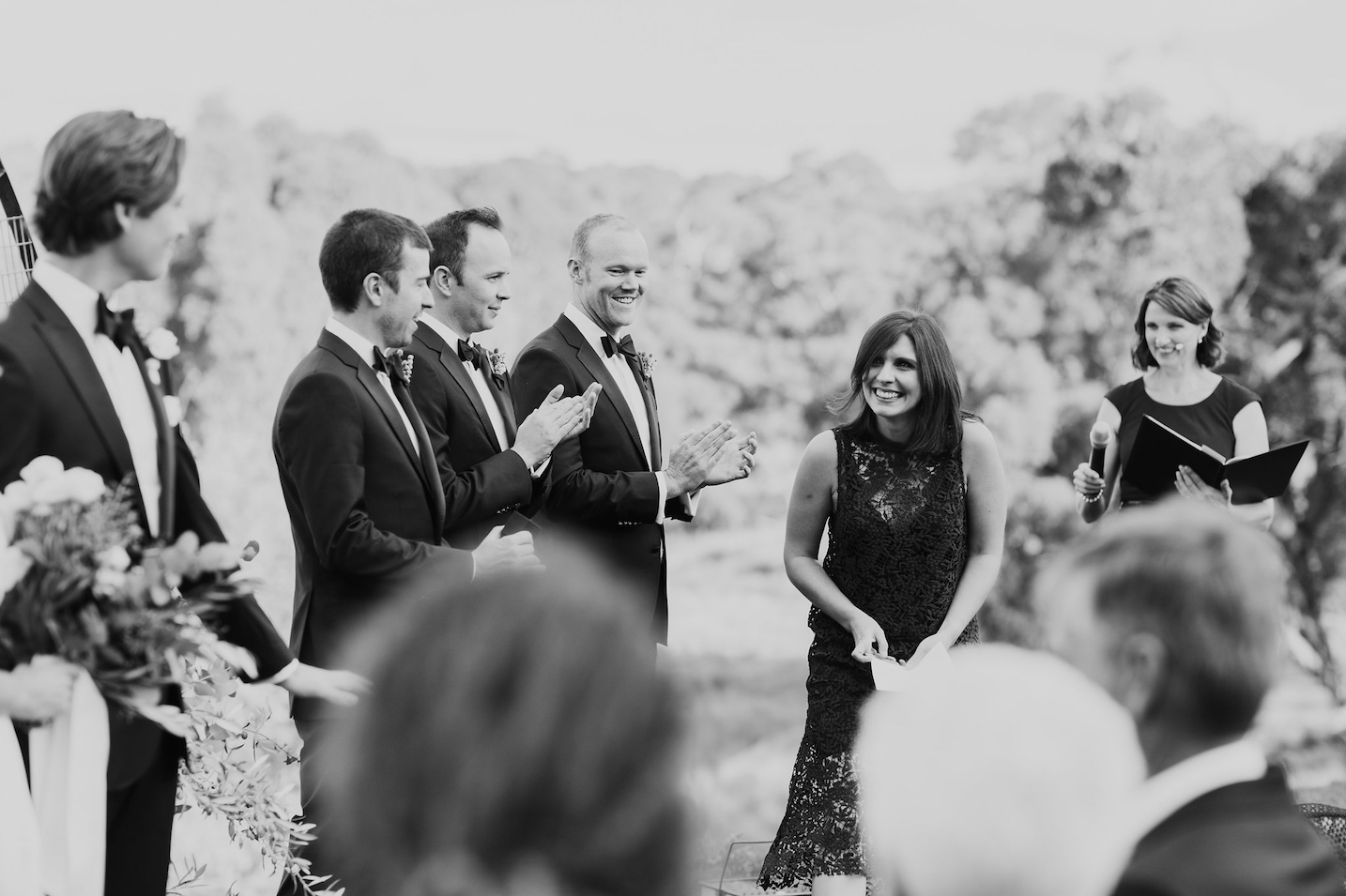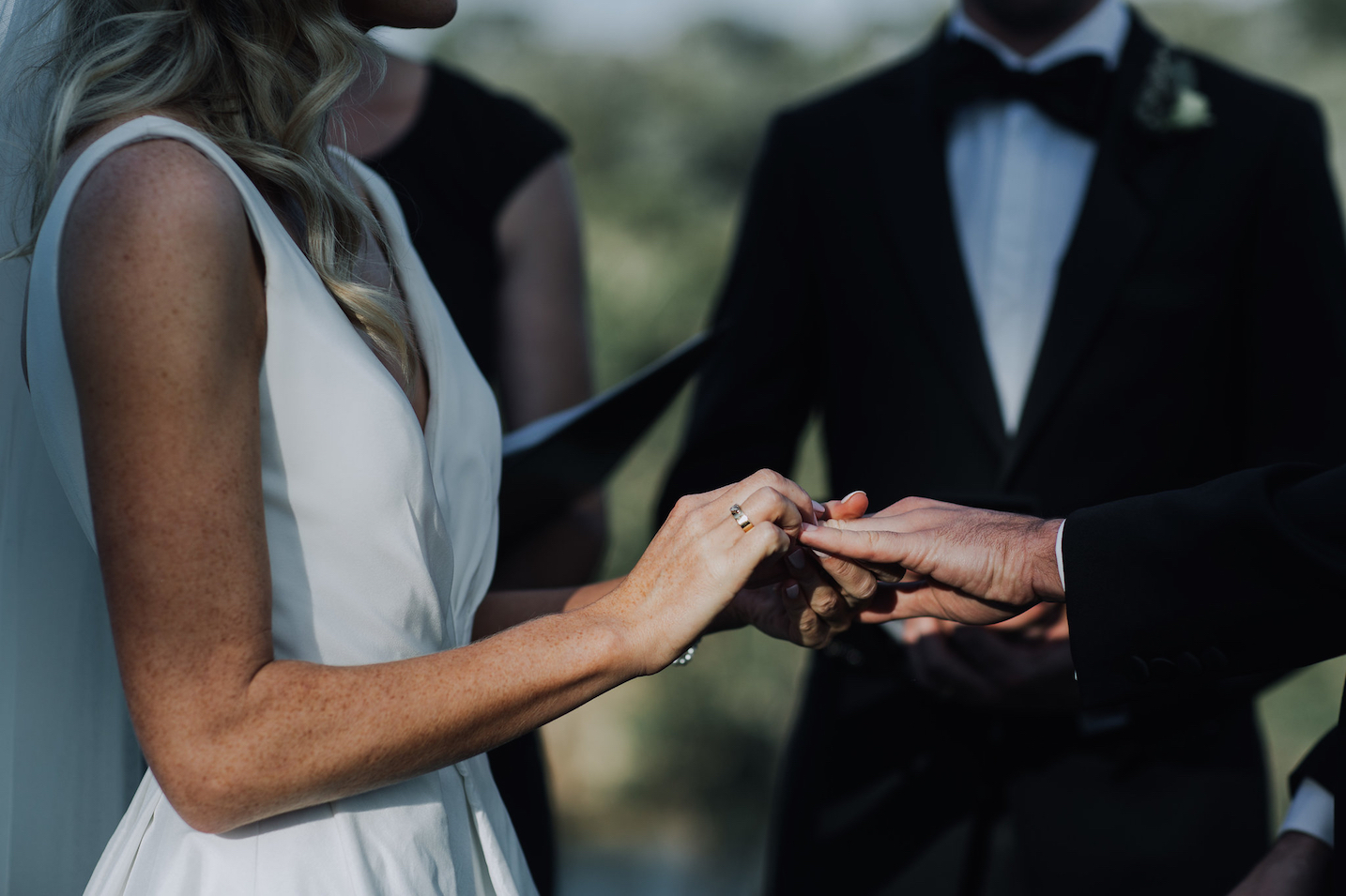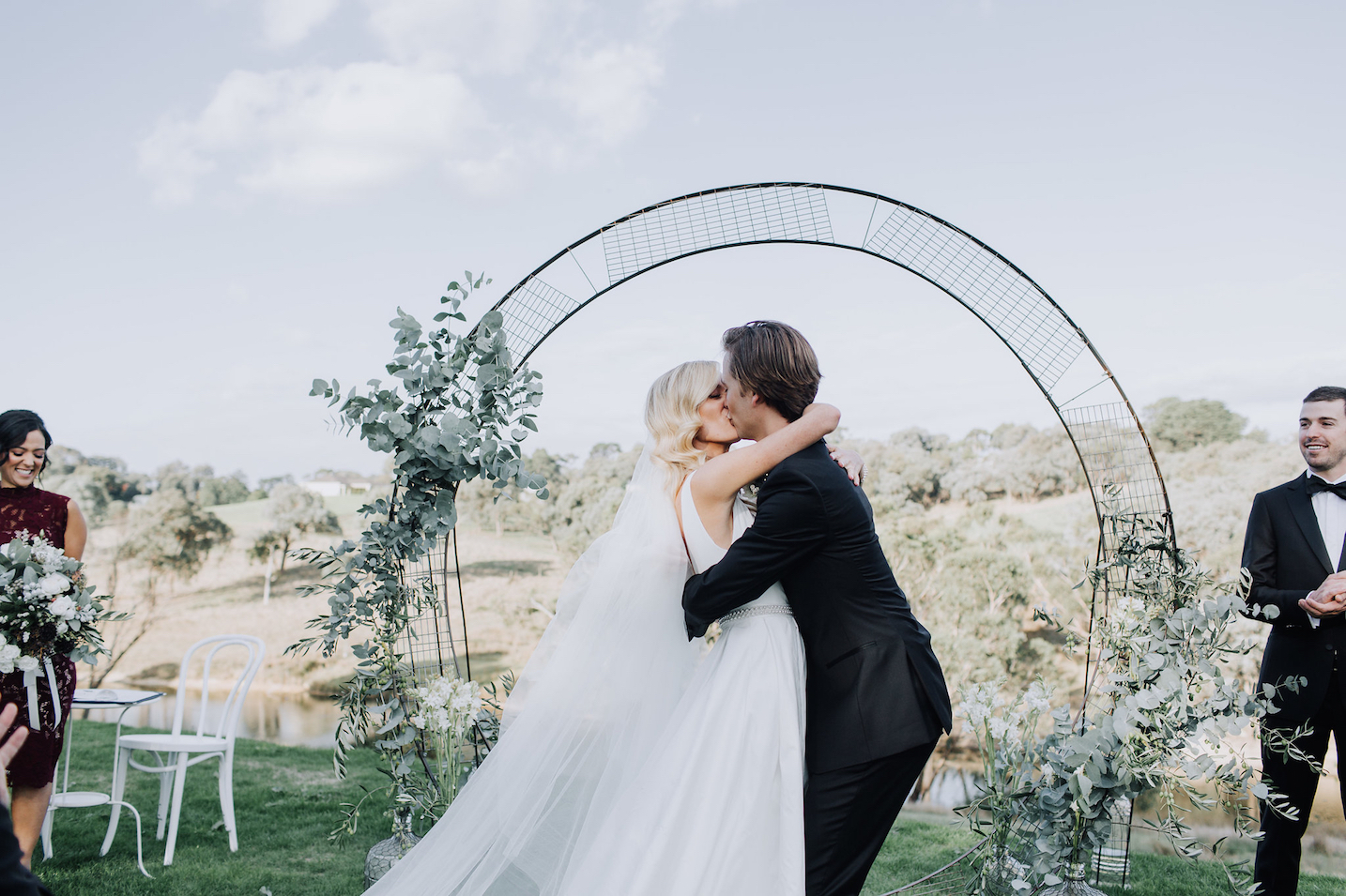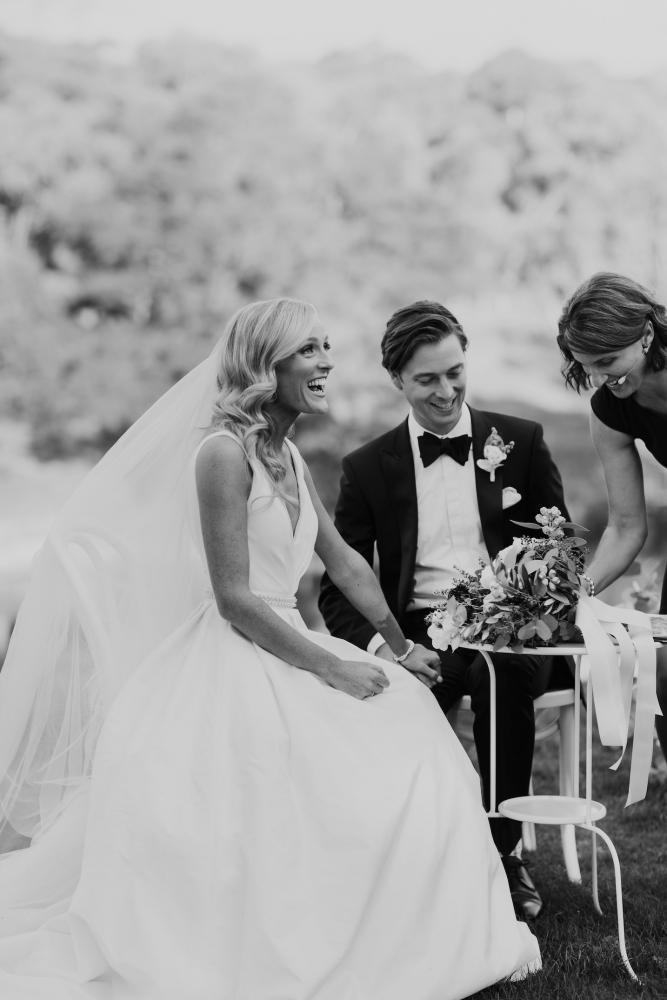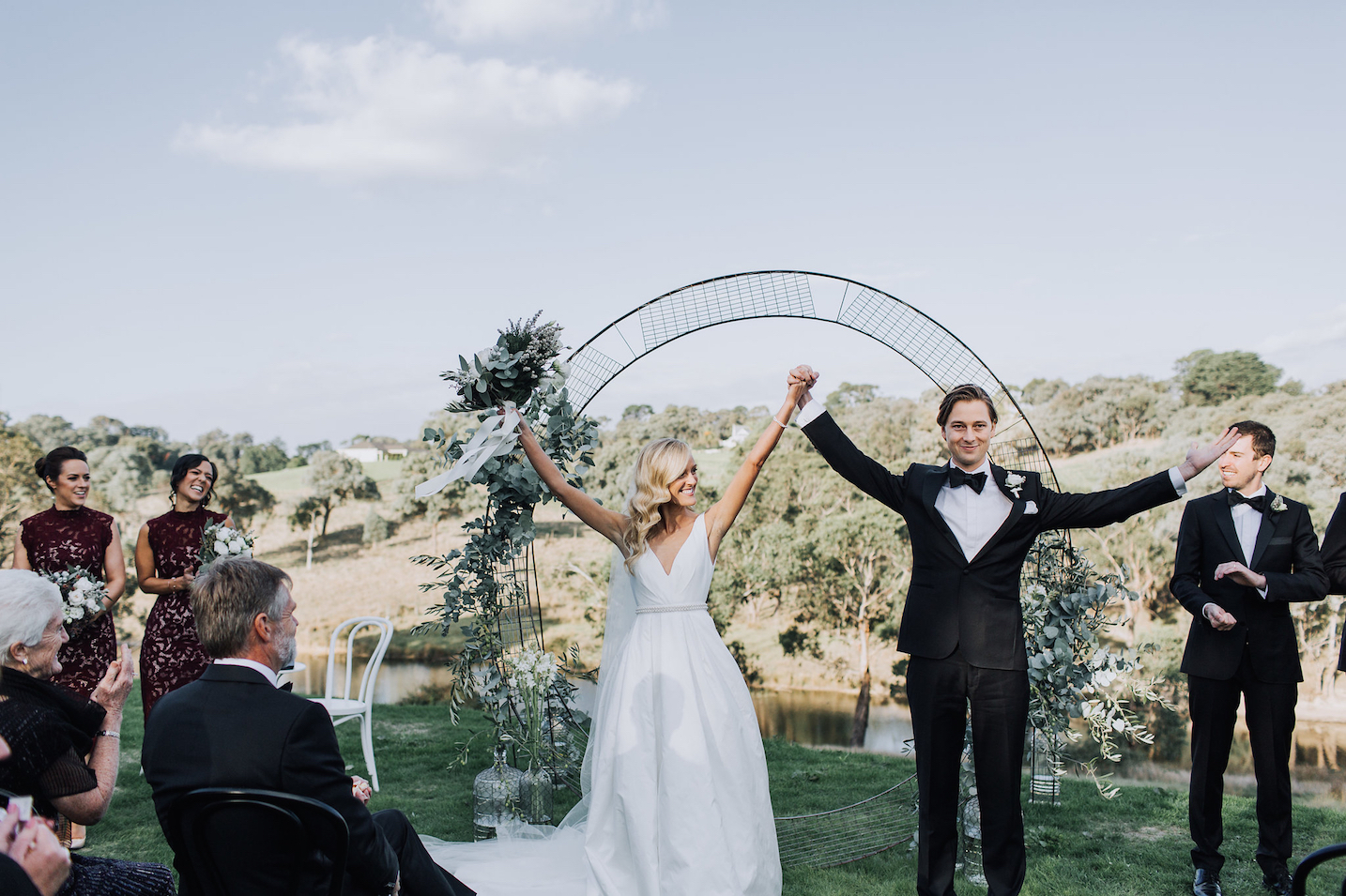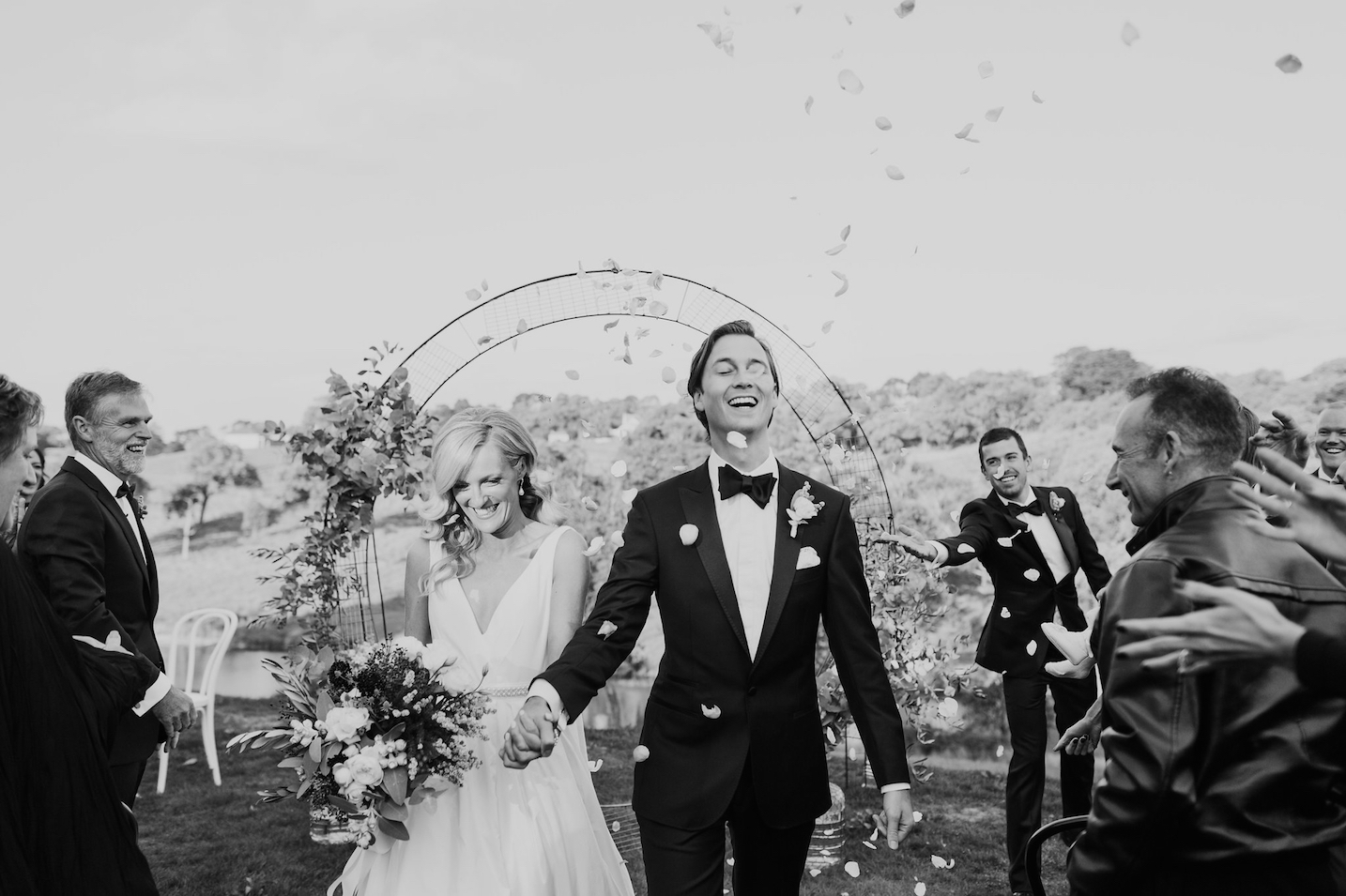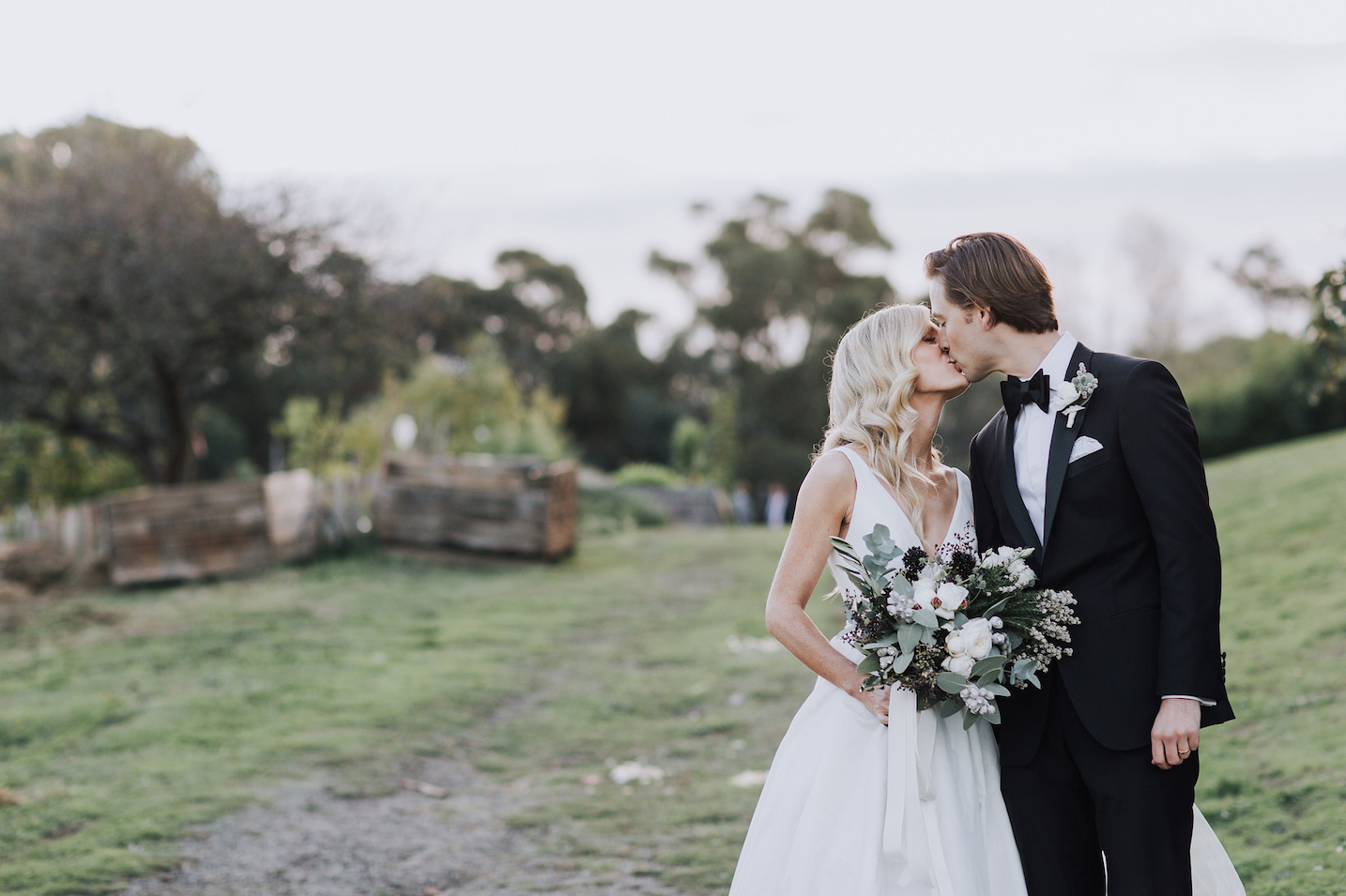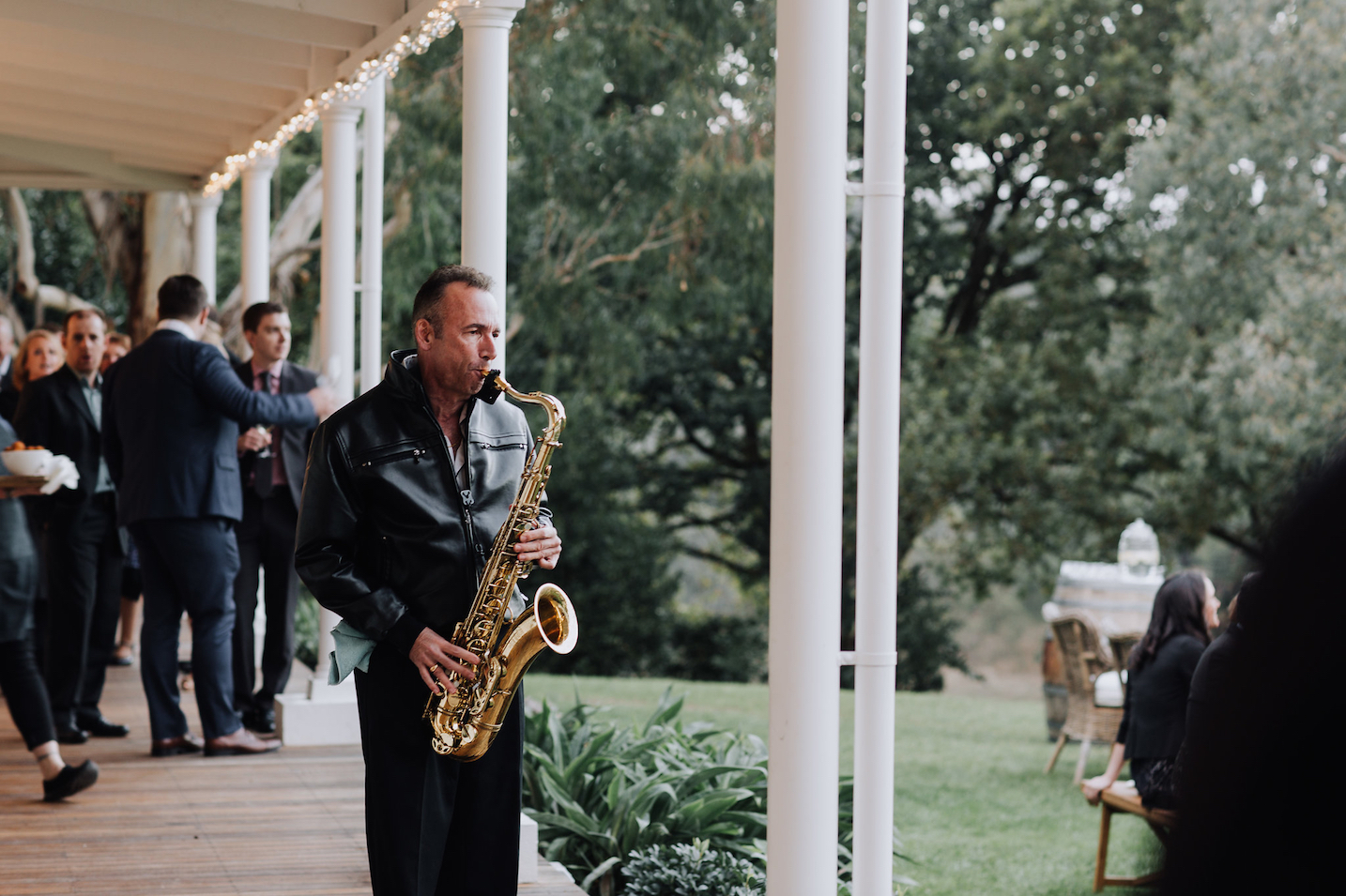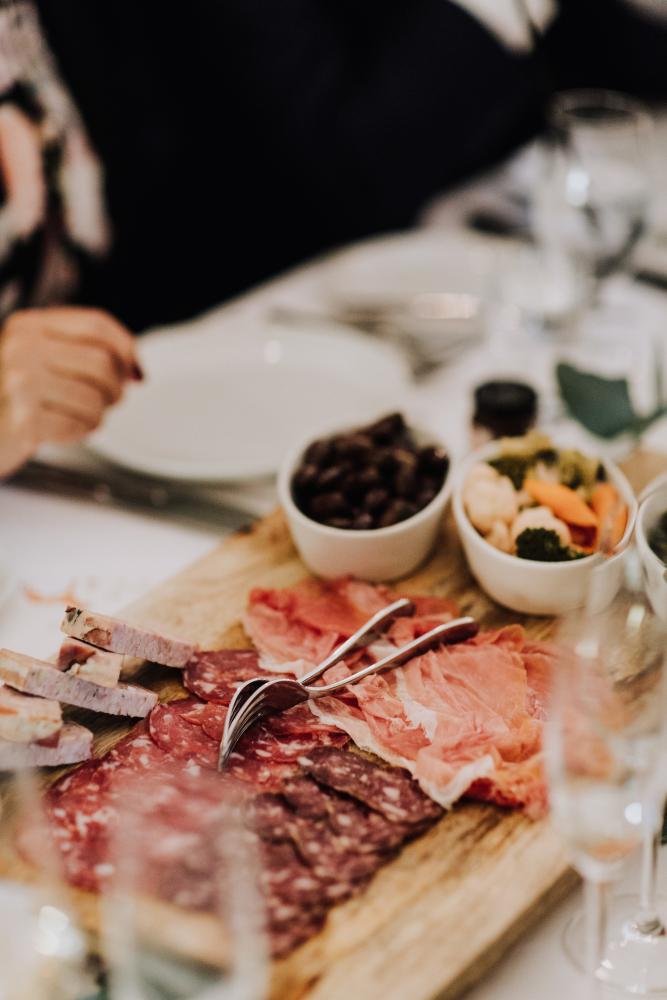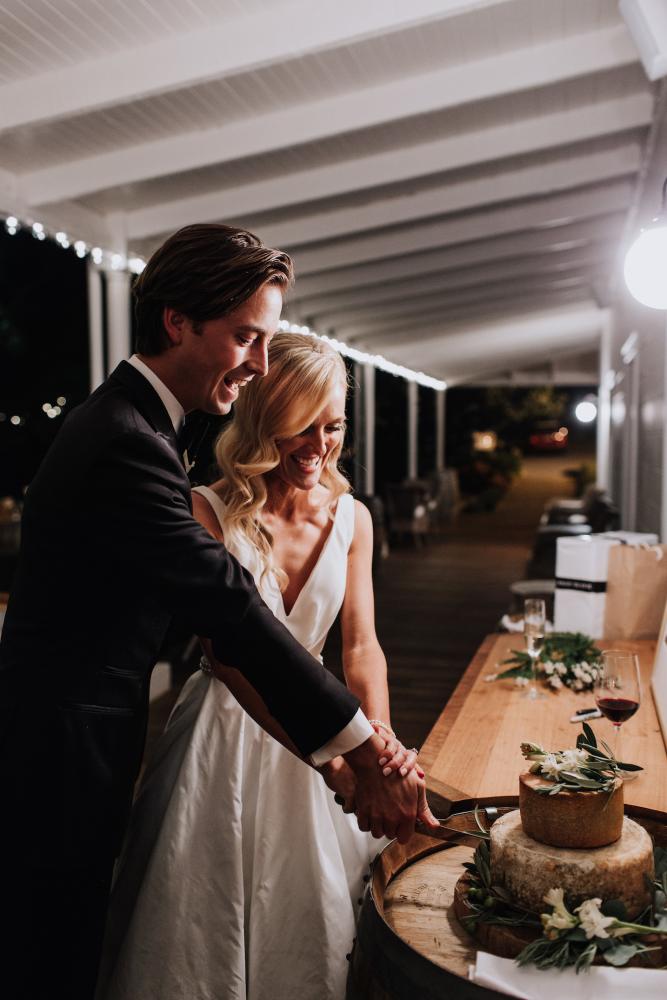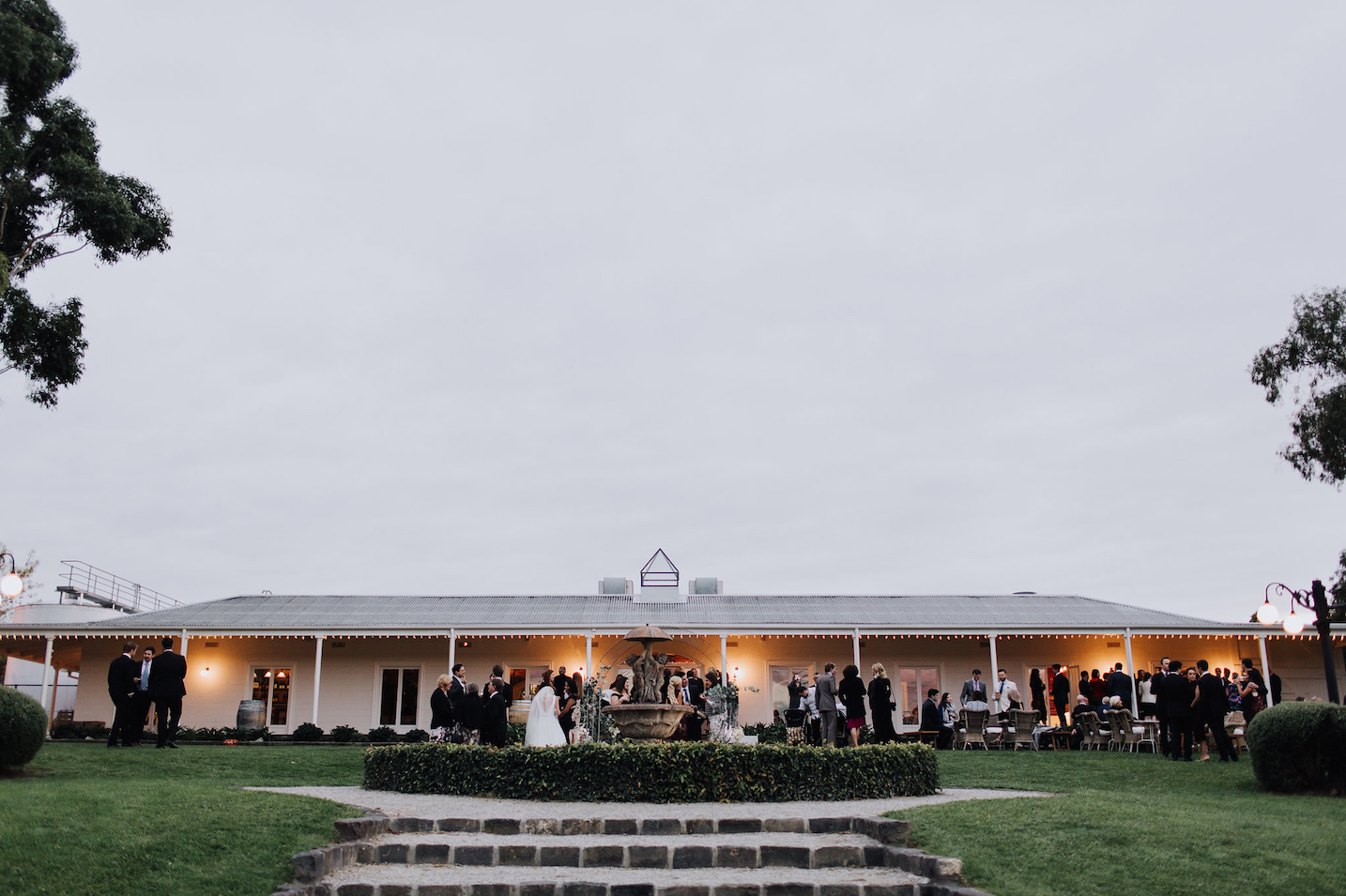 Ellen + Lachy | 15.04.2017
Photography: Anitra Wells
Ceremony & Reception Location: The Farm Yarra Valley
Celebrant: Meriki Comito 
Flowers + Ceremony Circle: Sassafras Flowers
Bridal Gown: Amaline Vitale
Cheese Wheel Cake: The Farm Yarra Valley
Best Outdoor Wedding Venues + Locations  →
← Rain on your Wedding Day – Do you have a Plan B? 
My Top 10 Most Asked Questions!
"I've never done this before, so I have no idea where to start"
Every new couple I meet with, even those who have been married previously, have questions regarding the marriage ceremony and what they need to factor into their planning. Just about every couple I have "worked" with, will know that I take at least 15-20 minutes at the beginning of our initial meeting to establish what to expect during their wedding ceremony planning journey, but I will ALWAYS allow for a question/answer time, (once we have discussed all the important things like whether or not they have found their dream wedding dress!) as I know at least one of these following questions will pop up!
Main Photo Credit: Loco Photography

Let's start at #10 and work our way through to the #1 most popular question.
10. "IN YOUR

OPINION,

WHAT MAKES A GREAT WEDDING CEREMONY?"
I believe this is very similar to asking someone what, in their opinion, makes a great holiday?
A great wedding is one that is absolutely perfect for you.
Every couple is different, so the more of yourselves you put into it, the more likely your ceremony will be everything you're hoping for!
It should reflect not only who you are, but also what you love, and what you consider to be most important in life.
It should be fun, romantic, sweet, hilarious, serious, formal, casual, lighthearted, traditional, totally random, or all of the above, but most of all, it should be meaningful to you, should be memorable for all the right reasons and should create all the feels you would like to see shine through in your photos  – your memories of that one big moment you will come back to for the rest of your life.
Finding a marriage celebrant who understands you, can offer you ideas that inspire you, and with whom you feel confident can create this magical moment with you is SO very important, so please take the time to get to know a few of us!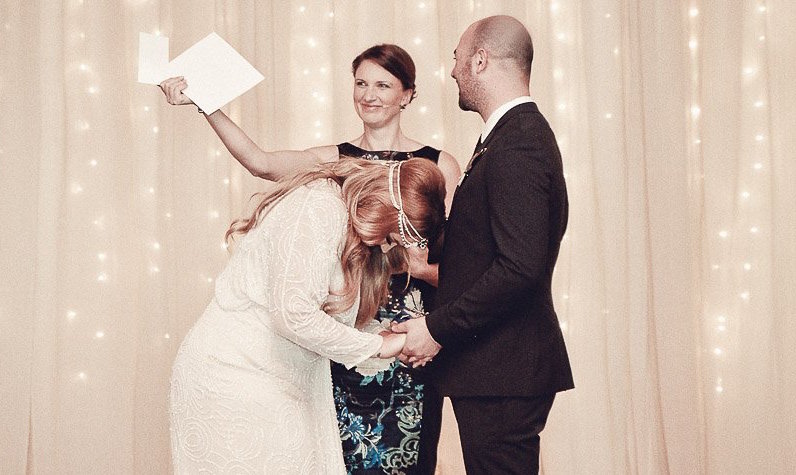 Photo Credit: Candid Captures
9. "WHAT DO YOU (as a celebrant) NORMALLY WEAR?"
Whatever you would like me to!
This is something I will always discuss with every couple, to ensure I complement their colour scheme and dress code on the big day. In fact I wouldn't mind at all if you requested a specific colour dress that I didn't already have in my wardrobe – any excuse to buy a new frock is a great one in my opinion! But don't worry, unless it is specifically requested, I will NEVER wear white, in any form – that is for the bride and the bride only!
       Photo Credit: Ben Differding
8. "CAN OUR VIDEOGRAPHER CONNECT TO YOUR YOUR PA?"
Absolutely! It means, in many cases, that you will have a much better quality sound for your wedding video, and I'm all for working with your suppliers to ensure you receive the best outcome in every aspect of your planning!
You are also welcome to pass on my details to them so they can contact me in the lead up to the big day to discuss any connection requirements.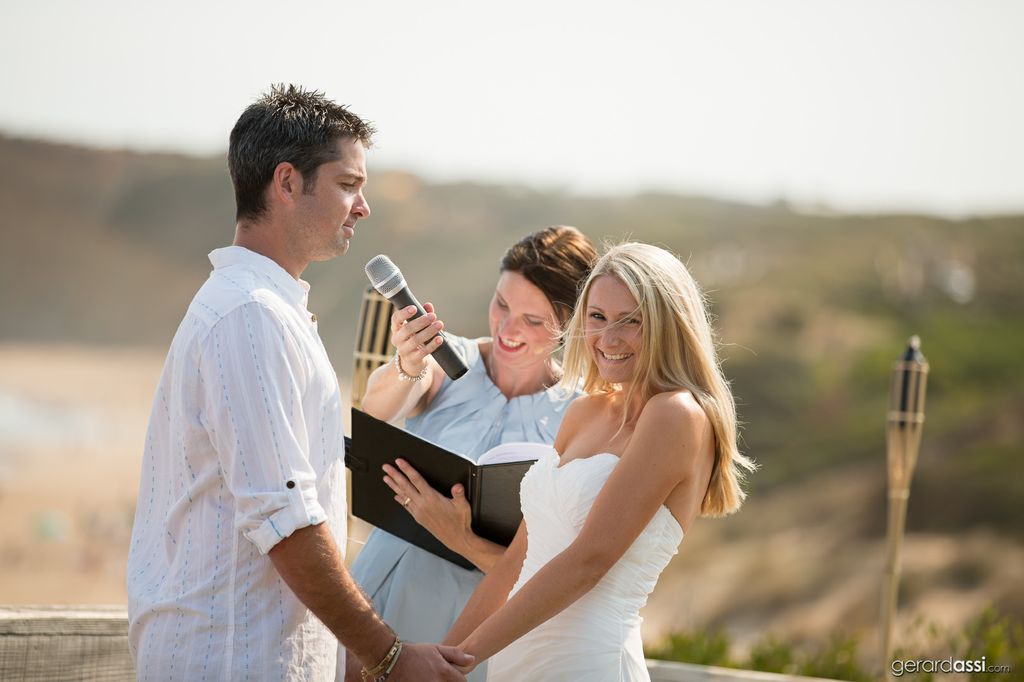 Photo Credit: Gerard Assi
7."WE'RE QUITE SHY, DO WE REALLY NEED TO USE MICROPHONES?"
In short, no, as long as your two official witnesses are close enough to hear you state your legal intentions.
The long answer is, your family and friends have all come along to hear you make a lifelong promise to one another and are so excited to be able to witness such an important moment in your lives, so unless you prefer that they sit and wonder what on earth it was that was said to make you smile, laugh, cry or all of the above, then yes, microphones are always a good idea, but I promise I won't make you hold it yourself, i fact I'm happiest holding the microphone for you so you can concentrate on sharing the beautiful words you have written for each other!


       Photo Credit: Vlad Savin
6. "WHAT SHOULD WE DO IF OUR BABY STARTS CRYING IN THE MIDDLE OF THE CEREMONY?"
Babies cry. It's a fact. If you have young children, the best thing to do is NOT assume that it will be a magical day where they won't cry at all. The best thing to do is to accept that they probably will, so be prepared for that, and always have a nominated carer on hand to keep an eye on them at all times so you don't have to!
I have conducted many ceremonies where young children are involved and I find it all works out for the best when you simply follow their lead and go with whatever happens on the day.
If they want to be held by one of you for the entire ceremony, then let them. Their squishy little face between you when you share your first kiss as a married couple will be captured by your photographer and will provide you all with the best memory in the years to come.
If they want to sit on the ground at your feet and play with the flowers/dirt/sand/grass/ shoelaces/ empty ring box/ cracks between the floorboards or anything else that amuses them, then let them.
If they want to be held by you one minute, then your mum the next, or the bridesmaid or groomsman, or any other random guests that captures their attention, then let them.
And if they want to grab my microphone and say hello with a big cheesy (and sometimes dribbly) grin, then believe me, I will let them do that too 🙂
Don't worry if they get dirty. Don't worry if they don't want to smile perfectly for the camera. Don't worry if they rip off their flower crown/boutonniere/vest/jacket/ shoes before they've even made it down the aisle. And don't worry if they want to stand up the front and pull faces at you, at your guests, at your photographer, or at me – it will be really funny (about a week later for you maybe), and everyone will look really happy in all your photos! Trust me.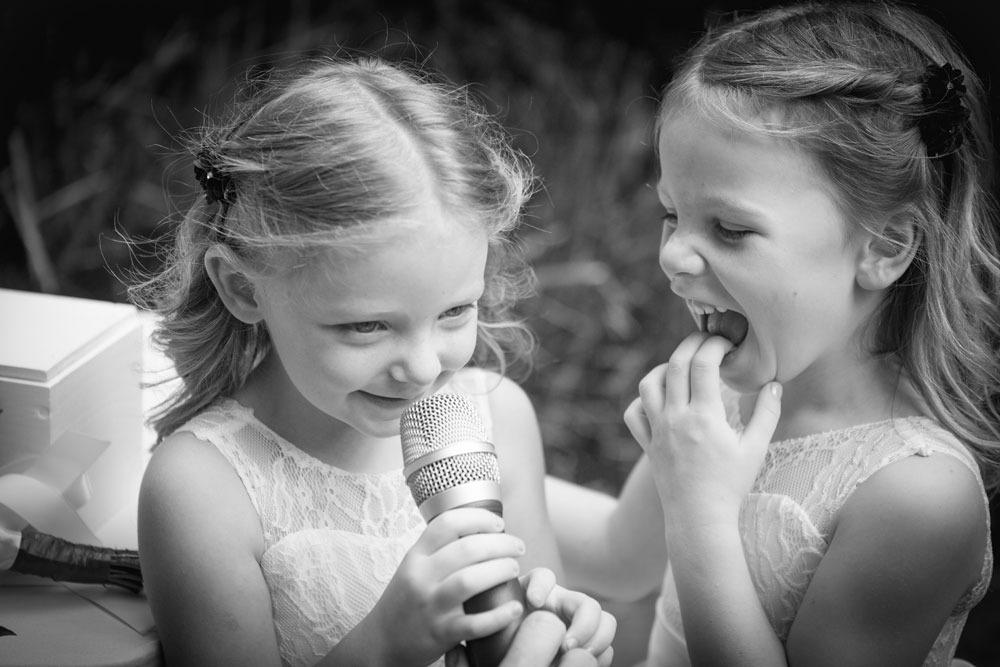 Photo Credit: Kate Deagan Photography
5.

"WHAT AGE WOULD BE CONSIDERED TOO YOUNG FOR A FLOWER GIRL/PAGE BOY/RING BEARER?"
Well, if they can't walk down the aisle themselves, most would consider them too young.
Unless a parent carrying their child down the aisle adds significant meaning to your day, I would advise against it, as the parent can sometimes appear embarrassed, leading to a rather awkward start to the ceremony….
        Photo Credit: Nicole Taranto Photography
4.

"HOW LONG DO YOU NORMALLY STAY FOR AFTER THE CEREMONY?"
Long enough to a) Watch you receive lots of congratulatory hugs + kisses from your family + friends,
b) Pass your marriage certificate on to a nominated person of your choice (that you have already decided on in the lead up to the big day), c) Pack up all my equipment, and d) Give you a hug goodbye with my very best wishes for a fabulous celebration!
Oh, and if there is champagne going around, I may make a quick toast to your future as a new Mr + Mrs!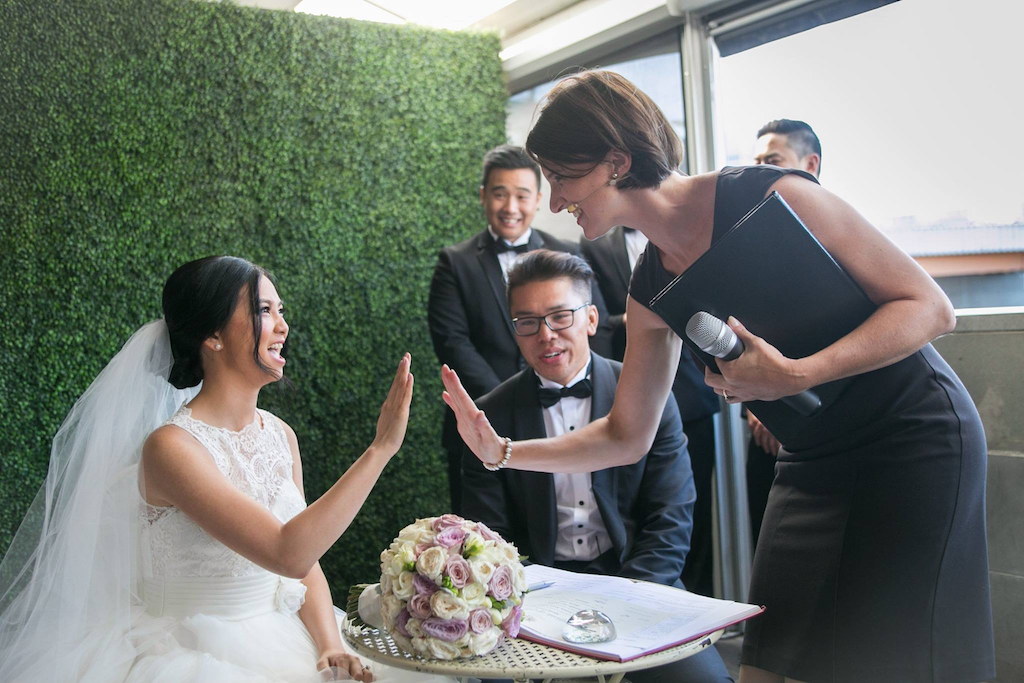 Photo Credit:ProShot Photography
3.

"WE DON'T WANT A REHEARSAL, BUT HOW WILL WE KNOW WHAT TO DO ON THE DAY IF WE DON'T HAVE ONE?"
No problem at all! That's what I am there for!
I will always discuss ceremony details at our final meeting leading up to the big day, to ensure that I understand your brief exactly regarding every moment of how you would like the ceremony to run.
I will meet you when you arrive and will discuss your entrance with your venue co-ordinator to ensure it runs smoothly. If you don't have a venue coordinator, I will assist you with your arrival and your entrance.
I will show your bridesmaids where to stand after they walk down the aisle to ensure they are nice and symmetrical to the groomsmen. But if your bridal party is uneven, I will work with numbers to ensure you are all still positioned perfectly for photos.
I will guide you through every aspect of the ceremony from start to finish and will ensure both you and anyone else involved directly in the ceremony knows what they are doing and are confident in their individual roles. You won't need to worry about a thing!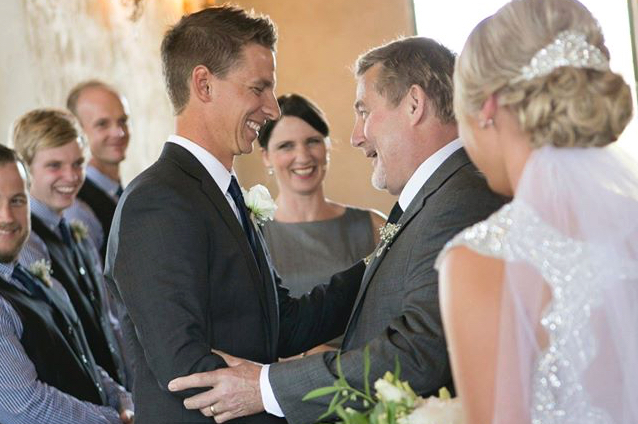 Photo Credit: Blumenthal
2.

"WHAT WILL I DO IF I START CRYING DURING MY VOWS AND CAN'T SAY THEM?"
Again, try not to overthink this part.
In most cases, you have never done anything like this before, so how can you possibly imagine how you are going to feel and react? You can't. So don't even try. Just go with it, and like with everything else, be prepared for anything.
But know that I will always be there to help you through those ridiculously unpredictable emotions.
Trust me, I've done this a few times now and I'm pretty good at keeping those words flowing and turning sobs into smiles, but I will always let the tears with the feels fall if it means that your partner (and all your family and friends) can see just how much you mean to each other x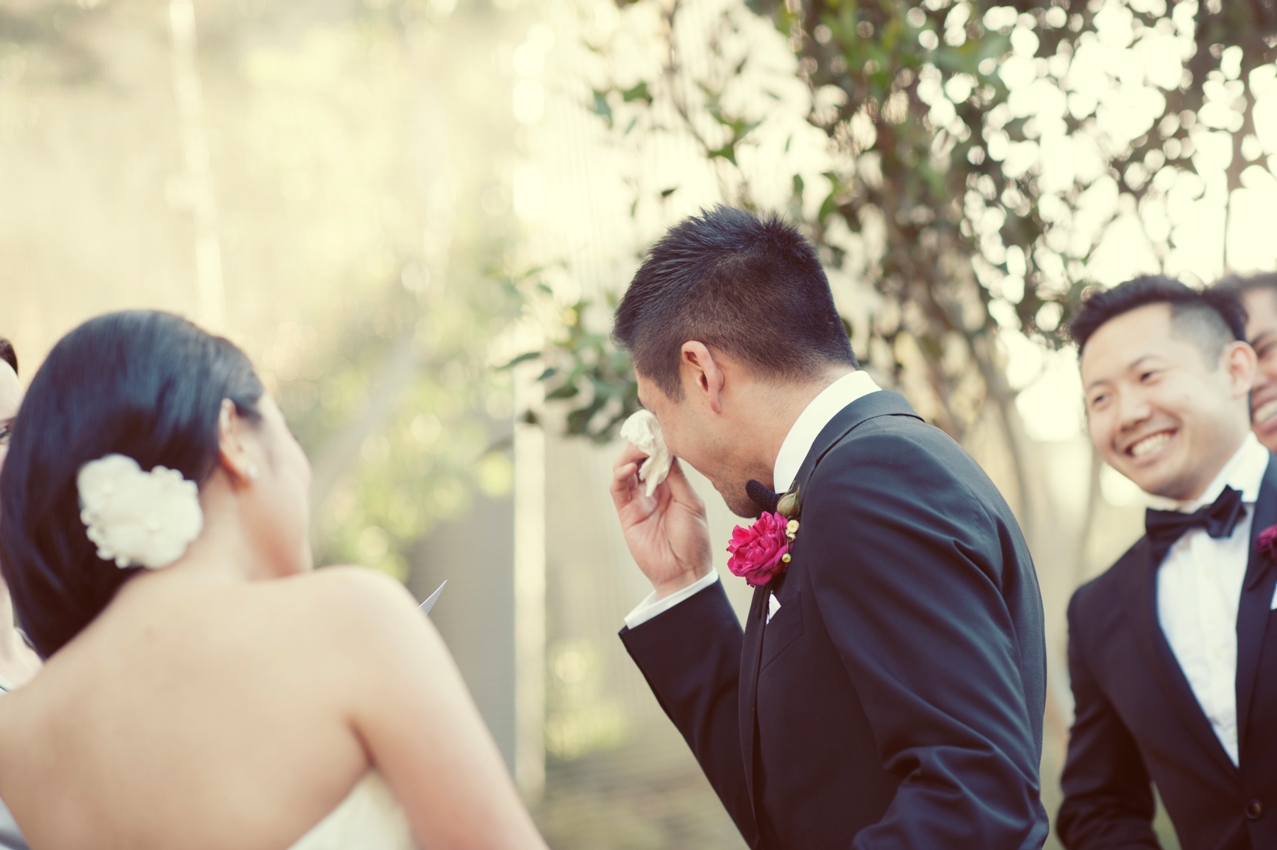 Photo Credit: Doux Wedding Corp
And the number one question most brides ask……..
1. "WHAT NAME DO I SIGN ON THE MARRIAGE CERTIFICATE AT THE WEDDING?"
Your usual name! You have to actually sign the marriage certificate before you can be considered legally married and eligible for a change of name!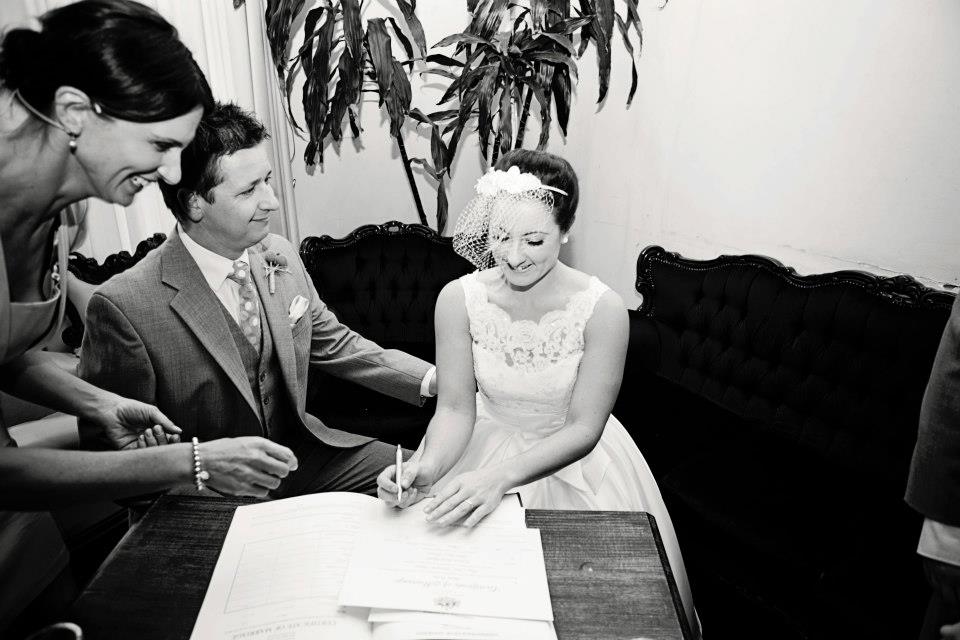 Photo Credit: Luke Lornie Photography



****************
As I said, these are only MY top 10, but if you have any other questions in regards to your wedding ceremony (and there is absolutely no such thing as a silly one!) please feel free to

contact

me at any time!
Kate + Lars' Chateau Doré Wedding
The Event
Kate + Lars decided on a peaceful french provincial inspired Chateau Doré Wedding to celebrate their love and their family.
As family & friends gathered from as far as Germany, Kate & Lars's ADORABLE baby boy Sebastian arrived dressed in the cutest traditional 'Lederhosen' to the absolute delight of person present!
Grateful for my mother's Austrian heritage, I was thrilled to be able to welcome Lars' family in their mother tongue as well as incorporate a few German phrases into the ceremony itself!
The Meeting
Kate and Lars' first meeting in Spain was one of those real 'sliding door' moments in life, when Kate stopped in Spain at the beginning of a 12 month world trip to join a Spanish language class, and met Lars a few days into her extended stay.
Kate thought Lars looked like a school boy swinging on the back of his chair in the Library, and Lars thought the same thing about Kate after spotting her strolling through the streets with her cute little backpack on! But when they were both invited to join a mutual friend for lunch, they hit it off immediately, and Kate cancelled her other travel plans to spend as much time in Spain with Lars as possible.
Six weeks later, Kate was obliged to continue on her world tour, but both she and Lars knew that their time together was so much more than just a summer romance, and Kate made arrangements to meet Lars on his home ground in Hamburg on December 12th 2009 – six years exactly before they married at the beautiful Chateau Doré in country Victoria.
The Vows
Kate said that she loved Lars's "genuine & pure love of life and that he sees the very best in every person he meets", and Lars said that Kate "makes everything you do, feel & experience together absolutely amazing".
After exchanging rings with a mixture of both German & English vows, Kate & Lars shared one of the most passionate first kisses that I have ever seen to the loudest of cheers!
The Photographer
One of my favourite industry pros, Alli Oughtred, was there to capture it all xx
Kate + Lars | 12.12.2015
Celebrant: Meriki Comito
Ceremony & Reception Location: Chateau Dore
Photography: Alli Oughtred Wedding Photography
Flowers: The Eternal Vase
Rain on your wedding day – Do you have a Plan B? →
← Ceremony Entrances – know your options!