Kate + Lars' Chateau Doré Wedding
The Event
Kate + Lars decided on a peaceful french provincial inspired Chateau Doré Wedding to celebrate their love and their family.
As family & friends gathered from as far as Germany, Kate & Lars's ADORABLE baby boy Sebastian arrived dressed in the cutest traditional 'Lederhosen' to the absolute delight of person present!
Grateful for my mother's Austrian heritage, I was thrilled to be able to welcome Lars' family in their mother tongue as well as incorporate a few German phrases into the ceremony itself!
The Meeting
Kate and Lars' first meeting in Spain was one of those real 'sliding door' moments in life, when Kate stopped in Spain at the beginning of a 12 month world trip to join a Spanish language class, and met Lars a few days into her extended stay.
Kate thought Lars looked like a school boy swinging on the back of his chair in the Library, and Lars thought the same thing about Kate after spotting her strolling through the streets with her cute little backpack on! But when they were both invited to join a mutual friend for lunch, they hit it off immediately, and Kate cancelled her other travel plans to spend as much time in Spain with Lars as possible.
Six weeks later, Kate was obliged to continue on her world tour, but both she and Lars knew that their time together was so much more than just a summer romance, and Kate made arrangements to meet Lars on his home ground in Hamburg on December 12th 2009 – six years exactly before they married at the beautiful Chateau Doré in country Victoria.
The Vows
Kate said that she loved Lars's "genuine & pure love of life and that he sees the very best in every person he meets", and Lars said that Kate "makes everything you do, feel & experience together absolutely amazing".
After exchanging rings with a mixture of both German & English vows, Kate & Lars shared one of the most passionate first kisses that I have ever seen to the loudest of cheers!
The Photographer
One of my favourite industry pros, Alli Oughtred, was there to capture it all xx
Kate + Lars | 12.12.2015
Celebrant: Meriki Comito
Ceremony & Reception Location: Chateau Dore
Photography: Alli Oughtred Wedding Photography
Flowers: The Eternal Vase
Rain on your wedding day – Do you have a Plan B? →
← Ceremony Entrances – know your options! 
Tran and Damon's Grand Hyatt Melbourne Wedding
The Event
Tran + Damon decided that a Grand Hyatt Melbourne wedding would be the perfect way to celebrate their love.
They initially connected online, quite randomly one lazy Sunday afternoon, and within two days, they were having their first meeting over dinner.
Tran loved Damon's patient & calm manner, and Damon loved Tran's energy & confidence, so not long after, Tran very considerately helped Damon pick out her engagement ring, and on the 29th March they married in spectacular style at The Grand Hyatt Hotel in a Vietnamese/Australian fusion ceremony.
The Ceremony Details
Tran & Damon provided their guests with an Order of Service titled "So You're Going To Sit Through A Wedding – A practical guide to not falling asleep and figuring out just what exactly is going on".
It included interesting facts & past world events pertaining to their wedding date, a Sudoku challenge, the story behind the Tea Ceremony, all the details involving the wedding planning (ie. Dresses tried on = 2 & messages to bridesmaid = 900+) and of course, the names & titles of everyone involved in the wedding day!
In keeping with an ancient Vietnamese custom, Tran and Damon chose to incorporate a traditional Tea Ceremony into their celebration, to serve as a formal introduction into each other's families. This ceremony is usually performed at home before the wedding takes place – sometimes with a cast of thousands! – but as Tran & Damon planned to include only their parents,  it was truly special to witness it as part of official proceedings, as it allowed all their guests (and me!) to experience it too. So beautiful.
The Vows
Tran promised "to live by and protect what we build together", before Damon vowed "to love you in good times and in bad, with all I have to give and all that I am, in the only way I know how – completely and forever."
The Photography
These gorgeous photos by the super talented Alli Oughtred have captured all the love & joy of their day perfectly x
These gorgeous shots were taken in ACDC lane in Melbourne's CBD
Tran & Damon | 29.03.2015
Celebrant: Meriki Comito
Ceremony & Reception Location: The Grand Hyatt Melbourne
Photography: Alli Oughtred Weddings
Florals: Balwyn Events
DJ/MC: Bruce Harrison
Min & Kristian's Melbourne Trunk Bar Wedding
These two beautiful and super cool people married during a Melbourne Trunk Bar wedding six years after Kristian first laid eyes on Min and had no doubt whatsoever that they would have a future together.
Aside from the fact that Min & Kristian share many of the same values and morals in life, that they are extremely like minded, creative and seriously easy going, they are soul mates. Two free spirits who operate together and work better as a team than they ever have as individuals.
After a close friend of the couple entertained us all with an absolutely brilliant, self composed reading that had everyone in fits of laughter, Min & Kristian exchanged their beautifully written and deeply moving vows.
Min, looking like a goddess in a stunning Anna Campbell gown, declared that Kristian was her inspiration and that "I never thought someone like you existed in this world", after which Kristian revealed that in Min, he saw his happiness personified and vowed he would "never forget how special you are and I will remind you of that fact every day".
Their first kiss as husband & wife was received with thunderous applause, cheers & whistles before they partied the night away with their delighted family, friends and equally as cool (and fun!) bridal party.
A huge thanks to the talented Allie O for the fab pics!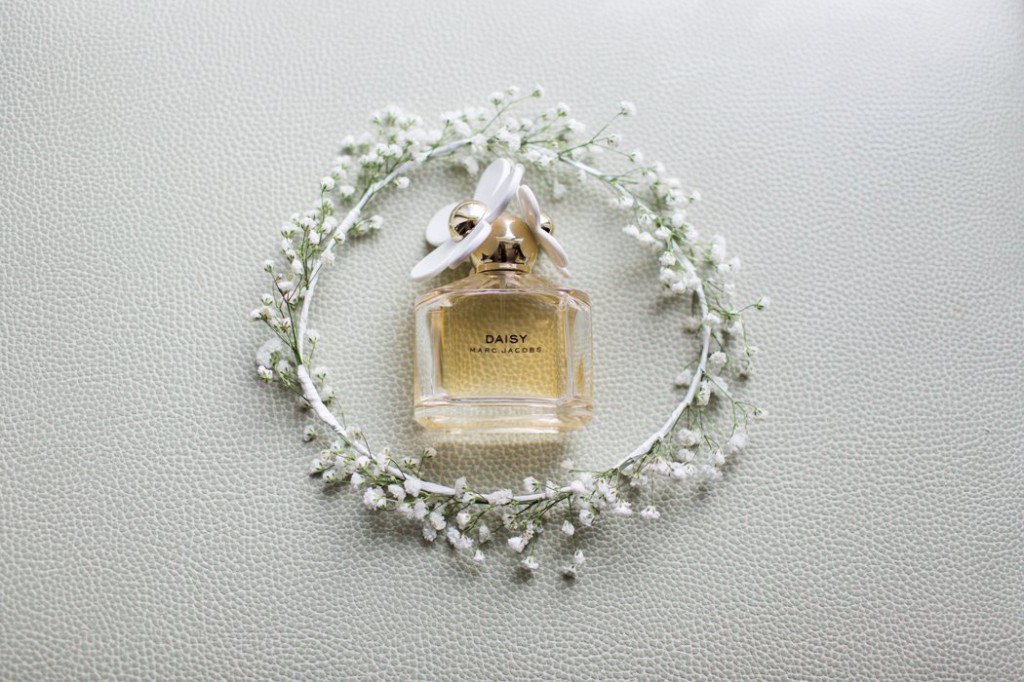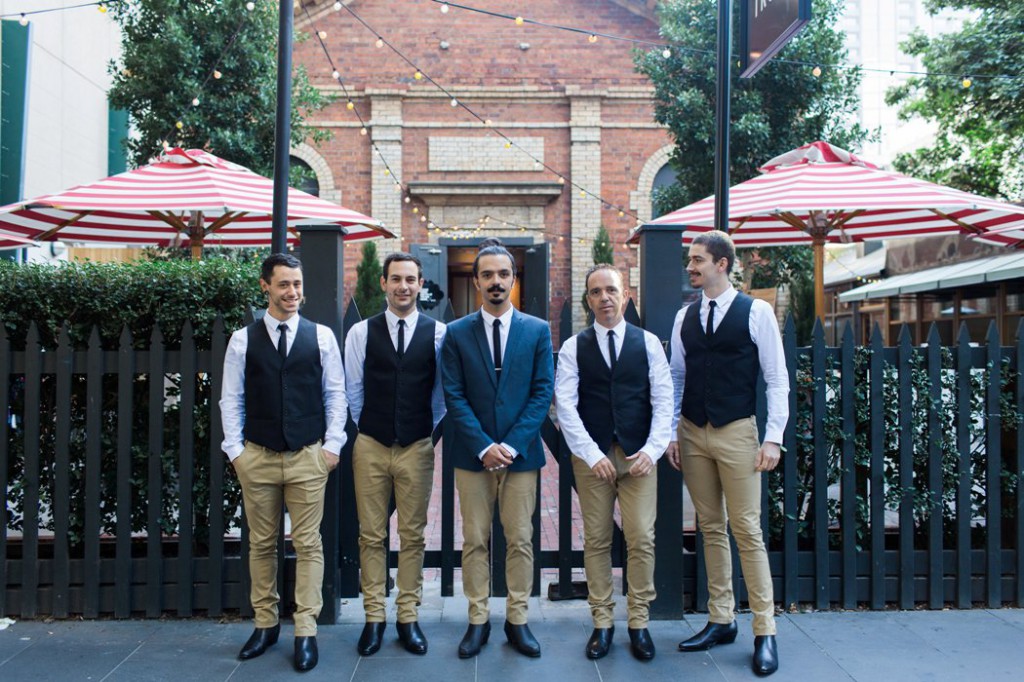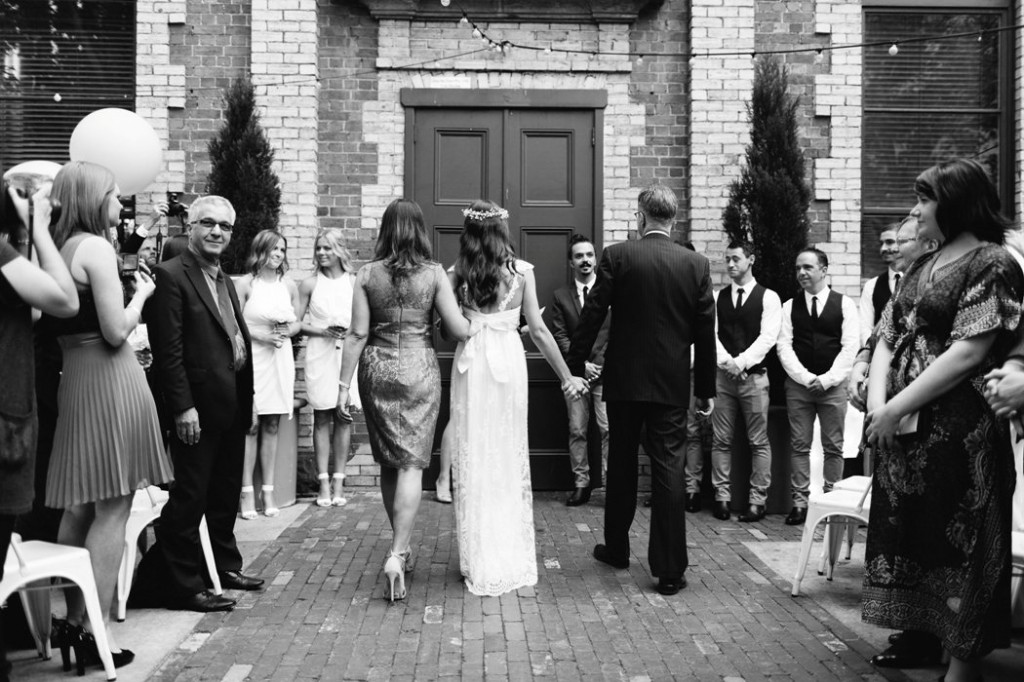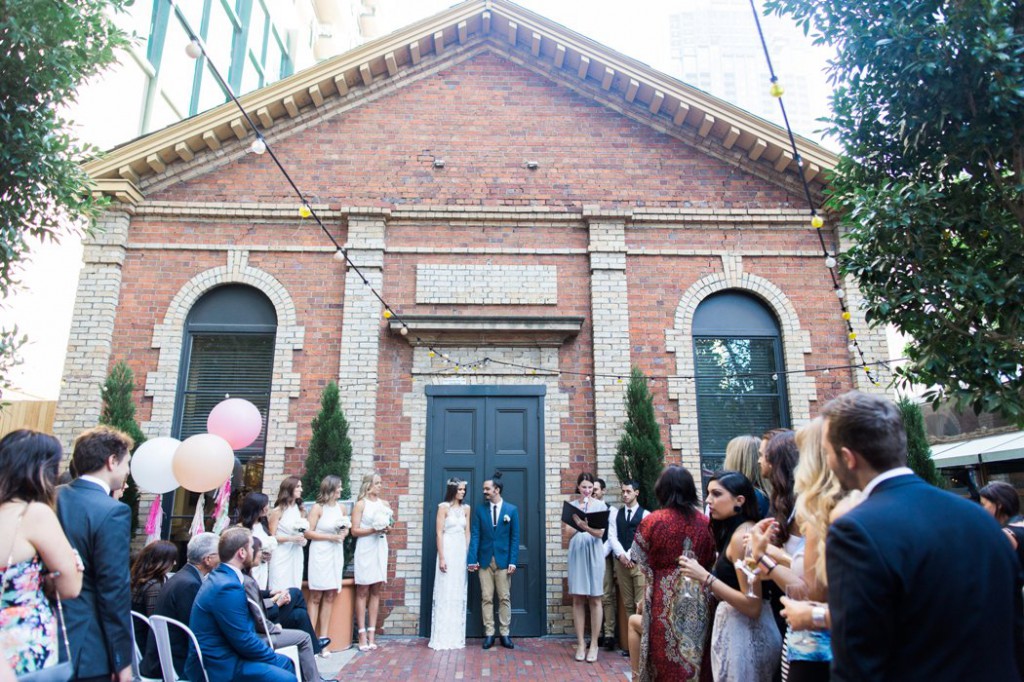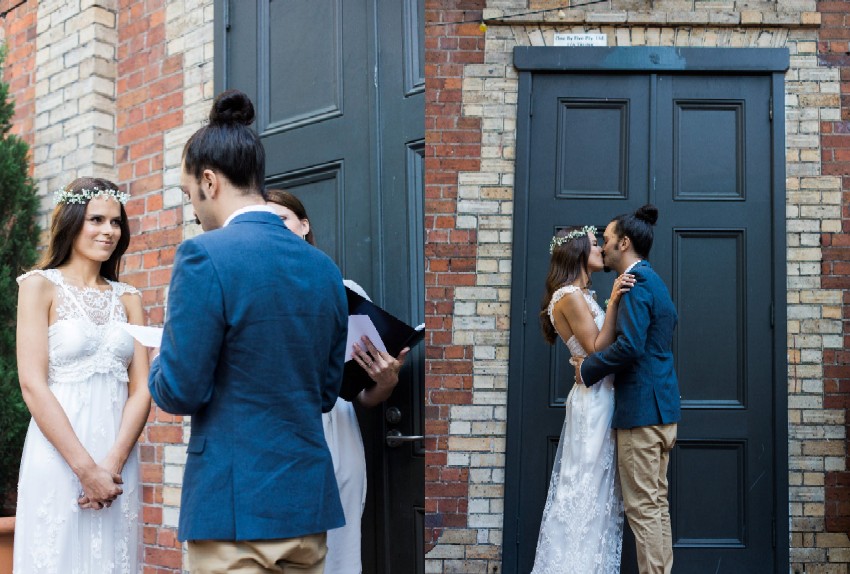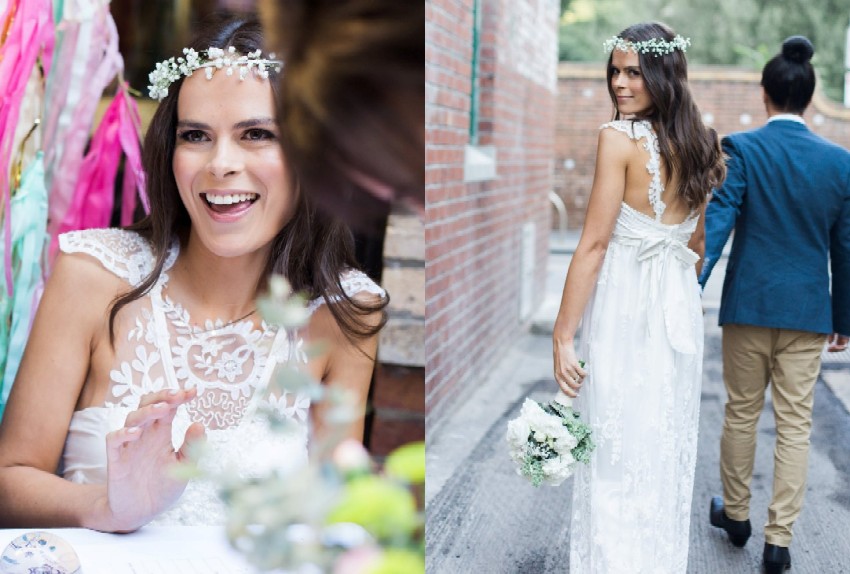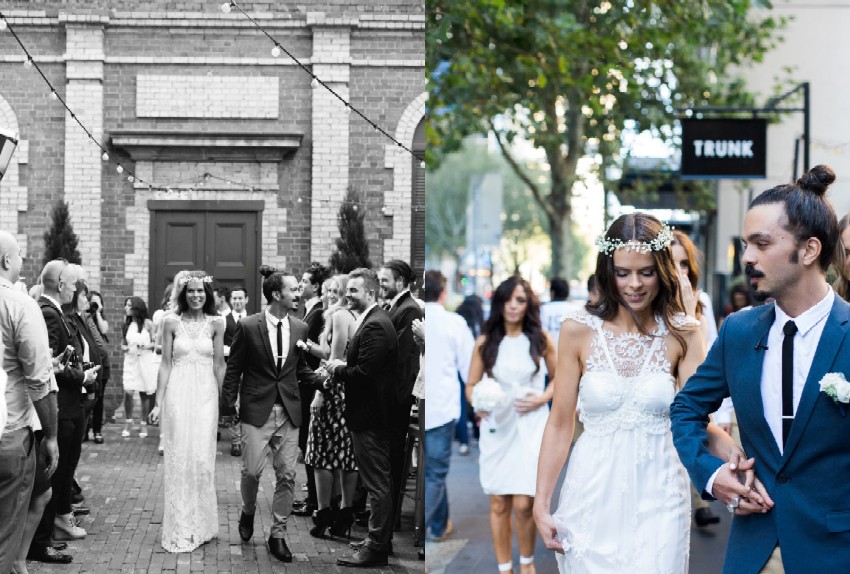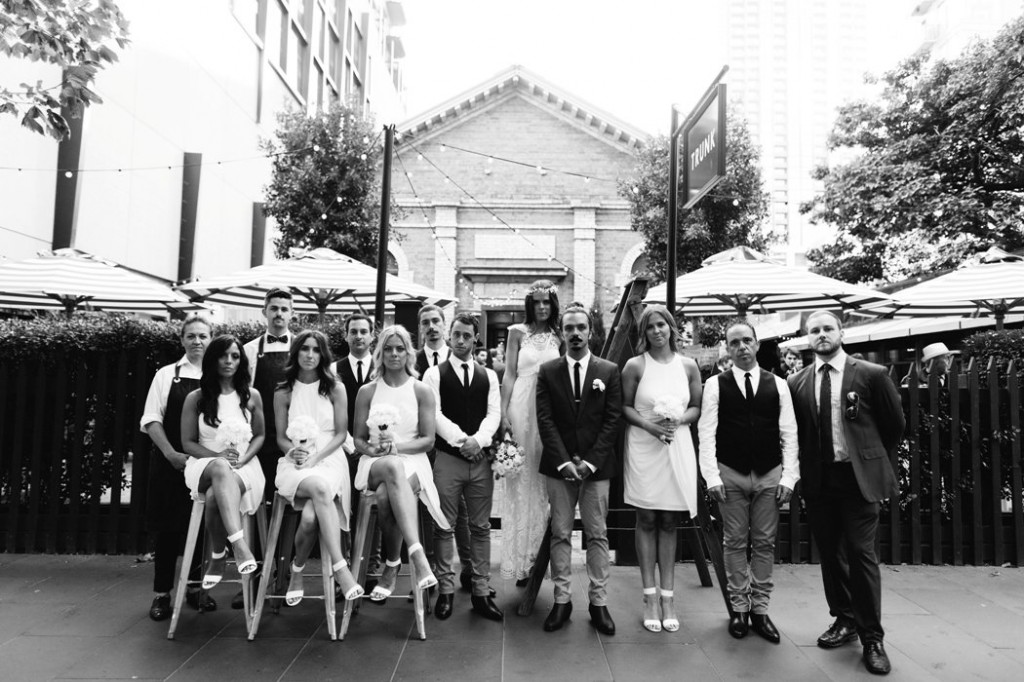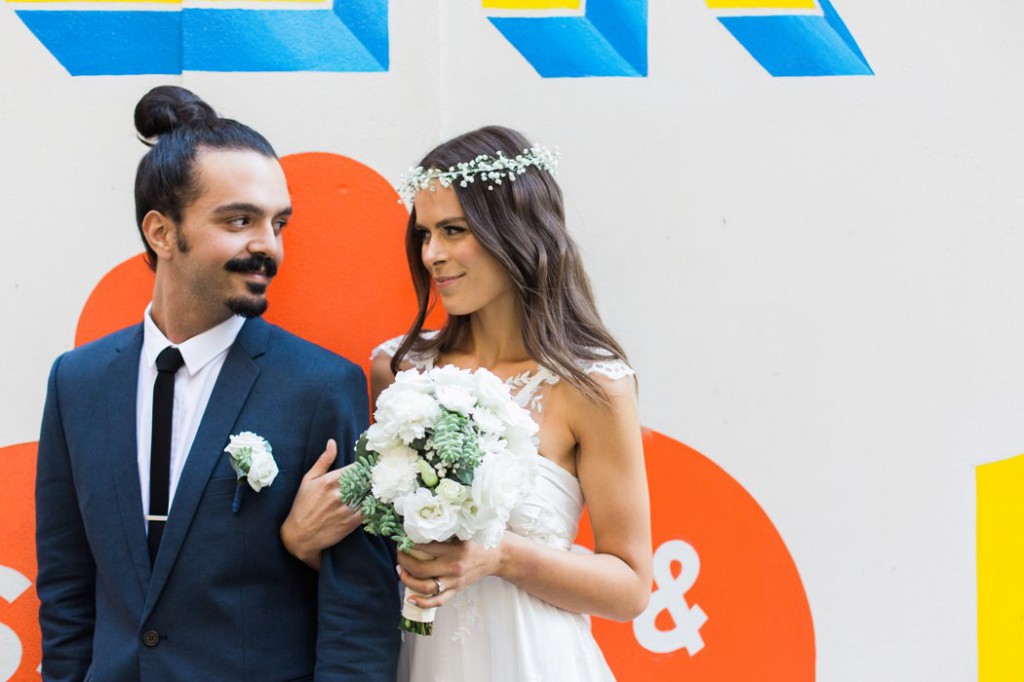 Min & Kristian | 29th March 2014
Celebrant: Meriki Comito
Venue: Trunk Bar
Photography: Alli Oughtred Photography
Bridal Gown: Anna Campbell