Relationship Education Services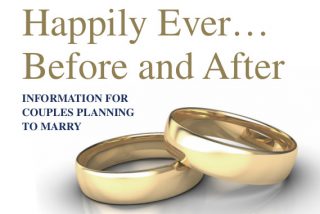 Marriage guidance counselling, mediation and pre-marriage education is extremely
valuable in strengthening and enhancing an existing relationship. You are both in love and want to ensure that your commitment is life long.
Pre-marriage workshops are designed to simply build on and enhance your relationship skills.
If you are interested in attending one of these sessions, the following links may be able to assist you in finding one that is right for you.
Free Publications:
Happily Ever…Before and After – free printable brochure
Family Relationships Online
Level 1, Building 1, 1100 Pascoe Vale Road, Broadmeadows VIC
Phone: (03) 9351 3700  Fax: (03) 9309 0045
Web: www.familyrelationships.gov.au
Services offered include:
1. 10 ways to become a better partner – 10 steps you can take to maximise your relationship and minimise becoming a relationship casualty.
2. Managing conflict – Although conflict is a normal part of our relationships and is perfectly healthy if handled well, it sometimes escalates and becomes destructive. We can offer tips and ideas for managing conflict well.
3. Getting married – Information for couples intending to marry. This includes information about finding the right marriage celebrant, participating in a marriage ceremony, and getting married overseas.
4. Printable brochures are available, in 16 different languages, to download off the website.
Lifeworks 
Melbourne Celebrants
5 Everage Street, Moonee Ponds Vic 3039
Phone: (03) 9654 7360
Fax: (03) 9654 8440
Web: www.lifeworks.com.au
Services offered include:
1. Group Program  Melbourne Celebrants
Your relationship is special. This pre-marriage program is conducted as a fun, group learning experience. This means that couples are encouraged to share their experiences if they feel comfortable to do so, as well as having time to work independently with their partner. It is ideal for first marriages or for couples investigating the potential of their relationship. It is also suitable for those who are living together and are planning marriage.
2. Individual Couples Program 
Some couples might prefer a more private consultation, for example, when they have a long standing relationship, when they have children, different cultural backgrounds or a blended family. For these couples the individual program below is recommended.
This program for individual couples offers a range of options that address various life stages and relationship situations. Professional facilitators are available to conduct the program in a number of locations throughout Melbourne and surrounding regions. Three private sessions of approximately 1¼ hours are involved. Following registration and discussion with the program co-ordinator, appointments will be scheduled at convenient times and places.
3. Couples Program – Growing together is a dynamic new couples relationship program suitable for all couples, at any life stage. This exciting and unique way of enhancing your relationship is offered in an intensive two-day weekend workshop.  You will be equipped with the skills and tools necessary to manage the stresses of day to day living and to develop and grow your relationship to become exactly what you want.  Learn how to strengthen your love and admiration for each other, learn how to work as a team, and learn about important principles for making your relationship better over the long term. ('Growing Together' is not suitable for couples where there is violence, intimidation, addiction or mental health issues that are unaddressed.)
Lifeworks is a not-for-profit organisation funded and approved by the Federal Attorney-General's Department under the provisions of the Family Law Act 1975 and is partially funded by the Australian Government.
Relationships Australia
1st Floor, Harvester Centre, 4 Devonshire Road Sunshine VIC 3020
Phone: (03) 8311 9222
Fax: (03) 9364 9902
Web: Relationships Australia
Services offered include;
1. Counselling Wedding Celebrants Melbourne
We offer counselling in the following areas: relationships, family, drought, pre-marriage programs, men's and women's group counselling services.
2. Courses and Groups
Our range of short courses and group programs cover relationship enhancement, family skills and parenting, post separation, family violence prevention and life skills.
Human Need
Melbourne Celebrants
Level One, 609 Nicholson Street, North Carlton Vic 3054
Phone: 1300 486 263
Web: www.humaneed.com.au
Services offered include;
1. Pre Marriage Workshops
Discover the essentials of a long and happy marriage.
A fun and interactive one day workshop for couples planning to marry.
2. 360˚ Degree Marriage Review
Couples will spotlight strengths as well as areas for development and change within their marriage resulting in precise information they can act on. The 360˚ degree marriage review results in couples moving towards shared goals more quickly. Preventing tomorrows problems…today.
Intensive Relationship Counselling
This is for couples who are in crisis and want to maintain the focus and energy to resolve serious issues quickly. These intensive sessions stick to the process until reaching a mutually agreeable point of resolution.