Do I need a Wedding Video?
Discussing wedding suppliers with my couples is always an exciting time for me, as I get to find out who I'll be working with in the coming months, and can assist couples by recommending all the fabulous industry legends I have come to know and highly respect, based on the excellent quality and standards I have experienced first hand.
(My Recommended Suppliers Directory is here if you'd like to check them out!)
Most couples I meet with have already locked in, or are about to lock in a photographer for their wedding, but I have to admit that I am surprised by just how many are still tossing up whether they need a video as well.
My short answer is if you're already thinking about it, then yes. I really think you do.
A great wedding videographer will capture the fun banter during all the preparations in the morning, the emotion in your voice as you recite your vows, the crazy loud reaction from your guests when you share your first kiss as a husband and wife, the sensation of your first dance together, the playful nature of any young children who attended, and the sentiments of all the speeches made by yourselves, your family and your friends.
My husband would most likely argue that the haphazard, grainy capture on my brother law's handicam proved sufficient enough, and in the end, saved us a few dollars and enabled us to get, who was at the time, an amazing photographer, but I can say now with absolute certainty, that if I could do it all again, I would most definitely employ one of the fabulous wedding videographers that exist now.
Gone are the days of long winded and boring video's that feature the romantic strains of Madonna, Whitney Houston and Foreigner, and in their place, are the incredibly fun, candid and cleverly edited captures that flood our social media today!
Before becoming a Marriage Celebrant, I had always entertained the idea that photos were for ever and that video's were an expensive form of light entertainment that couples would drag out every anniversary and laugh at, but my mind has changed dramtically, and chatting to my lovely hairdresser, Leanne, recently, she mentioned that as there were many guests at her wedding who have since passed away, her wedding video has become an incredibly valuable source of comfort, as she can listen to their voices and experience the hugs, dances and words she shared with all her loved ones past, again and again, any time she wants.
A recent bride of mine also mentioned that regardless of how hard she and her husband tried to "live in the moment", the whole wedding ceremony was such an out of body experience.
"At one point, I remember wondering why I was standing up there, and why all my family and friends were staring at me – and I recall you talking and seeing your lips moving but I don't remember hearing anything you said! It was such a bizarre but equally incredible experience!"
So I'm guessing they're  going to be very grateful indeed to have a beautiful professional video to refer to any time they like! 
The following are some amazingly talented teams & individuals who, whilst blending into the surrounds like a video ninja, will have the best quality equipment (as well as know how to use it!) and will totally nail the ability to capture the best and most important moments of your day perfectly.
Their experience in the industry means they not only understand and embrace the pressure of only having that "one chance" to capture it all, they know exactly how to read a ceremony, position themselves to best capture all the main moments AND how to document your day in a way that allows to re-live it over and over again – both from your perspective and that of your family and friends. They will also be totally fun and awesome and not boring at all 🙂

Humdrum Films
Video Boutique
Burgess Video
Film My Wedding
Lunar Red
Directors Edge
Nathan Kaso Weddings
Allure Productions
Momento Films
Thick Black Frames
Rainy Day Weddings – Do you have a plan B?
Feature Image by Ben Swinnerton 
Nothing sets off the fear in many a brides heart more than the thought of rain on their wedding day.
But I'm a firm believer that as long as you have a "Plan B", you can rest easy that it will still be a perfect day.
The first point of conversation at all my planning meetings with couples who have chosen to marry outside, is what they plan to do if it pours with rain.
Most brides will have an alternative location already in place, which is amazing, but for those of you who are living out their planning days either crossing your fingers that it won't rain, or attempting to use the power of prayer, voodoo, positive thinking or threats on someone's life to prevent it from raining, I can tell you now with absolute certainty, that Melbourne weather is not only ridiculously unpredictable, it doesn't care how desperately you want that beautiful sunshiny garden wedding and can totally ruin every one of those HOURS you have spent planning and preparing for that one big day.
You really don't want to arrive at the ceremony looking spectacular, only to get out of the car and get completely soaked whilst you walk down the aisle. And let's not forget about your guests and husband to be, who have been waiting that 15-30 minutes prior to your arrival, miserably clutching an umbrella themselves, or huddling under the nearest tree and refusing to come and take a seat so they can be close enough to hear the beautiful ceremony and vows you have spent months perfecting!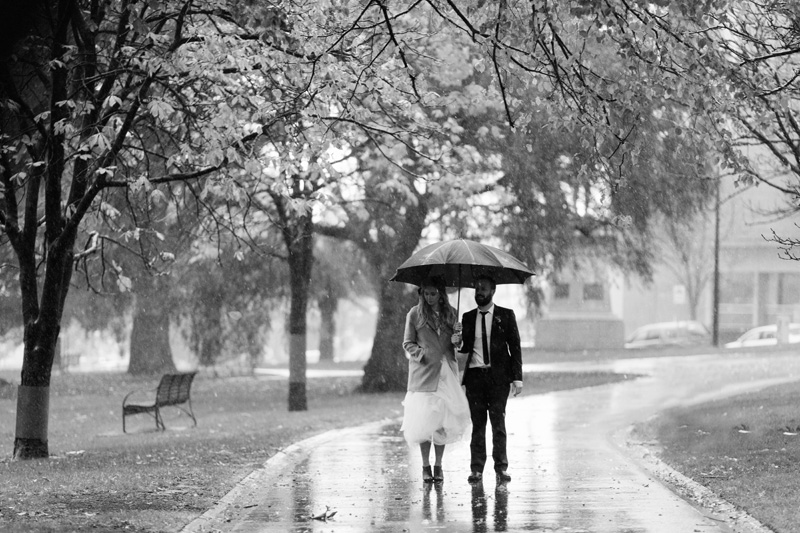 Oh, and just from my perspective as a celebrant, standing in the rain is not an ideal situation for us either. It's rather difficult to balance our ceremony folder, or device, as well as a microphone and an umbrella all at the same time. And even in the cases of a light shower, our sound systems and legal documents don't tend to do very well when they get wet either, so without the kind offer of bridal party members or guests to stand up and hold up umbrellas, you may be without sound or have a soggy marriage certificate as a keepsake!
Some couples will arrange for shelter  in the form of market umbrellas or gazebos, which will be perfect for the days when there's just some light rain or drizzle, but you will still need to be prepared for the case of heavier rain, as those options will not make any difference when the rain is coming in sideways!
Many brides are totally against a plan B, as they think its not going to be the ceremony of their dreams if they have to resort to it, but trust me when I say that unless dancing in the rain is your thing (and rainy day wedding photos can of course be absolutely magical!),  getting completely soaked during the legal parts and having grumpy, wet guests arriving at your reception afterwards is by no way going to contribute to that idea of a perfect day.
A lot of venues have some beautiful wet weather options, and if you're lucky enough to book a venue that provides exclusivity, you can normally select which option you would prefer to go with, only a few hours in advance!
In other cases, if your venue is not able to provide an alternative rainy day option, they will most likely allow you to move your ceremony into the space you have booked for your reception.
In short, putting a solid wet weather contingency in place, will provide you with absolute peace of mind that no matter what the weather, you will be guaranteed a truly beautiful Plan B that can actually leave your guests thinking it was the Plan A all along! All it needs is a little organising in advance, so that every one of your suppliers can make sure it happens!
But the most important point to remember is that at the end of the day, regardless of the fact that you have no control over the weather, you will be married to the person you have chosen to spend the rest of your life with, and that's something the weather will make no difference to!
So if you're planning an outside ceremony, and you don't have a wet weather contingency, the following fabulous suppliers can help you to lock in your dream Plan B!
Otherwise just ask your humble celebrant. I'm pretty certain they'll be able to send you in the right direction. Just for peace of mind x
Dann Event Hire
Harry The Hirer
The Style Co
Weddings of Distinction
Ellen + Lachy's Yarra Valley Wedding
First meeting at 'Electric Lady Land' on Chapel Street, Lachy thought Ellen looked hot and seemed fun to talk to.
Ellen found Lachy to be kind of quiet, but she liked the way he ran his fingers through is hair, so after discovering a mutual appreciation of good food & wine, they bonded over the fact that they had both worked at wineries, both shared a love of animals, and both enjoyed each other's company immensely.
In a laughter filled ceremony at one of Yarra Valley's newer venues, The Farm Yarra Valley, Ellen and Lachy became husband and wife.
Ellen was so on trend in a fabulous Amaline Vitale Bridal & Couture gown (with pockets – always a win in my mind!) as she stood hand in hand with her handsome groom before a giant steel + floral Ceremony Circle by Sassafras Flower Design.
After receiving the best wishes of each and every guest, we were treated to two awesome readings by close friends, before Ellen and Lachy exchanged vows declaring "It is your heart that moves me, your spirit that inspires me, your humour that delights me, and your hand I want to hold for all of our days"
Their first kiss brought thunderous cheers and applause before squeals of excitement when I announced that the newlyweds had organized an Easter Egg hunt immediately after!
So much fun!!
Beautiful images by Anitra Wells / Photographer who is always so fabulous work with!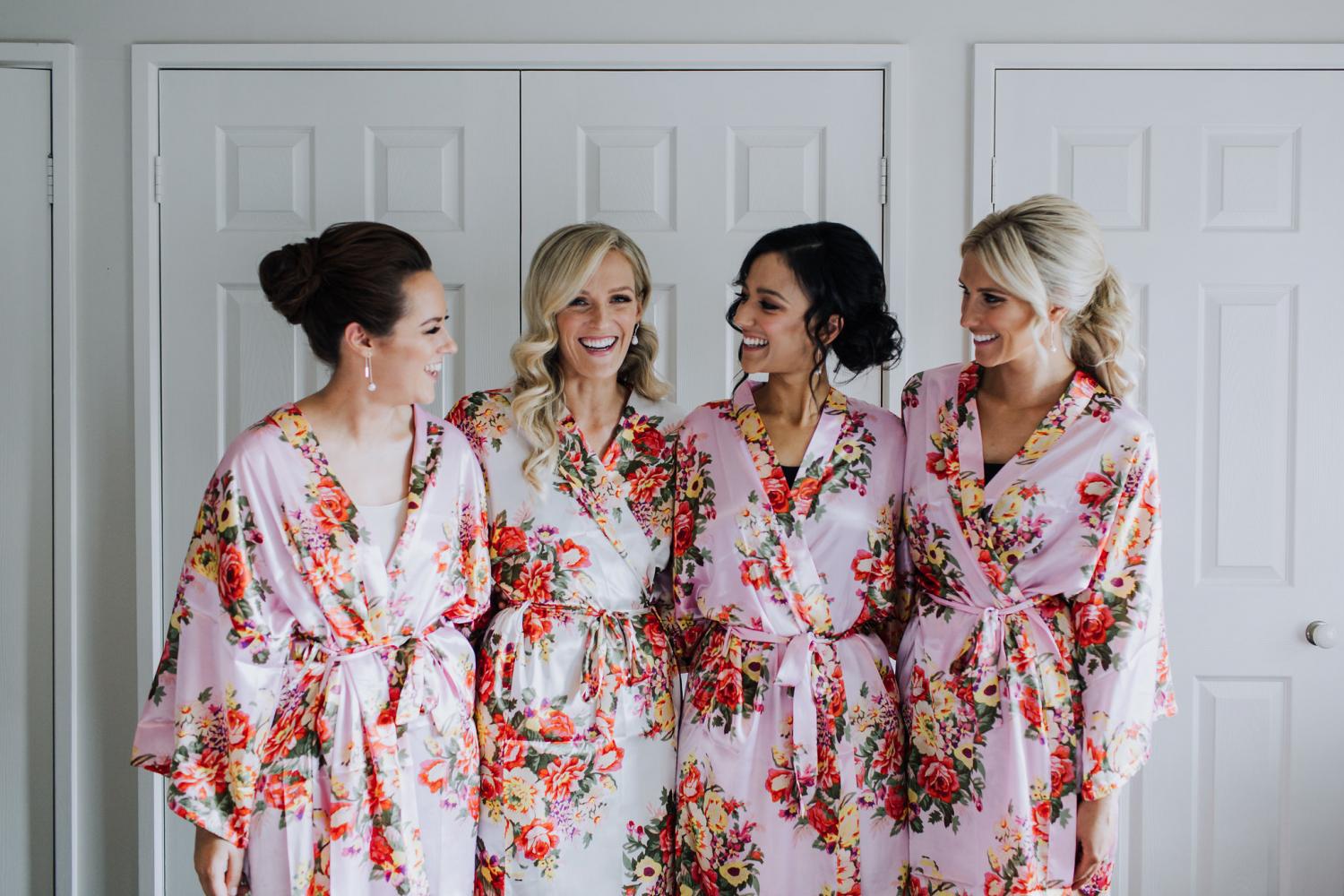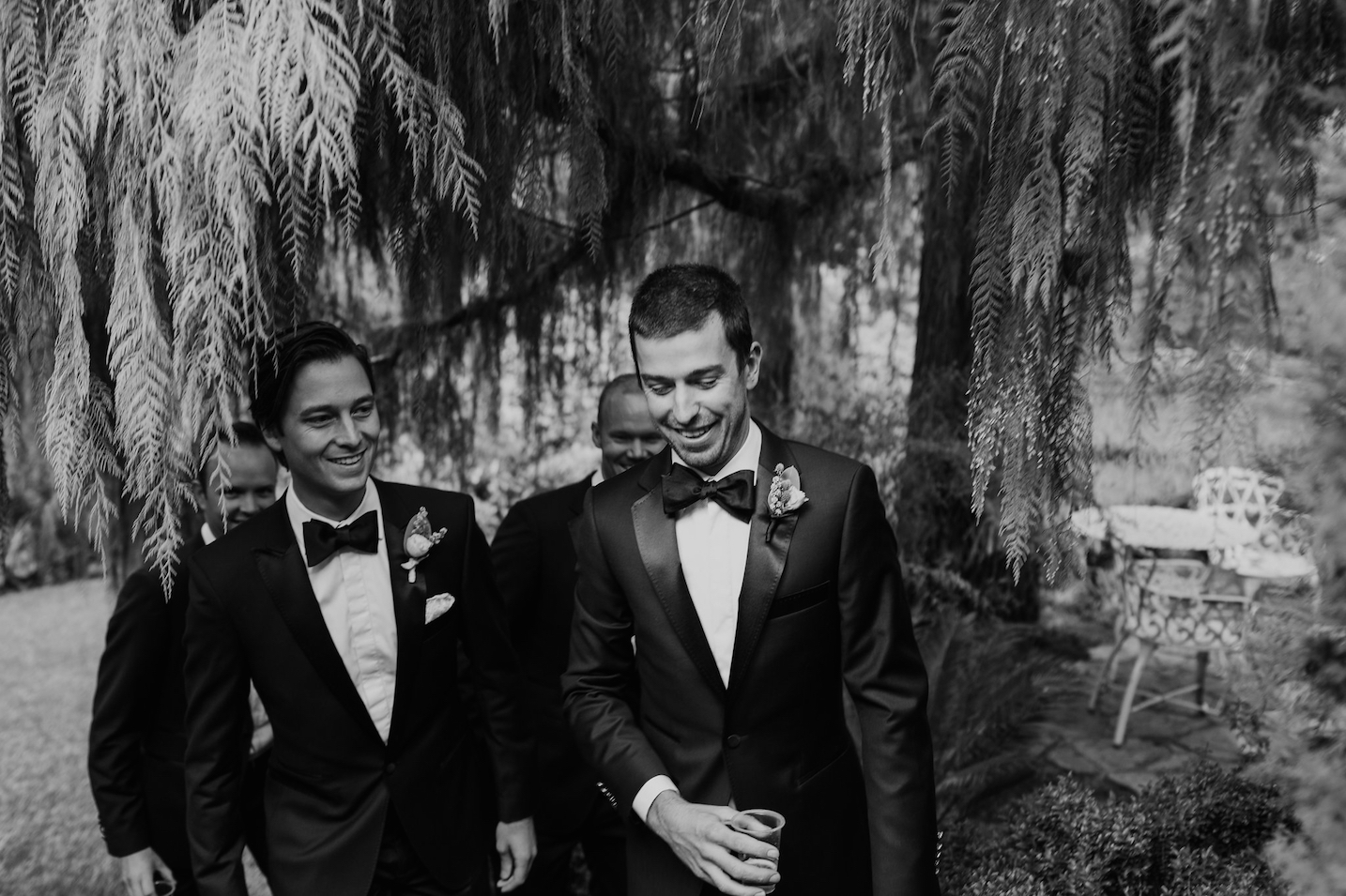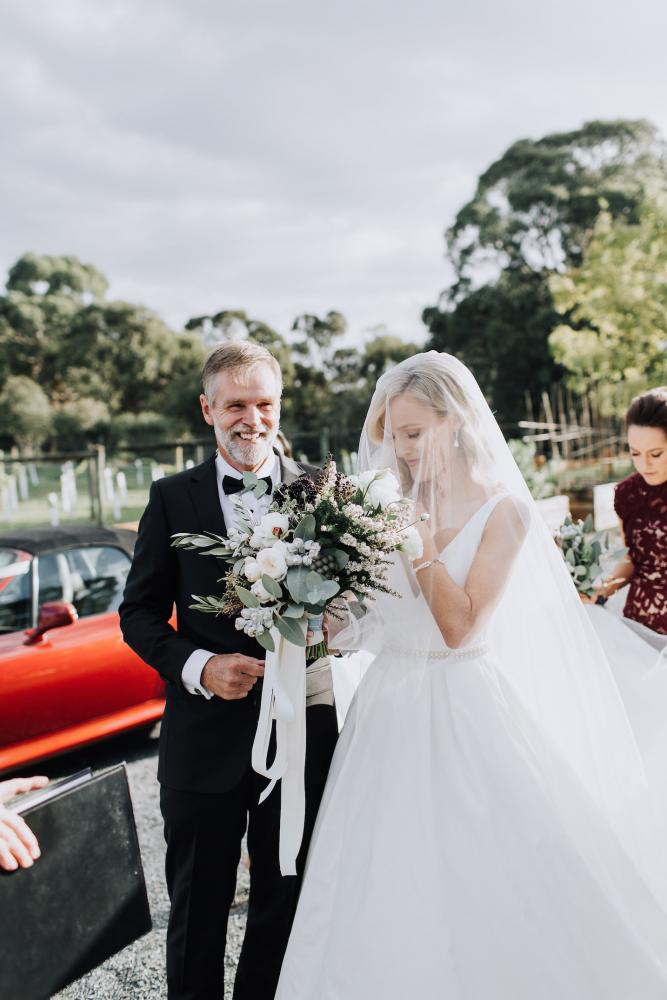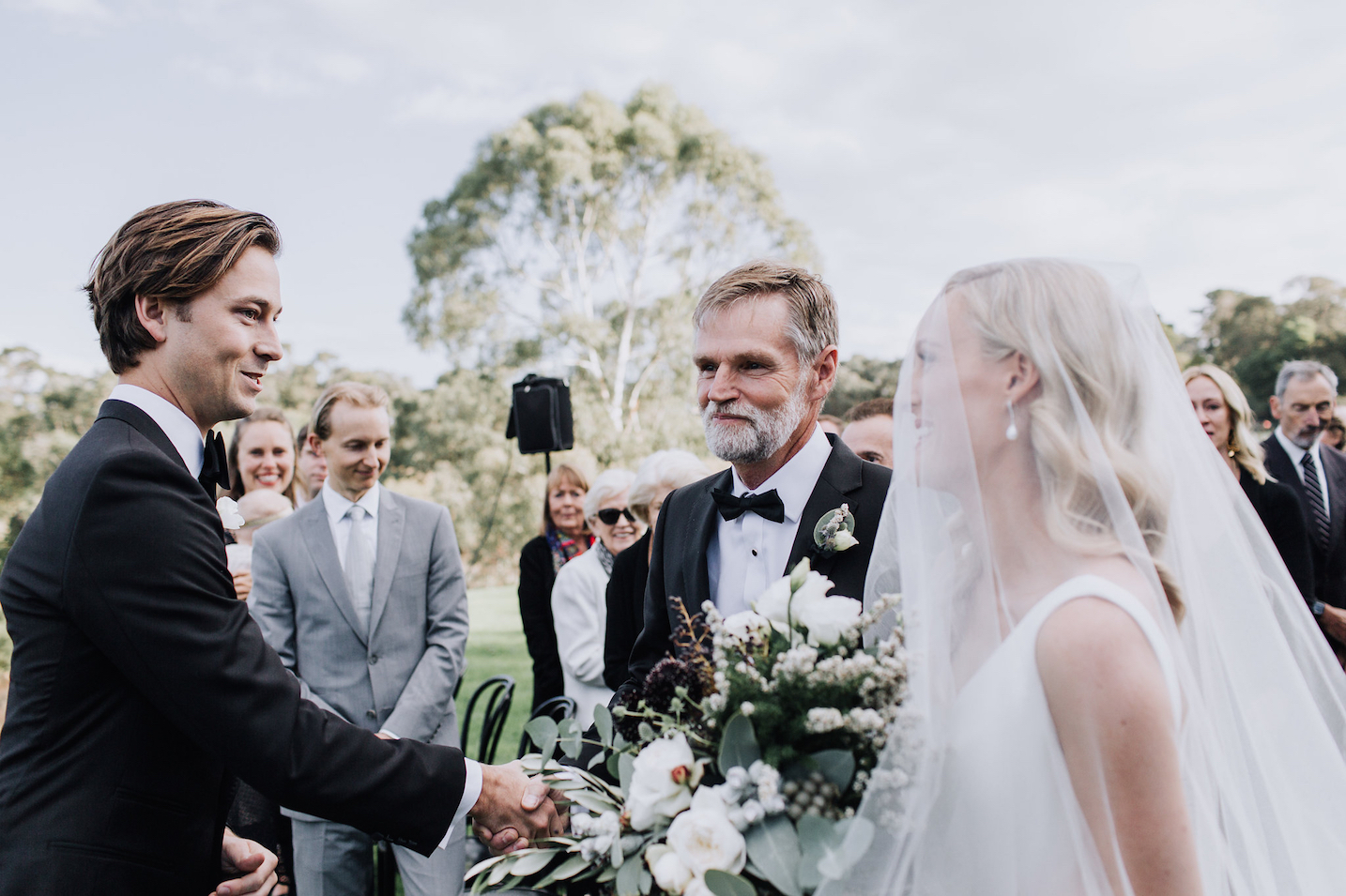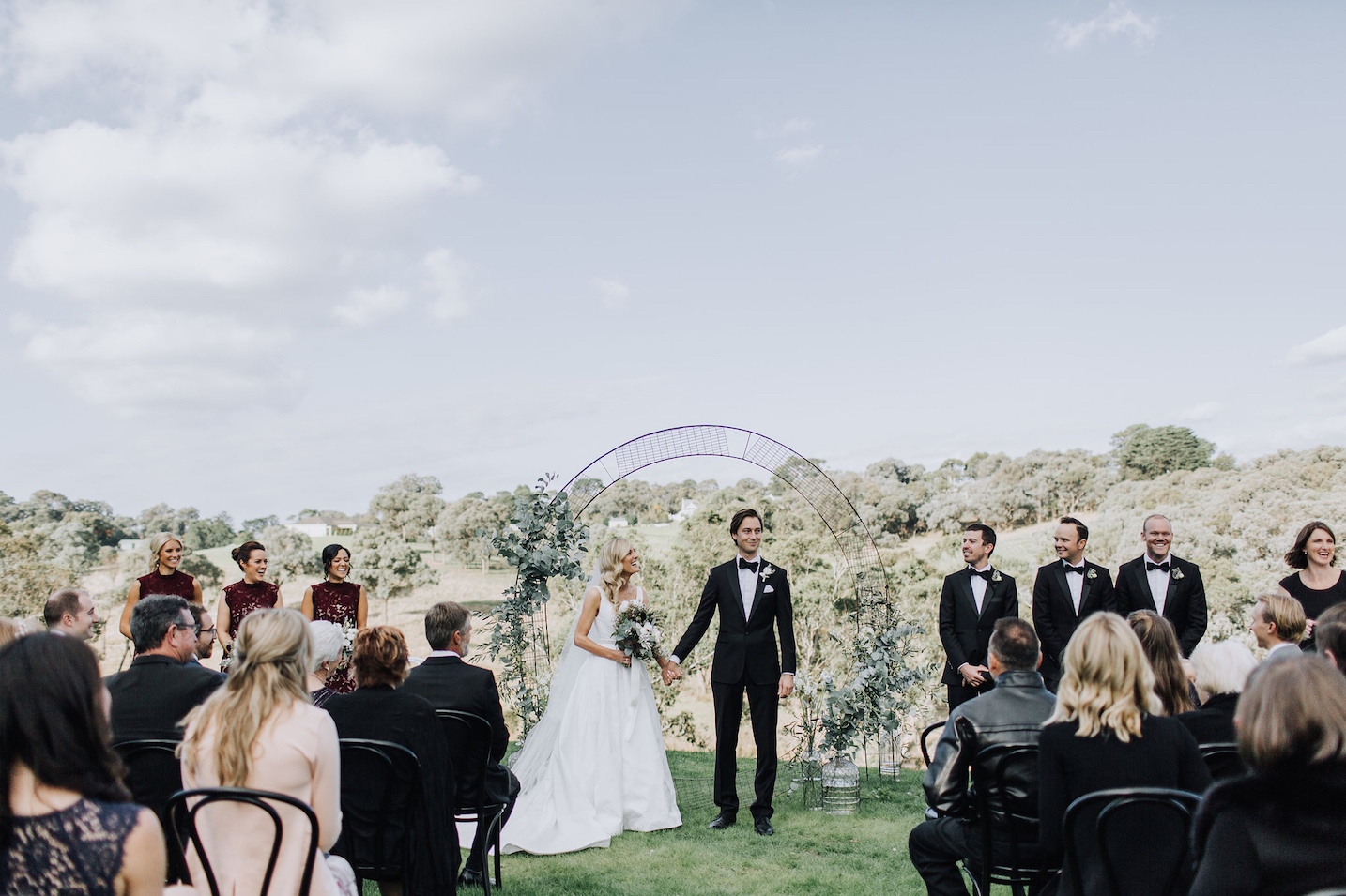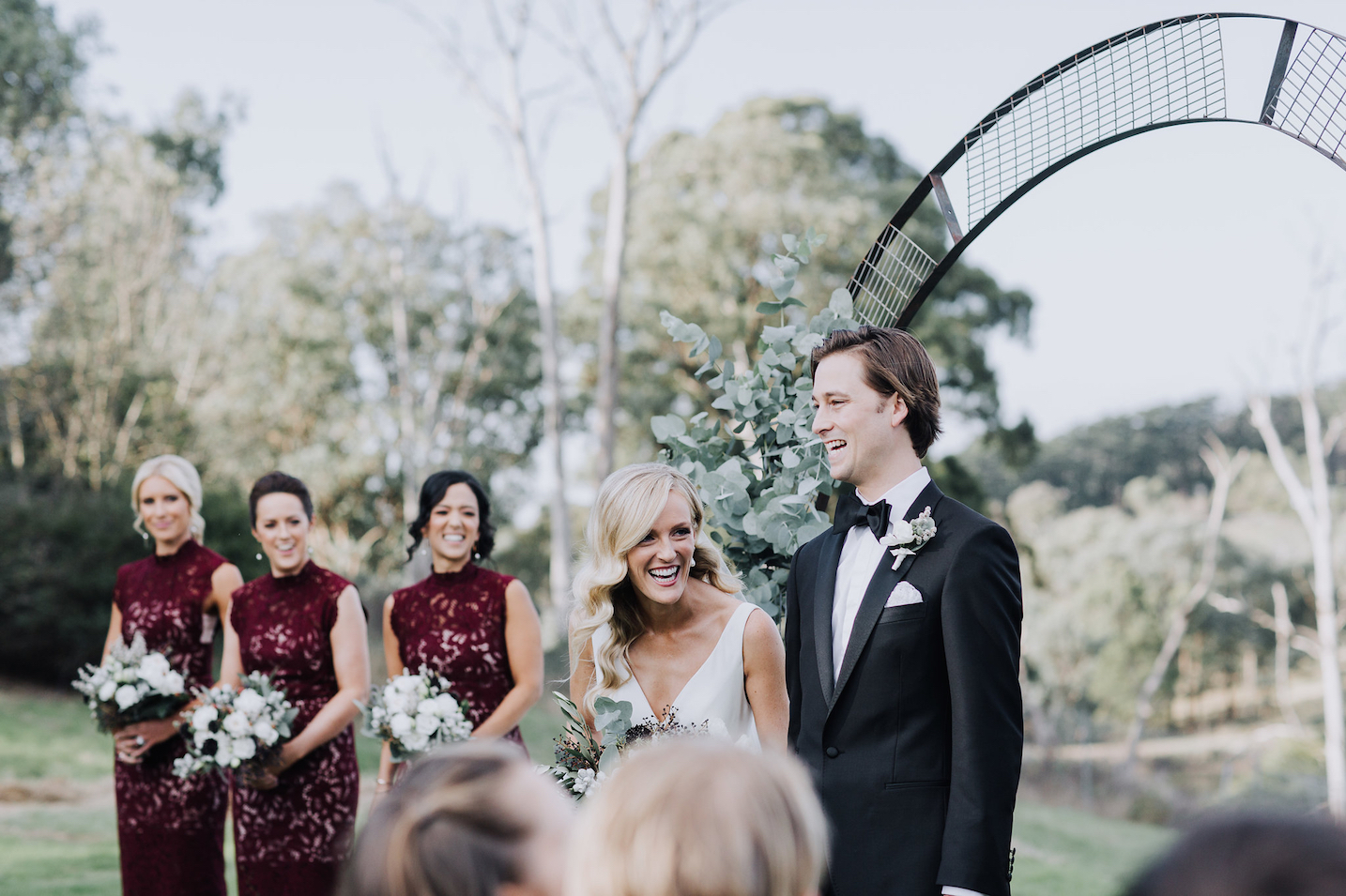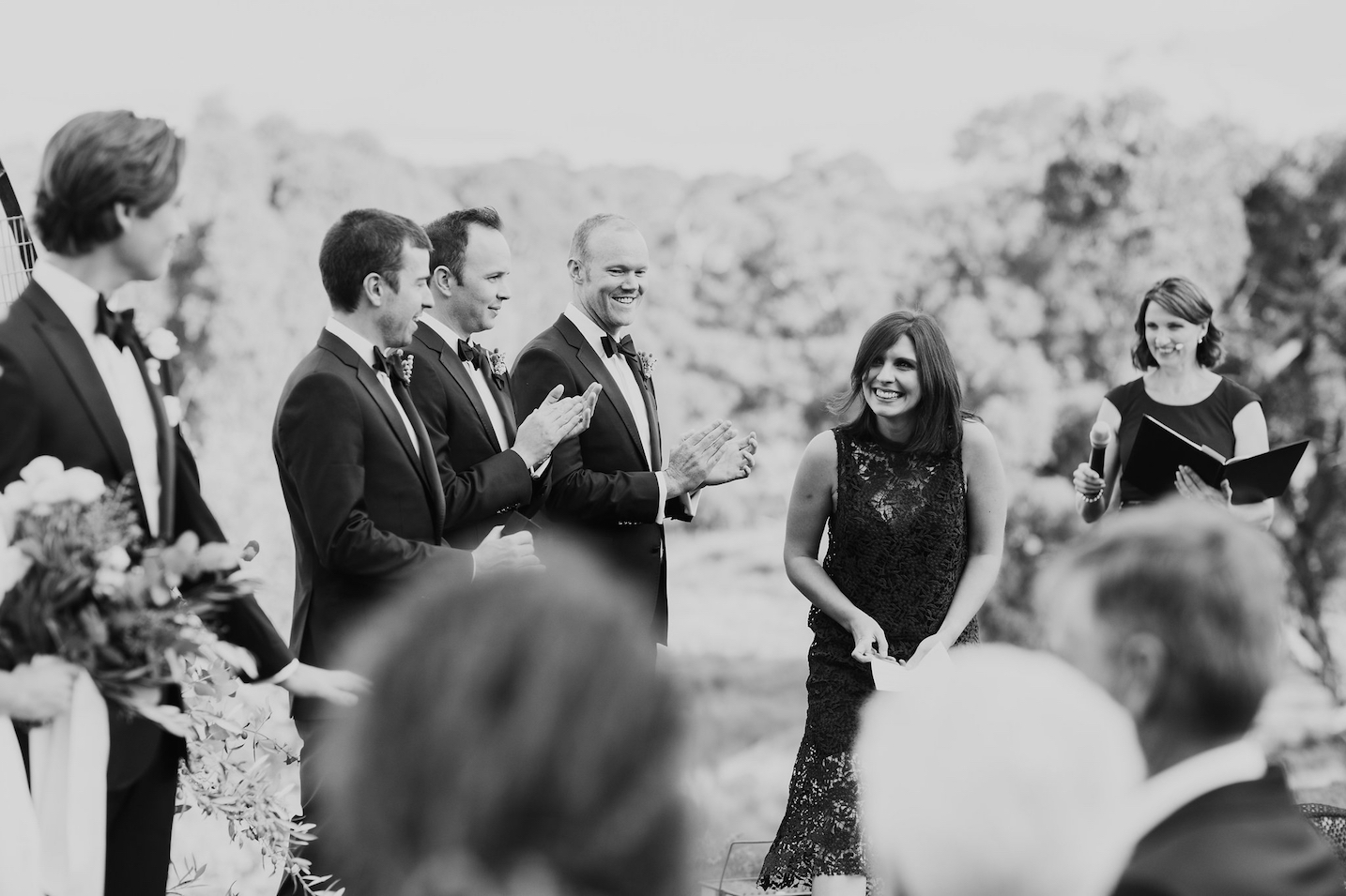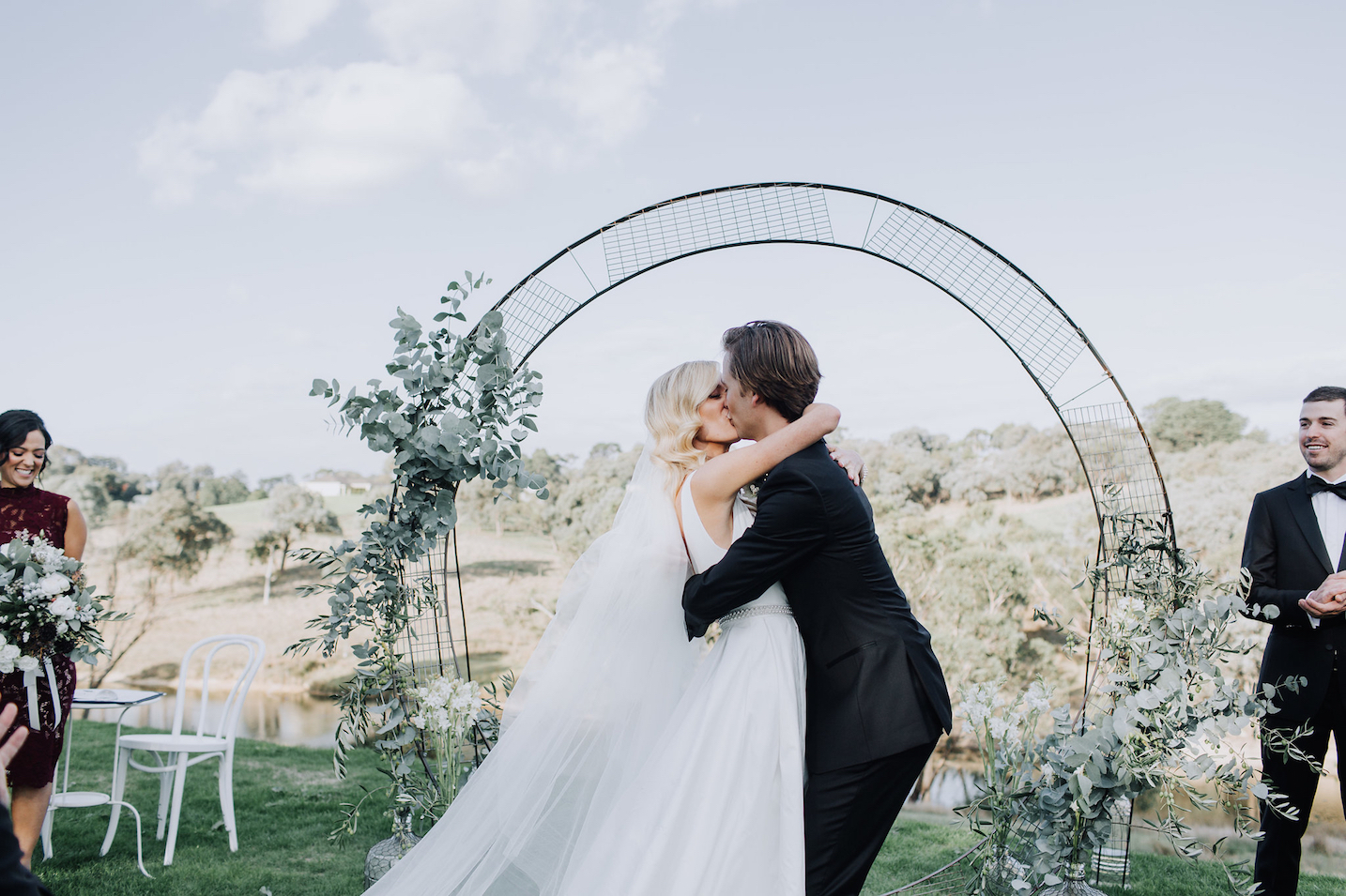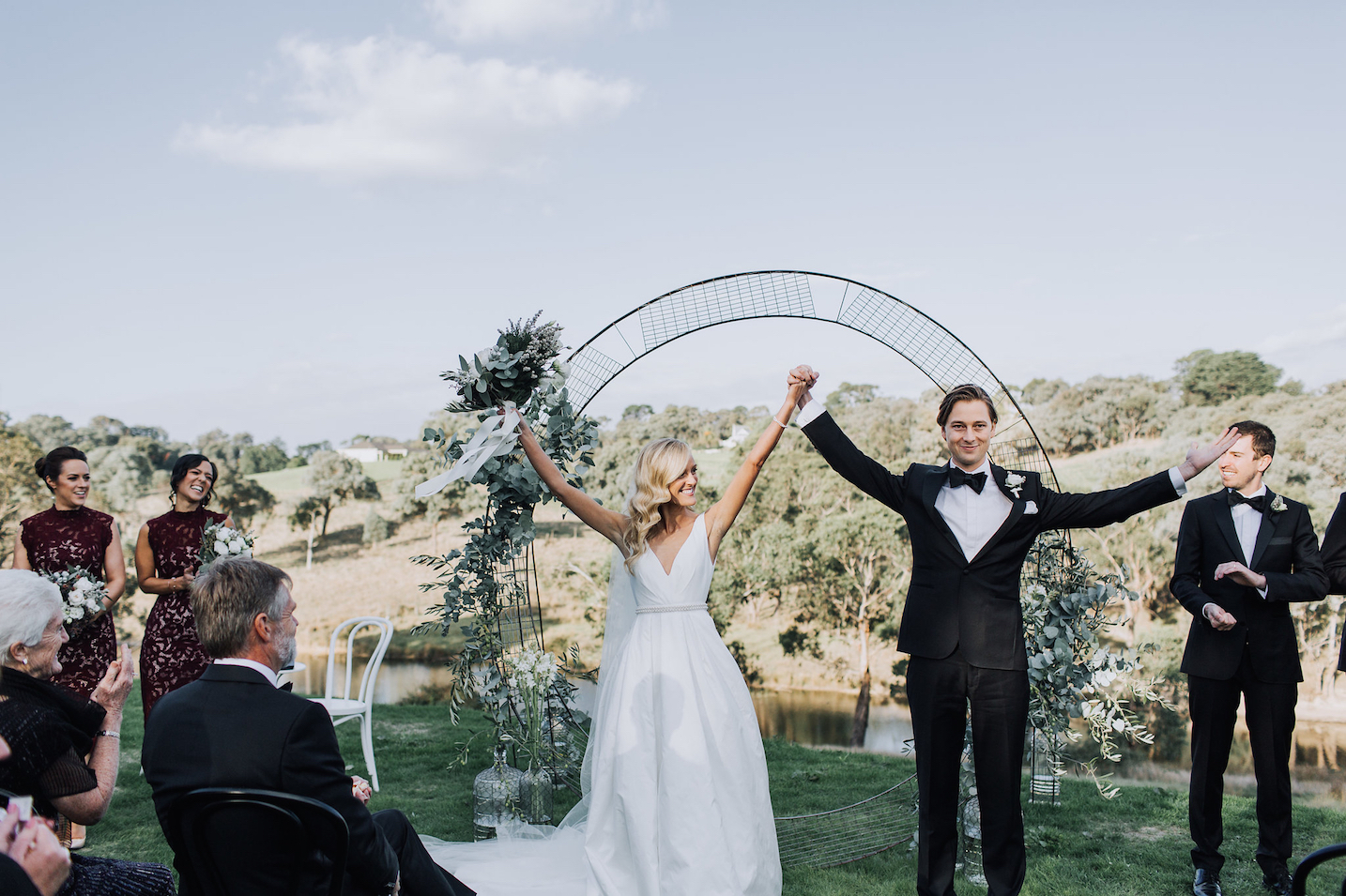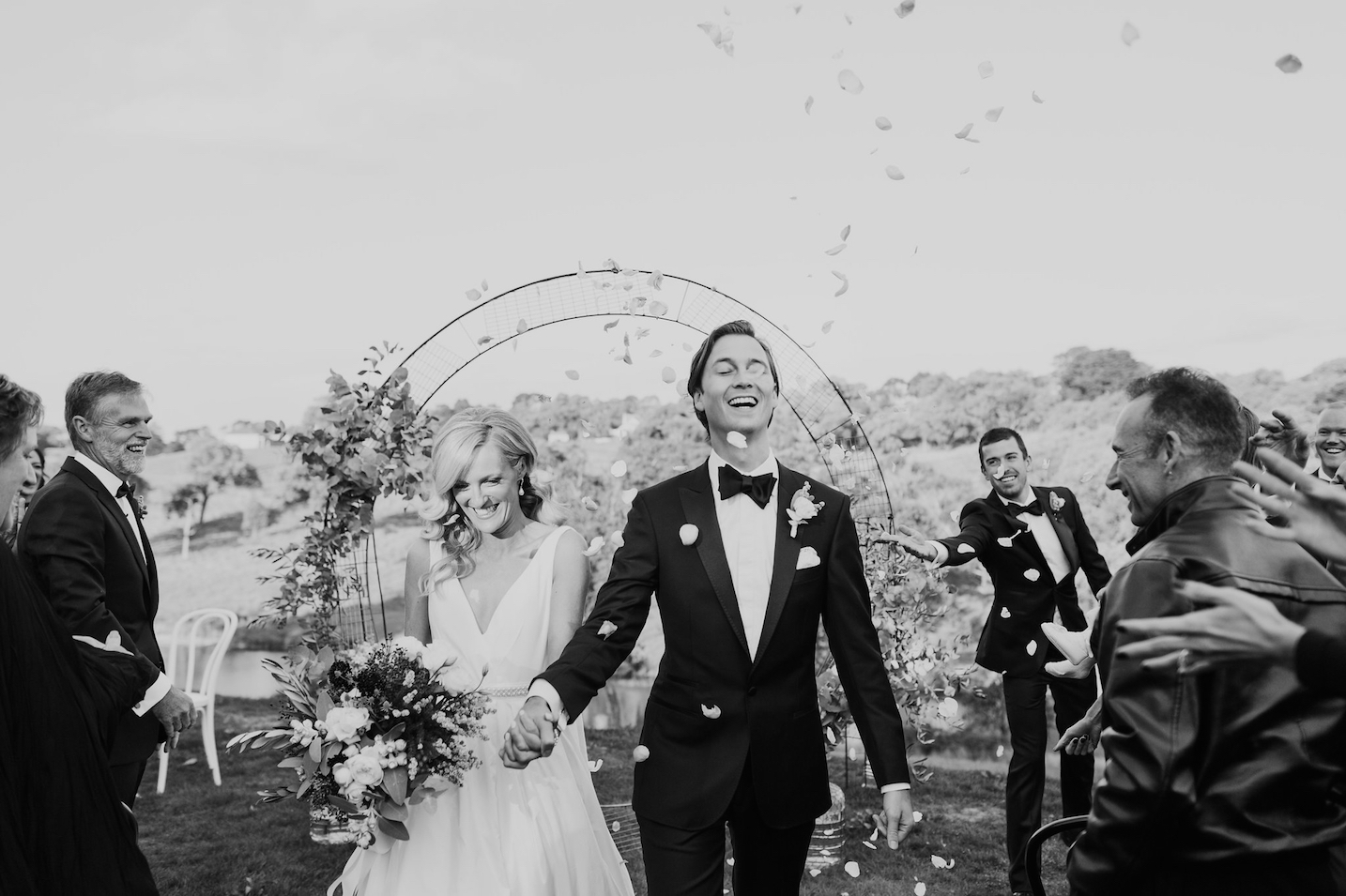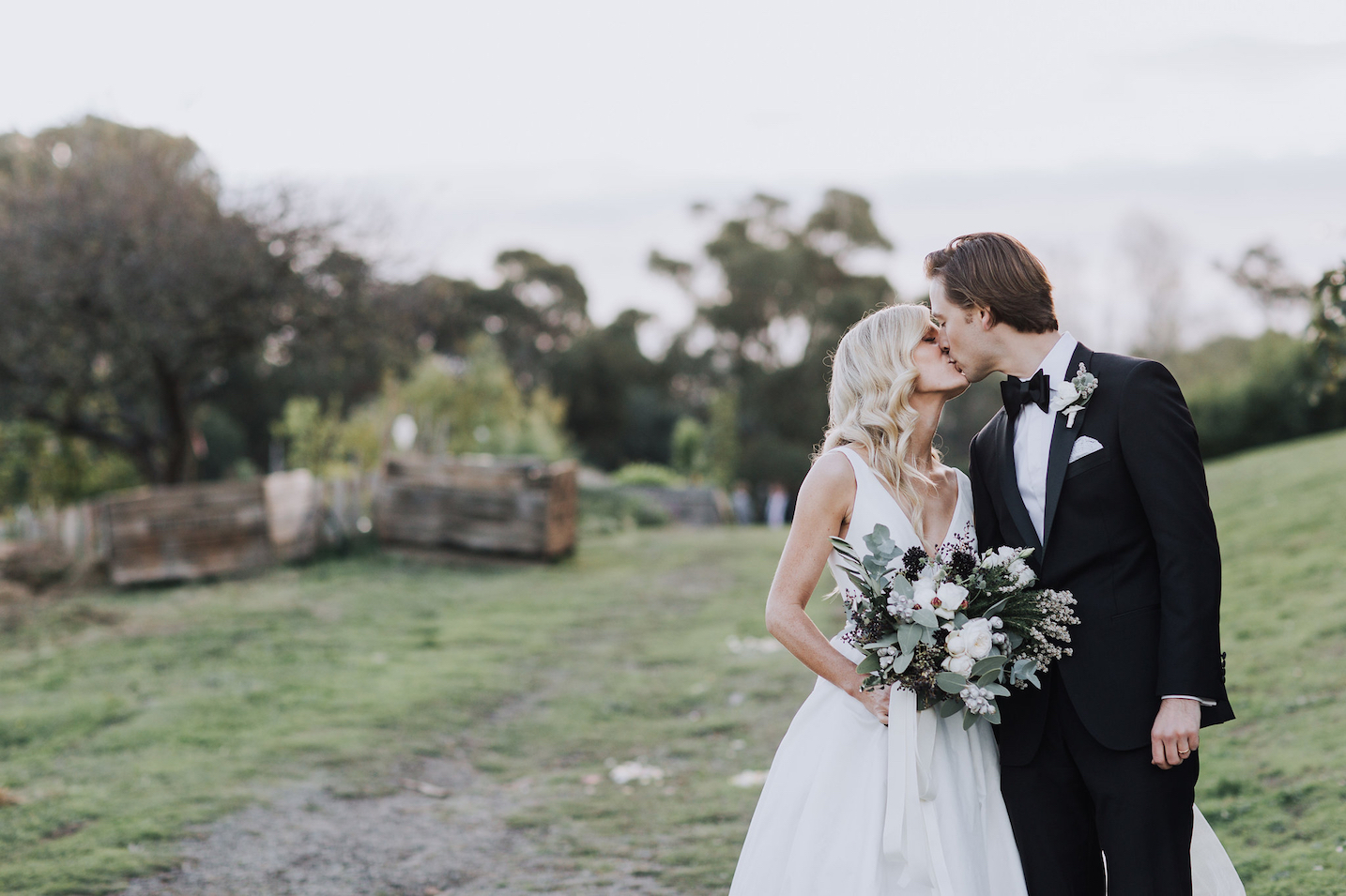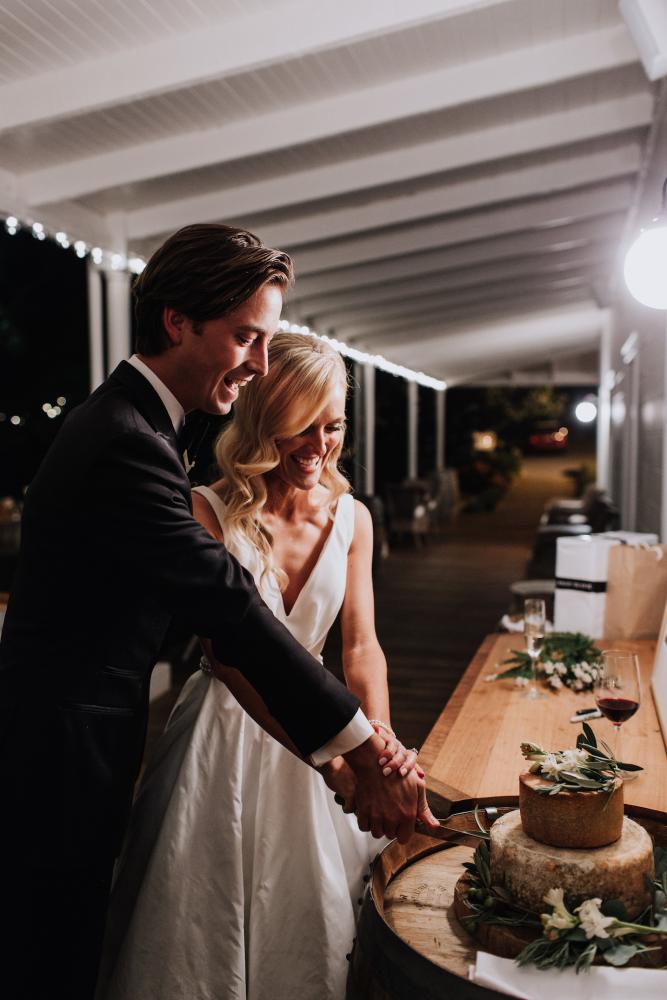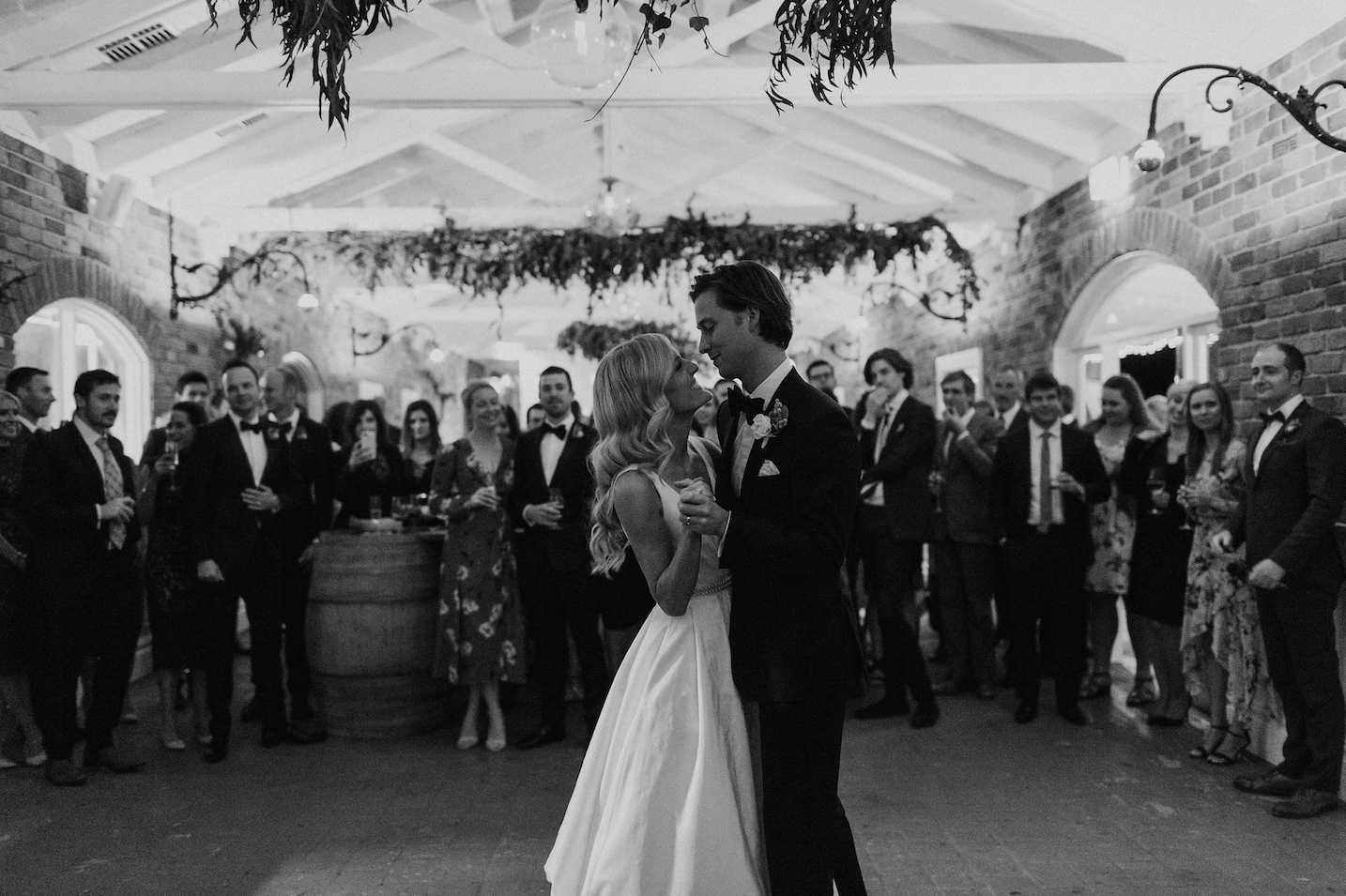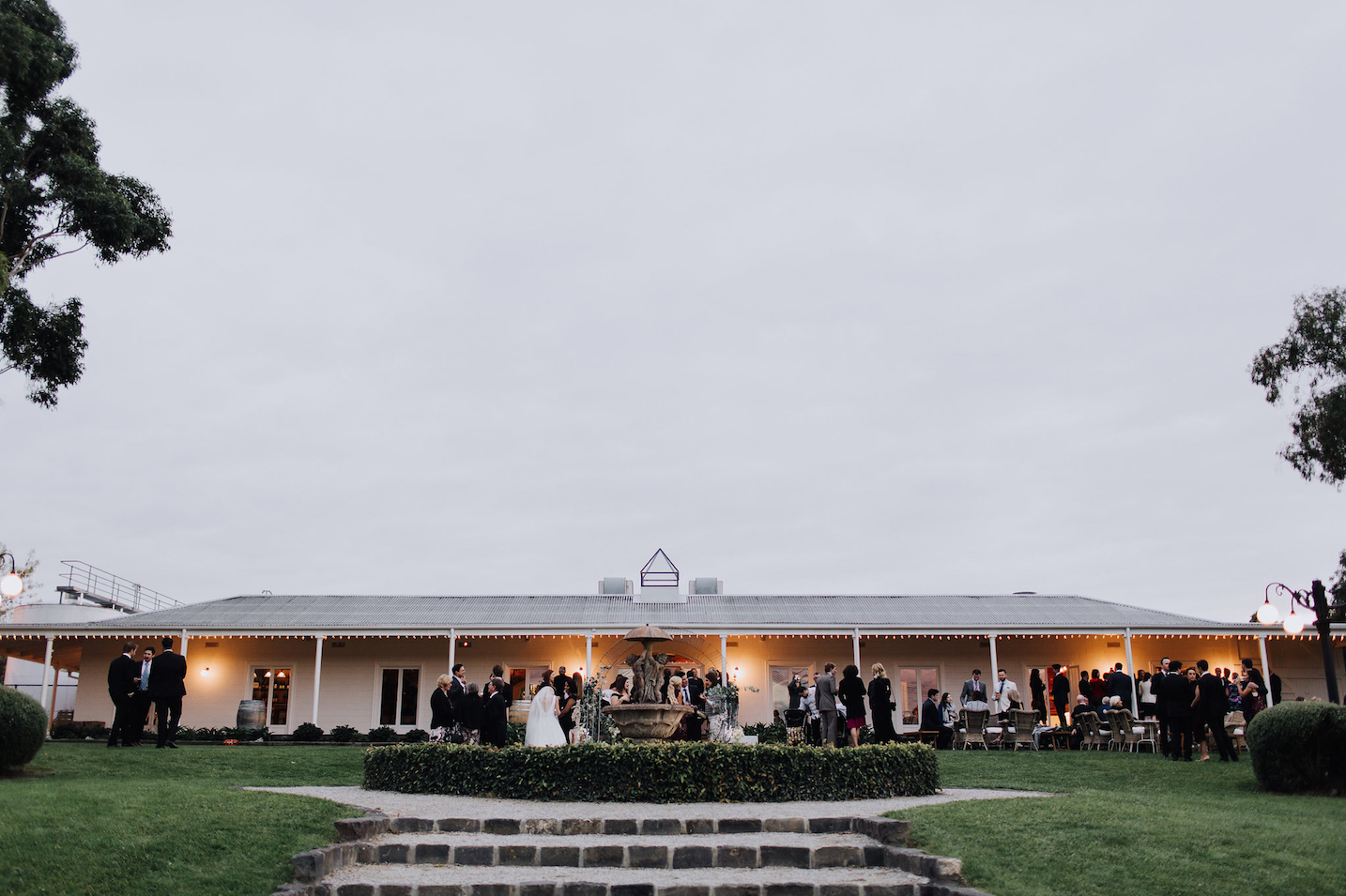 Ellen + Lachy | 15.04.2017
Photography: Anitra Wells
Ceremony & Reception Location: The Farm Yarra Valley
Celebrant: Meriki Comito 
Flowers + Ceremony Circle: Sassafras Flowers
Bridal Gown: Amaline Vitale
Cheese Wheel Cake: The Farm Yarra Valley
My Top 10 Most Asked Questions!
"I've never done this before, so I have no idea where to start"
Every new couple I meet with, even those who have been married previously, have questions regarding the marriage ceremony and what they need to factor into their planning, and every couple I have "worked" with, will know that I take at least 15-20 minutes at the beginning of our initial meeting to establish what to expect during their wedding ceremony planning journey, but I will ALWAYS allow for a question/answer time, (once we have discussed all the important things like whether or not they have found their dream wedding dress!) as i know at least one of these following questions will pop up!
Main Photo Credit: Loco Photography

Let's start at #10 and work our way through to the #1 most popular question.
10. "IN YOUR OPINION, WHAT MAKES A GREAT WEDDING CEREMONY?"
I believe this is very similar to asking someone what, in their opinion, makes a great holiday?
A great wedding is one that is absolutely perfect for you.
Every couple is different, so the more of yourselves you put into it, the more likely your ceremony will be everything you're hoping for!
It should reflect not only who you are, but also what you love, and what you consider to be most important in life.
It should be fun/romantic/sweet/hilarious/serious/formal/casual/lighthearted/traditional/ totally random or all of the above, but most of all, it should be meaningful to you, should be memorable for all the right reasons and should create all the feels you would like to see shine through in your photos  – your memories of that one big moment you will come back to for the rest of your life.
Finding a marriage celebrant who understands you, can offer you ideas that inspire you, and with whom you feel confident can create this magical moment with you is SO very important, so please take the time to get to know a few of us!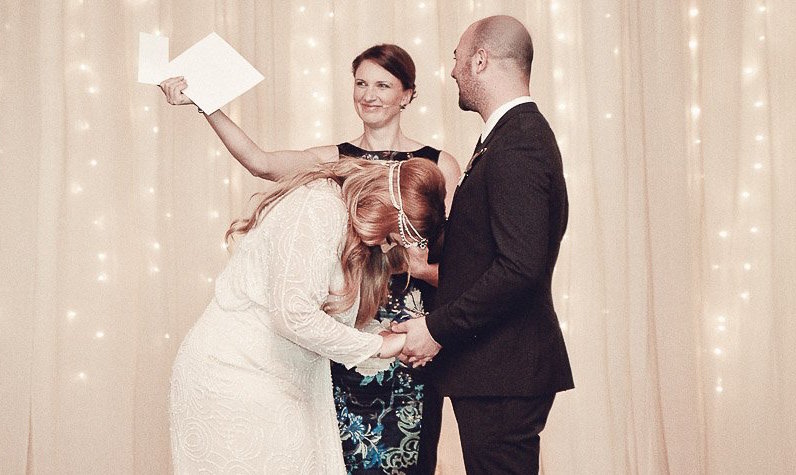 Photo Credit: Candid Captures
9. "WHAT DO YOU (as a celebrant) NORMALLY WEAR?"
Whatever you would like me to!
This is something I will always discuss with every couple, to ensure I complement their colour scheme and dress code on the big day. In fact I wouldn't mind at all if you requested a specific colour dress that I didn't already have in my wardrobe – any excuse to buy a new frock is a great one in my opinion! But don't worry, unless it is specifically requested, I will NEVER wear white, in any form – that is for the bride and the bride only!
       Photo Credit: Ben Differding
8. "CAN OUR VIDEOGRAPHER CONNECT TO YOUR YOUR PA?"
Absolutely! It means, in many cases, that you will have a much better quality sound for your wedding video, and I'm all for working with your suppliers to ensure you receive the best outcome in every aspect of your planning!
You are also welcome to pass on my details to them so they can contact me in the lead up to the big day to discuss any connection requirements.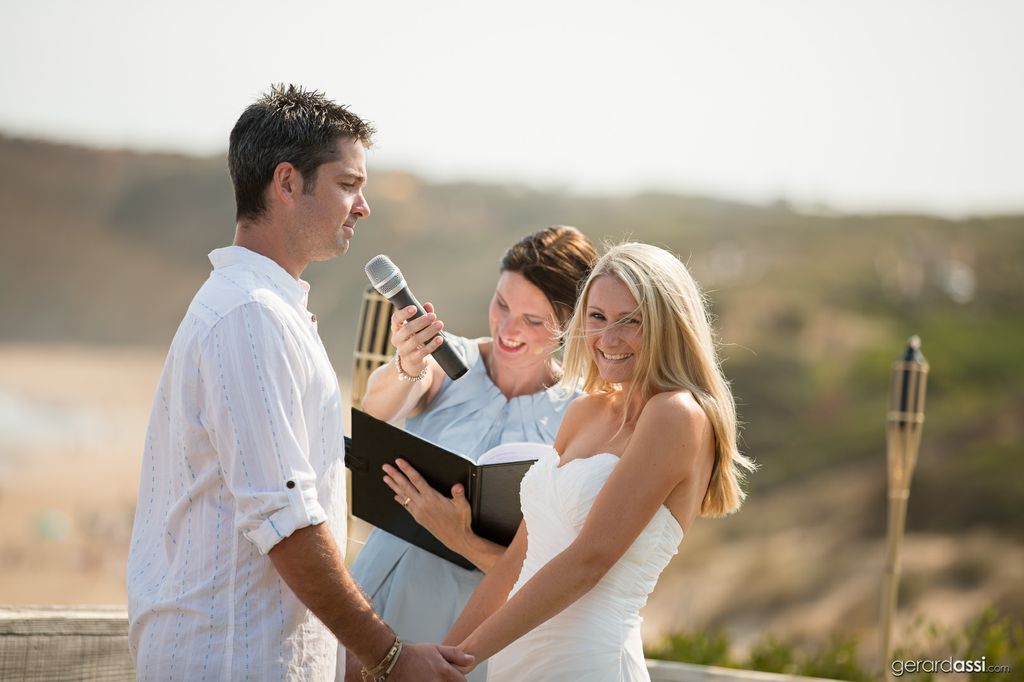 Photo Credit: Gerard Assi
7."WE'RE QUITE SHY, DO WE REALLY NEED TO USE MICROPHONES?"
In short, no, as long as your two official witnesses are close enough to hear you state your legal intentions.
The long answer is, your family and friends have all come along to hear you make a lifelong promise to one another and are so excited to be able to witness such an important moment in your lives, so unless you prefer that they sit and wonder what on earth it was that was said to make you smile, laugh, cry or all of the above, then yes, microphones are always a good idea, but I promise I won't make you hold it yourself, i fact I'm happiest holding the microphone for you so you can concentrate on sharing the beautiful words you have written for each other!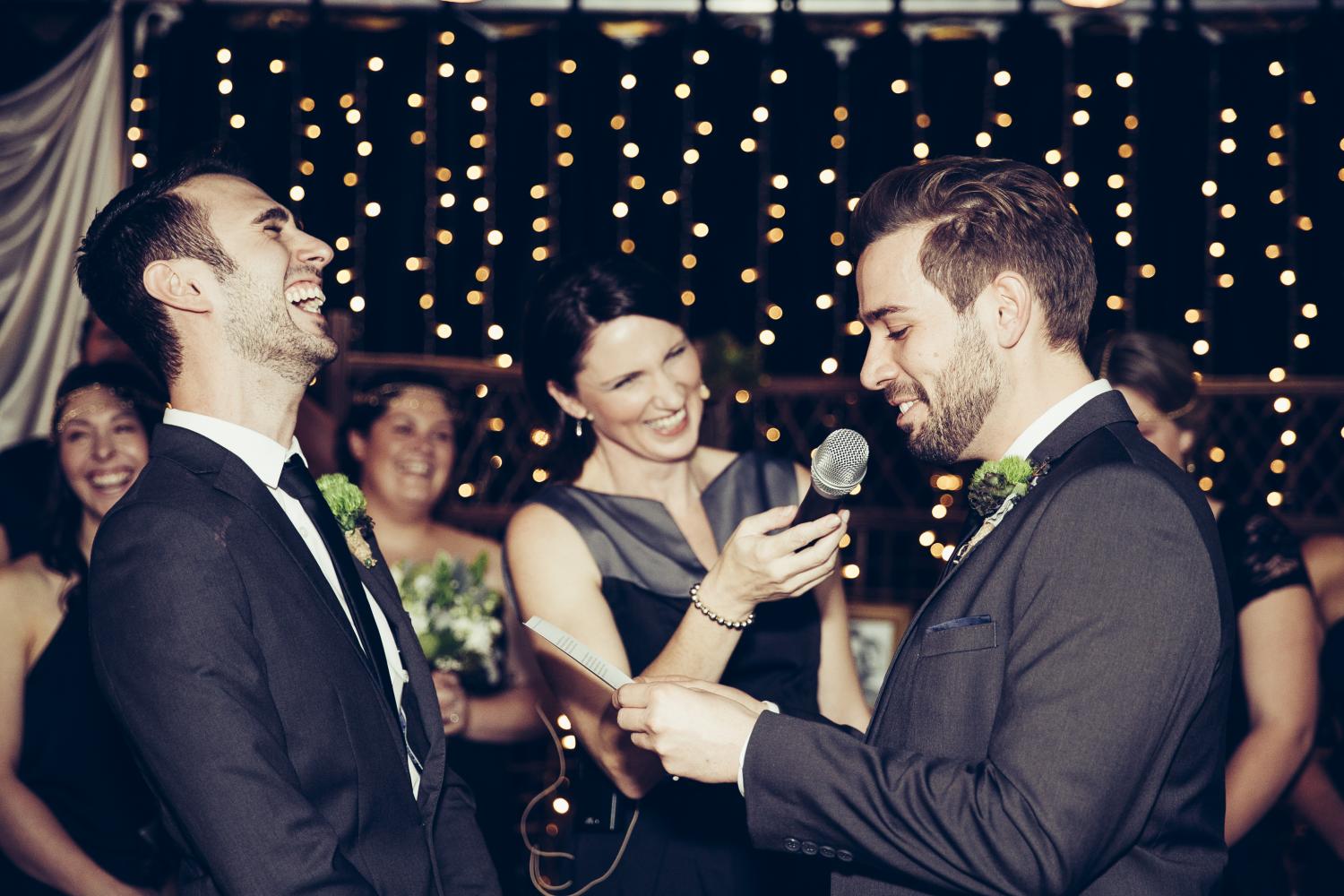 Photo Credit: Vlad Savin
6. "WHAT SHOULD WE DO IF OUR BABY STARTS CRYING IN THE MIDDLE OF THE CEREMONY?"
Babies cry. It's a fact. If you have young children, the best thing to do is NOT assume that it will be a magical day where they won't cry at all. The best thing to do is to accept that they probably will, so be prepared for that, and always have a nominated carer on hand to keep an eye on them at all times so you don't have to!
I have conducted many ceremonies where young children are involved and I find it all works out for the best when you simply follow their lead and go with whatever happens on the day.
If they want to be held by one of you for the entire ceremony, then let them. Their squishy little face between you when you share your first kiss as a married couple will be captured by your photographer and will provide you all with the best memory in the years to come.
If they want to sit on the ground at your feet and play with the flowers/dirt/sand/grass/ shoelaces/ empty ring box/ cracks between the floorboards or anything else that amuses them, then let them.
If they want to be held by you one minute, then your mum the next, or the bridesmaid or groomsman, or any other random guests that captures their attention, then let them.
And if they want to grab my microphone and say hello with a big cheesy (and sometimes dribbly) grin, then believe me, I will let them do that too 🙂
Don't worry if they get dirty. Don't worry if they don't want to smile perfectly for the camera. Don't worry if they rip off their flower crown/boutonniere/vest/jacket/ shoes before they've even made it down the aisle. And don't worry if they want to stand up the front and pull faces at you, at your guests, at your photographer, or at me – it will be really funny (about a week later for you maybe), and everyone will look really happy in all your photos! Trust me.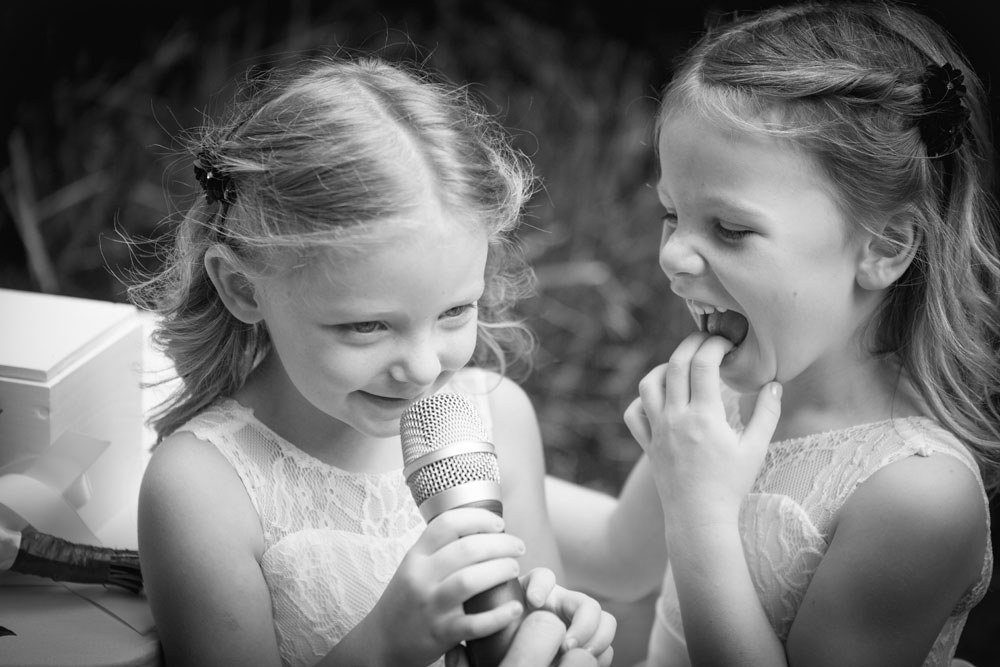 Photo Credit: Kate Deagan Photography
5."WHAT AGE WOULD BE CONSIDERED TOO YOUNG FOR A FLOWER GIRL/PAGE BOY/RING BEARER?"
Well, if they can't walk down the aisle themselves, most would consider them too young.
Unless a parent carrying their child down the aisle adds significant meaning to your day, I would advise against it, as the parent can sometimes appear embarrassed, leading to a rather awkward start to the ceremony….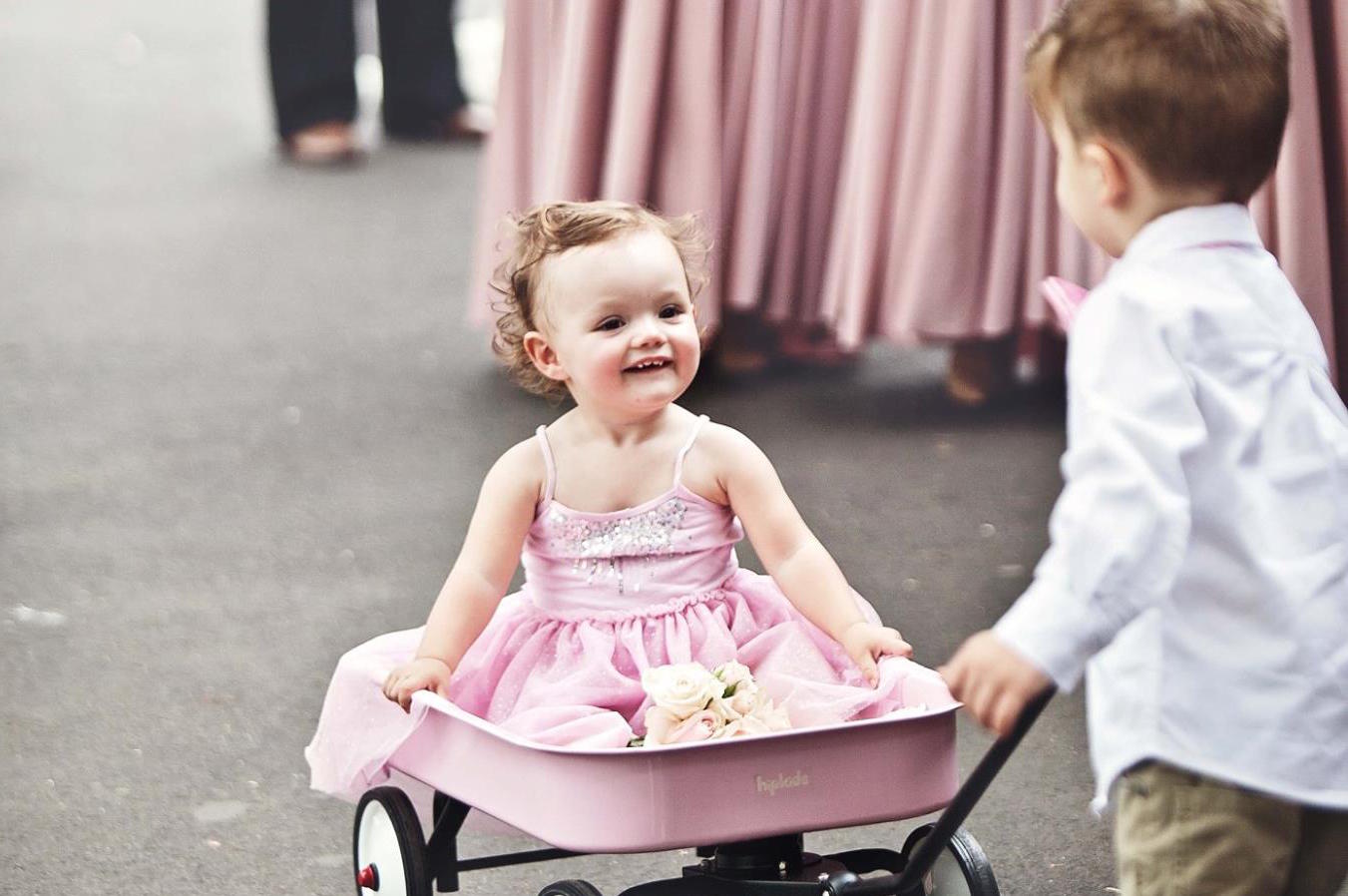 Photo Credit: Nicole Taranto Photography
4. "HOW LONG DO YOU NORMALLY STAY FOR AFTER THE CEREMONY?"
Long enough to a) Watch you receive lots of congratulatory hugs + kisses from your family + friends,
b) Pass your marriage certificate on to a nominated person of your choice (that you have already decided on in the lead up to the big day), c) Pack up all my equipment, and d) Give you a hug goodbye with my very best wishes for a fabulous celebration!
Oh, and if there is champagne going around, I may make a quick toast to your future as a new Mr + Mrs!
       Photo Credit: ProShot Photography
3."WE DON'T WANT A REHEARSAL, BUT HOW WILL WE KNOW WHAT TO DO ON THE DAY IF WE DON'T HAVE ONE?"
No problem at all! That's what I am there for!
I will always discuss ceremony details at our final meeting leading up to the big day, to ensure that I understand your brief exactly regarding every moment of how you would like the ceremony to run.
I will meet you when you arrive and will discuss your entrance with your venue co-ordinator to ensure it runs smoothly. If you don't have a venue coordinator, I will assist you with your arrival and your entrance.
I will show your bridesmaids where to stand after they walk down the aisle to ensure they are nice and symmetrical to the groomsmen. But if your bridal party is uneven, I will work with numbers to ensure you are all still positioned perfectly for photos.
I will guide you through every aspect of the ceremony from start to finish and will ensure both you and anyone else involved directly in the ceremony knows what they are doing and are confident in their individual roles. You won't need to worry about a thing!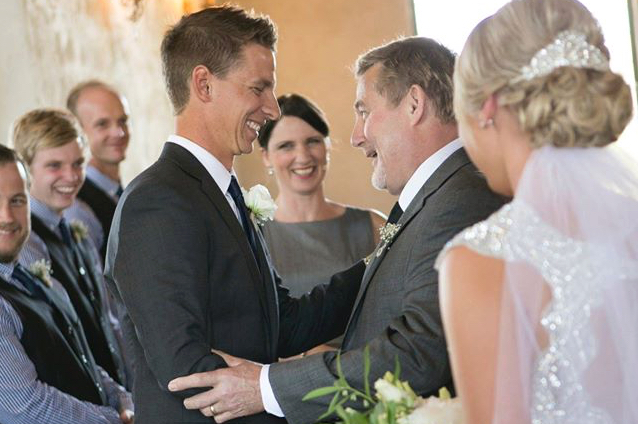 Photo Credit: Blumenthal
2."WHAT WILL I DO IF I START CRYING DURING MY VOWS AND CAN'T SAY THEM?"
Again, try not to overthink this part.
In most cases, you have never done anything like this before, so how can you possibly imagine how you are going to feel and react? You can't. So don't even try. Just go with it, and like with everything else, be prepared for anything.
But know that I will always be there to help you through those ridiculously unpredictable emotions.
Trust me, I've done this a few times now and I'm pretty good at keeping those words flowing and turning sobs into smiles, but I will always let the tears with the feels fall if it means that your partner (and all your family and friends) can see just how much you mean to each other x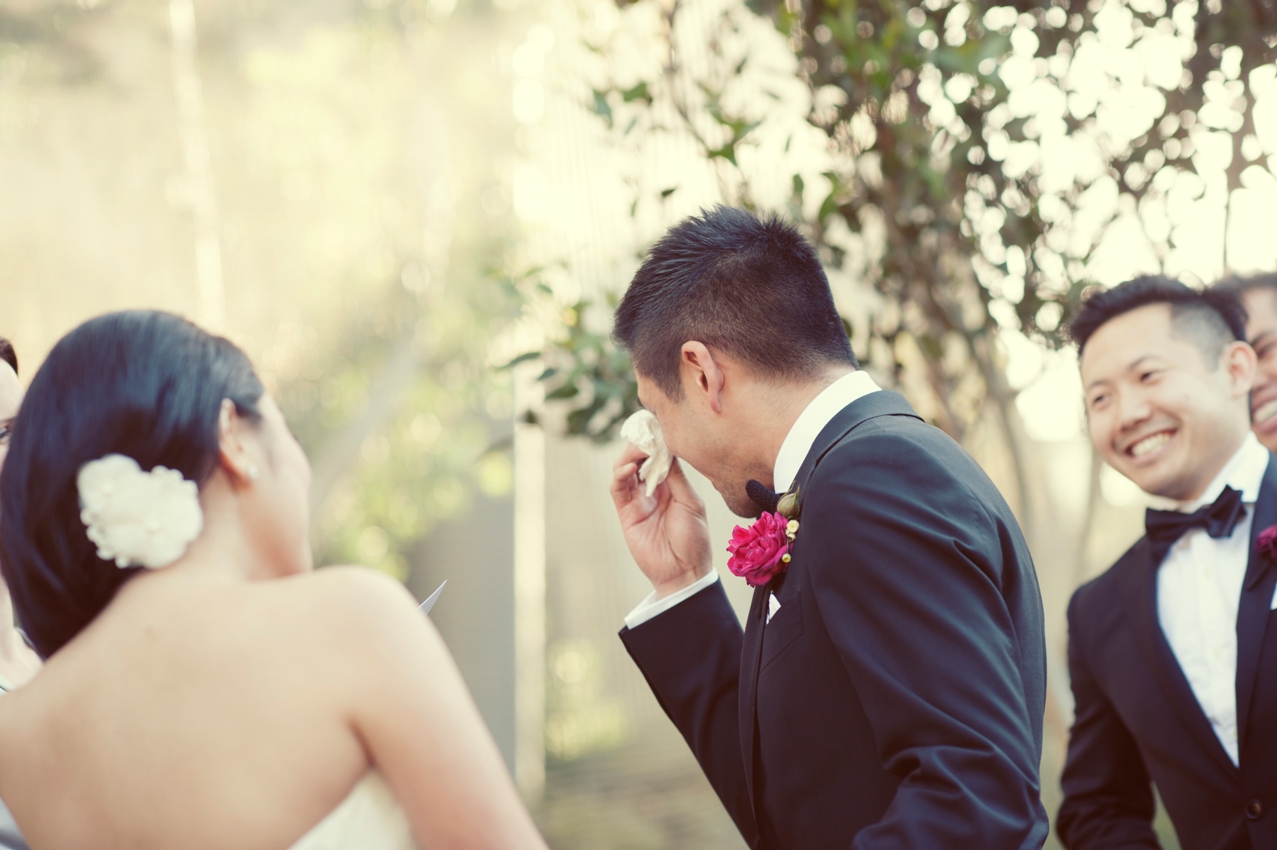 Photo Credit: Doux Wedding Corp
And the number one question most brides ask……..
1. "WHAT NAME DO I SIGN ON THE MARRIAGE CERTIFICATE AT THE WEDDING?"
Your maiden name! You have to actually sign the marriage certificate before you can be considered legally married and eligible for a change of name!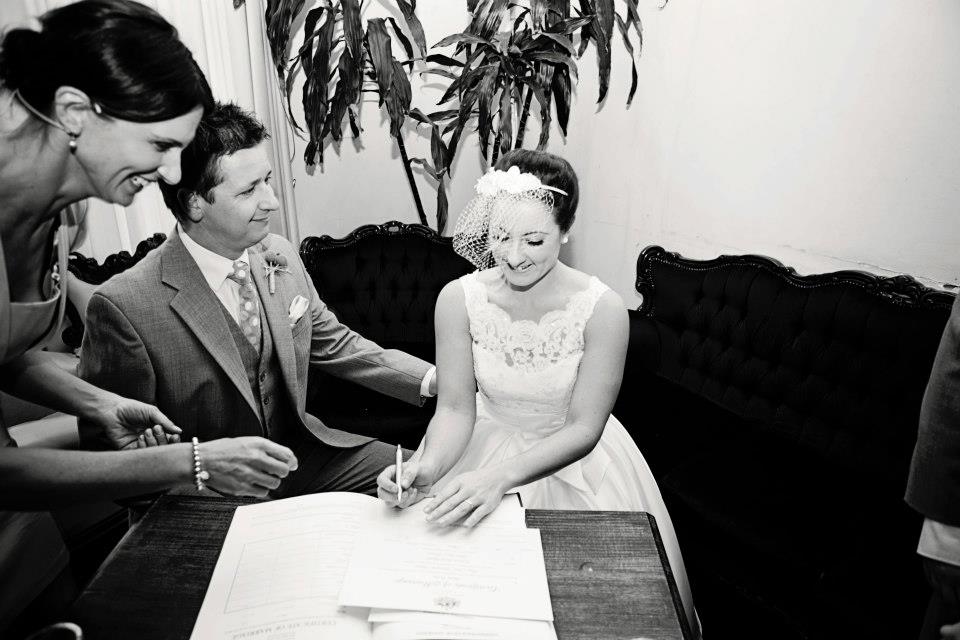 Photo Credit: Luke Lornie Photography



****************
As I said, these are only MY top 10, but if you have any other questions in regards to your wedding ceremony (and there is absolutely no such thing as a silly one!) please feel free to

contact

me at any time!
A Marriage Celebrant in Melbourne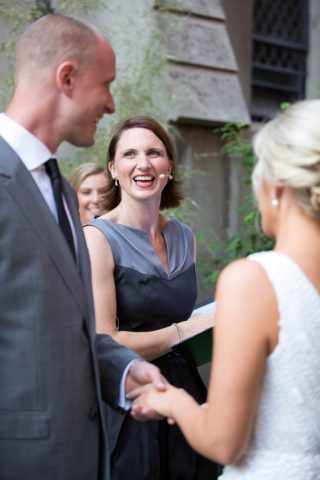 Welcome to my blog!
I have to admit that I was initially quite averse to the idea of blogging, mainly because I naively didn't think anyone actually read them and wasn't sure I'd actually have the time to update mine on a regular basis even if they did, but I have since discovered that the world of blogging is a LOT bigger than what I had assumed and have therefore decided that I might need to be a part of it all.
So here I am.
I am a fully authorised marriage celebrant in Melbourne and believe, without a doubt, that I have the best job in the world!
I have always loved weddings and still, in a bottom draw with tons of other random memorabilia from my childhood, have a diary full of wedding ideas, pictures of bridal gowns cut from my mums magazines, photos of the "type" of husband I thought I would marry one day and a bunch of those games I used to play with my friends to find out the name of my future husband – you know, the one where you take the first letter of your favourite colour and the 2nd letter of the suburb where you would like to live etc……..
Here's a more tech savvy predictor quiz for you…. DO THE QUIZ
ANYWAY, when I finally became engaged over 15 years ago, I put a lot of effort and planning into our special day, carrying out 99.9% of the organising myself. I didn't have a PC at home and while I did try to sneak in some online searching via the yellow pages into work each day, I pretty much spent every weekend driving around from shop to shop to source suppliers. And I had an absolute ball.
18 months later, I finally married my wonderful husband during one of the best days of our life and then, whilst on our honeymoon, I took to my banana lounge, cocktail in hand and pondered how I could ever re live that most incredible day. "I could become a wedding planner! Of course! I could do all the planning for other couples! Perfect!" And then I fell pregnant with our first child.
Lucky enough to be able to take on my new role as a permanent stay at home mum, thoughts of work took a backseat while I raised my son, realising very quickly that I would most likely never be able to commit to the amount of time I imagined it would take to be a wedding planner!
So while planning weddings was now off my list of possible careers, I knew I still wanted to work in the wedding industry and was keeping my options open, when, whilst pregnant with my second son, I was browsing the HeraldSun classifieds when I came across an ad asking me if I would like to become a marriage celebrant.
"Well yes, I think I would! I think that would be an absolutely perfect job for me!"
But it took me another couple of years of raising child number two, until I finally completed my course and received the Attorney Generals tick of approval to become a registered marriage celebrant.
That was four years ago, and apart from now having THREE children (we have a beautiful princess now too!), I conduct about 60 ceremonies a year and couldn't be happier.
Every ceremony is an absolute joy to be a part of and I absolutely LOVE the diversity of the couples I meet and the ceremonies I help them to create. The life of a celebrant is pretty special.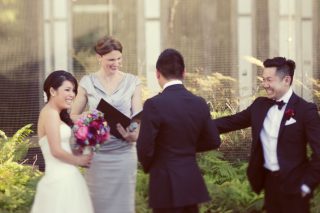 And so, via this blog, I look forward to sharing my experiences as a celebrant with you, including all the laughter, tears, style, romance, and most importantly love, that I am so very privileged to be a part of.
And hopefully, somewhere along the way, I will provide some insight, some inspiration or just some simple browsing enjoyment for any of you who choose to join me on this magical journey.
In Life & Love always ~
Meriki x
Celebrant: Meriki Comito | Simply Celebrant
Photos courtesy of Ninnie Photography, Tiny Sparrows Photography, LJM Photography, Doux Wedding Corp
Locations: Eastern Hill Dining Hall, Werribee Mansion, Williamstown Pier, Alowyn Gardens, National Gallery of Victoria, Melbourne Museum