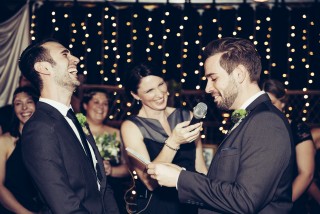 Photo Credit: Vlad Savin
Same sex marriages are sadly not yet legally recognised within Australia at this time, but stay tuned for new changes to the Marriage Equality law in the hopefully not too distant future!!
"Love has no boundaries. Loves knows no gender, colour or religion. Everyone has the right to love and be loved in return."
A same sex commitment ceremony is often very similar to that of most weddings, the only difference being that it is not a legally binding one, but simply a public affirmation of a couples' commitment to one another.S
I completely support the right for any committed couple to marry legally within Australia, regardless of gender, and although we are still waiting (impatiently) for the government to move forward with a marriage equality law, the Relationships Act was passed by the Victorian Parliament in April 2008 and came into effect on 1st December 2008, meaning couples are now able to register their relationship with the Registrar of Births, Deaths and Marriages and have that relationship recognised under Victorian law.

Two local councils, Melbourne and Yarra, have also introduced relationship registers, where, under the program, two people may declare that they are partners and have this declaration recorded in the Official Relationship Declaration Register. Although they do not confer legal rights in the way a marriage does, they allow couples to make a written declaration that they are mutually committed to sharing their lives together.
Like a wedding, a commitment ceremony can be large or small, quiet or festive. Both are celebrations and the perfect way to publicly express vows of love and commitment in front of friends and family.
The following elements have been provided to act as a guide, in helping you to plan a ceremony that that is perfect for you.
And Mr Theodore can help you with all your supplier needs!
Introduction
The officiant welcomes guests to a celebration of the love and commitment between the couple and will speak  about their relationship, and about commitment in general.
Vows 
Same Sex Celebrants
The couple declare their intent to be a committed and will make promises to each other about what that commitment means.
Readings/ Music
A commitment ceremony will usually include music and readings about love, including poems, passages of literature, famous quotes, personal writing, pop songs, classic wedding music – anything you like!
Exchange of Rings
The couple may wish to exchange rings, and say a few words about what these rings mean to them.
Symbolic Gesture
The couple may choose to include one the many Unity Ceremonies or rituals available, to provide an extra special element to their day.
Pronouncement of Commitment
The celebrant announces to the guests that the couple are now Joined / United / Committed for Life, whatever word you would prefer to be used, and invites the couple to share a kiss to symbolise the sealing of the union.
Signing of a Commemorative Certificate
The couple will sign a Certificate of Commitment, as a keepsake of their day.