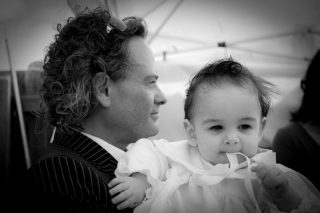 A naming ceremony is a non-religious celebration of the arrival of a new child.
It is a way of welcoming the child and officially introducing him/her to family and friends.
Naming ceremonies are appropriate for anyone, at any age, from the arrival of a new baby, a uniting of step or adopted children within a family, or an adult name change, all are great reasons to hold a naming ceremony.
Naming ceremonies involve the important people in the child's life – family and special friends. Parents have the opportunity to ask other adults to play a supportive role to their child through to adult life (grandparents, godparents, mentors or supporters).
Naming ceremonies are not a baptism or christening, but while they are non-religious, many parents with religious beliefs hold naming ceremonies to welcome their child, though doing so does not prevent the child from holding or participating in a religious ceremony at any stage of their life.
While the Naming Ceremony and accompanying documents don't have any legal status, they are a wonderful way to welcome your child and celebrate them as they begin their journey through life.
Each ceremony should be unique and tailored to suit your individual needs.
The following is a basic checklist of things to consider when planning a naming ceremony.
Choose date and time
If you're planning a ceremony for a baby or a young child, you may want to consider any sleeping/ eating schedules they may have.
Decide on venue
Again, where young children are concerned, it may be best to hold the ceremony at your home, or at a location where your child feels secure and comfortable.
Choose 'special people' to participate in the ceremony
This can make the ceremony extra special as it becomes such a more personal event, and of course you can, if you wish, have the equivalent of Godparents or "guide parents" or "supporters" to represent the child and to offer some extra love and guidance over the years to come.
Select ceremony style and format
There is no set format for naming ceremonies, so it is completely up to you as to how you would like the event to be celebrated. I am more than happy to discuss all options with you to ensure you are happy with the final result.
A possible format could be as follows;
Welcome
Introduction of the child and the meaning behind his or her name
A Reading
A symbolic gesture
Commitments and Promises from the Supporters – Some celebratory music
Presentation of Certificate
A few words in thanks and conclusion
Choose poems, readings or quotes
Write a poem, or some special words about your child to read at the ceremony, or ask a special person to do a reading fom one of your favourite childrens' books or from a quotable source.
Choose symbolic gesture for ceremony
A symbolic gesture can  add extra special element to a naming ceremony and are also a great way to involve guests on the day. Here are a few suggestions to consider;
Time capsule/ treasure box – This can contain small gifts, photos, letters or written note cards. The capsule/box is presented to the child when they turn 18 or 21. Invite guests to bring an item to place inside, i.e. CDs, magazines, photos, newspaper clippings, coins, runes & crystals to symbolise different things like peace and hope; pebbles from someone's favourite beach; a horseshoe for good luck; cuff links for a boy, a bracelet for a girl, a book,  or a pressed leaf/ flower.
Planting of a tree – You can invite guests to help plant a tree in the guest of honours' name and as they place dirt into the ground around it, they say a few word/s expressing their wish for that person. You could also provide cards and pens for your guests to write a message to hang on the branches of the tree with mini pegs (they can later be removed and placed inside a small keepsake box). A potted tree could also be used, that can move with the child as they grow.
Lighting of a candle – Candles can be personalised and decorated with flowers, butterflies, sporting items, cars, child's name, photo, date of birth, and a poem etc. The parents/guardians light the candles and make wishes for the child.
Fairy Dust – Special people are invited say nice words/wishes as they sprinkle 'fairy dust' (fine glitter) over the guest of honour (make sure you use the non-toxic variety, and be warned,  it sticks to absolutely everything!).
The Conclusion of the Ceremony
As a final touch at the end of the ceremony, you may want to consider one of the following;
A video recording – get all your guests to say something about/to the child (wishes etc) to play back at their 18th/21st.
Releasing a dove – the worldwide symbol for peace and new beginnings.
Wishing well/cards – Guests write their wish for the child on a note and place it in a wishing well for the parents to read and keep for the child.
A soaring spirit celebration – Release balloons to encourage your child's spirit to bloom and grow.
Signature bear – For guests to sign, creating a permanent memento of the day and to keep a record of the  guests who attended the celebration.