Kate + Lars' Chateau Doré Wedding
Kate and Lars' first meeting in Spain was one of those real 'sliding door' moments in life, when Kate stopped in Spain at the beginning of a 12 month world trip to join a Spanish language class, and met Lars a few days into her extended stay.
Kate thought Lars looked like a school boy swinging on the back of his chair in the Library, and Lars thought the same thing about Kate after spotting her strolling through the streets with her cute little backpack on! But when they were both invited to join a mutual friend for lunch, they hit it off immediately, and Kate cancelled her other travel plans to spend as much time in Spain with Lars as possible.
Six weeks later, Kate was obliged to continue on her world tour, but both she and Lars knew that their time together was so much more than just a summer romance, and Kate made arrangements to meet Lars on his home ground in Hamburg on December 12th 2009 – six years exactly before they married at the beautiful Chateau Doré in country Victoria.
As family & friends gathered from as far as Germany, Kate & Lars's ADORABLE baby boy Sebastian arrived dressed in the cutest traditional 'Lederhosen' to the absolute delight of every guest, staff member, photographer & celebrant present!!
Grateful for my mother's Austrian heritage, I was thrilled to be able to welcome Lar's family in their mother tongue as well as incorporate a few German words into the ceremony itself!
Kate said that she loved Lars's "genuine & pure love of life and that he sees the very best in every person he meets", and Lars said that Kate "makes everything you do, feel & experience together absolutely amazing".
After exchanging rings with a mixture of both German & English vows, Kate & Lars shared one of the most passionate first kisses that I have ever seen to the loudest of cheers!
And one of my favourite industry pros, Alli Oughtred, was there to capture it all xx
Kate + Lars | 12.12.2015
Celebrant: Meriki Comito
Ceremony & Reception Location: Chateau Dore
Photography: Alli Oughtred Wedding Photography
Flowers: The Eternal Vase
Stephen & Leigh's Colourful Winery Wedding
When Stephen first laid eyes on Leigh at a friend's BBQ about four years ago, he thought she was way out of his league, but went on to impress her with his polite nature and perfect manners, so the pair soon struck up a friendship, bonding over a mutual love of movies, cocktails, 'phat' beats and the great outdoors.
They both grew to love the unconditional love they both provided the other with, as well as the freedom of being able to be completely who they truly were. It was fun, and comfortable, and felt so right, that marriage had definitely become an option for the future.
It was during a two-week road trip through New Zealand that Stephen entertained the idea of a perfect proposal, but after waiting for that perfect moment to present itself, it became apparent that he was struggling to keep his big secret, and after three failed attempts to work up the courage, finally asked Leigh to marry him on the final night of their adventure.
It may have been a huge source of anxiety for Stephen, but according to Leigh, it was private, and personal, and absolutely perfect.
The beautiful Mandala Wines in the Yarra Valley was the location in which Stephen & Leigh chose to become husband and wife. In a stunning lace Marianna Hardwick gown, Leigh quietly declared to her handsome groom that "you love me even when I don't love myself" (before quoting Beyonce!), after which Stephen told Leigh "your beaming smile can brighten my darkest days, and your beautiful laugh brings me more happiness than anything."
It was an absolute pleasure to share this moment with Stephen & Leigh and I hope they achieve all their dreams of travelling the world together, starting a family of their own and enjoying all the adventures that life will bring x
A huge shout out to the super talented Zosia from Aparat Photography for these stunning images!!
Stephen & Leigh | 16.04.2016
Celebrant: Meriki Comito
Ceremony & Reception Location: Mandala Wines
Photography: Aparat Photography
Ceremony Arch & Bunting: Created by the clever Groom!
Bridal Gown: Marianna Hardwick
Bridesmaids Dresses: Rodeo Show
Flowergirl Dress: H&M
Groom's Attire: Joe Black
Bouquet's, Boutonniere's and Flower Crown: Debbie O'Neill
Cake & Bomboniere: The Bride's own creations
Catherine & Steve's Rippon Lea Estate Wedding
Catherine met Steve about three years ago when she embarked on a match making campaign for a friend and somehow ended up attending a dinner for four where she met her future husband! And yesterday, on the magnificent sweeping lawns of the Rippon Lea Estate, Catherine married her Steve in a sensational Greek/Irish fusion ceremony.
After receiving an Irish Blessing from Steve's gorgeous 90+ grandfather, we incorporated a traditional crowning, or "Stefana" to honour Catherine's Greek heritage, and with their first kiss as husband & wife eliciting ecstatic cheers & applause, Steve performed his army regiment's traditional "Sabrage", sabering the top off a champagne bottle, to the absolute delight of his cavalry colleagues and guests alike!
And seriously, could Catherine BE any more beautiful? Her smile is so contagious!
Photographer Alli Oughtred has captured the joy of this day just perfectly x
Make sure you check out Timothy Marriage's video at the bottom of the page too!!
Highlights video by Timothy Marriage
Catherine & Steve | 27.11..2014
Celebrant: Meriki Comito
Ceremony Location: Rippon Lea Estate
Reception Venue: Quat Quatta
Photography: Alli Oughtred Photography
Bridal Gown: Luci DiBella
Ceremony Styling: Weddings of Distinction
Ceremony Music: Four Seasons
Julia & Craig's Pioneer Women's Memorial Garden Wedding
Elegant, composed & simply beautiful, Julia waited at the top of the hill as I came to greet her before the start of the ceremony in the Pioneer Women's Memorial Garden. "Don't say anything nice to me or I'll start crying again!" she warned me, but as she made her way down the aisle to Regina Spektor's "Real Love", it was Craig's turn to shed a small silent tear as he saw his bride for the first time.
In the sun drenched courtyard, Craig promised his "Boo" to share in her dreams and build a home filled with learning, laughter & light, after which Julia declared that she "will look with joy down the path of our tomorrows, knowing we will walk it together side by side, hand in hand and heart to heart."
A stylish drink station provided ample refreshment for guests as they celebrated with the happy newlyweds after the ceremony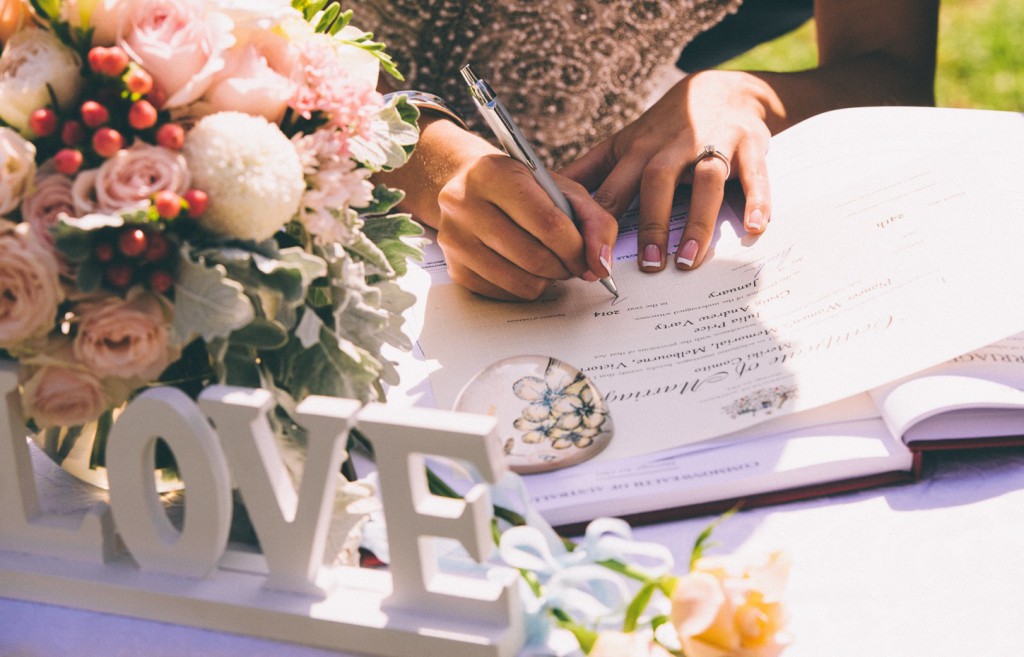 Julia & Craig | 24th January 2014
Celebrant: Meriki Comito
Venue: Pioneer Women's Memorial Garden
Photography: Shaun Guest | Bendigo Wedding Photography
Bridal Gown: Collette Dinnigan
Flowers: Zoe Webb