Jacqui & Corey's Sorrento Wedding
Corey was introduced to Jacqui during a night out with mutual friends and after sharing some fun banter, he thought he'd impress her with his awesome dance moves.  Jacqui was immediately drawn to his sense of fun & amazing blue eyes and they ended the evening enjoying their first unofficial date together, when they went across the road for fish & chips 😉
Deciding that he needed to see her again the very next day – to ensure that she was as gorgeous as he remembered – Corey stalked Jacqui at work and was very pleased to find that she was indeed just as beautiful in the light of day! So double dates with a couple of friends ensued and two months later, they were officially a couple.
Jacqui loved how easy going Corey was, that he was so much fun to be around and that his protective nature made her feel so incredibly special, and Corey was completely enchanted by Jacqui's bubbly personality and killer smile.
Nine years later, on the sun drenched Sorrento beach overlooking the vivid blue Port Phillip Bay, Corey was completely lost for words as Jacqui's father lifted his daughter's veil revealing the spectacular smile that Corey had come to know and love so well, before Jacqui held his hand and joyfully prepared to marry her best friend.
These gorgeous images by Robyn Swallow Photography say it all xx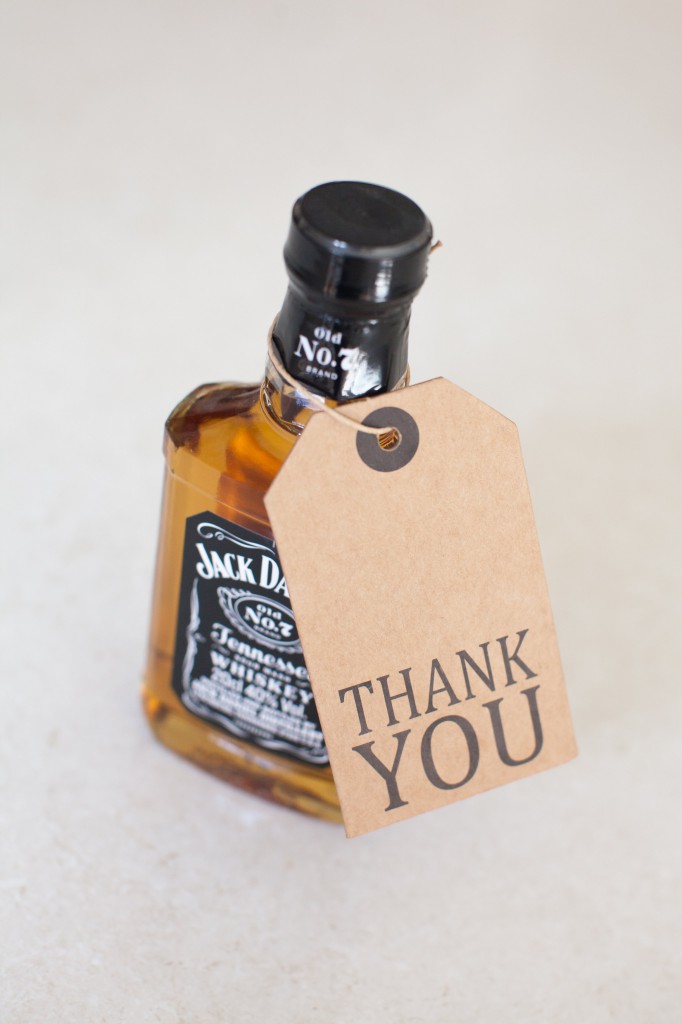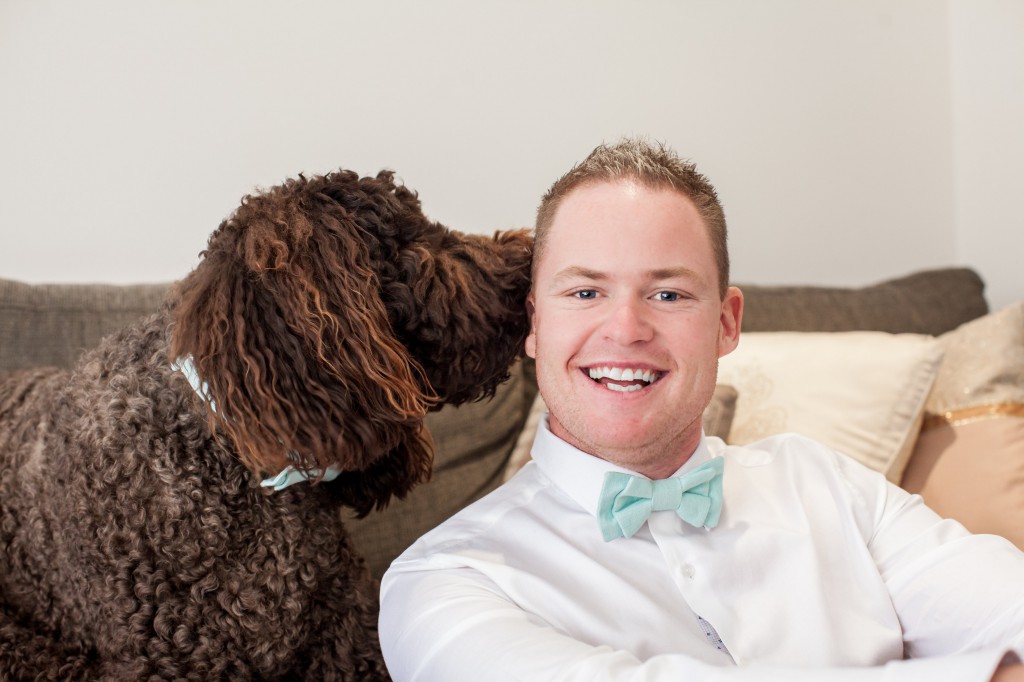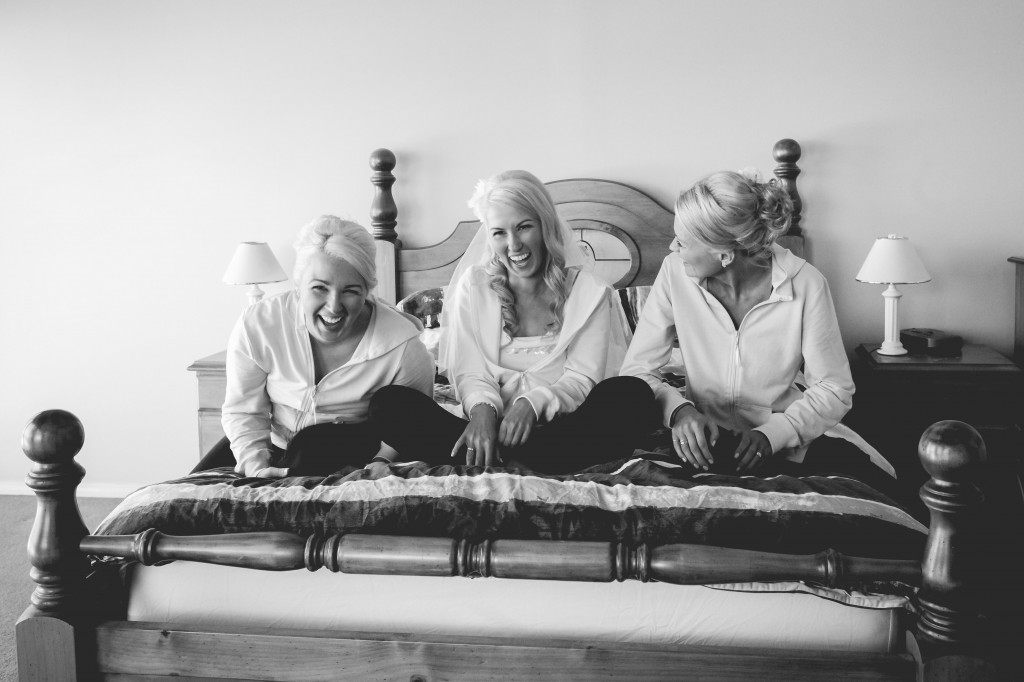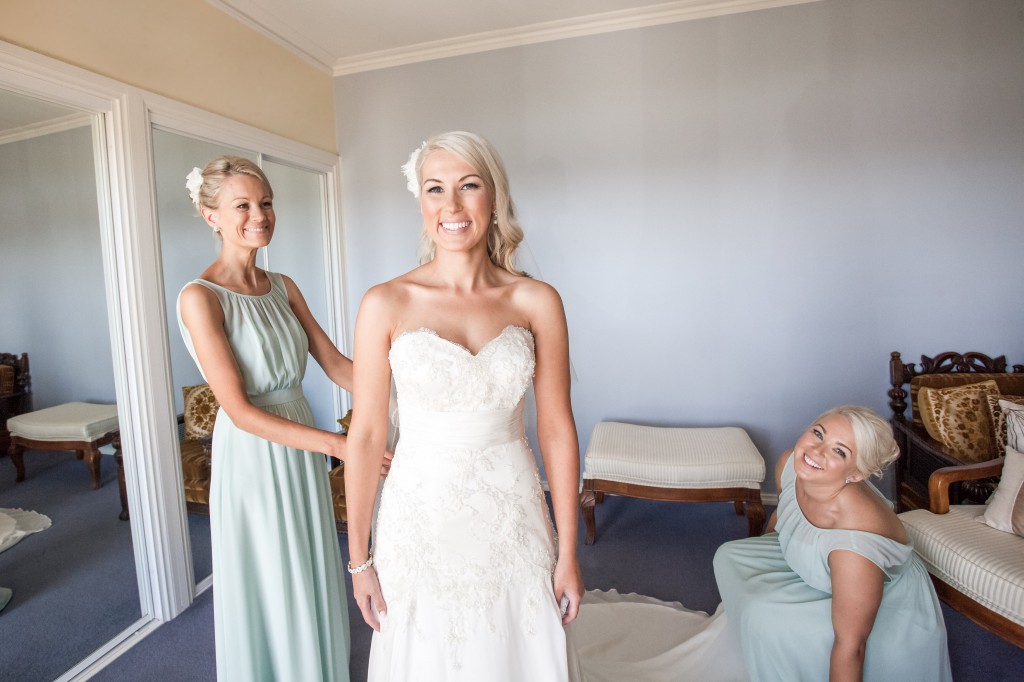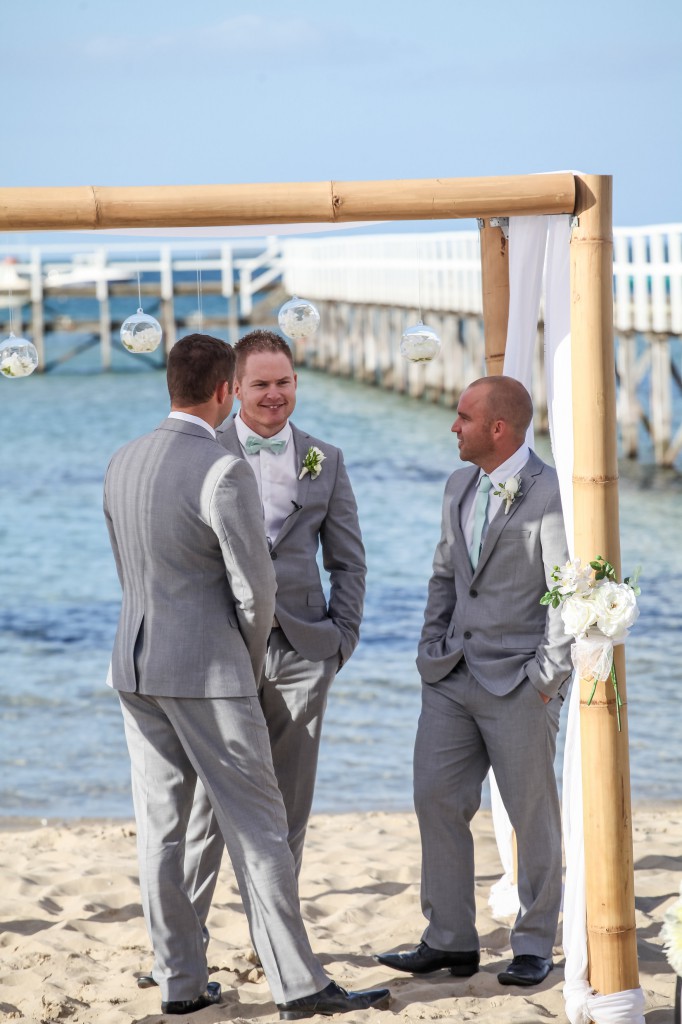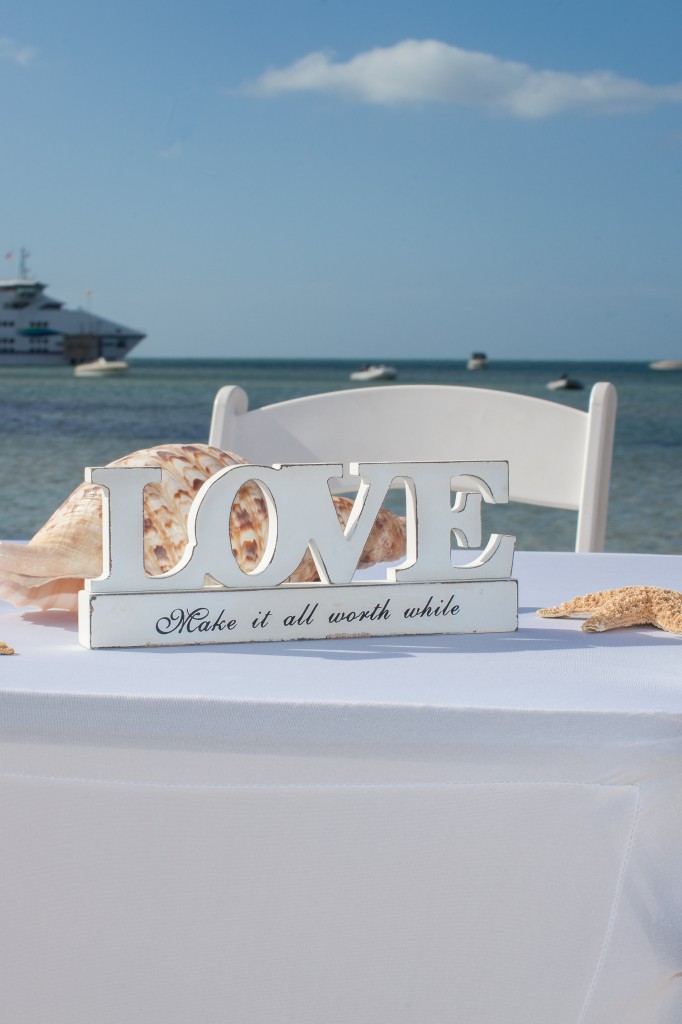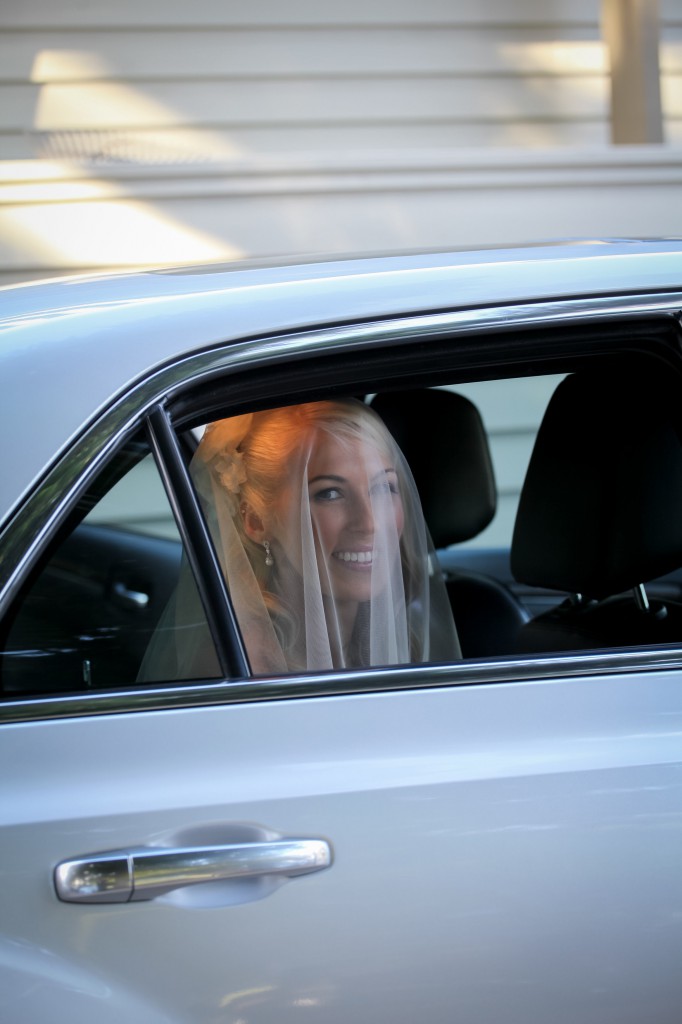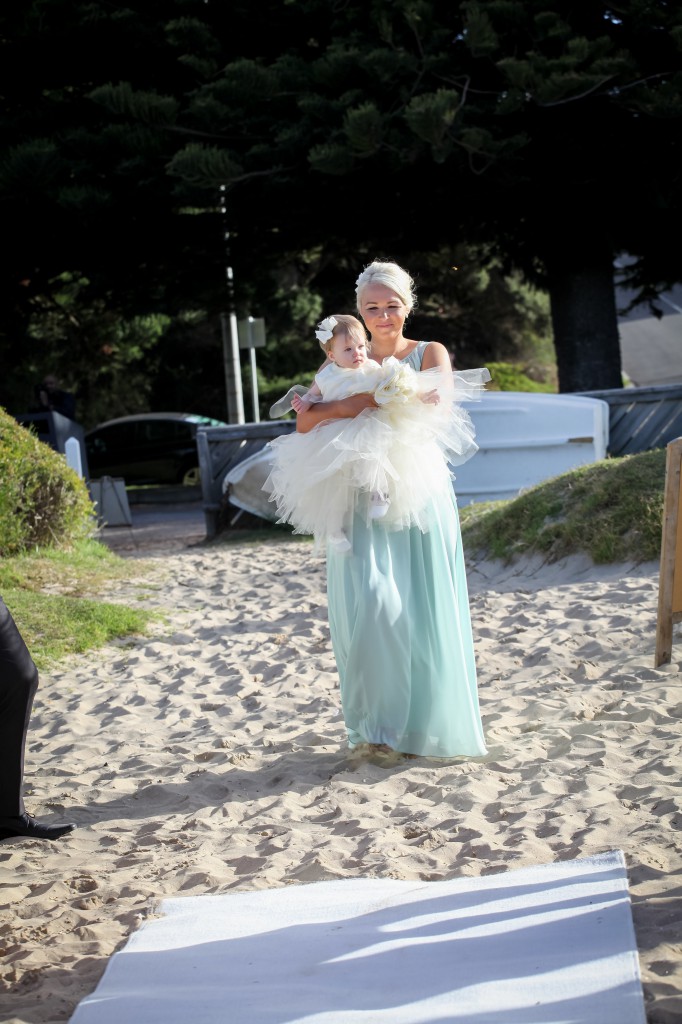 Jacqui was escorted down the aisle by her father, to Norah Jones's "Come away with me".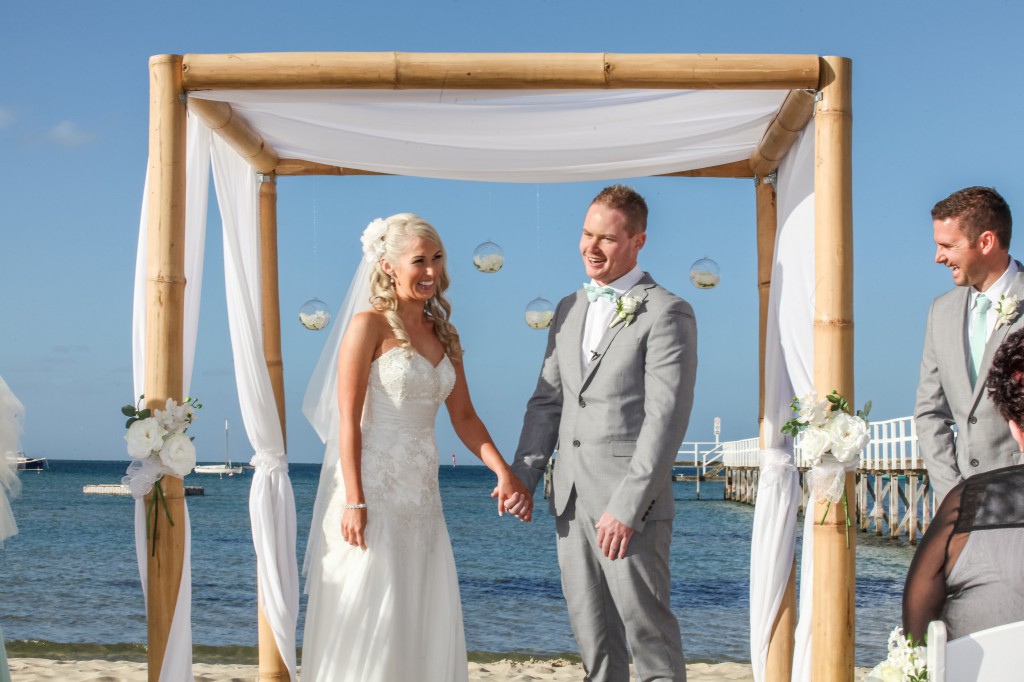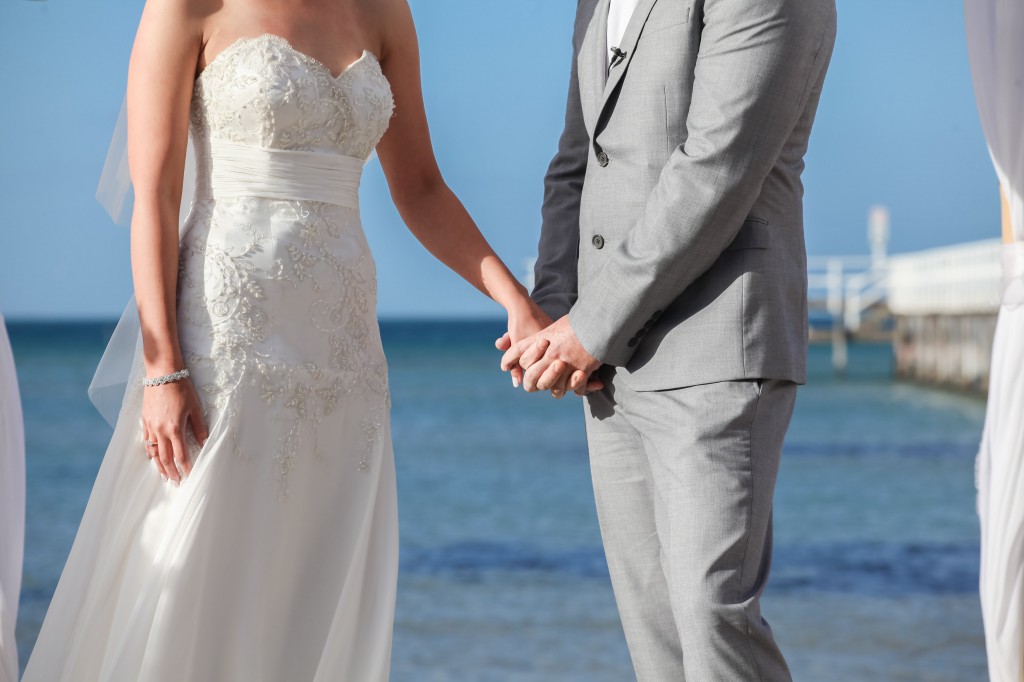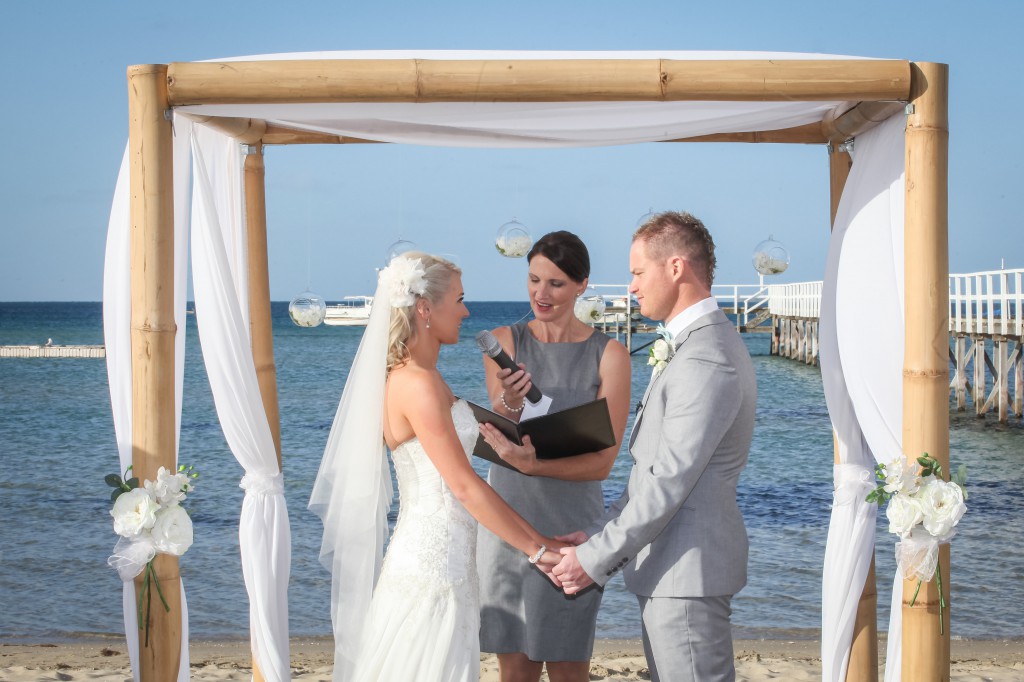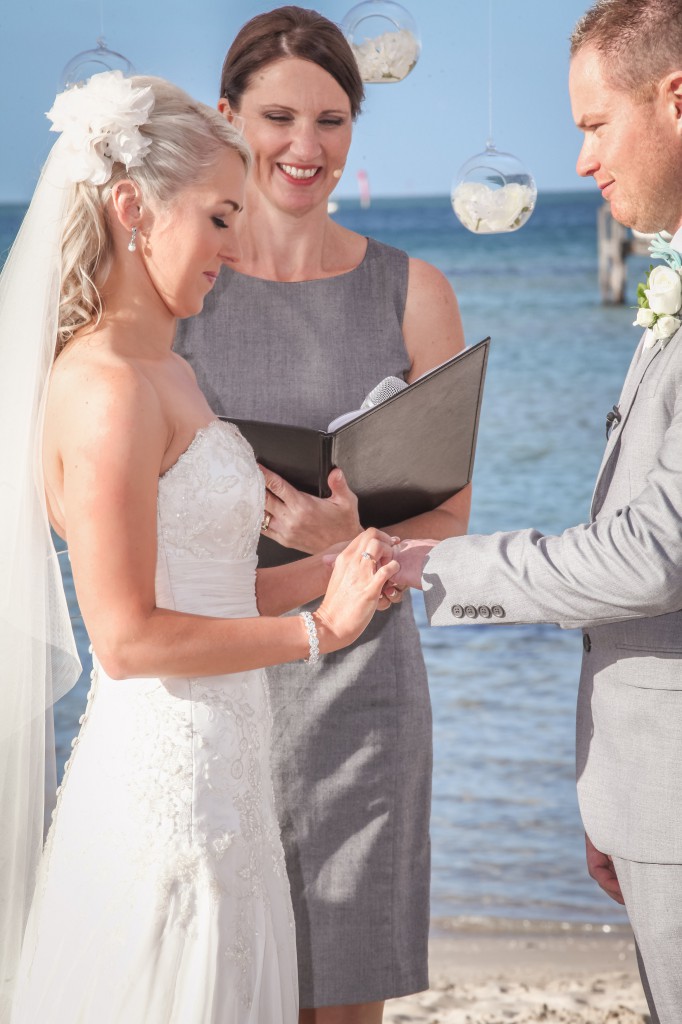 Jacqui promised that she would always hold Corey's hand and told him "I love you, even more than
chocolate", before Corey declared "You make my heart smile, and are my closest friend".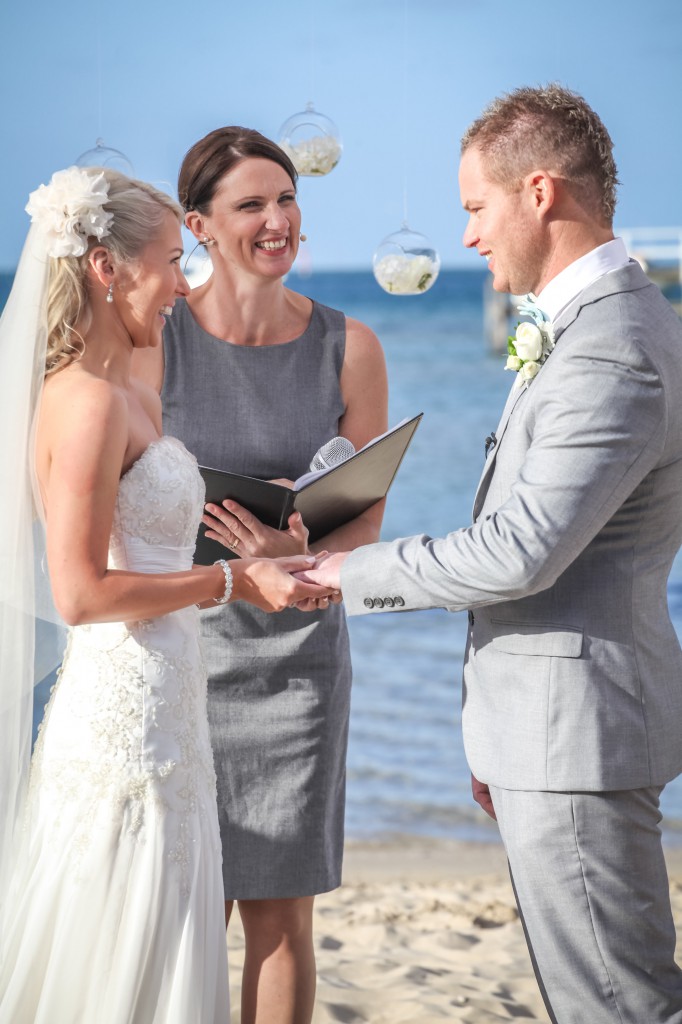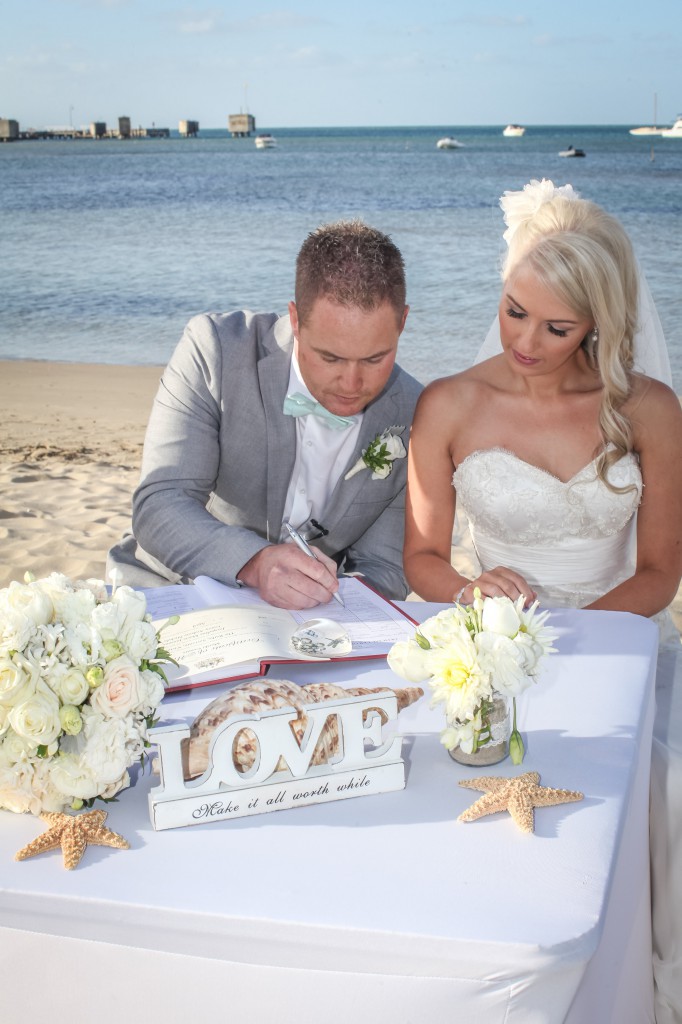 Signing of the Registry music:"Over the Rainbow/ What a Wonderful World" – medley by Israel Kamakawiwo'ole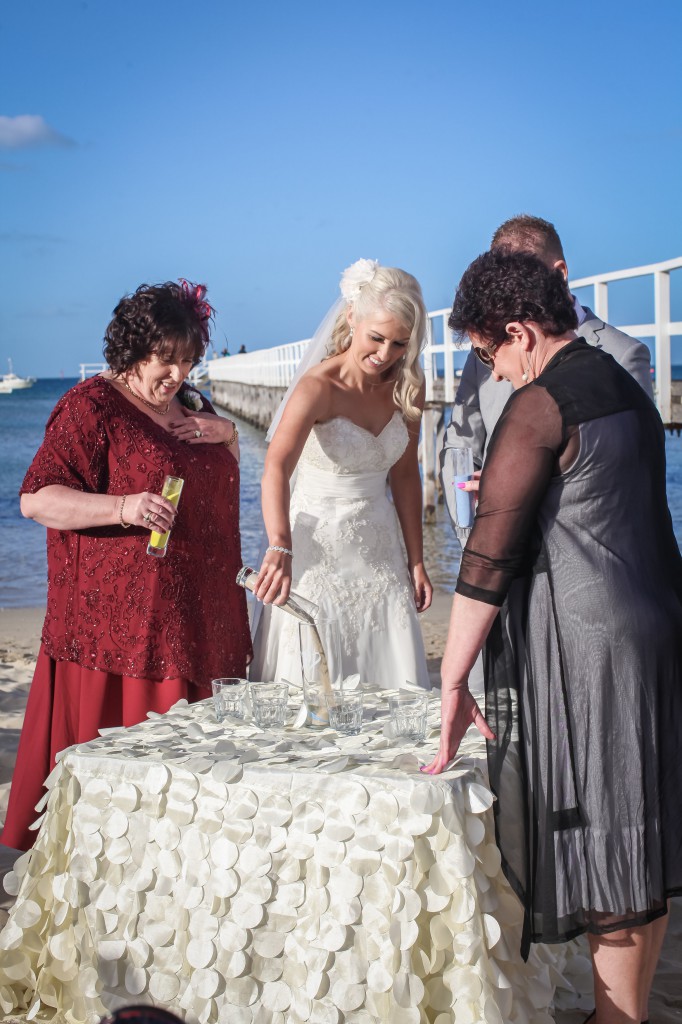 A sand ceremony that included sand from the very spot where Corey & Jacqui stood on the day,
served as a reminder of the beautiful location within which they became husband & wife, and
was completed with the blending of Blue & Yellow sand, added by Corey & Jacqui's mums, to
symbolise the glorious sun and ocean.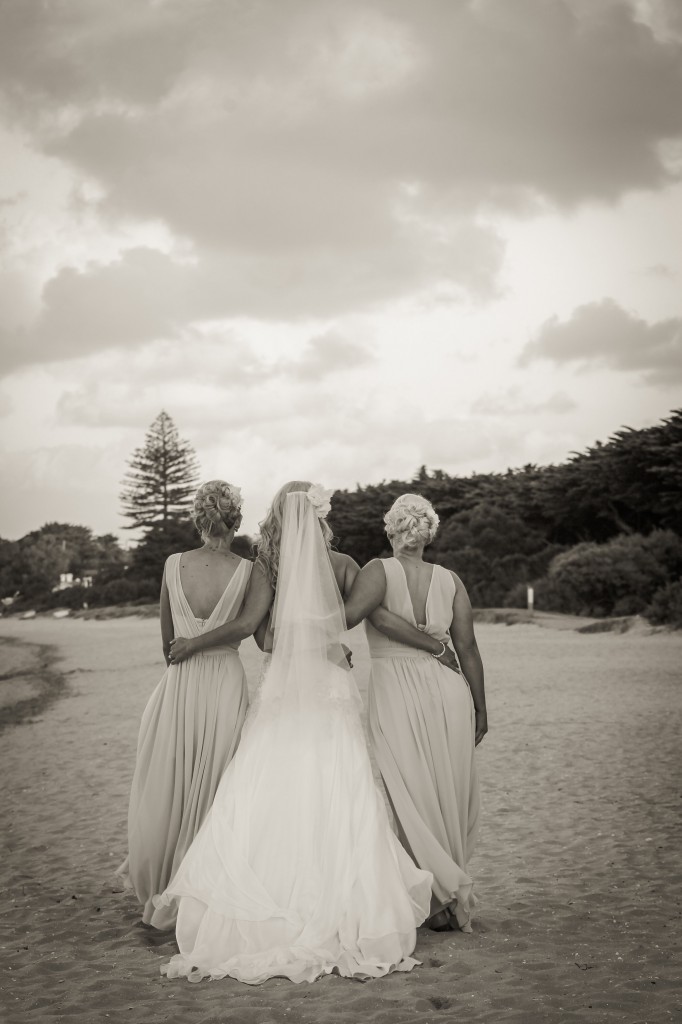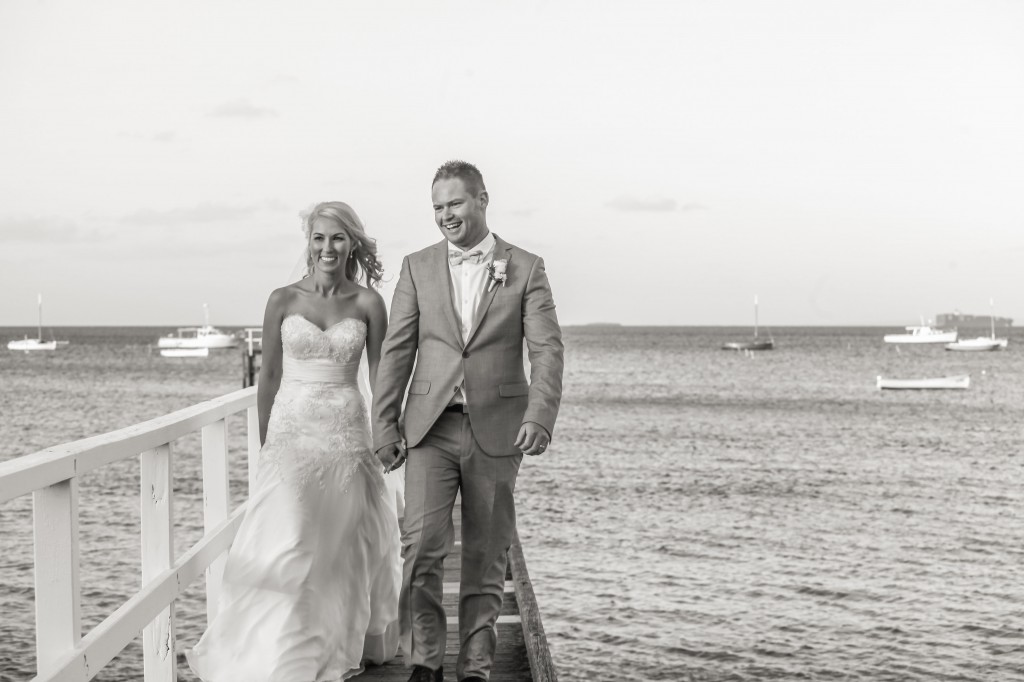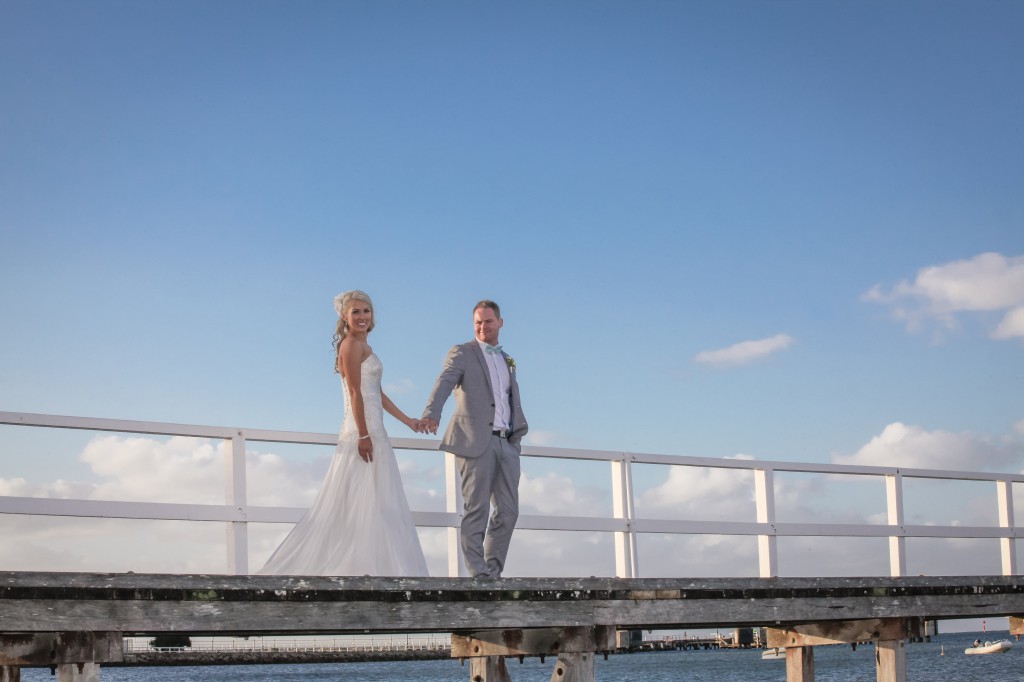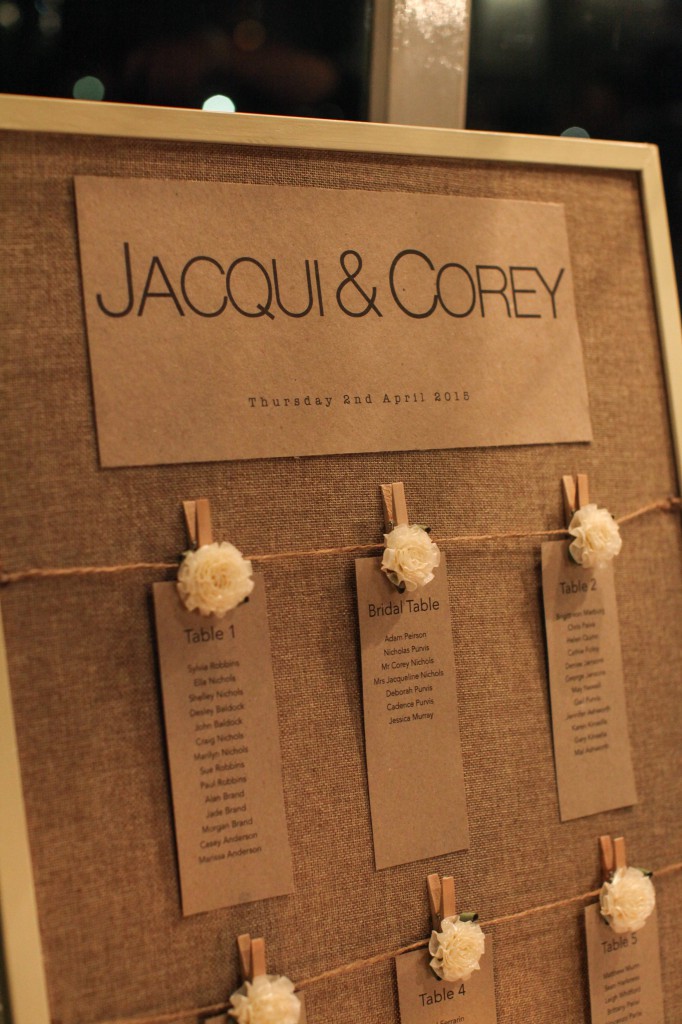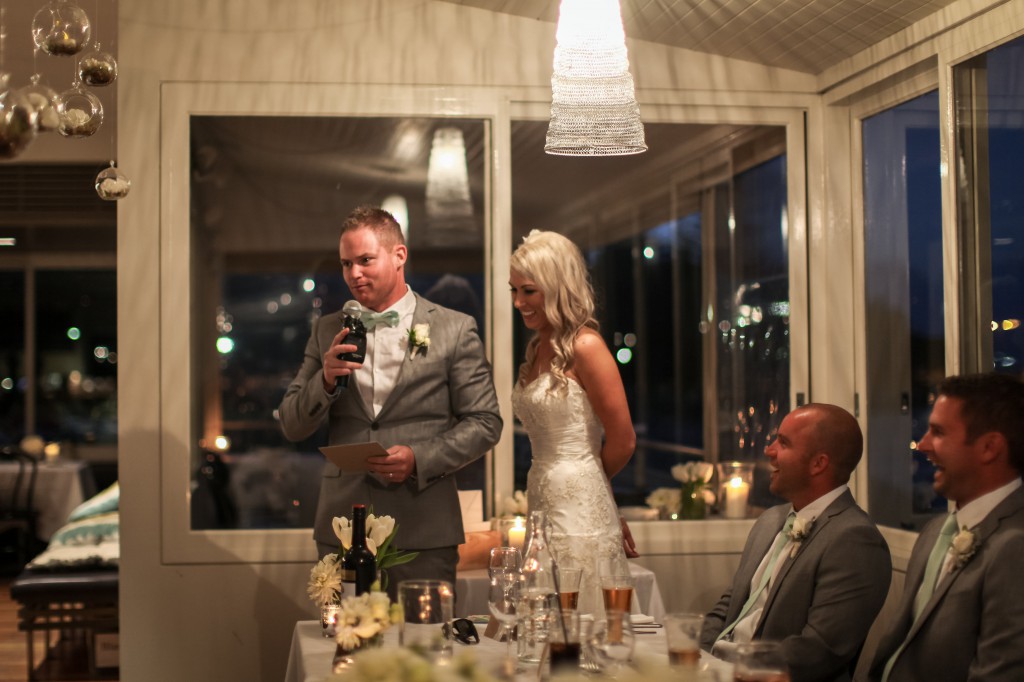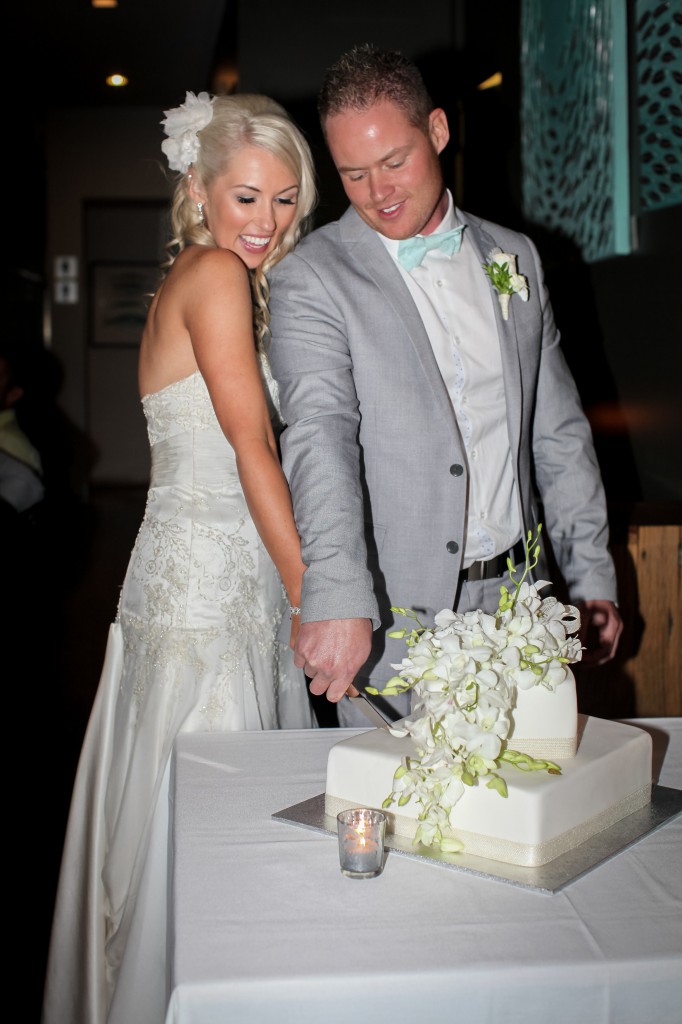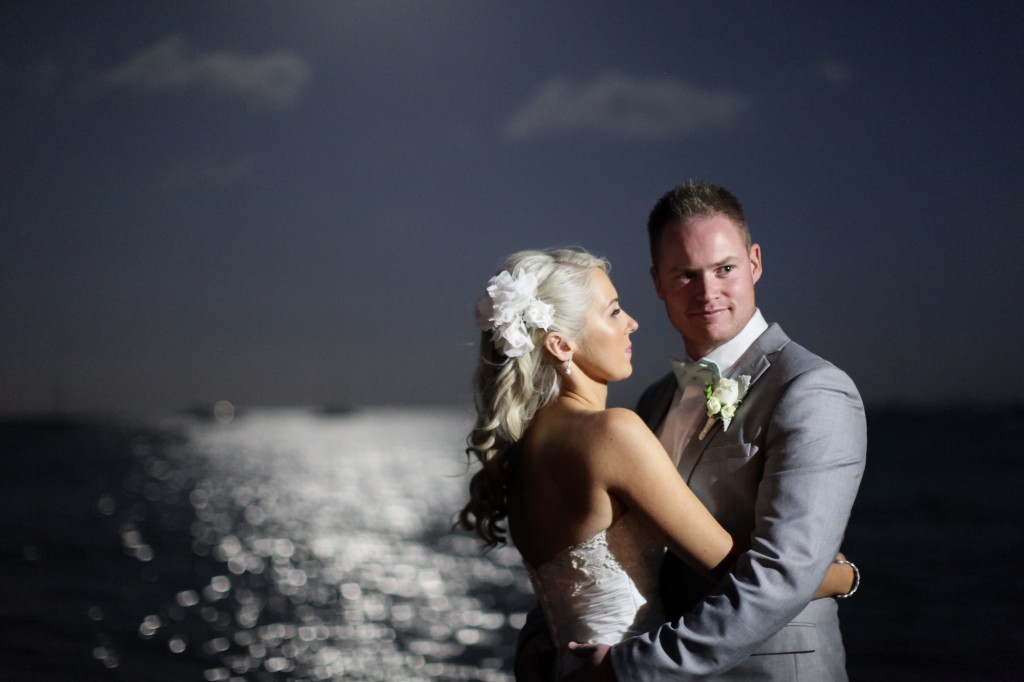 Jacqui & Corey | 02.04.2015
Celebrant: Meriki Comito
Ceremony & Reception Location: The Baths
Photography: Robyn Swallow Photography
Bridal Gown: Raffaele Ciuca Armadale
Men's Suits: Yd
Bridesmaid Dresses: Review
Flowergirl dress made by the talented Maid of Honour!
Ceremony Styling: Circle of Love Weddings
Florals: Hello Blossums
Cake: Nikos Oakleigh Quality Cakes
Stef & Todd's NGV Wedding
Stef & Todd married within the incredibly stylish Grollo Equiset gardens at the National Gallery of Victoria on a perfect Spring day.
We were off to a terrific start when, before Stef had even arrived, her mother handed out traditional Panama hats for all the guests to wear during the ceremony – a gift from a Colombian relative who was unable to attend. Everyone was more than happy to oblige and they certainly created a festive feel! I have to say it was a sight to behold from where Todd & I were standing – looking out into a see of smiling, happy faces, all wearing white hats!
All attention soon turned to the bride's brother as he guided the couple's adorable fur baby (and ring bearer), Sambucca, down the winding path, along with the equally adorable 2 year old flowergirl, who didn't even bat an eyelid when she lost one shoe along the way – a true professional!
Preceding the bride was cuteness #3, in the form of the 4 year old page boy with a sign reading "This is your last chance to run uncle Todd!"
When the stunning bride finally came into view, wearing a figure hugging Jane Hill Bridal gown, there was an immediate murmur of excitement amongst the guests. But no one was more appreciative of the bride's appearance than the handsome groom!
After a hilarious (yet seriously touching!) "giving away" by the bride's father, and a reading in Spanish by two of the couple's close friends, Stef promised to hold Todd close and make him laugh for as long as she lived, while Todd declared that Stef would "always be the best part of my day".
We concluded the ceremony with a sensational spoken rendition of Adam Sandler's "I Wanna Grow Old With You" from 'The Wedding Singer', before an extremely passionate first kiss as husband & wife, followed by an adorable high five from Sambucca!
With stunning flowers by Flowers Vasette and styling by the bride herself, along with Steph and her team at Peter Rowland Catering, everything about this wedding was stylish, elegant, fun and simply beautiful.
I hope you enjoy these sensational photos by the ridiculously talented Lauren at LJM Photography.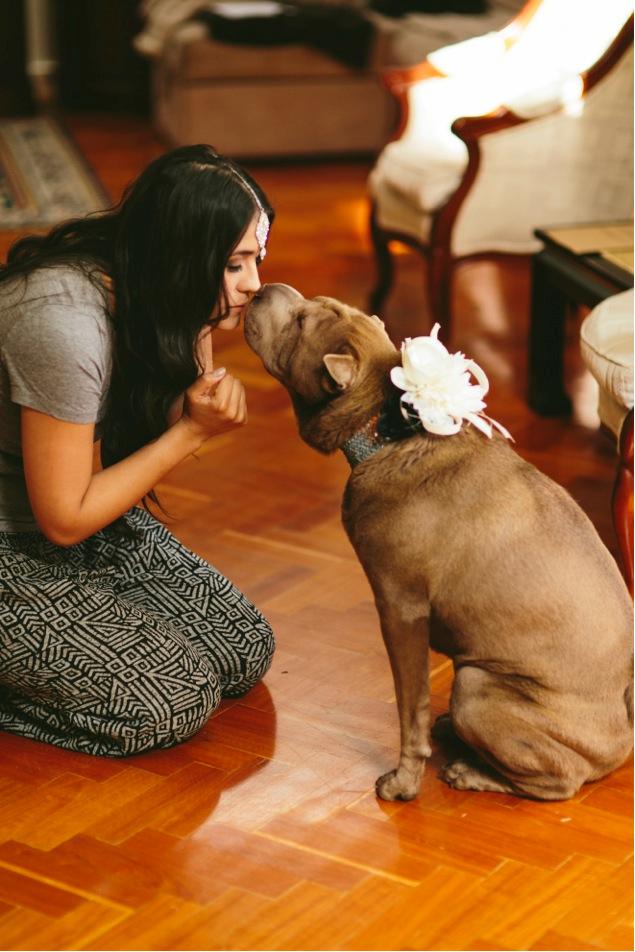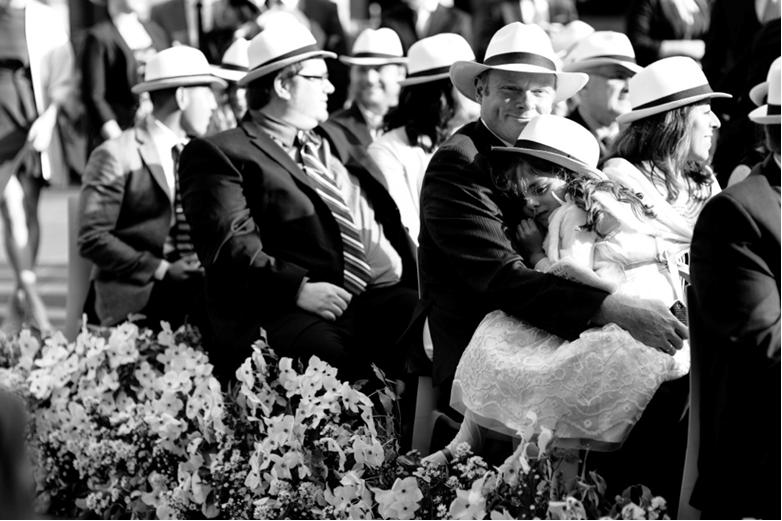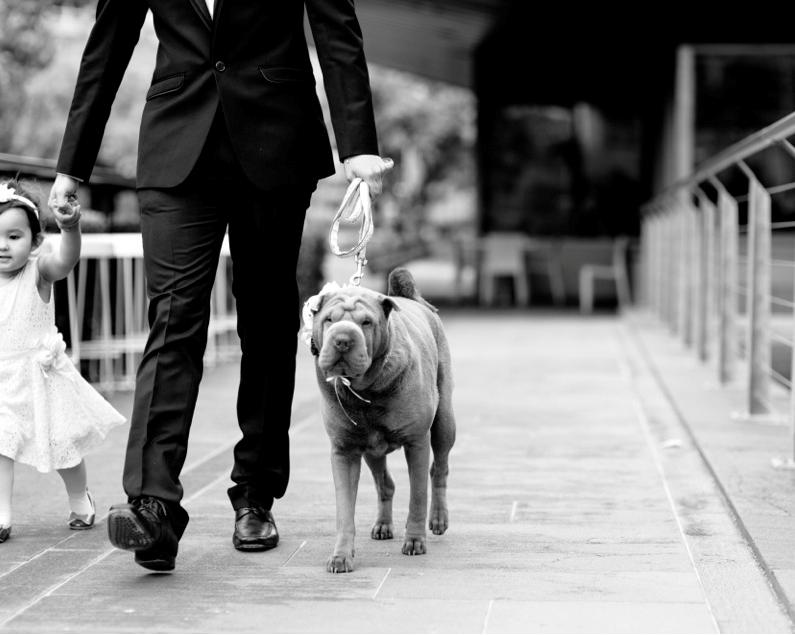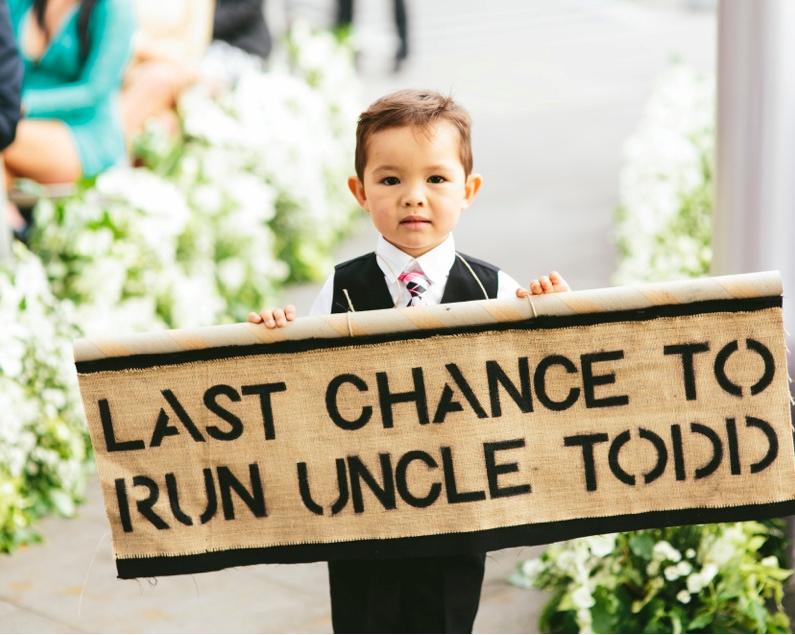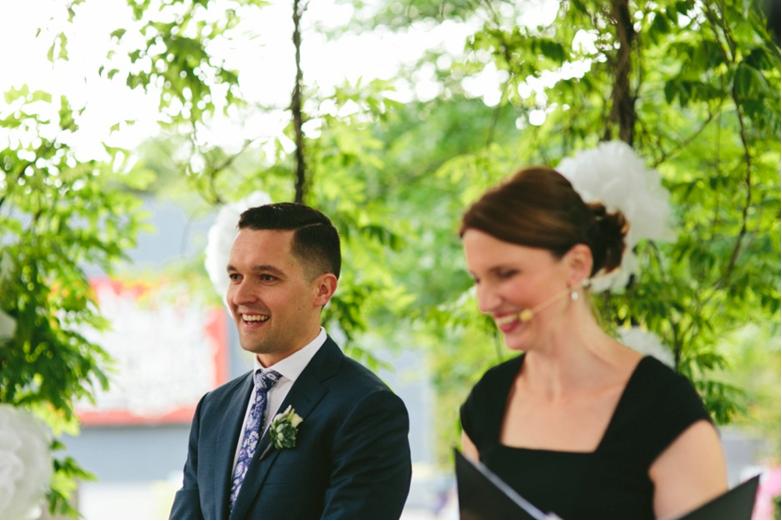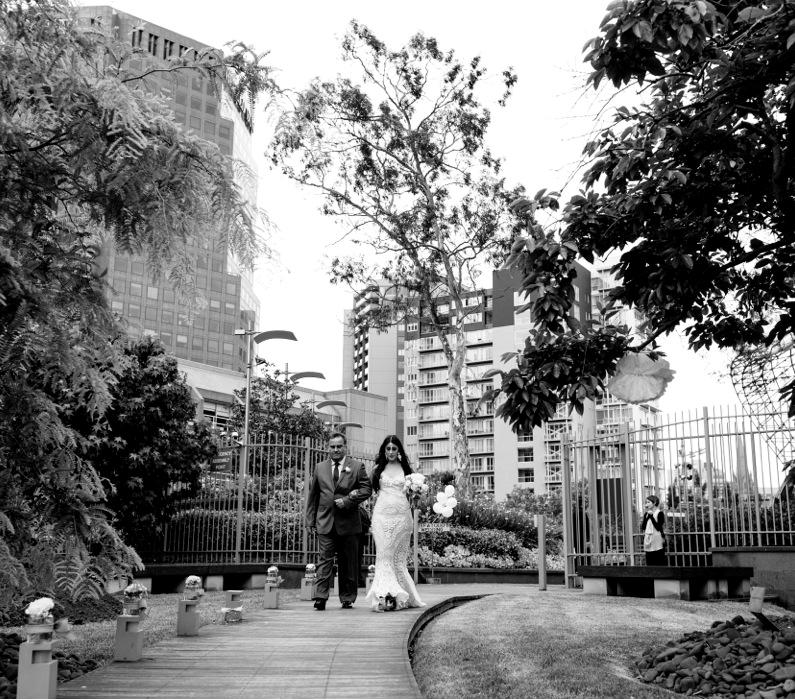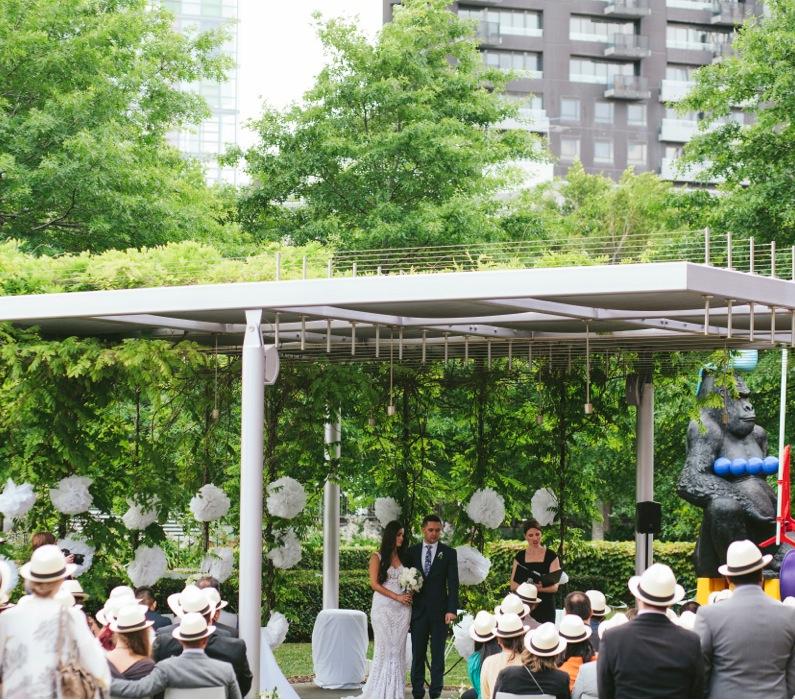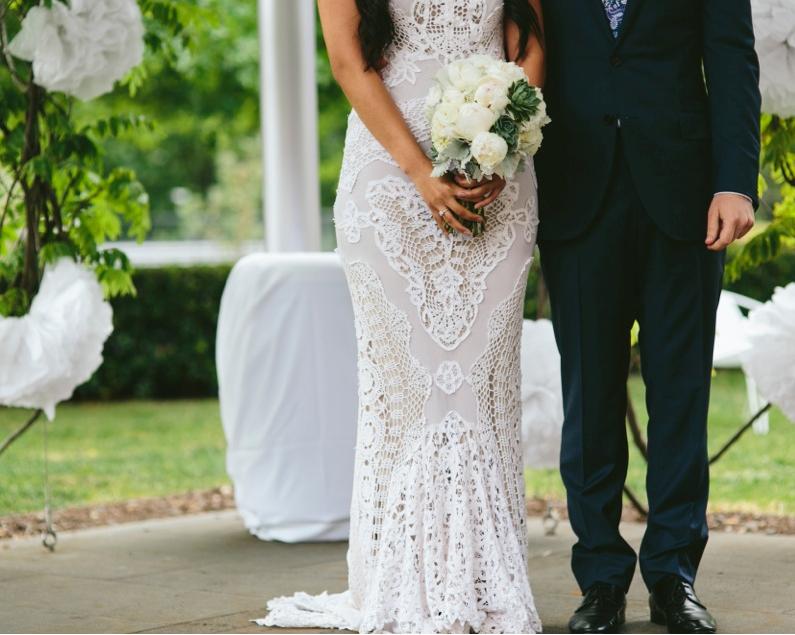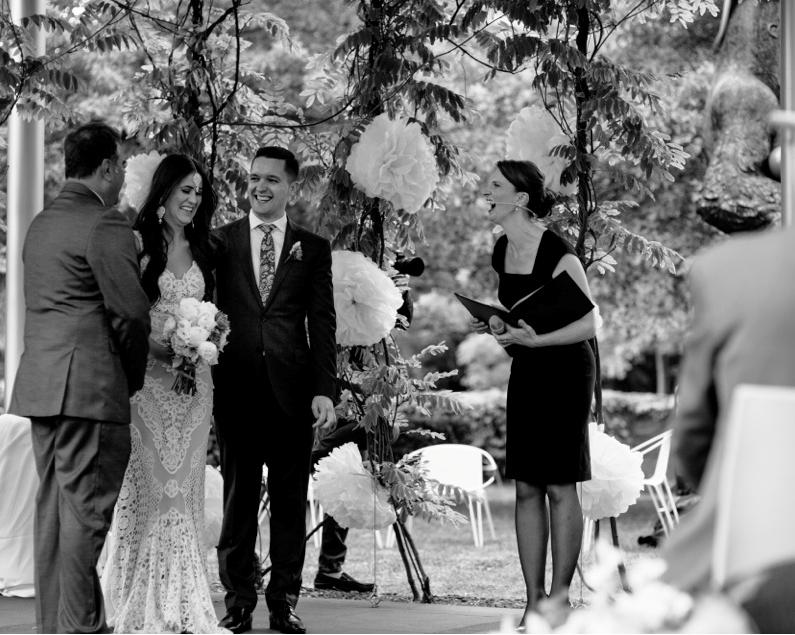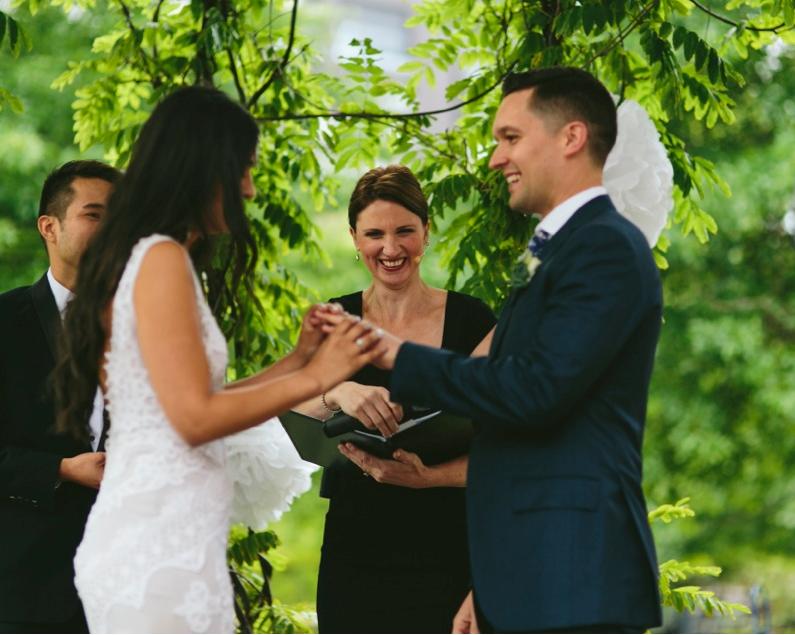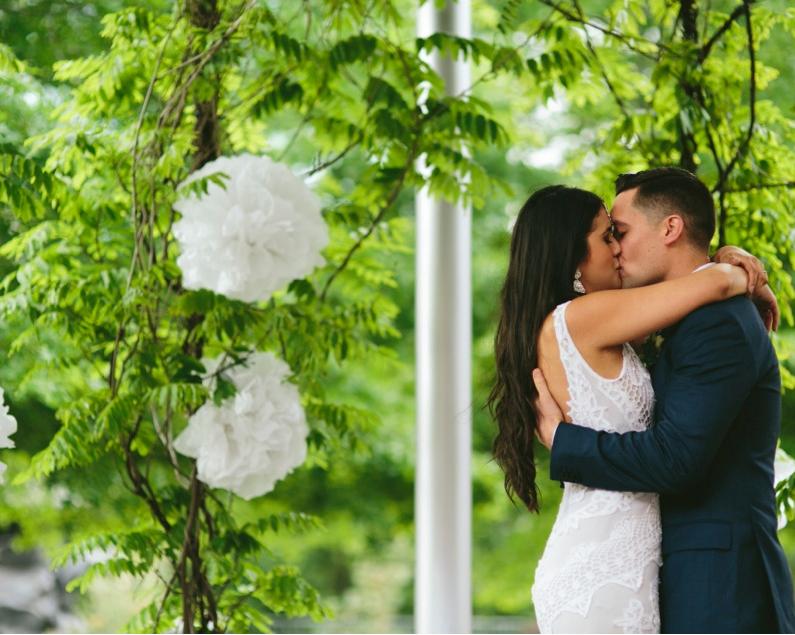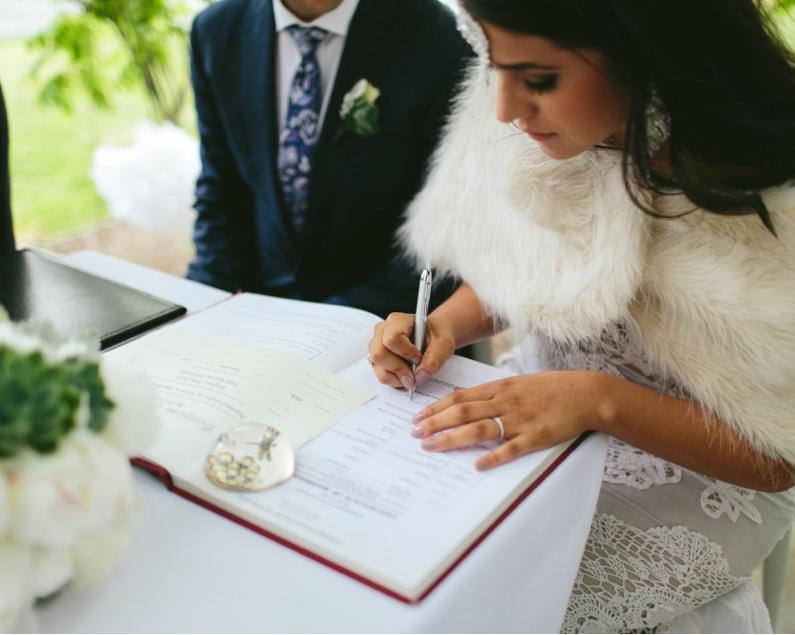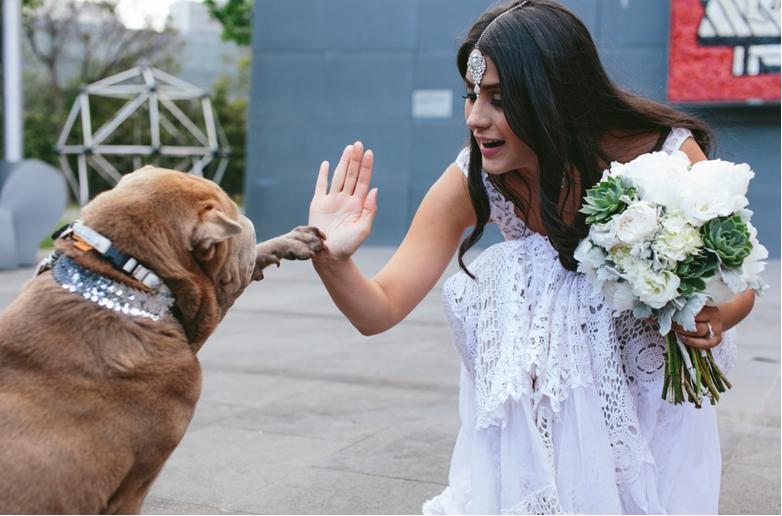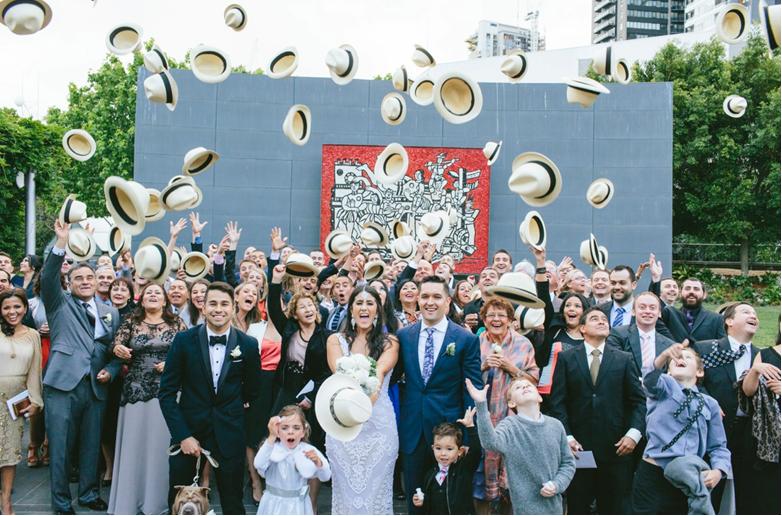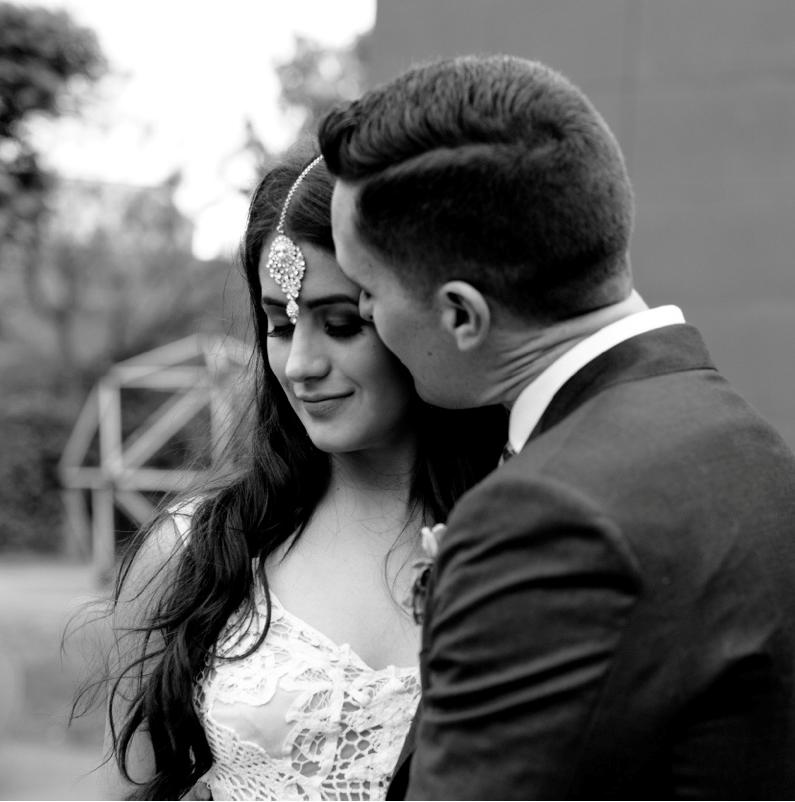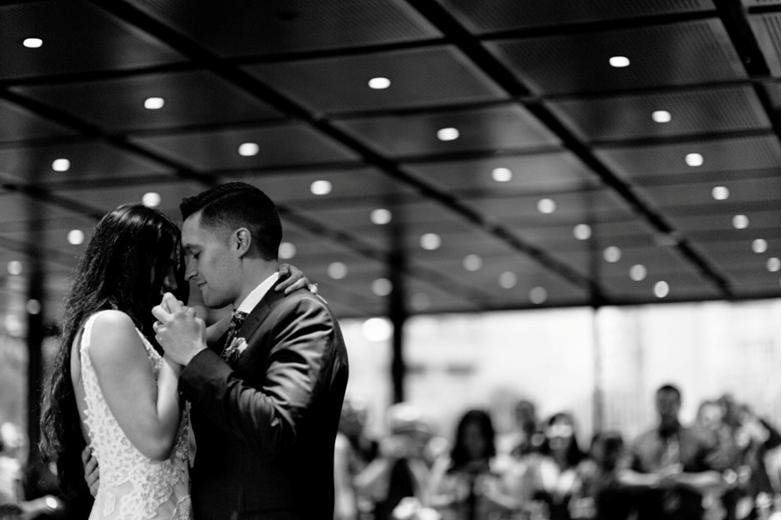 Stef & Todd | 16.11.2013
Celebrant: Meriki Comito
Venue: National Gallery of Victoria
Photography: LJM Photography
Bridal Gown: Jane Hill
Catering/Styling:Peter Rowland
Florals:Flowers Vasette
Gabrielle & Lloyd's Great Provider Wedding
 Gabrielle & Lloyd married at The Great Provider in St Kilda last November, in the presence of delighted family members who had literally only met each other three days earlier!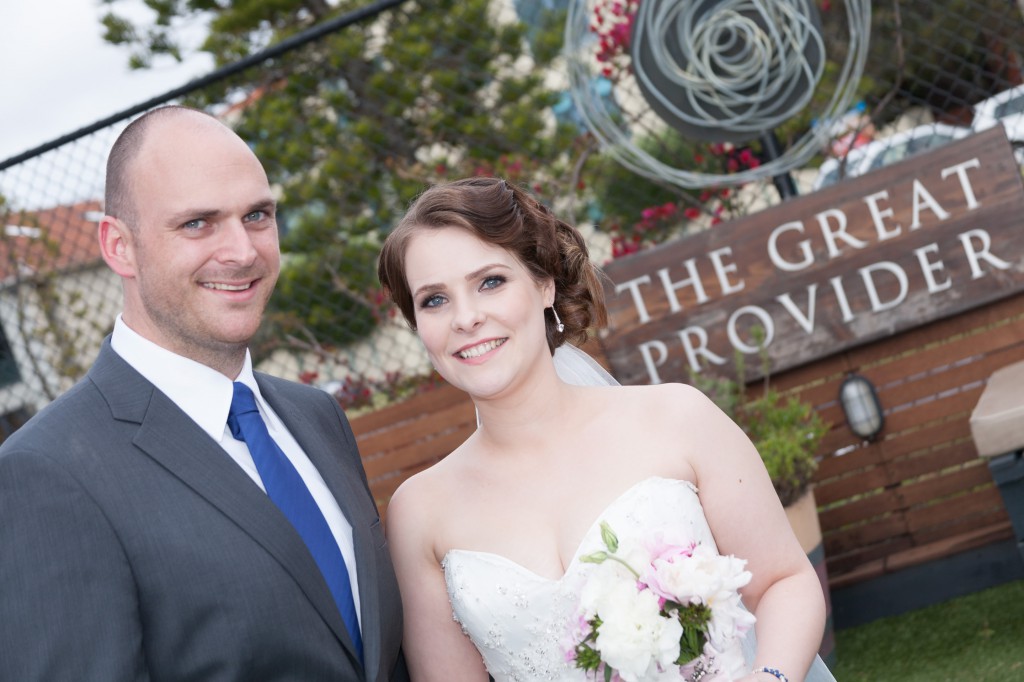 Thankful for a perfect & cosy undercover option at the venue, we were treated to a wonderful rendition of "A Wedding Prayer" by one of the couple's closest friends, after pausing to remember and honour Gabrielle's beautiful mother, with the lighting of a single white candle.
We then all shared a bit of a giggle as I related how it took Lloyd three goes to propose to Gabrielle, after which the newlyweds promised to provide each other with love, trust, acceptance and respect for as long as they lived. When I finally declared Gabrielle and Lloyd to be husband & wife, the room exploded with cheers & applause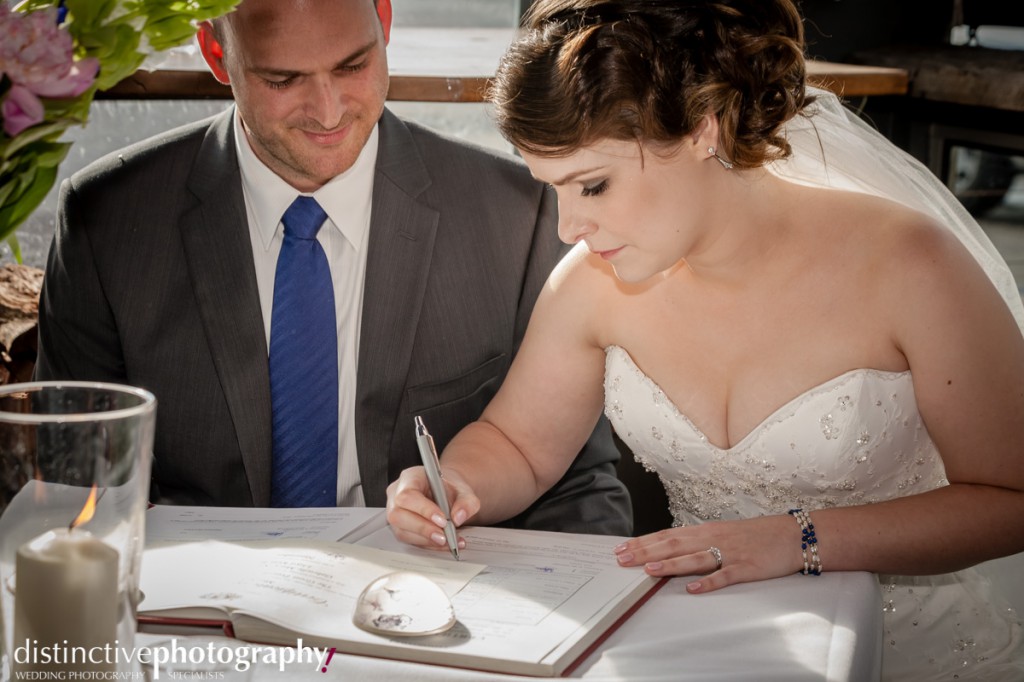 Gabrielle & Lloyd | 23.11.2013
Venue: The Great Provider
Celebrant: Meriki Comito
Photography: Distinctive Photography